Hema Malini's Beauty, Skincare And Diet Secrets
Shalu Bhati
Updated At 14 Dec 22
Hema Malini is also known as Bollywood's "Dream Girl". And why wouldn't she be? She ruled the silver screen during the 70s and still has the same charisma to make people hold onto their breaths. She is one of the most versatile actresses of all time. After proving her niche in acting, she also tried her hand at direction and production. The star actress didn't stop there. She is also an active Member of Parliament.
Hema Malini has essayed many roles on-screen as well as off-screen—all the while looking at her beautiful best. She is naturally beautiful and is a prime example of gracefully aging. Even at 73, the effects of aging have not dared to even touch her. How? We will tell you all.
In this article, we will talk about the beauty secrets of Hema Malini and Hema Malini makeup tips. And not just that. We will also give you a glimpse of her fitness routine along with the Hema Malini diet.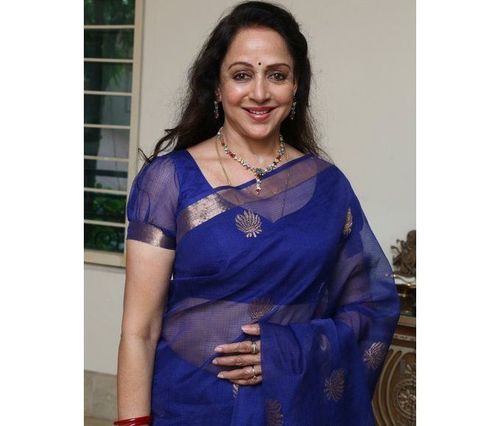 Hema Malini Beauty Tips
Hema Malini has often been heard saying that beauty is God's gift and one should never take it for granted. She maintains that her skin is good because God made it so. But it does not mean that she has it easy. Being gifted with good skin also comes with the job of maintaining it. Hema Malini states that with good sleep, healthy food, daily workout anybody can look healthy and beautiful at any age.
We have listed for you some of the beauty secrets of Hema Malini. All you need now is some strict discipline and motivation just like her.
This basic habit of drinking enough amounts of water is a favorite amongst celebrities and Hema Malini is no exception. She drinks about 2-3 liters of water daily. She says drinking water helps her to keep her body clean from within. Drinking the requisite amount of water keeps the body hydrated as well as flushes out toxins to make you healthy. And as per Hema's philosophy, if you are healthy from inside, you will glow on the outside. Thus, drinking water regularly is one of the most basic yet effective beauty secrets of Hema Malini.
Drink Green Tea To Remove Toxins
Hema Malini doesn't depend only on her water intake to remove toxins from her body. She also makes it a point to consume at least 2 cups of green tea daily. Green tea is a naturally good source of antioxidants and aids in the removal of toxins from the body.
Hema Malini beauty tips are based on a firm belief that what you eat will also show on your skin. She ensures that she consumes a healthy well-balanced diet. It includes a lot of fruits and vegetables. This is one of the many secrets to her ageless beauty.
Hema Malini uses aroma oils on her face and hair. A massage with these oils is known to improve the texture and quality of skin as well as hair. Plus the actress says a massage with these oils doubles up as aromatherapy and keeps her mind calm.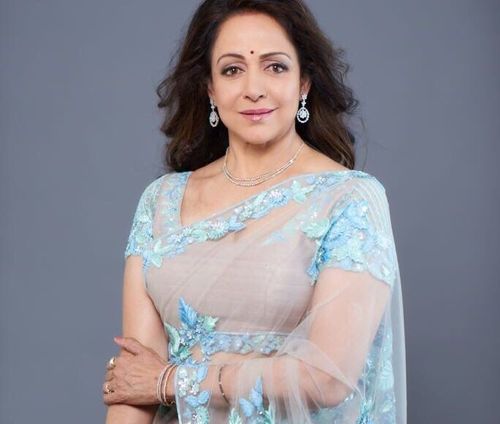 Another one of the beauty secrets of Hema Malini is the use of natural products. She is a great supporter of using products that are nature-based and free of chemicals. She prefers using natural products and materials which she can even find at her home. Going natural has helped her stay ageless.
Oil Massage For Better Hair
The secret behind Hema's gorgeous and shiny tresses is a good oil massage. She uses a mix of coconut oil, amla, tulsi, and neem to massage her hair. These ingredients are known to keep the hair and scalp healthy. Not just that. They also ensure that the hair is strong, smooth, soft, and shiny.
Shampoo And Conditioner Are Important Too
It is important to massage your hair with oil but according to Hema, it is equally important to use a good shampoo and conditioner. Her current favorite brand is L'Oréal Paris. Is it yours too?
Keep The Negativity At Bay
Hema Malini beauty tips revolve around the "within". She is a firm believer in the notion that if negativity is expelled from within, it gives space for growth and prosperity. She also believes that it is inner cleansing which can give you a healthy glow. She says that inner positive energy is what makes us truly healthy and satisfied. When you are healthy and satisfied, it will show on your skin too.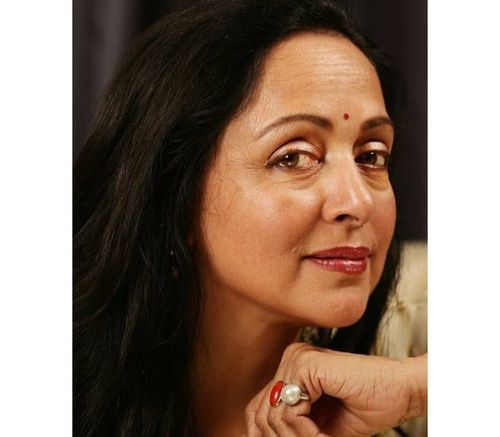 Hema Malini Skincare Tips
Following are some of the skincare tips followed by the actress in her routine:
Hema makes sure her skin is cleansed properly. She also allows her skin to breathe by going makeup-free as much as she can. She uses Clarin's cleansing milk regularly to keep her face clean and fresh.
Soaps are loaded with harsh chemicals and they can damage your skin to a great extent without you even realizing it. Therefore, Hema Malini prefers natural methods to clean her body. She uses a mixture of besan and malai in place of the harsh soap. Besan cleanses as well as exfoliates while malai is known for its moisturizing properties.
Don't Forget The Night Cream
Hema religiously follows a night skincare routine. This is another one of the effective beauty secrets of Hema Malini. Every night after cleansing her face she uses a night cream on her face. Her current favorite is the Aveda night cream.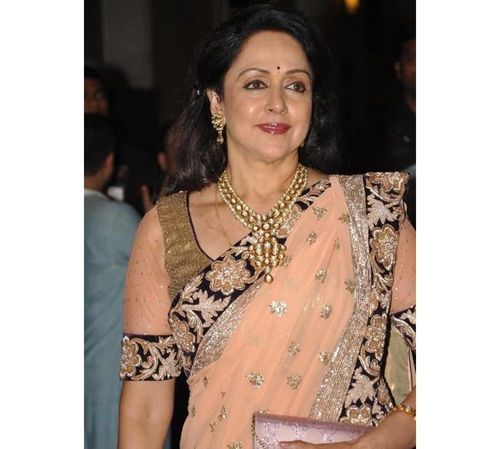 Hema Malini Makeup Tips
The Hema Malini makeup routine is based on the "less is better" philosophy. She prefers using very light makeup when she does it herself. Kajal for the eyes with a light shade of lipstick and she is ready to go.
Use Aroma Oils As Makeup Base
Hema's love for aroma oils is quite evident from the fact that she uses them as a base for her makeup. Instead of using foundation, she prefers to use aroma oils. They act as a perfect base as they nourish and moisturize the skin well.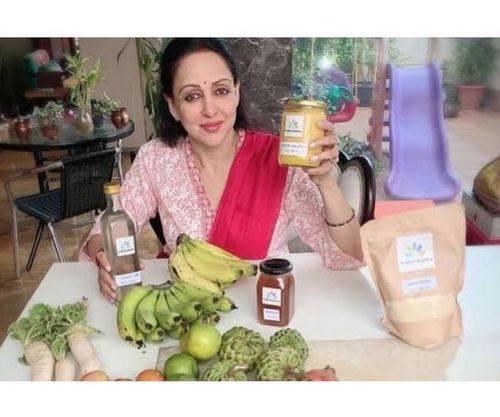 Hema Malini Diet
Along with eating fruits and vegetables, the Hema Malini diet includes having a healthy lunch. According to her, it is a must to lead a healthy lifestyle. Her lunch usually includes two chapatis, a bowl of dal, two vegetables, and a little rice with rasam.
Hema Malini understands the value of having an early dinner and preferably eats hers almost by 7.30 pm. This allows her body to digest the food before she goes to sleep. It is one of the easiest and healthiest habits to inculcate in one's routine in the long run.
Hema likes to eat ghee in her diet. Ghee has multiple benefits for health. It is also greatly beneficial for hair and skin. Hema uses it sparingly as too much of ghee is considered to be fattening.
Hema Malini keeps her food free of oil as much as she can. She also prefers fewer spices. This is an important aspect of the Hema Malini diet and is one of the secrets behind her ageless looks.
Hema consumes curd daily. The good bacteria in curd are known to maintain gut health and thus have a positive impact on skin.
Hema is a regular faster. She fasts for two days a week. On these days her diet includes fresh fruits, cottage cheese, and dry fruits. Fasting helps to regulate her body system. The roughage present in fruits cleanses her body from within.
Here is another Hema Malini diet secret which is also said to be the main reason behind her age-defying gorgeous looks. Hema is a pure vegetarian. Her vegetarian diet ensures that she gets all nutrients as well as dietary fiber.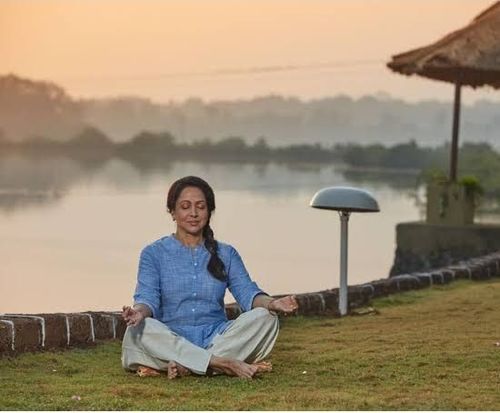 Hema Malini Fitness
Hema Malini is a trained classical dancer and over the years she has used dancing as one of the methods to maintain her stamina. Dancing allows her to stay fit and active. This is one of the key Hema Malini fitness tips.
Hema gets up early every morning to practice yoga and meditation. Yoga keeps her toned especially her biceps and triceps whereas meditation keeps her mind calm and at peace. It also helps in the revitalization of her energy.
Hema practices about 45 minutes of pranayama every day to keep her mind and body balanced.
One of her favorite fitness secrets is cycling. Hema makes sure that she cycles for about 20 minutes daily. Cycling helps to keep her body in shape and toned. Here is your excuse to take out your cycle, dust it off and go on a ride. Cycling is known for toning your entire body at the same time.
Get inspired by Hema Malini and adopt a healthy lifestyle, a nutritious diet, and a positive attitude. Tap into the Dream Girl's beauty and fitness secrets to look like the woman of your dreams.