75+ Stunning Underboob Tattoo Designs For Women - 2023
Shalu Bhati
Updated At 02 Jan 23
Have under boob tattoos been on your mind lately? Then, this is the article for you.
The under breast tattoos have gained popularity over the last few years. Their demand has skyrocketed. And if you too want to get on the bandwagon of the under boob tattoo, keep reading!
But first, what is an under boob tattoo? Strictly speaking, it is a tattoo that goes under your boobs. This would include the sternum, ribs, as well as the side boob. All of the general areas under your boobs is the place where you can get the under boob tattoo. Yes, it is painful and yes, it is expensive. But, it is worth it!
Here we have a stunning collection of under boob tattoo designs that we searched over the lengths and breadths of the internet just for you. So, dive in and pick the design that works for you. Let's begin!
75+ Best Under Boob Tattoo Designs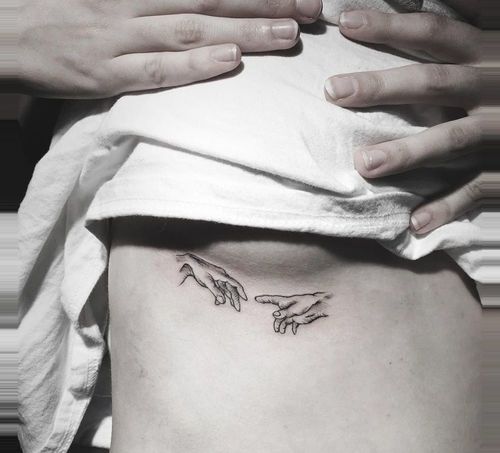 1. Creation of Adam
This under boob tattoo comes just under one breast and takes inspiration from the famous Sistine Chapel painted by Michelangelo. It represents the Creation of Adam, one of many paintings on the ceiling of the Sistine Chapel. It can be your personal ode to the painter.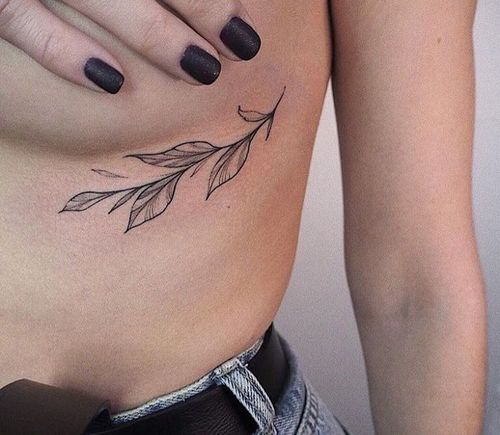 2. Leafy Adventures
Be a step closer to nature with a leaf-based under boob tattoo. You can never go wrong with a leaf tattoo. The delicate vines can be given any shape and can be of any size as per your desires. Such boob tattoos fit very well around the shape of breasts and look amazing.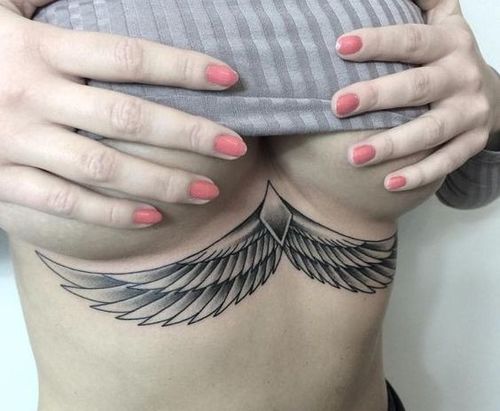 3. Angel Wings Under Boob Tattoo
Angel wings on sternum are a popular choice for under boob tattoos. This is mainly due to how they can fill up space. This under boob tattoo looks elegant and has a deep meaning associated with it. Angel wings represent faith, protection, and courage.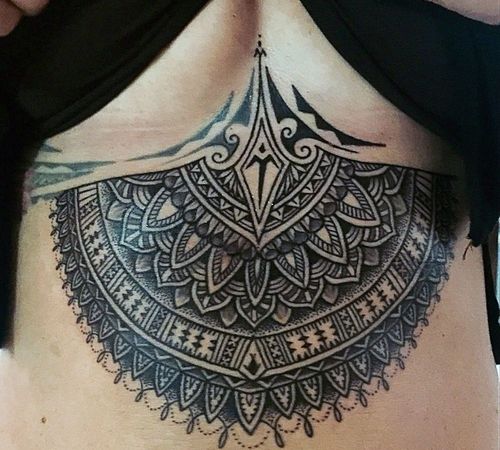 4. The Half Mandala
A mandala tattoo design is another popular choice for under breast tattoos. It represents the circle of life and the structure of the universe. It can be customized as per one's desires. Moreover, this is an under boob tattoo design that is versatile and suits everyone.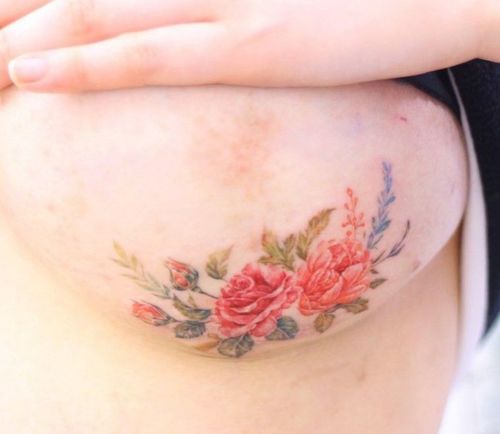 5. Colorful Roses
Breast reconstruction tattoos have helped a lot of women after mastectomy surgeries. They have thus gained immense popularity amongst women who had to undergo this major life-altering surgery. It helps them lead a confident life. Because when they look at their bodies, they see more than surgical scars.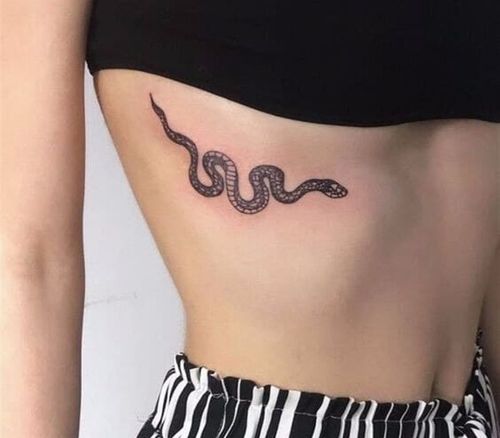 6. Snake Tattoo
This stunning snake under boob tattoo represents strength, intelligence, and adaptability. Since a snake sheds off the skin and emerges anew, it also symbolizes rebirth. This is a tattoo design that can be inked in several different ways.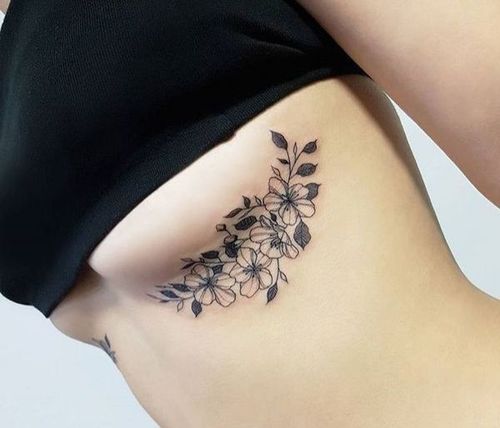 7. Floral Under Boob Tattoo
If you don't want to fill up your sternum, you can opt for something like this where a floral vine is inked under each breast. This under boob tattoo looks very cute and artistic. It is a very elegant design to opt for.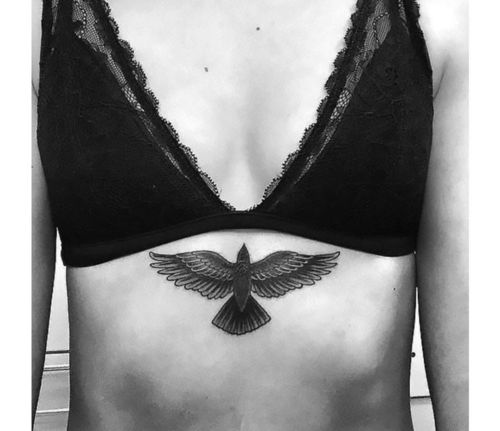 8. Mighty Bird Tattoo
The swallow under breast tattoos can be a good option if you are looking for something with both traditional and modern vibes. Swallows have been big with sailors as they believed that these birds offered them protection and good luck on the sea. In the modern days, the swallow under boob tattoo design can also be interpreted to mean freedom.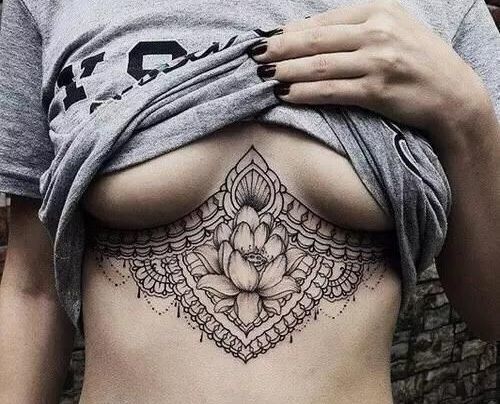 9. Lotus Mandala
This beautiful lotus under breast tattoo is inspired by the traditional mandala design. Lotus not only represents beauty but also strength and peace. This is a beautiful tattoo option for women and has gained popularity over the years and continues to be in vogue even today.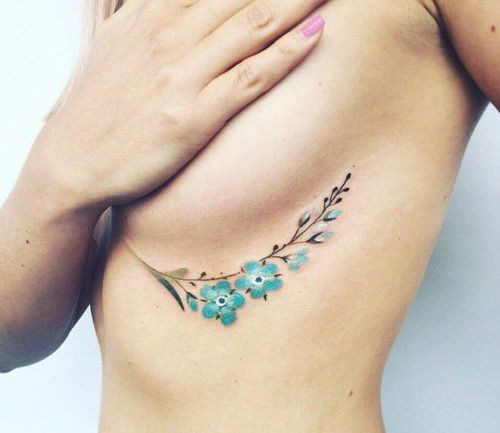 10. Watercolor Breast Tattoos
Watercolor tattoos look extremely pretty especially when they are floral watercolor tattoo designs. The delicate floral vines come to life when filled with color in the watercolor style. Love art? Then become the canvas for this stunning piece of art. You are going to love this under boob tattoo for sure.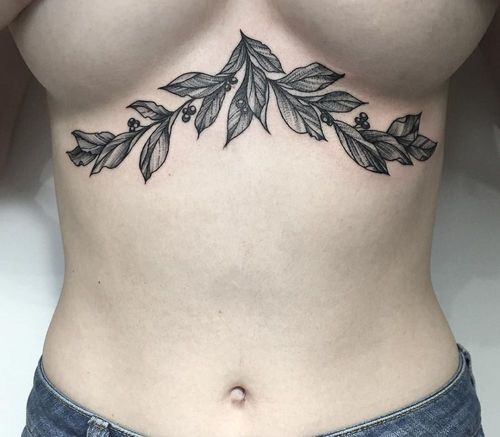 11. Mistletoe Under Boob Tattoo
Mistletoes are not only limited to Christmas festivities. They mean so much more. These evergreen leaves are known to be a symbol of all things hope, friendship, and growth. It is also symbolic of renewed life. Inked hanging down on the sternum, it makes for a wonderful under boob tattoo design.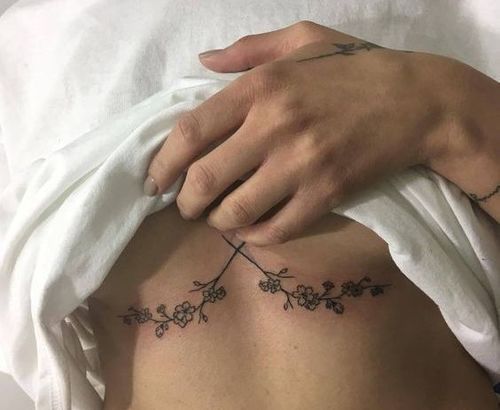 12. The Dainty Floral Tattoo
If you are a tattoo newbie or just want something on the lighter side, this under boob tattoo will fulfill all your needs. The dainty floral vines are small and delicate. But, they also look extremely beautiful and up to date with the modern-day minimal aesthetic.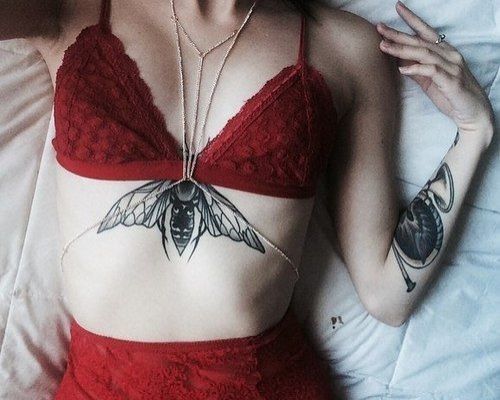 13. Wasp Tattoo
A wasp under boob tattoo is an unusual choice but still a stunning one. It can range from the tiniest of design to a magnificent design. It is up to you. As for the meaning behind it, this tattoo symbolizes the growth, development, and management of various forms of life.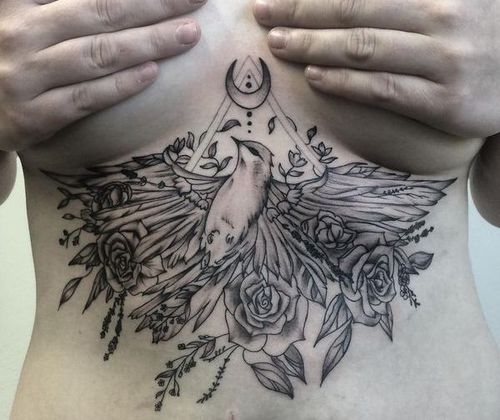 14. Swallow With Roses
Swallows have long been considered as spirit guides and this tattoo is a perfect summation of this interpretation. The roses below are not just a pretty addition but symbolize love, beauty, passion as well as sacrifice. This under boob tattoo has deep meanings associated while it also looks stunning.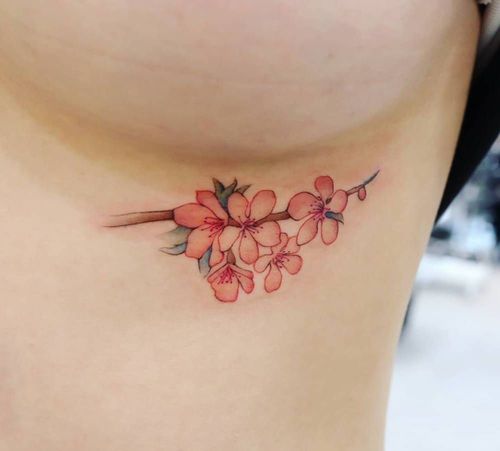 15. Colorful Blossoms
There is no such thing as too many flowers. You need these colorful blooms in your life to fill it with the same spirit and colors of nature. Floral under breast tattoos are a common and popular choice. But, the good thing is that there is a ton of floral under boob tattoo designs for you to choose from.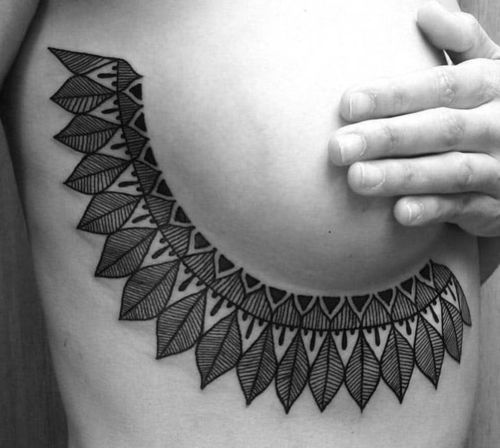 16. Tribal Art
Here is an under boob tattoo that will satisfy all your symmetry dreams. This tribal tattoo design perfectly frames the boob. It looks elegant and oh so beautiful. The symmetry of this design is very eye-pleasing.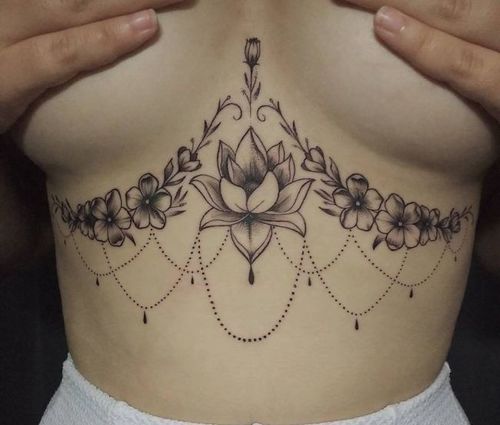 17. Lotus Under Breast Tattoos
Did we not say that lotus under breast tattoos are popular? Well, we will say it again. They are extremely popular this year as they have been in the last few years. You can choose to simply get a lotus or add a few more designs with it.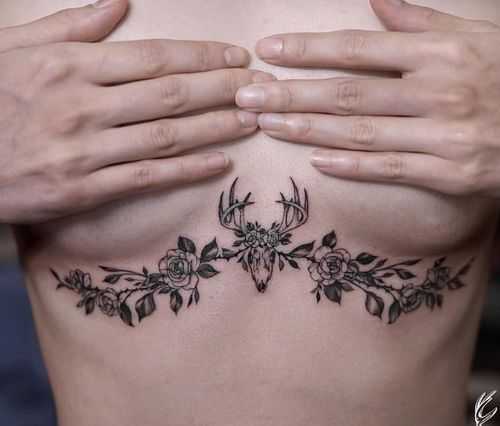 18. Deer And Vines Tattoo
This deer under boob tattoo is a rather unique design complete with roses and thorns. A Deer is symbolic of passion and loyalty. They are great caretakers and highly adaptable creatures. We cannot help but notice the gothic vibes coming from this tattoo design. So, go live your Goth dreams!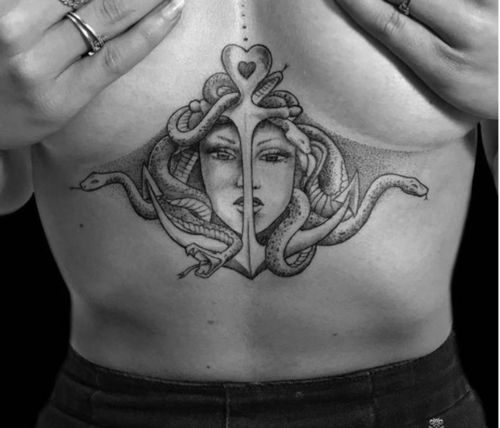 19. Medusa
The Medusa under boob tattoo is not a general choice. It will make you stand out from the crowd. Medusa is the symbol of the invincible female power and is the ultimate feminist symbol. She is said to be the protector of womenkind. She is a survivor and this tattoo can be an ode to her.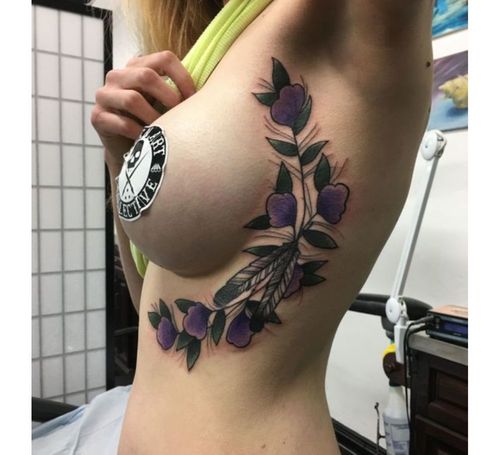 20. Floral Magic On the Ribs
Under breast tattoos that cover the side, as well as the area under the breasts, are all the rage this year. It is as if they are two breast tattoos in one. This particular one is a piece of beauty with its bright color and vivid design.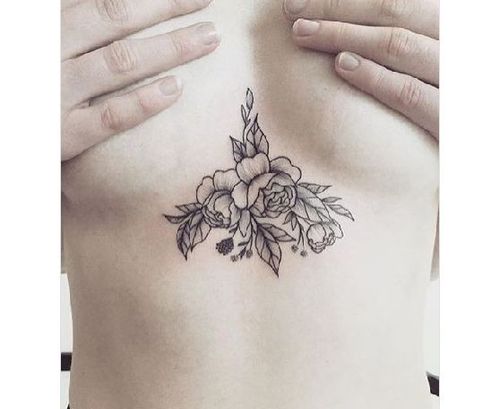 21. Bunch Of Roses
Roses have been a popular choice of tattoo design ever since people started getting tattoos. They looked at nature for inspiration so it has been common for roses to appear as part of several tattoo designs. A sweet bunch of roses is perfect under boob tattoo design. It is not exactly minimal and not completely heavy.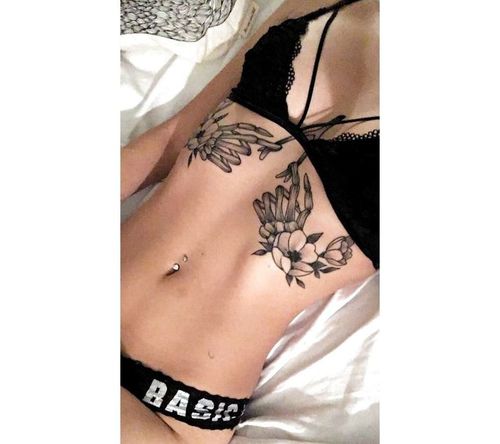 22. Floral Fingers
Flowers are used as part of many under breast tattoos. We especially love how they are used here in this one. The skeletal hands are covered with flowers giving a message where there is death, there is also life. It hints at the never-ending cycle of death and rebirth.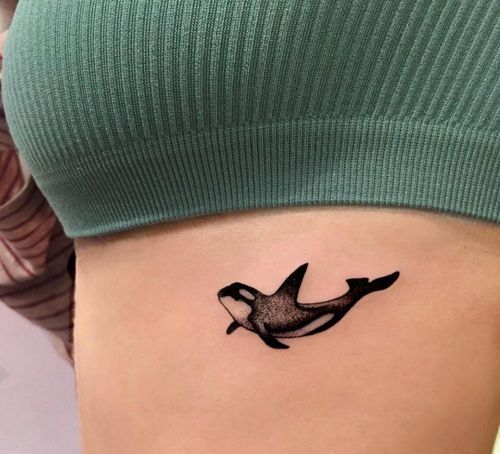 23. Orca Whale
If we are talking about taking inspiration from nature then why not go deep down into the sea for some under boob tattoo inspo? This orca whale tattoo is perfect for you if you have a deep love for all things ocean. It will be a small and cute reminder for your love of the sea.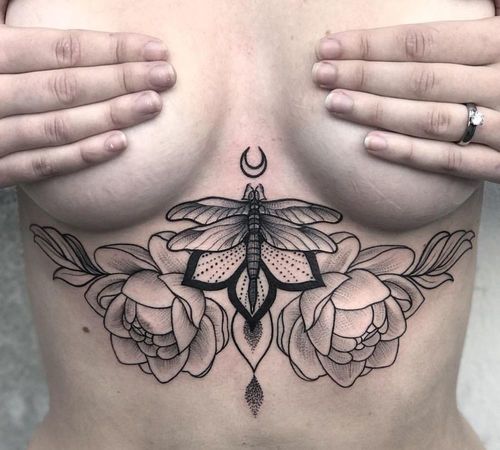 24. Moth And Roses
This is a chic under breast tattoo with a majestic moth and a pair of magnificent roses. If you look at this design, you will forget about all the funny memes you have seen on the internet about a moth's obsession with light. Moths are a symbol of all things positive and in many cultures, they are viewed as creatures who will guide you to the light, away from darkness.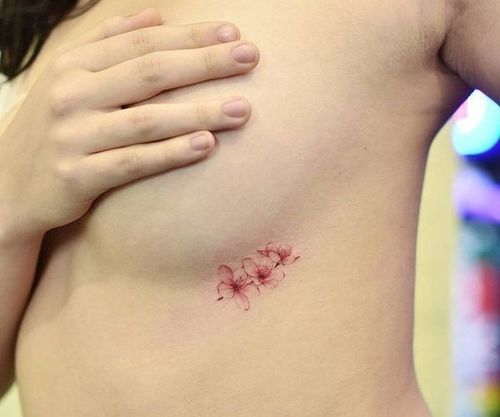 25. Watercolor Flowers
These minimal watercolor flowers are a top choice for under breast tattoos this year. Let your creativity flow. You can get any number of flowers in any combination. This is the minimal aesthetic at its best.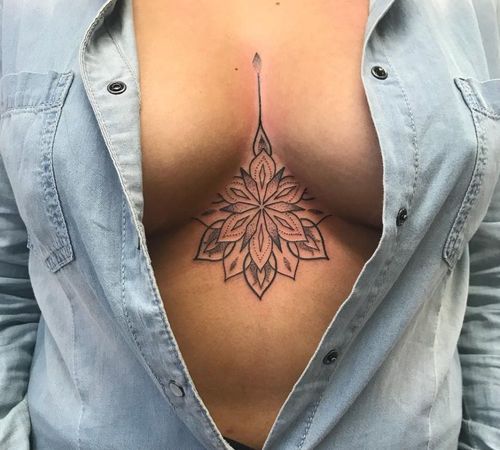 26. Floral Mandala
This is a sweet under boob tattoo for you, the floral mandala. It is simple, elegant, and comes bearing deep meanings. The mandala design has great significance in many cultures and religions. It represents the circle of life which is why you will observe that mandala designs always start from a tiny circle at the center and expand in the same circular fashion. A floral mandala is inspired by this very design.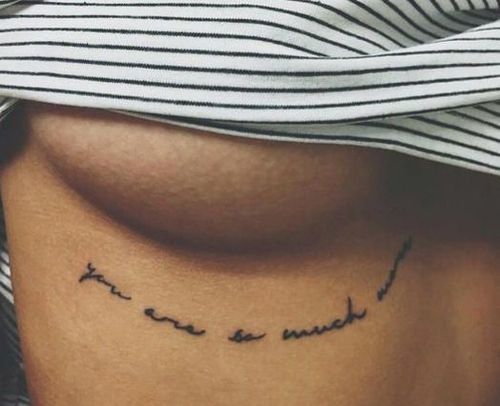 27. Boob Tattoos With Quotes
Quotes are another good option for under boob tattoos. The quotes can be small or big. It can just be a phrase or even a single word. It can be your motto or something that inspires you that you want to tuck in the crevices of your body. There are multiple routes that you can take.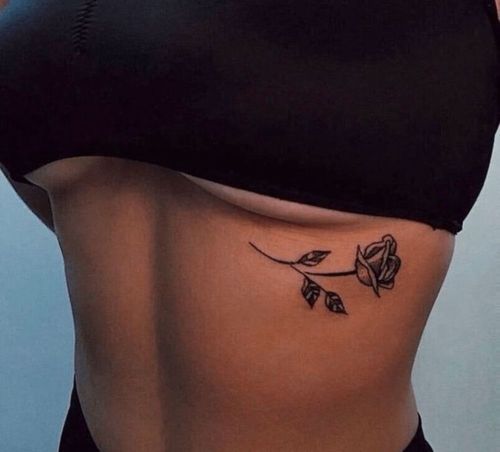 28. Rose Under Breast Tattoo
One can never get enough of the rose under breast tattoos. This one comes under only one breast and looks spectacular. Did you know that roses are symbolic of the Greek Goddess Aphrodite? Well, now you know.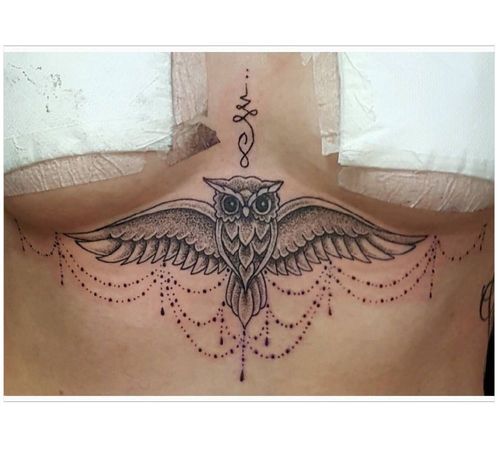 29. The Wise Owl
Both the owl and the Unalome symbol have great significance in Hinduism. The Unalome symbol depicts the journey of one's life, all the difficulties faced and conquered to be on a path closer to one's faith. Owls on the other hand are a symbol of wisdom, knowledge, transition, and intelligence.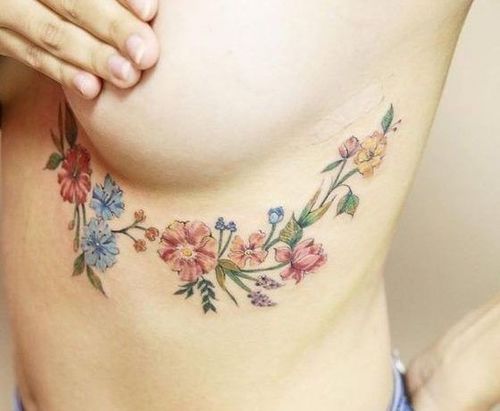 30. Vintage Flowers
Remember some of those old vintage floral prints? That's what this under boob tattoo will remind you of. What we love about this design is that it comprises of different flowers. From lavender to lotus, no two flowers are the same.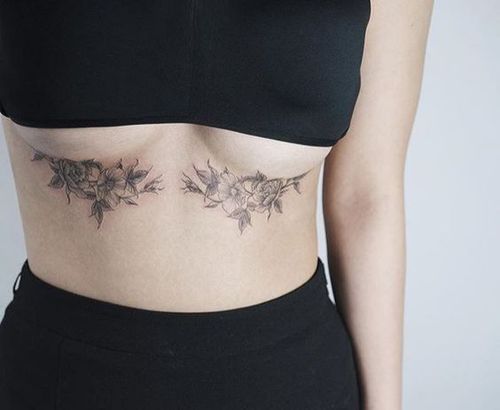 31. Twin Floral Vines
All this time you have seen a heavy dose of floral tattoos under one breast. Here is an example of a gorgeous black and grey under breast tattoo for both the breasts. To give this design some symmetry, you will observe how the floral vines merge inwards towards the center.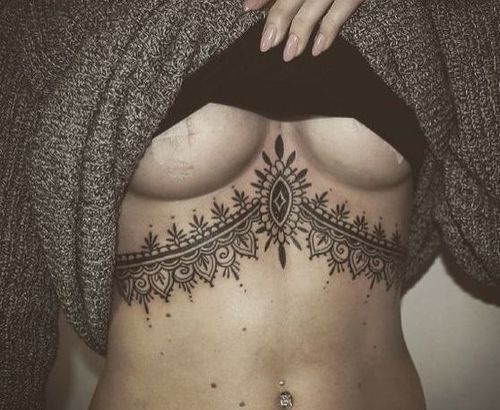 32. Traditional Henna Inspired Under Boob Tattoo
This is the year where the inspiration for under boob tattoos can come from anywhere. The whole world is obsessed with traditional henna designs and the Western countries gave it their twist when they came out with henna tattoos on different parts of the body. This under boob tattoo is in line with that old trend that is still alive.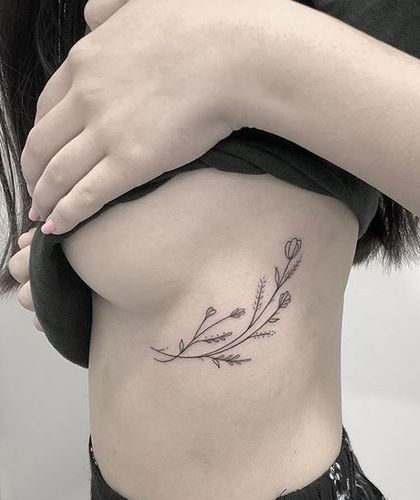 33. Dainty Flowers For One
Repeat with us. There is no such thing as too many dainty florals. Why? Because they are minimal, pretty, and very artistic. These dainty floral breast tattoo designs are simple but elegant.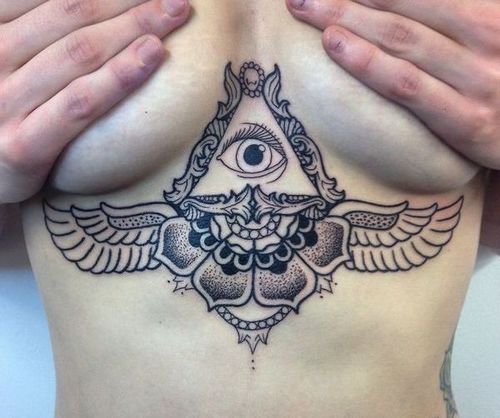 34. The All-Seeing Eye
This under breast tattoo design is a unique take on the All-Seeing Eye tattoo design. The All-Seeing Eye or the Eye of Providence represents the omnipresence of God. It means that God is watching over us, his creation.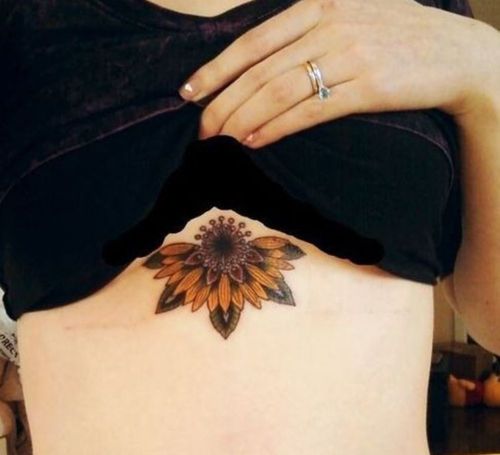 35. Sunflower Under Boob Tattoos
The sunflower under boob tattoo is one of the most stunning under boob tattoos we have seen. It snugly takes place in the center of the sternum. It is a unique design as it comprises only half of the flower. It might be half but it delivers full beauty and positivity.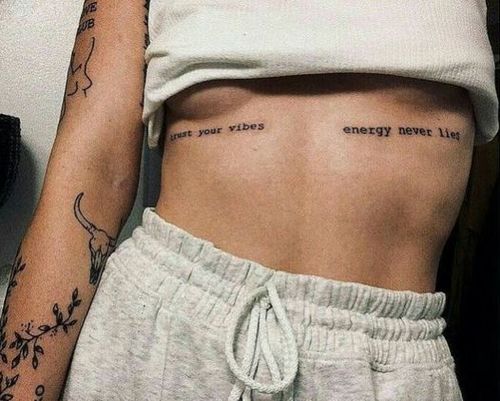 36. Quote Of The Day
You can choose the simplest of design when it comes to under breast tattoos and it will still look stunning. Take this quote tattoo for example. The half quote is placed under one breast and the other half under the other breast. Since these are phrases that have a meaning on their own, you will not be killing grammar with this tattoo.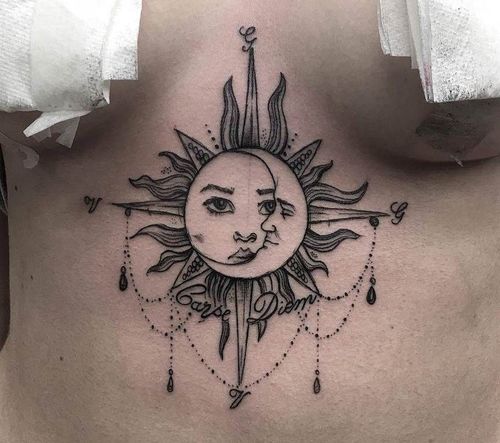 37. The Sun And Moon Combo
Here is an under boob tattoo that bears both a traditional and the modern touch. The combination of the sun and the moon is the traditional aspect of this tattoo. These two symbolize the coming together of opposing forces of the universe and living in harmony. Carpe diem translates to "seize the day". It can act as a wonderful reminder for you to live in the present. Some people also add the initials of their loved ones with this design.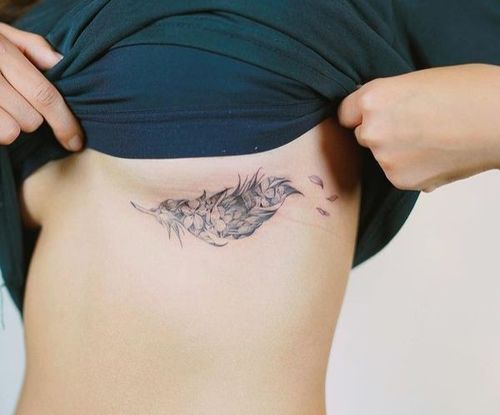 38. Floral And Feathery
Feathers are a favorite amongst women when it comes to choosing under breast tattoo designs. A feather tattoo is versatile and can be incorporated effortlessly with other designs. This one for instance has been combined with flowers taking the beauty of the whole design up on so many levels.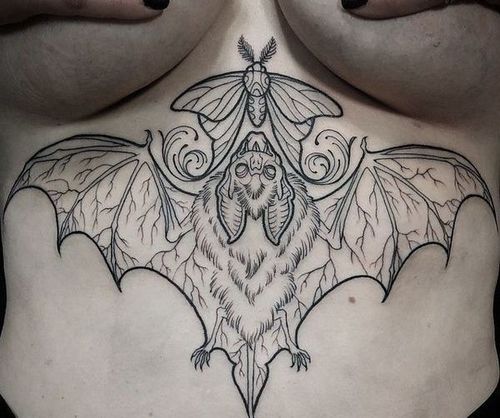 39. New Gothic Under Boob Tattoo
If you are looking for some Goth style under breast tattoos, then this can be a choice for you. The moth and the bat represent the classic story of the prey and the predator. Such tattoos are a great design idea and have varied meanings and interpretations.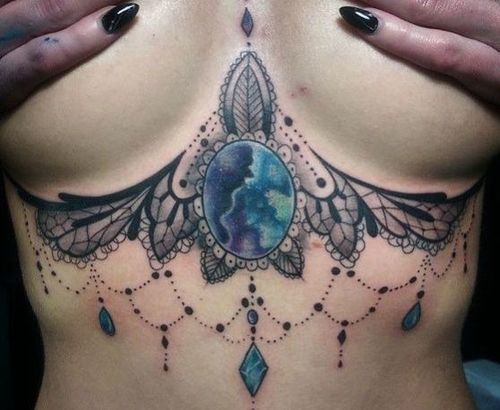 40. Mirror Mirror On The Wall
Under boob tattoos can take inspiration from anywhere just like any other tattoo designs. This beautiful design reminded us of the mirror from Snow White's tale. The various shades of blue are mixed beautifully giving the mirror a mysterious and magical appearance. Notice how the background of the mirror is inspired by wings. The dainty shiny jewels hanging provide a wonderful contrast.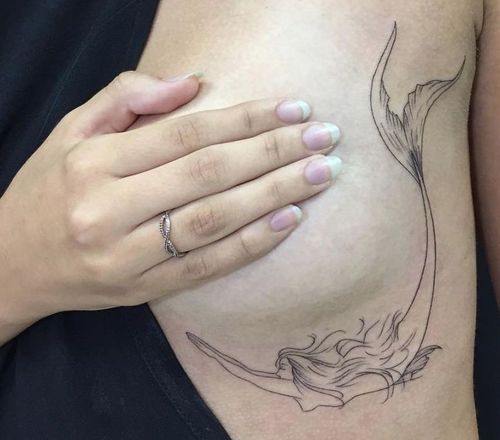 41. Mermaid Tattoo
A mermaid under boob tattoo is equal parts beauty and magic. The fun thing about these under boob tattoos is that they can complement the shape of the boobs pretty well. For instance, in the tattoo pictured here, see how beautifully the dive of the mermaid is inked around the breast.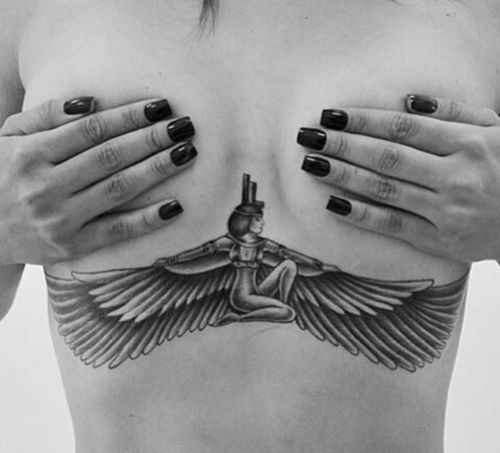 42. Goddess Isis
This under breast tattoo is an ode to the Egyptian Goddess Isis who was the goddess of the moon. She is known as the goddess who protects women and children and heals the sickly. She is recognized from her wings, headdress, and throne. This sternum tattoo is made popular by the gorgeous Rihanna who has a similar tattoo.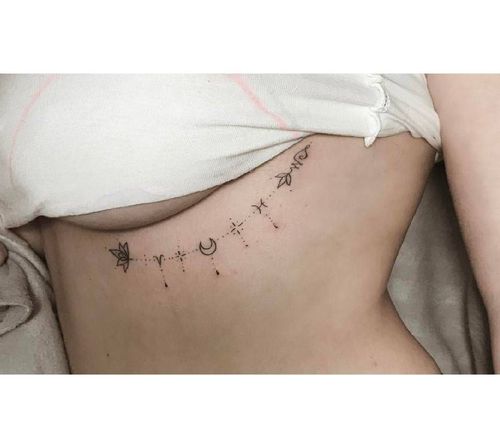 43. Sweet And Dainty
Here is another example of a minimal under boob tattoo. It comprises of several symbols arranged on a dainty chain-like piece. Moon, lotus, and Unalome are some of the symbols used here. You can opt for any other symbol you desire. You can also get your zodiac sign added into the mix.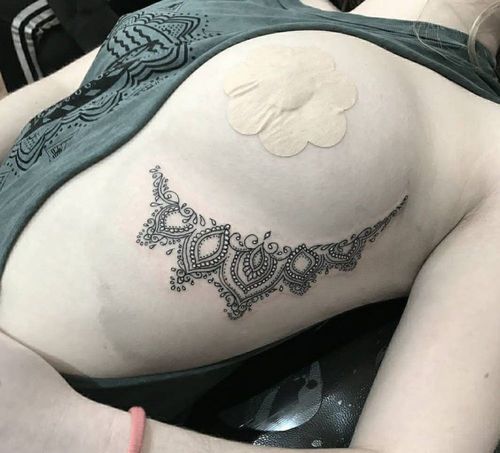 44. Unique Under Boob Tattoo
There are no limits when it comes to under boob tattoos. Owing to this area, many designs can be incorporated around the boobs. This detailed under boob tattoo can be an elegant choice if you want something floral that is not so obvious.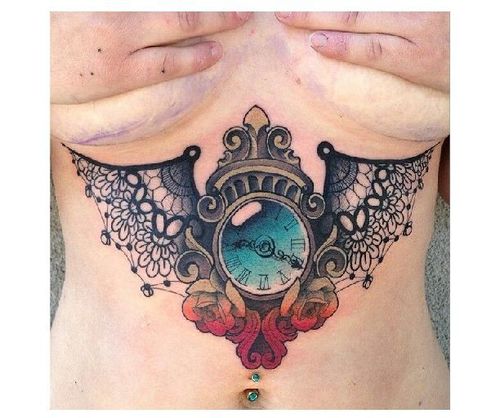 45. Father Time
Clocks are a great way of filling up your sternum. They are a popular tattoo design that is symbolic of the passing time and one's realization of it. You can get the hands of the clock to show a time that means something to you personally.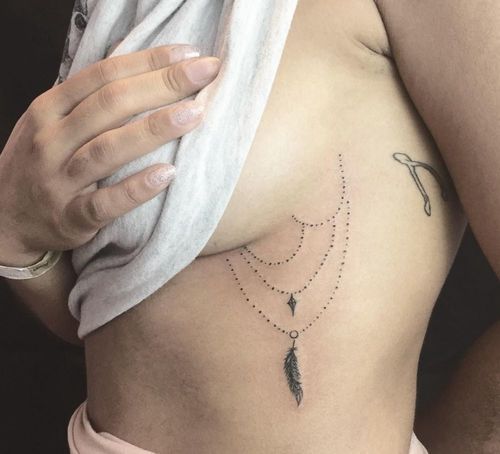 46. Cute Dainty Chains
This under breast tattoo is an ode to minimalism culture. If minimal aesthetic is what keeps you going, then this is the one for you. The feather dangling from the dainty chain looks extremely beautiful, elegant, and pleasing to the eye.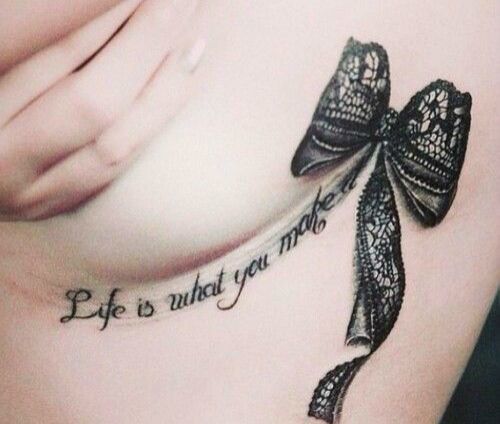 47. A Quote And A Bow
If you are out of ideas for under breast tattoos, then you can pick your favorite quote which is short and meaningful. Then you can take that quote and wrap it with a bow, literally. Don't believe us? See this tattoo pictured here that has come wrapped in a very detailed bow.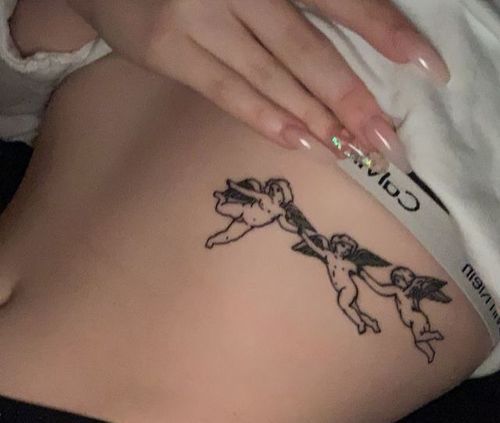 48. Three Little Angels
These three little cherub angels are perfect as an under boob tattoo design. Thus design takes inspiration from old paintings. The cherub angels are a symbol of protection. Since they are baby angels, this design can also be used to symbolize your children.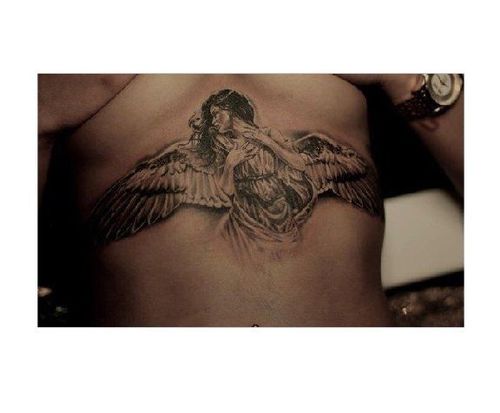 49. Angel Under Breast Tattoos
Angels are symbolic of the presence of God. So, with an angel under breast tattoo, you can choose to be stylish and also give an ode to your faith. Angels are also a symbol of guidance and protection.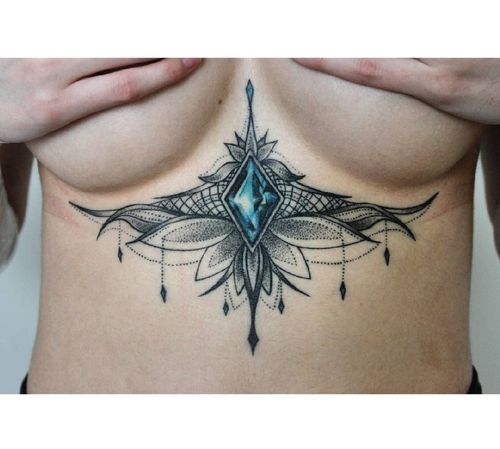 50. Shine Bright Like A Diamond
Diamonds make for interesting under boob tattoos especially when they are done in a manner as the one pictured here. The artist has captured the structure and the resulting shine of a diamond pretty well in this under boob tattoo. The diamond sits on what appears to be an inverted lotus. Both lotus and diamonds are known as symbols of strength and perseverance.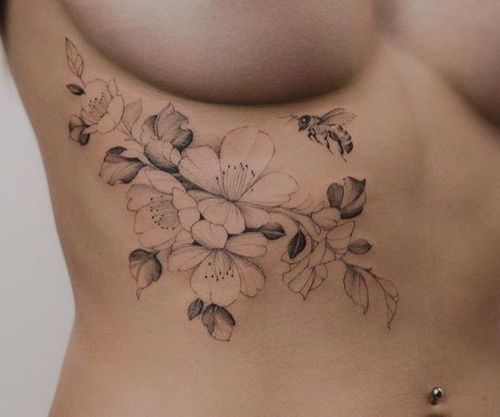 51. Flowers And A Honey Bee
Flowers make for good under breast tattoos. You can add other elements to give your flowers some company. What can be a better companion to flowers than a honey bee? A bee hovering over flowers for their nectar has been a subject of many paintings. It would look amazing as a tattoo too.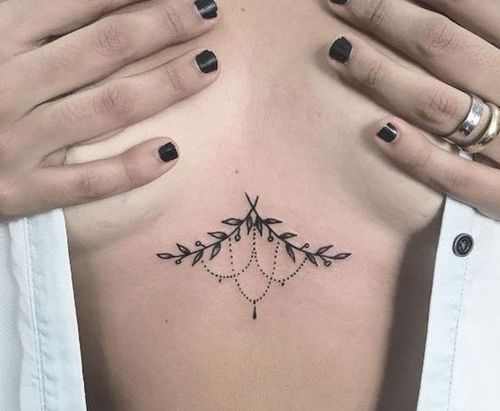 52. Soft Vines
We have already talked about mistletoes being so much more than Christmas. They are evergreen trees symbolic of hope and friendship. They also symbolize growth and the never-dying spirit. This is a minimal and dainty version of mistletoes that sits pretty on the sternum.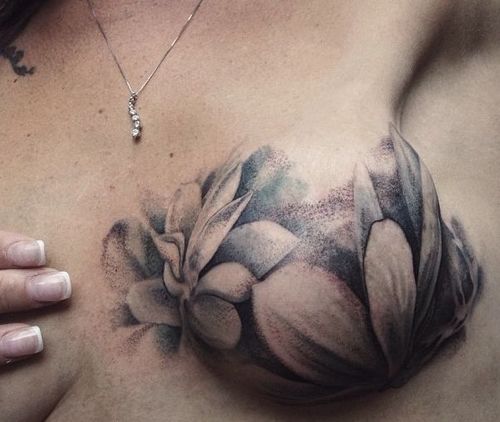 53. Breast Reconstruction Tattoos
With changing times, there has been huge progress in the field of medical science. After mastectomy surgery, women can choose breast reconstruction surgery. And they can also get breast reconstruction tattoos to cover up any scars. It is a personal choice and is seen to fill women with happiness and confidence. There is also the option of getting a heart areola tattoo.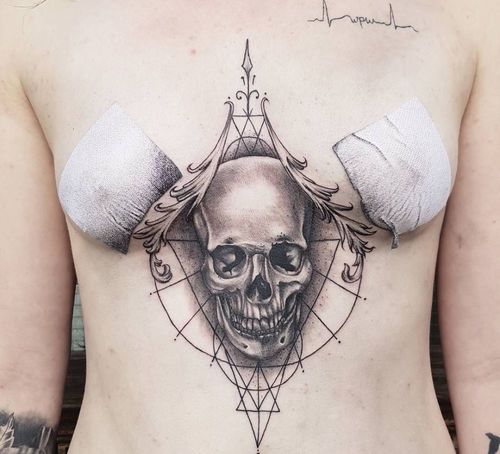 54. Skull Tattoo For Sternum
Skulls have been a popular choice for sternum tattoos. They are often seen as something morbid and negative when in reality it is not so. Skulls are a symbol of mortality, death, and rebirth. They can be decorated with other elements such as flowers, butterflies, moon, or any other symbol of your choice.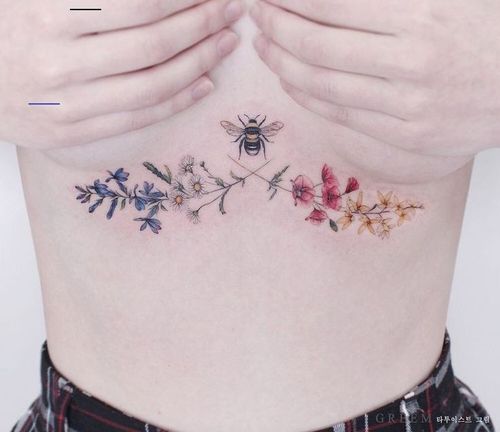 55. An Ode To The Bee
When you think of bees, you think of flowers. You would be ultimately reminded of spring. And spring is full of colors. This under boob tattoo is the perfect representation of the spirit of spring. It comes with beautiful flowers and bees at their center. It is also an ode to the honey bee as, without bees, the colors of nature might not exist.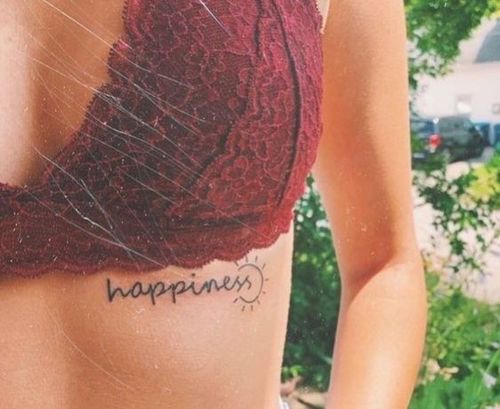 56. Sweet And Simple
This is an under breast tattoo that is short, simple, and cute. If you are not a quote person, you can choose a single word like in this tattoo pictured here. The word "happiness" has been complemented with the symbol of the sun. Sun represents all things light, positive, and happy. There couldn't have been a better pairing.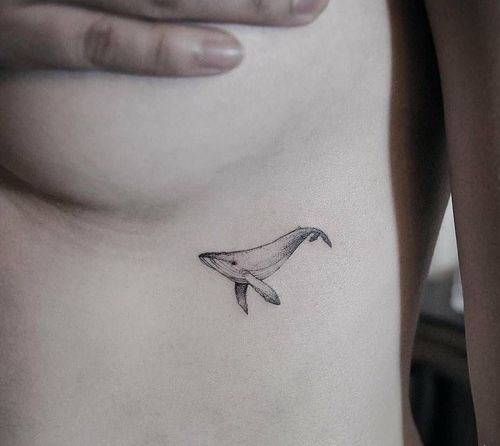 57. Whale Tattoo
Whales are mighty sea creatures. They are magnificent and coming face to face with one will blow your mind. But getting a small version as an under boob tattoo makes these humongous creatures look tiny and cute.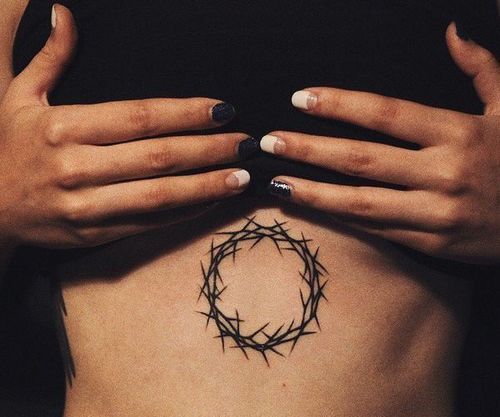 58. Crown Of Thorns
Faith is a common and popular theme for under breast tattoos. You can opt for a simple crown of thorns to represent the sacrifice of Jesus Christ. Thorns are also symbolic of the difficulties faced in life and one's ability to get over the same.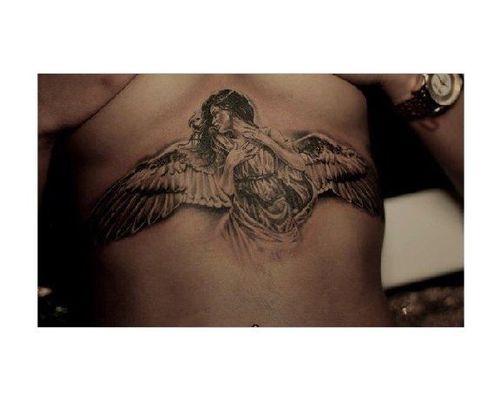 59. Majestic Mermaid
Mermaids are magical, mystical, and creatures of legends. We, humans, are therefore very fascinated by them. Mermaids look stunning as an under boob tattoo. This one here is a detailed mermaid tattoo that perfectly represents everything the stories say about them.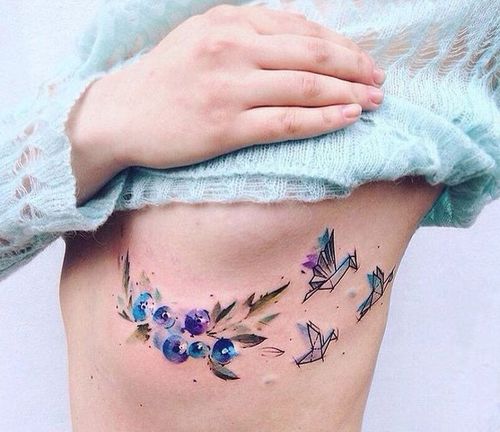 60. Purple Flowers And Paper Birds
Flowers and birds go pretty well together when it comes to under boob tattoos. But, it is okay if you wish for something not so common. Take this under boob tattoo for instance. It comprises of flowers and birds but drawn in a fashion so unique. The origami birds look stunning when paired with round watercolor flowers.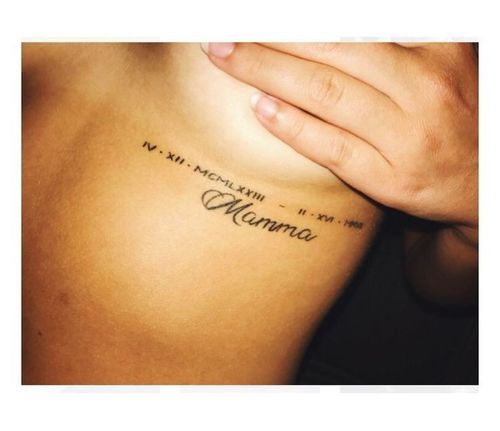 61. In Memory Of
Under breast tattoos are not just pretty. They can be used to mark special events in your life. You can also get an under breast tattoo that is inked in the memory of a loved one now no more with you. You can carry their initials close to your heart or the dates of their birth and death just like in this tattoo featured here.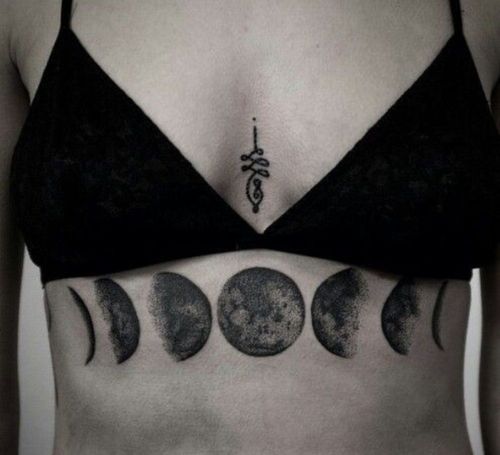 62. Phases Of Moon
This is a very impressive under boob tattoo. Moon is symbolic of death, rebirth, magic, and growth. The phases of the moon represent the never-ending cycle of life and death. This is a very detailed tattoo and adorns the sternum pretty well.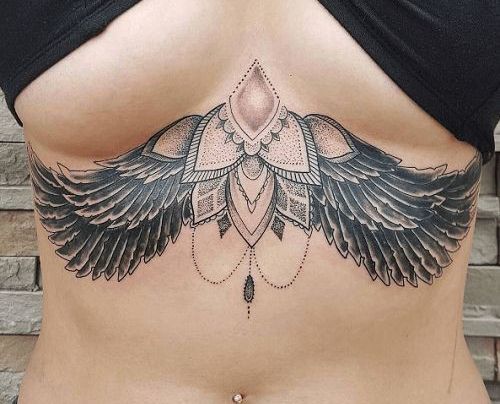 63. Majestic Angel Wings
Angel wings represent everything that relates to God, faith, protection, guidance, strength, and courage. They make for great under boob tattoos. They can be incorporated with other designs as well. Take a look at this under boob tattoo design. Does it not look majestic to you?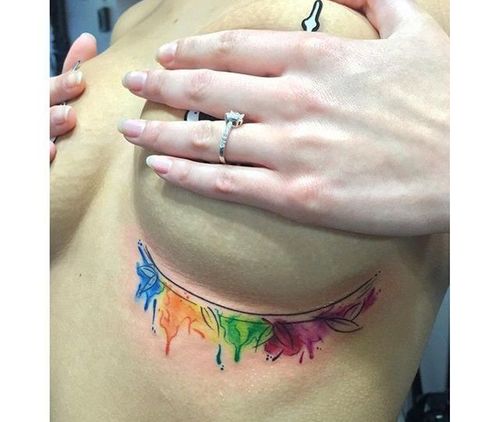 64. A Splash Of Color
Take an under breast tattoo up a notch by adding in it a splash of the rainbow. It is a simple leafy vine which has been taken up a notch with the addition of the beautiful colors.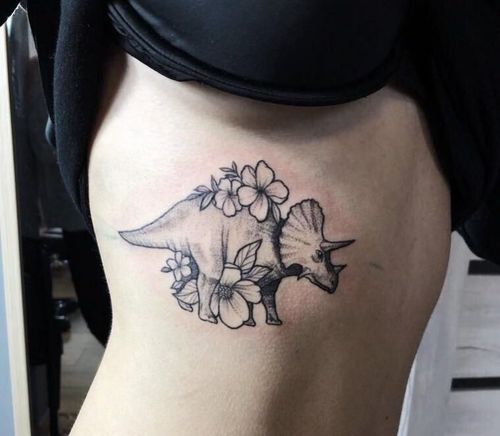 65. Back To Dinosaurs
If you are obsessed with dinosaurs just like Ross Geller from Friends, then you can convert your passion into an under boob tattoo design. It is easy, right? Pair your favorite dinosaur with flowers or any other elements of your choice. You can also let the dinosaur take the center stage if you like. It is all up to you.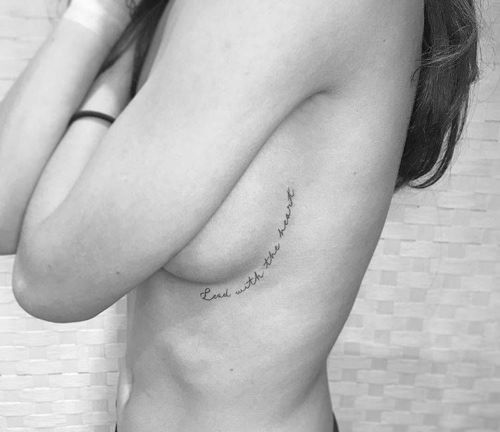 66. Quote For Motivation
The under breast area if not close is somewhat near the heart. So, it is only expected that some quotes for your under breast tattoo to have some sort of a relation with the heart. Take this one for instance. Notice how beautiful it looks.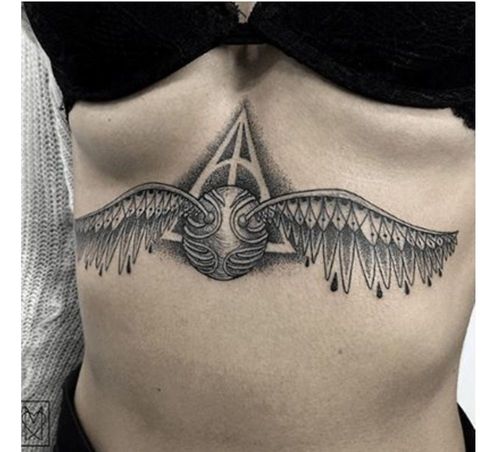 67. The Golden Snitch
This under boob tattoo is for all the Harry Potter fans. The golden snitch and the symbol of deathly hallows are like a dream come true for any diehard fan of the popular book series by J. K. Rowling.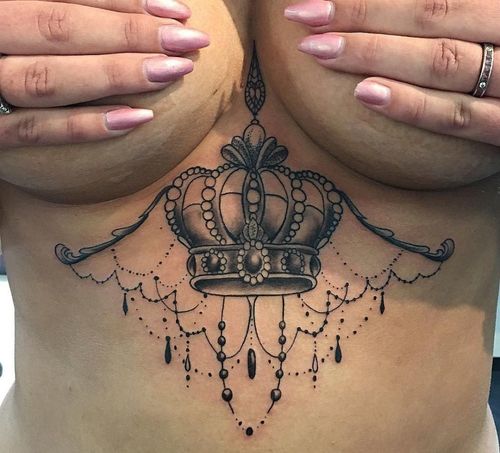 68. Bejeweled Crown
A bejeweled crown can be an interesting under breast tattoo option. A crown is symbolic of royalty, the throne, and all the powers that come with it. It is also a symbol of power and strength. An interesting option, right?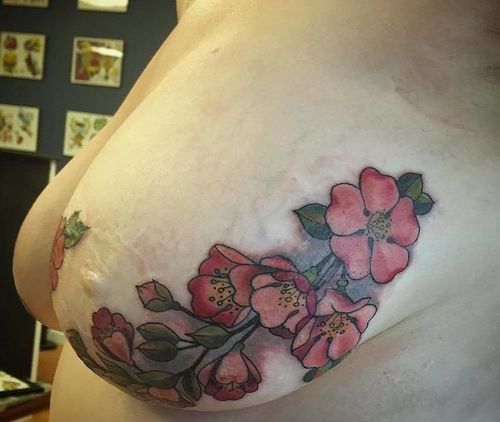 69. Fancy Red Floral Tattoo
This is another pretty example of a breast reconstruction tattoo. Here the tattoos are not on the sternum or the ribs but on the lower part of the breast itself. The red flowers look very beautiful and can help one see beyond the scars and struggles.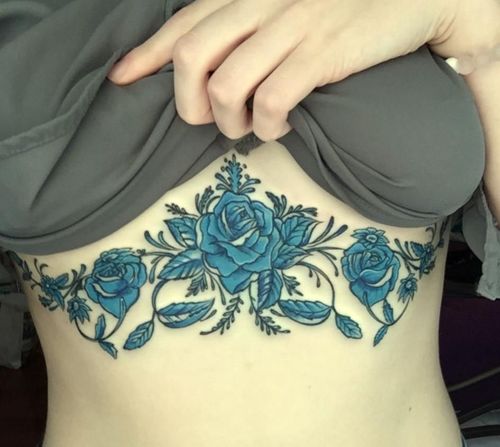 70. Beautiful Blue Roses
We have not seen something as beautiful and eye-catchy as this under boob tattoo. The blue roses take over the entire sternum and don't fail to impress. They present a calm, soothing, and serene picture.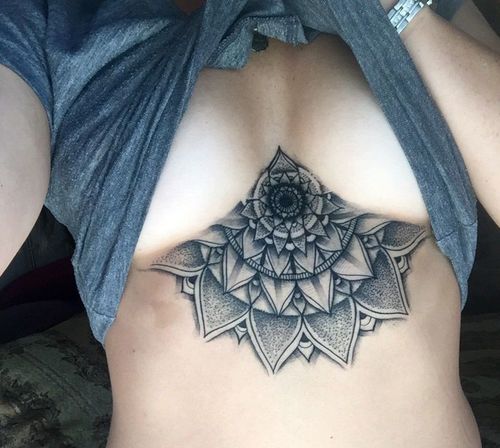 71. Floral Mandala
Mandala is a Sanskrit word that means circle. It is also known to symbolize the circle of life. A floral mandala looks like a flower but expands circularly just like a traditional mandala. The floral mandala design is an extremely popular choice of under boob tattoos.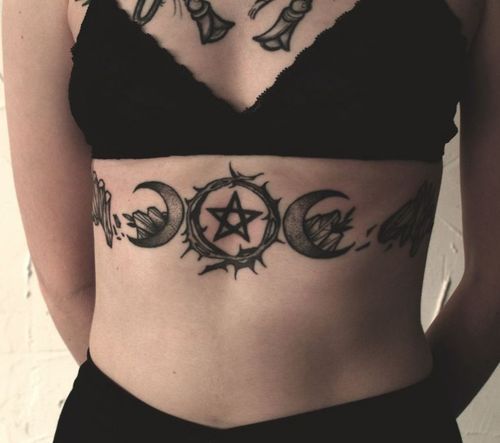 72. Of Moon And Pentagrams
2020 has not been anybody's year. Most of us are stuck in quarantine binge-watching Netflix. Let something good come to you. If you are into Sabrina and her adventures from hell then you will find that this under boob tattoo resonates with your aesthetic.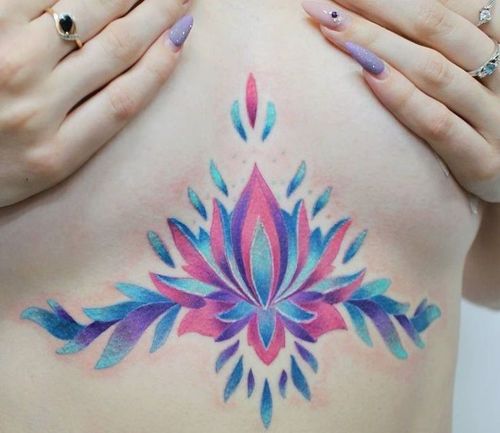 73. Beautiful Lotus Tattoo
A lotus symbolizes strength, perseverance as well as purity, and peace. It has been a part of many under boob tattoos. We liked this one in particular. Look at the soothing color scheme. It not only looks serene but also complements the symbolism of a lotus.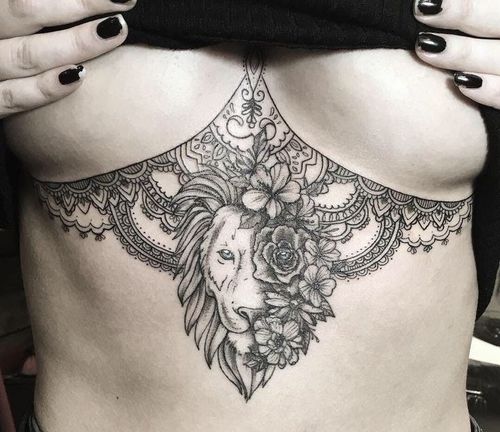 74. Leo Under Breast Tattoos
Just like nature, an inspiration for under breast tattoos can be taken from zodiac signs as well. This under breast tattoo is one such example. A lion is called the king of the jungle. It is a symbol of leadership, courage, strength, and bravery. It can be a good tattoo option for anyone even if you are not a Leo.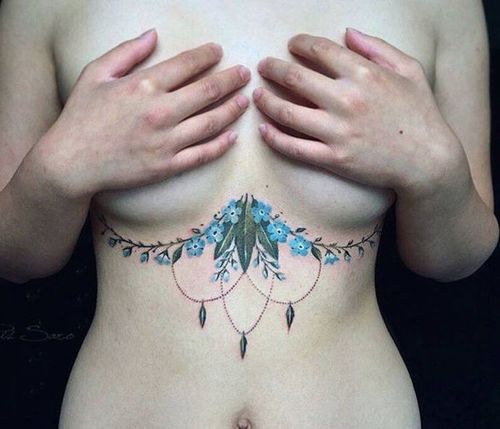 75. Dainty Watercolor Under Boob Tattoos
There is something about these dainty watercolor tattoos that will attract you. This under boob tattoo is dainty, pretty, and very ethereal.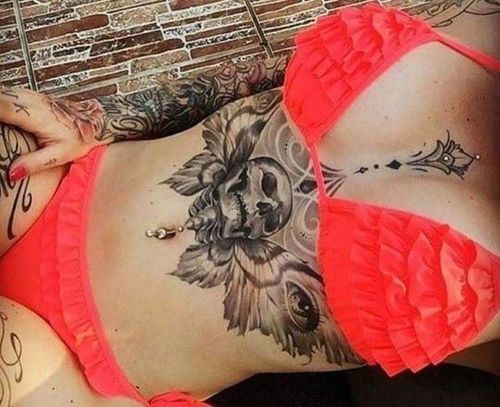 76. Skull And Butterfly
Here is an under boob tattoo option if you like something that fills up a whole lot of area. A skull represents mortality and death whereas the butterfly inked behind it would come to symbolize transformation. It can be interpreted to mean that for every death taking place, there is also a life being born. The eye can be understood as the eye of the God that sees over all of us.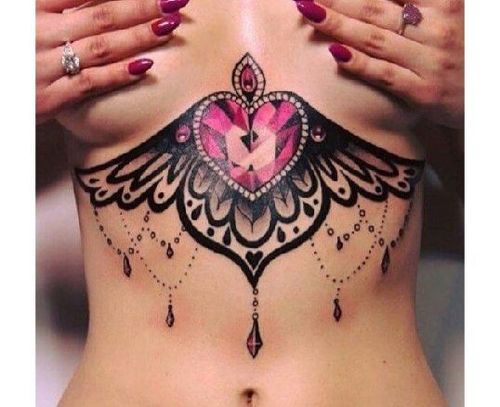 77. Heart Of Diamond
This beautiful diamond heart tattoo has our hearts. This under breast tattoo is very alluring and looks stunning as it is placed along with some impressive wings in black ink.
Related Articles