101 Most Popular Bridal Mehndi Designs For 2023
Shalu B
Updated At 05 May 23
Weddings are incomplete without a fun-filled mehndi event. And for the mehndi ceremony to be a success, you would need awe inspiring mehndi designs.
Want to know about the latest wedding mehndi designs? Want to know about which bridal mehndi design is the most popular? Looking for the best dulhan mehndi design which is georgeous and trending? Then, you have come to the right place. Keep scrolling as we have compiled a list of 101 latest bridal mehndi designs to give you all the inspiration you need for the mehndi event.
101 Trending Bridal Mehndi Designs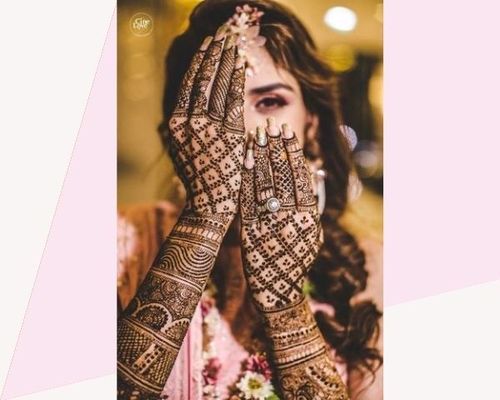 1. Criss Cross Vines Mehndi Design
This bridal mehndi design is as pretty as a picture. The simple use of different forms of lines has given rise to this beauty. The detailed line structure on fingers is followed by spaced leafy vines. The further use of dot and floral motifs along with some curved lines make this design aesthetically pleasing. This full hand bridal mehndi design looks gorgeous and can transform your look completely.
Also check out the stunning Leg Mehndi designs which are trending this year. This includes the designs with Mandala, heart shaped ones and many more.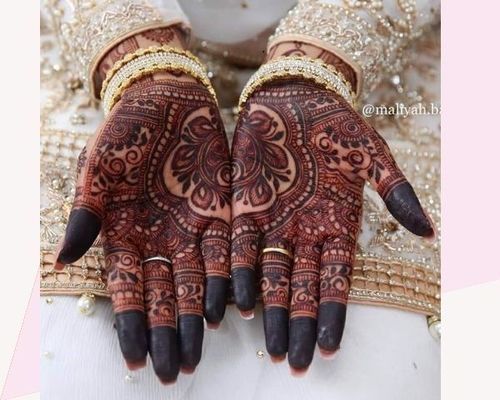 2. Half And Half Henna Mehndi Design
This stylish bridal mehndi design takes symmetry to the next level. A paisley design has been drawn in circular shape which is then surrounded by leaves and petals. And when both the hands are bought together the two halves become one complete motif. This is elaborate art of the next level.
Check out our guide to find the 21 best floral mehndi designs. All of these have been popular this year and have are apt for all occasions.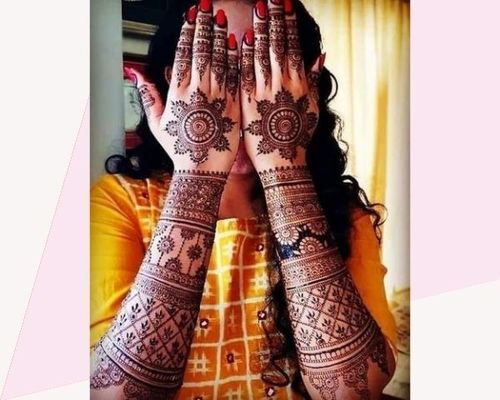 3. Floral Mandala Wedding Mehndi Designs
This bridal mehndi too uses the combination of floral patterns and the mandala pattern. A variety of motifs and patterns have been inculcated in this simple mehndi design and they have been placed very articulately making this design very appealing to the eyes. The usage of flowers and mandala design makes this simple bridal mehndi design very appealing.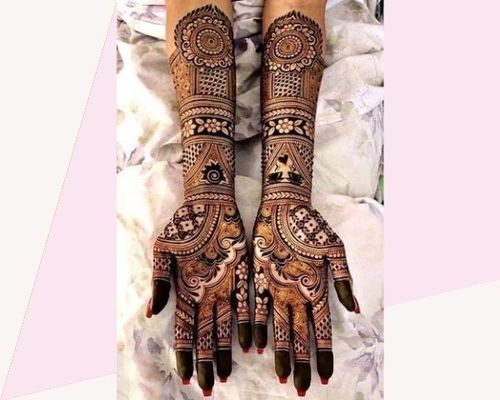 4. New Bridal Mehndi Design
2023 is all about unleashing your creativity. Mix and match various motifs. If you can't figure out which motif should go with which then just go all in like this design. This heavy bridal mehndi design uses everything from floral patterns to paisleys and from the mandala design to lace pattern. And that's not all. The unique play with light and dark shades has surely made this hand mehndi extremely beautiful. Also, those two little tea cups are hard to miss.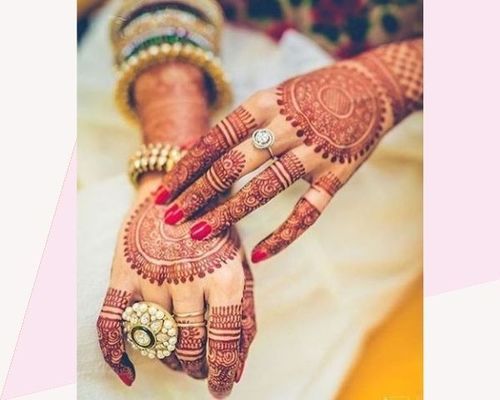 5. New Mehndi Design For Brides
This easy mehndi design has a mandala pattern in the center which is big enough to cover the entire hand. The remaining space has not been filled with small motifs and patterns for the sake of clarity and definition. This bridal mehndi design for back hand however continues further from the cuffs with intricate net pattern and floral motifs including rose and lotuses.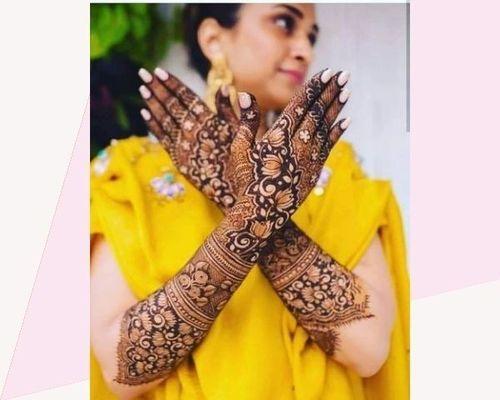 6. Bridal Mehndi Design With Lotus
Floral motifs are not the same as they used to be. This year it is the lotus motif which has gained immense popularity. This new mehndi design reminds one of the Mughal era paintings and in fact imitates the design that was often used for building gateways. This stylish bridal mehndi design looks just stunning and can complement your look perfectly for the all important day.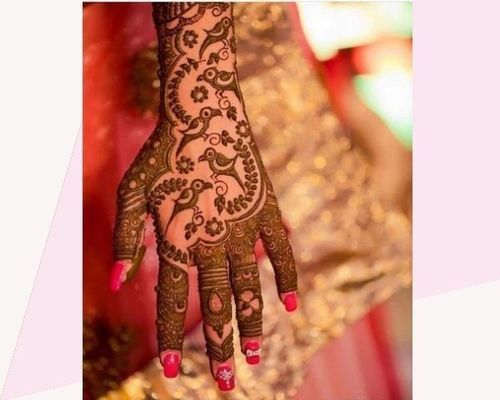 7. Dulhan Mehndi Design With Bird Story
Move over peacocks and give some space to the parrots. The dainty and intricate design on fingers is extremely beautiful. The parrots sitting on vines makes is very eye catchy and unique.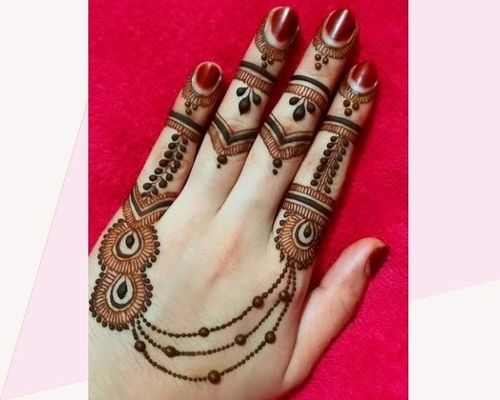 8. Jewellery Mehndi Design For Brides
This jewellery mehndi design is inspired by hathphool but it does not exactly look like it. It uses floral motifs and a chain like design connecting two different floral patterns. This design is minimal and chic. It is perfect for the busy bride who does not want to spend too much time but still wishes to have the fun.
Do check out our guide to find the 50+ best cone designs which have been trending this year. We have listed all the stunning designs in our guide which are apt for all occasions.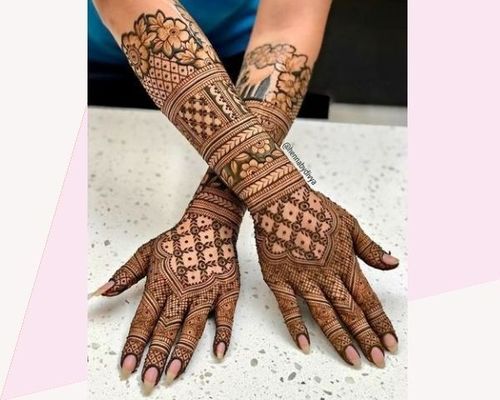 9. Lace Like Bridal Mehndi
Get more of those Mughal-era feels with this stunning lace glove-like bridal mehndi design. This design uses different kinds of floral motifs both big and small. It also makes use of the cross hatched lines. All the different components come together to make this elegant design. This royal bridal mehndi design looks stunning and can compliment your attire perfectly.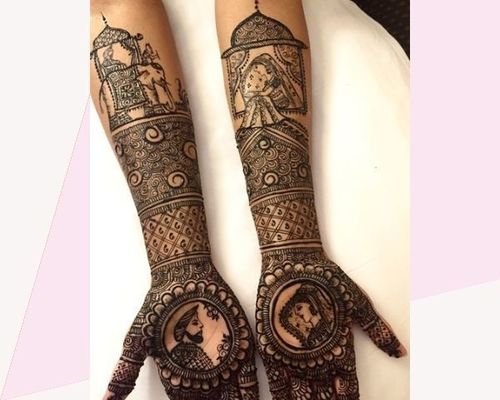 10. The Dulha Dulhan Mehndi Design
The concept of the dulha dulhan mehndi design is not new and has been used since years. But, the interpretation keeps on changing. In this design, each hand is dedicated to the dulha and dulhan respectively. The focus of this new mehndi design has been kept on the dulha-dulhan motifs. The rest of the design is intricate yet simple and has been used to fill in the spaces. If you are looking for an indian bridal mehndi design which gives a royal feeling, then your search ends here.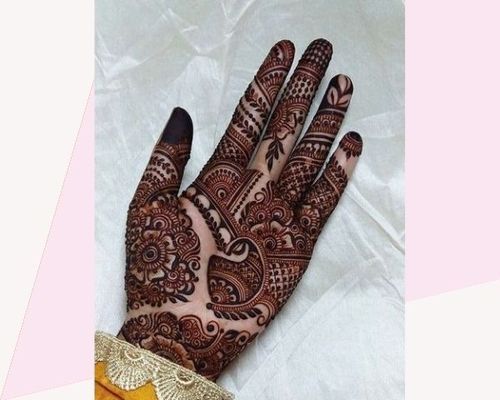 11. The Traditional Khafif Mehandi Design
This is a beautiful Khafif mehndi design for brides. The floral motifs, paisleys, leaf motifs and curves all come together to make this latest mehndi design appealing.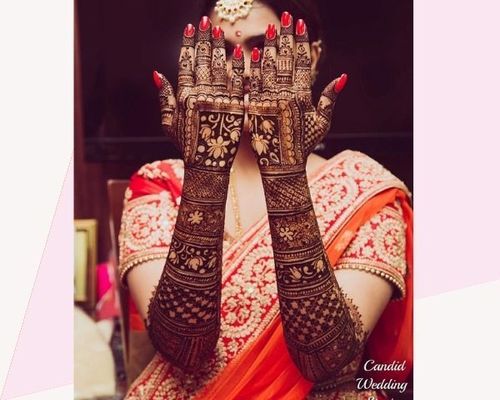 12. New Bridal Mehndi Design
This new bridal mehndi design follows a more geometric approach. It does not use curved patterns and motifs but uses more lines. The center of attraction here is the lotus motif which is then surrounded by a square frame. The leaf like structure on the frame imitates lotus leaves. This aesthetically pleasing mehndi design stretches to the elbows.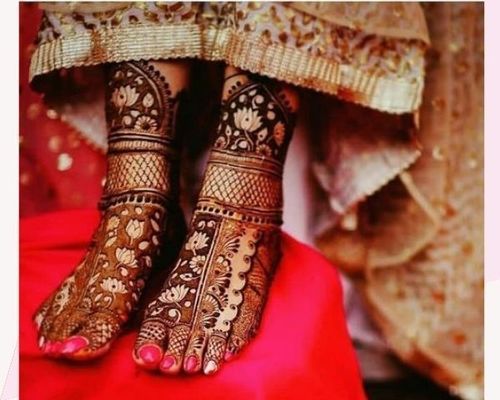 13. Lotus Bridal Mehndi Design For Feet
The lotus pattern is an equally popular mehandi design for feet. This particular dulhan mehndi design makes use of negative space. Who knew simple lines and dots can lead up to such an attractive design.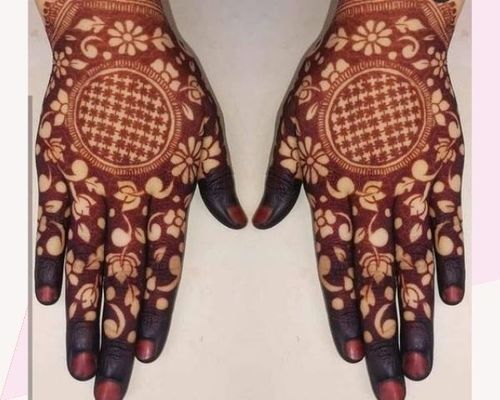 14. Beautiful Mehndi Design With Lotus
If you thought you have seen the last of lotus, then you were wrong. This particular marriage mehndi design comprises of the lotus motif drawn using negative space. What makes this design different from others is the manner in which how the lotus pattern completely fills the entire hand while the center of the backhand makes place for a circular design which is filled in with the lace design.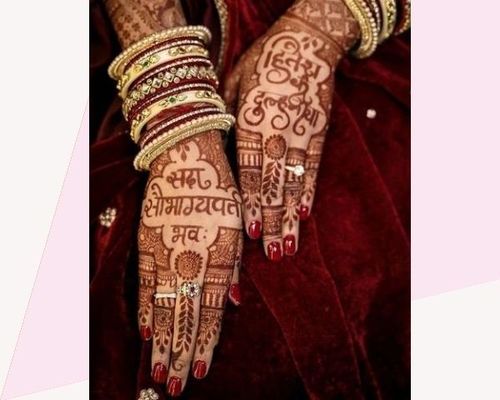 15. The Name Game
Gone are the days of hiding the name of the groom in the bridal mehndi design. The modern designs are more straightforward. Declare your love for your soon-to-be husband by getting his name etched on one hand. You can add a traditional blessing on the other. This simple bridal mehndi design is very easy to implement and looks stunning.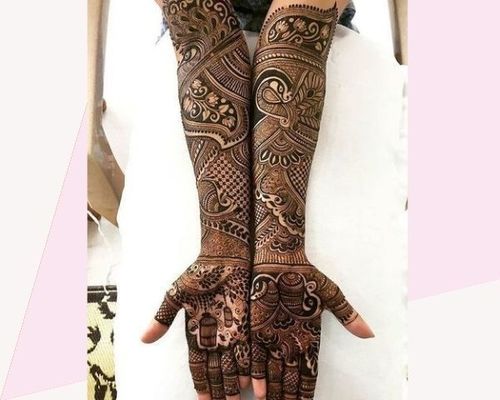 16. Peacocks And Paisleys Hand Mehndi
This is another one of those wedding mehndi designs which makes use of a variety of motifs and patterns. In such designs it is all about the placement which makes each of them uniquely gorgeous. This particular heavy bridal mehndi design uses floral patterns, leafy vines, tear drop motif, paisleys, peacocks and lotus motif. What caught our eye were the beautifully done peacock feathers. Apart from the traditional motifs, we also see here the use of bird houses. If you are looking for bridal mehndi designs with paisleys and peacocks, then this can be a perfect match.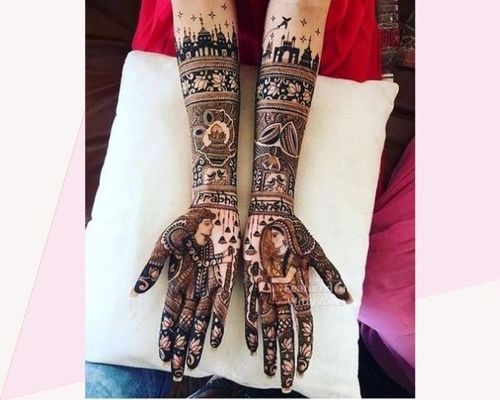 17. New Mehndi Love For City
This mehndi design is a fresh take on the traditional dulha dulhan mehndi design. In addition to the traditional dulha-dulhan motif, this bridal mehndi also shows the auspicious kalash and gathbandhan. Musical instruments played at the weddings have found their place in this design as well. What makes this design more interesting is the addition of the monumental motif depicting the city the bride and groom respectively belong to.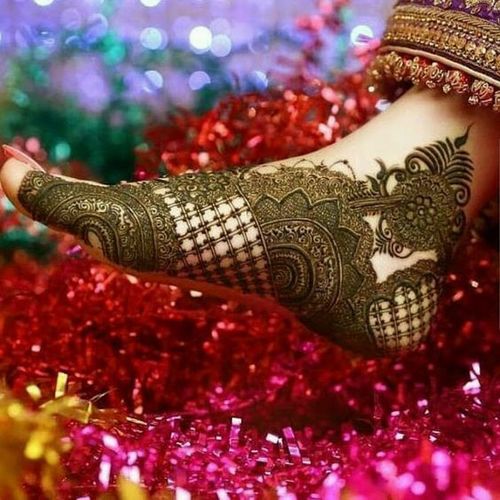 18. Elaborate Foot Mehndi Design
This intricate bridal mehndi for feet is one of the more complex ones and looks stunning. It uses the same lace pattern and floral motifs and yet the manner in which they are drawn has made this design unique and alluring.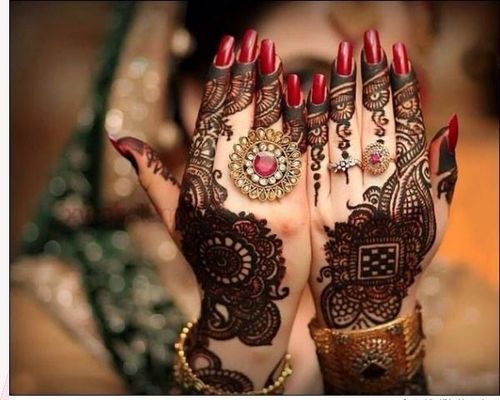 19. Wedding Mehndi Designs
This henna mehndi design is full of grace and elegance. It makes use of the floral motif but it is something which is not commonly made. The floral pattern combined with architectural patterns let this bridal mehndi design make a statement of its own.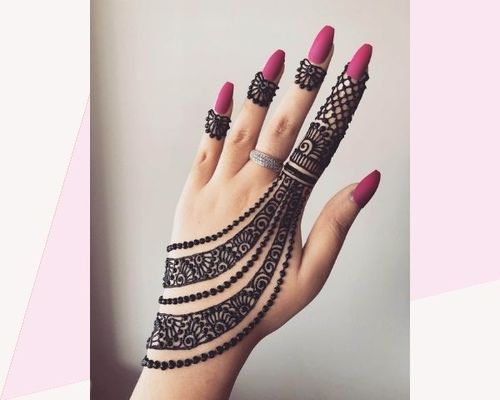 20. Jewellery Mehndi Design
It is yet another trend of 2023 where traditional jewellery like the hathphool is imitated in a mehandi design. This particular design is a fresh take on the hathphool trend. Instead of using the traditional flower with chains design, it uses a bunch of flowers with leaves which are then connected to a linear line design made on the index finger with a chain.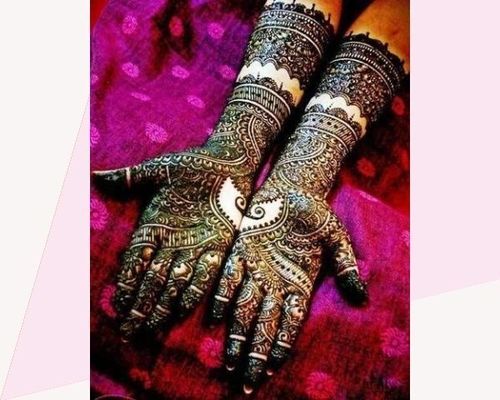 21. Mirror Bridal Mehndi Design
The mirror mehndi trend has been on the mehndi designs latest list for quite some time now. In such a design exact same patterns are drawn on both hands. In other words, the design on one hand looks like a mirror copy of the other. This particular design is very intricate and the small space left around the paisleys give it an attractive look.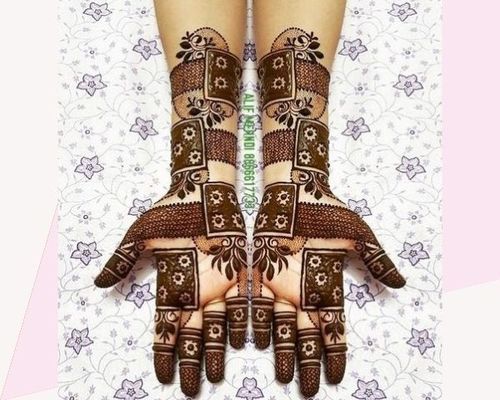 22. New Geometric Bridal Mehndi
Bored of the curves and circles? Then keep it straight and somewhat squared with this bridal mehndi design. The combination of squares and flowers is actually doing wonders to this design's beauty.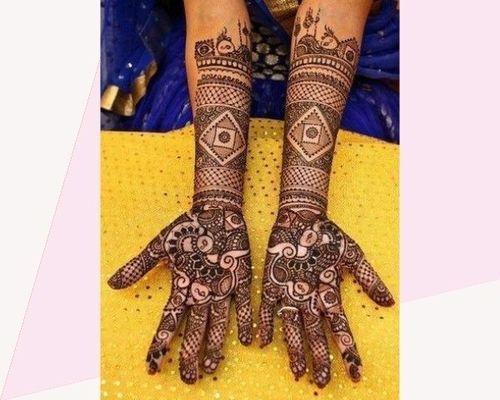 23. Marriage Mehndi Design
Quit thinking about symmetry and draw different mehndi designs on both hands. This mehndi design is a perfect example for such a case. It has used the same old paisley motif. However, it is the unique placement of those motifs among other things which makes this design truly different.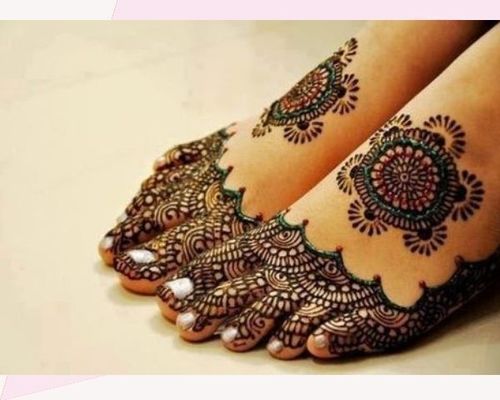 24. Colorful Wedding Mehndi Design
You can also go for colorful bridal mehndi like this one. This mehandi design comprises of a mandala in the center with smart floral work on the toes. The use of colors in this design gives it an element of fun.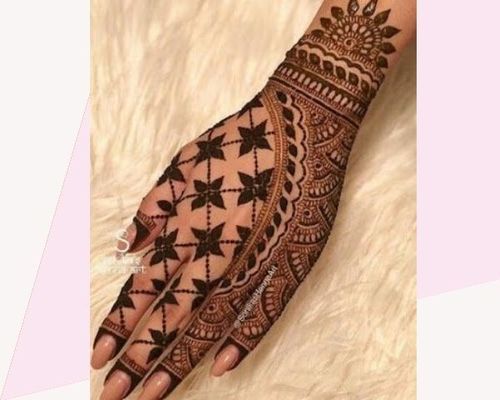 25. New Bridal Mehndi Design
This new mehndi design is a classic example of the two in one mehndi design trend. It consists of a spaced floral net like design on half of the hand and uses intricate floral design on the rest of the hand. The interplay between space and intricacy makes this bridal mehndi very attractive.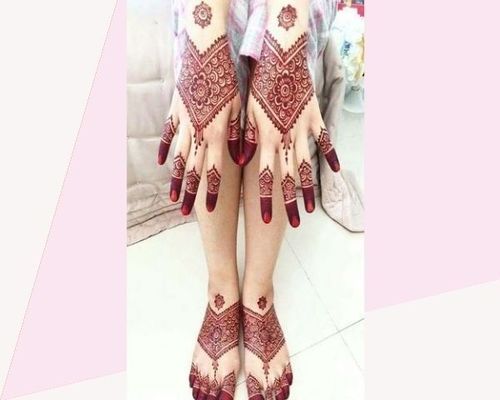 26. Henna Mehndi Design For Brides
This new mehandi is a refreshing take on the on the jewellery mehndi design. It is not anything like the jewellery mehndi trend. In fact, it is a geometric play on the concept. It has a geometric design in the center as well as on the fingers where both of them are connected an elongated tear drop design replacing the chains.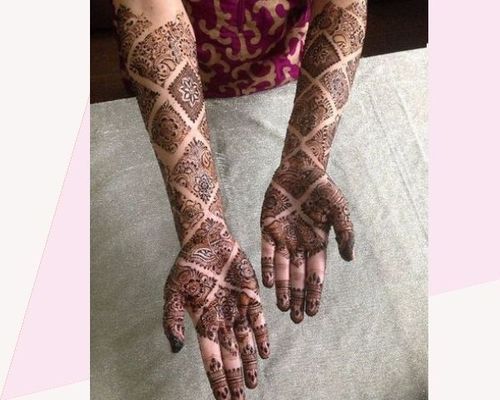 27. Mehandi Design
Little blocks of square filled with different motifs and patterns—this is a new mehndi design for the bride who wants to do it differently from the crowd.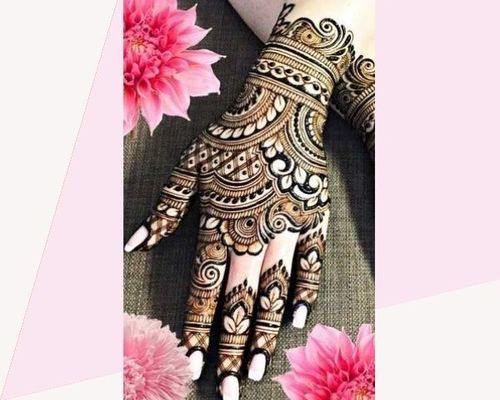 28. New Floral Bridal Mehndi Design
This beautiful bridal mehndi uses floral and leaf motifs. What makes this design even more appealing is the use of light and dark colored henna.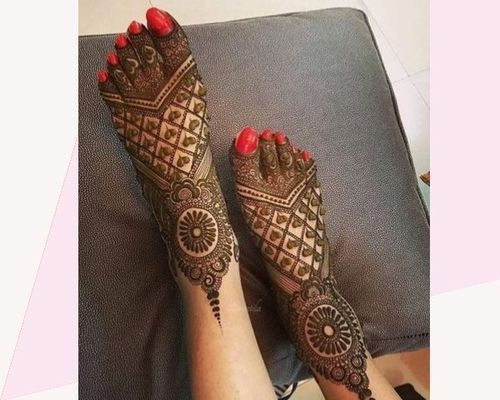 29. Beautiful Bridal Mehndi Design For Feet
This is a very elegant and alluring bridal mehndi design complete with floral and net pattern. We absolutely love the interplay between the spaced net design and the intricate and detailed design on toes as well as the rest of the feet. Also, the dome like structure that is surrounding the flower is absolutely unique and new.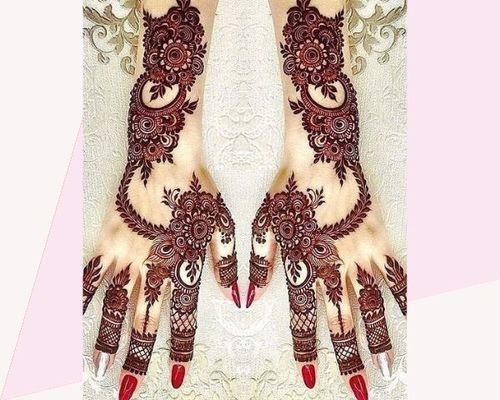 30. Arabic Mehndi Design For Brides
This is a new Arabic mehndi design with floral and leaf patterns. The curved leafy vines add to the beauty of this design. The net and floral motifs on the fingers are somewhat reminiscent of the jewellery mehndi design and look absolutely stunning.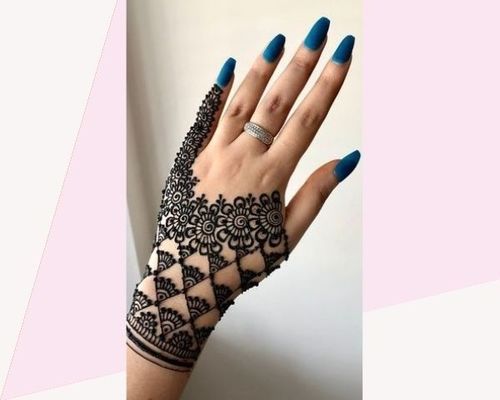 31. The Floral Network
This bridal mehndi design is similar to the lace-glove mehndi design. The only difference is it uses bigger floral motifs.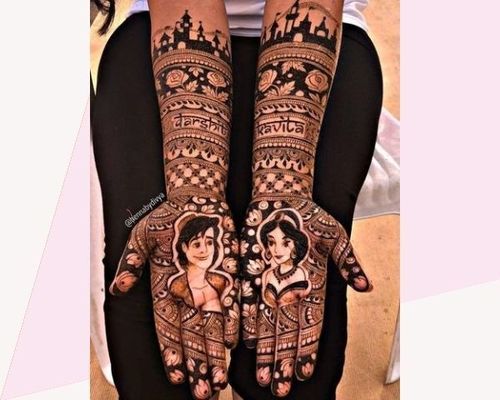 32. Disney Bridal Mehndi
If you have always loved the Disney fairy tales then this bridal mehndi design is for you. This new mehandi design uses the same old floral, lotus and net motifs. But instead of the image of the bride and groom, this mehndi design depicts Disney prince and princess. This one features Aladdin and Jasmine. You can opt for the ones you love.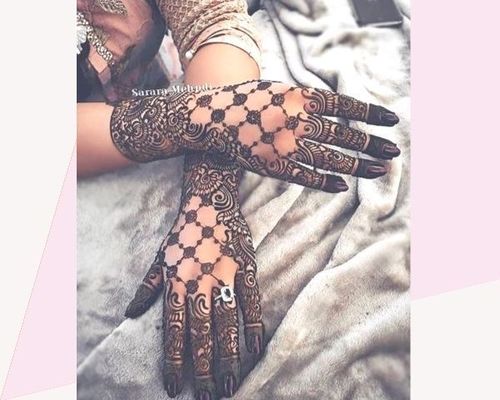 33. Floral Net Dulhan Mehndi Design
This bridal mehndi is yet another take on the lace glove-like mehndi design. It imitates the graceful lace glove perfectly with its rose centered net and intricate floral design on the fingers and cuffs.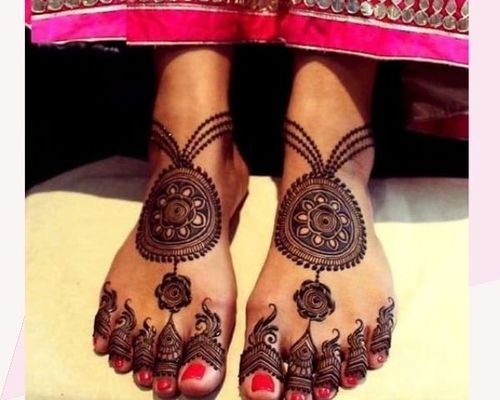 34. Mandala With Net
The mandala and floral patterns go hand in hand as can be seen from this beautiful design. The arched frame is used to set a difference between the net pattern and the spiral pattern on toes. The border work on around the feet as well as around the toe nails makes this bridal mehndi design aesthetically pleasing.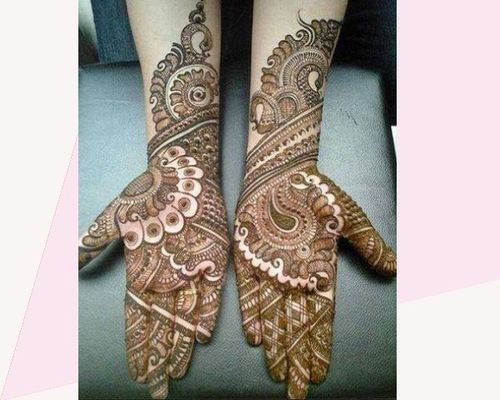 35. Peacock Glory
This beautiful bridal mehndi design comprises of the peacock pattern and shows them in their full glory with stunning feather design. The focus here is solely on the peacocks while the floral and line patterns are used to fill in the space to make this mehndi design look more intricate and full.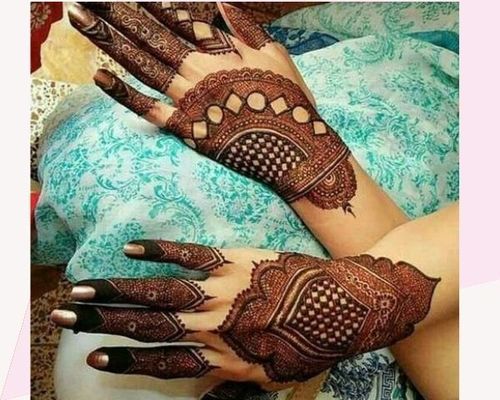 36. All About Differences
As per the latest mehndi design trends, it is not necessary that the same design should be applied on both hands. This particular design is a very good example. This design uses geometrical and architectural designs along with intricate patterns which fill in the space.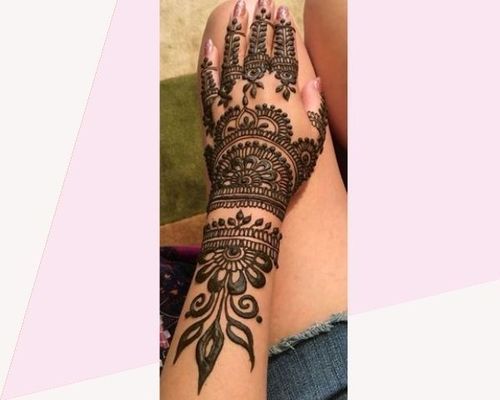 37. Beautiful Floral Mehndi For Backhand
This beautiful bridal mehndi design with floral and leaf motif imitates the jewellery mehndi design to some extent. The stunning cuff work is surely very captivating.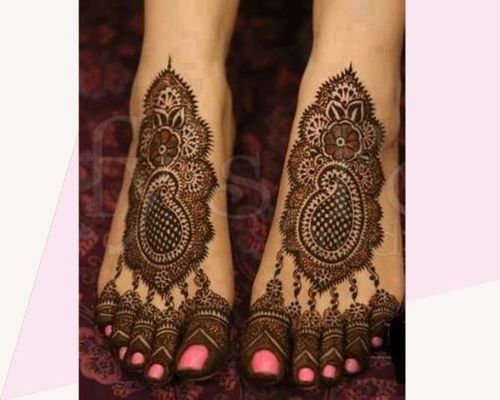 38. Mirror Bridal Mehndi For Feet
This mirror mehndi for feet uses the paisley motif as the center piece. The rest of the design is developed around it. The intricate work on toes adds to the beauty of this bridal mehndi and makes it very appealing to the eyes.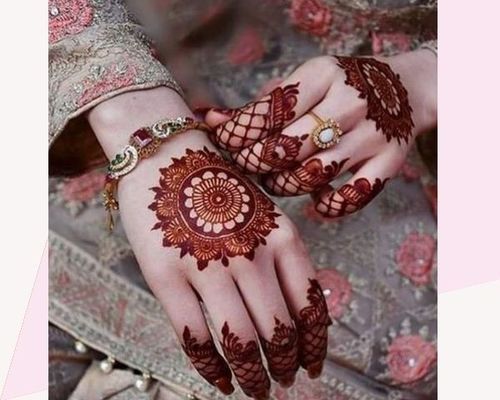 39. The Simple Mandala Mehndi Design
Mandala is another common motif which has been traditionally used in weding mehndi designs as it depicts the circle of life and is consisdered to be auspicious. This henna mehndi design is minimalistic chic with the mandala at the centre and lace pattern on the fingers.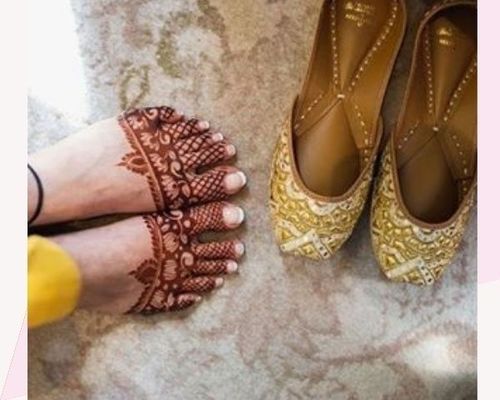 40. Foot Bridal Mehndi Design
If you are not a fan of fuller mehndi designs, then you can opt for something like this. This particular bridal mehndi design for feet focuses only on the toes. It starts with simple net pattern on toes followed by the popular lotus motif. The border line towards the end adds definition to this whole mehndi design.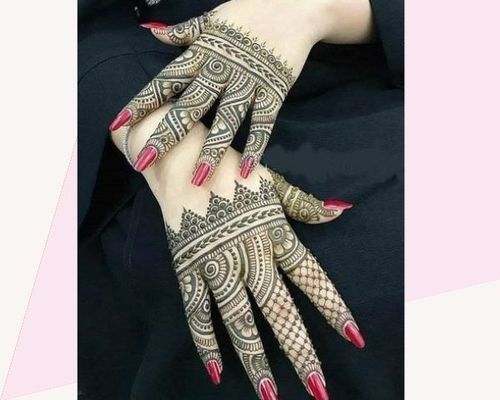 41. Chic Bridal Mehndi
This bridal mehndi design is for the minimalistic chic bride who is not a fan of the full intricate patterns. This new mehandi is limited only to the fingers and has floral as well as net patterns. A classic example of mix and match!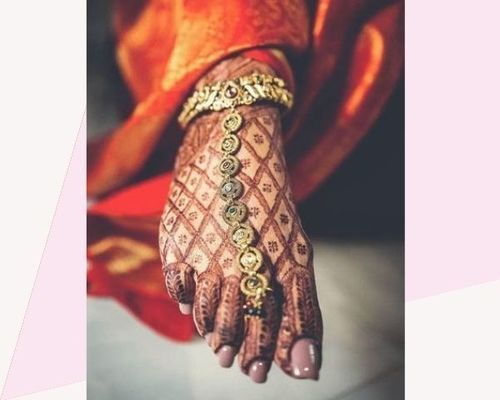 42. Elegant Cross Net Mehndi For Brides
This bridal mehndi design for feet is extremely elegant. It does not use fancy intricate motifs. Instead, it uses squiggly lines in a crisscross pattern to form a net all over the foot. A tiny dotted design is used to fill in the space between the net patterns which further adds to the beauty of this design.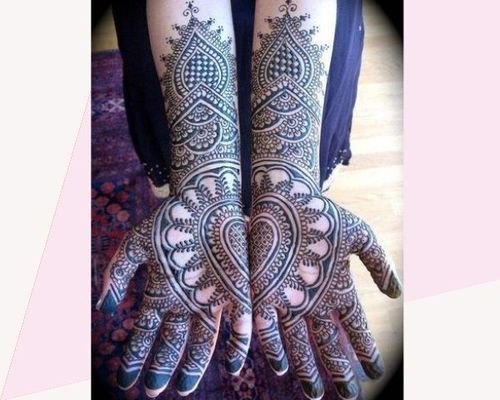 43. The Complete Circle
This bridal mehndi design is another classic example of the half and half mehndi design trend. What captured our attention was the formation of a heart within the circle when both hands are brought together.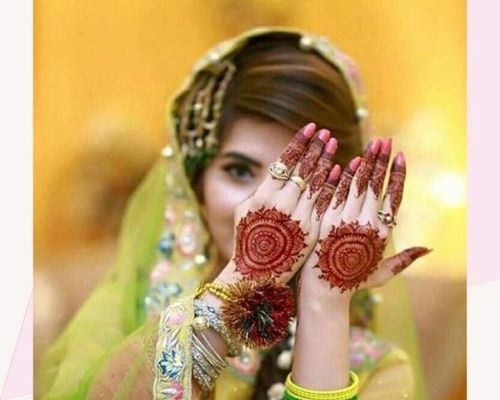 44. Henna Wedding Mehndi Designs
Even a simple mandala design can look beautiful. This bridal mehndi design is a proof of that. It is not exactly minimal or intricate. This design falls somewhere in between and is very elegant.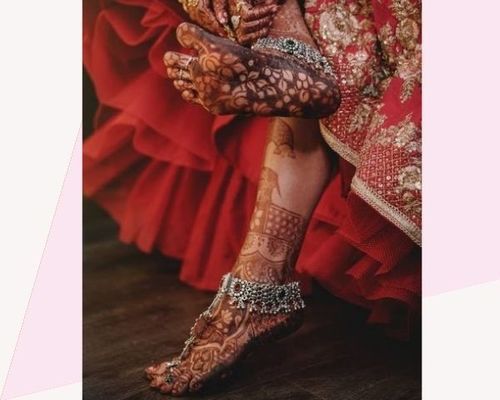 45. The Full Canvas
Why just paint the upper portion of your feet? Make use of the full canvas and add some beautiful design on the backside of your feet as well. For instance in this mehandi design, the upper visible portion comprises of lotus motif, floral patterns and paisleys whereas the backside of the foot also uses the lotus motif but in negative space giving both side a contrasting look.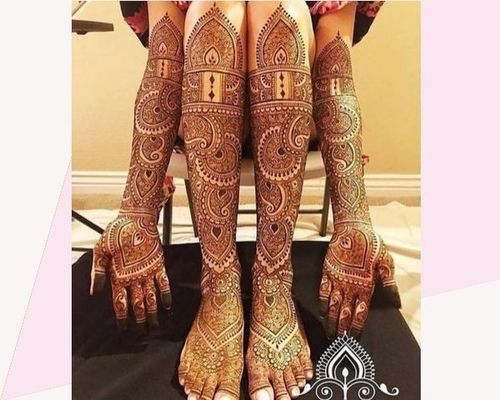 46. Traditional Paisley Mehndi Design
Paisleys are still a popular choice for bridal mehndi designs. This intricate mehndi design is made up of paisleys as well as arch-like patterns which are then filled with smaller motifs. This is a mehndi design with a lot of detailed work. It is really appealing how the dome like pattern fits as a cuff on both hands and feet.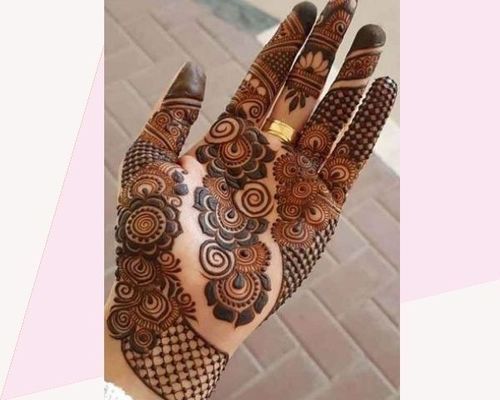 47. Khafif Mehandi Design
This floral Khafif mehndi is truly elegant and uses different kinds of floral motifs and patterns. The use of space adds definition to this bridal mehndi design.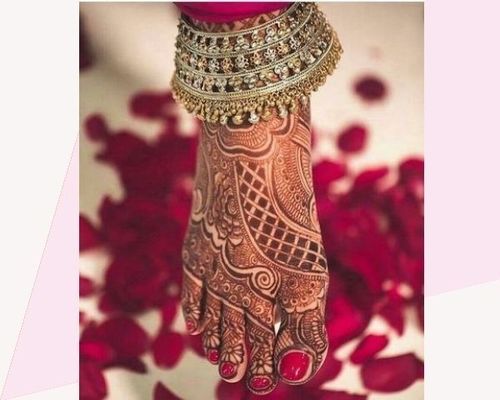 48. Beautiful Bridal Mehndi For Feet
This beautiful dulhan mehndi design uses floral patterns alongside curved lines. This new design fills the entire feet and paints a pretty picture.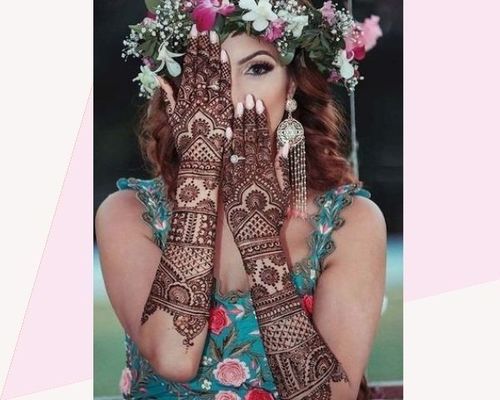 49. Latest Bridal Mehndi Design
This bridal mehndi design is another geometrically shaped design. The arches take the center stage while the different floral motifs fill in the space. The detailed work on the fingers adds to this design's beauty.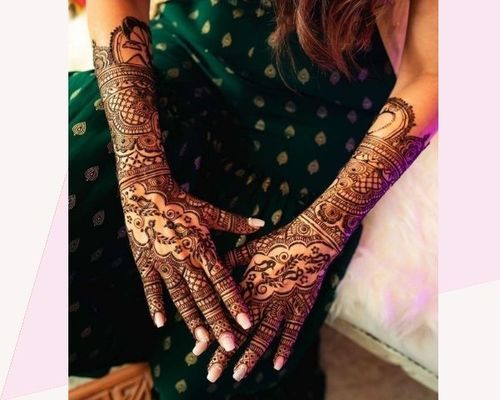 50. Elegant Paisley Bridal Mehndi
Paisleys are the oldest and most reliable go to pattern for bridal mehndi. This particular design is made completely of paisleys. The left out space is then filled out with vine and leaf motifs. Even though this design has a lot of paisleys yet each paisley is of a different design which gives this hand mehndi a whole new look.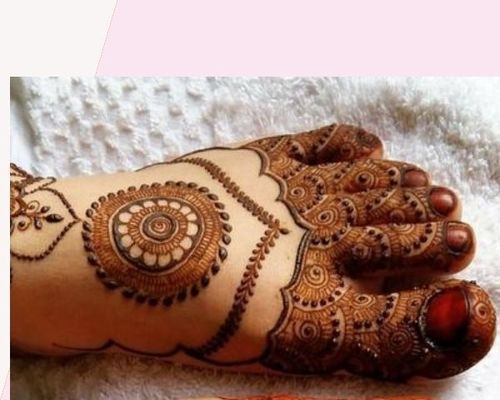 51. Mandala Design For Feet
When in doubt, mandala it out. Mandala design is by far the easiest design which looks beautiful and elegant. And this design is not just limited to hands. You can also draw it on your feet. The basic mandala is this design is accompanied by dainty floral work on the toes. The pointed cinquefoil arch along with the leafy vine beautifully frames the mandala design.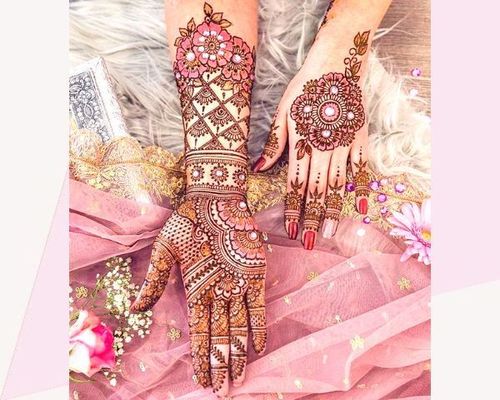 52. Bridal Mehndi Design With Gemstones
A step beyond your regular mehndi, this mehndi look includes pink coloured flower petals and gemstones to demarcate the center point of each flower. This elegant look can be customised to complement and elevate your bridal lehenga.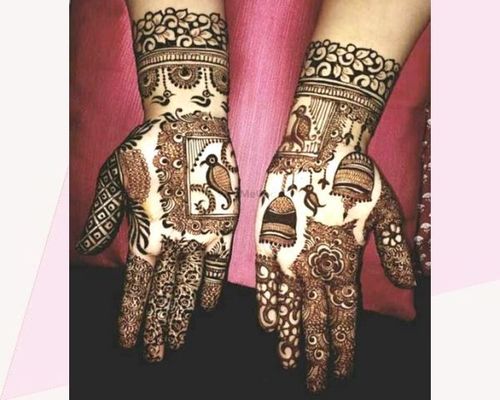 53. Bridal Mehndi Design With Birds
If you're a fan of traditional motifs in your mehndi, then this one's for you. This mehndi design features motifs of birds like sparrows and swans on the palms, with intricate geometric patterns covering the fingers.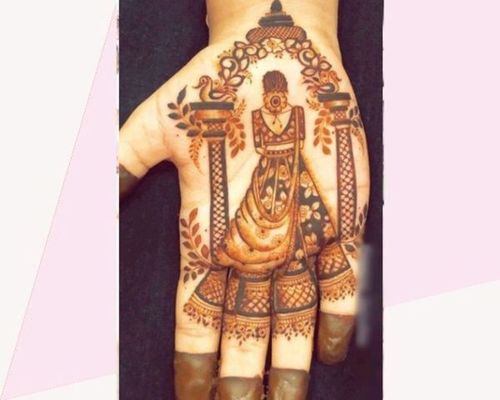 54. Bridal Trousseau Mehndi Design
This beautiful mehndi features a motif of a bride walking through an archway as the central focus of the design. You can get your mehndi designed to look like your own outfit and hair on your special day.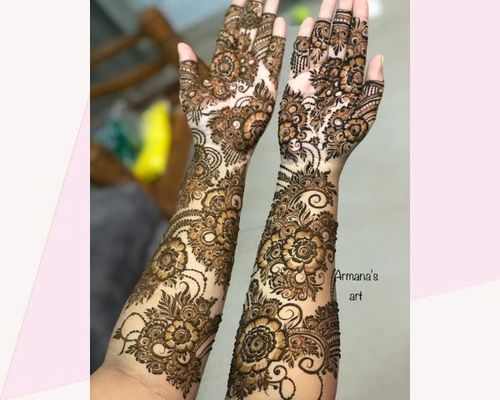 55. Delicate Floral Bridal Mehndi
A floral design is perfect to heighten the beauty of a bride as delicate and beautiful as a flower. Some curly patterns and geometric designs are used to decorate the fingers. This design looks enchanting when paired with floral hair accessories.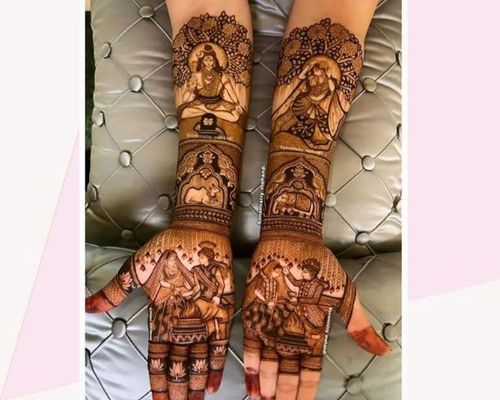 56. Storytelling Bridal Mehndi
This gorgeous mehndi design showcases the bride and bridegroom participating in wedding rituals on the palm. Further, the forearms feature various traditional and religious motifs, such as Lord Shiva with a Shivlinga and a cow. Between the intricate patterns on the finger, some beautiful lotuses are bloomed.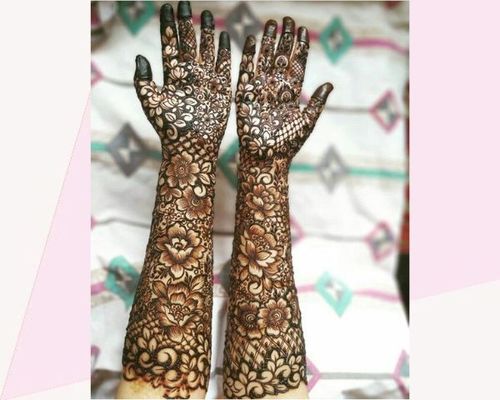 57. Heavy Floral Mehndi
The ultimate look for the main wedding day! The entire front and back of the palms and hands is covered with heavy and intricate patterns, all the way up till your elbows. This particular design features large flower motifs surrounded by cross stitch and swirly designs.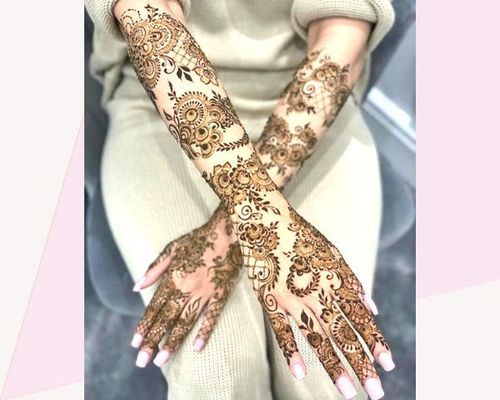 58. Bridal Floral Mehndi With Open Spaces
Featuring small, intricate flowers made in a traditional fashion. The fingers and palms have a classic cross stitch design and circular motifs. Thin leaf covered vines connect the individual designs to pull the entire look together.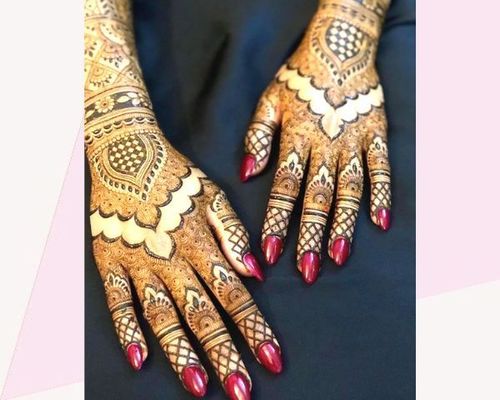 59. Mughal Bridal Mehndi
Inspired by timeless Mughal architecture, this style of mehndi will make you look majestic on your special day. Mughal style mehndi incorporates designs inspired from windows and archways of real-life Mughal architecture. This ethereal look is sure to make you stand out as royalty.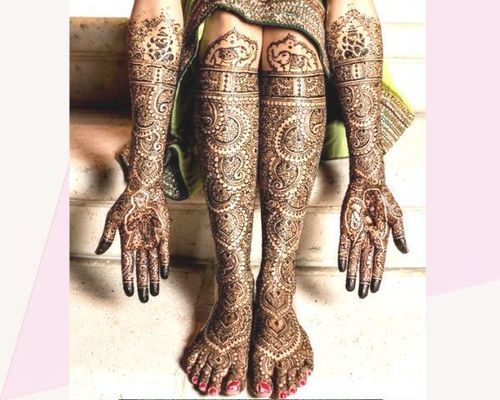 60. Royal Feet Mehndi Design
Want to be a queen on your big day? Go for this regal bridal mehndi design to adorn your feet. This bridal mehndi design for legs features diamond patterns, lotus motifs and symmetric patterns. Small leaf vine designs complete the look by beautifying the toes. This looks a heavy mehndi design for brides, but it can complement the look perfectly.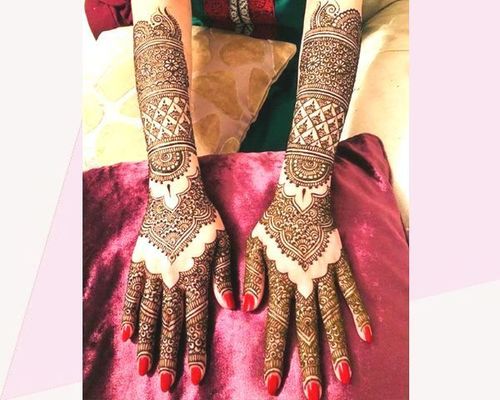 61. Meknessi Bridal Mehndi Design
Moroccan Mehndi style comes all the way from the Middle East. This exotic style of Mehndi incorporates diamond shapes and symmetrical designs. Meknessi Mehndi is a subset of Moroccan henna which contains small, simple flowers within symmetrical lines and shapes.The flowers soften the otherwise angular and sharp patterns.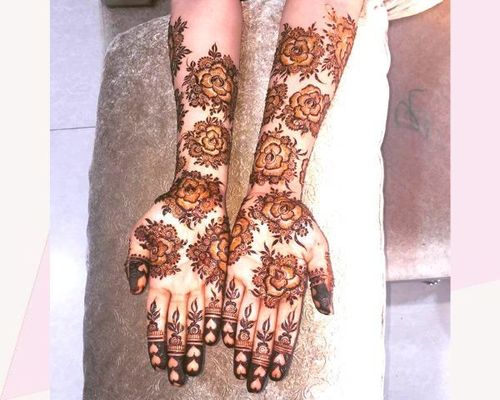 62. Arabic Roses Mehndi
The next dulhan mehndi design on our list is super romantic and feminine. This soft bridal mehndi design has an array of ornate roses blooming all over your hand and arms. A few cute hearts on your fingertips act as the perfect finishing touch.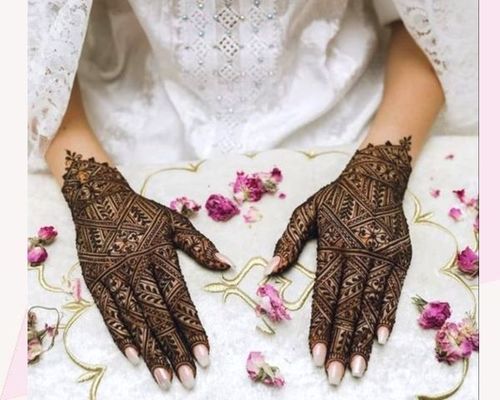 63. Heavy Detailed Palm Mehndi
This dulhan mehndi design is ideal for brides whose bridal trousseau features a blouse with long sleeves. Why? Because long sleeves can cover up most of your arms, leaving only your palms exposed. All the attention falls directly on your palms, making it a smart choice to focus on heavily detailing your palms only.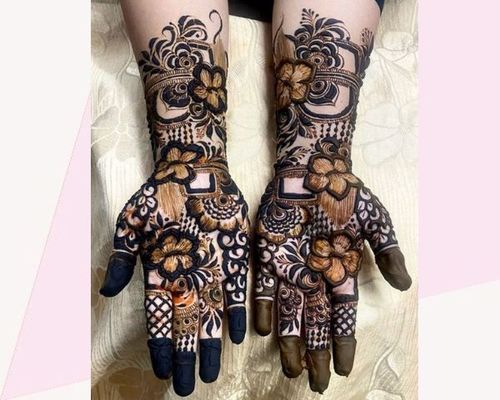 64. Dubai Bridal Mehndi
Dubai mehndi designs are famous for being bold and stylish. Influenced by the Arabic mehndi style, the Dubai mehndi style employs the use of several floral patterns and small details. This particular dulhan mehndi design lies more on the modern end of the spectrum, and includes square geometric shapes as the highlight of the design. Meaning intricate or tangled in Arabic, the Khafif mehndi style majorly concentrates on the palm.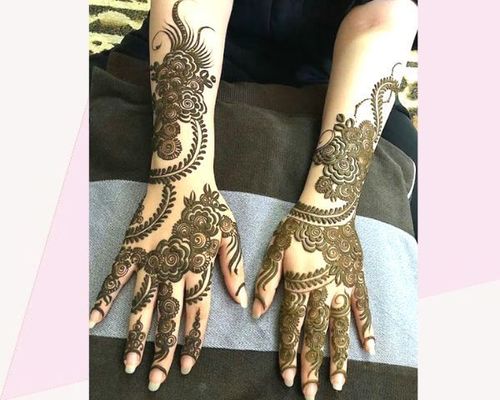 65. Khafif Bridal Mehndi
Meaning 'intricate' or 'detailed' in Arabic, the Khafif mehndi style is a subset of Arabic style of mehndi. The Khafif style is preferred by many brides for their big day because of the fine strokes and finely-detailed patterns. For brides who want to go the extra mile and have keen attention to detail, khafif style is a great bridal mehndi design choice.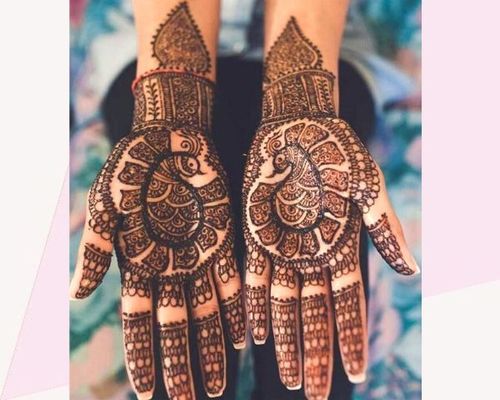 66. Paisley And Peacock Bridal Mehndi Design
Peacocks are stunning and give off a majestic vibe, so it only makes sense to include this regal bird in your dulhan mehndi design. This particular design features minute patterns to cover the rest of the hand.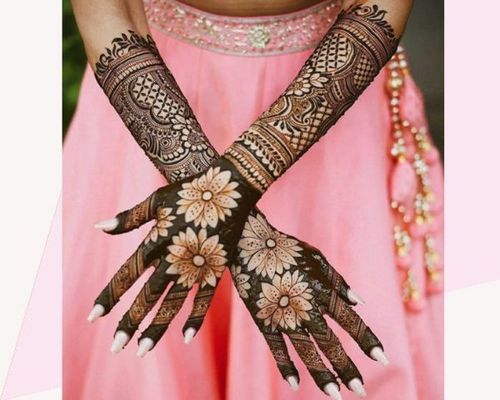 67. Shaded Sunflower Mehndi
Another beautiful dulhan mehndi design to add to our list– this design includes motifs of vivid sunflowers in full bloom on the back of your palms. The rest of the hand and arms are covered by extremely heavy and finely-detailed patterns. The intricate patterns create an almost shaded appearance.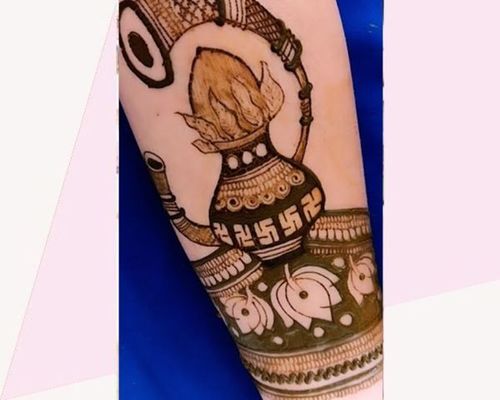 68. Kalash Mehndi Design
The Kalash is a very auspicious symbol in Hinduism. This bridal mehndi design takes on the sanctity of marriage and translates it this spiritual symbol on your arm. The holy swastik signs and adornments of lotuses, with a shehnai instrument as the background makes it a clear option for weddings.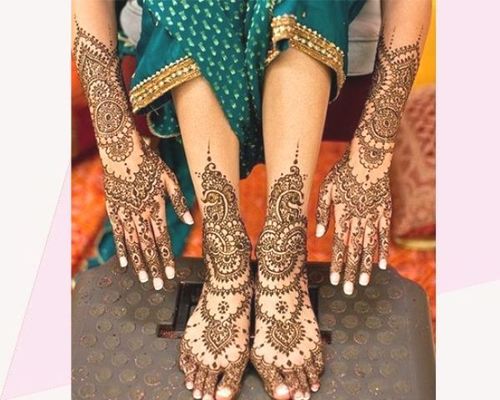 69. Nets and Dots With Flowers
As the name suggests, this stunning bridal mehndi design for your feet introduces three main elements– net designs, floral vines and dots to fill the wide spaces between the designs. With small flower vines on the feet and large flowers lining the border of the design on your lower leg, this dulhan mehndi design will surely give you a fabulous look.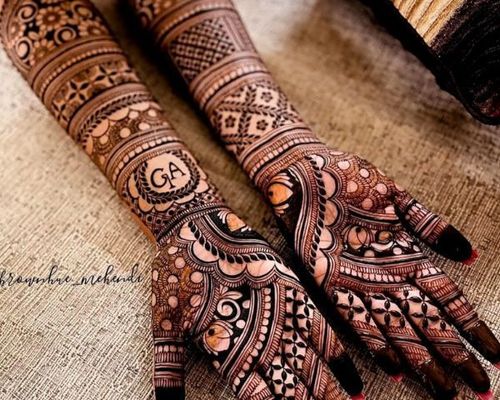 70. Tiered Mehndi Design
This bridal mehndi design features several tiers or layers of mehndi. Each tier is separated by a fine border and features a whole new world of designs– from florals to net patterns and ornamental designs. This design has extensive fine–detailing and requires high skill and patience to execute.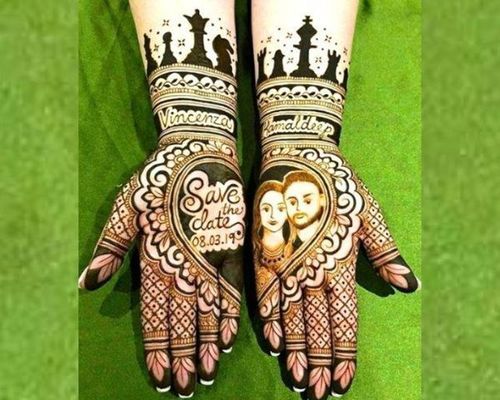 71. Couple Portrait Bridal Mehndi
With the assistance of a talented mehndi artist, you can get the images of you and your to-be husband on your palm. In this design, the couple's portrait is encased in a symmetric heart design along with the date of the wedding ceremony. Further, the names of the couple are added in a band in cursive writing. Lastly, king and queen chess pieces are drawn on the border to symbolise the couple.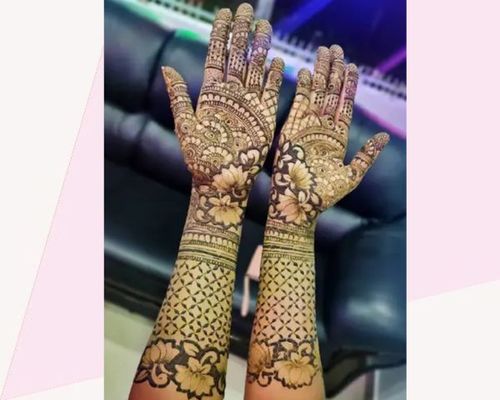 72. Elegant Netted Design
Next on our list of eye-catching bridal mehndi designs is this gorgeous mehndi design. The arms are covered in an elegant net design and bordered by floral decoration. The palms feature beautiful circular motifs filled with fine patterns.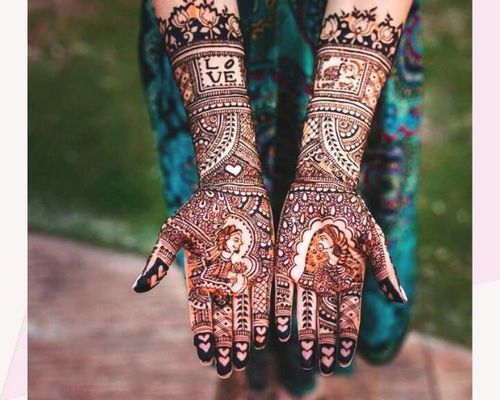 73. Baarat Procession Mehndi
This dulhan mehndi design unfolds the story of a groom arriving on a horse to his bride. Parallelly, the upper portion features the bride being carried in a palanquin while the groom arrives on top of a majestic elephant. This design highlights several more auspicious elements, such as Lord Ganesha, writings of religious shlokas, an 'Om' and the impression of the feet of the bride's first step in the house of her in-laws.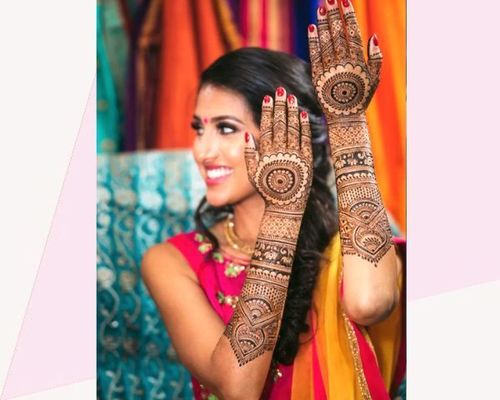 74. Tiered Mandala Mehndi
Take inspiration from this bridal mehndi design which blends the worlds of traditional and contemporary mehndi. The main focus of this design are the circular mandala patterns on the back of the palms. The arms are covered with tiers of mehendi separated by patterned borders, with each section showcasing a different mehendi design.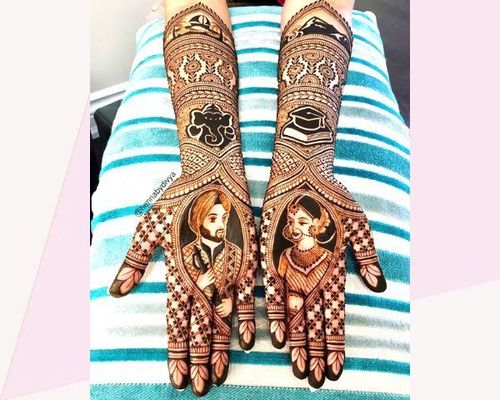 75. Dulha Dulhan Bridal Mehndi Design
A romantic dulhan mehndi design which features a symmetric heart design, this romantic mehndi features a bride and groom. Finely detailed ornamental patterns complete with leaves, dots, crisscross and floral patterns adorn the rest of the hand.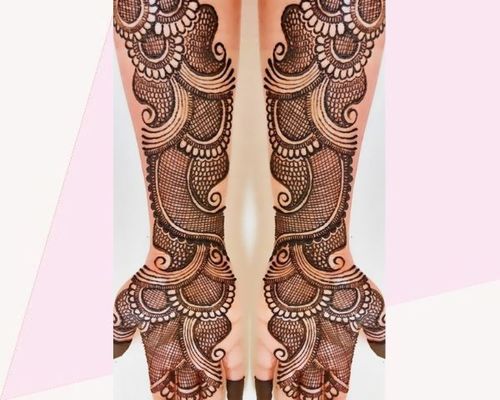 76. Swirly Mehndi Design
If you prefer rounder designs over abstract and geometrical designs, then try out this bridal mehndi design. The shaded finger tips provide a solid contrast to the think strokes of fine cross cross patterns within the ornamental designs.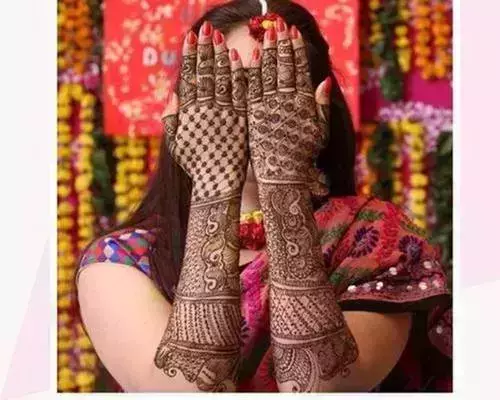 77. Jaal Pattern
The backhand Jaal pattern Dulhan mehndi design with two different jaal patterns, small flowers, and a circular design is unique. It's a great option to try this bridal mehndi design as it covers the full hand and looks so gracious.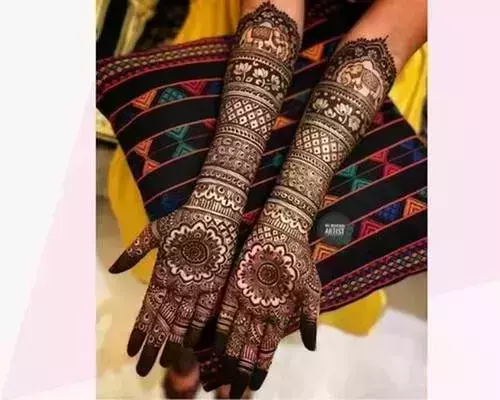 78. Intricate Mehndi Design
This full-hand bridal mehndi design, which will go up to your arms, is a pretty one. Look at this pretty design and how beautifully it is created. It's so magical, neatly prepared, and full of elegance. The centrepiece of this mehndi design has an amazing circular floral design.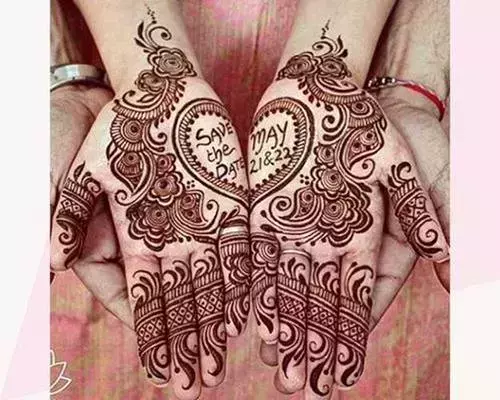 79. Informative Bridal Mehndi Design
Try this save-the-date mehndi design on your engagement or your wedding and write the date on it. The floral mehndi design with the heart joining was beautiful. This is a simple bridal mehndi that can be applied quickly.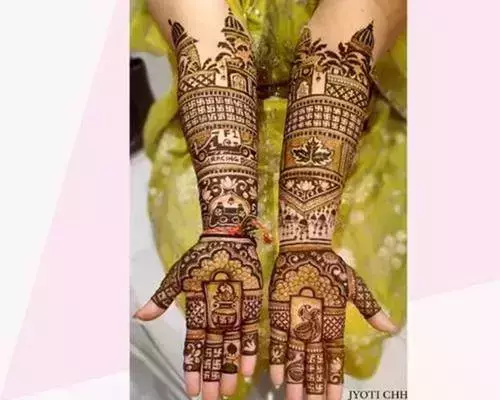 80. Swastik Mehndi Bridal Design
What a cool combination! This traditional and sporty mehndi design is one of a kind. Bridal mehndi designs are always so personal. The bride and groom appear to be F1 Racing fans, which is incredibly drawn in this mehndi design. The wedding bells, Swastik symbol toward the arms, Kalash, and musical instruments are so traditional and classic.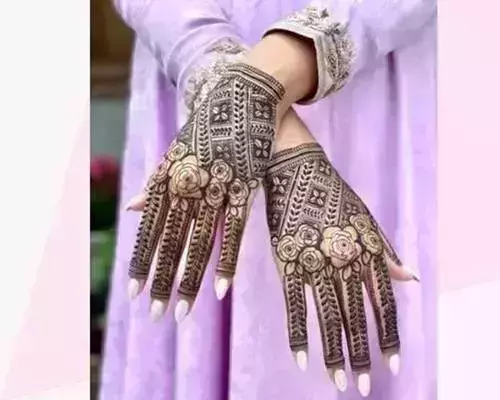 81. Fancy Floral Bridal Mehndi
This designer floral mehndi design is so alluring. Check out this mehndi design, and we are sure the bride will love this latest bridal mehndi design and save it for her collection. The perfect roses and the leaf motifs are wonderful.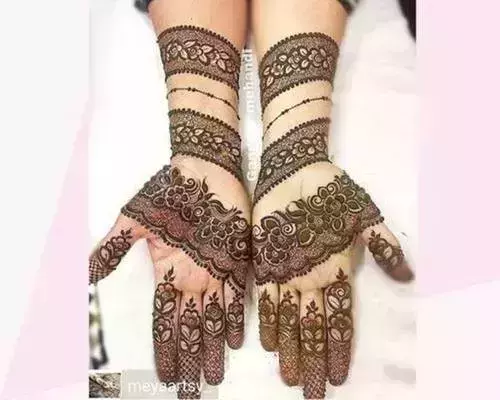 82. Triple Layer Mehndi Design
If you're trying a fancy design for your big day, then this triple-layer mehndi design is just the answer to your bridal mehndi design. It's extremely stylish and elegant in its presentation. The florals and the intricate design attached to them make this design a masterpiece. The pattern is almost done in layers, and each layer makes it perfect.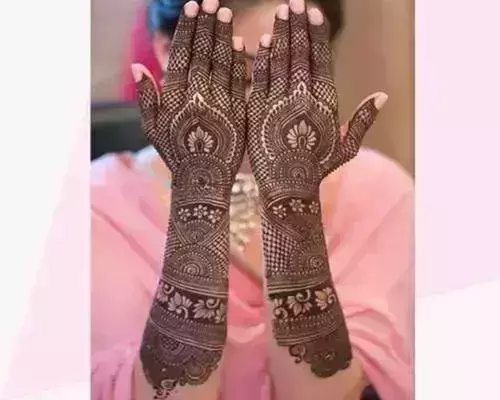 83. Elegant Bridal Mehndi
A mixture of elements and variations makes this mehndi design stunning. The detailed design and the exquisite florals are the main beauties of this Indian mehndi bridal mehndi design. This traditional mehndi pattern looks splendid. There's a lot of mesh patterning here, as well as floral and leafy work.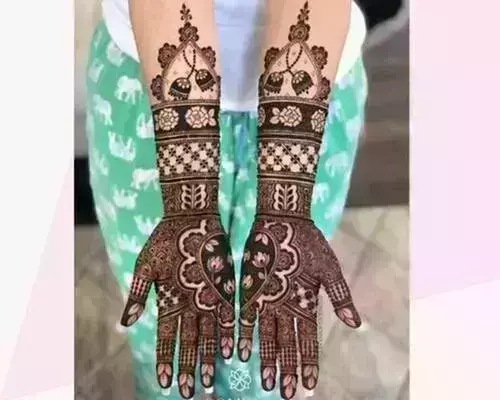 84. Floral And Bells Mehndi Design
This bridal mehndi design is bold and beautiful and gives a 3-D effect. This mehndi design is striking and has beautiful floral patterns. The shaded florals are elegant, and the traditional touch of the wedding bells is well coordinated and gives a royal feeling.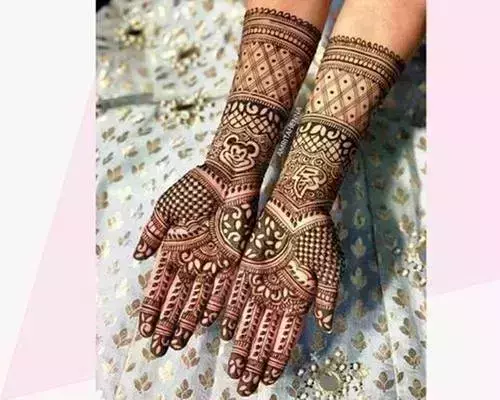 85. Mickey And Floral Mehndi Design
If the bride has a love for cartoons and is still fond of her childhood cartoon character, then you can impressively incorporate a cartoon character into your bridal mehndi design. The Mickey Mouse in the mehndi design is nostalgic. You will surely enjoy having this funky mehndi.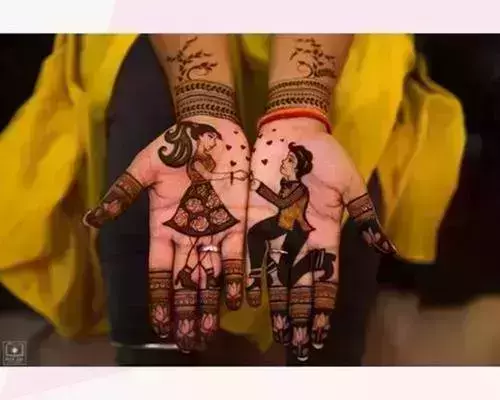 86. Easy Bridal Mehndi Design
It is fashionable to personalise your mehndi design for your wedding. The bride or groom can express their special moments on their hands by making the Dulhan mehndi design personalised. Try making this simple and easy bridal mehndi design, which depicts the proposal day or a proposal scene. This is a short mehndi design and is completely magical!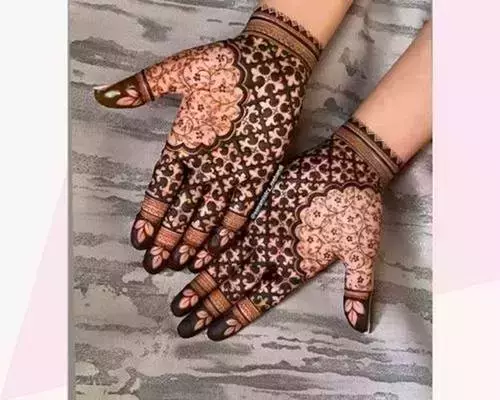 87. Mesh Pattern For Palms
A stylish and unique mehndi design that will look good on the bride or the bridesmaid is this mesh-patterned mehndi design for the palms. The slight spiral floral and the heavy, bold mesh design make this mehndi design different.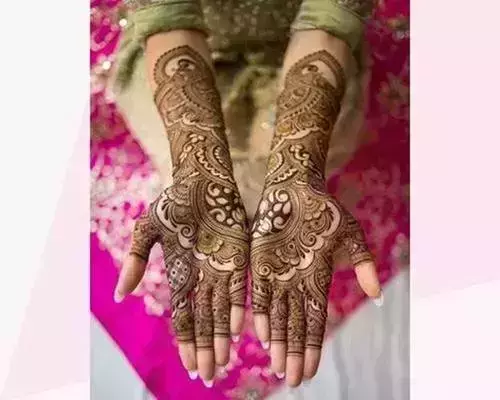 88. Floral Motifs Bridal Mehndi Design
The first thing one will notice in this bridal mehndi design is the floral motifs. The beautiful leafy patterns will steal your heart. The entire mehndi design is a blend of bold, shaded, intricate, swirl, and twirl designs.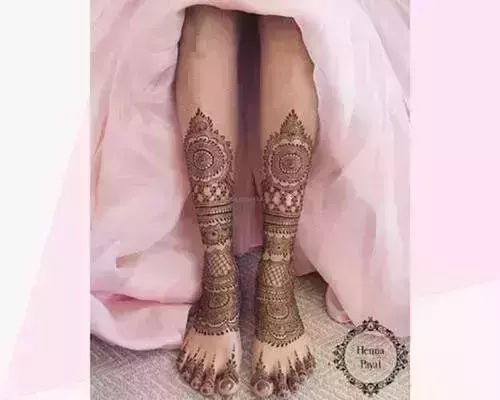 89. Bridal Long Mehndi Design
This bridal mehndi is surely for the bride who is looking for a long design for her legs. This unique mehndi design is beautifully spaced at the fingers, and moving forward, the entire design flows beautifully towards the knees.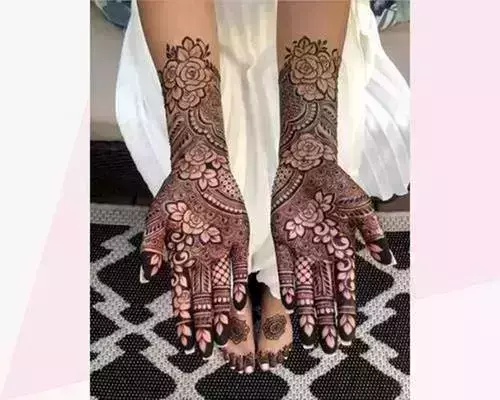 90. Rose Dulhan Mehndi Design
This Dulhan mehndi design is inspired by floral and shaded themes. Beautiful roses decorate the fingers, palms, and the end of the mehndi design near the wrist. The entire floral design has a feminine feel and is different. Both hands have the same mehndi design, and the use of motifs has taken the design to another level.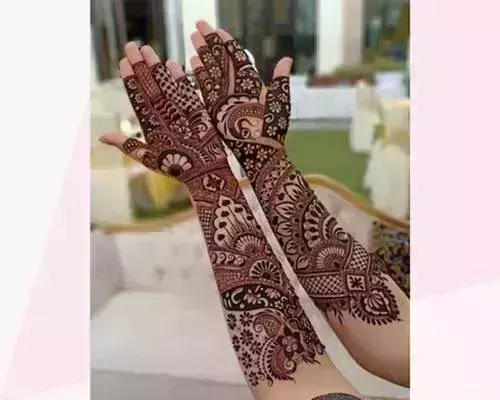 91. 3D Effect Bridal Mehndi Design
This impressive mehndi has turned out to be so astonishing! The trendy mehndi design is mixed with contemporary and classic mehndi designs.The shaded florals and strands are highlighted with a brilliant 3D effect.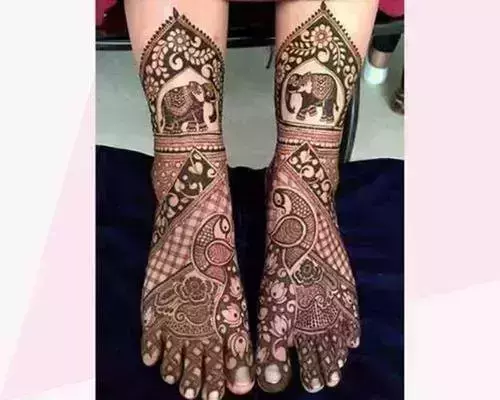 92. Peacock And Elephant Foot Mehndi Design
The beautiful peacock on the foot and fingers completes this mehndi design. The elephant at the end of this mehndi design provides a good finishing touch to this dulhan foot mehndi. The entire design is a fully filled pattern for your special occasion.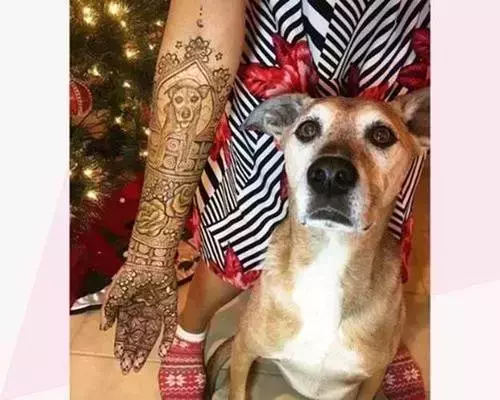 93. Your Pet Mehndi Design
If your pet is super important to you and you're in love with him completely, then you can introduce him to your wedding by applying a bridal mehndi design that includes your pet portrait. It's a very creative and brilliant idea to make your bridal mehndi design a personalised one.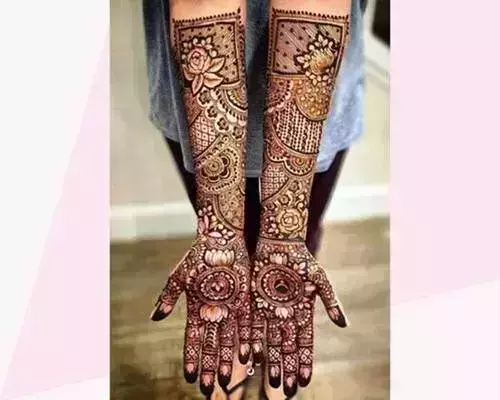 94. Lotus And Rose Mehndi Design
Oh, what a beautiful mehndi design with such a combination of floral art! The main ingredient in this mehndi design is the violet and rose elements. This full-arm Dulhan mehndi design is stunning and a popular bridal design.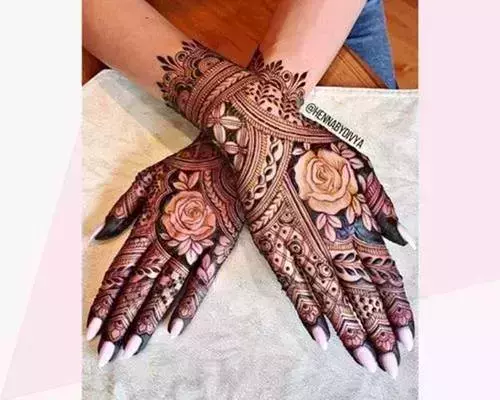 95. Fusion Mehndi Design
The shaded rose in this mehndi design looks surreal. The roses are a perfect element for any Dulhan mehndi design. It also gives a 3D effect and the entire front hand is covered with leaves, motifs, checkered pattern and bracelet design around the wrist.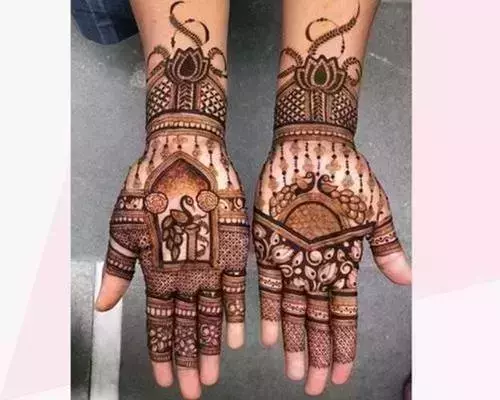 96. Classic Bridal Mehndi Design
At Indian weddings, peacocks in mehndi design are considered auspicious and good luck charms. Lotus also is a symbol of prosperity and happiness. You will observe that bridal mehndi designs look stunning with peacock and lotus patterns, making it the best design for brides.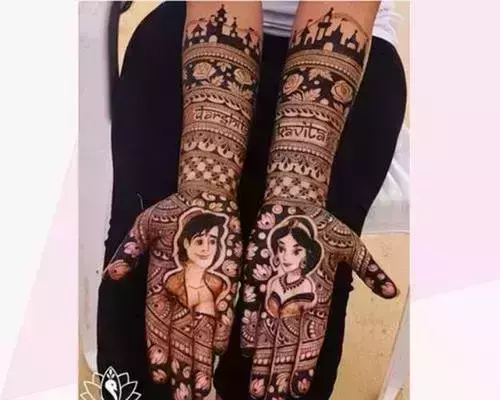 97. Name Tag Bridal Mehndi Design
The bridal mehndi design will mostly have the groom's name written. This mehndi design has the groom's and the bride's names written on the hands. The bride must also be a fan of the Aladdin story and resemble her love story, which made her go for the Aladdin and Jasmine portraits in her bridal mehndi design. It's a perfect fairy tale wedding mehndi design.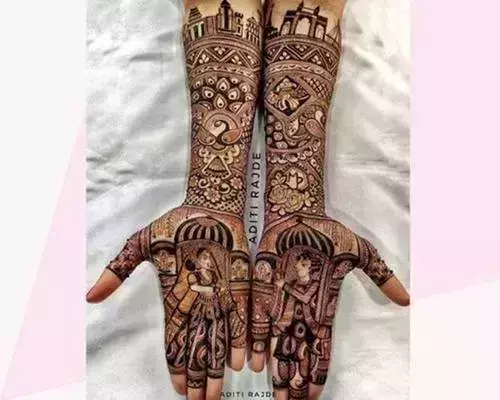 98. Wedding Ritual Mehndi Design
This beautiful and masterful mehndi design is just Wow. The mehndi design nicely depicts the wedding ritual, and we can see the bride and groom performing the rituals. This Dulhan mehndi design has amazing elements to observe, which consist of their name initials, a peacock with its feathers, and portraits of monuments, which are personalised for the couple.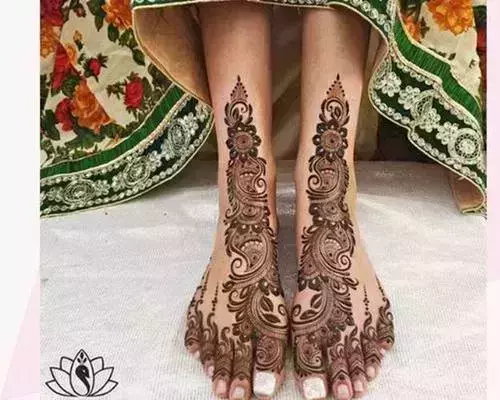 99. Indo Arabic Foot Mehndi Design
This beautiful fusion of Indo-Arabic mehndi design for legs is traditional and symbolic, with all the motifs impressively spread out. This design is nicely placed on the foot covering, with florals and bold motifs. The swirly pattern of the leaves is stunning.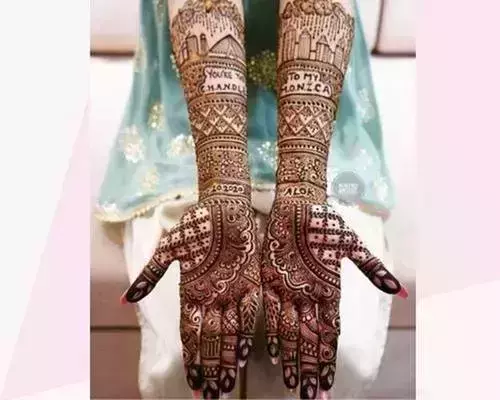 100. Friends Mehndi Design
If you are the craziest fan of the Friends series and share the same love, then this bridal mehndi design is for you. This mehndi design has beautifully been written, "You're the Chandler to my Monica," on the hands, which makes this design super romantic. Also, you can mention the date when you first met or proposed to your love, on one hand, anthe d the groom's name on the other. This bridal mehndi design is something unique and lovable.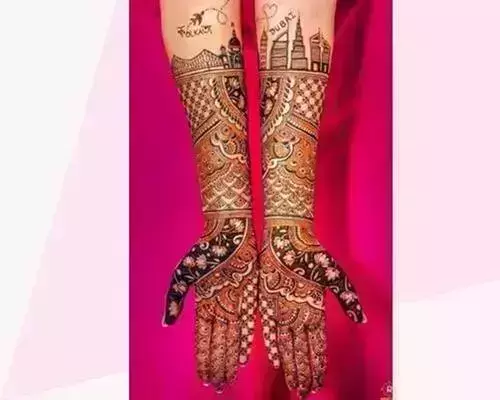 101. Travel Buddies Mehndi Design
If you love travelling and are the perfect travel buddies for each other, then shower your love for each other with this mehndi design. You can personalise this mehndi design by joining the two hearts from one destination to the other. If the couple is from different destinations, then they can mention their destinations on their hands, and they are connected when the hands are joined. This bridal mehndi idea is amazing and depicts the couple's journey from Kolkata to Dubai.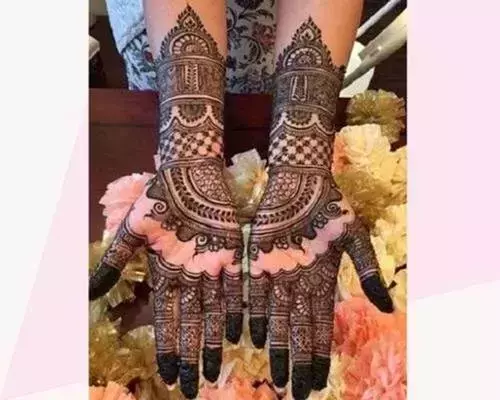 102. Stylish And Vibrant Mehndi Design
This bridal mehndi design is a good choice for the bride who loves to experiment with style. This mehndi design has space on the palms and a detailed design around the wrist. The design looks completed when both hands are joined together.
Related Articles