31 Gorgeous Blonde Balayage Hairstyles For 2023
Pooja Angurasu
Updated At 26 Aug 23
Blonde balayage is a hand-painted colouring technique used to blend blonde highlights into the hair. When balayage is achieved, it brightens the hair and gives it dimension, making it unnoticeable while growing out naturally. When blonde shades are blended into the hair it creates a natural-looking hair colour.
31 Best Blonde Balayage Hairstyles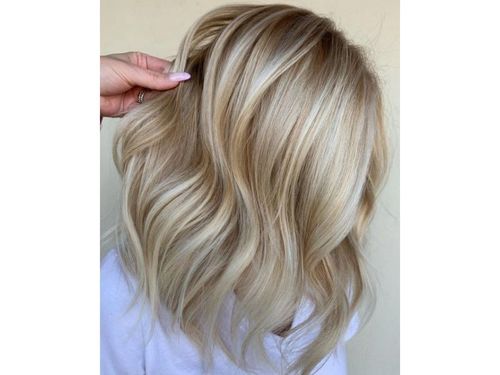 1. Light Blonde Balayage Lob
A lob like this looks minimalistic, which would be ideal for the office. The warm honey blonde shades create a very soft, delicate, and elegant look and, the waves are worth waking up a bit earlier in the morning. One of the popular blonde balayage hairstyles of 2023, this can go very well with medium and long hair lengths.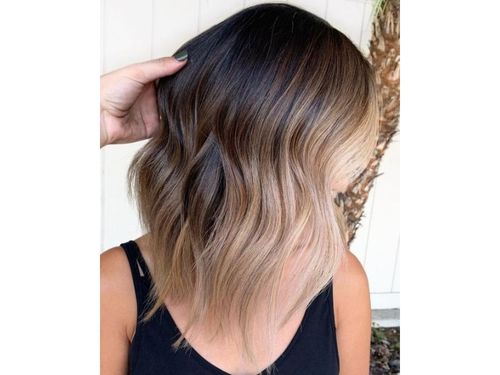 2. Faded Blonde Balayage
For a fresher look, concentrate on the lightest colour around the face. A smooth blend of rich caramel brown with warm platinum shades easily fits any skin tone and creates a well-balanced overall look.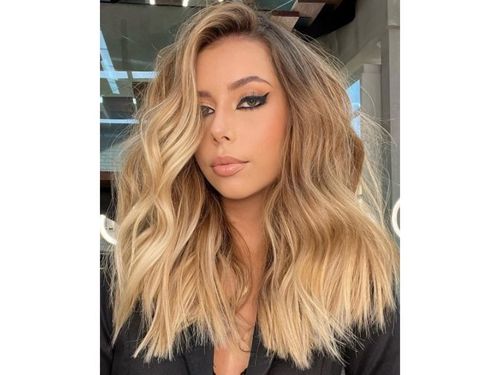 3. Subtle Brown To Blonde Balayage Transition
Warm skin tones, medium or dark, will bloom with a honey blonde balayage that incorporates lighter and darker hues of gold for a sun-kissed feel.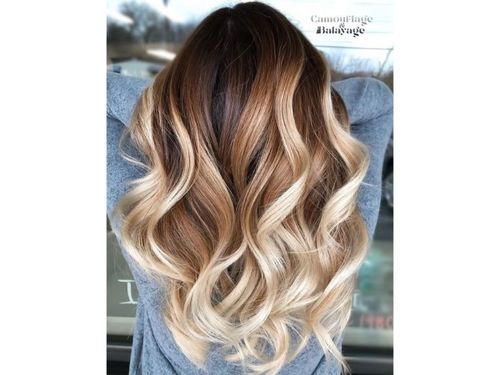 4. Balayage With Chocolate Roots
Lucky girls with super thick hair? Consider getting a high-contrast balayage from nearly black roots to buttery blonde tips. Big waves will perfectly finish the look, complementing the varying shades of the dark blonde balayage hair.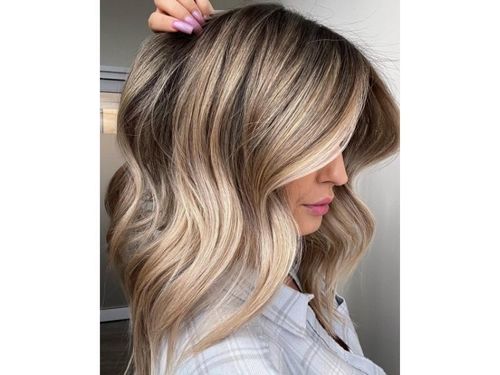 5. Money Piece Blonde Balayage On Brown Hair
Getting white strands around the face is a never-failing way to brighten up the look while some multi-tone highlights scattered around the head will add depth and shine to the brown hair.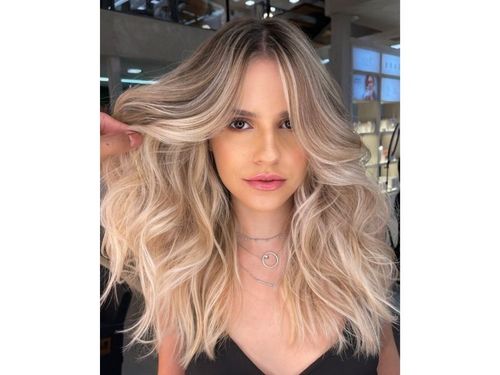 6. Soft Blended Creamy Blonde Balayage Hair
Regardless of one's base hair colour, a blonde balayage can turn into the blonde cutie one always wanted to be. Work with the stylist to come up with a unique blonde look. One of the popular options in 2023, the blended creamy color looks amazing.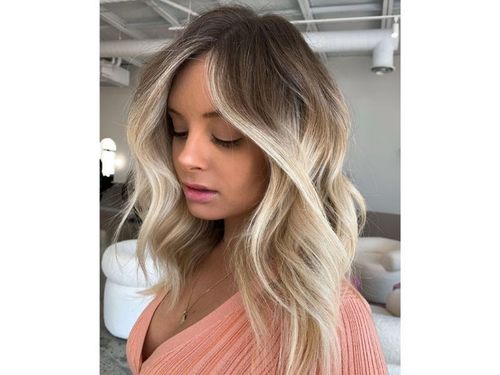 7. Airy Platinum Blonde Balayage
Cooler blonde shades always work best with peachy or slightly darker skin tones. Get oneself some chunky bright blonde balayage highlights and frame the pretty face with thick platinum money pieces for a spicy dramatic look.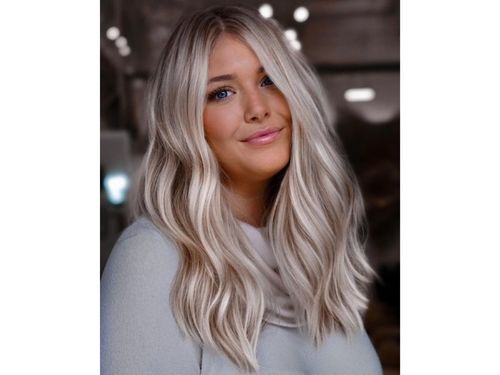 8. Pearl Blonde Balayage With Lowlights
Regardless of the base hair colour, with a blonde balayage, one can turn into the blonde cutie one always wanted to be. Work with your stylist to come up with a unique blonde look.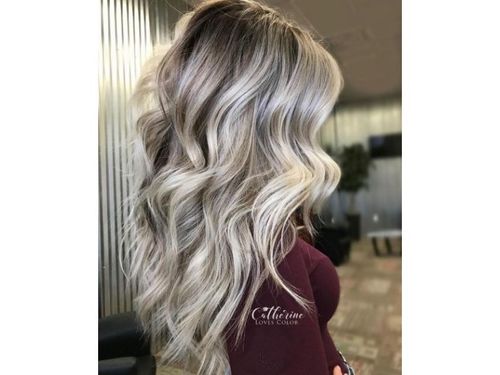 9. Beige Blonde And Platinum Balayage
A cool blonde balayage oozes those "cover-girl" vibes that so many Tumblr bloggers and Instagram models are striving for these days. Don't be shy – try this look, and the number of compliments one will be getting from strangers will blow one's mind!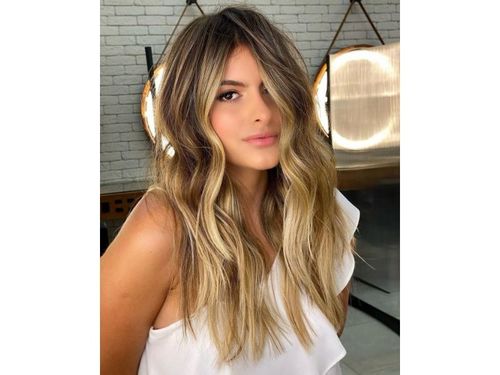 10. Curly Beach Blonde Balayage
Get the best of both worlds with sandy shades of blonde paired with darker cool brown roots and lowlights. Sun-kissed looks served all year round are simply irresistible.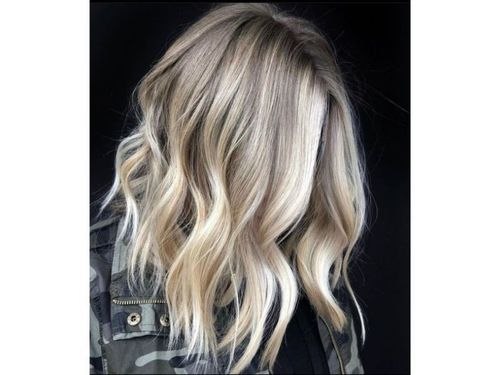 11. Balayage Blond Lob
Wavy lobs are perfect for fine hair as they make it look so much more voluminous, especially when one goes for balayage. Blonde highlights add texture to it, and one will see how they will instantly transform the entire look!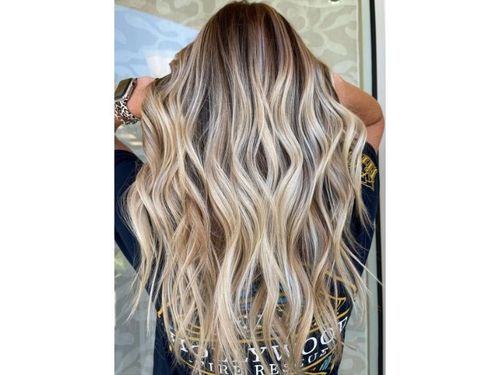 12. Long Balayage Waves
There's nothing more feminine than extremely long locks. However, they might not be easy to take care of. Make sure one's hair is healthy enough before getting blonde balayage. Blonde hair and beachy waves are made for each other.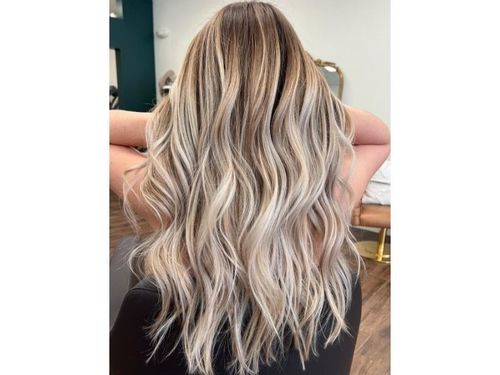 13. Brown Blonde Balayage With Pearl Highlights
A smooth transition from dark roots into pearly lengths creates a breathtaking look. Bring most of the white to the front to highlight one's complexion.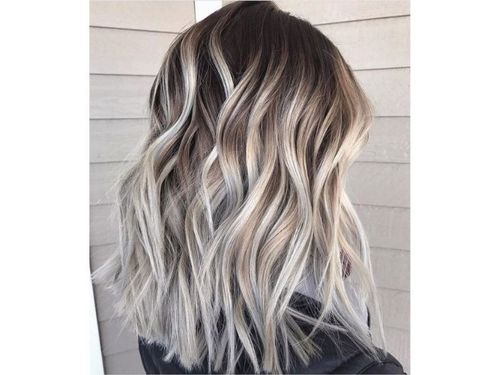 14. Lob With Cool Ash Blonde Balayage
Nothing says hot trends just as this fashionable ash blonde. Go ahead and serve the best blonde balayage looks with this hairstyle. Get a few highlights to go from the very crown of one's head to show off the deep contrast of the roots and bleached lengths.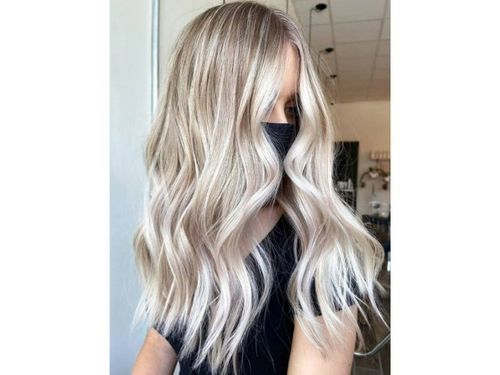 15. Shiny Ash And White Balayage Highlights
This is the ultimate "cool girl" hairstyle and a perfect look to fall back on when one's feels uninspired. It is always appealing and will never go out of fashion.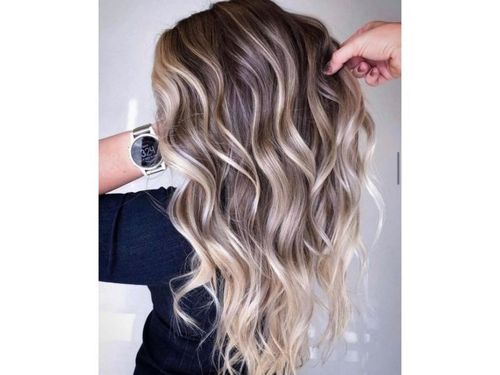 16. Blonde Balayage On Dark Hair
If one is not willing to go all-blonde and say goodbye to their natural hair colour, it doesn't have to! Add some golden tones to one's darker hair to create that hot sun-kissed vibe.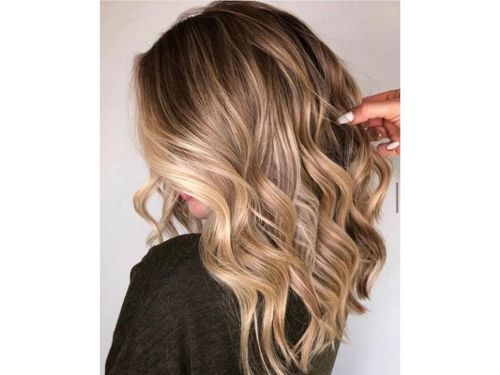 17. Toasted Almond Balayage Waves
So romantic and sleek, a hairstyle that will look astonishing any way one can go about it. Pair it with thick blonde streaks on one's face for an extra accent on one's beautiful features.
18. Catchy White Blonde Balayage
Look at the latest trends, and one can see mushroom balayage hair sitting right at the top of the list. One can adjust it to fit their haircut and skin tone, which makes this colouring ideal for pretty much anyone.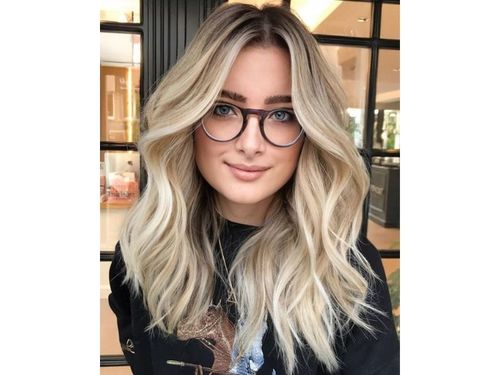 19. Creamy Blond Balayage with Shadow Roots
This colour palette promises low maintenance for brown-haired girls since they can rock their blonde and enjoy longer breaks between visits to a salon with just a bit of DIY retouching.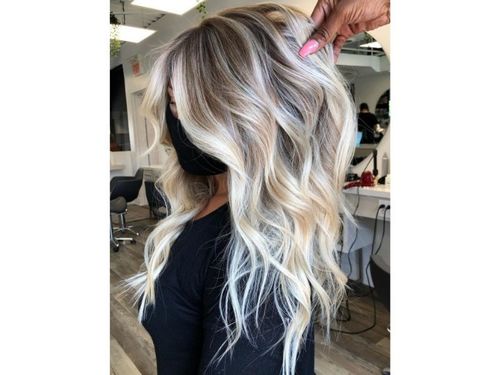 20. Long Platinum Balayage Waves
With this hairdo, you'll look like a Barbie doll, and we mean that in the best way possible. Bright blonde tones mixed with light brown shades will appear incredible on thick long wavy hair.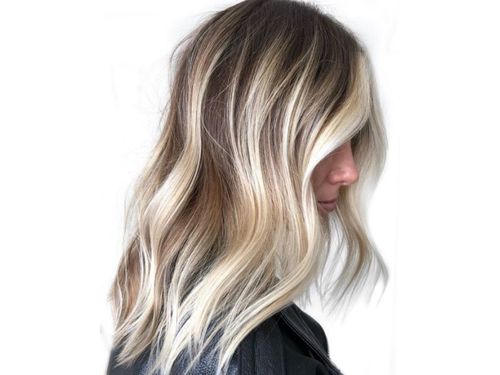 21. Medium-Length High-Contrast
Balayage. Girls who like to keep it simple and enjoy their natural beauty would love this easy blonde balayage look that doesn't require too much time or effort to create. Just stick to blonde and brown strands – it is one of the hottest trends of 2022.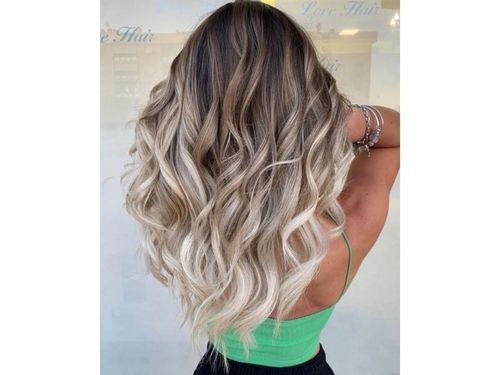 22. Mushroom Blonde Balayage Curly Hair
A sleek melted balayage may look gorgeous at all times, but take it to the next level with chunky distinguished curls. Run one's fingers through them once done curling, and enjoy how the colour pops twice as much with this styling.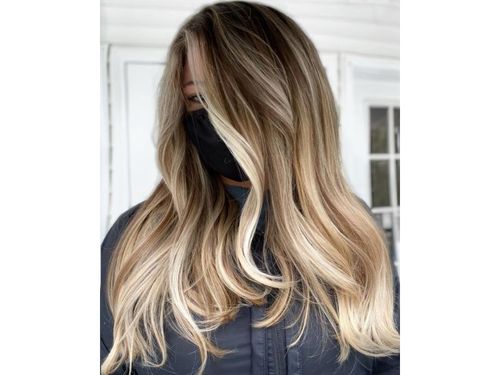 23. Air Touch Balayage Blonde Hair
One of the most exciting colouring techniques these past few years is still going strong among hair colour trends. Cool and warmer tones are brought together in a smoothly blended balayage that is simply impossible not to fawn over.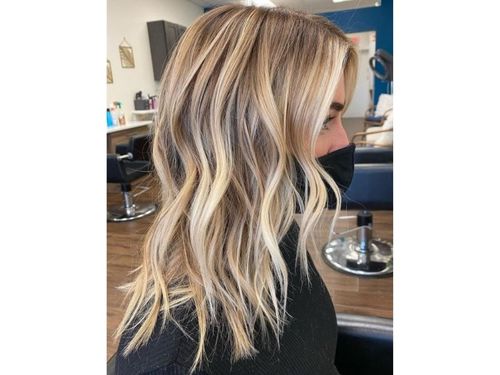 24. Blonde Choppy Wavy Layers
A balayage looks particularly gorgeous on choppy hair. While the light brown and warm blonde balayage shades create a beautiful contrast and make the hair look more voluminous and textured, the loose beachy waves enhance this cute piece-y look.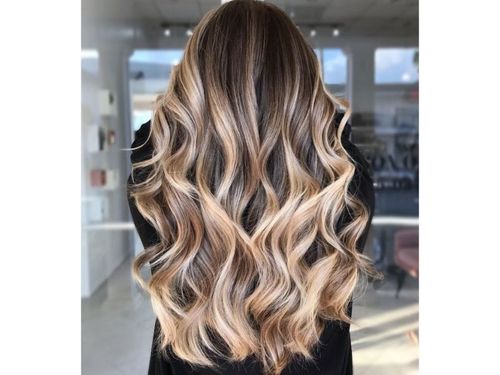 25. Bright Blonde Balayage
Try this luxurious hairstyle for extra glossy locks! The sense of volume given by the lowlights is to die for.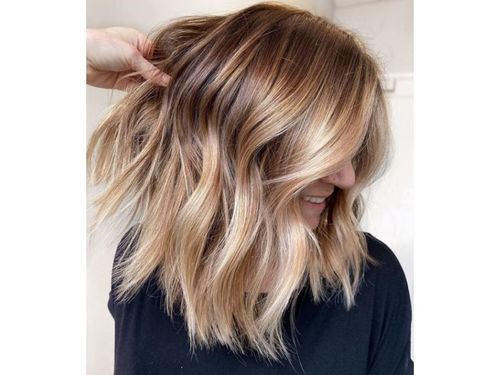 26. Honey Blonde Balayage
Blonde hair colours are so versatile that they can suit almost anyone. Along with this, honey shades of blonde work well with darker tones, so there's a lot of room for experiments.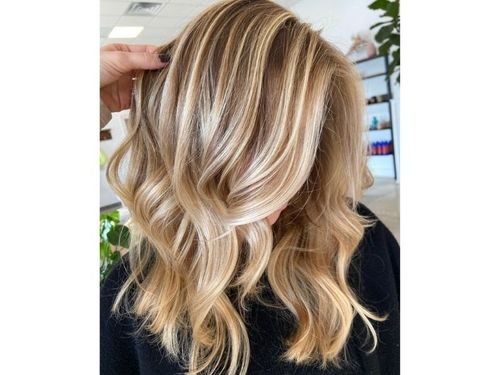 27. Dimensional Copper Blonde Balayage
Brighten the skin tone with a soft blonde balayage. This romantic hair colour idea improves one's complexion making it appear warmer.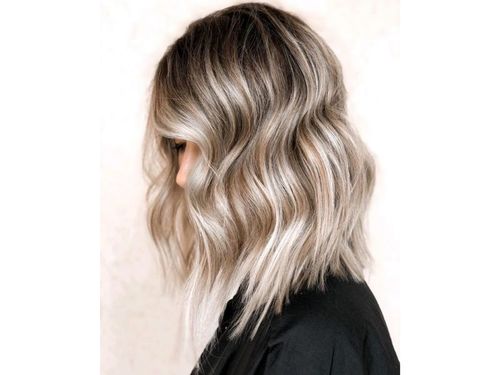 28. Silver Blonde Balayage
Feeling grungy? Thanks to the contrast between silver balayage on blonde hair and black roots, one can become one's edgiest self after just a few colouring sessions.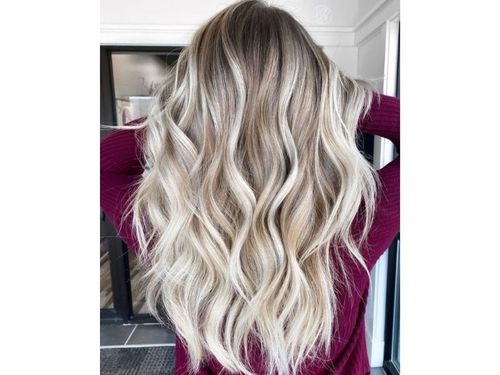 29. Full Head of Blonde Balayage Highlights
The style's so bright and sparkly and will go amazing with summer sunshine. It's almost a full head of balayage with some extra foliage.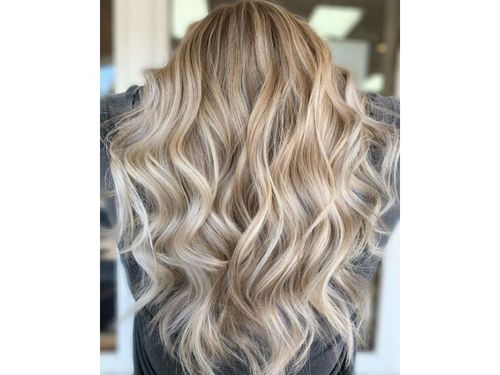 30. Full Balayage Blonde with Lowlights
What's great about this style is that it provides both chic blonde locks and the extra volume achieved with darker roots and lowlights.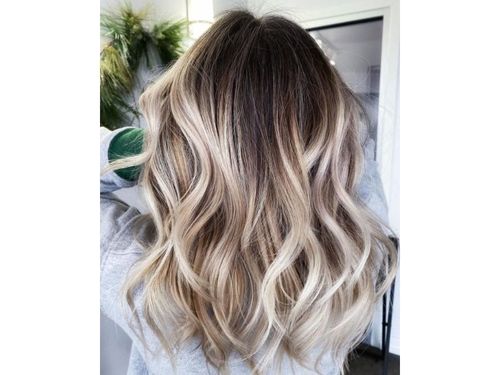 31. Wavy Ash Blonde Balayage Hair
Ash-blonde strands are a brilliant addition to dark brown locks. Together they create an eye-catching combination suitable for anyone! If one prefers something effortlessly chill but sophisticated and trendy, this relaxed style is a perfect go-to.