61 Stunning Short Curly Hairstyles And Haircuts For Women
Shalu Bhati
Updated At 09 Jan 23
Are you looking for short curly hairstyles? Want short curly styles that are stunning and stylish? You have come to the right place as we will provide you with all the inspiration you need.
Keep scrolling to know more about the latest hairstyles for short curly hair this year. From curly pixie to curly bob, we have covered everything in our list of 61 stunning short curly hairstyles for women.
Let's begin!
61 Stunning Short Curly Hairstyles For Women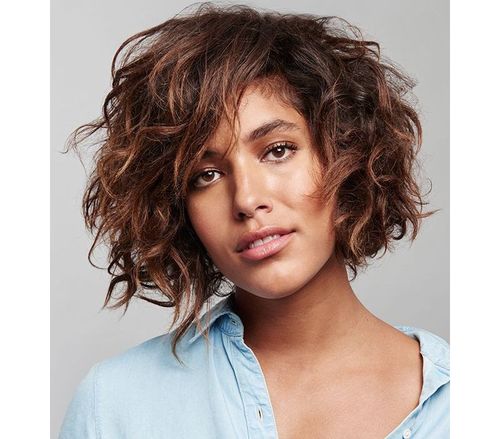 1. Short Curly Hairstyles With Side Swept Bangs
Short curly hairstyles have gained a lot of popularity this year. Whether they are natural curls or not, it is of no value. If you want it, go flaunt it. This ruffled curly hairstyle is shorter on one side and has long defined curls covering the forehead.
Check out our guide on long curly hairstyles which include 50+ stunning trending haircuts for the current year. From layared haircuts to straight hair, we have covered them all.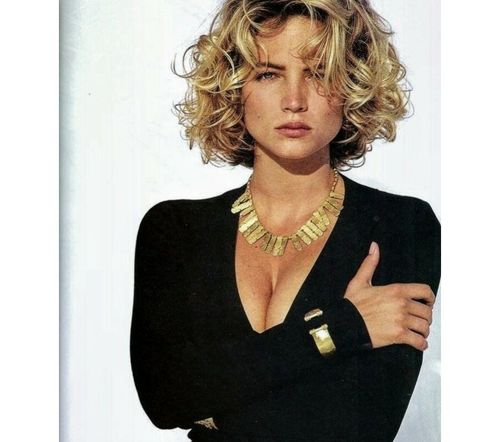 2. Short Curly Bob
This messy stack of curls is one of the most popular hairstyles for short curly hair. It has both small as well as big curls and looks stunning. This one is an attention grabber and would make you stand out in the crowd.
If you are looking for an elegant and stylish hairstyle, then a feather cut can be a good option as well.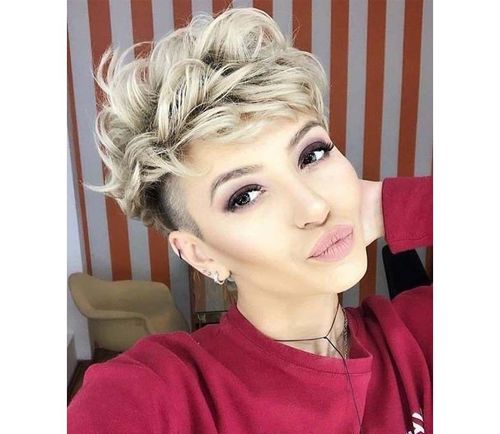 3. Short Curly Hair With Shaved Temples
If you wish to make a statement with your curls, then this is the style you should go for. With loose curls stacked at the crown and placed systematically at the forehead, this hairstyle gets more stylish and edgier with the addition of shaved temples. This style is not just stunning but also very easy to maintain.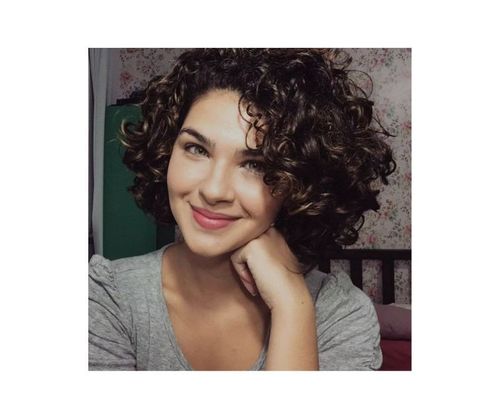 4. Shiny Brunette Curly Hairstyle
Put up your fabulous curls on a display with this hairstyle for a short curly hairstyle. The curls are so well defined and just sit so pretty to form a very smart look.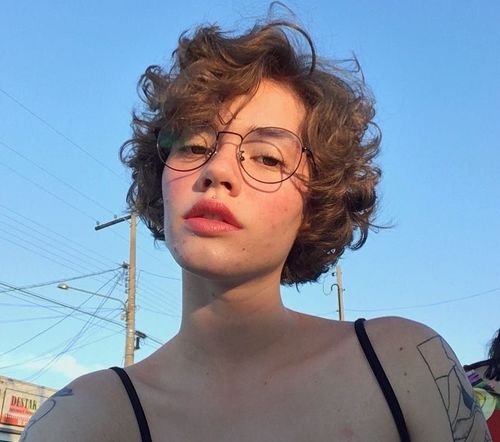 5. Relaxed Curls For Short Hair
Rock your curls in their natural glory with this style for short curly hair. The wispy medium curls are let free to settle on their own giving out a carefree and relaxed look. Also, you don't have to worry about a gust of wind ruining your curls. Cause it would just add to your carefree style.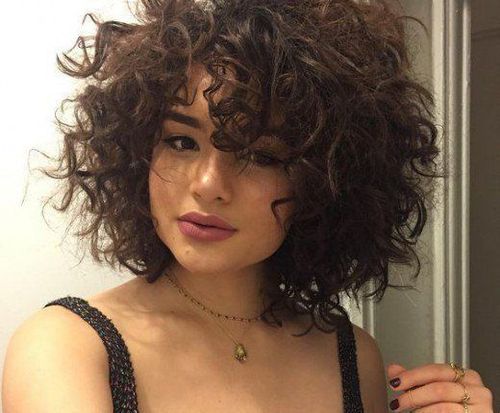 6. Voluminous Short Curly Hairstyles
This particular set of curls made us fall in love with itself again and again. This hairstyle lets you show off your curls. There is a lot of curl volume with baby bangs and looks so pretty and gorgeous.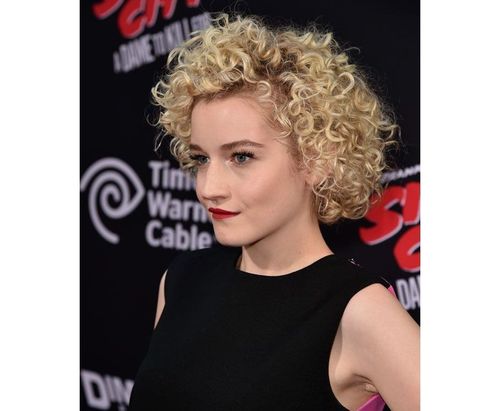 7. Blonde Ringlet Curls
Short curly hair with layers is another stunning choice. These blonde curls are well defined and polished at the front and slightly teased at the crown to give a little bit of an illusion of volume. This is one of the modern short haircuts for curly hair.
A French braid is another extremely popular option if you are looking for a stylish option for a hair makeover.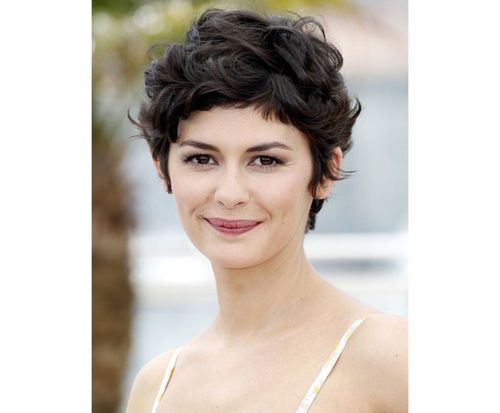 8. Cute Curly Short Hair
Want short curly styles that are easy to manage? Then, a curly pixie is your best bet. The ease of managing doesn't mean a compromise on the style factor. This cute curly short style is also perfect for bringing attention to your sharp facial features.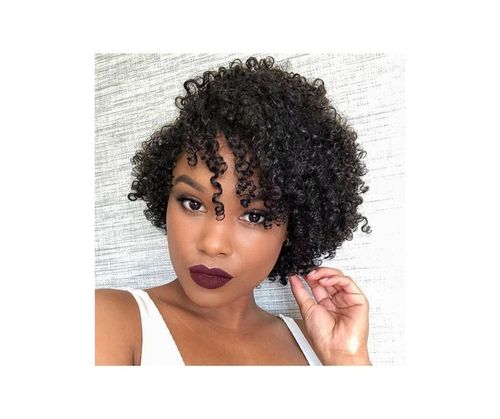 9. Short Bob With Tight Curls
You don't have to think twice before having fun with your naturally curly hair. Embrace your curls and flint your natural style with a hairstyle like this one. The tight curls sit in place beautifully and look amazing. One of the top hairstyles for evening gowns, bob haircut is always a trendsetter.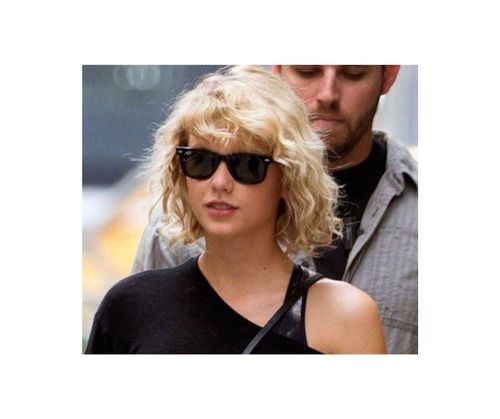 10. Messy Waves For Short Bob With Bangs
How is it possible that we talk of hair and go without mentioning Taylor Swift? Taylor's bleached curly bob on one of her off-days is more of a wash and wear kind of hairstyle. The soft textured curls are complemented with curly bangs.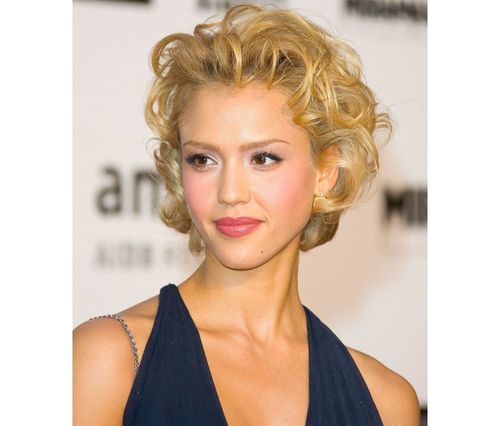 11. Marilyn Monroe Short Curly Hair
Take a few short curly hair lessons from the past with this Marilyn Monroe inspired blonde curls. Short hair, big curls—this hairstyle was made famous by Monroe and still looks as stunning and stylish as it looked then. Give a voice to your inner vintage queen with this set of stunning curls.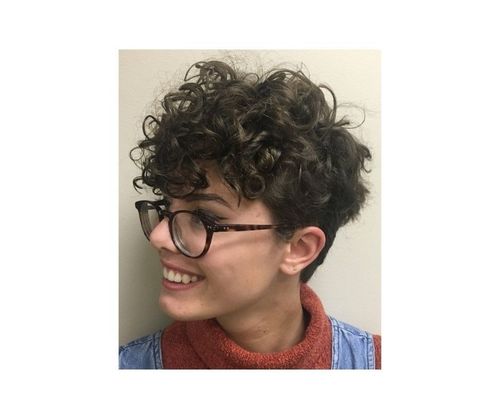 12. Hairstyles for Short Curly Hair
This is another example of simple yet stunning short haircuts for curly hair. What makes this curly pixie different from other pixies is the undercut. This hairstyle is easy to manage and maintain. The undercut allows a lighter neck and a crown full of the crown extends till the forehead with a few curls falling off above the eyes. This hairstyle can become a favorite of many during summertime.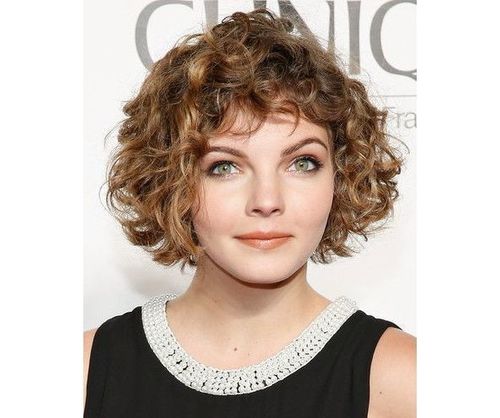 13. Short Curly Cuts
A voluminous short bob with a lot of curls gives out a very cool and retro vibe. The well-defined curls which are a bit of ruffled at the crown look very impressive and breathtakingly beautiful. One of the most popular wedding hairstyles, this is always in trend!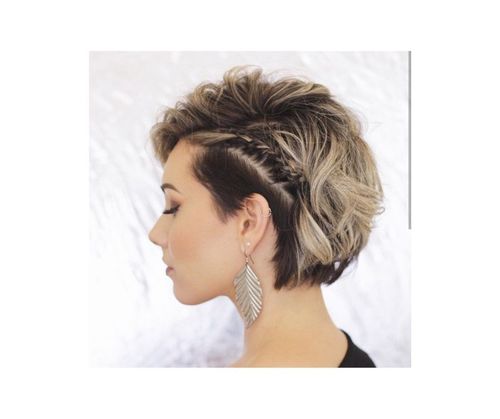 14. Short Curly Hairstyles With Braids
Want to add drama to your hair without going overboard? Mix up your style with this short curly hair idea. Here, the S-shaped curls are parted deep to the sides and a braid is added to imitate the shaved temple look. This hairstyle adds the necessary drama and edginess to your look.
Check out our guide to find the best french braid hairstyle for black hair as we list 25+ stunning options for black hair which can transform your look completely.
15. Short Hair With Loose Ruffled Curls
There is no dearth of hairstyles for short curly hair. Don't want to waste too much time and effort on styling? Then choose a style like this curly pixie. The loose curls with their natural texture are easy on the eyes as well as time.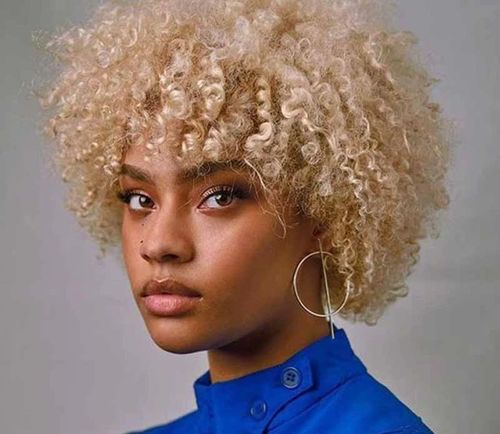 16. Blonde Afro Curly Hair
This is yet another of the short haircuts for curly hair which allows you to embrace your natural curls. And what better way of embracing exists than a short Afro cut. His blonde Afro looks chic, smart, and stunning.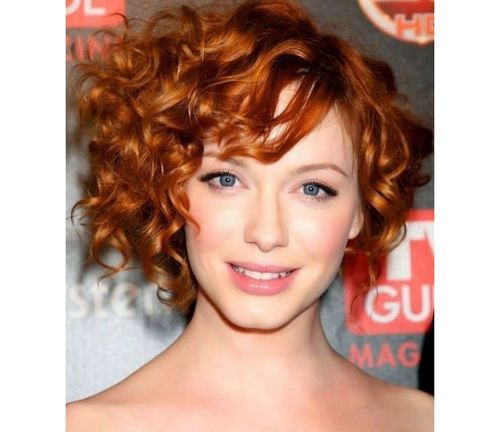 17. Short Curly Hair For Redheads
A short curly updo looks extremely gorgeous and will help you sail through a formal party or function with style. With a small curly bun at the back, this hairstyle is completed with asymmetric curls out in the front. This elegant style will ensure that all the eyes stop at you.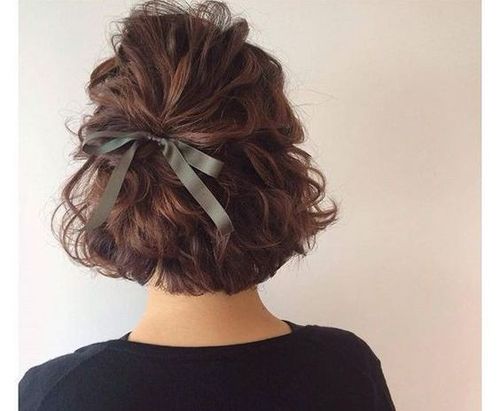 18. Short Curly Hair Updo
Change things up a bit with this twisted hairstyle for short curly hair. Curls from both sides are twisted and tied together at the back of the head. Add a bow or ribbon for some extra fun.
19. Short Curly Hairstyles With Hairband
Accessorize your curly pixie with a shiny metallic hairband. This look works well both for day and night. The hairband with not only keep your curls in place but also add a hint of glamour and grace to your look.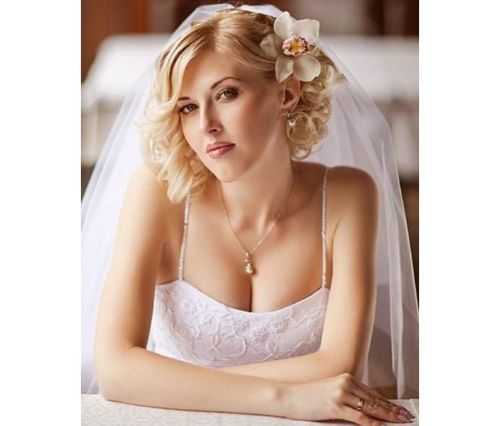 20. Wedding Hairstyles For Short Curly Hair
This is one of the wedding hairstyles for short curly hair that we loved. The hair is polished at the roots and takes the form of curls as they go down. There is a mixture of big and small curls. The flower increases the beauty of the whole look by 10 times at least.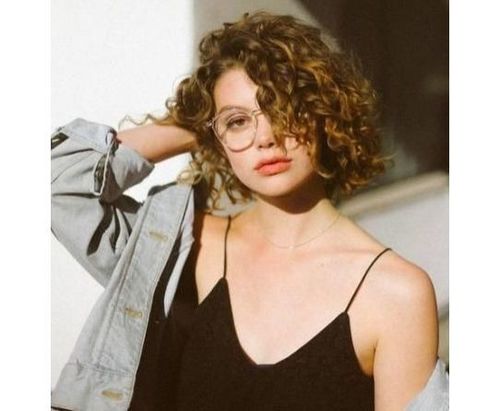 21. Simple Hairstyles For Short Curly Hair
This set of brown curls for thick hair is simply stunning. If you have an excess volume that you would need to be taken care of, then you can add an undercut. This would take off the excess volume without making it look obvious.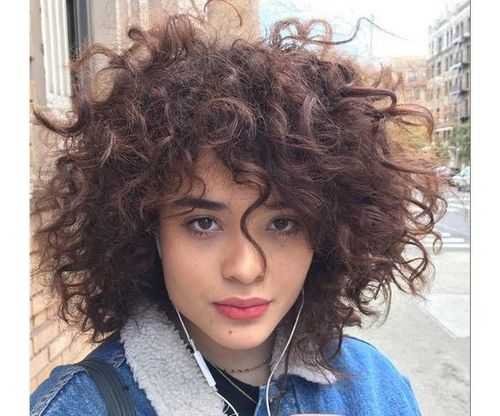 22. Naturally Curly Messy Bob
This is another one of the wash and wear kind of short curly hairstyles. Let your natural curls shine through and look their gorgeous best with this hairstyle.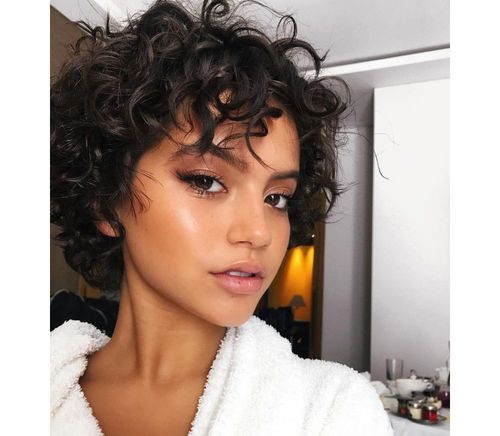 23. Head Full Of Curls
What can look better than a head full of tight voluminous curls? Girl, if you have curls like these, then go ahead and flaunt them. Let your curls take center stage and do all the talking with this beautiful and stunning hairstyle for short curly hair.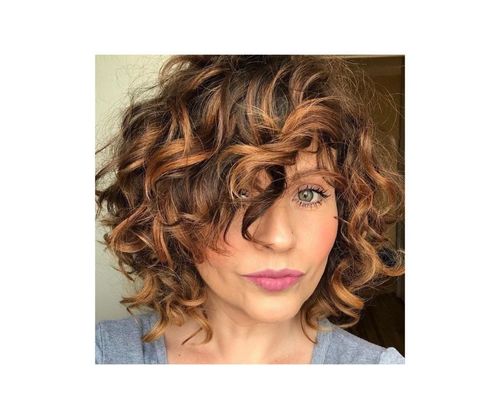 24. Side-Swept Ruffled Curls
This side-swept curly bob is another choice for those with thick hair. Polished at the bottom and ruffled at the top, this short curly hairstyle has all the drama you need.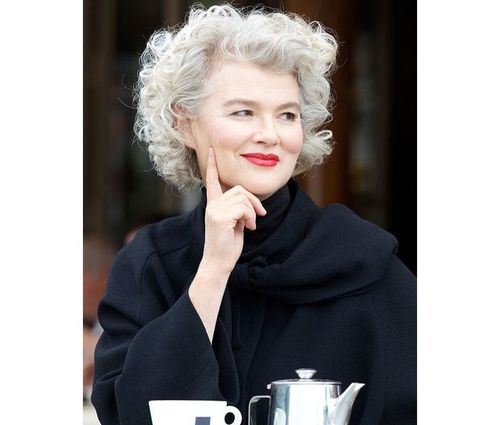 25. Retro Short Curly Style
This is yet another one of those retro short curly hairstyles. This short hairstyle with big curls makes a high fashion statement and suits women of all ages. These kinds of curls add volume and definition to hair while looking extremely elegant at the same time.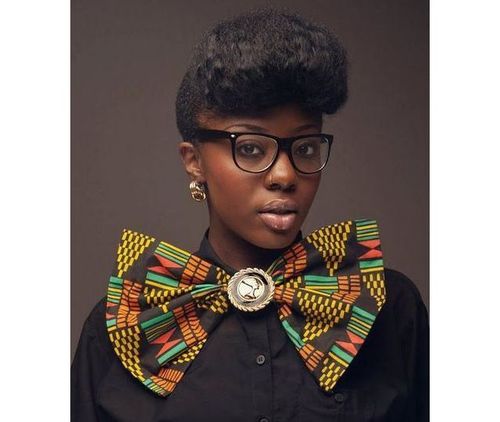 26. The Curly Pompadour
Pompadours were and still are a popular choice of hairstyle. So why not add some fun to your hairstyle with a curly pompadour? It looks simply stunning and has a high style quotient.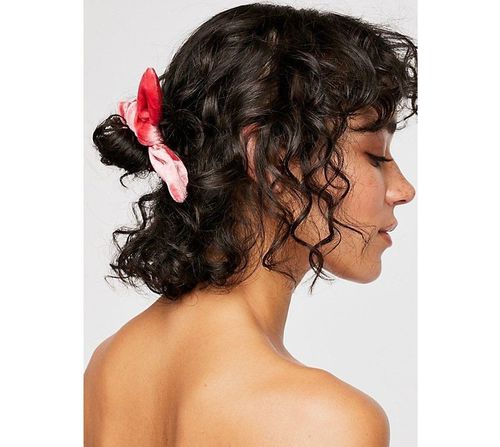 27. Tied Short Curly Hairstyles
Move from stacked curls and think about stacked bobby pins. This hairstyle for short curly hair uses just that. With the hair tied in a small bun, the smaller curls on the front are put in place with bobby pins placed in beautiful symmetry.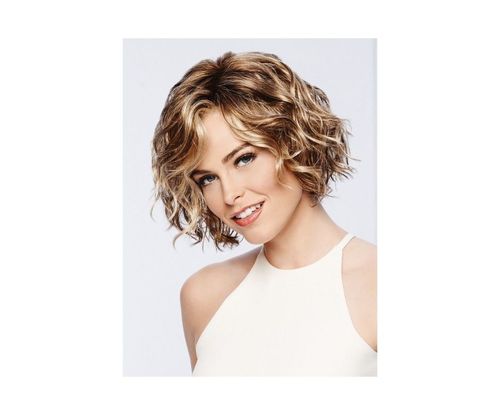 28. Relaxed Curls For Short Bob
This is one of the classic hairstyles for short curly hair. The medium curls look amazing and are perfect for the office going woman.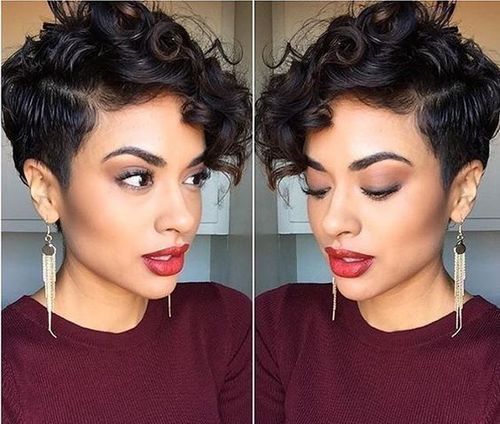 29. Side Swept Loose Waves
Your lookout for short haircuts for curly hair ends here if you are an office going woman looking for a style which isn't over the top and yet speaks oodles about being in trend. Cause this is the perfect hairstyle for you. This one has loose waves left to bounce on one side while the other stays shorter.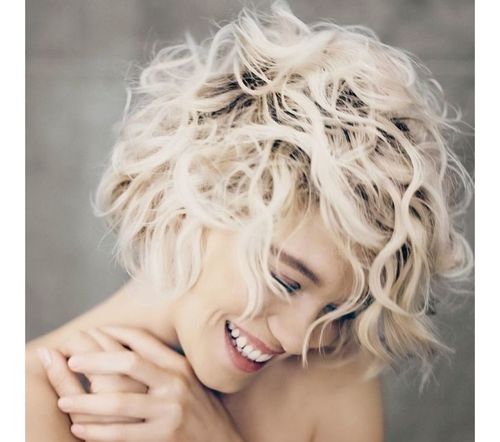 30. Casual Loose Curls For Short Hair
Forget about the styling details for a bit and let your curls take center stage for a while. Let them go free for a more casual and unkempt look which looks gorgeous just like this one.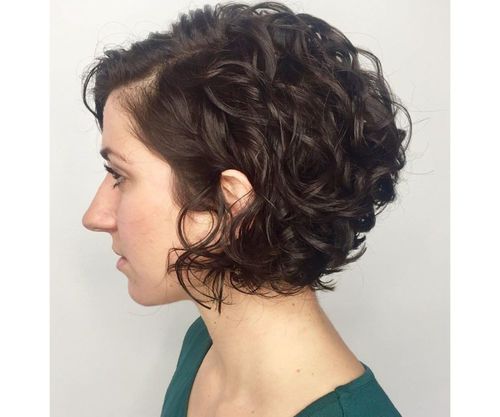 31. Cute Naturally Curly Hairstyles
This is a layered short curly hairstyle. Wear your curls in their natural glory with this hairstyle.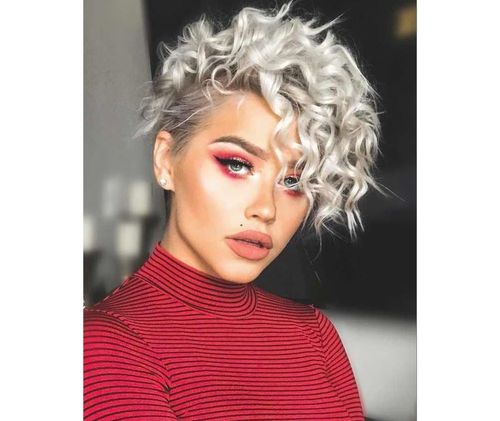 32. Edgy Short Curly Hair
Take your short curly hair game up a notch with this white colored hairstyle. It is edgy and trendy. The undercut as well as the white color are an ode to the latest trends.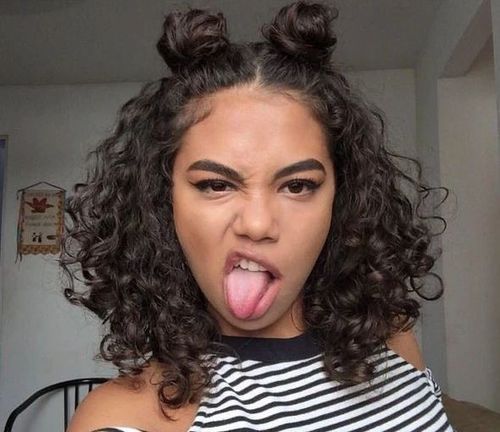 33. Buns And Curls
This is one of the latest short curly hairstyles. It is a very cool hairstyle that combines space buns with curls. It looks pretty and adorable. It is efficient as it keeps hair off the face while maintaining the style quotient.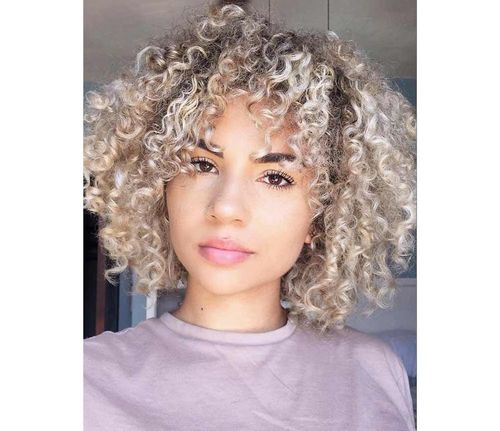 34. Short Naturally Curly Haircuts
Natural short curly hairstyles have an altogether different beauty about them. For instance, this hairstyle with tight curls. The addition of blonde shade makes the curls look more defined and make up to be a very smart look.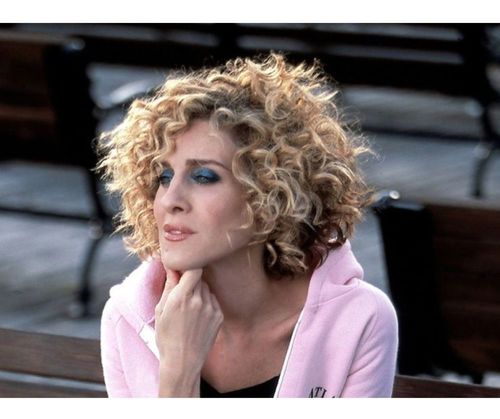 35. Sarah Jessica Parker Ringlet Curls
Sarah Jessica Parker has sported many curly hairstyles over the years and this one remains one of our favorites. The coiled curls in this short bob look smart and sophisticated other than being stylish. These are perfect if you want a look that says you mean business.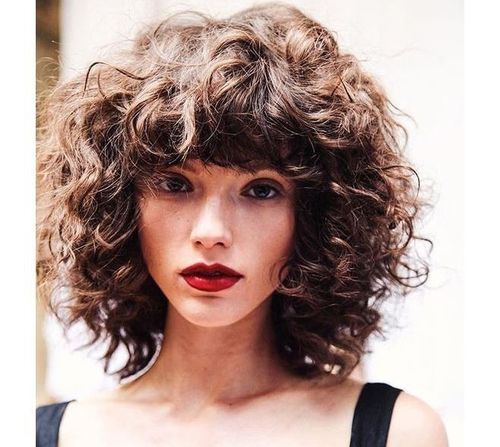 36. Voluminous Curly Bob With Bangs
We fell in love with this short curly hair style as soon as we laid our eyes on it. This curly bob with bangs looks ultra-glamorous.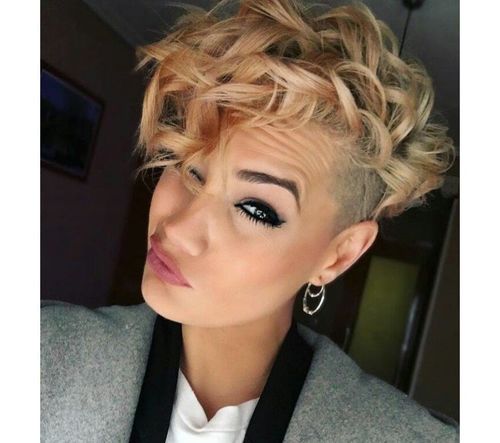 37. Loose Curls With Undercut
These S-shaped curls look stunning with an undercut. This is the short curly hairstyle to choose if you want to go for something edgy.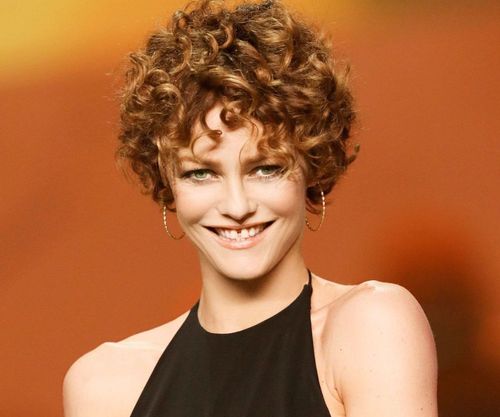 38. Short Curly Cuts
How can you ever go wrong with a head full of curls like this one? This hairstyle for short curly hair requires little maintenance. These well-defined curls don't have to be styled a certain way. Just make the moves as you go.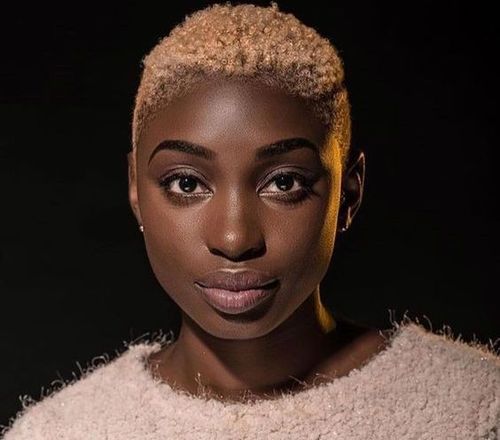 39. Naturally Curly Buzz Cut
Naturally curly hair also looks good with a buzz cut due to its unique appeal. You can also add some color or just get them bleached to create a version that suits your personality.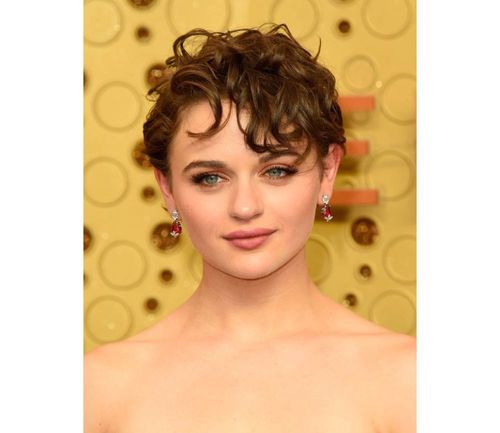 40. Short Haircuts For Curly Hair
This is one of the hottest hairstyles for short curly hair. With less length on the sides and a heavy and voluminous crown, this curly hairstyle looks extremely stylish and stunning.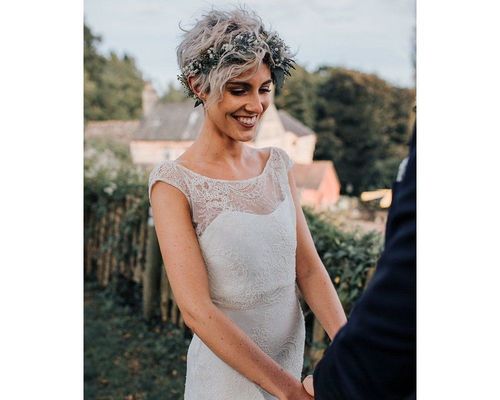 41. Wedding Hairstyles For Short Curly Hair
If your curly pixie has left you wondering about your wedding day hairstyle, don't you worry. Cause we have just the hairstyle for you. Pair your messy ruffled curly pixie with a flower crown. This romantic hairstyle is the goal.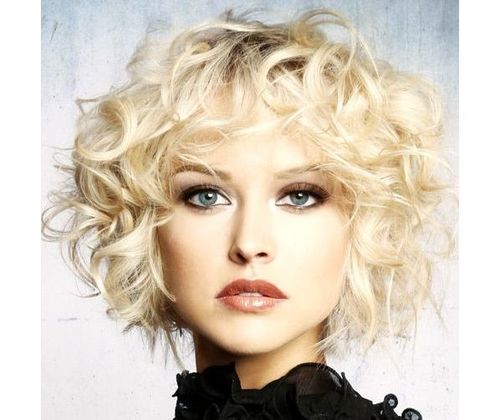 42. Blonde Stacked Hairstyles For Short Curly Hair
This is a good example of stacked curly hairstyles for short hair. These blonde curls are well defined and parted in the middle in such a manner that the parting cannot be seen.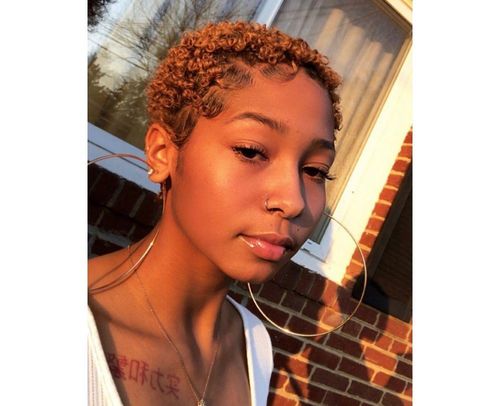 43. Very Short Curly Crochet Styles
Short crochet hairstyles with curly hair are also possible with a pixie cut. These gorgeous brown crochet curls are enough to prove the point.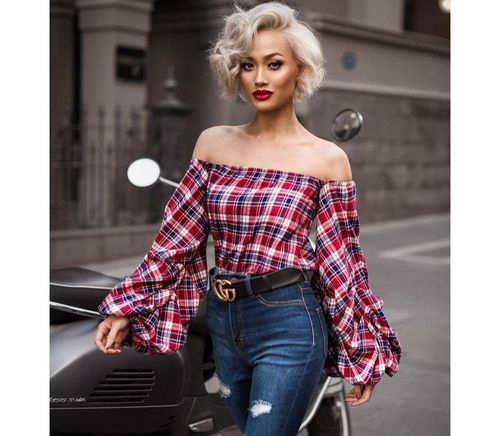 44. Vintage Short Curly Hair
Add some vintage vibes to your look with this stunning short curly hair style. It might remind you a bit of the Marilyn Monroe curls and rightly so as it is a modern version of that old Hollywood glam.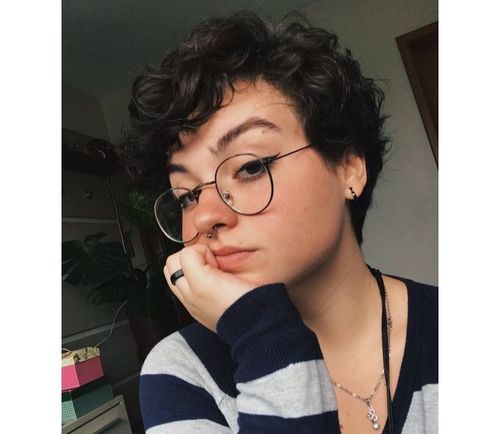 45. Cute Short Curly Hair
This hairstyle is just so adorable. What is stopping you from getting something similar?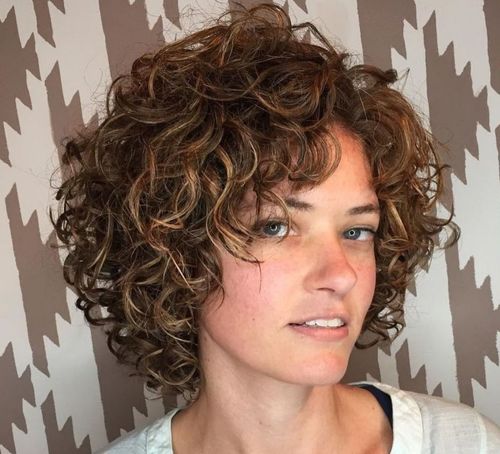 46. Latest Short Curly Hairstyles
We fell in love with this hairstyle with loosely coiled curls. Hope you do too! It is simply so chic and elegant.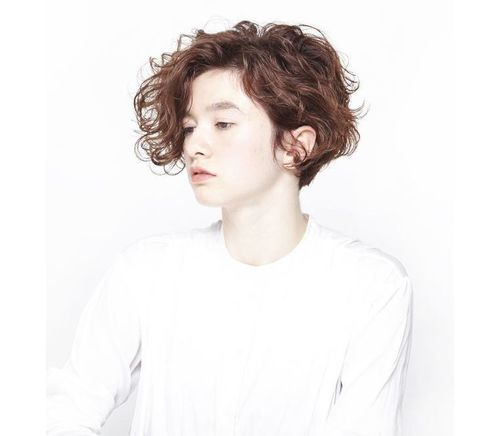 47. Messy Loose Waves For Short Hair
Growing out your short hair? Let your short curly hair take their course of direction. Trust us. Your curls in their natural glory are going to be an absolute vision. Style well!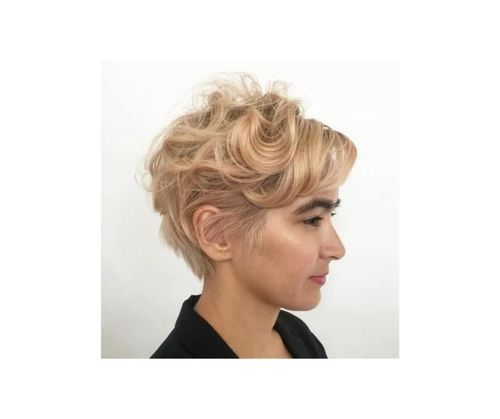 48. Wavy Blonde Hair
This is a very eye-catchy and attractive hairstyle that stands out from the rest. It is simple yet gorgeous.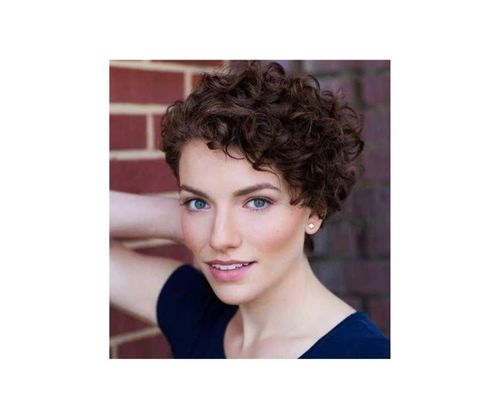 49. Asymmetric Curly Hairstyle
If you are not comfortable with the idea of just letting your pixie grow wild, then you can opt for a few snips and cuts to get a hairstyle like this one. Shorter on one side with a longer front on the other side. The bouncy curls add the mush needed definition and fun to the whole look.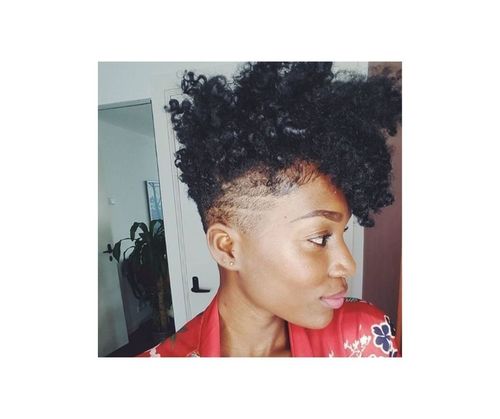 50. Mohawk Hairstyle For Short Curly Hair
There is no end to the variety of hairstyles for short curly hair. A case in point is this curly Mohawk. Yes, you read it right. A Mohawk with curly hair. This is one of the very different and unique short crochet hairstyles which are in this year.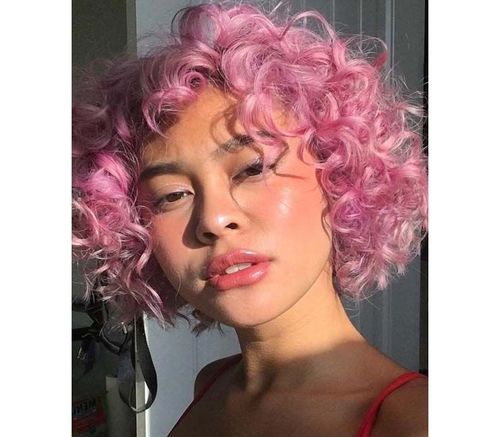 51. Colored Short Curly Hairstyles
Add more fun to your curls by coloring them in a color of your liking. This one in pink looks stunning.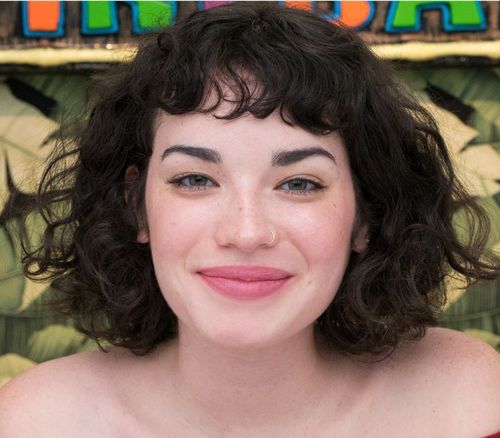 52. Short Curly Hair With Baby Bangs
Yes, baby bangs are a concept and it is in vogue. Short curly hairstyles with baby bangs like this one look extremely fun and flirty. They are perfect for a casual coffee date or beach day out.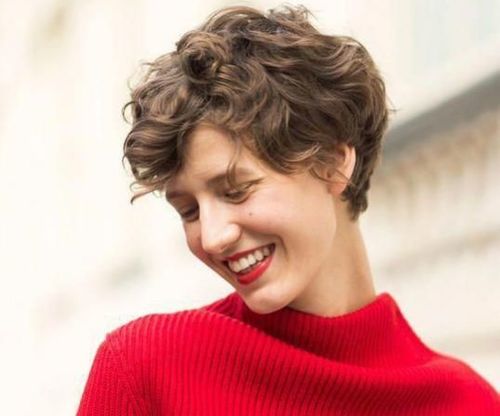 53. Short Curly Hairstyles With Loose Curls
This is an example of short curly hairstyles with loose curls. The natural and relaxed styling gives it a more natural, unkempt, and carefree look.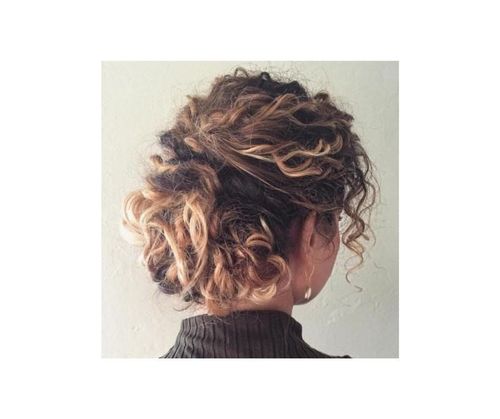 54. Short Curly Hair Messy Bun
Who said you cannot make an elegant updo when your hair is short? This makeshift bun with loose curls left out in the front makes for a very pretty updo.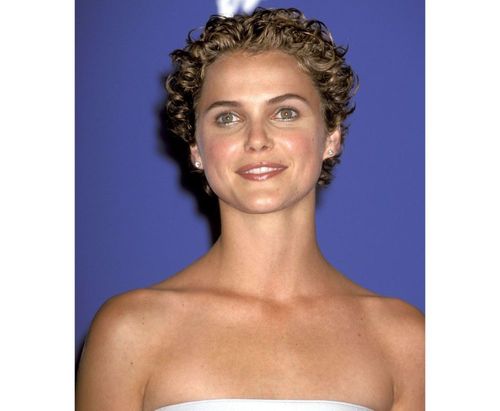 55. Very Short Curly Hairstyles
Looking for short naturally curly haircuts? Go for a pixie. You can never go wrong with a curly pixie. Little maintenance and high on style—what more do you want?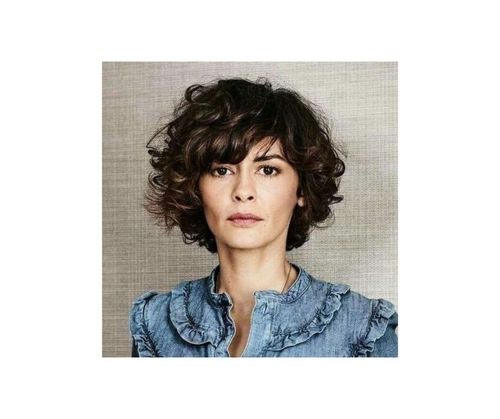 56. Short Curly Cuts With Side Bangs
Short curly hairstyles with bangs are quite popular this year. This one here has loose curls rolled inwards which gives it such a distinct look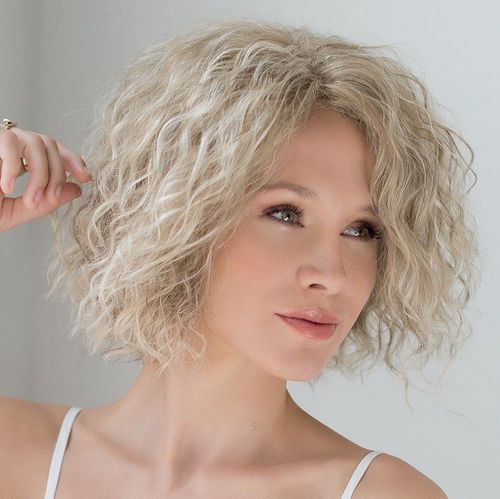 57. Relaxed Curly Bob
We love this curly hairstyle for short hair. It is a graduated bob with S-shaped curls which are much defined. Do you know how your hair looks when you get out of the shower? This hairstyle happens to have the same effect and gives a soft relaxed look.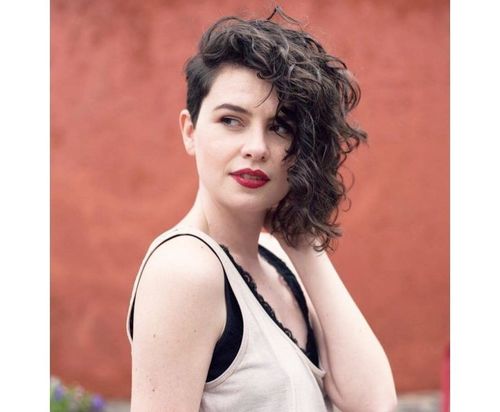 58. Side Swept Loose Curls With Undercut
Want to show off your edgier side? Then this is the right option for you. This short curly hairstyle is by definition asymmetrical and has an undercut which gives more of a rock chic vibe.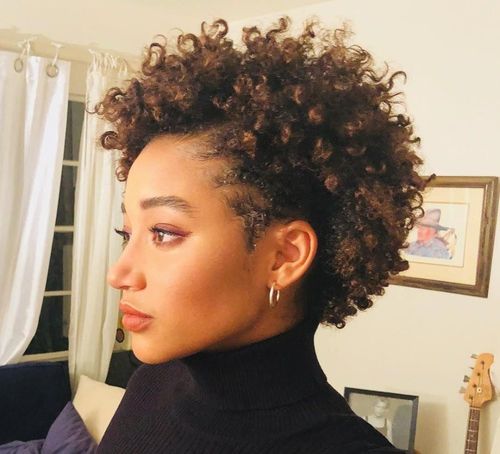 59. Natural Coiled Hairstyles For Black Women
Here is another example of natural short curly hairstyles. It is a beautiful example of wearing your natural hair in their full glory. You can add some twists or braids in the sides to move the volume towards the center.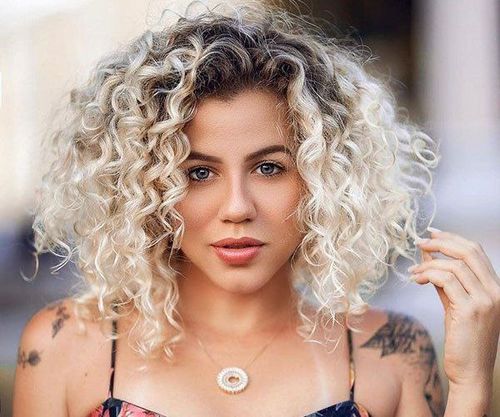 60. Blonde Layered Curls
Want layers with curls? Yes, you can. And this short curly hairstyle here is a perfect example. The blonde curls are layered and paint an absolutely pretty picture.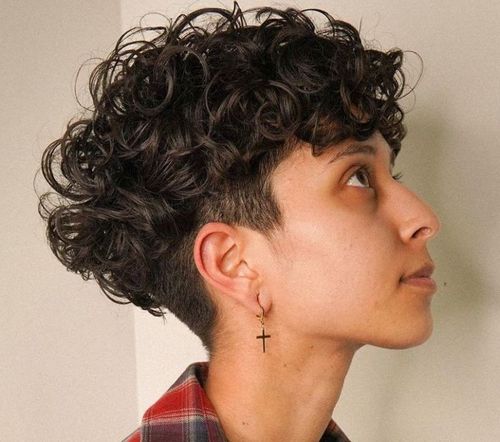 61. Loose Curls With Undercut
This is a perfect curly hairstyle for summers or if you just like your head light. It is a super cool look that will make you stand out from the crowd.