25 Most Popular Bob Cuts For Curly Hair - 2023
Shalu Bhati
Updated At 16 Jan 23
Are you looking for some hair inspiration for curly hair? Then stay with us as we delve into why the bob cut for curly hair is your best bet.
Curly hair can indeed be frustrating. You never know what you will get when it comes to curls. You will sleep with a different kind and wake up with another. There is no way of telling how your curls will behave on a given day. Styling them can be a pain. But, it is also true that curly hair can look absolutely gorgeous. And when we talk about a bob cut for curly hair, well, then you have just hit the style lottery.
A bob cut for curly hair can include a variety of bob haircuts including inverted, angled, A-line, stacked, shaggy, blunt, and what not. Short length for curly hair is not just in trend but is also one of the best hairstyles for women. It a hairstyle that is versatile, easily manageable, and effortlessly chic. So, here we are with a set of some very stunning bob cuts for curly hair. In this article, we have included everything from curly bob with bangs to curly inverted bob and curly long bob to naturally curly bob.
Let's get started!
25 Best Bob Cuts For Curly Hair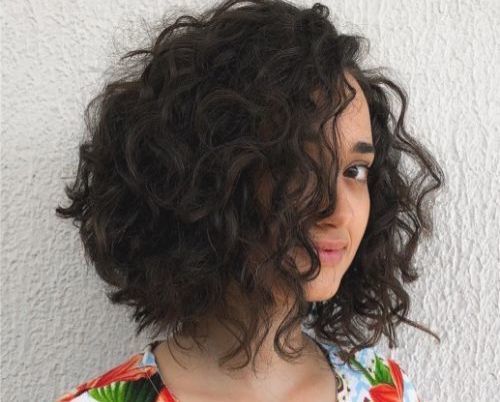 1. Gorgeous Bob Cut For Curly Hair
This is a classic one-length lob. What makes this the best bob cut for curly hair is its versatility. It is universally flattering and can be styled in different ways by changing the way you part your hair. Do an extreme side part to add more body and volume to this haircut. Thank us later.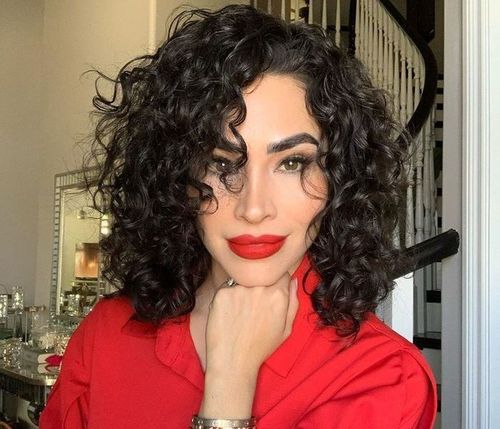 2. Naturally Curly Bob
One of the best short curly hairstyles, these glossy curls form a very gorgeous naturally curly bob. There are shorter pieces in the front that frame the face beautifully. This shoulder-length bob cut for curly hair is perfect for those who want to go short but not too short.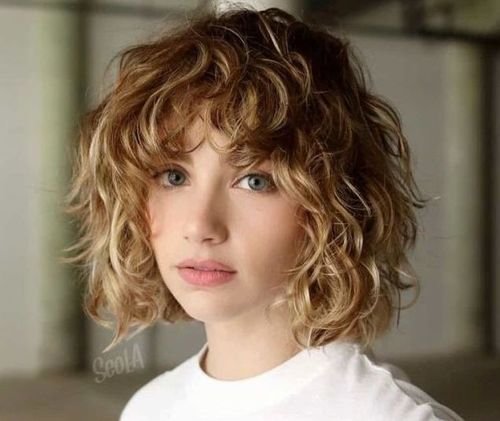 3. Curly Bob With Bangs
Who said curly hair people can't have fun with bangs? Because we are here to tell you that yes you can. Curly bob with bangs is a huge hit these days and can be found all over the internet in different styles. Here is a set of curly bangs parted in the middle to give a curtain effect. This style of bangs goes perfectly well with this short shaggy bob cut for curly hair.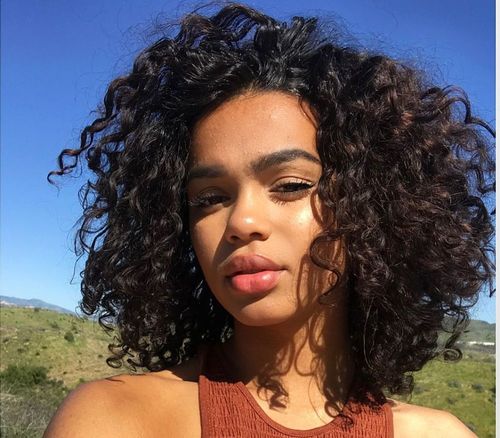 4. Curly Bob Hairstyles For Black Hair
Here is a layered bob cut for curly hair. This style is well suited for Black hair. It can help get rid of the excess weight and give face-framing pieces at the same time. It is a stylish and well-balanced look that celebrates the natural hair texture.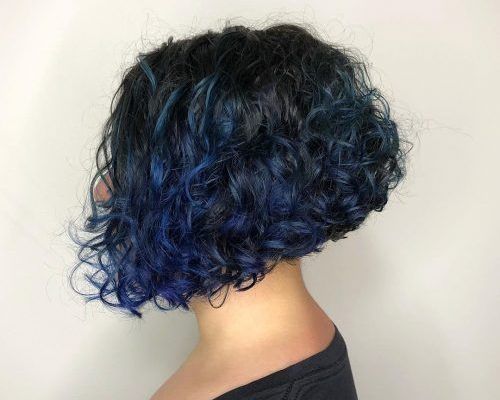 5. Cool Curly Inverted Bob
Want to have some fun? Go for a curly inverted bob. This angled haircut will take off all the extra weight from the back while longer pieces would be there up in the front. Take your curly bob up a notch by adding some color like in this hairstyle as shown. The shade of blue sits well with the natural black hair color.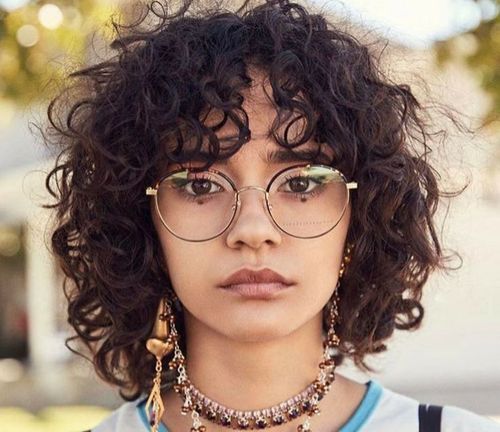 6. Short Curly Bob With Bangs
Bangs are possible for curly hair no matter the type. From loose curls to coils, you can flaunt bangs if you want to. Why? Because bangs are effortlessly chic and give an instant glam look. Also, they will be unique to you depending on your hair texture.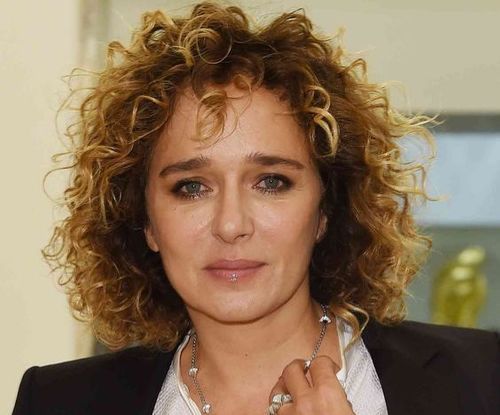 7. Curly Bob Hairstyles For Over 50
A bob cut for curly hair is a good option for women over 50. It will be easy to manage and will also deal with the hair thinning that comes with age. Add in layers to give a nice round shape with some short face-framing pieces. It will not only take years off but will add an illusion of volume.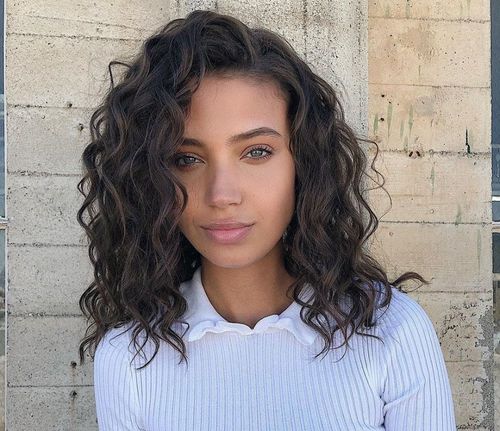 8. Curly Long Bob
A long bob aka lob has been in trend for quite some time. You must have seen it all over the internet with different variations. But just so you know, a lob is not just for straight hair folks. Because have you seen a curly long bob? It is everything from chic and stylish to universally flattering and oh so gorgeous.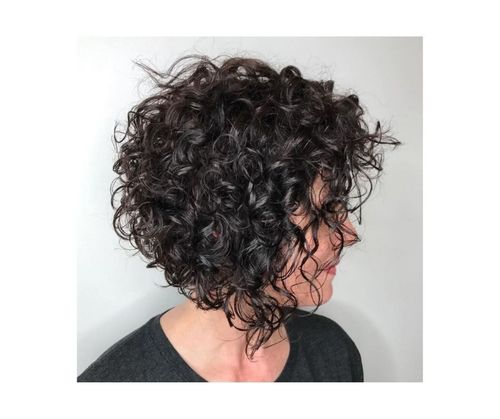 9. A-Line Bob For Curly Hair
An A-line bob cut for curly hair can be a good option if you have thick hair. It is something that looks absolutely gorgeous and also serves a practical purpose by taking away all the excess load. Shorter at the back with some longer pieces in the front fits in just so well. This cut will bring some shape to the curly hair.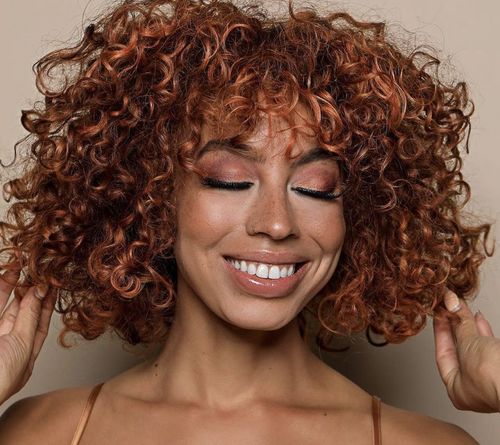 10. Copper And Curly Bob Haircut
Curls and layers go hand in hand. They form something that you can call the perfect unison. Add more fun and drama to your layered bob cut for curly hair by playing with some colors. We absolutely love this shade of copper. It will complement a sun-kissed complexion so well! And don't forget the bangs for that extra oomph.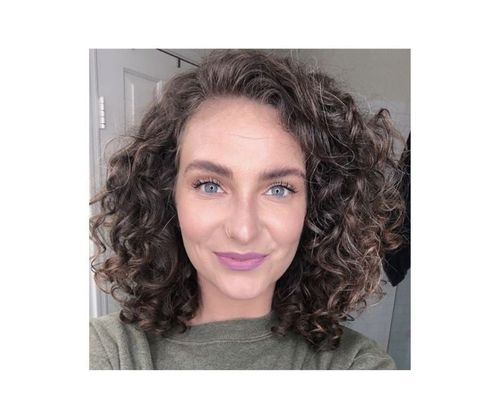 11. Salt And Pepper Hair
Here is one of our favorite curly bob hairstyles for over 50. Hair turns white with age so why not use it to your advantage. Go for something like this hairstyle featured here. The whites will add some dimension to your simple shoulder-skimming bob haircut. Salt and pepper hair never goes out of style and if you are getting them thanks to the passing time, then play them to our advantage.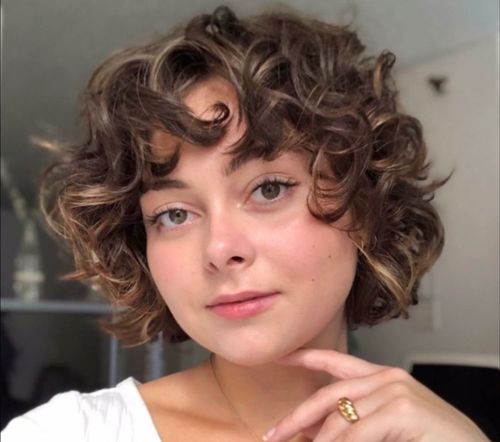 12. Short Curly Bob With Bangs
Here is a gorgeous bob cut for curly hair. This short curly bob with bangs is great for those who like to keep it short and stylish. There are shorter pieces that frame the face and work for almost all face shapes.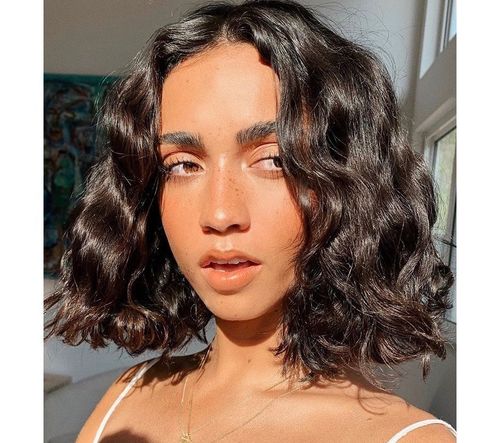 13. Blunt Bob Cut For Curly Hair
Blunt bob looks classy, polished, and very stylish. And similar is the case when it comes to a blunt bob cut for curly hair. Keep things simple yet effective with a middle parting. Your natural hair texture will do the rest.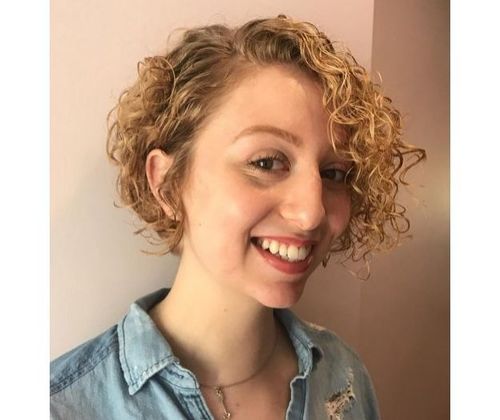 14. Scrunched Up Short Curly Hair
Another style that is gaining popularity over the years is the scrunched up look. Short asymmetrical bob looks good. But take it up a notch by scrunching your curls and creating a wet look. From celebrities to bloggers, everyone is doing it. So, come and join this bandwagon of sexy and short curly hairstyles.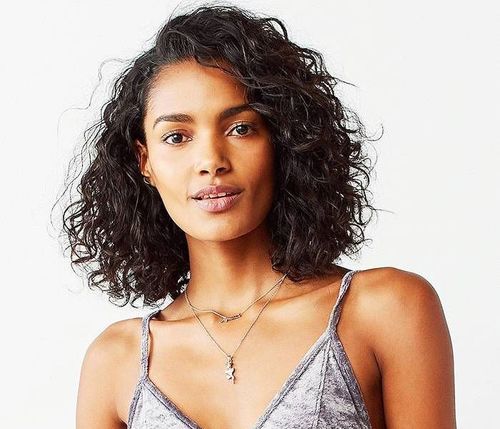 15. Naturally Curly Long Bob
A naturally curly bob looks gorgeous. A naturally curly long bob looks even more gorgeous. This way you can go short but not too short. You will get the best of both worlds and look your stylish best at the same time with a chic bob cut for curly hair like this one.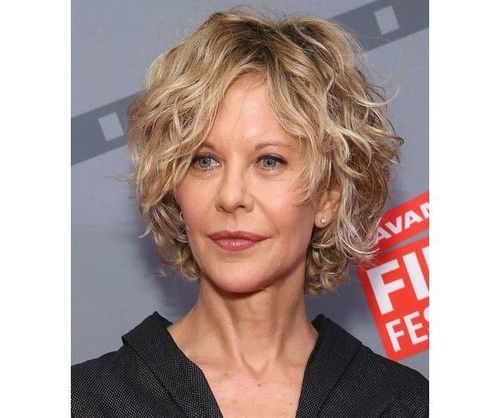 16. Simple Shaggy Bob Cut For Curly Hair
There is yet another bob cut for curly hair that is gaining popularity and rather fast. It is the shag. It comes out looking so well especially with curls. The shorter the bob the better. Meg Ryan has been giving us the perfect hair inspo for this haircut forever now. It's time we finally listen to her. This hairstyle will suit women of all ages, just in case you were wondering.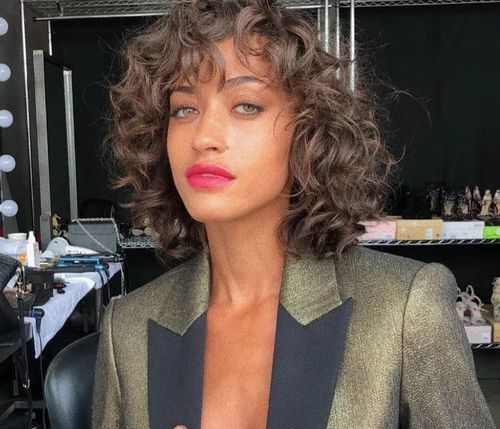 17. Layered Bob Cut For Curly Hair With Bangs
A properly layered bob cut for curly hair looks wonderful. Take this one for instance. Look how beautiful it looks. The layers give a perfectly manageable shape. The short layers in the front make for face-framing pieces. You can also add some side bang action and you are good to go with this effortlessly chic bob.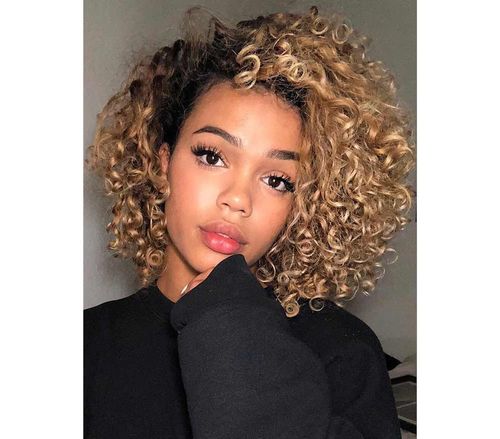 18. Naturally Curly Bob With Texture
Got yourself a naturally curly bob? Well, good for you. Because this hairstyle looks awesome and oh so beautiful. If you want to change things up without doing much, go for a lighter shade of color than your natural hair color. Or you can go full in and opt for a blonde tone with darker roots. This helps add some dimension to your hairstyle. Let your natural texture do the rest of the job.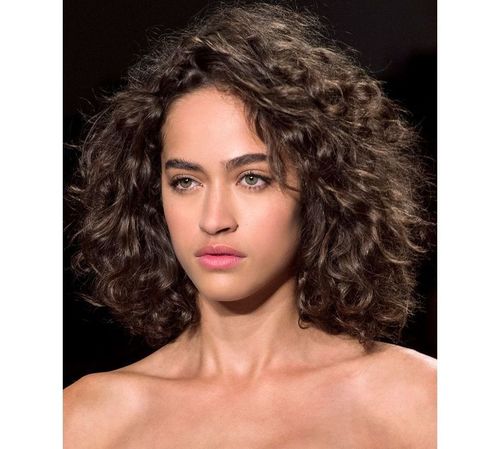 19. Classic Bob Cut For Curly Hair
This is the classic curly long bob and we love it. The same length at the bottom with some shorter pieces on the top creates a great definition. The natural texture adds to the beauty of this hairstyle.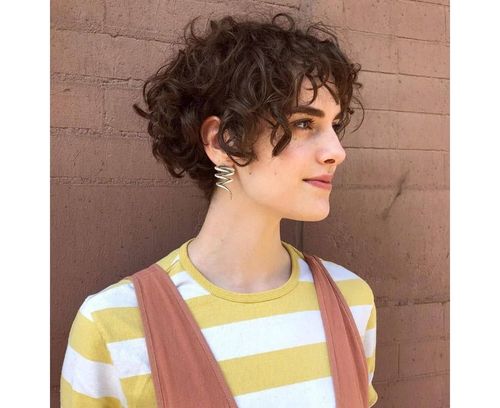 20. Short And Messy Bob Cut For Curly Hair
We cannot get over this super short curly bob with bangs. This is a pixie but with messy and bouncy curls. If you have thick hair, go for it. The same applies to those with thin hair. If you like to keep it short, this is for you. And if you have been thinking of going short, this is your cue. Go for this chic and stylish curly bob with subtle bangs.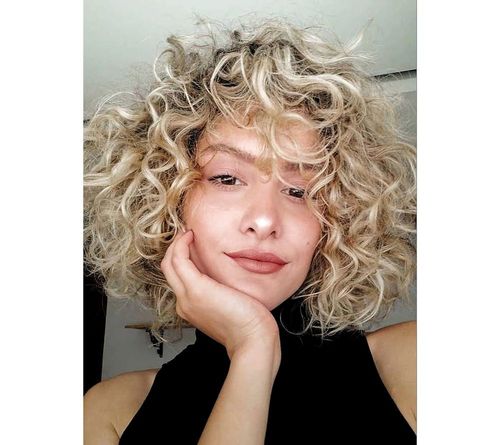 21. Shaggy Bob Haircut
What is better than a curly bob with bangs? A shag with bangs for curly hair. Did we not tell you how this is the year where this hairstyle has made a comeback? It looks perfectly gorgeous with short lengths and loose curls with a messy texture.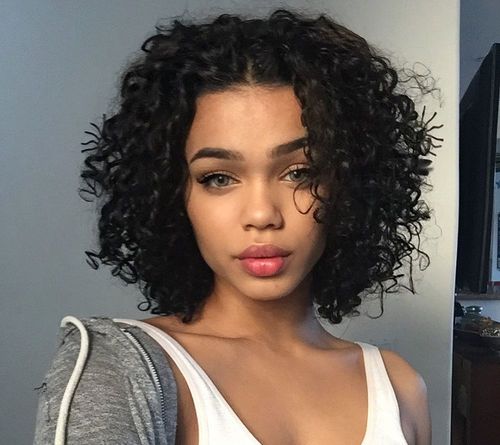 22. Layered Naturally Curly Bob
Curly bob hairstyles for black hair can be tricky as black hair works differently. This one is for the ladies with coiled curls. Some subtle layers can give your naturally curly bob some definition. The rest is upon how you decide to style it. You can pin the strands in the front to create a face-framing effect that will also keep hair off from blocking your view.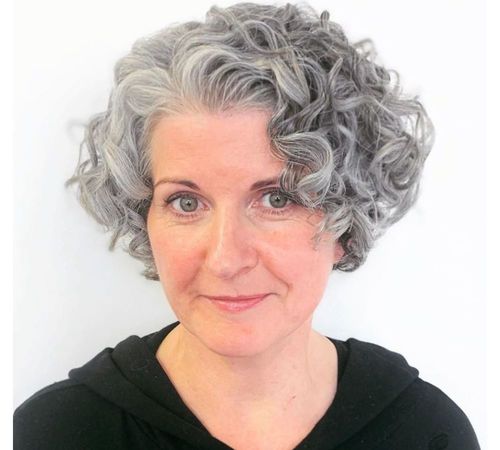 23. Curly Bob Hairstyles For Women Over 50
Curly bob hairstyles for over 50 are a good option. They help manage the issue of hair thinning that comes with age by creating an illusion of volume. You just need to find the right style for you. Take a look at this one. It is short on the back but at the front, it is longer. The curls sit perfectly on both sides of the face farming it beautifully.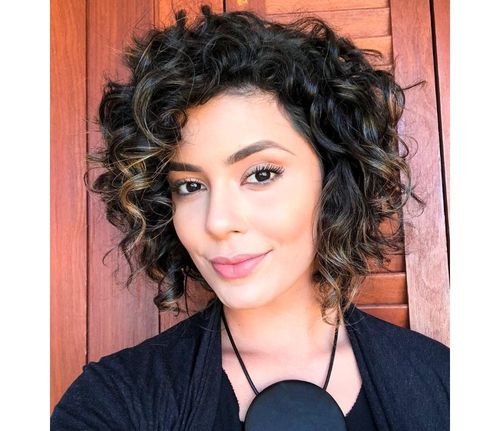 24. Stacked Bob Cut For Curly Hair
A curly inverted bob works well for those with a thick mane. It reduces the excess weight and creates a manageable hairstyle. You can also go for a stacked bob cut for curly hair for more manageability without compromising on the style. Look for yourself how cute this hairstyle looks.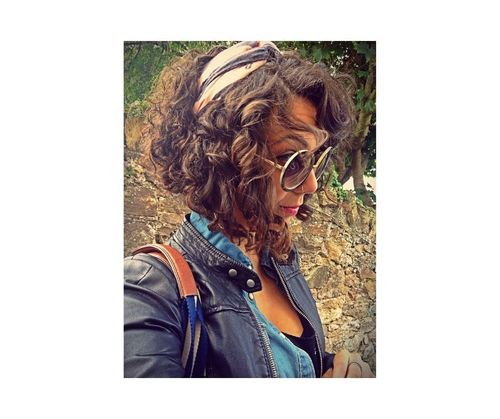 25. Long Inverted Bob Curly Hair
A long inverted bob cut for curly hair looks super stylish and edgy. Add some fun to it by adding cool and colorful hairbands.
This marks the end of our list of the 25 best bob cuts for curly hair. Let your curls have fun this year. Embrace your natural hair texture and come back here for hair inspiration when you are looking for a change.