75 Best Hairstyles And Haircuts For Long Hair - 2023
Tanumita Mishra
Updated At 19 Oct 23
We all have our hearts set on having the chic haircuts and hairstyles. All the girls out there with long tresses are often anxious about styling and managing their hair.
Here we are to let you know that your longer locks are not really boring and unexciting if you choose the right haircut. There are multiple haircuts for long hair that are trendy, manageable and stunning. You can have long hairstyles with layers or free flowing strands with bangs, all elegant enough for you to catch stares. Keep reading to know the 75 best ones of the long haircuts for women.
75 Most Popular Hairstyles For Long Hair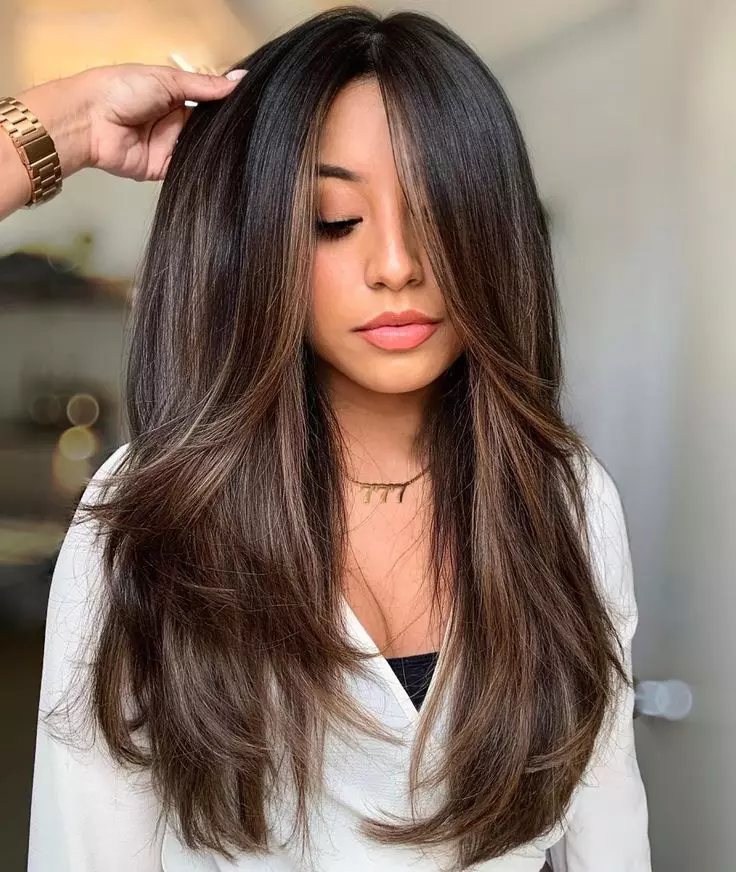 1) Ombre Brunette With Layers
Enjoy some fun with your darker hair by using this ombré color and layered cut. Ombre creates a striking appearance by beginning with dark roots and switching to brighter ends. This haircut for long straight hair will make you stant out.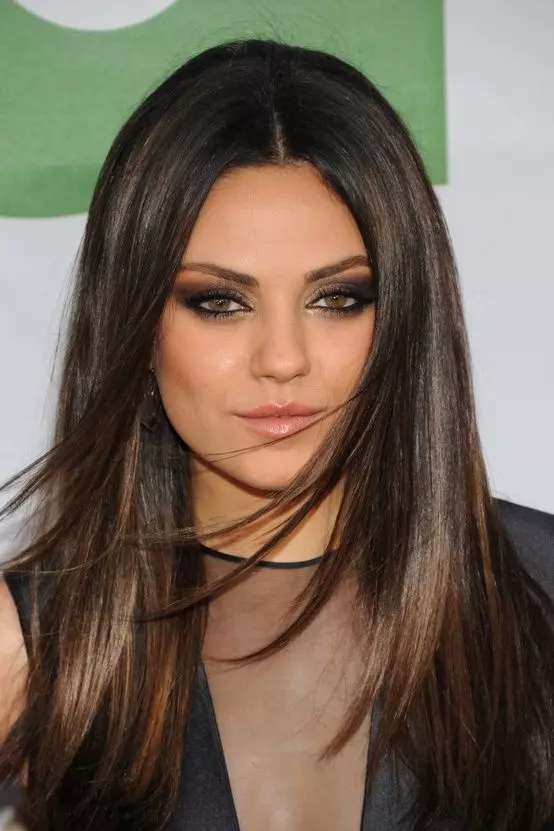 2. Front Layers
Front layer is one of the best hairstyle for long hair. It is also one of the easiest ones to have. This long layered celebrity haircut from Mila Kunis gives us ample inspiration to transform our look completely.
It gives your hair a layered look around the face. Your fine and long hair look the best when they are just front layered. They become easily manageable and look great on all face shapes. For a square shaped face get your layers cut starting around your cheekbones whereas if your face is heart shaped or an oval one then layers starting around your chin look the best. This long layered haircut can change your look completely and is one of the best hairstyles for women.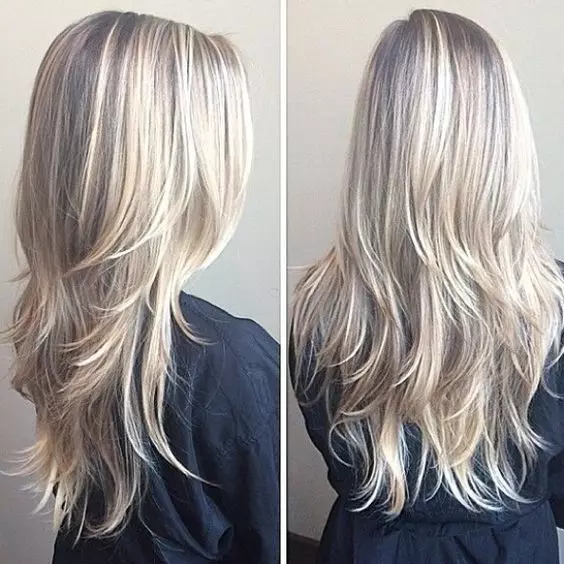 3. Long Angles
Long hair is something that no longer remains unachievable. You don't have to bother about them looking perfectly tamed. Among various hairstyles for long hair, go for this long angled haircut where your long strands start around your chest and go down to the longer sections of strands. It looks really great on all faces but make sure that this cut only works at the front of the hair. Do check out our guide on shoulder length haircuts to find 50+ stunning new medium length hairstyles which have been trending this year.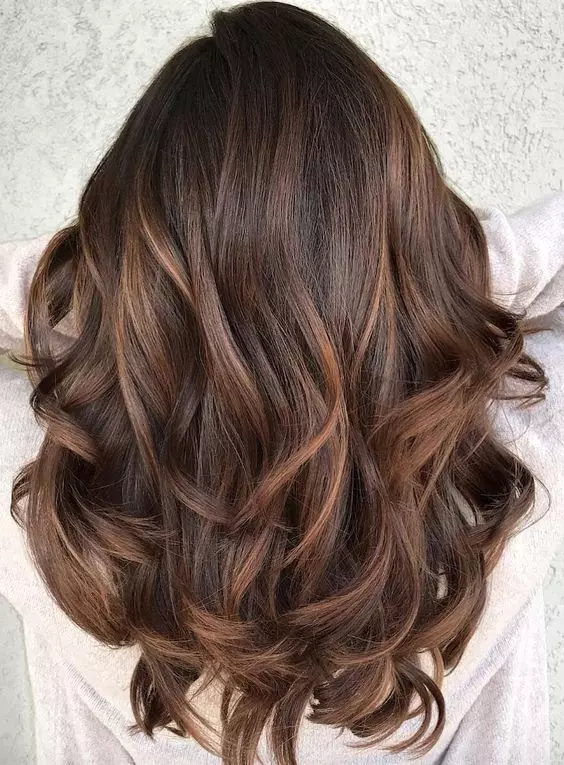 4. U Cut With Swoopy Layers
A long U cut has always been a common choice for long haircuts as a blunt U cut on long hair underscores thickness and density of hair. This wonderful haircut lets you get long, smooth and silken locks and also the shorter layers chopped gracefully to enhance the body and hair consistency. There are many hair color ideas for long hair U cut like you can create black brown effect to enhance the look. So your U shaped tresses with long and short layers give your hair a complete look.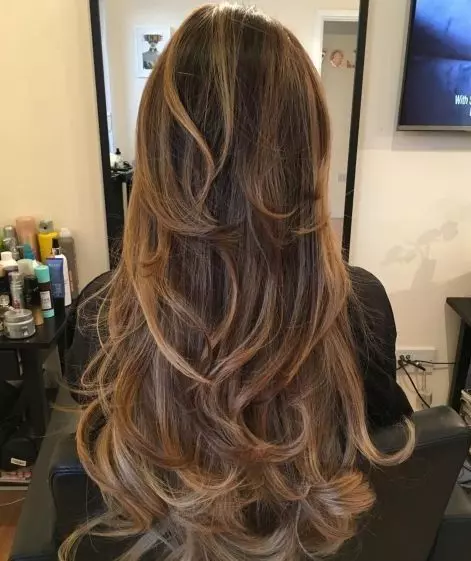 5) Choppy Chestnut Locks
Try a tri-colored masterpiece if you desperately need a different kind of layered haircut for long hair style to truly highlight the different lengths of your hair. This tortoiseshell effect is stunning and adds multiple sparks of color as you move and shake your hair throughout the day. It looks especially good on brunettes.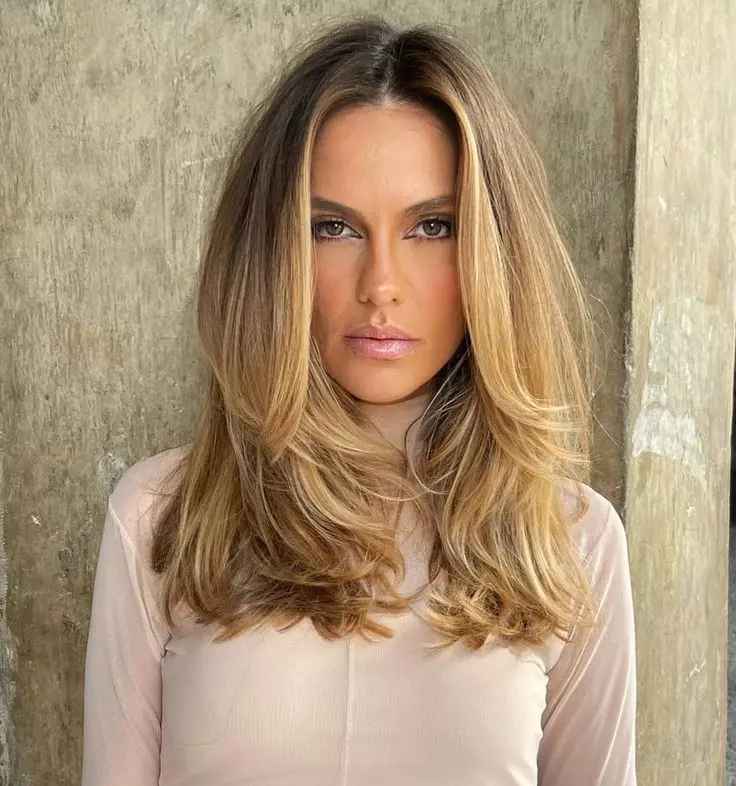 6) Subtle layers
A sneaky technique to adopt the layer cut for long hair without being overt is to have multiple layers in the bottom of the hair. Simply request a cut on the bottom 5 to 6 inches of your hair in layers all the way to the ends. Because it doesn't leave your hair with a dramatic texture or length crop, styling this sort of hair is simple. If you want to make this haircut look more appealing and absolutely stunning, we recommend adding highlights in a lighter hue or going with an ombre hair color.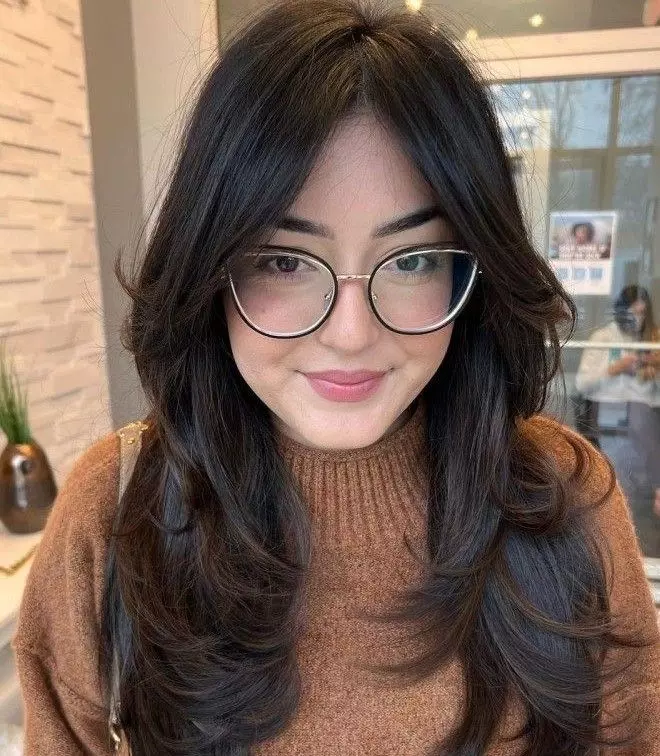 7) Front Cut With Layers
With parted flicks on the front and long hair in the rear, the face-framing front cut is a stylish style. It features a front layer cut that grazes the chin, making it ideal for ladies with round or square faces or broad foreheads. It works like a charm and can cutesy up any hairdo you can think of, whether it's a casual hairstyle or a sophisticated one. This front layered haircut for long hair is simple yet adorable.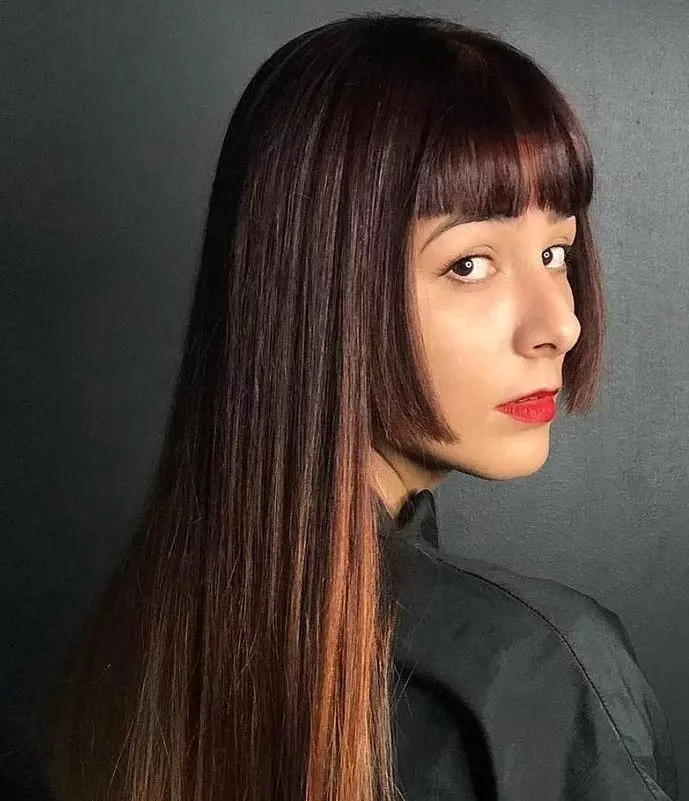 8) Hime cut
Now, this is one of the less well-liked long hairstyles that originates from Japan. Believe us when we say that it appears just as intriguing in person as it does in the picture. The hair is clipped and preserved at its natural length with only one pair of chin-length layers. Therefore, those of you who don't want to shave off your lovely mane won't experience any length loss.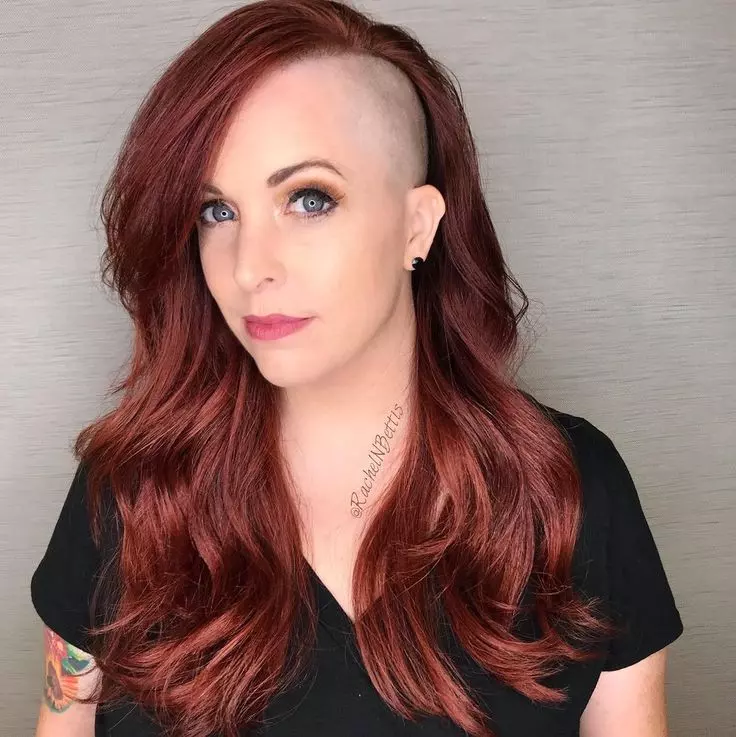 9) Shaved-side layered cut
This one is a bit edgy and challenging when you are looking for layer cut for long hair. But you can attempt this one if you have a personality that comes through in everything you do. One of the unusual hairstyles for long hair is this one. One side of you will be shaved, while the other will have long layers. You would appear incredibly stylish and cool if you wore it whatever you wanted.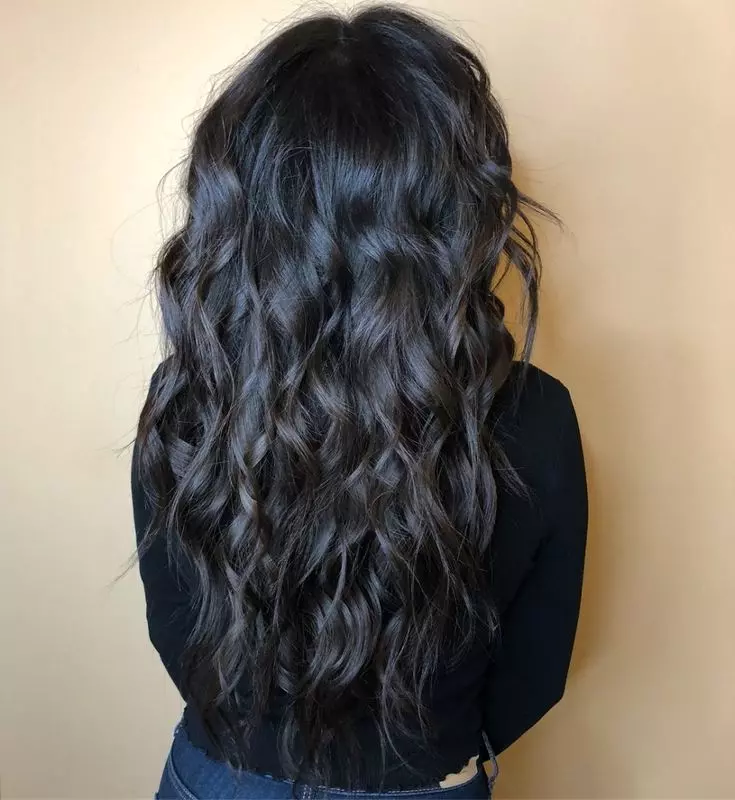 10) Weightless Waves
If you want a lengthy haircut for long hair but don't want anything too extreme, try this. In hair with waves, the waves look better when they aren't thick and stretched out. Layering is the best cure for lifeless waves. See how the layers on this haircut are shorter? That is necessary for fantastic, weightless waves.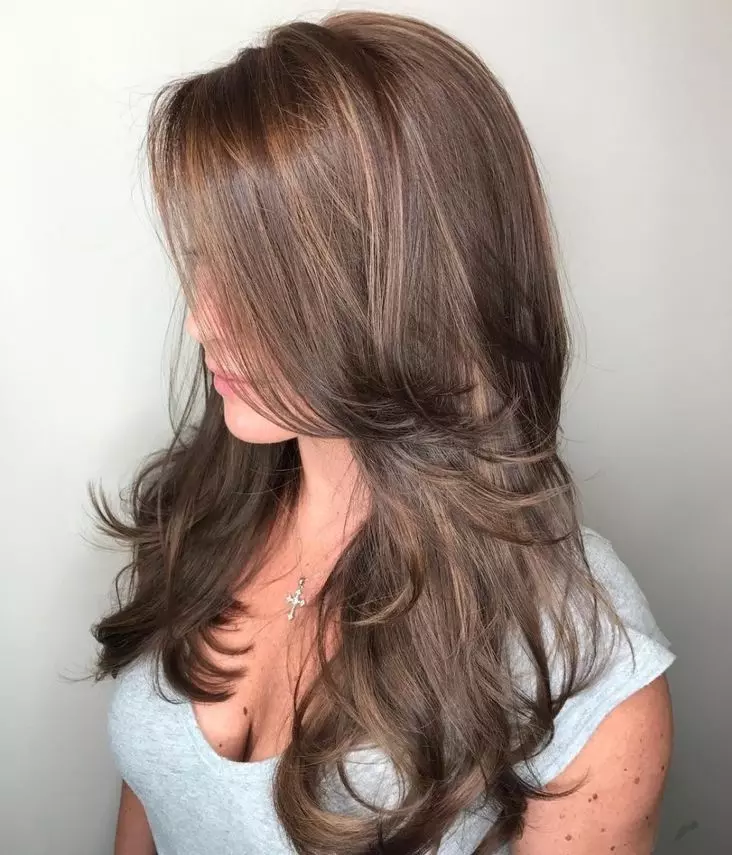 11) Multi Layered Mix
For any lady who wants a front layered haircut for long hair and desires a neat, fashionable cut with body and movement, this is the ultimate aim. The key component is the combination of layers. Note how most of the layers are mid-length, with the shortest layers merely serving to frame the face.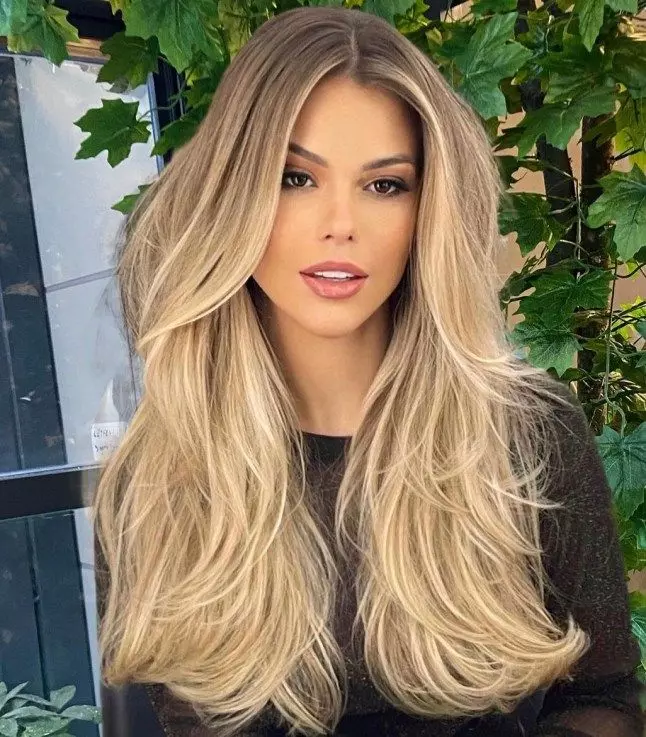 12) Long Tousled Layers
This is a beautiful, bedhead look reminiscent of Brigitte Bardot. Combine long locks with bangs—the heavier, the better—and add some tousled curls. How sexy is this?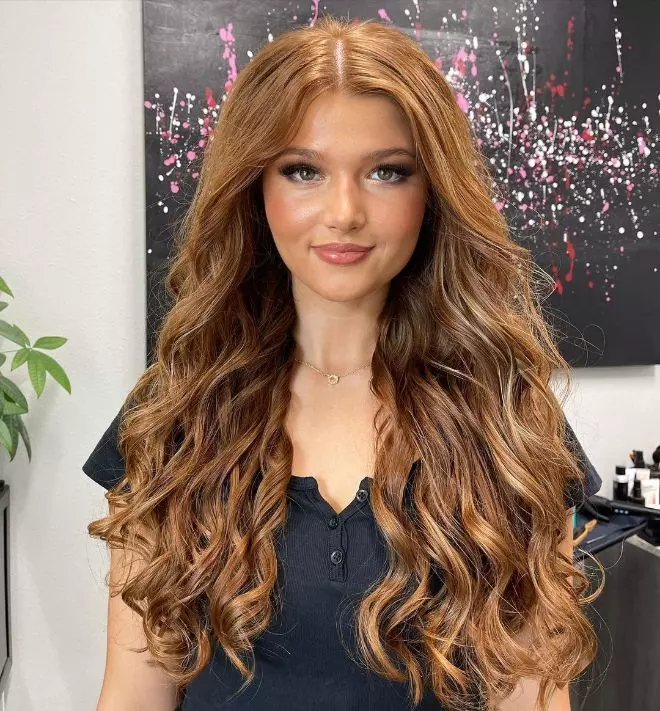 13) Stratified Strands
This layered hairstyle for long hair has a dramatic impact by showcasing strands of varying lengths. Choose this style if you typically wear your hair down most of the time because it will be difficult to coiff a simple ponytail with all these layers. The good news? With some strong highlights, this style looks incredible.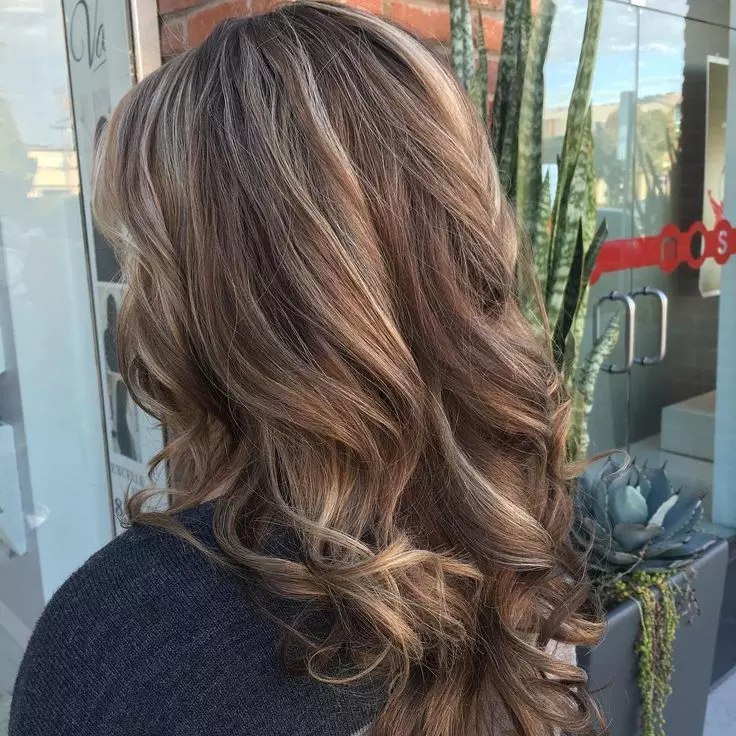 14) Layers and Lowlights
Try a long shag with layers and lowlights for a more organic appearance. Long, choppy layers that are accentuated with deeper tones give the hair depth and texture in this style.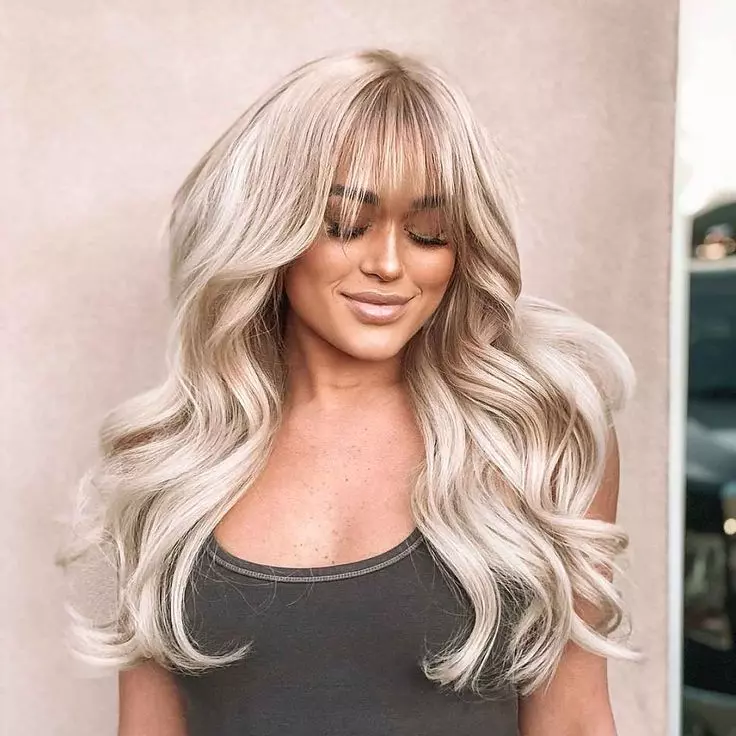 15) Platinum Long Layered Hair
Layered, extra-long hairstyles like this one feature a fashionable shadow root and platinum-colored locks. For more movement around your face, try using a long curtain bang. A fantastic method to highlight your blonde hair is by adding rough angles.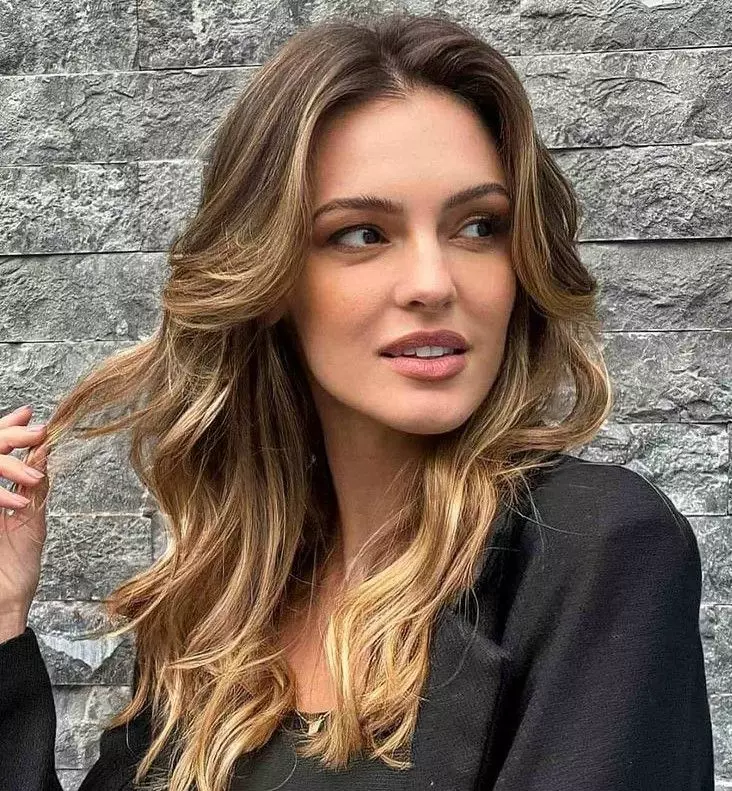 16) Long with Visible Layers
You'll adore this lengthy hairstyle with obvious layers because it gives your appearance movement and depth. This hairstyle maintains length while adding a touch of grace with the ideal amount of layers. The people who wish to preserve their long hair but want for a change and more texture will benefit from it the most.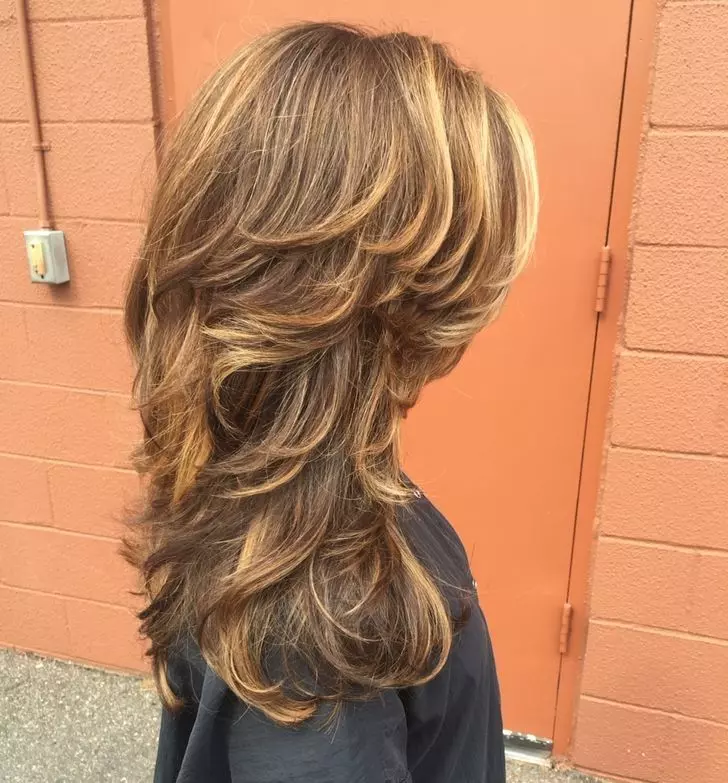 17) Feathered Cut For Long Hair
Consider a tiered cut with feathers and caramel accent colors. If you have thick, long hair, you might want to try adding layers from the middle of the shaft. By displaying movement and forming a wonderful shape, a feathery style can be adaptable. On darker foundation colors, caramel tones meld like a sun-kissed dream.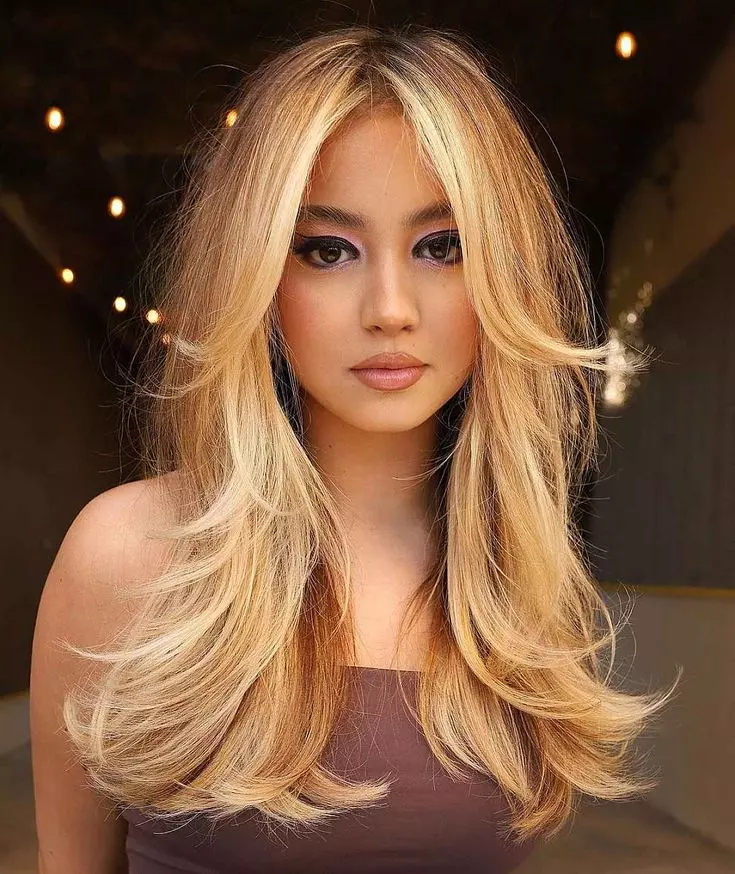 18) Step Cut For Long Hair
Consider this step cut for long hair if you want a more subtle and flowy look. Your hair's thickness compliments this incredibly sassy cut. Long layers are added by cutting the bottom into a v shape. To achieve this look, you should use a round brush to dry your hair. After each layer, tell your hair to curl in a specific direction; repeat for each additional layer.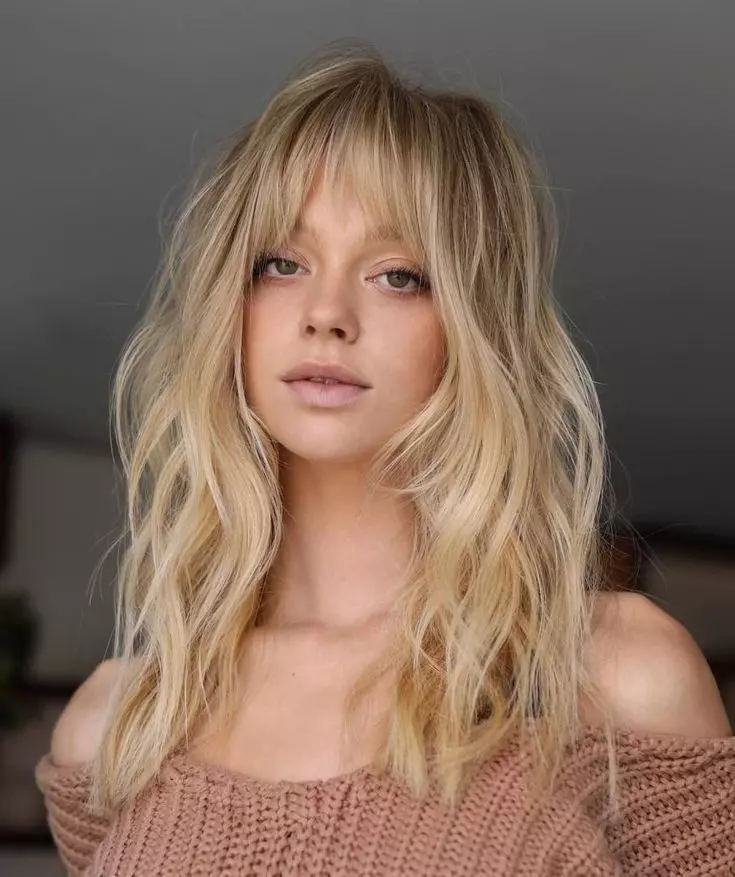 19) Octopus Layered Hair
The ideal flipped-up, turned-out, and attractive haircut is octopus-layered hair. If you want your long, layered hair to avoid feeling blunt, ask your hairdresser to texturize and feather the ends. On hair that is medium to thick, octopus layers look best. It is one of the best suiteed haircut for long wavy hair.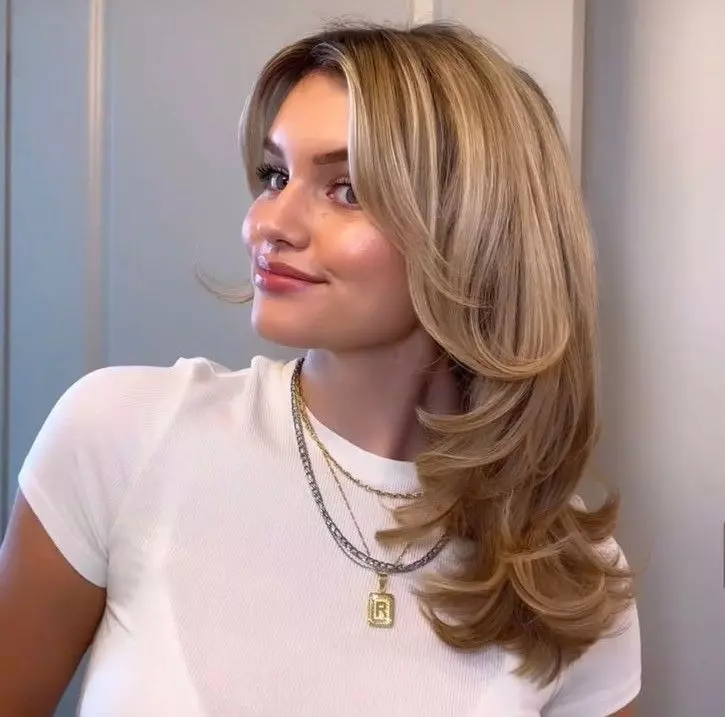 20) Long Mussed Layers
Long mussed haircut for long wavy hair are fantastic if you have a lot of length but want to change your style. Layers are a spectacular way of reducing bulk while adding movement to your haircut.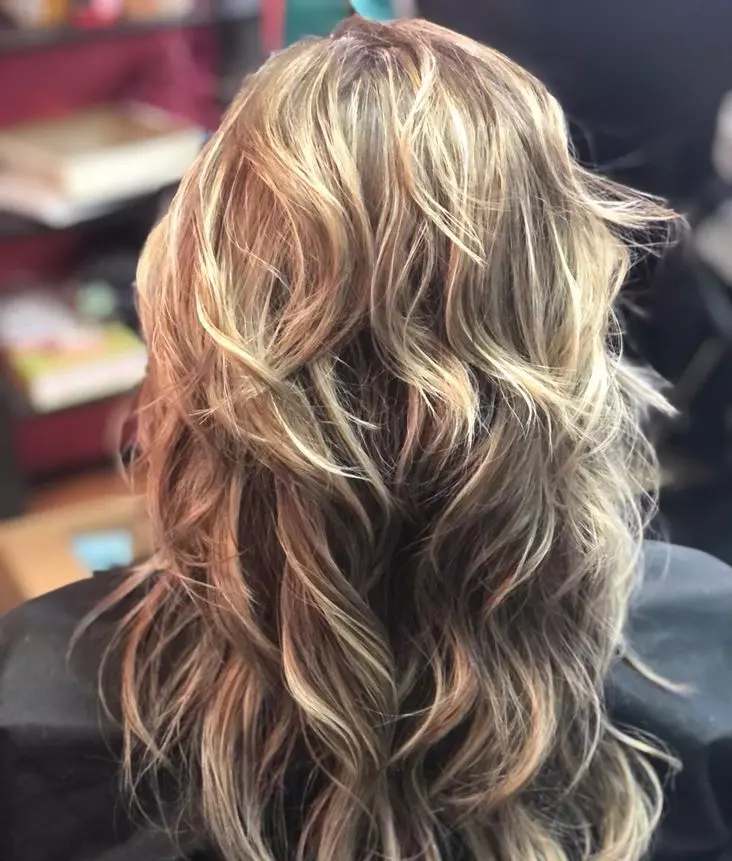 21) Horseshoe Layers
This entails "shortening the layers toward the front of the haircut, creating a 'horesehoe shape' throughout the length. This opens up the extremely essential front area (facial, neck, chest, etc.) attractively and can range from a little face framing to collarbone-length parts, depending on how long your hair is.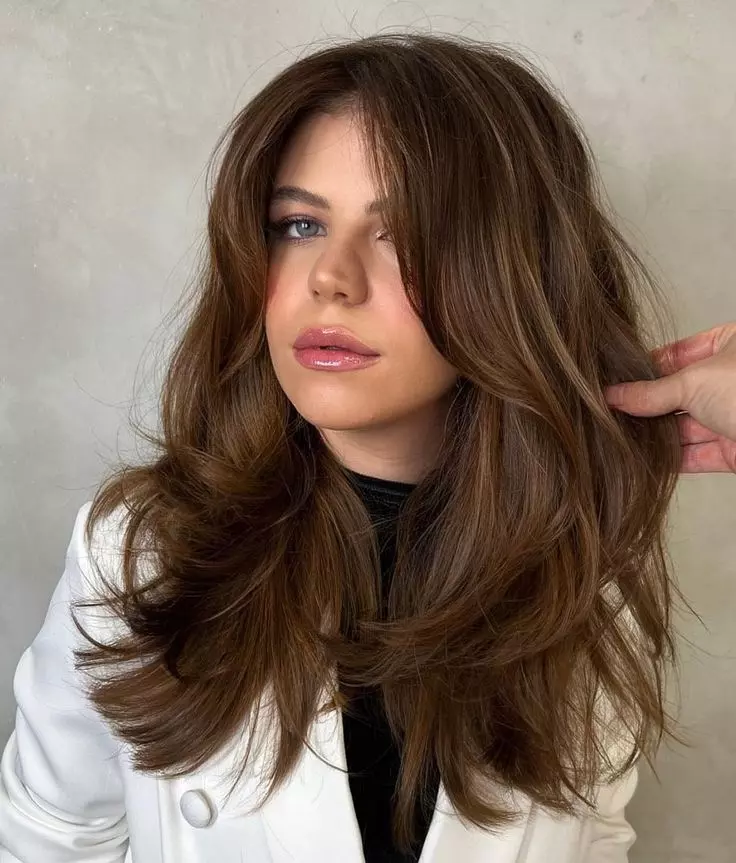 22) C-cut layers
If you are looking for haircut for long straight hair here is your go to option. All the layers create a gentle C-shape that helps cup and frame the face for extra structure.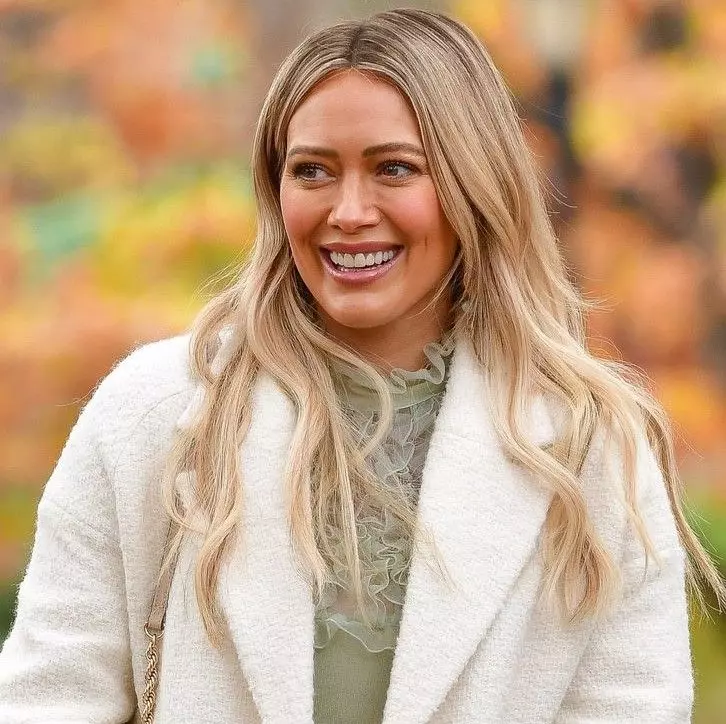 23) Candlelit Haircut
If you want to go light on the layers, careful color placement, like this lovely candlelit blonde balayage, can help add more dimension.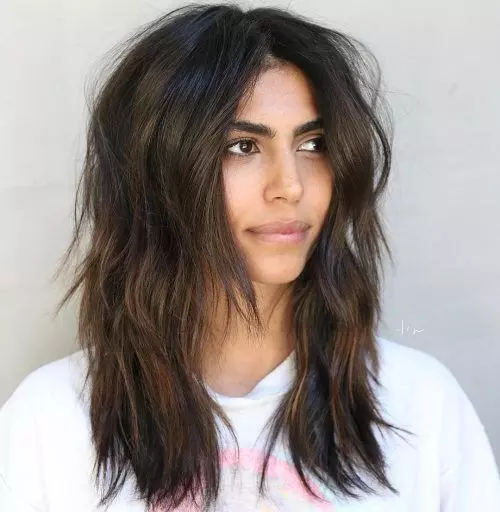 24) The Mixie
One of the haircuts for long hair that works well with both thick and thin hair is this one. It resembles a cross between a mullet and a pixie cut. At the base of the neck, it usually measures two to three inches long, but in my opinion, the longer, the better! The layers add texture and movement for a grunge-inspired appearance.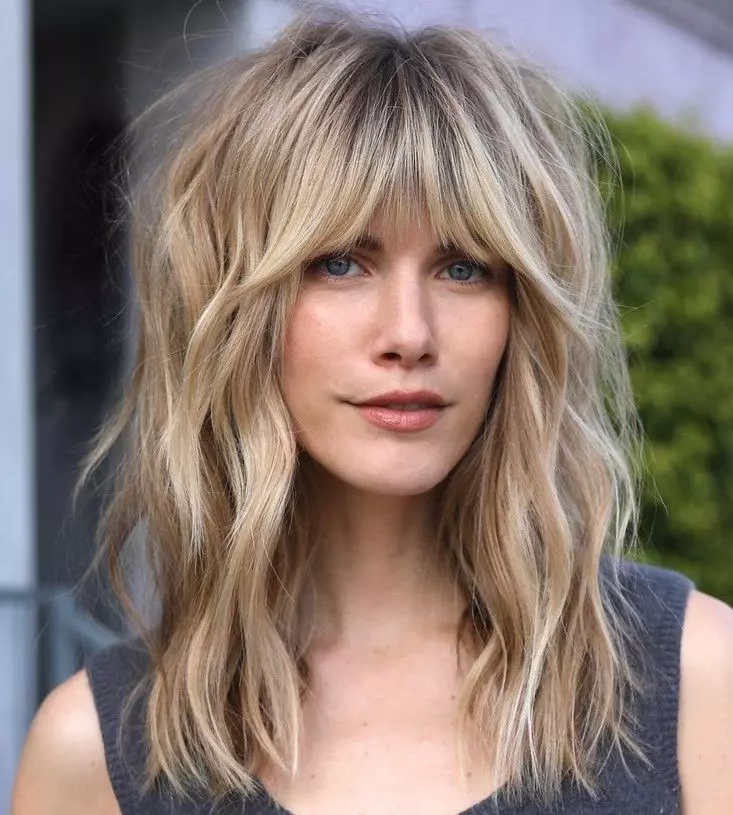 25) Wolf Cut For Long Hair
The wolf cut must be the appearance that best encapsulates the best long hairdo styles for 2023. This is the mullet's shaggier, more frivolous relative. It has been made famous by celebrities like Miley Cyrus and Billie Eilish and has a fluffy crown with tapered wispy strands.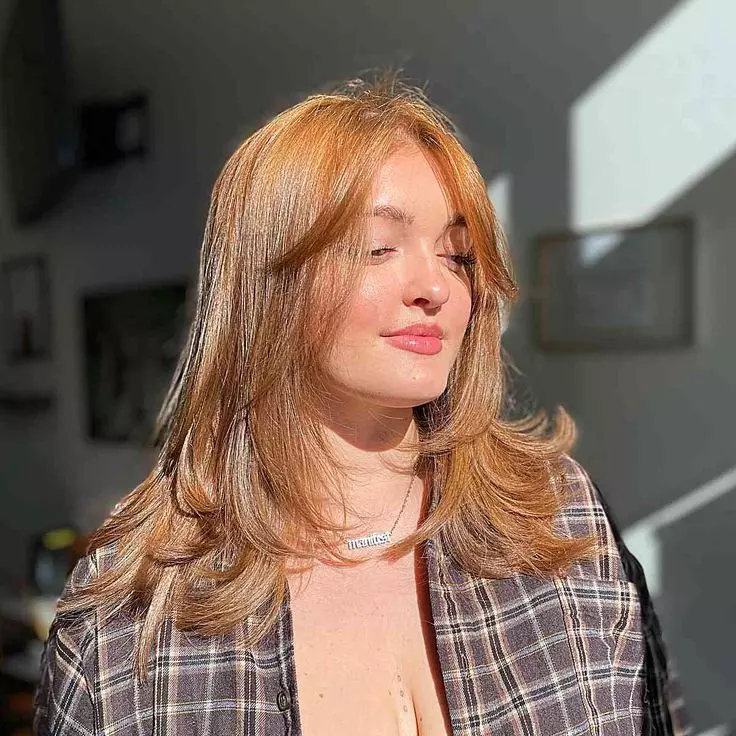 26) Layered Block Cut
The "block cut" is a straightforward homage to the K-beauty hime cut. Your face's contour is highlighted by its softly sliced layers, which avoid looking as crisp as the original. When choosing the length, keep in mind your facial shape to pull it off: For example, trimming the fringe just below the chin creates an elongating, flattering effect on faces with a round form.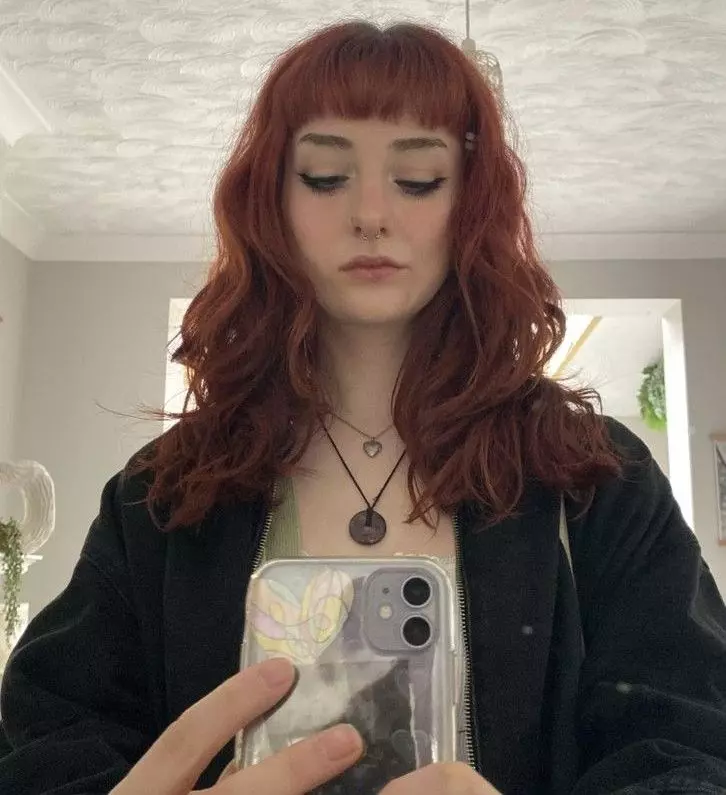 27) Textured Waves With Blunt Micro Bangs
Contrary to what many people think, picking a haircut for long hair is simple if you know how to work with the length and style of your hair. One reason is that natural waves really go better with layered hairstyles since they play up your overall appearance while subtly emphasizing your texture. If you feel that's not enough, add a striking fringe to the layers to draw attention to your best facial features.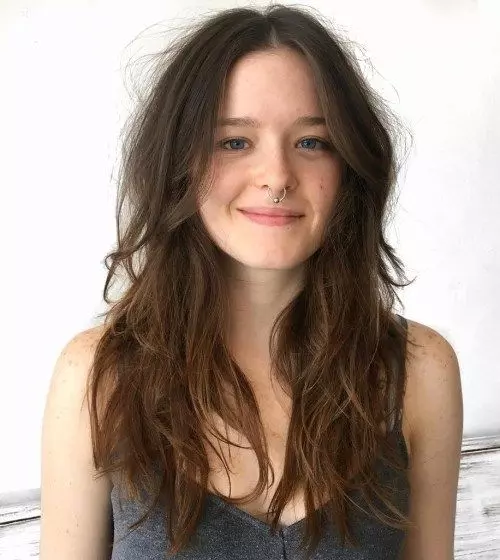 28) Edgy Wavy Layered Cut
Try a wavy layered cut with beachy long layers and strongly texturized, brown long layered strands if your are looking for haircuts for long hair. Long, layered hairstyles appear to offer the ideal beach-ready look.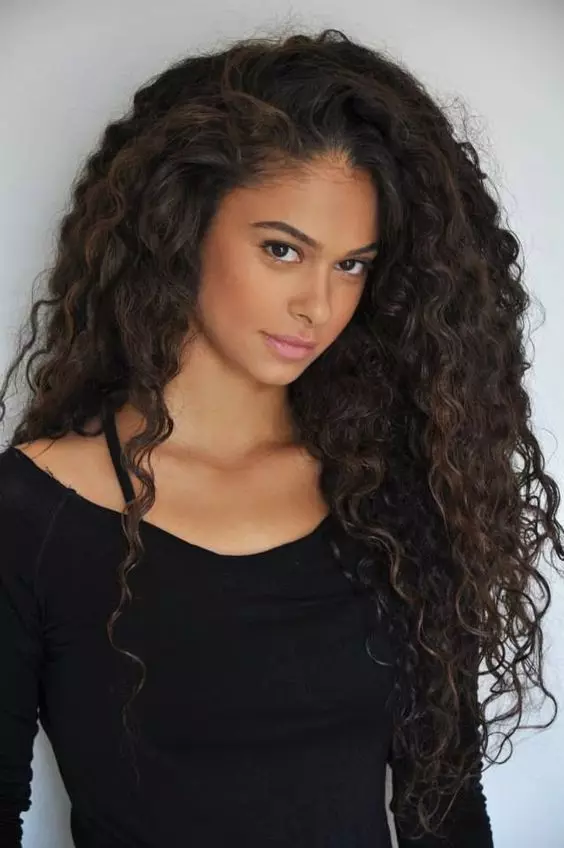 29. Tight Curls
If you have long hair with curls then all you have to do is get them elegantly blended in rounded layers. Amazingly, it suits on all face shapes. A dry cut will work on your curls but the layers have to be kept on the longer side which means they must start from below the chin level. This adds dimension to your curly locks and makes it appear heavy and voluminous. Curls go really well with long layered haircuts as they add more elegance to the look. So, go for it and don't let your long tight curls remain uninteresting.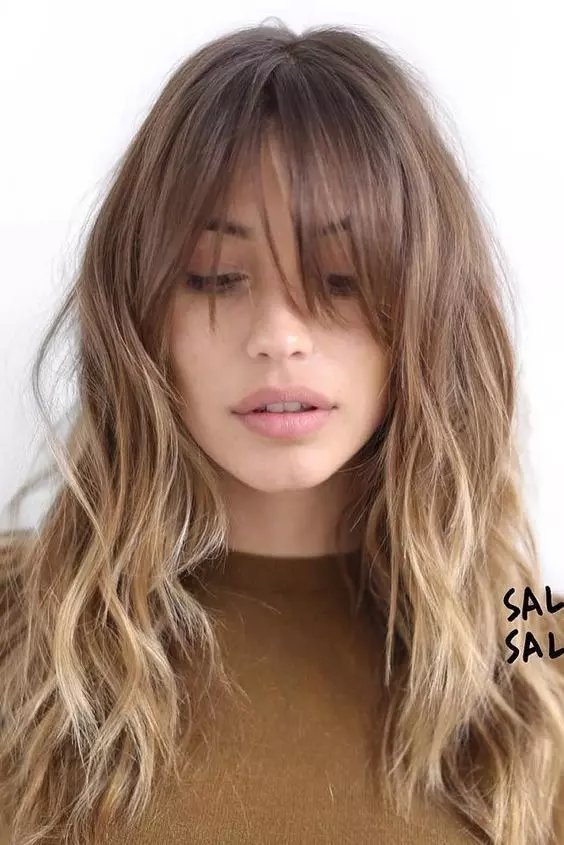 30. Bold Bangs
If you're in love with your long hair and can't compromise with the length then you can go for it. Get a triangular trimming so that front part of your hair on the forehead does not get flowy and wavy past your temples. To prevent any bluntness at the ends, get a few cuts here and there at the edges of your fringe.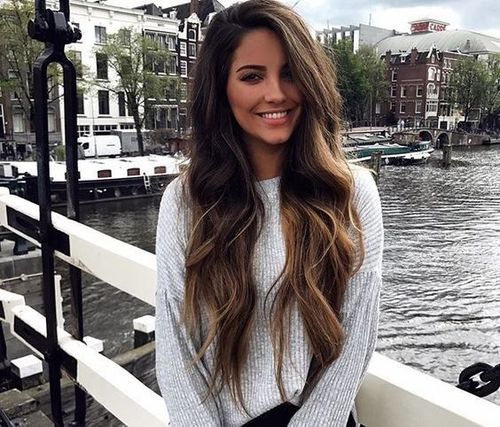 31. Clipped Ends
This is one of the trendy long haircuts in which you'll not be sacrificing too much length of your hair. If you do not really like the idea of layered hair, then opt for this one. Get your hair gently snipped along the ends. What it needs is the tiny trims along the ends in such a way that it doesn't give you a blunt cut look at the ends. It suits all face shapes.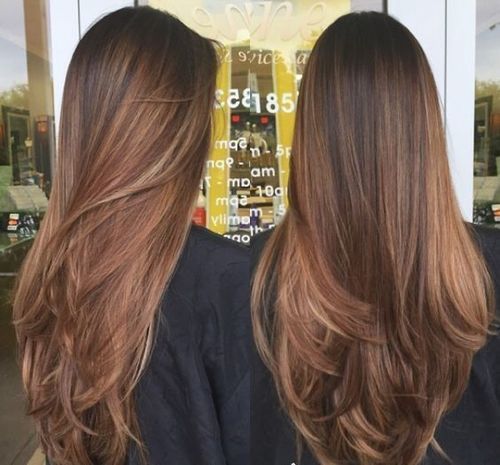 32. All Over Round Layers
Want a haircut on which you don't have to work much? You get long all over layers that you can simply wash and go. The slant layers are trimmed downturned along the ends and it need not be done perfectly. Random snipping along the edges of hair at the bottom is all that you need. Get this cut, take a hair wash and let them air dry and you're ready to flaunt them. It goes well with all types of face shapes.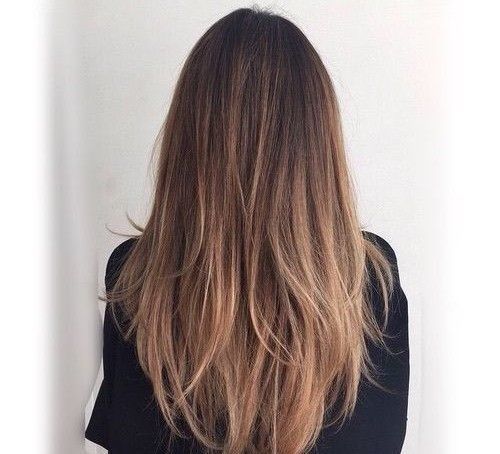 33. Subtle Strands
You can style your long hair smartly by trimming very gentle strands starting right at the chest. For your very long hair, carrying blunt ends might be monotonous and heavy. Style it with long and ultra fine flowing layers that look exclusively pretty on your lengthy and straight hair. These fine layers gently blend together and make your hair more manageable and attractive.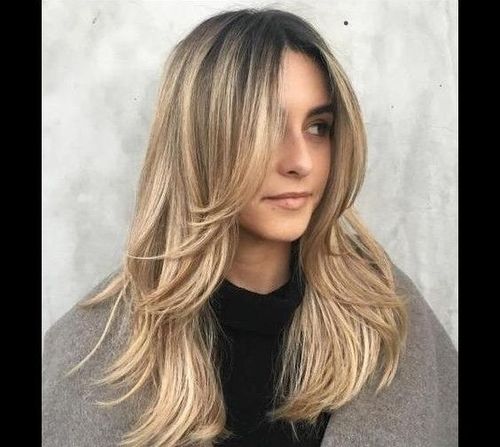 34. Long Side Bangs On Long Hair
This one's yet another haircut where you need not shorten your hair from bottom. You'll get short bangs that form face framing layers when you tie your hair up while you can get longer side bangs when you'll leave them open. So both ways you get beautifully styled soft and smooth bangs down your cheekbones.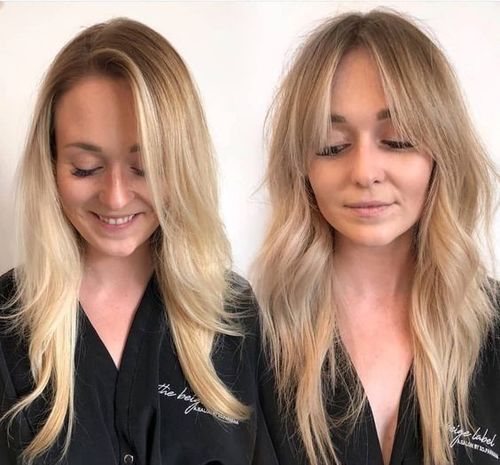 35. Tapered Ends
For your natural long spirals, keeping tapered ends is going to be the best choice. If you have long hair that are naturally spiraled and trouble you by billowing out every now and then, then you can get long layers with narrowed ends. The horizontal layers starting at the collarbone level in the back whereas stay longer in front, giving a very sleek and elegant look.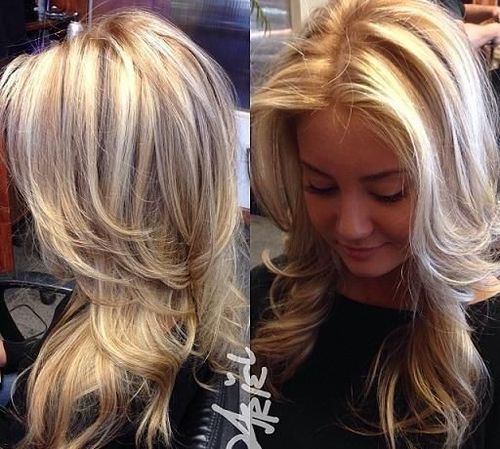 36. Choppy Layered Haircut
Not only women with short hair but also the ones having long hair can amaze everyone with their choppy layers. This haircut suitable for all face types requires just simple chopping with wavy strands. Shorter choppy layers look great on long layered hair. You can even highlight these to make them appear all the more glamorous.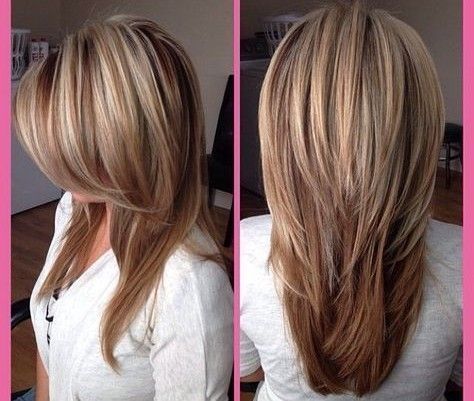 37. Two Layered Haircut
If you're not interested in getting multiple layers, then too you need not worry much about your hair styling. Go for two tiered haircut. It might sound something traditional and old fashioned but it looks really cute and awesome on all face types and makes your long, curly or heavy hair easily manageable, without adding much volume to them.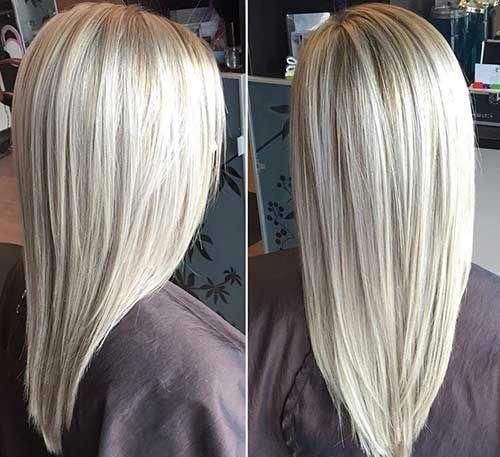 38. V Cut Layers
This is just the opposite of two layered cut. While the two layered one doesn't add much volume to hair, this one makes your hair appear voluminous. It involves snipping the top layers into v shaped layers downwards at the back of head. It forms multiple short layers finely trimmed to create a V shape from top to bottom.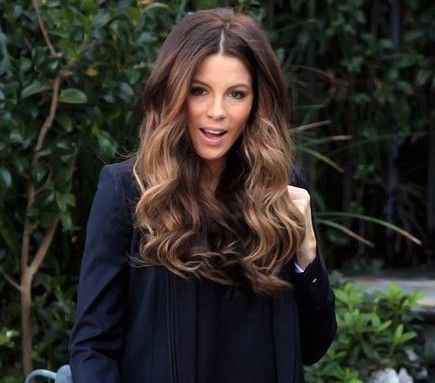 39. Gradual And Balanced Layers
Get the face framing layers with length where all the layers are close to each other which mean that there's little or no difference between the layers. It makes the overall look of your hair, subtle and delicate. Few layers start from the cheekbones which are segmented gradually and in balance. This haircut doesn't really go well with ultra fine tresses as it might appear more feathered near the ends.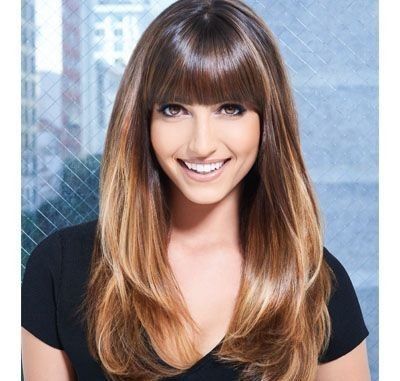 40. Layered Haircut with Arched Bangs
Go for this enchanting haircut which involves not only just gradual layers trimmed beautifully but also arched bangs. If you have got a square shaped face with sharp features then these arched bangs are the best that would soothe the sharp features. The haircut looks stunning on oval shaped face as well.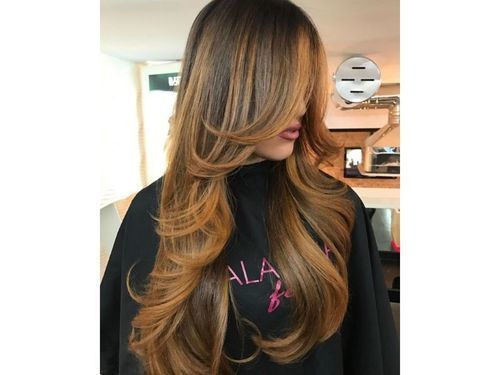 41. Face Framing Feathered Hairstyle
Long, lean and silky, this centre parted, feathered haircut is a lovely frame for your face shape. Caramel brown highlights compliment layered haircuts for long hair because the blend of warm and cool tones brings out the steps of layers. By keeping hair healthy by trimming the ends every couple of months, it can grow to the sultry waist length.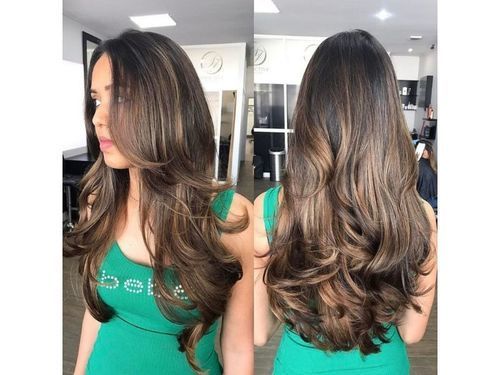 42. Long Layered Cut For Thick Hair
Coarse, thick hair is textured and multidimensional. Curling the tresses of thin and lifeless hair, and layering the length of the waves, lets your stylist create a haircut that generates movement and bounce. The medium brown colour with a copper balayage also adds depth and volume to the flattest of hair.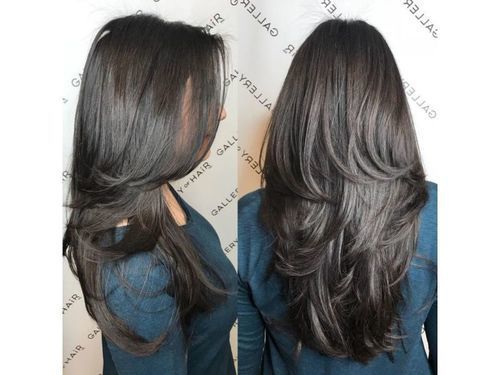 43. Long Hairstyle With Medium Layers
Round brushing is a styling technique for layered haircuts for long hair. Stylists wrap damp hair in these super large round brushes to hold it in place and remove them after locks have been blown dry, cooled, and set. Bouncy, flouncy curls are the beautiful result!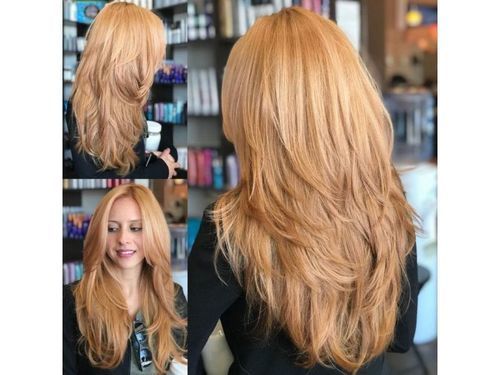 44. Long Feathered Strawberry Blonde Cut
The feathering technique is a method of cutting hair that implements slight graduating slices to create a steady sense of flow and length. It's an option that does a great job of bringing fluidity to hair that is all one colour.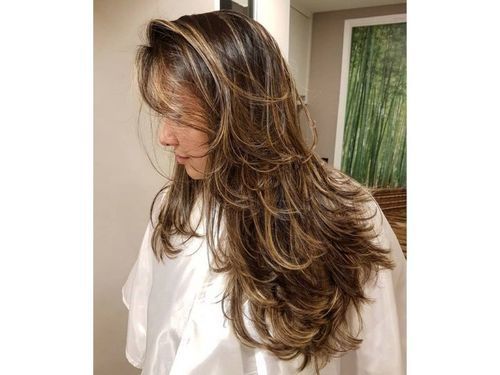 45. Long Feathered Cut With Layers
Hair parted on the side and feathered from top to bottom is another fantastic way to show off your long tresses. This feather hairstyle immediately draws the eye to the cascade of layers that fill up all "empty" space. Ash brown colours with honey blonde highlights also work to keep your hair looking shiny and silken.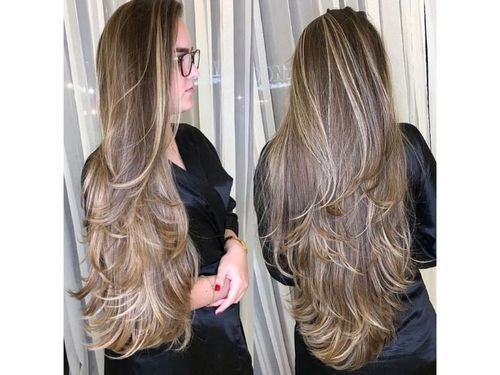 46. Long Feathered U Cut
There's no question that long straight hair can be your biggest jewel. Imagine the look of extra long hair with light feathered layers in a free flowing hairstyle! If you have lush tresses that are long enough to recreate a similar style, we suggest you enhance them with a bronde balayage that also brightens your complexion.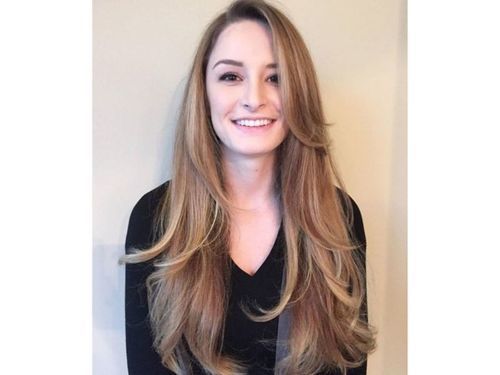 47. Layered Hairstyle For Very Long Hair
There are long layered locks, and then there are ultra long layered locks. For someone with a mane that goes down to their ribs (and beyond), giving your hair some difference in lengths will add some much needed dimension and keep it looking healthy. And, to spice it up, go ahead and curl the ends.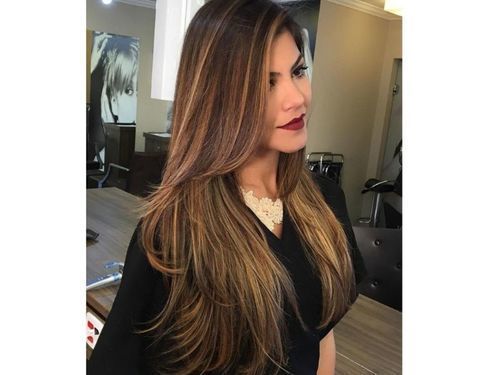 48. Sleepy And Straight Tresses
Luscious, long locks like these are practically begging for a blowout. Learning how to style hair this long takes determination, practice, and patience. Go to the salon and ask for a blowout, then carefully watch everything the stylist does. Then, invest in a powerful blow dryer, a large round brush and a straightener.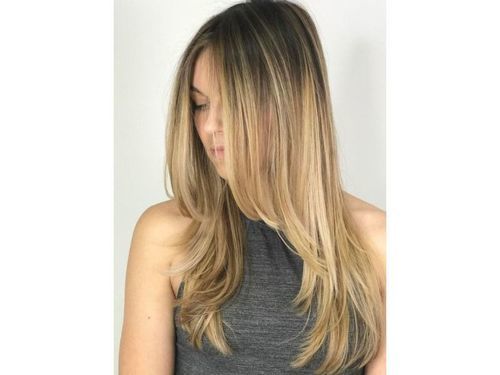 49. Descending Face Framing Layers
With layered haircuts for long hair, one can also play bolder with length towards the front of your face. Cut long, gradual face framing layers for an updated Rachel Green hairstyle. Feel like experimenting with colour? Try a subtle balayage with stretched roots.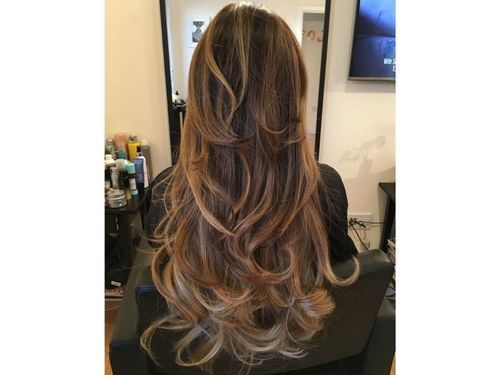 50. Choppy Chestnut Locks
In desperate need of a different type of layered style, try a tri coloured masterpiece to showcase the various lengths of locks. Particularly flattering on brunettes, this tortoiseshell effect is dazzling and delivers several pops of colour as moves and shakes the hair throughout the day.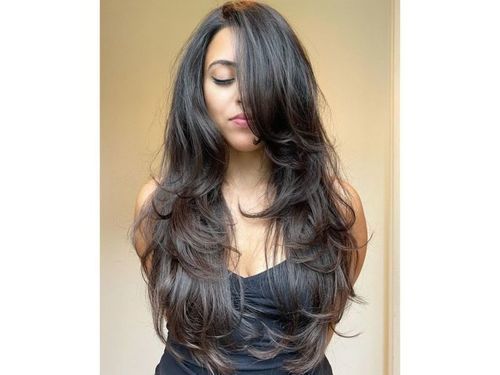 51. Multi Layered Long Hairstyle
Long hairstyles for women and like layers, you've got plenty of options. To add texture to your hair, consider getting layers Of different lengths – just imagine them bouncing with every step.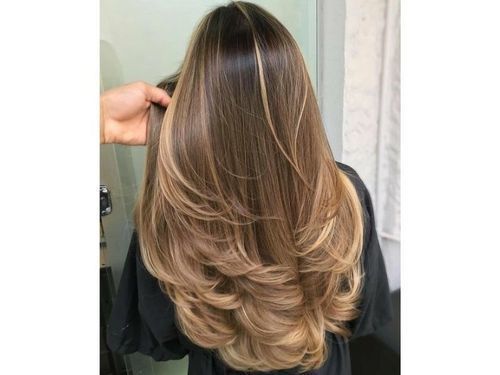 52. Long Feathered Hairstyle With Balayage 
The biggest long hair trend today is to cut long layers. Add some flattering highlights and just curl the ends.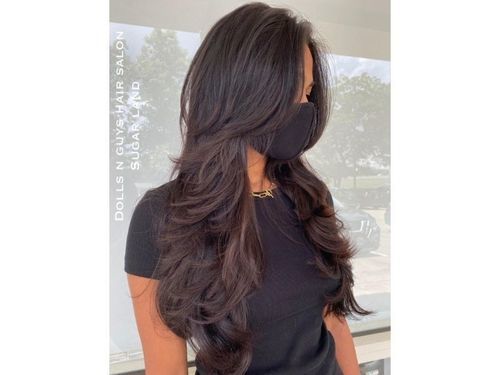 53. Long Dark Layered Hair
Do you want to opt for long layered hair with bangs, and these bangs must be super long? Here is a perfect option for you! The choppy layers look carefree and stylish. Not to mention the trendy long side bangs that complement the overall look.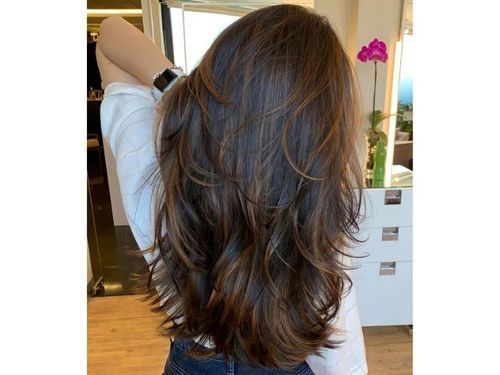 54. Long Layered Hair With Light Waves
If one wants to add some volume to their hairstyle for a special occasion, comb the hair back and shape light waves for a classy, wind swept look.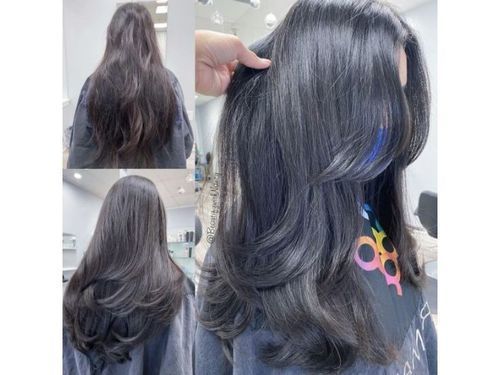 55. Chunky Layers For Thick Hair
Thick hair will only benefit from piece y layers. Such a haircut makes the natural flow of hair softer and even more visually attractive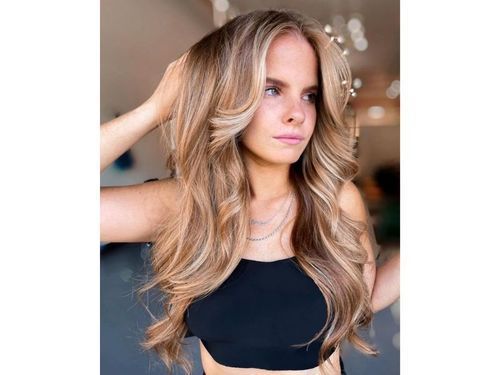 56. Long Layers
Opt for a gorgeous long shaggy haircut that offers layers for optimum movement and texture. The curtain fringe creates a soft face framing effect and has enough length to pin it back out of the eyes.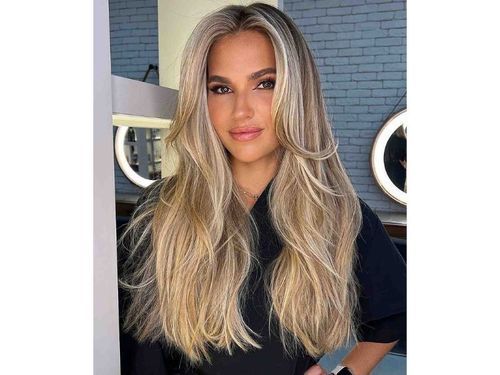 57. Layered Long Blonde Hair
A beautifully layered long blonde haircut is an extremely popular and never an out of style haircut idea. The number of layers can always be customized to suit you and your lifestyle, so don't be afraid to ask your stylist about the different options you have.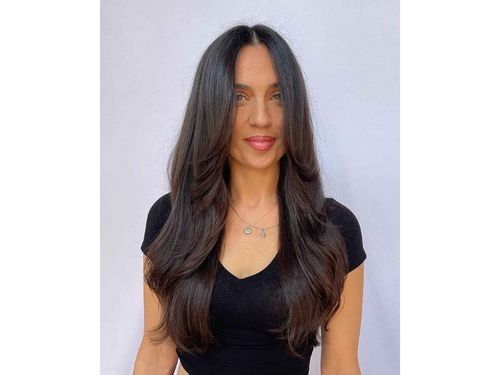 58. Brunette Long Layered Hair
Choosing a brunette long layered haircut is ideal for women who have long, but flat hair. Cutting long layers adds movement and depth without taking away length. For those with long thin hair, this is also an excellent choice because it adds volume.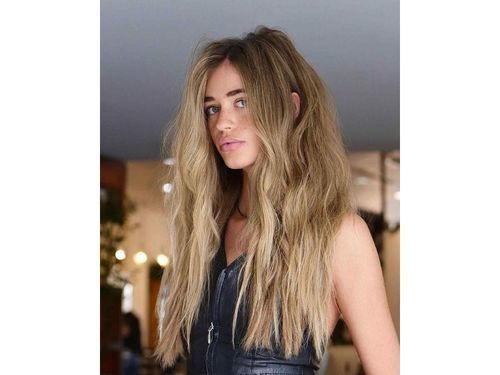 59. Textured Long Layered Hairstyle
Spice up the already stunning long cut with layers and a warm balayage. The textured long layers emphasize the lighter hue, creating a better dimension. For richer and healthier looking hair, apply a shine inducing oil onto your strands. This is one of the stylish haircuts for long hair.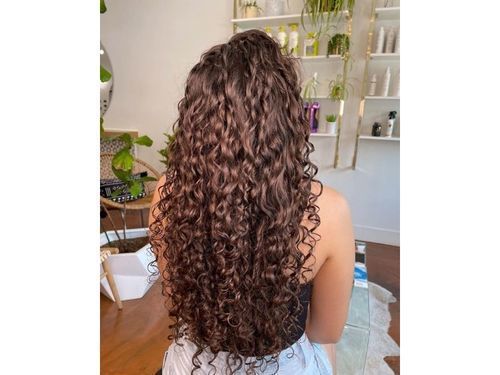 60. Layered Haircut For Long Curly Hair
Curly layers for long curly hair is a classic haircut that distributes volume throughout your tresses. A long layer cut enhances the curls and gives movement. Try curly layered long hairstyles for women who want a subtle and bouncy finish. This is one of the chic inspirational haircuts for long hair.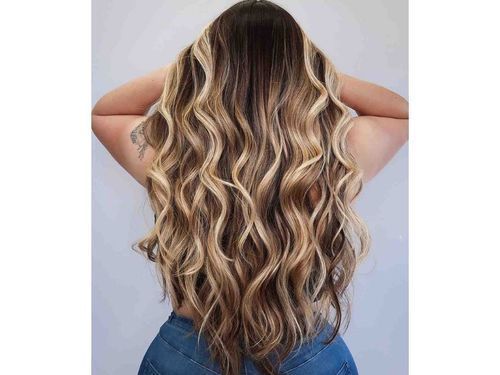 61. Texturized Choppy Layers
A layered, waist length hairstyle can be described as undone and texturized, with beachy tresses. When it comes to these choppy layers, long hair gives it a more natural and effortless hair trend right now.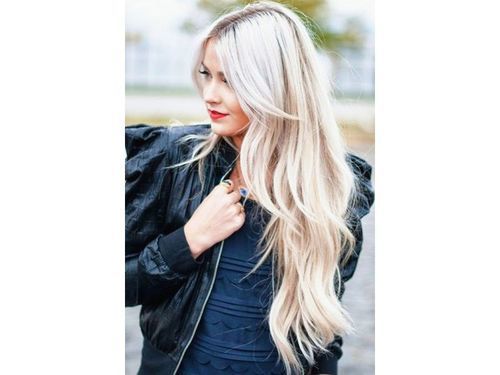 62. Platinum Long Layered Hair
Extra long hairstyles with layers like this one boast a trendy shadow root and platinum coloured tresses. This is one of the modern haircuts for long hair.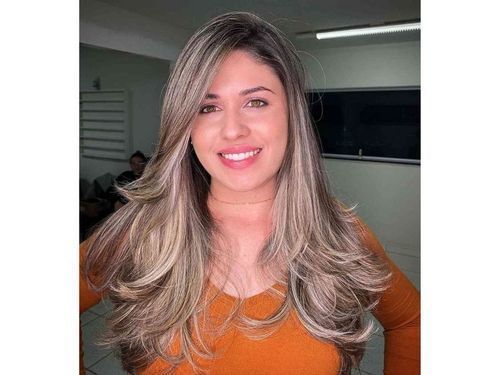 63. Side Parted Long Straight Hair
Try long straight hair with a side part to show off your layers. Having layers in long hair will create volume and texture. The locks won't look boring with this new hairstyle!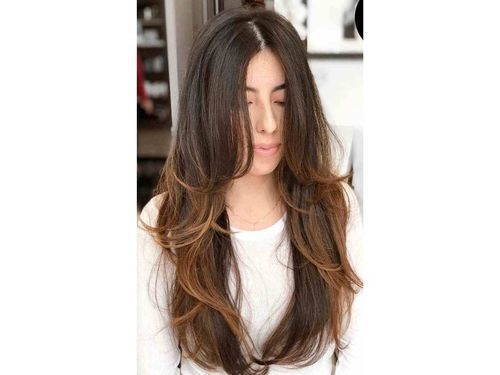 64. Long Flipped Up Layers With Light Brown Color
Long flipped up layers are one of the most flattering haircuts for long hair. Adding longer layers to the long hair will still allow to pull the hair back or wear it down and styled.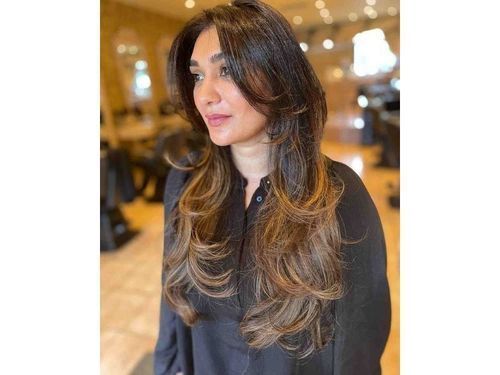 65. Caramel Balayage On Long Brown Hair
Long brown hair paired with caramel balayage is a fun neutral to warm blonde. Caramel balayage is a great way to add dimension to the hair with little maintenance.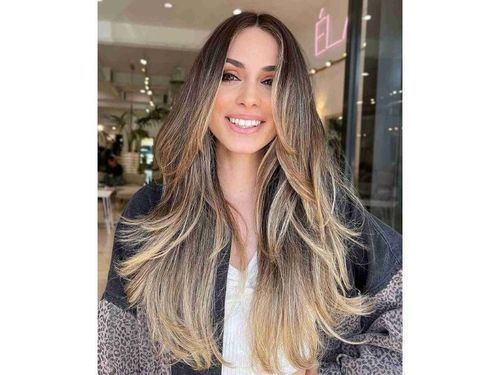 66. Long Dark Hair With A Sun Kissed Balayage
If someone wants a luxurious looking mane, go for long dark hair with a sun kissed balayage. Long layered haircuts are perfect for thick tresses and will give the hair body and movement. Long layers look amazing and will bring life to the weighed down locks.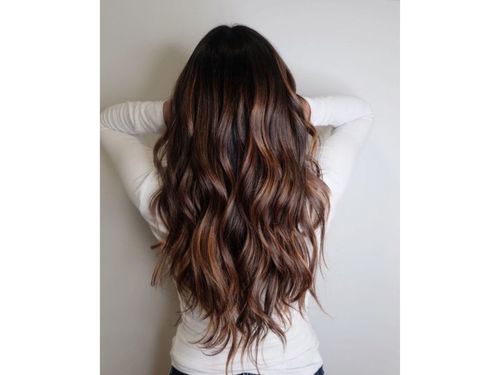 67. Long Layered Wavy Hair
Layers look great in long haircuts because they provide a lot of volume and dimension. If you want to hide your layers, just blend them by creating these gorgeous beachy waves.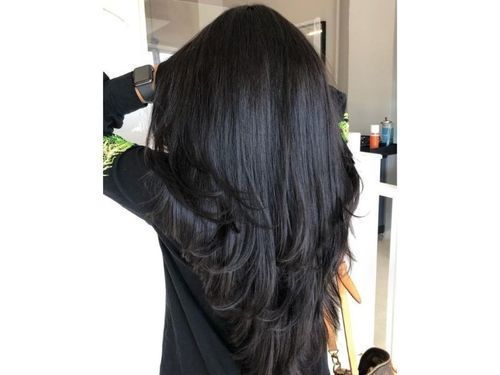 68. V Cut Long Layered Hair
If someone is looking for something to spice up long layered hairstyles for natural hair colour can explore the benefits of the V cut. It is a rather unusual solution that looks great whether the hair is loose or in a ponytail!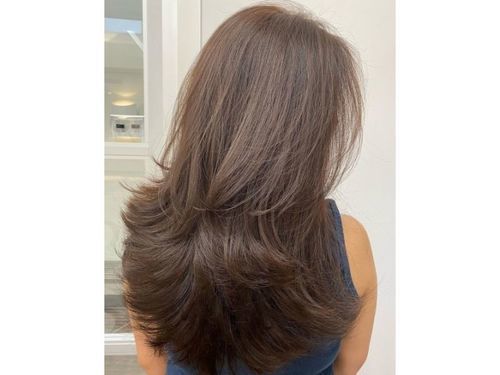 69. Wispy Layers On Long Hair
Wispy layers on long hair are the stylists' go to solution for an easy to maintain versatile look. It's one of the long haircuts for women that gives so much space for experiments – just use the imagination and a hairdryer.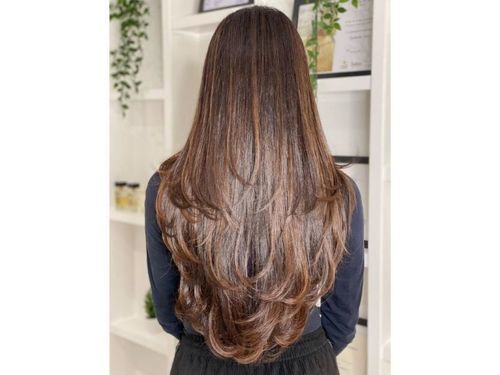 70. Three Tier Super Long Hair
Many girls dream about waist length hair, but not everyone can achieve it. If one can't grow all their hair due to breakage or split ends, no worries – just make layers and trim the hair now and then, and the locks will look awesome without sacrificing their length!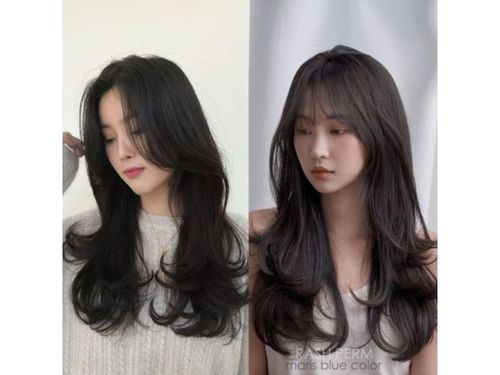 71. Long Hair With Korean Bangs
It is the ultimate solution for a round face. Whichever outfit one chooses, this cute hairstyle will compliment your look perfectly. This is the haircut for long hair which is suitable for baby like faces.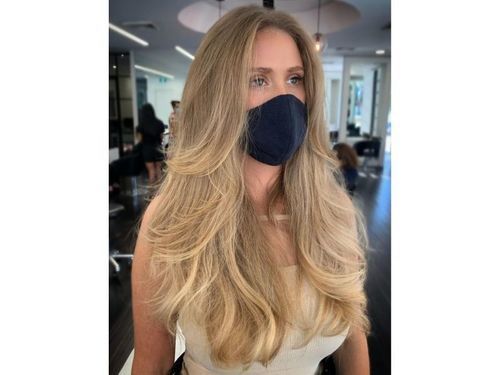 72. Long Boho Style Layers
Long haircuts can look graceful or like a hot mess! If one wants a hairstyle that can do both, get long layers and style them to fit the occasion.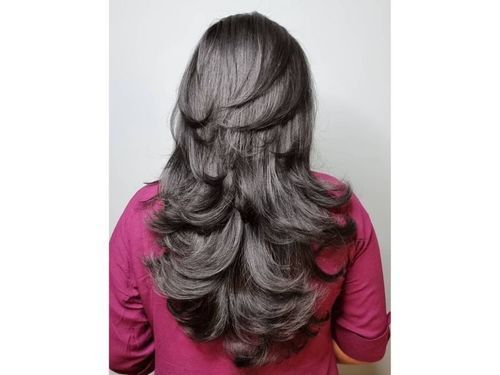 73. Choppy Layers On Long Hair
Whether the hair is sleek or wavy, getting choppy layers is a decision one won't regret. After all, a long piece y cut can instantly deliver the mane of a dream.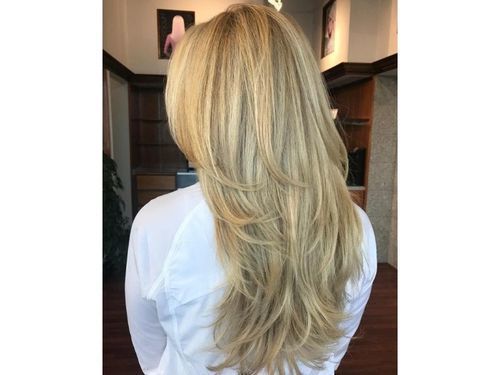 74. Long Blonde Hair With Layers
What do we see here? Amazing blonde hair! Long and layered, multidimensional and feminine. Even thin tresses will benefit from getting layers.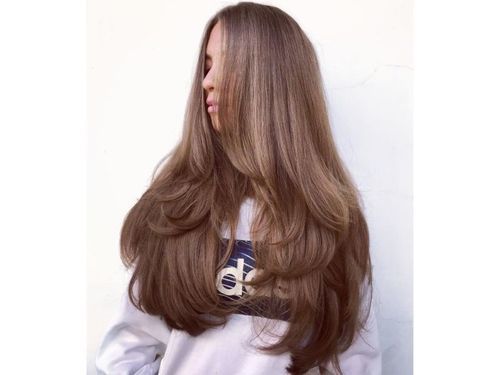 75. Long Thick Layered Hair
This hair looks flawless, like in commercials, doesn't it? However, it is not so easy to cope with it in real life. Reduce the weight that carries with the hair. Ask the stylist to cut it in a three tiered style.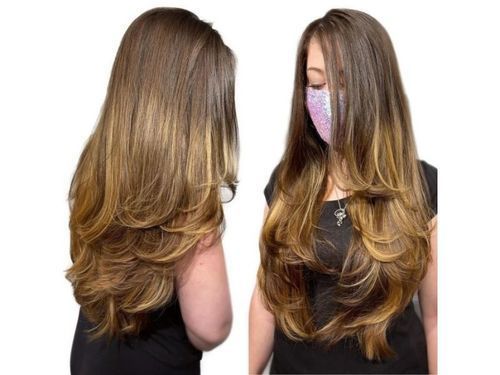 76. Straight Hair With Flipped Up Layers
Want to have a fabulous hairdo, but have no time for regular visits to your hairdresser? This is one of the simplest yet elegant layered hairstyles for long hair, straight at the top and slightly curled at the ends.