55 Stunning Box Braids For Kids (With Photos)
KRITIKA GUPTA
Updated At 27 Aug 23
The square-shaped braids that distinguish box braids for kids make them the loveliest protective style for your baby girl's natural hair. These cozy and attractive plaits are designed to retain moisture in your child's mane, preventing drying and encouraging healthy hair growth. These adorably cute kids box braids are always a good choice because they come in so many types that will fit your child's personality and daily OOTD. These pieces can last up to three months if her braids and scalp are properly cleaned and moisturized.
Children can replace hair extensions with box braids. Although many ladies appreciate and have a lot of fun with them, box braids for girls are simple to ignore. Young girls can appear lovely and fashionable with box braids if the braids are done properly. Here we have listed some of the box braids for kids ranging from box braids for 6 year old to boxbraids for 9 years old and more.
55 Best Box Braids For Kids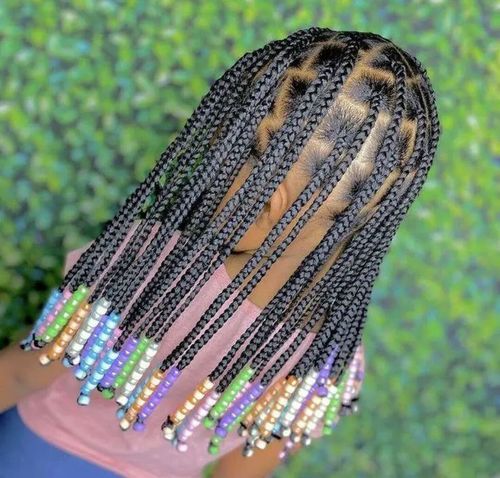 1) Box Braids For Kids With Beads
Kids adore adorable, vibrant accessories that add color and flare to their hairdo. Beads are the most beautiful hair accessories among many. But believe it or not, beads are more stunning and cute with the kids' braids. They sparkle, they shine, and they are vibrant. In addition to beautifying the hairstyles, the beads strongly represent the personalities of the children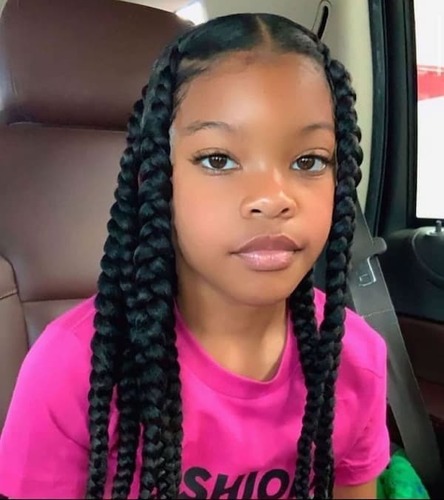 2) Jumbo Box Braids
The largest and chunkiest box braids are jumbo box braids. When it comes to styling them, they have a lot of options. Due of their low care requirements, they are ideal for your little girl. You only need a few braid strands to finish the look.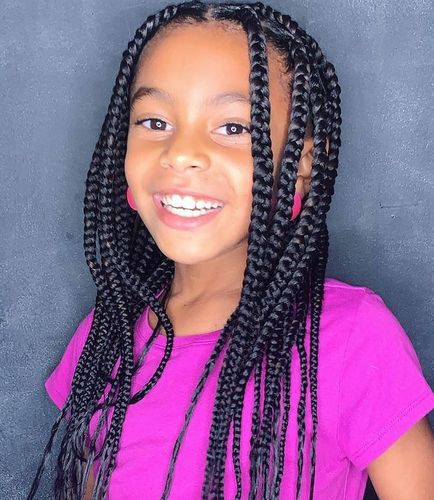 3) Medium Box Braids
Kids love medium box braids because of how many different colors and styles there are to choose from. They come in a variety of lengths, including short, waist-length, and long. Typically, medium box braids measure around 10mm in width. When compared to small-size box braids, they are easier to install. Box braids in the medium size last 8 to 10 weeks. You may style your infant's hair in buns and ponytails with ease because it isn't overly thick or cumbersome.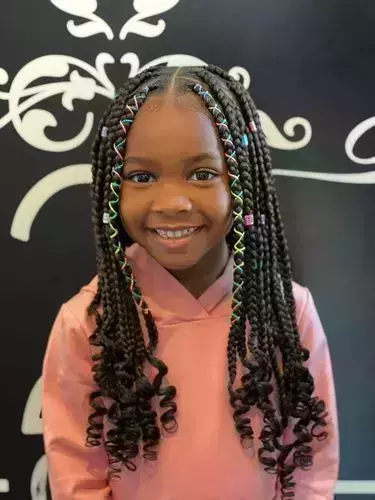 4) Goddess Box Braids
These stylish box braids blend curls and braids together. Kids can choose from a variety of colors and styles, including half-ponies, highlights, and even beads, making goddess box braids versatile.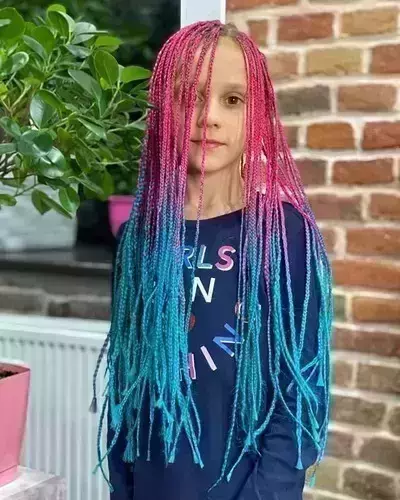 5) Ombre Braids
Your angel can flaunt the perfect hairdo by incorporating a variety of hues. Dark colors are typically used to begin an ombre box braid, and then lighter colors are added as you braid it.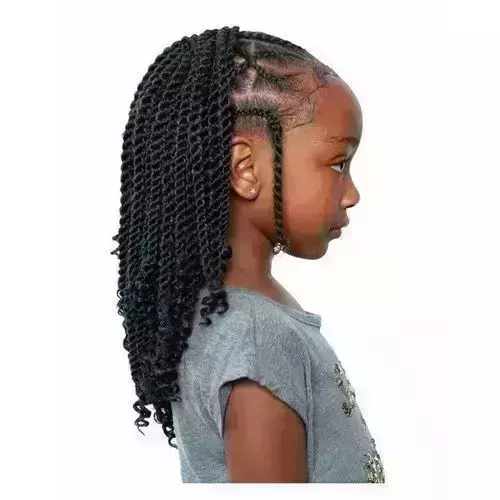 6) Crochet box braids
Crochet box braids are perfect for kids as they last long and are easy to install.They are great for special occasions and can be installed quickly. Crochet box braids offer a variety of colors and styles that you can choose for your baby.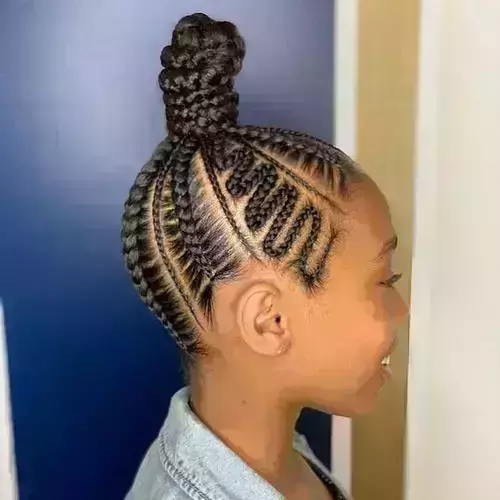 7) Box Braid Bun
Even though box braids look fantastic on their own, they look even better when they are gathered into a bun. For those mornings when you're pressed for time, a box braid bun is the ideal go-to hairdo. They are excellent at preventing braids from getting in her face since they keep your child's braids stacked on top of their hair.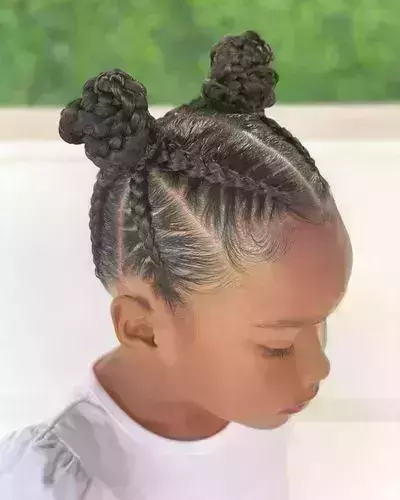 8) Space Buns
The ultimate adorable but unique hairstyle is a space bun! There are two colossal, tall buns, one on either side of the head. They are simple, if that makes sense. While space buns are typically worn with loose hair, they also look great when worn with box braids.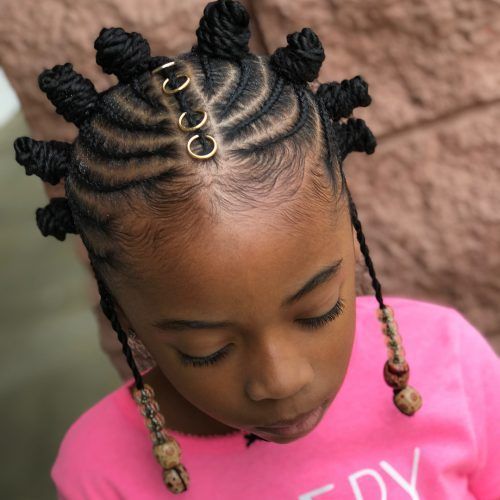 9) Bantu Knots Box Braids
Don't limit your little girl in any way when styling medium box braids because this is your chance to express your creativity. This bantu knot braid styles are an extreme stylish box braids for kids.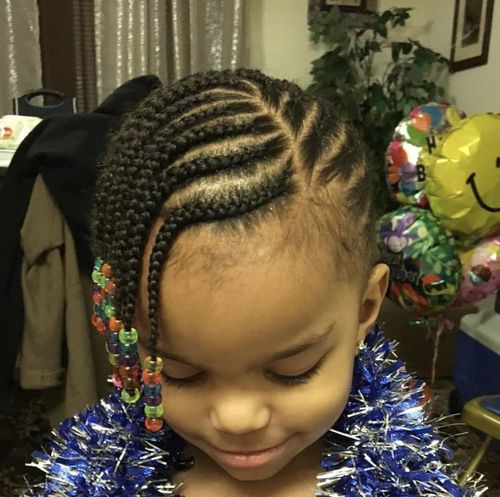 10) Side Braids with Beads
This one-side box braid style, complete with a unique heart braid and delicately arranged baby hairs, deserves every braid award there is! For the ultimate keeling-me-softly effect, style a "braided braid" or a low bun on one side. This side swept box braids for kids with beads loom adorable.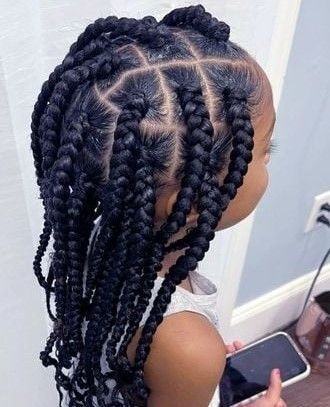 11) Chunky Box Braids
Healthy-looking hair that's simple to maintain, especially for young girls, will keep your little girl's mane appearing fun. Girls' long box braids provide them the freedom to experiment with a variety of vibrant accessories, which may make regular hair styling a blast!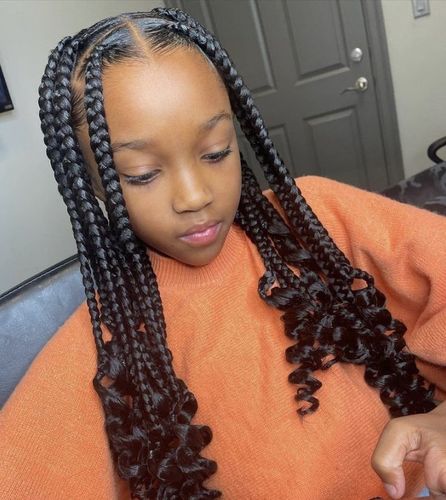 12) Knotless Box Braids
Children' box braids without knots are the ideal protective style. Not only will this look last, but adding colored bands and beads will increase your child's enjoyment of the styling process and provide them a method to express themselves via their hair. Girls will look forward to their daily hair care routine with these perfect braids for kids. These little girl box braids with curly ends are very easy and can be made quickly.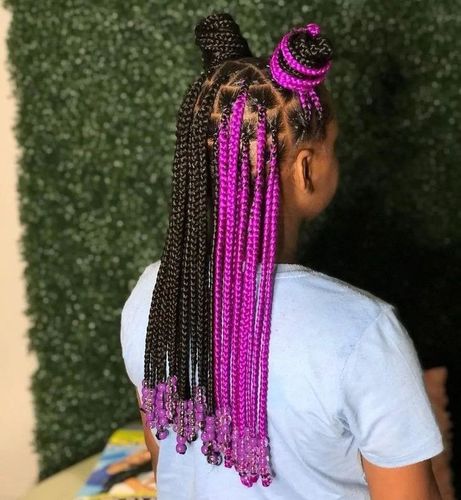 13) Half Up Top Knot
One of the most common braid designs for young girls is the half-up top knot, which can be seen in a number of the braids on this list. In a manner, it's a half-braid that goes up rather than down. This updo gives the crown more volume and helps a girl's neck stand out. If you are looking for box braids for 9 year old, then this can be an amazing option.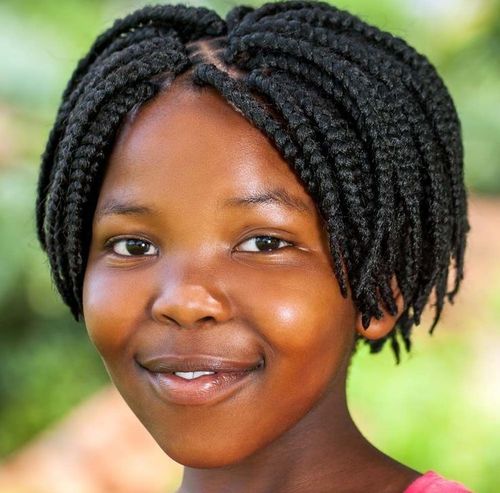 14) Braided Bob
Although the braid is small and has a more unkempt appearance, it maintains the hair in place. This style stands out and gains extra volume from the knots. For young girls, the Braided Bob braid style is popular and simple to execute. The crown of your small girl's head can also be given volume with an updo, giving them a stunning appearance.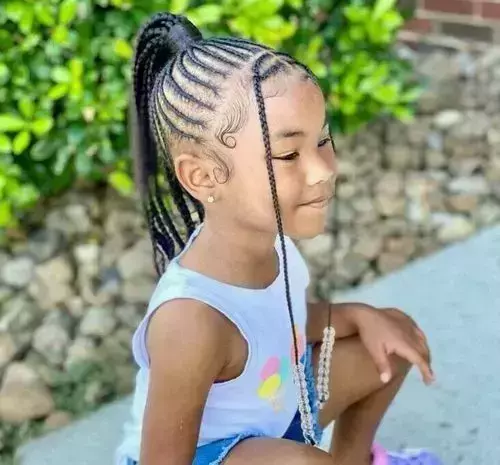 15) Braided Ponytail
The ponytail is a highly common and easy-to-create style. It happens when you draw your hair back into a ponytail or a conventional braid. Any hair type or texture, especially curly hair, looks amazing in this style.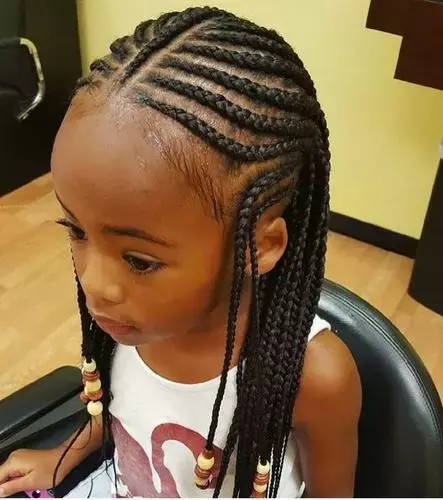 16) Box Braids With Cornrows
A fantastic approach to create enjoyable and imaginative braids is with box braids with cornrows. You won't have two lines crossing your head thanks to these braids, and they also give you a more refined appearance. Box braids are used for the side braids, and cornrows in the rear emphasize the hairstyle's detail.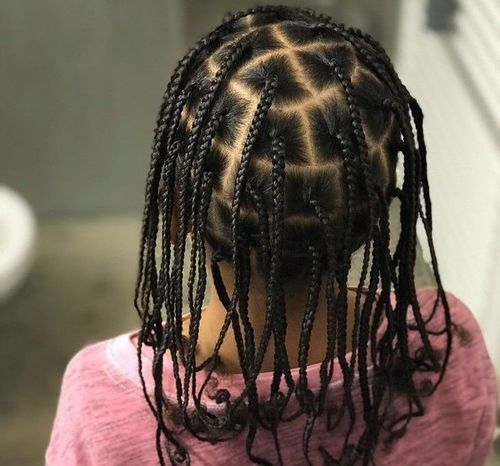 17) Triangle Box Braids
Box braids with a twist are known as triangle braids. Each hair strand is typically divided into portions in traditional braided hairstyles using rectangular or squares shapes. The segment is triangular, though, in the case of the triangle braid.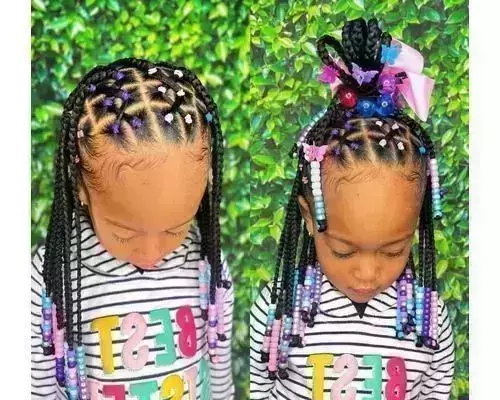 18) Box Braids For 9 Years Old
Rubber band hairstyles are held in place by brightly colored tiny hair ties. They quickly add some fun to any ensemble, which explains why they have been popular for so long. In addition to giving the braids a very cute and colorful appearance, the elastic bands also help to retain and secure the braids.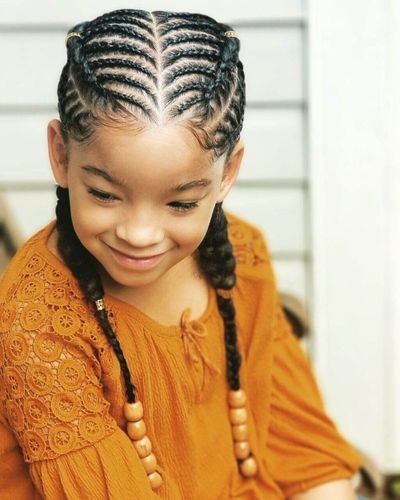 19) French Braids
The best quick and neat hairstyle for school is a single French braid, but if you have more time, you can play around with numerous versions of the style. French braids have the potential to appear stylish and unique, far from boring. French braids can be plaited in a variety of sizes, with smaller ones on the sides and larger ones in the back. While looking for box braids for 6 years old and box braids for 9 years old, this hairstyle is one of the most suggested ones.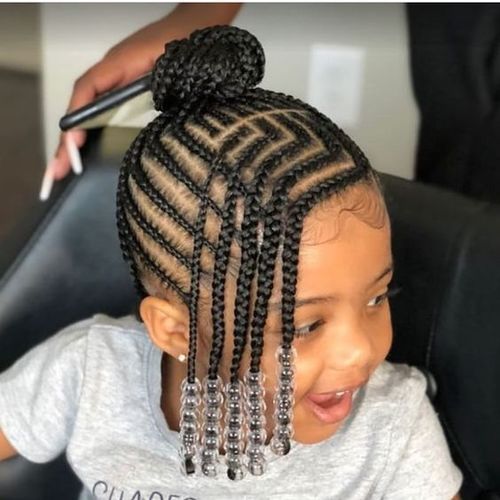 20) Side Swept Cornrows
This side swept cornrows hairstyle is for someone who would love to experiment with cornrow braids but would love to show off their voluptuous curls at the same time.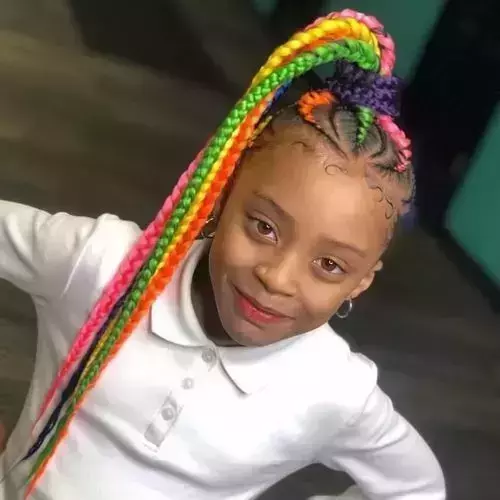 21) Rainbow Box Braids
Kids love bright, colorful hairstyles, so rainbow box braids are a terrific option for them. They provide your youngster with a wonderful platform to showcase their flair and originality while including eye-catching colors without damaging their natural hair.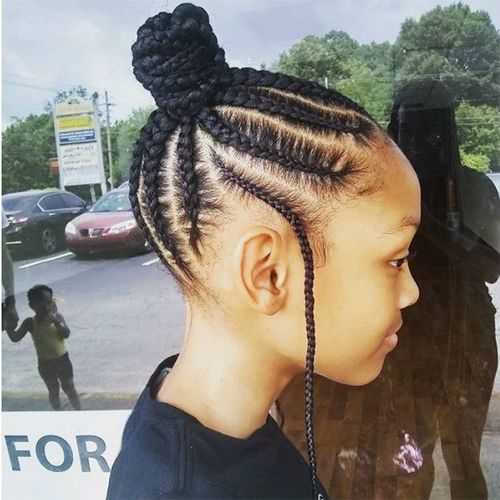 22) Cornrow Updo in a Twisted Bun
This is a typical female African box braids cornrow hairdo. The adaptable tiny cornrows are stunning anywhere, anytime. When tied in a bun these box braids for kids look extremely cute.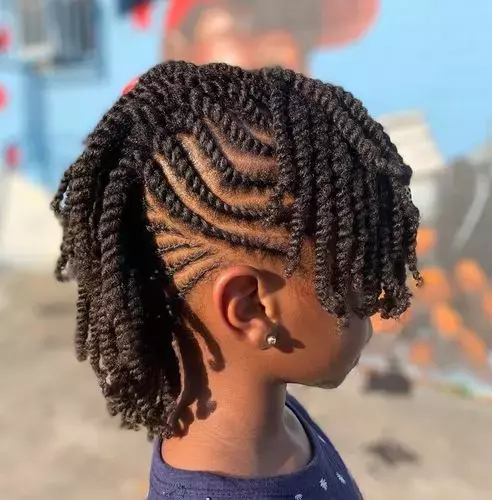 23) Mohawk Cornrows
There are various methods to attain this strong, enjoyable style. You can create complicated cornrow patterns along the sides, make the braids huge or little, or pin the braids up.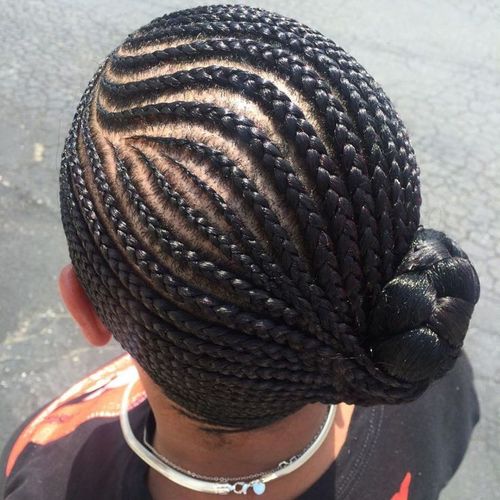 24) Side Bun Knotless Box Braids
A charming new twist on the braided updo is the braided side bun. The haircut is easy to achieve (you only need to braid once), but your child will love how it stands out and has a charmingly different appearance.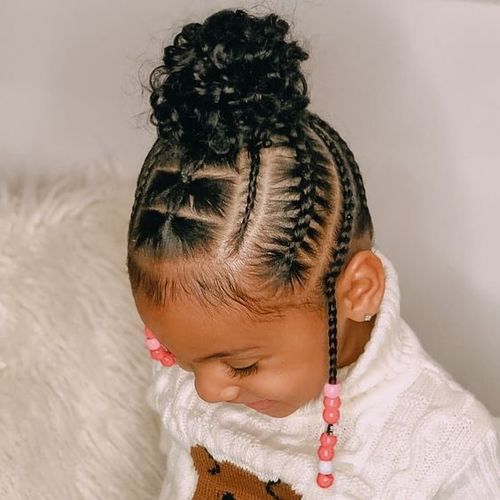 25) Stitch Box Braids
The stitch braids technique uses additional hair to braid intriguing cornrows of various sizes on your natural hair using the "stitch in" approach. Both delicate and large stitch braids are possible. Each fashion has its own allure.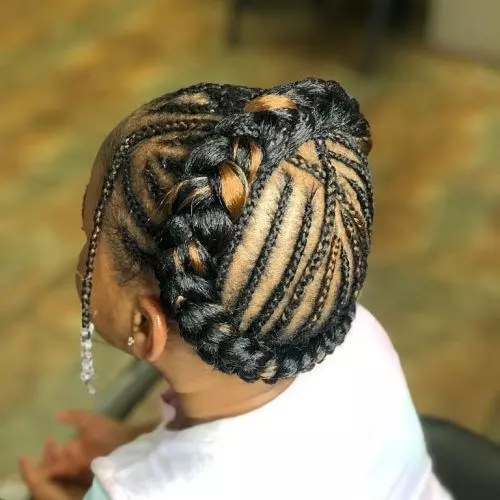 26) Halo Box Braids for Kids
With these hairstyles for box braids, it doesn't get more simple but also so gorgeous at the same time. In order to make your braids stand out more in this look, you may opt to wear them down but with a decorative design.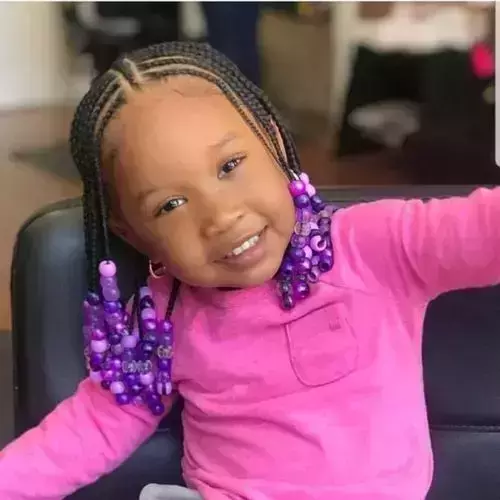 27) Middle Part Box Braids for Kids
You may simply recreate your favorite braided look if you wear a bob hairstyle with relaxed or straightened hair. You may easily rock the middle part bob trend with the protective style, too.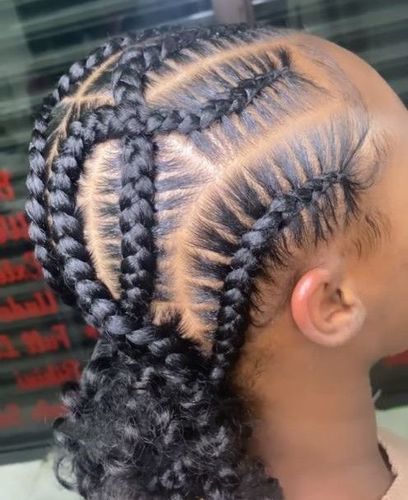 28) Box Braids for 6 years old
Take the front locks and start braiding them into simple two-sided tiny braids. Finish by French braiding the remaining braids after crossing the ones on one side over.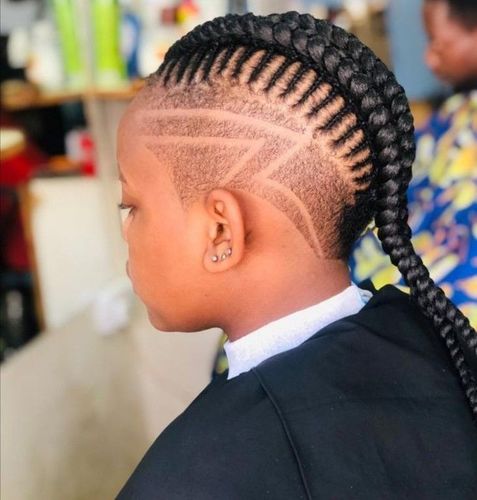 29) Box Braids with Shaved Design
Hairstyles with shaved sides and razored designs aren't just for hipsters and punk rockers - just look at this lovely photo! By introducing an undercut into box braid hairstyles, you may elevate traditional hairstyles such as a bun and high ponytail to new heights.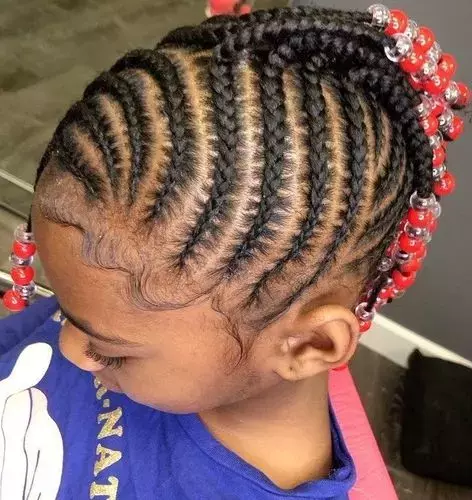 30) Box Braided Mohawk
Mohawks do not have to be large and tall. A modest mohawk might add the finishing touch to your usual protective haircut. It will undoubtedly alter the appearance of your little girl box braids.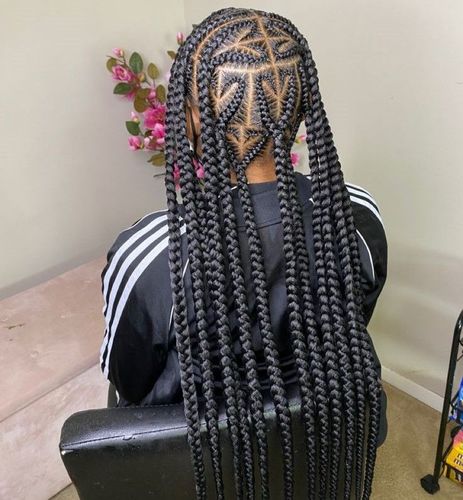 31) Heart Box Braids
This lovely look would be ideal for a special occasion. Two symmetrically curved braids come together to form a lovely heart. If you want, you can braid it again or add curls to the ponytail. This is ideal for box braids for kids.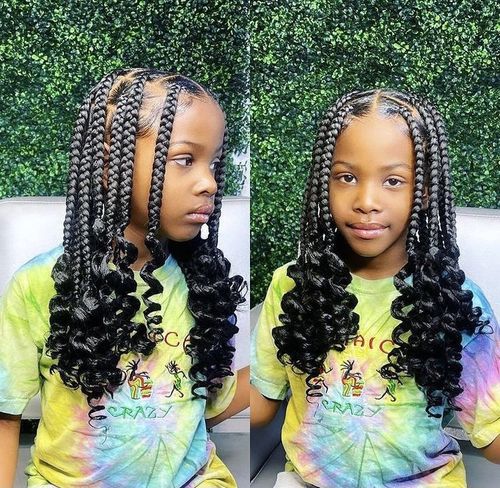 32) Box Braids with Curls
Choose this if you want a your kids braid hairstyle that can be worn for any occasion. The braids begin as scalp braids that fan out from a side part and progress to thin individual braids that are securely coiled at the ends. These little girl box braids with curly ends are a perfect hairstyle for little girl box braids.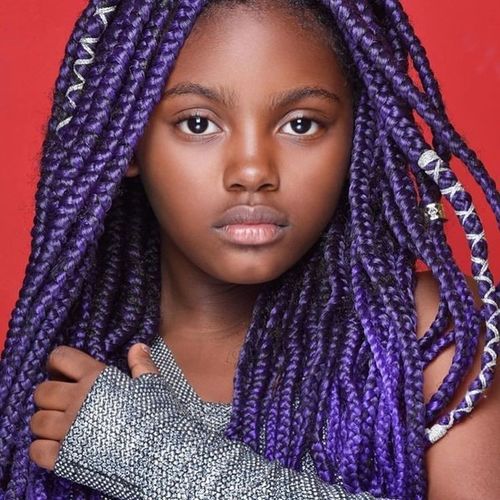 33) Purple Box Braids
These purple box braids are perfect for box braids for 9 years old. They look super cool and will make your child stand out.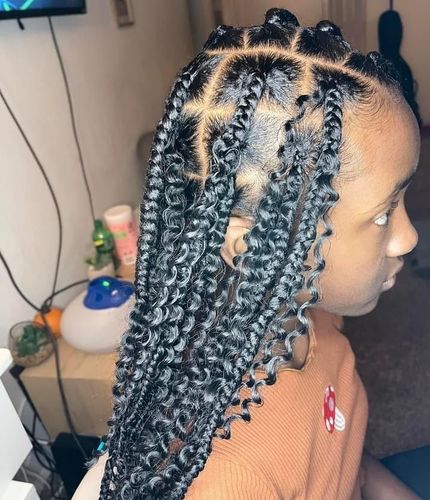 34) Bohemian Box Braids
The Bohemian box braid for girls is a trendy protective style among young black women. They move fluidly and have thick curls. Black women's box braids cleverly mix individual braids and loose curls.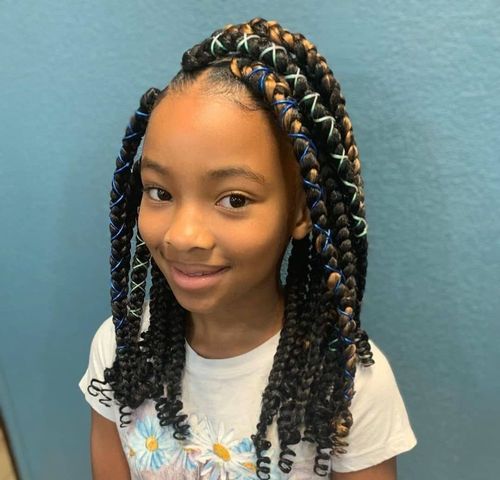 35) Box Braids for 8 Years Old
A perfect box braided look for girls with thick and dense hair, this one is perfect for every occasion.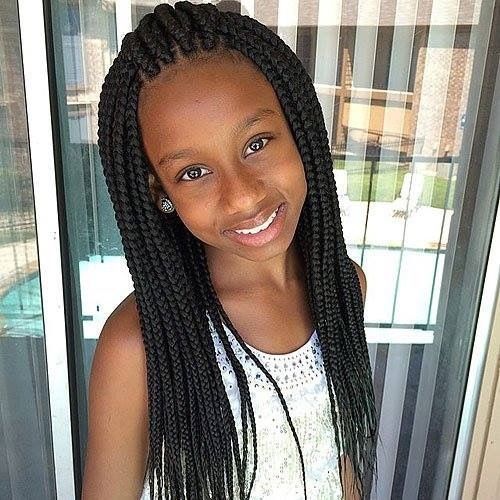 36) Combed Over Box Braids
To achieve this stylish box braided appearance, begin braiding lengths from different regions of the head at least one inch apart. You can then comb them to one side and accessorize.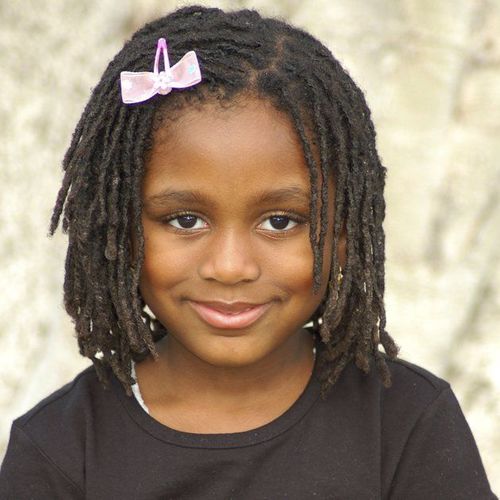 37) Faux lock Braid
The faux lock could be an option if your kids become tired of box braids or can't stay still for too long. The twist doesn't take very long and lasts for a while before getting rough, looks extremely nice on youngsters, and is also simple to pack.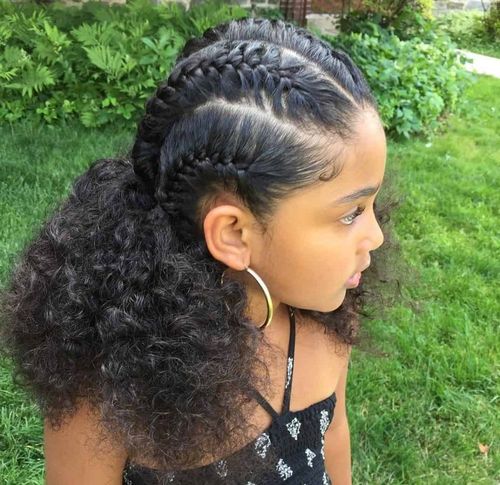 38) Box Braids for Curls
These are the hairstyles you might want to choose if your daughter has thick hair with curls that are difficult to comb through. These hairstyles will encourage her hair to grow, are fashionable enough to wear to events and school, and will also save you from having to comb through her entire head of hair.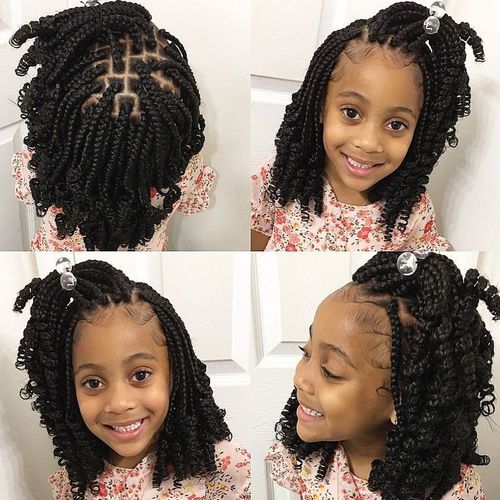 39) Boho Braids
The boho look of these chic Boho box braids is achieved by braiding extensions into natural hair. This sophisticated box braid hairstyle for black women is gorgeous and well finished thanks to the use of hair accessories, braided blue hair extensions, and soft curls.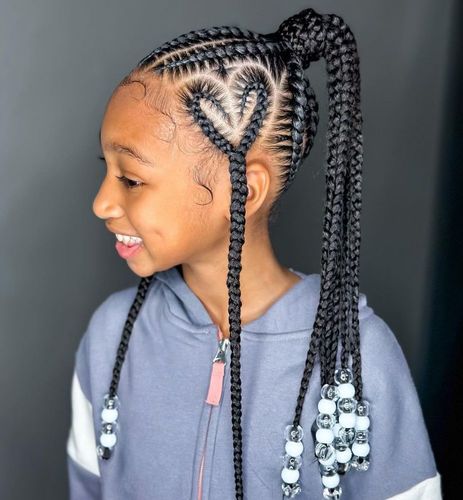 40) Tribal High Ponytail
This should definitely be the go-to for kids of any age. It is not only simple but cool for school or occasions.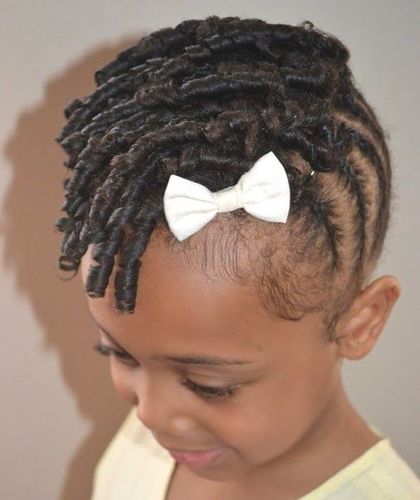 41) Feathers Box Braid
For kids who don't like to style their hair, feather braids are a good option because they don't need to be redone every week. It's a protective hairdo that your girl can wear with their natural hair for 4 to 5 weeks.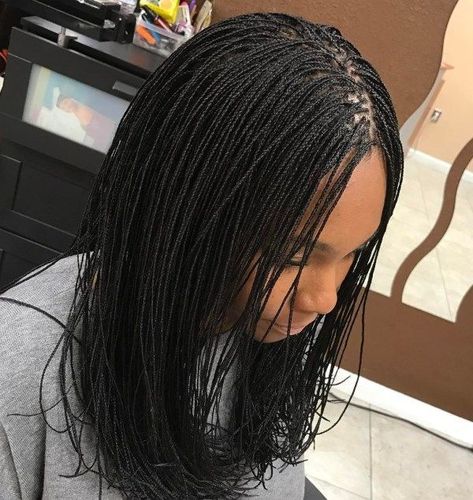 42) Micro Box Braids
Little girls now adore box braids as well, and we think they look much cuter on children since, if those two adjectives can be mixed, they make them look cute and adult-like.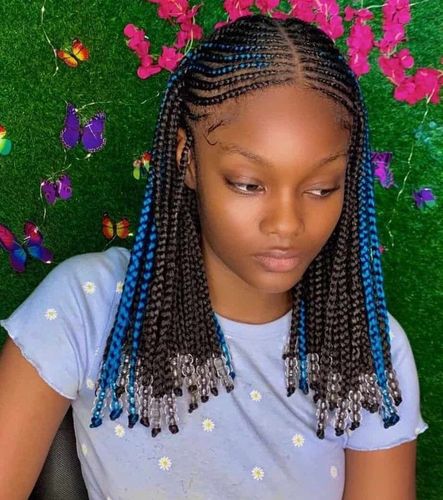 43) Fulani Box Braids
They are well known for their distinctive lengths and patterns. The loop or hang toward the sides of the scalp that characterizes these braids. In addition to having cultural importance, they are also evolving into fashionable protective hairstyles.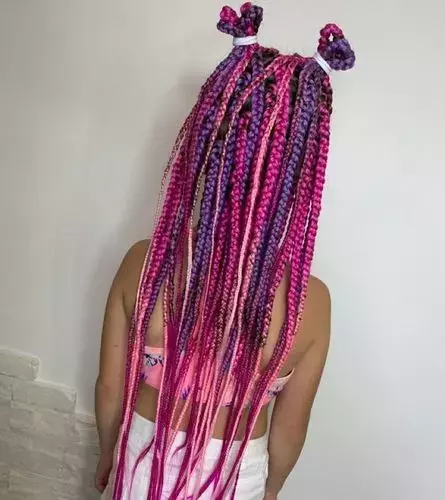 44) Colourful Box Braids
These colourful little girl box braids are an extreme delight to the eyes with such bright colours which can catch anybody's eye.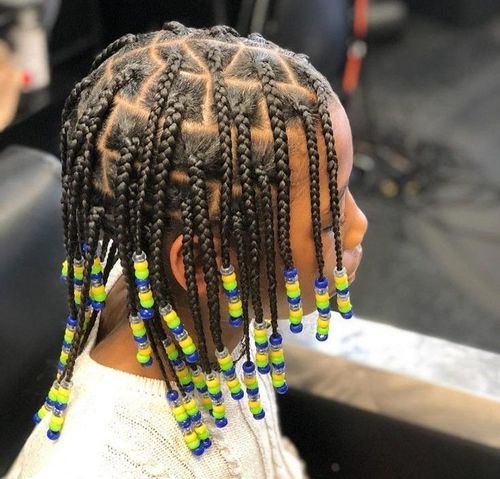 45) Small Box Braids
Another example of box braids for kids includes these small box braids which are an epitome of cuteness.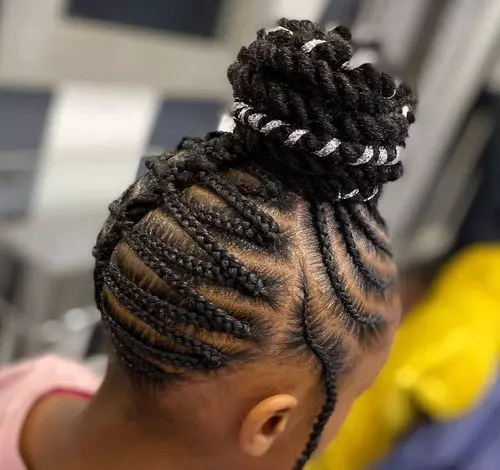 46) Braided Box Frohawk
The Bun Frohawk is a very low-maintenance hairstyle that simply requires natural hair to look stunning. It takes some time to get rough, especially on relaxed hair, but it is also extremely cute. Kids appear polished and cool as a result.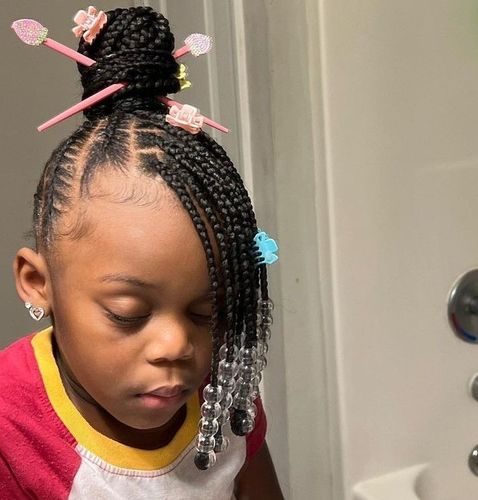 47) Topknot Box Braids
Another cool loom to make your kid look super cute is this little girl box braids which with a topknot looks extremely cute.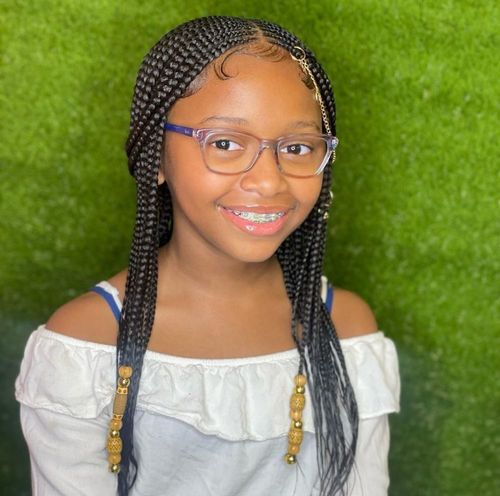 48) 2 Layer Box Braids for Kids
Kids' 2 layer braids are wonderful because they really frame their faces. If your children are on an extended break or have a special occasion at school, this braid is a great option.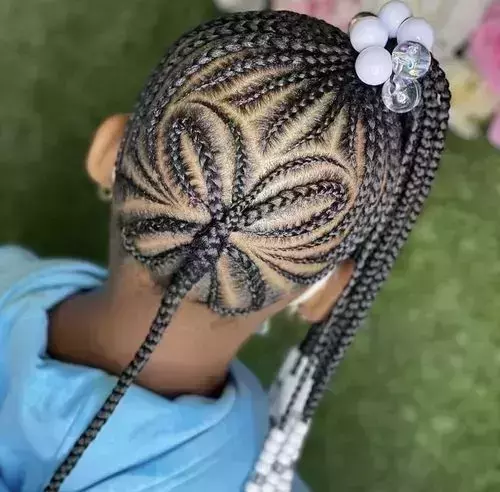 49) Flower Box Braids for Kids
A flower-like form is created on the crown of the head using the box braiding technique known as the flower box braid. Box braids are created from the flower-like shape that the evenly divided scalp takes. The floral arrangement perfectly complements the layout of the box bun.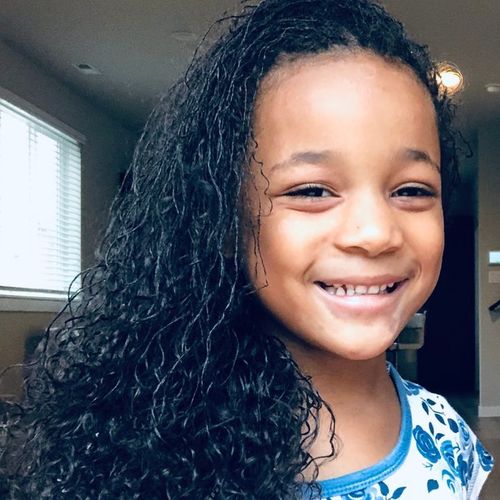 50) Invisible Box Braids
If you want a more natural look for your kids ,this is one of the best box braids for kids.
51) Highlighted Box Braids
These box braids for girls is a super cool and cute hairstyle included in the category of box braids for kids.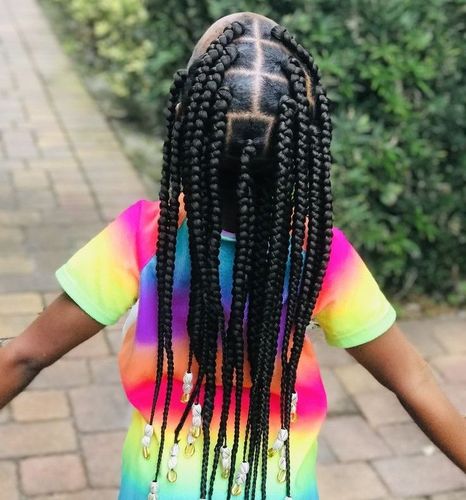 52) Long Box Braids
Enjoy your kids hair by creating long box braids. Box braids come in a variety of lengths, colors, and textures. There are countless variations. Box braids are an excellent alternative if you want to preserve your hair from becoming dry or damaged because they are stylish and can be worn all year.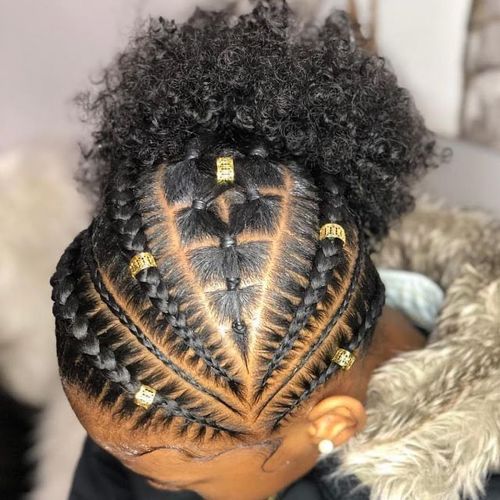 53) Neat Box Braids with Cuffs
For the young, artistic children, neat box braids with rings and cuffs will always be a choice. With box braids for kids, there are countless styling options available to you. Include cuffs, rings, hair accessories, beads, or other jewelry.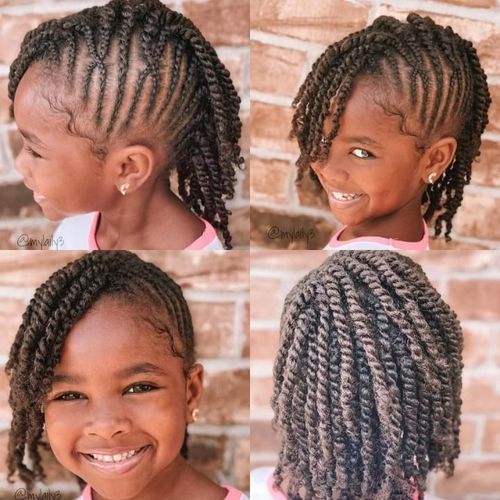 54) Box Braid With Bangs
Even after creating complicated box braids, it is simple to hold the hair in place by combining them into one large braid. A super cute look of box braids for 8 years old.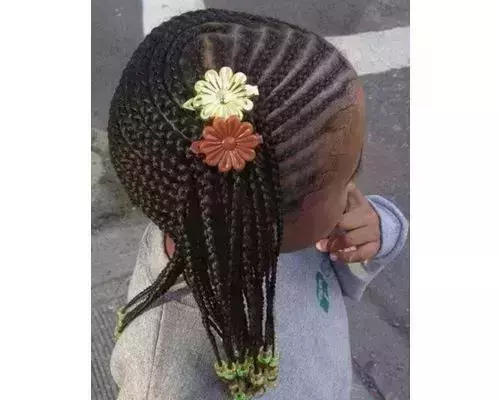 55) Box Braids With Hair Clips
Accessories like hair clips are one of the simplest ways to give your child's hairstyle personality and make it stand out. Hair clips serve a practical role by holding the hairstyle in place and keeping hair out of your girl's face at the same time.