51 Stunning Perm Hairstyles For Short, Long And Curly Hair – 2023
Shalu Bhati
Updated At 26 Aug 23
Have you recently found yourself to be a fan of perm hairstyles? Would you like to know about the stunning perm hairstyles of the year?
From a short hair perm to a long hair perm, here you will find them all. Wavy or curly, whichever is your choice, we will tell you about all the latest styles through our list of 51 stunning perm hairstyles for long hair, short hair and curly hair. Keep scrolling as we reveal them all!
What Are Perm Hairstyles?
Perm hairstyles were big in the 80s and like many other trends have made a comeback this year. This hairstyle requires the modification of your hair into a curly or wavy texture using chemical methods that last over a few months. Since the hair stay curly or wavy permanently, even if it is for a few months, the name is thus given as perm hairstyles
There are different kinds of perm hairstyles depending on the rods and the techniques used. And we intend to cover them all.
Let's begin!
51 Stunning Perm Hairstyles For Short, Long And Curly Hair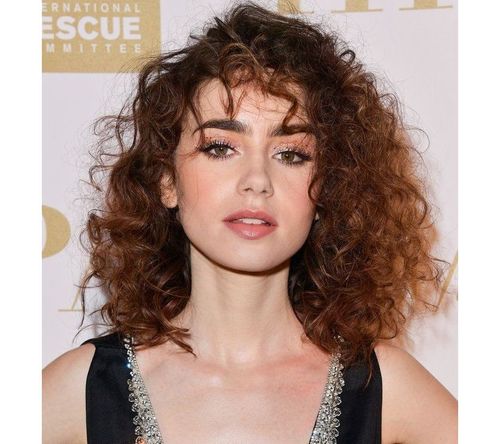 1. Textured Perm Hairstyles
Lily Collins has flaunted many hairstyles over the years with the Audrey Hepburn like charm and elegance. But she made even more heads to turn when she flaunted this hairstyle. This can be a wonderful reference for you. Perm hairstyles like this one are textured which adds volume and body to the hair. Don't forget the modern and edgy vibes that come with it!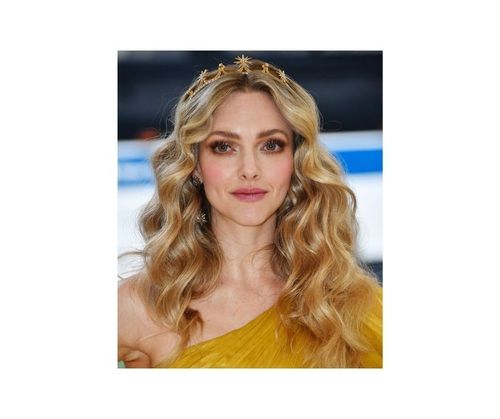 2. Beautiful Wavy Perm
Amanda Seyfried has a glorious mane. One of the best shoulder length hairstyles, take inspiration from her and opt for a wavy perm hairstyle like this one if going full curly is not your cup of tea.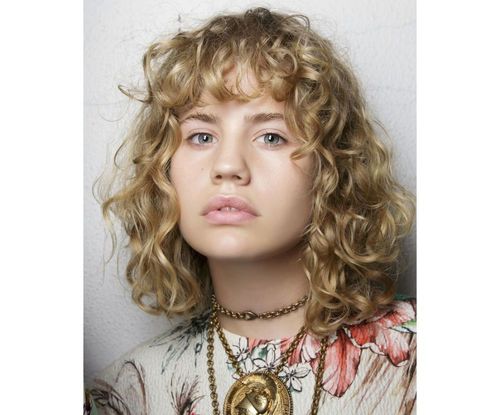 3. Short Hair Perm With Bangs
Short hairstyles have always been trendy and will continue to remain one of the top hairstyles for women. Then why not add a bit of fun to it? Go for a short perm with bangs. It will give you an easy and interesting hairstyle daily and it will be the smoothest and simplest way to ride the trendy hairstyles bandwagon.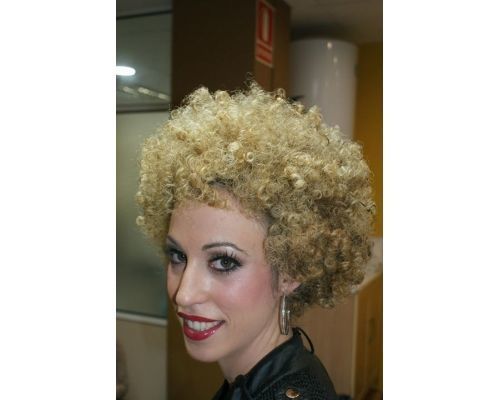 4. Bubble Perm Hairstyle
If you have short hair and are looking for a perm hairstyle then the bubble perm hairstyle is an excellent option. Bubble perm provide a permanent hairstyle which is full of small curls. This can provide a complete hair makeover for anyone with short hair. If you love curls and have short hair, go for it as it looks absolutely amazing.
Check out our guide to find the best mother of the groom hairstyles as we list all the stunning and popular hairstyles which are trending this year.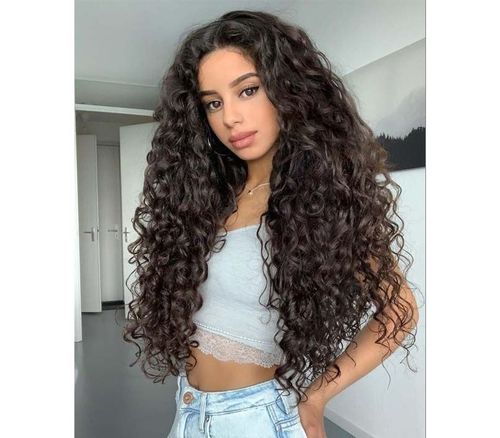 5. Luscious Long Hair Perm
A long hair perm has its charm. The cascading waves of curls look insanely gorgeous. They paint a very pretty picture. A case in point is the long hair perm featured here.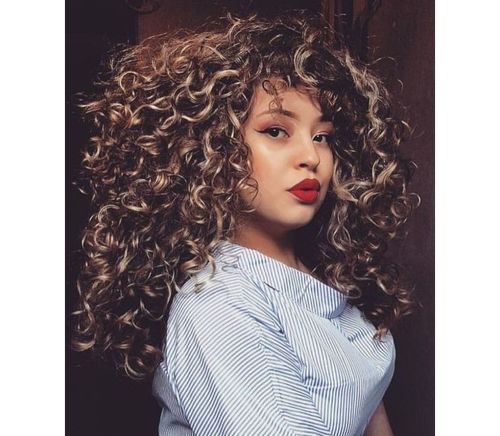 6. Perm Hairstyles For Round Face
Perm hairstyles are versatile and universally flattering. This is what makes them so attractive and appealing. This curly hair perm boasts of bouncy curls with a bit of texture at the top. It suits all face shapes and works with all hair textures. One of the top hairstyles for evening gowns you can pair this haircut with the right makeup and accessories to make sure your look gets all the focus.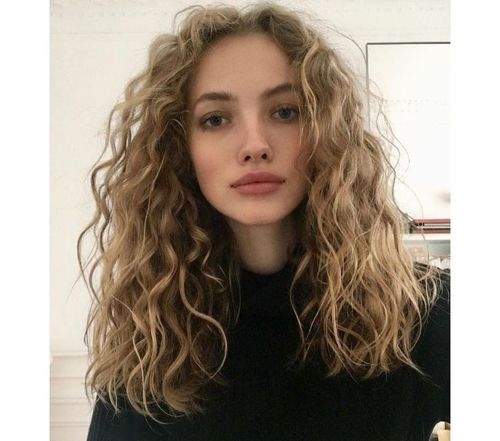 7. Perm Hairstyles For Medium Hair
This is a very beautiful perm hairstyle that we immediately fell in love with. This gorgeous style is best for any hair length but works well for a blunt medium hair cut or a long bob cut.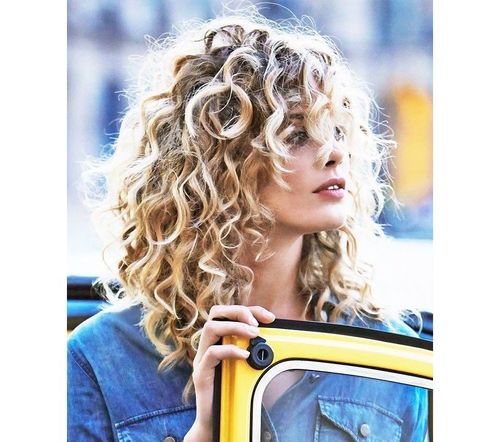 8. Long Bob Textured Perm
Turn your regular bob into something fantastic with this perm hairstyle. This is the perfect remedy for your limp hair as this hairstyle adds the needed volume and definition. Moreover, it forms a glam look.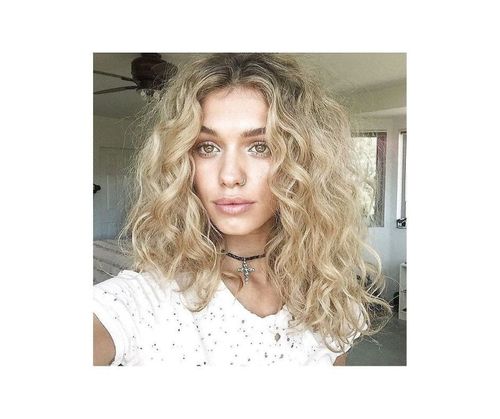 9. Blonde Perm
This blonde perm hairstyle uses frizz as an effective tool to add some natural effect. This blonde hair perm for medium hair is textured and gives the perfect beach day look. It is relaxed, carefree, and simply gorgeous.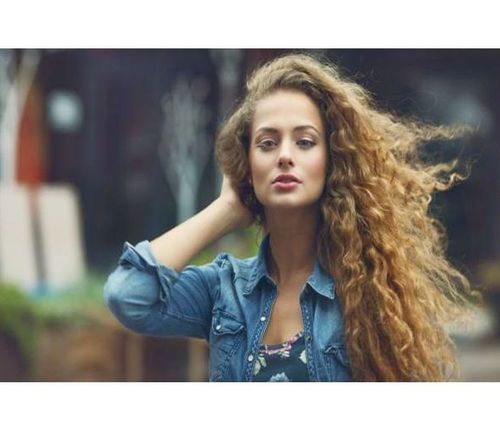 10. Natural Looking Long Hair Perm
This is another one of the curly hair perm hairstyles which are closer to a natural appearance. The frizziness which is dreaded by most of us is put to good use to create this look. It is easy to manage and maintain.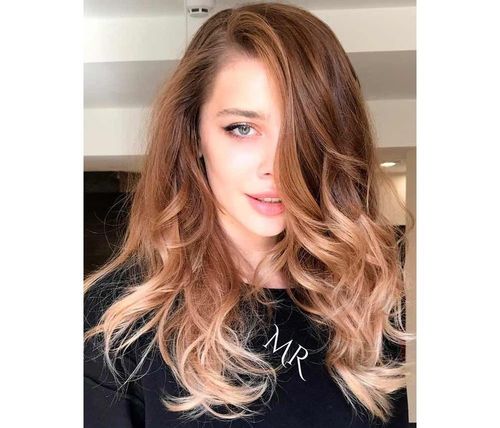 11. Beautiful Partial Perm
This one is a very beautiful partial perm for medium hair. The perm adds more fun, drama, and volume to the hair.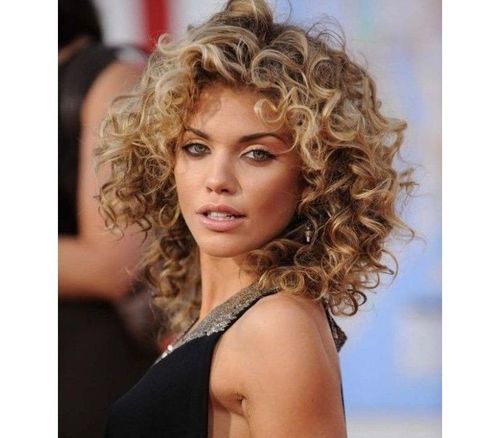 12. Textured Perms For Fine Hair
Perms for fine hair can take your hair game up a notch. Add body and volume to your fine hair with this perm hairstyle. The textured curls create a hot and dramatic effect making this a perfect hairstyle for attending a party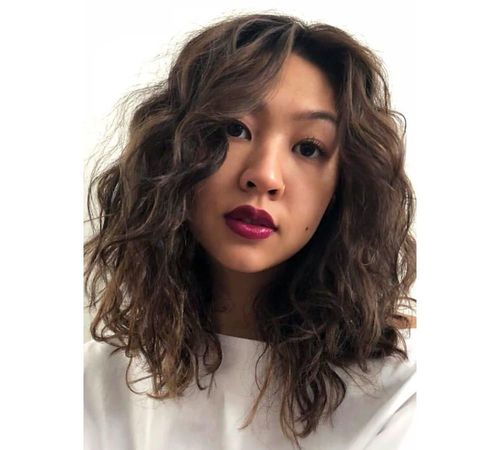 13. Natural Looking Wavy Hair Perm
Transform your simple hair into the latest trendy hairstyle with this wavy perm haircut. Polished at the top and slightly textured at the bottom, this is one of the perm hairstyles which works well for everyone.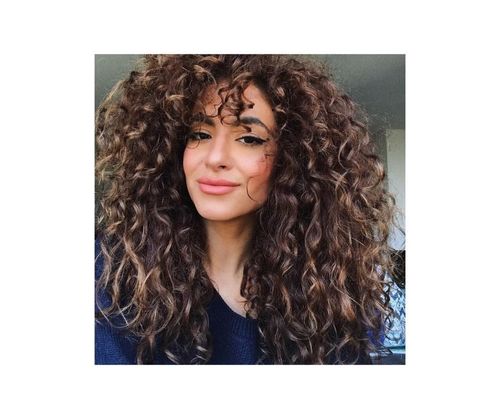 14. Spiral Perm Hairstyles With Bangs
Can you believe how much body and volume is showcased by this curly hair perm.? The serious volume is this hairstyles USP and we love it. What we love even more are the curly bangs.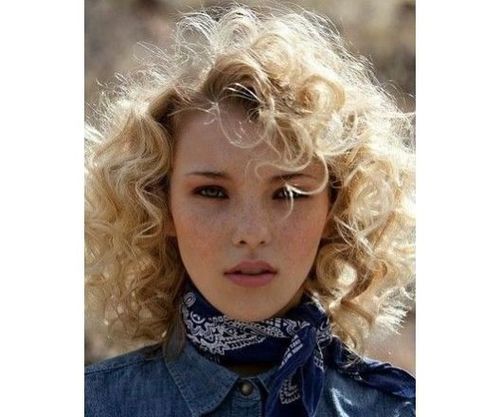 15. Textured Short Hair Perm
This textured short hair perm is quite popular this year. This hairstyle is perfect to hide out the growing out stage of your pixie or other short haircuts while looking modern chic at the same time.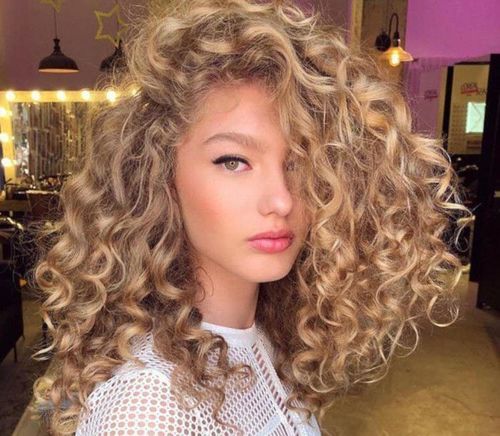 16. Voluminous Spiral Perm For Medium Hair
Perm hairstyles with stacked curls are best for those who have hair of equal length. And we fell in love with this one in particular. This hairstyle lets the curls cascade down like a waterfall and paints a very pretty picture.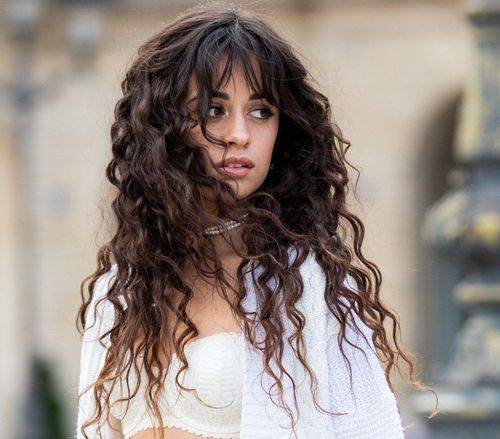 17. Beautiful Curly Hair Perm With Bangs
Nobody does the long hair perm better than Camilla Cabello. This curly hair perm with bangs is simply beautiful. It is one of the popular perm hairstyles this year and looks truly magnificent. The curtain bangs add more fun to the look.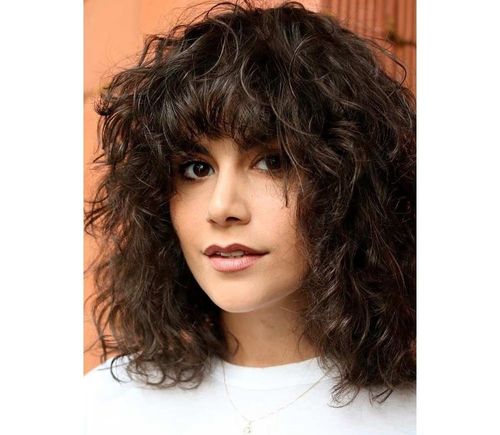 18. Chic Textured Perm Hairstyles
This one is a multi-textured curly hair perm. The bangs are slightly curved inwards and the rest of the curls are styled with a messy approach. This hairstyle gives out a rocker chic vibe and we dig it.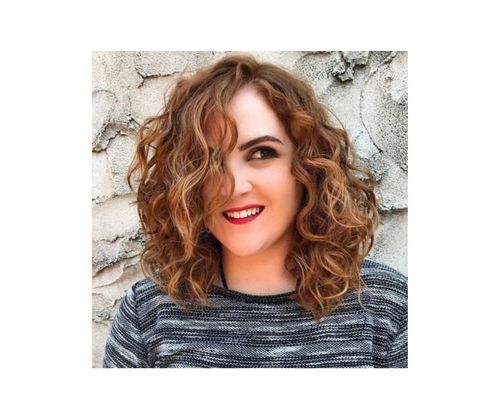 19. Wavy Hair Perm
Wavy perms for short hair are next on our stunning perm hairstyles list. This hairstyle uses relatively thin strands for doing the curls and the extra texture at the bottom makes the whole look fit.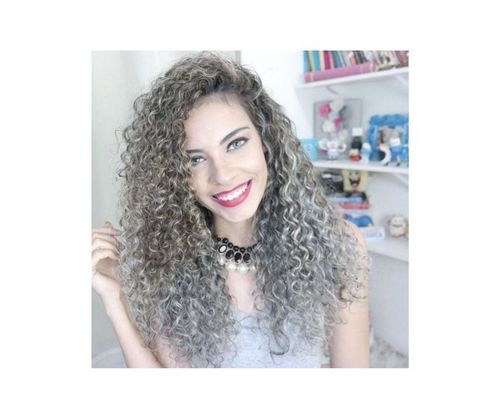 20. Well Defined Perms For Fine Hair
Who doesn't love some well-defined curls? Cause we do. This hairstyle will add body and definition to fine hair by giving them the necessary boost of volume.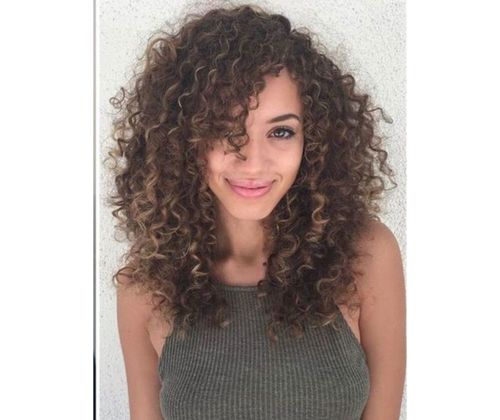 21. Textured Perms For Medium Hair
Go wild. Go natural. When it comes to getting a perm for your hair, stay as much natural as you can. Just like this perm hairstyle for medium hair. A little bit of frizz has been mixed in to add some texture. This beautiful hairstyle stays true to a natural appearance.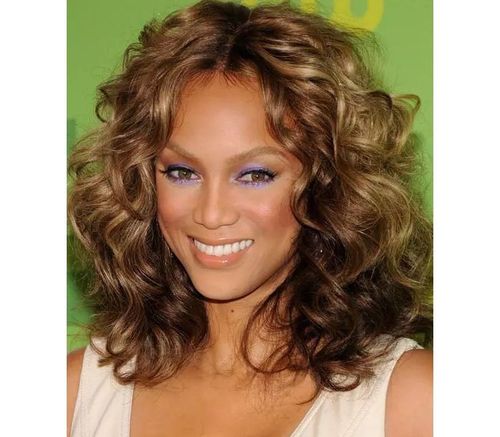 22. Spot Perm Hairstyle
This Tyra Banks spot perm hairstyle left us awestruck. Just the sheer amount of volume created by the curls is so magnificent. This stunning hairstyle can be altered to your specific preferences and you can get your perms to ease out your hairstyle experiments.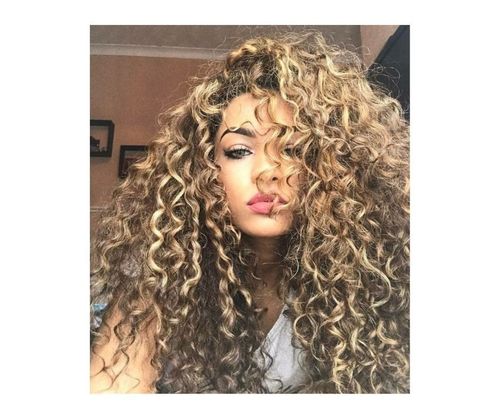 23. Gorgeous Blonde Spiral Long Hair Perm
Let your curls do all the talking with this voluminous and well defined spiral long hair perm. This hairstyle gives you the choice to go big or go home. And we suggest that you should go big.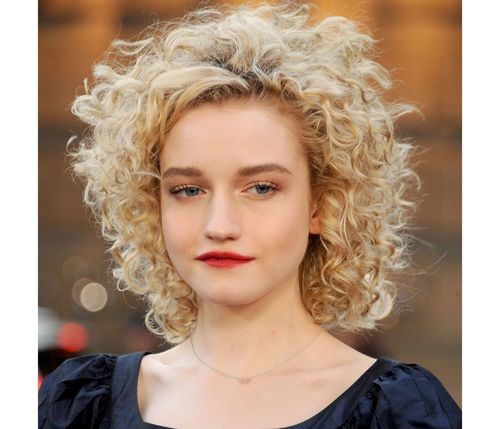 24. Julia Garner Short Hair Perm
This Julia Garner short hair perm is perfect for people with round faces. It creates texture and some volumes at the crown with a few wispy strands left above the forehead. This balances the symmetry of the face and looks exquisite.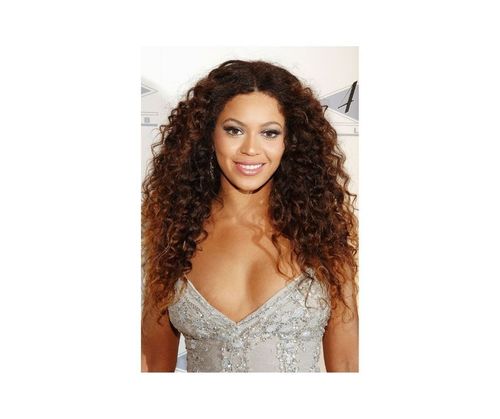 25. Beautiful Beyoncé Partial Perm Hairstyles
This partial multi-textured perm hairstyle as sported by queen Bey is giving us goals. If you don't want curls from roots to tips, then this is the right choice for you.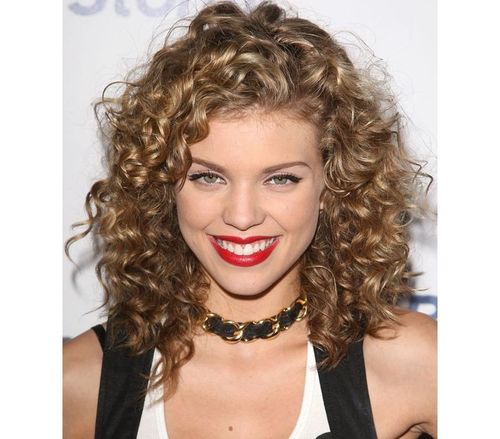 26. Hot Perm Hairstyles 2022
This is one of the classic perm hairstyles which was famous then and is still famous now. This is another one of the most sought after look this year. These luscious curls have something about them which makes them super attractive. Pair with a red pout and choker for a hot chic vibe.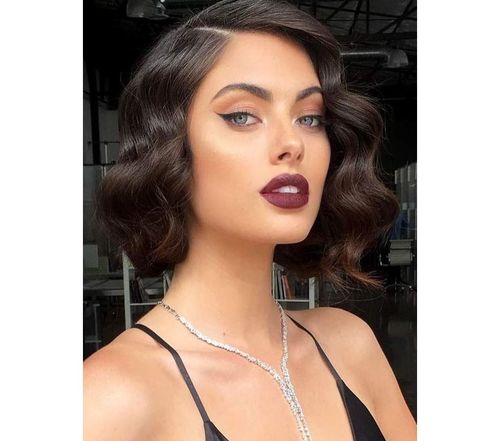 27. Vintage Perms For Fine Hair
This perm hairstyle is a twist on the vintage curls. It is textured and a lot more voluminous. This hairstyle is as dramatic as they can come.
28. Ruffled Perms For Short Hair
This is a more modern take on the rock chic curls. Unleash your wild and adventurous side with this perm with extremely ruffled up curls. It has created a rough yet hot look which will make you stand out from the average crowd wherever you go.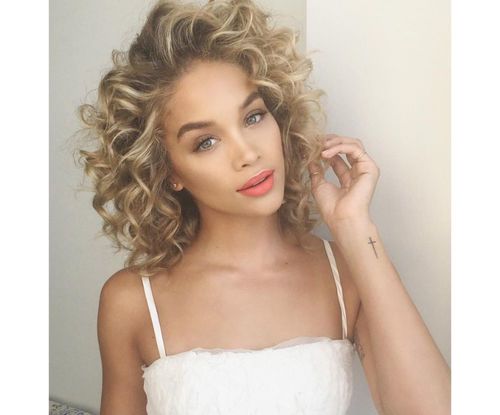 29. Classic Short Hair Perm
Marilyn Monroe is still considered a style icon and it then becomes obvious that when we talk of curls, we will talk about hers. When you are out getting perms for short hair, take some inspiration from Marilyn and get these loose curls for yourself. This short hair perm comes with a complete vintage vibe and looks extremely beautiful.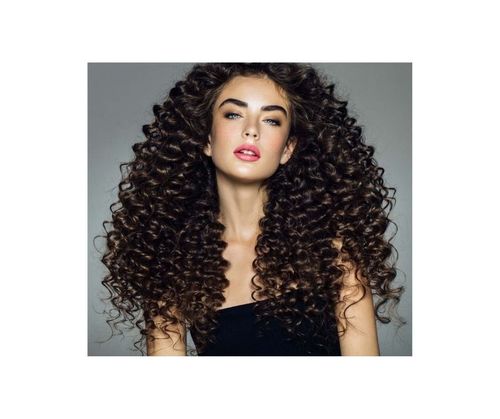 30. Pretty Pin Curl Perm For Long Hair
Beautiful tight curls have a glory of their own as can be seen by this pin curl perm. With the same well-polished texture from root to tips, this perm hairstyle lets your curls do the talking.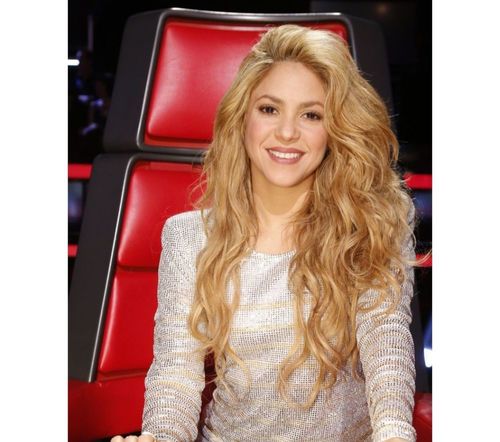 31. The Shakira Wavy Hair Perm
Shakira's wavy hair perm is a classic example of partial perm hairstyles. It adds volume and definition to hair at the bottom while the roots are left natural. The multi-textured curls look pretty as a peach.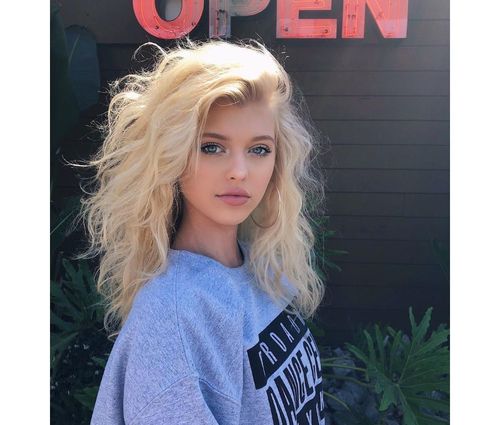 32. Blonde Wavy Hair Perm
This blonde wavy hair perm for long hair is simply stunning. With this long hair perm, now you would get beachy waves more easily. This beautiful look has been a popular choice for many years now.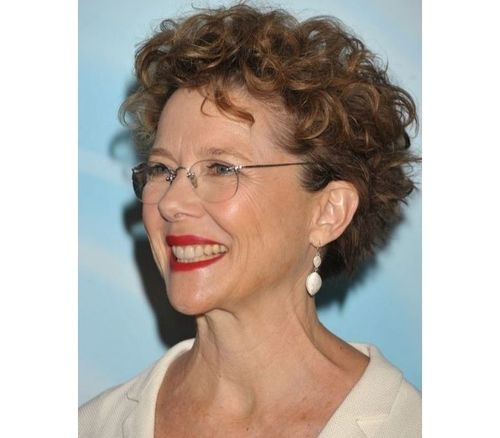 33. Short Hair Perm For Older Women
Short hair tends to take off years from your age. Imagine what would a fun short hair perm do? Perm hairstyles are not just meant for young girls. Even older women can go for a perm. Consider this beautiful set of curls to be a perfectly good example.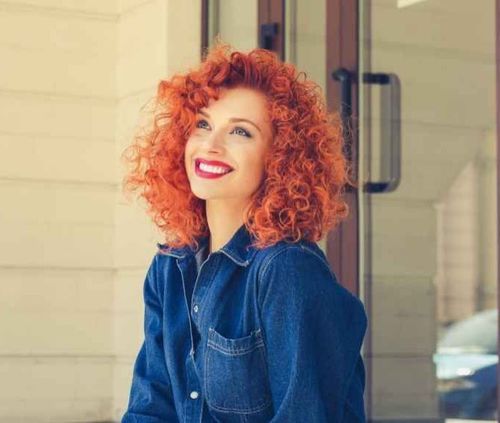 34. The Classic Style of Perm
This spiral perm is perfect for your shoulder-length hair. These natural-looking curls will enhance the beauty of your hair.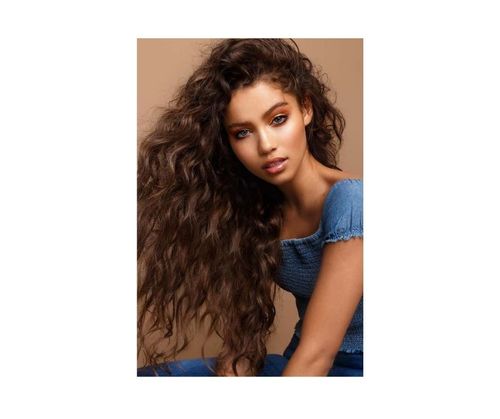 35. Body Wave Perm For Long Hair
This year is all about luscious bouncy curls just like this one. Look like nature's child with this long hair perm. It adds texture and bounce to your otherwise limp hair and gives a beautiful natural look.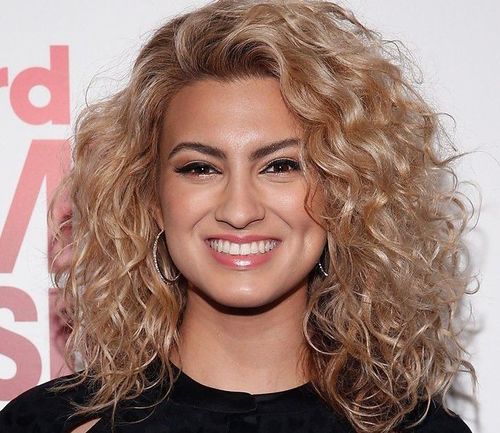 36. Edgy Root Perm Hairstyles
Feel like experimenting? Take inspiration from this blonde root perm hairstyle. The hairstyle remains asymmetric and the deep side part does indeed add some edginess to the whole look. This hairstyle has the modern rock chic vibes.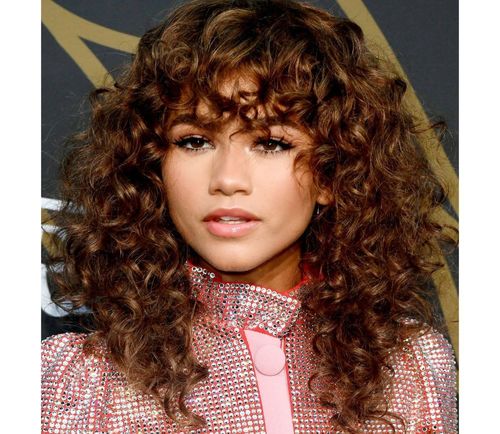 37. Beautiful Spiral Perm
This is another example of perms for fine hair. With a mix of layers and spiral perm, you can enhance your natural curls.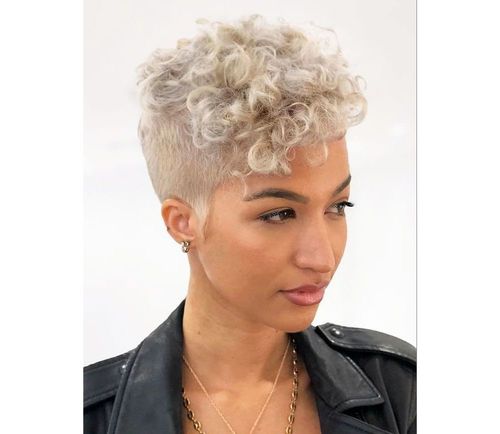 38. Mohawk Curly Hair Perm
Looking for some unique and different perm hairstyles? Then this short hair perm will not disappoint you. With shaved sides, this hairstyle is a retake on the Mohawk. These perms for short hair look stunning and have a very smart look.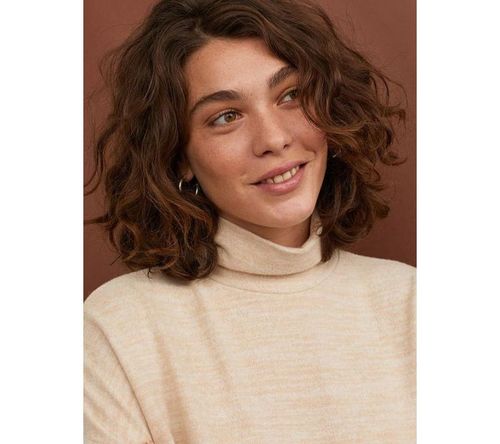 39. Bob With Wavy Hair Perm
Looking for perms for short hair? This might be the right stop for you. This beautiful wavy hair perm adds volume and texture to an otherwise simple looking bob and takes the hairstyle up a notch.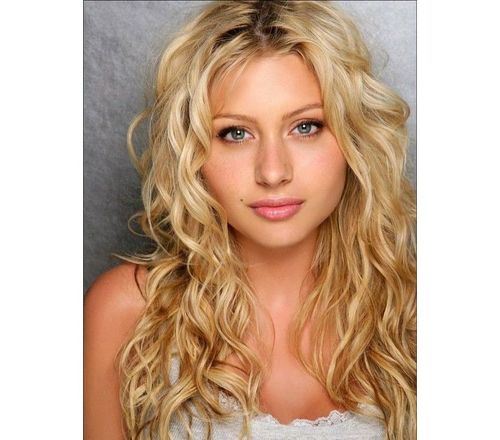 40. Loose Curly Hair Perm
Add some body and volume to your fine hair with the latest perms for fine hair like this one. This short hair perm works wonders for fine hair and gives them a much-defined look. This tousled curly hair perm is impressive and perfect for the girl on the go.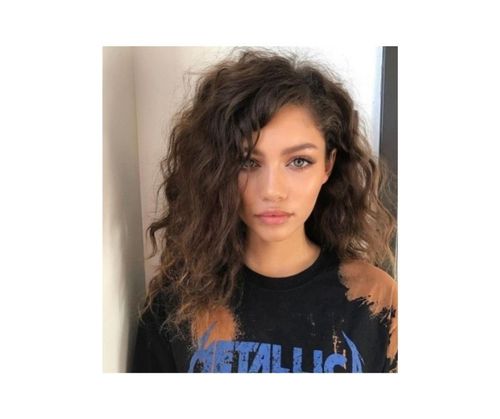 41. Relaxed Wavy Hair Perm With Side Bangs
Introduce texture and volume to your hair with a perm hairstyle. You would get a fuller mane and a gorgeous upgrade from your usual bob. The side bangs are another element of this hairstyle which makes it even more beautiful.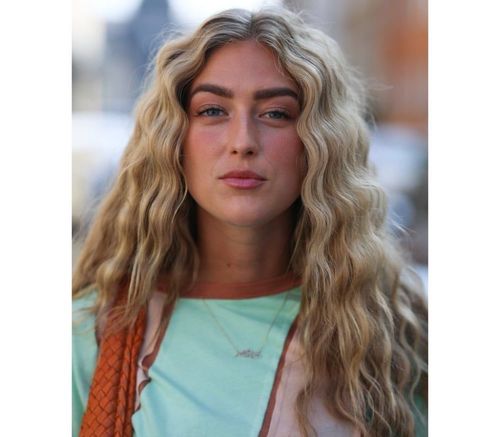 42. Partial Perm For Medium Hair
If you feel your hair is weighing your entire look down then worry no more and go for a partial perm. This wavy hair perm will take your hairstyle up to the next level with an enhanced volume.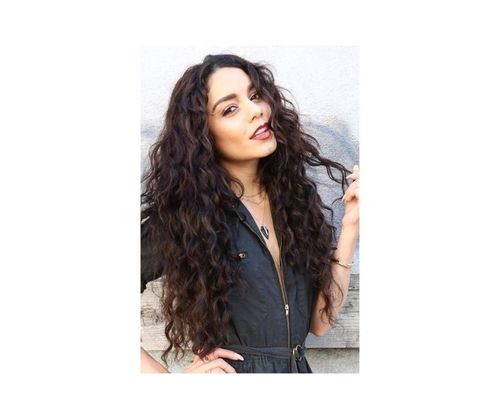 43. Vanessa Hudgens Perm Hairstyle For Long Hair
This Vanessa Hudgens Long hair Perm is simply stunning. The body wave perm gives out loose curls that look slightly wavy. This is one of the best perm hairstyles for thin hair. And we cannot ignore the boho-chic vibes that this particular long hair perm is exuding.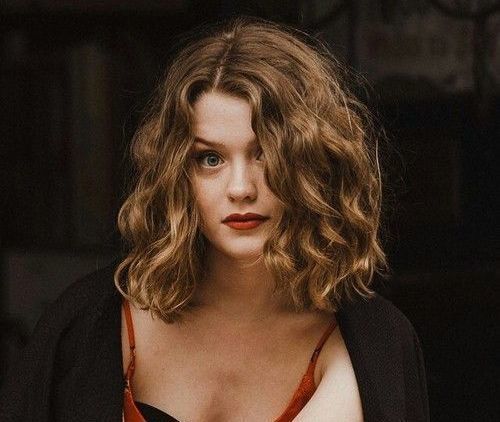 44. Root Perm Hairstyles
You don't have to go for tight curls to add volume to your hair. You can also opt for some loose bouncy curls which add the required amount of drama and definition. This one is an amazing short hair perm with beautiful luscious curls.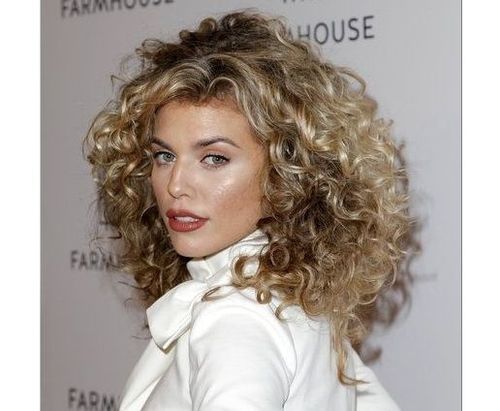 45. Volumizing Spiral Perm
Enhance the beauty of layered short hair with this spiral perm hairstyle. Perms for short hair brighten up the look as does this one. The face-framing curls look truly gorgeous.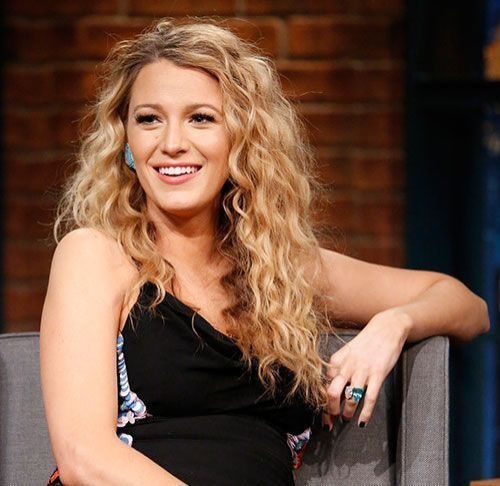 46. The Blake Lively Long Hair Perm
Blake Lively's long hair perm is truly goals. Her blonde partial perm gives a lot of texture and remarkable volume to her hair. What we love is how the added texture keeps the style looking natural.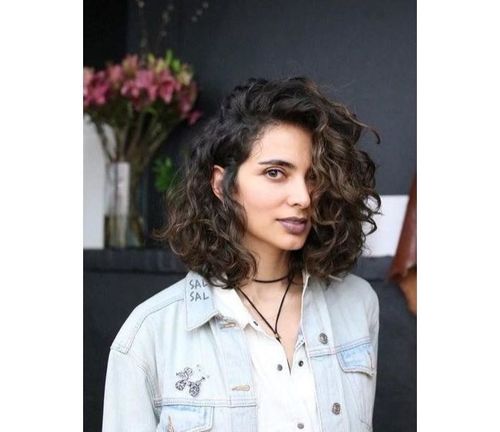 47. Chic Bob With Pin Curl Perm
We fell in love with the soft bouncy curls of this perm hairstyle. The addition of body and volume to this shoulder-length bob gives this hairstyle a new lease of life.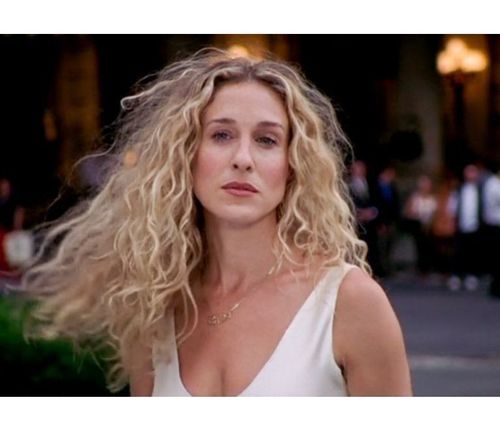 48. The Signature Carrie Bradshaw Perm
This is one of the classic perm hairstyles that we adore. Carrie Bradshaw has been a fashion icon and inspiration for women from all walks of life. No wonder her hair will be on our list of stunning perm hairstyles.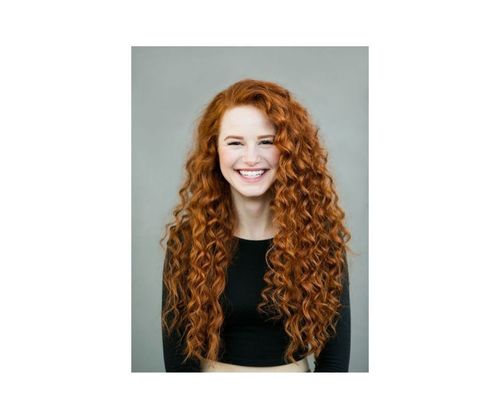 49. Ginger Spiral Perm For Long Hair
Riverdale star Madelaine Petsch is our favorite redhead and we love her long hair perm. Her curls even reminded us of Julia Roberts in Pretty Woman.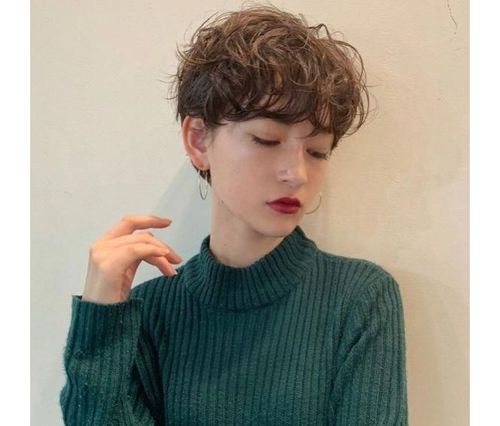 50. Cute Perms For Short Hair
Perms for short hair especially pixies are quite popular this year. This hairstyle uses thin strands of hair for perming. Combined with a ruffled texture, it gives a wet hair look which looks stunning as well as stylish.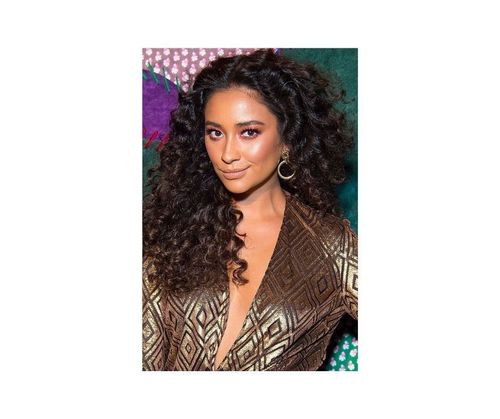 51. Long Hair Perm With Bouncy Curls
Go big with this long hair perm with bouncy curls. These bouncy curls form the perfect hairstyle for those with thick hair.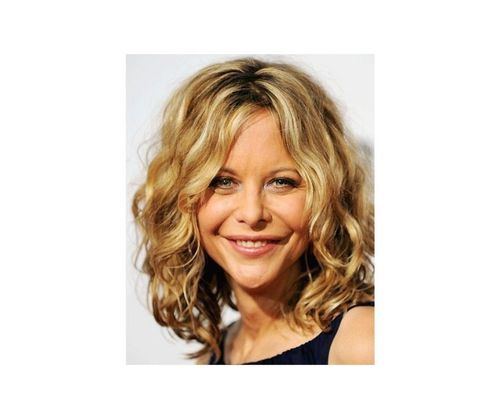 52. Relaxed Wavy Hair Perm
You can achieve perfect beachy waves with this short hair perm. The texture adds some body and definition to the hair. We love how soft and relaxed the curls look.
This brings an end to our list of 51 stunning perm hairstyles for short, long, and curly hair. We hope you got all the inspiration you needed.