55 Stunning Braided Hairstyles And Haircuts For Kids - 2023
Olivia
Updated At 01 Jan 23
Braids are simple and uncomplicated hairstyles that come in a variety of variations and even let you adorn your child's hair in a variety of ways. You can choose from a variety of back-to-school braided hairstyles for kids that we gathered for you.
55 Best Braided Hairstyles And Haircuts For Kids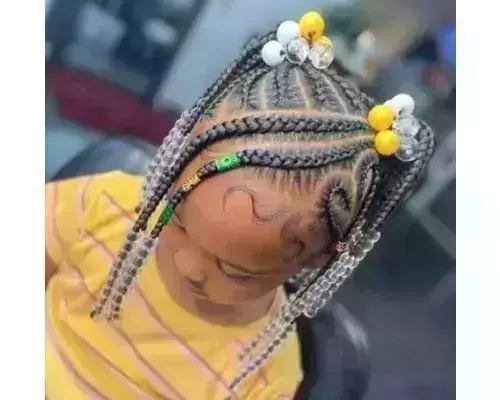 1. Kids Braids With Beads
An excellent technique to make your child's hair stand out is using beads. Choose a variety of beads, threads, and other accessories to create a straightforward yet stylish and practical design. On Fulani braids, various piled beads are frequently the ideal choice.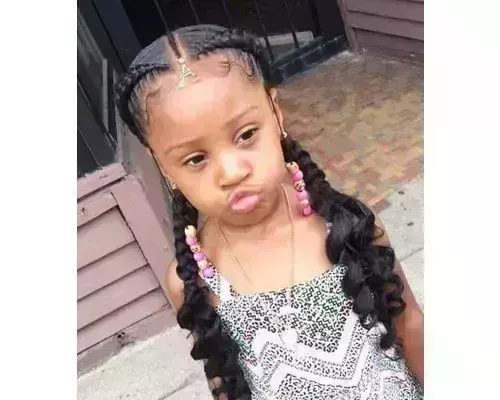 2. Two Side Braids For Kids
Two-side braids are a terrific quick fix if you're pressed for time and want to give your child's long hair a little more style than a simple ponytail. These adaptable braids always look excellent and are a perfect choice for school or sports, whether they are clean and silky or more loose and bohemian.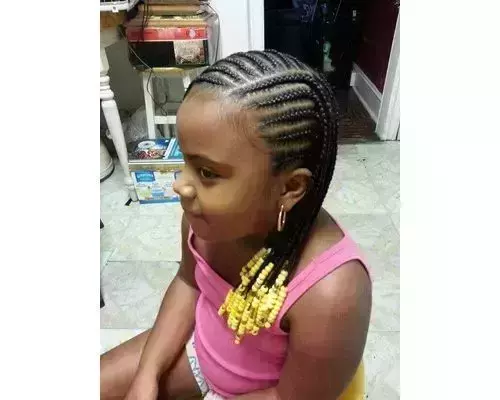 3. Cornrows For Kids
Kids adore showcasing their flair, and one of the finest ways is by adorning their hair with cute accessories! If your child enjoys vivid colours or rainbows, adding beads to their cornrow braids is a terrific way to make them stand out. Traditional front-to-back cornrows have many advantages over just being cute and stylish.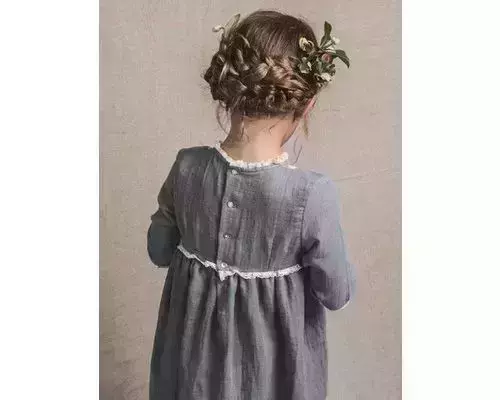 4. Braided Updo For Kids With Long Hair
A braided updo is a great option for your child for formal events like attending church or a wedding. These hairstyles have an old-fashioned vintage vibe and look wonderful in photographs, especially if you add a hairband or flowers.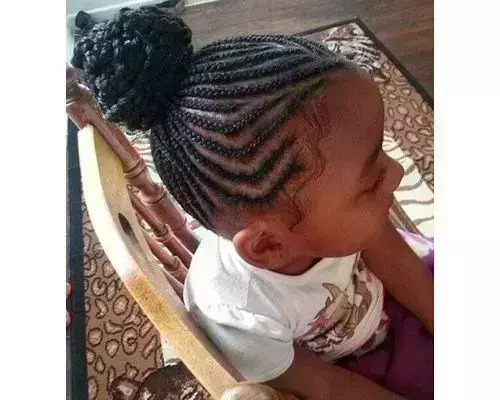 5. Braided Top Bun With Natural Hair
Having trouble deciding between braids and showcasing your girls' gorgeous curls? Giving them the best of both worlds, wear a braided top bun with natural hair. The braided bun is quite adorable and stands out in the crowd.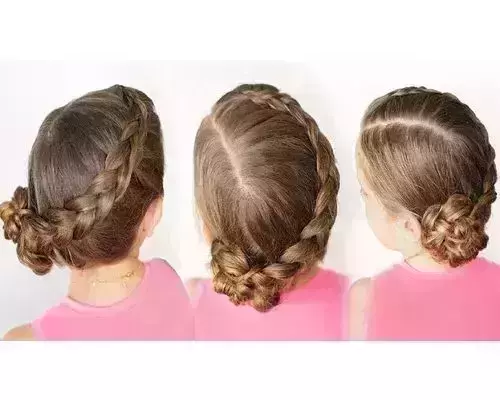 6. Braided Side Bun Braids For Kids
Do you find it difficult to decide between braids and showcasing your daughters' gorgeous curls? Use natural hair and a braided top bun together to give them the best of both worlds. The braided bun is extremely adorable and makes a statement.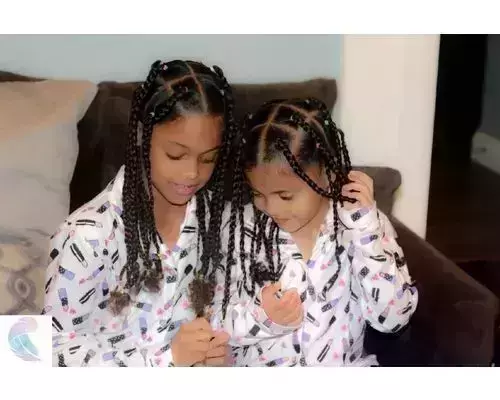 7. Ponytails Box Braids For Kids
For teenagers and older children, box braids are a great hairdo. They are patient enough to allow the braids to be put in at this age, and they will enjoy being able to experiment with fresh hair colours to showcase their individuality and sense of style.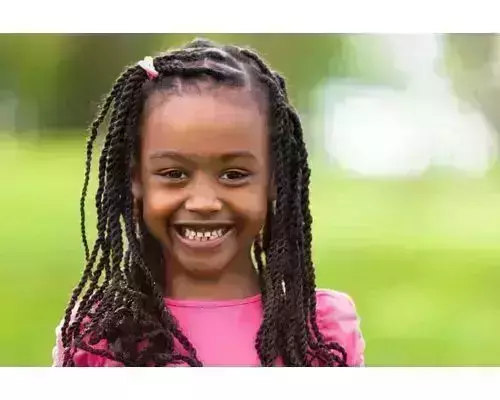 8. Hair Down With Small Braids For Kids
Children's hairstyles with braids are not only some of the nicest options available, but they are also enjoyable and useful. There are countless ways to reflect the distinct personality, style, and culture of your child using different patterns and techniques.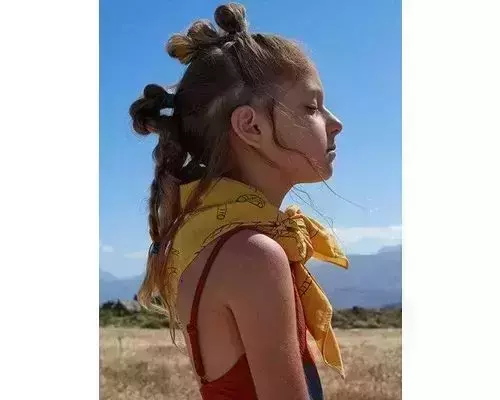 9. Cool Hairstyle With Braids For Kids
Small braids on loose hair, especially if the hair is thick or wavy, are one of the simplest and easiest braided hairstyle alternatives for girls. Cute, laid-back, and boho, this hairstyle is ideal for youngsters with an adventurous, playful personality—especially those who can't sit still long enough to maintain a more intricate braided look.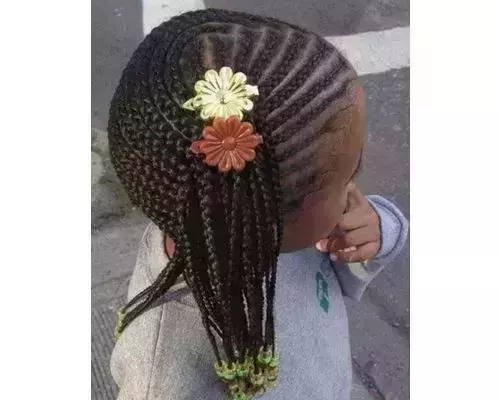 10. Braids For Kids With Hair Clips
One of the simplest ways to add personality to your child's haircut and make it stand out is with accessories like hair clips. Hair clips simultaneously hold the hairdo in place and keep hair out of your girl's face, serving a useful purpose.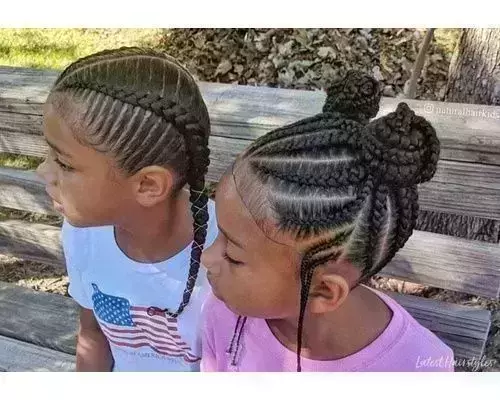 11. Braided Side Buns With Cornrows
The buns will keep their hair in place and look adorable in pictures, while the braided parts provide a fun, original, and playful touch. Cornrowing could harm your child's hair if they have straight rather than Afro-textured hair. Try micro Dutch braids as an alternative, but make careful not to keep them in for longer than a day.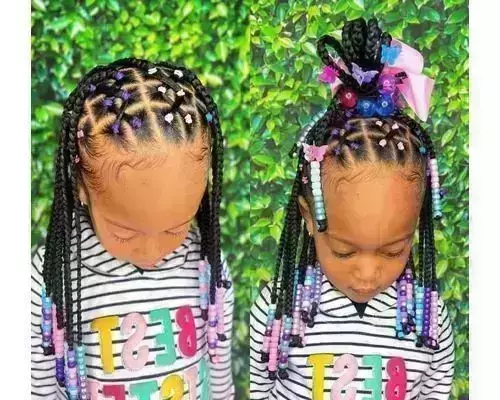 12. Braids With Elastic Bands
Rubber band hairstyles use colourful small hair ties to hold them in place. They have been popular for many years because they instantly inject some fun into any outfit. The elastic bands not only give the braids a highly adorable and colourful aesthetic, but they also assist in holding the braids in place and securing them.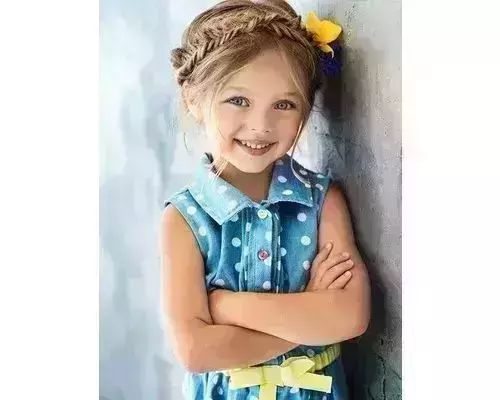 13. Fishtail Crown Braids For Kids
If your daughter has long, straight or curly hair, a fishtail crown braid is a great alternative, and best of all, it's shockingly easy to make. To achieve the "crown" impression, divide the hair into two equal sections, fishtail braid each one, and then pull each half forward and cross it over.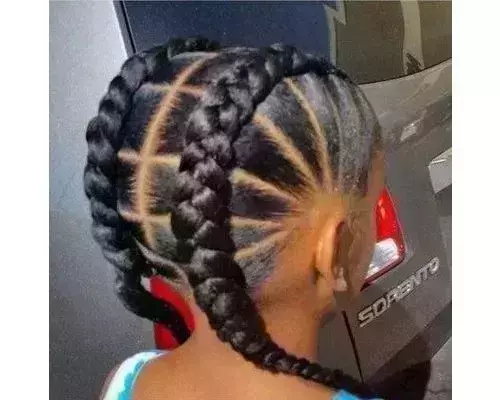 14. French Braids For Kids
A single French braid is the ideal quick and tidy hairdo for school, but if you have more time, you can experiment with different variations of the style. French braids can seem chic and distinctive, far from becoming dull. French braids of various sizes, smaller ones at the sides and larger ones at the back can be plaited.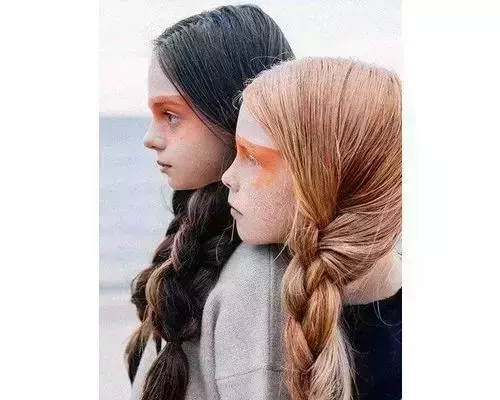 15. Loose Side Braids
Kids with exceptionally thick hair might consider loose side braids as a braiding option. Contrary to other braiding patterns, loose side braids, often referred to as gigantic pigtails, are intended to look relaxed and imperfect, so there is no need to be overly clean or detailed.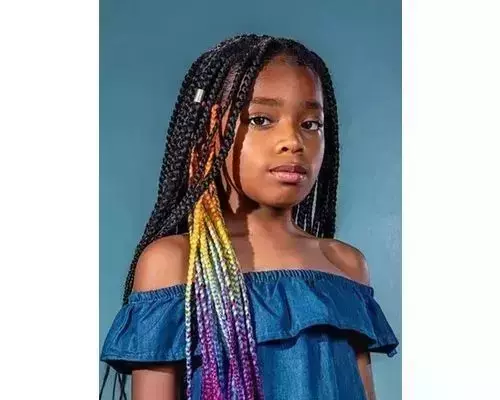 16. Rainbow Box Braids For Kids
Rainbow box braids are a great choice for kids because they enjoy vibrant, colourful hairstyles. They are an excellent opportunity for your child to express their creativity and sense of style while adding vibrant, eye-catching colours without harming their natural hair.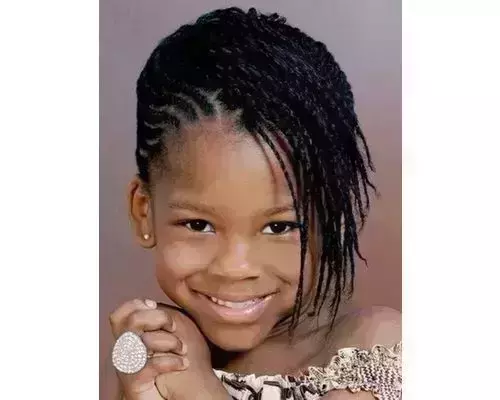 17. Micro Braids In A Ponytail
If your child has very fine straight hair or hair with an Afro-textured texture, micro braids in a ponytail are a terrific styling option. Micro braids are quirky and unique plaited hairstyles that stand out from the crowd. Your little girl can wear them relaxed, half-up, half-down, or in a ponytail.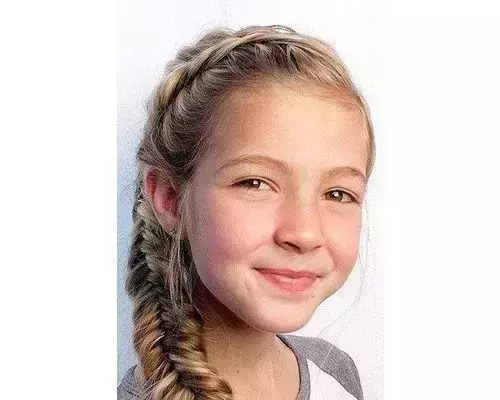 18. Fishtail Side Braid
The three-strand plait, French braid, and Dutch braid are already second nature to you. Time to experiment with a fishtail side braid! This braid looks lovely and stands out from the crowd thanks to a straightforward two-strand approach.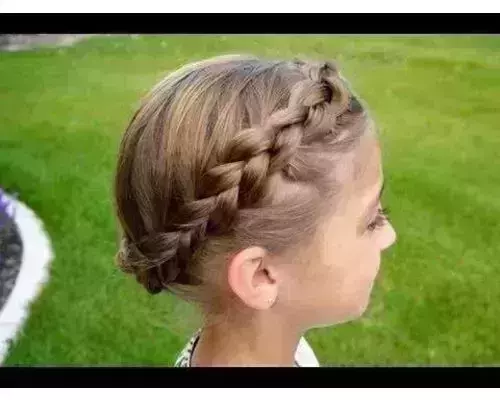 19. Rounded Crown Braids For Kids
A traditional crown braid is ideal for a formal occasion, which is why flower girls at weddings frequently wear them. The fact that this particular braided hairstyle doesn't need to be overly tight makes it incredibly pleasant for your youngster to wear all day.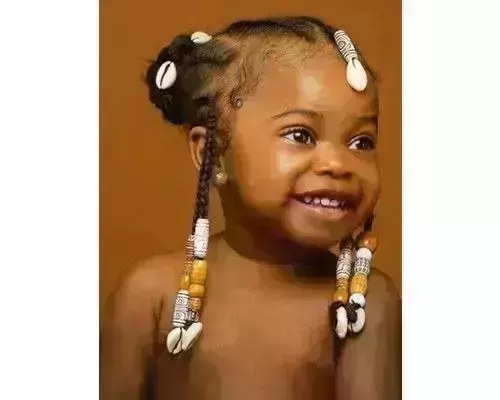 20. Fulani Inspired Braids For Kids
The Fula people of West Africa are the originators of the Fulani braids, which have gained popularity around the world for their distinctive and eye-catching pattern: one thin cornrow braid at the crown, with fine side braids, frequently embellished with rings, beads, or cowrie shells.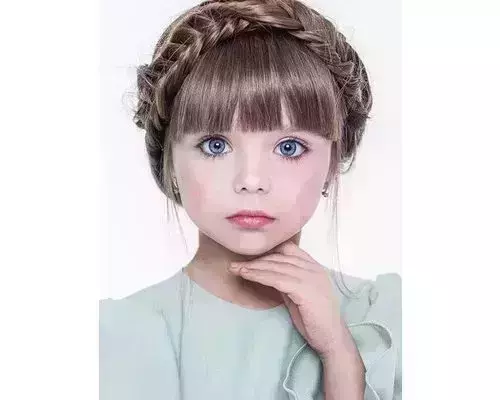 21. Crown Braids With Bangs For Kids
Try a crown braid with bangs to give your girl a flawlessly polished appearance. This hairdo combines its adorable fringe with a sophisticated braid to highlight it. This look is perfect for their school yearbook photos because the braided section is in the front. Additionally, it is a formal, tidy, and appropriate haircut for attending church.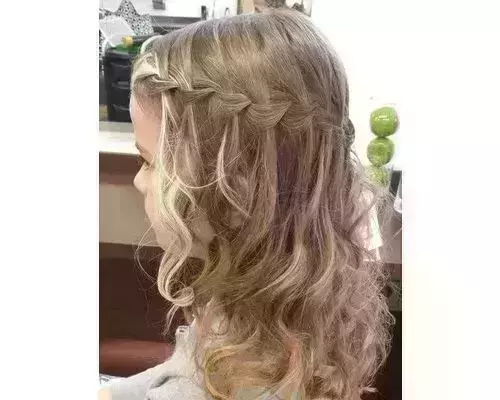 22. Waterfall Braids
There is no better option than a waterfall braid if you're seeking for a gorgeous and delicate braid for your daughter's hair. Only the top section of the hair is covered in this French braid variation, leaving the rest of the hair free. This is a cosy braid that helps keep hair out of the face while showcasing the texture of the hair.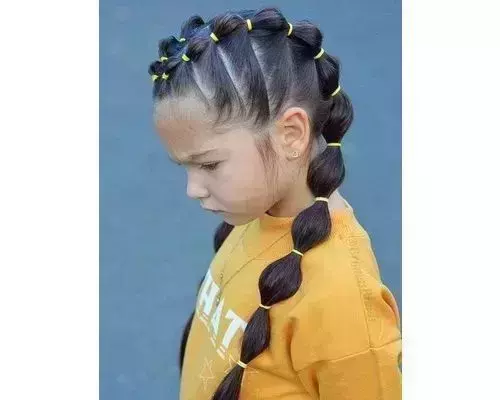 23. Bubble Braids For Kids
The bubble braid is a great alternative for parents who are busy and whose children won't sit still for more than a few minutes because some braided styles require a lot of time and work to accomplish. The hair is first pulled back into a ponytail, which is then embellished with hair elastics to give it a bubble-like appearance.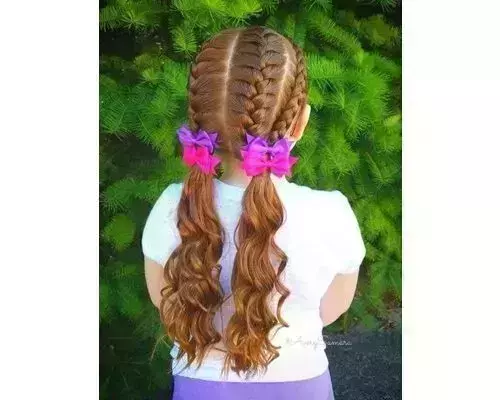 24. Dutch Braids For Kids
The Dutch braid, a timeless and feminine style made with the three-strand method, is a favourite. It is a style that works for every situation and may be customised to your tastes, including adding a double Dutch braid. The underhand braiding technique is used to gradually braid the hair, giving it an elevated appearance.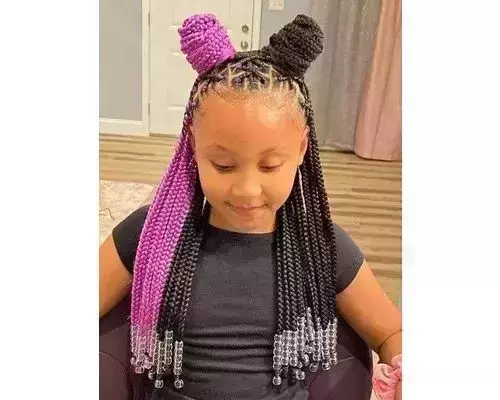 25. Braided Space Buns For Kids
Space buns can be styled on the hair of different textures and lengths for a playful, youthful appearance. The size of the buns will increase with hair length and thickness. If you want to create smaller space buns, you can also choose a half-up or half-down style.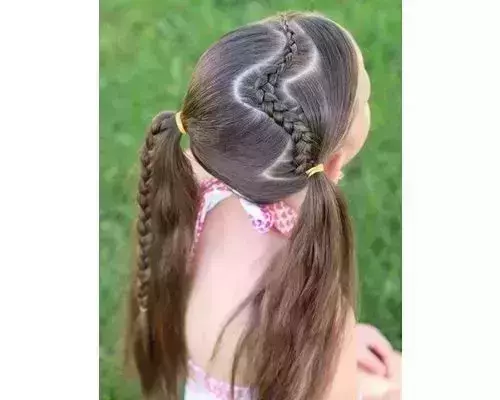 26. Snake Braids For Kids
The snake braid is a popular style because of how striking it looks and its form. It is a three-strand plait variation that begins at the temple. Despite appearing difficult, it is really simple to duplicate if you find the correct guide.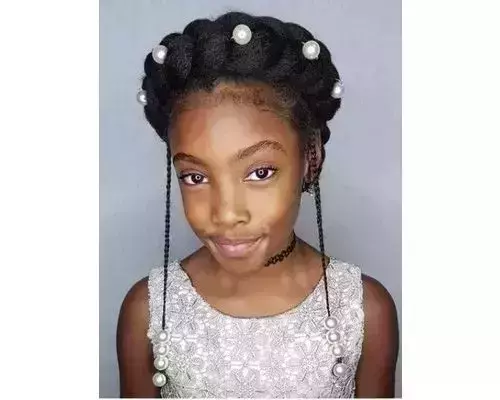 27. Halo Braids For Kids
Consider your daughter to be a tiny angel, do you? Why not braid her halo and give it to her? The crown braid is a more intricate variation known as the halo braid because of where it is located on the head. As compared to the crown braid, it is much higher.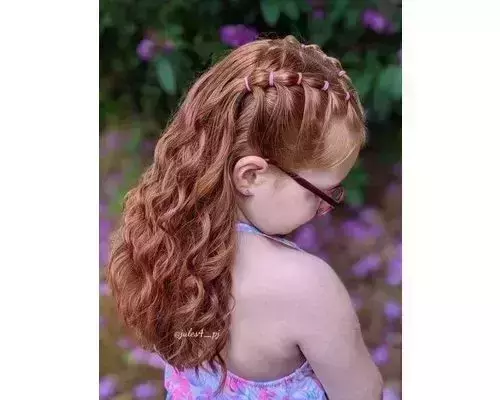 28. Half Up Half Down Braids For Kids
The variety of braided hairstyles that can be worn makes them appealing. Finding one that you and your daughter both like becomes simple as a result. The half-up, half-down style, which as the name suggests is any hairstyle made by pulling the hair away from the face at the top of the head and leaving the rest loose, is by far one of the most versatile possibilities.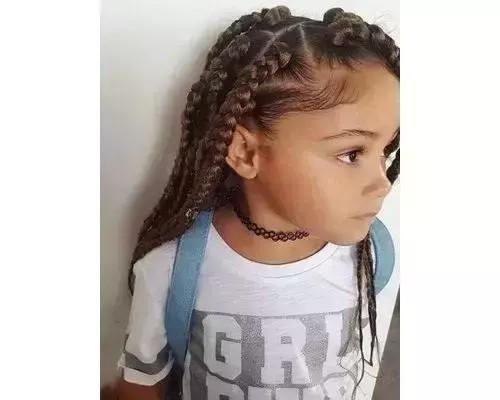 29. Jumbo Braids For Kids
Jumbo braids are the way to go for young children who wish to stand out and flaunt their hair. Jumbo braids are best suited for naturally thick hair because of their huge appearance. As an alternative, you can make a lovely yet straightforward protective style using hair extensions and your braiding pattern.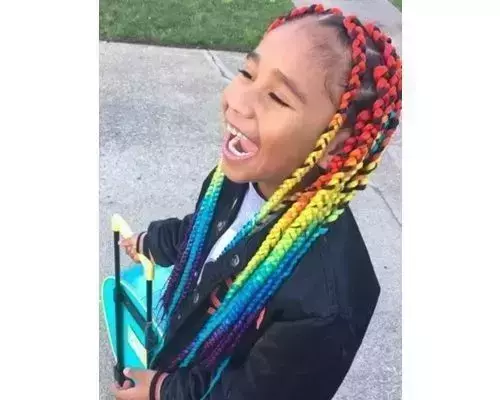 30. Yarn Braids With Bright Colours
What better way to stand out from the crowd than with brilliantly coloured hair for those born to do so? One of the most well-liked methods for accomplishing this is by using yarn braids, a sort of extension that may be braided in whatever design you like. They have a variety of hues and are quite adaptable.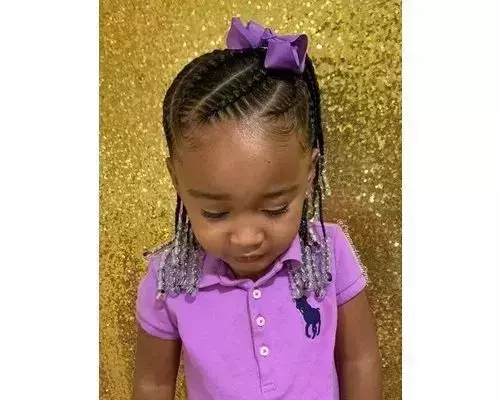 31. Braids With Bows And Beads For Kids
Your child can express herself and develop a braided style that is special and reflective of her personality with the aid of hair accessories. Two simple hair accessories that can offer a momentary splash of colour to the hair are bows and beads. They can be added to a variety of braided styles, including Dutch braids and box braids.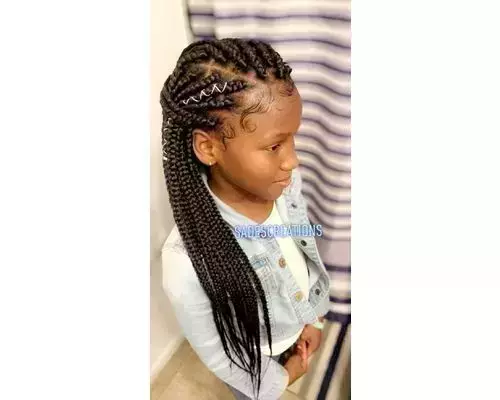 32. Medium Box Braids For Black Girls
Box braids are a classic look that is simple to remove. varying from wavy box braids to gigantic box braids with a bob. Your tiny ones will look adorable wearing these kid's box braids.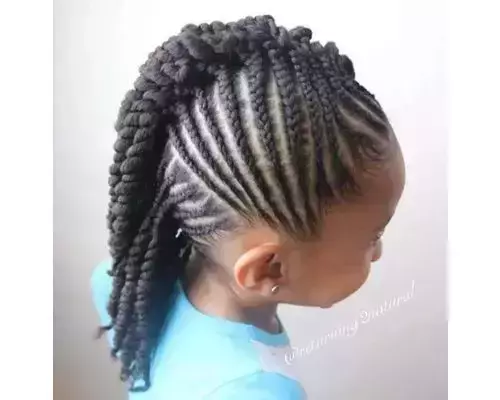 33. Twisted Mohawk Braids for Kids
Pulling hair back and away from the face is a prerequisite for cute and functional little girl hairstyles. In this manner, your youngster can enjoy the day without having to bother over messy curls. This elegant choice offers distinctive patterns created by straightforward cornrows.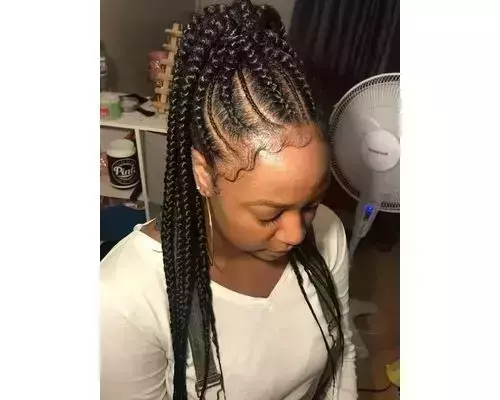 34. Beautiful Braided Ponytail For Kids With Minimal Cornrows
If you're looking for something cool for a preteen or adolescent, braids for kids might be elegant rather than charming. This sweet haircut is suitable for any age and will take your girl from practice to prom and all in between.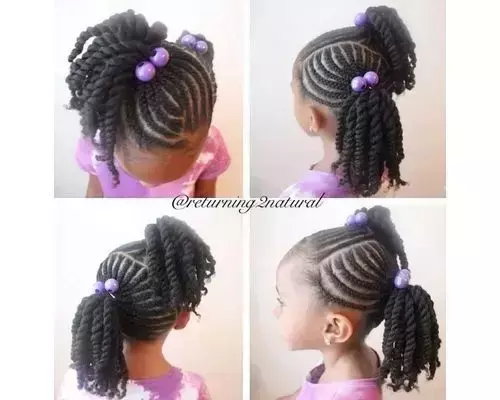 35. Natural Pigtail Braids For Kids
Try this playful variation on a basic pigtail if you're looking for protective braided hairstyles for kids that will treat your daughter's natural hair nicely. For tiny black girls, a high ponytail on the head is a cute and stylish look.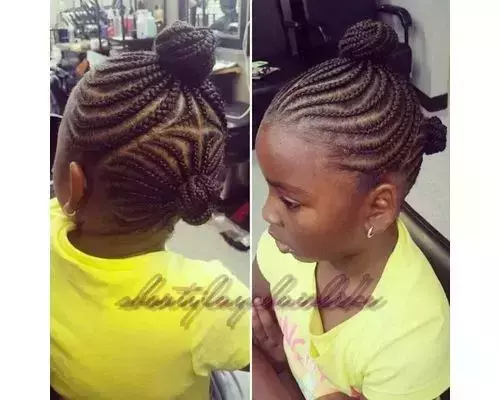 36. Natural Braids For Kids With Buns
This gorgeous appearance has a regal air to it! A skilled braider may create curving cornrows that appear to have been swept back. The cornrows' patterns are quite lovely, and they provide young girls with a cute look. Those braided curves make for adorable buns, which is a great result.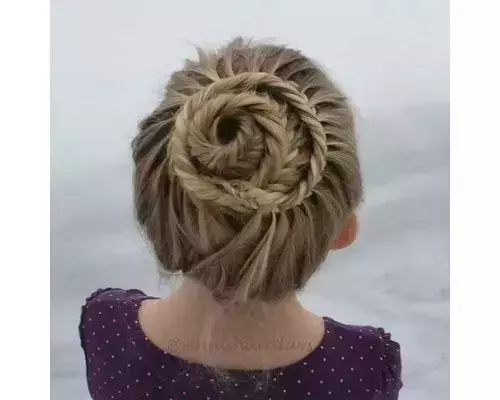 37. Spiral Fishtail Bun Braided Haircut For Kids
Try experimenting with the fishtail braid to create stylish braids for young girls. It will take some practice to master this complex style. The fact that this updo holds in place without the need for hairpins is a major benefit.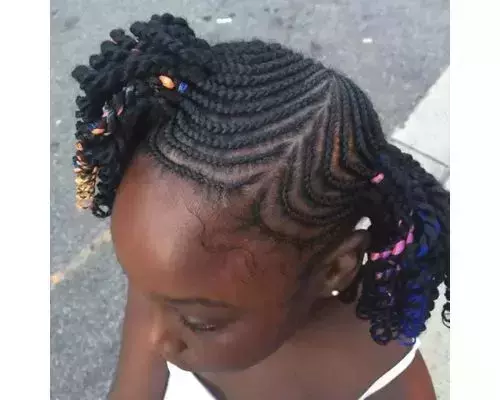 38. Colourful Braided Pigtails For Kids
These charming, sassy pigtails are beautifully executed. These Senegalese twists are much fuller because the pigtails are not tied off (instead, they are flowing outward from the cornrows). Instead of using beads, experiment with a few extension streaks to add some colour.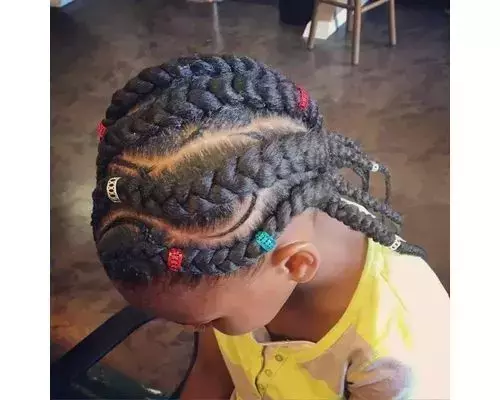 39. Ghana Cornrows For Girls
For girls, Ghana cornrows are a beautiful choice that is returning to fashion. The thick cornrows normally have straight sections, but this style changes things up by adding curves and little braids in between. The look is made even more enjoyable for children with a few multicoloured beads.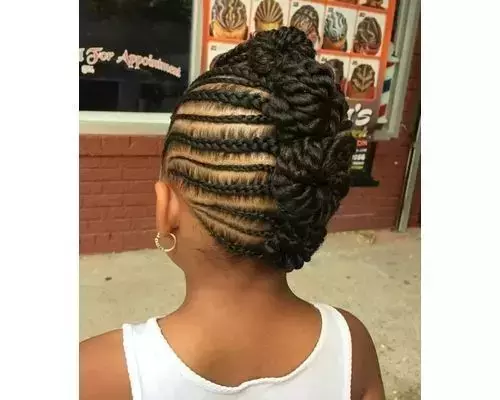 40. Unique Braided Mohawk
For the young lady in your life, check out this amazing look. She will stand out and feel secure thanks to her highly distinctive fashion sense. To create some hefty twisted Mohawk buns, the thicker and thinner cornrows are pushed straight back from the hairline and merged with extensions. She'll always remember this style because it's so much fun!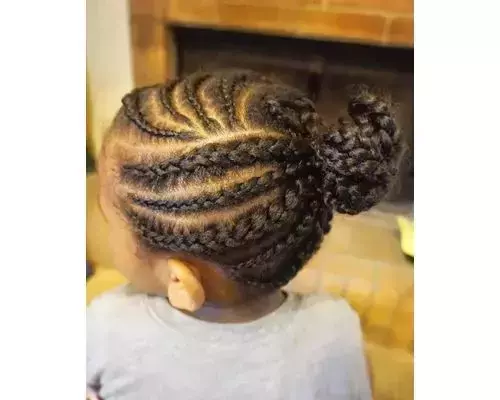 41. Adorable Braids With Cornrows And A Bun
Many mothers may create this straightforward braided hairstyle at home; designer braids are not necessary. This will go more quickly and cause less pain to your fingertips if you use thicker cornrows. Additionally, you can practise braiding on little children before taking them to a professional or attempting something more difficult.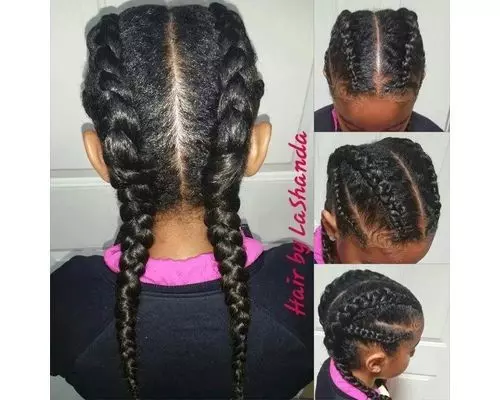 42. Natural Dutch Braid Style
Dutch pigtail braids are a simple hairdo that looks wonderful on young girls. If you don't braid the hair too tightly or add extensions, this contemporary kids' hairstyle offers some wonderful height that you can improve. Above the ears, these pigtails have accent braids for a distinctive look.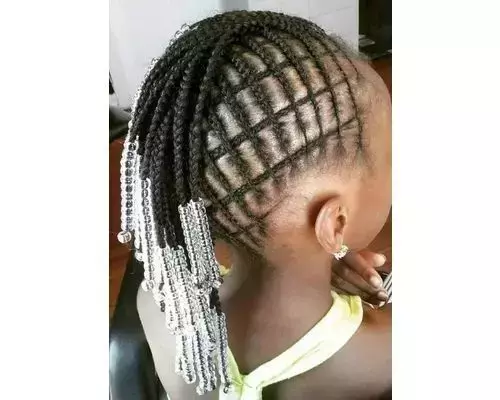 43. Crisscross Mohawk With Beads
In search of a show-stopper? You've undoubtedly located it. These beaded mohawk braids are beautiful, and the crisscross pattern is equally amazing. The fact that clear beads will go with any outfit makes them an extremely smart choice. More beads than usual were added to create an ombre appearance.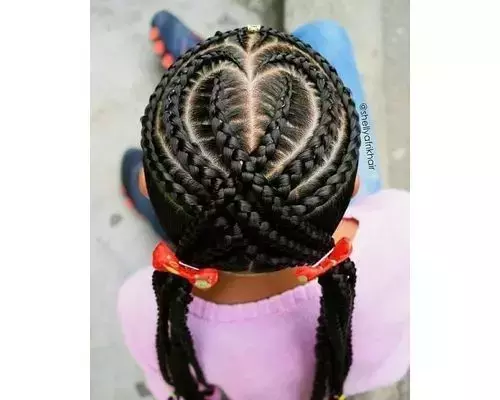 44. Heart Braids For Kids With Long Hair
For a special day, this charming style would be ideal. A pretty heart is formed by two symmetrically curved braids. If you'd like, you can double it and braid it or add curls to the ponytail.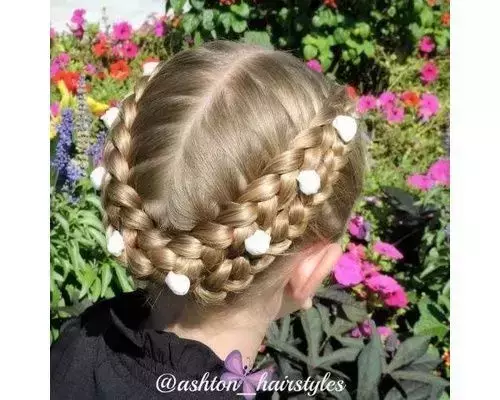 45. Perfect Heidi Braids With Flowers
This lovely hairdo is a variation on the crown braid that wraps in a U shape around the back rather than around the entire head. To recreate this look, create dutch pigtail braids in the hair, braid them down, cross them at the neck, and pin up the ends. Rosettes should be added last.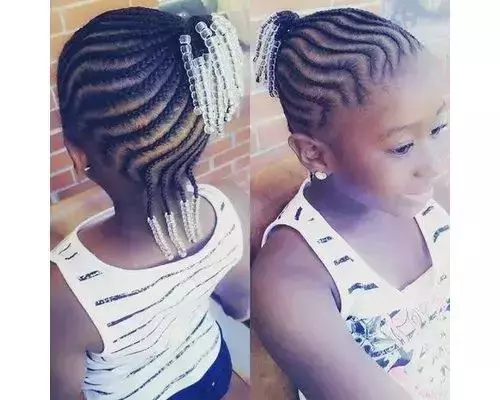 46. Curvy Cornrows With added Ends Braids For Kids
Young girls enjoy imitating things they see in other children. They desire a doll, an outfit, or a haircut that resembles someone else's. However, we should instil in them a sense of individualism now. Fortunately, there is a truly astonishing range of hairstyles for African hair.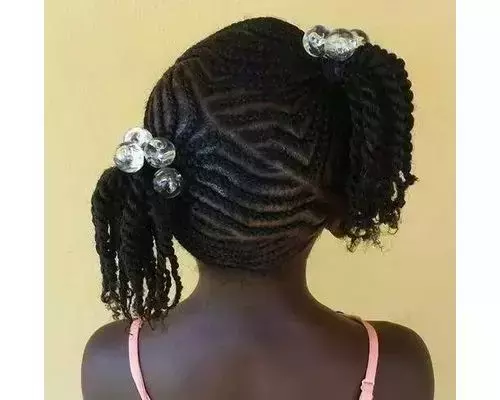 47. Angled Cornrow Braids For Kids
Additionally, the hairstyle in this image makes use of extensions that are braided into the twist- finished cornrows. The key stunning elements of the look are the diagonal portion of the haircut and the angled braided pattern. As a result, one pigtail is higher than the other. This is an easy braid for kids.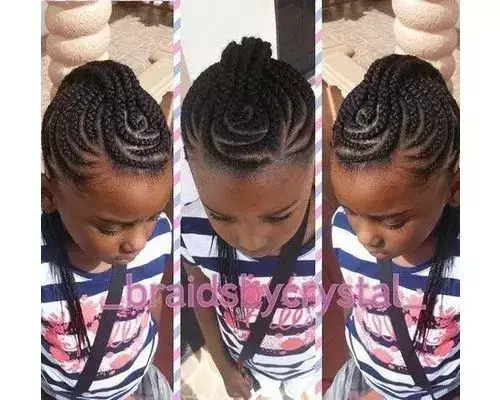 48. Circular Mohawk Braids
Pigtails are exclusively for girls, thus braided Mohawks are more fashionable and adult-like. Your little fashionista will undoubtedly adore this magnificent braided Mohawk with circular braids if she already has her style and wants to look chic.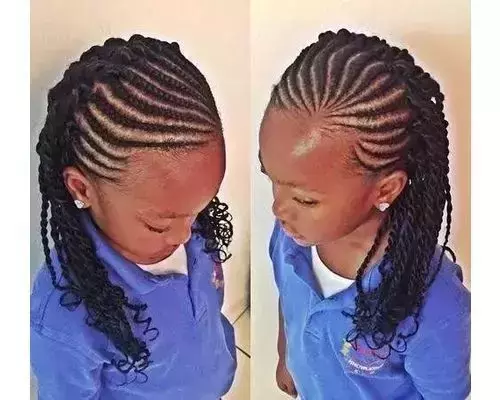 49. Spreading Cornrows Into Twists
Both these spreading cornrows and the twist braids with wavy ends are adorable. With this hairdo, your girl can wear them loose or gathered into a high pony, both of which are elegant and stylish.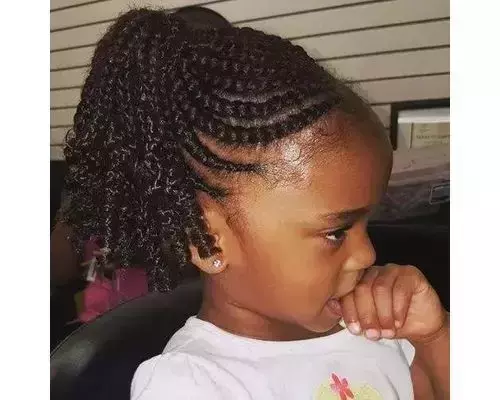 50. Curly Braided Pony For Kids
Perhaps a side pony isn't the most imaginative hairdo you can think of, but does it matter when it looks so lovely? Wrap the pony base with one braid to conceal the elastic, making use of the gorgeous spiral curls at the ends of the braids.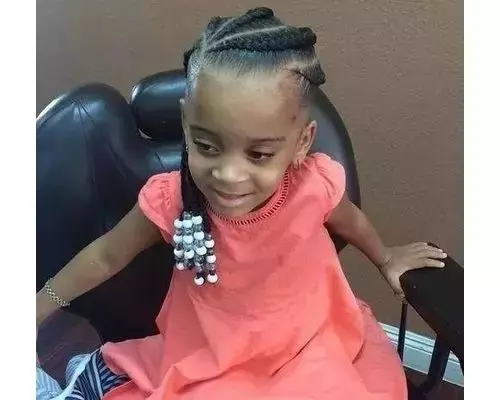 51. Diagonal Braids With Beaded Ends
What a cute little thing! Inspiring, don't you think? Very tight, rather thick diagonal braids with precise partings and edges. A beautiful way to complete the braids is with beads for the ends.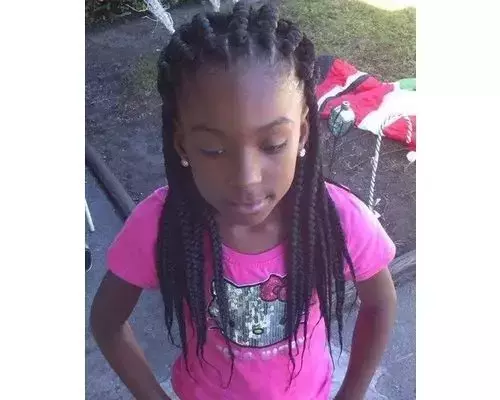 52. Thick Box Braids For Kids
These braids add a distinctive texture and are unlike anyone else's. If your girl wants to wear her braids hanging, thick ones are a fantastic option.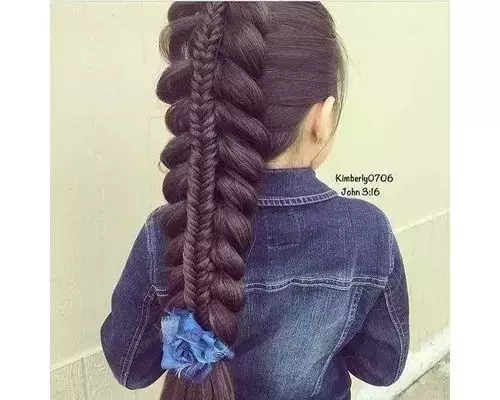 53. Chunky Lacy Double Braid
The most creative two-braid hairstyles combine two distinct braiding patterns into a single look. This elegant design is made up of an uncommon and stylish tight fishtail on top of a lacy Dutch braid.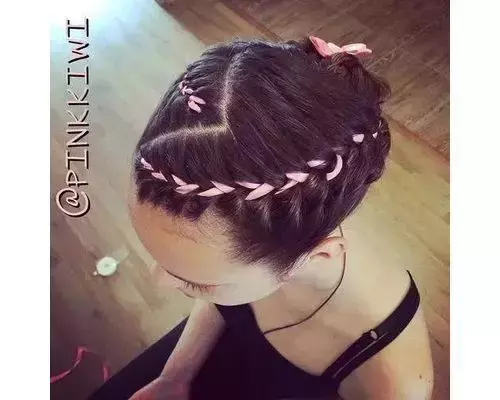 54. Braids For Little Girls With Ribbons
Thanks to the V-shaped section and the braided ribbon of a contrasting colour, this circular French braid stands out. With this gorgeous updo, your daughter will command everyone's attention.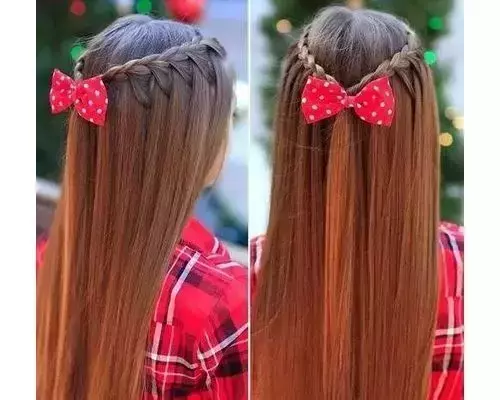 55. Half Updo Braids For Kids With A-Bow
If you don't style your long hair in an updo, half updo, or braid, it will fall into your face. Try this adorable half-up waterfall braid with a bow for the days when you wish to take comfort and pleasure in your freely flowing strands.