55 Most Popular Box Braids Hairstyles Of 2023
Shalu Bhati
Updated At 01 Aug 23
Have you recently found yourself fascinated with box braids? Do you too want to be the one flaunting this latest trend? Then stay with us as we unveil the most popular of the box braids hairstyles.
Box braids are just another one of the many popular hairstyles common amongst the African diaspora. These braids look like a square-shaped box, hence the name, and are not just comfy, stylish but also seen as a method of protecting the hair. These gorgeous hairstyles like jumbo box braids and bohemian box braids are nothing less than a beautiful piece of art. These are different from lemonade braids. Look at our box braids gallery of the 55 most popular box braids hairstyles to be inspired for your next salon visit. We cover:
55 Most Popular Box Braids Hairstyles
FAQs On Box Braids
55 Most Popular Box Braids Hairstyles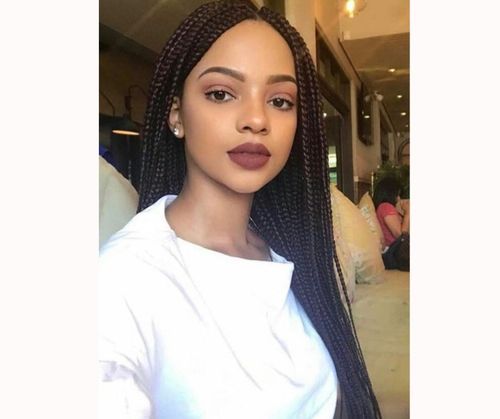 1. Simple Medium Box Braids
This is as simple as box braids can be. The middle part with medium box braids makes this style just about a regular one. But it is its sophisticated and elegant vibe which makes it extremely attractive and pleasing to the eye. It is perfect if you are a newbie to the world of braids and also works well as an office-appropriate look. Box Braid is also one of the most popular black hairstyles.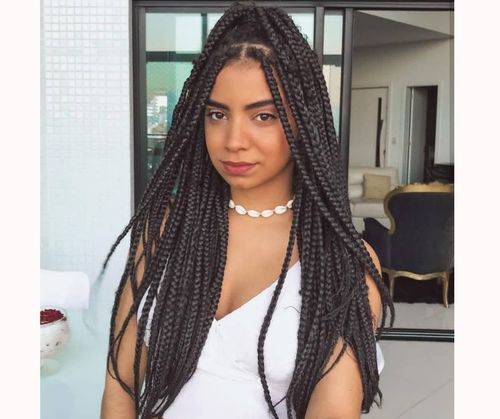 2. Tied Up Medium Box Braids
Add a little oomph to your hairstyle with this set of box braids. Channel your inner 90s teen girl with this half-up ponytail hairstyle. The classic 90s look when mixed with box braids brings out a combination of cute and sexy at the same time. Cornrow hairstyles have been extremely popular and these can be a perfect option to make your look glamorous. If you are looking for new braids hairstyles then this can be an excellent option.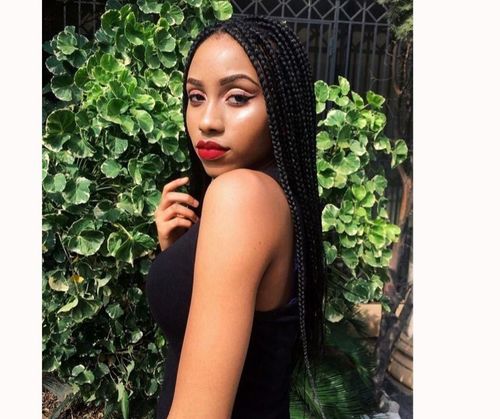 3. Beautiful Box Braids Hairstyle
This is yet another box braids hairstyle which speaks volume about elegance and sophistication. This set of braids is a favorite amongst women and celebs alike. With this, you don't have to worry about your hair game anymore. Because if it is work, party or an after-party, you will always be ready with your level A hair game.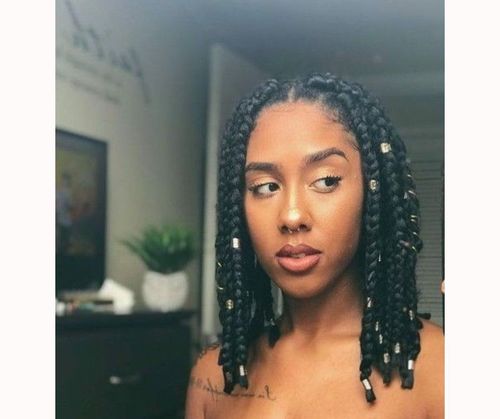 4. Long Bob With Box Braids
Long bob's popularity fails to die. What would happen if someone was to add box braids to the all-time favorite hairstyle? It will become even more popular and look chic. Case in point is this particular long bob with large box braids. Add some golden cuffs to seal the ends and some more in between to accessorize and voila you get knockout hair.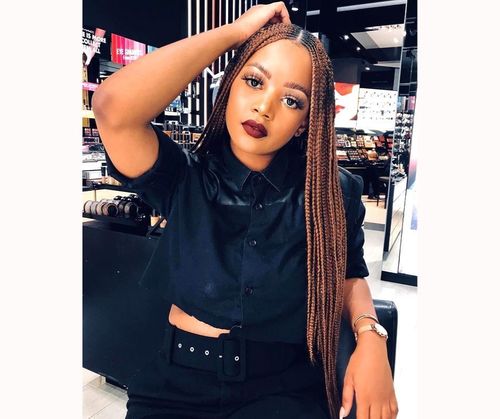 5. Knotless Box Braids
Box braids are cool, box braids with color are cooler but knotless box braids with color are the coolest. Why? Because they present a clean picture without the bulky knots at the scalp and also because they are a great way of protecting hair from too much pressure caused by braiding. Try out a knotless box braids style and see for yourself.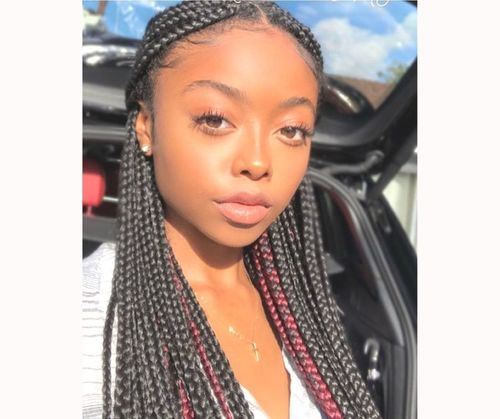 6. Crochet Box Braids In Burgundy
If you are not comfortable with a whole lot of color for your natural hair, then don't worry. You can still make your box braids interesting with a pop of color. How? Get some crochet braids. These braids use hair extensions and you can choose any color of your liking. From the brightest pink to ashen white, or just the good old burgundy like this one, get ready to have a lot of fun.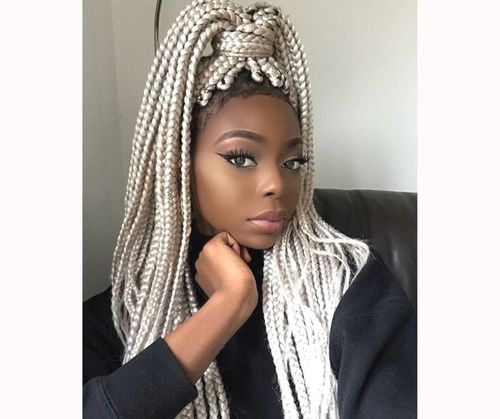 7. Crochet Box Braids With White Extensions
We know Queen Elsa is a blonde but still. There is something about silvery-white hair which speaks volume about being a pretty snow queen. This year, sing Let It Go from the bottom of your heart with a hairstyle that fits the icy vibe. We fell in love with these crochet box braids at first sight. It is time you do too.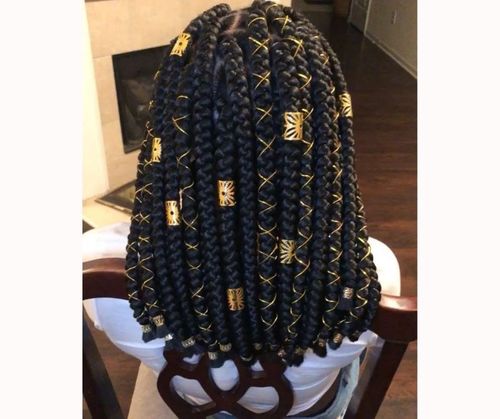 8. Box Braids With Accessories
The right accessories can change so much. A case in point is this set of medium box braids. Before they were just simple jumbo box braids but after adding some golden cuffs and golden thread, this hairstyle became something which can be called worthy of the beautiful Egyptian queen Cleopatra. If you are looking for braids hairstyles with beads then this can be a very good option.
You can also try box braids with beads to get a stunning new hairstyle. We cover 55+ stunning hairstyle options which showcase braided hairstyle options with beads for long, short, medium and curly hair.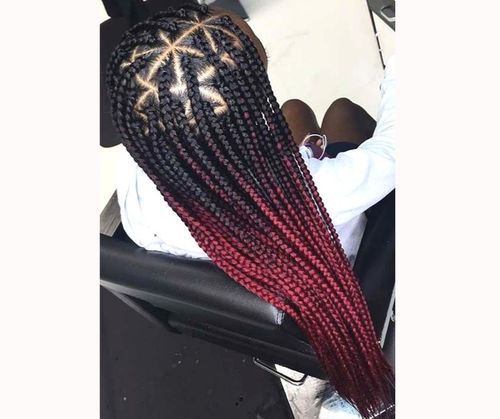 9. Crochet Box Braids With Triangles
Box braids are fun. You can choose any length or color. Moreover, there is also room for creativity on your scalp. This is a classic example of crochet box braids with triangles. This means that the hair taken for braiding is parted into a triangle. Now, this might look simple but we assure you it is not. Ask your stylist who has to be so meticulous while you sit on your chair swiping through Instagram.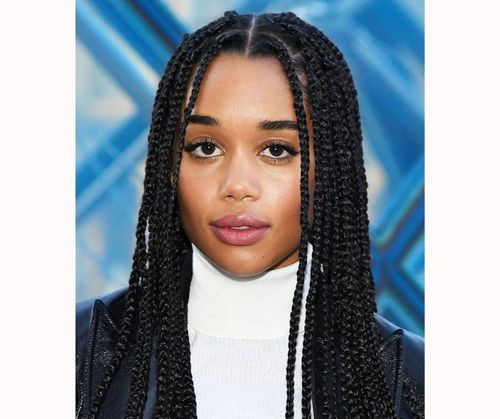 10. Laura Harrier Box Braids
Laura Harrier is the latest celeb to join the braids bandwagon. The Homecoming actress has been flaunting different braids these days. And we are lucky to witness her with box braids. She looks stunning and the braids are adding the needed drama and pizazz to her hair. In case you haven't found the right match yet, keep scrolling as we list braids hairstyles with pictures and all the details.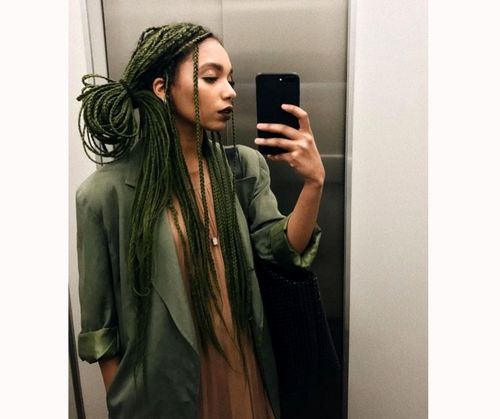 11. Boho Chic Small Box Braids
Heard of short hair, don't care? Well, now it is time to say long hair don't care. Why? Just look at this amazing set of small box braids in green. The braids are tied into a loose half-bun which gives a carefree boho-chic vibe and we love it.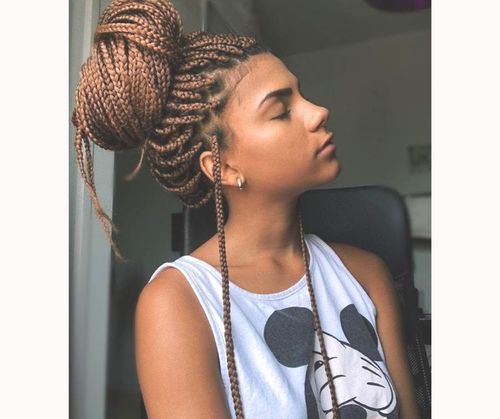 12. The Braided Top Knot
Who said your box braids have to flow with the wind to look pretty? You can also add them to an updo. Take a look at this magnificent top knot. The beautiful brown color of the locks and the box braids assembled into a mighty bun on the top of the head paint an incredibly beautiful picture.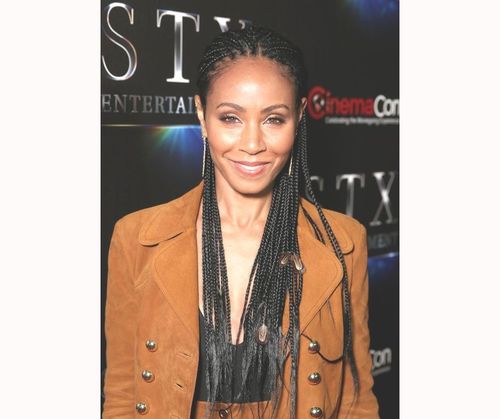 13. Jada Pinkett Smith Box Braids
Jada Pinkett Smith has always impressed us with her hair game which is why this hairstyle of hers feels like an obvious and expected addition. She has straight-back box braids which she has accessorized with small feathers. And it is the feathers which are the real game-changers.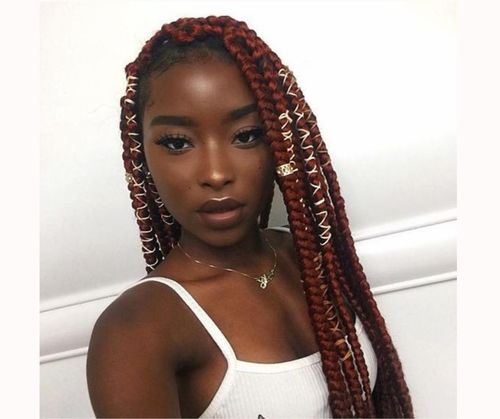 14. Box Braids With Thread
Adding a thread is a common way of accessorizing box braids and is very reliable. The case in point is these gorgeous box braids. The white thread against the mahogany braids presents a beautiful contrasting effect which adds to the beauty of this hairstyle. The differentiating factor of this new braids hairstyle is the usage of threads coupled with contrasting hair color.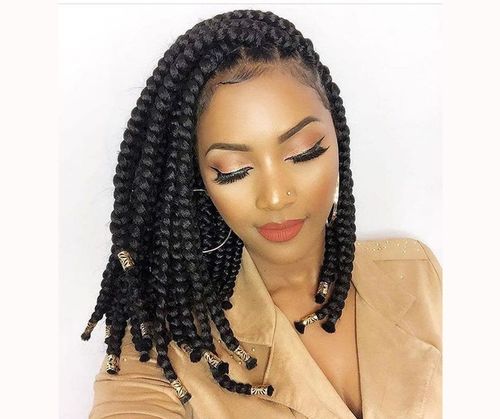 15. Pretty Box Braid Styles
This is yet another one of the box braids hairstyles which we love. This year is big on accessorizing your hair and nothing says accessorize more than a few golden cuffs. They add a dose of glam to an otherwise sober hairstyle. Case in point is these box braids with golden cuffs.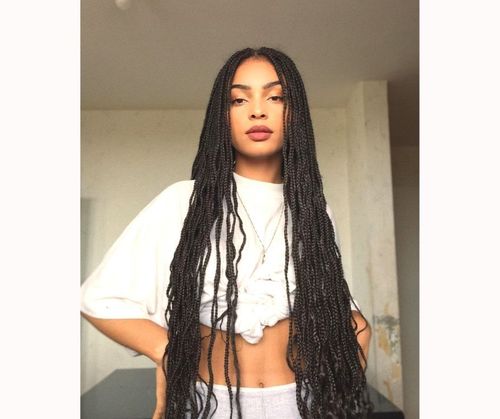 16. Goddess Box Braids
Goddess box braids or bohemian box braids have become very popular this year. Even celebrities are favoring this trend. And why not? These braids are super stylish with braided hair from up top and wavy or curly hair towards the ends. Find your signature style of wave or curl and rock this style.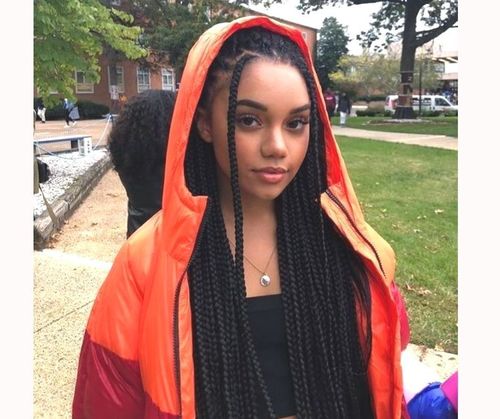 17. Straight Back Box Braids Hairstyles
Crochet box braids in the same color as your natural hair makes for an amazing hairstyle. The long cascading box braids look glorious and exquisite. This here is straight back box braids with single braids falling over the face on either side like side bangs and it has made all the difference to this hairstyle.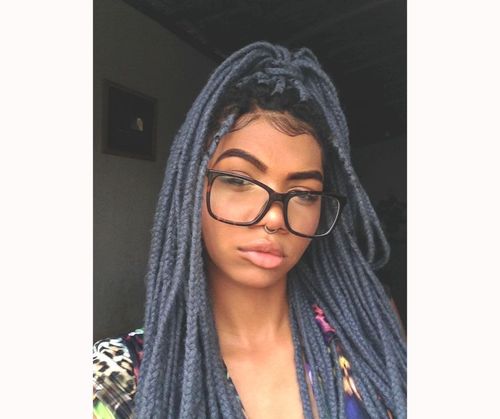 18. Crochet Box Braids With Color
Here is another example of crochet box braids with color. Move over white. If you want to go monochrome, go for grey. It is a different and unique choice of color that will compliment your black strands pretty well. This gorgeous set of crochet box braids is surely a head turner and you should try it.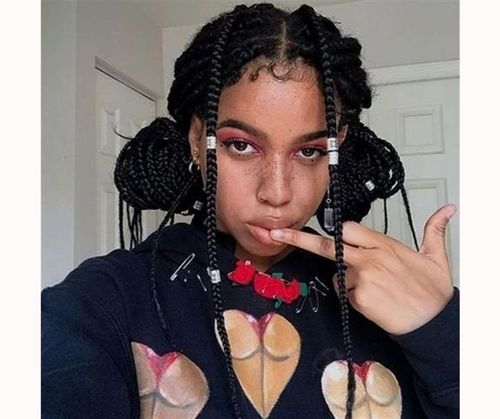 19. Box Braids Buns
Thinking of going the funky route? Then go for this box braids hairstyle with not one but two buns. The lower placement of the buns along with a few loose box braids speaks about its carefree and effortless vibe. The box braids which fall over in the front are accessorized with beads which add even more oomph to the hairstyle and take it up a notch.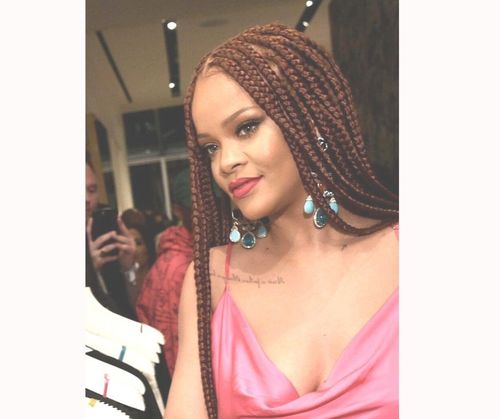 20. Rihanna Box Braids
Rihanna loves experimenting with her hair. And we have seen her carry each of her hairstyles with class and élan. Though, recently we have become a fan of the singer's beautiful braided hairstyles. For instance, this one with medium box braids is an absolute vision. The rich shade of her hair just adds to the beauty of the whole look.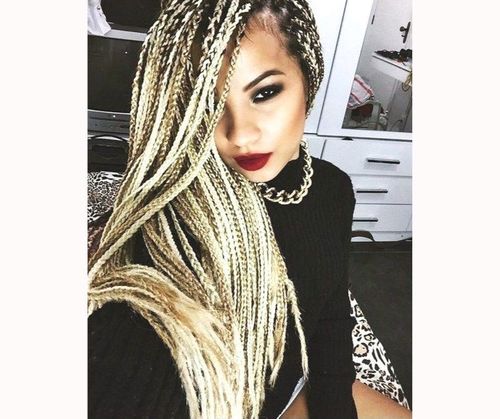 21. Stylish Goddess Box Braids
This hairstyle is a perfect example of crochet box braids as well as bohemian braids. The blonde extensions present a stark contrast to the black roots and are as pretty as a picture. There is something about this set of Bohemian box braids with color which is so arresting that we cannot take our eyes off of it. And we are sure you can't either.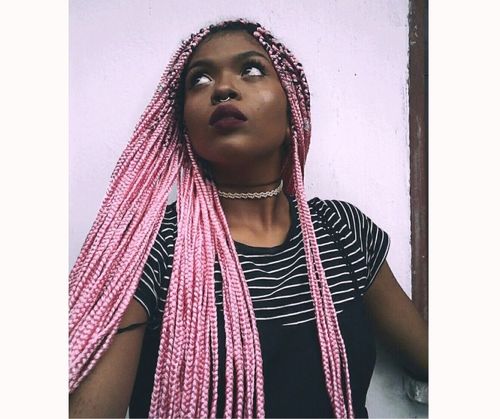 22. Pink Box Braids
Box braids are one of the most popular hairstyles and pink is the color of the season. Combine the two and you would get an appealing and stylish hairdo. A case in point is this set of medium box braids that are crocheted with pink colored extensions. The pink color brings out the beauty of the box braids and adds an oomph factor to the whole look.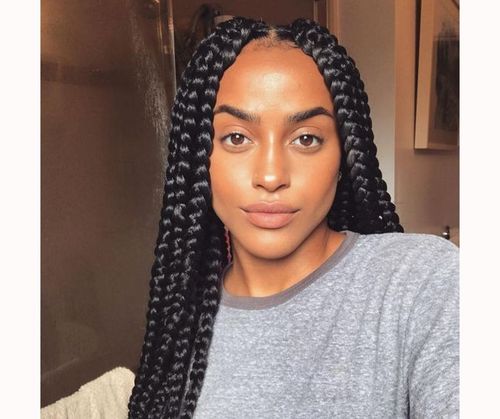 23. Beautiful Jumbo Box Braids
Jumbo box braids are a concept on their own. Look at this particular hairstyle. The box braids are thicker than you normally see. Hence, the name. They are the largest size of box braids available out there and are very captivating. They look beautiful, are aesthetically pleasing and easy to handle.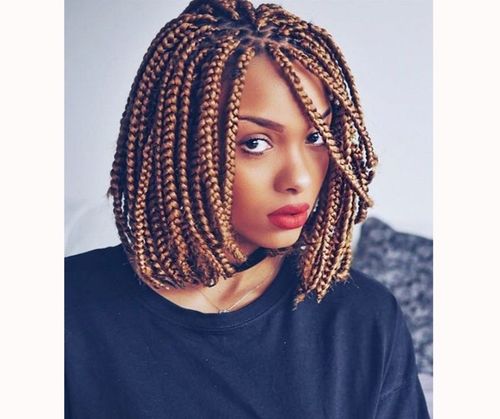 24. Classy Braided Bob
Bob is one hairstyle that refuses to go out of style. It has been here for quite some years now and is going to stay. And is now seen with many variations. Take a look at this one. Here is a bob with medium box braids. Who said only long and flowy box braids look pretty? This braided bob will change your opinion about box braids. We also love the chestnut brown color.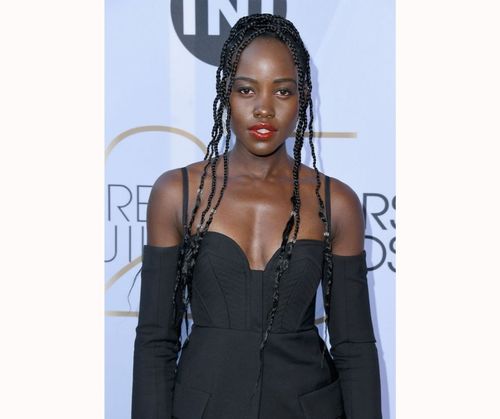 25. Lupita Nyong'o Box Braids
Lupita Nyong'o has made news for her acting skills but she has also made news for her impeccable style. From her gowns to her hairstyles, everything is gorgeous. And we fell in love with this Lupita Nyong'o hairstyle. Here she is flaunting small box braids in a fashion we have not seen before. The haphazard yet arranged manner in which her box braids are done is very appealing. It looks edgy.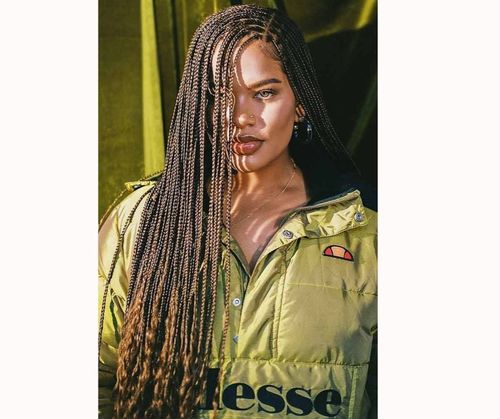 26. Chic Goddess Box Braids
Micro box braids are whimsical. The small size shows the intricacy involved and looks extremely beautiful. The micro bohemian box braids present a very clean picture along with the loose waves at the ends which just add more beauty to the whole hairstyle.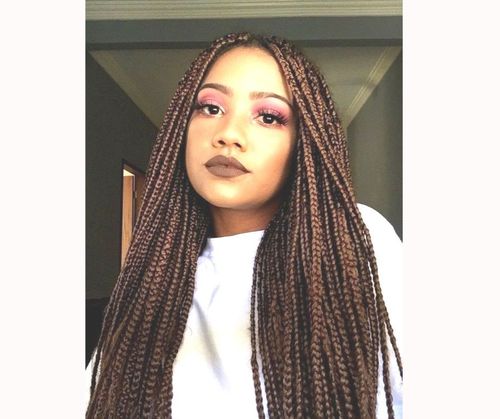 27. Brown Box Braids
Box braids in dark brown color are amongst the trending hairstyles. Many women including celebrities are choosing this beautiful colored hairstyle for making a statement with their hair. The brown color is close to the natural black hair and is perfect for those who want box braids with color but also don't want to go overboard.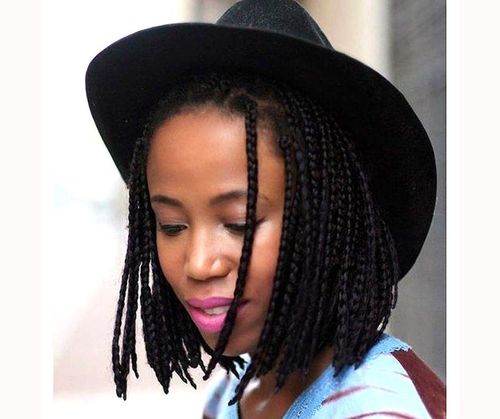 28. Chic Bob With Box Braids
Here is another chic bob hairstyle with box braids. The small box braids with layers are voluminous, look stunning and form a chic hairstyle.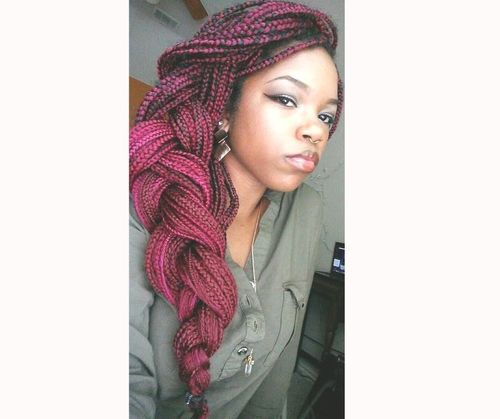 29. Braided Into A Braid
These crochet box braids in deep pink are a revelation. It is not just any usual box braids hairstyle. This one uses box braids to form another bigger braid which is made using the three-strand techniques. It is a stunning hairstyle with just enough drama to be a head-turner style.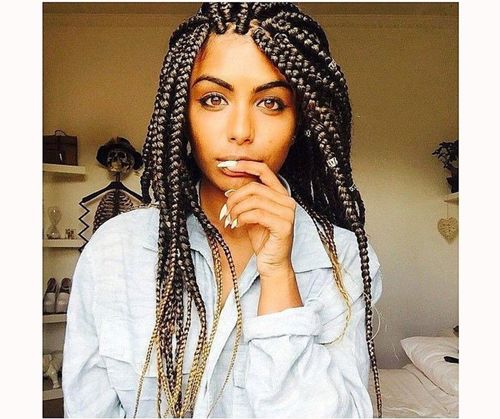 30. Jumbo Box Braids Hairstyles
This is yet another one of the jumbo box braids hairstyles. It is a straight-back style with a subtle ombre effect at the ends. The use of silver cuffs as accessories adds beauty to this style and makes it even more gorgeous.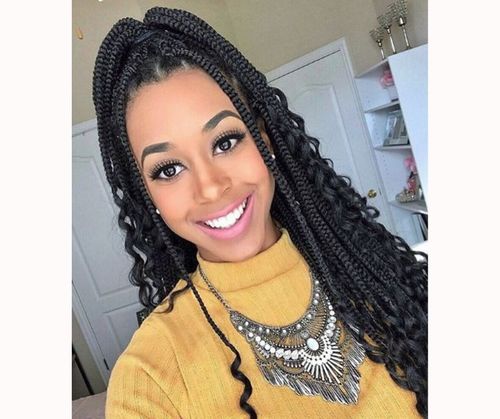 31. Box Braids With Curls
This is yet another example of a beautiful bohemian box braids with curls. You would say bohemian box braids come with curly or wavy ends. Then what's so different about this one? Well, the amount of curls at the end of these box braids has made a lot of difference. It has added a fun-filled vibe to the whole look and paints a very pretty picture.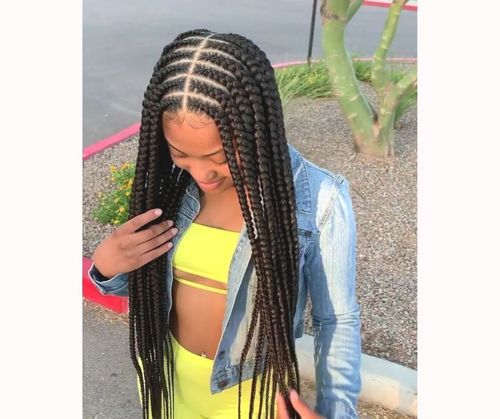 32. Symmetrical Box Braids
You have seen triangular divisions till now. It is time you were introduced to these amazing rectangular divisions of hair which present a symmetrical vision. It is the clean cut symmetry that takes even a simple set of box braids to the next level.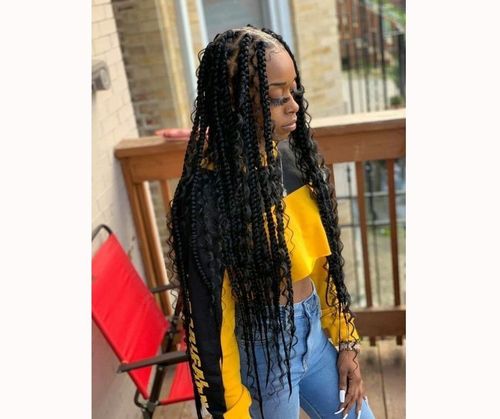 33. Bohemian Box Braids
Want to do something with your box braids? Then go for these three-toned crochet box braids. The natural black hair is complemented with ashy white extensions followed by a pretty green shade of extensions. The three different colors go well with each other and add pizazz to the look. It is a different hairstyle and has a boho-chic carefree vibe to it.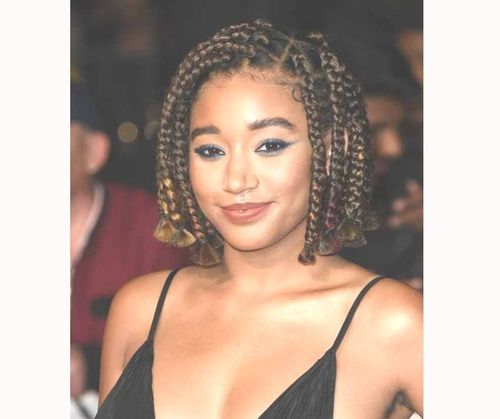 34. Modern Medium Box Braids
This is a beautiful example of medium box braids. When a straight razor sharp blunt bob is styled into box braids this is how it would look. The ends are not concealed but left open in all their glory and that's exactly what makes this box braid style so different. The subtle ombre also adds to the beauty of this hairstyle.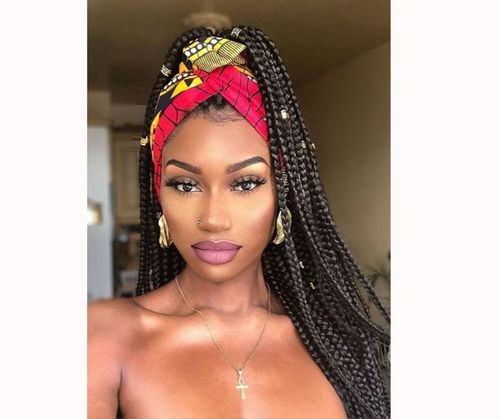 35. Medium Box Braids With Bandana
Throw in a colorful bandana with your medium box braids to add another twist to your already twisted hairstyle. The bandana can be used to tie up your box braids together into a high half ponytail. The bandana does not mean that you cannot have fun with beads and cuffs. Add a few silver cuffs here and there to complete this look.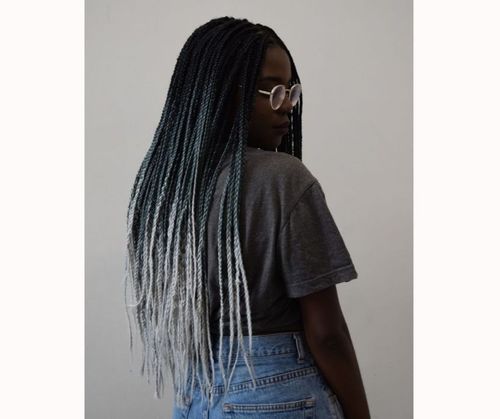 36. Black And Grey Box Braids
Nothing says monochrome more than black and grey. Go for this box braids hairstyle with a grey-silver ombre. This color sits well in contrast with the natural black hair and adds drama to the hairstyle.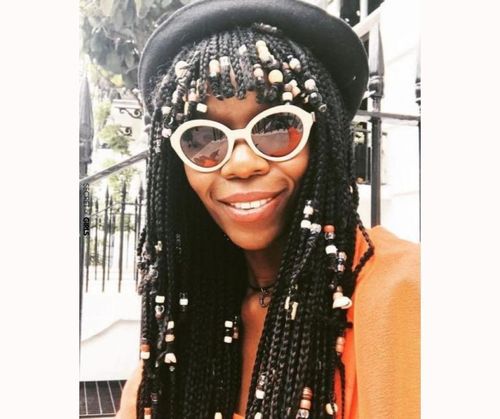 37. Beaded Box Braids
Beads are an amazing accessory when it comes to box braids and this particular hairstyle here is a fine example of beaded heavenly box braids. Get generous when accessorizing with beads. This medium box braids hairstyle comes with braided bangs which too are adorned with beads. This hairstyle is an ethnic tribal look in confirmation with the latest trends.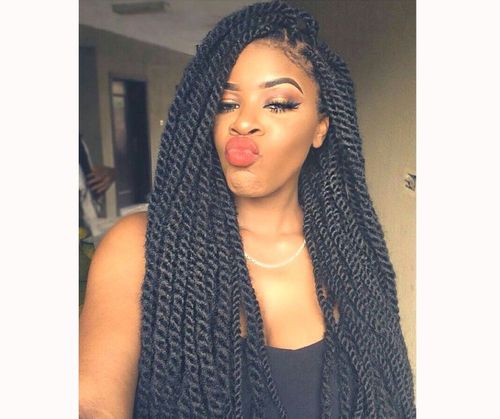 38. Large Box Braids
These are large box braids with layers parted to the side. This hairstyle presents a feminine and chic picture that we fell in love with. It is a stunning box braids hairstyle that works well for every occasion whether it is work-related or just your regular weekend fun time at the club.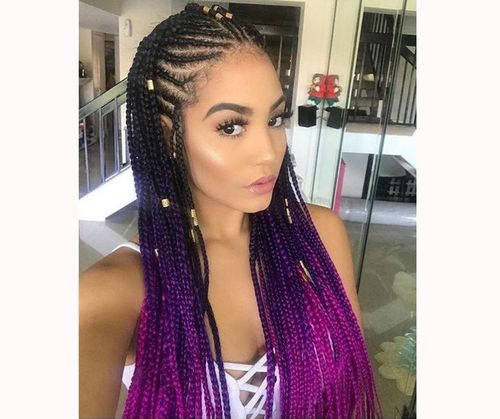 39. Three Toned Fulani Box Braids
Want your box braids to be the talk of the town? Then opt for these beautiful three-toned Fulani box braids. These small box braids with color look stunning and use a combo of dark blue and purple colors. The color job is attractive, eye-catchy and works wonders for everybody.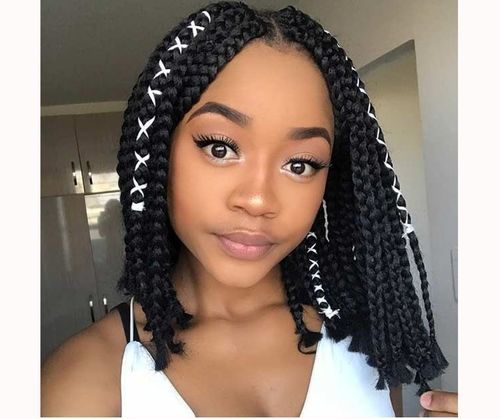 40. Box Braids With String
You can take up your box braids game to the next level by adding simple accessories to them. And one such simple accessorizing method is to use a string. Box braids with strings are phenomenal. Case in point is this set of medium box braids that looks stunning when paired with a white-colored string. This hairstyle presents a feminine and ethereal look.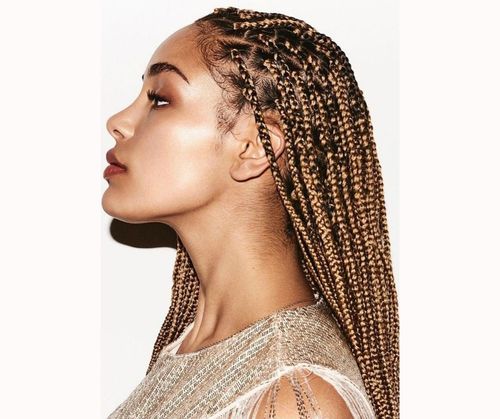 41. Gorgeous Box Braid Styles
This is a gorgeous box braid style with caramel extensions. This is a good example of crochet box braids as they are gaining popularity this year. These small box braids look stunning and suit everybody without a doubt.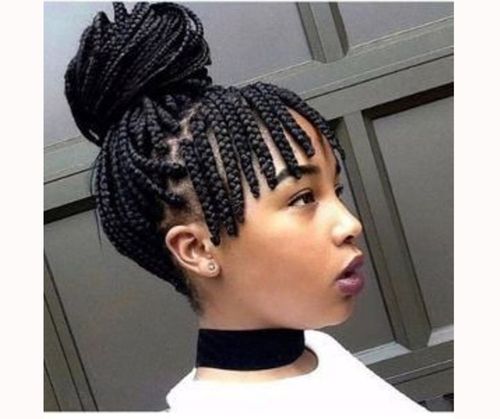 42. Medium Box Braids With Bangs
You can try several hairstyles even after your hair is twisted into multiple medium box braids. Look at this amazing hairstyle. Not only the box braids are tied together onto a magnificent and glorious bun but what got our attention was the stylish bangs with box braids. This is one of the finest examples of how to do braid bangs right.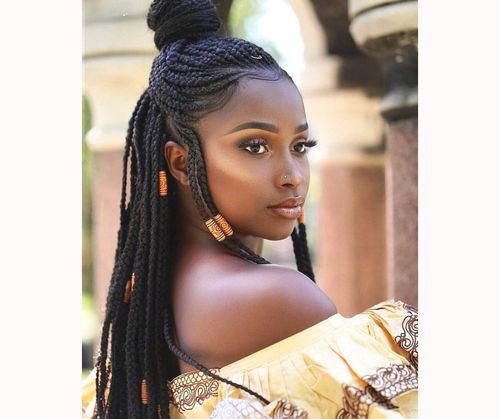 43. Fulani Box Braids
Fulani box braids are all about their unique patterns and beaded accessorizing. This one comes with another addition of a top knot. This hairstyle is just another take on the half up half down hairstyle. The front section of the box braids is tied together into a bun and placed at the crown while the back portion is allowed to fall freely. Also, it is these freely falling box braids that are adorned with long beads.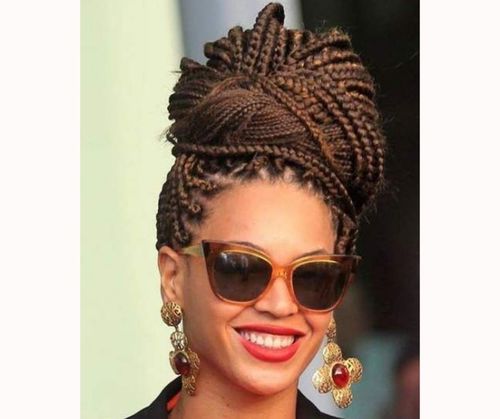 44. Beyoncé Box Braids
If you want to know how to do box braids then look no further than the queen of all. Beyoncé will come and rescue you from your lack of inspiration phase. Take a look at this stunning and elaborate bun. What makes this magnificent bun even more special is the fact that there is a combo of small as well as medium box braids which adds definition to this style.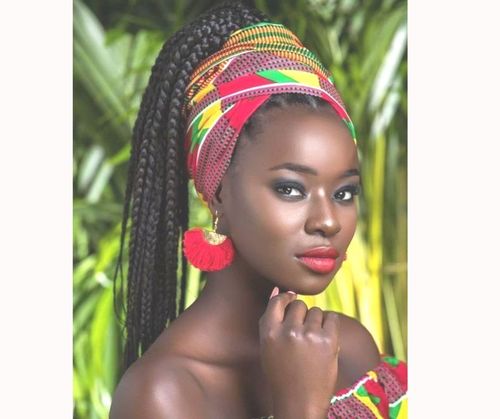 45. Stylish Box Braids Ponytail
Box braids ponytail is as popular as the box braids themselves. When you get bored from open and flowing box braids, tie them together in a high ponytail. You can never go wrong with a high ponytail. And if you still need to add more drama then use a colorful scarf or headband.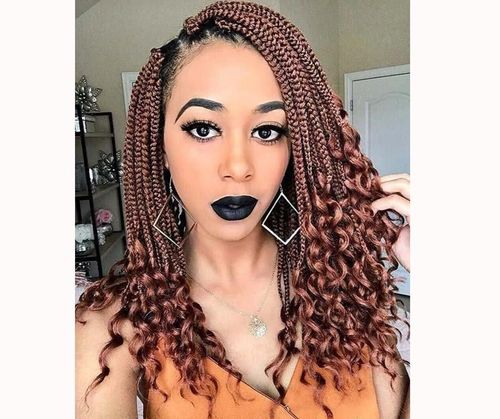 46. Box Braids Hairstyle With Curl Ends
This is one of the most popular and stylish box braids hairstyles. It uses a distinctive combination of the braided part and the curly part. These crochet box braids in a coffee brown color look gorgeous. But it is the curly ends which caught our attention. This whole look is polished and elegant. Even the curls are very well defined.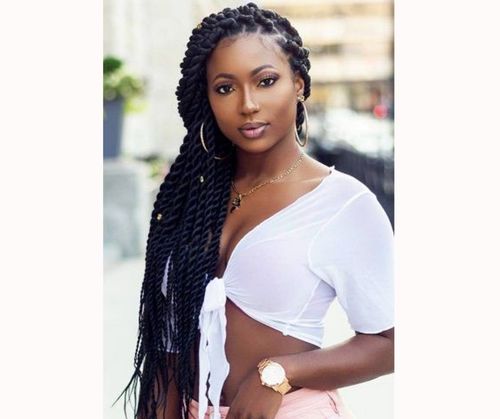 47. Jumbo Box Braids In A Side Twist
Add more glory and elegance to your already stunning jumbo box braids. Take the hair from the front to the side on either side and tie them on the back loosely to achieve this particular look. It is captivating and aesthetically pleasing.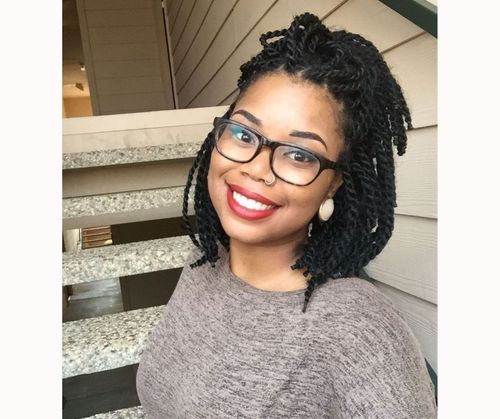 48. Jumbo Box Braids For Short Hair
Jumbo box braids look equally good with short hair. Case in point is this stunning bob with jumbo box braids. Wear it open or go halfway up the route, the choice is yours. But the stylish nature is guaranteed.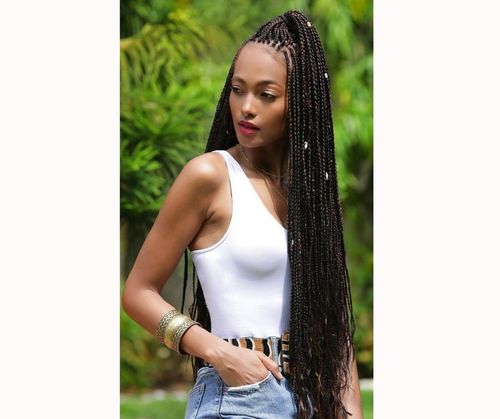 49. Beautiful Crochet Box Braids
Small crochet box braids are an absolute vision and this hairstyle is proof of that. From its glorious length to the clean small box braids to the wavy ends, this hairstyle is simply gorgeous. What we loved, even more, is the use of beads and shells for accessorizing the hair.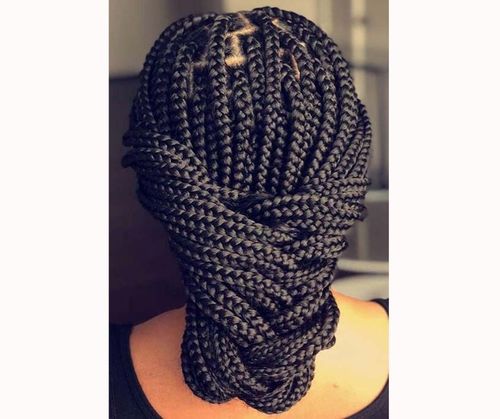 50. Knotty Affair
These are medium box braids with a square hair division. And not just that. The box braids are then tied into an elaborate and classy knot that sits well at the nape of the neck. This is an elegant and sophisticated style that is perfect for black tie events.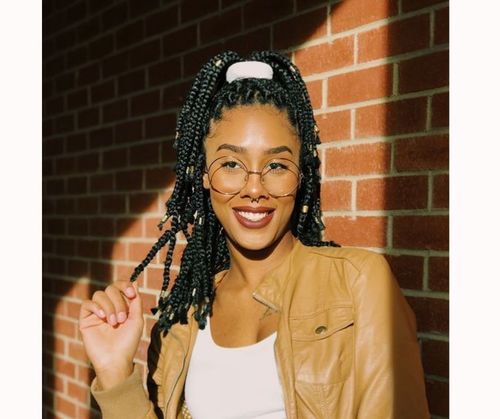 51. Chic Half Up Half Down Box Braids
This is another example of box braids with layers. The different lengths of the layers add a stylish factor to this hairstyle which is brought forth when the box braids in the front are tied into a high pony. The golden beads and the huge white donut add a fun yet sporty twist to this style.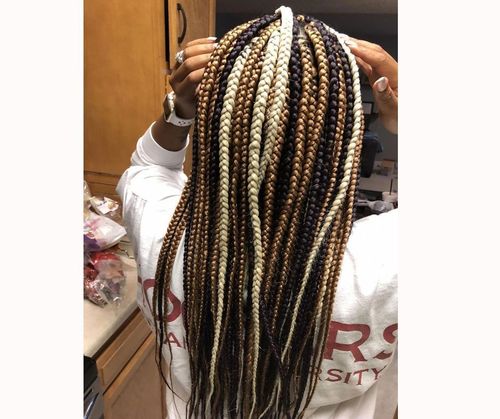 52. Three Toned Medium Box Braids
This is a popular style of box braids this year. The medium box braids come not in one, but three different colors—black, brown and platinum blonde. You would usually think of an ombre or a Balayage style but what makes this hairstyle different is the use of colors from the roots to the end. The impeccable contrast is the selling point here.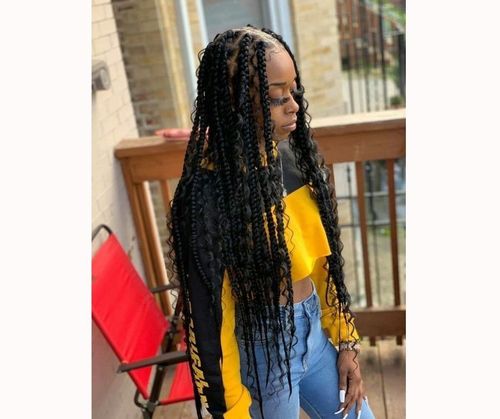 53. Bohemian Box Braids
Bohemian braids look exquisite but here is an example that takes the exquisite beauty of bohemian box braids to the next level. Instead of leaving curls at the end, this hairstyle leaves a strand of curls along with the box braids. This makes to be a heavenly style that we fell in love with immediately.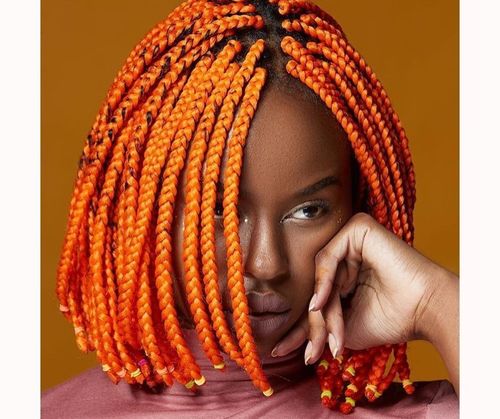 54. Hair Like The Sun
This is a beautiful example of box braids with color. The bright orange hue makes it look as if you are looking at the sunset. This style is complemented with the yellow and pink colored rubber bands used to tie up the end of box braids to complete the whole sunny vibe.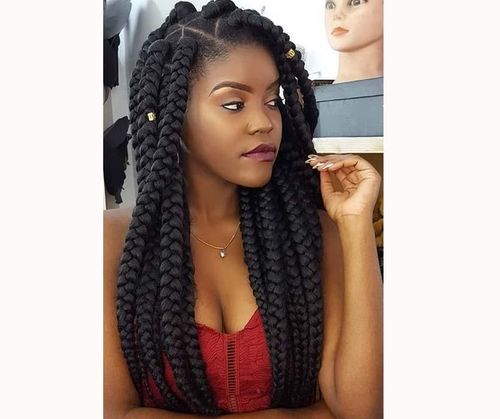 55. Jumbo Box Braids With Triangles
This is yet another classic example of jumbo box braids. What makes this hairstyle different is the triangular hair divisions. You don't have to worry about accessorizing your jumbo box braids as you can still very much do that with beads. You won't be able to fit in a complete box braid into a bead but you can attach it to one single strand.
Frequently Asked Questions
Q. What are box braids?
Box braids are braids as the name suggests with box-like hair divisions and is a popular part of the African culture.
Q. How much does box braids cost?
Box braids can cost anywhere between $150 and $300 depending on the desired style, length, stylist and location of your salon.
Q. How much time does it take to make box braids?
The time taken depends upon your stylist as well as the style you chose. But, on average it takes four to eight hours to get the process done.
Q. Are box braids bad for hair?
Box braids are seen as a hairstyle that protects the hair against daily wear and tear and other environmental stressors. However, too tight braids can lead to hair breakage. Your braids should not pull at your scalp and should not feel painful.
Q. Which is the best gel for box braids?
The best gel for box braids is the one that is water-based as it would provide a better hold and shine to the braids without making them look stiff.