25 Stunning Business Haircuts With Beard - 2023
Ana Campbell
Updated At 09 Jan 23
Are you for hair inspiration to find the best business haircut with beard? if yes, then we have got you covered!
Typical business haircuts range from extremely short crew cuts, low fade cuts to slightly longer styles like the Ivy League or traditional tapered haircuts. However, when it comes to finding the perfect combination between the business haircut and the beard, it becomes tricky. Men's business haircut which goes well with the beard is not very easy as there are so many options available. We list the 25 best business haircuts with beard which have been trending this year. Lets Begin!
25 Best Business Haircuts With Beard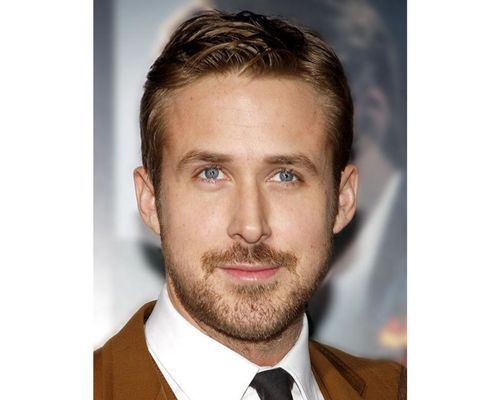 1. Ivy League Haircut With Beard
One of the best business haircuts with beard is Ivy League. You can choose the Ivy League cut if you prefer the crew cut look but want a bit more length at the top. It is typically worn with a side part, which is one of its most distinguishing characteristics.
The Ivy League has a taper that gives the style a sense of cleanliness, just like the traditional taper haircut. Additionally, it's a lovely low-maintenance cut that's perfect for hectic weekday mornings. You can get ready quickly while maintaining a polished hairstyle for the workplace.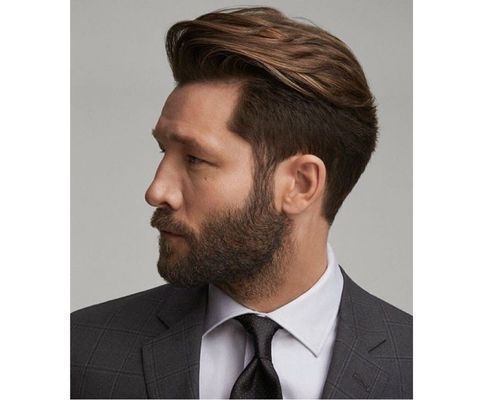 2. Medium Thick Hair with Undercut
If you like the current undercut hairstyle but are unsure about trying it due to workplace restrictions, this is the one for you. Just be careful not to undercut the core, lengthier area of hair too much when cutting the sides and back.
The longer hair in the middle needs to be combed backward and clipped in layers. Only if you are born with a thick mane will the style work.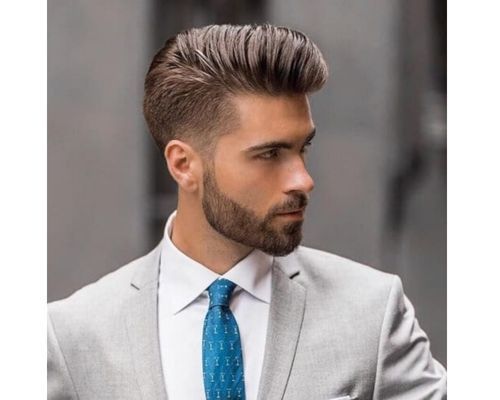 3. Tapered Haircut
Another stunning option if you are looking for the top business haircuts with beard is the tapered haircut. You can wear the fundamental style or play around with it to create your own. Pair it with the right business attire and you are bound to attract a lot of attention!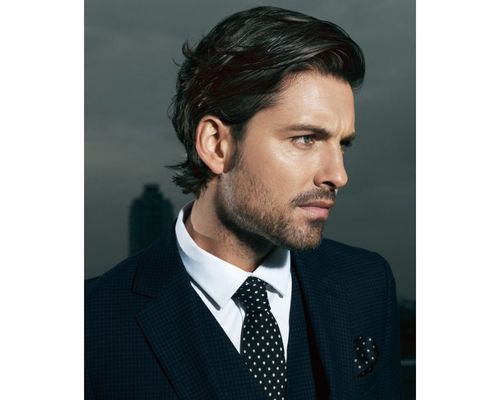 4. Medium Back Swept Haircut
One of the best business haircuts with beard is medium back swept haircut and this is apt for men with medium length hair. In contrast to the other hairstyles, this one does not require a visible parting.
To finish the style, the hair only needs to be brushed backward. Both men with straight hair and those with curly hair can try it, and it will look great on both.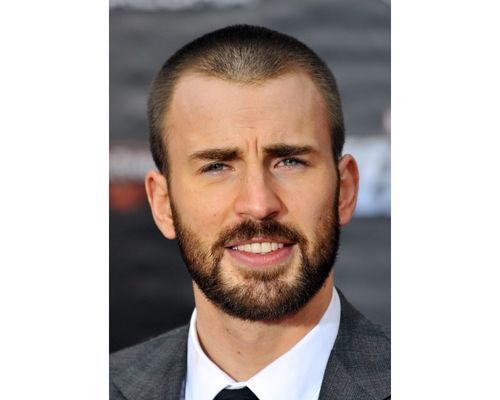 5. Stylish Butch Cut
The traditional butch cut doesn't have to be a plain appearance. While keeping it professional, give it some personality and raise the bar. It is considered as the best hairstyle for beard man.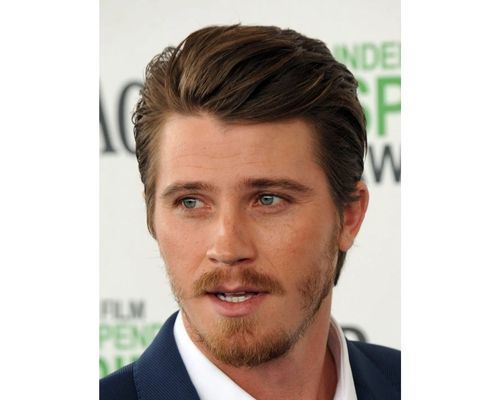 6. Tousled Quiff
Even while most quiffs are neat, they are not have to be. It looks excellent to tousle a quiff until it is elegantly unkempt. It is considered as the best haircut with french beard.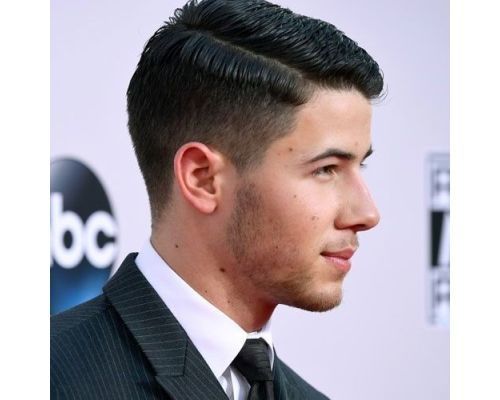 7. Nick Jonas's Stylish Business Haircut With Beard
Nick Jonas's signature hairstyle and beard combination look stunning. This understated, traditional haircut is centred on a narrow, undetectable side part. The hair is given the ideal amount of mobility and direction which makes it look very elegant and stylish. One of the top business haircuts with beard, this one suits anyone with short to medium hair.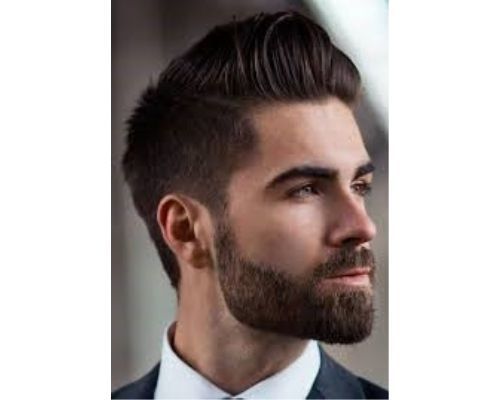 8. Short Pompadour Business Haircut
The eighth business haircut with beard is Short Pompadour. Pompadour is so well-liked by males because it offers several benefits. First, it is a haircut that can be worn with ease from the office to after-work events. Second, it looks fantastic on everyone, regardless of age. Because it is for the office, you should keep this pompadour simple. Therefore, this hairstyle shouldn't have an undercut or fade; instead, just go for a simple puffed-up appearance.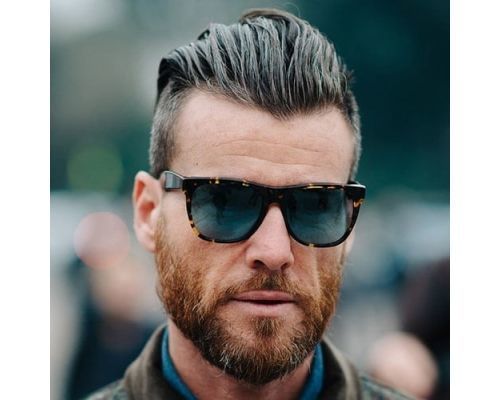 9. Slicked Back Look
Almost never has the slicked-back look been out of style. One of the best men's haircuts for medium long hair, this haircut is a result of the excellent balance between simplicity and flair that it achieves.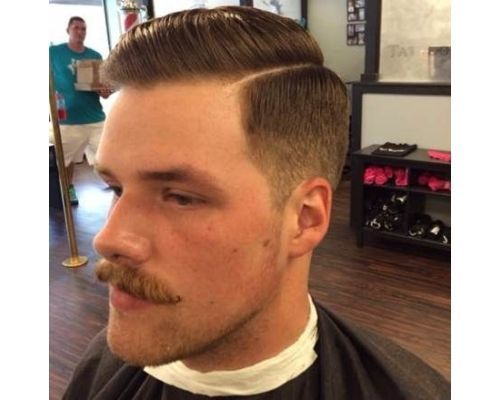 10. Vintage Side Parted Haircut With Beard
The second business haircut with beard is Vintage Side Part Hairstyle. This is the look that will give you a particularly dapper and elegant appearance. Make a part in your hair on the right side, and gently brush both sides. This design has been popular among guys for a very long time since it provides a very dashing style that is always well-liked. With all of your suits and coats, you can pull this one off and it will look fantastic.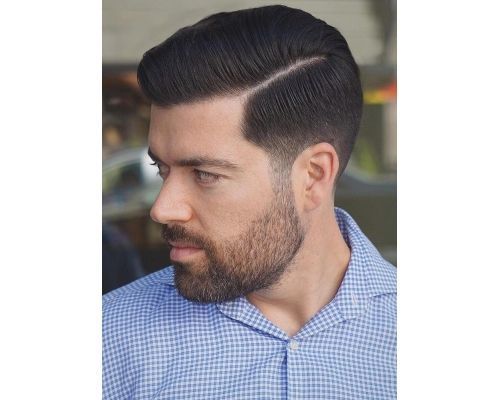 11. Side Styled Medium Business Cut
The fifth business haircut with beard is Side-Styled Medium Business Cut. This business-appropriate haircut combines a side-swept look with layered styling. Consider this style if you prefer traditional undercuts but want something a little different.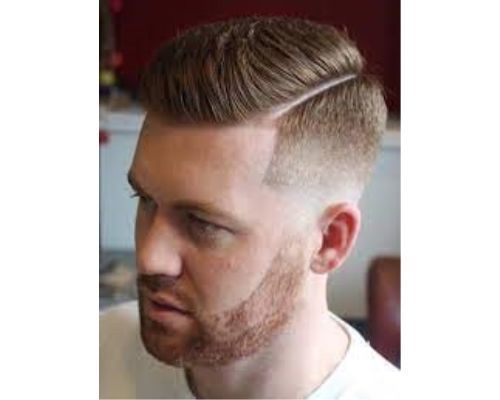 12. Short Side Part Blonde Hairstyle
The sixth business haircut with beard is Short Side Part Blonde Hairstyle. Ryan Gosling, a well-known actor from the movie Holly, who is the heartthrob of millions, has experimented with this trendy hairstyle. Therefore, regardless of whether you like the star, you should try this style because of how stylish it is. It is developed just for all the males with blonde hair out there. While not exactly at the middle of the head, the parting is here close to it. For this one, the hair should be cut short.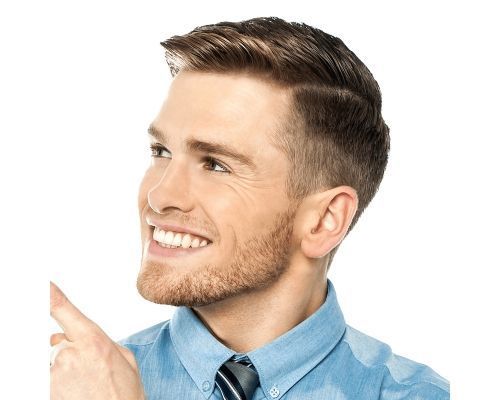 13. Classic Tapered Haircut
Try a traditional taper cut if you prefer to keep your hair simple and short. With this standard of the barbershop, you can't go wrong.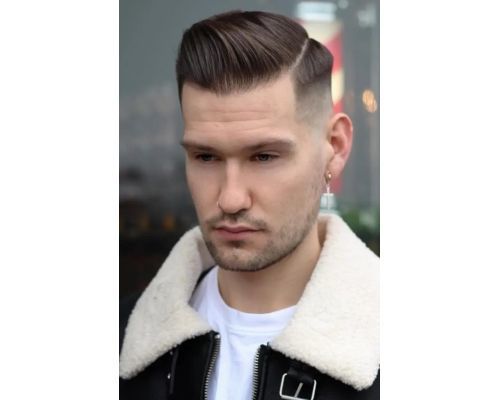 14. Dapper Side Part
Looking for a hairstyle that requires less upkeep but still exudes style? Yes, this is the place where your search ends. Start by keeping the sides of your hair extremely short to mimic a fade haircut. Second, before combing your hair back, create a part on the left side and puff it up. For this one, be careful to use a fine-toothed comb. It is considered as the best hairstyle for beard man.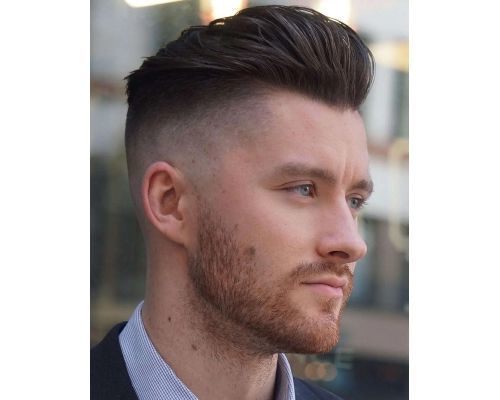 15. Classic Undercut
Most of our lists include the undercut, and for good reason. One of the most popular trends nowadays is still this one. The undercut in this image has marginally longer sides than the norm, giving it a broader appearance.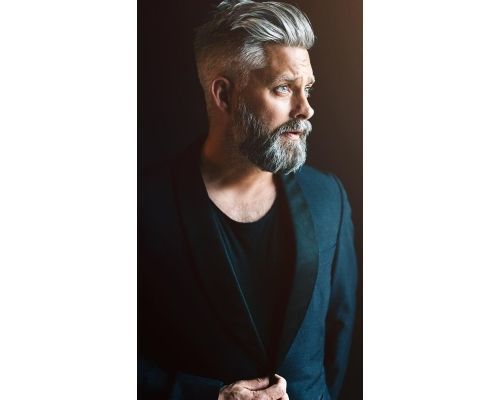 16. Grey Hair Short Haircut With Beard
The constant stress of work causes many men to prematurely grey their hair, thus grey hair is no longer a sign of ageing. However, you shouldn't worry because the salt-and-pepper style is always trendy. Cut your hair short and comb it thoroughly without splitting it. To complete this look, grow a thick beard. The perfect appearance for a man with experience and class is this. It is considered as the best haircut with french beard.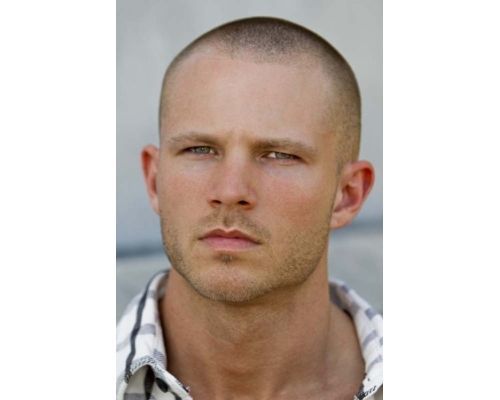 17. Induction Cut
The induction cut has evolved from a military custom to a distinct fashion trend. It's a wonderful option for men who want their hair very short but don't want to shave their heads entirely.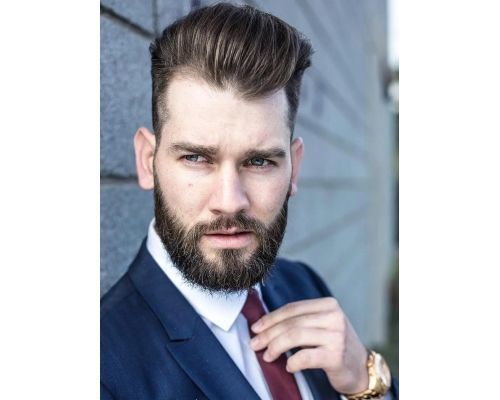 18. Natural Loose Slick Back
Try this one for the upcoming major workplace party, and you will undoubtedly receive many comments from everyone. The major selling point of this look is how effortless and natural it appears to be. You only need to casually sweep your hair back for this. Use a thick-toothed comb and avoid using excessive pressure when combing your hair in this style. It looks best haircut with big beard.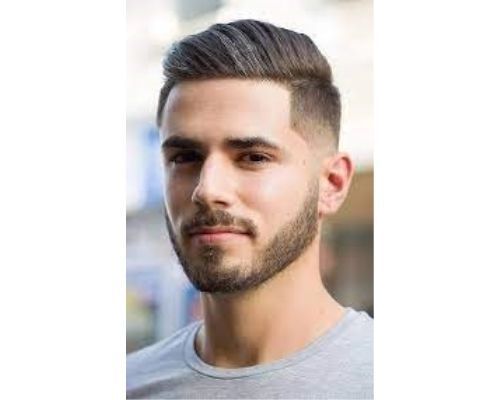 19. Comb Over
Despite their unfavourable reputation, comb-overs can actually be fashionable. A nice comb-over is ideal for adding movement, whether you're trying to hide hair thinning or simply want a new look.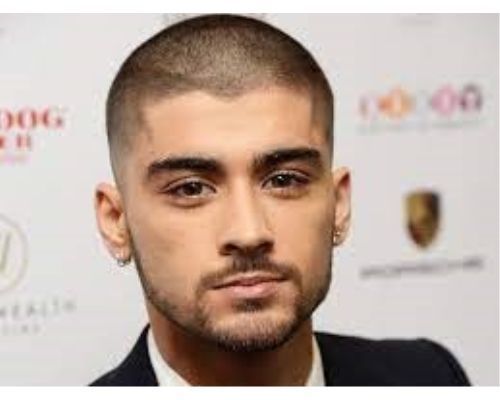 20. Crewcut And Minimal Beard
Do you frequently scurry to make it to the office? Do not have a lot of time in the morning to arrange your hair? Get this hairdo, which solves all of those issues and makes you seem incredibly stylish. To set the look for the day, simply comb your hair. You can choose this hairdo as your daily look. You just need a little beard to match it.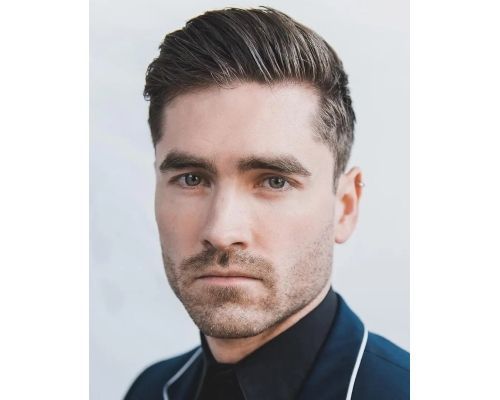 21. Classic Cut With High Volume
Professional hairstyles need not be extremely brief. With a style like this, you may let your hair grow while maintaining a professional appearance. It still follows the standard business cut, but with a little more volume.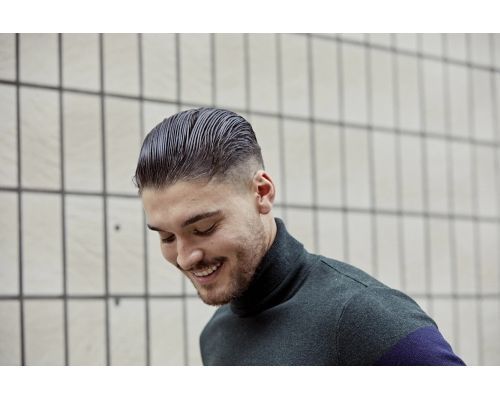 22. Slicked Back Disconnected Undercut
For guys with thin or fine hair who want to let it grow out a little, this version of the disconnected undercut is fantastic. While the top is brushed straight back, the sides remain sleek and tidy.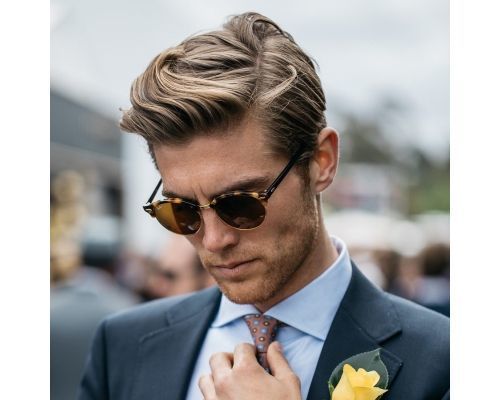 23. Natural Medium Side Parted Hair
It is the preferred hairdo for males with medium-length dark or brunette hair. To give your hair more volume and texture, get it trimmed in layers. Make a part in one side, then brush it thoroughly. It has an extremely classy, sophisticated appearance that is ideal for an office setting. Prepare to receive compliments on your sense of style with this outfit.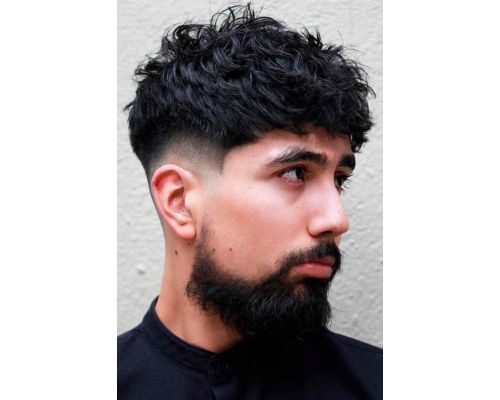 24. Wavy Hair
The natural wave in your hair can shine through while yet being under control with a medium length haircut like this one. Wavy hair can appear difficult to manage. It looks best haircut with big beard.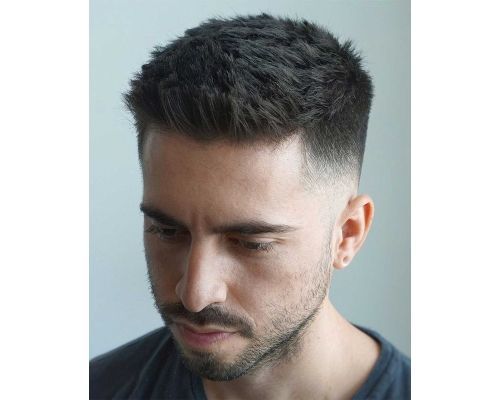 25. Short Quiff With Low Fade
One of the most modern business hairstyles for guys, it gives them a handsome and beautiful appearance. For people with a rectangular facial shape, this short quiff with a low side fade is the ideal choice.