16 Best Balayage Hairstyles For Black And Brown Hair – 2023
Tanumita Mishra
Updated At 01 Jan 23
Are you looking for the best balayage for black hair?
The hair coloring technique is definitely not something new to girls all around the globe. But, the balayage lets you sport variety of colors and numerous customized hairstyles like balayage lob, black to brown balayage and reverse balayage.
Balayage is the French hair coloring technique in which you get your hair colored with the help of hand instead of common traditional methods of using foil. This free-hand application of dye on hair helps you get an entirely natural and contemporary appearance.
So, coloring hair is now more fun and classy than it has ever been. Balayage is rapidly becoming more popular among women worldwide. It makes use of various dark and light tones for balayage on black hair, for balayage hair blonde and brown balayage for brunettes, creating a blended, natural or sunkissed glimmer. So girls, check out the list given below of top 16 balayage hairstyles for your black and brown hair types. This also includes the best balayage for black hair.
16 Top Balayage Hairstyles For Black And Brown Hair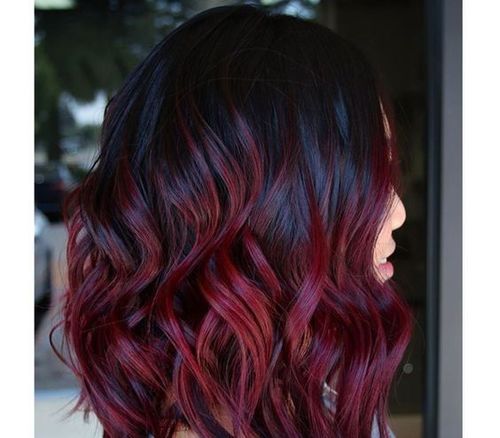 1. Burgundy Red Highlighted Balayage
For your black hair, go for these burgundy red highlights. The natural black color of hair blends in with the red to give it a wine fine shade to give you an amazingly bold look. This goes well with women having medium to olive skin tones. The loose and smooth curls in burgundy red shade turn out to be incredibly noticeable. This style giving concentrated tresses with uniform dimension throughout is in vogue and becoming highly popular among girls who are looking for trending hair ideas. If you are looking for inspiration for red balayage on black hair then dont look any further.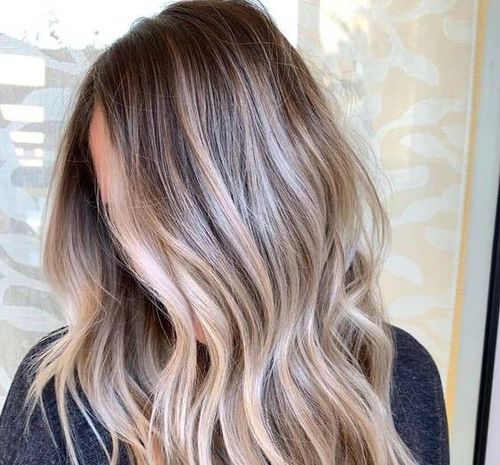 2. The Light Brown Balayage
If willing to flaunt something different this summer, then try this out! For all the women who have long and brown hair, this balayage brown hair is going to be the most perfect one. Apart from that, it's definitely not going to disappoint women with short hair. It suits them well too. The brown hair no longer remains boring or dull especially for professionals who want a refined look for their everyday hairstyles. Along with balayage, you can also check the best french braid hairstyles to get a hair makeover!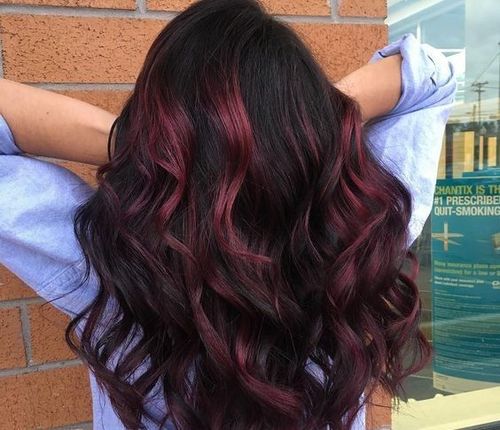 3. That Deep Crimson Red
Be the head turner with this intense orange undertone. One of the best balayage on black hair, crimson red highlights spreading from roots in layers totally blended with the black hair of yours give you a stunning look indeed. This one's going to be an awesome choice for those longing for bold, warm colors. The intense and vibrant look of crimson highlights on your natural black is sure to drive everyone crazy!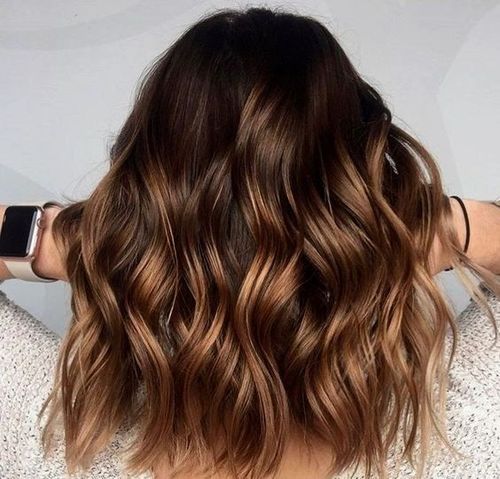 4. Brown To Caramel Balayage
One of the best balayage for brunettes, this classic soft balayage brown hair with a caramel shade looks gorgeous. One of the best balayage highlights, the shades give out a totally natural look to the one-dimensional brown hair. This one is great for short as well as medium haircuts but continues to be refreshing even when your hair grows. You can style your tresses in long beach waves and make sure that the lighter curls look even more dazzling.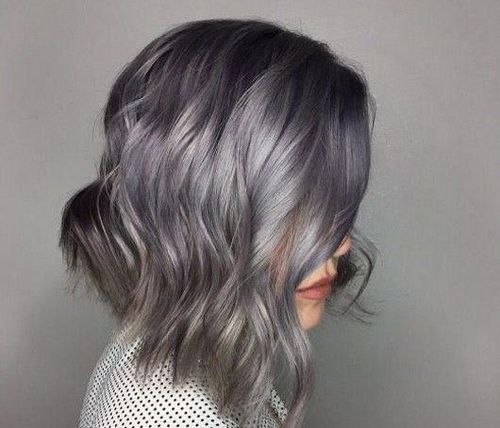 5. Gray Balayage
Another stunning balayage for dark hair is the gray balayage. It hasn't been very long since the trend for gray hair became a much loved one. The beautiful blending of black and charcoal shades on your long and smooth black curls gives you one of the most awesome looks. This one is rapidly being the trendsetter among girls, especially the ones with cool toned skin.
If you have an oval shape, dont forget to check the best hairstyle for oval shape.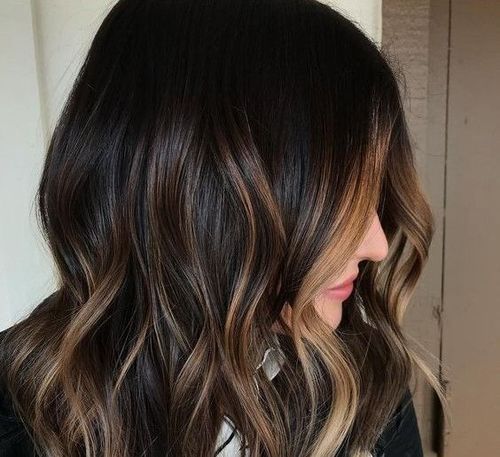 6. Honey Balayage On Black Hair
Any girl with medium or short hair length can opt for this one. You get wonderfully dyed wavy look for your hair, most suitable for an everyday hairstyle. One of the best balayage on dark hair, this suits not only the black hair but also works well with dark brown hair shade.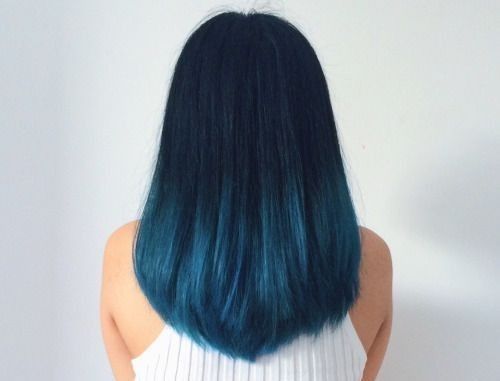 7. Smooth Teal Balayage On Black Hair
Nothing can be more uniquely bewitching for your look than this balayage on black hair. It blends in a phenomenal teal with your long black hair to make it look exceptionally gorgeous all around the year. So girls, try this one out for and watch the sparks fly!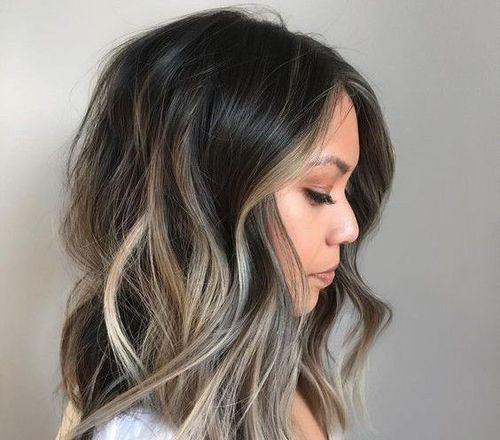 8. Ash Blonde Balayage For Black Hair
This style lets the blonde balayage fade in very softly on black hair making it all the more classy and glamorous. The blonde shade sweeps in so well with the gray tones that the tresses look so perfectly woven together.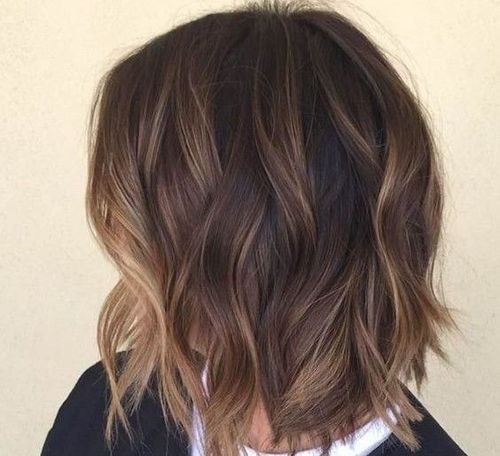 9. Balayage On Brown Hair
For your Asian black bob, pick this chestnut brown bob balayage which gives you an amazingly glamorous everyday look. One of the short trendy hairstyles, this is elegant and the most appropriate if you're to add a slight shimmer to your look.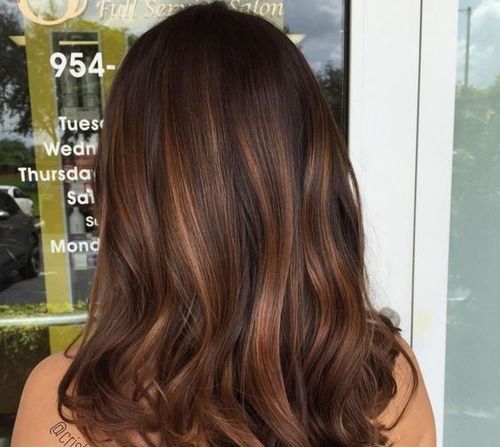 10. Hazelnut Mocha Balayage
The chocolate tones smoothly swept in the hazelnut highlights to attractively style the black and brown hair of women. This balayage brown hair gives a perfect look of freshly brewed mocha, something that is sure to catch eyeballs once you're done with it!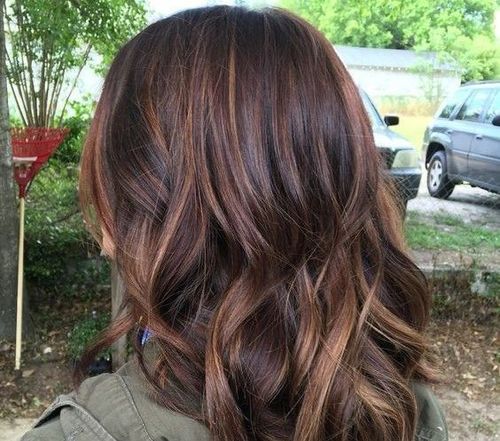 11. Balayage On Brown Hair For Medium Length Hair
If you have medium sized brown hair, then give it a chic hair finishing by bringing a light color toward the face and gradually lightening the choppy layered tips. All young ladies with medium hair can opt for light brown balayage or Chocolate brown balayage to transform their look.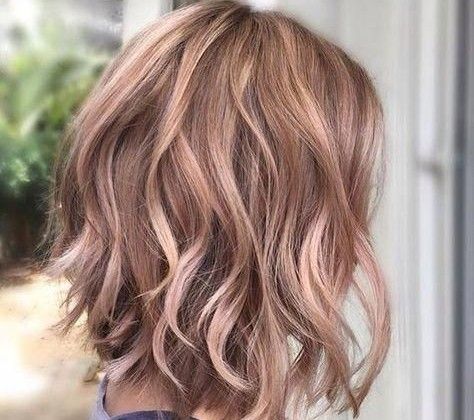 12. Rose Gold Balayage
A rose gold balayage gives slightly warm tint to your black hair. The rich shade lets you go bold with the rose gold shade gorgeously blended. You can even blend your rose gold balayage with the copper shades, for a more dramatic look.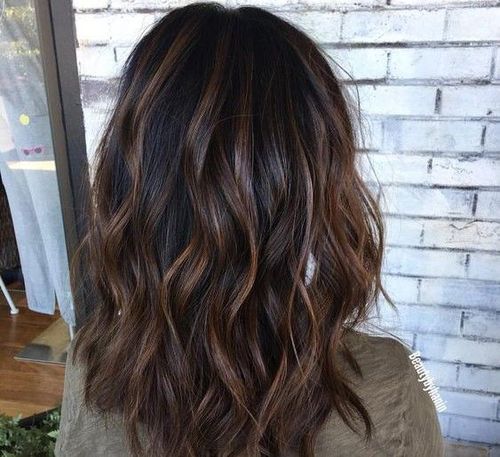 13. Balayage On Brown Hair

For all the women who have medium length hair blend the natural black with a brown roast. The shades mix in smoothly displaying a caffeinated style, something similar to that of roasted coffee beans! The smooth and wavy look is amazingly attractive.
Also Read: 25 Best Braided Hairstyles For Short And Long Hair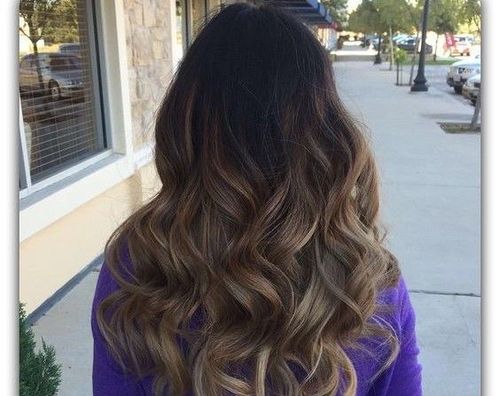 14. Long Brunette With Soft Highlights
This one's indeed one of the coolest balayage styles that adds a spark to your look. You get a lot of colored lines harmonizing well with your long dark brown hair. It freshens up the look completely.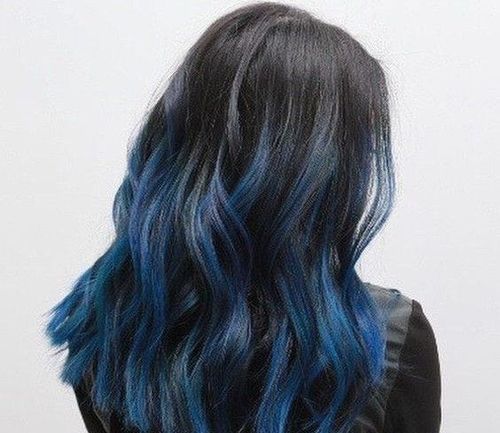 15. Blue And Green Balayage Hair
Get a rich texture of blue and gray array of shades in your black hair. So, this is like experimenting with your hair and letting this balayage style capture all the attention. Your long tresses look more gorgeous and graceful with the blue and green color streaks. Black hair balayage with shades of blue and green looks gorgeous and attractive.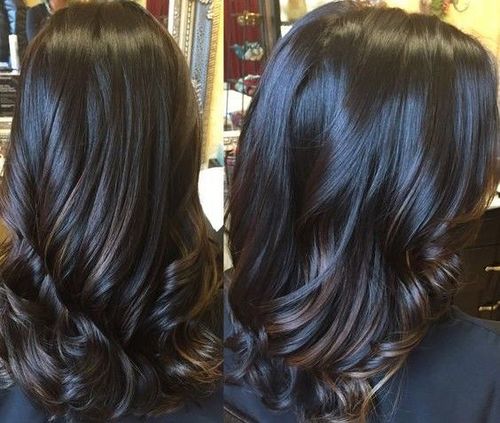 16. Chocolate and Dark Brown Balayage
With the soft brown hair, this chocolate and dark brown balayage goes really well. The ladies having medium-length wavy layered cuts can settle for this one. It adds a medium brown balayage color, keeping your natural shade unaffected and giving it a naturally soft and silky effect. Balayage on dark brown hair really looks attractive and helps to transform the look completely.

So all the lovelies out there get ready for a glamorous transformation of your hair that might seem boring to you! Do not miss out to tell us in the comment section below that which balayage shades suit you the most and how have they taken your look to the whole new.
Related Articles