51 Stunning Faux Hawk (Fohawk) Fade Haircuts For Men - 2023
Shalu Bhati
Updated At 31 Jan 23
Are you interested in the latest trending haircuts for men? You have come to the right place! Keep scrolling for the latest fohawk fade haircuts.
You must have heard about the Mohawk – the crazy punk haircut that men have sported for years now. It was a particular favorite of the rock and metal fans. It grew even more popular once David Beckham started sporting it out on the football field. And today we are here with its subtle and sophisticated sibling, the faux hawk, or as it is commonly called the fohawk haircut.
Fohawk gets its name from being the false mohawk. It has become one of the trendiest haircuts for men in recent years as it is stylish and allows you to get all creative with what you can do with your sides. One of the most common and popular styles to go with a fohawk is a fade. So, you can easily take your overall style up a notch with a fohawk fade haircut. This way, you get the best of both worlds. And we are more than ready to throw some really good and inspiring ideas your way. Here we have 51 stylish faux hawk fade haircuts for men to set things in motion.
Let's get started!
51 Best Fohawk Fade Haircuts For Men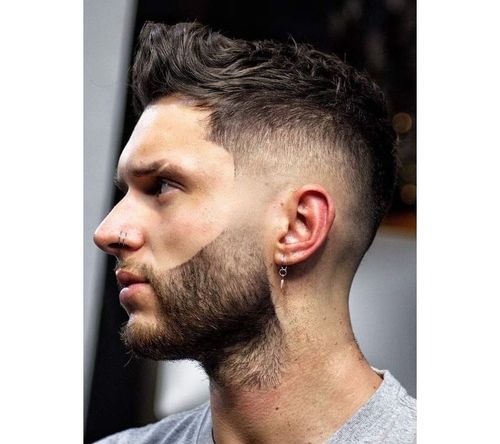 1. Popular Fohawk Fade Haircut
This is a textured fohawk fade that looks brilliant with a beard and has cool punk rock vibes without going over the top.
If you are looking to feature among the 'cut crew men' then do check out the Best Crew Cut haircuts for men.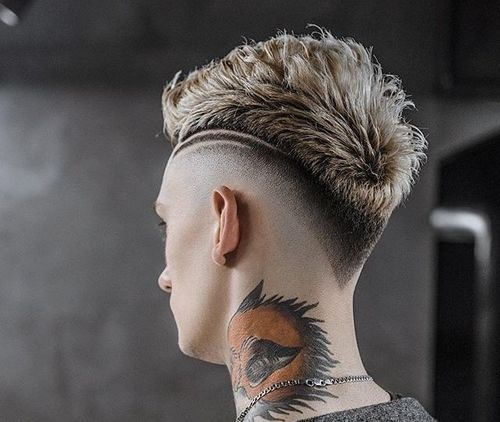 2. Prim And Proper Fohawk Haircut
Here is a cool fohawk fade haircut for you. It is an edgy take on the classic style with the two disconnected lines and the fade that takes a V shape at the back. Moreover, it is the blonde on top and dark roots underneath that truly bring an edgy vibe.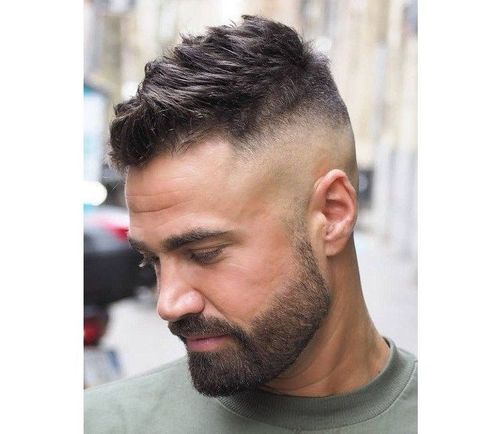 3. Short Fohawk Fade
A fohawk fade short hairstyle suits almost everyone making it one of the most favored options when it comes to haircuts for men. It is easy to style and manage while also looking stylish. What more you could ask for.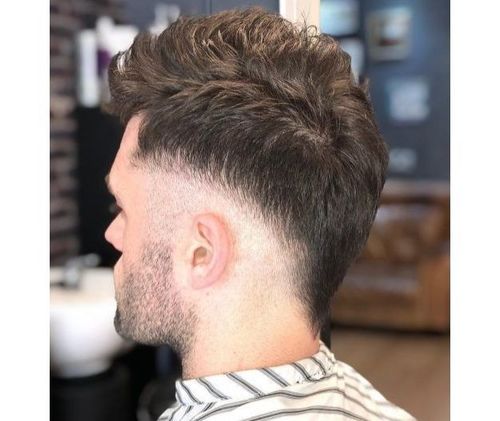 4. Fohawk Fade Haircut
It's super fun and cool take on the classic fohawk fade. With soft volume on top and a V-shaped cut on the back, this faux fade with a temple fade is surely an attention grabber.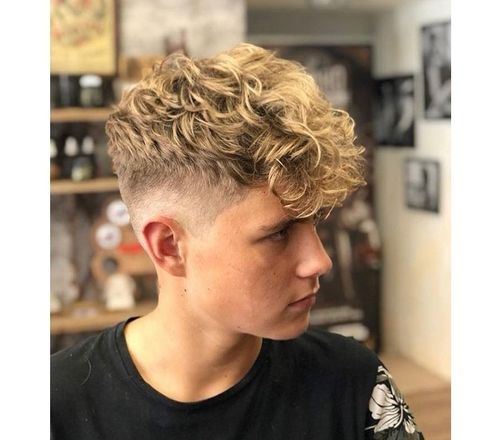 5. Blonde And Curly Fohawk Fade
Fohawk fade curly hair seems very fair to us. Take a look at it yourself and see what a statement you too can make if you go for a similar haircut.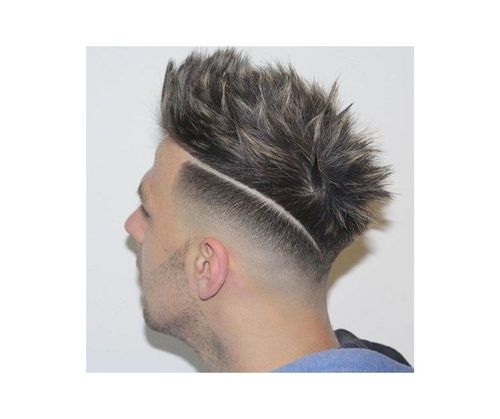 6. Fohawk Haircut With Shaved Line
Fohawk fade is famous but a fohawk fade with a disconnected line is even more famous. The grey spiky top complements the edgy vibe of this haircut.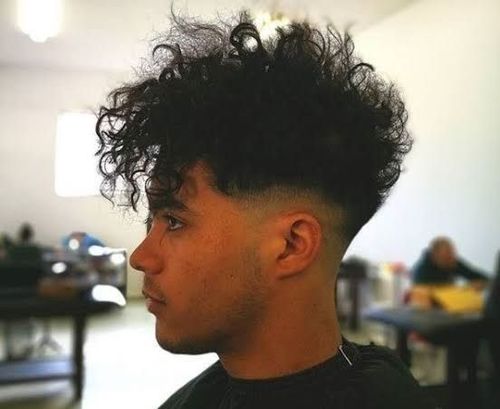 7. Fohawk Fade Curly Hair
Here is a fohawk fade black curls special. Manage your curly hair while also flaunting them this season with this faux hawk haircut. It takes the necessary volume off the sides to keep you cool while keeps the volume stacked up top.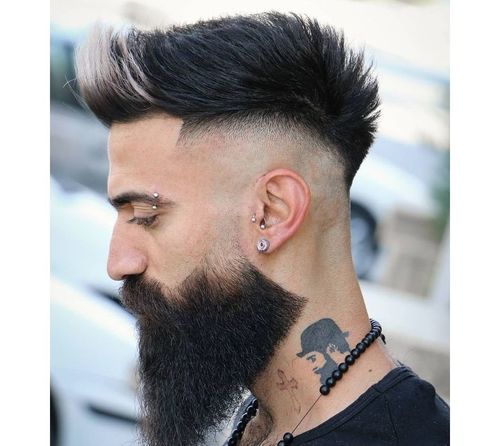 8. Fohawk Fade With Beard
This fohawk fade haircut is special. It would be your typical fade haircut if it was not for the stylized beard and the dyed tip of the hawk.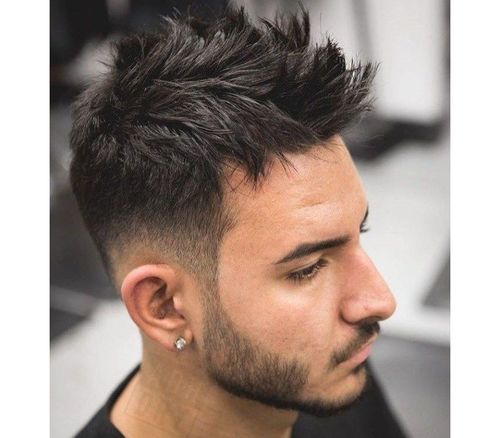 9. Fohawk Haircut With Soft Spikes
We bring to you an easy-to-style and manage faux hawk haircut with a low fade. The soft spikes complete the look to give carefree vibes.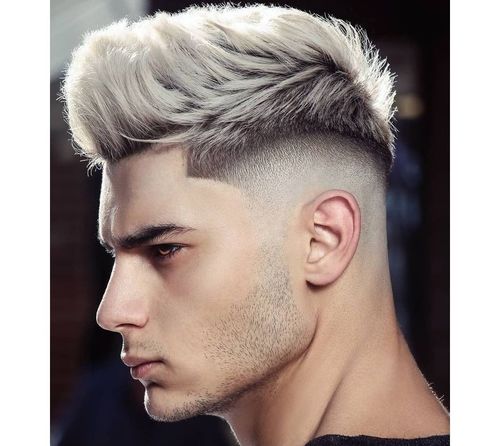 10. Fohawk Fade In Platinum Blonde
Embrace your inner punk with this platinum blonde fohawk fade. It is a great option for those with thick and voluminous hair. This style will take the weight off your head while looking super cool.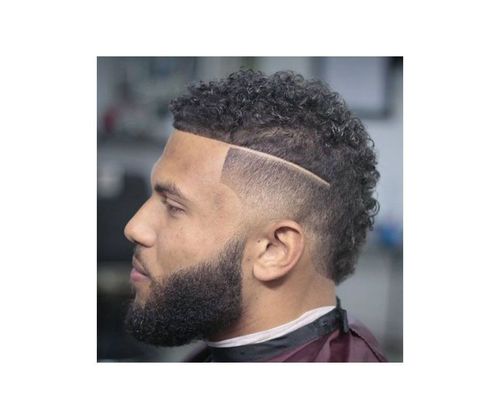 11. Fohawk Fade Black
Faux hawk black man styles deserve a special column owing to the versatility of the cuts that can be done on the Black hair. We especially love this curly fohawk fade with a disconnected line. It is something that you don't see every day.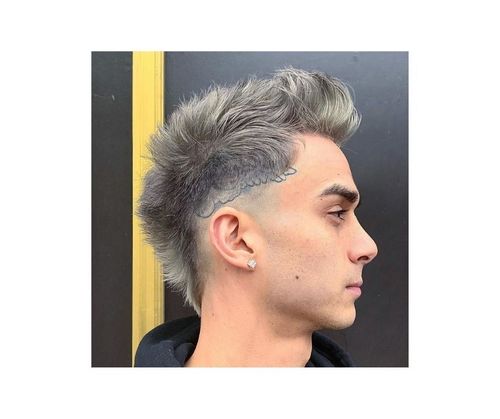 12. Funky Fohawk Haircut
Here is an easy-breezy fohawk fade style that gives the rock chic vibes and we are here for it!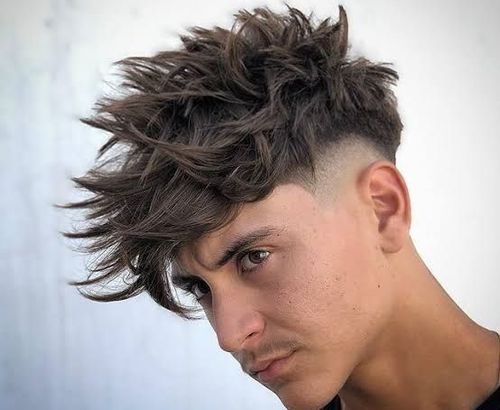 13. Long And Spiky Fohawk Fade
Take things up a notch with this impressive fohawk haircut with a low fade but very high spikes. If you want to make a statement with your hair, then this is the haircut for you.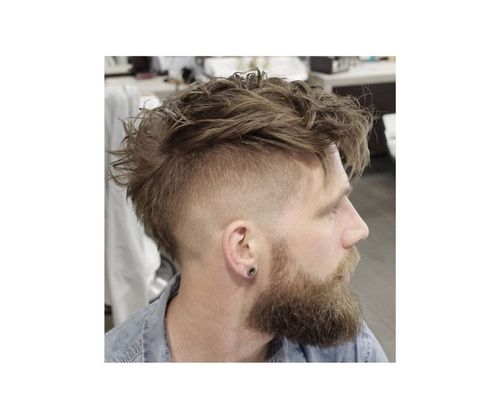 14. Fohawk Haircut With High Fade
That one brilliant thing about a faux hawk is that it gives you the freedom to experiment and be creative. This means you can choose how your hawk will look. And we totally love this textured and tousled faux hawk with a high fade.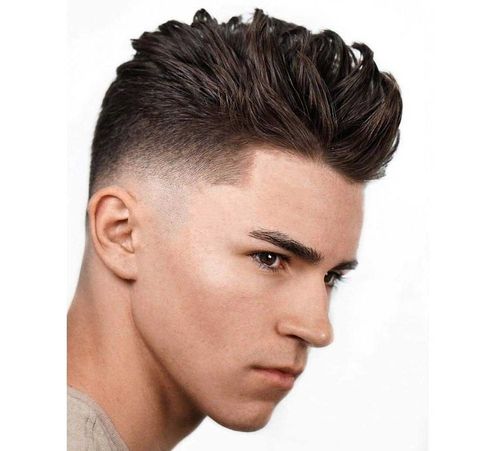 15. Sophisticated Fohawk Fade Haircut
Have you ever seen a haircut that is cool and sophisticated at the same time? Well, now you have. This gelled faux hawk holds up hair in place to give a prim and proper sophisticated look.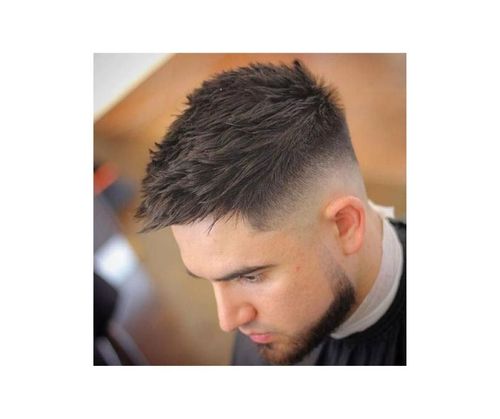 16. Spiky And Short Fohawk
A short fohawk fade is a good option for beginners. The size of the hawk in this particular haircut makes it even more desirable to beginners. The spikes are just there for the subtle drama because everyone needs a little bit of it.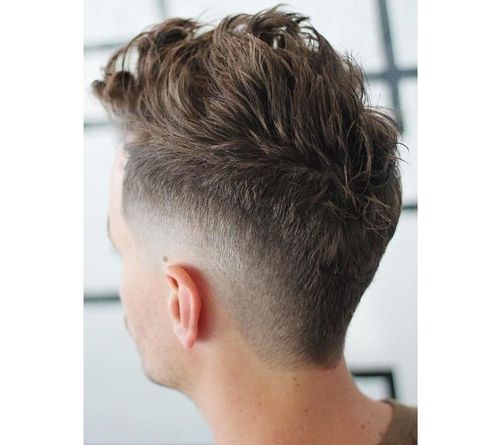 17. Super Fun Fohawk Haircut
Make things fun and relaxed with this tousled and textured fohawk with the volume on top and a taper fade to the sides.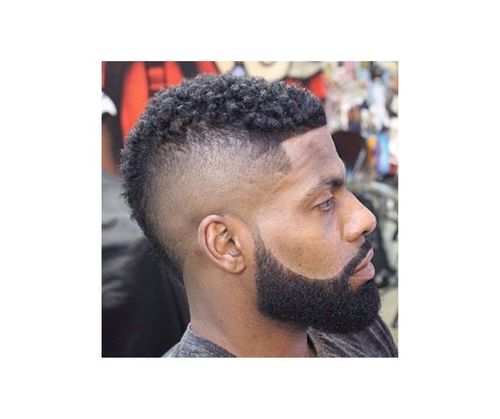 18. Faux Hawk Black Man
Short fohawk looks entirely different on black hair and we are loving it. The curly texture just brings about a whole new dimension to the fohawk fade haircut.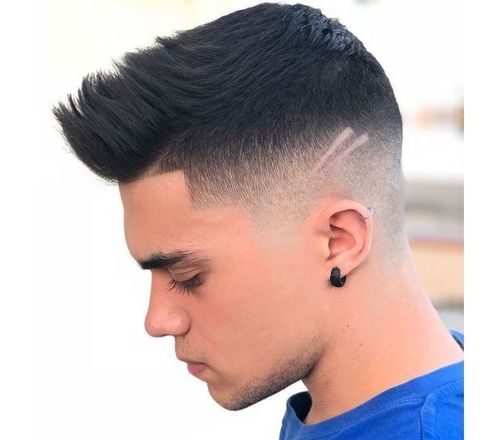 19. Trendy Fohawk Fade
This is a classic fohawk fade. It is a simple haircut but presents an easy unique style with the two small disconnected lines. Go have your subtle statement fun with this one.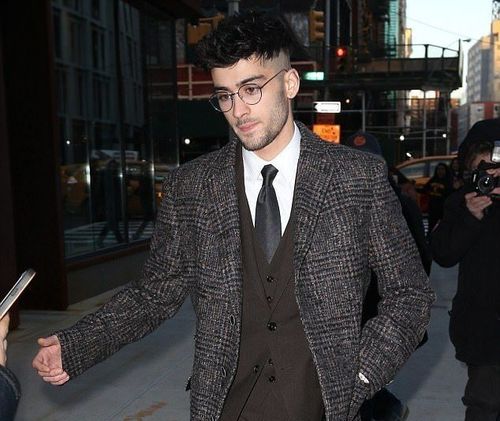 20. Zayn Malik Fohawk Haircut
We all love Zayn Malik, don't we? And it is then obvious that we also love all of his beautiful hairstyles. Here is one of our favorite which is, you guessed it right, a fohawk fade. The tousled curly volume up top and a bald fade on the sides is enough to set our hearts on fire!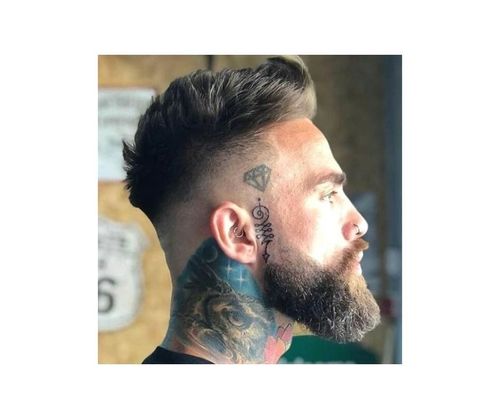 21. Mid Fade Fohawk
This fohawk fade with a beard is super slick and is a great way of showing off your tattoos be it on your face or neck.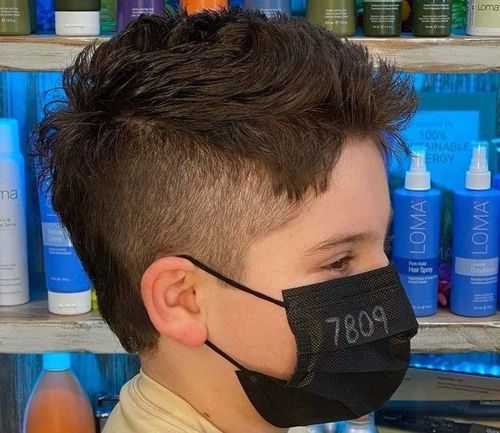 22. Fohawk Fade Kid Edition
Another fun thing about fohawk haircuts is that they are universally flattering and can be done at any age. So, here is a little glimpse of how a fohawk fade will look on a kid. Still very cool without being over the top. The Fohawk fade kid version looks super cute.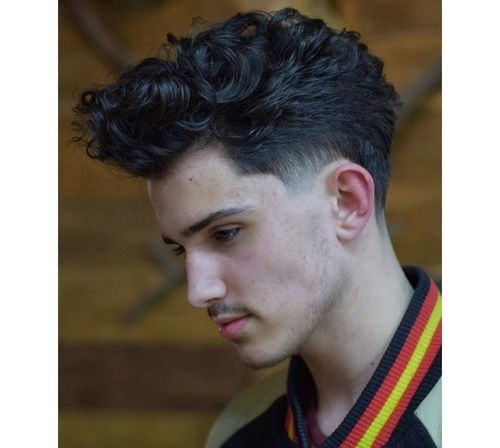 23. Fohawk Fade With Bouncy Curls
Curls look super cute and when combined with a fohawk fade they look even better. This is a fohawk fade curly hair edition that comes with super bouncy curls that add volume at the top. It also has an undercut ending in a low fade.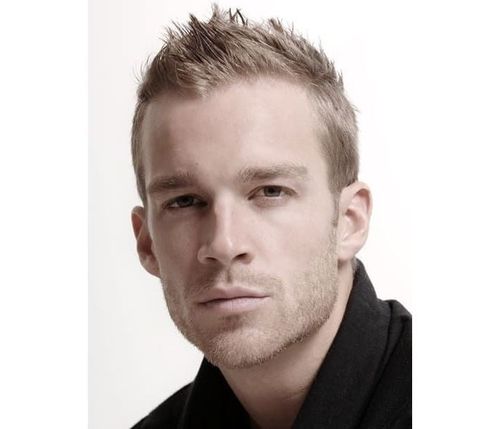 24. Fohawk Fade Short
Fohawk fade for short hair has always been a great option. We present to you another option as inspiration that you can take on your next visit to the salon. This is yet another fohawk fade with an undercut.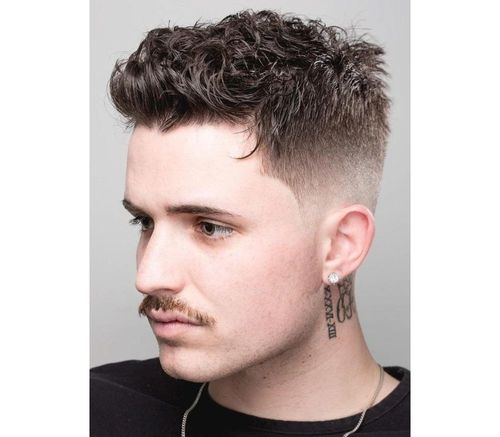 25. Short Curly Fohawk Haircut
Short fohawk with short curls, what a combination does it make! The low taper fade on the sides is perfectly balancing the drama added by the curls and the hawk.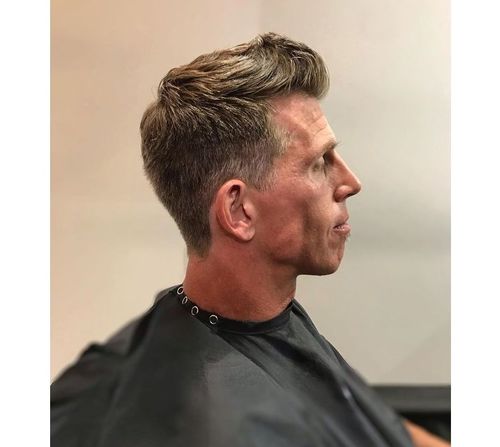 26. Fohawk Haircut With Taper Fade
Want to have fun with your haircut? Then, go for this fohawk fade haircut with a mini pompadour. That's not all. This one also has a taper fade. Basically, it is a haircut that is carrying the best of everything. So, go for it!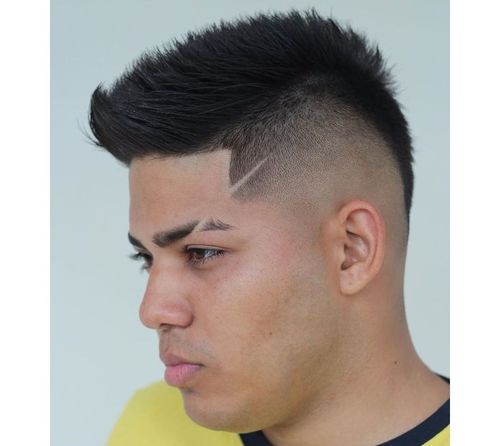 27. Fohawk With A Twist
Fohawk fade is a haircut that already makes a statement but if you want to take it even further then look nowhere but here. This is a super cool and funky take on the style. The disconnected line hits the eyebrow at the same angle completing the look and we are totally loving this take.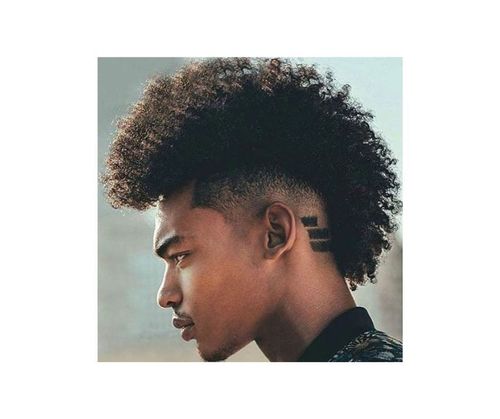 28. Frohawk aka Faux Hawk Black Man With Afro
Faux hawk makes fohawk. But do you know what we call a fohawk when done on an afro? It is a frohawk! And it looks out of this world with its uniqueness.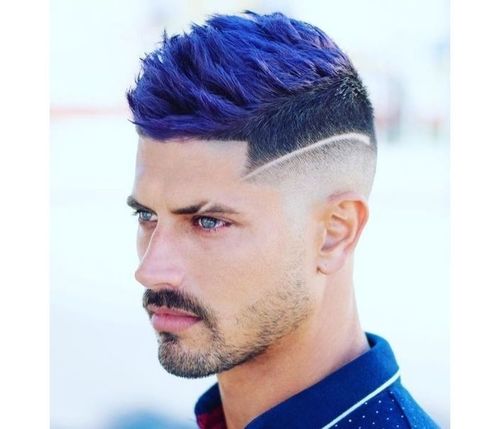 29. Cool Blue
When it comes to a fohawk fade haircut, the sky is the limit. If you can think creatively, you can get a new unique ad creative hairstyle like the one featured here. It's a whole package with a disconnected line extending to the eyebrow. The drama is added by the cool blue hair color that also matches this man's beautiful blue eyes.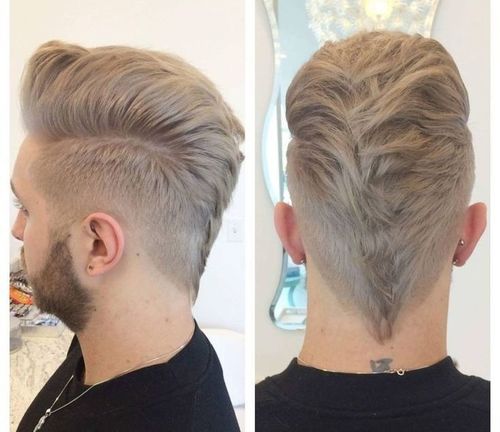 30. All Round Style
Take a look at how a fohawk haircut with a taper fade can look. This textured style has a pompadour in the front and a V-shaped fade in the back that aligns with the shape of the hawk.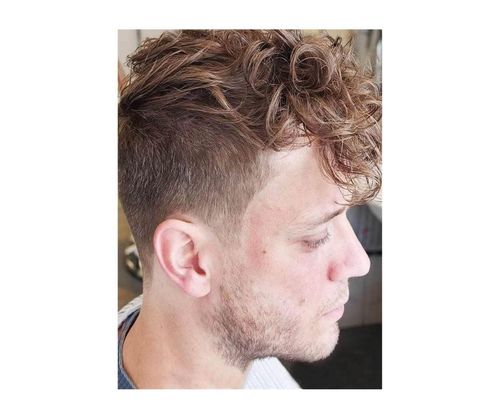 31. Curly Brown Fohawk Fade
This is a more casual fohawk fade curly hair edition that we found and loved. It comes with your usual carefree vibes while looking stylish. It is an easy and unique style that you can manage on the daily.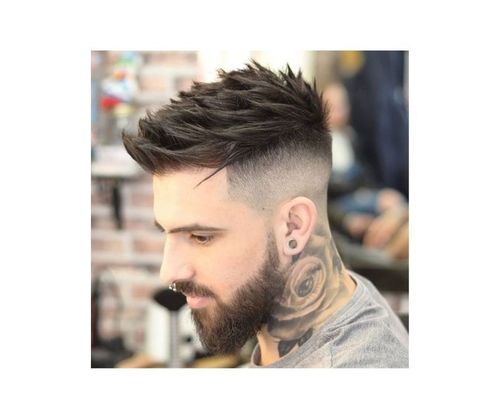 32. Fohawk Fade Haircut With Tattoos
Flaunt your neck tattoos freely with this fohawk fade haircut. It comes with a high fade and has a textured top that creates a sense of volume and adds dimension.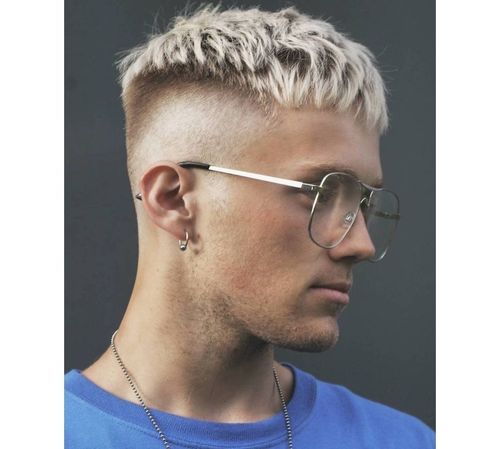 33. Blonde Fohawk Fade With Dark Roots
Here is yet another fohawk fade with punk vibes. What we love about this haircut is how laidback it is and also makes a statement with its blonde top and dark roots.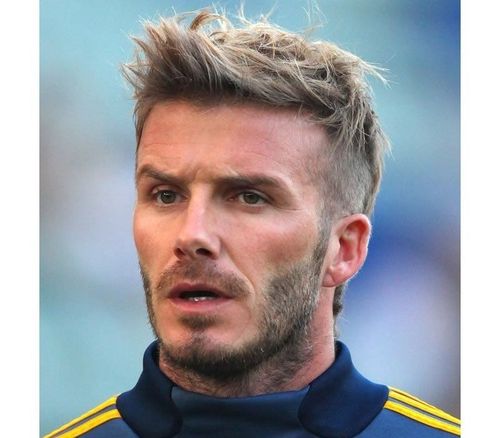 34. David Beckham Fohawk Haircut
David Beckham made the world go crazy with his skills on the football field. He drove many men to the salon to get his iconic Mohawk look. And now it is time to go back to the salon again to get another one of Beckham's iconic haircuts—the textured and tousled fohawk fade.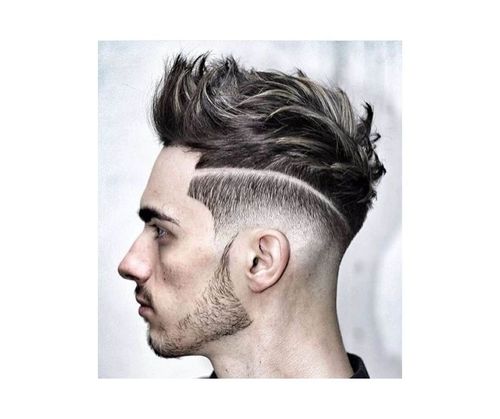 35. Fohawk Fade With Disconnected Line
If going full platinum is not your cup of tea, then you can get subtle platinum blonde highlights at the top of your hawk to add more depth and dimension to your fohawk fade haircut.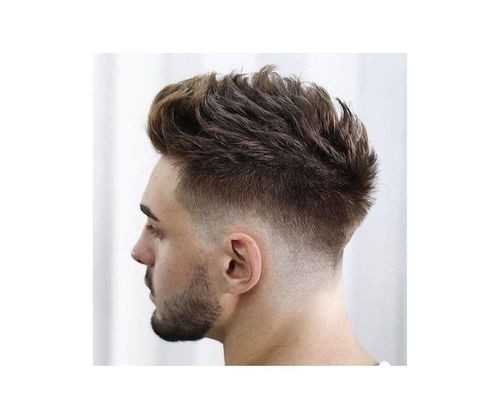 36. Finger Brushed Fohawk
Here is a casual fohawk haircut that we liked. It comes with a low fade and volume at the top.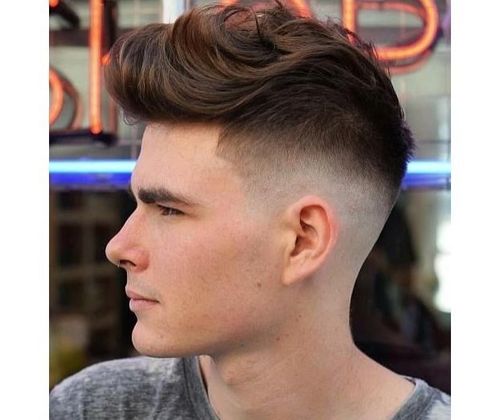 37. Fohawk With Pompadour
Fohawk fade with pompadours is another popular choice amongst men today when it comes to their haircut. And why not? Pompadours have always been a classy look. Combine with a fohawk fade to get the best of both worlds. Go and lock in double the amount of style.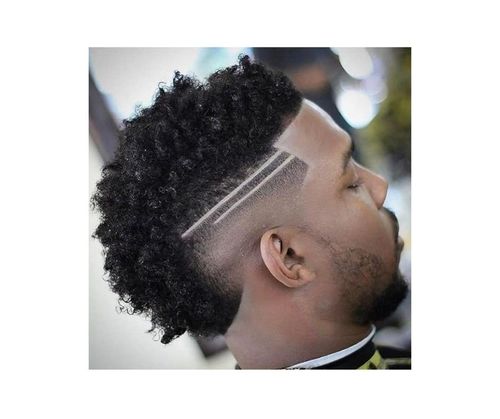 38. Cool Faux Hawk For Black Men
Here is a cool take on the fohawk fade. This faux hawk black man version caught our fancy because of its unique style. The two disconnected lines and the way they complement the hawk is truly something new.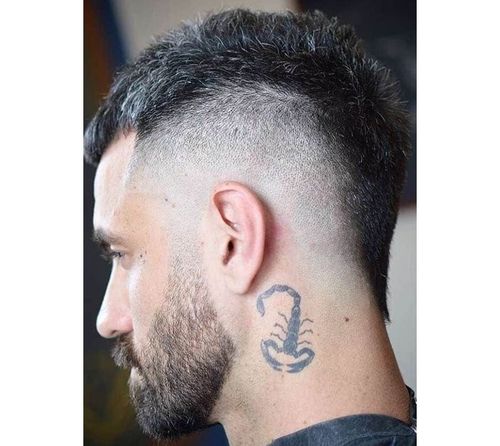 39. Fohawk Haircut With Bald Fade
Here is a full-fledged fohawk haircut but with a bald fade. This is a statement-making haircut with the elongated hawk and the bald fade to the sides. The scorpion tattoo completes the punk vibes. Tattoo or no tattoo, you should still try this haircut out.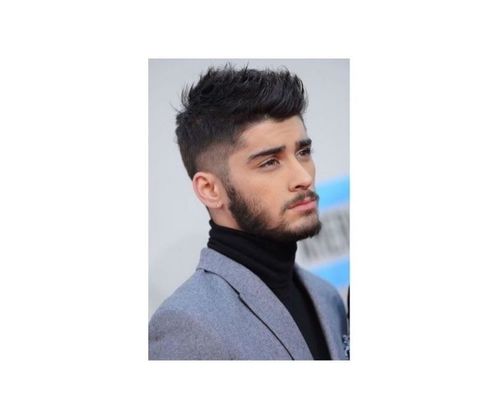 40. Zayn Malik Stylish Fohawk
Yes, yes we cannot get enough of Zayn Malik but hey, don't blame us! We are just trying to bring you the best of inspiration and he happens to be giving some of the best hair inspo out there. This stylish fohawk fade with a beard is surely a stylish attention grabber. So, yes, go for it!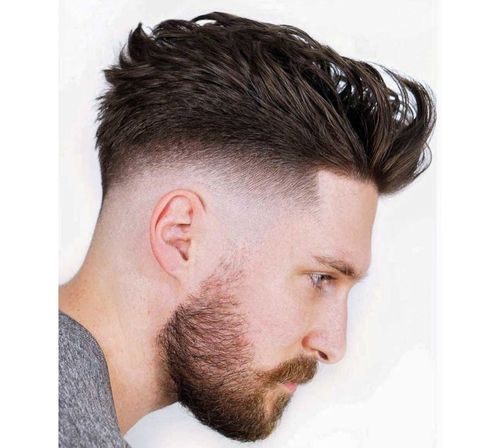 41. Faux Hawk With Temple Fade
Here is another carefree and casual fohawk fade for you. The temple fade complements the finger-brushed hair at the top well.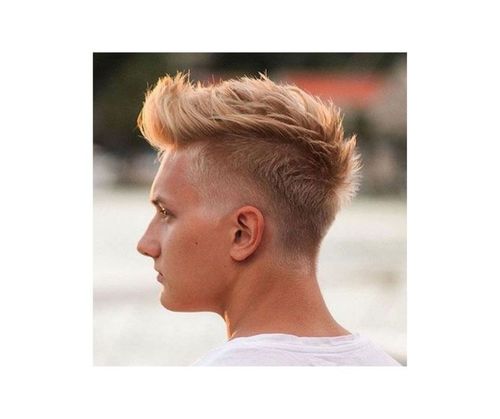 42. Taper Fade On Blonde Hair
Since we are talking about the beauty of fades, let's talk about this wonderful fohawk fade haircut that we found. The quiff in the front, the texture at the top, and the tapered sides, all things come together to make for a super stylish and fun haircut.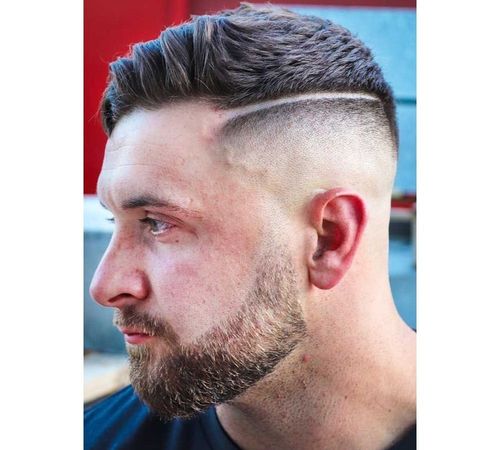 43. Short Fohawk With Disconnected Line
Short faux hawk haircuts have a fan base of their own. And after looking at this fohawk fade, we couldn't help but agree. This is a short side-parted fohawk with a high fade. The disconnected line and the shaved sideburns are other elements that bring the whole look together.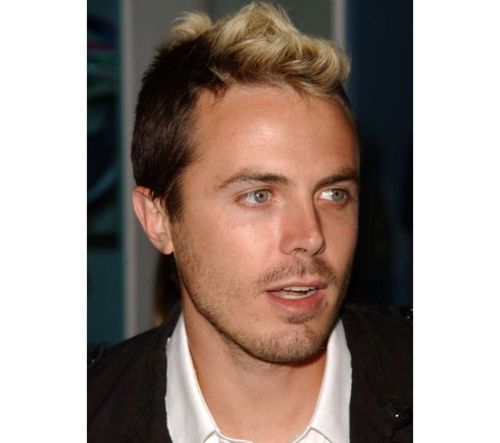 44. Dual Toned Faux Hawk
If you don't want to go all-in with the fohawk fade trend but still want to make a statement, then, this is the right haircut for you. First, it's subtle with a limited volume on top combined with an undercut and taper fade. Second, you can make all the statement you want by coloring the top of your quiff in a strikingly opposite color. Yay for this haircut!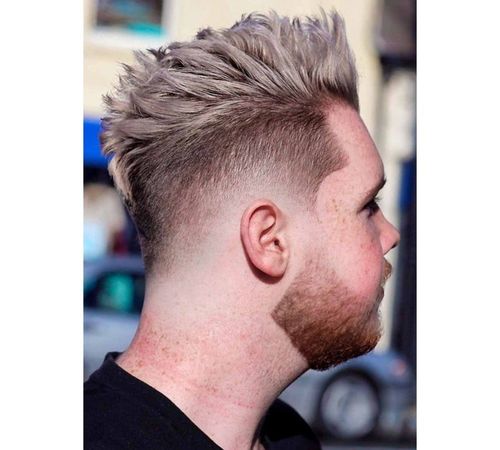 45. Punk Rock Chic
This haircut is like a cute little sibling to its punk rock long and spiky mohawk big brother. But this one is still giving us the punk rock vibes and can be more suitable for your day-to-day life without giving up on your style. The short yet straight spikes are all there making a huge statement that screams punk.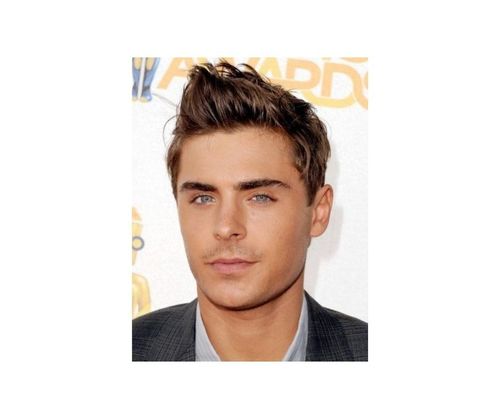 46. Zac Efron Fohawk Haircut With Taper Fade
Zac Efron is yet another celebrity who has been flaunting a fohawk haircut for years now. He also knows how trendy and stylish a fohawk fade can be. So follow Zac's footsteps and get yourself a fohawk fade with an undercut and nice volume up top to make a good spiky quiff.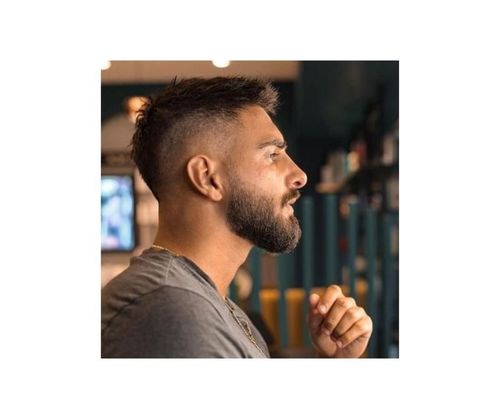 47. Mini Fohawk With Layers
A mini fohawk fade can look very impressive and this picture proves us right. The layers at the top give the hawk a textured look and also add subtle volume despite the lack of length.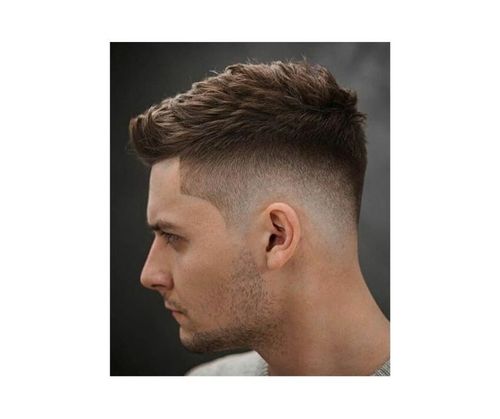 48. Light Brown Faux Hawk
Since we are talking of short fohawk haircuts, let's not just stop there. Let's take it further with this classic version of the fohawk fade. The texture at the top and the small quiff at the front make it a classic yet trendy style.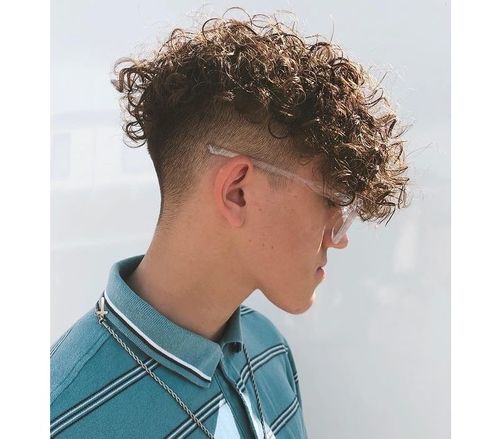 49. Long And Curly Fohawk Fade
Another thing we can't get enough of is curly hairstyles. And if we can find a super gorgeous fohawk fade curly hair edition, then our day is made. So we are going to make your day too by bringing you this amazing fohawk fade with ringlet curls.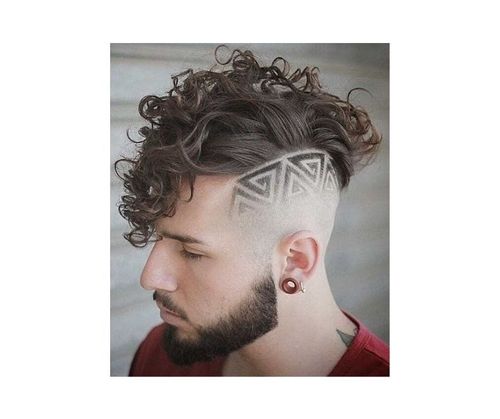 50. Curly Fohawk With Design
Here is yet another curly fohawk fade but it comes with a designer twist. Look at the super cool design made on the side. It surely is a different look than a disconnected line. The free-falling curls and the tousled texture are also a win-win when it comes to the style quotient of this haircut.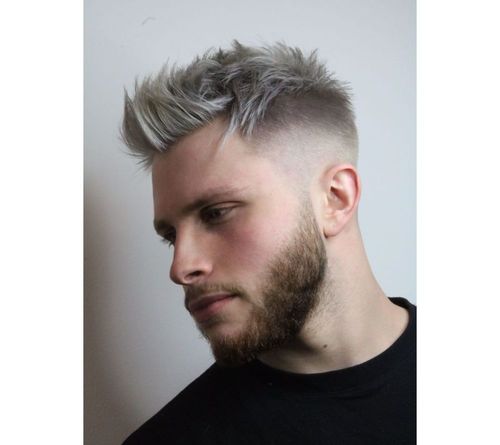 51. Textured Fohawk Fade
This mid fade fohawk is another one of the stylish options for you to choose from. There is enough volume in the front to form a quiff while the hair at the top of the head is textured and tousled to create a messy look.
As we browse through the top fohawk fade haircuts for men for 2023, we provide you ample options to pick the best haircut as per your preferences.