55 Iconic Jane Fonda Hairstyles And Haircuts (with Pictures)
Riya Lisa Ghosh
Updated At 23 Aug 23
When it comes to timeless elegance and iconic style, the name of Jane Fonda shines bright among very few. Throughout her illustrious career spanning decades, Jane Fonda has not only left an indelible mark on the world of acting but has also been a true fashion and beauty icon. From her breakthrough performances in the '60s to her recent endeavours, Jane Fonda has always had a sense of confidence and sophistication that has largely played a role in her hairstyles and haircuts.
She has set trends and inspired generations of women worldwide. In this article, we take you on a journey through 55 of the best Jane Fonda hairstyles and haircuts that have defined her remarkable career, along with spectacular Jane Fonda haircut images, both archival and from the present.
Table of Contents
55 Best Jane Fonda Hairstyles
We cover the best Jane Fonda hairstyles over the years starting from her young days to her present. These include few of her most stylish and popular haircuts, which have been trendsetters as well. Lets take a look at the Jane Fonda haircuts and hairstyles and the evolution of Jane Fonda haircuts over the years.
Jane Fonda Hairstyles Of Younger Days
1. Jane Fonda Bob Hairstyle
Jane Fonda's illustrious journey began with a timeless classic—the bob. This sleek and sophisticated style set the stage for all her future adventures, emphasising on her natural beauty and grace.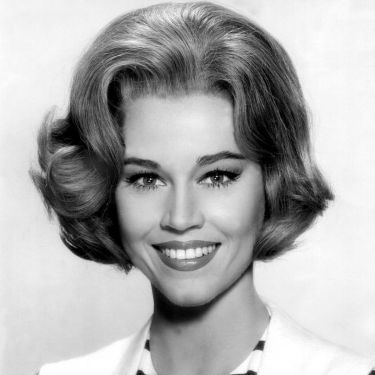 2. Glamorous Waves
Transitioning to the '60s, Fonda embraced glamorous waves that delicately fell around her shoulders. These luscious waves gave out an aura of elegance and charm that became synonymous with the era's Hollywood glamour.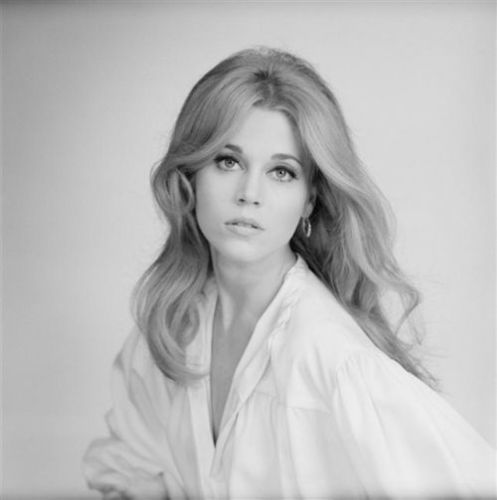 In the pursuit of simplicity, Fonda opted for a sleek centre-parted hairstyle. Embracing a radiance of grace, this striking look highlighted her features and innate radiance. This is a low maintenance hairstyle which will suit almost anyone.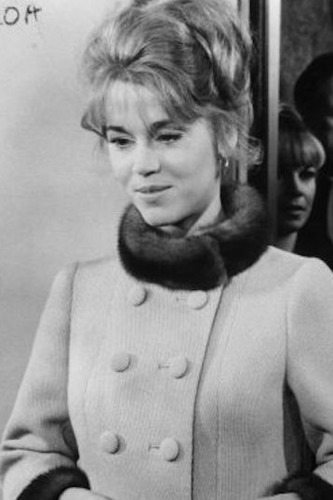 4. Chic Updo
Red carpet events saw Fonda gracefully donning chic updos that added a touch of sophistication to her overall appearance. These updos effortlessly embodied the allure of Hollywood glamour.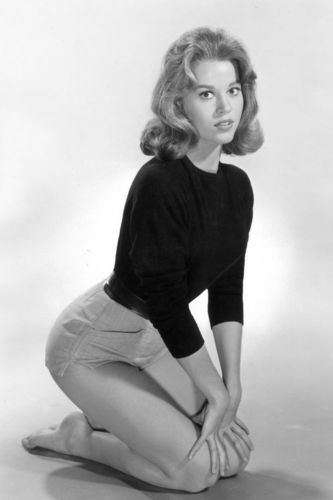 5. Side Swept Curls
The early years wouldn't be complete without the inclusion of side-swept curls. Jane Fonda's signature move of sweeping her curls to one side exuded a hint of mystery and timeless elegance.
Jane Fonda Hairstyles In '70s Shag Era
The 70s shag Jane Fonda hairstyles are a perfect example of embracing beauty with boldness. Take a look at these amazing Jane Fonda hairstyles for your shag haircut inspiration.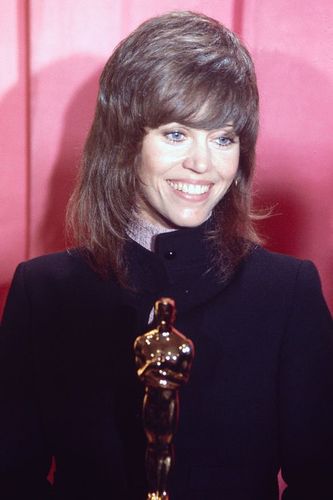 6. Jane Fonda Shag Haircut
This era saw Fonda's iconic shag haircut, a revolutionary style that transformed hair fashion and inspired many from then onwards. The shaggy layers framed her face with a dynamic and carefree charm.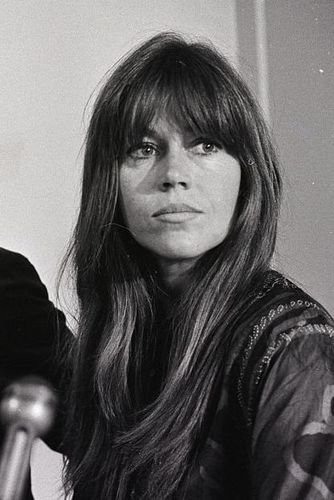 Along with the Bohemian spirit came Fonda's feathered bangs that added a touch of whimsy and playful allure to her look. If you have thin hair, you can try going for this feathered haircut, to add movement and style to your hair. The feathered bangs would frame your face.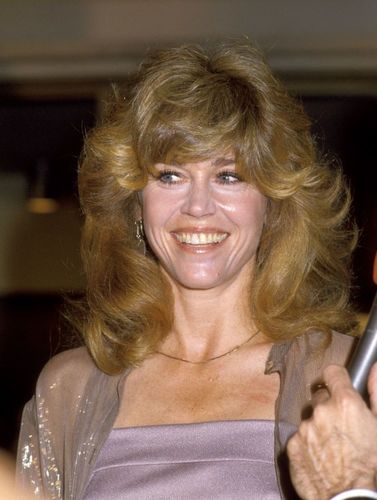 Her shag wasn't complete without the "Fonda Flip" —a playful twist to her hair that added movement and flair to her appearance, echoing the vibrancy of the era. An epitome of the 70s hairstyles, this Jane Fonda flipped haircut is perfect for any hair type.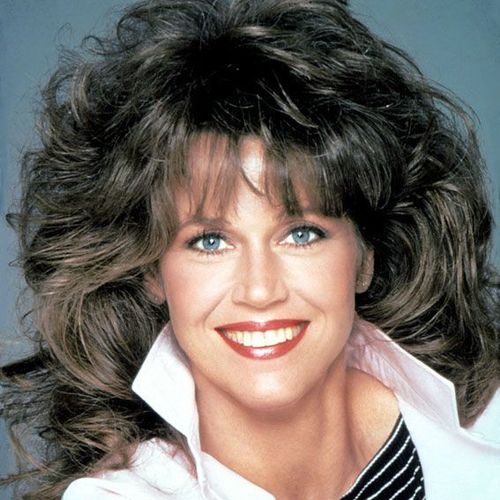 9. Voluminous Shag
Jane Fonda showcased the versatility of the shag with voluminous layers with confidence and a free-spirited attitude, embodying the essence of the '70s. One of the best Jane Fonda shag haircuts, this became extremely popular in the 70's era.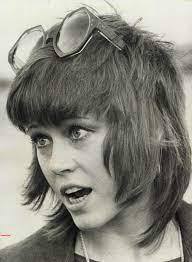 10. Cropped Shag
It was a bold move for Fonda to go for a cropped shag that challenged conventional beauty norms and epitomised her fearless spirit. Jane Fonda shag hairstyles are indeed trendsetters. This is a suitable haircut if you have thin hair and are looking to add volume.
Jane Fonda Bold Hairstyles
Following the Jane Fonda shaggy haircuts era, came a time of short and bold hairstyles. Lets take a look at Jane Fonda's bob haircuts and pixie styles.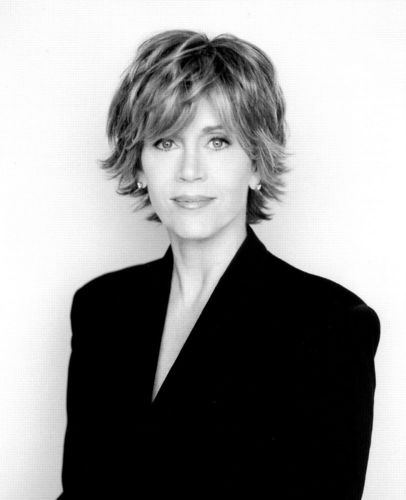 11. Jane Fonda Pixie Cut
In the '80s, Fonda made a splash with her pixie cut—a daring yet graceful choice that accentuated her features and defined her bold personality. For all the women over 50, this haistyle is set to bring a boost in your confidence. If you are looking for Jane Fonda short hairstyles, then this can be the perfect option.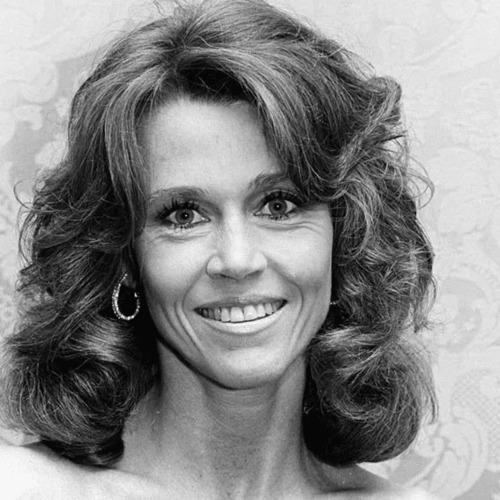 Demonstrating her willingness to adapt, Fonda rocked a curly bob that injected a touch of playfulness into her style, capturing the essence of the era's changing trends. One of the top Jane Fonda bob hairstyles, this hairstyle has been a trendsetter.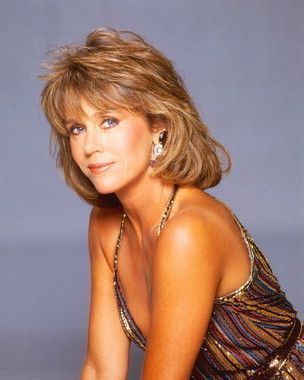 13. Statement Fringe
Fonda's experimentation continued with a statement fringe that accentuated her eyes and added an edgy flair to her overall look, a testament to her evolving taste.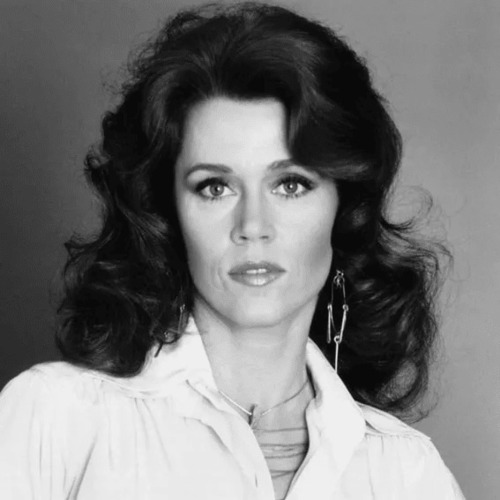 14. Soft Perm
Fonda embraced a soft perm that added volume and movement to her hair, aligning with the trends of the time. With this she entered her experiments with textured hair. If you have thin hair, you may try this hairstyle.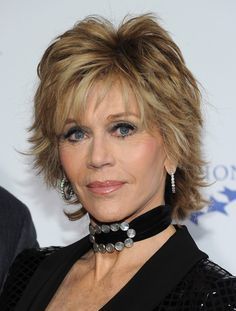 15. Wavy Pixie
Transforming her pixie cut, Fonda introduced waves that infused her look with charm and romance, showcasing her dynamic styling choices. This is suitable for thin hair and is one of the few low maintenance Jane Fonda hairstyles.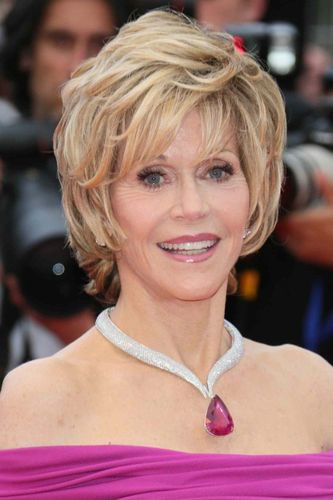 16. Asymmetric Bob
With the boldness of a trailblazer, Fonda donned an asymmetric bob, embracing avant-garde elements while exuding elegance and confidence. If you are looking for jane fonda hairstyles for over 60, then this is an amazing option.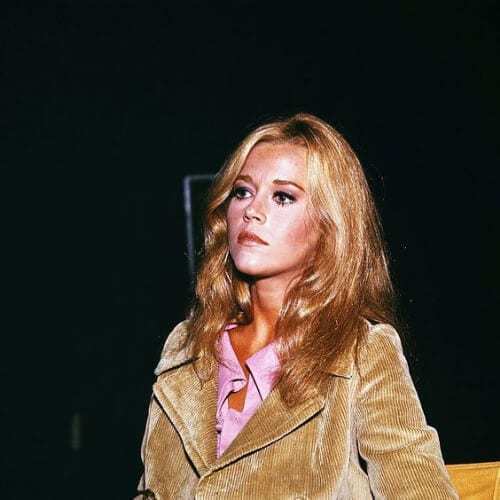 17. Sleek and Straight
The '90s saw Fonda embracing sleek, straight hair that epitomises the era's minimalistic fashion while maintaining her signature poise. Sleek and straight hair is of low maintenance and makes you look elegant without doing much.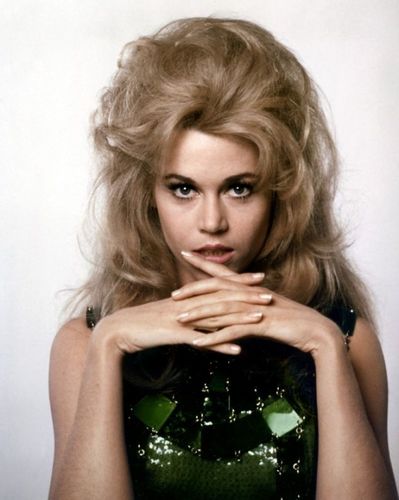 18. Retro Bouffant
Embracing her love for vintage styles, Fonda flaunted a retro bouffant that harkened back to old Hollywood glamour, capturing attention with its timeless appeal.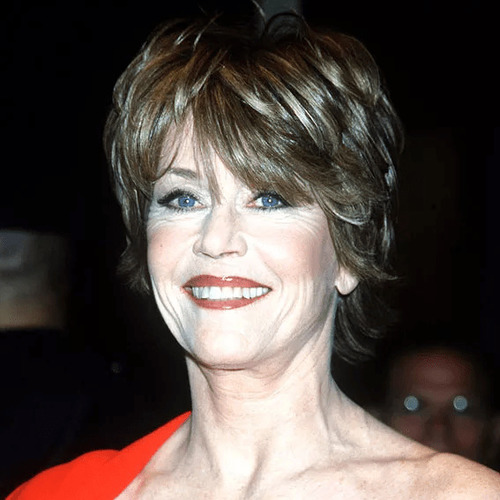 19. Short and Sassy
Her short and sassy styles of this period celebrated her youthful spirit and willingness to push the boundaries of style conventions.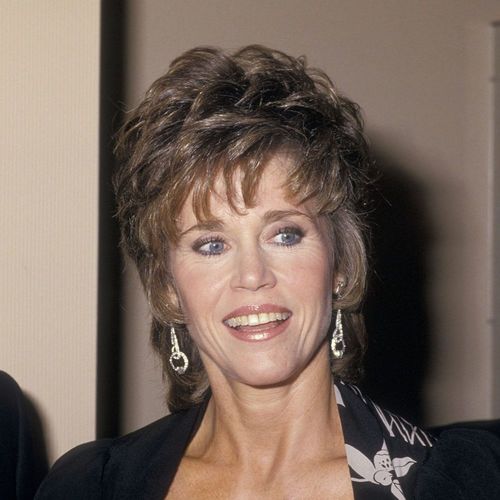 20. Textured Layers
Fonda's affinity for textured layers added movement and depth to her hairstyles, becoming a hallmark of her dynamic fashion journey. If you are looking for Jane Fonda short hairstyles, then this can be an amazing option.
Jane Fonda Grey Hairstyles For Mature Women
Jane Fonda hairstyles took a turn towards maturity and embracing greys. Scroll through the list to find Jane Fonda hairstyles for women over 60.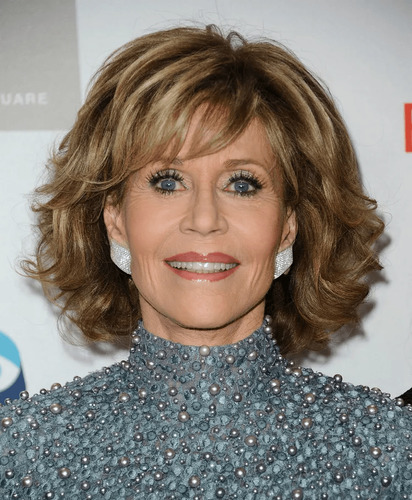 21. Graceful Waves
As Fonda's hair gracefully turned grey, she continued to captivate with waves that celebrated her natural beauty and wisdom, embodying elegance and authenticity.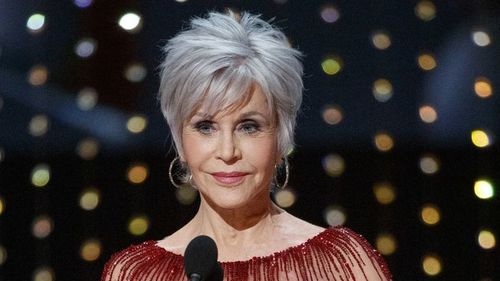 Her pixie cut defied societal expectations and radiated confidence, empowering women to embrace their evolving hair colours with grace.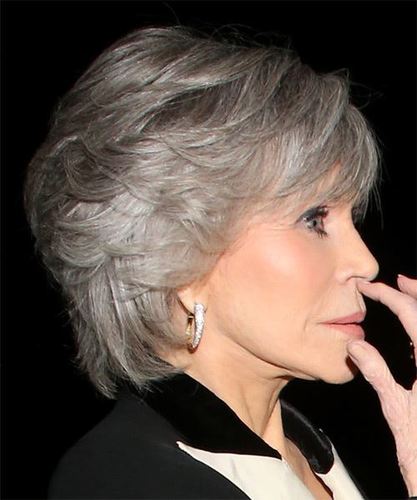 23. Jane Fonda Shag Haircut
Fonda's grey shag became an iconic symbol of her carefree spirit and self-assuredness, embodying her fearless approach to ageing gracefully. If you're thinking of embracing your greys, Jane Fonda is hands down the best inspiration.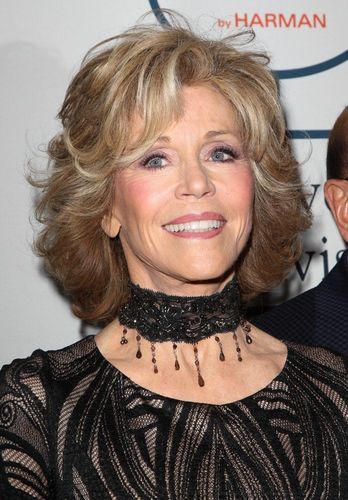 24. Jane Fonda Layered Hairstyles
In the realm of elegant updos, Fonda's silver hair took centre stage, adorning regal hairstyles that epitomised timeless charm. This hairstyle is suitable if you are looking for cuts that add movement and volume to your hair.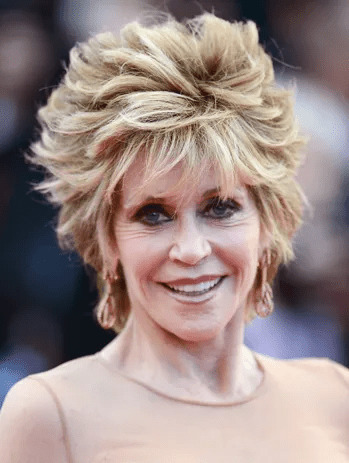 25. Short And Spiky
Proving that age is just a number, Fonda's short and spiky styles showcased her unapologetic spirit and youthful energy. Embrace your 60s with this bold and quirky Jane Fonda hairstyle.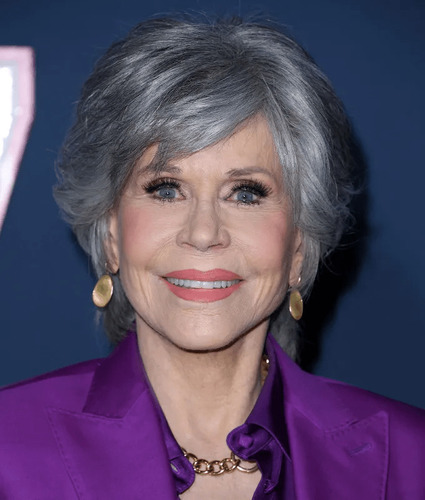 26. Gray Lob
Jane Fonda redefined grey hair as chic with her grey lob, capturing contemporary style while embracing her natural hues. If you are looking for Jane Fonda gray hairstyles which are modern and elegant, then this can work really well.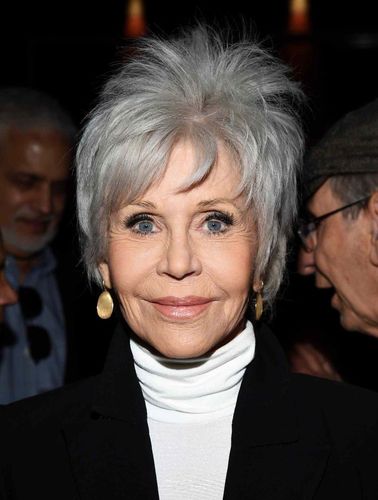 27. Textured Gray Pixie
The texture of Fonda's grey pixie radiated sophistication and confidence, symbolising her continued evolution as a style icon.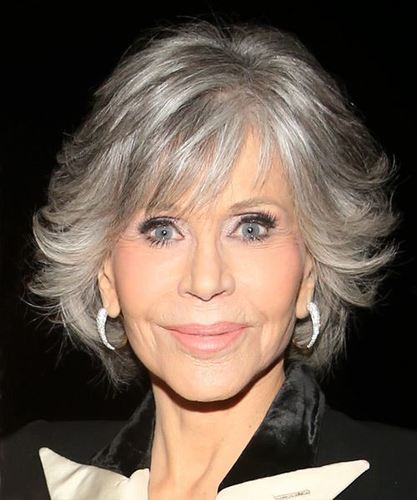 28. Jane Fonda Layered Haircut
Wispy layers accentuated Fonda's grey hair's natural beauty, elevating her look with an effortless touch of elegance.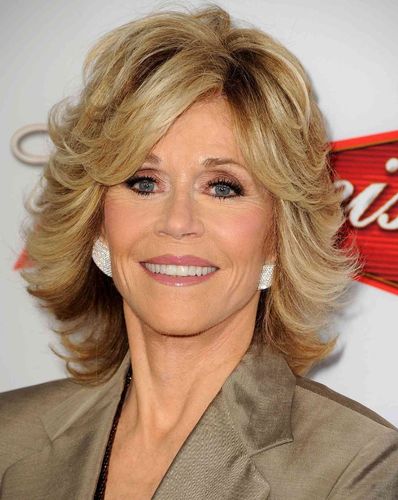 29. Outward Brush
Channelling bohemian elegance, this hairstyle seamlessly blended sophistication and a free-spirited attitude. This was her one step forward to more mature hairstyles and establishing a style of her own.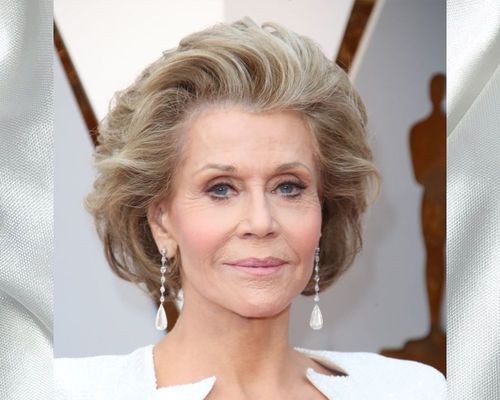 30. Jane Fonda Power Bob
This Jane Fonda bob hairstyle exuded authority and style, resonating with women of all ages who seek to command attention while embracing their locks with age.
Jane Fonda Stylish And Modern Hairstyles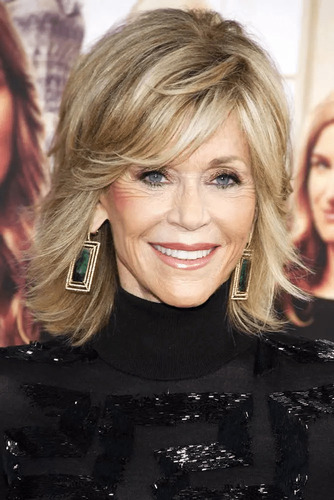 The modern lob graced Fonda's appearance with timeless glamour, perfectly aligning with contemporary aesthetics.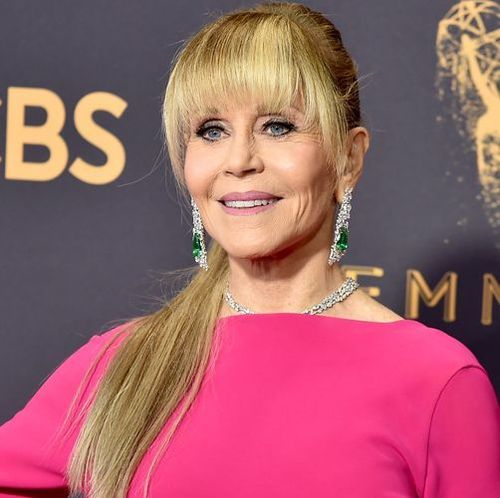 32. Sleek Low Ponytail
Fonda's sleek low ponytail seamlessly combined elegance and simplicity, making a confident statement with ease.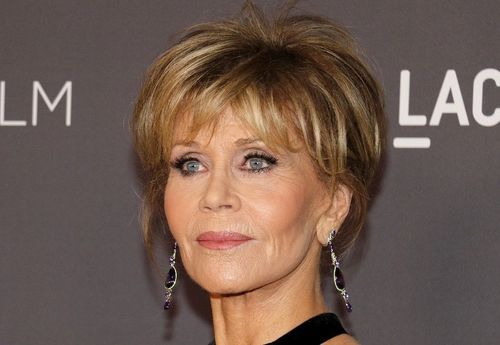 33. Side Swept Pixie
The side swept pixie showcased her dynamic interpretation of the pixie cut, framing her face with a touch of asymmetrical allure.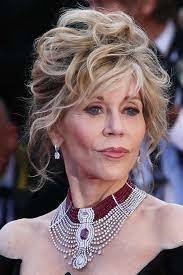 34. Textured Updo
Fonda's textured updos breathed new life into classic styles, showcasing her innate ability to redefine elegance with a modern twist.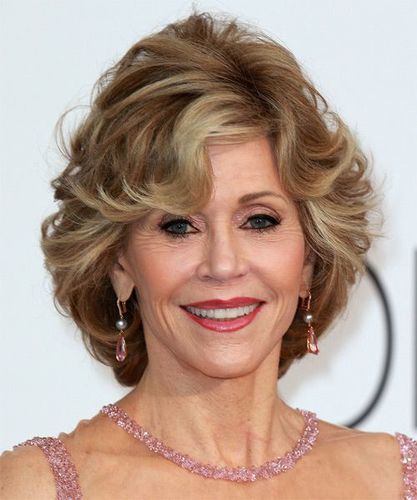 35. Casual Waves
Effortless casual waves highlighted her relaxed yet refined personality, capturing the essence of contemporary femininity.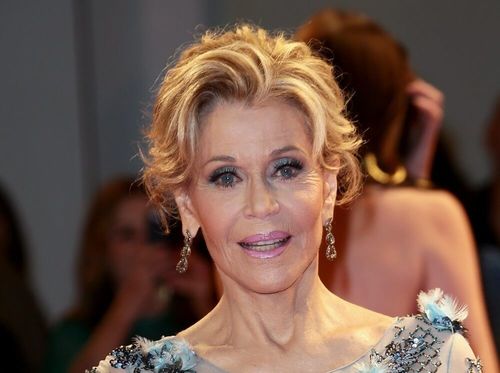 Jane Fonda's half-up half-down hairstyles radiated elegance, infusing her presence with a touch of enchantment. A gorgeously curled bang with delicate wisps softly hanging behind the ear keep this look effortlessly romantic.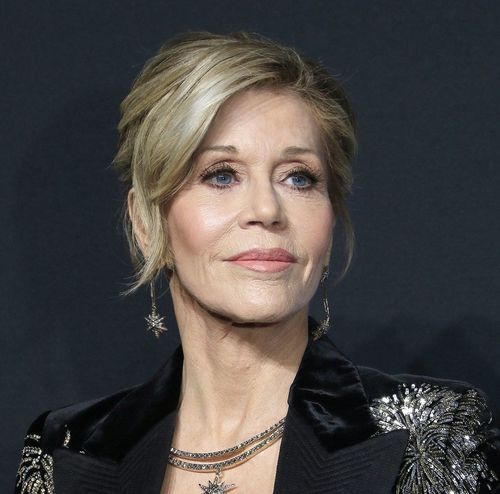 Embracing modern minimalism, Fonda's slicked updo epitomised confidence and sophisticated allure.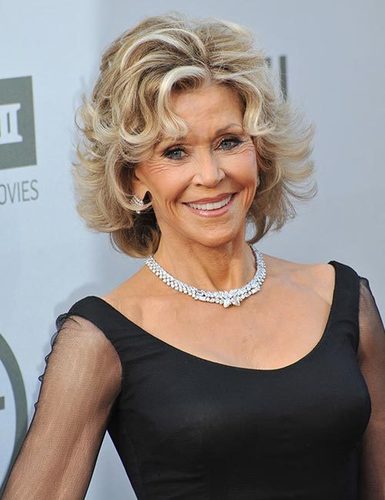 38. Blown Out Hair And Bold Bangs
She adopted an effortless look with her blown out hairstyle. One of the best jane fonda hairstyles for over 60, the bold bangs in this haircut added drama and emphasis to her facial features, unveiling a new dimension of her captivating beauty.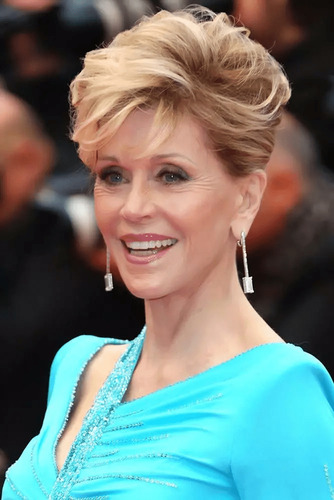 39. Elegant Bun
Be it red carpets or everyday moments, Fonda's elegant buns exuded grace, capturing the essence of timeless beauty.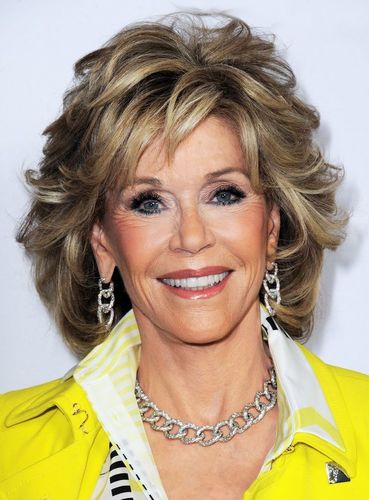 40. Tousled Layers
Her tousled layers exuded vibrancy, embodying her youthful spirit and the ability to carry off diverse looks with unmatched panache.
Jane Fonda New Hairstyles
Get ready to be inspired from these beautiful Jane Fonda haisrtyles over 60.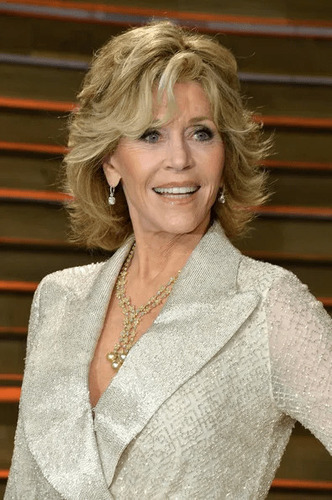 41. Effortless Side Part
A simple yet impactful move, Fonda's effortless side part added a touch of sophistication, framing her features with finesse.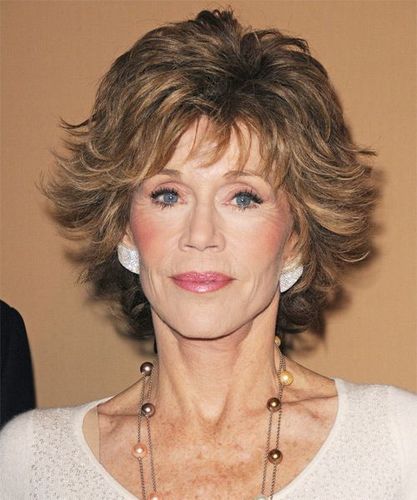 42. Modern Shag
In a nod to her iconic '70s shag, Fonda embraced a modern take on the style that resonated with contemporary sensibilities.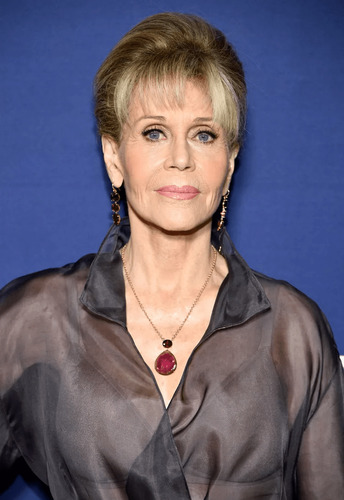 43. Chic Top Knot
The chic top knot reflected Fonda's enduring affinity for elegance, blending seamlessly with her casual yet refined style.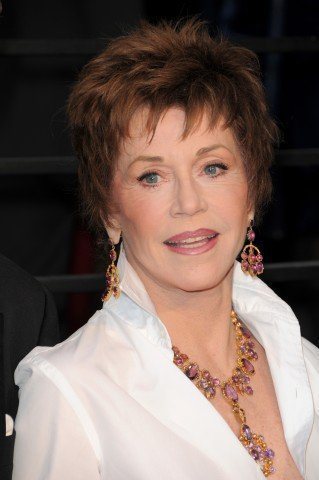 44. Wavy Pixie Redux
Revisiting the wavy pixie, Fonda rekindled the magic of the past, showcasing her timeless ability to recreate classic looks.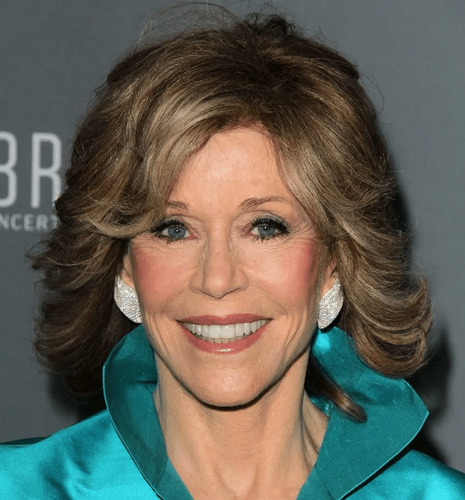 45. Layered Elegance
Fonda's layered hairstyles continued to enchant, epitomising elegance and movement as a hallmark of her style.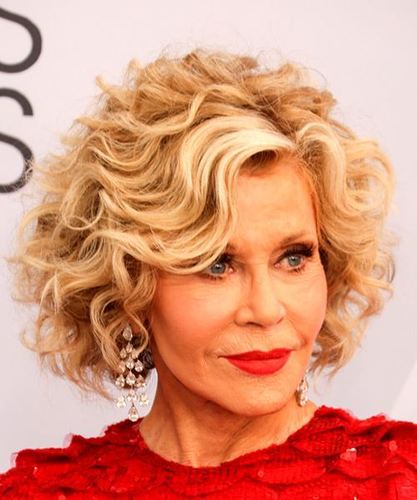 46. Playful Curls
Her playful curls captured the essence of modern femininity, exuding charm and vivacity with each sway.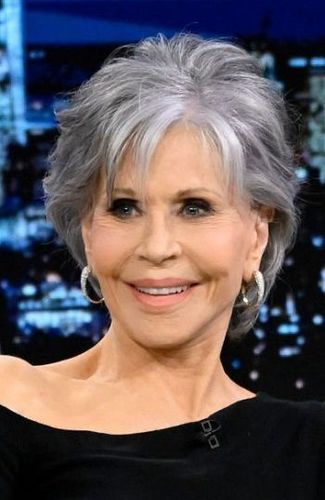 47. Textured Short Cut
The textured short cut celebrated Fonda's evolving style journey, marrying casual elegance with a contemporary twist.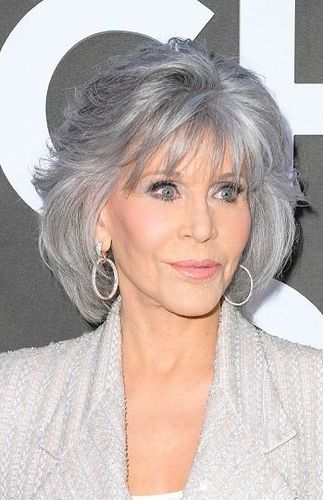 48. Wispy Bangs
Wispy bangs brought attention to her expressive eyes, amplifying her captivating presence with a touch of flirtatious charm.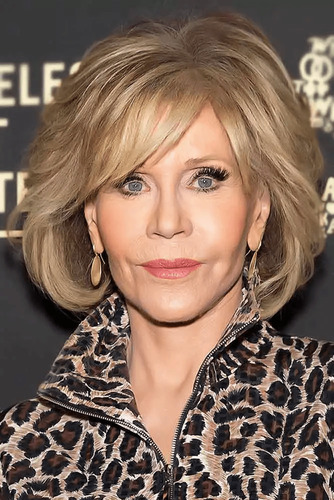 49. Sleek Modern Bob
Fonda's sleek modern bob embodied urban chic, radiating sophistication and setting new standards for modern beauty.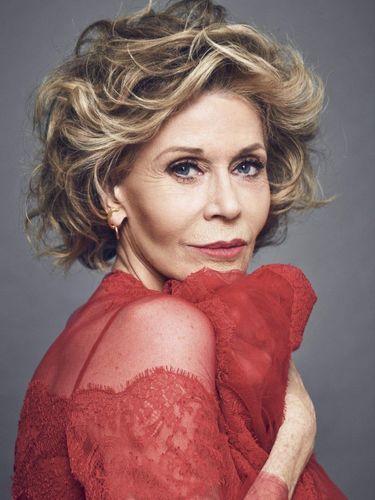 50. Glamorous Hollywood Waves
In homage to her roots, Fonda's glamorous Hollywood waves paid tribute to the golden era of cinema while embracing modern elegance.
Jane Fonda Haircuts In Frankie And Grace

"Grace and Frankie," the popular Netflix series, not only boasts a talented cast and engaging storyline but also showcases Jane Fonda's impeccable sense of style through her character's hairstyles. As Grace Hanson, Fonda's character exudes sophistication, confidence, and a touch of rebelliousness, all of which are beautifully complemented by her hairstyles throughout the series.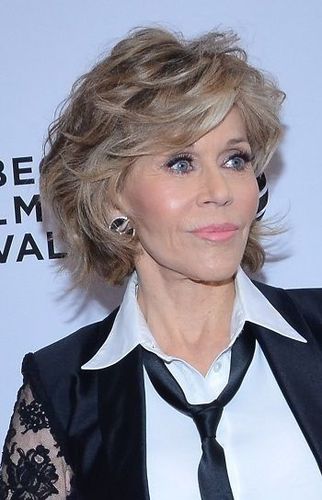 51. Effortless Short Shag
In "Grace and Frankie," Jane Fonda's character, Grace, is often seen sporting an effortless short shag haircut. This hairstyle perfectly encapsulates Grace's carefree yet elegant personality. The short shag exudes a sense of ease and confidence, reflecting Grace's willingness to embrace change and her adventurous spirit.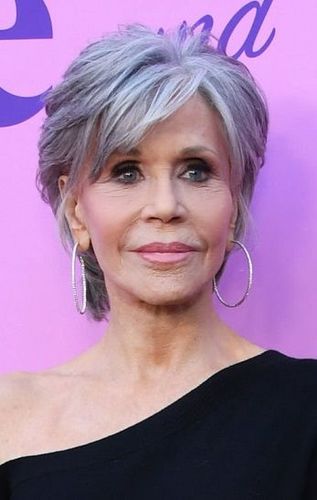 52. Gray Hair, Bold Choices
One of the standout aspects of Fonda's portrayal of Grace is her unapologetic embrace of her natural gray hair. Grace's gray hair reflects her journey through life's ups and downs, and Fonda's decision to let her own gray hair shine adds authenticity to the character's portrayal.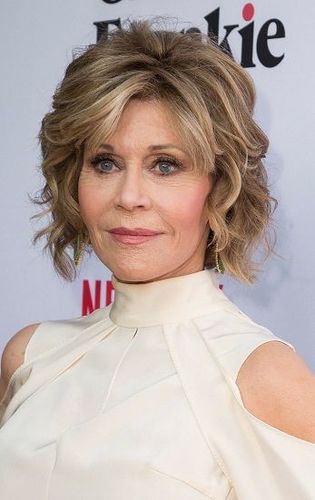 53. Effortless Elegance
Throughout the series, Grace's hairstyles maintain an air of effortless elegance. Whether she's attending a business meeting or lounging at home, her hair always appears perfectly styled without being overdone. This understated elegance reflects Grace's confident approach to both her personal and professional life.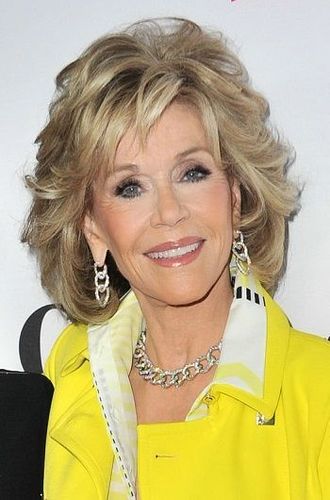 54. Stylish Updos
In more formal settings, Grace often opts for stylish updos that accentuate her features and highlight her neck and shoulders. These updos capture the essence of Grace's refined taste and demonstrate her ability to effortlessly transition from casual to formal occasions.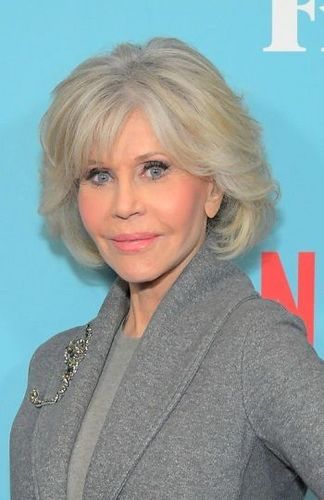 55. Grace's Confidence and Rebellion
Grace's hairstyles in "Grace and Frankie" aren't just about aesthetics; they're a reflection of her character's journey. From the short shag to the classic bob, each hairstyle signifies Grace's multifaceted personality—confident, adventurous, and sometimes rebellious.

Jane Fonda's remarkable journey through these 55 iconic hairstyles reveals not only her ever-evolving style but also her unwavering commitment to embracing change and embracing herself with unapologetic authenticity. From the classic elegance of the past to the modern sophistication of the present, Jane Fonda's hairstyles stand as a testament to her enduring beauty and influence in the realms of fashion and style.

Frequently Asked Questions About Jane Fonda's Hairstyles

Q. Did Jane Fonda always have the same hair colour?
No, Jane Fonda's hair colour has evolved over the years. While she started with darker hair, she eventually embraced her natural grey, becoming an inspiration for women to confidently showcase their ageing beauty.

Q. What is Jane Fonda's most iconic hairstyle?
Jane Fonda's most iconic hairstyle is undoubtedly the shag haircut she sported in the '70s. This layered and tousled look became synonymous with her free-spirited image and left an indelible mark on hair fashion.

Q. Has Jane Fonda worn short hairstyles throughout her career?
Yes, Jane Fonda has experimented with various short hairstyles, from the classic bob to the daring pixie cut. Her fearless approach to changing her look has made her a style icon for women of all ages.

Q. Did Jane Fonda ever wear her hair in updos?
Absolutely. Jane Fonda has elegantly sported updos for both formal events and casual outings. Her updos exude sophistication and showcase her ability to adapt her style to different occasions.
Q. Did Jane Fonda ever experiment with fringe or bangs?
Yes, Jane Fonda has experimented with bangs and fringe at various points in her career. These styles added drama and framed her face, showcasing her versatility and willingness to try new looks.

Q. Has Jane Fonda ever worn longer hairstyles?
Throughout her career, Jane Fonda has alternated between shorter and longer hairstyles. She has embraced longer waves, lobs, and layered looks, demonstrating her adaptability to diverse trends.

Q. What is the significance of Jane Fonda's hairstyles for women over 60?
Jane Fonda's hairstyles for women over 60 emphasise that style knows no age limits. Her looks exude confidence and offer inspiration for mature women to continue experimenting with their hair while staying true to themselves.

Q. How has Jane Fonda's hair evolved in her later years?
In her later years, Jane Fonda's hair has become an emblem of embracing natural beauty. Her grey hairstyles and low-maintenance cuts reflect her self-assured approach to ageing gracefully.

Q. What impact has Jane Fonda had on hair and fashion trends?
Jane Fonda's hairstyles have had a significant impact on hair and fashion trends, inspiring women to explore different looks, experiment with their hair colour, and embrace their individuality. Her fearless approach to style has left an enduring mark on the beauty industry.