L'Oréal Professionnel X-Tenso Care Pro-Keratin Shampoo Review – 2023
Monika Satote
Updated At 21 Nov 23
Are you suffering from hair issues like hairfall, damaged hair and are looking for a shampoo for straightened hair ? Do you wnat to fo for a shampoo which would be apt for color treated hair and smoothened hair? Look no further as this shampoo can resolve most of your hair issues!
L'oreal professionnel xtenso care shampoo can be the best fit as it not only works to treat various hair issues, it is also one of the best shampoos for straighted hair in India. We review the loreal shampoo in detail which will cover most of your questions.
Specifically, l'oreal professionnel xtenso care shampoo review will cover the following:-
Brand Claims
Packaging and ingredients
How to use loreal xtenso care shampoo
Our experience with Pros and Cons
Final recommendation with rating
L'oreal Professionnel Xtenso Care Shampoo Review
Recommended especially for straightened and smoothened hair, this shampoo has grown in popularity over the years.
This L'oreal professionnel xtenso care shampoo is the recipient of Nykaa femina beauty awards which is certainly a big accomplishment.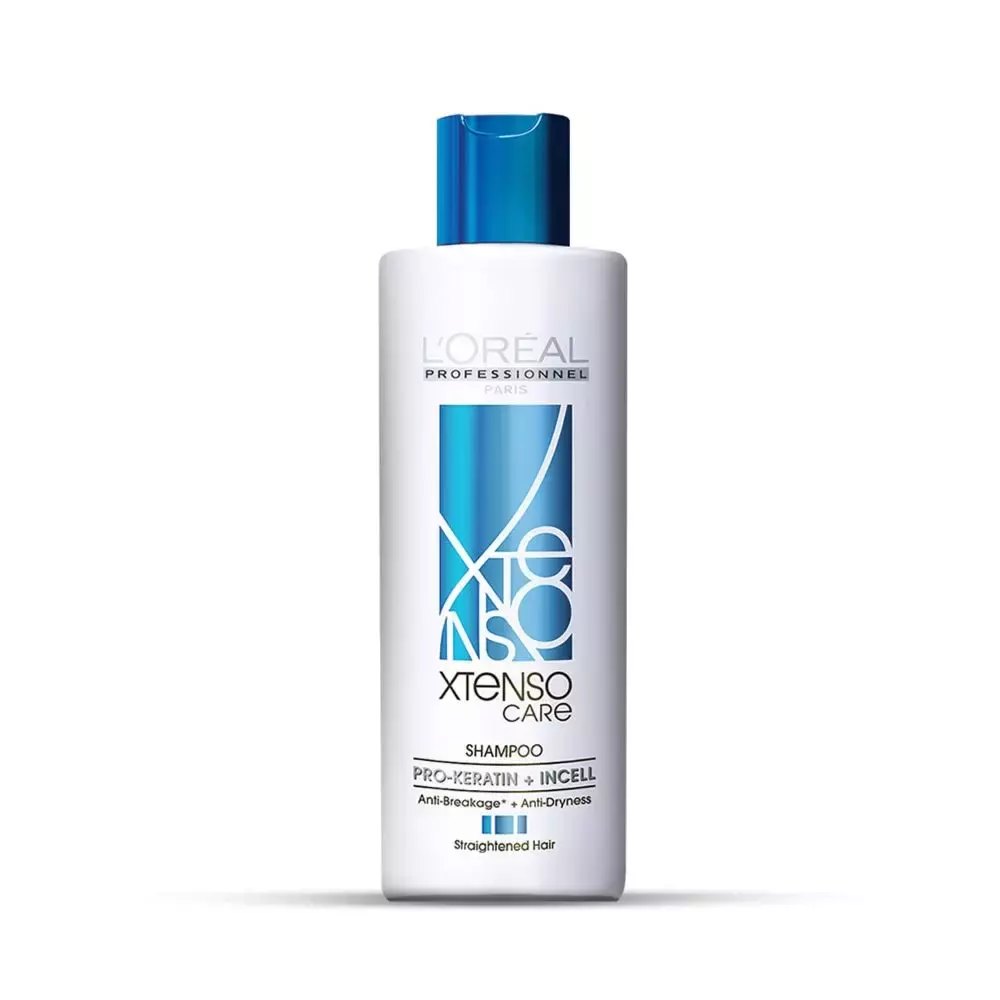 Brand Claims
L'Oréal Professionnel X-Tenso Care Pro Shampoo is filled with the Pro-Keratin and In-cell complex which helps to restore the essential hair phospholipids to provide supreme shine.
It leaves your hair tangle free and makes them manageable. The loreal professional shampoo gives new life to your hair by nourishing them from roots to ends.
It has the ability to protect your hair from extreme climate and pollution. It gives a frizz free look which you can see in no time.
The smoothening effect of this shampoo lasts longer. The shampoo removes excess oil as well as excess dryness. This loreal xtenso shampoo maintains the oil in the proper amount and adds extra volume to your hair.
Packaging
This L'Oréal shampoo is packaged in the stylish white cylindrical bottle with a flip-open silver cap. It has a silver and metallic blue design on it. It is travel friendly as it can fit nicely in any bag and chances of leakage are low.
Key Ingredients
Main ingredients of this loreal professional shampoo include glyycerine, salicylic acid, carbomer and SLS (Sodium Lauryl Sulphate).
One needs to pay attention to chemicals like Sodium Lauryl Sulphate which can make you hair dry and can cause irritation.
How To Use Loreal Xtenso Shampoo ?
Follow these simple steps while using Loreal professional shampoo
Step 1: Apply a generous amount of the shampoo to wet hair.
Step 2: Massage for a couple of minutes.
Step 3: Rinse thoroughly
Repeat the same steps if necessary.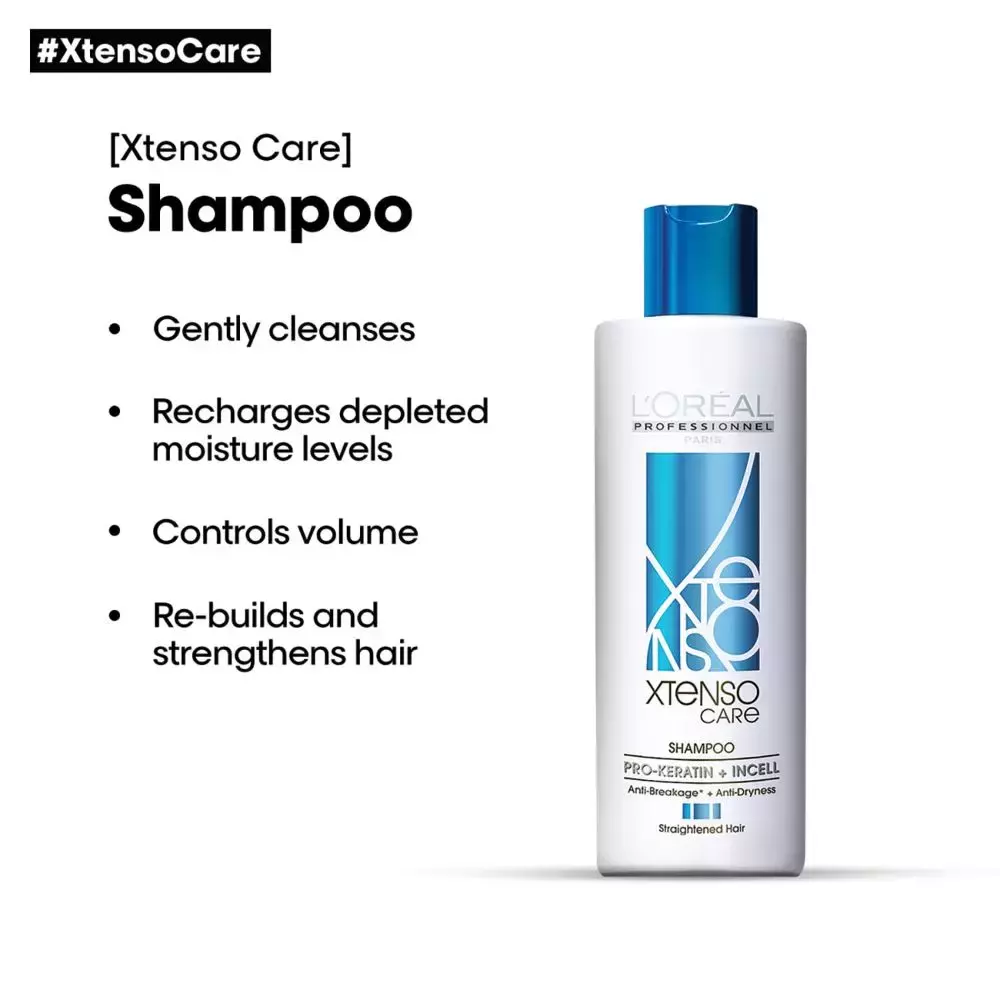 Our Experience Of Using Loreal Professional Shampoo
This shampoo helps to make your hair smooth, silky, shiny and frizz-free. It has pro-keratin which is essential for maintaining healthy hair as it helps in reconstruction of the hair texture.
Keratin is the protein found in hair which gets washed-out from hair with time, so it is necessary to provide this protein from outside. Enriched with keratin, this loreal xtenso shampoo is perfect for providing this protein.
The shampoo is white in colour and is not very thick. The fragrance of this shampoo is really striking. It smells like expensive perfumes and stays for a long time.
If you have waist length hair, then you would require almost two spoons full of this product to create a good lather.
One of the best shampoo for straightened hair in India, this has an anti breakage formula of this shampoo lives up to the claim. It keeps the hair moisturised and its botanical extracts help to provide all the required nutrients.
It is recommended to use a conditioner after shampooing.
Pros
Controls frizz and nourishes dry hair
Apt shampoo for straightened hair
Protects hair from pollution
Restores damaged hair
Controls volume
Improves hair texture
Makes hair manageable and tangle free
Smells good and has a nice packaging
Helps in maintaining rebonding effects
Heavenly fragrance that stays on for one day
Makes hair soft and shiny
Lathers on the hair very well and effectively removes oil
Contains Pro-Keratin which is good for hair
Botanical extracts keep hair intensely nourished
Cons
Contains SLS and other chemicals
Expensive
Not effective in treating dandruff
Final Recommendation
L'Oréal Shampoo is an amazing product to use especially when you have damaged hair.
It restocks Keratin in our hair which our hair needs to repair damaged follicles.
It comes in a nice packaging with a flip top bottle. The shampoo has nice flowing consistency that makes it convenient to use.
It provides a visible improvement in the texture of the hair and makes your hair smoother, shinier, tangle free and moisturised.
The pleasant smell stays for a long time which is the bonus point.
After using this shampoo regularly, expect a significant reduction in hairfall.
An issue however is that it doesnt effectively take care of the dandruff much. The dandruff issue stays even if you use this shampoo regularly. Additionally, it does have chemicals like sulfates which can lead to scalp irritaion alongwith other issues. If you are looking for a paraben free and sulfate free shampoo, then may be this might not be the best fit.
However, for its effective features of providing nourishment, keeping the hair moisturised, controlling hairfall and making the hair look shiny and smooth, this is one of the best shampoos. It also works wonderfully well for chemically treated hair so if you are looking for a shampoo for straightened hair, you can certainly opt for it.
It is certainly on the expensive side but looking at the benefits it is certainly worth it!
If you are ready to spend money to get nourished and shiny hair, we recommend you to buy this Loreal Profeesional X-Tenso Care Pro-Keratin Shampoo. You will not regret your decision!
Similar to Loreal professional shampoo, Tresemme keratin smooth shampoo is also a very good choice for nourishing hair!