55 Most Popular Men's Hairstyles For Round Faces - 2023
Vanessa Pereira
Updated At 14 May 23
Easily one of the most recognisable face shapes across the world, the round face is also one of the most attractive face shapes around. Men with a round face have what it takes to create a lasting impression and offer a profound sense of reliability and simplicity.
However, as easy as it may be to create an impression, choosing the right haircut for round face men is no trivial task. Men with round faces often find themselves spending quite a lot of time selecting a hairstyle that's not only easy on the eye but also fun and easy to pull off and accentuates the natural contours of their face.
55 Hairstyles For Men With Round Faces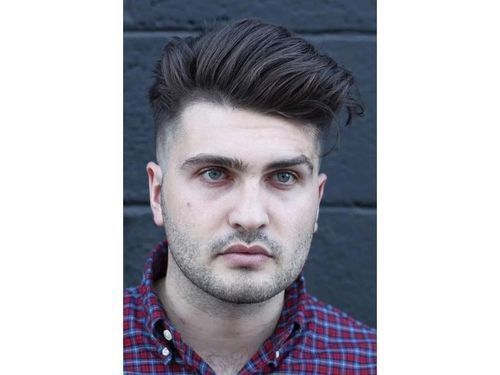 1. Tapered Hairstyle For Men With Round Face
If one has already got the length, just have the sides and back tapered short. Use a little medium-hold styling gel to brush and style the top up and back. This best haircut for men with a round face looks professionally stylish.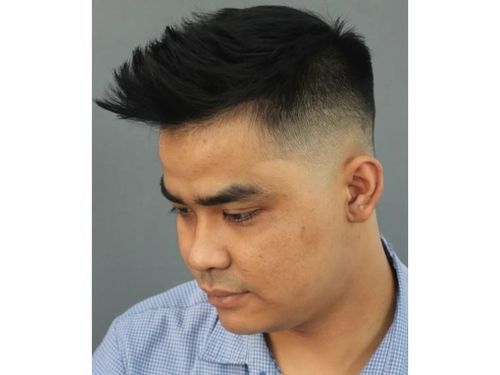 2. Choppy Fauxhawk
There's no easier way to create additional volume on top than a faux hawk! Layering on top gives the faux hawk a choppy look that can be worn casually or dressed up. This hairstyle for men with round faces looks professional.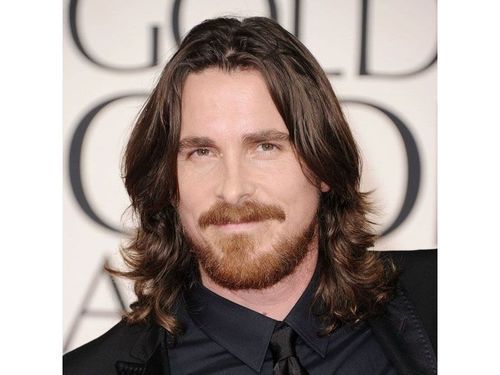 3. Shaggy Long Bob
Yeah, the long bob might be a term typically reserved for the ladies, but this specific length can work wonders on a masculine round face. Hitting just at the chin, the hair draws the eye down rather than to the sides to make the face look longer.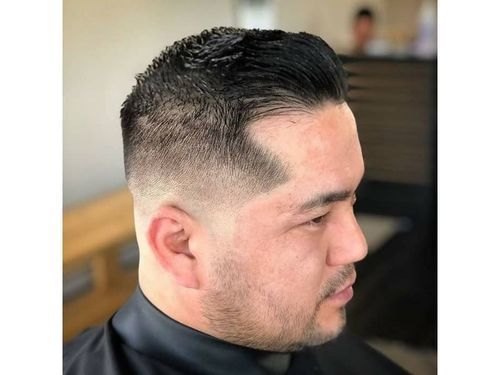 4. Short Classic Fade
Sometimes simple is best. Keeping the hair short on top means less time to style (if one has curly or wavy hair, it's even easier), and a classic fade beginning midway down the head ensures your face shape looks slimmer. This is one of the best haircuts for men with round faces.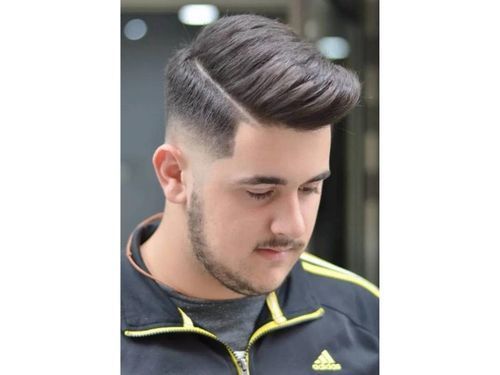 5. Casual Pompadour Fade
Pompadours require plenty of length to slick back and stay put, so if one's hair is getting long, give this one a try. With a fade somewhere between classic and high on the sides and back, the volume on top draws the eye upward to the visually thin one's face.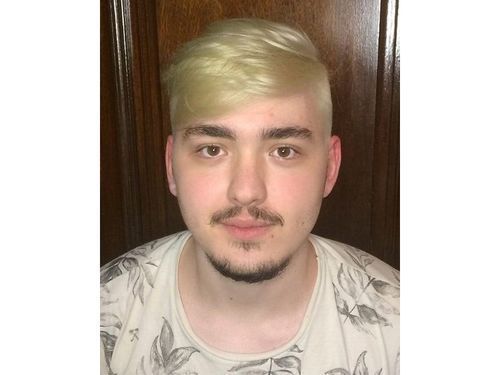 6. Cleaned Brushed Over Taper
Tapered cuts aren't as sharply contrasted as shorter fades, but they still reduce the volume on the sides of the head to slim the face. Brush the top over. This is the best hair haircut for a clean-cut look.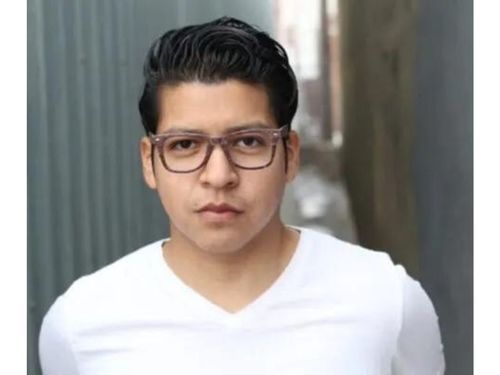 7. Long Top And Tapered Sides
For round faces, balance is always important. If you want to leave a little more length and fullness on the sides, you need to add extra length and volume up top to balance it out. This is the best haircut with a great example for men with round faces.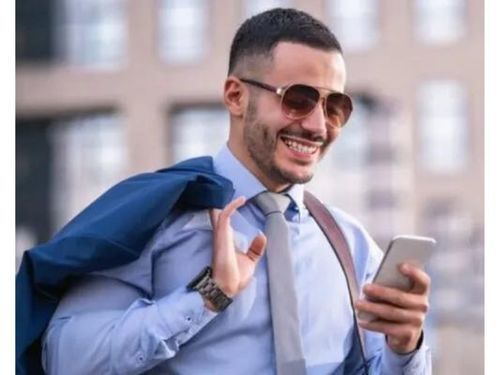 8. Short Top High Fade
Bump up a buzz and cut a notch or two by fading the sides down to the skin. Start the fade up high near the temples for the best slimming effect. One of the best military hairstyles, buzz cut works well to transform your look.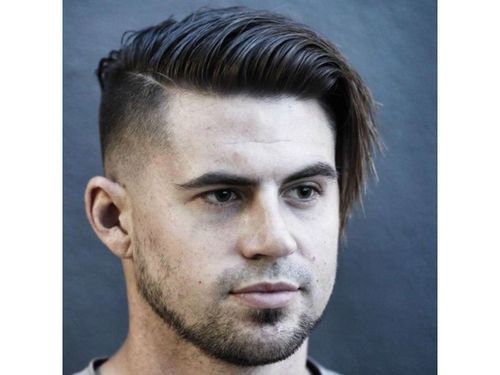 9. Side Parted Haircut For Men With Round Face
Straight long edgy bangs falling on the forehead is one of the least preferable hairstyles for a round face shape. However, just let the bangs frame the face, carelessly falling down the sides, this trick is gonna work. Then it will be the best haircut for men with round faces.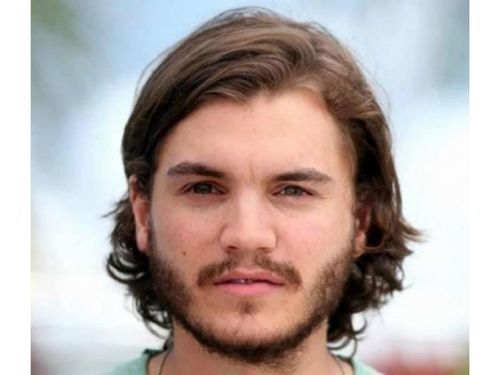 10. Messy Medium Length With Beard
Men with round faces can try such an elegant and sophisticated style. Messy haircuts for round faces together with facial hair help to create the image of an attitude guy who can allure everyone and close any deal.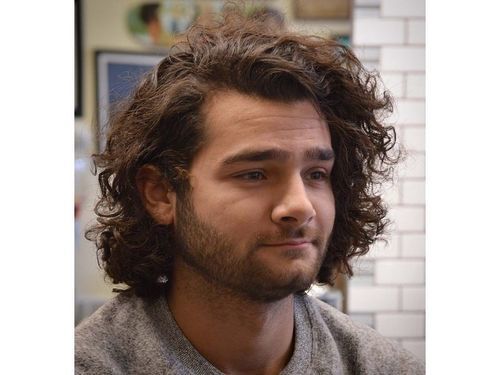 11. Messy Beach Wave Haircut For Men With Round Face
As for long hairstyles for round faces, remember that mess and texture are always better than a smooth straight mane. Add some beachy waves and a touch of summer carelessness, and don't forget to get a cool gentleman beard to cover the chin in addition. This style can also work as an appropriate kind of haircut for big guys with round faces.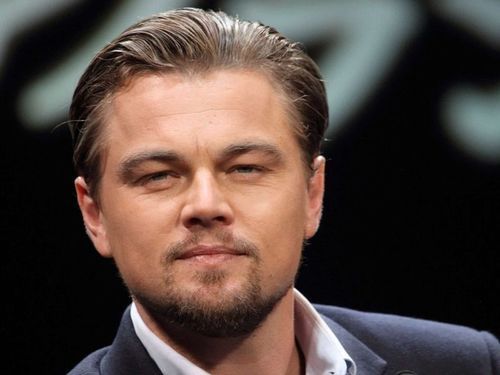 12. Slicked Back With Tapered Ends
For a round face, the taper should be more than perfect. The stylist should strictly control and avoid any curved lines and the wrong angle fades. The upswept volume at the top and a small bear help to achieve the beauty goal of this best hairstyle for a round-face man.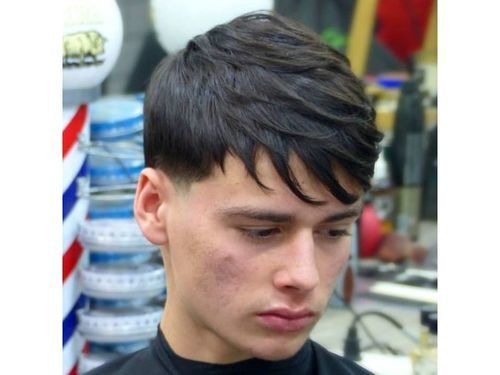 13. Angular Fringe
Just change the appearance of a round face by adding a one-side angular fringe to short haircuts. Just look how this guy opened up the side of his face by getting a spiky side fringe with a super low temple taper fade.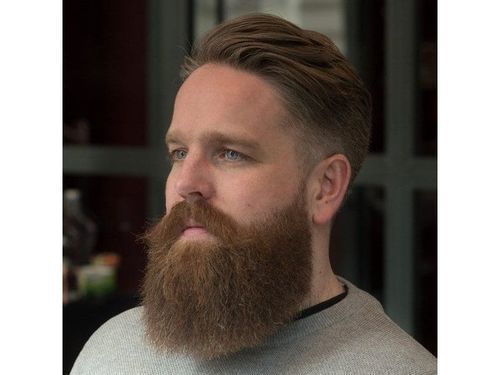 14. High Top Fade With Beard
Well, this set of pictures demonstrates how different men can look with a softened and with edgy haircut. The second variation is much more of a winning combination that will make your round face look longer and more distinguished.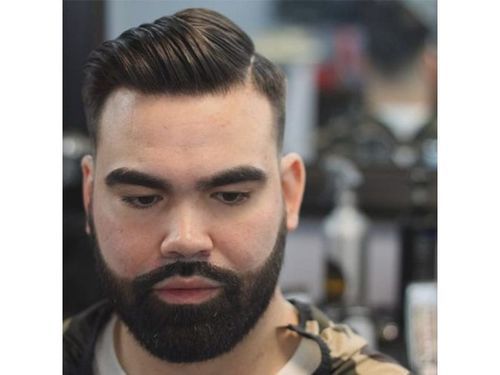 15. Mid-Skin Fade With Quiff And Beard
This is an example of a classic haircut for men with round faces. This timeless swept-back quiff style with short sides and a clean-shaven beard will be able to balance out the features and give the look more definition.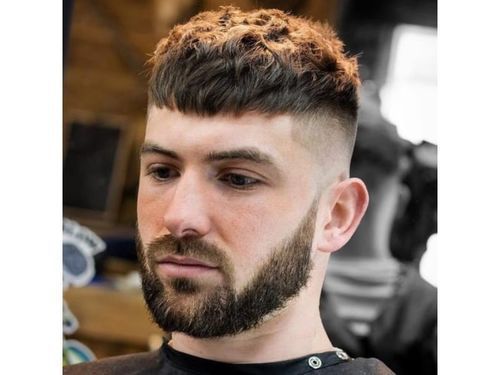 16. Long French Crop
Here is the key: the longer and more modern the French crop is, the more perfect haircut for face men it becomes. By adding layers and a pop-up crazy colour, this cropped cut has everything that takes to be on the list of the best haircuts for round faces with a longer fringe.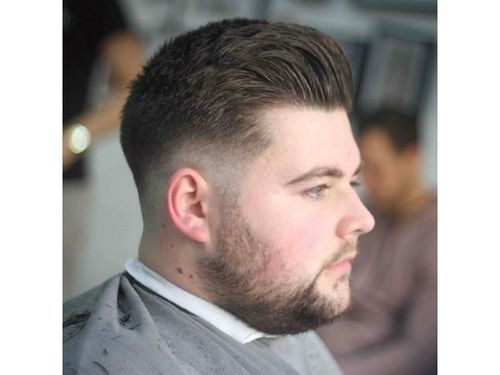 17. Sleek Side Part
Classics never fail. That's why we always have a traditional timeless side part to be adapted and meet our personal preferences. This is another best classical example of haircuts for men with round faces.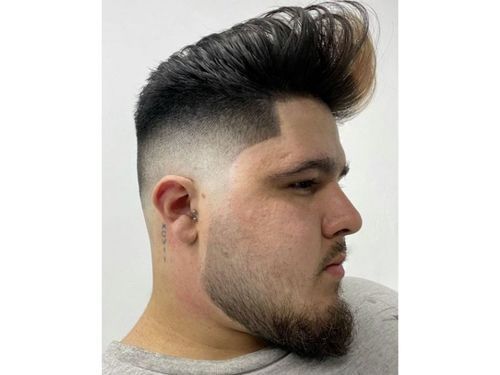 18. Edgy Fauxhawk Hairstyle For Men With Round Face
Among hot haircuts for men, faux hawk probably is one of the most rebellious and wild ones. It's also great for adding the necessary volume and angles to round faces. For a noticeable fauxhawk style, just one needs to grow medium-length hair.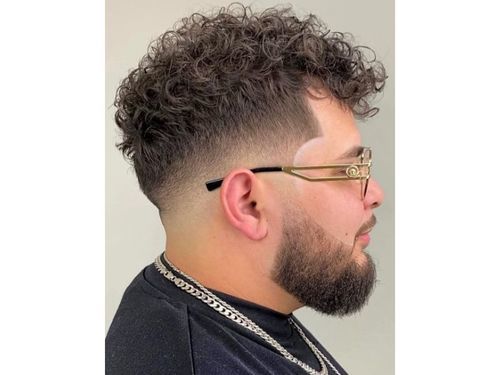 19. Longer Textured Top With Fade
The textured or curly top will become the focal point of the whole haircut, so if someone wanna take attention away from the cheeks, try getting a similar Justin Timberlake-inspired haircut for men with round faces.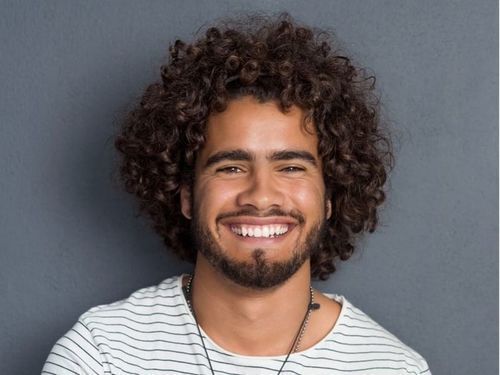 20. Curls And Bangs
One should be maximally careful with curls as if styled wrong, they can completely ruin the face proportions. So, one way is to style them in a high and tight fade, another way is to get longer messy bangs plus a beard.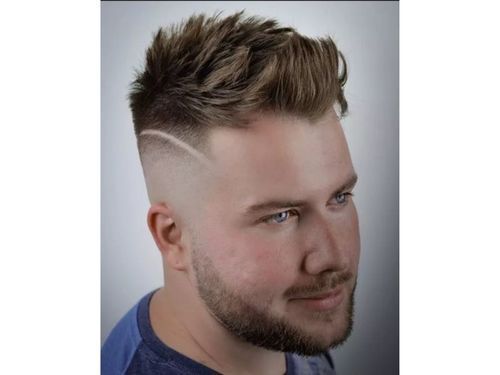 21. Blowout
People with round faces have lots of options. And the majority of these options are trendy and on point. So, meet another stylish solution for men with round faces – the blowout. This is one of the stylish haircuts for men with round faces.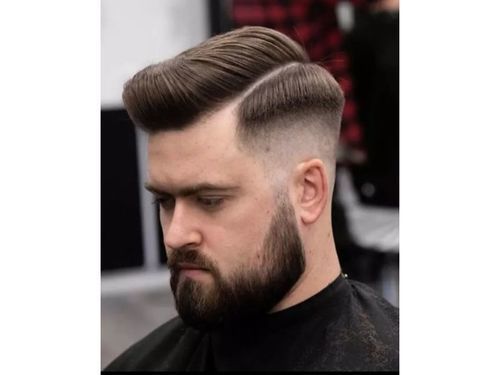 22. Shaved Sides With Long Slick Back And Full Beard
There is a myth that sweeping the hair back will only emphasize a round face shape. Yes, it won't be a good move to slick back a greaser that sits tightly on the scalp, but the look from this photo works well due to the plenty of volume on top.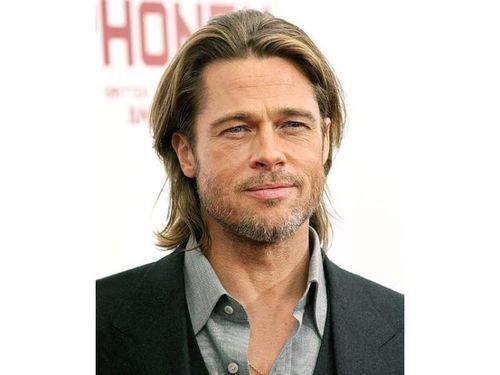 23. Straight Haircut
Straight longer hairstyles are not often chosen as male haircuts for round faces. But if one can add some layers and a choppy finish to the medium-length haircut, it will give shape and define a round face. It is simply a super hairstyle for men with round faces.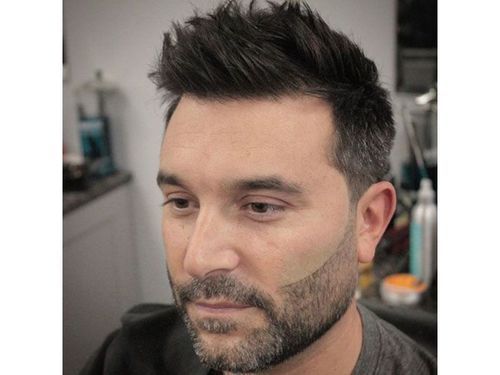 24. Textured Spikes
High spikes (over 1 inch tall) will give that necessary sharpness and edge to the round face. The barber's job is to cut the sides short and leave the top longer. It is one of the best spikes haircuts for men with round faces.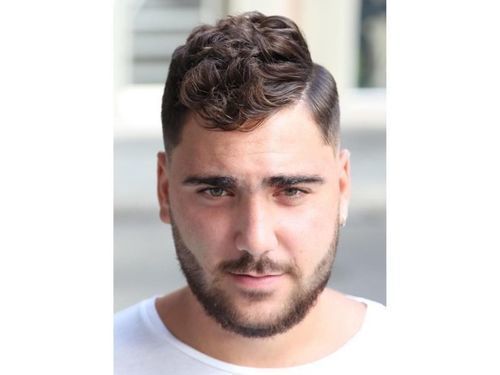 25. Skin Faded Part With Messy Combover
With a messy combover with a juicy hard part like in the photo, one will draw people's eyes to the upper part of the face, distracting from its roundness and softness. Such styles along with stubble or beards help break up the symmetry of the round face shape.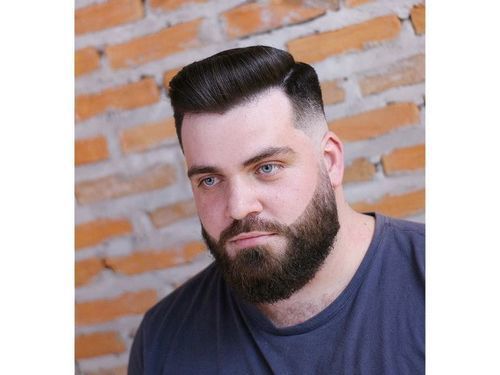 26. High Fade With Thick Quiff
When the hair is thick, it allows for a lot of styling options and creative solutions. So, get a clean high fade, and take a styling pomade and a blowdryer to give contrast and difference to the look. A full beard with edgy borders will be a great addition to the style.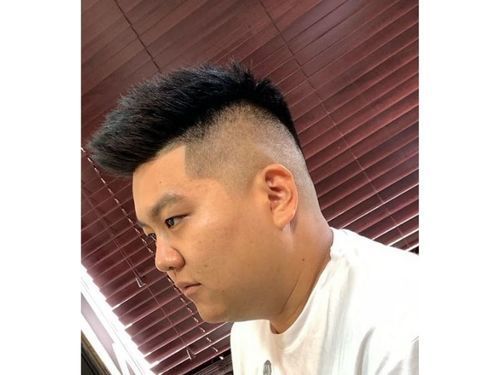 27. Hi Top Fade
If one has got the length on top already, just have the barber, fade the back and sides super short and trim the top for a vintage look that is coming back into style.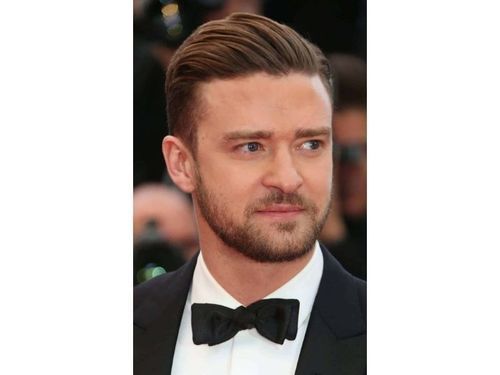 28. Long Brushed Back Taper
Here's a great "workaround" if one doesn't like the idea of cutting the sides short. Keep them long enough to brush and style backwards to create the appearance of shorter sides. Use a little gel or pomade in the hair to hold.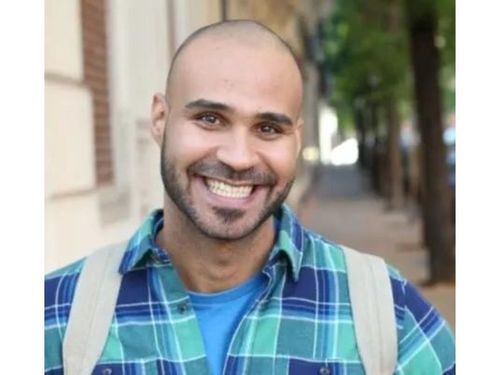 29. Bald Look For Men With Round Face
Round faces typically steer clear of shaved styles to avoid the dreaded "baby" look. But with a beard, the style is less rounded and more masculine. This is one of the simplest haircuts for men with round faces. Lol!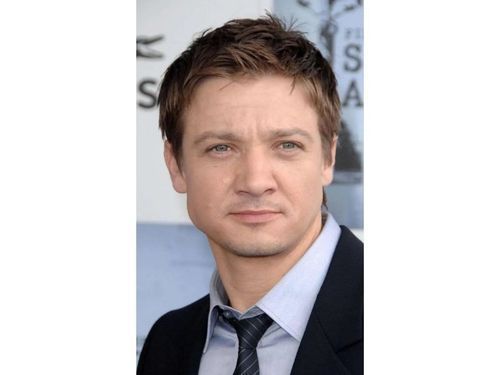 30. Longer Caesar
The Caesar cut has been tried and tested for millennia — literally. This ultra-simple style finds its good looks in those dishevelled locks, and it works marvellously on Renner's baby face.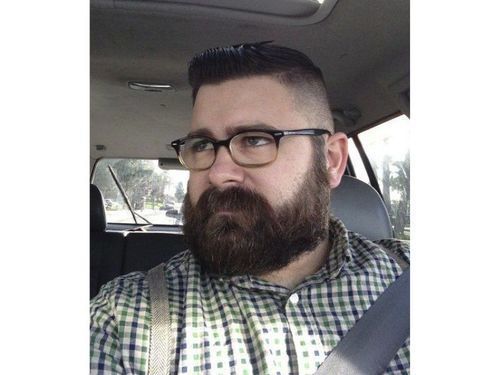 31. Full Beard And Faced Haircut For Men With Round Faces
While there is a round face hidden in there, it's hard to see because of all the different styles. The trimmed beard elongates the man's face so it's no longer round. The tousled French crop with a bit of Caesar with bangs is eye-catching because of its amalgamation. The designs on the side would usually be shocking, but for this gentleman, they are the third or fourth thing that is noticed. This is one of the best multi-styled haircuts for men with round faces.
32. Man Bun With Beard
This haircut simply has got to feature at the top of our recommended men's haircut styles for round face. Simple, fun and quite effortless to maintain. Crew cut haircut is another amazing option if you are looking for a stylish and popular option.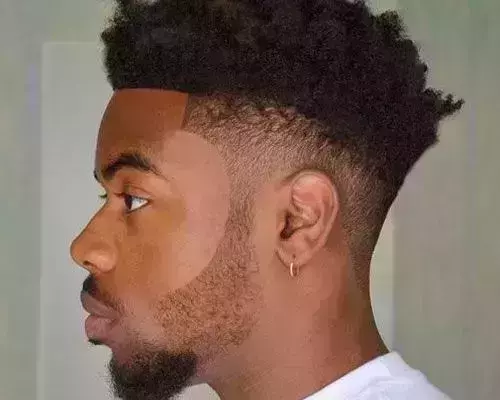 33. The High And Mighty
This haircut works best for those who have thick, curly hair. Sporting this look is quite simple – You only need to keep the top a few inches long and your hair will do the rest.
Also check out our gallery to find out the best curly hairstyle for Men. We list out all the 30+ top haircuts which are trending this year!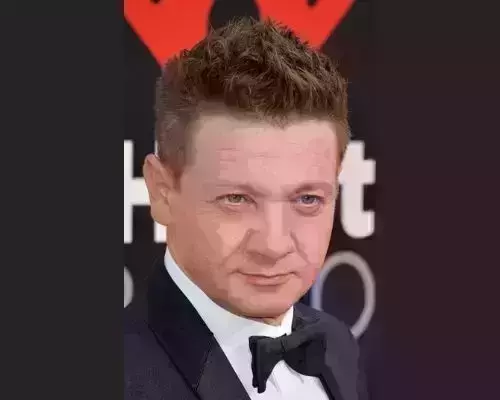 34. Spiked Hair For Men With Round Faces
Spiked hair is a style that has been around for quite a long time now and offers a seemingly luscious, shiny look, making for an overall sleek haircut for round face men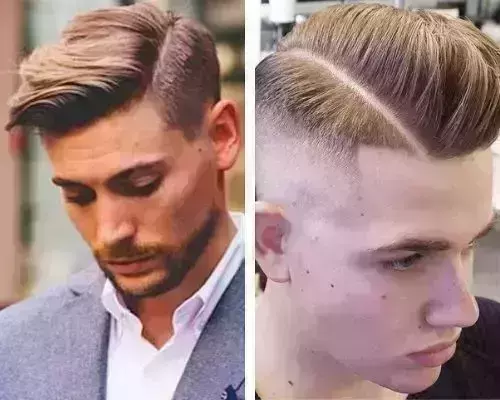 35. The Side Parted Haircut
While it's safe to assume that one can hardly go wrong with a side part, this haircut also provides a classy yet casual look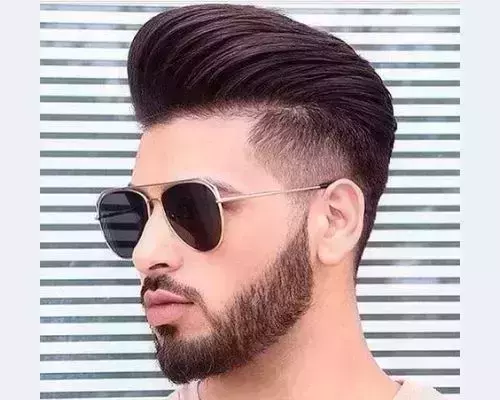 36. Pompadour For Men With Round Faces
Sporting an maintaining a Pompadour is not easy. But if you pull it off, you've landed yourself a true winner!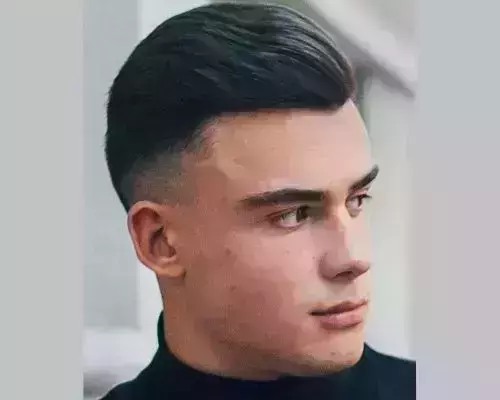 37. Combover With A Hard Part
There's literally nothing to dislike about a hard part. And with a neat combover, it makes for a really classy look for men with a round face
38. High Top Fade With A Beard
Here's another haircut that requires a high degree of precision and panache. One just can't go wrong with this look, especially when you add a beard to the mix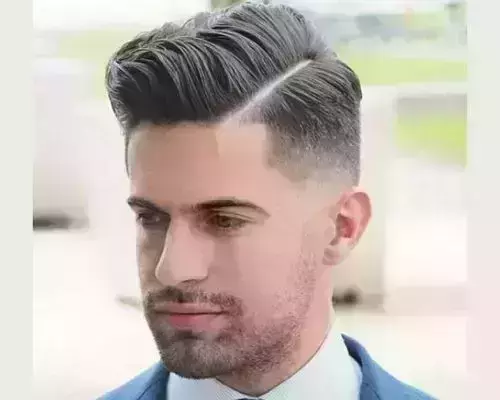 39. Mid Fade With A Hard Part Combover
A fade can uplift the overall appeal of a haircut when coupled with a hard part combover. This is one look that's surely fun, fresh and exciting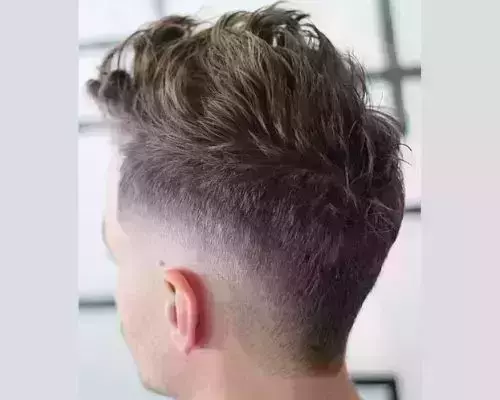 40. Faux hawk
One of the most popular haircuts of all time, the faux hawk is modern, edgy and dynamic. If you're looking to try something new, this is a haircut we'd surely recommend. Make sure you've got some top-quality hair styling product handy!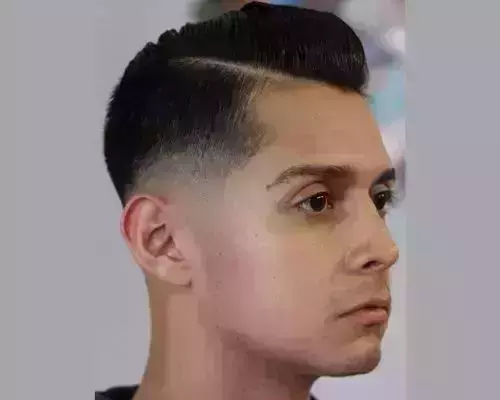 41. Drop Fade With A Long Combover
Pulling off this look is like showing off two, fun and exciting sides of your personality. The drop fade also neatly compliments the long combover, making for a fresh look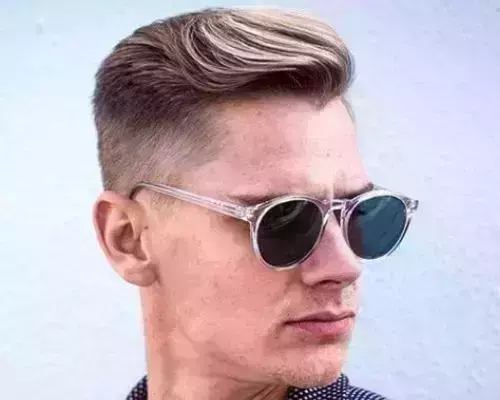 42. Classic Swept Back Quiff
The classic swept back quiff is a modern, sophisticated take on the classic quiff. Yet it somehow maintains the overall appeal that the classic quiff provides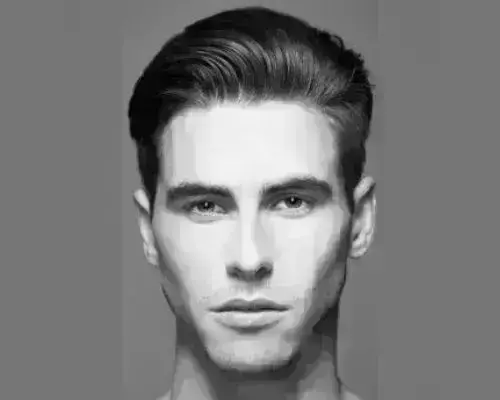 43. The Sleek Side Part
There are those who like the side part and then those who like the sleek side-part. No matter which one you choose, if you've got a round face, you're most likely to pull off either of them without breaking a sweat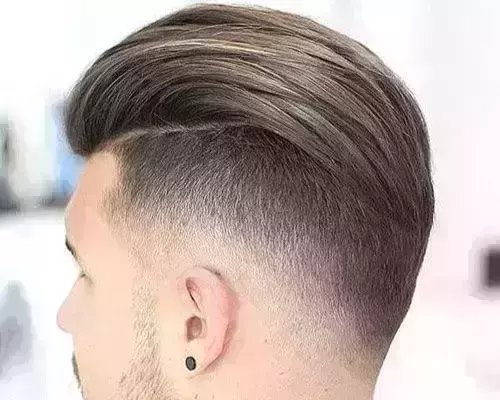 44. Tapered Sides With Long Hair For Men With Round Faces
While the slicked-back hair is already cool and classy, the tapered sides neatly accentuate the overall length and volume of the hair from all angles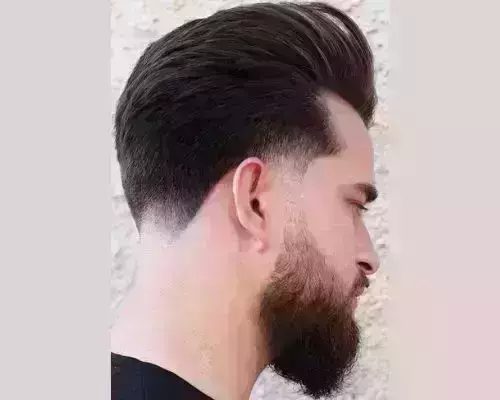 45. Textured Slick Back And Beard For Men With Round Faces
Not too different from the long slicked-back with tapered sides, this look provides a distinct, gentlemanly look to those gifted with round faces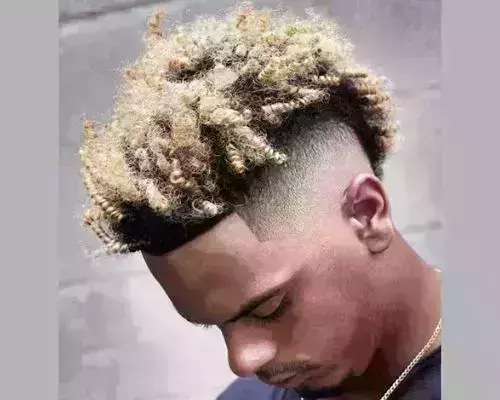 46. The curly high-top
Got curls? Well, you can make them your striking feature by combining with a high-&-top fade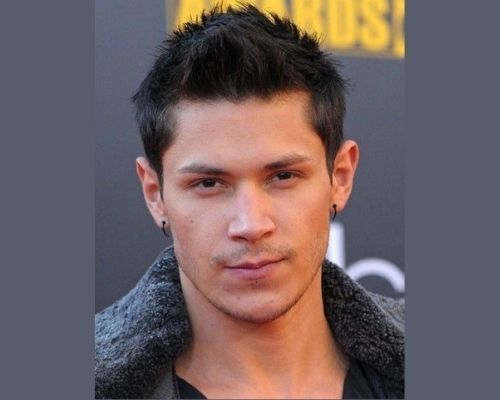 47. Jagged Spikes
Tall spikes, especially those over an inch-tall look best when coupled with short sides, making for an overall jagged, exciting look that can never disappoint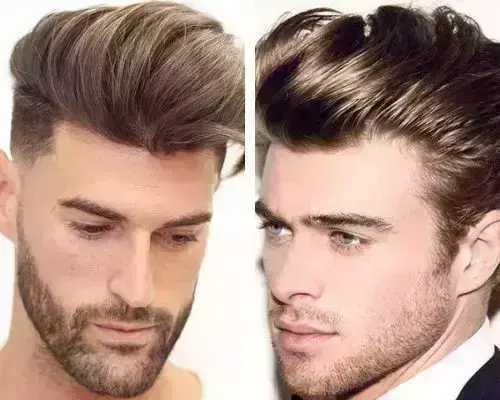 48. Modern quiff
If you're looking to make the overall shape of your face seem elongated, this haircut is just for you. Elegant, stylish and divinely modern.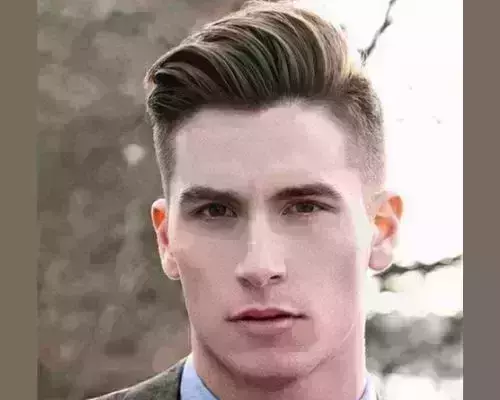 49. Pompadour With An Undercut
For some the traditional pompadour might seem too over the top. If you think the same way, try adding an undercut to your pompadour. We're sure you'll love it!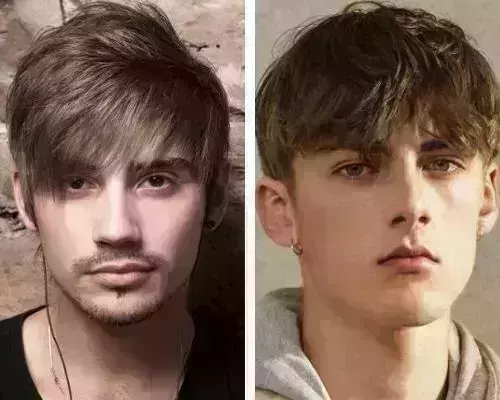 50. The Fringe
Ah, the vivacious fringe! If the thought of sporting a fringe terrifies you, trust us when we say that the fringe might easily be the best haircut for round face male as it offers definition to your soft, round face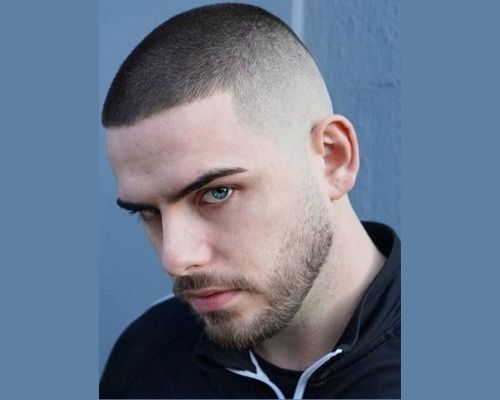 51. The Skin Fade
With a skin-fade haircut, you will surely draw attention to the upper half of your face, guaranteeing eye contact when someone isn't too blown away by the sheer volume and shine of your hair!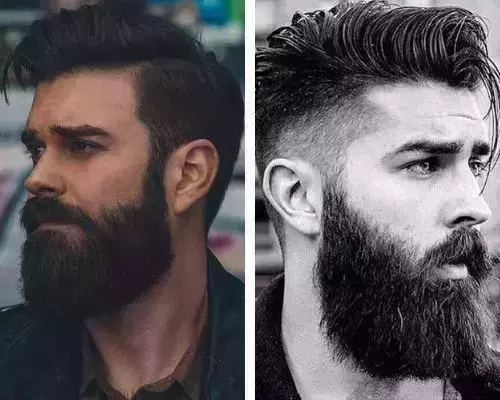 52. A Full Beard With Volume
A volumized haircut and a full beard – Here's a combination that's not only quite easy to maintain but also fun to sport. Don't forget your hair and beard essential oils though!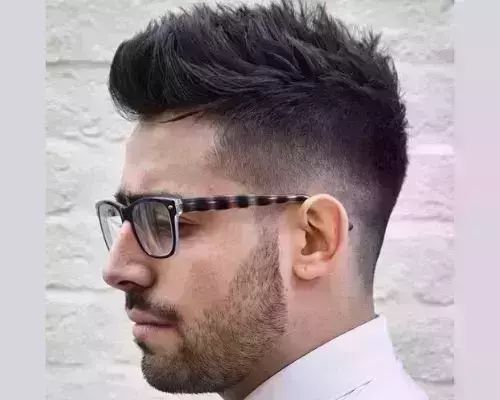 53. Textured Top Haircut For Men With Round Faces
Fun and messy at the top, short and slick on the sides - the textured top must be your go-to haircut if you're looking to make your face appear sharper and more chiselled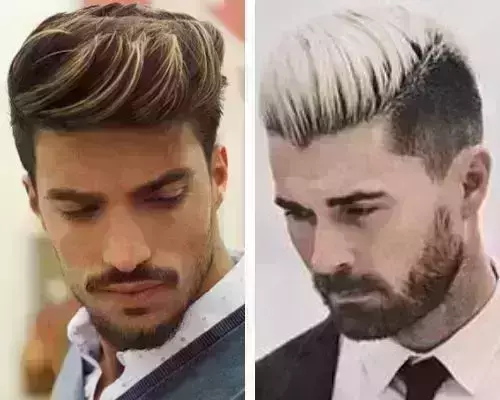 54. Coloured Quiff For Men
Experimentation's the name of the game here! Choose your colour wisely and you've landed yourself a really cool, striking look.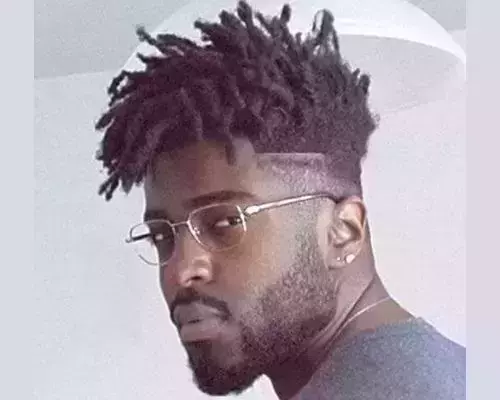 55. Afro Twists
For those with curly hair, a rounded afro or an afro with twists can add that extra height and zing to an already au naturel look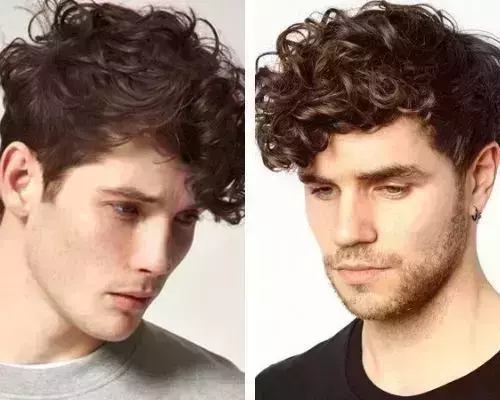 56. Curls & Bangs
Curly hair coupled with bangs? Now that's a combination we're down for. The textured finish of the bangs makes for a fresh and attractive look like no other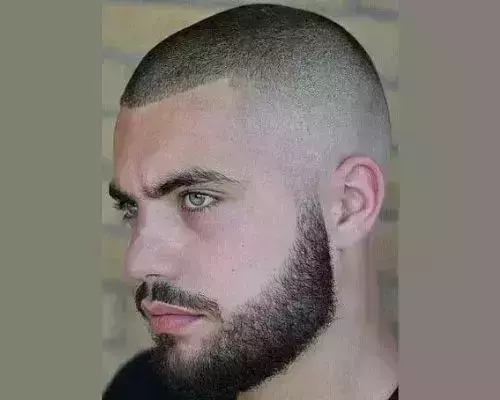 57. Smooth buzz with a beard
Most men with a round face believe that a buzz cut probably won't suit them. Well, we say that you can not only rock this look but also own it if you couple your buzz cut with a beard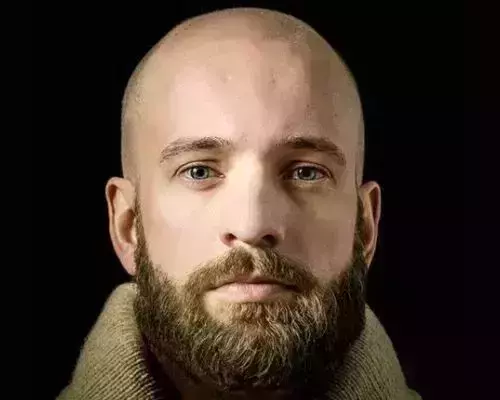 58. Bald And Beard Look
Last but perhaps, one of the most exciting haircuts for men with a round face is the bald look with a beard. Do we even need to say how easy it is to maintain this classic look?
Related Articles