25 Best Purple Highlights Trending In 2023
Alka Sharma
Updated At 14 Sep 23
As the world of hair color continues to evolve, one trend that has become increasingly popular is purple hair highlights. The vibrant and eye-catching shade of purple offers a unique and bold statement to any hairstyle. Whether you're a daring trendsetter or simply looking for a subtle change, there's a shade of purple for everyone.
25 Best Purple Highlights Trending in 2023
From soft lilacs to deep violets, these shades of purple can be incorporated into various hair types and lengths. So, buckle up and get ready to discover the next big thing in hair color!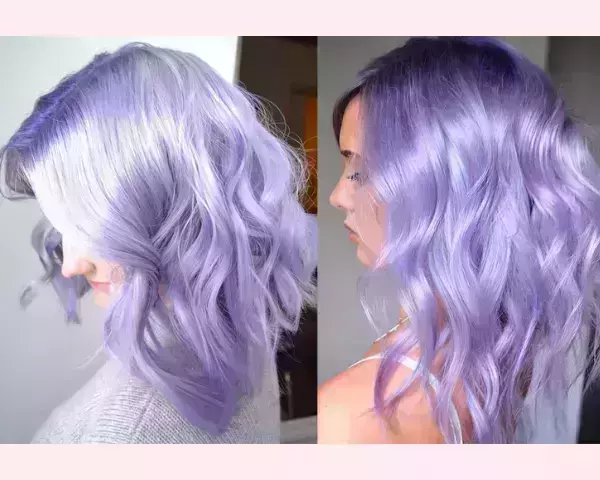 1. Romantic Lavender
This hair color is perfect for those who seek a subtler look. Romantic lavender highlights create a soft and ethereal appearance and they are less intense than some other purple highlights, making it perfect for individuals who want a gentle and refined transformation.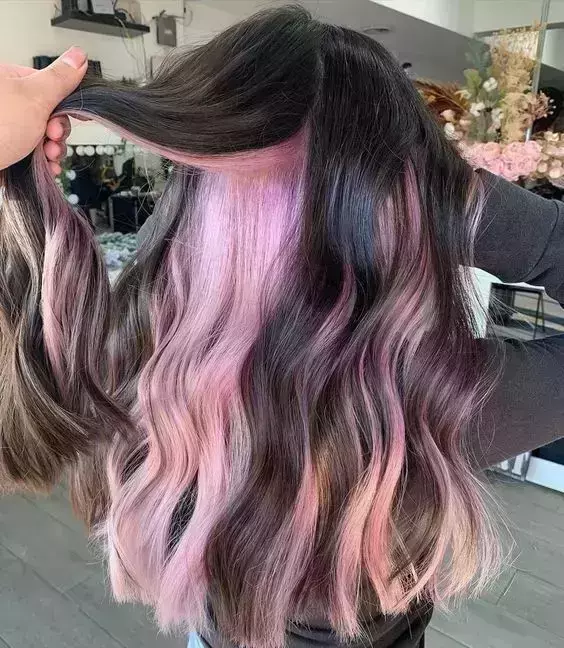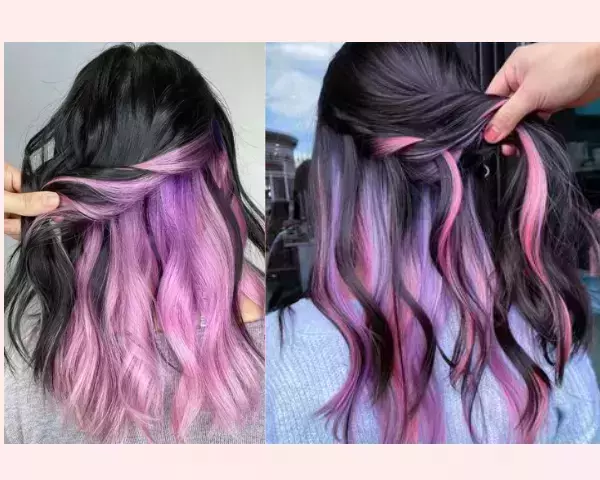 2. Violet Under lights
Violet Under Lights is a stylish and striking hair trend that involves adding vibrant violet or purple highlights on black hair but underneath the top layer of your hair. This technique creates a unique and eye-catching look with a hidden pop of color. Some people choose to add them to the bottom half of their hair, while others opt for just the tips or a more scattered, peekaboo effect. The placement is customizable, allowing you to achieve the desired level of visibility. Keep in mind that maintaining violet under lights may require touch-ups to keep the color vibrant, especially if you choose a permanent option.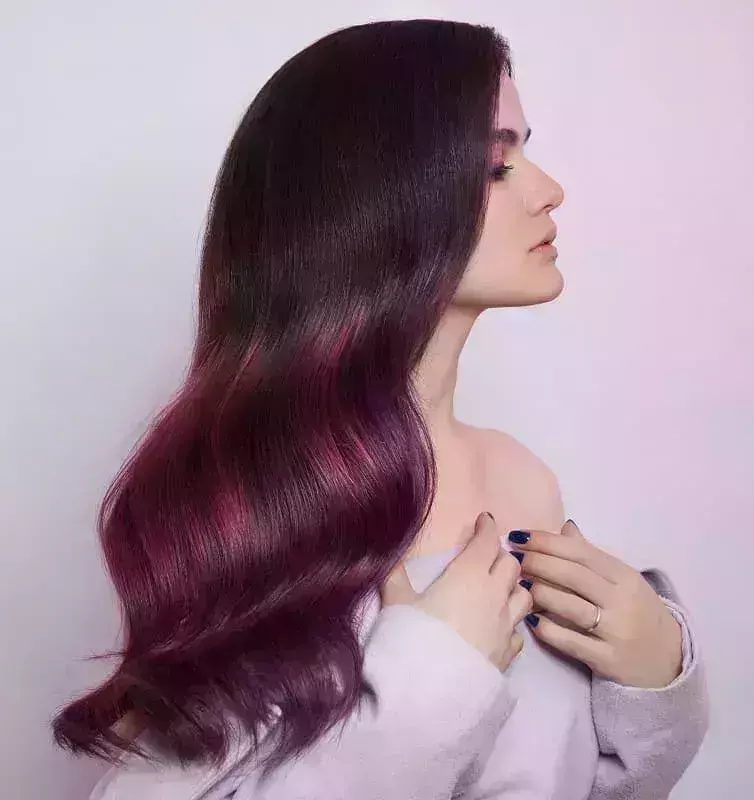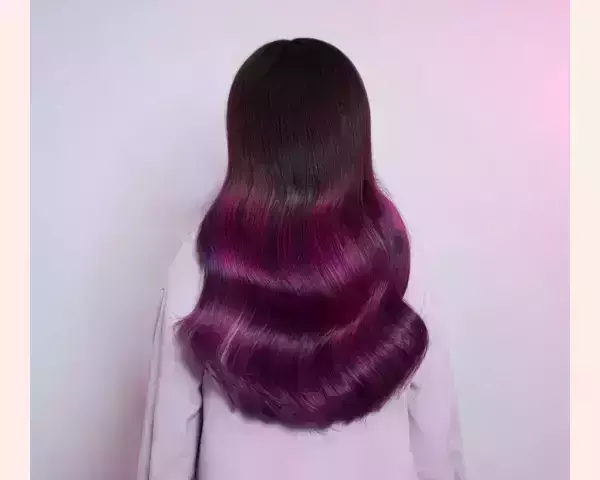 3. Plum Ombre
It combines shades of purple and deep plum to achieve a stunning, dramatic ombre effect. Plum ombre hair color is a fabulous choice for those looking to make a statement with their hair while embracing the elegance of deep purple shades. Whether you prefer a subtle transition or a bold, striking effect, plum ombre offers versatility and a touch of luxury that can transform your hairstyle into a true work of art.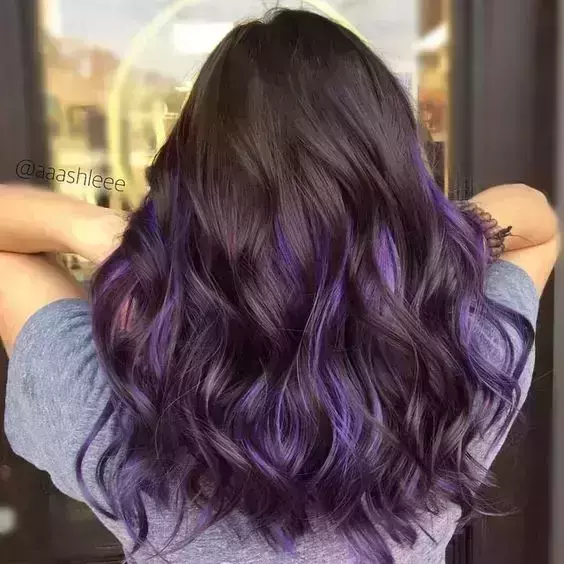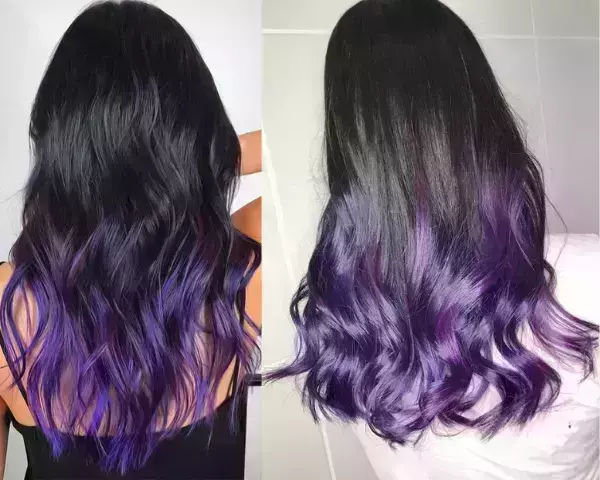 4. Amethyst Streaks
Amethyst Streaks are a captivating and unique way to add a touch of mystical elegance to your hair. Amethyst streaks typically incorporate shades of blue and purple highlights on dark brown hair to achieve the desired effect. The blend of these colors creates a multidimensional and enchanting look. Whether you're drawn to subtle, mystical highlights or bold, striking streaks, this trend allows you to explore the beauty of purple and blue hues in a way that complements your style and personality.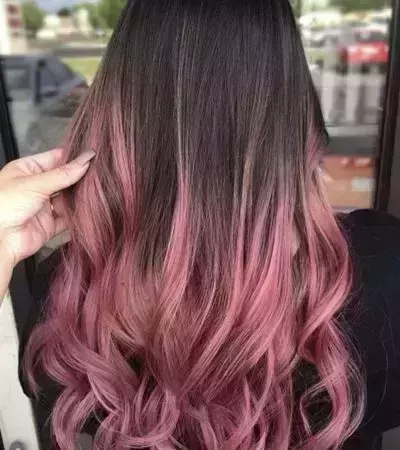 5. Orchid Babylights
Orchid Babylights offer a soft, and feminine way to introduce pastel orchid and pink hues to your hair. This trend allows you to add a touch of enchantment to your hairstyle, making it perfect for those who want to embrace a gentle and elegant look with a hint of color.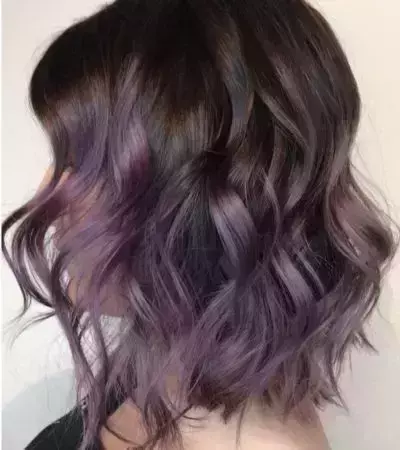 6. Metallic Purple 
Metallic purple hair color is a striking and bold hair trend that infuses metallic or chrome-like tones into shades of purple. Whether you opt for a subtle metallic sheen or a bolder chrome-like effect, this trend allows you to experiment with color and shine in a way that is both captivating and modern. Metallic purple hair pairs well with complementary colors such as silver, lavender, and cool-toned blues. These shades can be incorporated as highlights or undertones to enhance the metallic effect.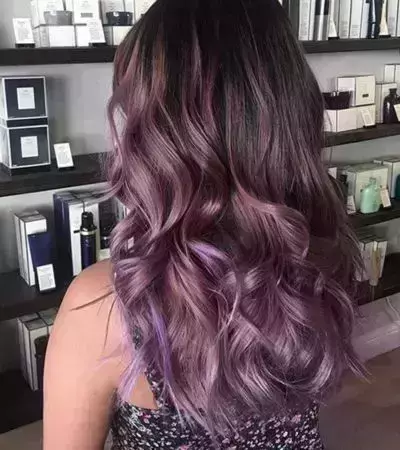 7. Lilac Balayage
Achieve a natural-looking result by opting for lilac balayage. This technique seamlessly blends different light purple highlights into your existing hair color. It's a beautiful and subtle way to incorporate the enchanting charm of lilac into your hairstyle. Lilac balayage adds dimension and depth to your hair and creates a natural and multi-dimensional appearance that can make your hair appear thicker and more voluminous.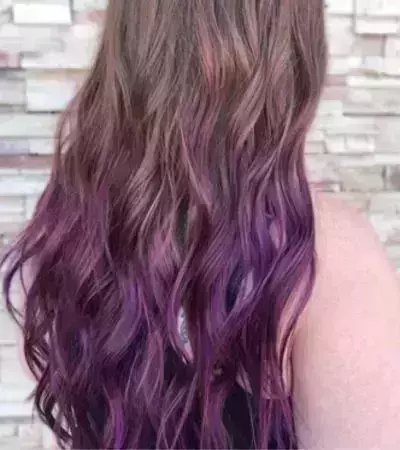 8. Mauve Tips
Mauve tips hair is a charming and creative way to experiment with color, allowing you to add a touch of soft purple-pink to your hairstyle. This can work well with various hair colors, including blonde, brown, and black hair, the outcome may vary based on your base color. This style is relatively low commitment compared to all-over color changes. Since the mauve color is applied mainly to the ends, it grows out naturally, and touch-ups are less frequent.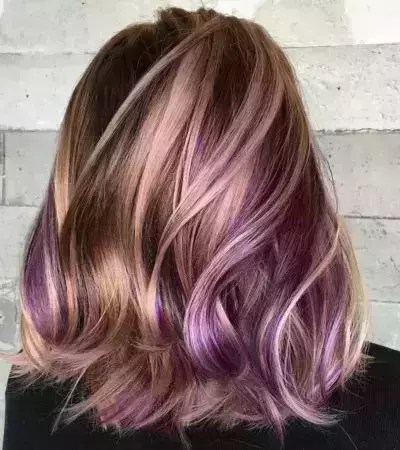 9. Lavender Streaks
Lavender Streaks are a stylish and eye-catching hair coloring technique that involves adding light purple streaks or highlights of lavender, a soft and soothing shade of purple, to your hair. It can work well with various hair colors, including blondes, brunettes, and darker hair. The contrast between the lavender highlights and your natural color creates visual interest and can make your hair appear thicker.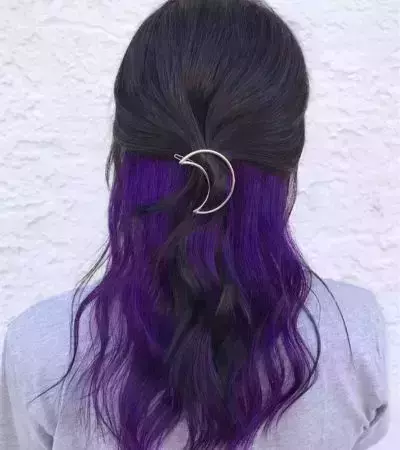 10. Purple Peek-a-boo
Purple Peek-a-boo is a playful hair coloring technique that involves adding hidden purple streaks or sections to your hair. This style allows you to embrace a pop of purple without fully committing to an all-over color change. The purple highlights are typically concealed within your natural hair, revealing themselves when you move or style your hair in certain ways. You can customize the placement of the purple peek-a-boo sections to your liking.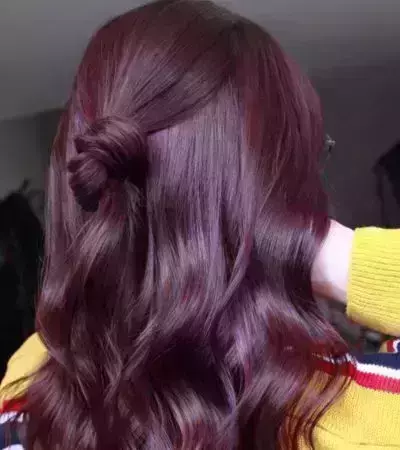 11. Plum Crown
The plum crown is a stunning and attention-grabbing hair trend that highlights the regal beauty of deep plum and purple shades. It looks fantastic whether you wear your hair straight, curled, or in various updos and braided styles. The contrast between the plum crown and your natural color creates visual interest and can make your hair appear thicker and more voluminous.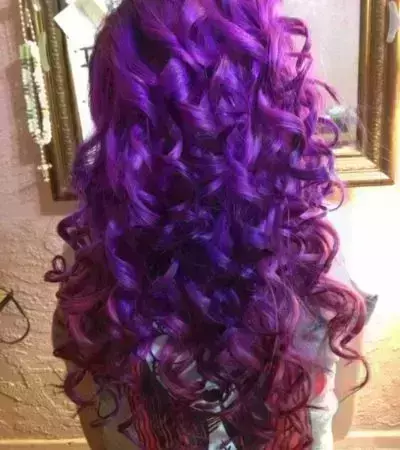 12. Electric Purple
Electric Purple is a vibrant and intense purple highlight that is reminiscent of neon or fluorescent colors. You can go for dark purple highlights to stand out from the crowd with bold and vibrant electric purple highlights that demand attention. It can complement different skin tones, but it's essential to find the right undertones and shades of purple that work best with your complexion.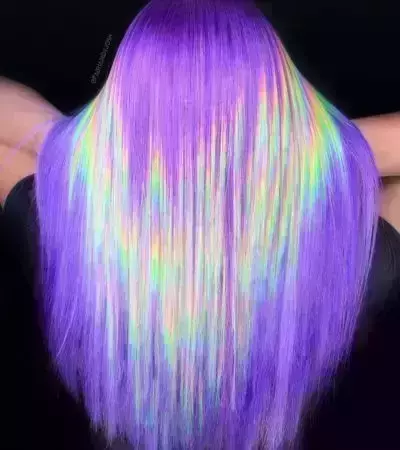 13. Holographic Purple
This unique and futuristic style aims to replicate the prismatic and color-shifting properties often seen in holograms, creating a mesmerizing and multi-dimensional look.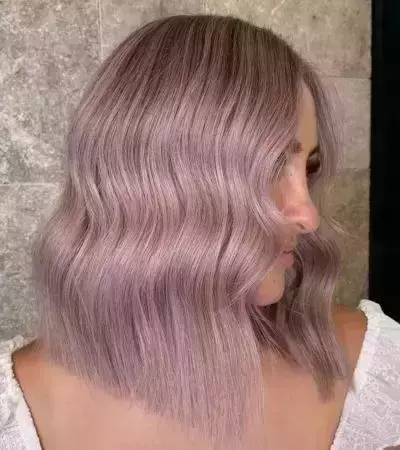 14. Lilac Face Frame
It's a stylish hair coloring technique that focuses on framing the face with delicate lilac or lavender highlights or streaks. This trend allows you to add a touch of elegance and a hint of color that enhances your facial features and overall look.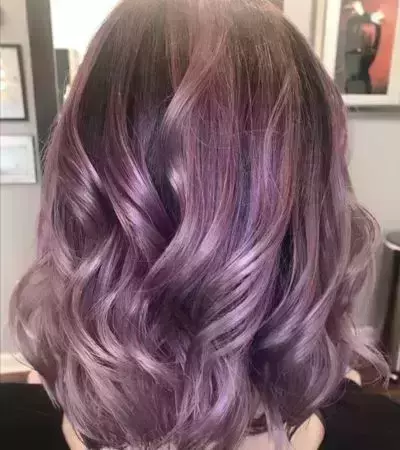 15. Deep Mauve
This hair color choice creates a deep and mature look that's both elegant and stylish. It is perfect for those who prefer a richer, more mature shade of purple. Deep mauve hair color can be applied in various ways. You can choose to go all-in with a full head of deep mauve, create highlights, or opt for a balayage or ombre effect.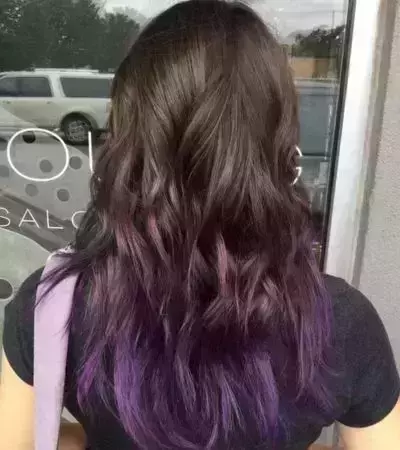 16. Violet Tips
Violet Tips refer to a hair coloring style in which the ends or tips of the hair are dyed in shades of violet or purple highlights on light brown hair. This trend allows individuals to experiment with vibrant and eye-catching colors while maintaining a somewhat subtle and playful look. It adds a touch of drama to your hairstyle with violet tips that create a striking contrast against your natural hair color.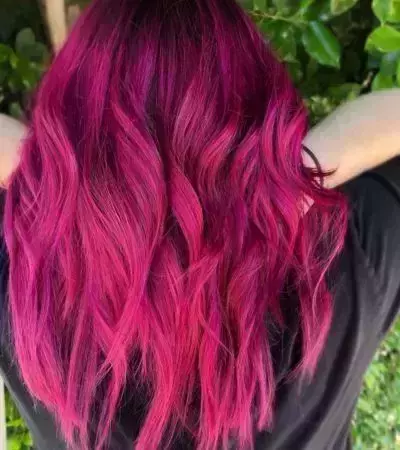 17. Raspberry Ripple
Raspberry Ripple is a delightful and visually striking hair color trend inspired by the colors and patterns found in Raspberry Ripple ice cream. This style combines shades of deep red or raspberry with creamy or lighter hues to create an eye-catching look. The intensity of the raspberry ripple effect can be customized to your liking. Some opt for a more subtle ripple with muted raspberry hues, while others go for a bolder and more pronounced swirl.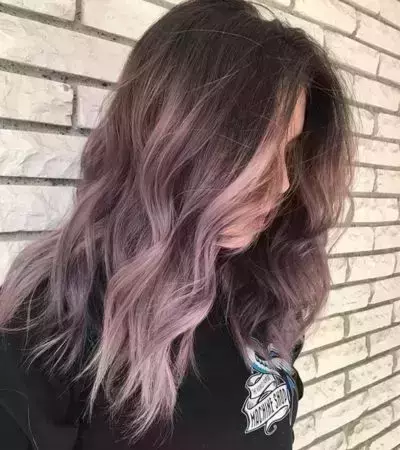 18. Dusty Lavender
This color trend has gained popularity in recent years for its subtle yet elegant appearance. It's a soft and muted shade of lavender or purple that incorporates gray or ash undertones.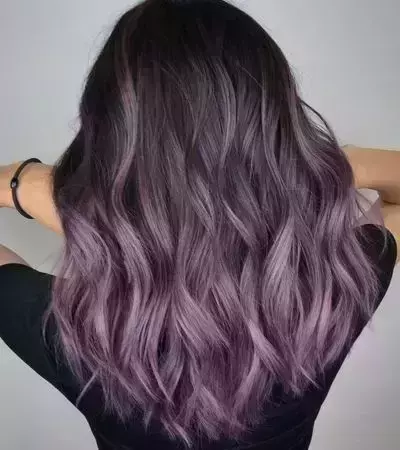 19. Pastel Purple
This pastel hue is a lighter and more muted version of traditional purple, offering a soft and dreamy look. Pastel purple hair color is versatile and can be applied in various ways. You can choose to go all-in with a full head of pastel purple, create subtle pastel purple highlights, or achieve an ombre effect that blends seamlessly from your natural color to pastel purple.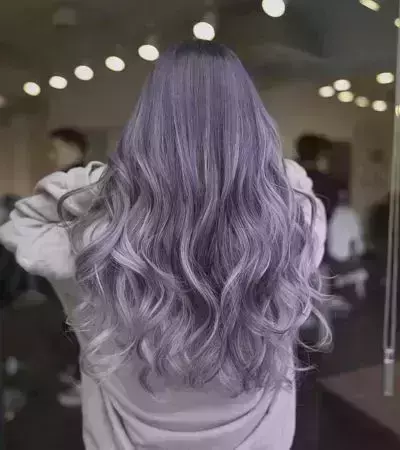 20. Ashy Purple
Ashy Purple is a unique hair dye trend that combines the soft, muted tones of ash with delicate shades of purple. Achieving a well-blended ashy purple hair color often requires the expertise of a professional hairstylist. They can ensure that the transition looks like natural purple highlights and suits your skin tone.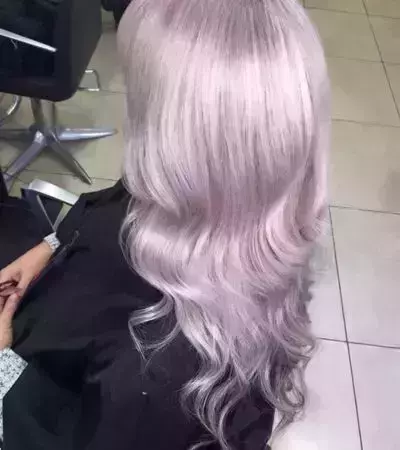 21. Smoky Amethyst
Smoky amethyst hair color is a refined and captivating choice for those looking to infuse their hairstyle with a blend of cool gray and deep purple. It pairs beautifully with complementary colors like silver, lilac, and soft lavender. These combinations create harmonious and visually appealing color schemes.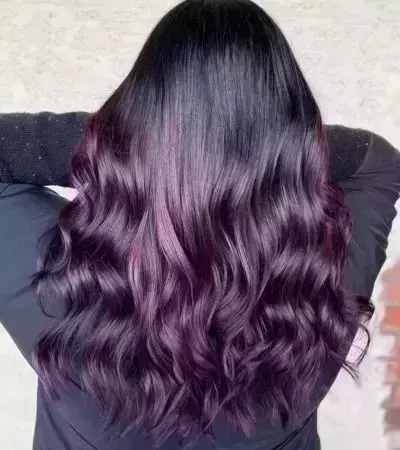 22. Plum Streaks
Plum streaks are a chic and captivating way to experiment with vibrant plum or burgundy hues in your hair. It adds subtle flair to your hairstyle with plum streaks strategically placed throughout your hair. The bold streaks add a touch of edginess to your overall look.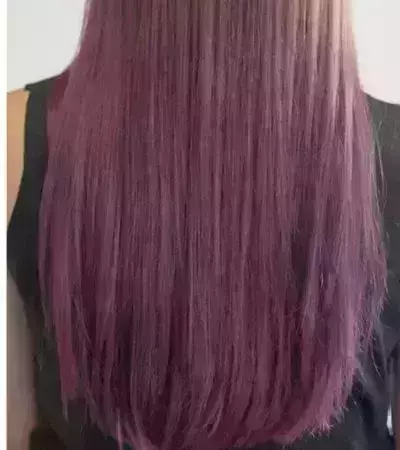 23. Orchid Sombre
It's a combination of soft and delicate shades of orchid purple with a sombre effect. Sombre is a seamless transition from darker roots to lighter ends, creating a natural and sun-kissed look. When combined with orchid purple, it results in a graceful hairstyle.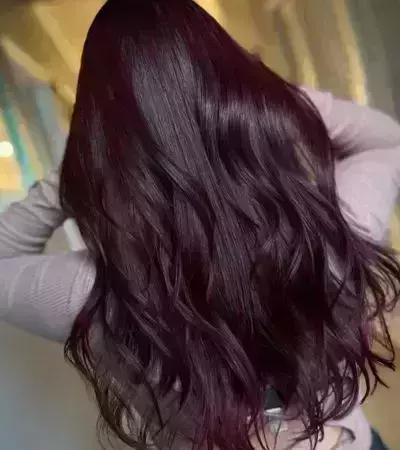 24. Glossy Grape
Glossy Grape is a captivating and lustrous hair color trend that combines the rich and deep shades of grape purple with a glossy, high-shine finish. This style creates a bold and striking look that exudes confidence and glamour. Glossy grape pairs beautifully with complementary colors like deep plums, soft lavenders, and silvery grays. These combinations create harmonious and visually appealing color palettes.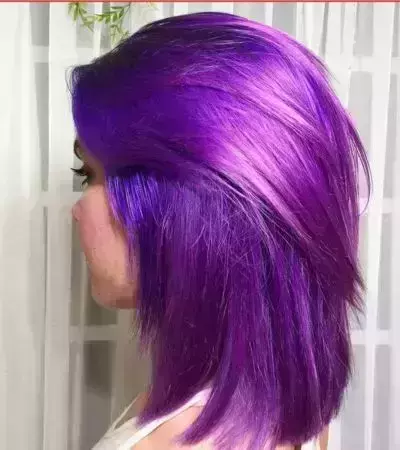 25. Midnight Orchid
Midnight orchid is characterized by the fusion of midnight blue or black with the vibrant and vivid tones of orchid purple. The combination creates a captivating and mesmerizing look. It can be applied in various ways, including as an all-over hair color, highlights, balayage, or ombre. Its versatility allows for creative and personalized styles.
Conclusion:
Purple hair highlights offer a plethora of options to experiment with and express your individuality. Whether you prefer a soft and feminine look or a bold and avant-garde style, there is a shade of purple that will suit you perfectly. Embrace the latest hair color trend of 2023 and let your hair shine with the beauty of purple highlights.