25 Stunning Butterfly Tattoo Designs In 2023
Ashwini
Updated At 09 Feb 23
Butterflies have been a popular subject for tattoos for many years. They are beautiful and can be quite colourful. There are several different butterfly designs that you are sure to find one that you will love.
In this article, we will take a look at some of the best butterfly tattoo designs in 2023. You will see some beautiful and unique designs that you may want to consider as these are amongst the top tattoo ideas for women.
25 Best Butterfly Tattoo Designs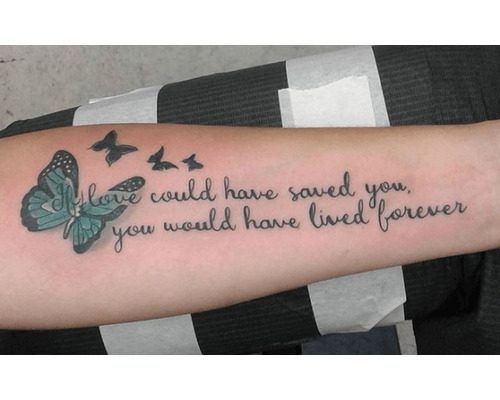 1. Butterfly Designs For The Writers
Like many other popular and enduring subjects for our tattoos, butterflies have always been favoured by tattoo artists for their vivid colour and pleasing design.
Butterflies are also often associated with tales of romance and magic. Butterflies are being more fascinated by fiction writers and share a positive vibe. One of the top tattoos with meaning, this represents symbol of hope, beauty, and transformation.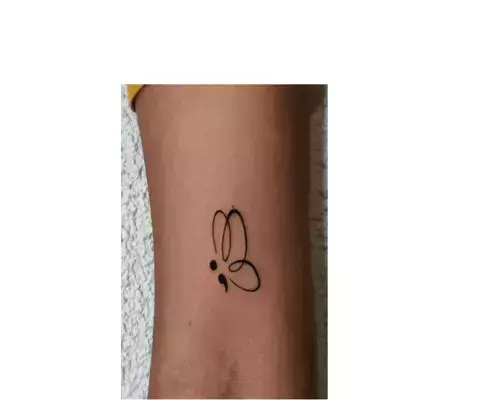 2. Small Butterfly Tattoo Design
A small butterfly tattoo looks more elegant over one finger or on the next. Small butterfly tattoo for those who want to put it somewhere that is easily hidden it may be the ankle or wrist. A tiny butterfly tattoo is a good option as it looks simple to give a Happy wipe.
A small butterfly tattoo design can look best when it is kept delicate. If you want, a simple small butterfly design you can consider this design.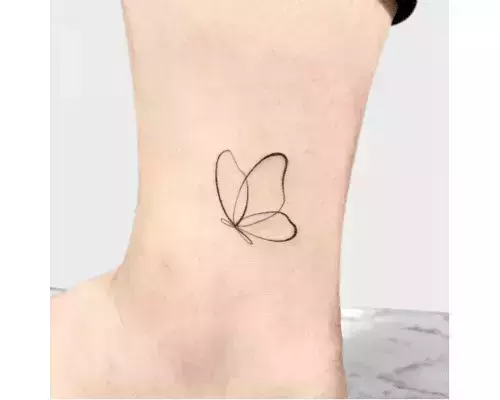 3. Simple Butterfly
A simple butterfly tattoo design is a symbol of royalty and trust. There are so many beautiful butterfly tattoo designs that will blow your mind. A simple butterfly tattoo can be a great way to show your love for nature. It is a simple design that can be put in any profession on your body. If you are looking for this design consider opting for a tattoo of a single butterfly wing.
Check out our guide on disney tattoos as we list 25+ most popular ones which have been trending this year.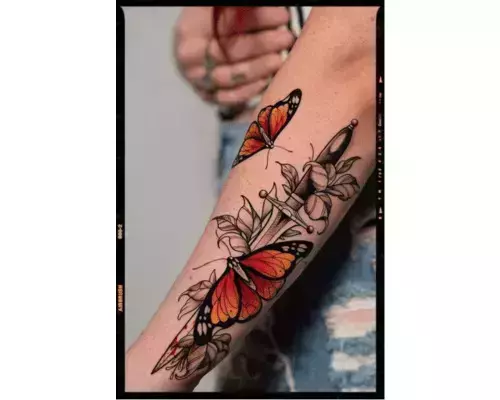 4. Monarch Butterfly
There are endless monarch butterfly tattoo designs from which you will be fascinated. From delicate, ethereal designs to Boulder, more intricate pieces, there is something for everyone. You can also check out rose tattoo designs as these look and also carry a specific meaning.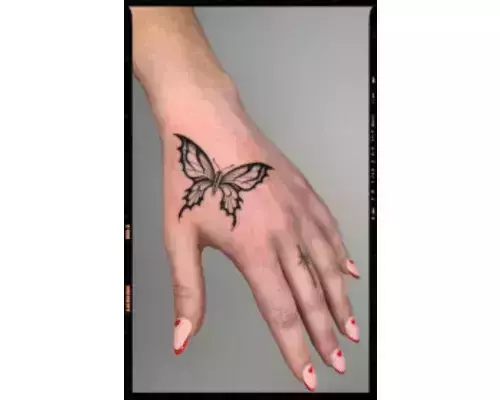 5. Tribal Butterfly
The tribal tattoo design can be used to represent many different things such as cultural heritage or personal beliefs. They can also be used to show your love for nature and celebrate your journey.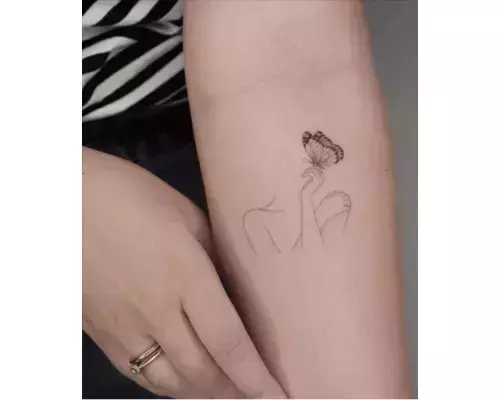 6. Butterfly Design Tattoo For Girls
Butterfly tattoo designs are often associated with femininity and innocence and they make great tattoo designs for girls. Some of the most popular design includes feature single butterflies or clusters of butterflies including wings.
Check out our guide on good luck tattoos as we list 25+ lucky tattoo designs which have been extremely popular.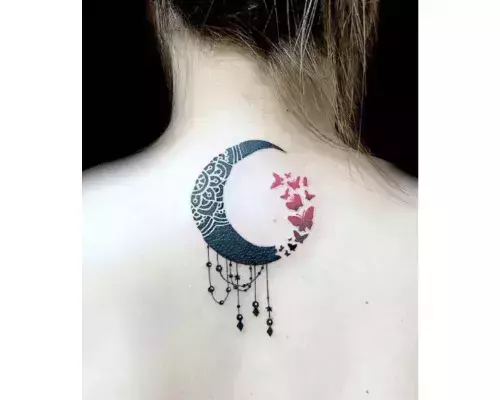 7. Unique Butterfly Design
There are so many different butterfly tattoo designs out there that you could easily get lost, trying to choose the right one for you whether you are looking for a simple butterfly tattoo or something complex which looks unique, combining different shapes and designs.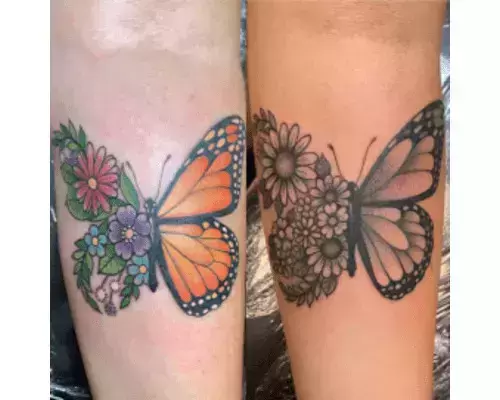 8. Realistic Butterfly Tattoo Design
Some of the most popular designs include realistic butterflies with real colours and intricate details, realistic butterflies with glitters and gems, and realistic butterflies with wings that are painted in different colours.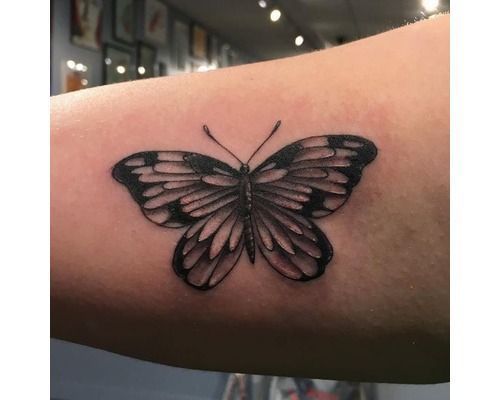 9. Black And White Butterfly Design
Black and white butterfly design tattoos are integrated and beautiful and can be perfect for anyone looking for a unique and memorable tattoo. This design is very popular and is very much trending among tattoo lovers.
If you are interested in new tattoos do check out our guide on hawaiian tattoos as we list the best deisgns for both males and females.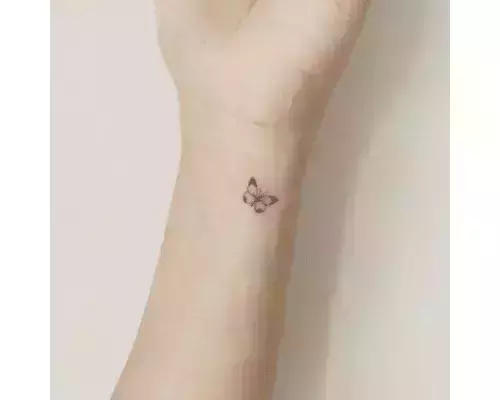 10. Wrist Butterfly Design
Wrist butterfly tattoos can be delicate and feminine but can be more masculine. You can choose to have a single butterfly or a pair of wrist butterflies.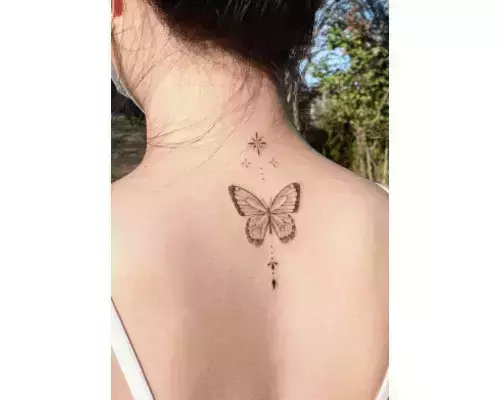 11. Black Butterfly Tattoo Design
Whenever you pick a butterfly tattoo design you should consider that it fits your personality and looks amazing on your skin whether you want a traditional black butterfly tattoo design or something more creative.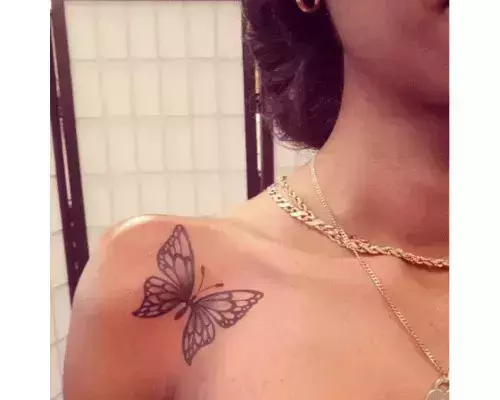 12. Shoulder Butterfly
Butterfly tattoos on the shoulder can be used to represent your femininity and your masculinity. You can also use them to show your love for nature or your favourite butterflies.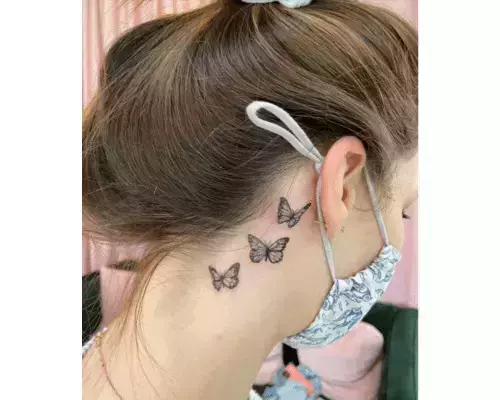 13. Neck Butterfly
A simple butterfly tattoo design on the neck can be done with just a few simple lines. The waves can be simply outlined in black for a light colour and the body can be filled in with a variety of colours.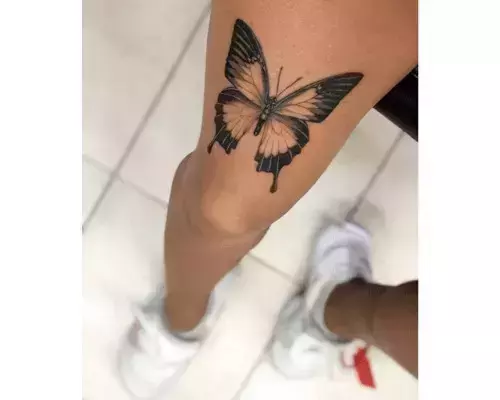 14. Butterfly Leg Tattoo Design
Butterfly letter to represent changes and evaluations. It takes time for the insect to undertake transformation, showing the placement of this design can be symbolized the same journey you take.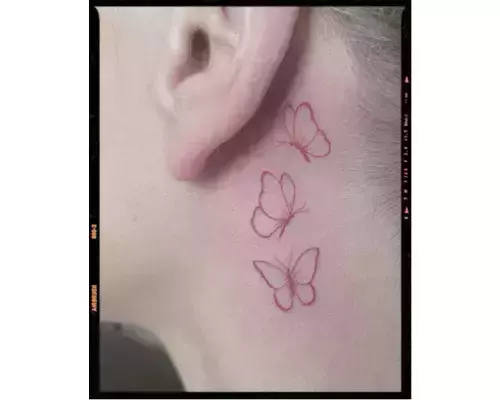 15. Behind The Ear Butterfly Design
Behind-the-ear tattoos of a great way to add some personality to your tattoo. They are also a great way to add some fun and excitement to your look.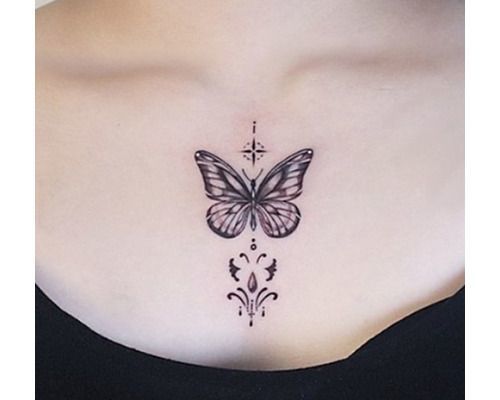 16. Chest Butterfly
The butterfly tattoo design on the chest symbolizes a great way to show your patriotism. Butterflies are typically flown by members of the military, so they are a great symbol of love and patriotism towards the country.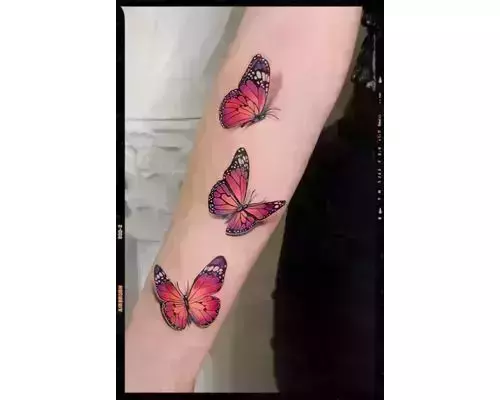 17. Combination Of Butterfly Design
Combination butterfly tattoos are a great way to add a bit of personality to your body. They can be designed to represent different aspects of your personality or simply be a fun addition to your everyday wardrobe.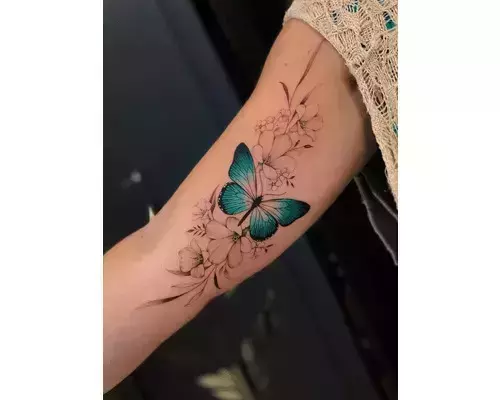 18. Floral Butterfly
The above design is simple but beautiful, featuring blue colour butterflies with floral vegetation. Generally, butterflies are associated with floral vegetation so a tattoo representing floral designs with butterflies is a symbol for nature lovers.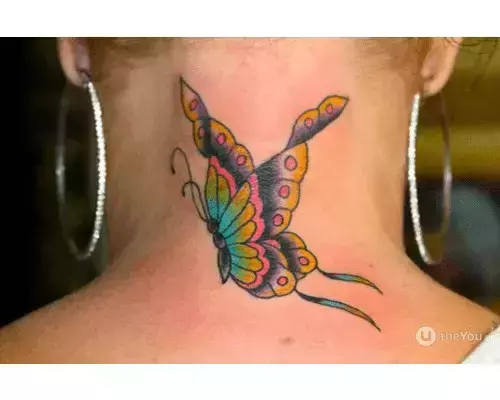 19. Colorful Butterfly
There are endless possibilities when it comes to tattoo design with colours. Whether you want a fun and playful design or something more serious there is a colourful butterfly tattoo designed to suit your needs.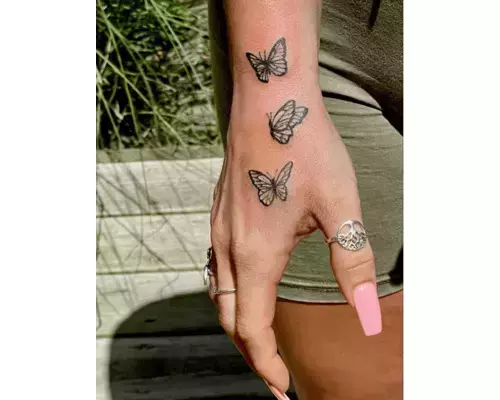 20. Butterfly Tattoo Design On Hand
Butterfly tattoos on hand are designed for anyone who wants them touching and unique tattoos. The hand is the most noticeable place in the body showing the tattoo in this area is more noticeable than other parts.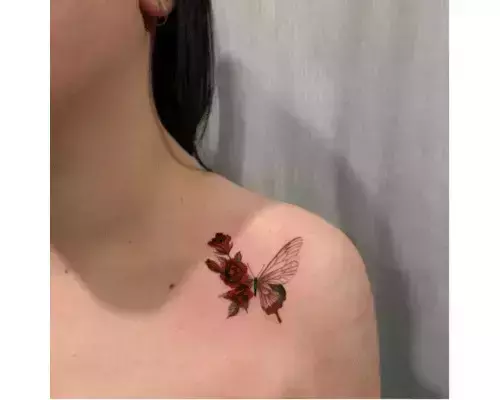 21. Rosy Butterfly
Many different rose butterfly tattoo designs can be created. Some examples include a single rose combined with the rose in the way it seems like they both are the same identity. We can also use a hummingbird.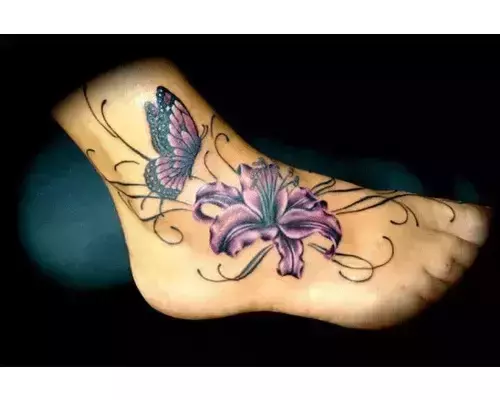 22. Orchid Butterfly Tattoo Design
Orchid butterfly tattoos are a beautiful way to show your love for orchids. They are also a great way to show your support for the environment and nature. The combination of orchids with butterflies looks incredibly beautiful.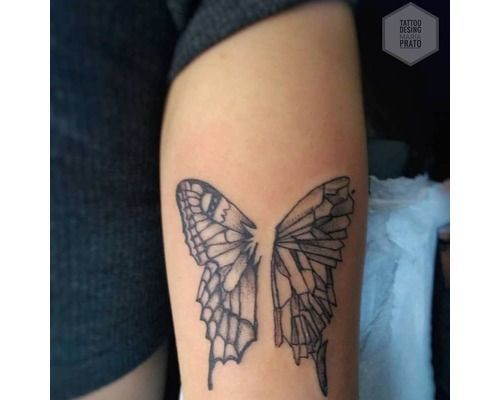 23. Butterfly Wings
There's something about a butterfly tattoo that just screams summertime. Maybe it is the carefree nature of this creature, the fact that they are often associated with rebirth and new beginnings.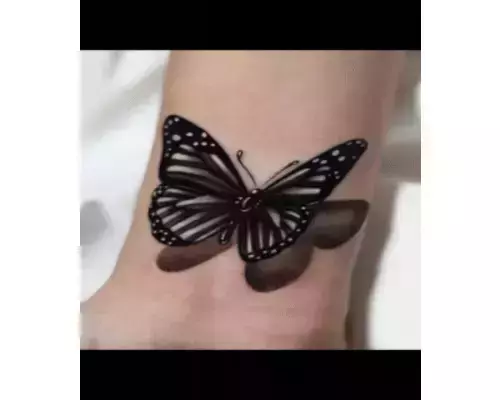 24. Smart Art Butterfly
There are various types of smart art tattoo designs that you can get. The smart design of the butterfly tattoo symbolizes changes and progress in nature. Butterfly tattoos can be made in a variety of styles you can take them in a traditional way or a casual one.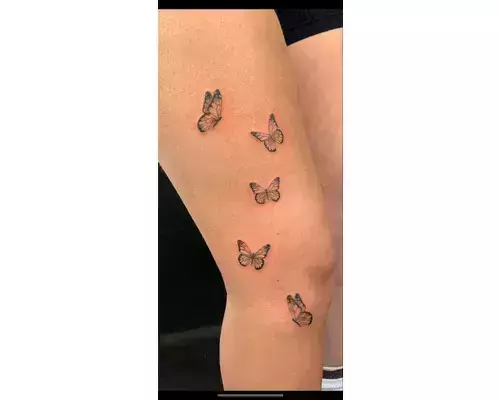 25. Butterfly Tattoo Design On Thigh
A thigh tattoo is one of the sexiest and trendiest spots to get inked. Butterflies represent movement and transformations, which is something that you do every time you take 1 step forward. So, this design on thighs is a good option to get inked.