51 Best Front Hand Mehndi Designs - 2023
Shalu Bhati
Updated At 17 Sep 23
Are you a fan of mehndi designs? Do you love henna painted hands?  Would you like to find the front hand mehndi design of your dreams? If yes, then keep scrolling!
Mehndi has been a part of many cultures since time immemorial. So much has been its influence that it still finds a place in the modern context. A lot of things might have changed over the years—people, places, their ways of celebrations—but one thing has remained the same and it is the fondness for mehndi designs. Year after year mehndi designs transform to fit well with the times. And we scoured the internet to find you the latest and the best front hand mehndi designs. We have covered everything from simple mehndi designs for front hands to cone designs. Let's begin!
51 Best Front Hand Mehndi Designs - 2023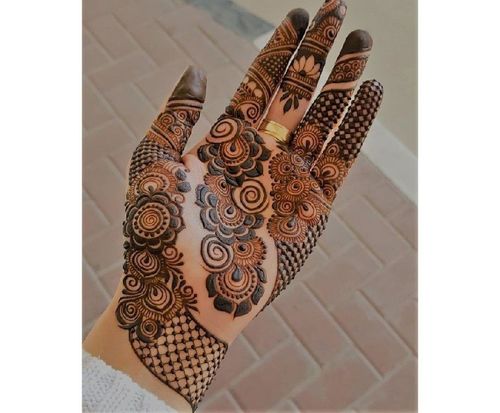 1. New Mehndi Design
Mehndi has been popular in India, Pakistan, Egypt, Africa, and Saudi Arabia among other countries. Its origin dates so back in the past that it is difficult to pinpoint the exact deal. Give a chance to this pretty front hand mehndi design. You will love this mehndi design as its easy and pleasing to the eyes.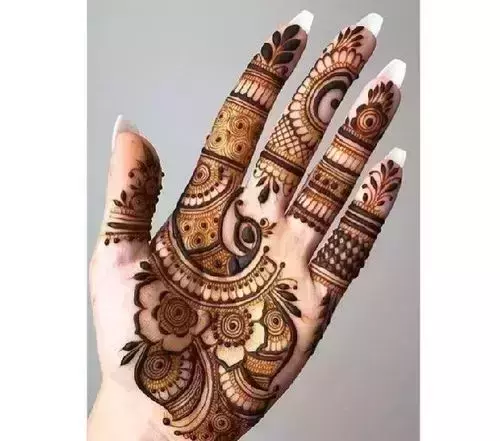 2. Peacock Mania
Mehndi designs in India were greatly influenced by the Mughals. Using motifs like peacocks, leafy vines, intricate flowers, and jaali, these front hand mehendi designs present an artful design.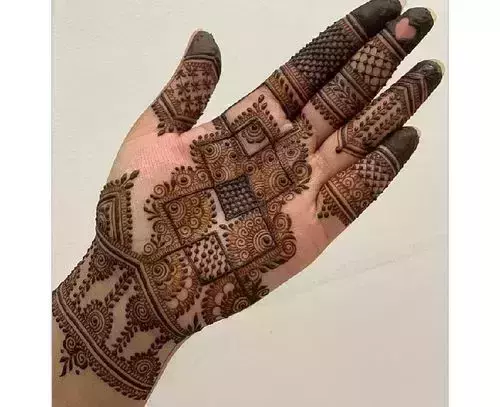 3. Geometric Mehndi Design For Hands
Geometric designs are one of the most popular Easy Mehndi Designs. Mix it up with the traditional designs to get a unique customized front hand mehndi design. Give a try to this new mehndi design.
4. Floral Vine
This is a simple but aesthetically pleasing design that you can choose to be the perfect fit for your festival celebrations. From Diwali to Rakshabandhan to Eid, this festival mehndi design will never disappoint you.
Check out our guide on spectacular full hand mehndi designs to find out the latest and unique designs trending this year.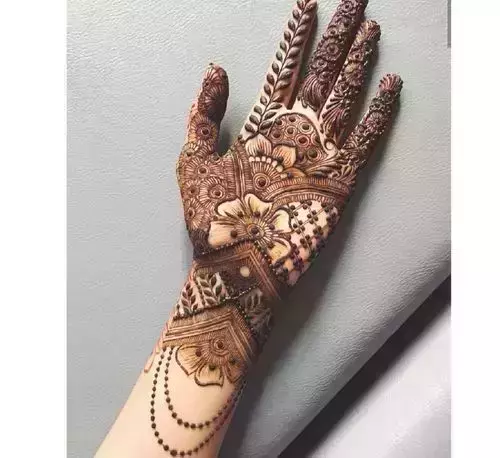 5. Latest Front Hand Simple Mehendi Design
You will get a plethora of designs to choose from once you have learned to mix in a couple of different motifs from flowers and laces to leaves and teardrops.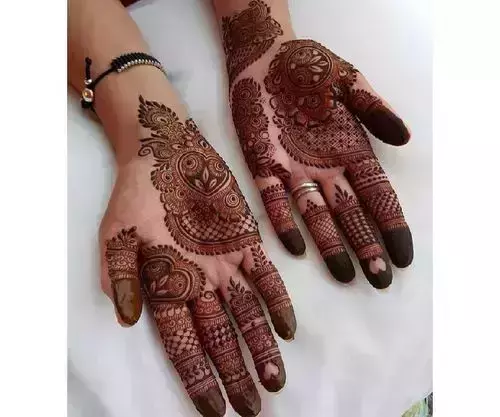 6. Mughal Inspired
Become one with art as you admire art with this mehndi design inspired by Mughal art and architecture. Notice the elegance and royal vibes that this design exudes.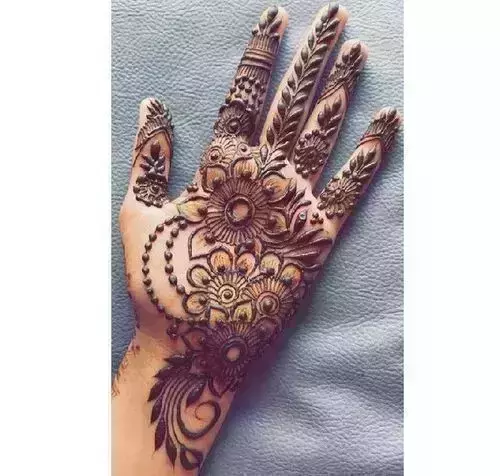 7. Flowers—Big and Bold
Flowers have been a common element of mehndi designs all over the world. Use big strokes to create a bold statement this festival season.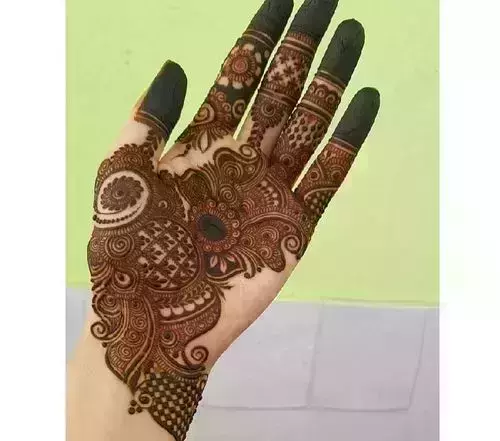 8. Festival Front Hand Mehndi Design
The last few years have seen the advent of mehndi designs like this one. Such designs use a combination of light and dark shades to create a masterpiece on your palms.
Check out our guide to find the best leg mehndi designs as we include 61 spectacular designs which have been popular this year.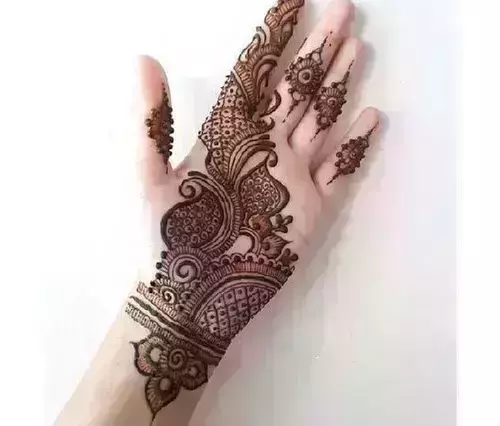 9. Talk Paisley
Paisleys are one of the oldest motifs used in the Indian style of mehndi. They are traditional, simple, easy to make, and insanely beautiful at the same time. They can be modified to fit with other motifs pretty well.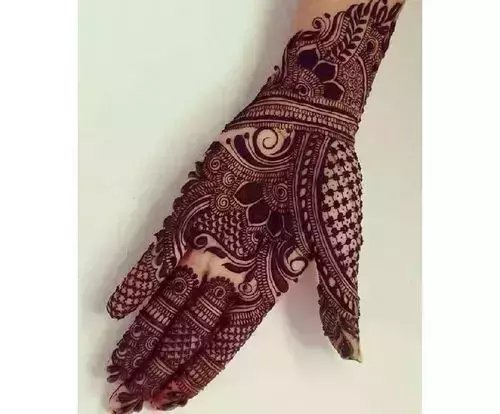 10. Latest Front Hand Mehndi Design
This beautiful mehndi design is one of the latest front hand mehndi designs made popular in 2023. Look at the constant use of the lace motif and how it has taken the mehndi design to the next level.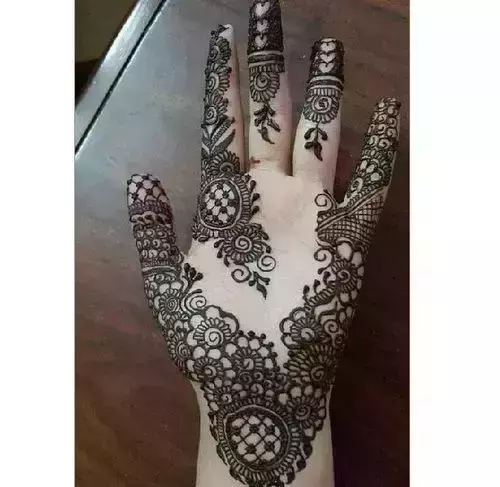 11. Arabic Mehndi Designs 2023
Here is a beautiful Arabic mehndi design is full of floral patterns. This hand mehndi design is the best companion for many festivals including Rakshabandhan and Eid.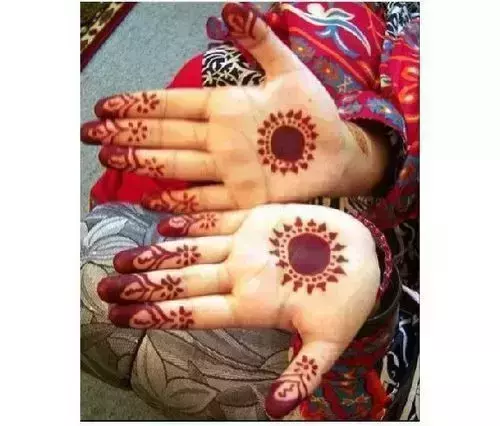 12. Simple Mehndi Designs For Front Hands
Another set of festival front hand mehndi design that we fell in love with. The mandala design is considered to be very auspicious. It is thus, a design that is rather common. But, it can be used in multiple ways.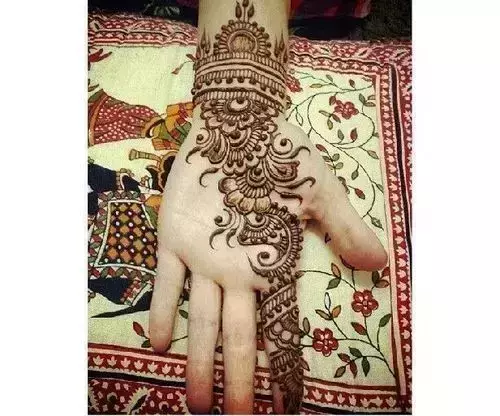 13. Simple And Traditional
Go the traditional route and choose this pretty floral and paisley vine for your latest front hand mehndi design. It is one of those simple mehndi designs for front hands that look incredibly beautiful.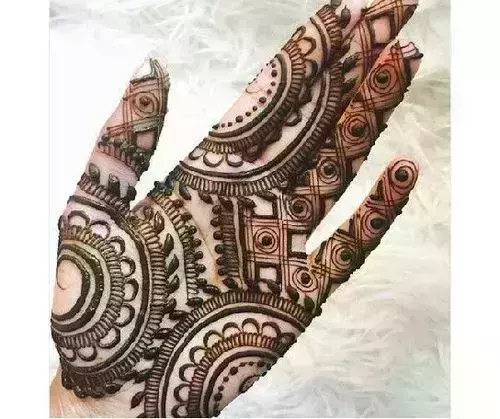 14. Going In Circles
Who knew using circles could look so good when used as a front hand mehndi design? Easy to make as well as aesthetically pleasing, this mehndi design looks beautiful beyond dreams.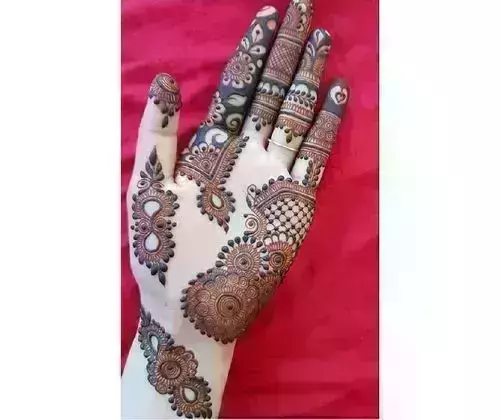 15. Beautiful Mehndi Design For Front Hand
The intricate floral motif coupled with bold tear drops looks like a beautifully painted picture. The lack of space on fingers stands in contrast with the space left empty on the palms.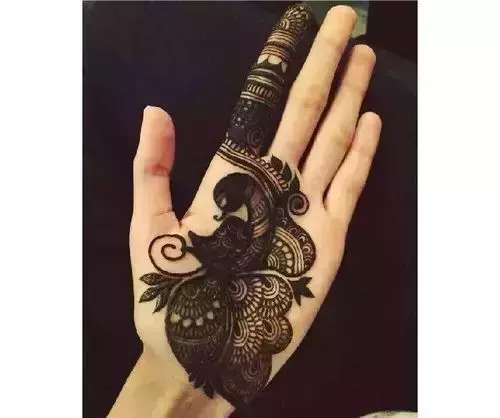 16. Black Mehndi Design
Black mehndi has become extremely popular this year too. The black color of the mehndi with the peacock makes everything pop. The intricacy is the best thing to happen to this design.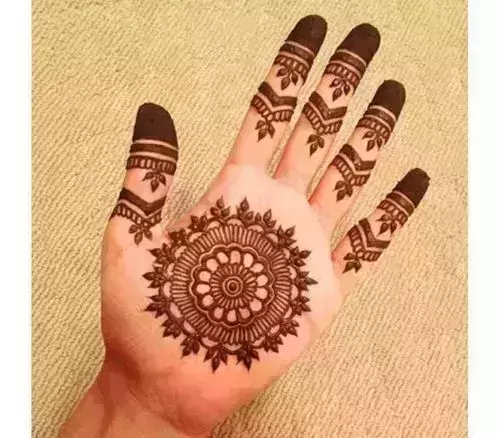 17. Beautiful Mandala Mehndi Design
Get on the festival mehndi design bandwagon with this pretty mandala design. A mandala represents the circle of life and happens to be an integral part of the mehndi designs over the years. This simple mehndi design for front hand is easy to get and looks very stylish at the same time.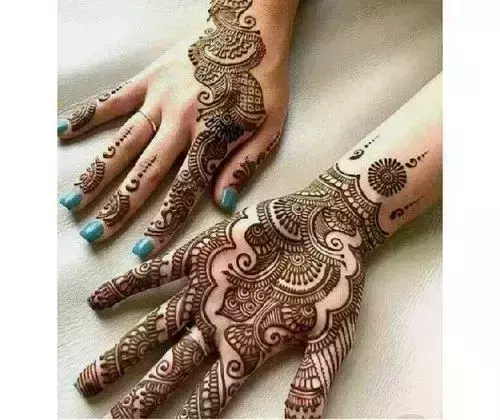 18. Front Hand Mehndi Design For Festivals
Here is yet another front hand mehndi design for festivals. It is full of traditional motifs but with a modern twist. So try out this festival mehndi design for front hands this season and get into your celebratory mood.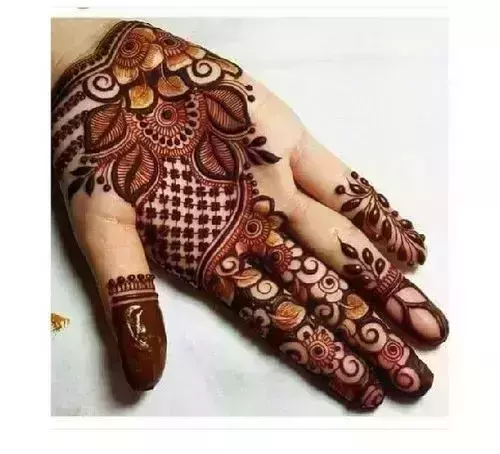 19. New Floral Design
Flowers and leaves are the oldest motifs to be ever used. But, this mehndi design caught our attention with its big, bold, and beautiful design. This new mehndi design with its new style will surely stand out.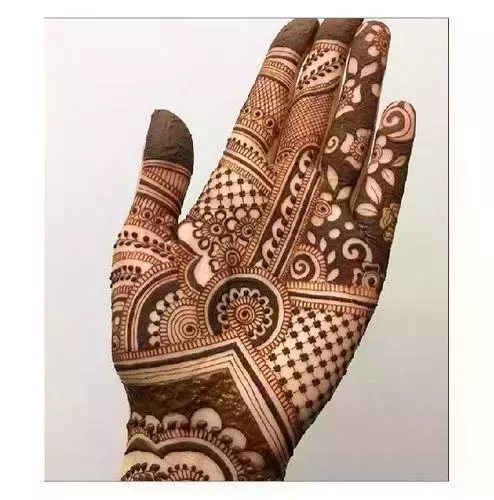 20. It's All In The Geometry
Remember, how we gushed over circles just a few pictures above? Allow us to gush over another geometric pattern one more time (or more). This one combines a variety of such patterns including circles and straight lines.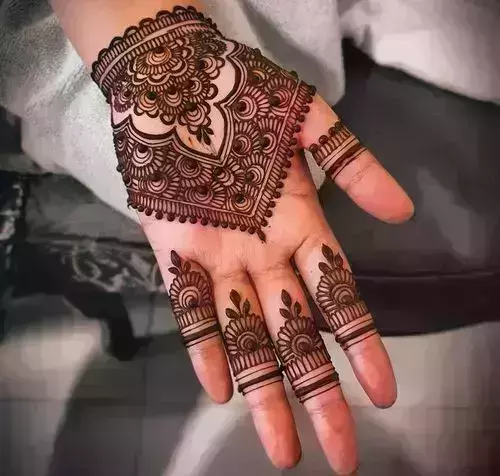 21. Mughal Roses
A Mughal-inspired design never fails to impress. Look at this one that takes inspiration from Mughal art and architecture. This different and unique design will steal everybody's hearts.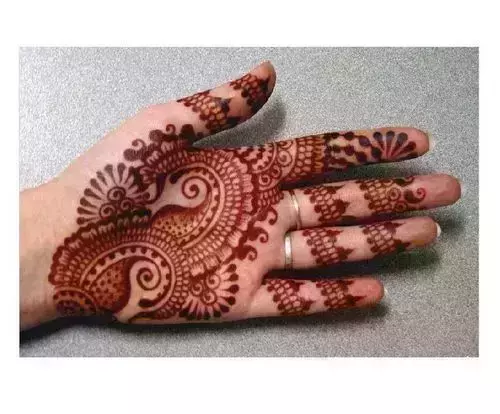 22. Simple Paisley Design For Front Hand
Paisleys always look beautiful irrespective of the designs you pair them with. We especially love this front hand mehndi design with the teardrop motifs and the tiny paisleys.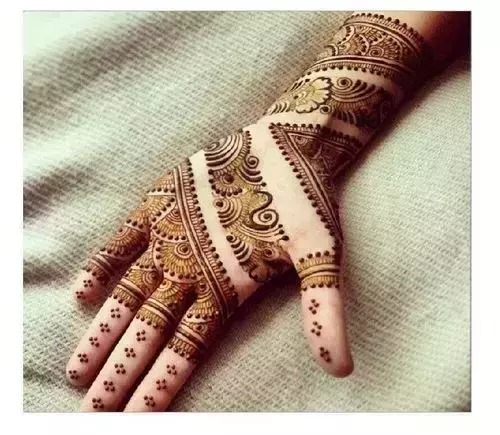 23. The New Design 2023
Here is another design that we fell in love with. This spacious design and the tiny cluster of dots paint a pretty picture together. It is a perfect blend of royal elegance and tribal culture.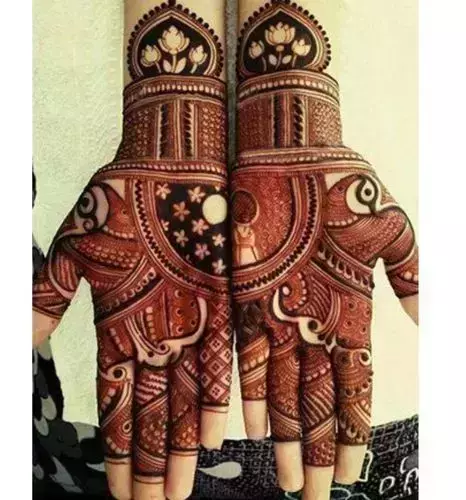 24. Mix n Match
This Mughal inspired design is especially beautiful with a combination of light and dark strokes. The lotus design that sits at the cuff is extremely pretty. Notice the moon motif? It is the best festival mehndi design for Eid and Karvachauth.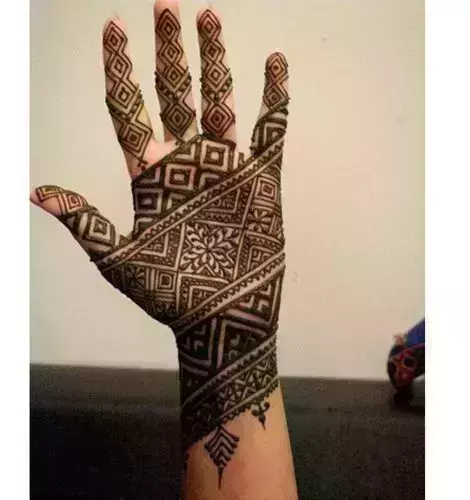 25. Aztec Is The New Black
Move over paisleys and floral patterns. And opt for this Aztec mehndi design to stand out from the crowd. Give it a chance to be your new favorite front hand mehndi design.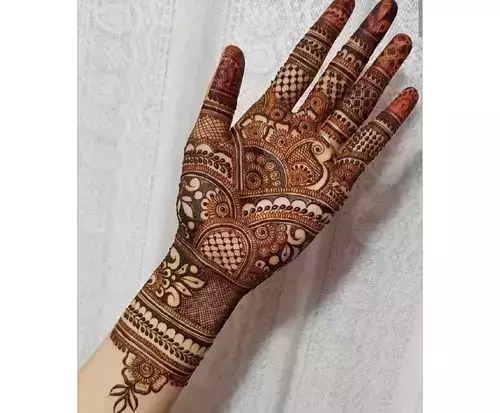 26. Intricate Bridal Mehndi Design
Simple mehndi designs for front hands look extremely pretty. And this one is a perfect example. This is an intricate bridal mehndi design that has our hearts won over by its various beautiful motifs and patterns.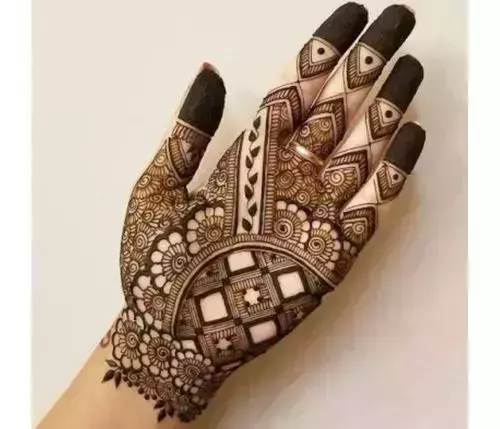 27. Latest Black Mehndi Design
This is a new mehndi design painted with black mehndi. The geometric motifs clubbed with flowers and leaves look pretty amazing. The use of space is an important factor here that adds to the beauty of this front hand mehndi design.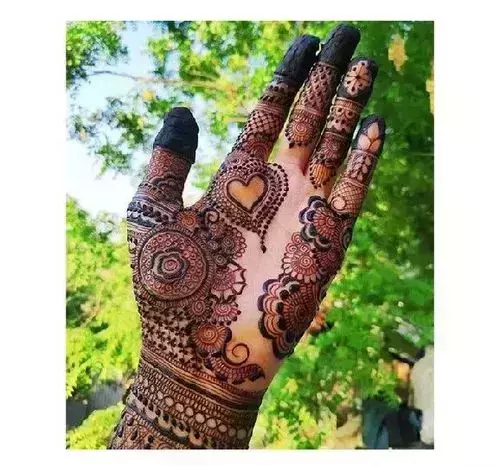 28. Cute And Popping
This is a cute front hand mehndi design. From festivals to engagement, it can be your partner on any occasion. The bold and unique flowers have intricate details that are very eye-catchy.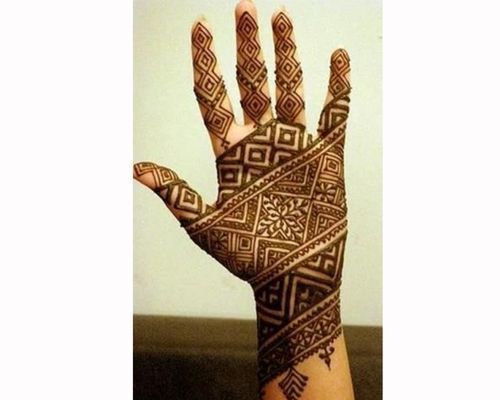 29. Geometric Flowers
We cannot get enough of the geometric front hand mehndi designs 2023. Here is another one of our favorites—beautiful, unique, and super stylish.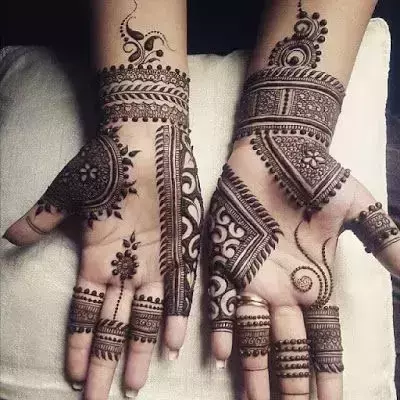 30. Moroccan Magic
Just like Arabic mehndi, Moroccan mehndi designs have a charm of their own. Take this one for example. You can easily choose it as an amazing festival mehndi design.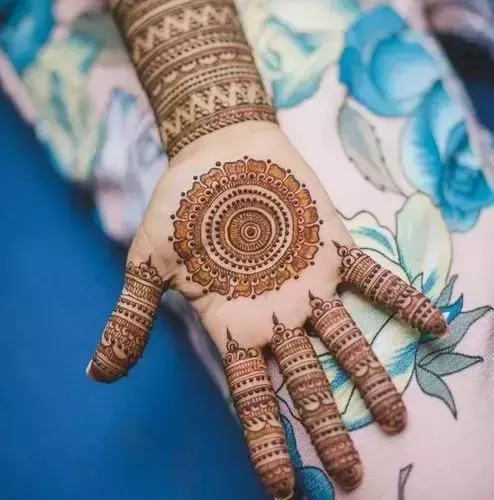 31. Pretty Mandala Front Hand Mehndi Design
The mandala design is very versatile. Not only can this mehndi design be used for multiple occasions but it can be made in different styles. From simple to the most intricate, there is no limit when it comes to the mandala front hand mehndi design.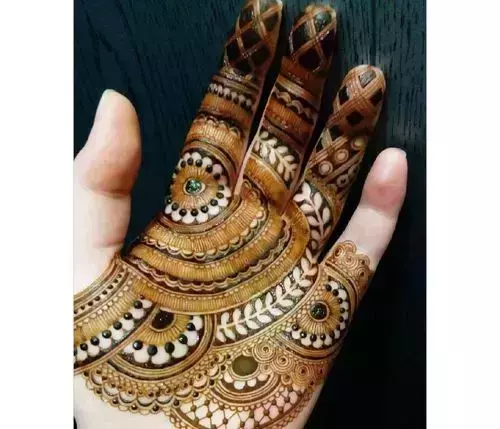 32. Light And Dark
First of all, circles and second of all, the combination of light and dark mehndi. We bet that you can also not miss the uniqueness of this design. This one is unlike any other we have seen. The circles that continue from the palms to the fingers create a wonderful effect.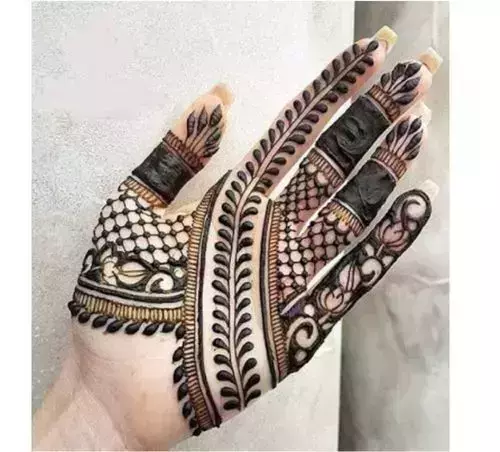 33. Leaves And Laces
The lace or the jaali motif has become a favorite over the last few years. And it is here to stay in 2023. Go for this minimal yet aesthetic front hand mehndi design. And don't you miss out on the pretty lotus motif.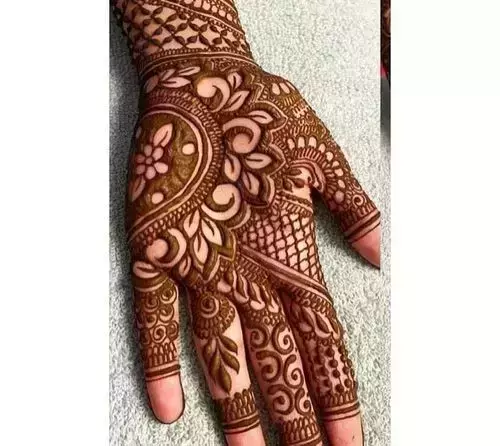 34. Royal Touch
Mehndi designs were a favorite amongst the royalty. From Rajputs to the Mughals, the royals loved to paint their hands with henna hues. And they surely brought their royal grandeur and elegance to the world of mehndi designs. Take this one for example.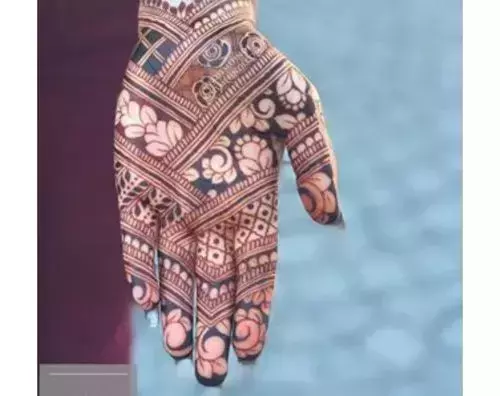 35. Beautiful Front Hand Mehndi Design
Are you a bride on a lookout for beautiful front hand mehndi designs? Then this could be the one for you. It uses all of the latest motifs and styles. It also covers the whole palm as a bridal mehndi design ideally should.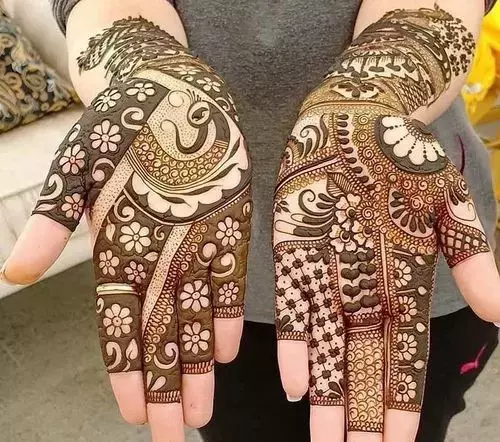 36. Beautiful Mehndi Designs For Front Hands
Want something very different and the latest? Here it is. Let us present to you a design that looks like a piece of art. Its use of negative spaces makes a regular floral pattern look superb. We also love that elegant peacock.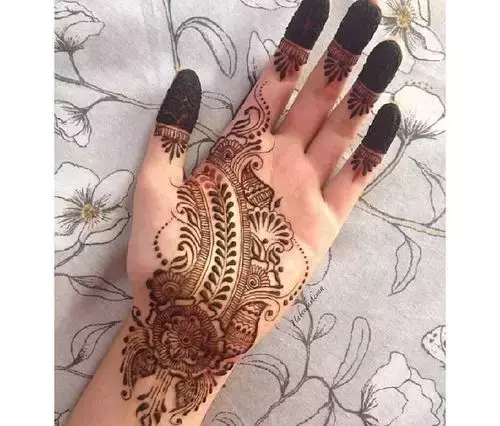 37. Simple Floral Design 2023
Floral mehndi designs are one of the best designs to ever exist. They are versatile, attractive, and purely fabulous. You can use this as one gorgeous festival mehndi design. We found it to be unique given the arrangement of various motifs.    
More like this: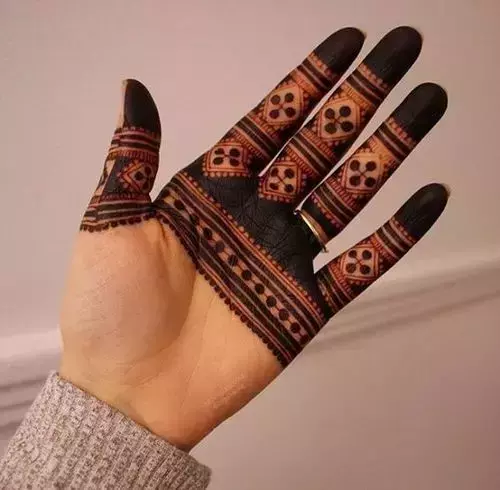 38. Unique Front Hand Mehndi Design
The use of positive and negative spaces to create a design never gets old. See this one for instance. It is a minimal design that is not just aesthetically pleasing but attractive as well.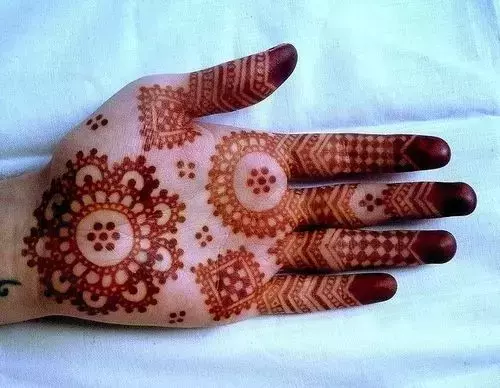 39. Simple And New Mehndi Design 2023
Here is yet another festival front hand mehndi design that we love. Its beauty lies within its simplicity.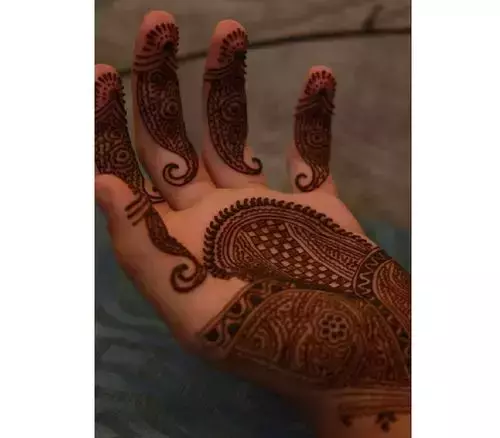 40. Paisleys Forever
Paisleys can never get old. And they never should. This is a motif so old and deep-rooted in our tradition, that we have grown fond of it. More than often, paisleys are used as the base of a mehndi design, and in some cases, where paisleys are the stand-alone feature, they also look the absolute best.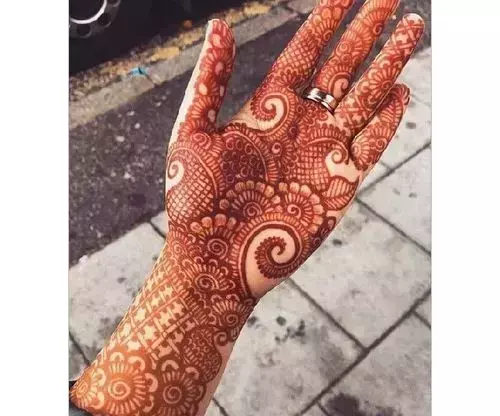 41. Festival Mehndi Designs For Front Hands
Here is a full front hand mehndi design complete with traditional motifs and patterns. From paisleys to the flowers to the curved vines, this design uses them all.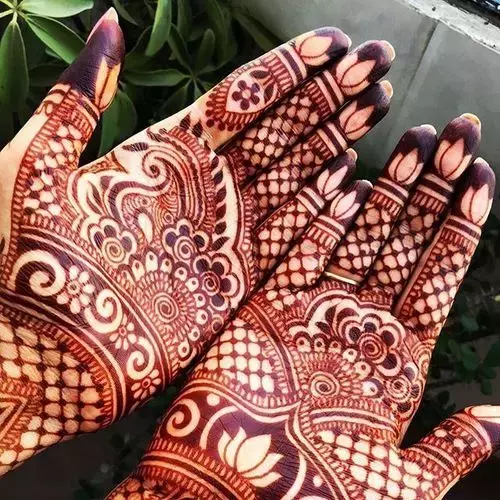 42. Talk Lotus To Me
Call it the influence of Mughal art on the mehndi designs of today that the lotus motif has become a new favorite amongst mehndi artists all over the country. The same goes for the lace motif.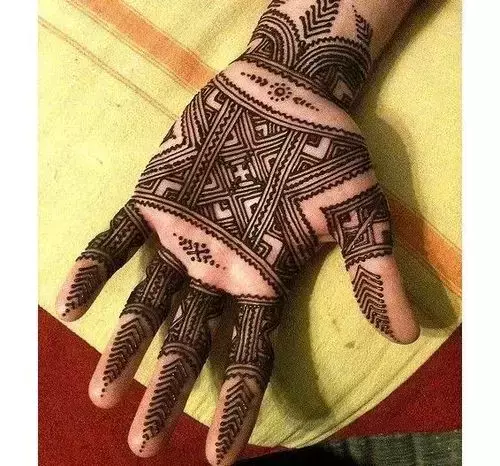 43. Beautiful Moroccan Design
Moroccan mehndi designs for front hands are another great option. The simple yet intricate use of straight lines to form different shapes is the USP of this style. It involves other elements too and is mostly geometric.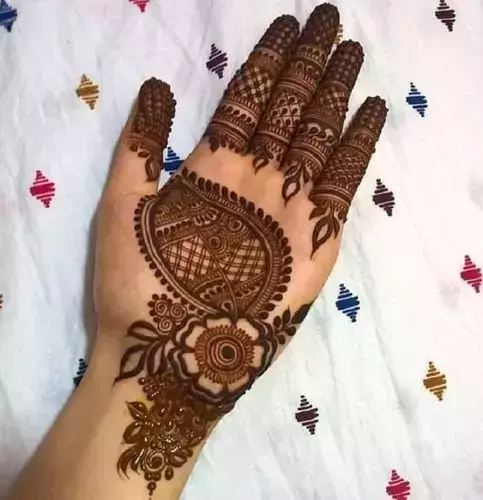 44. New Front Hand Mehndi Design
The dainty and intricate design combined with bold teardrops and dot motifs has our hearts. This is a very unique design that uses some of the most traditional motifs and uses them with a modern twist.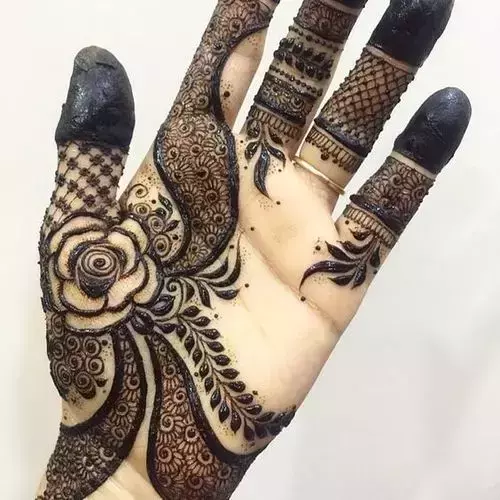 45. Rose Forever
This front hand mehndi design was love at first sight. Why? Because it was the intricate motifs plus how the pretty rose just sits below the thumb and how the rest of the design just flows from it. It is as if the life of this design is derived from that single rose.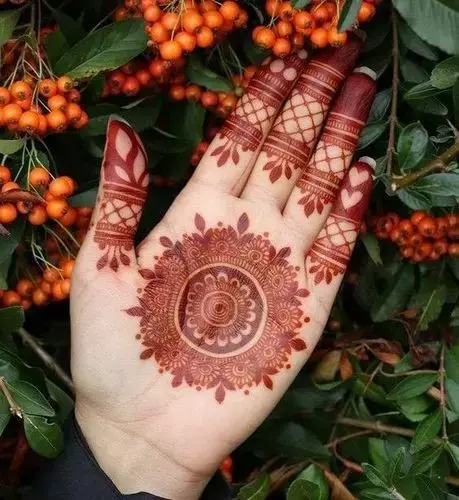 46. Festival Mehndi Design
Did we not tell you that a mandala mehndi design is extremely versatile? Look at the intricate details that surround as well as form this floral mandala design. This is a pretty cool festival mehndi design for the front hands.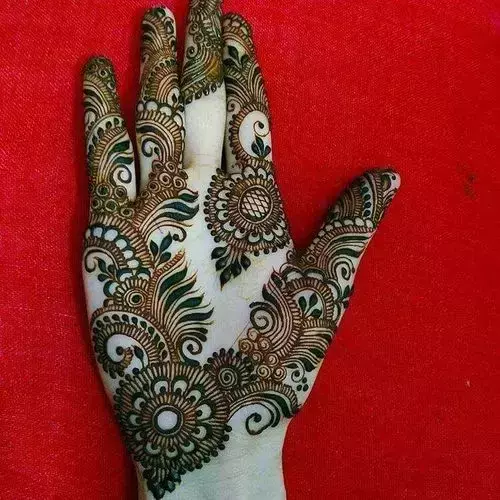 47. Pretty Patterns For Front Hands
Play out with different strokes, light and dark as well as thin and bold to get this beautiful piece of art on the palm of your hands. Look at how pretty those leaf motifs look. This is a beautiful front hand mehndi design that we adore.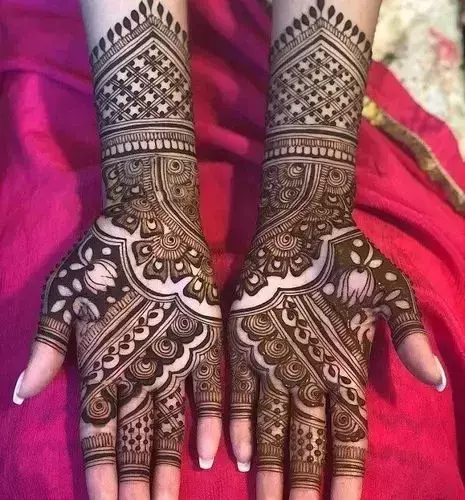 48. The Mughal Magic
The Mughal mehndi designs have gained popularity over the years because of their royal and elegant vibes. It is just the amount of artistic elegance they exude that you just cannot ignore such pretty designs.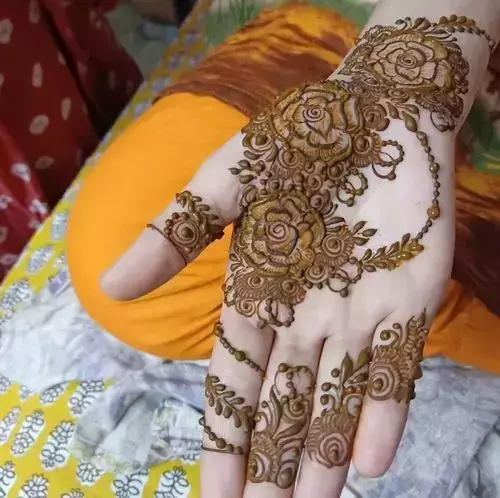 49. Roses All The Way
Lotuses have governed the mehndi design circuit for quite some time now. But that doesn't mean that roses are over. Beautiful and intricate rose motifs are huge this year as a front hand mehndi design. Try one for yourself.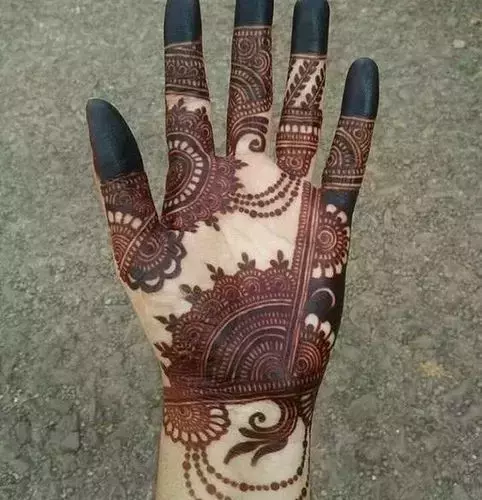 50. Dark Side
This is yet another beautiful example of a black mehndi design. The intricate floral and leafy motifs in dark color than usual are surely pleasing to the eye.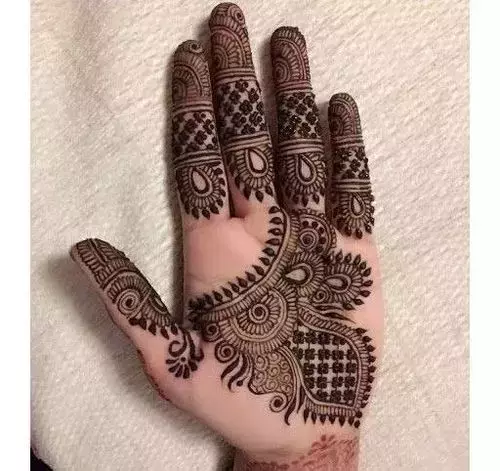 51. Pretty Mehndi Designs For Front Hands
This is a new mehndi design that makes use of intricate motifs as well as space to create a beautifully unique statement.
Related Articles