55 Trending Braids For Kids : Best Braid Styles For Girls
KRITIKA GUPTA
Updated At 27 Aug 23
The most adorable protective style for your newborn girl's natural hair, braiding is well-known and healthful also. These delicate plaits encourage healthy hair growth by retaining moisture in your child's hair to prevent it from drying out. You can choose from a variety of haisrtyles for kids ranging from baby hairstyles to braid styles for teenagers.
Our collection involves various kids braids hairsyles such as- feed in braid styles, pigtail hairstyles, braided hairstyles with beads for kids, box braids for kids and many more. Here are some of the black kids braids hairstyles pictures which are extremely simple braids for girls.
55 Stunning Kids Braids Hairstyles
1) Lemonade Braids For Kids
Previously known as "around the way girl braids," this style is now more commonly referred to as "Beyonce lemonade braids." The fact that this look works equally well on long or short hair is one of its main aspects. This is one of the quick braid styles for kids.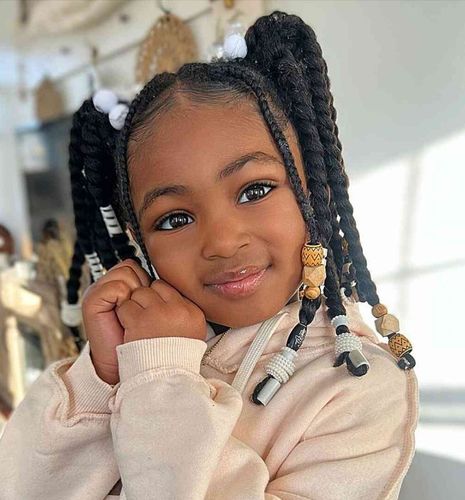 2) Pigtail Hairstyles
If comfort and style are important to you, pigtail hairstyles are ideal for your kids! When they play, their hair will stay out of their faces thanks to this simple hairdo. Additionally, it will shield their hair all day and is one of the quick braid styles.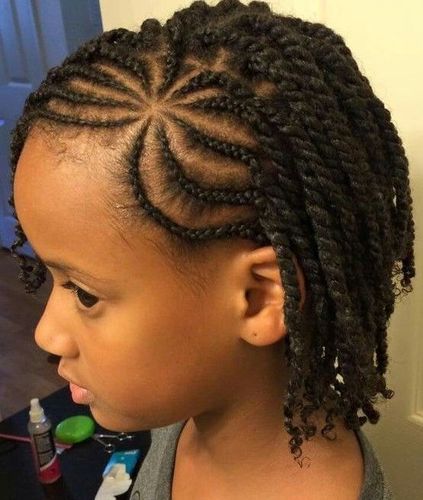 3) Cornrow Braids
With a distinguished set of this kids cornrows, black power triumphs. Little black kiddies braid hairstyles maintain the health of their black hair while also enhancing their appearance. These are the best kids cornrows hairstyles for black girls!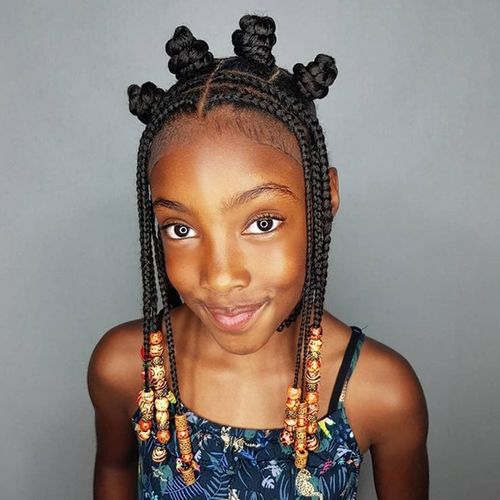 4) Bantu Knots
Making scalp patterns and adorning small top bantu knots for your kids is completely up to you. When a gold sheen is added to each knot, hairstyles like this for a black little girl are stunning. This braided styles for natural hair is pleasantly cute and adorable for your kid.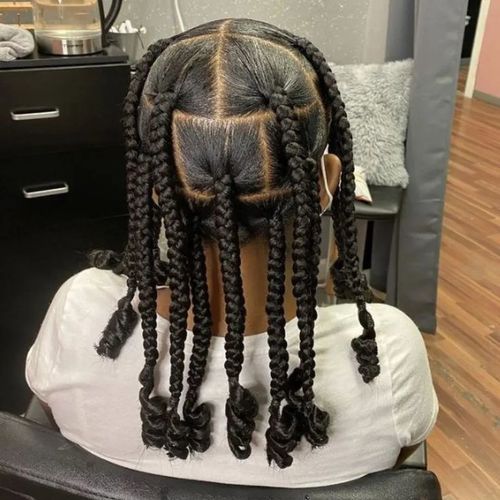 5) Box Braids
Box braids for kids are the most adorable protective style for your baby girl's natural hair because of their square-shaped braiding. These warm, lovely plaits are made to keep your child's mane moist, reducing dryness and promoting strong hair growth.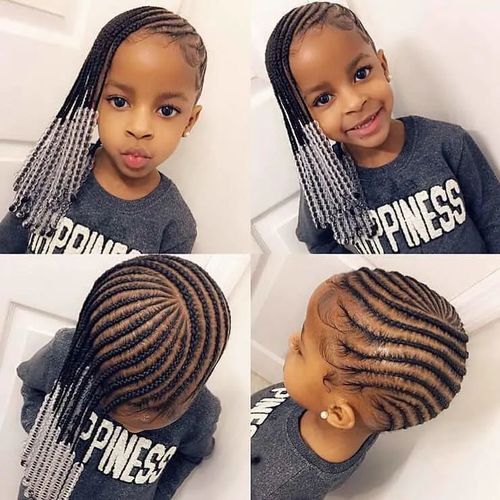 6) Side braids
Side braids hairstyle are the ultimate cure for a lifeless mop of long hair. These are an ultimate braids for girls. These kiddies braid hairstyles will help your kid to stand out in the crowd by giving their hair a different look. For your child, these braided styles for natural hair are adorably lovely and adorable.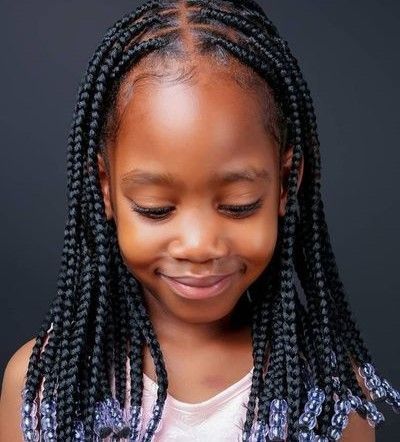 7) Braids with Beads
An excellent technique to make your child's hair stand out is using beads. To design an outfit that is straightforward yet stylish and practical, choose a variety of beads, threads, and other accessories. Braided hairstyles with beads for kids when talking about braid styles for teenagers is one of the most preferred hairstyles.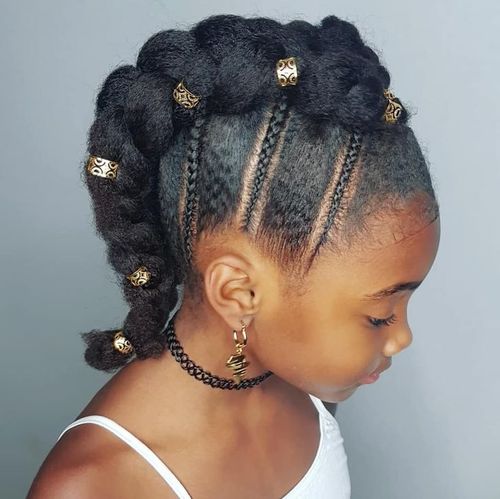 8) Twisted Mohawk
Pulling hair back and away from the face is a prerequisite for cute and functional little girl hairstyles. In this manner, your youngster can enjoy the day without having to bother over messy curls. This elegant choice offers distinctive patterns created by straightforward cornrows.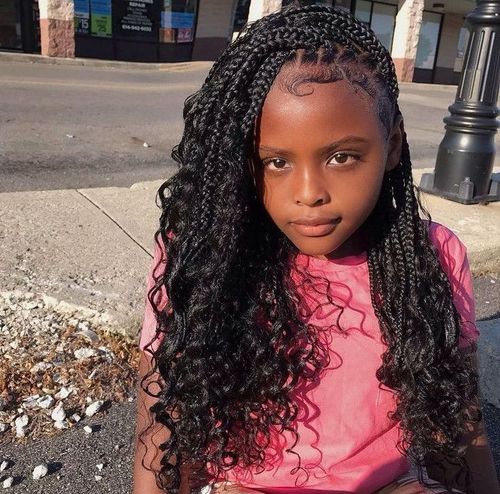 9) Goddess Braids
For black girls, Ghana braids are a beautiful choice that is returning to fashion. Goddess braids are larger and thicker cornrows that most ethnic women wear to protect their natural hair. It is one of the simple braids for kids.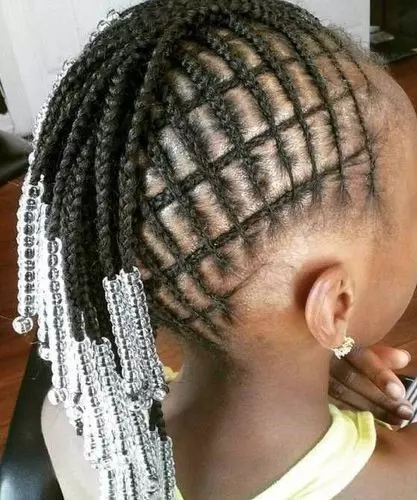 10) Crisscross Mohawk with Beads
In search of a show-stopper? You've undoubtedly located it. These beaded mohawk braids are beautiful, and the crisscross pattern is equally amazing. The fact that clear beads will go with any outfit makes them an extremely smart choice. More beads than usual added creates an ombre appearance.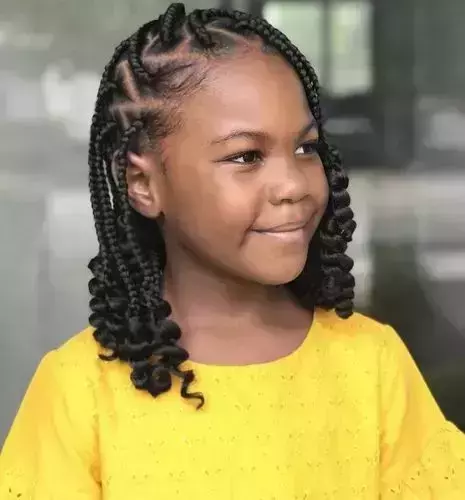 11) Short Box Braids for Kids
Changing up your look is crucial when it comes to black girls' hairstyles. Trying new things is what makes life fun. Therefore, if your child has been sporting updos for some time, why not try some clinking box braids? She can dye her hair in all of her favorite colors with this beaded style.
U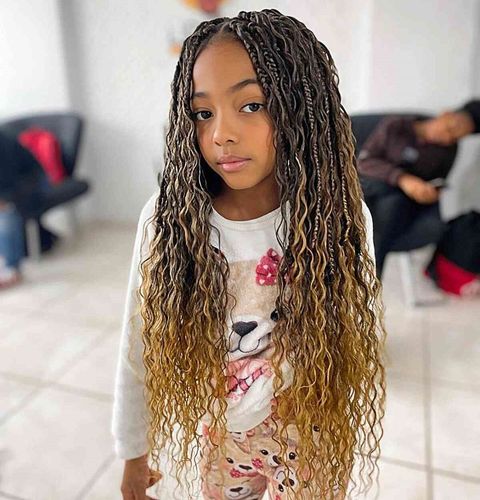 12) Braids For Kids With Long Hair
Braided long hair looks really elegant and beautiful. These kiddies braid hairstyles for natural hair are considered to be some of the quick braids for kids with long hair.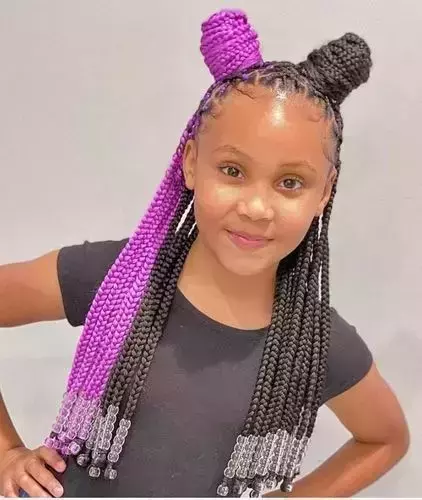 13) Half Up Top Knot
The half-up top knot, which can be found in a lot of the braids on this list, is one of the most popular braid patterns for young girls. It's kind of like a half-braid that goes up instead than down. This updo makes a girl's neck stand out and provides the crown more volume.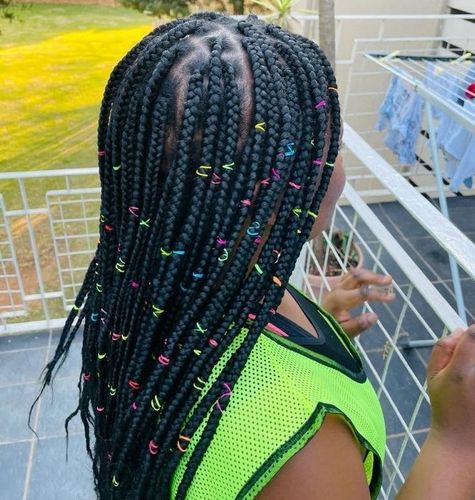 14) Braids with Elastic Bands
Rubber band hairstyles are held in place by brightly colored tiny hair ties. They quickly add some fun to any ensemble, which explains why they have been popular for so long. In addition to giving the braids a very cute and colorful appearance, the elastic bands also help to retain and secure the braids.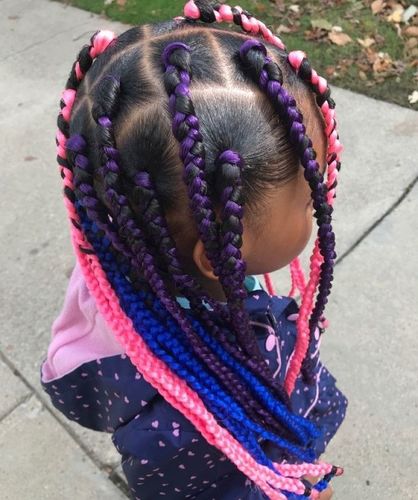 15) Rainbow Braids
Children love bright, colorful hairstyles, making rainbow box braids a fantastic choice for them. They offer your youngster a wonderful way to show their individuality and sense of style while including eye-catching colors without damaging their natural hair.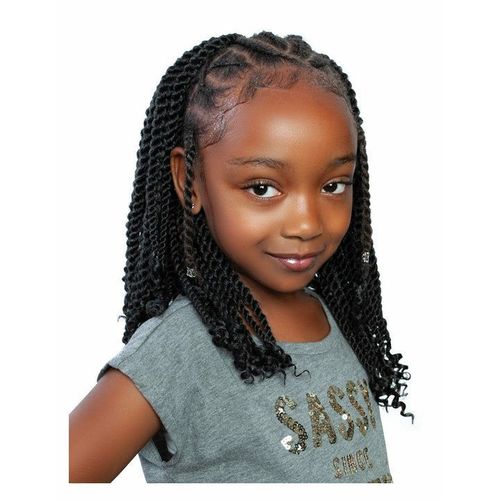 16) Micro Braids
Very small braids called micro braids typically resemble thick hair strands. Micro braids take hours to apply and frequently much longer to remove, as one might anticipate, an easy to go braids for kids with short hair.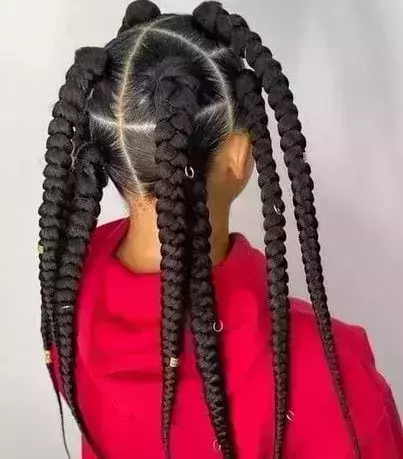 17) Jumbo Braids
Jumbo braids are the biggest and chunkiest types of box braids. They have many style options available to them. They are perfect for your little girl braids because they require little maintenance. To complete the effect, just a few braid strands are required.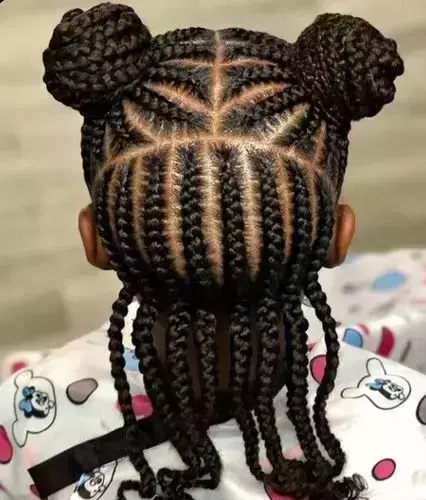 18) Space Buns
The ultimate adorable but unique hairstyle is a space bun! There are two colossal, tall buns, one on either side of the head. They are simple, if that makes sense. While space buns are typically worn with loose hair, they also look great when worn with box braids.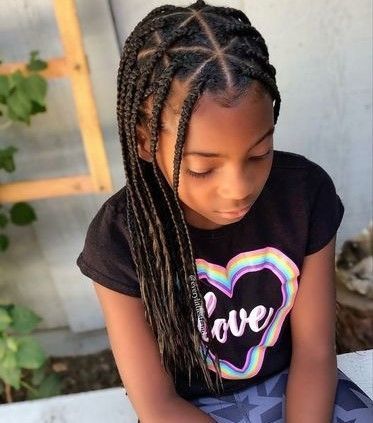 19) Triangle Box Braids
Box braids with a twist are known as triangle braids. Each hair strand is typically divided into portions in traditional braided hairstyles using rectangular or squares shapes. The segment is triangular, though, in the case of the triangle braid.
20) Braided Ponytail
Braiding hair can occasionally seem heavy when it comes to hairstyles with individual plaits, despite how attractive it may be to create distinctive protective styles with braids. A straightforward updo that won't pull on your edges is braid ponytail hairstyles. This is a great option if you're seeking for little girl braided hairstyles for black women.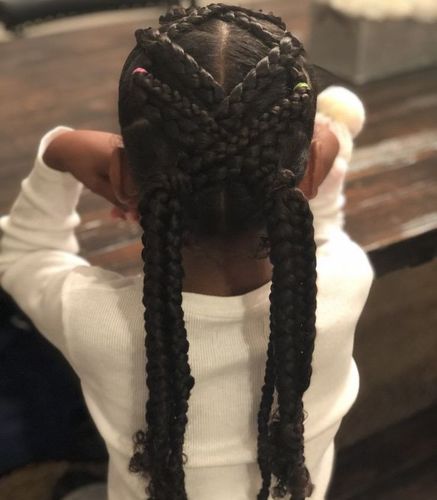 21) Snake Braids
This snake braid is another braid design for little girl braided hairstyles. Even while they are not your typical cornrows, long, wavy braids have a very similar concept. If you're looking for a unique technique to get your hair braided near to the scalp, consider snake braids. For more glitter, add golden beads!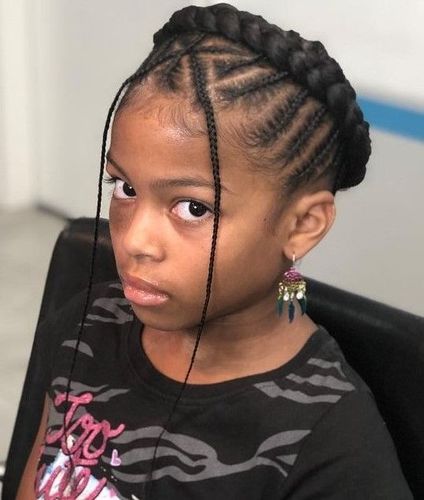 22) Black Crown Braid
The crown braid updo is simple to do but also incredibly fashionable and time-tested. By elevating it closer to the crown of your head or letting it fall along the hairline, choose the braid style that best complements your face shape and facial features. This braided hairstyle is adorable.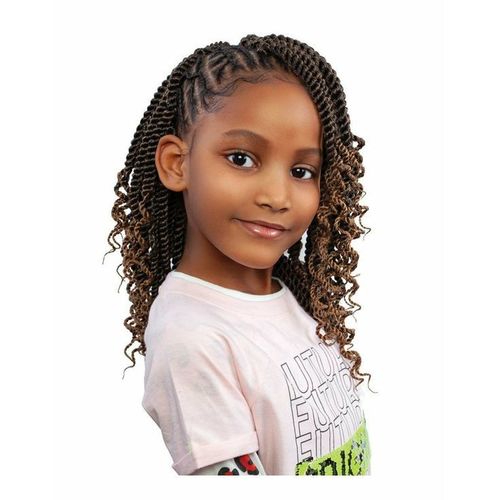 23) Crochet braids
Crochet braids are perfect for kids as they last long and are easy to install braids for kids with short hair. They are great for special occasions and can be installed quickly. Crochet box braids offer a variety of colors and styles that you can choose for your baby.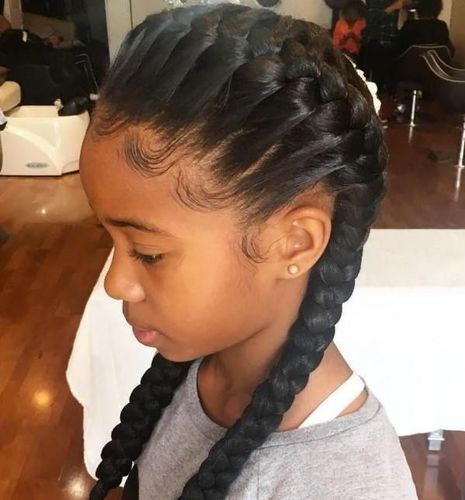 24) French Braids
French braids have the potential to appear stylish and unique, far from boring. French braids can be plaited in a variety of sizes, with smaller ones on the sides and larger ones in the back. One of the cutest hairstyles for kids.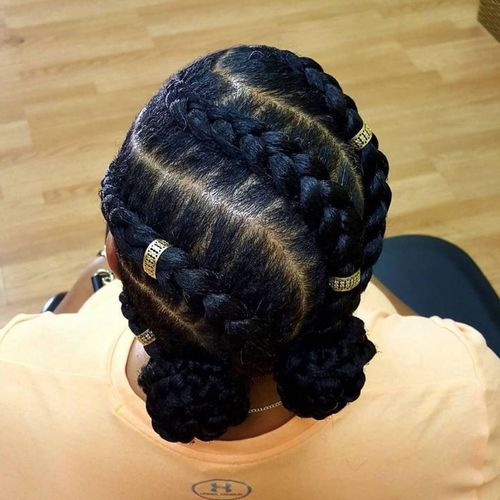 25) Diagonal Braids
This cutie looks so stylish! Very tight and rather thick diagonal braids with accurate partings and perfect edges look pretty inspiring, when considering kids braids hairstyles. Beads for the ends are a nice solution to finish the braids.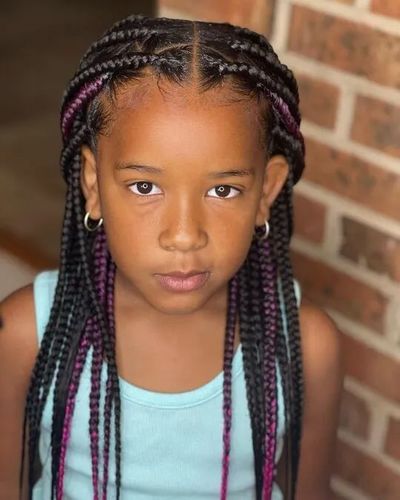 26) Fulani Braids
Purple Fulani braids with curls make for a great style. You can opt for different shades of blue and experiment with whatever suits your kid.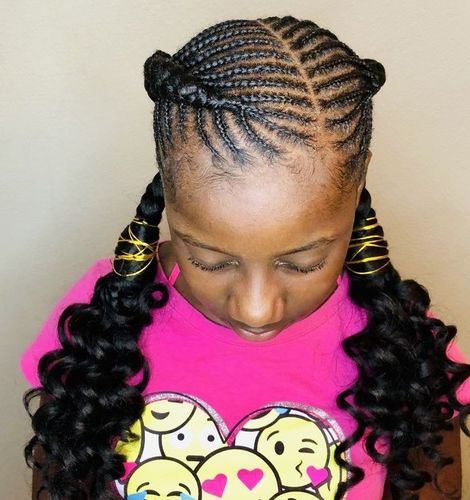 27) Fishbone Braids
There aren't many hairstyles as unique and intricate as fishbone braids. By structuring the hair into two thick strands that go from the sides to the back and two thin cornrows on the sides, this style creates a pattern on the scalp that is a genius kiddies braid hairstyles.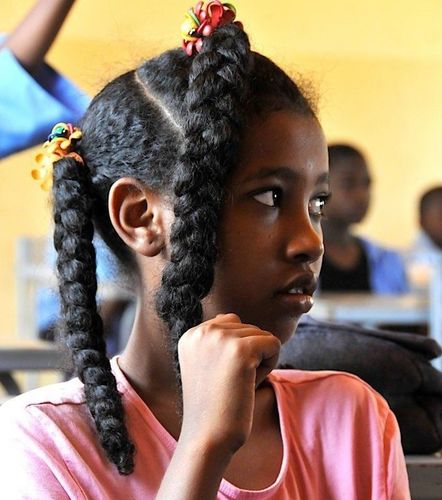 28) Dookie Braids
Due to their thickness and the way each piece falls freely, they are impossible to overlook. The fact that they are not braided to the scalp distinguishes them. These cookie braids are a type of braid ponytail hairstyles.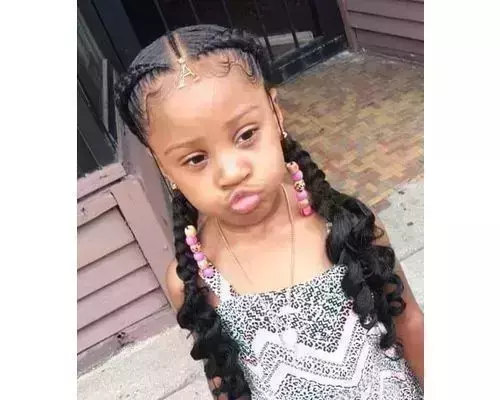 29) Two Side Braids for Kids
If you're short on time and want to give your child's long hair a bit more flair than a simple ponytail, two-side braids are a great quick fix. Whether they are neat and silky or more loose and bohemian, these versatile braids always look great and are a great choice for school or sports.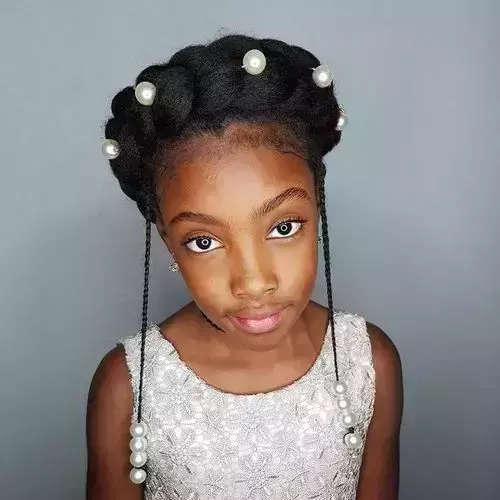 30) Halo Braids For Kids
Do you think of your daughter as a little angel? Why not tie a halo around her and present it to her? Because of where it is on the head, the crown braid, a more complex form, is also called the halo braid. It is substantially higher compared to the crown braid baby hairstyles.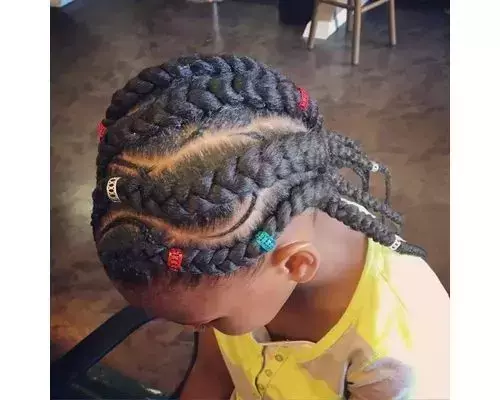 31) Ghana Cornrows for Girls
Ghanaian cornrows are a lovely option for girls that are making a comeback in style. In contrast to the thick cornrows' often straight parts, this style adds curves and little braids in between. A few multicolored beads add some extra fun to the design for kids braids hairstyles.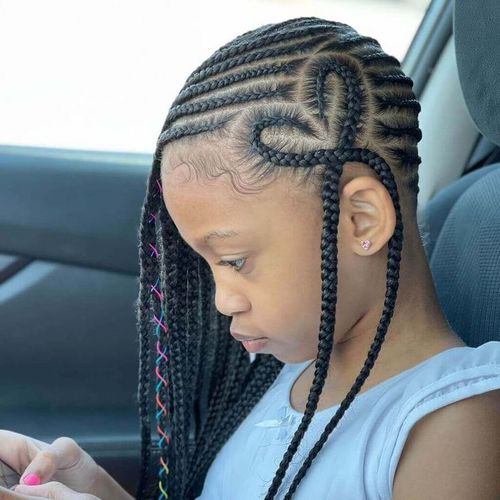 32) Heart Braids
This beautiful style would be perfect for a special day. Two symmetrically curved braids come together to make an attractive heart. You can braid it twice or add curls to the ponytail if you'd like. This little girl braids are perfect for your children hairstyles.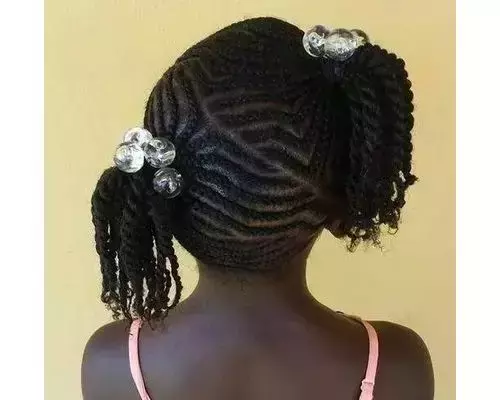 33) Angled Cornrow Braids For Kids
The hairdo in this picture incorporates braided extensions into the cornrows that have been finished with a twist. The diagonal section of the haircut and the angled braided pattern are the most remarkable components of the ensemble. One pigtail is thus higher than the other. For kids braids, these are easy braids for kids.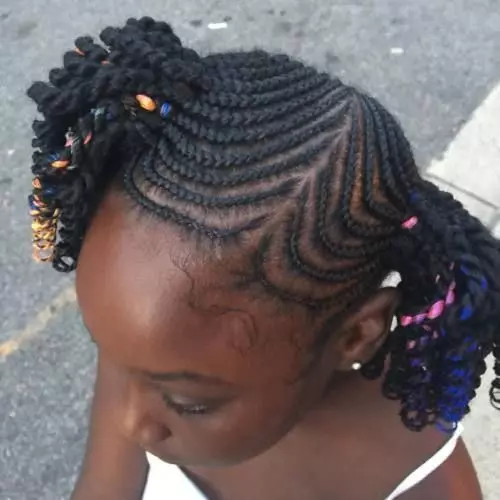 34) Colorful Braided Pigtails
These charming, sassy pigtails are beautifully executed. These Senegalese twists are much fuller because the pigtails are not tied off (instead, they are flowing outward from the cornrows) Instead of using beads, experiment with a few extension streaks to add some color.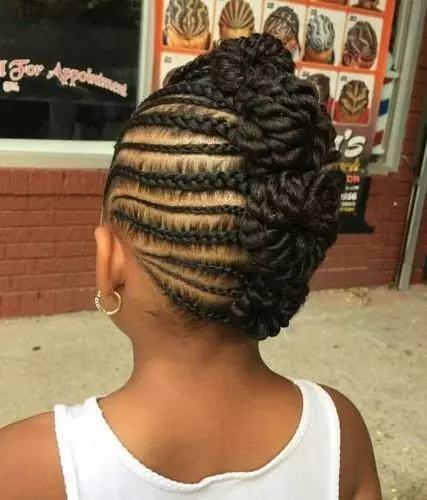 35) Unique Braided Mohawk
For your kids braids hairstyles, check out this amazing look. She will stand out and feel secure thanks to her highly distinctive fashion sense. To create some hefty twisted Mohawk buns, the thicker and thinner cornrows are pushed straight back from the hairline and merged with extensions. She'll always remember this style because it's so much fun!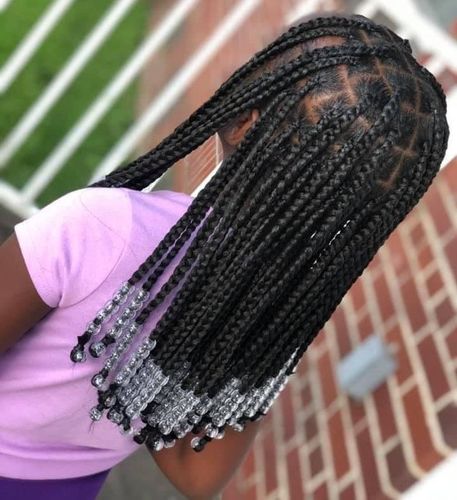 36) Medium Box Braids
Changing up your look is crucial when it comes to baby hairstyles. Trying new things is what makes life fun. Therefore, if your child has been sporting updos for some time, why not try some clinking kids box braids? She can dye her hair in all of her favorite colors with this braided hairstyles with beads for kids.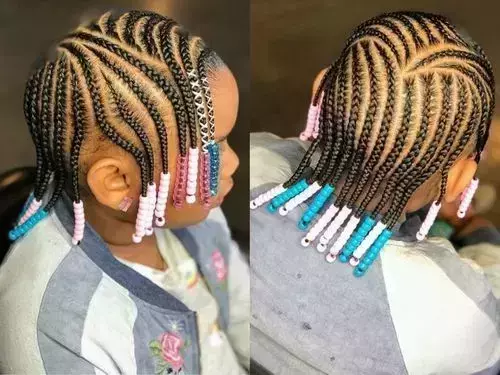 37) Circular Mohawk Braids
Pigtails are exclusively for girls, thus braided Mohawks are more fashionable and adult-like. Your little fashionista will undoubtedly adore this magnificent braided Mohawk with circular braids for girls if she already has her style and wants to look chic.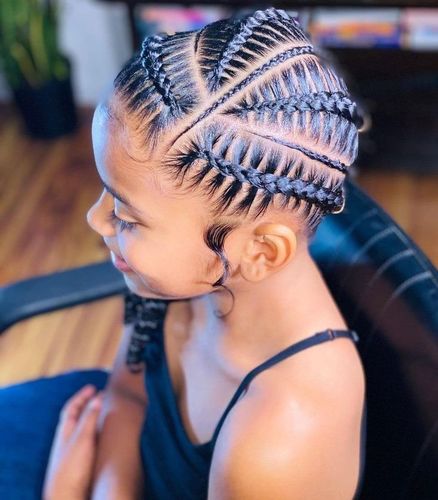 38) Hairstyle with 4 Braids
This extremely beautiful hairstyle with 4 braids is such a perfect type of little girl braids.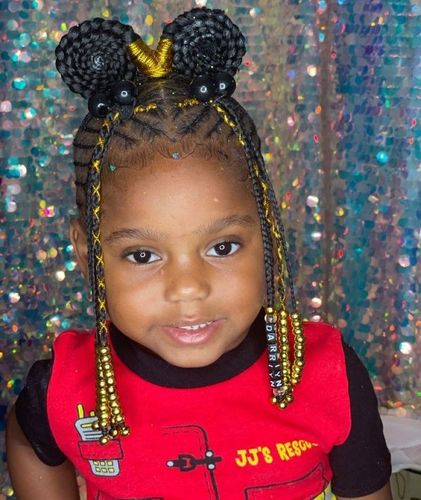 39) Yellow Beads on Braids
If you want to welcome spring or summer without wearing too bright colours, bright yellow beads will do the trick for your kids braid hairstyles. Here is a black kids braids hairstyles pictures of yellow beads on braids.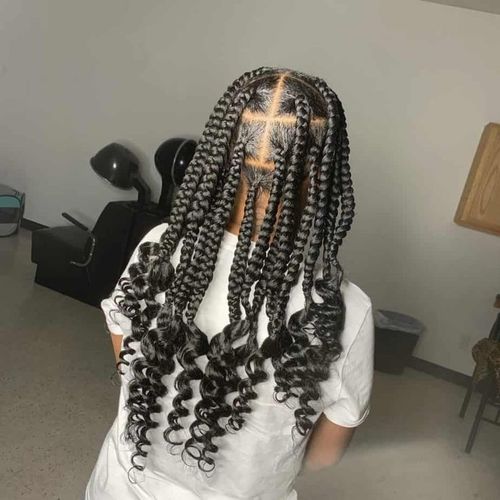 40) Knotless Braids
As the name implies, unlike traditional box braids, these braids do not exhibit hair protruding from the scalp.Their roots are flat and smooth, giving them an unusually intriguing yet plain appearance. These are an extremely easy braids for kids.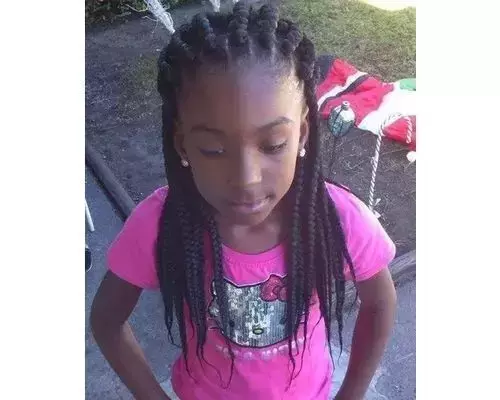 41) Thick Box Braids For Kids
These kids box braids for girl add a distinctive texture and are unlike anyone else's. If your girl wants to wear her braids hanging, thick ones are a fantastic option.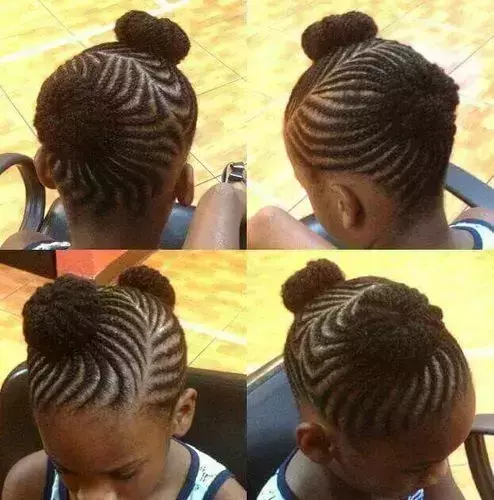 42) Natural Braids For Girls With Buns
This stunning beauty exudes a majestic air! A good braider can make cornrows that curve and look brushed back. The patterns on the cornrows are pretty gorgeous, and they give young girls a pleasant appearance. The end effect is wonderful because those braided curves create for gorgeous buns.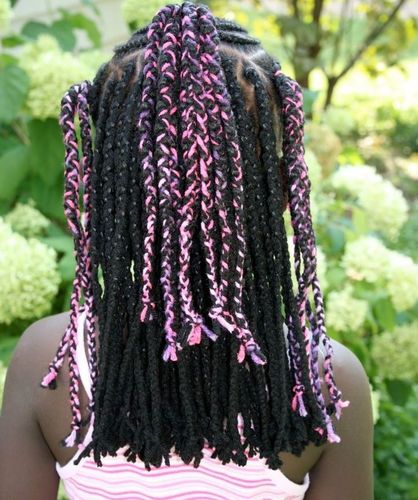 43) Yarned Jumbo Braids
These jumbo box braids are a fun, stylish, trendy hairstyle, and it's quick to put in and take out. This black little girl hairstyles look super cute.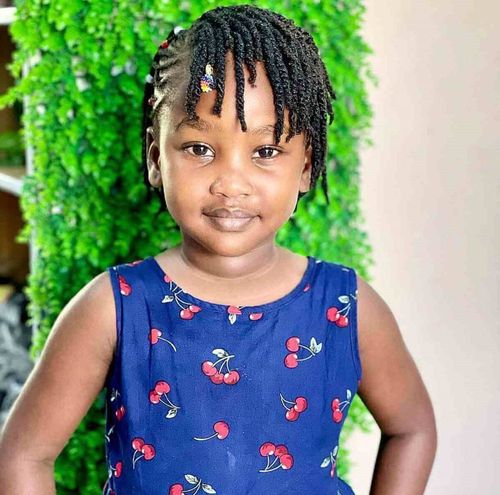 44) Braided Bangs
Check out these gorgeous black little girl hairstyles with braided bangs! It's a terrific technique for me to maintain nice hair while still having fun, I've discovered. You may be sure that your girl will look her best because it is also really flattering. It will take some time to complete the style, but just an hour or two should be plenty.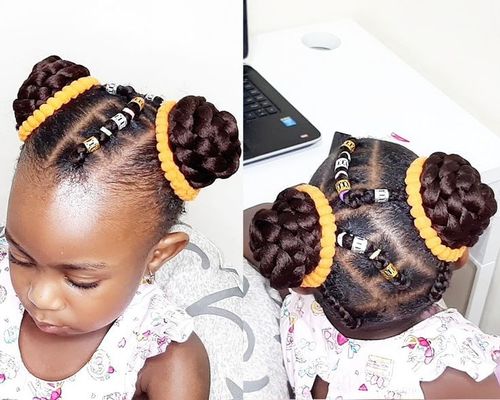 45) Top Knot with Beads
An eye-catching example of this is a very adorable top knot with beads. Gather her hair into a high ponytail, then twist it into a bun to create this black girl hairstyle. Add colorful beads to the base of her hairdo and secure with bobby pins or an elastic band for added flair!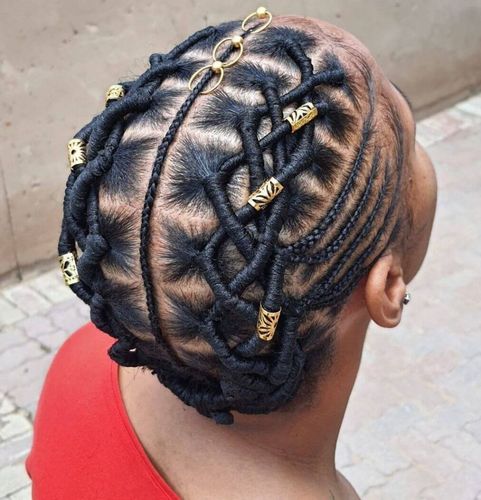 46) Criss Cross Braids
Why not if you're looking for something incredibly adorable for young girls? We have you covered right here. Take hold of the front locks and begin to braid them into a simple two-sided little braids . To complete the look, French braid the remaining braids after crossing the ones on one side over.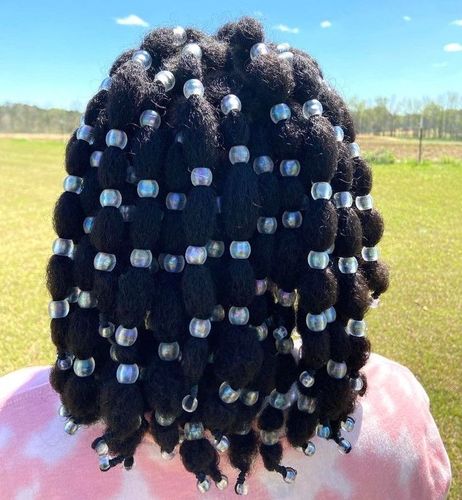 47) Bubble Braids
Are you looking for cute children's braided hairstyles? Discover the adorable Bubble Braid for kids, a wacky and fashionable hairdo that is ideal for a variety of occasions. This original take on conventional braids gives your child's appearance a joyful, whimsical touch. Learn how to braid a kid's hair in this entrancing Bubble Braid to make them the focus of attention.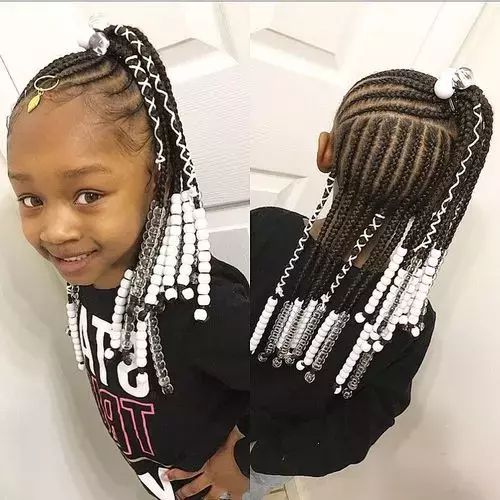 48) Half Up Half Down Braid
With this Half Up Half Down Braid for Kids guide, learn intriguing kid's braid hairstyles. Improve your child's appearance with this adorable and simple to maintain little braids hairstyle. Our detailed instructions ensure that your child has a stylish and comfortable alternative for a variety of activities.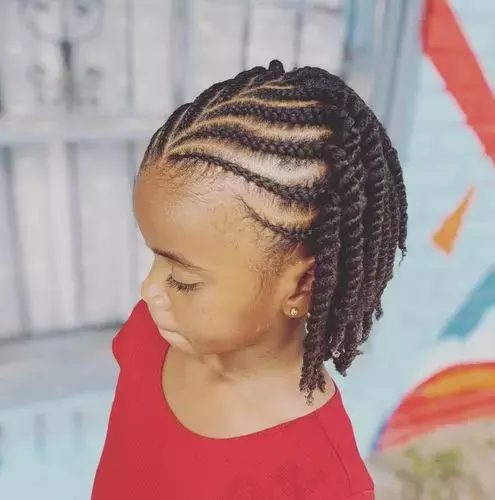 49) Rope Twist Braids
One of the few individual quick braid hairstyles on this list is the rope twist braid. When wearing this hairdo, use twisted, medium-sized braids. Furthermore, they ought to be black in hue.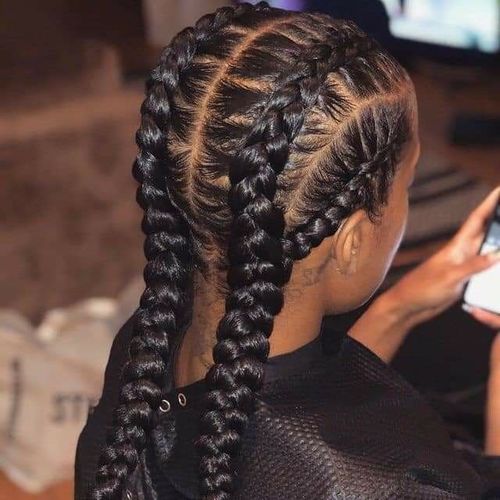 50) Feed-In Braid Styles
Many parents are not unfamiliar with feed-in braid styles. These quick braid hairstyles is popular because it can be worn with any length of long hair. Your child's hair should be blow-dried first by your stylist. The appearance and texture of hair are improved.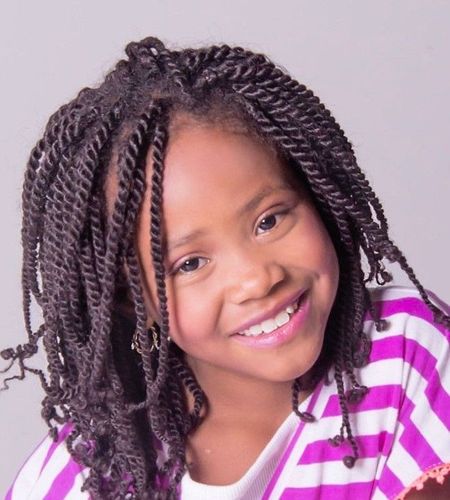 51) Senegalese Twist Braids
Kids' senegalese twist braids have their roots in Africa. To add Senegalese twist braids for girls hairdo, your daughter should have at least medium-sized hair. Your daughter's head should have a few little braids, according to your hairdresser. These braids ought to be black.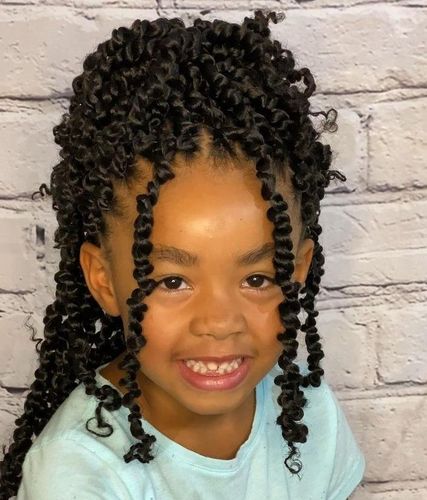 52) Afro Braids
The one slot on this list that the afro braids for kids hairstyle merits is without a doubt. Black braids all over the head are thought to be the cause. The right side of the head's braids should be sleeked toward the back.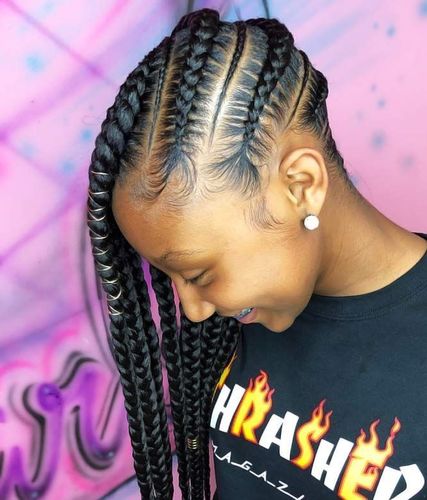 53) Jumbo Lemonade Braids
Jumbo lemonade braids are far thicker than regular ones and look really stunning. similar to these enormous lemonade braids with a straight back. It is a low-maintenance hairstyle that also aids in hair protection.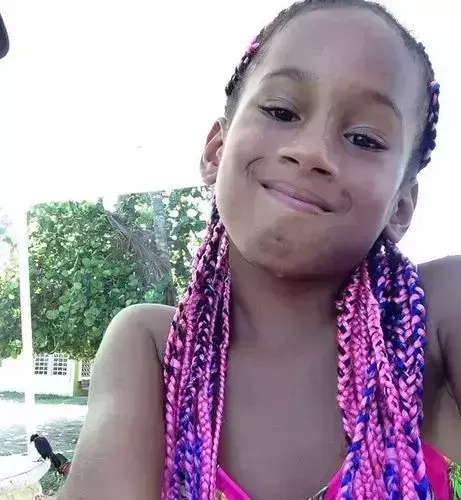 54) Pink Braided Hairstyle
Instead of using dull black or brown braiding hair, these vibrant and multicolored braids are installed. Remember that the natural color of your child's hair will show through the braids unless they have pink hair. After learning the fundamentals, you're probably thinking what shade of pink you should choose.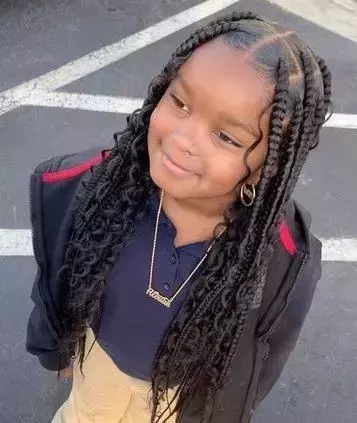 55) Bohemian Braids
An elegant and ethereal variation on the standard box braid is the boho braid. Boho braids have the same fundamental shape as box braids but are looser and more endearing because to the soft curls interspersed throughout. What's the best part, you ask? Boho braids aren't much more difficult to install than standard box braids!