15 Stunning Ariana Grande No Makeup Photos - 2023
Shalu Bhati
Updated At 15 Sep 23
Would you like to see the Ariana Grande without makeup looks? Keep scrolling, then, as we have got just the thing for you.
It is impossible to not know who Ariana Grande is. This 27-year-old singer, songwriter, and actress has taken over the world with her glorious voice as well as acting skills. Born in Florida, USA, Ariana is actually of Italian descent. She started her career on Broadway with a play named 13. She then moved on to play the iconic red-haired Cat in Nickelodeon's popular show Victorious after which she shifted towards the music industry. She is extremely talented, dedicated, and believes in working hard. Her powerful voice has often been compared to the legendary Whitney Houston and Mariah Carey. No wonder, Ariana is a household name today.
Apart from her singing style and power-packed voice, her beauty has also been a talking point amongst people. Ariana is blessed with good genes and has a naturally glowing skin. You can see that yourself!
In this article, we have covered the 15 most stunning Ariana Grande no makeup photos. We have also covered the top Ariana Grande makeup looks, her favorite beauty products, as well as some Frequently Asked Questions about her. Also check out the gorgeous Alicia Keys no makeup photos which include her no makeup selfies, post gym workouts, casual photos and many more!
Let's get started!
15 Top Ariana Grande No Makeup Looks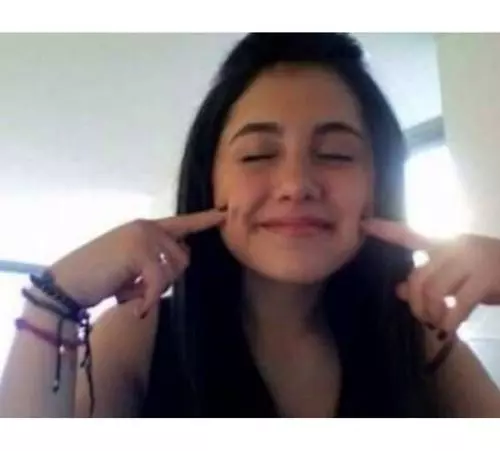 1. Cute Ari
Ariana has loved being on stage ever since she was a kid. This led to her being in the limelight at an early age. She has practically grown up and evolved into the woman we know today in front of the world's eyes. This is one of the earliest Ariana Grande without makeup photographs. She has always had those naturally beautiful looks.
Also check out the gorgeous Cardi B no makeup photos which include her no makeup selfies, casual photos, photos while shopping and many more!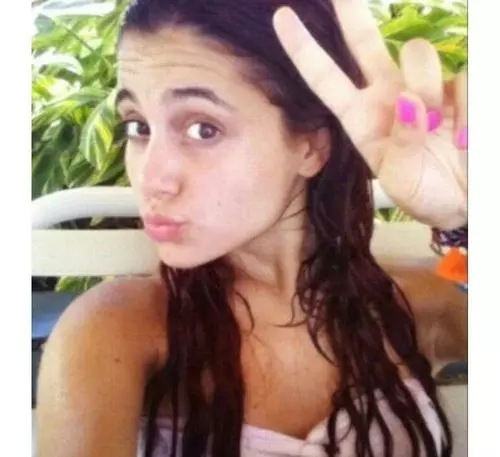 2. Out On A Swim
There are many Ariana Grande no makeup pictures from the early days of her career. Like every carefree teenager, Ariana too had her share of fun. She never shied away from posing bare-faced. Makeup was still not such a big part of her routine by then.
Also check out the 25+ gorgeous Nicki Minaj no makeup photos which include her no makeup selfies, casual photos, photos while shopping and many more!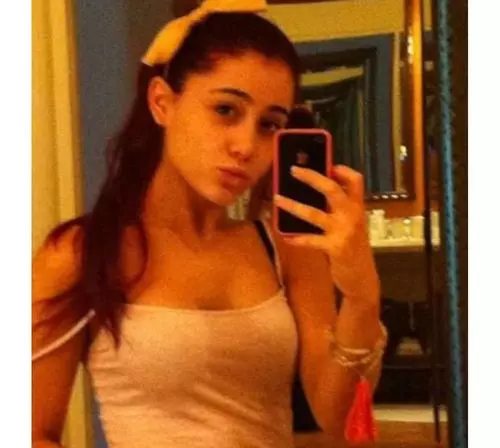 3. Selfie Love
Ari has loved taking selfies since forever. She also actively shares them all over her social media from Snapchat to We Heart It. Even though this Ariana Grande without makeup picture is hazy, we can see her naturally glowing skin.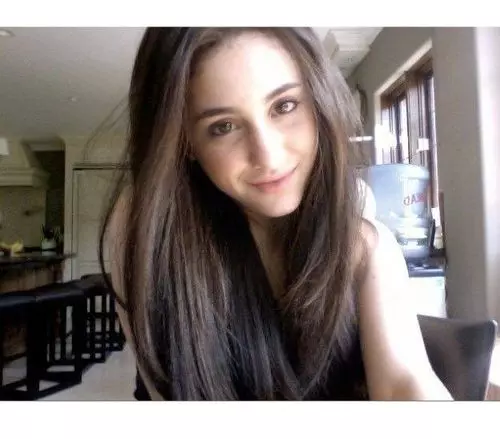 4. Before Ponytail
This is an Ariana Grande no makeup photo from the times when the Dangerous Woman hitmaker was yet to get fixated on a ponytail. She looks super cute and naturally radiant in this no-makeup selfie.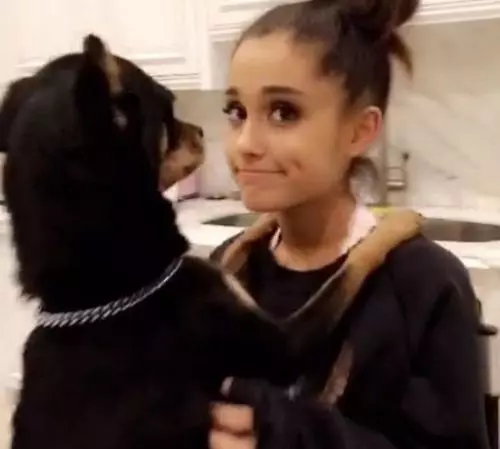 5. Dog Lover
If there is any celebrity who follows the rule of adopt don't shop, it has to be Ariana Grande. She has seven dogs all of whom were rescued. She loves her rescues and promotes adoption. This is a woman who is beautiful inside out.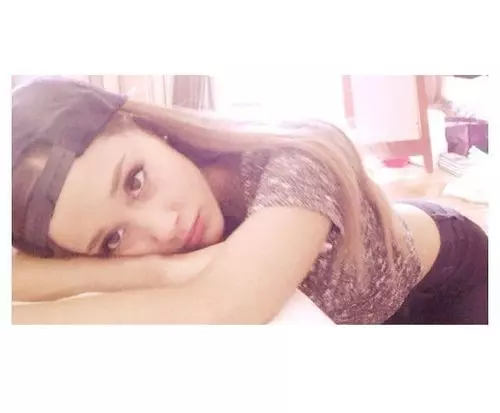 6. Bored Ari On Instagram
Ariana is one of the most relatable celebrities. What do you do when you get bored? You click dramatic selfies and upload them with an equally dramatic caption. That's what Ari does too! You will notice a bit of eyeliner over her lids. This Ariana Grande no makeup picture is taken from the time when she had discovered her love for eyeliners. She would go makeup free but wear her liner.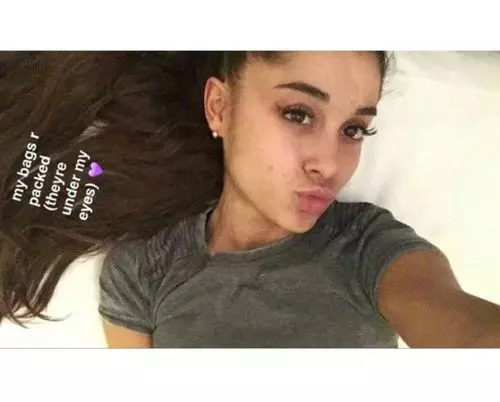 7. Funny Ariana
Ariana is a sweet, cool, and fun-loving person. She has a great sense of humor and knows to laugh at herself. Most people try to hide their "imperfections" behind makeup. But, Ariana doesn't mind sharing her occasional completely bare-faced selfie. In this Ariana Grande without makeup photo, she made fun of her under-eye bags. Relatable much?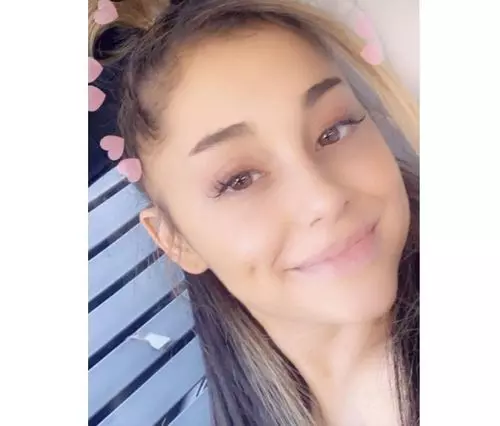 8. A Dimpled Smile
Ariana Grande doesn't need makeup to look beautiful. This can be seen through the various Ariana Grande no makeup photos. Here is one such no makeup selfie that features Ari's dimple and beautiful smile.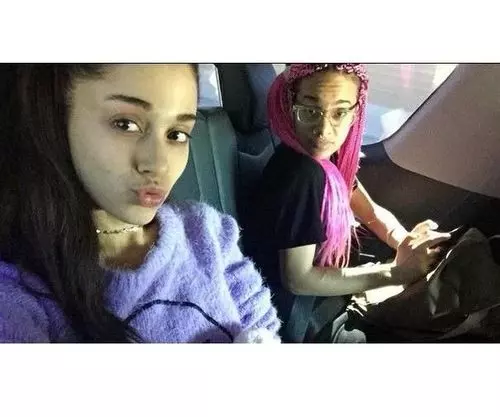 9. After Rehearsals
Ariana spends a significant amount of her time in her rehearsals. These can be tiring and exhausting. But that doesn't stop the God Is A Woman singer from being her glowing self.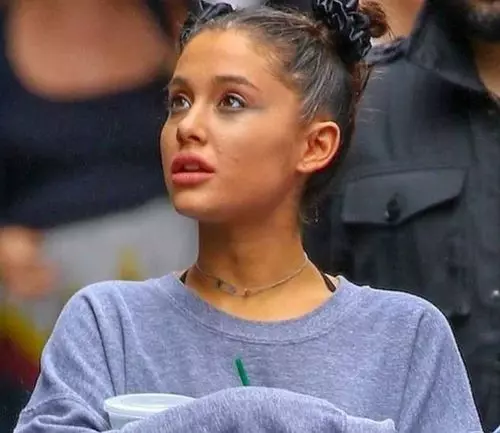 10. Dancing In The Rain
Ariana loves to click her no-makeup selfies but she is not always completely bare-faced. She can give up on the rest of her makeup but she is rarely seen without her liner. This Ariana Grande without makeup picture was clicked after the singer has danced in the rain with her friends.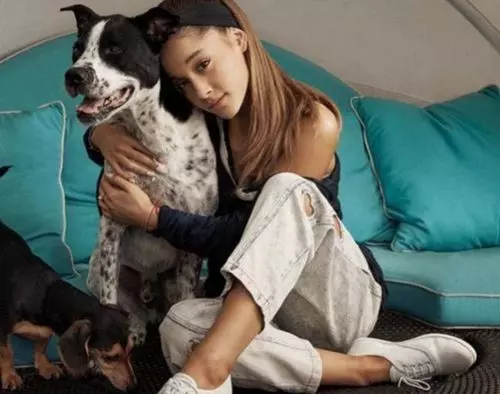 11. Dogs And Ponytail
If she is anything, she is constant. Ariana's love for dogs and her signature ponytail can be seen in this picture. She is very comfortable in her skin which makes it very easier for her to look confident even when she is wearing no makeup.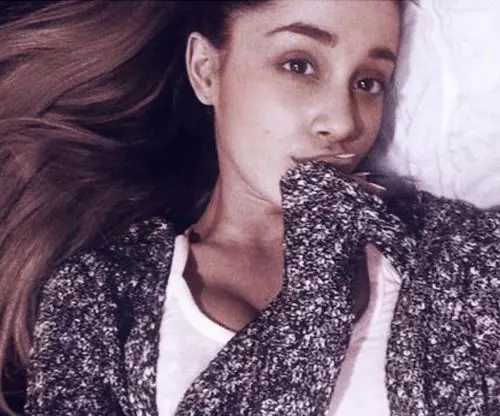 12. Gorgeous Ari
Did we not tell you that Ariana Grande is genetically blessed? Look at her relaxing after a long day in this Ariana Grande no makeup selfie. See for yourself how beautiful she looks despite the absence of makeup.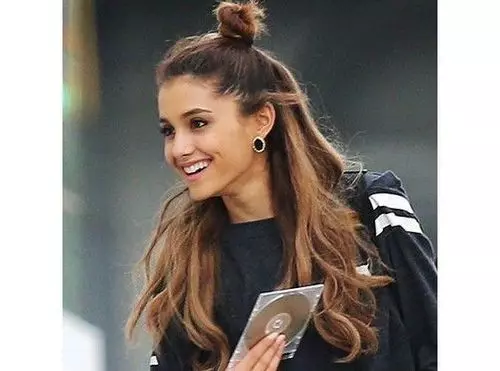 13. Casual Day Out
When Ari is on her day off, she likes to take a break from not just her makeup but also her ponytail. She lets her skin breathe. This could be one of the secrets behind her radiant skin.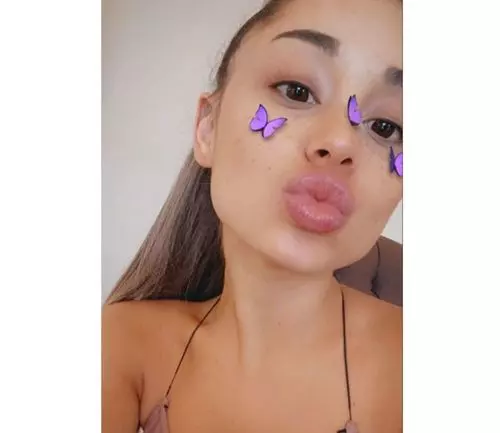 14. Freckled
Ariana Grande has freckles and she looks super cute with them. This Ariana Grande without makeup selfie is proof. She is completely bare-faced and you can see her naturally glowing skin up close.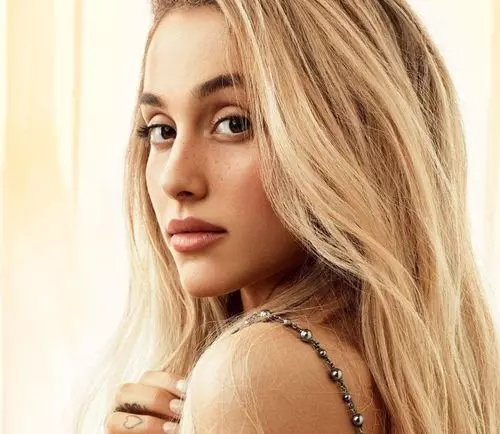 15. No Makeup Look For Vogue
Ariana posed for Vogue UK in an entirely new avatar. This is the popular Ariana Grande no makeup look that sent the world through a shock as anyone could hardly recognize Ari without her signature ponytail and makeup look.
15 Top Ariana Grande Makeup Looks
Ariana Grande Butera considers Audrey Hepburn and Marilyn Monroe as her favorite fashion icons. Though, she has herself become a style icon for today's youth. Her overall style has evolved over the years and she never fails to impress her fans with her incredible makeup looks as well as outfits. Following are the top 15 Ariana Grande makeup looks taken from all over the last decade: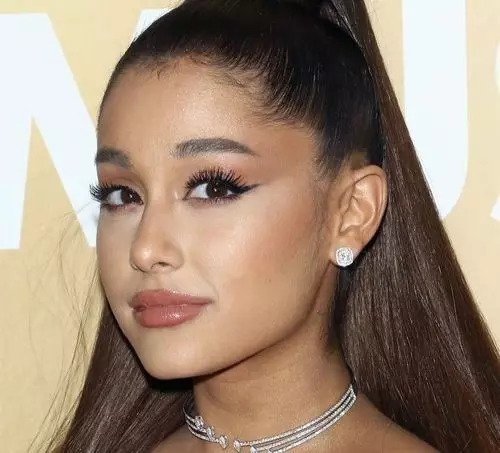 1. The Signature Look
How can we begin any list about Ariana Grande's top makeup looks and not mention her signature look? Ari is known for her signature eyeliner and a high and voluminous ponytail. It might sound to be a simple look but the way Ariana flaunts it takes it to another level.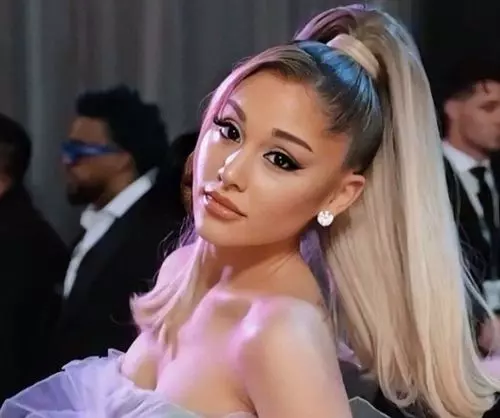 2. 2020 Grammy Awards
Ariana's cloud-like magnificent gown became the talk of the town. Her makeup look from that day was equally mesmerizing. She was in her signature style that was done with a twist. The ponytail saw a slight change that made all the difference. Her perfectly lined eyes and nude lips won many hearts that night.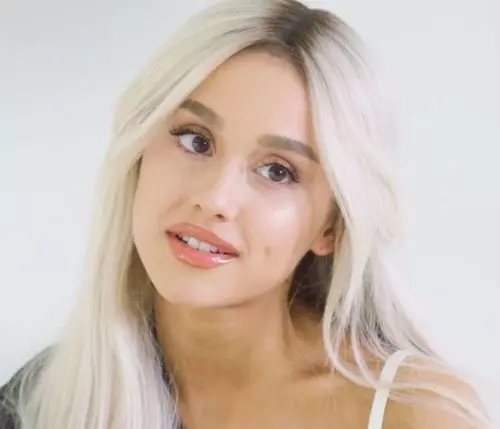 3. Ice Queen
Ariana is no stranger to hair experiments. She starred as a bright red-haired Cat on Nickelodeon's popular show Victorious. There was a time when Ari flaunted icy white hair. She also changed her makeup and softened it up to look like the angel she is.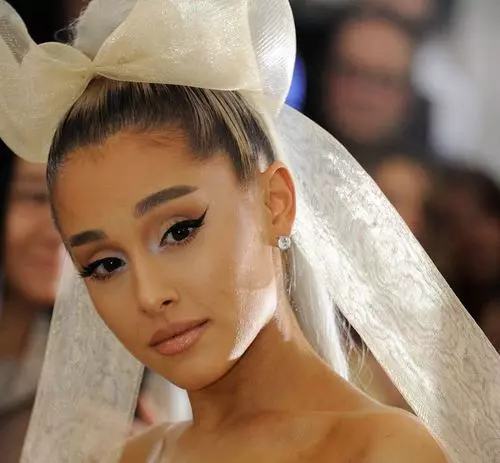 4. Met Gala Mania
Who can forget Ariana Grande's 2018 Met Gala look? We cannot. She wore a Vera Wang gown that was inspired by the ceiling of the Sistine Chapel. From her gorgeous gown to the magnificent bow on top of her ponytail to her sharply lined eyes, everything looked perfect and divine.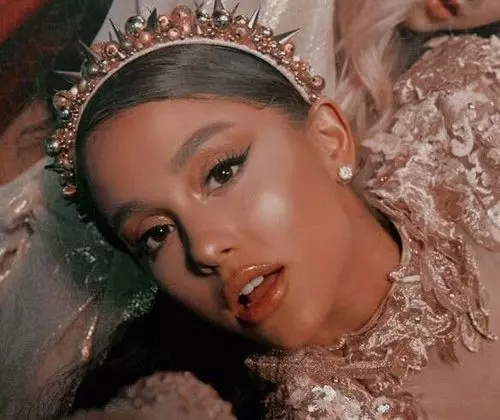 5. More Divine Vibes
Ariana has served multiple iconic looks on the red carpet as well as through her music videos. This is one of the Ariana Grande makeup looks taken from the music video of her popular hit, God Is A Woman. Her Gorgeous golden attire was paired with a glowing face of makeup.  And the viewers couldn't help but agree that God truly is a woman.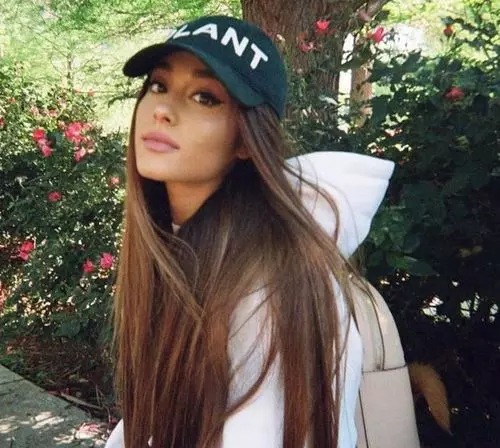 6. Walk The Walk
Ariana loves going out for walks sometimes with her makeup and sometimes without it. What caught our attention in this photograph was how she said thank you, next to her ponytail. Her natural makeup is perfect for the daily struggles of life.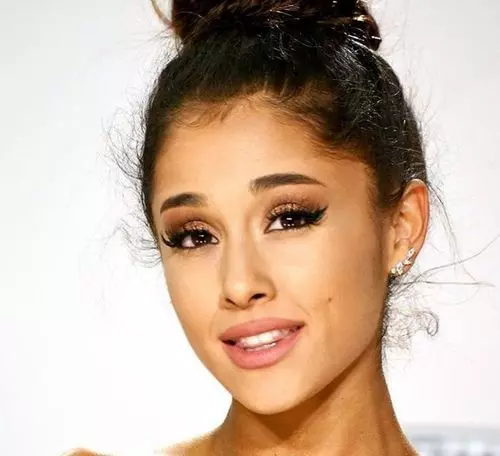 7. Move To The Bun
Even though she loves her sky-high ponytail, it has not stopped Ariana from trying out various other looks. She looked extremely beautiful in this particular look with a top bun and neutral makeup look. You will notice how Ari mostly uses makeup to enhance her features.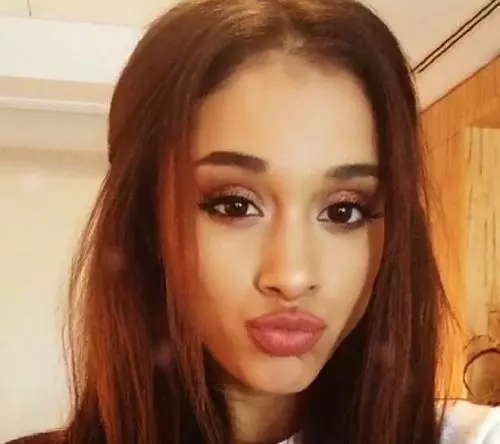 8. Selfie Shenanigans
Ariana loves taking selfies and this is how the world gets a close look, behind the curtain view, of some of her best makeup looks. This is one such photograph where her makeup is on point and she looks extremely gorgeous.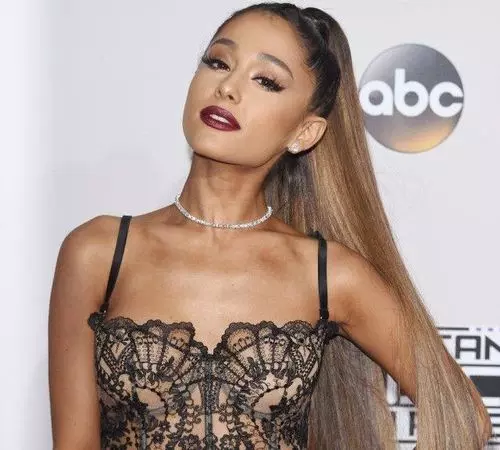 9. Love For Wine
Ariana was in her true element as she rocked this look, Black liner, brown eyeshadow, and wine-colored lips perfectly matched the vibes of her outfit.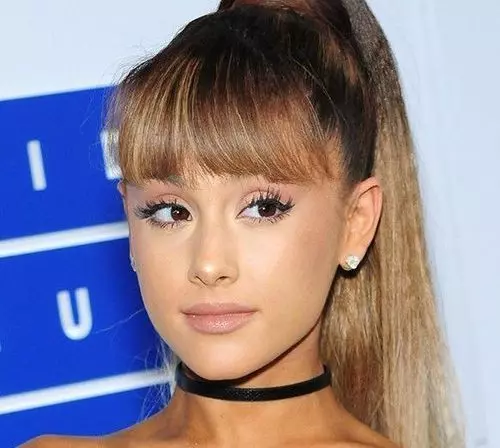 10. Bang It Up
There was also a time where Ariana's hair experiments took her towards full frontal bangs. We have observed how she often likes to match her eyelids to her lips when going for a neutral or a natural makeup look. And dare we say the girl knows what she is doing.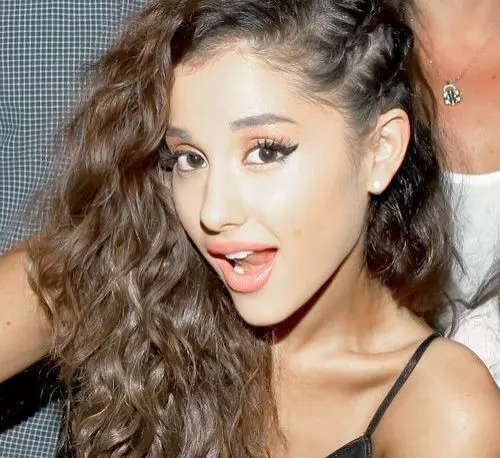 11. Nude Madness
Here is a different Ariana with a not so dramatic liner flaunting her naturally curly hair. This is one of the best Ariana Grande makeup looks that we love. Her eye shadow perfectly matches her lip color. If anyone can flaunt a simple brown palette and look so stunning, it is Ariana.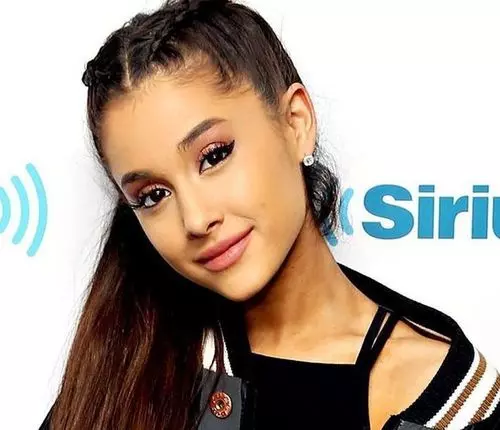 12. Nude Game
As much as Ariana loves to experiment with various shades and palettes, she is also extremely fond of the nude color palette. She is often seen flaunting the nude colors. But she prefers to keep one thing constant and that is her love for black liner.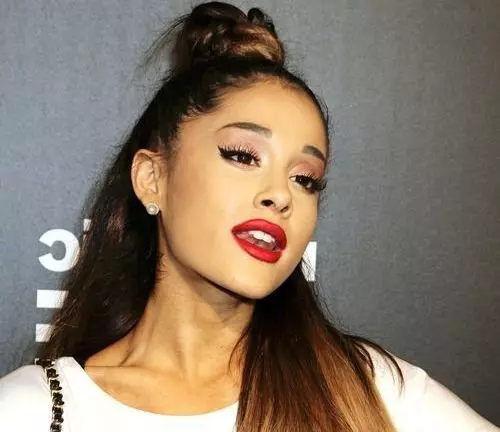 13. Red Lips
If you are ever in doubt, go for a red lipstick just like Ari. It can change your whole appearance. Red lipstick will make your otherwise monotonous look ultra-glam.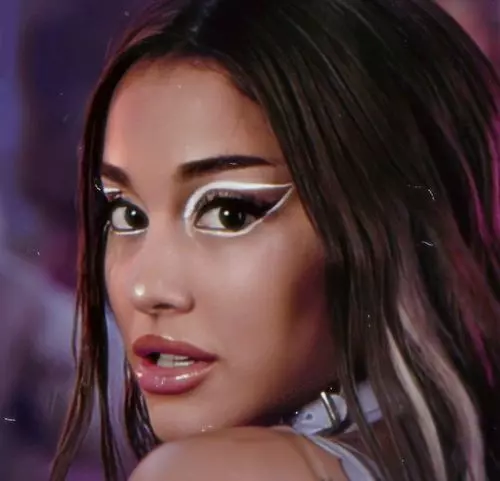 14. Rain On Me Futuristic Makeup
Ariana looked like a futuristic dream with this makeup look. From her pretty lavender outfit to her makeup, everything was changed. She once again bid adieu to her signature ponytail and flaunted open locks. She is herself addicted to this makeup look and can be seen flaunting it all over her social media while hanging out with her friends.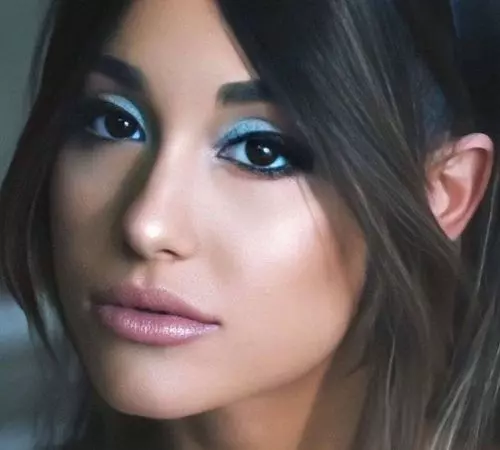 15. The "Boyfriend" Look
Her music video for her 2019 hit song Boyfriend garnered mixed reviews. However, her makeup look was universally praised. The baby blue eye shadow was something that is not usually done.
Frequently Asked Questions
Q. Which are the most popular Ariana Grande no makeup photos?
There are many Ariana Grande no makeup photos that are available for the world to see. We chose the 3 of the most popular no-makeup photos of the singer: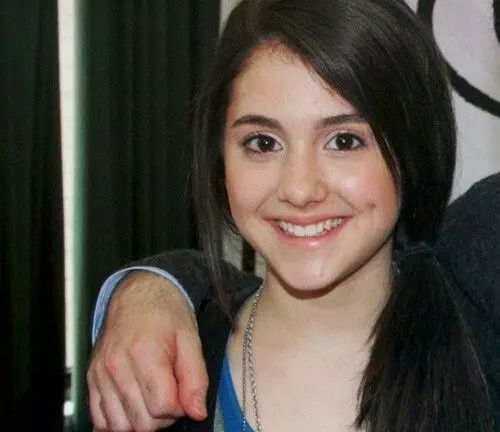 This is Ariana when she was still a new artist. She starred as Cat Valentine in the Nickelodeon sitcom, Victorious.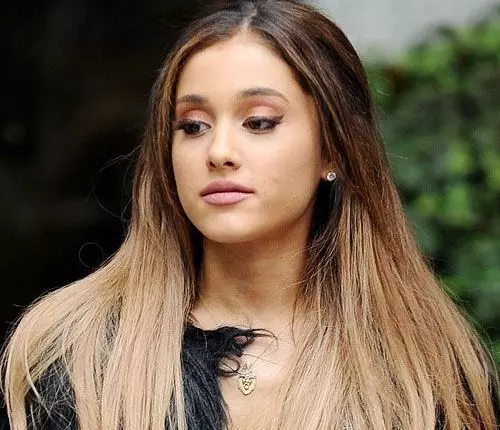 Ariana's go-to no makeup look includes a bare face and her signature winged liner. Always the liner.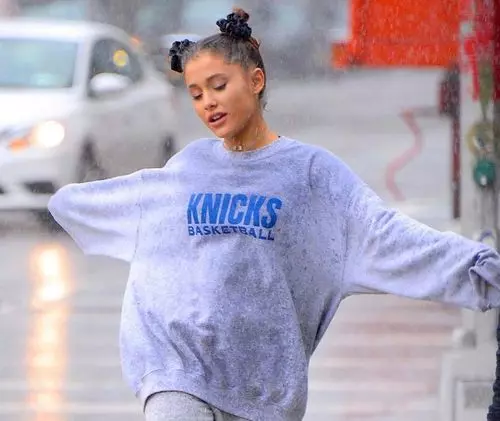 This popular Ariana Grande no makeup picture was clicked when the singer danced freely in the rain. 
Q. Which are the most popular Ariana Grande makeup photos?
Ariana Grande is one of the most stylish celebrities. Her makeup game has evolved over the years and is running strong. These are the top 4 most popular Ariana Grande makeup looks that we love from her 2020 Grammy's makeup look to the one that was featured in Rain On Me music video: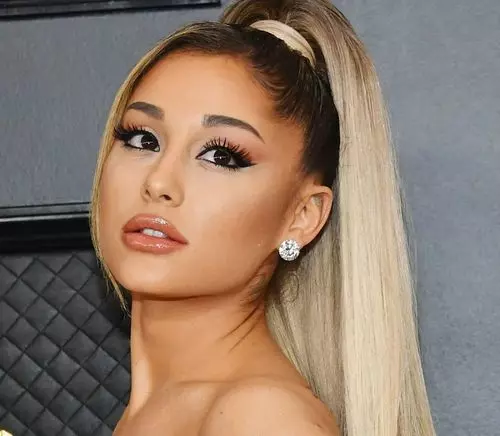 Ariana's makeup look from the 2020 Grammy's became as popular as her gown.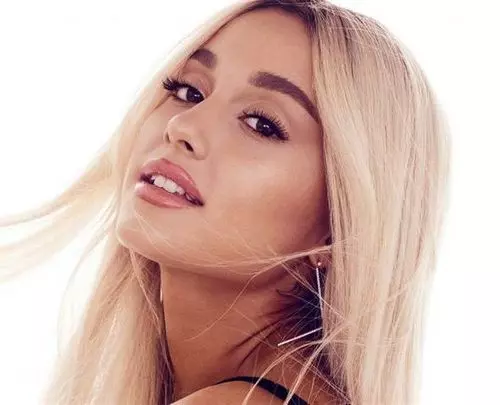 With a change in her hair, Ariana also changed her makeup giving us this popular look.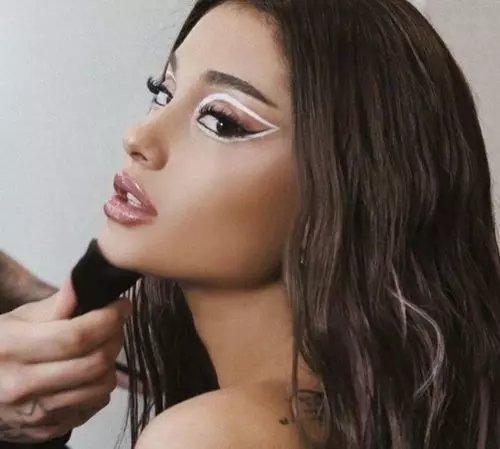 She is as fond of her Rain On Me makeup look as much as the Arianators.
Q. Which is the Ariana Grande no makeup look on Vogue?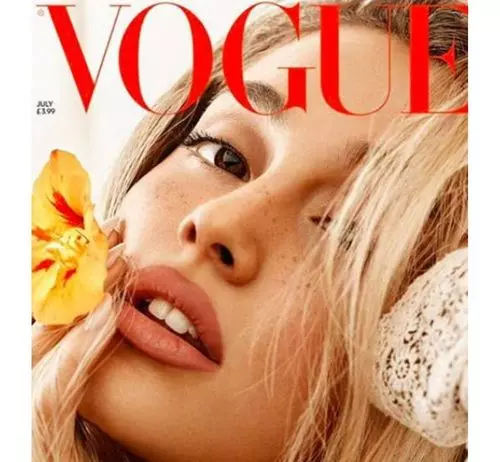 This is the Ariana Grande no makeup Vigue look. Ariana looked completely different when she posed for the July 2018 edition of Vogue UK. The biggest change was that the singer said goodbye to her ponytail. She also posed with a no-makeup look on the cover of the world-famous magazine that made her look unrecognizable.
Related Articles