25 Gorgeous Balayage Ombre Hairstyles - 2023 Guide
Natasha Rajesh Dhamale
Updated At 15 Sep 23
Looking out for the best balayage mbre hairstyles? Balayage and Ombre are two different techniques of coloring and highlighting the hair, and they are often used in combination to get amazing and dramatic results.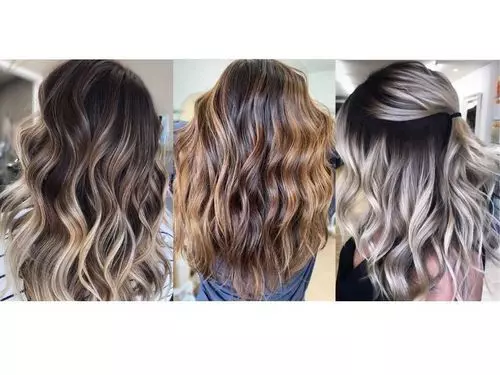 Balayage is the method of coloring the hair by literally hand painting it instead of coloring portions and wrapping them in foils. Balayage gives a more sun kissed look to the hair which looks natural and more attractive than the usual traditional highlights. Balayage looks as if the color is gently melting into the hair. Ombre is the coloring of hair from a dark tone which grows lighter towards the end. When ombre is combined with balayage, the results are astounding and alluring. We feature the 25 best balayage ombre hairstyles which can help you get a new look! These look equally good on long hair and shoulder length haircuts.
25 Best Balayage Ombre Hairstyles 
Balayage Ombre take a lot of time and be prepared to sit in the salon for long standing hours. Also, to avoid extensive hair damage, you can always opt for hair colors which are ammonia free. Balayage as it is, is a healthier hair coloring option than the rest as it does not include heavy bleaching and dyeing. Washing the hair less frequently and using better suited shampoos and conditioners are ways to protect the Balayage Ombre.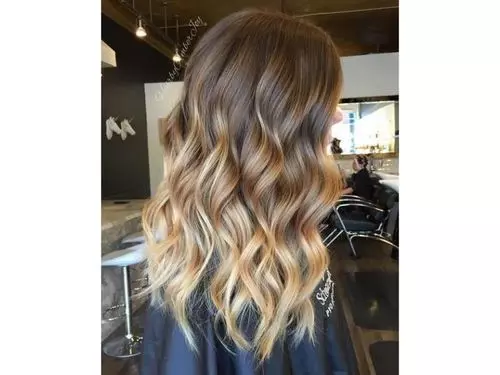 1. Light Brown To Blonde Balayage Ombre
The main hair color is a global brown or a soft brown and a blonde balayage which perfectly blends into the hair look phenomenal on medium hair length. Beachy waves hairstyle just makes it even better. The entire hairdo is an ultimate balayage ombre look.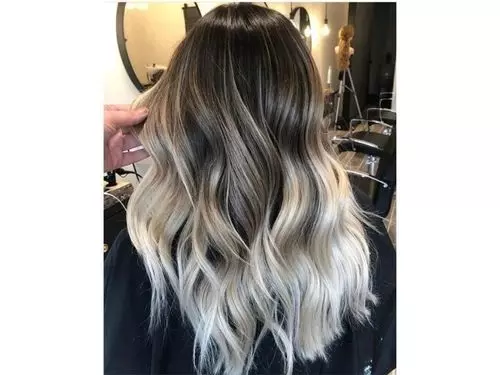 2. Platinum Black Balayage Ombre On Black Hair
The platinum blonde is the hair color is the most faded of the blonde colors and does not have any golden in it. It is nearly white. The balayage ombre of platinum blonde on black hair is a pretty bold move. It has gained popularity because of its uniquely dangerous color and the outrageous vibe of it. Despite, it is one of the most beautiful balayage ombre looks to exist.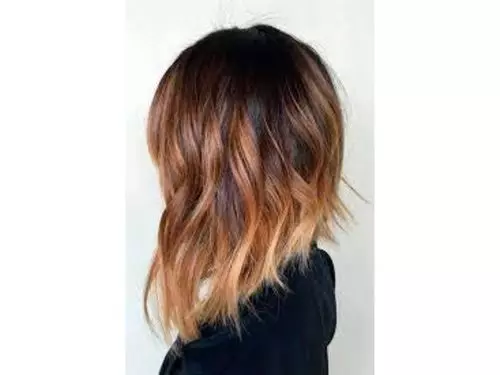 3. Caramel Brown Balayage Ombre On A Line Bob
An A line bob is a short bob with a lower cut at the back which gets longer towards the front. A crusty caramel brown balayage ombre does wonders on this hairdo. If you are looking for some entirely new change to your hair, then this is the correct choice to make. Not only does it elevate your hair but also counts for a drastic makeover.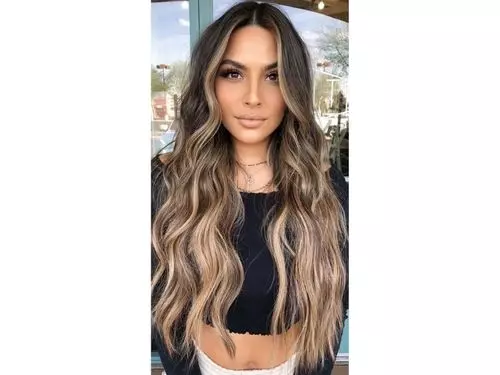 4. Ash Brown Balayage On Long Hair
Ash brown is the ideal color for ombre balayage on long luscious hair. Long hair has more dimension and area to work onto and the hairstylist gets an open field to work on. A well done balayage on long hair will accentuate the melt down of colors into the hair.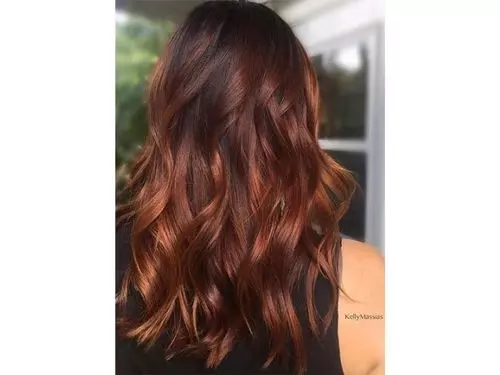 5. Auburn Balayage Ombre
Auburn is usually termed as the 'reddish brown' color. Its bright on the eyes and is the hair color of people usually termed to be 'red headed'. This is one of the top color palettes for getting a balayage and has a dark warm tone to it which goes well on mostly brunettes. It has an alluring and sensuous feel to it.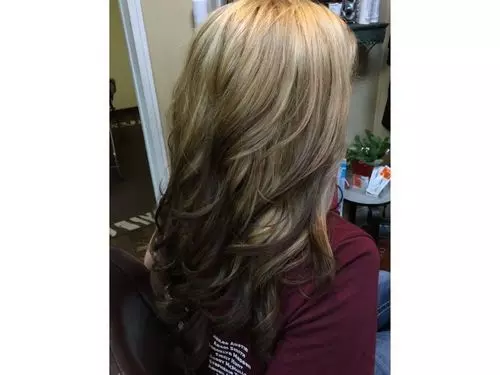 6. Reverse Balayage Ombre
The reverse balayage ombre is when a lighter hair color ends into a darker hair color. Mostly blondes go for this. Their blonde hair eventually seems to go off into a darker color like a chocolate brown or hazel brown. Brunette tones are added to the hair while keeping the bright blonde hair still intact.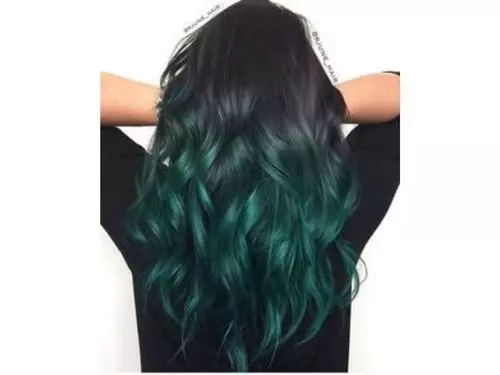 7. Teal Balayage Ombre On Black Hair
The teal balayage suits the most on jet black hair as teal is another dark toned color and it would look too bright on light hair colors. The color also goes well with other brunette hair colors but black brings out the best of teal. Teal is a color that you can go for if you don't want to stick to the typical reds and browns.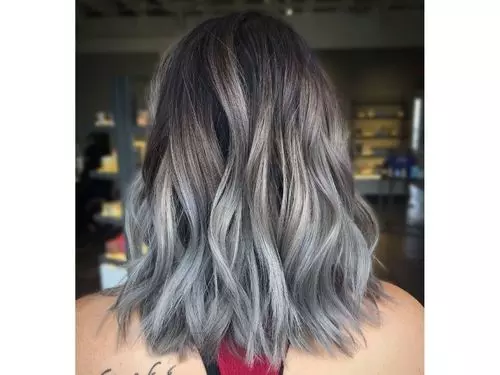 8. Silver Smoky Balayage Ombre
Silver color in hair color is similar to grey and it's a thrilling ride to actually have a silver balayage ombre. Not only does it take extra amount of time to it done but also extensive care to keep it alive. But it is worth it, as the color looks surreal and daring and brings out a different part of your personality.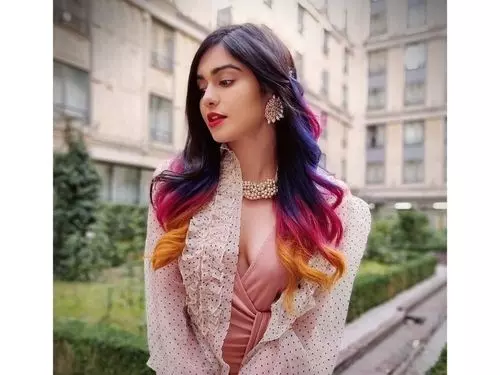 9. Rainbow Balayage Ombre
Using multiple colors in a Balayage Ombre is another trending hair color pattern which looks funky and hippy. It has a cheery vibe to it. This balayage are also known as Unicorn Balayage what is better than a single colored ombre? A multiple one for sure!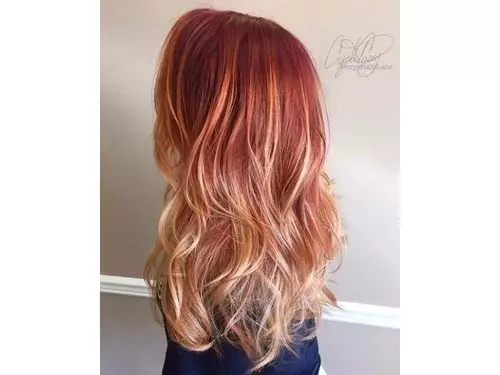 10. Strawberry Blonde Balayage Ombre
Strawberry blonde is a soft blonde mixed pink color which is has a subtle tone to it and literally gives off the cherry blossom vibe with the American girl stature to it. Strawberry blonde happens to be one of the most energetic and flamboyant colors in balayage ombre.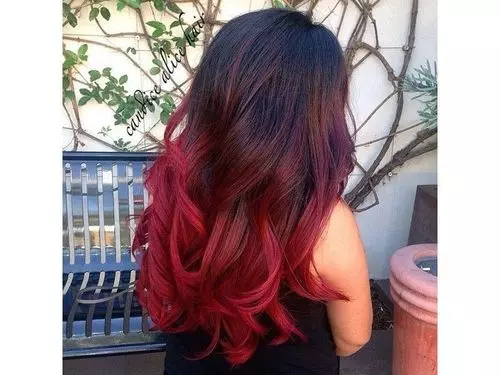 11. Crimson Balayage Ombre
The crimson color is a hot dramatic dark tone, the balayage ombre in the crimson color makes a bold statement but at the same time also looks warm and friendly. It is one of the most common balayage colors and is particularly popular due to the ease with which it suits the brunette girls and women.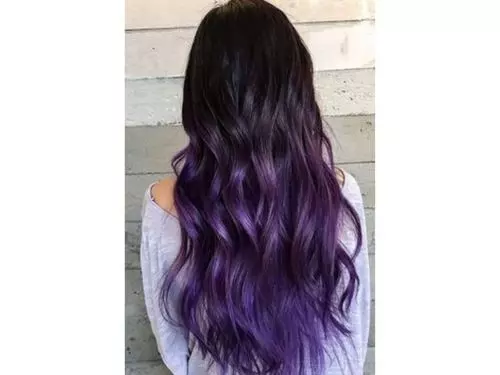 12. Purple Balayage Ombre
The warm dark tones of purple flowing down your hair, whether it be a bob or flowy long hair, it makes a statement and will always make you stand out amongst the rest. The purple color is in general beautiful and a favorite among the females, it resides on hair with grace and is an ideal option for a complete make over.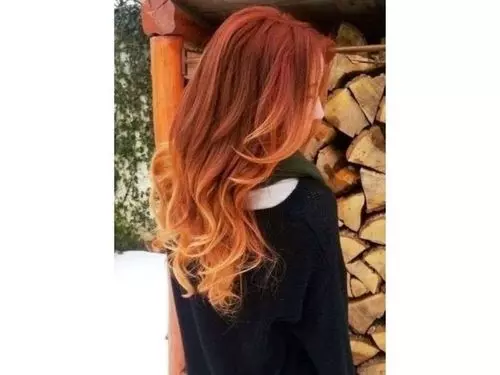 13. Blonde Colored Ends On A Red Head
A light blonde color balayage on a red headed girl makes up for a perfect ombre look and looks absolutely exquisite. The blonde on the red looks ferocious but cute at the same moment and highlights both the colors naturally making the look a rage.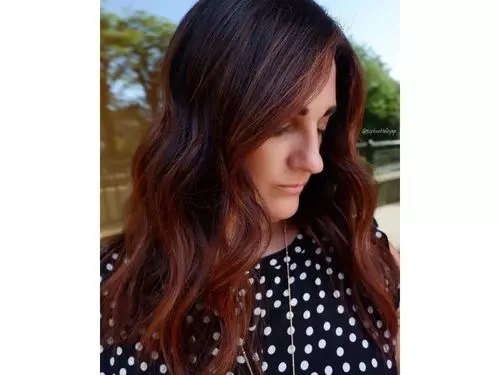 14. Chocolate Balayage Ombre
The chilly chocolate color in hair colors happens to be one of the most frequently used warm dark tones, a balayage ombre hairstyle on black hair stands to be a gorgeous combination to opt for. The chilly chocolate color is a brown tone with little hints of red in it and when the balayage is done properly, it gives out a stunning look.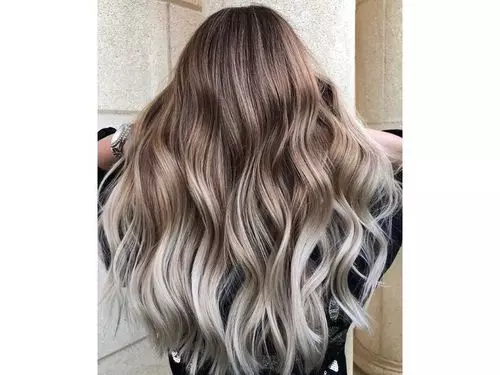 15. The Toasted Coconut Balayage Ombre
The toasted coconut is one of the most thrilling and exotic ombre balayage styles. It is basically a full blown ash brown on the top or on the entire hair with a blended in white blonde on the later half of the hair. It is another daring choice and requires confidence to carry it off, but toasted coconut is such a cool hair color to get done.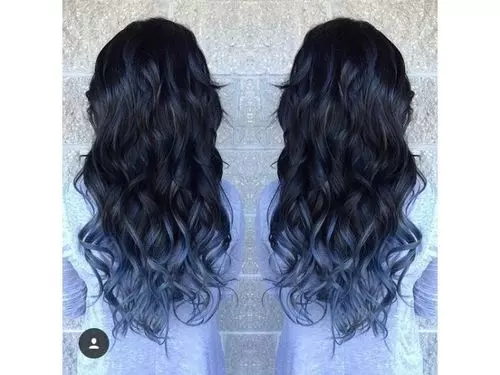 16. Blue Balayage Ombre
The icy blue color is another rage in the hair coloring department, whether it be an entire head of colors or a few highlights. But it looks the best in a balayage as it creates and ombre effect with the hair.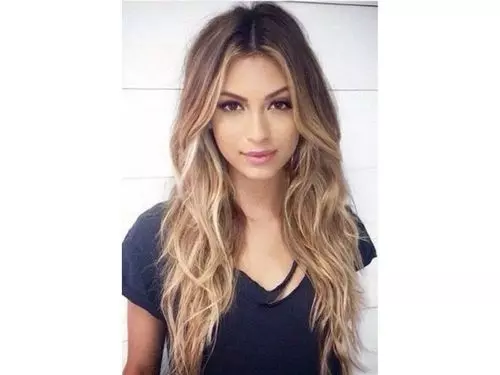 17. Blonde Balayage Ombre With Prominent Front Highlights
A beautiful blonde balayage which creates an ombre on brunette hair is always a surreal look. An addition to this, can be the blonde highlighting on the front of the hair, the short cut hair or the fringes. This style has been slightly inspired by the K pop Jennie from the girl band Black Pink, when she was seen posing front blonde highlights on her all black hair, but an addition to the same is the blonde balayage.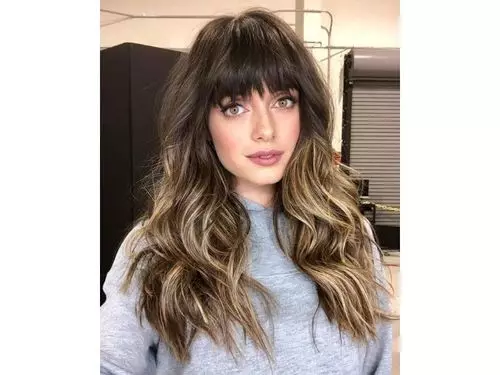 18. Brown Blonde Balayage Ombre With Bangs
Another must try hairstyle, is the front cut fringes or bangs, they make you look younger and cuter than ever. Take it up a notch by getting a brown or blonde balayage on the later half of your hair, and you would be having one of the best looks to flaunt. Its not just cute but also has an edgy vibe to it.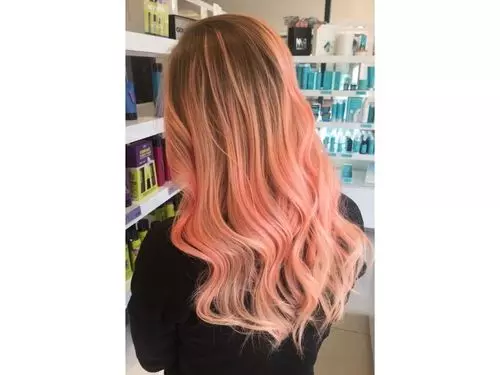 19. Golden Peach Balayage Ombre
The peach color is another pretty yet rare color to get a balayage with. The golden peachy shades look so pleasing to the eyes and is mostly suitable for girls who have blonde hair. It fits in perfectly for a summer look, makes a bold statement but in a subtle manner.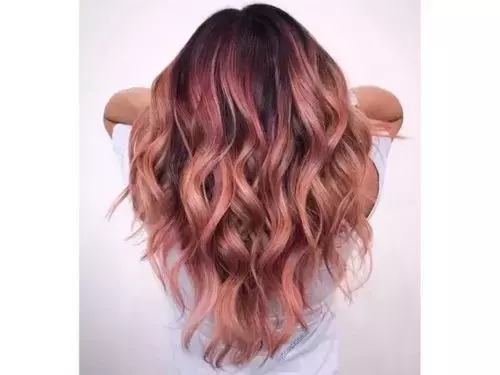 20. Rose Balayage Ombre
The rose balayage is a light rose gold color on the hair which is mostly done on blonde hair. If you are brunette then, first there would be processing on the hair done to achieve a lighter shade and then the rose color would be put in. It's a hefty process but the results will amaze you for sure.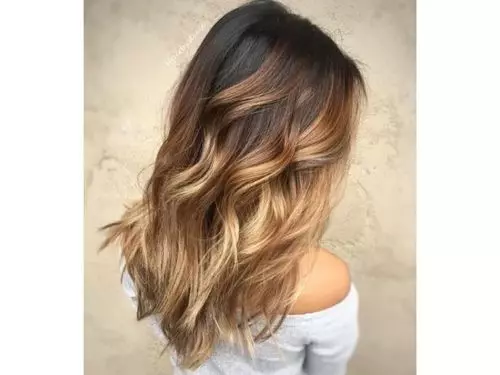 21. Warm Caramel Balayage
The warm caramel hair color is a golden color and is one of the most used colors for balayage. It is a honey color and gives a dramatic change to the hair which looks amazing. It perfectly blends into brown hair and is usually done over global brown colored hair.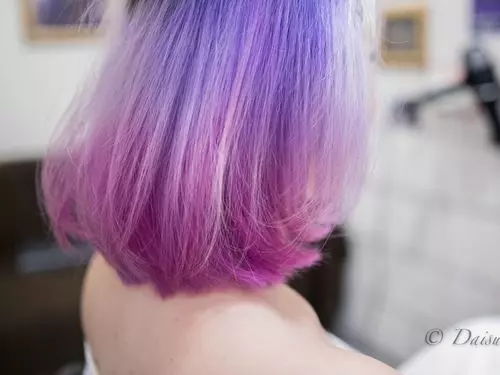 22. The Pretty Pastel Pink & Purple Balayage Ombre
Pastel pink and pastel purple are amazing colors, they look soft yet energetic. The balayage in these colors again creates an ombre effect which is just so amazing to look at. The colors go hand in hand and create the perfect ombre, whether it be on long hair of layered haircut or a short haircut like a bob.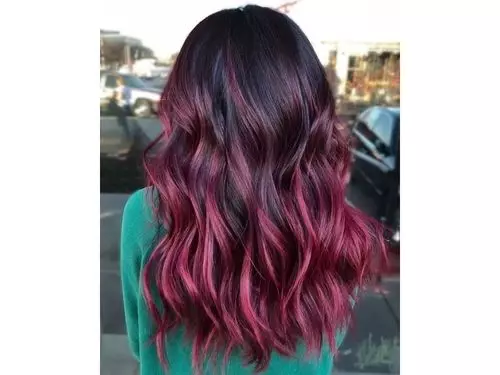 23. Burgundy Balayage Ombre
Burgundy is a mauve red color and happens to be a dark warm color which suits the most on brunettes. The balayage ombre effect is creates is splendid and resonates a winter hair color. It gently melts into you locks if you have black or brown hair and the effect it creates will never get old.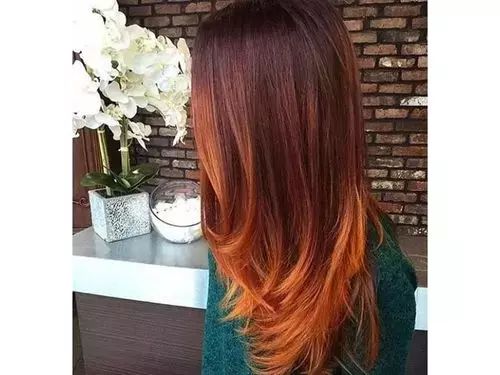 24. Copper Balayage With Ombre Effect
The copper balayage which gets into the ombre effect is another rage and looks stunning due to the rusty effect that copper presents. The balayage can start with a dark copper and the ends could be fragmented into light copper streaks.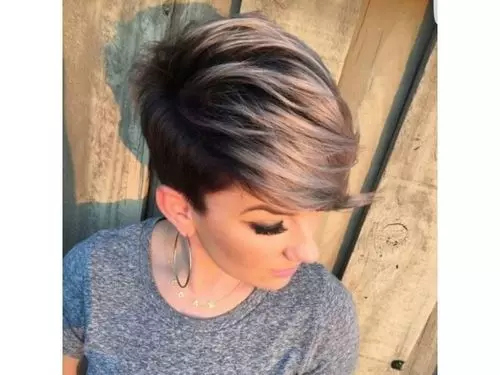 25. Balayage Ombre On A Pixie Haircut
A balayage hair color on a pixie haircut might be the most conspicuous change in your hairstyle. Pixie is a very short haircut which gives off the most edgy energy and a balayage over it makes it even edgier.