51 Best Short Curly Haircuts For Men (2023)
Shalu Bhati & Reena R
Updated At 29 Aug 23
Got curly hair? Don't give up on them just yet. Because no other hair texture looks as brilliant as 'em luscious curls. They indeed require a lot of maintenance but with the plethora of products in the market and helpful tips and tutorials on the internet, things have changed for the better when it comes to curly hair. And as for hairstyles, short curly hairstyles for men are all the rage right now. Plus, this is not your usual trend that will just die after a few months. Oh, no dear, sir! This is a classic style that is here to stay. So, join us as we discover some of the best short curly hairstyles for men.
Let's get started!
51 Best Short Curly Haircuts For Men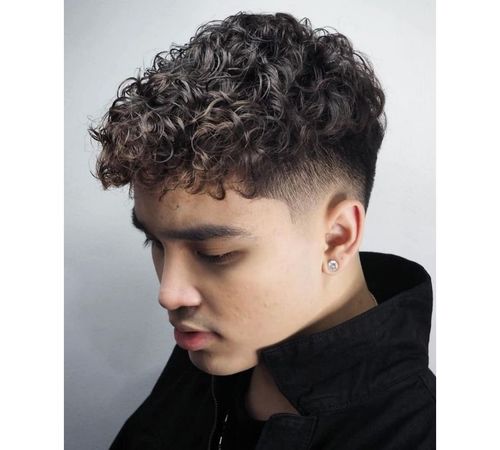 1. Curly Hairstyles With Undercut
Short curly hairstyles for men with an undercut have gained a lot of popularity in recent times. This style looks cool and shows off the curls quite well.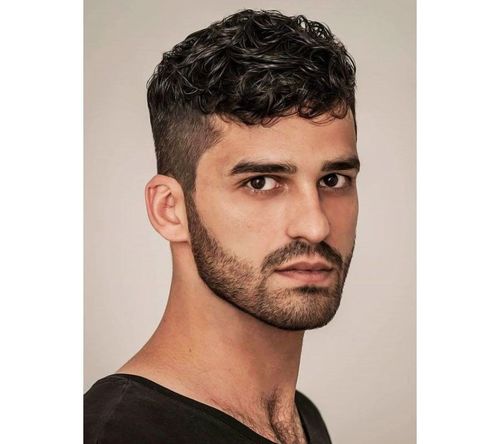 2. Short Curls With Taper Fade
A taper fade adds just the perfect amount of style and boosts even the simplest of hairstyles. No wonder, taper fades are one of the top choices amongst men who want short hair.
If you are looking for hairstyles for receding hairline, the taper fade can be one of the best options. It can gave the perfect shape to your face and the side parted hair can mean that the the ara with less hair gets covered.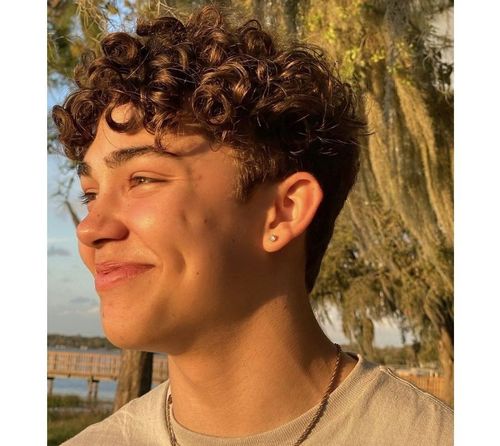 3. Sweet And Short On The Side
Show some more love to your curls with short curly hairstyles for men that let you show off their beauty to the max. For instance, here is this hairstyle where the sides are kept short enough to let the volume on top of the head take the center stage.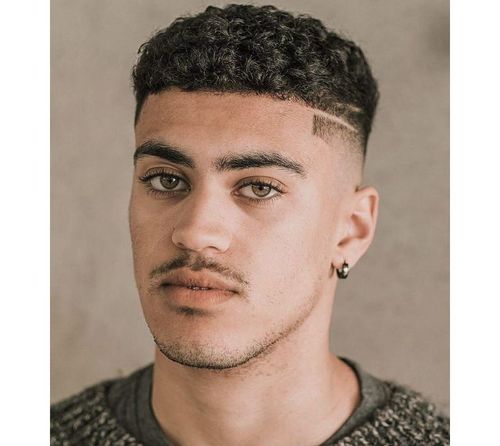 4. A Line Of Fade
Here is one of the short curly hairstyles for men that we instantly loved. And we hope you would love it too the way we do. Because why not? It is a very kept together sophisticated cut that is sexy on top of being manageable and stylish.
If you are looking for new and trending haircuts, do check out our guide on viking hairstyles for men as these have been growing in popularity consistently.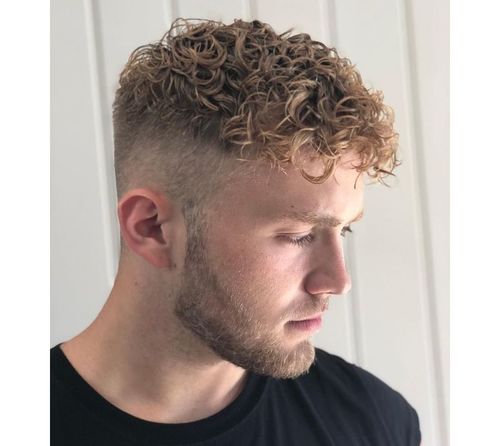 5. Tousled Tight Curls
Here is to the person who invented this beautiful hairstyle called the fade. A simple cut that goes a long way in making a difference. This one, in particular, is a hairstyle with tight curls that are tousled and yet manage to look neat and proper. That's the magic of a drop fade.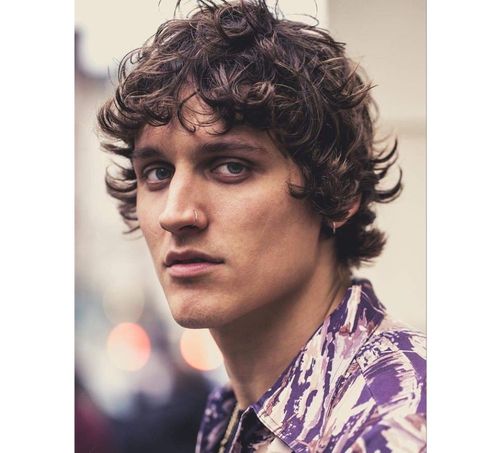 6. Tousled Curly Hairstyle
We can't help but include this carefree style in our list of the best short curly hairstyles for men. This haircut does its job and shows off the curls but also takes things to the next level with its unique style of feathery tousled effect.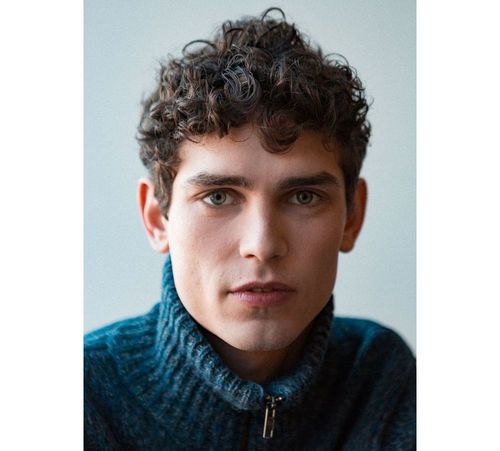 7. Curly Fringe In The Center
Short curly hairstyles for men with a fringe? Not really revolutionary. (We are saying this in our very serious Miranda Priestly tone.) But hey, that's the beauty of working with curly hair. They never disappoint you and with the different textures of curls, every hairstyle even though cut the same way will end up looking different. And there are just a lot of possibilities that open up with a fringe.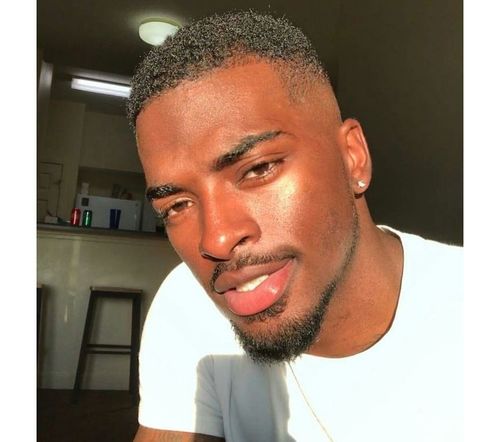 8. Short Curly Hairstyles For Men
This one is as simple as it gets. Go as short as you can go and your curls will still find a way to shine through. Because, again, that's the beauty of having a curly texture. With a bald fade on the sides to enhance the focus on your curls, this hairstyle takes the cake.
One of the best hairstyles for black men, this faded haircut looks stunning. Style your beard properly and you are sure to grab a lot of compliments.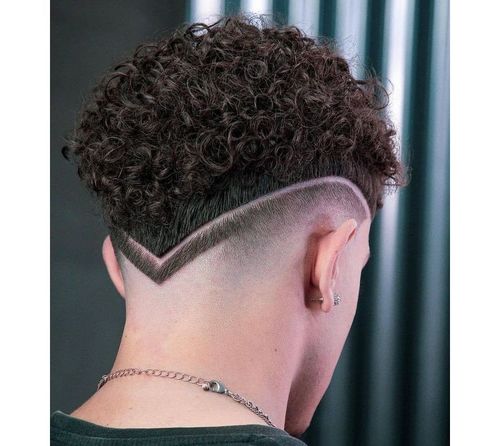 9. Cool Curly Hairstyle With V-Line
Here is an interesting take on short curly hairstyles for men. This is a style that works well for those with thick hair making them even more manageable. This is basically a disconnected fade that comes with a dramatic and interesting twist in the form of the V-shaped line that seems to be the center of attention here.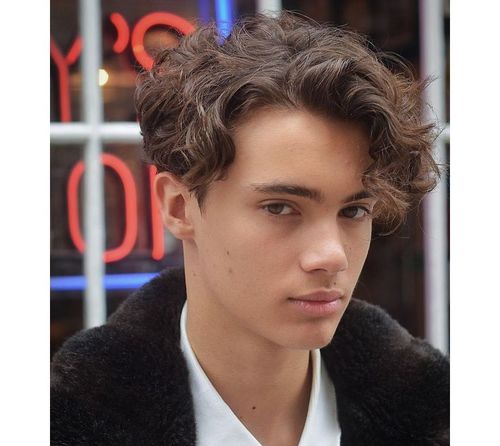 10. Tousled And Side-Swept Curls With Undercut
There are many short curly hairstyles for men with an undercut but none is as cute as this one. The undercut keeps the volume on the sides in check while the rest of the hair is tousled and styled in a nice side sweep. One side is deliberately kept longer than the other to create motion on that one side.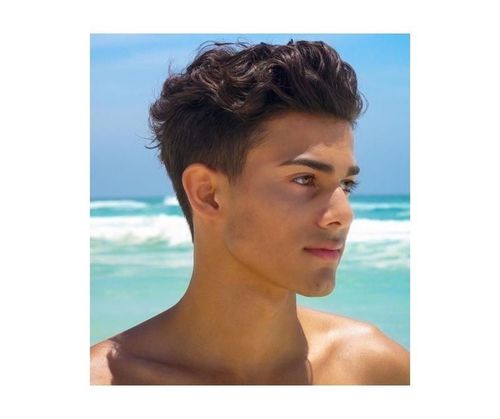 11. Brushed Back Curly Hairstyles With Taper Fade
There are many ways in which short curly hairstyles for men with a taper fade can be styled. Here we have yet another gorgeous style with a taper fade that would work great with a somewhat longer length of hair. The curls work to create a voluminous top that is enhanced by brushing them back.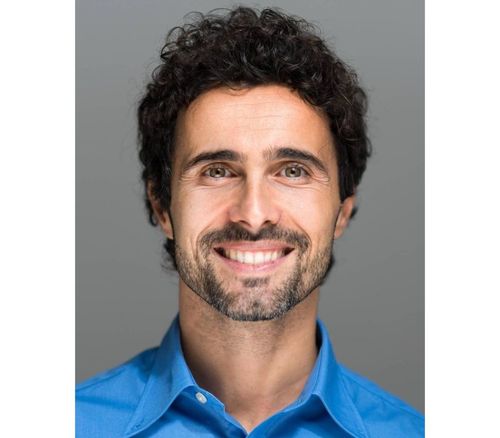 12. The Nice And Proper Curly Hairstyles For Men
Here is a short and curly hairstyle for men that works wonderfully within the professional sphere. The curls still take the center stage but they are not left to go wild. They are in shape and settled to give a manicured office-ready look. If you are looking for a business haircut with beard, then this can be the perfect fit.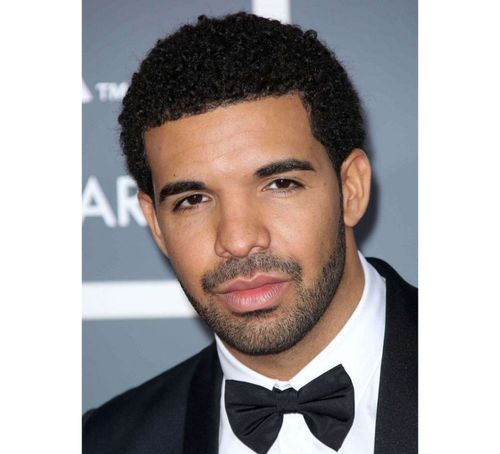 13. Drake-Inspired Short Curly Hairstyles For Men
Apart from his music, Drake's hairstyles can also be a good source of inspiration for your next salon visit. It is a simple and precise cut that won't require a lot of effort when it comes to styling and manageability.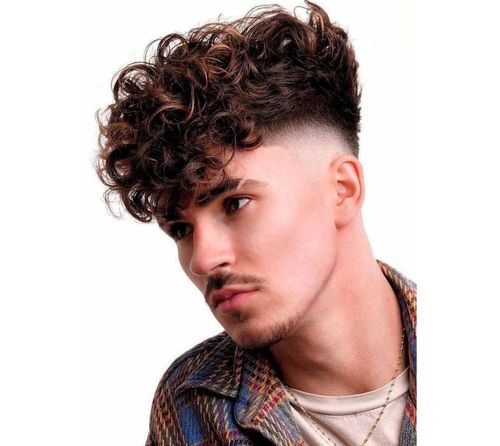 14. Bald Fade And Voluminous Curls
Short curly hairstyles for men with a bald fade deserve a list of their own but that's something we would deal with some other day. Today, we will just focus on this stylish and classy haircut that keeps the focus on the bouncy curls with a bald fade on the sides. The tousled curls also create a front fringe that adds the necessary drama to the whole look.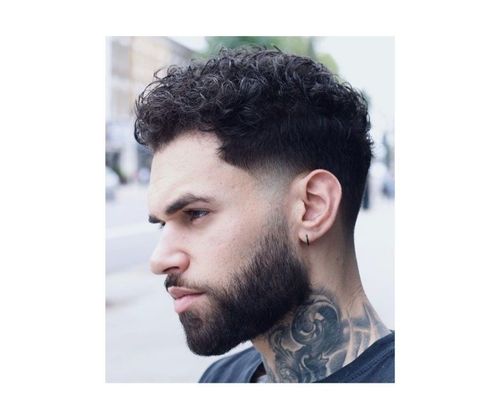 15. Short Curly Hairstyles For Men With Undercut Fade
An undercut fade is a great way of showing off your curly hair texture. It takes off the hair from the sides but not all unlike in a bald fade. This lets the hair on top be their magical curl self. This is a perfect hairstyle for thin hair as well as it lets one create some volume on top.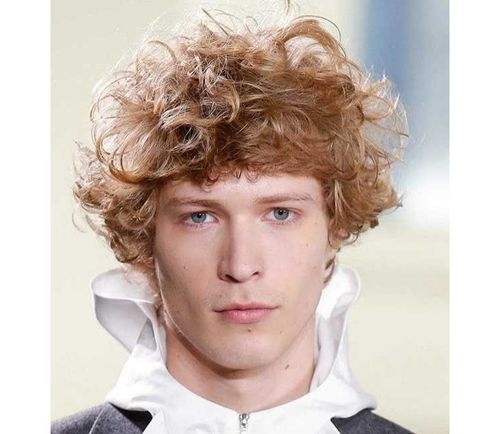 16. The Messy Curly Hairstyles
Messy goes hand in hand with short curly hairstyles for men. It works well with this hair texture and gives a dramatic and tousled look that everyone would remember. It makes a statement and will stand out. So, if that's something you like to do, go for it.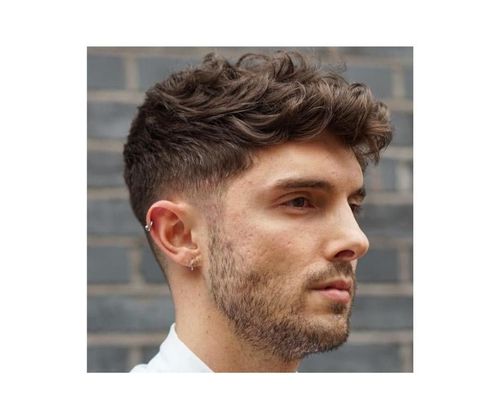 17. Loose Curls With A Fade And Beard
A low fade is yet another one of the many short curly hairstyles for men that you can try out. It is a great hairstyle that goes well not only with your curly texture but also with beards.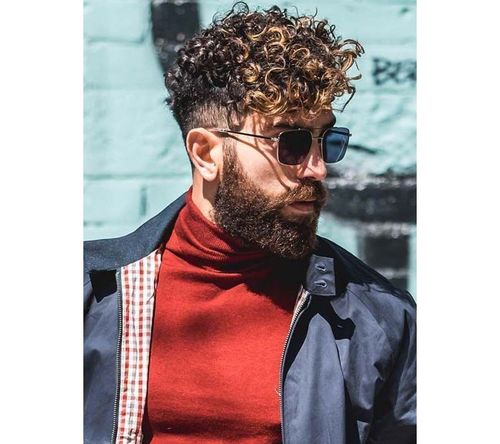 18. Highlights On The Curls
A lot is going on in this picture but it was the highlights that stood out for us. it is your regular curly hairstyle with a low fade and beard. The immense volume at the top is surely at the center stage but the light brown highlights make the style pop and stand out.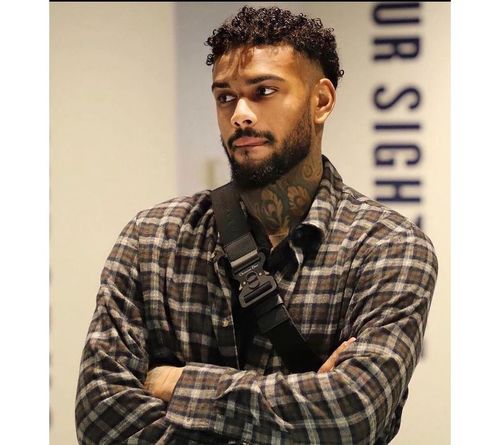 19. Tight Curls With Bald Fade
This look takes the curls and the fade style in an entirely new direction. It is an iteration of the classic look. It is a full fade that works well with the beard as if they were made for each other. It also keeps the focus on the beautiful tight curls that sit at the top. They are short but not too short—just balanced.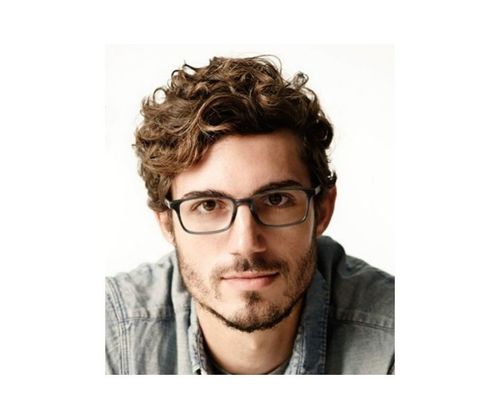 20. Loose Curls With Side Parting
Here is another handsome look for you. This is one of the trendiest short curly hairstyles for men. Being very short on one side helps keep this style a side-parted wonder. The tousled curls are swept and styled onto one side. And this gorgeous sweep is the best thing about this hairstyle as it keeps the hair from falling in your eyes and creates a stylish effect while being practical.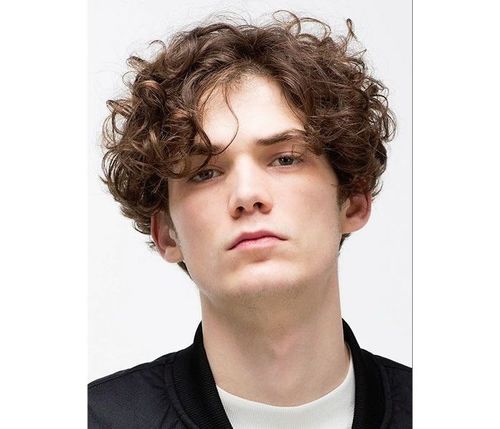 21. Mid-Parted Tousled Curly Style
Loose curls will look great with this hairstyle. It is trendy and classy. It is also something that would stand out. There is just something really beautiful about curly hair parted in the middle. Create a tousled and messy texture to amp up the drama.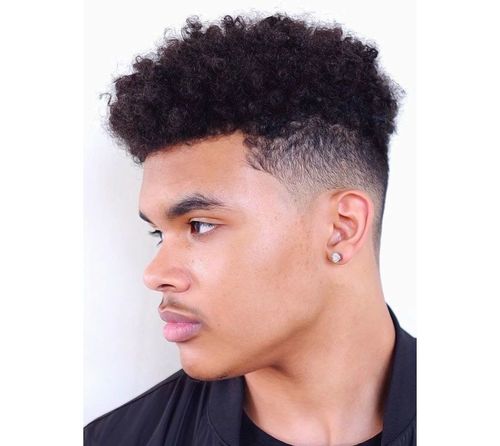 22. Short Curly Hairstyles For Black Men
Here is yet another one of the short curly hairstyles for men that stands out for its uniqueness. This one comes with a taper fade. The rest of the hair on top has been cut to create an equalized volume all over. It is the best hairstyle for those with tight curls.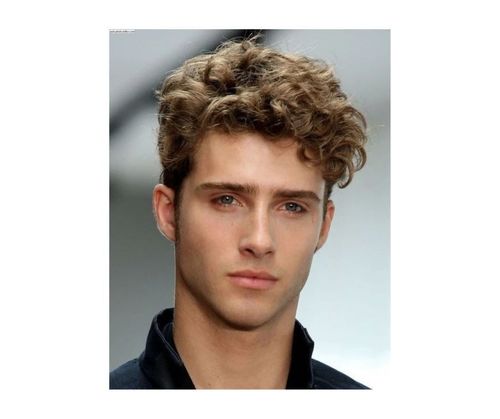 23. Angled Cut
There is just so much that you can do with your curls. Here we have an angled short haircut for men. This one lets you play with the messy texture of your curls while keeping the hair away from your forehead.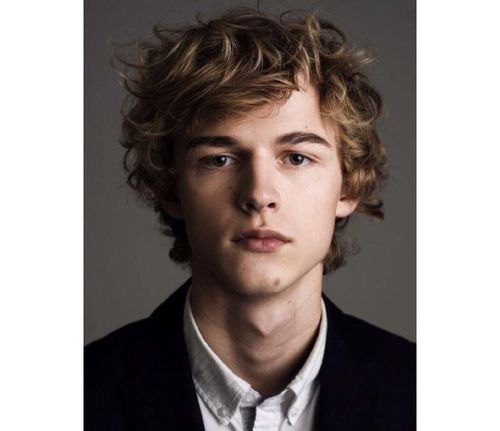 24. Wavy Side Sweep
If you have loose curls, then you can opt for this kind of short curly hairstyles for men. The tousled curls and the side-swept style create a sense of motion which suits the wavy texture very well.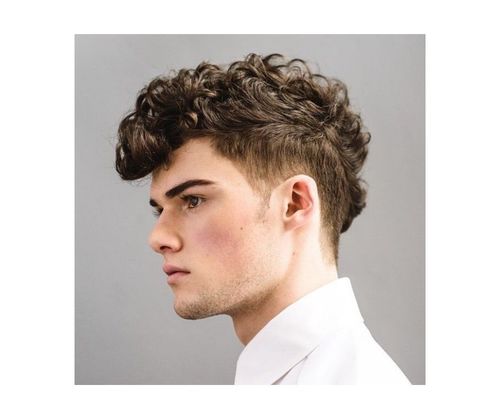 25. Faux Hawk Hairstyles For Curly Hair
Faux hawk or fohawk hairstyles are the demure sibling of the mohawk but look equally stylish. This is one of those short curly hairstyles for men that will make you stand out from the crowd. It works great with curly hair and gives a nice and edgy look.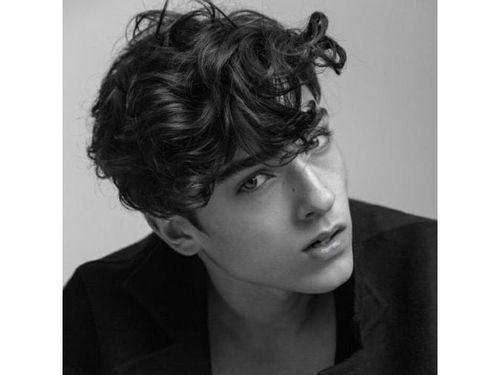 26. Heavy Angular Fringe
The angular fringes have a voguish feel to them. The long fringes complement the face's overall appearance and give off a relaxed yet classy vibe. A hairdo that complements a serious demeanor and a strong, sculpted jawline.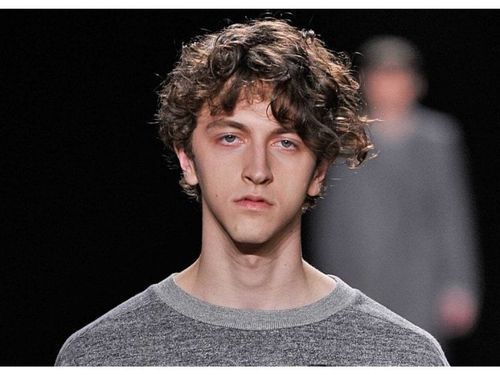 27. Thin Hair Curly Shag
The list is empty if shags are not present in the compilation of short curly hairstyles for men.Shags are usually seen with more volume, and we can lower the volume if you are not much of a fan of it. This Thin Hair Curly Shag does not exaggerate the curls much but still gives off a laidback cool vibe to your overall look.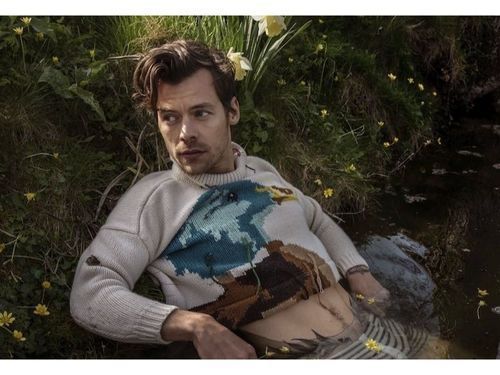 28. High Volume Curls
Curls usually have a fantastic appearance, but some people's curls appear lifeless, ultimately detracting from their overall appeal. As a result, you should experiment with big-volume curls. This haircut is straightforward, not too dramatic, and not too dull, and it transforms your entire appearance. Take a peek at Harry Styles, who is rocking high volume, effortless curls.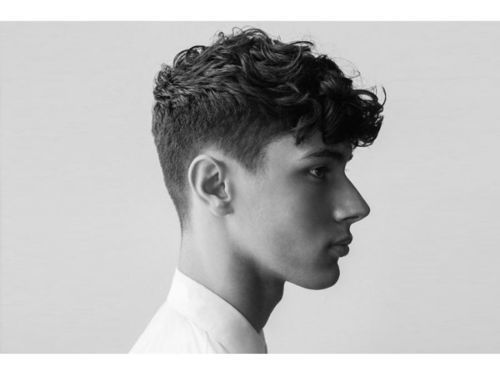 29. Tousled Top with Short Sides
Hairstyles with messy tops and faded sides are increasingly popular nowadays. Since too much fade on the side might not be fit for professionals, here is a rather decent hairdo. The top section of this style includes more voluminous curls that are tousled for a disheveled yet neat look, while the sides are clipped short of conveying formal vibes.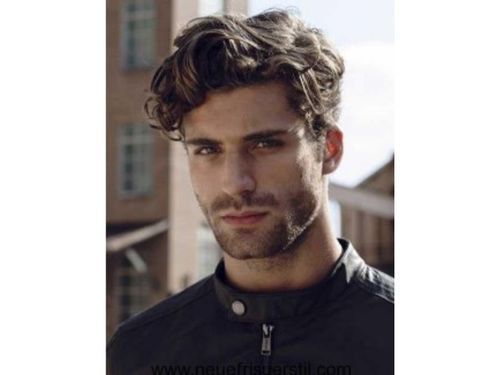 30. Classic Taper And Scissor Crop
In two words, the traditional taper and scissor cut are simple and classic and remains in the top classic ranks of short curly hairstyles for men. This is an underrated haircut, and everyone does it, but no one really knows what it's called. The top of the hair is left with lengthy curls, while the bottom is cut with a conventional scissor cut, resulting in shorter curls that perfectly complement the whole haircut.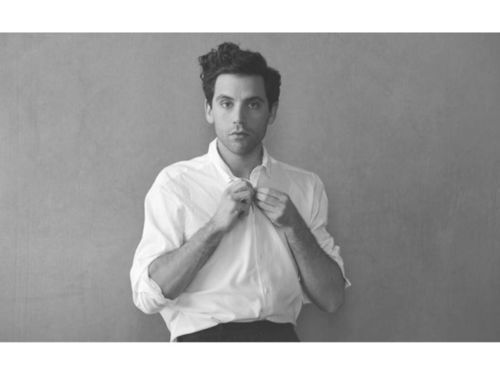 31. Mika's Curly Hair
Michael Holbrook Penniman, Jr., also known as Mika, has long been known for his mild curly hairstyle. This curly do not only exudes graceful elegance, but it is also rather fashionable. He has side-parted his luxuriant hair in this style, which complements his cool demeanor perfectly. This design is appropriate for both formal and stylish settings and still remains in the top place of short curly hairstyles for men.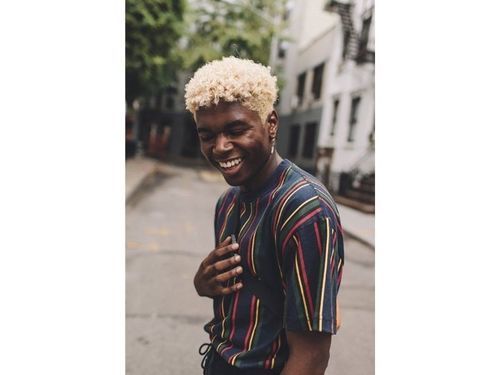 32. Blonde Short Curled Afro Hair
When it comes to short curly hairstyles for men, Afros are a must option. Afros are curls, and they should always be black? Say no more with these blonde curls, which brighten up the entire demeanor with their vibrant tones.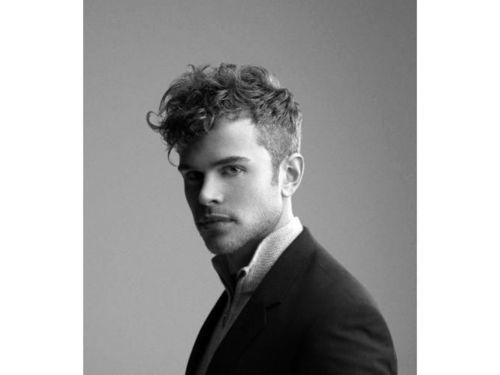 33. Tapered Bed Head on Wavy Hair
If you are in for tapered styles, this might be another favorite of yours. The top of this hair is wavy but t gives off a rather messy bedhead vibe. This elegant finish version of the bedhead is more suited for men with sharp jawlines.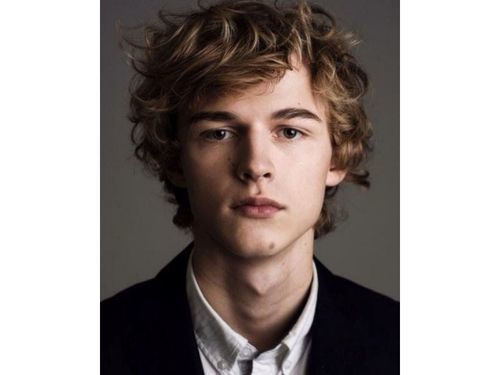 34. Rusty Waves and Curls
There are a plethora of short curly hairstyles for men, for a one-of-a-kind look, we propose rusty. Rusty looks completely polished and transforms your dull hairstyle into a passionate one. Allow your hair to wiggle around with its rusty wavy curls.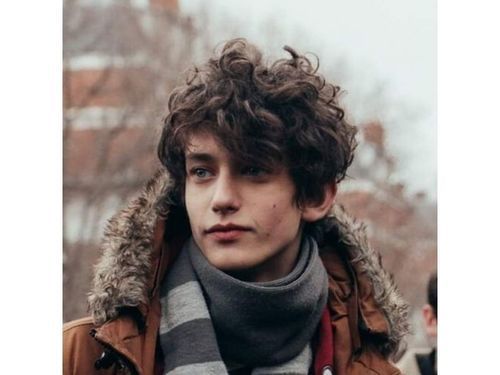 35. Stylish Curly Mess
Who doesn't enjoy an excellent curly mess? Men with disheveled curls have an out-of-this-world aura to them. This is one of the few hairstyles that work in all four seasons of the year. There's no need to brush your hair; simply tousle and mess it up, and you're ready to flutter dozens of hearts.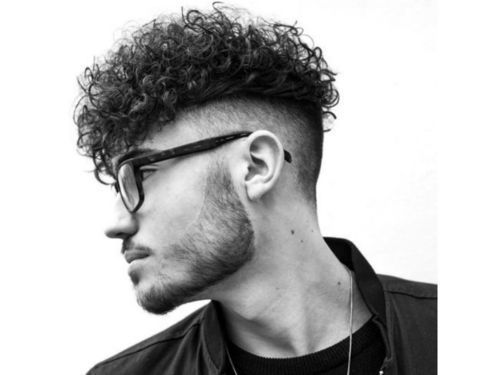 36. Curly Undercut with a Disconnected Fade
Disconnected fades are really popular these days. There's a lot of diversity out there, but we cherry-picked this one since it's cool and trendy with just one glance. With the upper portion of the hair in dramatic curls, the bottom part of the hair and beards fade as you rise, completely balancing the hairstyle and the overall angle of the face.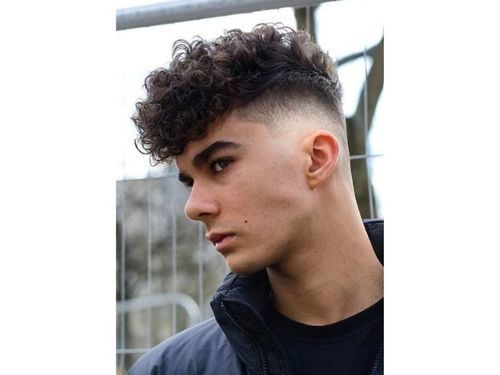 37. Curly Brushed Up Shag
The lower part of the hair is thinly trimmed with this hairstyle, while the upper part is modeled in a brushed up curly mess. Though this hairstyle may look simple, the lower trimmed area's highlights make the overall style look relatively novel and cool.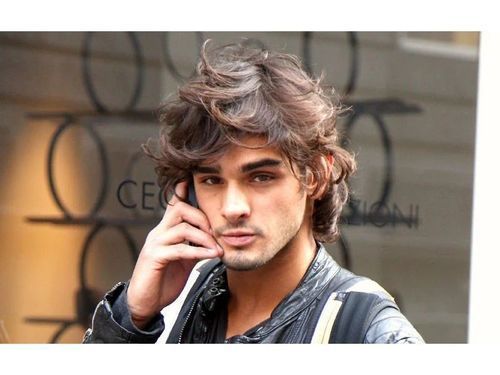 38. Layered Curled Shag
Shag hairstyles are always fashionable. Shags, whether long or short or layered, have a way of making women's hearts skip a beat. Simply wake up, tousle your hair, and let your personal style speak for itself. This style is one of the popular short curly hairstyles for men and teenagers.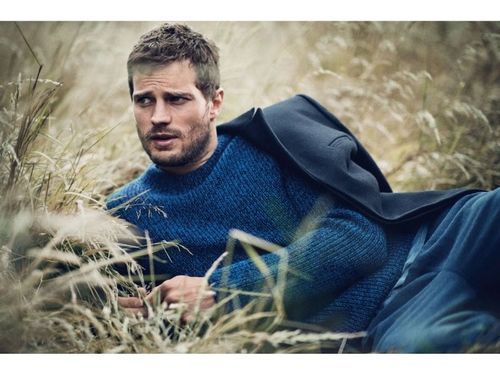 39. Short Choppy Curls
Dramatic curls are not everyone's favorite, so how about short, choppy ones. These curls don't appear like curls and lend a hint of luster to your hair, completely transforming your image. This haircut also requires minimal upkeep and is ideal for the laid-back gentleman seeking an effortless formal look.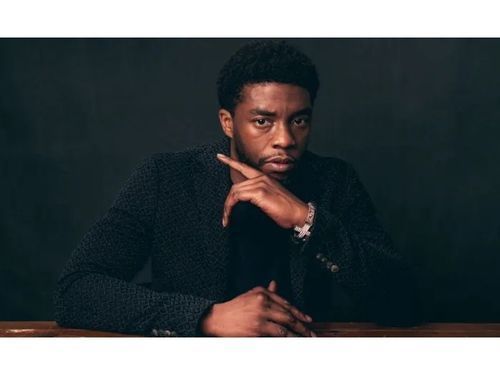 40. Short Afro Curls with Temple Fade
Another afro is our list of short curly hairstyles for men. When it comes to curls, we can't forget about the stylish afro curls when it comes to curls. True, afros are typically thought of as bushy short clusters of curls, but they don't have to be lengthy; in fact, short ones are much better because they radiate groovy vibes. The hair is seen to fade at the temple layer for a more beautiful look. This enhances the hairstyle and provides a clean finish.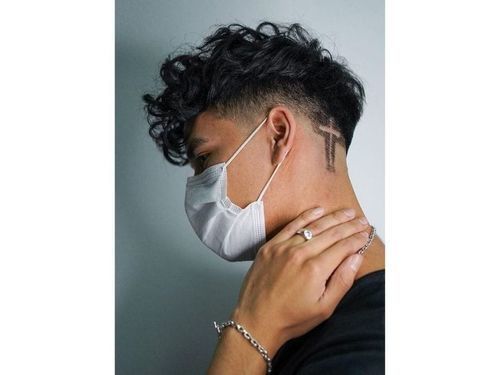 41. Medium Curls with Christ Fade
If you were looking for distinctive short curly hairstyles for men, this might be the one for you.Usually, we see fading sides with a chaotic top; this is the same, but with a crossfade. This look is perfect for individuals who want to try something new.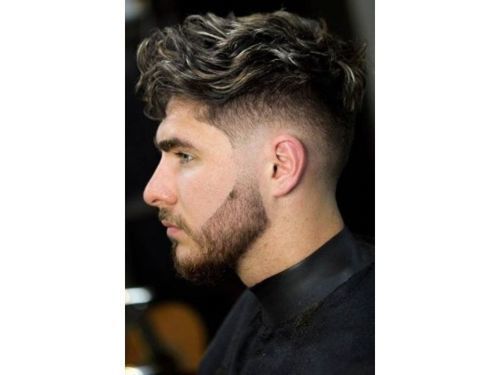 42. Highlighted Curl with High Fade
Curls with a side fade are hot right now, and everyone is wearing them. Why not add some highlights to the hairstyle to make it more interesting? Highlights usually are blonde or rusty, but you can use any shade you like.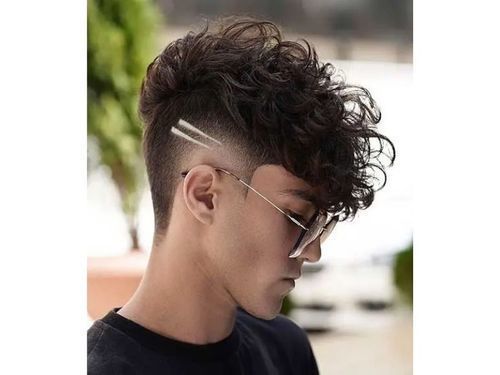 43. Fancy Curls With Tapered Design
For one thing, the tapered style emphasizes the long, elegant curls on the top, giving off bad boy vibes to the person wearing it. With its sheen, a spritz of hairspray is recommended to keep the curls on top in place throughout the day. Tapered style is one of the popular short curly hairstyles for men.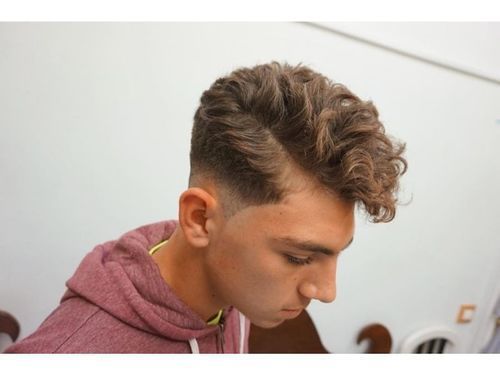 44. Side Part With Curly Hair
Curls parted on the side give the face a more delineated aspect. Simply slick your curls to one side, preferably the right, and use a good hair gel or hair spray to hold it in place. You may also add additional highlights to the appearance to make it more refined.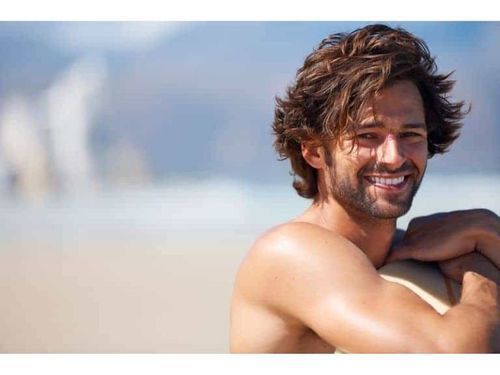 45. Dense Curled Shag With Temple Undercut
Curled shags have a splendor, and they have never gone out of style and will never go out of style. With thick curls and a temple undercut, which refers to the temple's sides being faded except for the middle. This is another sloppy look on our list that is ideal for a hot beach day.
46. Nick Jonas's Tousled Curls
The once-stylish teenager who revolutionized curls with his out-of-this-world tousled curls is still at the pinnacle of the curly hair trend. The curls are curled even more and let out in the front, while the rest of the hair is tossed haphazardly.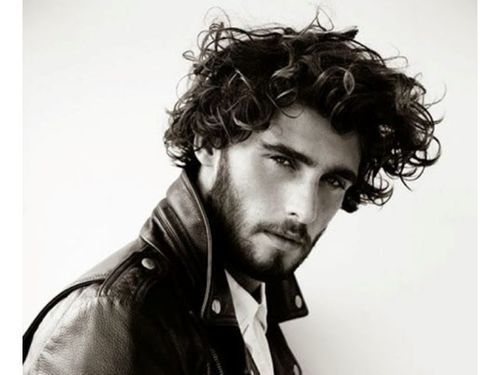 47. Messy Curls Lying Around
We'd describe it as a well-defined and detailed curly mess. Unlike other chaotic short curly hairstyles for men, this one has a model-like appearance created by using hair gels and spray and giving curls a more defined appearance.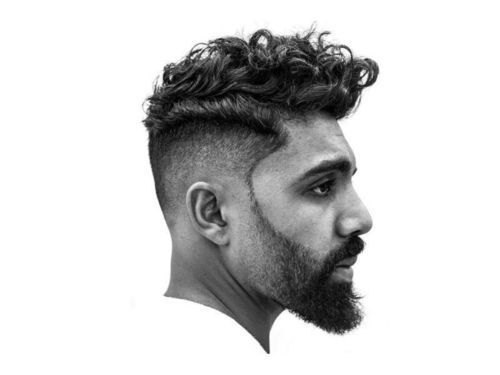 48. Fine Curls With Vivid Mid Fade
Fine Curls with Vivid Mid Fade is a daring look that will completely modify a person's overall appearance. This hairstyle, especially if you have a beard, will tie your style together and give you a phenomenal gangsta appeal.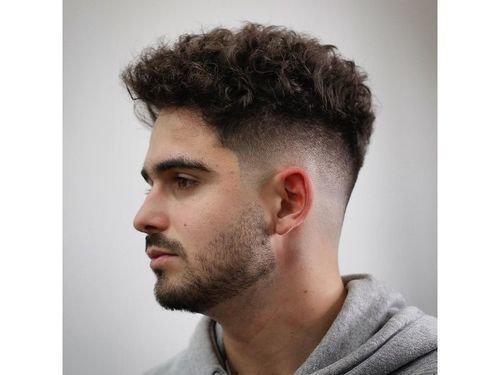 49. High Blob Top With Low Fade
If you are a fan of low-fade haircuts, you will love this one. This is simple, easy, and has a classy appearance. The top blob is not haphazard but rather a tidy cluster of curls that accentuates your beard and mustache if you have them.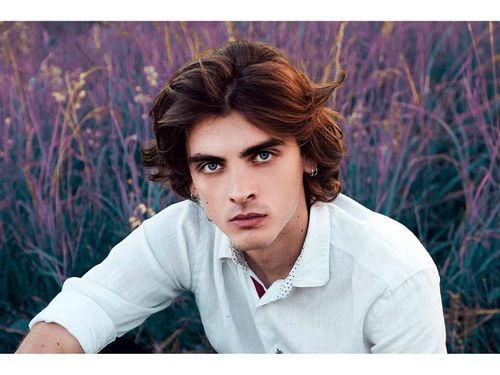 50. Mid Part Curled Up Shag
Mid parts can be pretty exciting, but this one might triumph them all with these short thick curls just to have it shagged into a big massive cluster. The chill stubble look balances the face by letting curly shag take all the attention.