55 Stunning Black Wedding Hairstyles And Haircuts (With Photos)
Olivia
Updated At 30 Jan 23
Equal consideration should be paid to your bridal hairstyle as to your clothing and makeup choices. A different hairstyle can completely alter the appearance of an outfit, so choosing a bridal hairstyle for your wedding festivities should be a deliberate choice. Therefore, we've gathered 55+ of the newest bridal hairstyles that are likely to get you plenty of comments to ensure that your hairdo completely matches your wedding attire. This blog contains all the bridal hair ideas you could possibly need, whether you have long or short hair.
55 Wedding Hairstyles For Black Women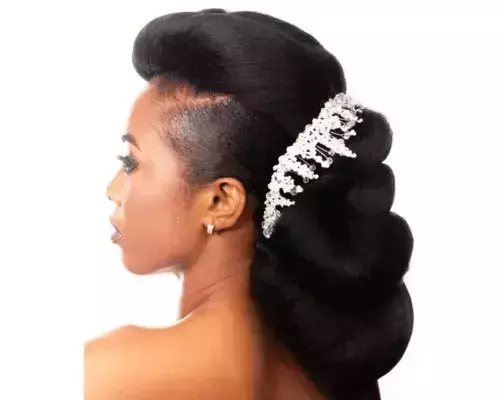 1. Pompadour And Double Chignon
This intricate double chignon pompadour hairdo is sure to attract attention. It's not your typical appearance, making it a fantastic choice for the bride who wants her wedding to be unique in every aspect.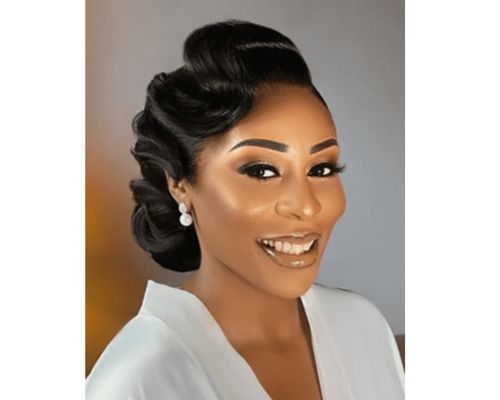 2. Wavy Chignon
A terrific technique to add texture and a touch of retro splendour to your wedding day hairstyle is by adding waves to the traditional chignon. This fashion exudes poise and grace.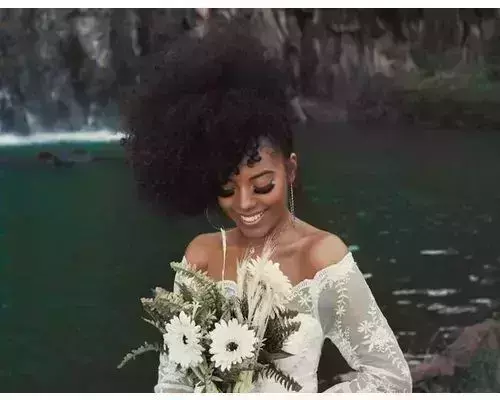 3. Afro Side Puff
A wonderful method to spice up a well-known and worn afro hairstyle is to pull your puff to the side. It's literally a new twist on an old favourite and pulling your hair to the side allows you more room and flexibility when adding your favourite wedding hair accessory.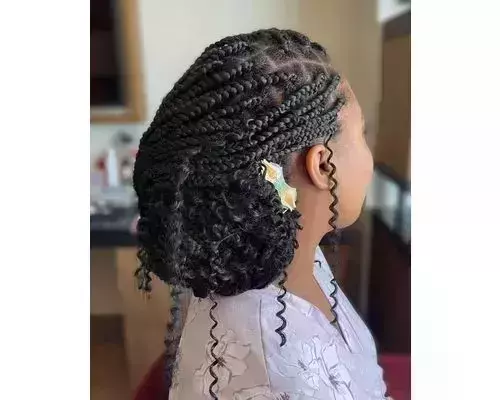 4. Cornrows And Curls
Black women all over the world love wearing cornrows, especially those who prefer to wear their natural curls. This style is appropriate for hair of all lengths and, thanks to its simplicity and adaptability, will go well with a variety of wedding gowns. You'll have a hairstyle you can rock after the wedding as well. Cornrow braids with curls offer a great look for brides and bridesmaids alike.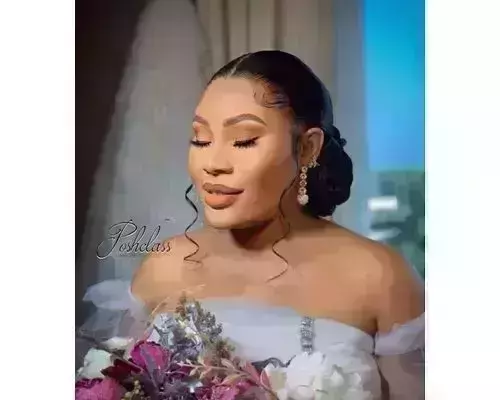 5. Chignon With Middle Parted Hairstyles
Chignons are the epitome of formality and historical beauty. This hairdo will always be a top contender among black women's wedding hairstyles because of its understated elegance. You can construct the ideal chignon whether you have relaxed hair or natural hair if you can pull your hair back to your nape.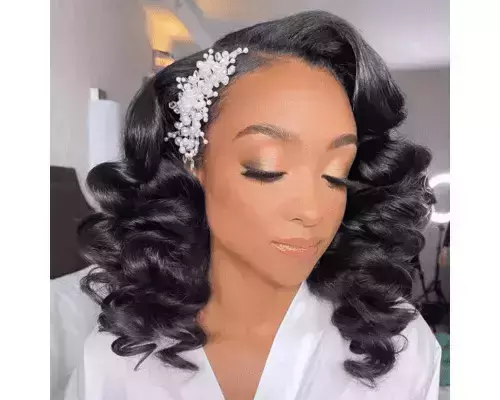 6. Curly Black Wedding Hairstyles
In terms of black women's wedding hairstyles, voluminous curls are another option. The look can be created on natural or curly hair that has been stretched with or without the application of heat, and it looks wonderful on relaxed hair as well.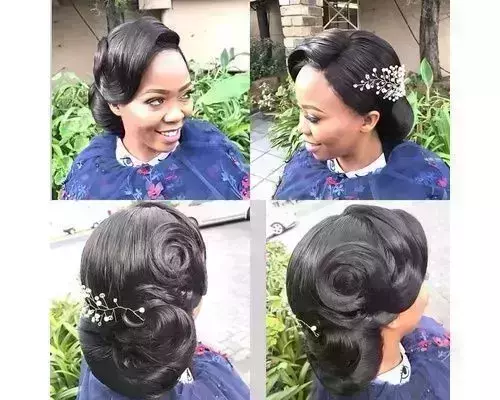 7. Pin Curls Wedding Black Hairstyles For Wedding
Long or medium-length hair need not be to be glamorous or elegant. For people with tapered cuts, this look gives the appearance of a flawless updo and is wonderful. The ideal wedding hairdo for the ideal bride is achieved by adding your accessories.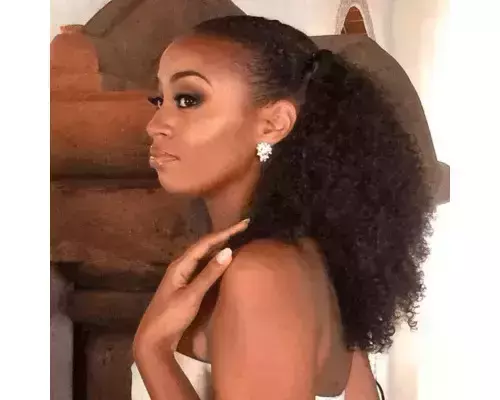 8. Sleek And Low Puffy Ponytail
If you are looking for Wedding black hairstyle for long hair for wedding then a low puff ponytail can be a very good option. Both brides and bridesmaids will love this stylish, low puffy ponytail. If you're the type of bride who has her heart set on doing her own hair, it's enjoyable and simple to do. With or without extensions, this look can be accomplished on relaxed or natural hair.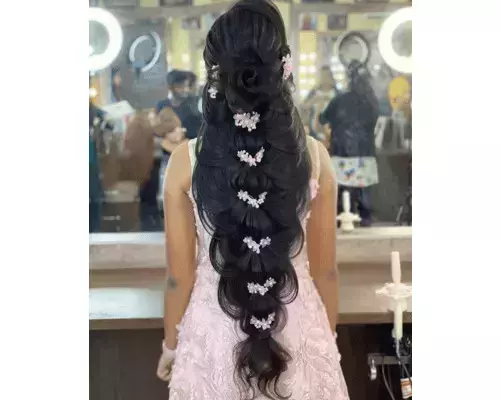 9. Fishtail Braids For Wedding
One of those hairstyles that seems really complex and challenging but is actually quite simple to execute and has a stunning result is fishtail braids. This is undoubtedly a wedding hairstyle for black ladies seeking a stunning look that will cascade down her back. There are many different decorations from which to chose while adorning your braid.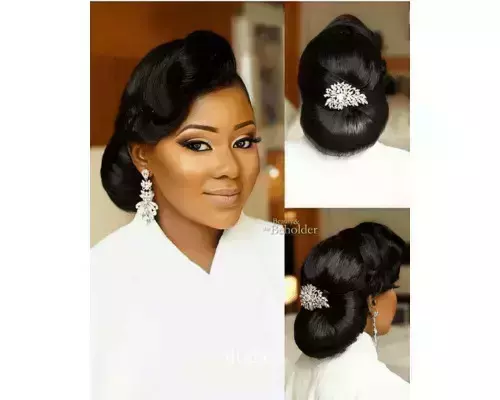 10. Roll And Tug Chignon Black Wedding Hairstyles
Brides frequently struggle to decide on a hairdo since they prefer several different ones. The above wedding black hairstyle pictures demonstrate a roll and tuck chignon. It's perfectly worthwhile to think outside the box and combine components from several hairstyles you enjoy to create something new, different, and completely you.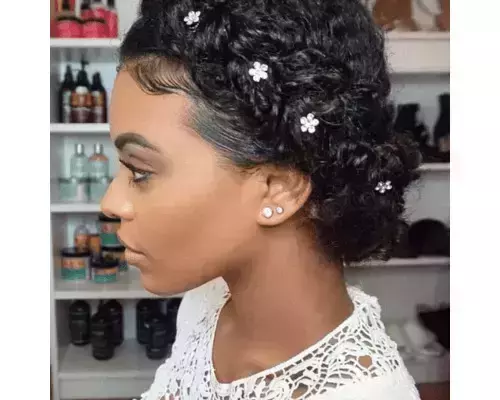 11. Curly Braided Updos For Black Hair With Weave
The ideal hairstyle to keep hair off your neck and back. It's a terrific style for weddings with a more casual atmosphere and is classy yet entertaining.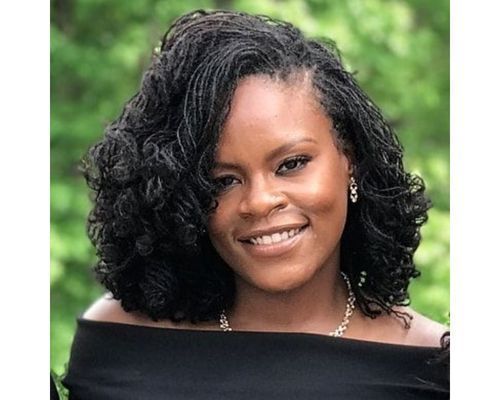 12. Curled Sisterlocks Black Wedding Hairstyles
Due to its incredible versatility, locs are a style that should be taken into consideration when it comes to wedding hair. These wonderful curly locs are styled in a way that allows you to wear a wide range of various hair accessories and still have fantastic looking hair.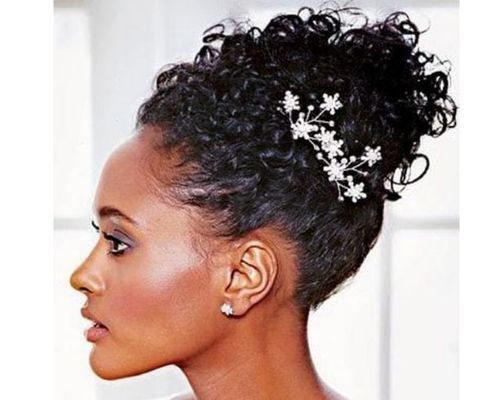 13. Natural Highlighted Curls
Natural curls are a built-in hairdo all on their own, and nothing truly makes you feel more like yourself than a good curly hair day. When it comes to black women's wedding hairstyles, leaving your natural curls loose is always a fantastic option. Of course, adding colour is optional, but there are several techniques for doing so without endangering your lovely curls.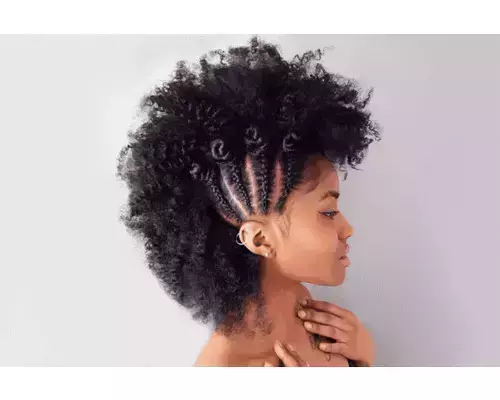 14. Faux Hawk With Curly Bangs
For black ladies with medium-length natural hair who want to embrace their natural curls in a casual yet official fashion on their wedding day, this is a great hairdo. This look can be achieved on a braid out or a twist out if your natural hair lacks much shape.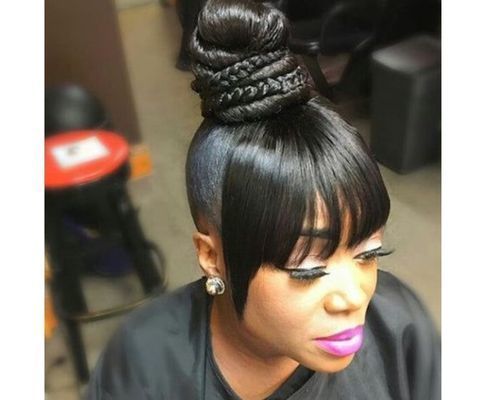 15. Bun With Bangs
Who doesn't enjoy a delicious bun? In addition to adding sophistication and elegance to the bun, this style also add visual appeal and give you the desire to stare at it nonstop. The massive bun is the true focal point of this look, so it will impress with or without bangs.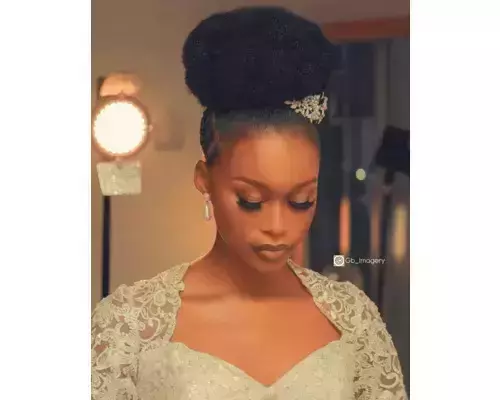 16. Huge Bun With Cornrows
This enormous high bun hairdo is incredibly stunning and deserves to be included on any list of black women's bridal hairstyles. By adjusting the size, style, and texture of the bun, you can simply change how straightforward and fashionable it is. The side cornrows details elevate the appearance to new heights, which is certainly deserving of praise.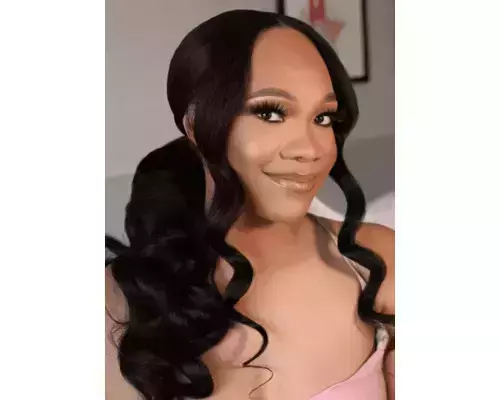 17. Long Loose Waves In Ponytail
This enormous high bun hairdo is extremely stunning and deserves to be on any list of bridal hairstyles for black women. It is straightforward and fashionable, but it can also be readily altered by altering the bun's size, design, and texture. The inclusion of the side cornrows details elevates the appearance to new levels that are certainly deserving of praise.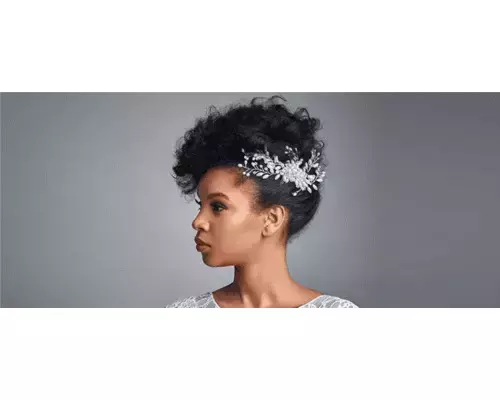 18. Textured Faux Hawk With Pompadour
Faux hawks and pompadours for natural hair go together like peanut butter and jelly. This style is all about showcasing the afro hair's texture, and it will elevate the bride's elegance on her special day.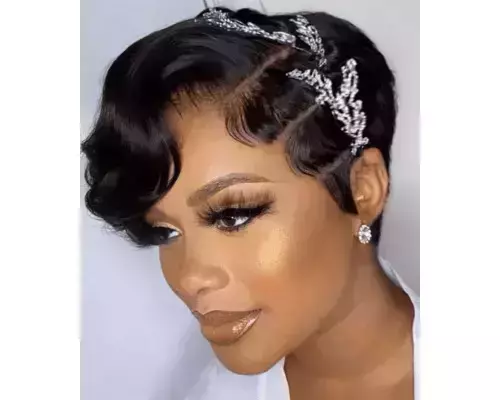 19. Finger Waves Black Wedding Hairstyles
It can be challenging to discover wedding hairstyles for black women with short hair, but we've got you covered. The ideal hairstyle for people with short curls and pixie cuts is finger waves. It is a terrific style to not only frame the face and highlight your cosmetics, but also to showcase trendy hair accessories to their full potential. It is a great choice for black ladies who adore all things vintage.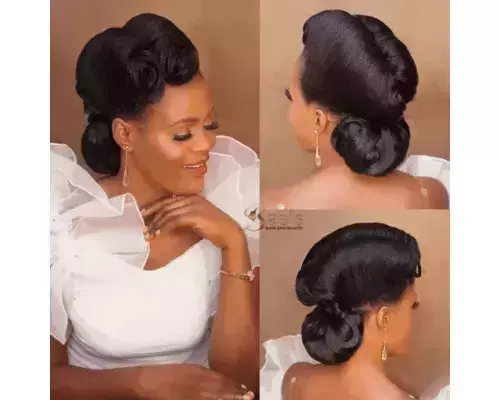 20. Roll And Pin Braided Updos For Black Hair With Weave
On natural hair, creative updos can be easily made by rolling and pinning hair in place. Almost any length of afro hair may be styled and created in a variety of ways using this method. This stylish updo with rolls and pins would go well with even the most exquisite bridal gown. Furthermore, it is stylish enough to be worn after the wedding without fear of it being too formal for informal, everyday situations.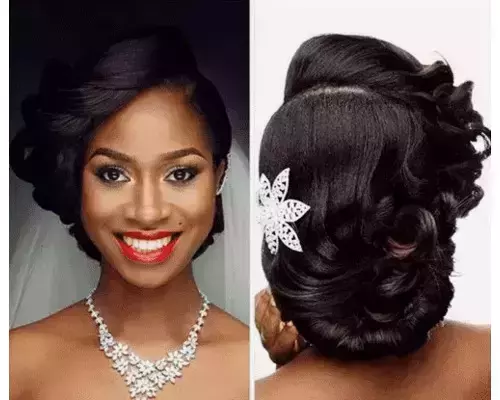 21. Floating In Flowers
Although loose curls are enjoyable, it can be challenging to wear an item with them if you want it to be seen. The shape and location for pinning a jewelled flower are created by merely pinning the bottom of your curled appearance. The nicest thing is that the front still has volume and distinct curls, preventing it from appearing flat.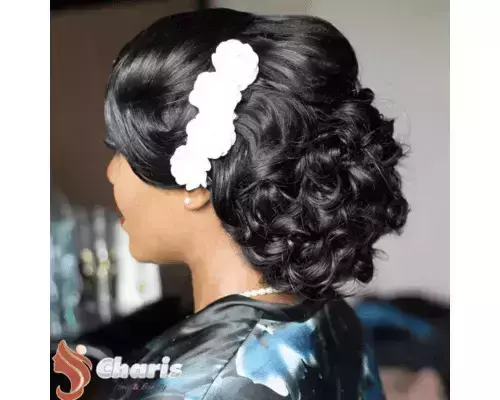 22. Curly Updo Wedding Hairstyle
A wedding hairstyle is always enhanced with hair accessories. This frizzy updo is given a romantic boost with a white flower barrette that has been clipped to one side. Who needs big earrings when you have that kind of hair clip?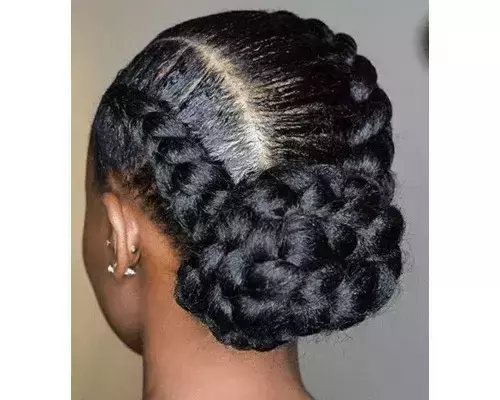 23. African American Halo Twist Braids
Black wedding hairstyles are frequently characterised by braids and twists. Whether you choose natural hairstyles or updos and down dos for straightened hair, they are fantastic for black hair. Two substantial twists down the crown give the typical halo braid updo an update in this style. The braids twist together to create a unified appearance.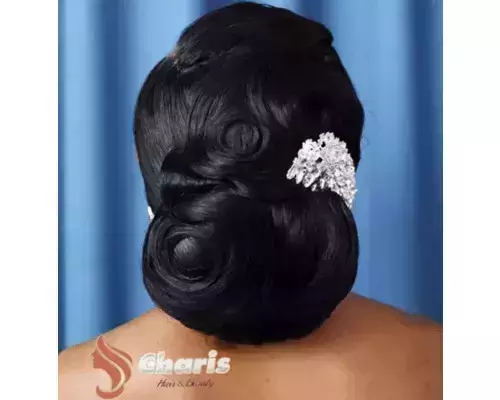 24. Black Swirled Updo
Try this look on your big day if you have chemically straightened your hair or wear a weave. A retro-glam vibe is created by super-smooth hair that is perfectly twisted into circles. The exquisite updo is given a little extra glitz by the jewelled hair clip.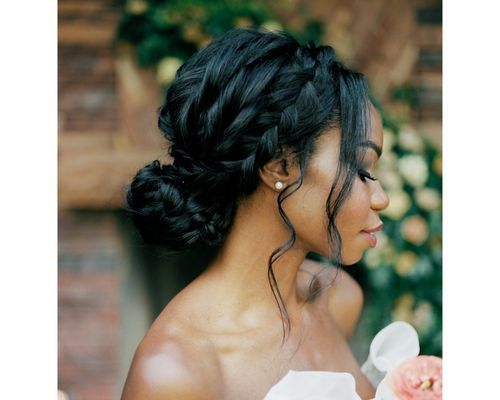 25. Wedding Twisted Updo
Although we frequently consider putting the focus on the face, this updo shifts it to the back of the head. Her hair is braided with several strands from the neck. A sparkling hairpiece is a nice addition that will enhances the look but doesn't overpower it.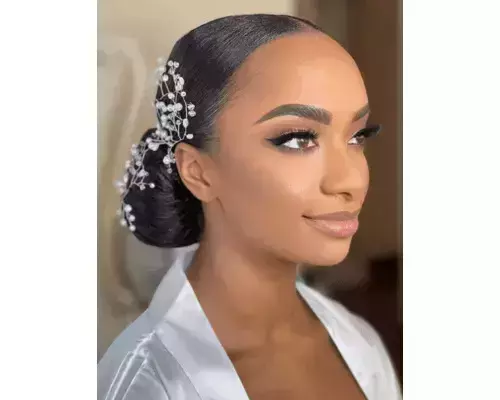 26. American Sleek Full Bun
Black women's wedding hairstyles are sometimes elaborate and complicated, but there is much to be said for a refined, understated style like this one. Long haired black women can make the most of their style by creating a stunning big chignon at the nape of the neck.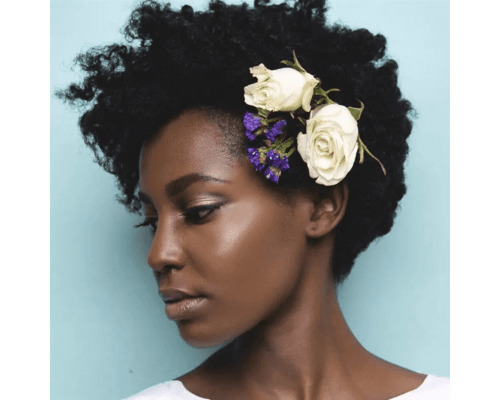 27. Black Wedding Hairstyle For Short Hair
Avoid using extensions and go for a fairly short hairdo. This style highlights your hair's organic texture. Add a bouquet of genuine flowers over your ear for a sweet finishing touch.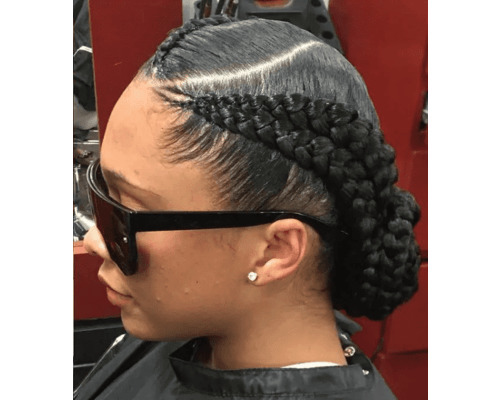 28. African Asymmetrical Braids
Black women's wedding hairstyles that never fail are updos. Try this asymmetrical goddess braided updo if you consider yourself to be a more stylish bride. The twin thick braids stretch out from the part, which arcs around the head.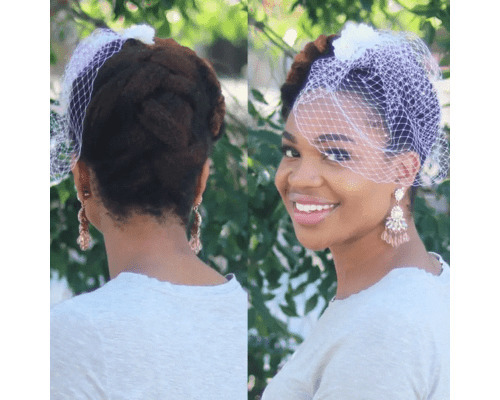 29. Wedding Braided Black Updo With Veil
Birdcage veils will always be in vogue. A simple updo and veil are always in style, but a thick, twisted braid up the back of your head adds a more contemporary touch. To finish the dynamic style, asymmetrically pin the veil.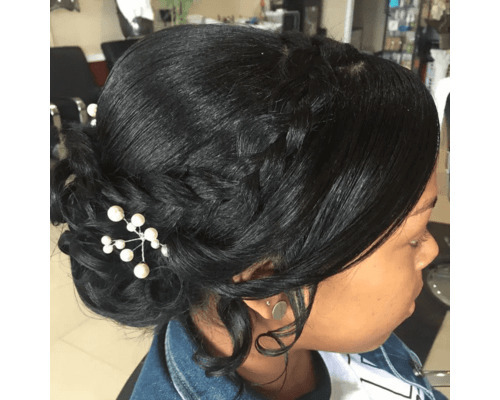 30. Black Updo With Braids And Tendrils
With this updo, there are a number of interesting elements going on, but they all work together. She wears a low bun in her hair that is pinned back. Some of the tendrils in the front layers were twisted and left loose, while others were braided. The style is finished with a hair item.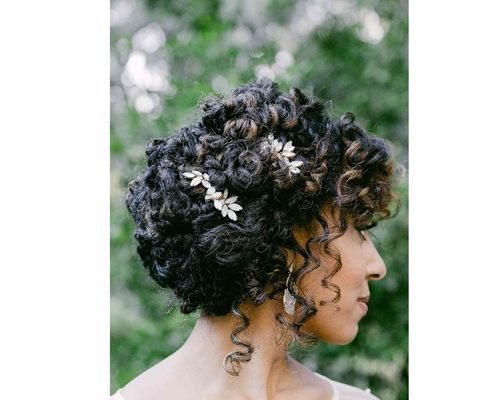 31. African Loose Side Updo
With a teased style, you may elevate your hair to new heights. The greatest outfit to wear with an asymmetrically cut dress is one with a voluminous updo. Accessory complements highlights in curly hair well.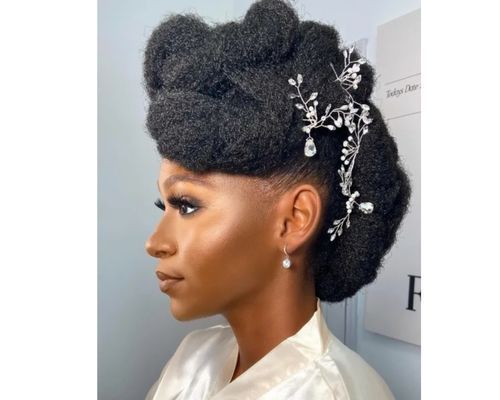 32. Afro Puff With Highlights
Brides who want to highlight their natural hair should try this other style. Slick your hair entirely up and away from your face to replicate the hairdo. Put them together into a magnificent puff. Consider ahead what highlights will work best for your skin tone.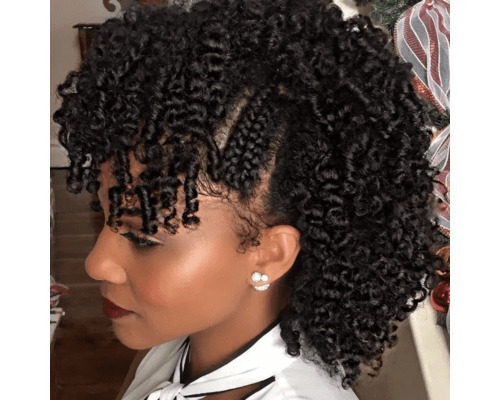 33. Black Curls With Accent Braids
Many black hair updos emphasise braids or twists, but this one allows the curls take centre stage. The strategically placed braids on the side of the head add a special touch by helping to break up the curls. Brides of African Americans will value it.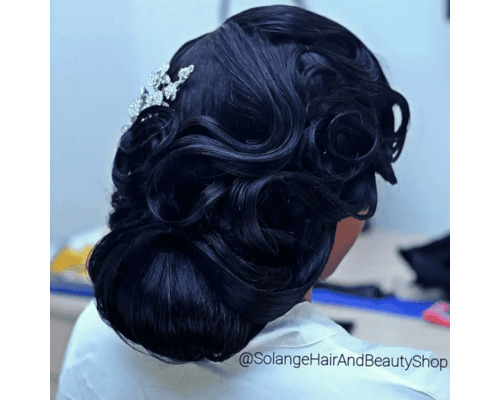 34. Black Updo With Defined Waves
Will you observe these waves? Of course! They are so flawless that you might have to take a second look. Due to the manner that all of the defined curls are twisted and turned around one another to create a single unified vintage hairstyle, this updo is also quite romantic.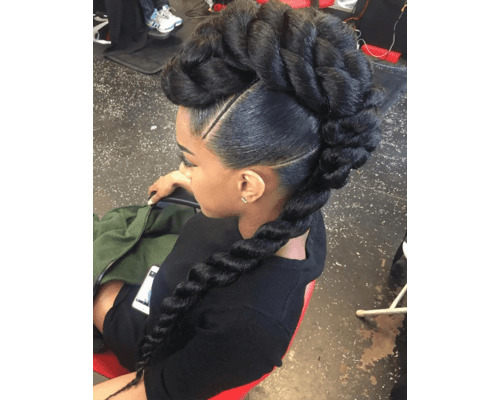 35. Braided Wedding Hairstyles For Long Hair
Why not make your African hair the outstanding aspect of your appearance like other brides do with their wedding gowns? Black wedding hairstyles like this one should have the opportunity to shine. For an exceptionally sleek, beautiful finish, this mohawk has tight sides and an extra-long, coiled braid.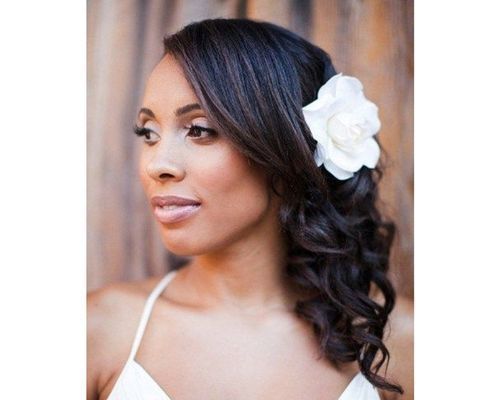 36. Curls And Waves
Similar to the last hairstyle, the foundation of this bridal hairstyle is curls. The outcome is a really romantic hairstyle that is delicate and almost wave-like. You don't want to hide those cuties, so styling with a flower or a small accessories will do wonders.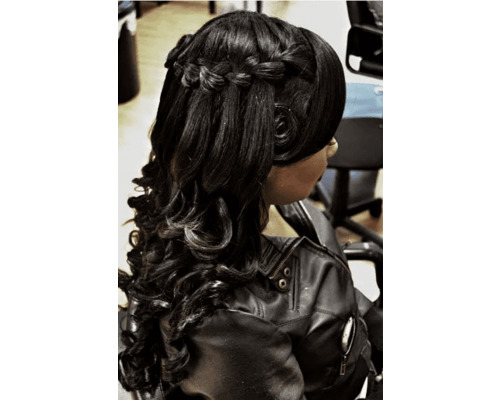 37. Waterfall Curls With Bangs
Particularly when it comes to tight curls, curly hair already has a significant degree of texture. Making ensuring it doesn't conflict with what is at the bottom is vital if you want to add something extra on top of that. A waterfall braid subtly enhances your curly hair without overpowering it.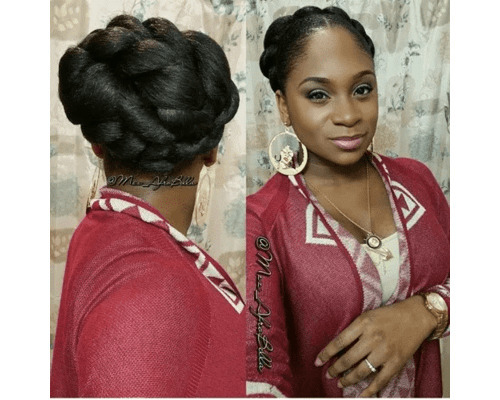 38. Twisted And Regal Black Wedding Hairstyles
The only drawback to elaborate braided and twisted updos is that occasionally, when looking at the wearer from the front, the entire spiciness of the style can appear hidden. You need a style that is thick enough to be visible from all angles to counter the flat appearance. This appears to be a lovely braided crown from the front, but when viewed from the rear, it is actually a complex pin-up.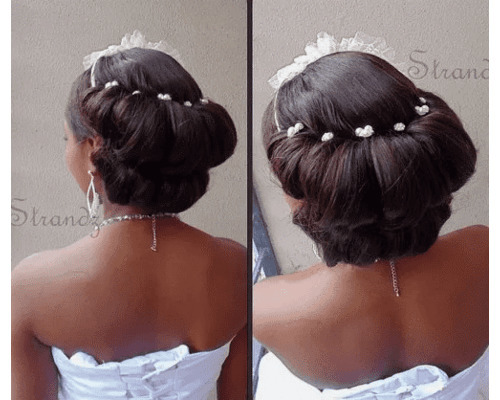 39. Frills And Thrills For Wedding
This hairstyle is not understated—everyone will see that you are the bride. Add pearl pins and a frilly headband to your double roll black wedding hairdo to spice it up if the white dress isn't enough. It's a distinctive appearance for your magical wedding day.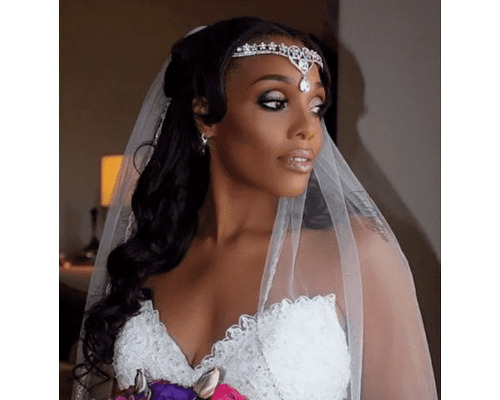 40. Bridal Hairstyle
This hairdo doesn't have a low-key vibe; everyone will be able to see that you are the bride. If the white dress isn't stunning enough, add pearl pins and a frilly headband to your double roll black wedding hairstyle. It's a distinctive appearance on the day of your magical wedding.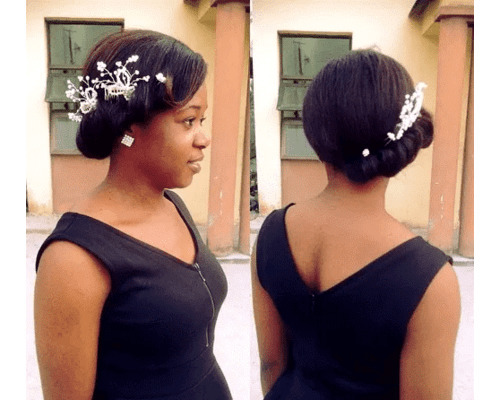 41. Pretty Princess Rolls
Why not select a black updo hairdo with princess inspiration for your ceremony and reception? Your wedding day should feel like a fantasy. If you want to make the roll look better, consider adding a few bejewelled combs because it is already very polished and understated.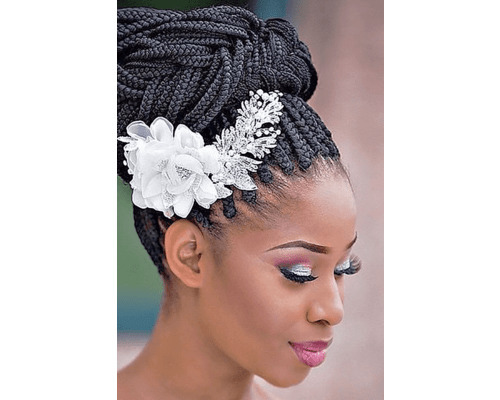 42. Box Braided Bun Bridal Hairstyle
Box braids can be worn year-round as a playful style, but many women wear them as a protective style in the summer. You may create a full bun with the thick design that is simple to embellish with a jewelled band and veil. A high bun will keep your hair out of your face and allow your gorgeous makeup to fully stand out.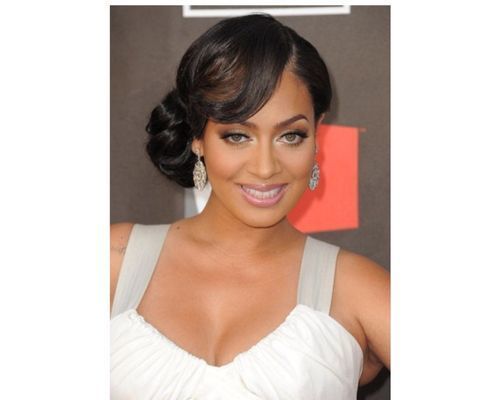 43. Side Bun Hairstyle For Brides
One of the most common wedding hairstyles for black women is a side bun because it is elegant and can withstand a fun-filled night of dancing without falling out. Make it more formal by wearing a simple pink lip colour and jewellery.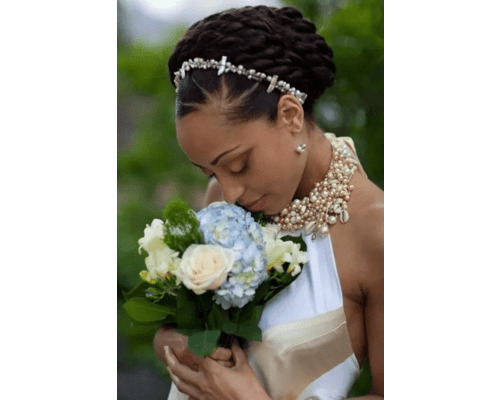 44. Wedding Hairstyle With A Rows Of Twists
The marvel of black hair in twists and braids! Although the hairdo seems small, the twists look big and generous. The unique feature of this haircut is the star-shaped parting. African American women don't have to worry about being garish because they can purchase eye-catching accessories to finish such a vibrant updo.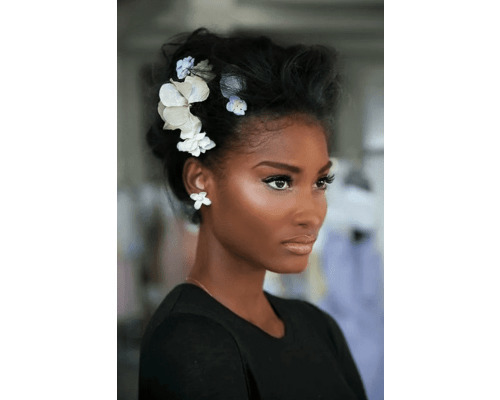 45. Black Wispy Updo With A Cluster Of Flowers
Brides with unruly black hair can adopt the untidy updo look. This haircut breathes with lightness because to its wispy structure. The level of its celebration is immediately increased by a cluster of snow-white flowers. Let them vary in size and a little bit in appearance. A floral pair of earrings will finish the ensemble.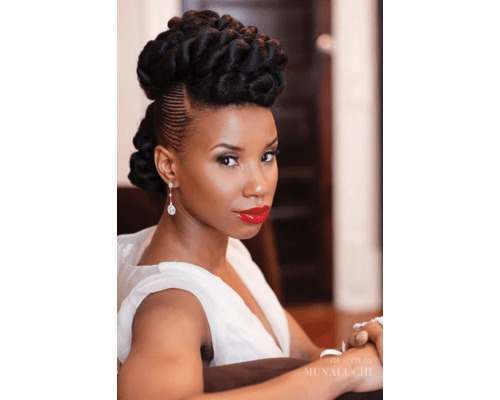 46. Gorgeous Natural Hair Updo With Braids And Twists
Another well-liked "theme" for black wedding hairstyles is contrast. The contrast of micro braids on the sides and statement twists piled on top gives such magnificent updos as this one impact. Extensions are used to create the chunkier twists or braids.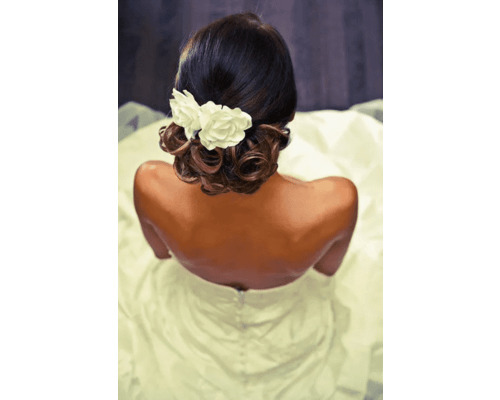 47. Low Updo With Flowers And Ringlets
Romantic curling updos are among the most popular wedding hairstyles for black ladies right now. Your hairdo doesn't need to be difficult to appear lovely. Although they are not particularly difficult to recreate, the delicate ringlets at the nape, decorated with creamy white flowers, are really lovely and feminine. A remarkable result is produced by the contrast between sleek hair and big, spherical curls!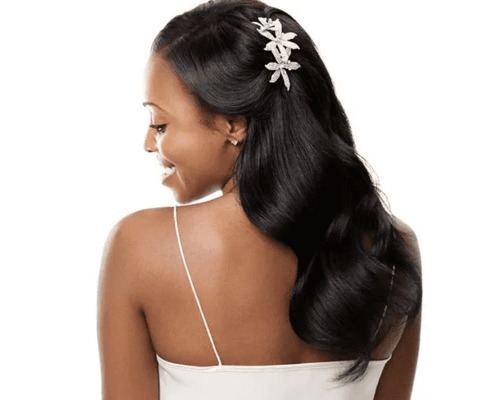 48. Soft Smooth Waves For Relaxed Black Hair
In 2023, wavy wedding hairstyles will continue to be trendy. These have the most feminine appearance, and we frequently see them in celebrity fashion. The pinnacle of hairstyling abilities is to provide the appearance of hair that flows like silk.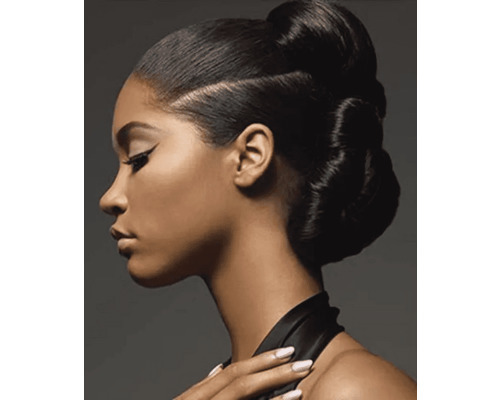 49. Bun Hairstyle For Bride
It's challenging to think of a more ideal wedding hairstyle than this twisted updo because it is so precise, sincere, and exquisite. Even though it appears complicated, it's actually rather simple to make: there are two portions, united by an upper bun and a bottom bun with deft twists.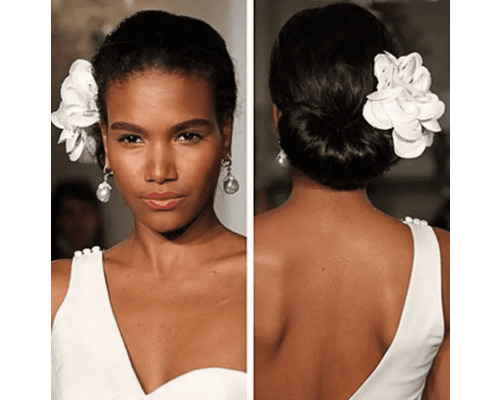 50. Easy Wedding Hairstyle
Clear forms and precise lines are utterly traditional. This is an example of a bridal hairdo that is always in style. This appearance is astonishingly enhanced by the hair flowers. Also, keep in mind that you can use actual fresh flowers.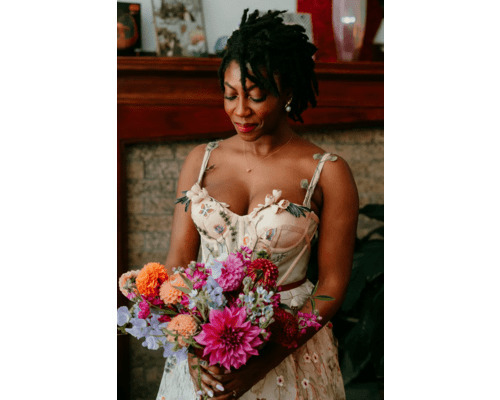 51. Side Pinned Locks
Moving your hair to the side and using bobby pins or a gorgeous hairpiece to secure it can be all it takes to style your locs for your big day. It undoubtedly exudes an organic mood when worn with the appropriate flowery two-piece bridal gown and pearl earrings.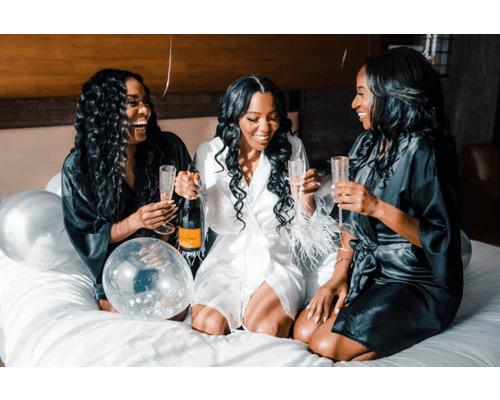 52. Long Middle Parted Ringlets
Is there a more traditional hairstyle than ringlet curls? A succession of clip-ins or tape-ins can be added for more oomph if you need more body for the big day.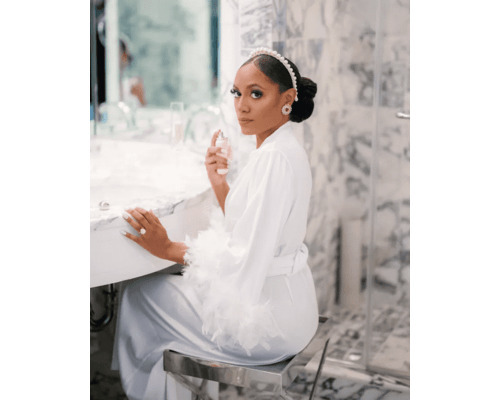 53. Low Chignon With Pearl Headband
Add a pearl-encrusted headband to upgrade the classic chignon. The headband has an old Hollywood glitter atmosphere, making it the ideal look if your wedding is taking place in the summer.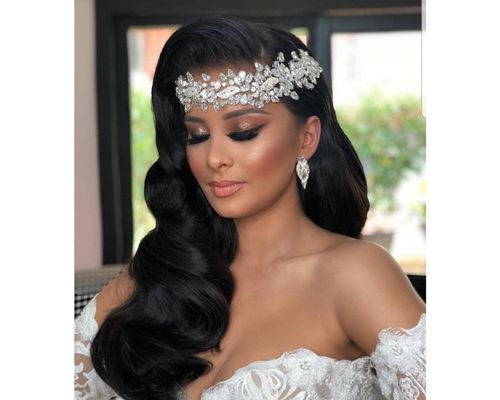 54. Headband For Brides
Any hairdo, especially side-parted waves, will look much more visually interesting with a headband with elaborate details.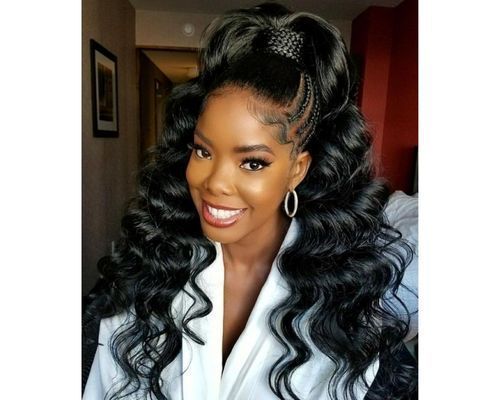 55. High Ponytail For Wedding
One of the simplest and chicest hairstyles available is a high ponytail, which looks great on all hair types. If you want elegant waves, match the ponytail extension to your actual hair structure.