25 Hairstyles For Over 80 With Glasses - 2023
Riya Lisa Ghosh
Updated At 16 Sep 23
Do you seek different kinds of hairstyles that would equally suit your age and elegance? Are you looking for hairstyles that suit your glasses, or will you buy glasses based on a hairstyle that suits you? Be it face shapes or eyewear, thin hair or thick hair, we have got you covered. Get ready to scroll through the different kinds of hairstyles and we are sure you'd find a suitable one for you by the end of it!
Points to note :
·      Short, layered hairstyles are a wonderful choice for thinning hair. 
·      Pixie cuts and short bobs will make you look more youthful, if you wear glasses with a wide frame.
·      For women who wear thick-rimmed spectacles, side-swept or wispy fringe gives a delicate and youthful appearance. 
·      If your hair is thick and salt and pepper in colour, you can opt for a sleek hairstyle and colourful eyewear. 
Read further to know more!
25 Best Hairstyles For Over 80 With Glasses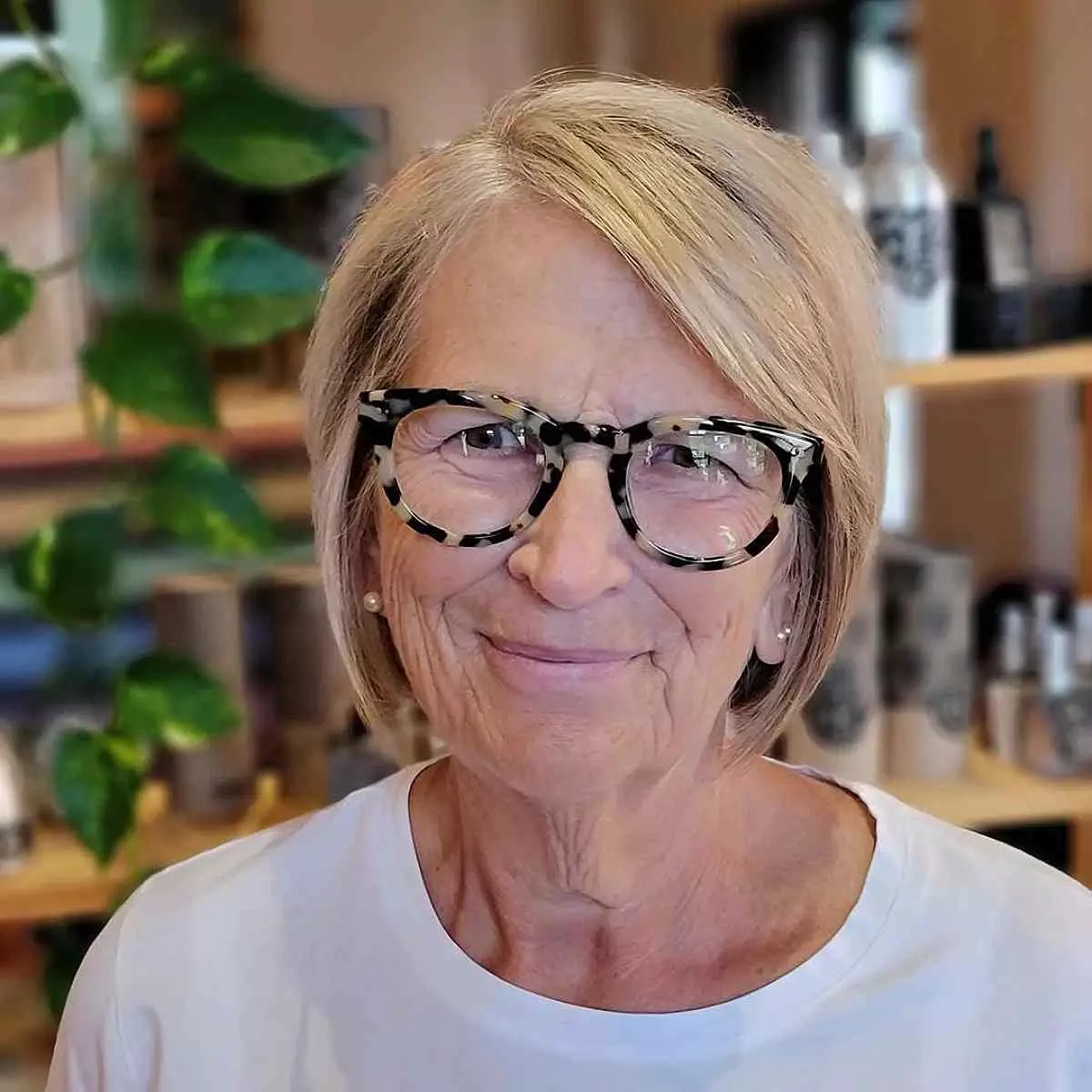 1.  Blonde Cut With A Deep Side Part 
If you are over 80 and you wear glasses, you should consider a blonde, short cut with a deep side part. If you want your hair to be natural with natural volume, this hairstyle is the best for it. Avoid creating too much volume as it looks the best when kept sleek. 
One of the best hairstyles for women over 80, this side parted hairstyle looks elegant and amazing.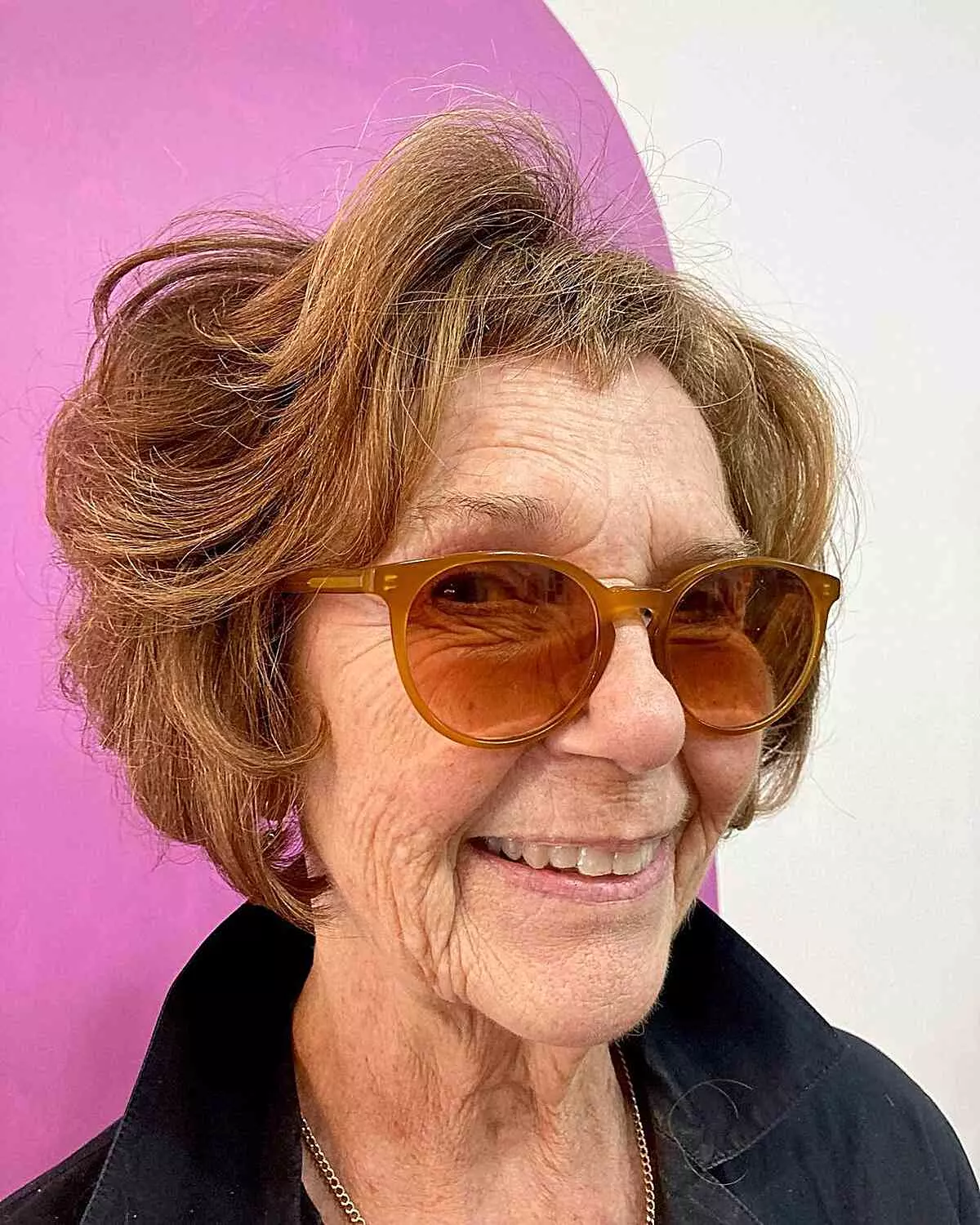 2.  Voluminous Bob with Curled Bangs
This hairstyle is perfect for a youthful appearance. This is a perfect short hairstyle for over 80 with thin hair. For women over 80, this hairstyle frames your face and adds volume.  Among hairstyles for women over 80, this one suits bigger fames and bolder glasses, although it would look equally elegant on a smaller face with softer glasses.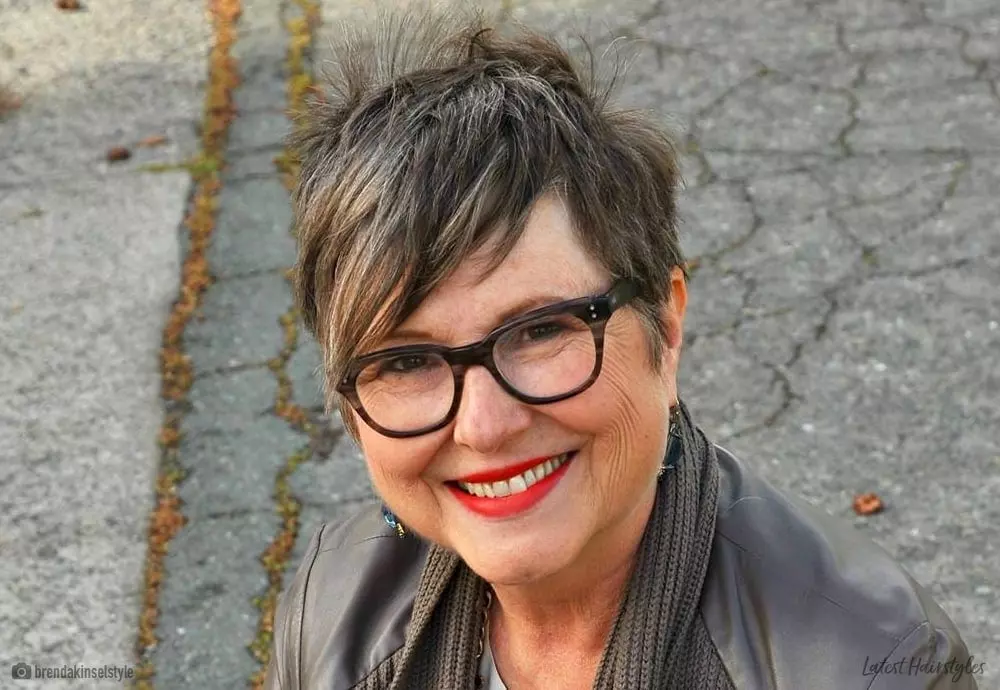 3. Short and Messy Salt And Pepper Cut 
For women over 80 with glasses, a cut that is easy to maintain and stays out of your eyes is a must. Wear your hair swept to the side to keep it out of your face, and try an asymmetrical bang for a soft effect around the eyes. Looking for more inspiration for short hairstyles? Check out our guide as we list 25+ stunning short hairstyles for women over 80.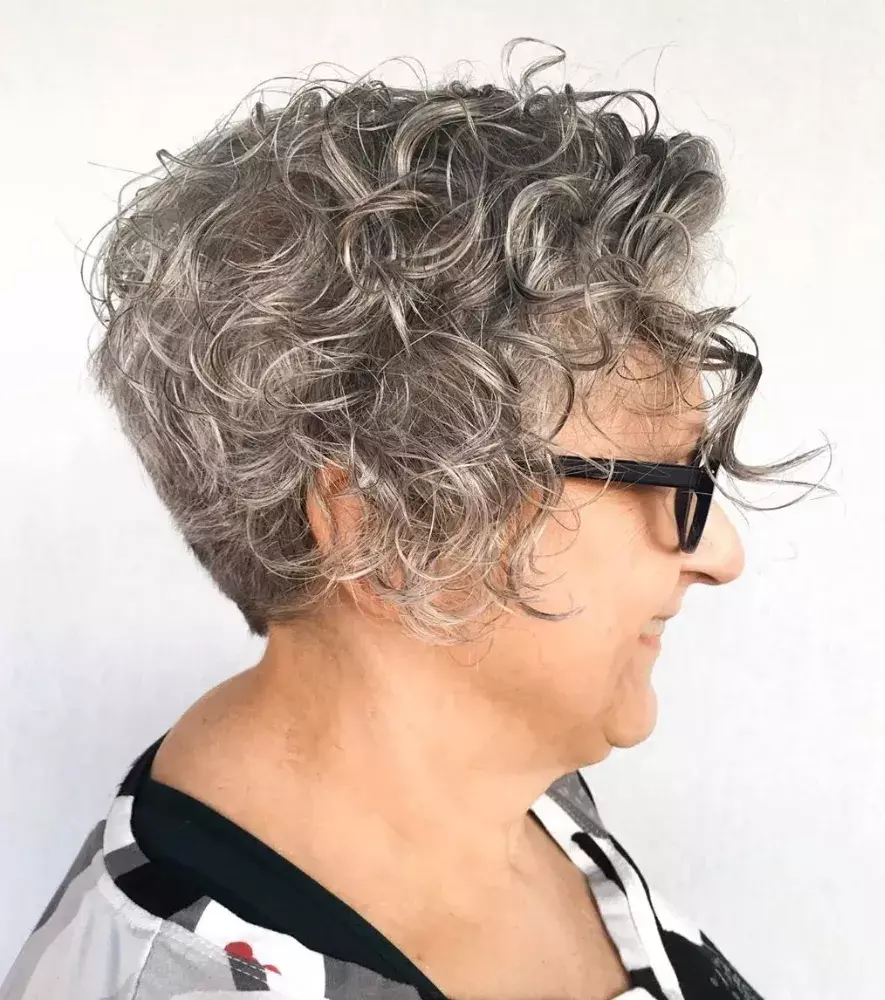 4. Razor Cut Shag For Natural Curls
A razor cut shag is a suitable for women over 80 with curly hair. Glasses are an add on to this quirky haircut and suit them very well.  This haircut has crown layers that are a good alternative for thinning hair.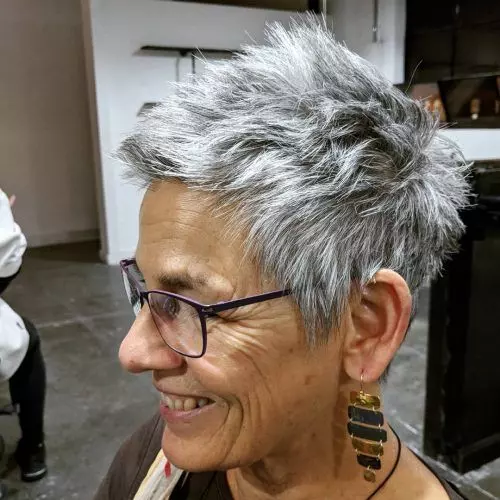 5. Edgy Pixie for Silver Hair
This short hairstyle for over 80 with glasses will look amazing on your aging hair. This hairstyle creates texture and is easy to maintain.  This looks amazing on your shiny silver hair.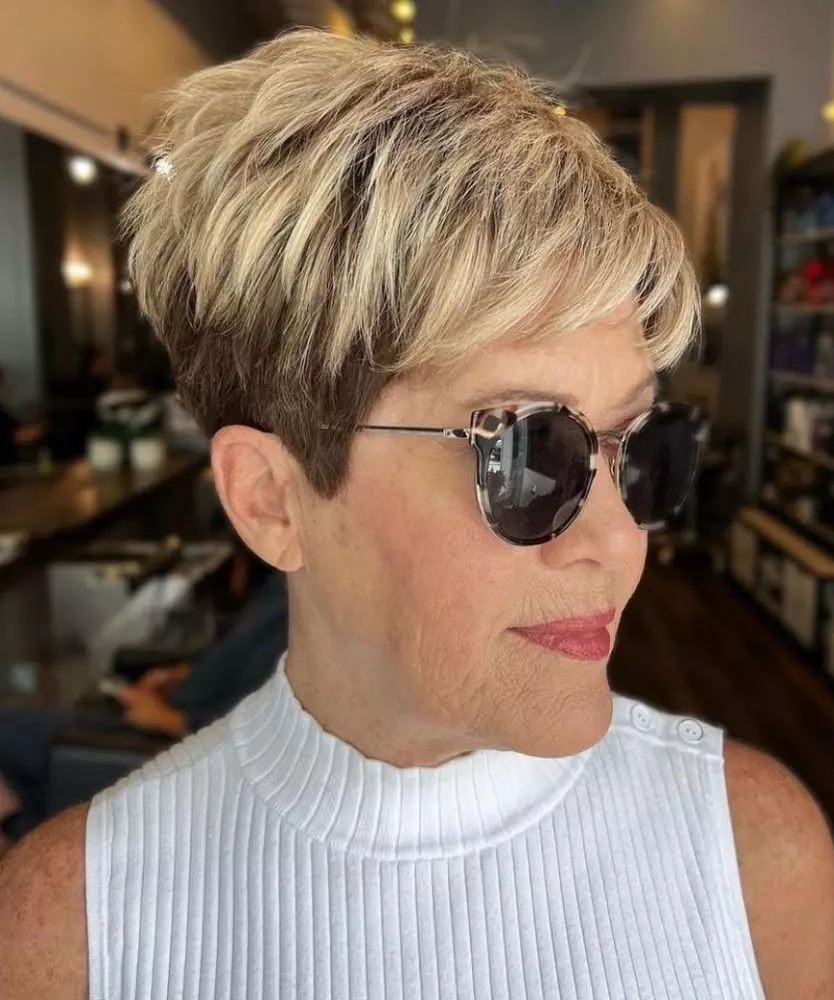 6. Blonde Layered Pixie Cut
This is a great choice of hairstyle for over 80 with thin hair or those looking to add more dimension and texture to a low-maintenance style. Blonde highlights give the hair a full look. The colour along with the style helps to shape and soften facial features.
Looking for inspiration for medium length hair? Do check out our guide to find out the best medium hairstyles for over 80 as we list 25 trending hairstyles.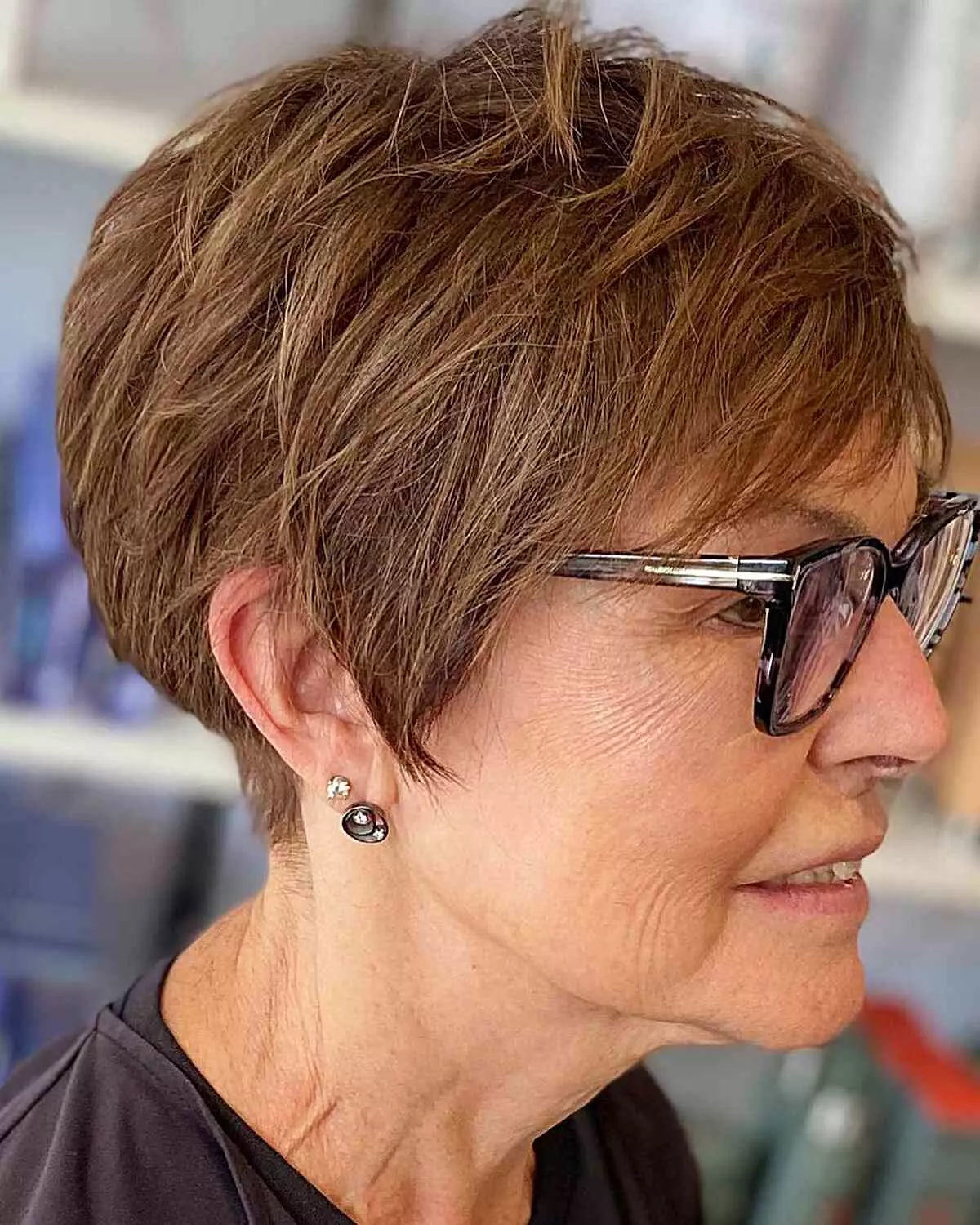 7. Short hair with feathered layers 
Feathered layers for older women with eyeglasses is a soft style with more length than the traditional pixie haircut. Adding short bangs complements rectangular face shapes.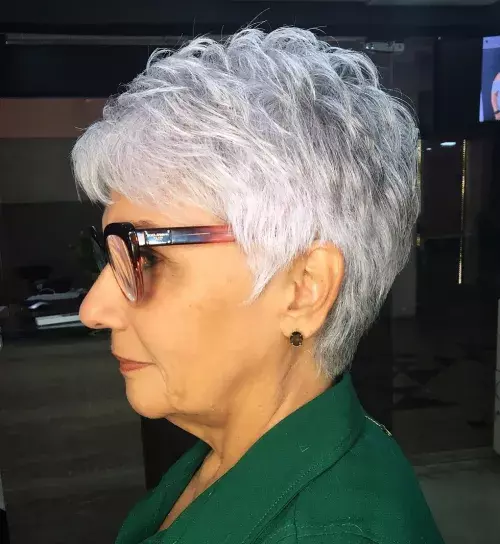 8. Silver Long Pixie with Glasses
This pixie hairstyle for over 80 with glasses will beautifully show off your neck and jawline. Its perfect if you have glasses. This hairstyle accurately highlights your features and glasses add on to the look.
9. Lob for Large Rims
This hairstyle for over 80 with thin hair and large rims helps add volume and fullness to limp hair. This lob is the perfect option if you are looking for haircuts for women over 80 that will bring your hair back to life.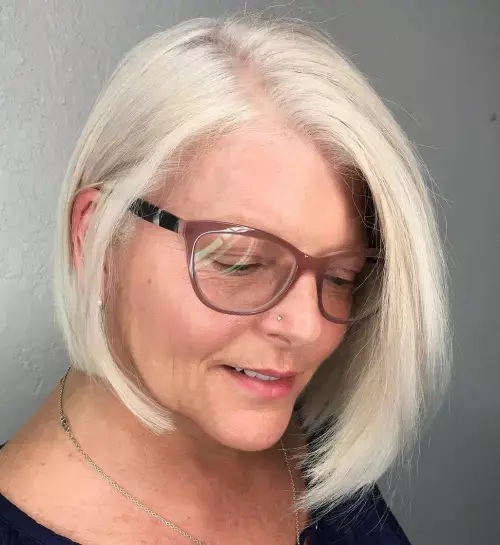 10. Bob with Side Part for Large Glasses
A short bob with side part for women over 80 with large glasses is a bold, edgy cuts that offer a youthful-looking glow. Its frames your face and adds on to the shape of your eyewear.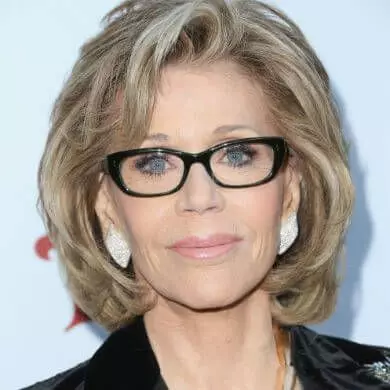 11. Mid-Length Cut for Women with Small Glasses
If you don't want to cut your hair short, a mid length cut for over 80 will suit you best.You can style the haircut with a backward sweep to make space for eyewear to fit perfectly in the whole look. A side-swept fringe is perfect to soften any harsh facial lines.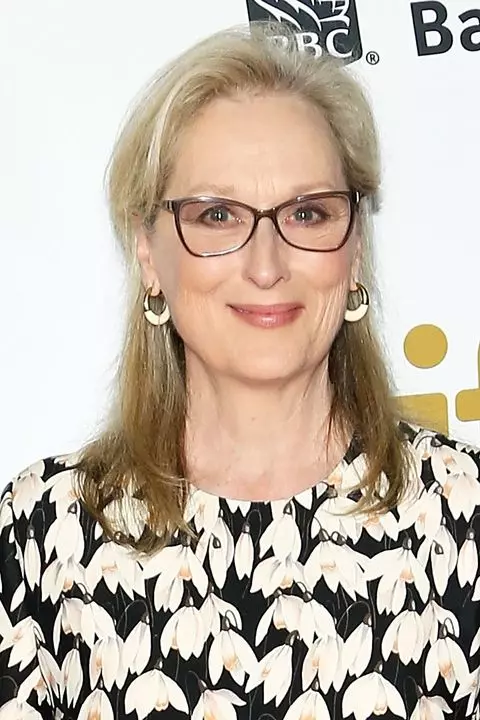 12. Elegant Lob 
The lob hairstyle for women over 80 with glasses is elegant and draws attention to the collarbones. This may suit you if you want to shift attention from your glasses. This hairstyle is simple yet elegant and its perfect for women over 80 with simple hairstyles.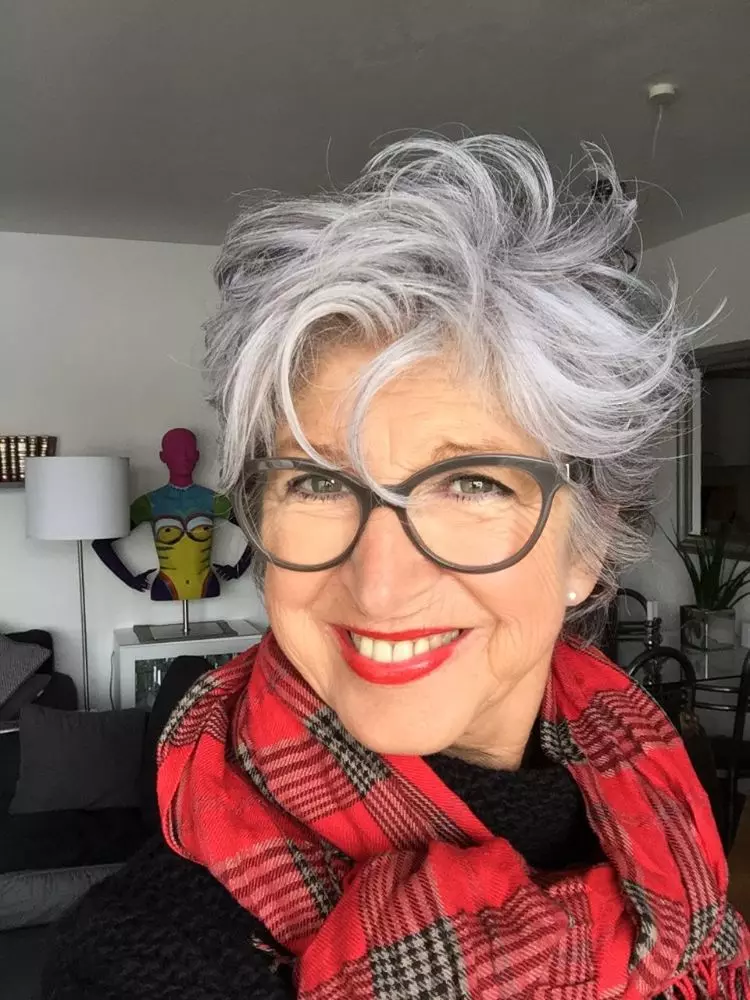 13. Short Wavy Cut 
Short waves look great on grey hair. Style it on your own to give it a personalised look. Grey haired waves add both style and class. Its a perfect hairstyle for over 80 if you want to opt for an unusual look with glasses.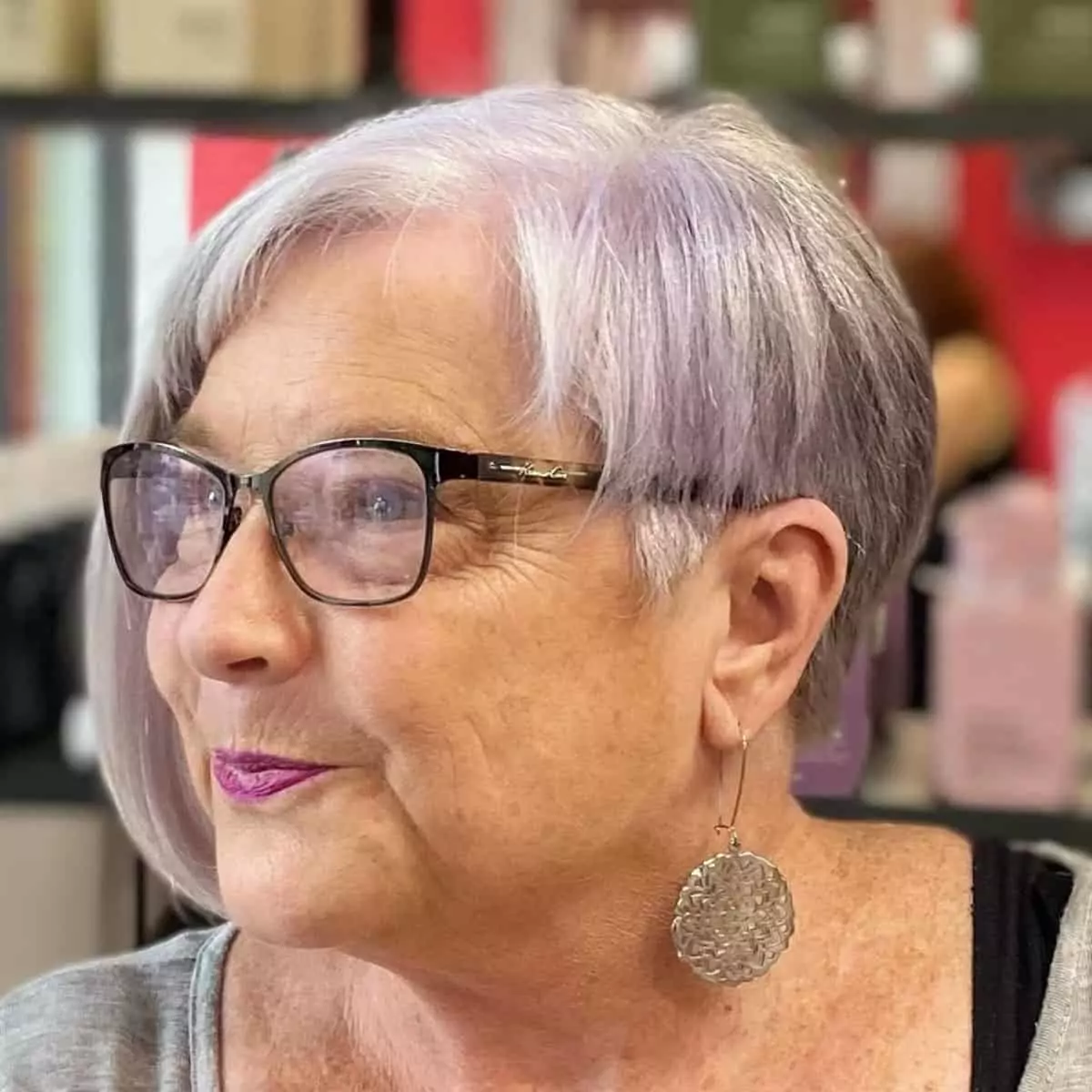 14. Asymmetrical Bob 
An asymmetrical bob for over 80 with glasses is a timeless haircut. Adding a pair of eye glasses gives more creativity and colour to the look.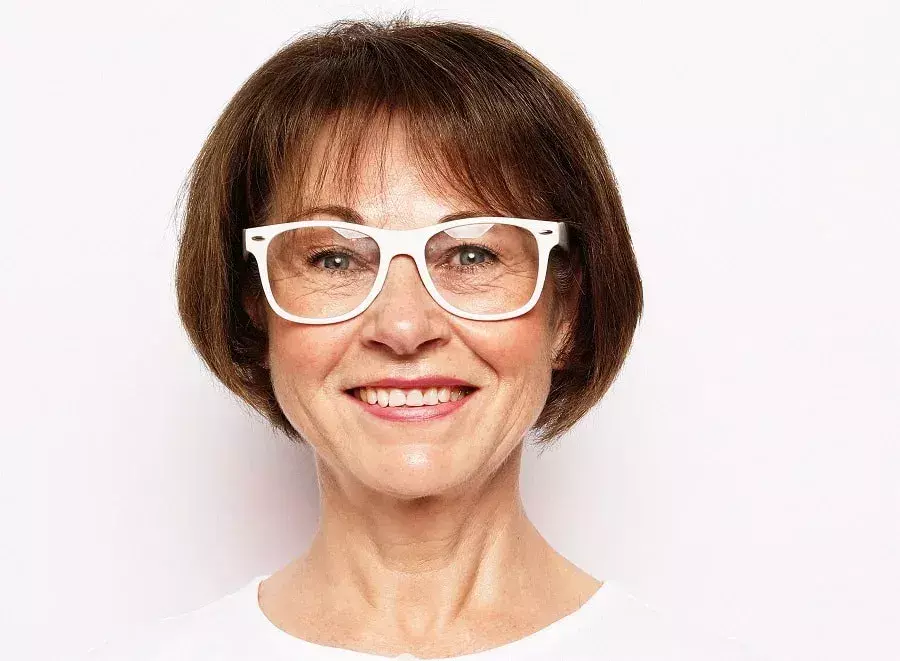 15. French Bob 
This short hairstyle for over 80 with glasses is great if you want a timeless haircut that makes you look youthful. It can add a lot of bounce, volume, and texture.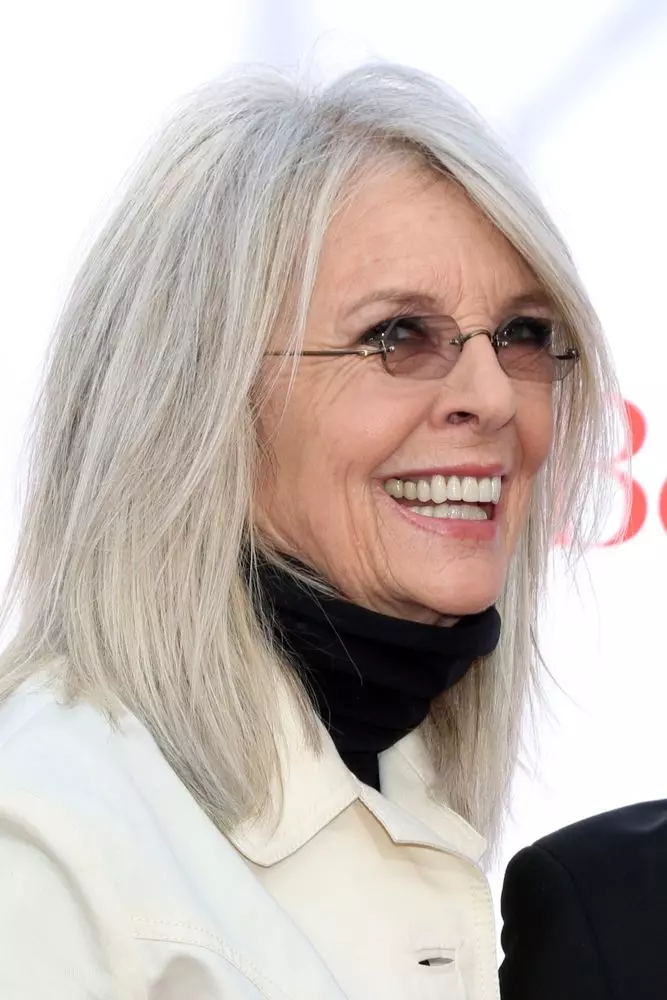 16. Wash-and-Go Short Haircut
This is easy to maintain hairstyle for women over 80. Adding an extra layer of texture, bounce, and volume to your hair, this low maintenance hairstyle is perfect for any occassion. Brush the hair straight while drying, to add a definite look to your hair.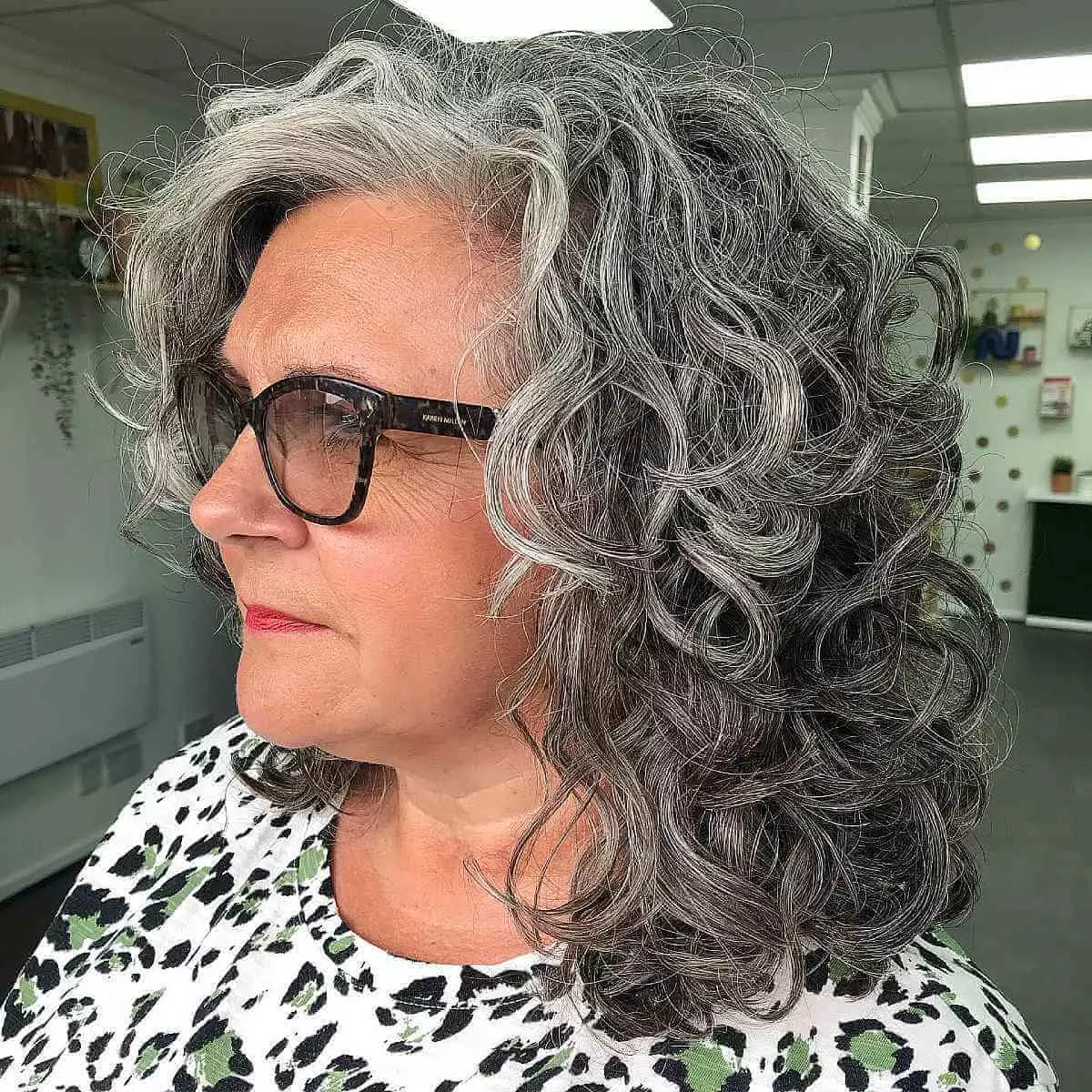 17. Flattering Voluminous Curls
Voluminous curls for women over 80  looks best when paired with natural hair curls. This flattering hairstyle looks best with a pair of glasses and some accessories. It brightens your face.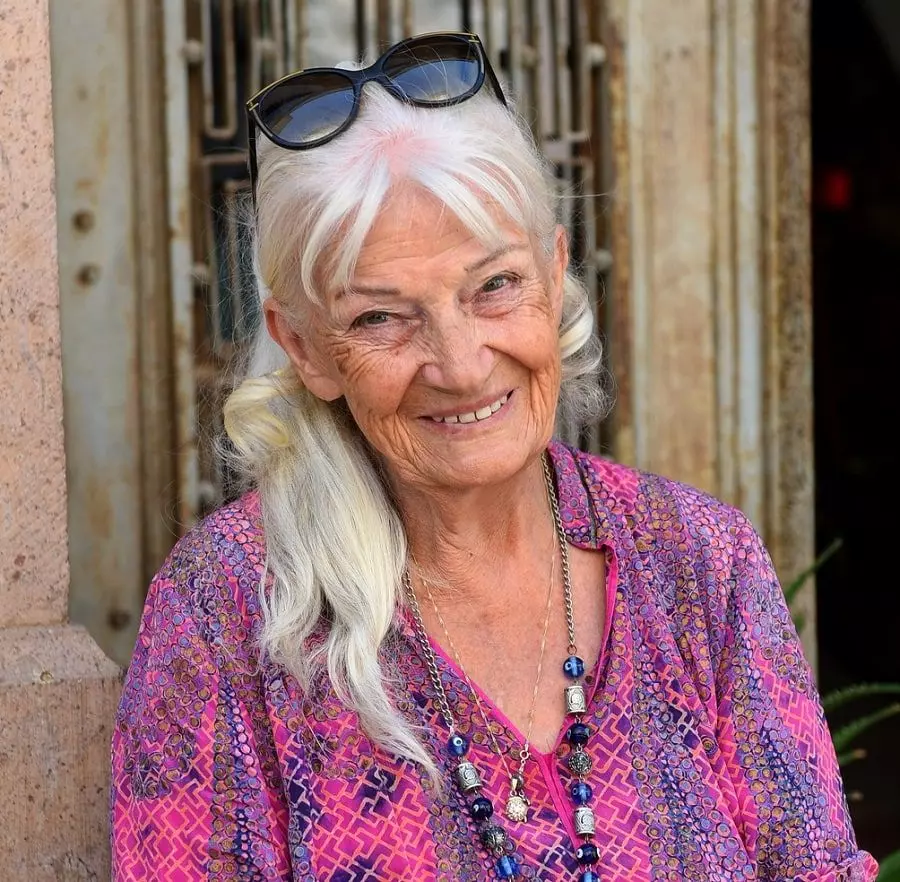 18. Low Maintenance Cut for Women with Thinning Hair
For hairstyles for women over 80 with thin hair, a low maintenance haircut is a must try.  While short haircuts are often preferred for thinning hair, opting for longer haircuts that shape your face and add a flowy look is a great alternative choice.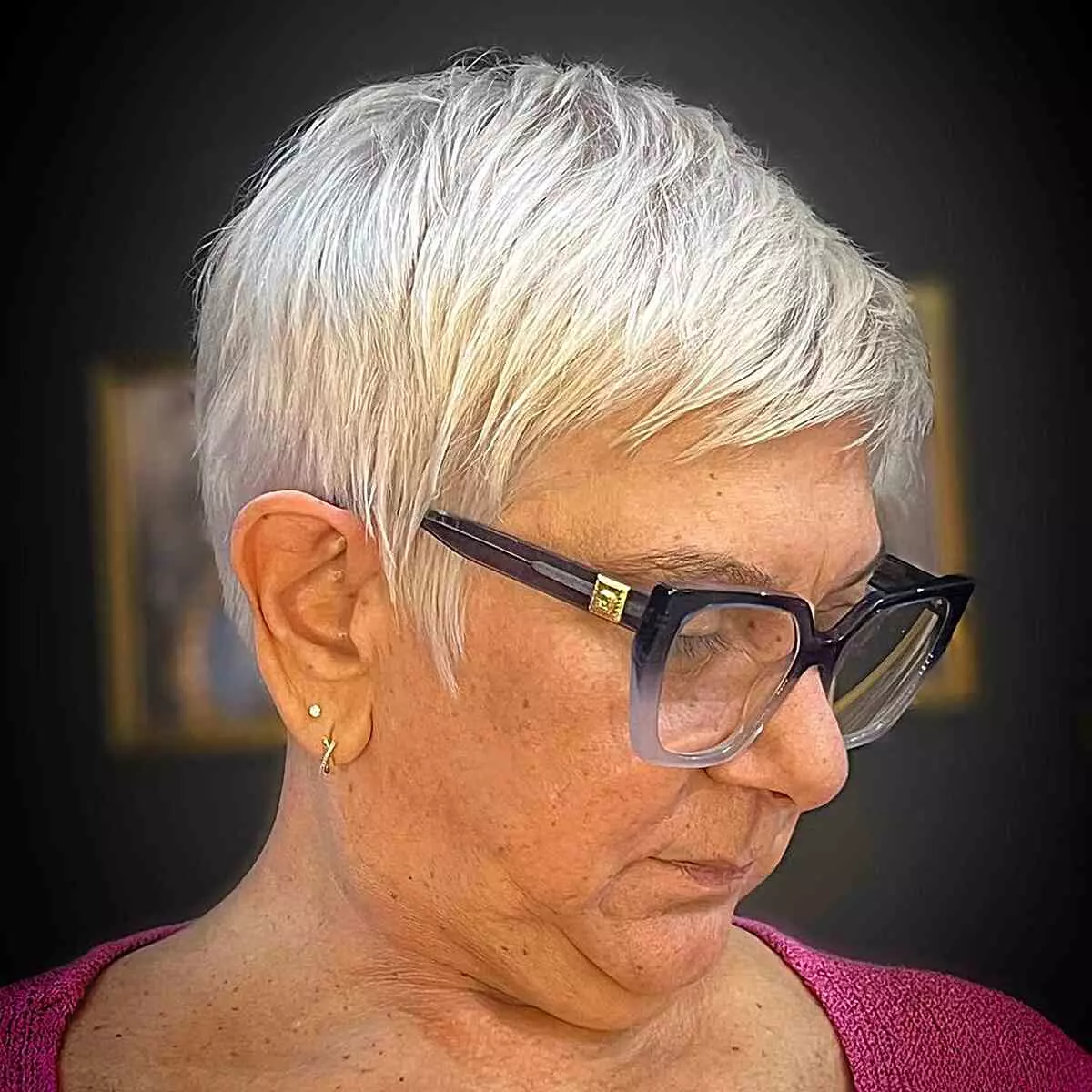 19. Short Pixie
Short hair can make your appearance brighter. As we age, styling hair everyday does not remain an option. This short pixie requires minimal styling to maintain the look. This short hairstyle for over 80 looks best when the hair is pushed off the forehead. Eyewear adds a unique twist.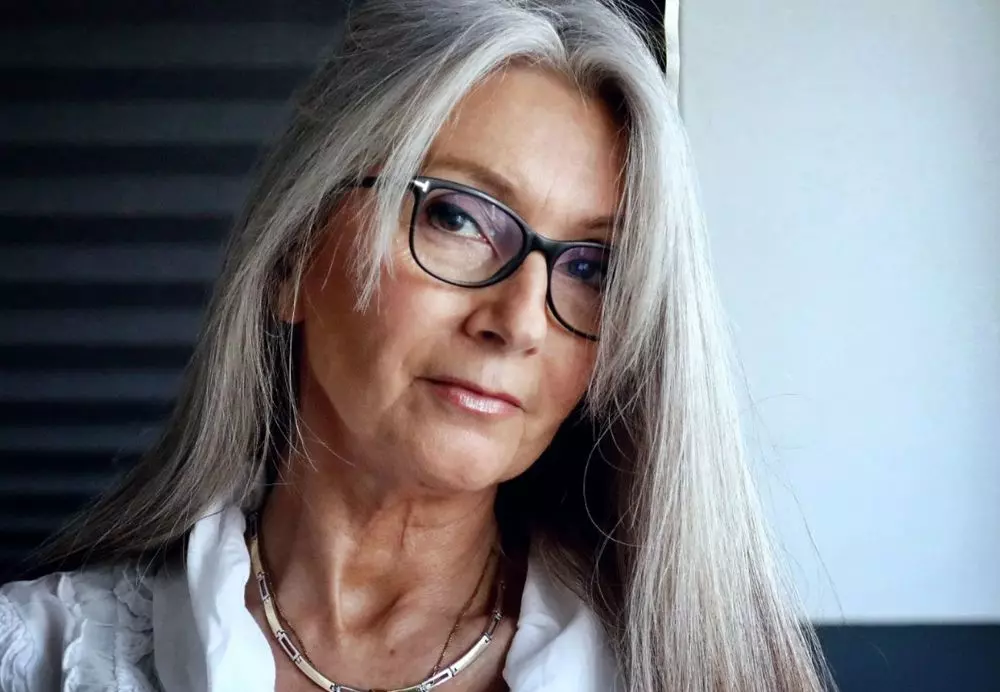 20. Medium Length Layered Cut
If you are looking for soft hairstyles for women over 80, this is a perfect choice.  This lets you choose your style according to your comfort. Pair it up with your favourite set of glasses, to look glamorous. It suits any face shape.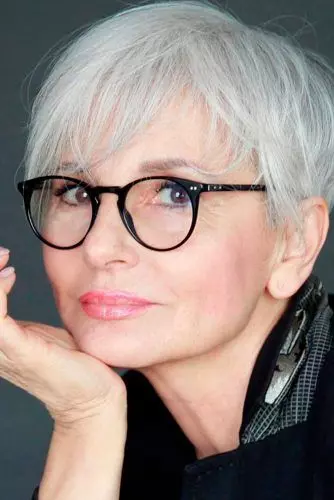 21. Pixie Haircut for Women with Small Frames
A pixie haircut with wispy layers is a versatile option for women over 80 with any hair texture.  This can be styled in various ways from curly to straight. Adding glasses to the look makes it complete.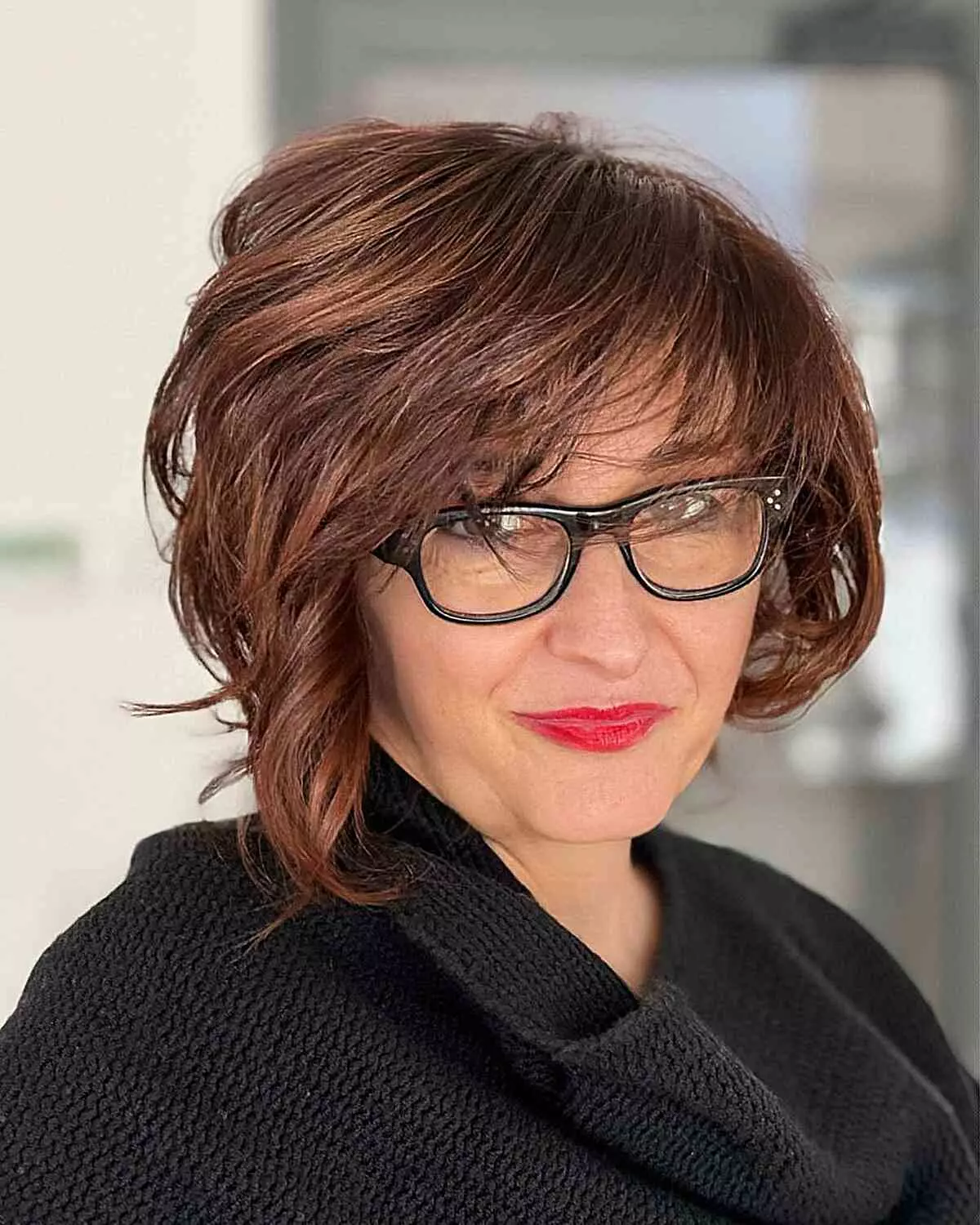 22. Razor Cut Pixie with a front twist
Choose a youthful-looking pixie hairstyle for women over 80 with glasses. Narrow eyeglass frames are recommended if you have trouble with unruly hair.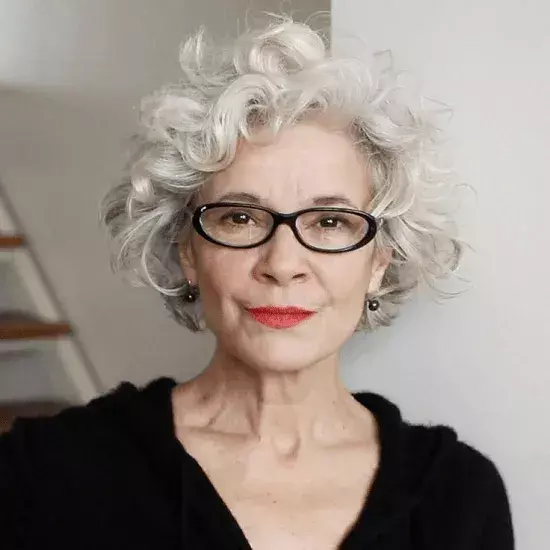 23. Layered Curls
Short, cropped curls are not only stylish but also easy to manage. They showcase your glasses and add a touch of charm. The curls create a lively and dynamic look.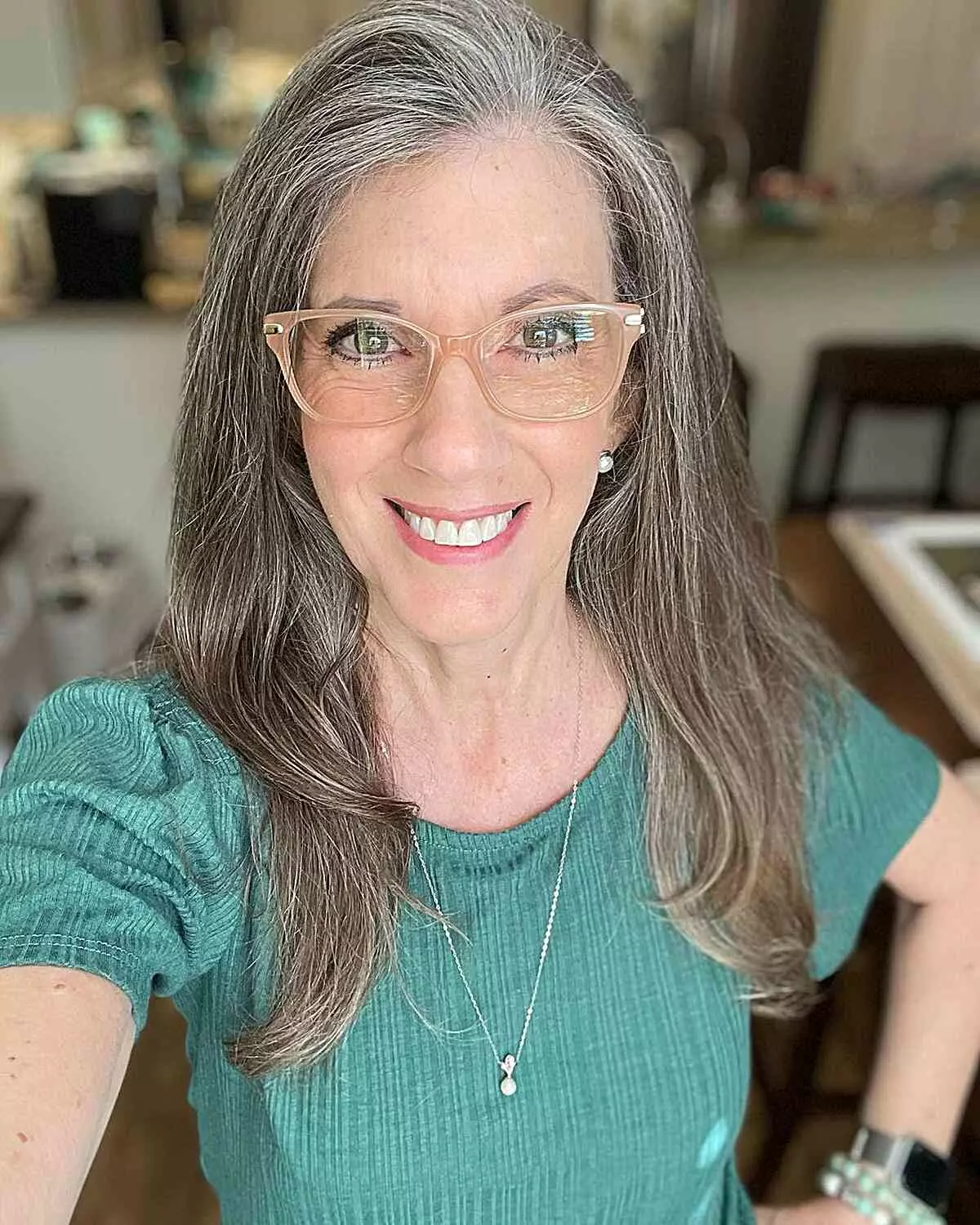 24. Long Layers
Long layers provide movement and body to fine hair. It's a timeless choice that complements various eyeglass frames. The layers create a beautiful cascade that harmonizes with your glasses.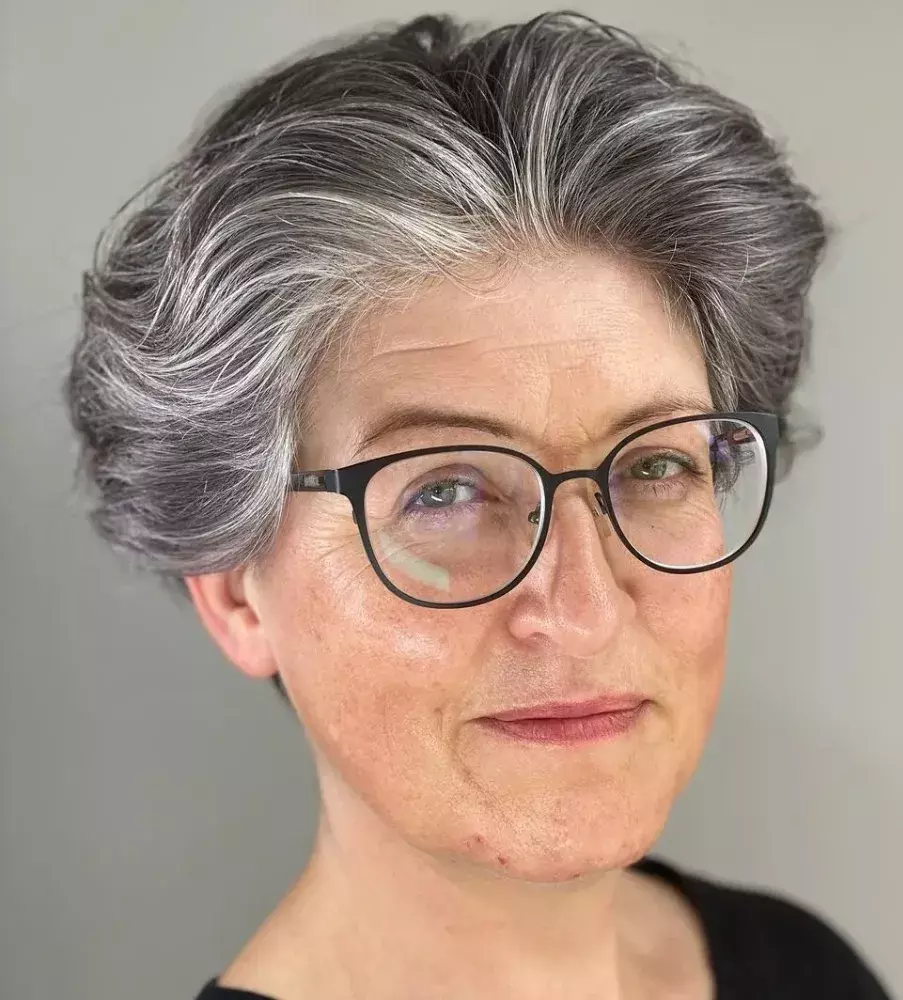 25. Short and Sleek
For a polished appearance, opt for a short, sleek hairstyle. It pairs exceptionally well with glasses, emphasizing your sophistication. This sleek look draws attention to your eyewear, adding a touch of modernity to your style.
Whether you prefer short, sassy cuts or long, elegant styles, there's a perfect hairstyle for every American woman in her 80s. Embrace your unique charm, put on your favorite pair of glasses, and let your hair shine. You deserve to look and feel your best at any age.