25 Best Medium Hairstyles For Over 80 - 2023
KRITIKA GUPTA
Updated At 16 Sep 23
In terms of hair length, medium hairstyles for over 80 years old women are among the most popular and adaptable! Additionally, the looks, a lady with medium-length hair can rock are anything but standard. It takes a desire to try new things to fully realise all that potential. Maybe it's time to get some fashion inspiration and give your medium-length locks a brand-new trademark look. 
You may give your medium hair a new style without changing anything about the length by experimenting with different finishes and colour options, changing the kind of layers and fringe. You can find both modern ideas and you'll be tempted to attempt the elegant hairstyles that never go out of style in the collection below. Here we have compiled some of the best medium hairstyles for over 80 years old woman.
25 Best Medium Hairstyles For Over 80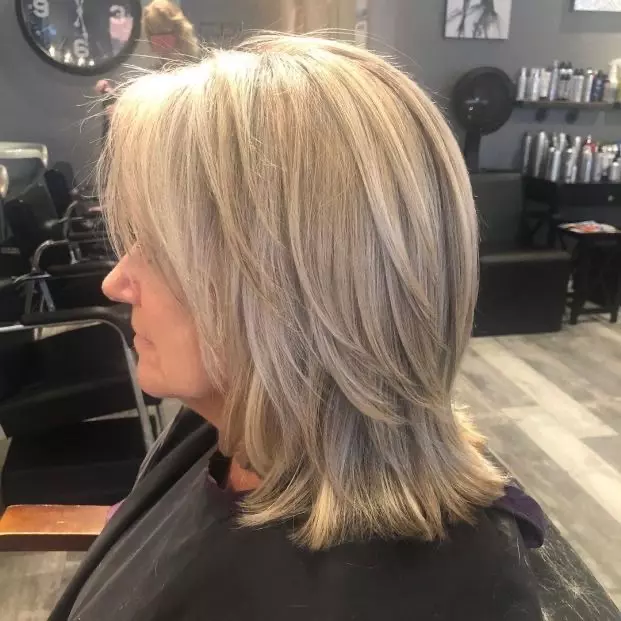 1) V Cut Layers
Want something a little smoother? This Angled, v-cut layer make your cut incredibly minimal and look beautiful when styled straight. If your colour is starting to look a little flat, add softer highlights in sandy blonde to the top layers of your hair to liven it up. This is one of the best shoulder length haircuts for mature women with straight hair.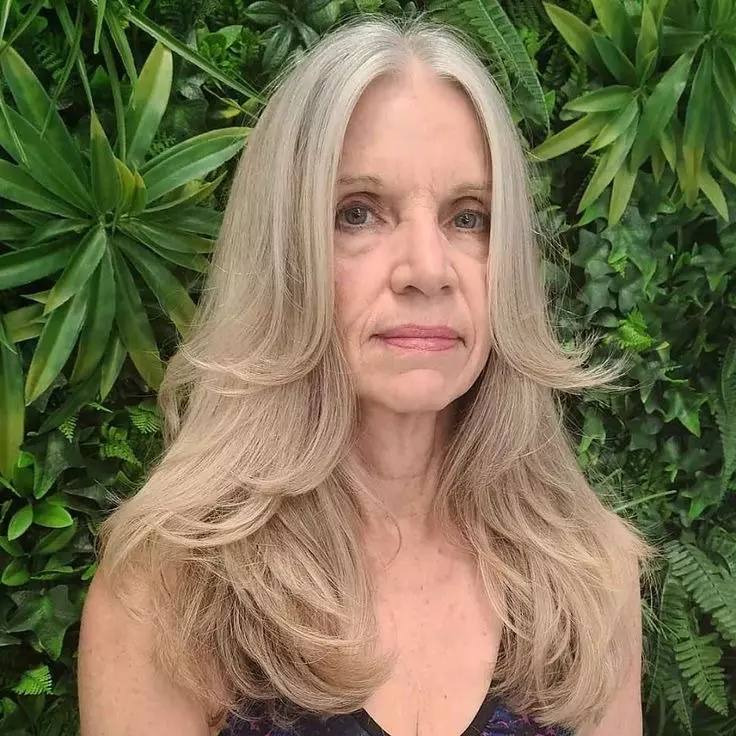 2) Messy Wavy Lob
One of your finest options when looking for medium hairstyles for over 80 with thin hair, is the lob haircut. You may still enjoy the fun, carefree attitude of the cut without having to cope with the maintenance of really short hair. To increase the texture and volume of your style, choose detached ends.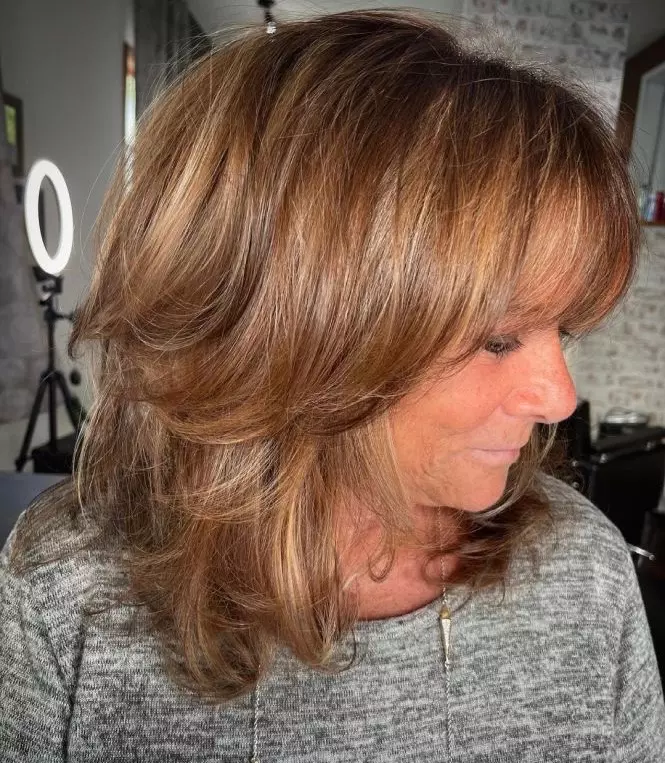 3) Feathered Layers
Here's a cute idea of medium length hairstyles for over 80 who seek a carefree and sophisticated appearance. For straight hair, layered haircuts that spiral around the head add structure and movement. The all-one-length lob can be divided on the side or down the middle and falls just below the shoulders.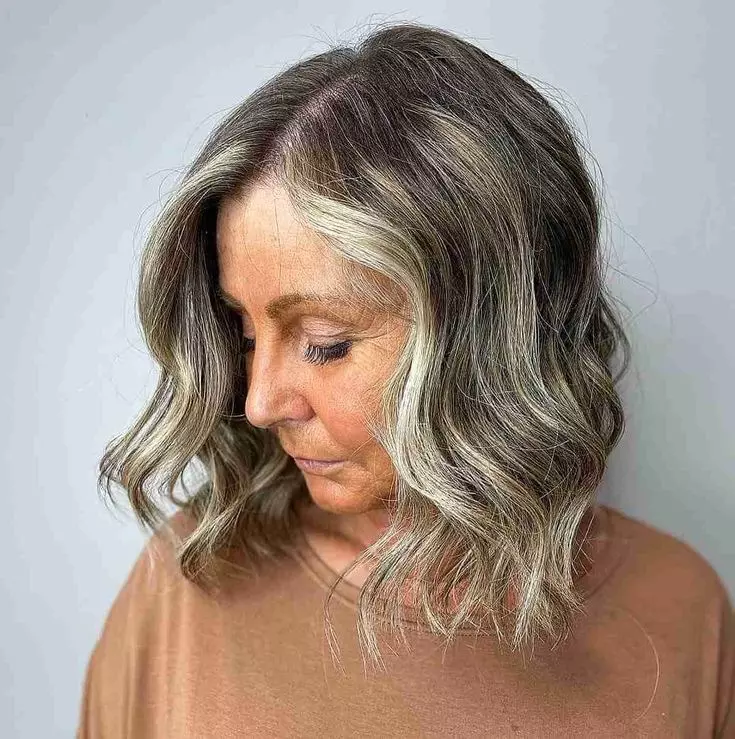 4) Wavy Caramel Balayage Lob
The lob remains the most fashionable cut for women, making mid-length hair incredibly popular at salons all over the world. When coloured with balayage, it becomes the picture of a modern style; soft caramel is the ideal tone to illuminate any face. Blonde balayage is another hairstyle which looks stunning with a lob and long hair.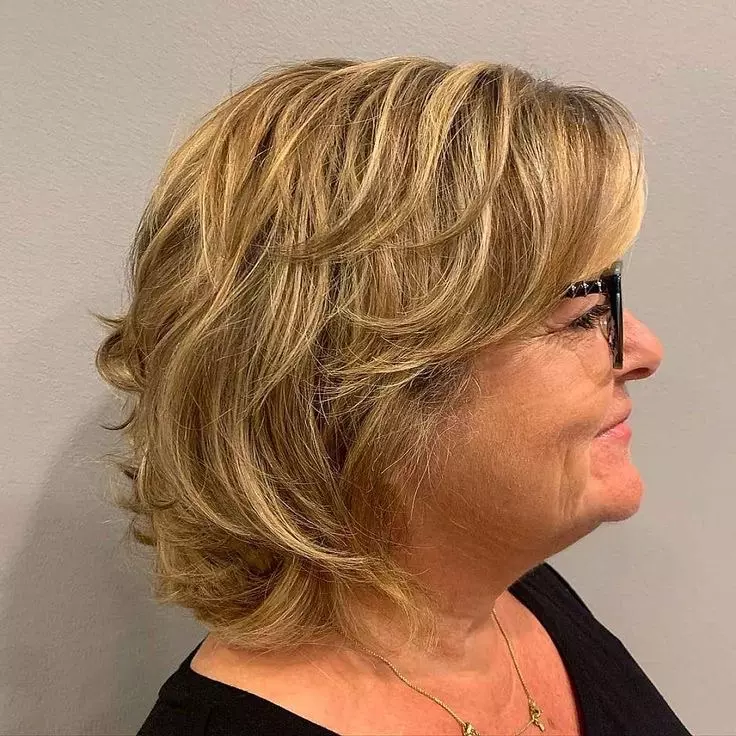 5) Swoopy Layers
When wearing a shoulder-length haircut, well-shaped layers are frequently necessary to give your hair a lovely, smooth flow. Choose side fringe and swooping layers that end at your shoulders for a rounded form. For some additional dimension that improves the dynamic effect from layers, you can even add highlights. One of the best medium hairstyle for over 80 with glasses.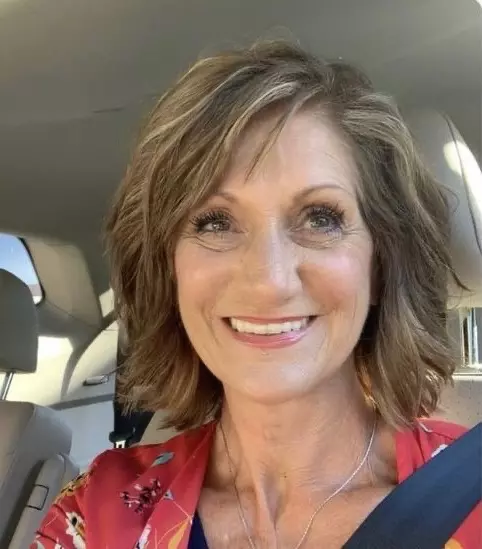 6) Side-Swept Hairstyle
The medium hairstyle for over 80 that encircle the crown in this hairdo provide a bigger top area. Typically, women spend a lot of time teasing to get this appearance. And because of the thickness of your hair and this cut, you will have it naturally. Those layers will be highlighted and appear more texturized with subtle partial highlights.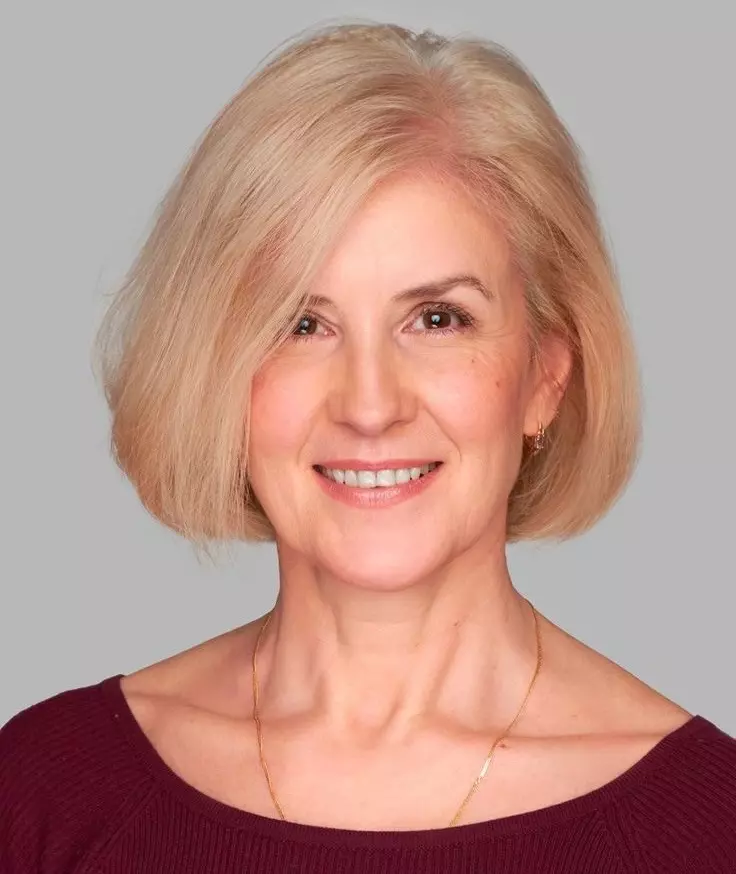 7) Blunt Lob

For ladies with all hair types, the style is incredibly low-maintenance and straightforward to style. Simply style your damp hair with a round brush in one hand and a drier in the other to maintain the perennially fashionable look throughout the day.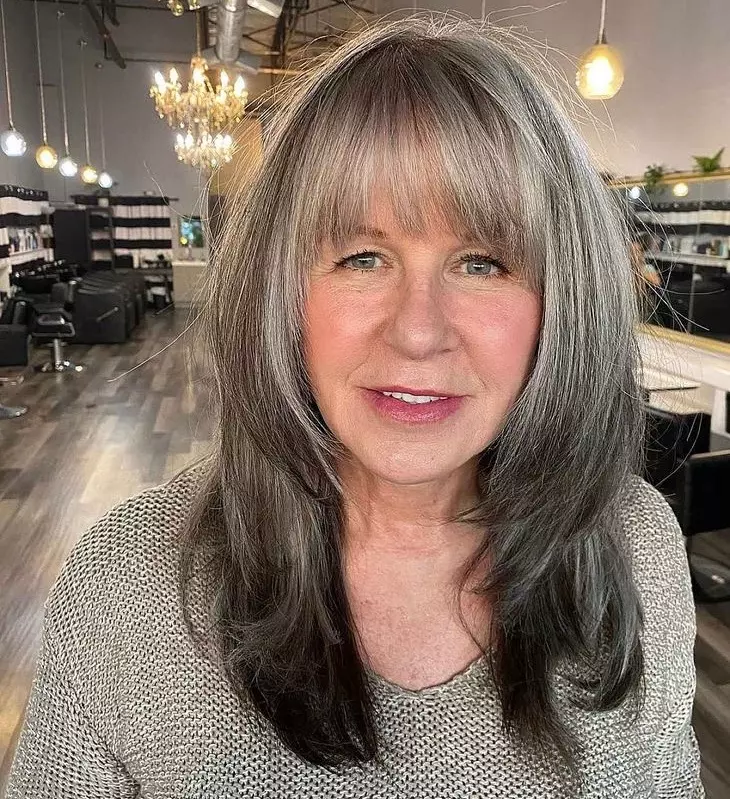 8) Straight Layered Locks
Long framing layers add shape and movement to an otherwise straightforward hairdo while drawing attention to the face. This straight layered lock medium hairstyle for over 80  with straight hair looks incredibly astonishing.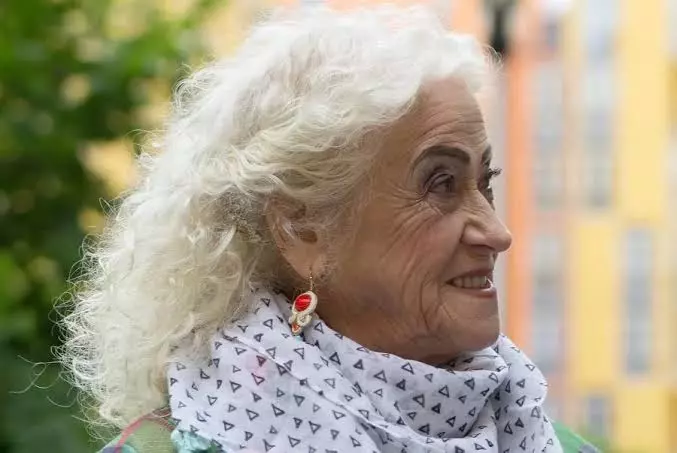 For thick hair, this haircut works well. It has romantic side part, round curls, and lengthy layers. At any age, this appearance exhibits a naturally glowing vitality within and is both gentle and robust. As displayed, it can be worn in blonde, but gray would also look gorgeous.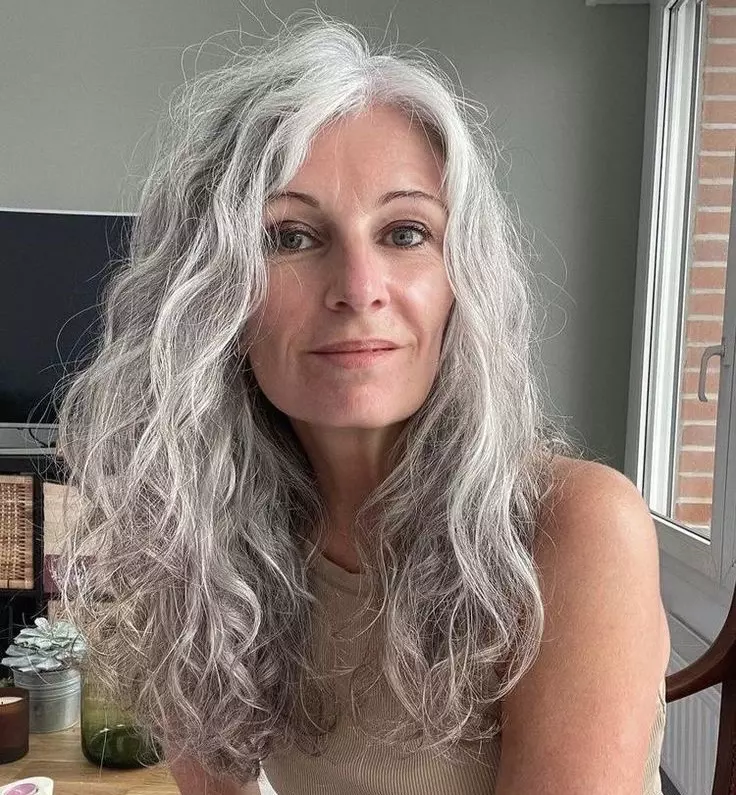 10) Messy Waves
For medium-length hair, unkempt waves provide a carefree and young appearance. It's all about embracing your natural texture and adding a dash of carefree charm in this look. For women over 80 who want to exhibit their energetic attitude, it is ideal. This is an amazing option for anyone with medium to long hair, however if you are looking for a short haircut then just trim your hair and it will look nice as well.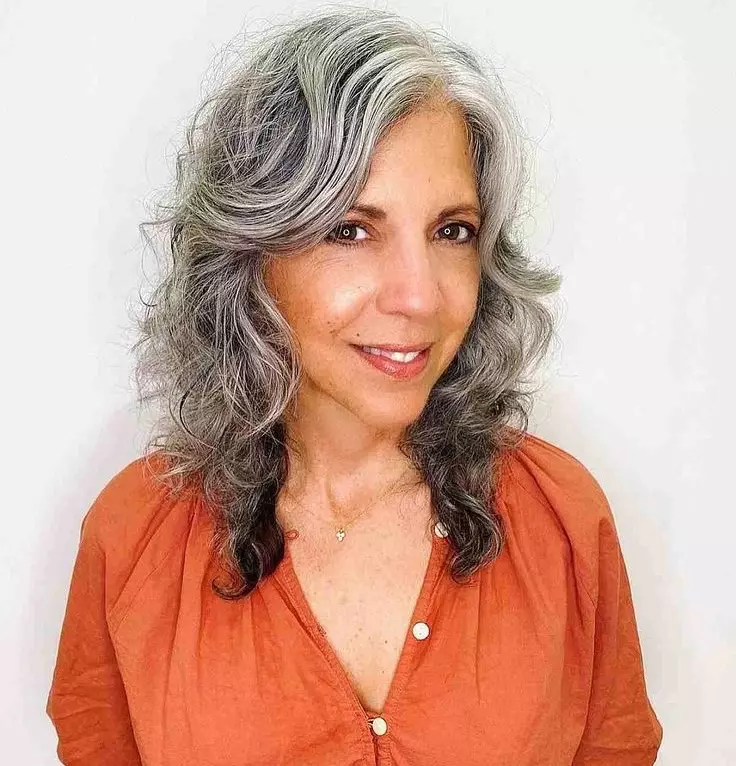 11) Mixed Textures
Older women looking for a new haircut might want to think about a mid-length style with a variety of textures. Your hair will have depth and movement thanks to this adaptable style. Straight and wavy hair can be worn together to create a look that is effortless and natural for you. Your hair looks fresher and has more volume and dimension thanks to the texture blend. To highlight the many textures in your hair, style this haircut with a texturizing mousse or spray.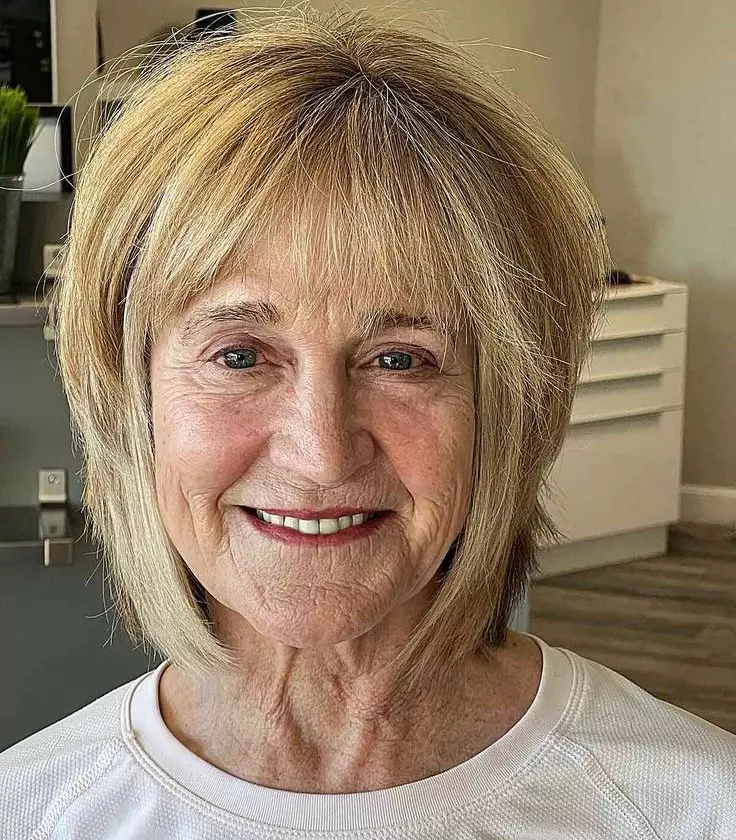 12) Straight Hair with Choppy Bangs
Try giving blonde, straight hair choppy bangs. Bangs are a fantastic method to revamp your entire appearance! Having bangs gives you more options when wearing your hair up. Choppy bangs are a stylish and current day staple for medium hairstyles for over 80 with thin hair. Shoulder length haircuts with bangs are always in trend.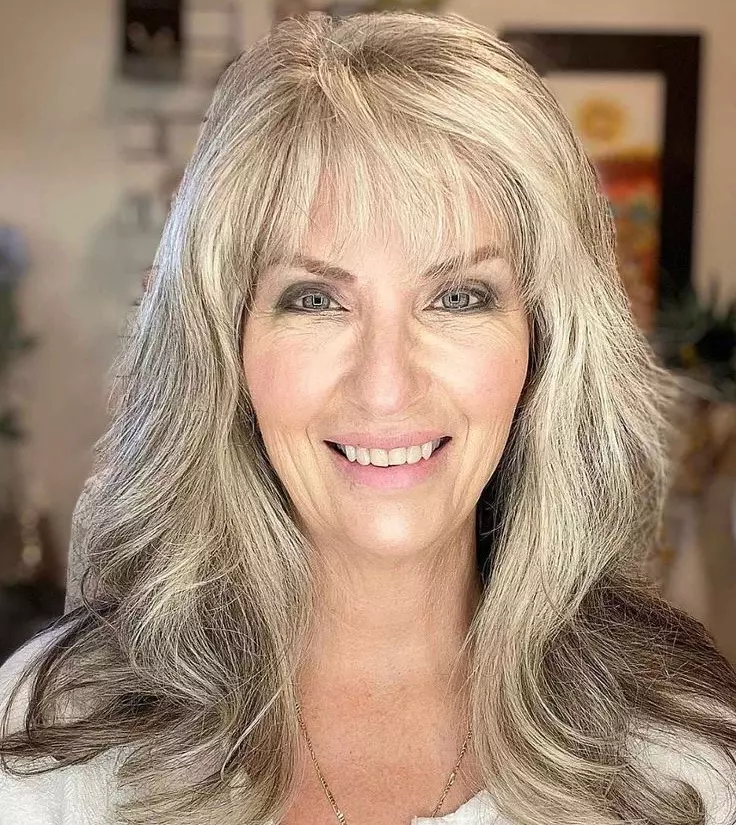 13) Bouncy Butterfly Cut
Your hair will appear vibrant and young with a butterfly haircut and curtains-style bangs. Your hair will get texture and volume from light, airy layers. Use a large round brush to get the greatest results from this hairdo. To give the maximum support and shape, use a mousse that adds volume.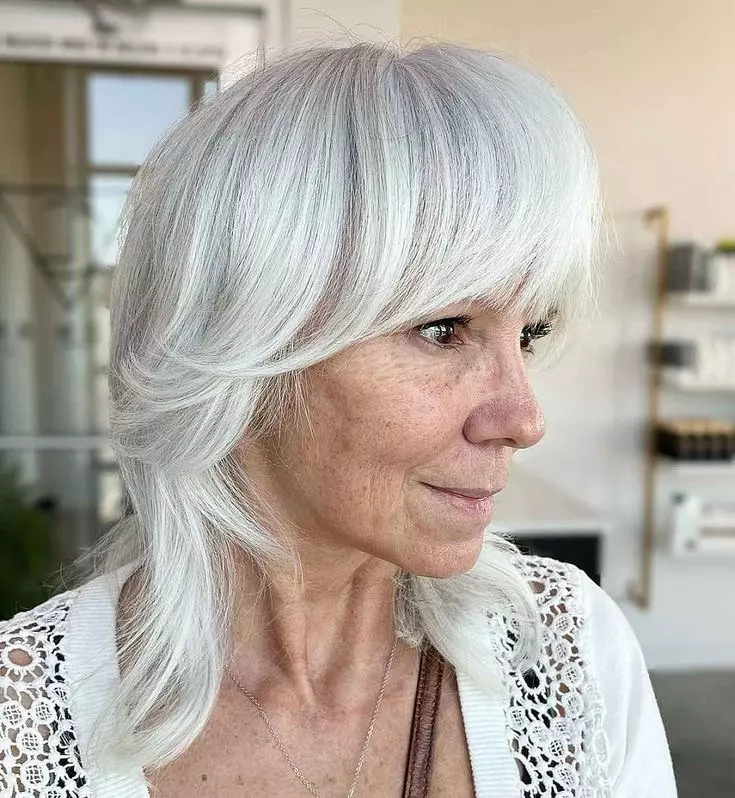 14) Classic Soft Shag
Are you a lady over 80 with blonde, medium-length hair seeking for a style that is simple to maintain? You might look great in a traditional soft shag of medium length. With modest layers and face-framing bangs, this style gives voluminous, carefree-looking hair. It enhances a number of face forms. This shag haircut for mature women looks classic and elegant. It goes nicely with many looks and adds dimension to your face as well.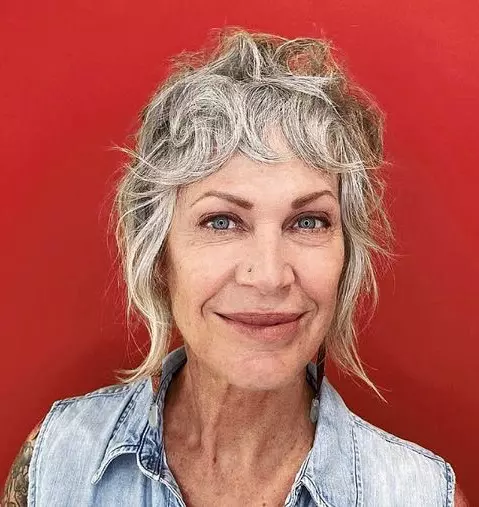 15) Razor Cut Shag 
Think about a shag with fringe and a razor cut. Your fine hair will gain texture if you shave it. With all the shaggy layers and fringe, your crown will appear to have more body. To keep your cut looking current, you'll normally need to get your hair cut every few months.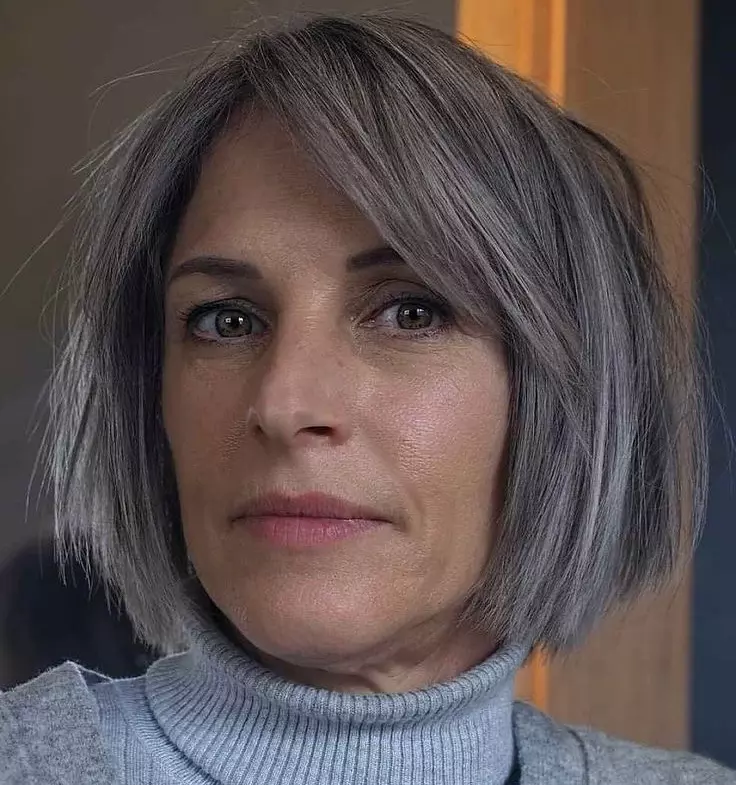 16) Blunt Cut
Pairing a blunt cut with layering is sure to give locks extra volume and movement when looking for medium hairstyles for over 80 with straight hair.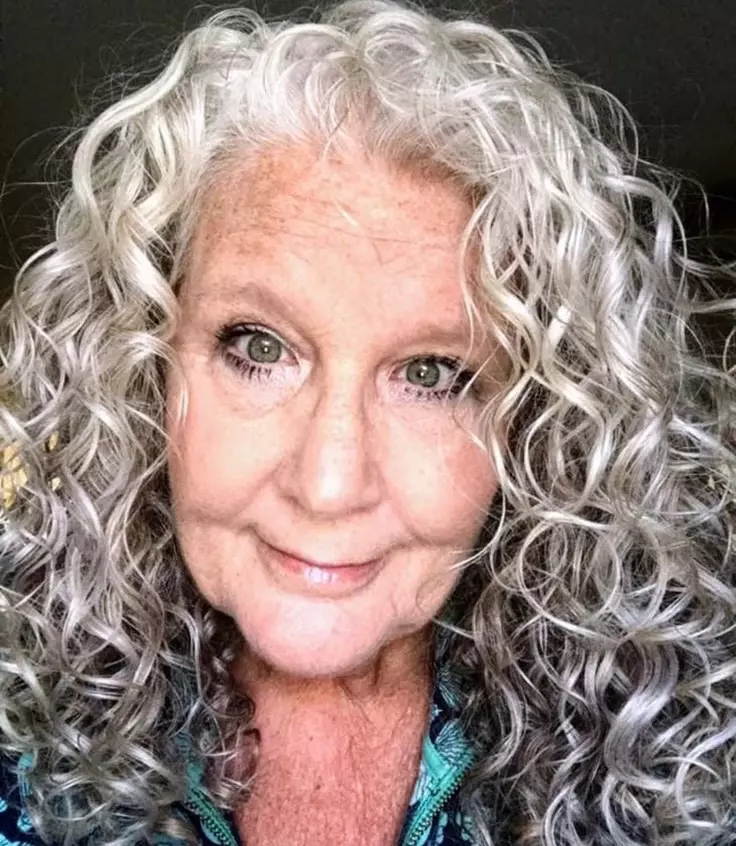 17) Thick Blonde Curls
Have thick, flowing blonde curls and be a natural diva. If you wear your hair curly, adding layers will make it easier to maintain your natural curl pattern. Having layers is one of the best methods to gain body and volume. In order to give your curly hairstyle a lift and make them huge and bouncy, you must have either short or lengthy layers depending on the density of your hair.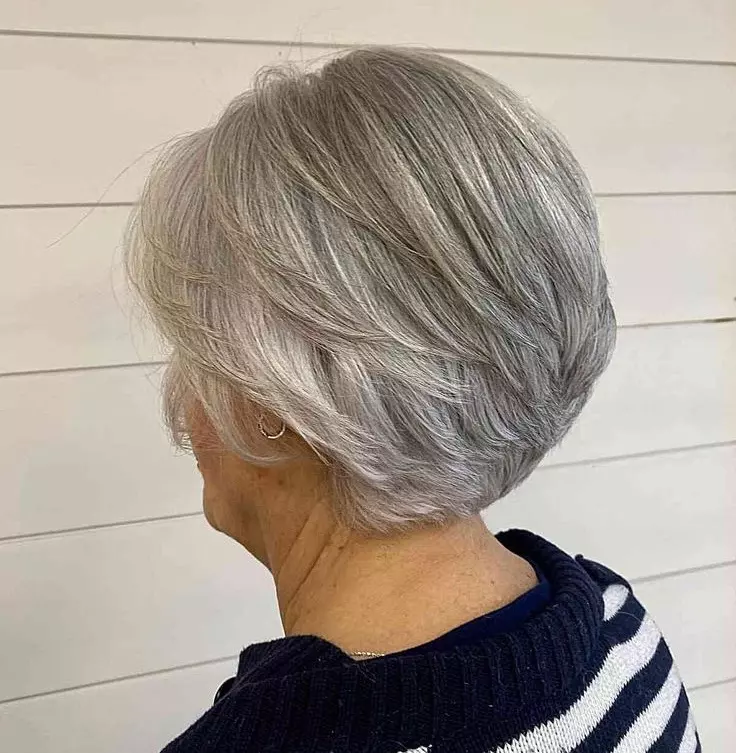 18) Swept Back Feathered Hair
Short swept-back feathery hair is one of the more fashionable hairstyles for women over 80. Hair that is loose and playful is always in style. Your hair looks chic and feminine when it is the ideal short length and has feather soft layers.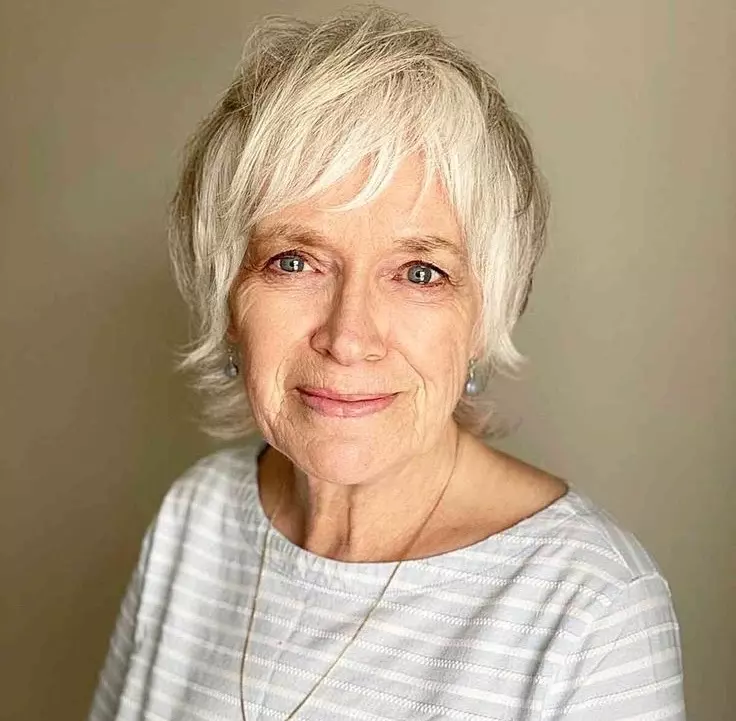 19) Mob White A-line Haircut
Most women experience hair thinning at some point in their lives. With time, this issue simply gets worse. One of the best haircuts for older women with thin hair is a mob haircut. It is attractive and draws attention away from your sparse hair and toward your facial features. For this hairstyle, maintain your original hair color.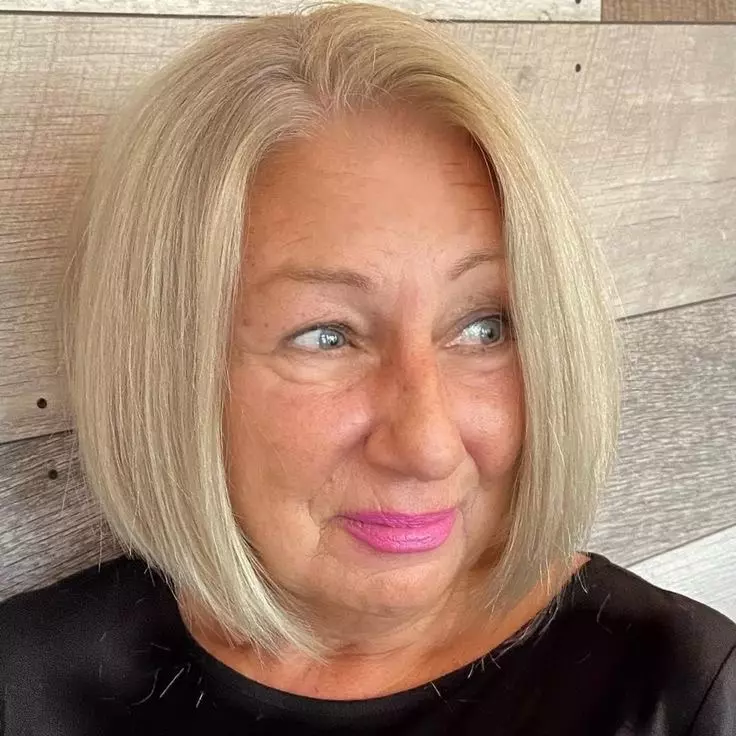 20) Rounded A-Line Lob
A rounded long bob is a great choice if you're seeking for stylish hairstyles. For a great angled yet softened form, keep the areas of your hair that are closest to your face longer than the rest. You can also trim long side fringe to frame your face in this way.
21) Swoopy Layers
When wearing a shoulder-length haircut, well-shaped layers are frequently necessary to give your hair a lovely, smooth flow. Choose side fringe and swooping layers that end at your shoulders for a rounded form. For some additional dimension that improves the dynamic effect from layers, you can even add highlights.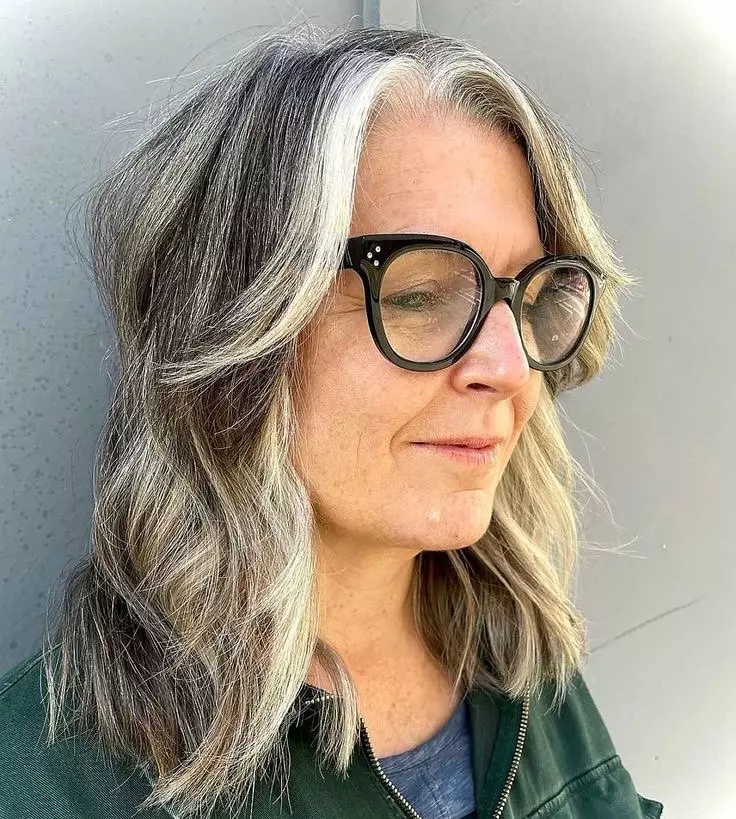 22) Elegant Lob 
The exquisite lob hairstyle for ladies over 80 who wear glasses emphasises the collarbones. If you want to draw attention away from your spectacles, this can work for you. plain yet attractive, this haircut is ideal for women over 80 with plain hairstyles.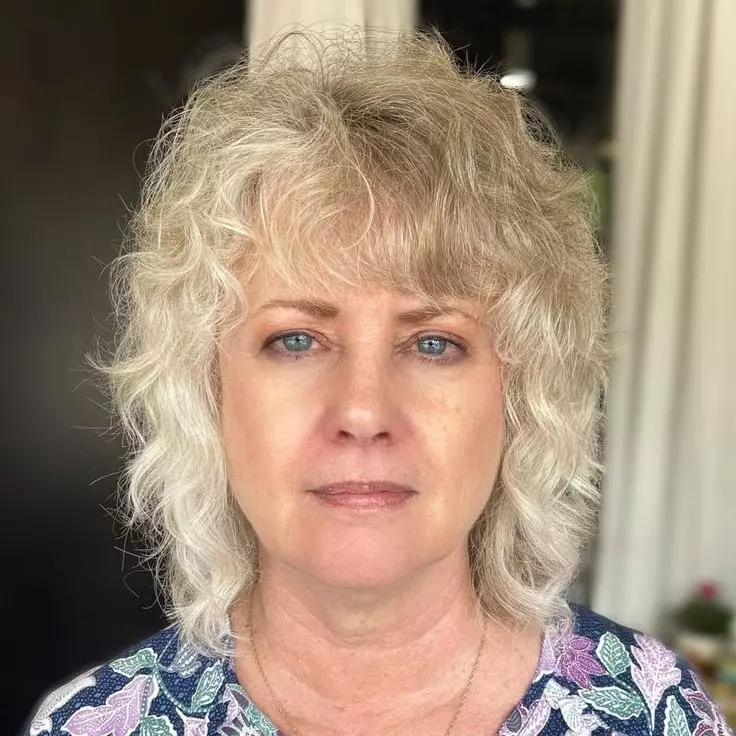 23) Bangs For Medium Hair
A girl next door style, the medium wavy haircut with fringe manages to seem lovely and adorable. may give it an edge with sloppy and disorganised layers.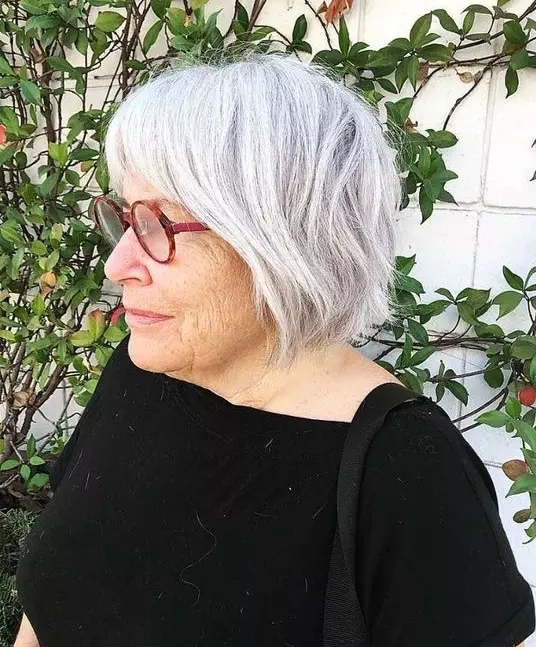 24) Angled lob
A straight lob which is a bit angled to give it a distinct look is a classic medium length hairstyle. It seems chic yet adorable.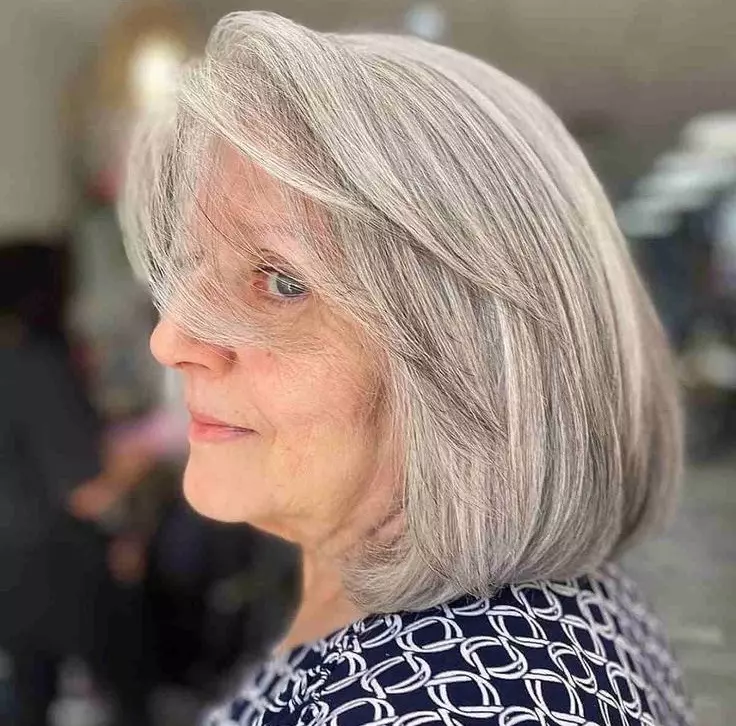 25) U Shape Cut
One of the simplest hairstyles is the shoulder-length U shape cut for medium hair. Although it is not much of a change, a concave curve at the bottom of the hair looks fantastic on the majority of hair types.