25 Best Hayley Williams Hairstyle And Hair Colors
Shivangi Chatterjee
Updated At 24 Feb 23
As most of music enthusiasts know, Hayley Williams is a dynamic singer, and a famous vocalist known for her songs of Panamore's Riot as well as her own solo works. With a highly enthusiastic voice, preppy stage performances, and bold artistic energy, she helped Panamore receive four top 20 Billboard Awards. She was also awarded a Grammy for her single "Ain't It Fun" .
With her unique music that has gained her millions of followers, there is one other attribute that makes fans drool! It is her choices of hairstyles and hair colours that make her stand out from the rest of the celebrities. They are as preppy and high-spirited as her music! Her bright hair colours, haircuts and styles have always been quite bold, to the point that they almost take the centre stage while she is performing. Almost all of her hairstyles are to the credit of her long-time hairstylist Brian O'Connor. A lot of hard work goes into the maintenance of her hairstyles since she believes in changing them every month. Her frequent hair changes have made fans intrigued by her styles.
Here is therefore a curated list of the 25 best Hayley Williams hairstyles to your liking.
25 Best Hayley Williams Hairstyles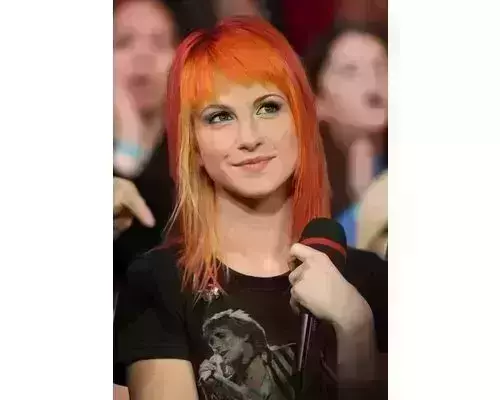 1. Hayley's Tri-colour Shag Haircut
When Paramore released its first album, Hayley had dark auburn hair. But most of her fans remember this tri-coloured hair to be the first of Hayley Williams hairstyles, because of the Misery Business music video. This tri-colour shag was a mixture of yellow, orange and platinum blonde tones.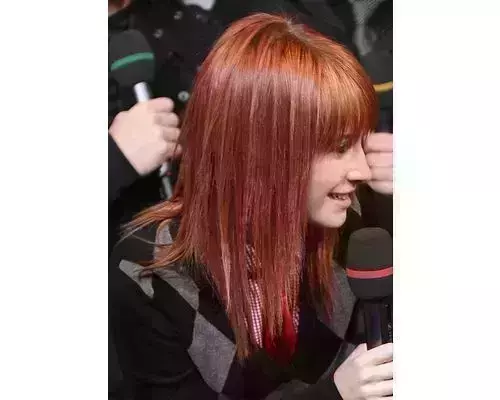 2. Copper Glossy Hayley's Hair
One of Hayley Williams hairstyles was chopped hair that was glossy and copper coloured. As the Paramore band quickly became a hit, Hayley Williams orange hair turned into a toned-down copper hair, giving her a more sophisticated look of success.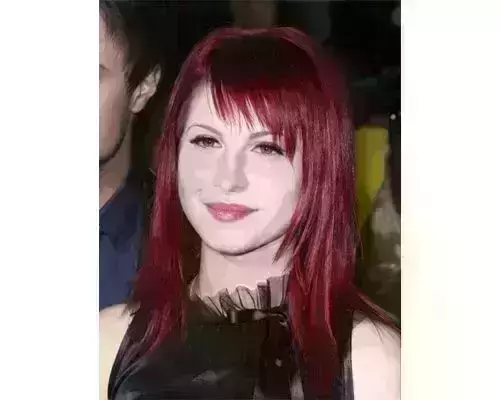 3. Hayley Williams Burgundy Hair Colour
Hayley Williams hairstyles have always attracted attention because of being out of the box and bold. This burgundy hair colour with pink streaks was no less, for it turned heads as she walked on her first red carpet during her first Grammy Awards appearance.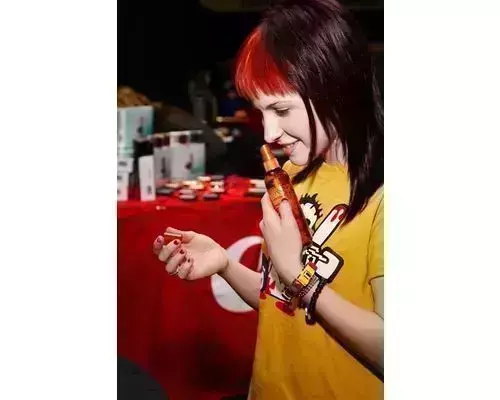 4. Red Bangs And Brown Hair
If you think Williams would settle for a monotone hair colour for a long time, think again! This Hayley William brown hair was paired with red bangs, adding to it her signature drama. The choppy red bangs gave her a new look.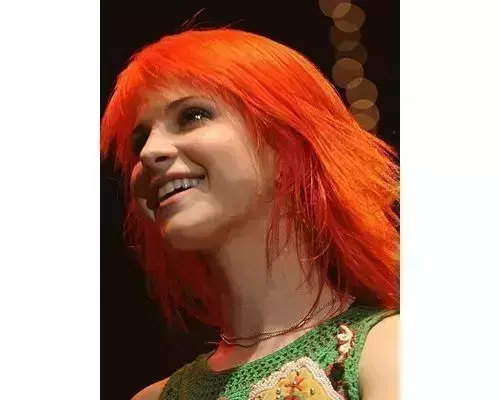 5. Hayley's Signature Neon Hair Colour
After a few years of trying out various hair colors, Hayley Williams shifted back to her patented orange hair. This time she let go off the yellow and neon shades and stuck with one eye-catching shade. Hayley Williams orange hair had longer layers, and side-swept bangs which was an upgraded version of the singer's looks.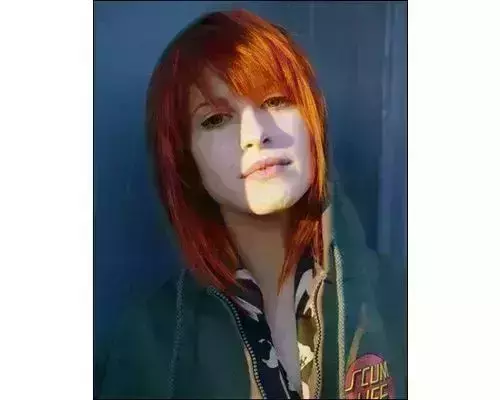 6. Strawberry Blonde Hair
Just when Panamore released their third solo album called Brand New Eyes, Hayley underwent a change of hair colours again. She let her orange dye fade out to become this strawberry blonde hair colour, one of Hayley Williams hairstyle classics. She also gave a darker touch-up to the roots for definition.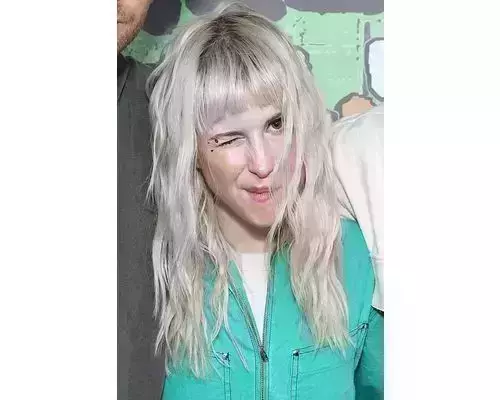 7. Platinum Blonde Short Hair
This Hayley Williams hairstyle took her fans by surprise. Her natural hair colour is very light too. The Hayley Williams blonde hair looked very cool on her, and though it was temporary at the moment, it would return in the long run in the future.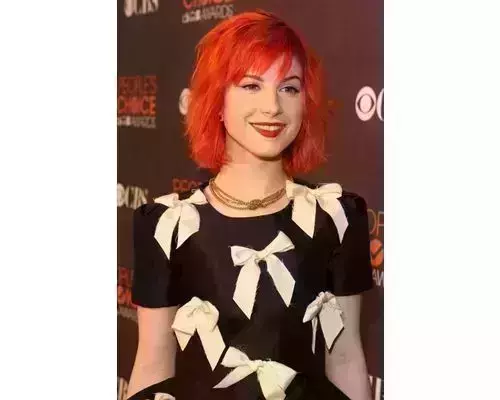 8. Choppy Red Bob On Hayley
Hayley is an expert in hair colours and she proved it right yet again with this choppy bob haircut. This Hayley Williams red hair looked stunning and became popular in no time. The mid-length bangs suited her extremely. Hayley Williams' hair colour, much to her fans' delight, returned to its orange colour.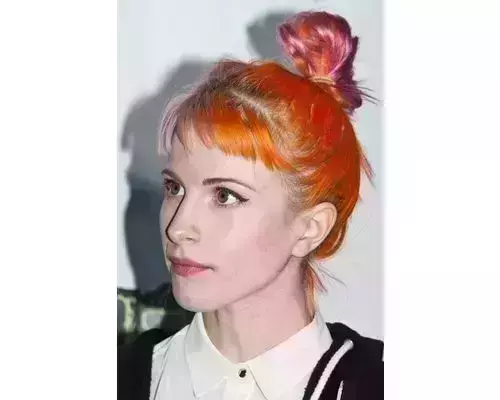 9. Color-blocked Hairstyle
At the VMA Music Video Awards, Williams pulled the most daring hair colour to date. It was a colour-blocked combination of yellow, orange and red shades. The hair was tied in an updo giving the artist a bold and chic look, representing her own aura at the function.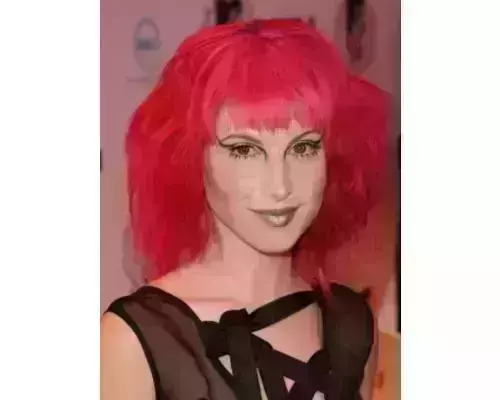 10. Bright Bubblegum Short Hair
It seems that her favourite time to reveal her new hairstyles are at award shows this one she revealed during the MTA Europe Music Awards. This is one of Hayley Williams hairstyles that was quite daring to opt for. The vivid bubblegum colour on bob hair look was made for her!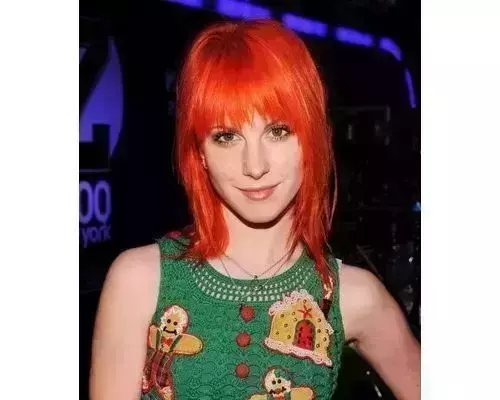 11. Neon-orange Hair Colour
Front-facing bangs suit Hayley's face structure quite well. This time she opted for a neon orange colour for her hair and tied it up into a knot, giving her a clean look. Out of all Hayley Williams hairstyles, this one was more neon than ever, making her look out of the world.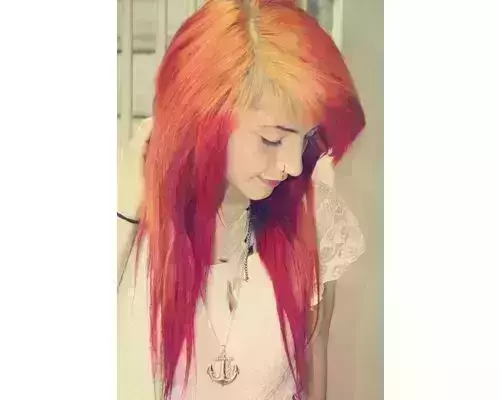 12. Hayley Williams Short Hair With Yellow Roots
This hairstyle was opted for after her neon hair began growing out in 2011. Before Billie Eilish made it a trend, Hayley Williams pulled off the neon hair in the 2010s like a diva. This out of all Hayley Williams hairstyles was different with orange hair and yellow roots.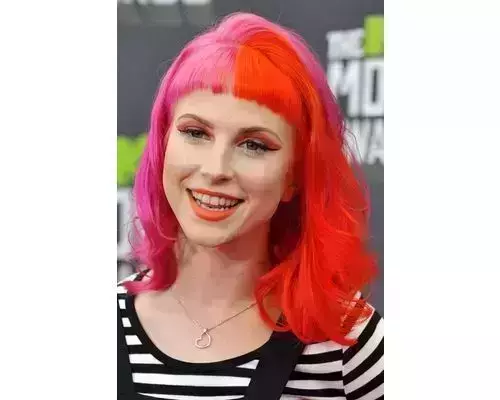 13. Hayley's Dual-toned Hair
She is the one who isn't afraid of experimenting with colours, even if it means more than one! This was one of the unique Hayley Williams hairstyles, with two-toned hair in orange and pink parted in the middle. The Hayley Williams short hair opted for the release of Panamore's fourth album.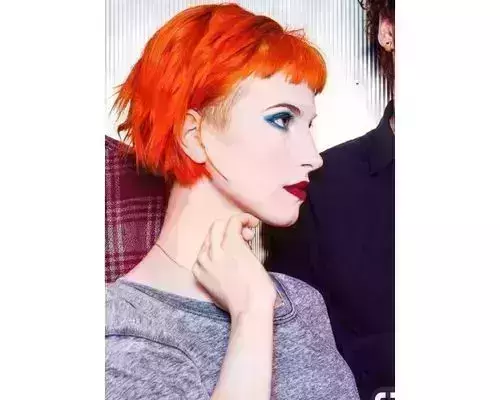 14. Orange Blunt Bob
Hayley's blunt-cut bob in orange hue was a turning point in her hairstyle game. She underwent this ear-length blunt bob, one that her fans never expected to see. Though orange is her signature colour, this was quite unique hairstyle.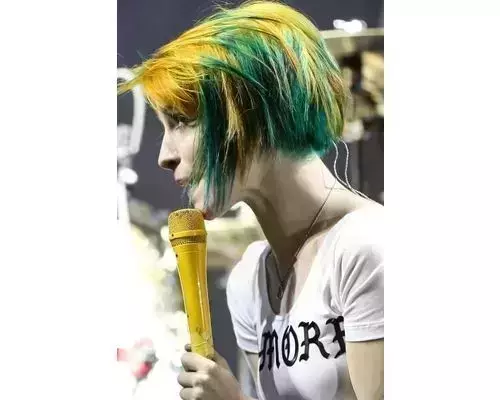 15. The Yellow-turquoise Mix Hair
This Hayley Williams yellow hair became the talk of the town, giving her the whole pop-singer look. The yellow and turquoise streaks looked like an unexpected harmonious colour combo, giving many kids ideas for a new hairdo.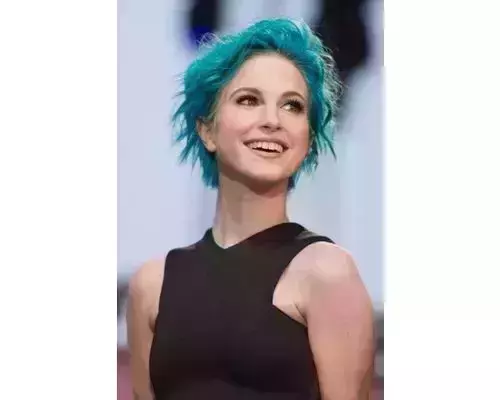 16. Hayley's Full Turquoise Hair
One of Hayley Williams hairstyles was a grown-out bob. She went for a full turquoise for the summer of that year. That was the first time she ever opted for blue, and fans hope she brings it back someday.
17. Light Auburn Hair
Williams made an unexpected return of her red hair in the September of 2014 and fans couldn't be happier. This light auburn hair colour opted on a chin-length bob with textured waves. This was one of the best Hayley Williams hairstyles to date.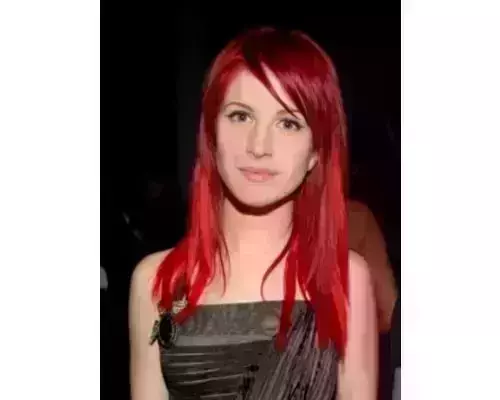 18. William's Red And Pink Hair Colour
Hair colours are never constant for Williams and therefore it was not a surprise when she traded her auburn hair for red and pink ombre hair. Previously she had paired her red her with pink streaks, but this time she went for neon coral ends.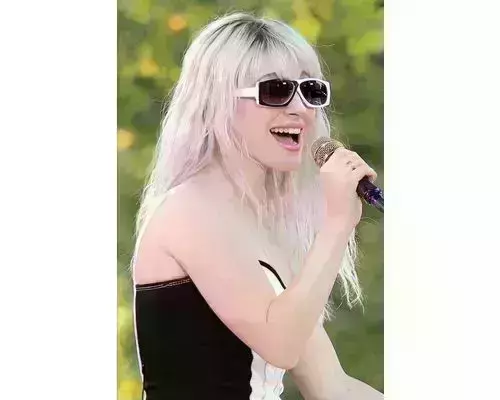 19. Platinum Blonde Hayley Williams Hairstyles
Hayley again chose to go platinum blonde but this time she had longer hair while at it. After a long break from music, and before she parted ways with the Paramore band, she opted for this hair colour.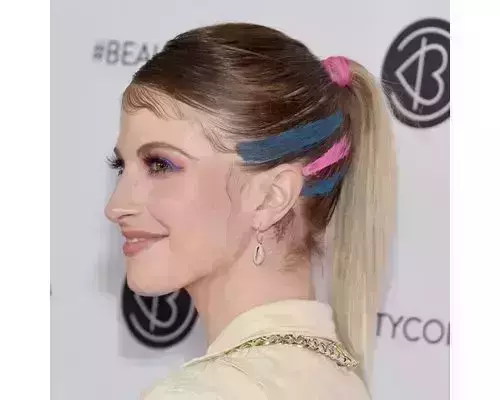 20. Natural Blonde Hair Colour
Hayley shocked her fans when she flaunted her natural blonde hair! Out of all Hayley William hairstyles, this decision by far was the most shocking. Hayley Williams blonde hair made her look quite mature and calm.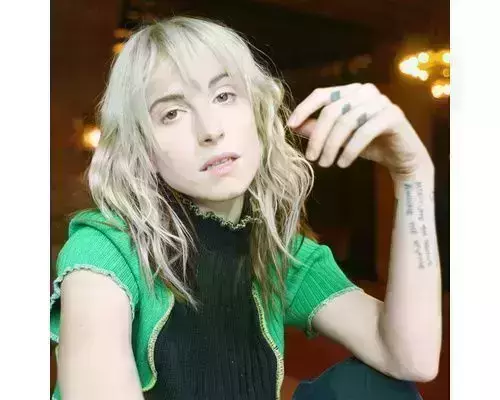 21. William's Two-toned Brown Colour
Just before Hayley started venturing as a solo artist, she opted for a complete makeover. This time opting for a two-toned brown and blonde colour, along with long shaggy hair, made her look feminine and sophisticated.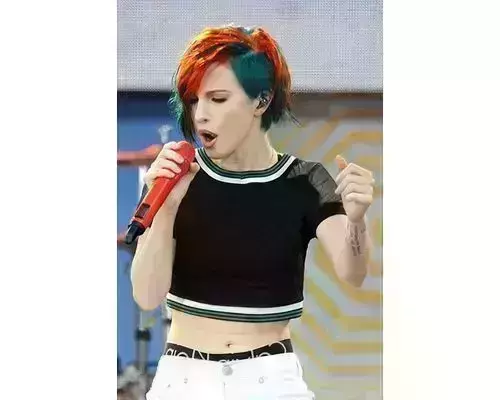 22. Orange And Blue Hayley's Colour
Hayley could never keep her hands off her favourite hair colour, and that's orange! She went for a big measure of blue paired with orange to culminate a new look. This again gave her the pop-singer vibes.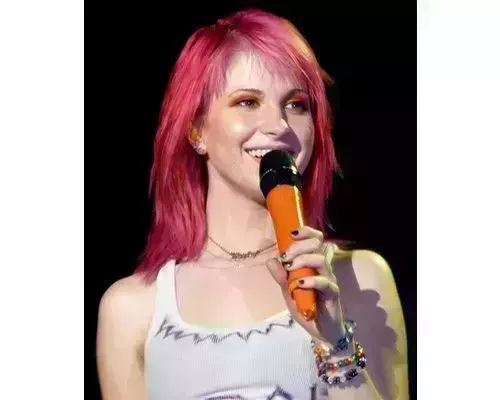 23. Hayley's Pink Candy Phase
If you think she has missed out on some hair colour, you are wrong! Hayley went for a completely dark pink hair colour too. She definitely looked like candy with her pink hair. Nobody but Hayley could have pulled off this colour.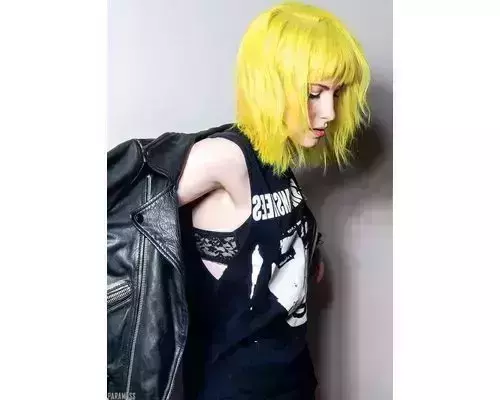 24. Hayley's Yellow Hair Days
Hayley's yellow hair made the news in no time. This Hayley Williams yellow hair was a vibrant yellow, with wavy shoulder-length hair and bangs, and was a hair colour only experts like Williams can pull. It has been the wildest colour she ever opted for.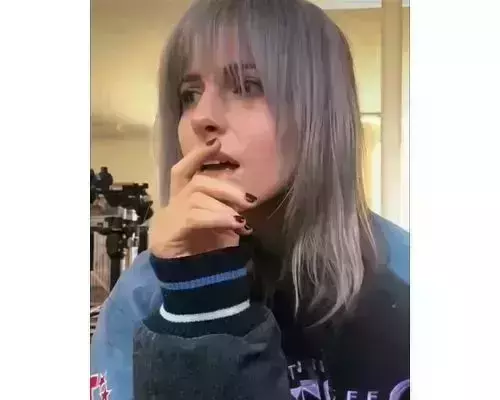 25. Williams Grey Hair Colour
In opposition to her aura and personality of being wild and bold, she has presently undergone a grey hair phase. It makes her look quite calm and natural, shocking her fans all around the world. The grey, nevertheless, suits her well!