25 Stunning Khloe Kardashian Hairstyles - 2023
Pooja Angurasu
Updated At 17 Sep 23
Khloe Kardashian's hairstyle evolution in recent years is stunning to witness. This ongoing cultivation of living her best hair life is leaving her followers to revel in the carousel of creative hair fashion. Ever since Khloe decided to ditch her trademark Kardashian, brunette locks for gold, Khloe's blonde tresses have not disappointed one bit, leaving many in her wake to want to clone her look. Also check out the inspirational Khloe Kardashian weight loss story as she lost more than 60 pounds!
25 Best Khloe Kardashian Hairstyles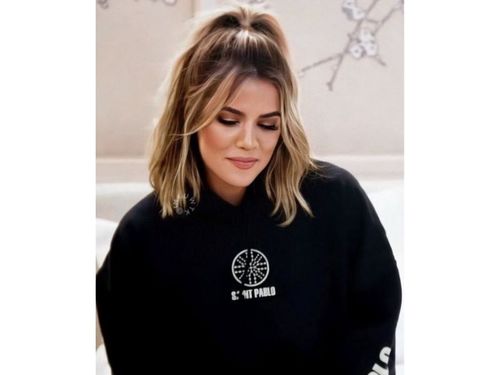 1. Half Ponytail
This Khloe Kardashian hairstyle with half ponytail has a separate fan base. Avoid looking too neat and overly put together by wavy hair and then running hair near her eyes steals our heart and the split between the ponytail in the middle so it falls on either side of her head. So pretty!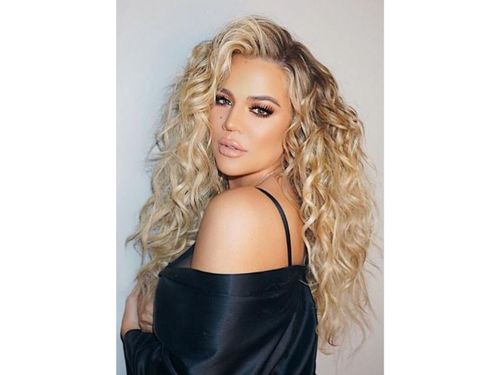 2. Fabulous With Classy Tendrils
Khloe's wavy tresses are everything human hair extensions are for when aiming for a good snapshot such as this one. Long hair or short hair but messy hair gives the best complexion to Khloe Kardashian hairstyles.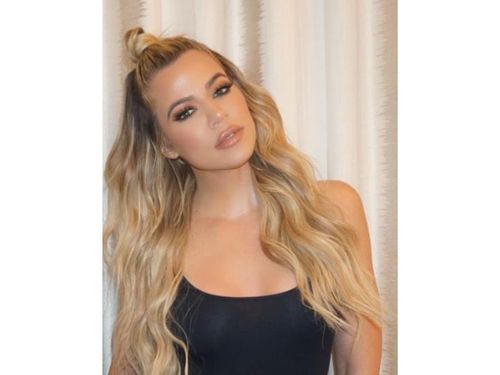 3. Top Knot
There's nothing like a good bundle that gives length and allows to create a top knot to show them off. Khloe keeps it simple here with this half-up, half-down look that has our interest nonetheless! This top knot Khloe Kardashian hairstyle gives a top-notching look.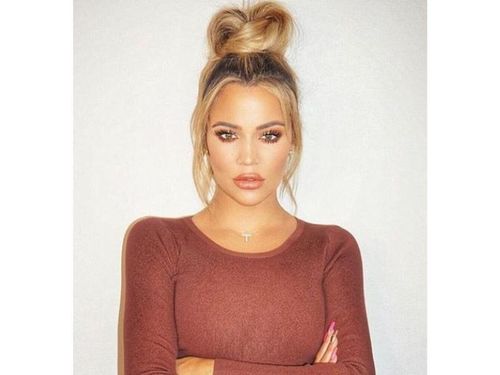 4. Top Bun
Why not turn a simple top bun into a fashion statement? This Khloe Kardashian hairstyle demonstrates that keeping it simple can be so good. This updo is doable with a lace front wig after a few minor modifications to the hairline.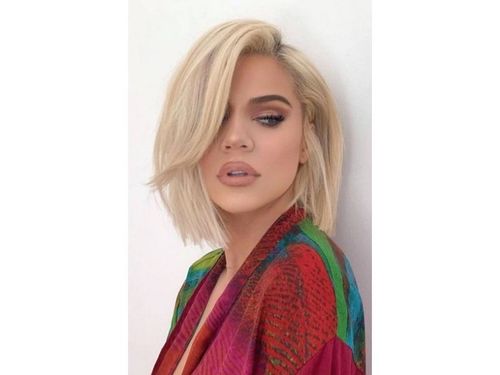 5. Flawless And Fierce
This Khloe Kardashian hairstyle gives us a fierce frontal and side profile snapshot, demonstrating that bob styles can be elegant. The frontal may cover the face but it uncovers her beauty and fashion level.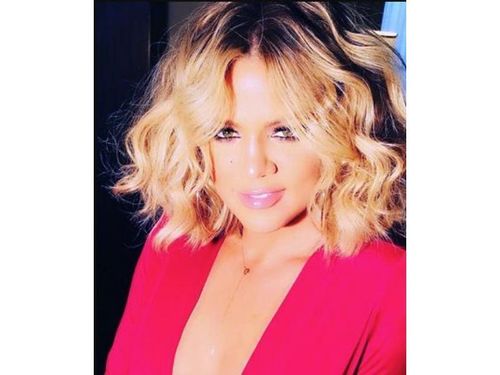 6. Messy Beachy Waves
This beach wave, bob style is eye-catching even under the excessive flash of the paparazzi. This Khloe Kardashian hairstyle is giving us frenzied waves of great hair fashion. These are just a few of Khloe's blonde stylings but they give evidence of what can be with good hair and a flair for fashion.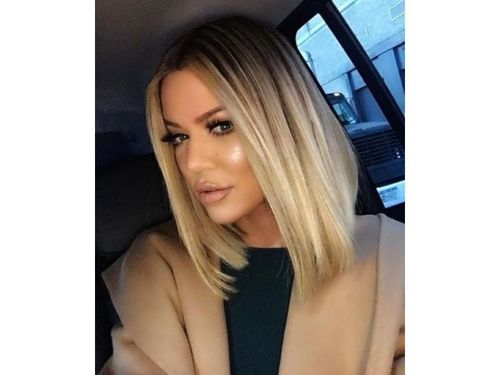 7. Sleek Envy
This Khloe Kardashian hairstyle of sleek bob is giving us everything as the image itself could have been for the Coca-Cola Company. One can match this sleek bob hairstyle with a lace front wig, cut to sheer perfection or enhanced by hair bundles or human hair extensions for a bit more volume that one can clip in and then trim to match.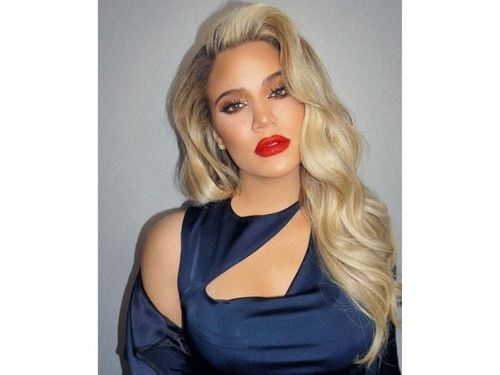 8. Barbie Lace Front Elegance
This Khloe Kardashian hairstyle looks like a Barbie Doll in this shot. These extensions are flowing regally past her shoulders and have just enough volume to make them the main accessory in the photo. One can achieve this look with 22-inch hair and someone who knows how to layer this look gently.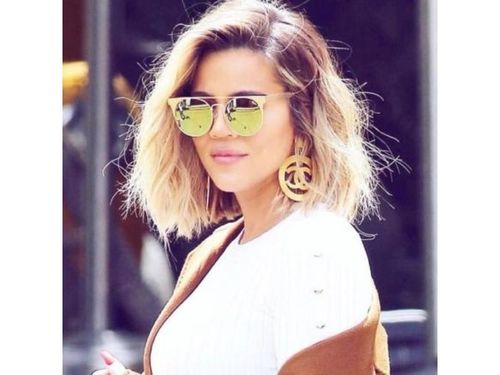 9. Volume Waves
This Khloe Kardashian is giving us a lot of body in this outfit, and this choppy hair is not just a mere accessory. It is ready to take centre stage with loose beach waves, texture and volume. One can add one's own set of ombre hair extensions to the bob and trim to create body and vavoom!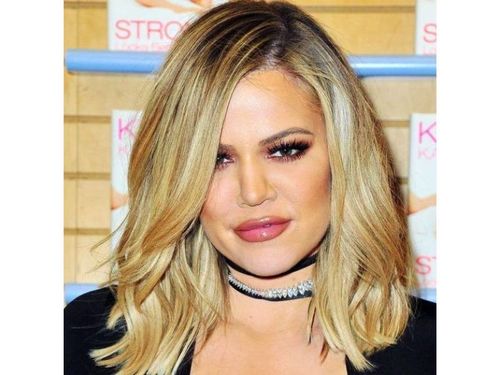 10. Sultry Sass
Medium hair suits Khloe, and this Khloe Kardashian hairstyle gives testimony that can rock a sultry look like this one by giving this hair a slight bump with the curling iron. She is on the way out, and this hair is fashionable for a night out on the town.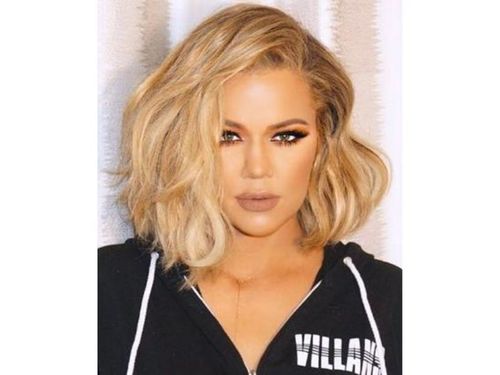 11. Bouncy Bob
This Khloe Kardashian hairstyle of bob chop here makes a statement. This cut was shortly after weeks of wearing long hair extensions and for many of her followers was like hitting a hairstyling reset button. Khloe's ombre bob cut renewed many of her followers' interest in her continuing hair evolution.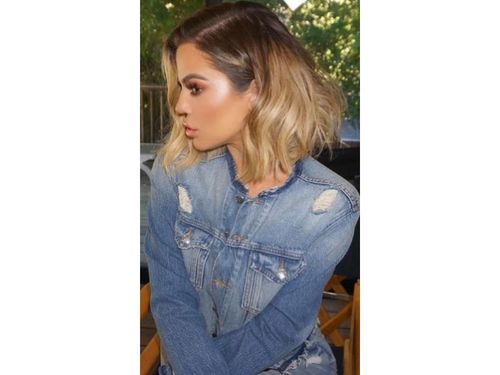 12. Bob Madness
These blonde tresses with waves demonstrate the option for bob versatility for a night on the town. One can have the choice to introduce a low side part and rich, blonde highlights. Again, for volume, clip-in hair extensions or tape-in hair extensions are excellent options. This Khloe Kardashian hairstyle tops this look off with a nude lip and smoky eyes.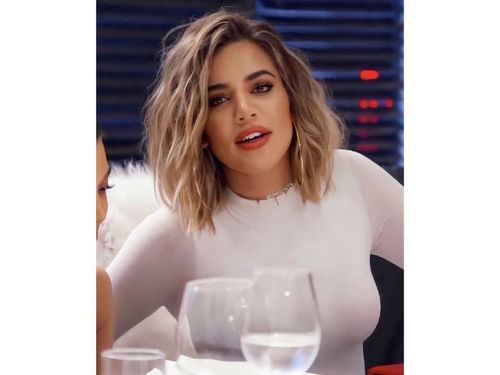 13. Loose Wave Layers
This Khloe Kardashian hairstyle of loose wave layer, bob-chop in this photo is ripe with volume. Human hair clip-ins can help to ensure that if you do not have hair volume envy should elect to borrow this look. It is a style one wear on date night or every day at the office.
14. Ombre Cascading Curls
Here's another vintage Hollywood look at Khloe Kardashian's hairstyle. What can we say, that ombre and big, soft curls combo is to die for? This is a great look to copy if you've got a wedding or formal event to go to.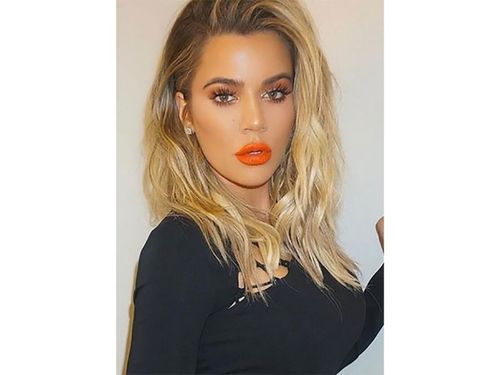 15. Layered And Curled
This Khloe Kardashian hairstyle rocked her post-baby bod with this shorter reincarnation of her beach babe look. Well, she showed her then ex-beau Tristan Thompson what he's missing.  No wonder it's rumoured that they're back together.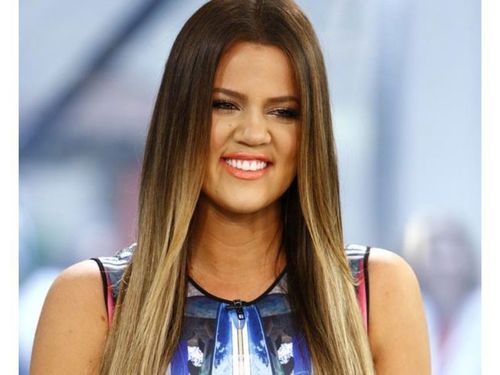 16. Extra Straight Ombre Hair
Remember that time in the early 2010s when ombre hair first became trendy? Of course, Khloe, being the queen of hair that she is, tried it out herself. Not surprisingly, she looked amazing.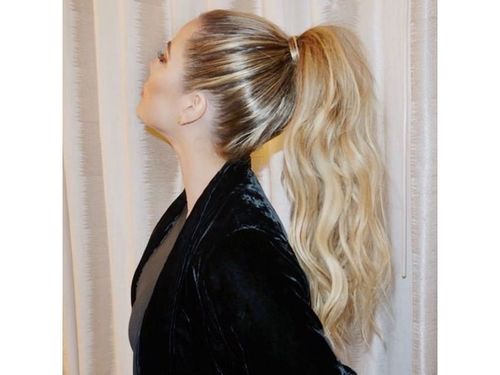 17. Extra High Pony With Extra Long Locks
Look at this high ponytail and tell us it isn't fabulous. We dare you. Want to steal this look? Good news, Justin Morgan, the stylist who created this Khloe Kardashian hairstyle.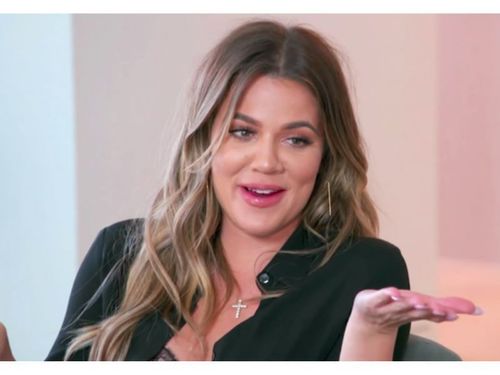 18. Laid Back Waves
Although Khloe Kardashian is known for her extra hairstyles, she also turns to more laid-back looks like this one when she isn't attending red carpet events or serving trendy street looks.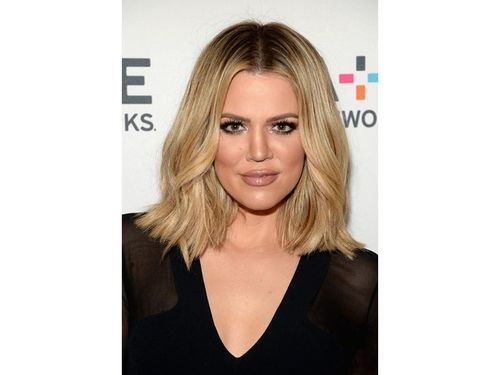 19. Shoulder Length Straight Cut
Embracing her natural blonde hair (yes Khloe's not a brunette!), Khloe transformed her look with this iconic blunt bob done by stylist Jen Atkin back in 2017. Since then, the two have collaborated to bring us much spicy and trendy hair looks.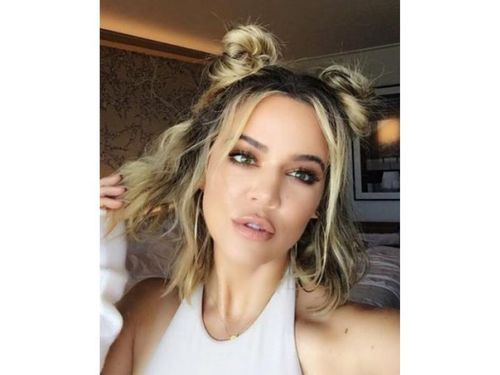 20. Half-Spaced Buns
Wanna look cute while working out? Follow Khloe Kardashian's hairstyle and wear your hair in half-space buns.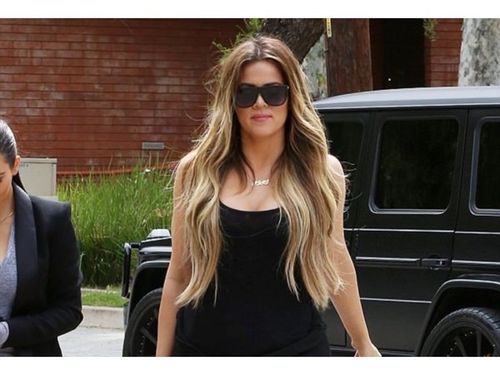 21. Brown To Blonde Balayage
This Khloe Kardashian hairstyle look screams style siren, don't you think? Khloe Kardashian makes ombre hair for a while to rock a balayage look with extra long hair. Better save up for long hair extensions.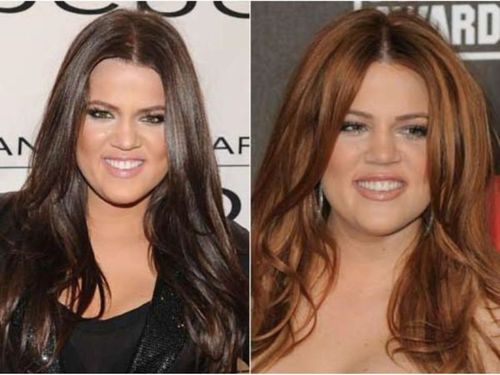 22. Face Framed Layers
Before her weight loss, Khloe Kardashian. tried to hide her body and cheeks with her hair. Her go-to style was long hair with face-framing layers sometimes curled slightly for volume.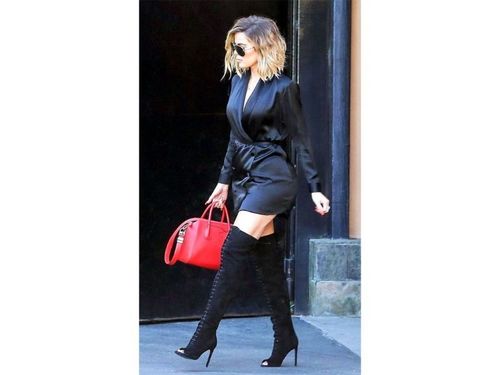 23. Dark Roots And Jagged Curls
Dark roots with jagged curls and a blunt lob may be too severe for some, but if a person is an extremely stylish woman like Khloe Kardashian it's just the perfect combination for an all-black street look.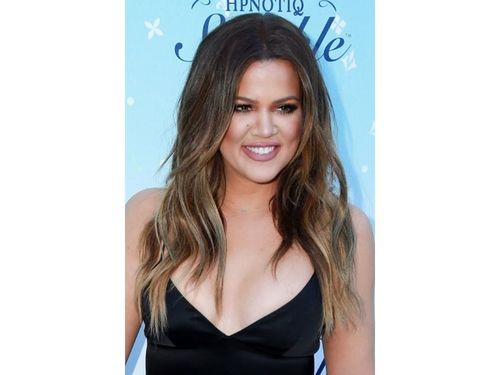 24. Ash Ombre And Chunky Layers
This Khloe Kardashian hairstyle serves as a chic inspiration. Nothing says sun-kissed than dark brown to ash ombre and soft beach waves. The shorter layers also give this look a slight edge.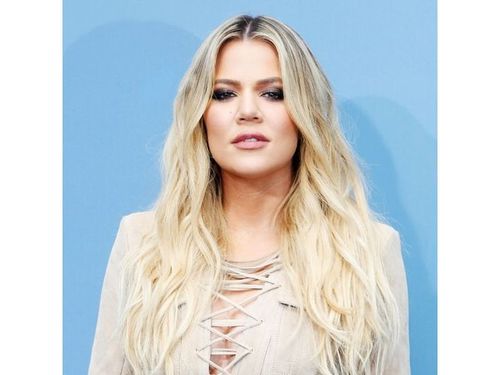 25. Loose Waves
This Khloe Kardashian hairstyle rocks a blonder and longer look paired with a middle part for a throwback to her formerly long locks.  Some peekabo dark roots complete the look.