55 Stunning Kids Braids With Beads - 2023
KRITIKA GUPTA
Updated At 10 Sep 23
Both children's and adults' hairstyles benefit greatly from the charm that beads add. Because of this, "Hairstyles with Beads for Little Girl" is one of the terms that people search most frequently online. Hairstyles with beads for little girls will give them a glam and appealing appearance for any event. They are a fantastic fit for everyday wear since the braids act as a protective screen for your child's hair and the beads add additional playfulness and coolness to your child's personality. They can be worn for both formal and informal situations. Here are some of the black kids braids with beads.
55 Best Kids Braids With Beads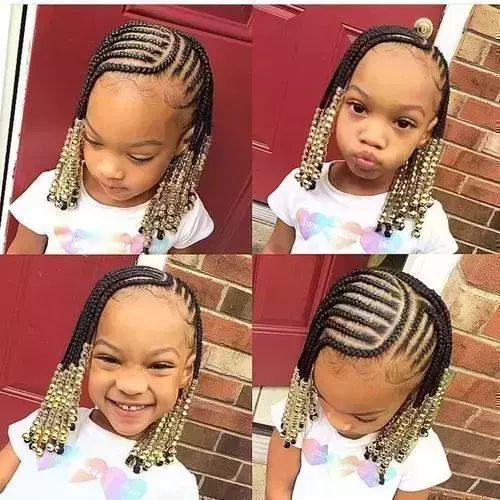 1) Cornrows With Beads
The traditional African hairstyles are similar to cornrows. Children braids with beads are a fun alternative for kids, and you can simply make cornrows in a variety of styles. You might use colored bow ties, rings, etc. in place of beads.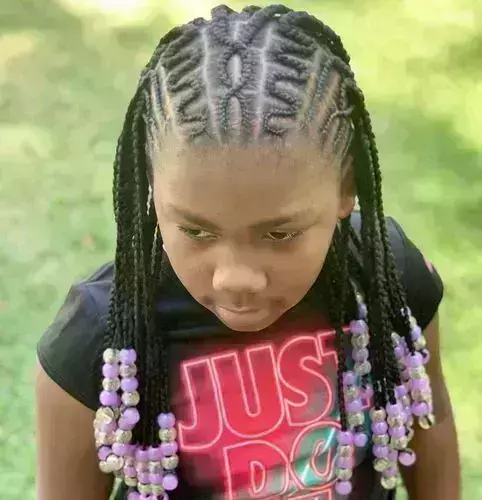 2) Criss Cross Braids With Beads
Even though creating these lovely criss cross braids may take a little extra effort, your little girl will love how wonderful these braids will look on her.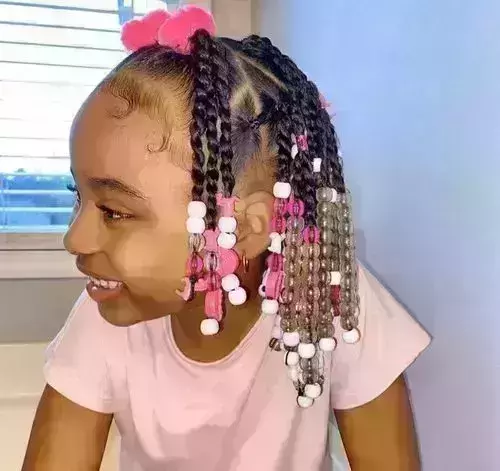 3) Knotless Kids Braids with Beads
The newest hairdo craze to rock the fashion world is beaded knotless braids. As the name implies, unlike traditional box braids, these braids do not exhibit hair protruding from the scalp.They have flat, smooth roots that give them an unusual, interesting, and yet basic, appearance.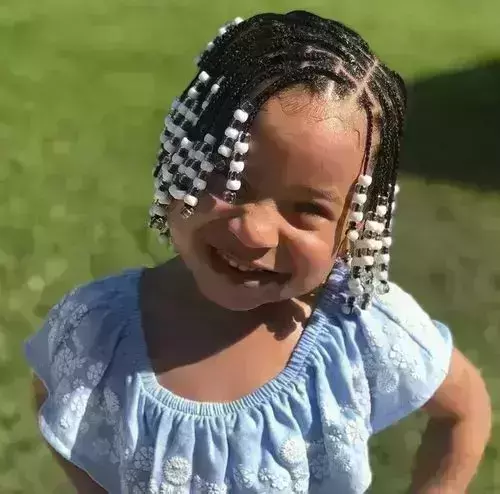 4) Fulani Braids with Beads
Numerous braiding patterns are used in fulani hairstyles. Create a centre knit part for this style, then develop stunning braids on either side that meet in the back. Make more braids using the hair from the temples, and bind them at the bottom with colored beads.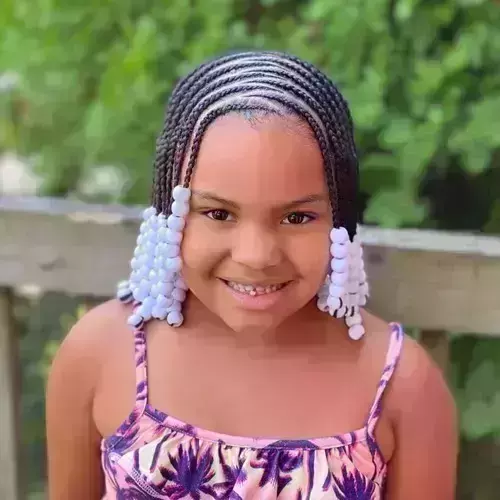 5) Large White Beads
The braids on this hair form a zigzag pattern on the scalp, giving it a complex pattern. The left side of the front braid is more prominent at the beginning, followed by the right, left, third, and so on. Large white beads adorn the chin-length braids, which span over half of the length of the braid.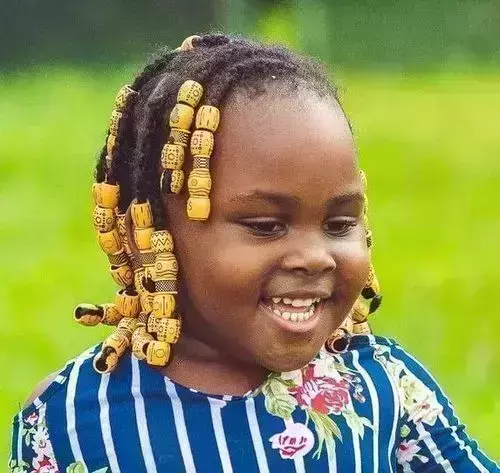 6) Chunky Beads on Black Hair
Braids will make thick black hair on young girls easier to style. Consider using a large bright-colored bead as an accent for ladies with darker complexion tones. A cheerful addition are these yellow ones to the black kids braids.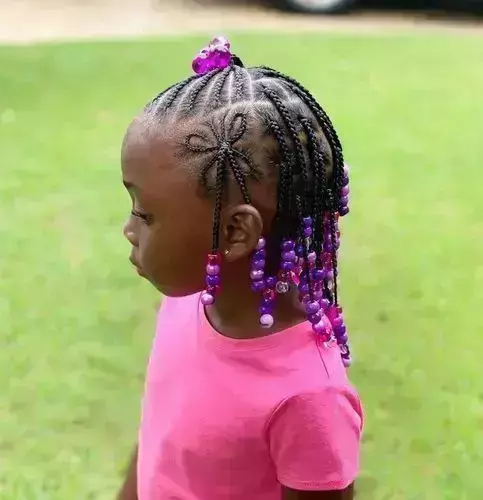 7) Butterfly Braids with Beads
For flaunting a sweet butterfly braid, a beaded hairstyle is ideal. Little girls appreciate having interesting forms in their hairstyles. Choose huge beads in the two hues that every little girl adores: pink and purple.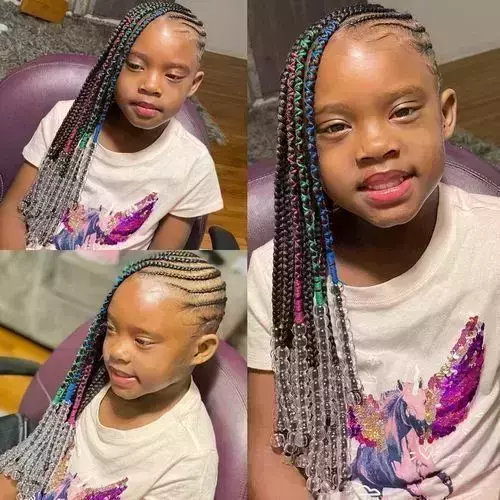 8) Lemonade Braids with Beads
We adore how the lemonade braid on a young kid highlights how thin braids gradually get thicker. The ends have large beads with fascinating patterns and vibrant hues.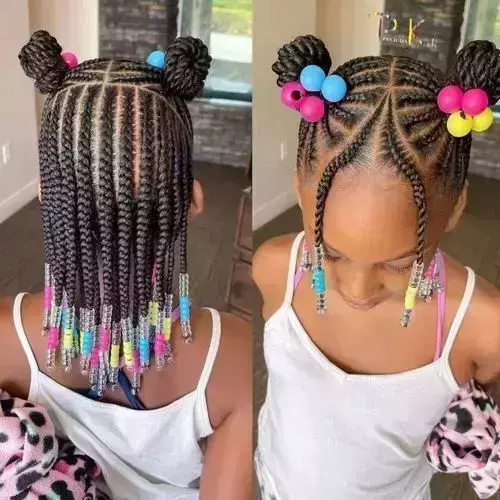 9) Double Braided Buns with Beads
They were created using a certain focal pattern that results in buns. The cornrows have beautiful designs. When combined with lovely beads, this one gives young girls a playful look.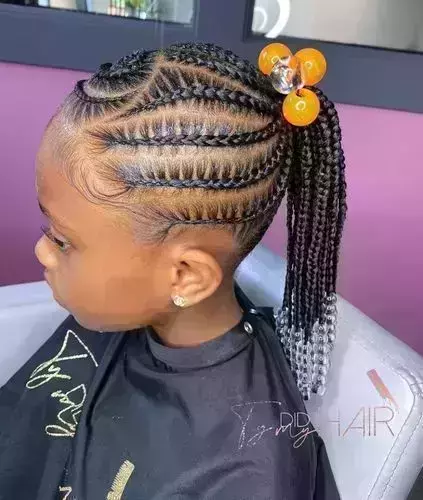 10) Braids with Transparent Beads
This is an uncommon, challenging, and distinctive  braided hairstyle for young girls. Additionally, maintaining it is difficult. There are several tiny braids all over the head. The final two strands are finished with beads rather than being combined.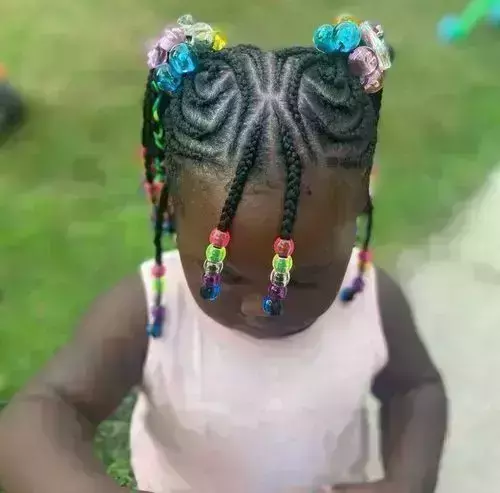 11) Braided Pigtails with Beads
 This pigtail hairdo is for afro hair that is curly. Curly hair is difficult to maintain, especially when kids are involved. Beads offer color, and many kids are drawn to them because of their vibrant appearance. Start forming cornrows in a curved path to the ends of the head to create this hairstyle.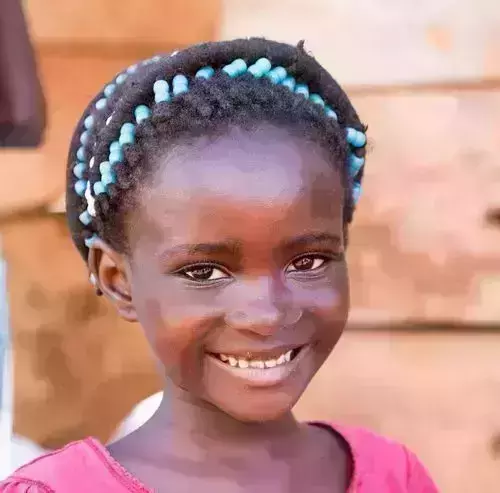 12) Beades Crown Braid
Crown braids are a lovely, sophisticated hairdo for women of all ages. Little girls with dark, curly hair will adore how blue beads stand out against their black hair. These Black kids braids are extremely simple braids with beads and look stunning.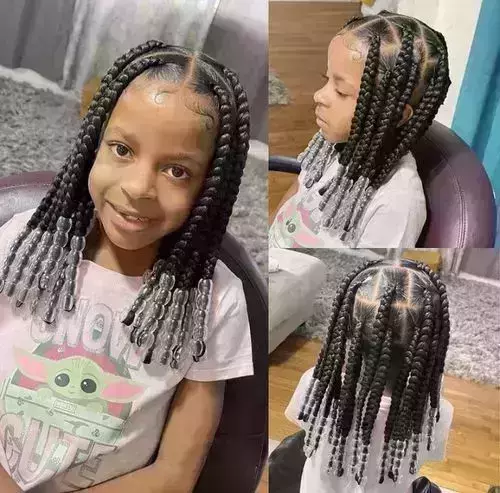 13) Half Braids with Beads
Make thin braids in half of the hair, leaving the other half loose, to highlight the texture of hair that is tightly coiled into lovely curls. Attach contrasting beads in light and dark colors to the beaded strands. An absolute easy braids for kids with beads which will make her stand out.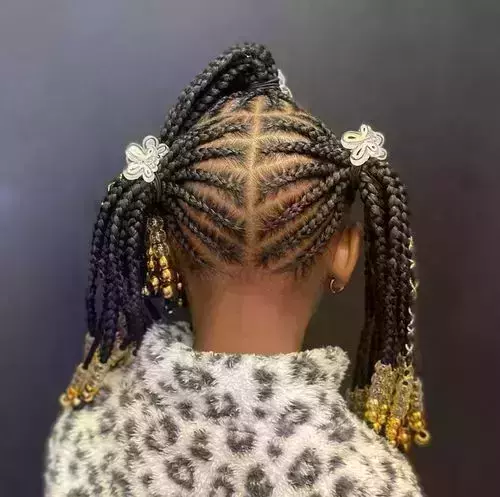 14) Three-Braided Ponytail 
When you can create three ponytails, why make one? Create your three ponytails after placing thin to medium-sized braids throughout the hair. This beaded style has brilliant white and gold beads at the ends and funky curved clips at the base.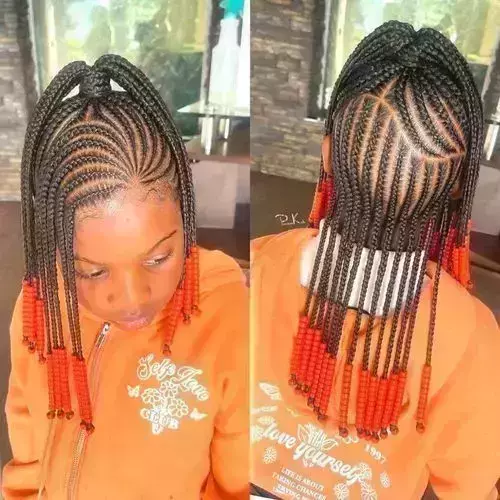 15) Half Up and Half Down 
This braid is one of the most inventive and stylish ones you can find online. Yes, it is really rare to have your hair divided horizontally without the use of any hair dyes. As you can see, the distinction is made by the two distinctive segments that braids in this case are constructed of.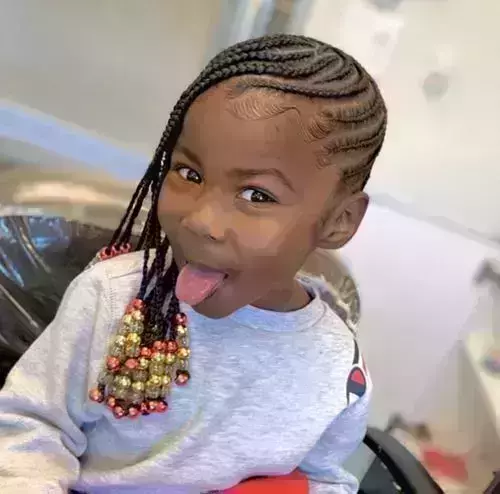 16) Curved Braids
From the curved shape of the braids to the twisted ends and colorful stacked beads, this hairstyle will be loved by any little girl.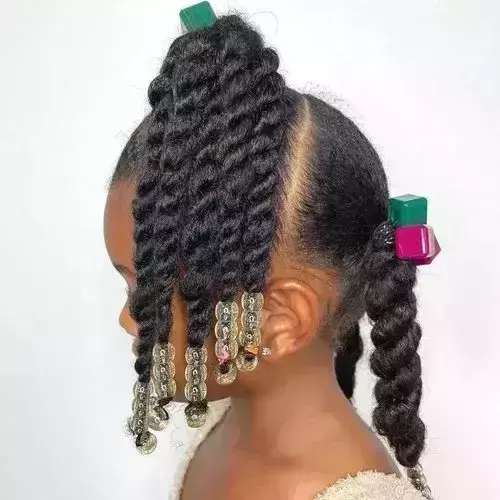 17) Chunky Twists with Beads
Would you like your daughter to imitate dolls? If so, I urge you to attempt this at least once in your life. Your young princess will undoubtedly adore it as well. The normal name for this kind of braid is Chunky Twists.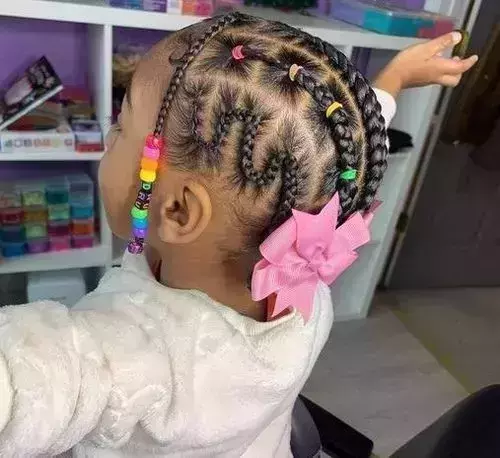 18) Stitch Braid with Beads
This is yet another easy braids with beads look which is cute and make your little kid look super adorable.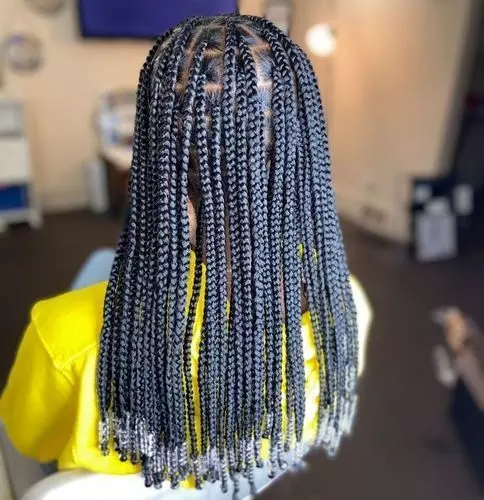 19)  Shower braids with beads
These little girl braids look might be a terrific choice if you're unsure about the best tiny girl braided hairstyle with beads for your daughter. You can choose between thick and thin braids, with your child's favorite beads as decorations.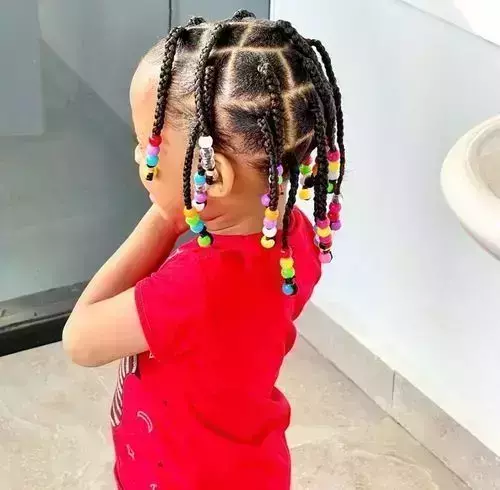 20) Short Box Braids
Your little ones deserve small braids. Isn't it a wonderful idea? Your little ones will surely look the sweetest wearing these small braids. Just for your kids, there are these short box braids with beads for kids, simple to maintain and fashionable.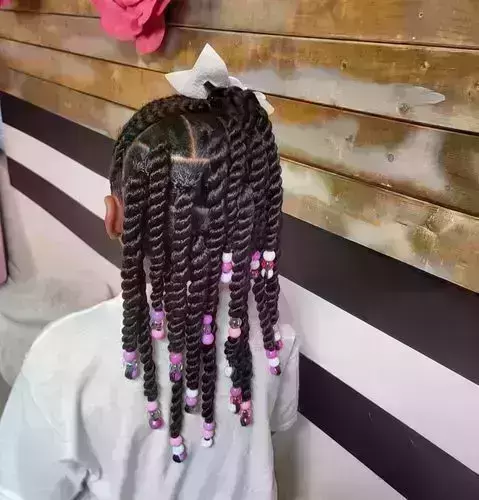 21) Jumbo Braids With Beads
You may add beads to the ends of your kids captivating gigantic box braids to make them even more dramatic, and they will be ready to turn heads wherever they go. These jumbo box braids with beads for kids are an extreme treat to the eyes.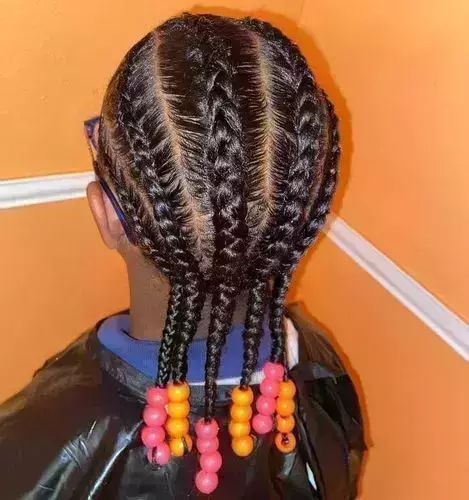 22) Dutch Braids with Beads
Dutch braids with beads are a simple yet lovely hairstyle to try. Dutch braiding the hair on one side and fastening it with an elastic band creates this look. With these easy children braids with beads, they will look super cute and ready to go .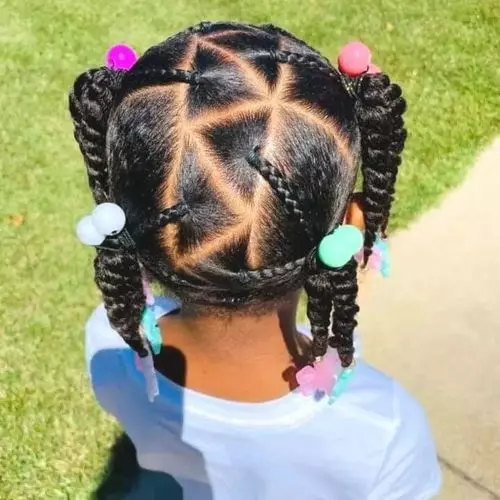 23) Triangle Braids with Beads
Here is yet another little girl braids with beads for short hair style, which have a triangular divisions made on the scalp and look. To answer the question of how to braid your hair with beads in it is that it can be achieved by following some simple and easy steps.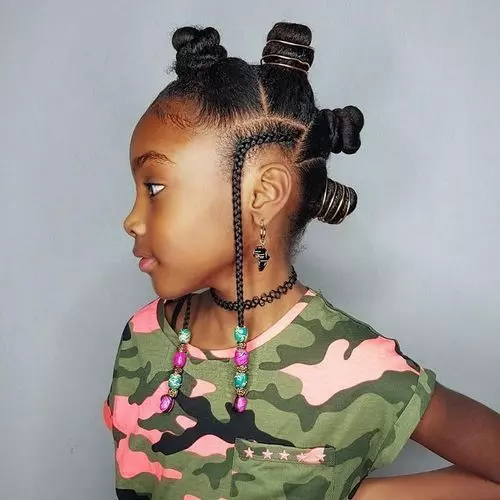 24) Bantu Braids with Beads
A very protective hairdo, bantu braiding ensures that the locks are safe and undisturbed for a very long period. Upgrade the box knots by adding beads to the ends to give them a finer and more stylish appearance.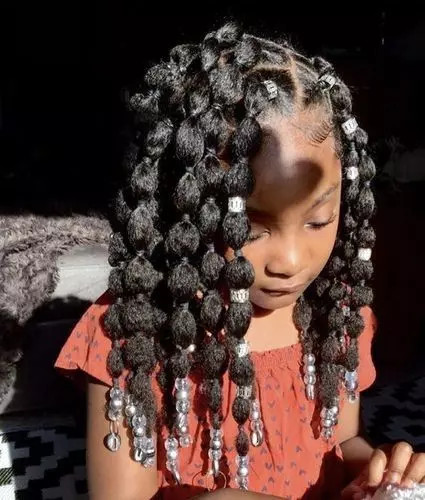 25) Bubble Braids
Looking for adorable kid-friendly braided hairstyles? Learn how to create the charming Bubble Braid for kids, a wild and stylish hairstyle that is suitable for many different settings. This creative twist on traditional braids adds a happy, whimsical touch to your child's appearance. To make a child the focus of attention, learn how to braid your hair with beads in it.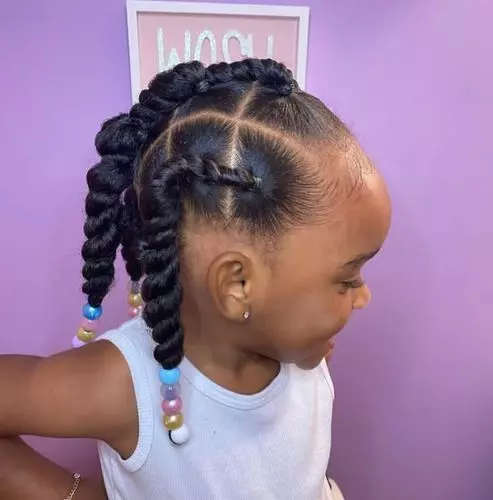 26) Rope Twist Braids
The rope twist box braids with beads for kids is one of the few unique quick braid hairstyles on this list. Use medium-sized, twisted braids for this hairstyle. They should also be black in color. This is yet another little girl braids with beads for short hair.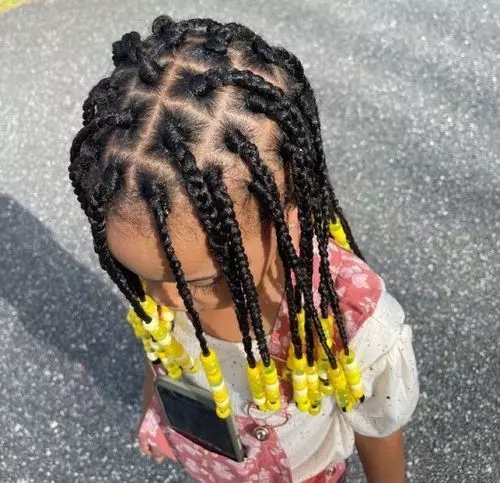 27) Yellow Beads on Braids
Bright yellow beads would work wonders for your child braids with beads if you want to welcome spring or summer without wearing too many vibrant colors.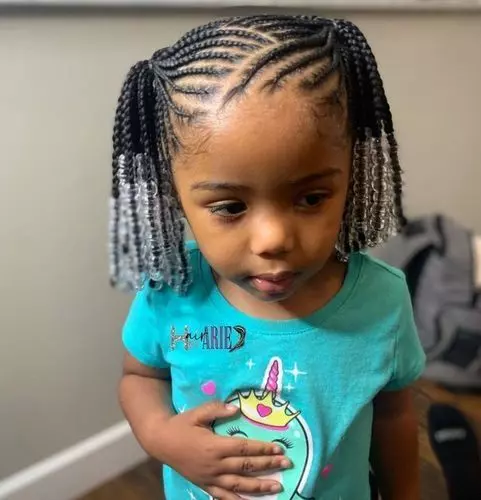 28) Circular Mohawk Braids
Pigtails are only worn by girls, thus braided Mohawks look more sophisticated and grownup. If your little fashionista already has her own sense of style and wants to look trendy, she will surely appreciate this exquisite braided Mohawk with circular braids for girls.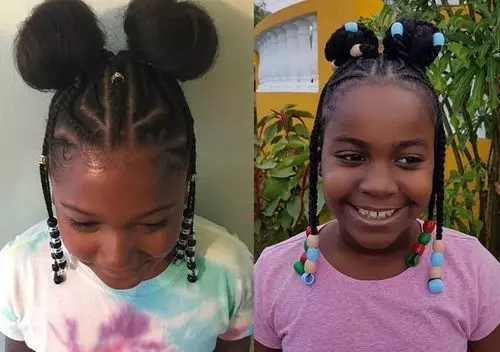 29) Space Bun
Space buns are gorgeous no matter what, but they look particularly good with braids. The braids are kept from looking too light or moving too much by adding beads on their ends. Additionally, this is an excellent approach to highlight the little girl's beaded hairstyle's complexity and beauty.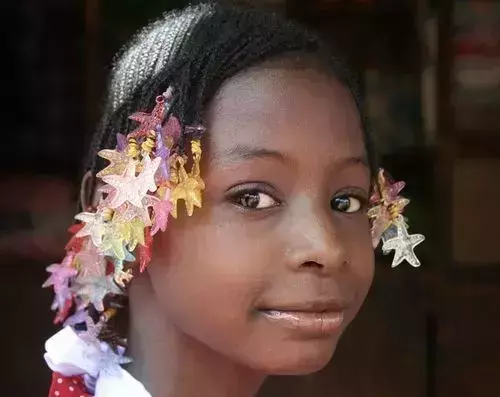 30) Starfish Beads
Although there are a ton other adorable shaped beads you may use instead of round pony beads, they are the standard for braided hairstyles. Numerous extremely thin cornrow braids are topped off with these vibrant starfish beads and are an easy little girl hairstyles with beads.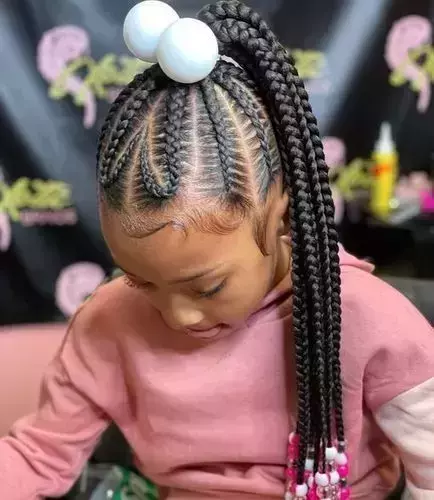 31) Feed-In Braids
A well-liked braiding technique is called "feed in braids." It is very similar to cornrows. The method of braiding, however, is what unites them. The braided feed appears to be thicker than cornrows and is braided in identical rows.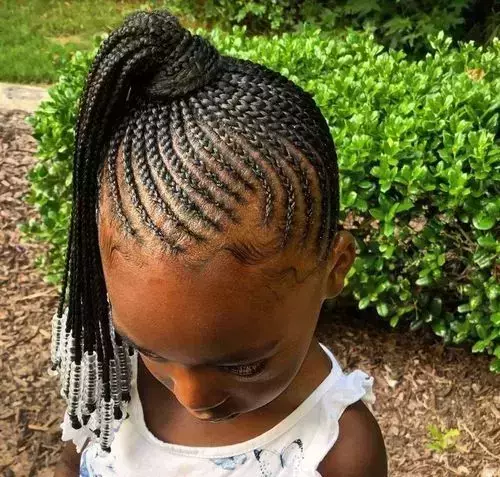 32) Reverse Ponytail
The Reverse Ponytail is an easy braids with beads hairstyle. Make 12 to 15 cornrows with the top half of your hair, bind them together in the middle with larger Transparent Off White bead balls, and place the ponytail to one side to complete the look.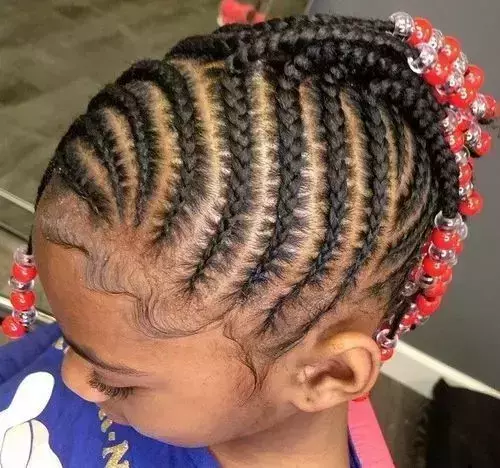 33) Twisted Mohawk
Hair must be pulled back and away from the face in order to be cute and practical for little girls. Your child will be able to enjoy the day without worrying about their unruly curls in this way. This tasteful option offers interesting patterns made from simple cornrows.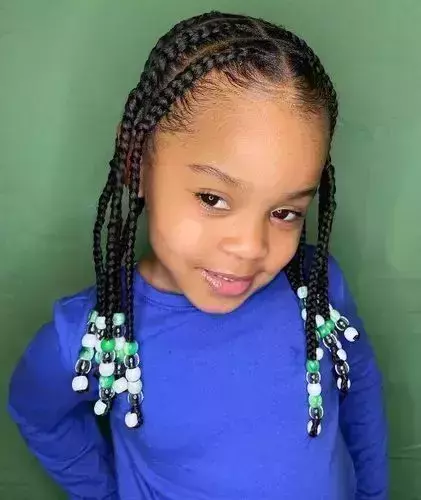 34) Micro Braids with Beads
Microbraids, which are extremely easy braids with beads, frequently resemble thick hair strands. As one might expect, micro braids are a quick style for toddlers with short hair, but they do take hours to apply and usually considerably longer to remove.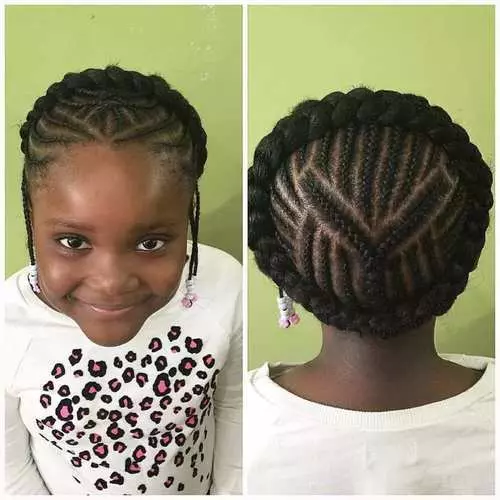 35) Black Crown Braid
The crown braid updo is not only very easy to do, but also highly stylish and tried-and-true. Choose a braid style that flatters your face shape and facial characteristics by lifting it closer to the crown of your head or letting it fall along the hairline. This haircut with braids is so sweet.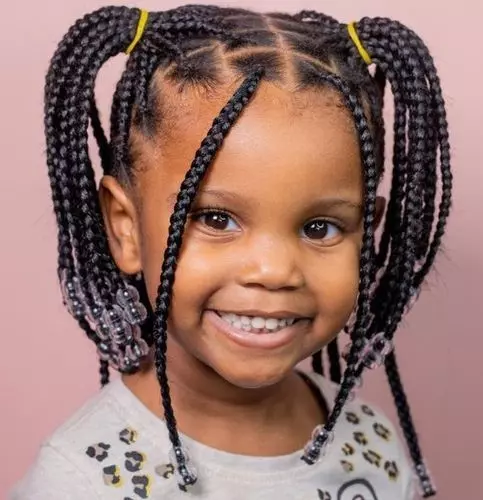 36) Crochet Braids 
Children with short hair can easily install crochet braids since they last a long time and are durable. They can be rapidly installed and are fantastic for special occasions. You can choose from a wide range of colors and styles for your baby's crochet box braids.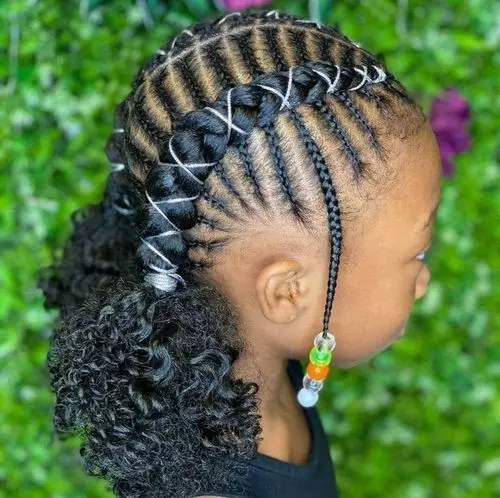 37) French Braids
French braids can seem attractive and distinctive, far from being plain. Smaller braids can be placed on the sides and larger ones in the rear of French braids, which come in a variety of sizes. one of the most adorable kid's hairstyles.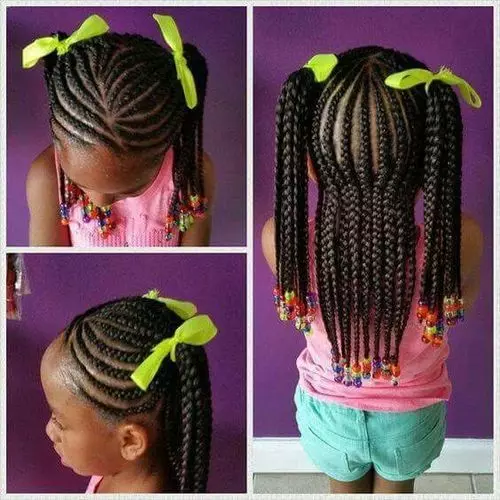 38) Thick Box Braids
These kids box braids are unique and add a distinctive texture. It's a great idea to get thick braids if your girl likes to wear hers dangling.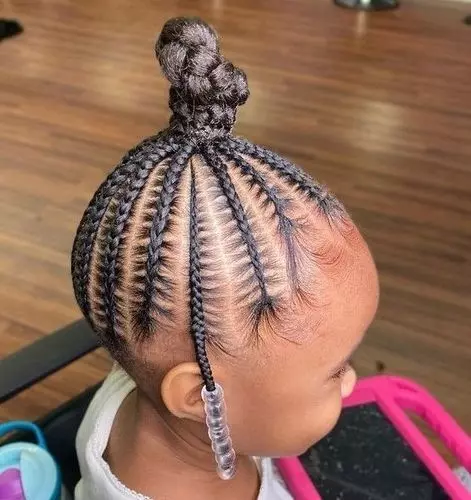 39) Top Knot with Beads
An extremely cute top knot with beads is a striking illustration of this. This child braids with beads hairstyle involves gathering her hair into a high ponytail and twisting it into a bun. For extra flair, add colorful beads at the base of her hairstyle and fasten with bobby pins or an elastic band!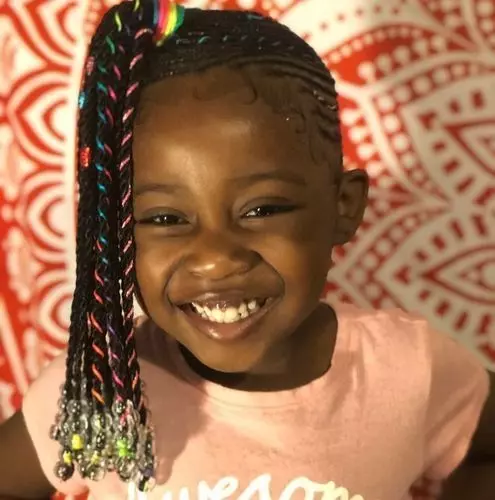 40) Rainbow Braids with Beads
Rainbow box braids are a terrific hairstyle option for kids since they enjoy vibrant, colorful hairstyles. They give your child a fantastic method to express their uniqueness and sense of style while using vibrant colors without harming their natural hair.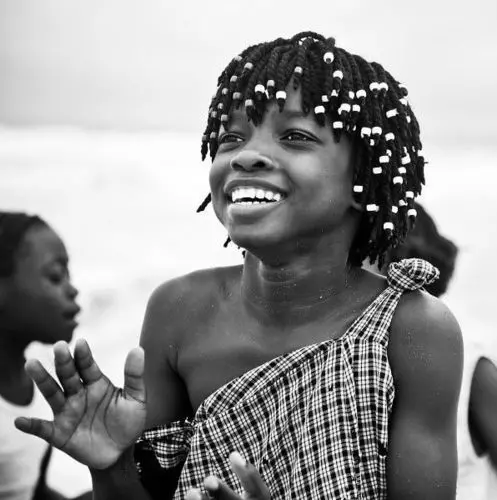 41) Tightly Coiled Beaded Braids
This style is lively and enjoyable. The ends and centers of the numerous, coil-shaped braids are embellished with white beads. It's a gorgeous appearance for short hair.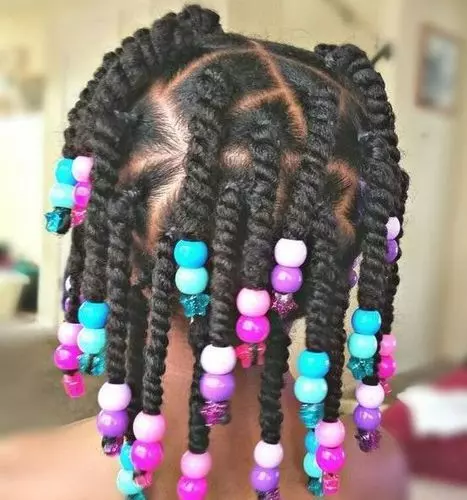 42) Dookie Braids
They are impossible to miss because of their thickness and the way each piece falls freely. They can be distinguished by the fact that they are not braided to the scalp. These cookie braids are an assortment of ponytail braids.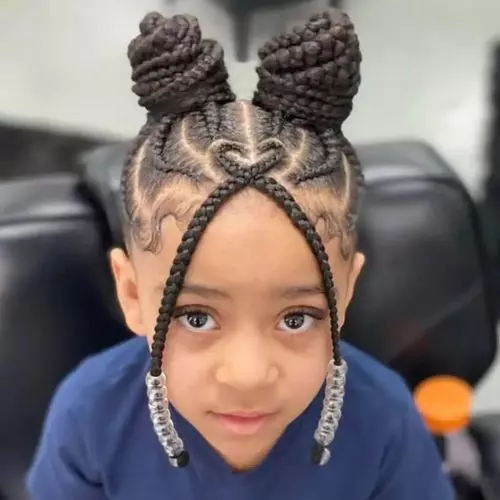 43) Heart Braids with Beads
A special day would be ideal for this lovely design. The intersection of two symmetrically curved braids forms a lovely heart. If you'd like, you can double-braid it or give the ponytail curls. This young girl's braids are ideal for your kids' hairdos.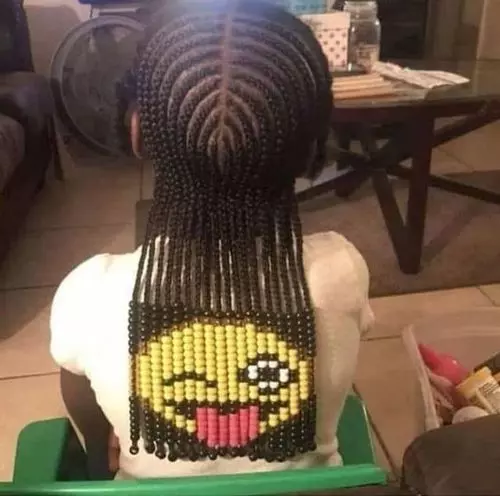 44) Emoji Beads Cornrows 
The arrangement of these beads takes an exceptional level of creativity and patience.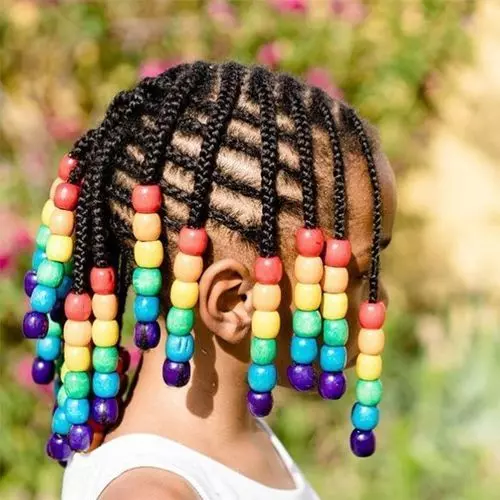 45) Wooden Beads on Kids Cornrows 
For a child who prefers to avoid drawing too much attention, these wooden beads are a perfect option because they don't make as much noise as plastic beads.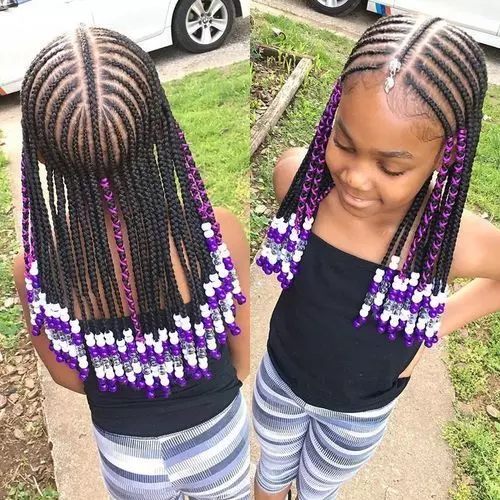 46) Threaded Braids
One of the little girl braids are these threaded braids which are super easy to make and look equally cute.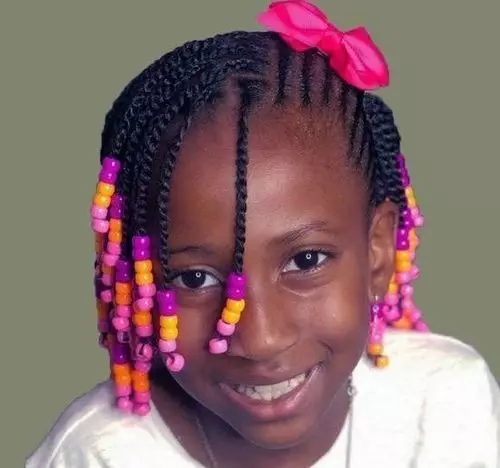 47) Side Swept Braids 
The best hairstyle for a lifeless mass of long hair is one with side braids. The best braids for girls are these. By giving their hair a unique look, these kiddie braid hairstyles can make your child stand out in the crowd. These braided looks for natural hair on your child are charmingly lovely and cute.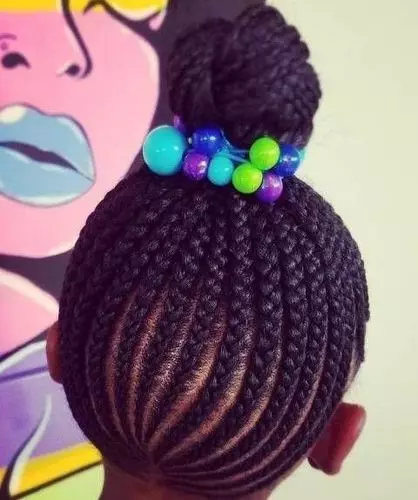 48) Top Knot with Cornrows
We love kids braids that provide a chance to have fun with hair accessories like ballies and beads. This hairstyle is done to perfection. Be sure to keep the hair conditioned and encourage your daughter to sleep with a headscarf so it stays smooth as long as possible.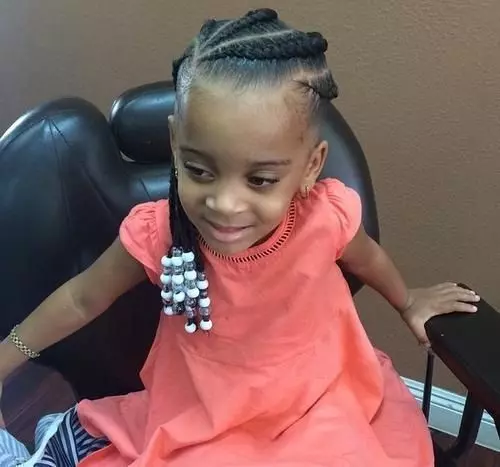 49) Diagonal Braids
Inspiring, don't you think? Very tight, rather thick diagonal braids with precise partings and edges. A beautiful way to complete the braids is with beads for the ends.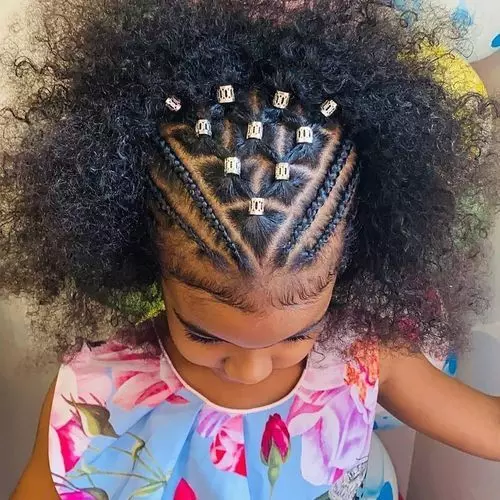 50) Afro Braids
These child braids with beads are super funky and easy to make. Adding beads to them makes them look more charming.
51) Braided Bangs With Beads
If you want your child to stand out of the crowd, then you may braid some bands and adorn them with beautiful beads.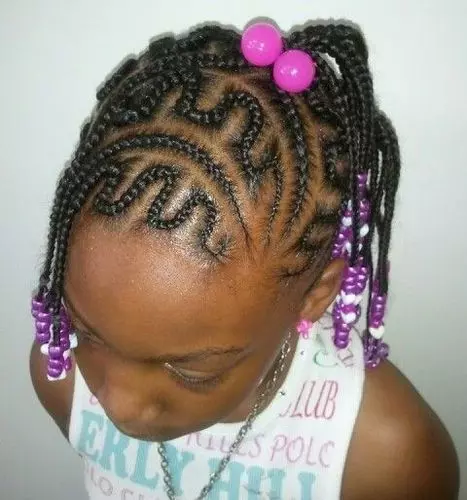 52) Snake Braids
The snake braid is a popular style because of how striking it looks and its form. It is a three-strand plait variation that begins at the temple. Despite appearing difficult, it is really simple to duplicate if you find the correct guide.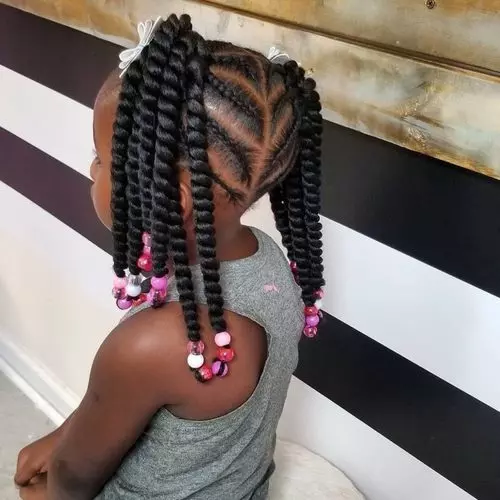 53) Natural Pigtail Braids For Kids
If you're looking for kid-friendly protective braided hairstyles that will treat your daughter's natural hair well, try this fun take on a classic pigtail. A high ponytail on the head is a lovely and fashionable look for little ebony girls.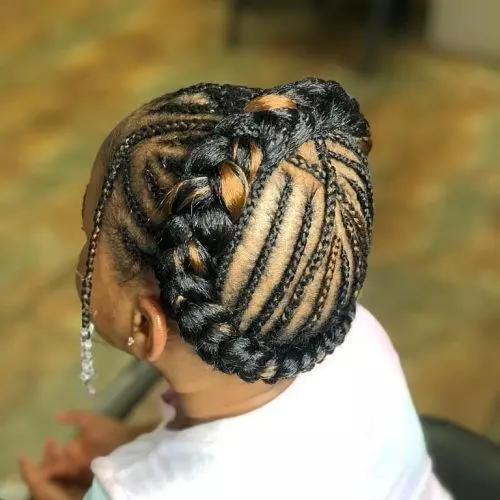 54) Halo Braids
This easy little girl hairstyle with beads looks super adorable and will make your kid standout.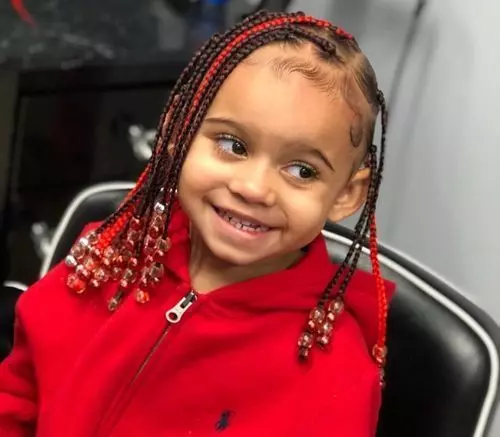 55) Red Braids
You didn't hear, what's up? Choose a multicolored style and request that your braider utilize multiple braiding hair colors rather than just one.