5 Most Popular Peaky Blinders Haircuts
Shivangi Chatterjee
Updated At 28 Oct 23
There are perhaps very few series out there that have managed to redefine the gangster genre like the Peaky Blinders. It is British crime series set in the 1900s and created by Steven Knight. It is famous for its crime sequels, witty dialogues as well as beautiful locations, but the main attraction of the series is the characters' dandy attires and their sporting hairstyles!
Peaky Blinders haircuts made men go gaga over their sporting, cool hairstyles when the series first aired. Things have still not changed. So if you are looking for some cool inspiration for your new haircut, here is a list of the best-groomed Peaky Blinders haircuts through all five seasons, to help you make a good choice!
5 Best Peaky Blinders Haircuts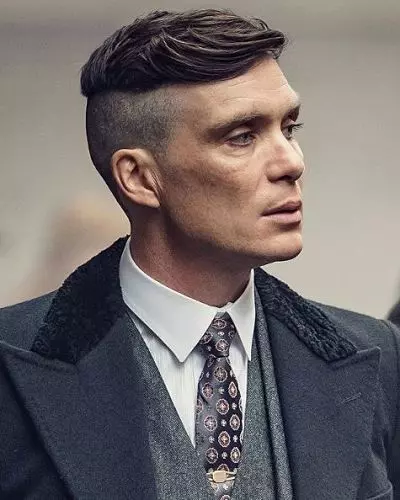 1. Thomas Shelby's Peaky Blinders Haircut
The famous Thomas Shelby haircut is a texturized crop of short brown hair, carefully groomed on the sides while keeping the hair a little longer on top. Played by Cillian Murphy, Thomas Shelby is an expert crime boss with swag. His textured crop is on display whenever he isn't rocking his newsboy cap. Thomas Shelby haircut comes with texture and natural wave, sweeping forward the hair and then to the side. This creates a short fringe that swoops across his forehead.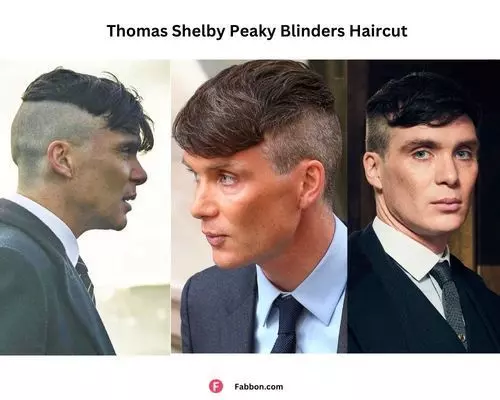 How do you style this look?
The Thomas Shelby haircut is quite easy to achieve, even if you choose to do it yourself. Make sure that the shaver or clipper is at number one or two around the back and sides so as to contrast it with the longer hair on top. Keep the hair on top fairly long and add volume to make it look good. If you are opting to go to a salon, ask the barber for a cropped haircut but mention the sides and back to be short while keeping the hair on top fairly long.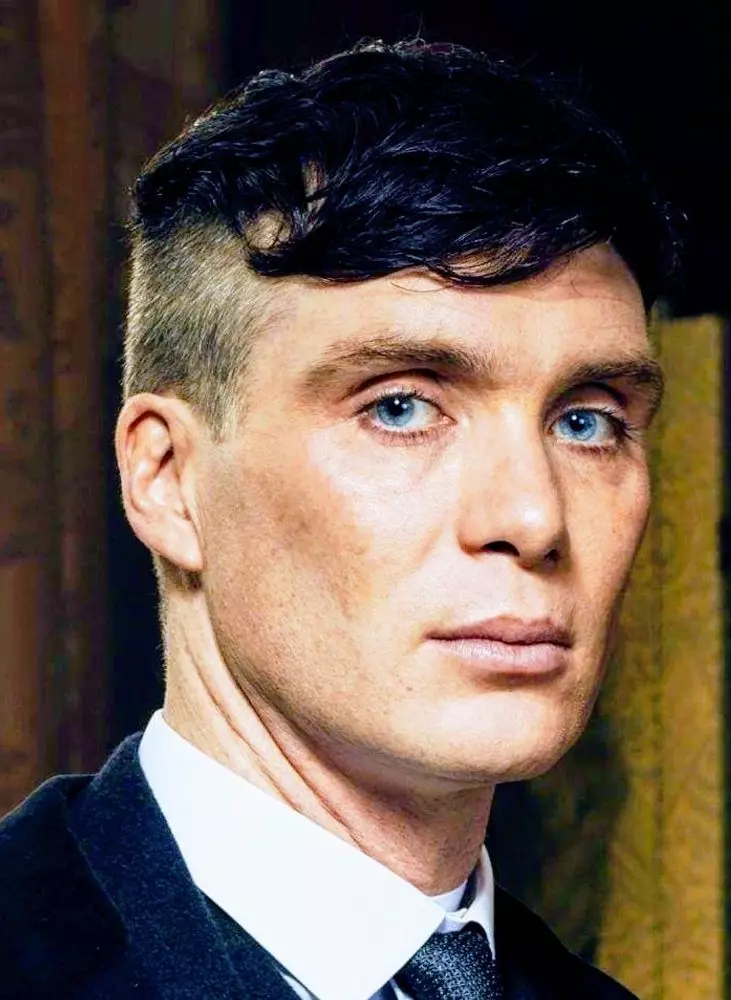 Products to use:
Ponsonby Pomade by Triumph and Disaster are ideal to create side-swept fringes. Apply it in circular motions to create a messy look. This one of all Peaky Blinders haircuts is ideal for those worried about receding hairline or hair thinning.
Do check out our guide to get inspiration for fohawk fade haircuts as these look stunning as well. We cover 50+ most popular haircuts which have been trending this year.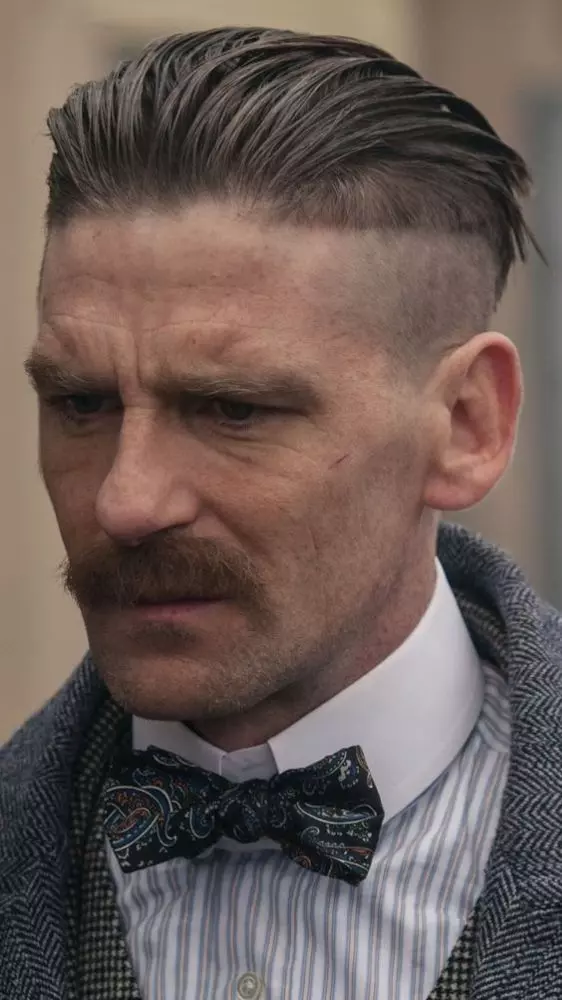 2. Arthur Shelby's Undercut
The Arthur Shelby haircut is an undercut where the sides and back are completely shaved. This is in contrast with the Thomas Shelby haircut where the sides and back are shorter but not shaved completely. This gives a clean look, for you have a mass of hair on top of the head which can be slicked back. The shaved sides of these Peaky Blinders haircuts give the look of an army man, adding a strong personality trait to your face.
How to get this look?
It is better to go to a salon for this haircut for it might be tricky to shave your sides exactly the same. Ask your barber to get a disconnected undercut. Make sure to mention that the outcome should be your top hair slicked back with sides and back shaved off.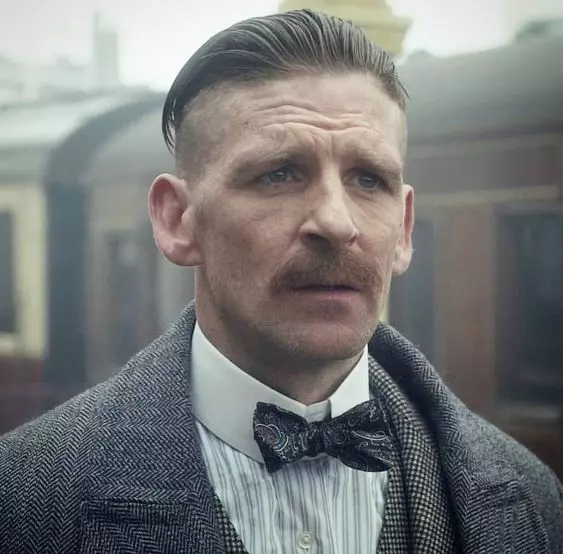 Products to use:
For Peaky Blinders haircuts, Strong Hold Pomade by Tenax would be an ideal product to apply to your hair to make it a bit wet while combing your hair back. This would keep the hair in place and give you the desired look. To make it voluminous, add more pomade and push-through hair, which will add shine too.
One can also go for a low fade haircut as this looks stunning and suits all face shapes.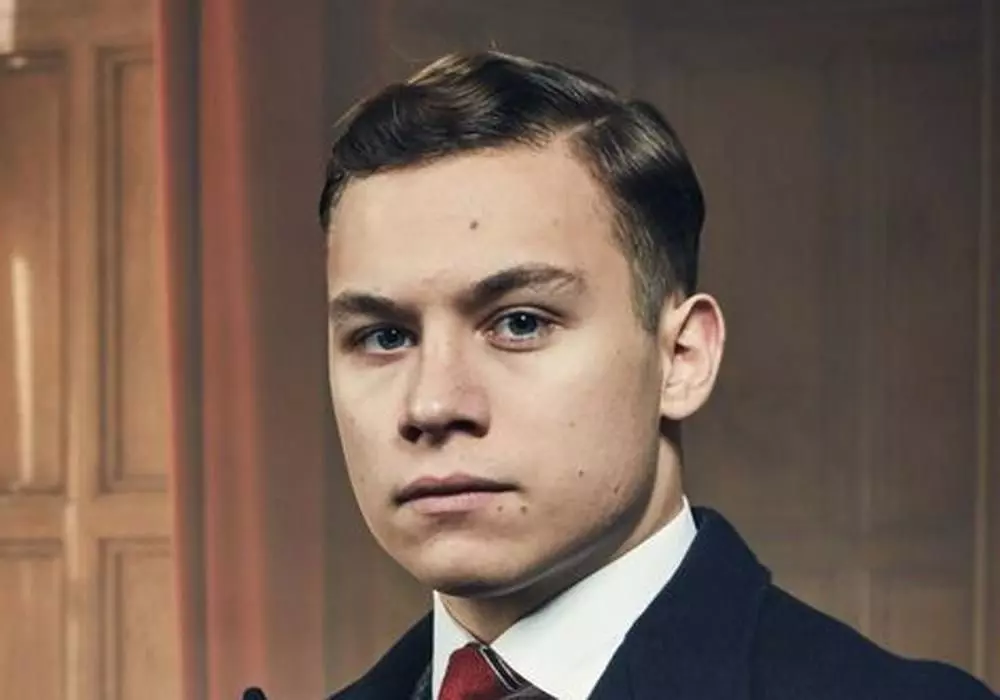 3. Side-parted Michael Gray Haircut
Michael Gray plays the role of John Shelby's cousin. For men, the ideal side-parted hair is perfect for any occasion, be it a party or a formal get-together. This of all Peaky Blinders haircuts is a distinguished look that works well when paired with other haircuts as well. The side-parted hair gives a neat, dapper outlook and adds to a gentleman's aura.
How do get this look?
This Michael Gray look is too easy for it requires no effort at all. Ask for the classic side-parting haircut from your barber. Do mention that you do not want the sides or back to be shaved but rather cut from scissors to give it a feathered fade. You may even ask him to use a cut-throat razor in your parting for convenience when styling your hair. That's all you need to do to get the simplest of all Peaky Blinders haircuts.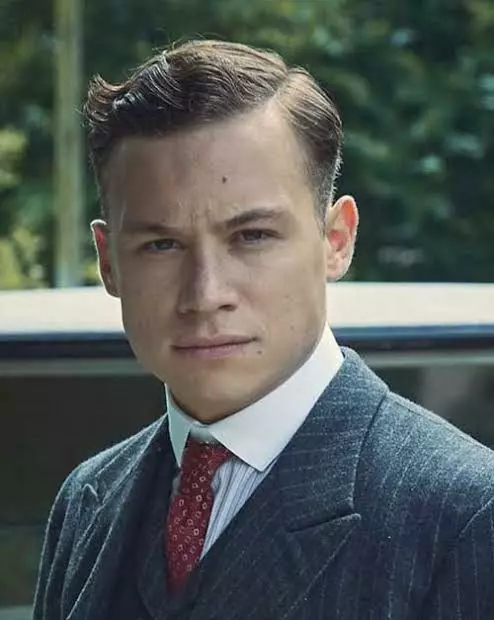 Products to use:
To get this of all Peaky Blinders haircuts, opt to keep the length of the top. Thin down during the final touches to the back and sides. Make sure to taper around the ears for a tidy outcome.
You might want to try the Grooming Crème by Bumble and bumble to separate the parting and give it a definition. Blow-dry your hair in the direction you wish your hair to sweep. The cream would keep the hair firm and in position all day!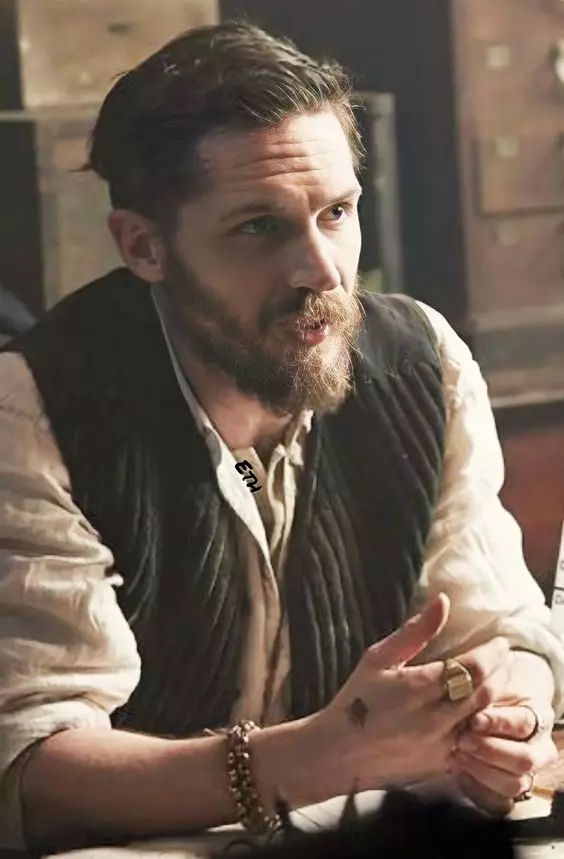 4. Alfie Solomons's Look
When it comes to Alfie Solomon, he is one of the best-groomed characters of Peaky Blinders, not because of the hair on his head, but his long voluminous beard! Solomon is known to play the rugged-looking Tom Hardy in the show who has an unruly grown beard, almost inspiring the men to grow theirs. But growing facial hair can be tricky, for the most in-trend right now is beards that are well trimmed. Make sure that, unlike Solomon's hair, your hair too is neatly trimmed to not give any gypsy vibes!
How to get this look?
If you are planning for Solomon's beard, ask the barber for a long, lumberjack-styled beard. Take advice from your barber on where should your shave line be around your jaw and neck. If you are planning to do it yourself, it would require time but the results would be worth it. You may have to trim your beard while growing it out. Simply cut any stray hairs and avoid cutting the top of your beard line aggressively!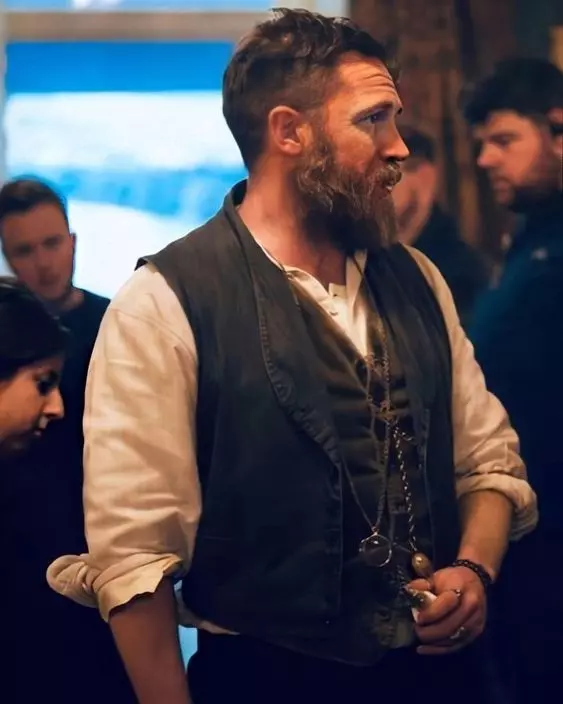 Products required:
For this, use some drops of beard oil or balm each day to nourish your beard. DR Harris' beard oil is an ideal choice. It even soothes itchiness and irritation. To get a neater version of Tom Hardy's beard, you may want to use a beard comb as well. Use a comb when the beard is longer for easy detangling.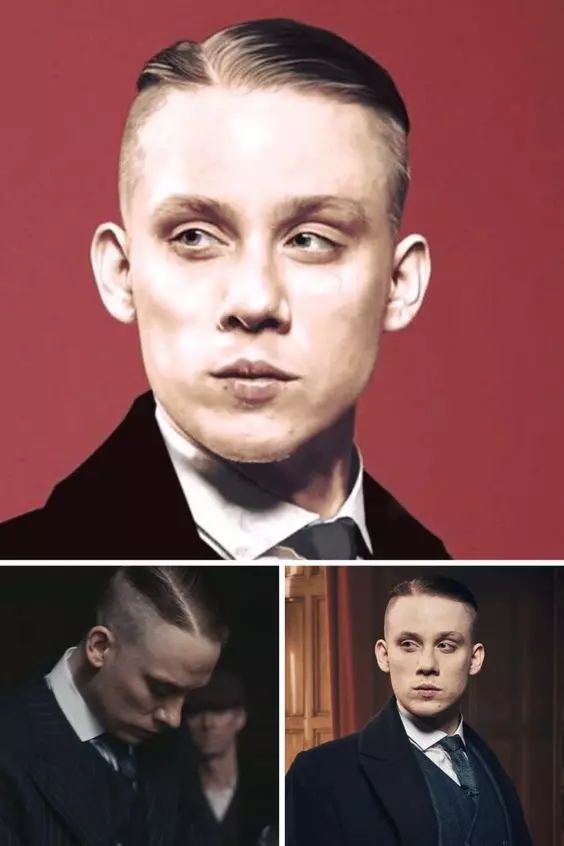 5. John Shelby's Undercut Crop Haircut
John Shelby's hair is a combination of Thomas Shelby's and Arthur's hair. It, however, requires less effort to style than all Peaky Blinders haircuts. It too is a disconnected undercut but has feathered sides shaved to the skin as it progresses downwards. The hair at the top is straight like Arthur's hair but is shorter in length. It appears neat! However, of all Peaky Blinders haircuts, this one would require frequent visits to the barber for any grown-out hair that might disrupt the neatness.
How to get this look?
Ask the barber for an undercut crop hair with feathered sides, shaved down to a zero. The top length should be short but enough to style it. You may even achieve the look yourself by making sure that the clipper is set to number zero for the sides.
Products to use:
Light products such as Label M's spray wax, in small quantity, is recommended to smooth down your hair and get the most stylish of all Peaky Blinders haircuts.
If you check Brad Pitt haircuts, he has gone for undercuts, buzz cuts on multiple occasions. It does look amazing and can be a gamechanger.
Peaky Blinders Haircuts Frequently Asked Questions (FAQs)
Q. Is the Peaky Blinders haircut faded?
For any Peaky Blinders haircuts, you may opt for little to no fade, especially for Tommy's dapper look. The sides are mostly trimmed or shaved, keeping the top length longer for styling.
Q. How to get peaky blinders haircut
To get a Peaky Blinders haircut, first choose the character whose haircut inspires you the most. Accordingly, instruct your barber to shave the sides and back and style it to your desire.
Q. Why do peaky blinders have that hairstyle?
Peaky Blinders is a British Crime series based on a real-life gangster gang of the 1800s. Their looks have been refined and shown in the series and therefore the haircuts have also remained like the original gang members, to emphasize the resemblance.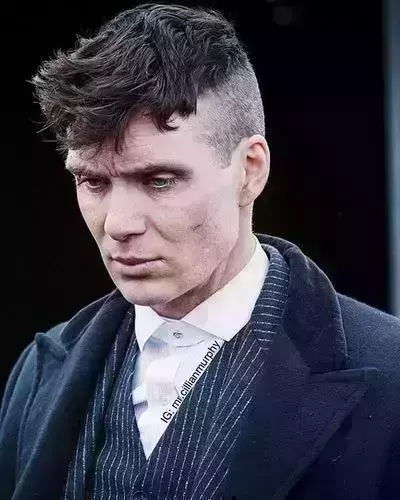 Q. Which is the most popular Peaky Blinders haircut?
Thomas Shelby, also referred to as Tommy, is the Gangster boss. His style, attitude, and even haircut have gained fandom. It is therefore safe to say that he is the most popular haircut of all Peaky Blinders haircuts.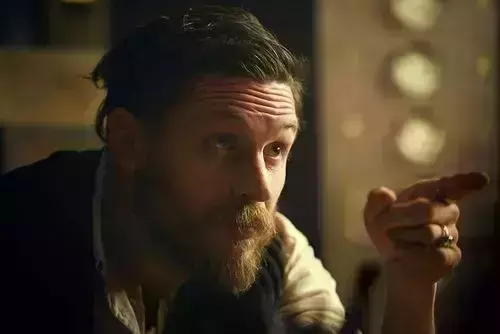 Q. Does the peaky blinders haircut look good with a beard?
Since the haircuts are quite dapper, neat, and gentleman-like, a well-trimmed beard can do wonders for the entire outlook of a person. Even an unruly beard like that of Solomon's can look attractive if carried well.