27 Best Shoulder Length Haircuts With Bangs - 2023
Olivia
Updated At 17 Mar 23
Looking for the best shoulder length haircuts with bangs?
Hairstyles with bangs that are shoulder length are a wonderful way to switch up your appearance without sacrificing too much length. Bangs can help frame your face and give your look a little more individuality. Exploring 27 such shoulder-length hairstyles with bangs.
27 Best Shoulder Length Haircuts With Bangs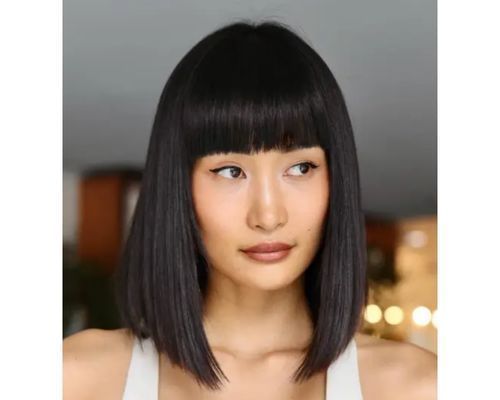 1. Blunt Bob With Bangs
This traditional hairdo, a short blunt long bob with bangs, looks great on both straight and curly hair. The bob cut is given a bold, edgy flourish by the blunt bangs. These sideburns have a sleek appearance and are well-textured at the end.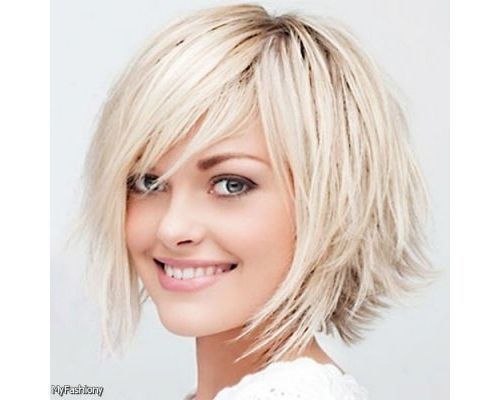 2. Side-Swept Bangs With Layers
This side-swept bangs style is a more understated choice that complements any hair type. The side-swept bangs flawlessly frame the face while the layers add movement and texture. A must-try hairstyle for hair that is shoulder-length or shorter. One of the best shoulder length hairstyles, side swet bangs continues to remain popular.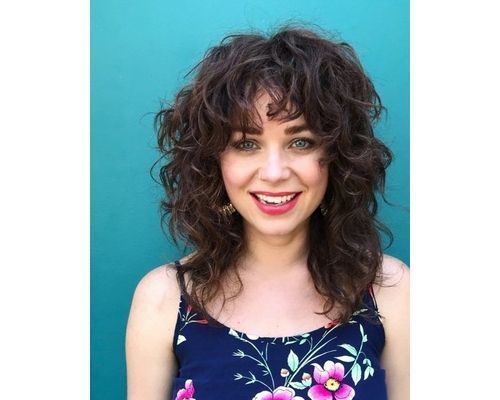 3. Curly Bangs With Shaggy Layers
This haircut complements natural curls excitingly and playfully. The curly bangs add a dash of whimsy, and the shaggy layers add volume and character. This hairdo is designed for short and medium-length hair and has a cool appearance.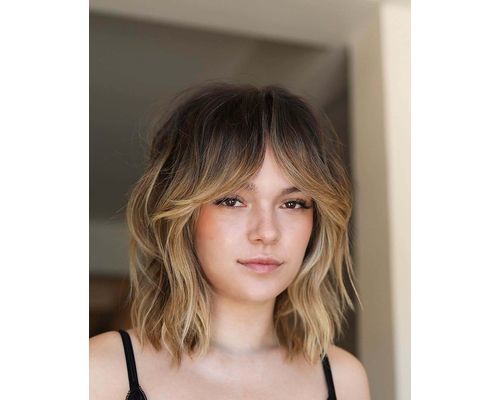 4. Curtain Bangs With Layers
This fashionable set of curtain bangs complements both straight and wavy hair. The lengthy layers give the hairstyle movement and volume, while the curtain bangs frame the face. The hairstyle to attempt this season.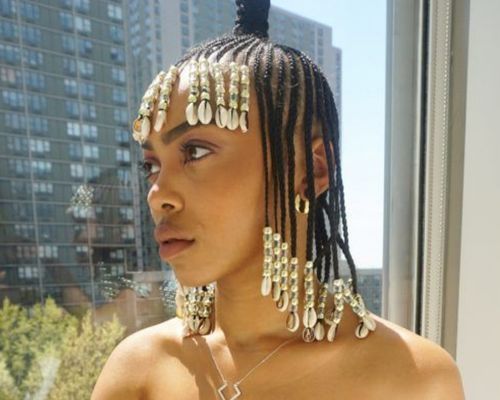 5. Fulani Braided Bangs
This Fulani braided hairstyle is a traditional African hairstyle developed in West Africa. This hairdo is renowned for its elaborate weaving designs and beaded embellishments. The ends of these braided hairstyles are beautifully embellished with beads. The straight braided bangs are looking beautiful with beaded bangs. If you are ever confused about going for a new hairstyle, you can definitely opt for fulani braids.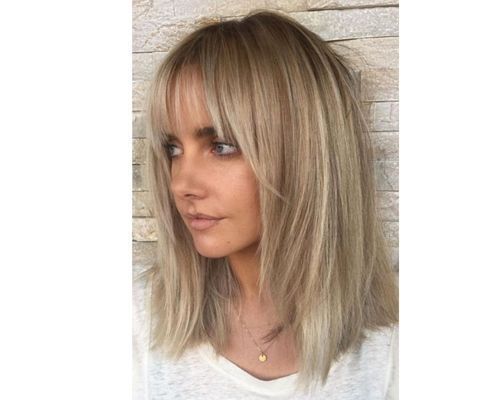 6. Wispy Bangs With A Lob
One of the traditional haircuts for shoulder-length hair is the lob. This hairstyle is slightly longer than the traditional bob style, which is creating a variety of choices for hairstyling. The delicate bangs are well-shaped and complement the complete hairstyle.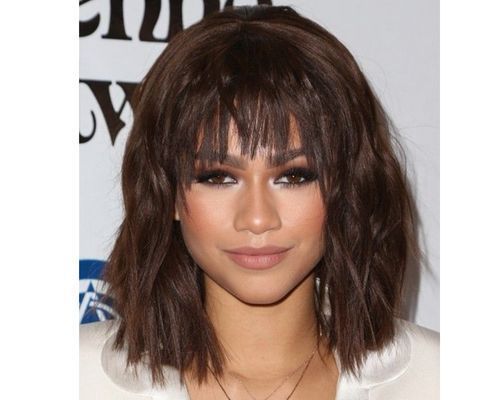 7. Choppy Bangs With Bob
This bob style with choppy ends has a fantastic textured and edgy appearance. Choppy bangs can be styled with different lengths and angles to give the hair dimension and movement. The American actress Zendaya's appearance with this hairstyle is one of her finest ones.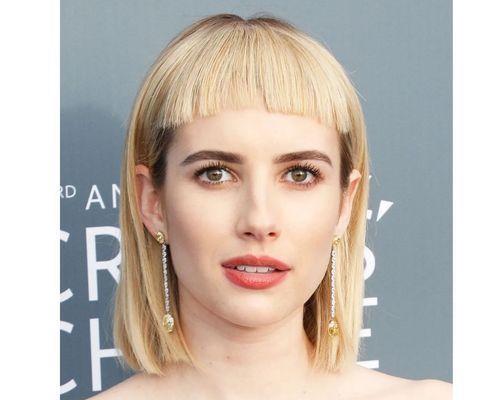 8. Baby Bangs Hairstyle
The cutest hairstyle with baby bangs is this one. Emma Roberts appears amazing thanks to her daring and trendy fashion sense. Short, blunt baby bangs that rest just above the eyebrows give off a striking, statement-making appearance. The area between the bangs and the eyebrows on these shorter bangs creates a stunning appearance.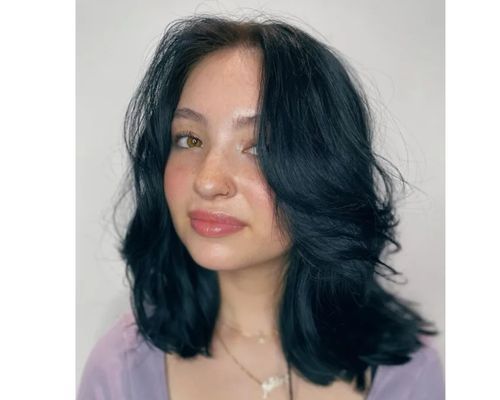 9. Long Layered Bangs
On shoulder-length hair, a great Bob is simple to achieve. You can certainly wear this hairdo with curtain bangs to achieve the desired effect. The lengthy layers produce a stunning, strong appearance. This hairdo has a bouncy, glossy, and volumized appearance.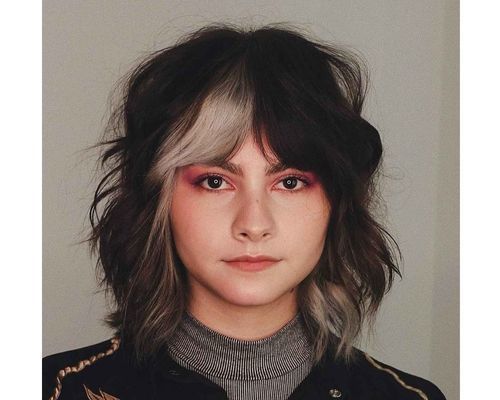 10. Bardot Bangs On Razor Cut
A contemporary and trendy hairdo that incorporates two well-liked hair-cutting methods is bardot bangs on razor-cut hair. Razor cutting is a hairstyle creation method that uses a razor blade to cut through the hair to add texture and movement. Bardot bangs, also known as curtain bangs, are a type of bangs that are parted in the centre and frame the face on either side.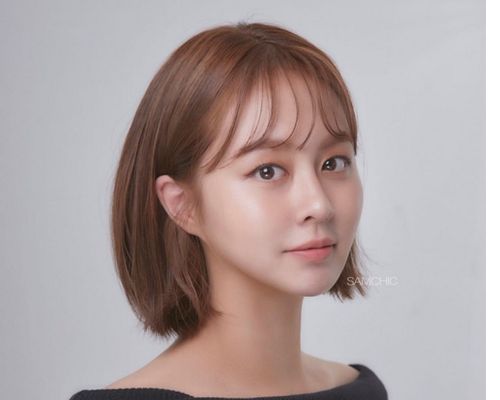 11. K-Style Cut With Bangs
This is a traditional K-style shape that will give you a chic and fashionable appearance. A wispy fringe is a great compromise that frames your face without being overly heavy if you're uncertain about getting full bangs. If you want to make yourself appear more elegant, this is ideal.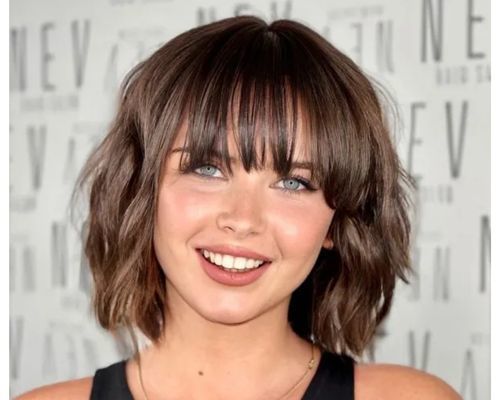 12. Bob With Waves And Bangs
Layered bangs are a versatile cut that can be worn with short hair or shoulder length and are trimmed at different lengths and angles for a textured and dynamic appearance. Warm chocolate brown colour, gentle short waves, and a straight fringe above the eyes all contribute to the appearance's allure.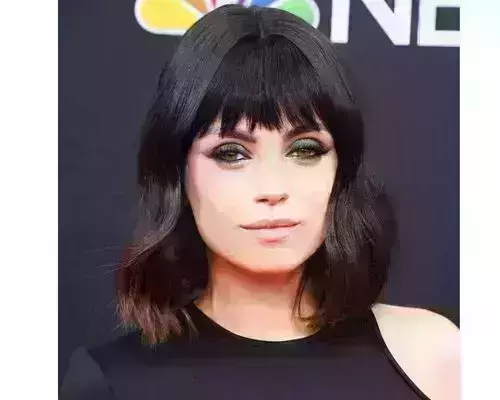 13. Bangs With Beachy Waves
As nice as Mila Kunis appears to be! This hairdo is the ideal fusion of beach waves created with a styling iron and layered bangs that emphasize the eyes. The waves give this hairdo texture and volume, and the bangs also give the impression of being dense.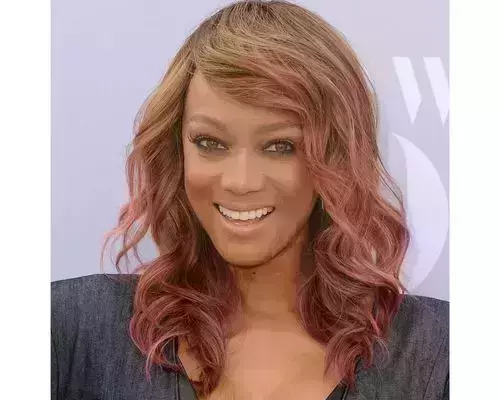 14. Layered Side Bangs
The ombre hair fad has created some cool, next-level hairstyles, which is fantastic. Tyra Banks looks ravishing with this hairdo. The pink gradient tresses are face framing and the long bangs swept one side and merged well with the soft curls.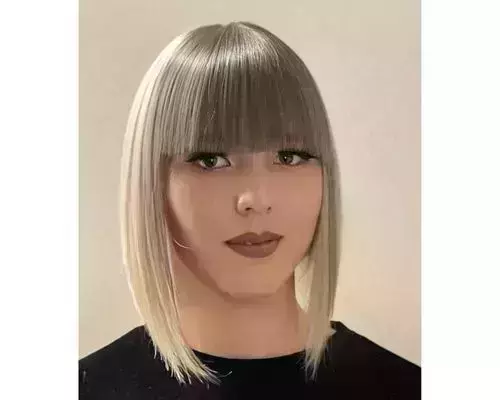 15. A-Line Bob With Bangs
This A-Line Bob hairstyle is outstanding and has cool bangs. The bangs are quite long and quite deep, reaching the eyes and outlining the face. The value of these bangs to the visage is considerable. The bob and bangs that go with this hairstyle are extremely stylish and you should attempt them.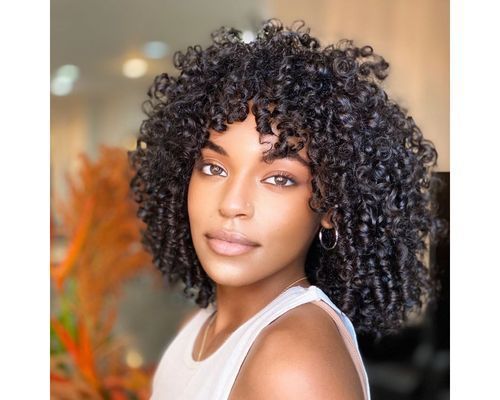 16. Curly Bangs With Curly Long Bob
It's stylish to wear curly bangs with a curly long haircut to show off this thick, textured hair. You can choose this low-maintenance style for your frizzy hair. This haircut looks best when it is shoulder length because it adds excellent volume and texture.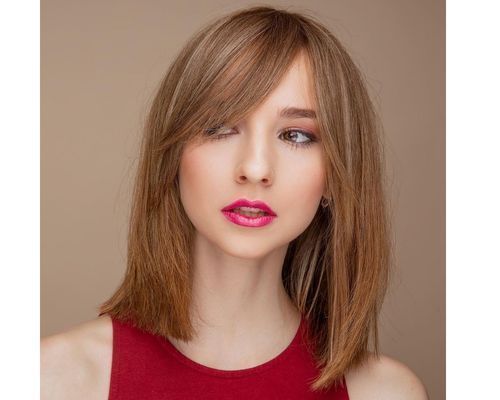 17. Angled Bangs On Blunt Bob
This hairdo has angled bangs, also referred to as asymmetrical bangs, which are bangs that are cut diagonally to give them an angled appearance. This hairdo works wonders and adds a unique and edge aspect to the blunt bob cut. Any facial shape and hair texture can be accommodated by altering the angle of the bangs.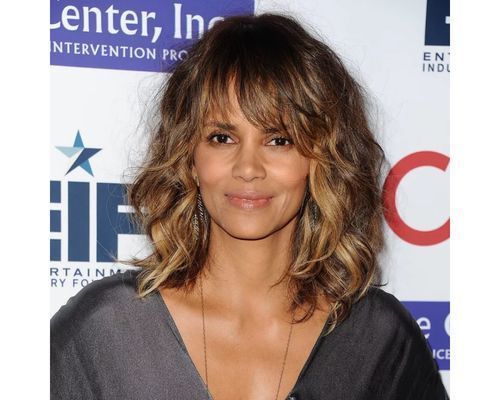 18. Layered Cut With Fringes
With extremely stylish fringe bangs, this hairstyle is a go-to trend this season. Halle Berry's layered hairstyle and bangs serve as an example. The flawless caramel highlights make the soft curls around the face stick out. Nicely trimmed, the fringe bangs fall just below the eyebrow.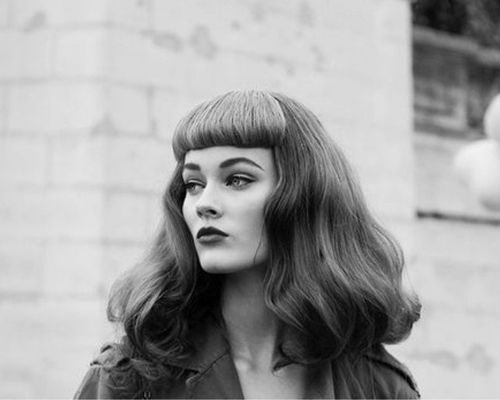 19. Retro Bangs
These bangs, known as retro or vintage bangs, were influenced by popular haircuts from the 1970s. They can be tailored to fit various facial shapes and hair textures and can lend a touch of old Hollywood glamour to any hairstyle. Straight across the forehead and above the eyebrows, the Retro bangs are trimmed. with nice styling giving the sideburns a softer appearance. This hairstyle with wavy hair appearance is mixed with the bangs making it look voluminous.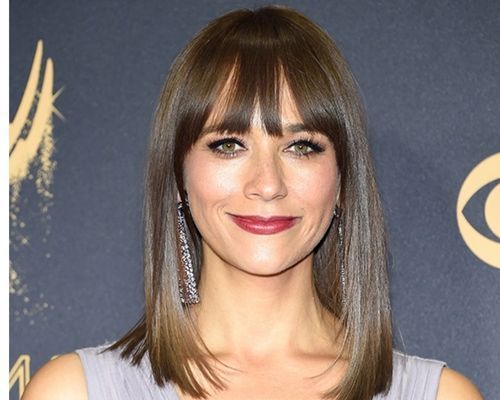 20. Full Bangs Lob
Rashida Jones appears stunning with her medium-length, sleek-and-shiny haircut. Amazing full bangs with styled angles brushing the eyebrows. The bangs on this lob hairstyle are stunning and sophisticated. For any occasion, you can attempt this straightforward yet gorgeous bang cut.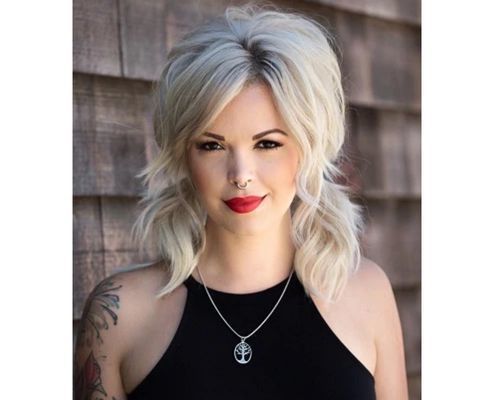 21. Choppy layers With Side Bangs
This haircut is primarily for thin hair and is made for a middle hair length. The way thin hair is layered creates a bouncy, wavy texture on the head, and the way the long, side-swept bangs are styled and beautifully layered makes the entire look jaw-dropping.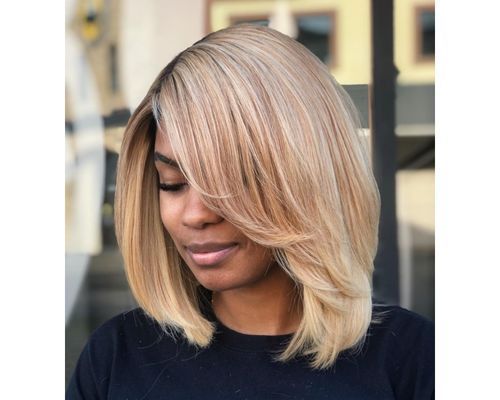 22. Bob With Flipped Out Bangs
This extraordinary flipped-out bob haircut is very fashionable. These bangs have a perfect layer because they are curled or turned outward away from the face. The edgy curls at the end frame the face beautifully.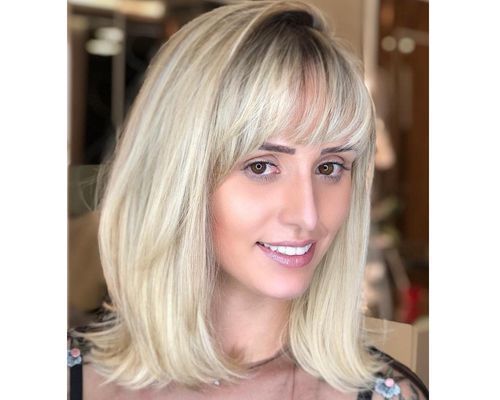 23. Blonde Hair With Y Bangs
With blonde hair and Y bangs, this is a sophisticated haircut that appears stunning. A style of fringe or bangs known as "Y bangs" has a central section, two sides that angle downward towards the edges of the eyebrows, and is cut in a Y shape. The bang with middle hair length cut is an excellent option.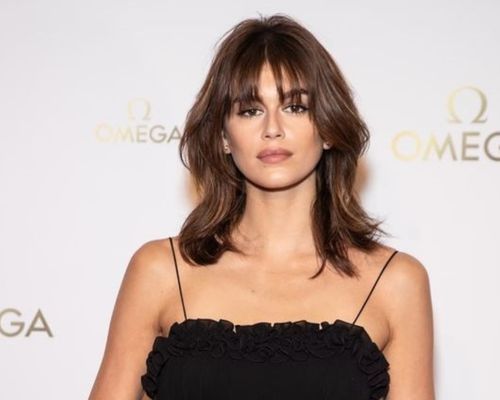 24. Bottle Neck Bangs With Layers
With the season's popular bottleneck bangs, Kaia Gerber appears stunning. Take inspiration from this hairstyle, and the chic bangs will give it a stunning appearance. The bottle-shaped look is the inspiration for the bottleneck bangs, which fall in the middle of the cheek region and fan out towards the eyes and brows.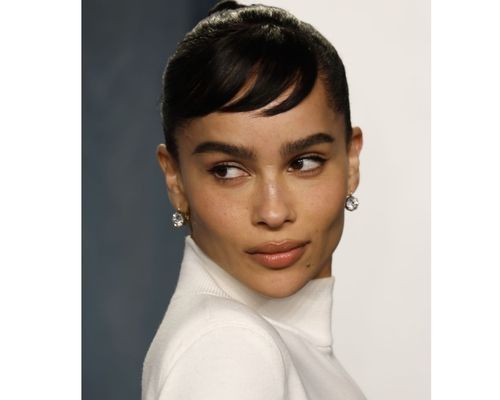 25. Micro Bangs On Sleek Hair
These micro bangs are sporty and similar to baby bangs, but a little shorter. Try this trendy, unique hairstyle to give your bangs the ideal hairdo for any occasion. When worn with sleek, open hair or a tied updo, these bangs can look beautiful. These tiny bangs have a lovely one-side styling.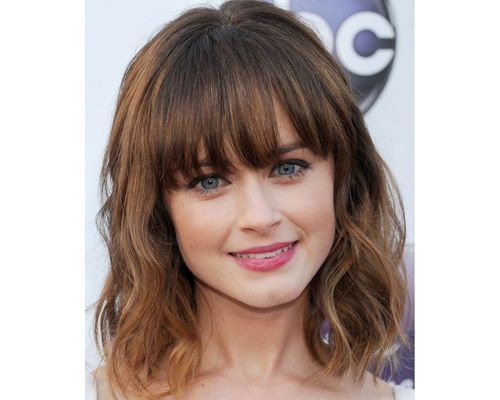 26. Classic Bangs On Medium Lenght Hair
The fact that these traditional long, straight bangs are so adaptable ensures that they will never go out of style. These bangs extend to the eyebrows and encompass the entire forehead. There are numerous methods to style these traditional bangs. An essential haircut for everyday bang experimentation.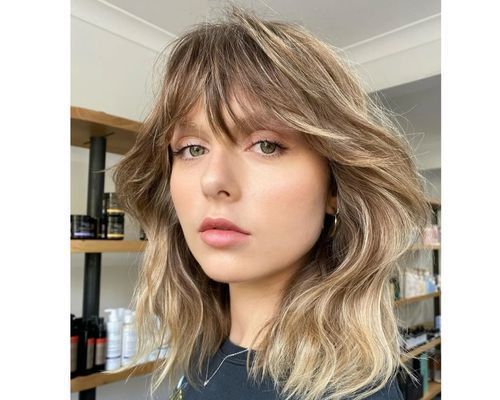 27. Feathered Bangs
This haircut, known as feathered bangs, features textured, feather-like bangs that meld in with the rest of the hair. Hairstyles with feathers are stylish and common. Choose a dramatic side part and gently brush the bangs to the side for a modern update.