25 Stunning Mother Of The Groom Hairstyles For 2023
Shalu Bhati
Updated At 25 Dec 22
Is your son getting married? Are you on a lookout for some stunning and breathtaking mother of the groom hairstyles? Then, this is just the place for you. Do check out the entire list - specifically hairstyles 17, 18 as these have been extremely popular.
25 Most Popular Mother Of The Groom Hairstyles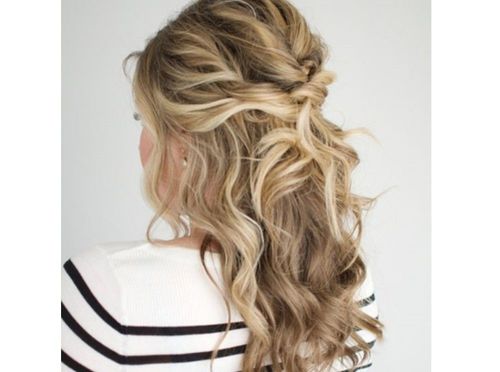 1. Twisted Half-Up Hairstyle
Half-up hairstyles are one of the prettiest wedding hairstyles for the mother of the groom. And half-up wavy hairstyles are the perfect way to elevate your hair game. Hair from the front and side sections are twisted and pinned. A few face caressing strands are left out in the front. The aim here is to make the hair look slightly undone. The beautiful cascading waves complete this look.
Do checkout our article on Mother Of The Bride Hairstyles if you want the perfect hair makeover on the special day!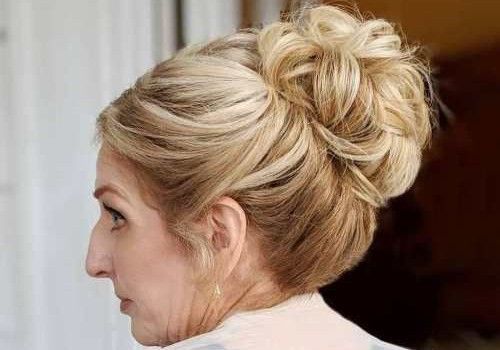 2. High Pinned-Up Bun
Buns are the classic mother of the groom hairstyles for wedding. We fell in love with this high pinned-up bun with wispy and curly ends. With everything tucked in, you can dance the night away without a worry. This hairstyle is perfect for showing off your dual-toned hair. It is best suited for thick hair. You can also check our article on bridesmaid hairstyles to find out the trending haircuts if your friend is getting married!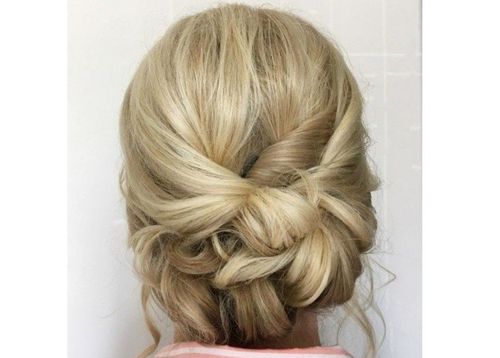 3. Low Twisted Bun
This is one of the best mother of the groom hairstyles for medium hair. A twisted beauty. Comb your hair back and divide it into as many sections as you can without compromising on the volume of each section. Twist and tuck. The twisted rolls of hair with a few strands poking out present a fresh, relaxed and romantic vibe.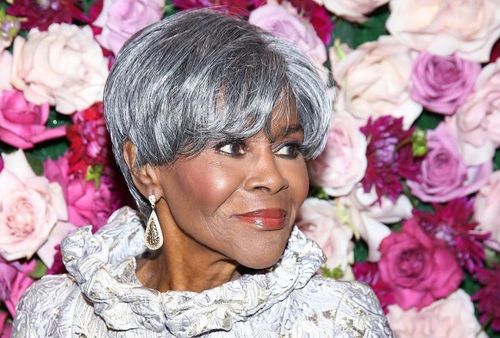 4. Short Grey Hair With Bangs
This is an excellent example of mother of the groom hairstyles for short hair. Pixies are a versatile hairstyle and can be styled in a million ways. Here is one such style. This grey colored pixie looks stylish and chic. The casually placed bangs on the forehead are another stunning addition.
Check out our guide to find out the best wedding hairstyles as we list 50+ stunning options which have been trending this year!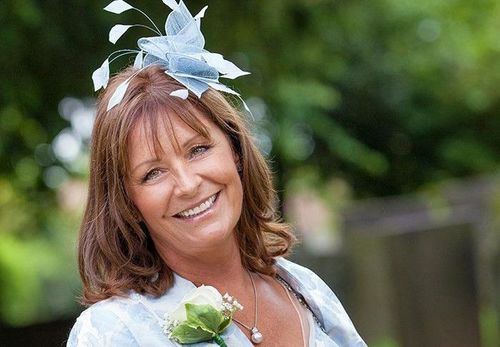 5. Natural Waves With Bangs And Hat
If an updo is not the style of your choice then wear your mother of the groom hairstyles down like this one. Take this one for instance. This hairstyle with natural waves and bangs is relaxed and effortless chic. You can complement your simple yet stunning hairstyle with an equally stunning hairpiece like a hat.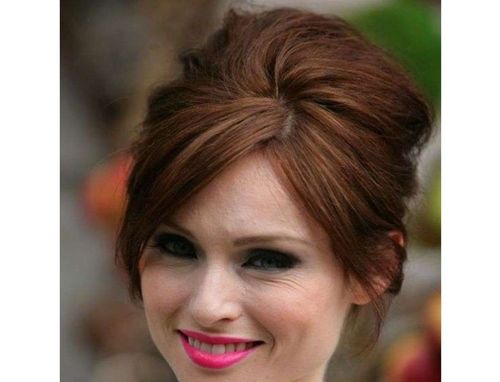 6. Bouffant With Side Bangs
Buns with bouffant are popular choices for wedding hairstyles for mother of the groom. A bouffant creates volume at the crown and gives a dramatic effect to the look. Wispy side bangs are the perfect method for complementing this drama.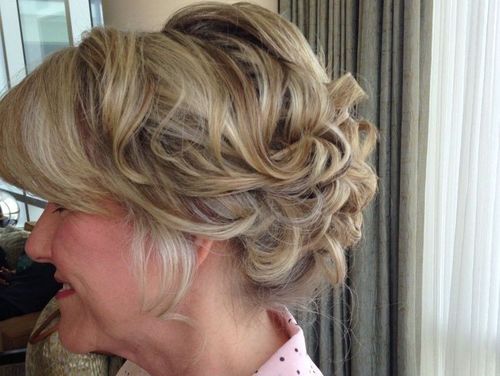 7. Curly Voluminous Updo For Short Hair
Here is yet another of the mother of groom hairstyles for short hair. This look can be worked for thin hair as well. First, curl your hair to create volume. Take the curls from the side and the bottom and pin them together to create an illusory bun. This will give an unkempt look which is totally under control and looks quite stunning.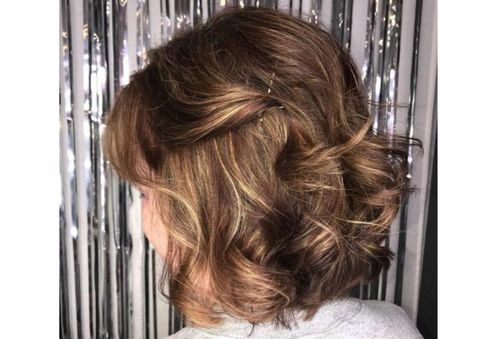 8. Pinned-Up Strand With Curls
Here is a hairstyle for those mothers who want to keep it simple yet stylish. If you are a fan of simplicity then this the hairstyle for you. Create a wave through the middle sections of your shoulder-length hair and curl the ends. Leaving a few strands on the front, grab a thick section from one of the sides, add a little twist and pin it up. And you are done.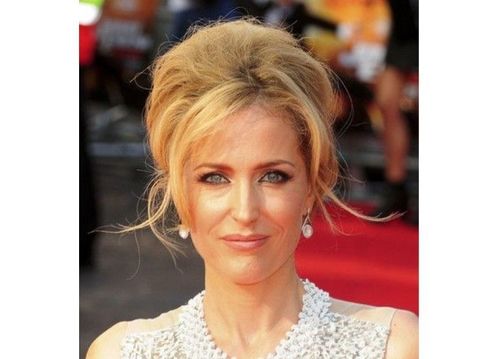 9. Texturized Bouffant Bun
Bouffant buns are a good choice for mother of the groom hairstyles for thin hair. Use a texturizing spray and tease your hair to create a good volume. Make a bouffant while leaving some hair on the front. Tie the rest of the hair at the back in a bun. Texture and volume help in elevating the hairstyle from drab to fab.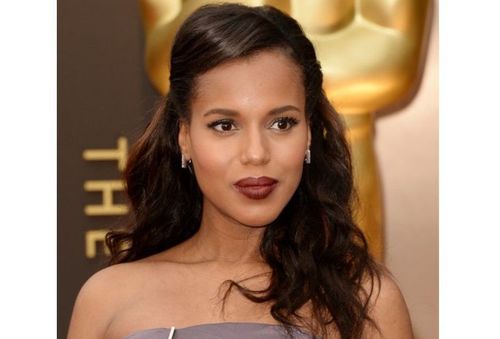 10. Side-Parted Fun
Get inspired by Kerry Washington if you are looking for mother of the groom hairstyles for long hair. We love how she has changed her parting to create this look. This hairstyle looks fresh, feminine and elegant. You are a mother and this hairstyle will allow you to channel your inner goddess.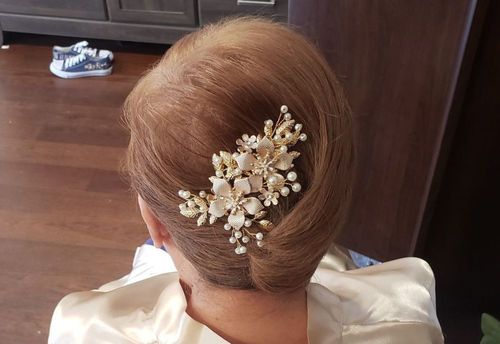 11. Small And Accessorized French Twist
Nothing says wedding hairdos more than a French twist. If you don't have thick and long hair, don't worry. You can wear a French twist even with your medium-length hair. This one featured here is one such French twist style. It looks elegant, sophisticated and regal. Adding a floral accessory will complete this wedding look.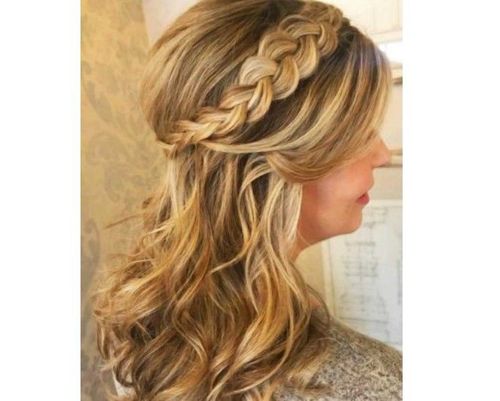 12. Crown Braid With Waves
Braids are one of the most sought after wedding hairstyles for the mother of the groom. Crown braids look fun and elegant. You can either pair them with open hair or just with an elegant bun. You can never go wrong with this hairstyle. Pictured here is a crown braid followed with beautiful and bouncy cascading vibes.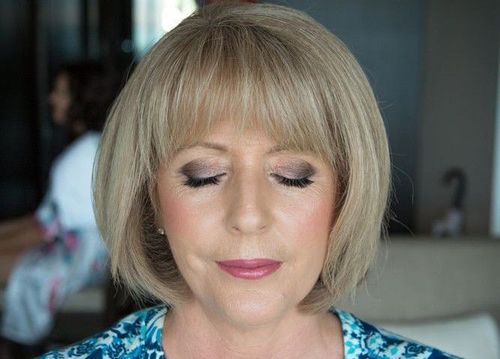 13. Short Bob With Bangs
Bobs are a popular choice for mother of the groom hairstyles for short hair this year. Blunt bob with bangs is uber chic and very stylish. They are fuss-free and can double up as a gorgeous wedding hairstyle. A case in point is this beautiful one pictured here.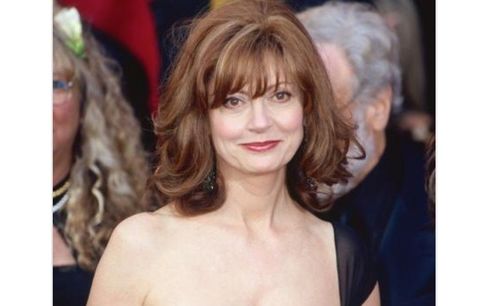 14. Natural Elegant Waves With Bangs
For an effortless look, go for natural waves. Waves suit every length, be it short, medium or long hair. Paired with bangs, the hairstyle transforms into something even more stylish. Don't believe us? Look at Susan Sarandon rocking the look.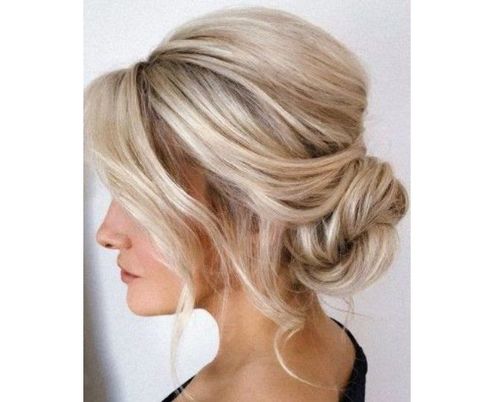 15. Messy Bun With Wispy Front
Nothing says mother of the groom hairstyles for wedding more than a romantic updo. A low-key messy bun with wispy face-framing strands is considered a chic and gorgeous style option. But its popularity has soared from the day it got an endorsement from none other than the beautiful Meghan Markle.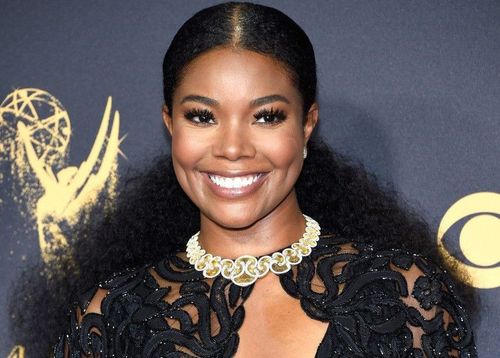 16. Cascading Curls With A Sleek Front Finish
This is one of our favorite choices for mother of the groom hairstyles for long hair. Don't shy away from flaunting your natural curls on your son's wedding day. This hairstyle featured here comes with a sleek finish in the front. Part your hair in the middle. Use gel if necessary to settle the hair down and for that sleek settled finish. Pin the front sections on both sides behind your ears. Let your bouncy curls from here below flow.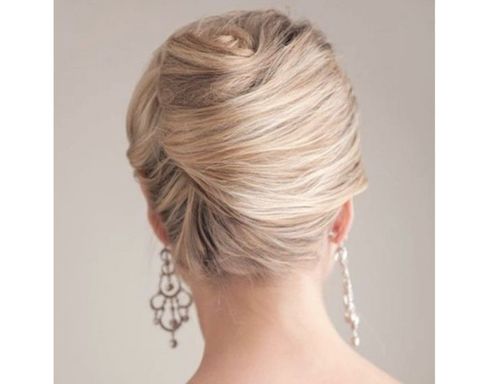 17. Classic French Twist
Twists and turns can lead to many gorgeous mother of the groom hairstyles. A classic French twist is an elegant choice. This classic and traditional look is perfect for weddings.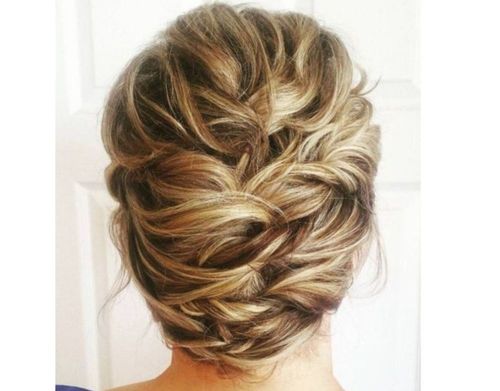 18. Pinned Updo For Short And Medium Hair
This is an updo hairstyle, especially for short and medium length hair. If you have layered hair then even better. Curl your hair at the end sections. Grab each curl, twist, and tuck. The curls will ensure a good volume. This pinned updo is utterly glam and elegant.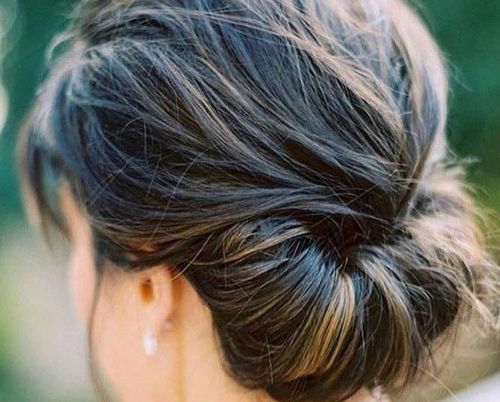 19. Rolled Chignon
Chignon is another one of the beautiful options for mother of the groom hairstyles for wedding. This low rolled up chignon is an elegant style with which you can never go wrong. It also comes with a little texture that adds a bit of drama making this hairstyle look even more stylish.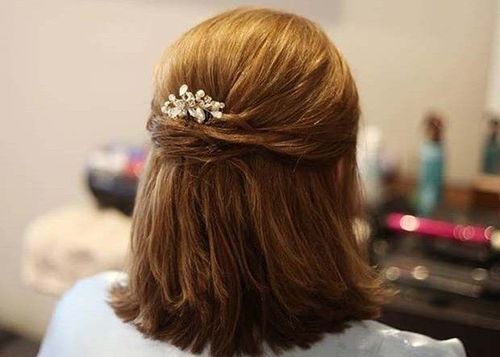 20. Elegant Half-Up Hairstyle With Flowers
Half-up half-down hairstyles are a chic choice if you don't want to wear your mother of the groom hairstyles down completely. This is a beautiful style that works for all lengths of hair. Twist and pin the thin strands of hair from both sides. Pair with a floral accessory or you can also add fresh flowers. This hairstyle also shows how straight hair has a charm of its own.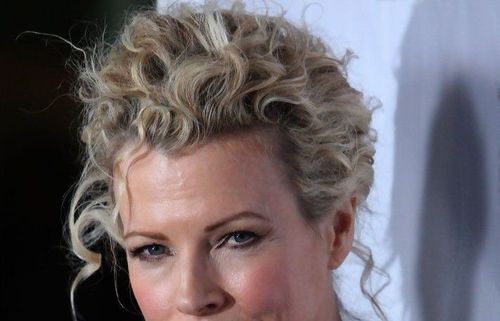 21. Curly Updo
Curls look fresh, flirty, feminine and fun. Take this curly updo for instance. The curls have added a beautiful volume up top. The loose curly tendrils left out here and there is another stylish addition which makes this hairstyle prettier than ever. This is one of the best mother of the groom hairstyles for thin hair.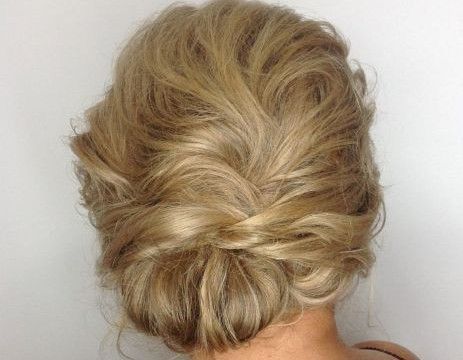 22. Messy Asymmetric Low Chignon
If polished is not the look that you want, then don't worry. Messy is the new sexy. Here is one such example of a messy and textured hairdo. This low chignon to the side is uber stylish and all the rage this year. A perfect relaxed style that can leave your whole look from simple to glam in a matter of few seconds.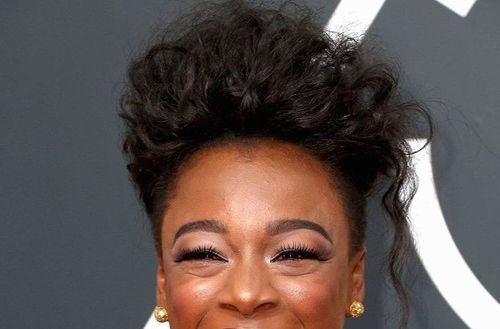 23. Voluminous Curly Updo With Shaved Sides
Weddings are formal events but that doesn't mean you have to opt only for formal updos. If edgy is what you feel, then opt for this hairstyle with shaved sides. Since the sides are shaved, all the volume has been brought upon on top of the head. This hairstyle is not just edgy but manages to look very stylish and glamorous.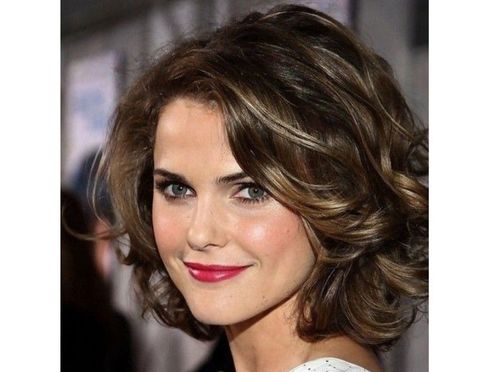 24. Natural Tousled Waves
Wavy hair is one of the most beautiful mother of the groom hairstyles. And we can see why. Natural wavy hairstyles look cool, stylish and gorgeous. A case in point is this wavy style featured here. Look how effortlessly glam it is.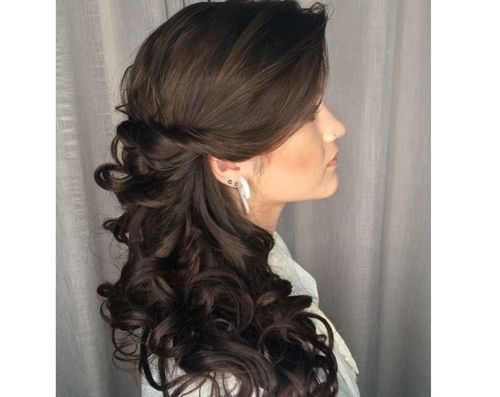 25. Cascading Curls To The Side
Hairstyles towards the sides are another one of the popular choices for mother of the groom hairstyles for long hair. You can opt for this side option for any length of hair. Wear your hair tied in an updo or let them down. But bringing them towards the side adds freshness and makes the hairstyle look even more stunning. Take this one for instance where beautiful bouncy curls with a twist are worn in a side-swept style.