25 Stunning Fulani Braids For 2023 (With Images)
Ankita Ghoshal
Updated At 16 Aug 23
Looking for the best fulani braids hairstyles trending this year?
Fulani braids have their origins in the Fula (Fulani) people of Sahel and West Africa. Fula people are a huge nomadic community which passed down the tradition of Fulani braids through generations of men and women. They are famous for their unique patterns and lengths. These braids are characterized by loop or hang towards the sides of the scalp. They not just have cultural significance but are also becoming a trendy protective hairstyle. With cornrows on the front of the head followed by a middle cornrow at the centre of your head, Fulani braids look wonderful. Fulani braids are also known as tribal braids. You can accentuate them further with cute beads and accents. What's more? You can even go for different haircuts and colours and then see how the Fulani braids look on you. Here are 25 most popular Fulani braids this year.
25 Best Fulani Braids Hairstyles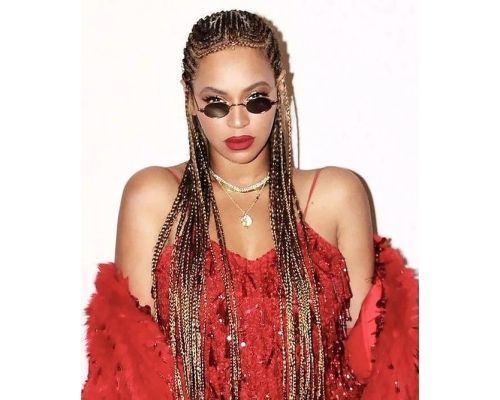 1. Super Long Fulani Braids
If you have long tresses and want to make a statement, knot your hair in extra-long braids to get the perfect feminine look.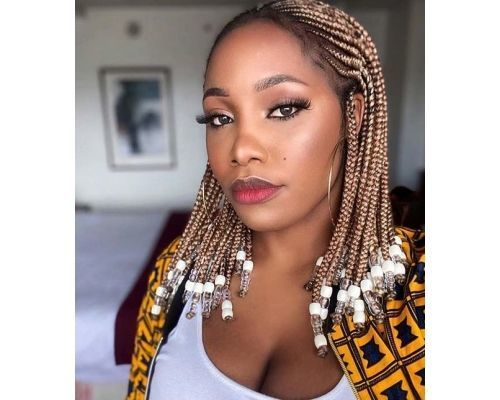 2. Beads on Blonde Braids
If you are bored of Fulani braids with natural hair, consider going blonde and then decorate your braids with bright coloured beads. It will give two amazing and contrasting colours to your hair. If you are looking for new and trending hairstyle options then knotless braids with beads can also work really well.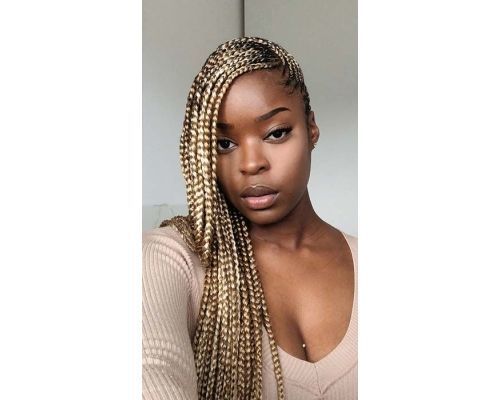 3. Blonde Fulani Braids
If you want a makeover for your hairstyle but do not want to go all out, colour your hair blonde and deck it up with chic, minimalistic clear beads. It will look amazing for sure. Braids hairstyles with blonde hair color can be a game changer for you. These tribal braids look stunning and can go well with all occasions.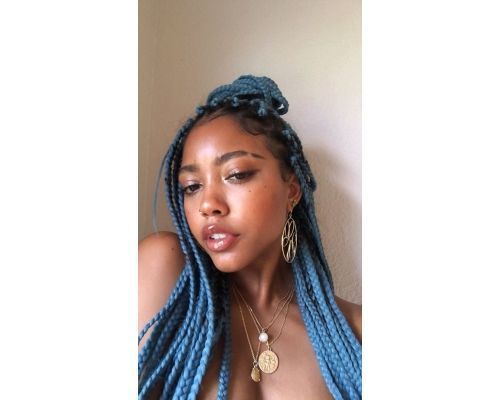 4. Blue Fulani Braids
Blue Fulani braids with curls make for a great style. You can opt for different shades of blue and experiment with whatever suits you.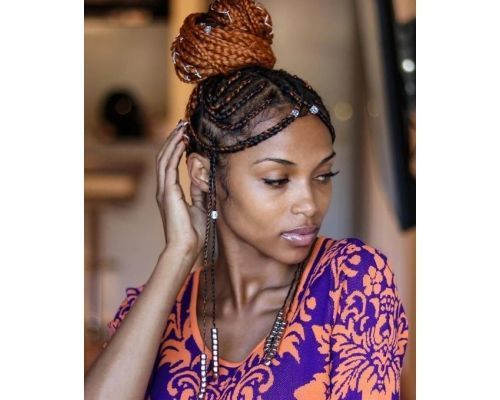 5. Bridal Fulani Braids
To look more traditional and unique on your wedding day, go for a modernized version of Fulani braids to celebrate the culture and history behind them.
Check out our ultimate guide on hairstyles for black women as we list 55 best haircuts which have been trending this year. From the stunning bob, relaxed braids, short and long hairstyles, braids with beads, afro hairstyles, colored hair, bouncy curls to mohawk haircuts, we have listed all the most popular black hairstyles.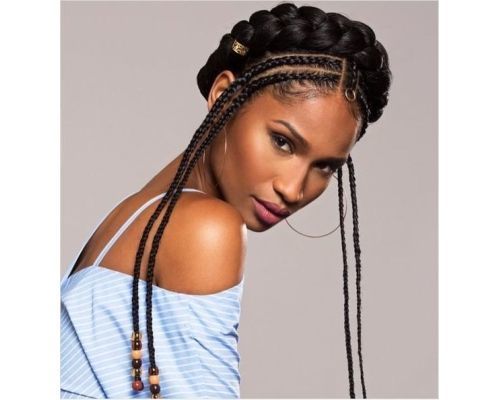 6. Milkmaid and Fulani Braids
You can combine Fulani braids with milkmaid braids for a creative approach. Wrapping the milkmaid braid around the head will add a very cute touch to your Fulani. You can even try this look for weddings or parties.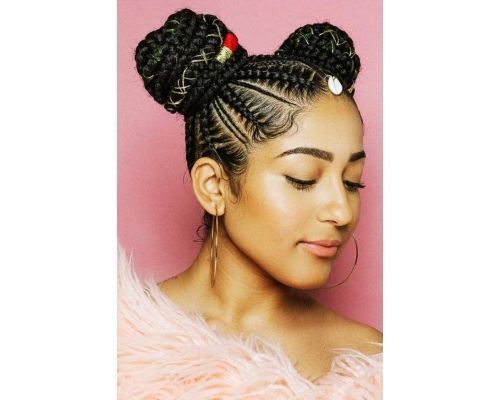 7. Space Buns and Fulani Braids
After braiding your hair in the Fulani style, knot them in two cute space buns or you can even make half-up half-down style to make your braids more visible. This is one of the most popular looks that college girls are in love with. One can also try small cornrows hairstyles as these look elegant and can provide a complete hair makeover.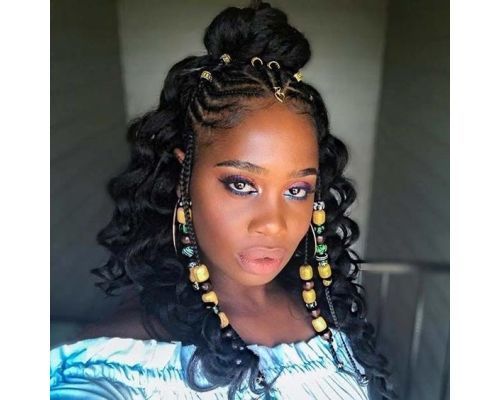 8. Lob with Fulani Braids
Lob haircuts combined with Fulani braids suit most face shapes. You can play around with finish by accessorizing your hair or just going for a different shade.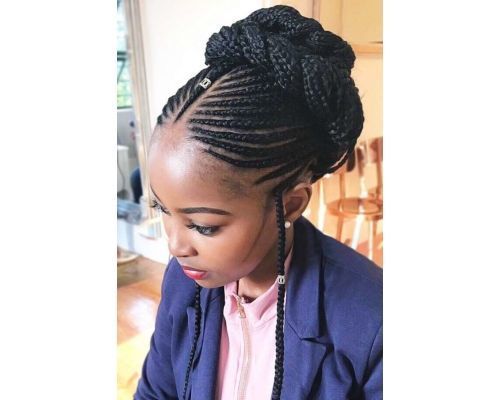 9. Fulani Braid Updos
A Fulani braided updo is very feminine and sophisticated hairstyle which keeps the hair away from your face while making you look very flattering. This is a great hairstyle for office and formal events due to its sophisticated appeal.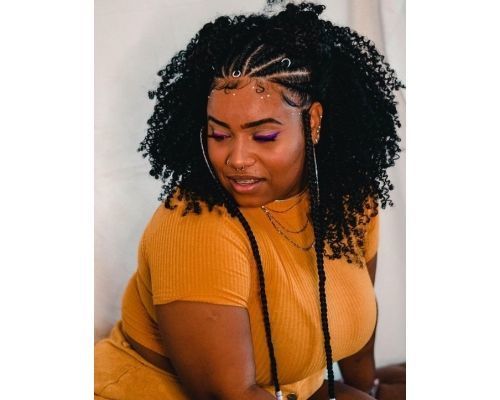 10. Fulani Braids on Afro Hair
Afro textured hair breaks a lot and to prevent that, a lot of fashionistas go for Fulani braids. They protect the hair while looking very stylish with the scalp braiding and the hair left loose.
Check out our guide on Afro hairstyles as we list 30+ best options which include side parted defined curls, buns, half up hairstyle and many more.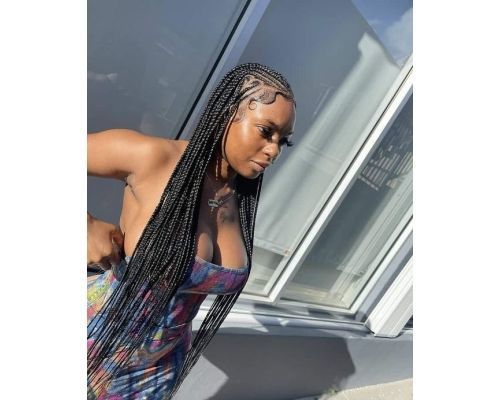 11. Fulani Braids on Butterfly Pattern
If you don't want to go for the classic Fulani braids with heart, try the butterfly pattern. They are fun, creative and look extremely chic on all types of hair textures. Make sure to wear pretty basic outfit with such a hairstyle so that your Fulani braids can get all the attention that they deserve.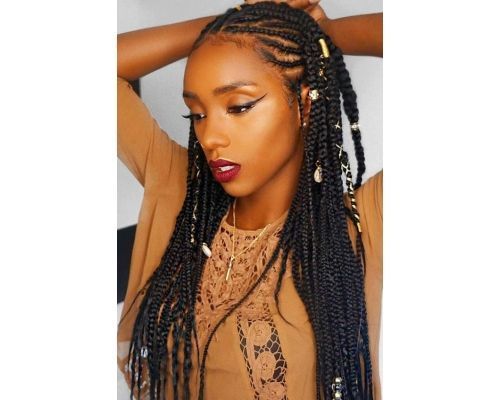 12. Fulani Braids with Jewelry
From beads and cuffs to threads and gems, you have a lot of hair accessories that you can use to jazz up your Fulani braids.
Do check out our guide on box braids with beads to find stunning new hairstyle options. We cover 55+ most popular braided hairstyles with beads which include options for all hair lengths, new trending hairstyles like bantu braids, colorful beads, braided updos and many more.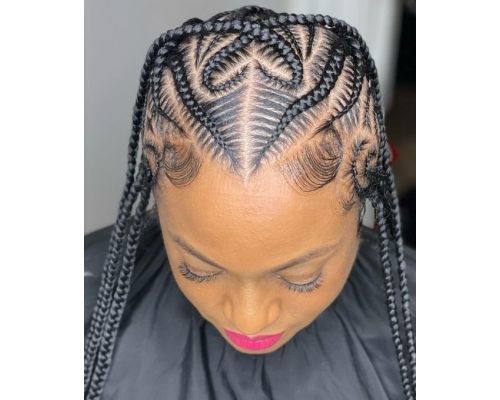 13. Heart Pattern with Fulani Braids
Part your hair to form a heart shape for adding more element and expression to your Fulani braids. If you want to surprise your partner on a special day like the Valentine's, anniversaries or a romantic date, give this hairstyle a try and you won't regret it.
You can also check our guide to 30+ trending kinky twist hairstyles for this year which include curls, ponytail, crochet hair, braided hair and many more.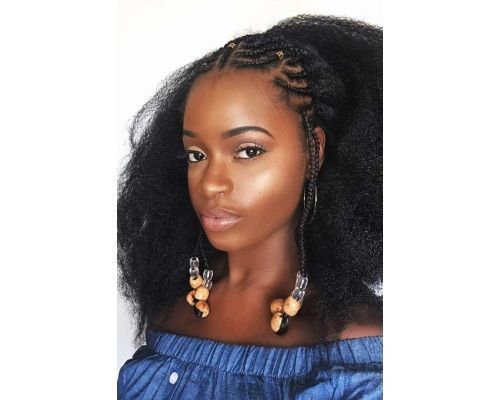 14. Fulani Braids and Untamed Mane
If you want your braids to steal all the limelight, just braid them on your hairline, leaving the rest of the hair loose. It will look stunning and highlight your facial features.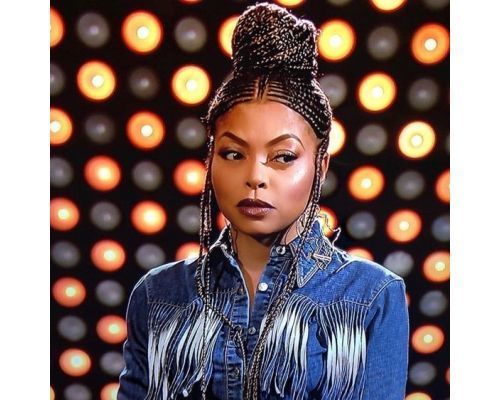 15. High Bun with Fulani Braids
You can style your braids in a beautiful updo, making it high or low as per your choice. It is a great hairstyle for parties and special events.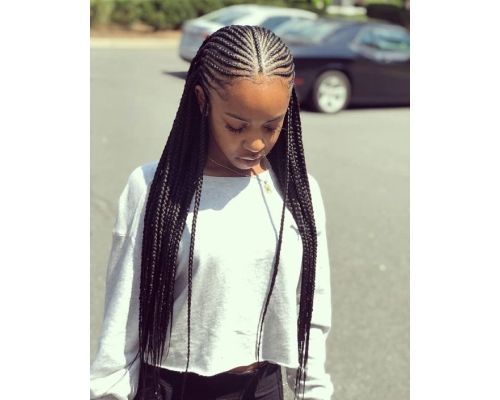 16. Long Fulani Braids
Going for the classic long braiding is great to flaunt your braid patterns. Styling them is also very easy and versatile. This style has a sexy appeal of its own that we love.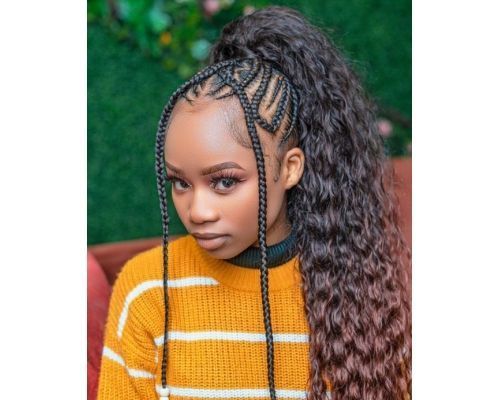 17. High Ponytail and Fulani Braids
What adds to the glamour of high ponytails are meticulously made Fulani braids. They will highlight your cheekbones while making for a flattering hairstyle. You can wear a bright coloured lipstick with it to complete your glamorous look.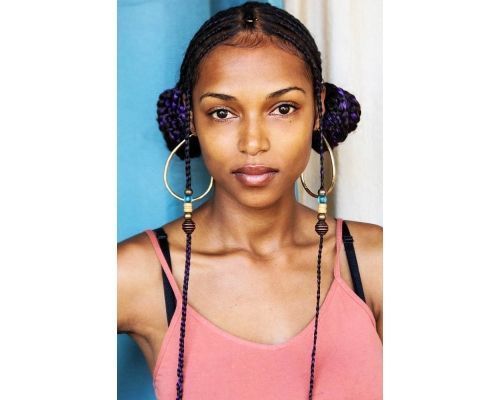 18. Low Buns and Fulani Braids
Low buns give off a very aesthetic and romantic look. When paired with Fulani braids, the hairstyle goes up a notch, making you look pretty and youthful.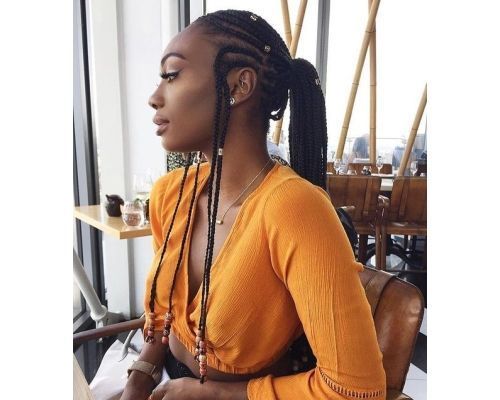 19. Low Ponytail and Fulani Braids
For an effortlessly gorgeous look, create a low ponytail with your Fulani braids. It is the perfect combination of romance and sex appeal. The best part is how amazing it looks on all hair types and face shapes.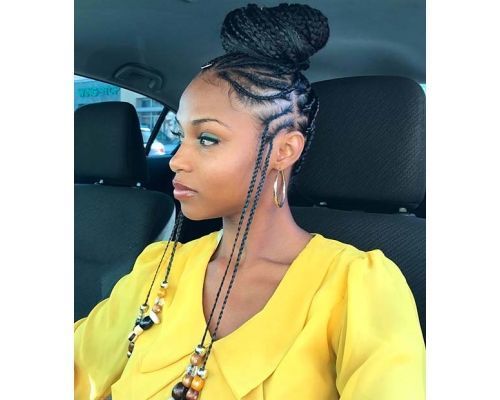 20. Buns, Low Braids and Fulani Braids
To a more contemporary hair style, team your Fulani braids with low braids and top buns. It will be a brilliant interpretation of the classic look and you will have fun with all the mixing and matching.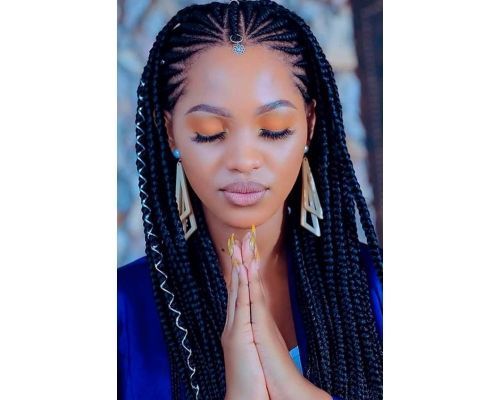 21. Two Braids and Fulani Braids
The best way to get this look is by combining thin braids with medium-sized ones. Go for two broad braids on the side and the central cornrows. This is a very playful hairstyling idea that you need to try for once.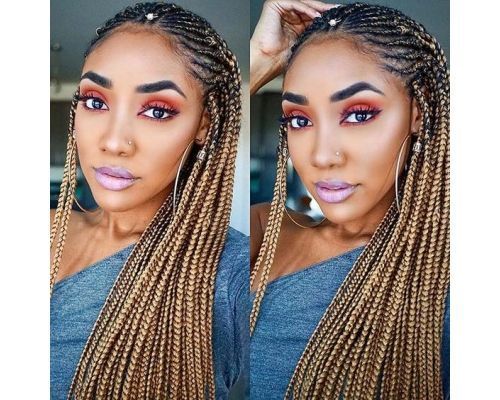 22. Ombre Fulani Braids
Fulani braids with curls look all the more alluring when you go for an ombre finish. Multiple shades blending together become even better when you add Fulani braids to the picture.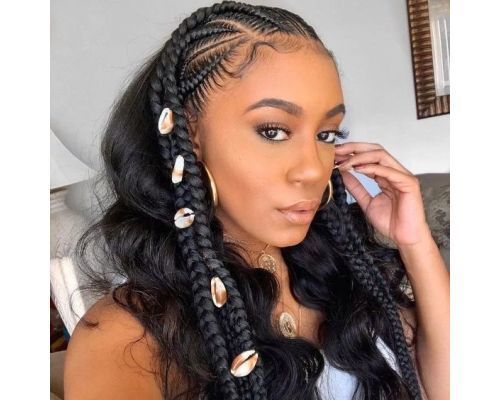 23. Micro Fulani Braids
Small braids are great for people with short hair and even for those who want to play around with different braiding sizes. However, if you have fine hair, this styling can break your strands so avoid it.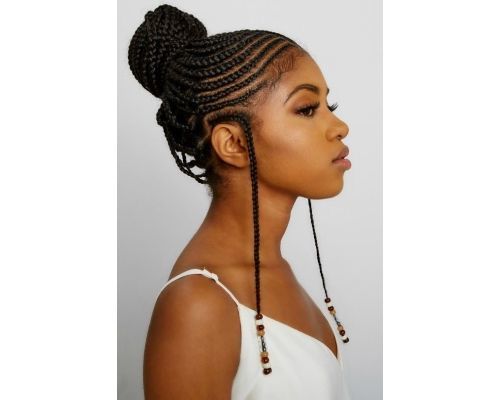 24. Unique Fulani Braids
For acquiring a novel hairstyle, go for different hair designs on your hairline and scalp. Pair your Fulani braids with high ponytails, low buns, half-up half-down style, and so on.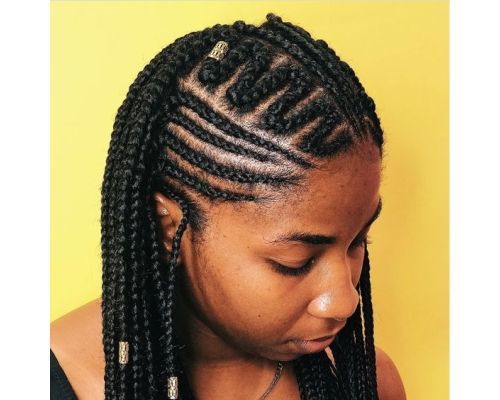 25. Zigzag Fulani Braids
This is a fresh take on Fulani braids and you will love it for sure. Make a zigzag pattern with your hair on the scalp and let it complement your intricate Fulani braids for a perfect hairdo. It may require a lot of patience and time so make sure you start with the hairstyling way before your outing.
These are all the Fulani braids that you need to know about this year. Change your hairstyle and give this braiding style a chance to change your fashion game for the better. From heart patterns and butterfly shapes to minimal Fulani braid ponytail- there are endless ideas that you can try out with this hairstyle.