What Are Crochet Braids? Detailed Guide - 2023
Olivia
Updated At 26 Aug 23
Looking to find out everything about Crochet braids? We cover everything about them which includes what are crochet braids, their pros, cons, precautions, cost and FAQs to answer all your queries.
Crochet Braids Guide
What Are Crochet Braids?
Crochet braids have been a go-to style for years. Crocheting is a quick and simple weaving technique that only requires braiding to work with your natural hair. The phrase 'crochet' refers to a very similar procedure and stems from the technique used to incorporate the extensions. A latch hook, which is used to connect extension hair when making the style, is necessary, yet, a crochet hook will also work.
Latch hook braiding, also known as crochet braiding, is a type of hair styling that is frequently used to add length to natural hair or simply to keep it safe. A base of cornrows, upon which hair extensions are later applied, holds the style together.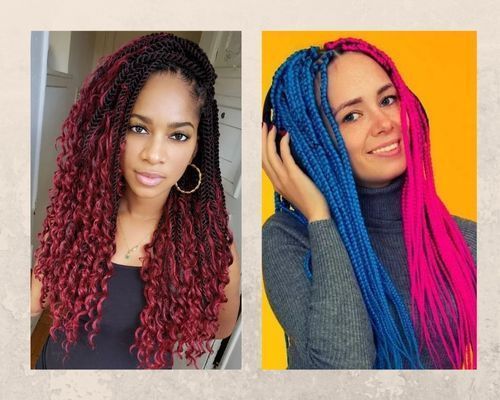 Crochet Braids Pros
· Crochet Braids are reasonably priced.
Due to the availability of synthetic hair in place of human hair, crochet braids are significantly less expensive than other protective hairstyles. The cost of a braider is also reduced if you're ready to complete the task yourself (and it's straightforward!). You may get the whole look of crochet braids for as little as $20.
· Installing crochet braids only takes a few hours.
Crochet hairstyles are easier to put on than box braids, twists, and other protective hairstyles. They often finish in 2 to 3 hours. This might be the answer if you've previously visited a braider and spent all day (12–15 hours!) vowing never to do it again.
· Crochet braids have several uses.
You may choose from a variety of crochet braid styles. You can ask your hairstylist which crochet braid style would suit you the most to get a sense of the route you should take. This is a hairdo, though, that you can wear again and time again for years to come with a little imagination and some assistance from YouTube videos.
· Crochet braids may endure for four to eight weeks.
Crochet braids can last up to 8 weeks with proper care. The usual recommendation is to maintain this protective style for four weeks. Comparatively speaking, this is 2-4 times longer than other protective haircuts. Many women's aspirations are realised because it is both fashionable and minimal upkeep.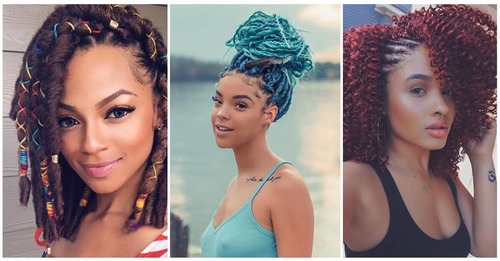 Crochet Braids Cons
Crochet braids also have a few disadvantages. We list the top ones below.
· Crochet braids can harm your hair if they are applied improperly. This hairstyle starts with cornrows that are braided to the scalp. But if these cornrows are overly tight, the stress from the crochet braids will eventually result in hair thinning and loss.
· Keep an eye on the weight of the new hair you are growing. With this hairdo, you'll be adding a crochet braid or braided twist loc through the small space under your cornrow.
· Beware of hair snapping. A protective style is intended to assist hair growth and stop it from breaking. When you instal the crochet braids, your hair might, on occasion, snap to the roots. If this is the case, you'll probably notice a lot of hair falling out when you take your crochet braids down. At that point, you should reconsider if this is a hairstyle you should keep for the long run.
· Understand how it might affect your daily life. You might not be pleased with the outcome if you enjoy wearing your hair updos. Your hair will be pulled back in cornrows, and if the cornrows are made nicely, this may look good. However, unless your crochet braids are completely covered in extensions, there is still a chance that the cornrows will occasionally appear. Even if this is the case, the cornrow would get significantly heavier and the chance of hair breaking would rise.
4 Things To Get Crochet Braids Right
Follow the below mentioned 4 tips to make sure you get them right.
· Before braiding your hair with crochet, clean it.
· Make sure to moisturize your hair before getting crochet braids.
· If necessary, space out your hair. Once you've placed most of your hair, feel about and "modify" as necessary. Add more if you feel like your hair lacks volume. Remove some if it feels too thick.
· Make the front of your hair thinner so that knots are less noticeable.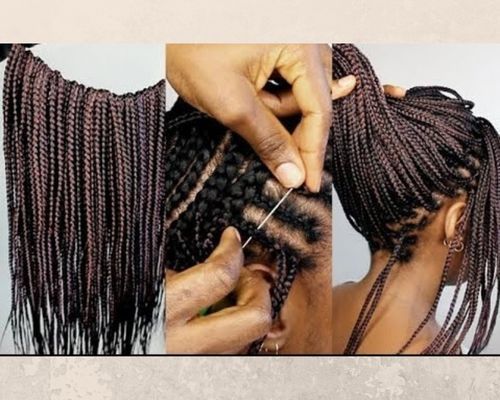 How To Get Crochet Braids
You may completely master the craft of crochet braiding in the convenience of your own home. All you'll need are a few basic supplies and some spare time. A few basic items are all you need to crochet hair at home easily:
1. A Boar Brush—brushes made of boar bristles create volume where it is wanted and reduce frizz.
2. Use hair clips to provide a splash of colour and, of course, a secure grasp when crochet braiding the cornrows.
3. A comb is a hairstyle tool that you won't drop or misplace when braiding your hair; use a finger comb. Additionally, because it was made specifically for curly hair, your curls won't be broken or damaged.
4. The hooks that give the entire design its name—crochet hooks—help you braid your hair using real or synthetic hair. Of course, they are a necessary tool while braiding your hair extensions.
You can choose from a wide variety of synthetic hairstyles for your crochet braids. Synthetic hair components. You can purchase short or long pre-curled hair, water wave hair, tight or loose curls, and little or huge curls, depending on your desire. You can experiment with bright and natural-looking hues as well.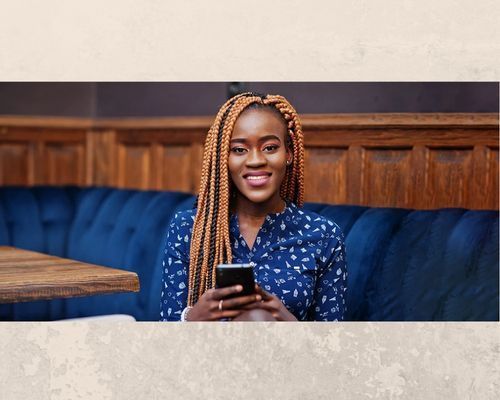 How Long Does It Take To Get Crochet Braids?
When obtaining a crochet hairstyle, you should plan on spending 90 minutes to three hours at the salon. The ability to purchase individual braids in a pack, which can save a tonne of time, is one benefit of crochet braids. You can finish in two hours tops if you want shoulder-length hair that is individually braided in the front and cornrowed in the back.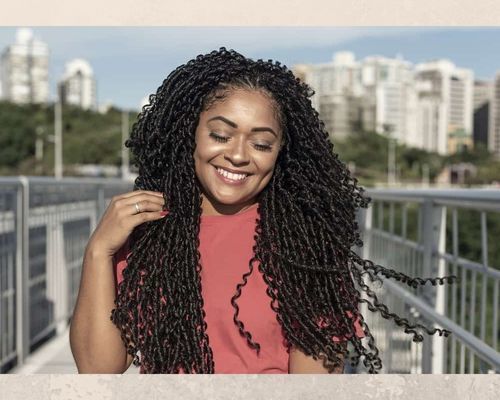 How Much Do Crochet Braids Cost?
The location, the hairstylist's level of experience, and, of course, the style you want to replicate are the three main elements that affect the cost of crochet braids and curly crochet hairstyles. For a celebrity hairstylist, you should expect to pay a high price if you're ready to spend a lot of money. You may locate the ideal salon for your needs at a variety of pricing points, ranging from Rs. 5000 to Rs. 10,000 and more, depending on your needs, with a little research.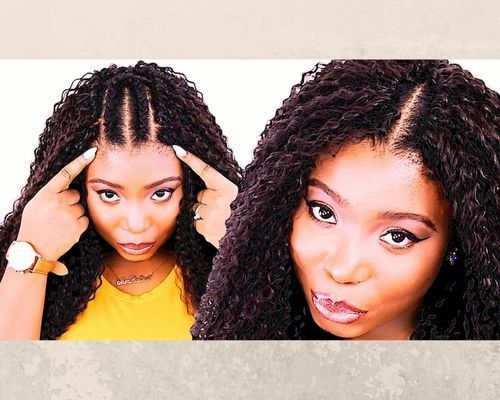 Crochet Braids Precautions
Before going to bed, one of the precautions to observe with crochet braids is to wrap or cover your hair in a silk or satin bonnet to prevent friction while you sleep and to preserve the moisture in the hair. Spray on a moisturising and/or shine-enhancing spray to revive your braids when your hair becomes dry. Other safety precautions include washing your hair gently, moisturising it with a deep conditioner, and applying a scalp tonic. The most important thing to remember is to avoid wearing your crochet hairstyle for longer than six weeks because this can result in time-consuming discomforts such as hair matting.
Can Anyone Get Crochet Braids Done?
It's a lot of fun to be able to change up your hair to match whatever mood or vibe you're in, and it can give all ladies a boost of confidence, therefore it can be said that braids can be worn by anybody.
Yes, braids are a hairstyle that anyone can wear in the end, but for black women and those who grew up wearing them since childhood and beyond, this hairstyle functions as more than that.
Crochet Braids FAQs
1. Do crochet braids harm your hair?
Yes, some of them. This may be avoided by giving your hair the respect it deserves before wearing it in braids. Invest in jojoba, coconut, Shea, or rosemary oil. You may have to spend some money on them, but they will leave your hair healthy, making it simple to crochet it sometimes. You should also cease leaving your crochet braids in place for more than eight weeks. Your hair becomes weak as a result, breaking off and harming your hairline.
2. Are crochet braids a suitable protective look?
They are, indeed. Crochet braids can give you excellent results if you take care of your hair. So be sure to constantly cleanse, condition, and cure it before you start crocheting. Additionally, you can create some at-home hair treatments, such as an egg and avocado mixture. Although the mixture is unpleasant, it will make your hair healthy and you will become the hair goddess you have always imagined yourself to be.
3. How long do crochet braids last?
Braids made of crochet last for four to eight weeks. More than eight weeks of storage results in breakage and occasionally shedding. Most stylists advise waiting as least a week between crochet braid installations so that your scalp can breathe when it comes to how long to wait between crochet braids.