55 Stunning Wolf Cut Haircuts For Men - 2023
Rajlakshmi
Updated At 11 Aug 23
Wolf cut has been one of the most trending hairstyles for men for years now. The reason behind this is quite simple, wolf cut offers a very voluminous and stylish hairstyle. It doubtlessly makes you look charming and groovy at the same time. Other than that, it's a low-maintenance hairstyle. We have got 55 different styles of wolf cut to help you stand out from the crowd.
55 Best Wolf Cut Haircuts For Men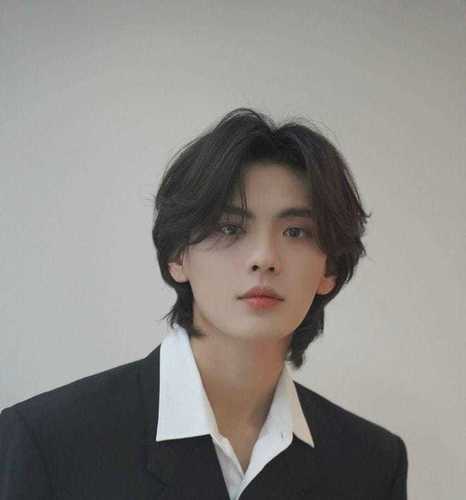 1. Male Asian Wolf Cut
This hairstyle originated in Korea but it is one of the most trending hairstyles around the world lately. The finest fact about this hairstyle is that this hairstyle is so versatile that it goes with every texture of hair.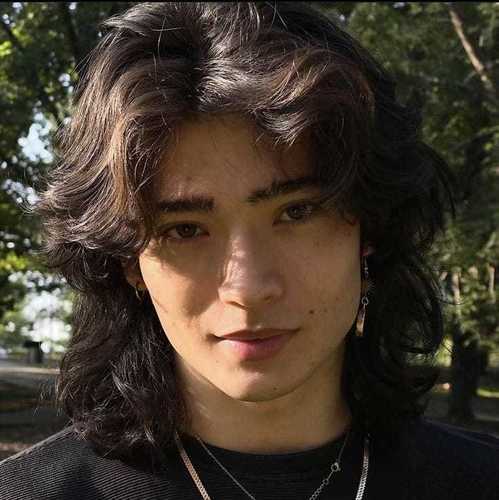 2. Choppy And Wavy Wolf Cut
Choppy hairstyles are for everyone who wants to acquire a voluminous look and who does not want that?! Hence, this hairstyle has to be on your list. Wavy wolf cuts always end the look with an alluring touch.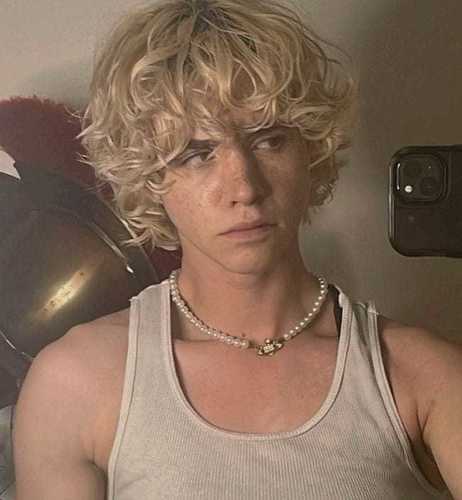 3. Blonde Curly Wolf Cut Hairstyle
Wolf cut for curly hair is the best combination one could get. This hairstyle is for every man who is wishing to flaunt a new summer look. Blonde hairstyles are generally considered to be one of the most attractive hairstyles around the world and it blends in seamlessly with wolf cut.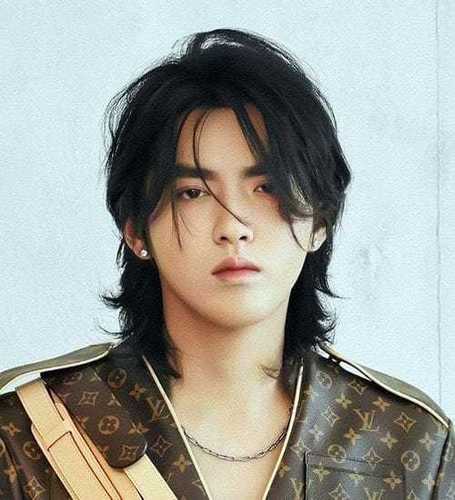 4. Asian Wolf Cut With Long Fringes
As Asian men tend to have straight hair mostly, an Asian wolf cut with long fringes is the perfect complementary look for them. This haircut always ends with a soft finish and natural look. The marked fact about the hairstyle is the long fringes which doubtlessly extend a model-like look. This is the best wolf cut for straight hair.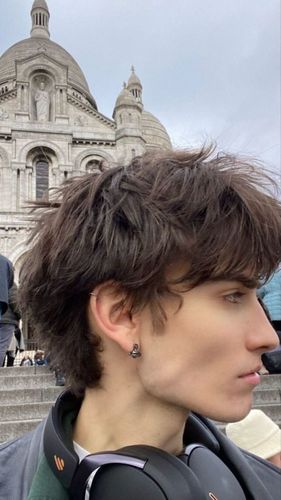 5. Short Shaggy Wolf
Many men out there are struggling for a short wolf cut. We have got you covered. Not a very extreme haircut, you just need to layer your hair, This is the best haircut for men with short hair. The shaggy style extends an eye-catching look to the whole style.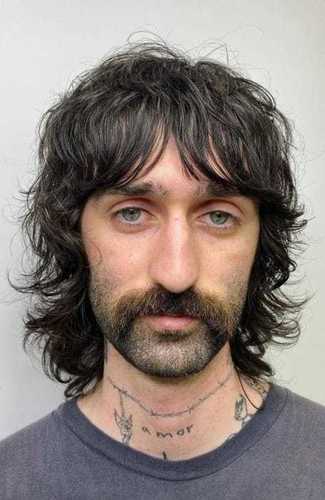 6. Textured Wolf Mullet
Mullet wolf cuts have been trending recently and no one can deny that fact. This simply extends a simple yet stylish look. And at the same time, the layers tend to add definition to your hairstyle.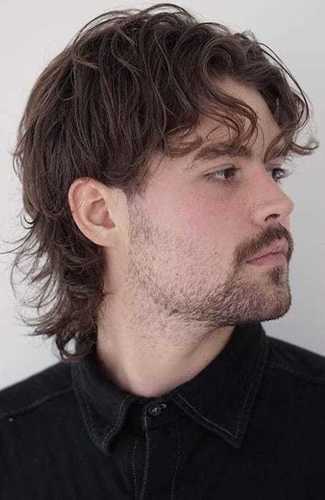 7. Classy Wolf Haircut
Who does not want a haircut which looks equally stylish as well as elegant? What if you can get a Wolf haircut while being classy at the same time? Isn't it perfect? We have got you the most classy wolf haircut. This is easily made with layers.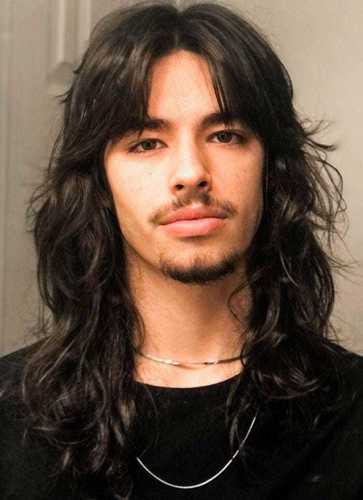 8. Middle Part Wolf Cut
No one can deny the fact about haircuts with the middle part. It is a fun way to upgrade any hairstyle. This hairstyle is best for men with medium to long-length hair. It is even popular among the surfer's look.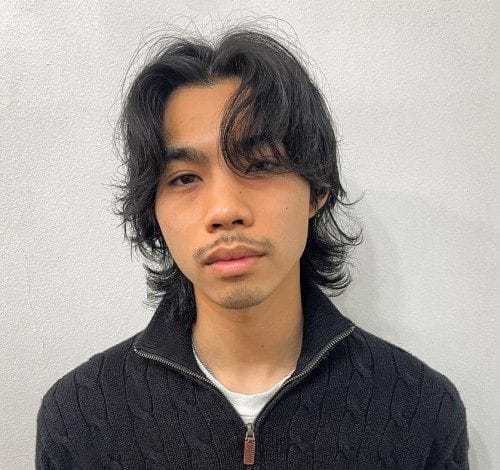 9. Cool Short Wolf Cut
Presenting a hairstyle for the cool guys with short hair, Wolf cut with short hair cannot be missed any day. Nevertheless, this is a low-maintenance look and easy look which looks extremely stylish at the same time.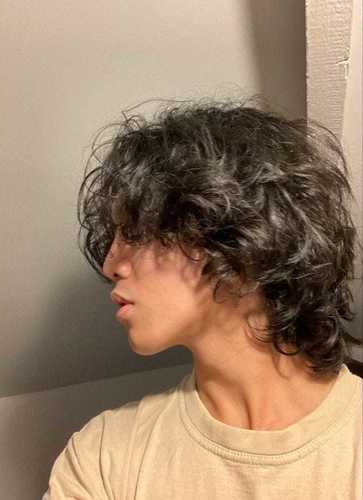 10. Curly Hair Wolf Cut
This haircut is similar to a mullet wolf cut. While the curls are noticeable generally at the back, it leans heavily on the hair roots. You can even add light highlights to the hairstyle to make it look even more voluminous.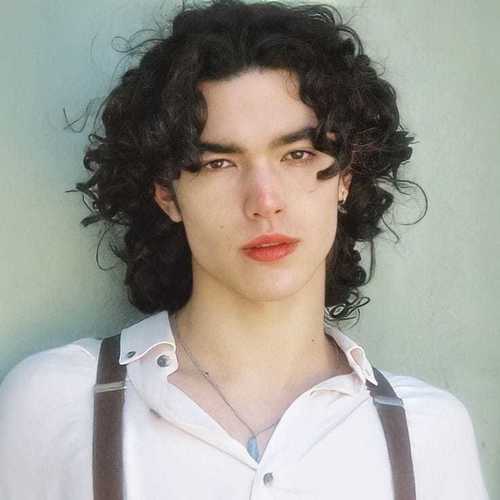 11. Textured Middle Part Wolf cut
We are back again with another wolf haircut with a middle part. Yes, We know we have covered everything you wanted to read. Parting your hair in the middle can get you a look with a chic twist that looks alluring at the same time and a textured hairstyle will make it look even curly which is charming.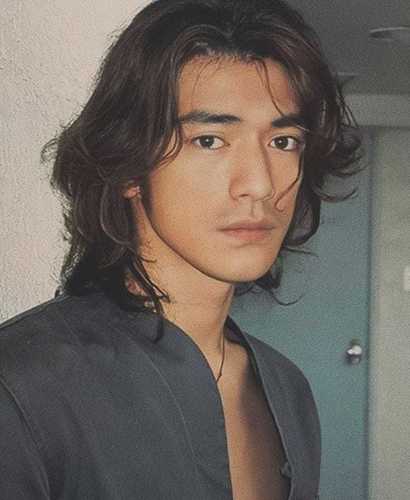 12. Long Wolf Cut
Wolf cut for long hair has been topping the list for decades now as wolf cut is the most desirable look for men with long hair. Even, though many celebrities have preferred this hairstyle for years, why not you?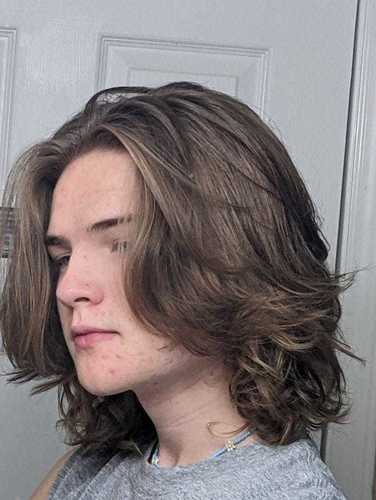 13. Layered Mullet Hair Cut
This is one of the most daring hairstyles on the list. Well talking about this hairstyle is actually pointing out how amusing it looks as the back has amazing long hair while the top is in exact contrast.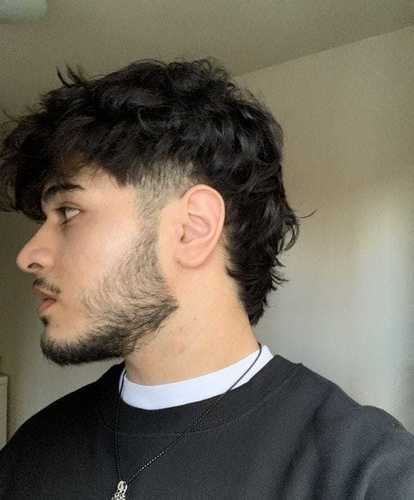 14. Faded Wolf Cut Hairstyle
While this hairstyle falls under the list of Wolf cut hairstyles but it still maintains a very neat and tight look without making your head look like a mop. And that is why this hairstyle is one of the most preferable looks as it is easier to keep it for a long time.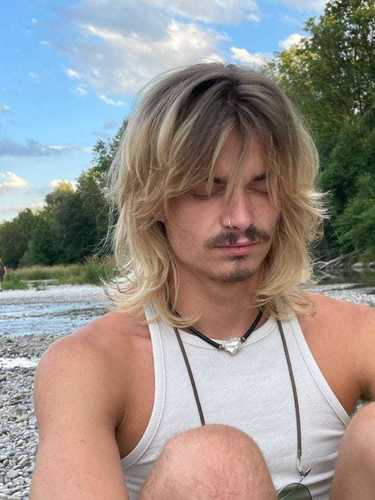 15. Feathered Wolf Cut
The Feathered Haircut is for men who want to go for a daring yet lighter version. It is similar to a wolf cut with layered hair. The only difference here is that the haircut is made in a way that a natural bounce is offered.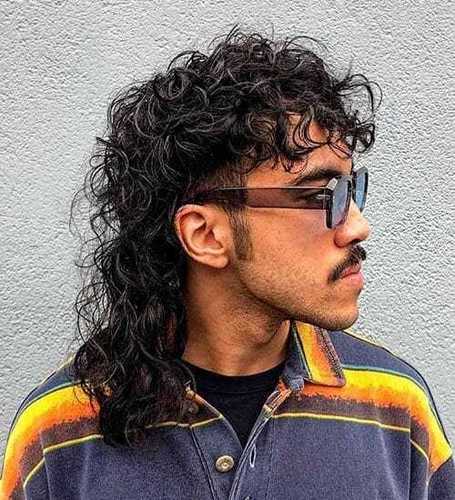 16. Textured Long Wolf Cut
One of the most trendy and groovy hairstyles of all time. This is best for guys who want a wolf cut with layered hair. It is advised to add as many hair layers as possible as the textures will look natural then.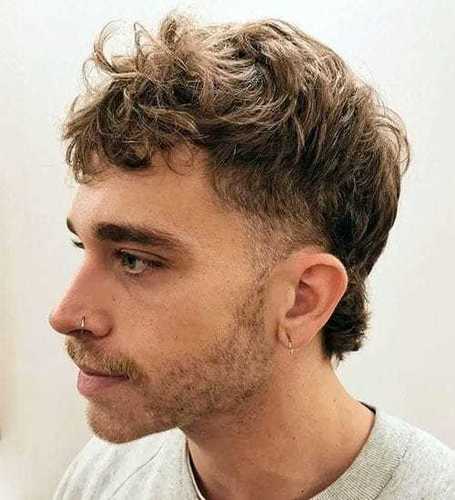 17. Low Temp Fade
Low temp fade haircuts are best for guys with short hair. Hence, this can be your favorite hairstyle for this summer. This is an easy and effortless hairstyle that offers a fresh look. This is good for summer as one does not have to deal with bulky hair.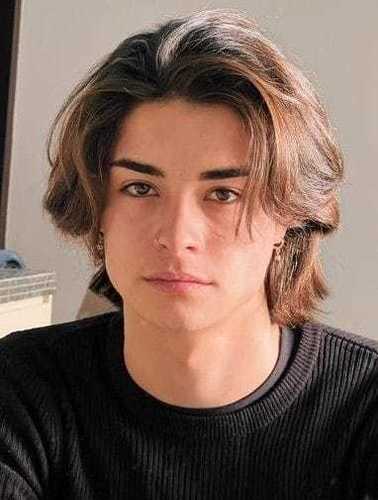 18. Flowing Wolf Style
We know you are already in love with this hairstyle but there has been a persistent complaint on maintenance of this hairstyle. Here is a pro tip- to maintain this hairstyle and make it look effortlessly beautiful, you will have to invest time in blow-drying your hair. With this, you can have an eye-catching look.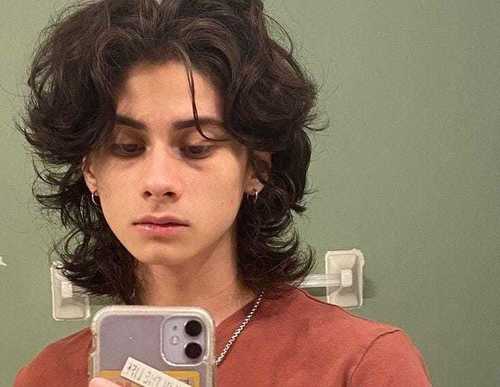 19. Fluffy Style
One of the go-to hairstyles, this is one of the most loved hairstyles. This is a perfect call for you if you have frizzy hair or your long hair tends to mess up your daily schedule. This will not only get frizz-free hair but will also get you naturally textured hair.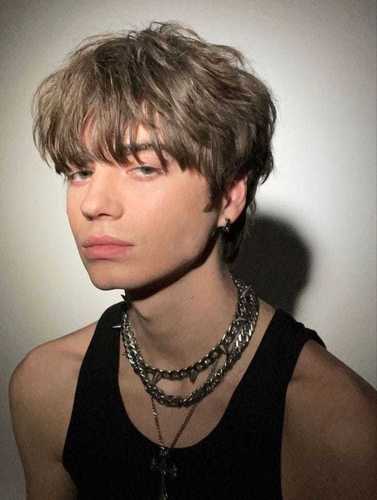 20. Bowl Cut
Bowl cut has been one of the most common haircuts of the century then why not go for bowl wolf cut?! The Bowl wolf cut is adorable and stylish at the same time.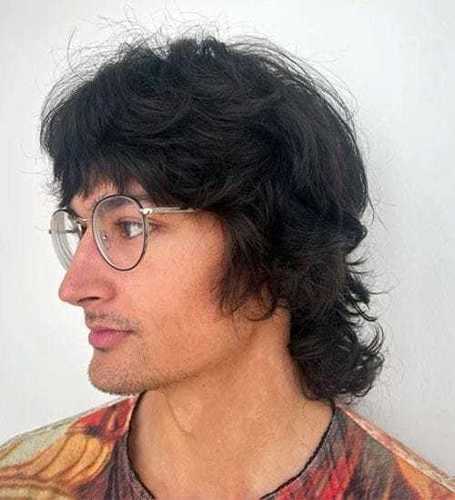 21. Choppy Wofl Cut
Many are struggling with this conflict that is wanting to get a wolf cut but does not want to get long hair. Choppy wolf cuts can be voluminous and make your hair look long without being really long.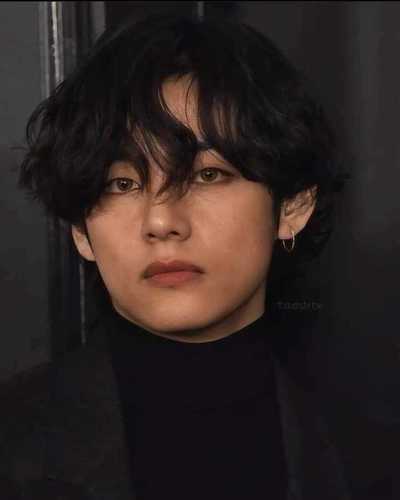 22. Korean Wolf Cut For Men
The Korean wolf cut for men is trending and we know the reason behind it. The world is filled with BTS fans and obviously not officially but they have promoted this hairstyle enough times. That is why, it is your calling to try this hairstyle for once.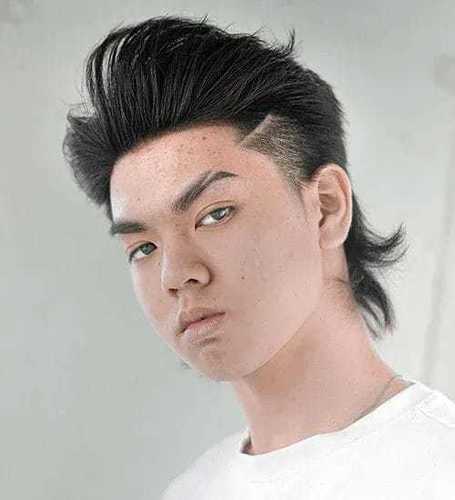 23. All Brushed Up
Very similar to any other hairstyle of wolf cut, this is just the most voluminous version of it. A brush and a blow dryer are all you need to get this look. This look is unquestionably beautiful and funky at the same time.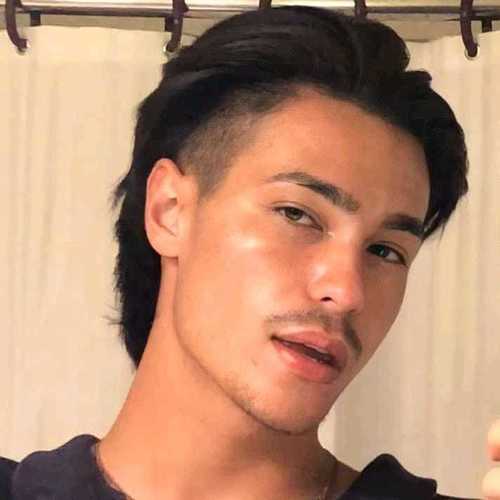 24. Brushed Up With Fades
Brushed-up wolf cut with a faded side is much similar to the above one, the only difference here is that after the brushing and blow drying you will have faded sides which will ultimately offer a fashionable look.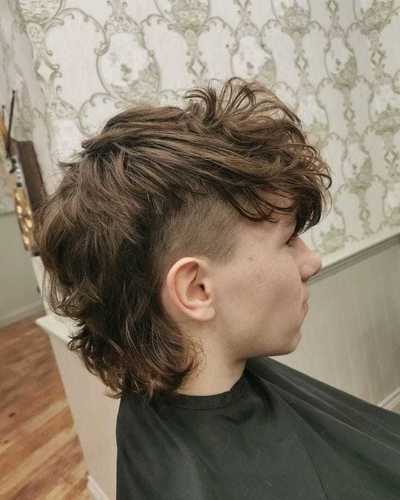 25. Long Mullet With Shaved Sides
This is similar to a layered Mullet wolf cut. It offers a traditional look and that is the only difference. If you want to make it look more funky then we have an option for you too. That is rather than maintaining fades, you can shave the sides. That will extend a groovy look.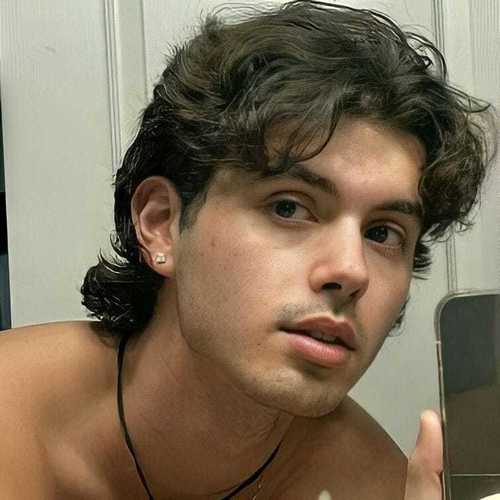 26. Masculine Wolf
As the name suggests, this hairstyle is best for defining your masculinity, that is, it defines masculine features like jawline and cheeks in a defined way.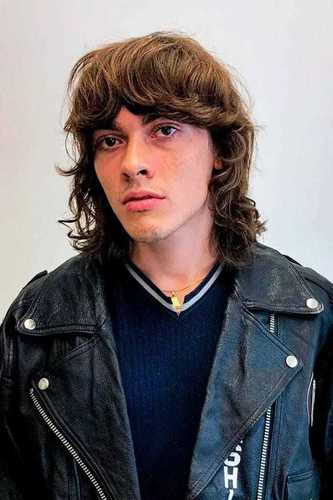 27. Medium Wolf Cut
Medium hairstyles for men have started to become a new favorite of the youth. Having a wolf cut for medium-length hair can be a really cool idea for this summer. Not only is it trendy but comfortable at the same time.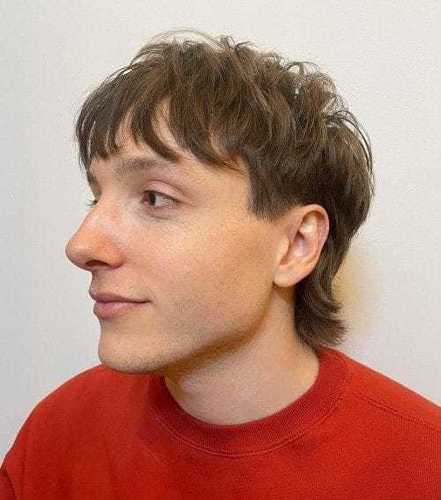 28. Sleek Short Wolf Cut
Short hair wolf cut is something new and adding a shade of sleek to it is cherry on the top for the overall hairstyle. The best part of this hairstyle is that the hair carelessly falls on the face, extending a sharp and handsome look.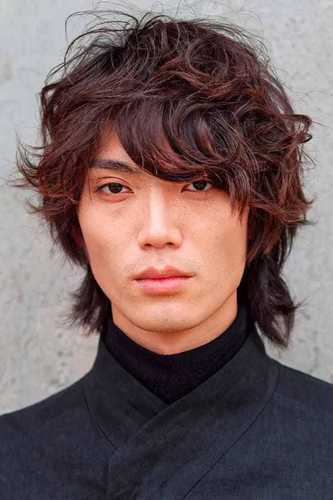 29. Messy Wolf Cut With Layers
Layers and messy work-cut hairstyles go hand in hand. This extends a casual yet alluring look. And this fits every face shape.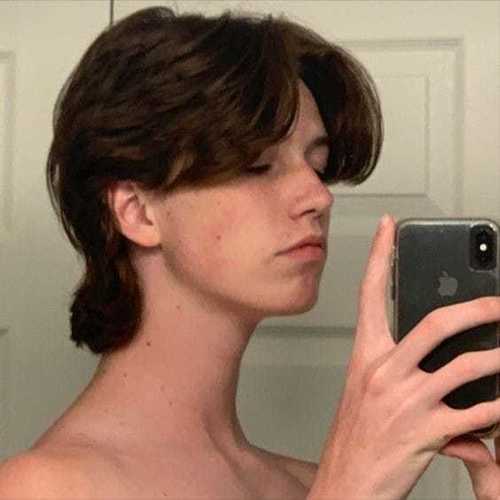 30. Undercut Wolf
If you want to stand out from the crowd then this is the hairstyle for you. One can even add bangs in front to make it look more eye-catching. You can either keep this hairstyle short or long, this is highly customizable.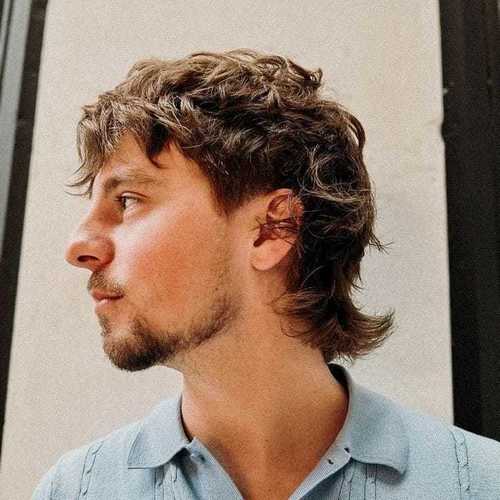 31. Natural Wolf Cut
If you are someone who is not able to decide if you should get a wolf cut or not then this is the best wolf cut hairstyle for you. This is a timeless hairstyle and it never disappoints.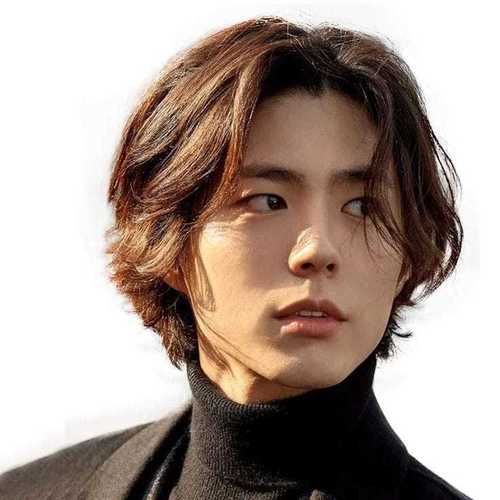 32. Short And Classic
This hairstyle never fails. As the name suggests, It is a classic hairstyle that will never let you down. If you are trying the wolfcut hairstyle for the first time then this is the perfect hairstyle for you.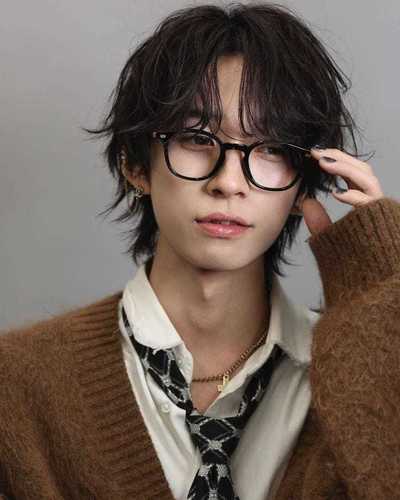 33. Adorable Wolf Cut
If you do not want to go for a masculine wolf cut hairstyle but still want to flaunt a wolf cut hairstyle as it has been trending in recent years then this hairstyle is the perfect fit for you. This is cute yet stunning.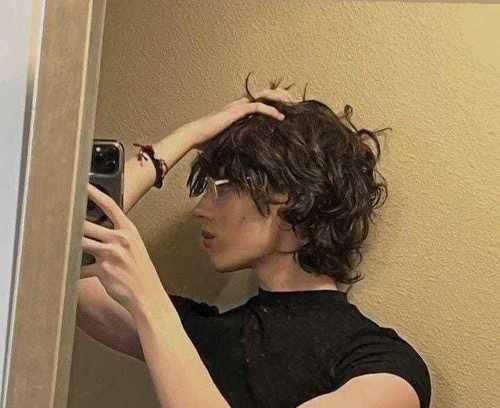 34. Messy Wolf Cut
If you are not someone who is into high-maintenance hair styling then this hairstyle is for you. As this hairstyle does not require everyday styling, you can flaunt it even after being careless about it and it would still look equally attractive.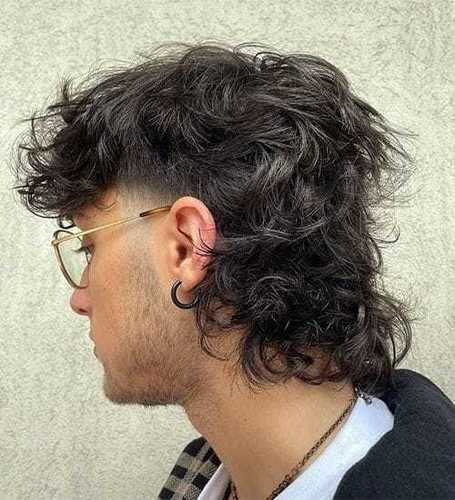 35. Messy Wolf And Skin Fade
Much similar to the above-mentioned hairstyle. But if you are someone who does not want a completely simple hairstyle then you may try this one. All you need to do is add skin fades to it and you will stand out from the crowd.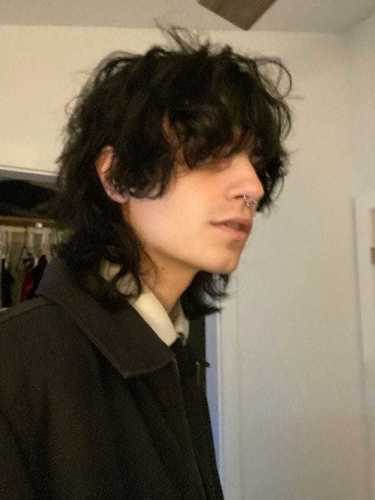 36. Shaggy Wolf
Shaggy Wolf is a modern version of wolf-cut hairstyles. This hairstyle suits every kind of look- be it a weekend party or your everyday office work. It is similar to mullet wolf cut but it does not go as long as mullet.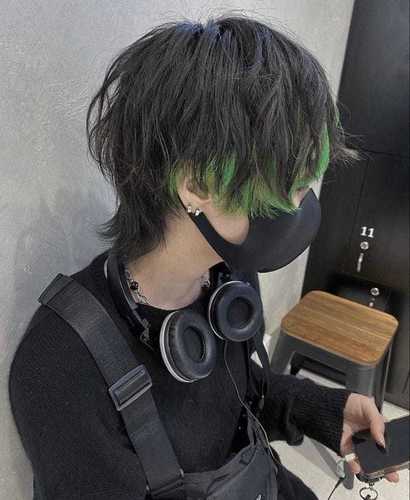 37. Colored Tips
This is basically adding a funky look to your general wolf cut look. That is you just need to ask your stylist to color the tips of your hair and this small step will get you a completely extraordinary look.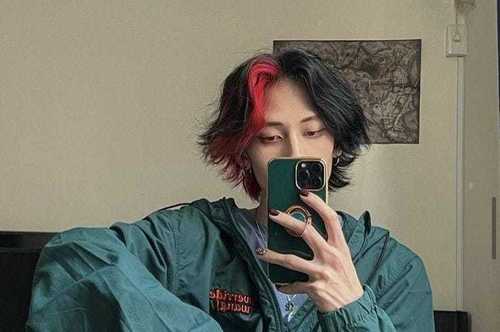 38. Wolf Cut Hairstyle With Dark Red Highlights
Wolf-cut hairstyles are known for adding volume to your hair and so do highlights. A hairstyle having both of them can be a perfect blend of style and comfort. You can even customize it with long hair.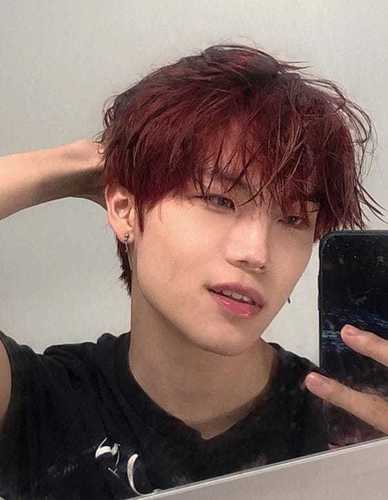 39. Red Wolf Cut
A fact about red hair is that it is rare and hence it unquestionably garners attention. Men with red hair look amazingly cool. Pairing it up with a wolf cut can be the icing on the cake for your hairstylist.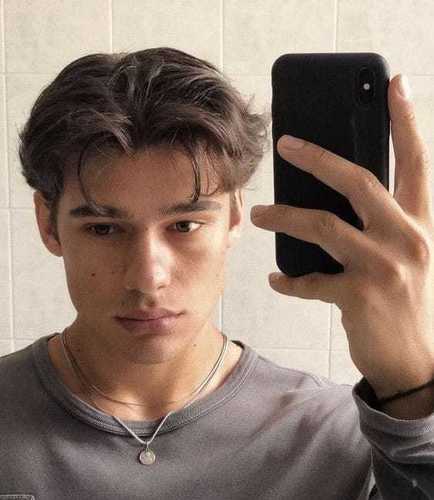 40. Tapered Mullet Wolf Cut
As experimenting is never a bad idea, wolf cut with tapered mullet can be a good idea for you too. This kind of hairstyle can get you a structured look.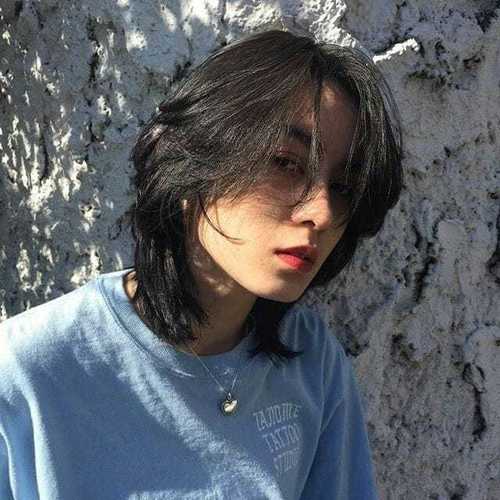 41. Thin Hair Wolf Cut
If you are someone who has thin hair but still wants to go for a wolf cut hairstyle but is fearing that it might not look voluminous enough then this hairstyle is perfectly chosen for you. For a fact, wolf-cut haircuts will anyway make your hair look voluminous no matter how thin they are.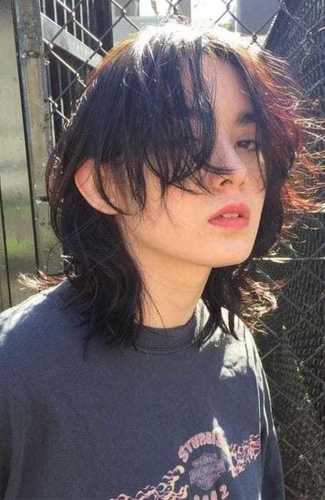 42. Wolf Cut With Long Bangs
Wolf cut with bangs is an everyday sexy idea and keeping the bangs longer is even a better idea. This will have a youthful finish. And at the same time, it will bring attention to your face.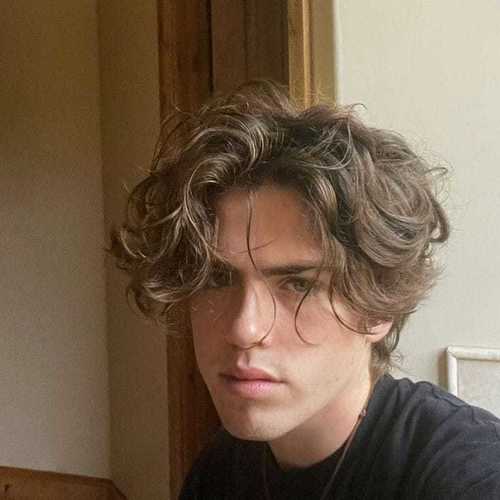 43. Modern Wavy Wolf Style
This is basically a modern style wavy wolf style and this will make your face look even more fuller. Here, the main difference is that the waves are kind of made in a way that they look natural.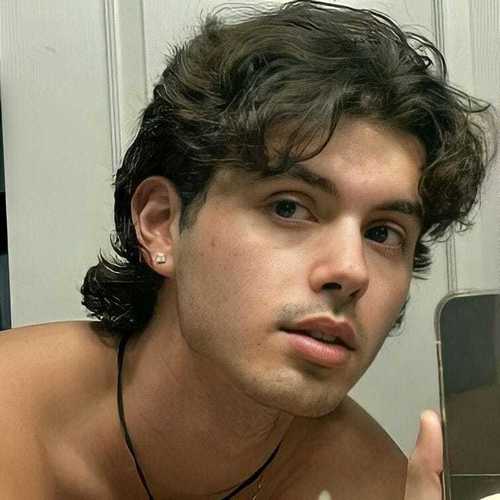 44. Permed Wolf Cut
This hairstyle is for all those people who do not have natural wavy hair. Trying a perm is the best idea for them. Basically, in this type of hairstyle, hair is chemically altered so that it becomes malleable.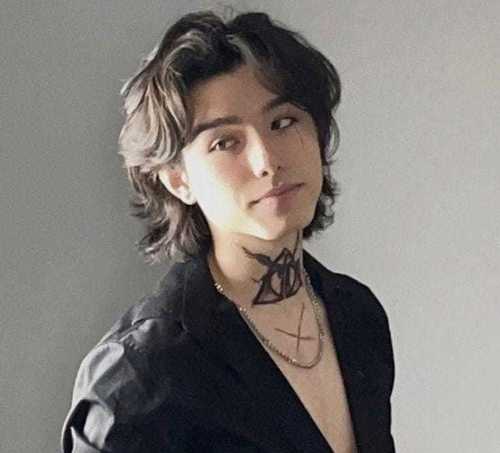 45. Side Part Wolf Cut
We have already discussed a middle part wolf cut haircut then obviously getting a side part wolf cut is not going to be a bad idea either. And if you are a fan of David Bowie, then this hairstyle must be on your list.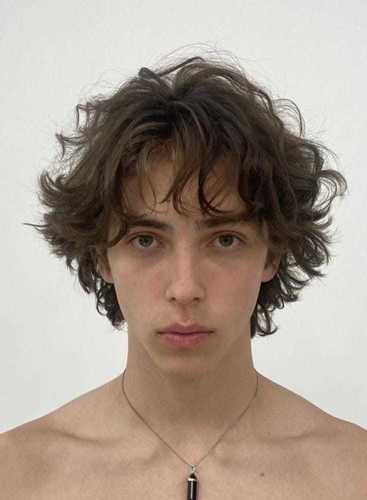 46. Wispy Wolf
One of the most stylish versions of wolf cut hairstyles, then this is the best haircut for you. Generally, in this look, the ends are razored to present a sharp look.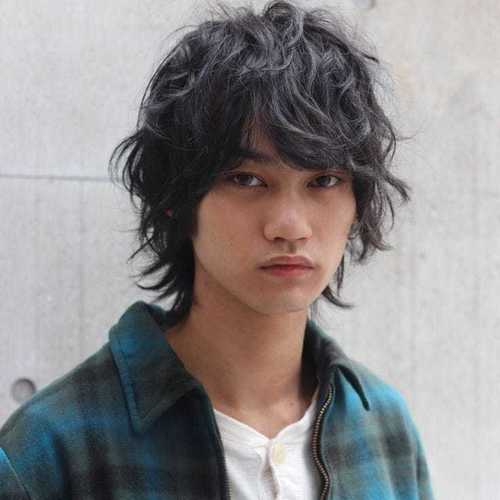 47. Deep Cut
This haircut is very similar to a Korean wolf cut for men. This kind of hairstyle is a specific example of a wolf cut for long hair. This one has a lesser volume and hence, it is easier to maintain.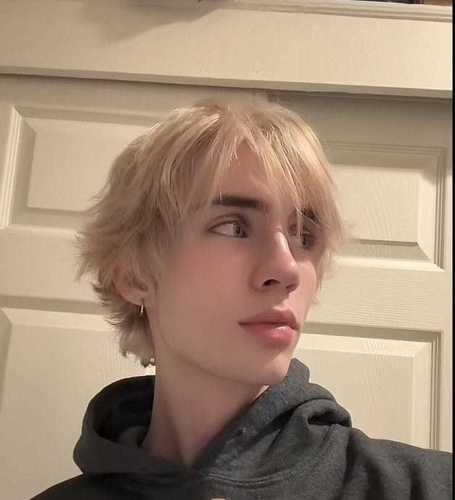 48. Light Layers
Wolf cuts for layered hair have been trending for quite some time now. Maintaining layers can be frustrating at times. Adding fringes and light layers can bring magic to your haircut.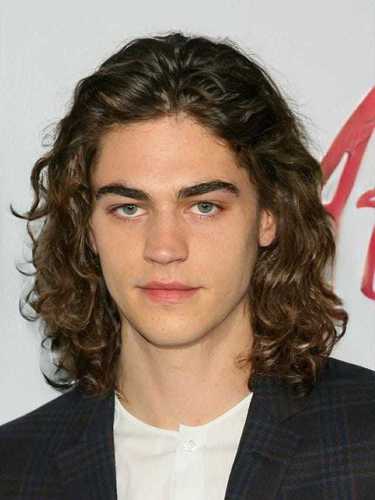 49. Extreme
An extreme wolf cut is when you are giving more layers to your hair which will get you a glam rock look.
50. Side Swept Bangs
Medium hairstyles for men have been in demand for quite some time now. This hairstyle is best for men with medium hair which also extends a funky rock look.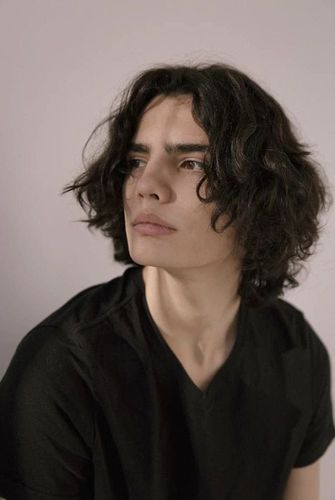 51. The Lob Wolf
This is one of the most unique types of wolf-cut haircuts. It's neither wolf-cut mullet nor shag but a blend of both.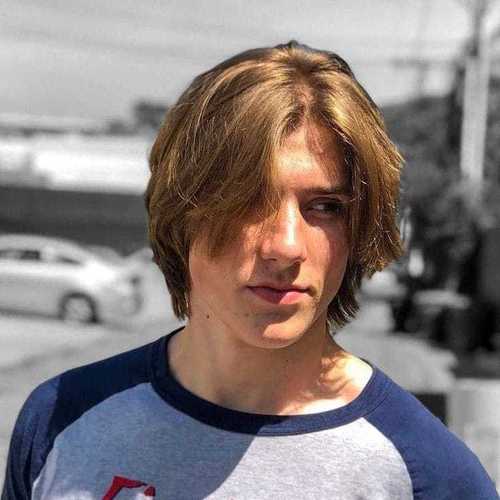 52. Laid back
Laid back wolf cut for men is one of our favorites. This fits any man who is a rockstar at heart.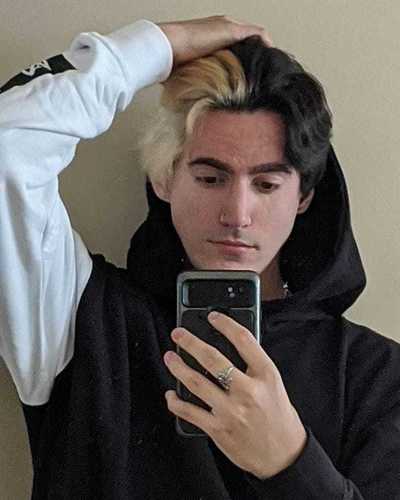 53. Half dye
If you are someone who wants an eye-catching wolf cut haircut then this is the perfect haircut for you. It is highly dramatic and you can customize it as per your need.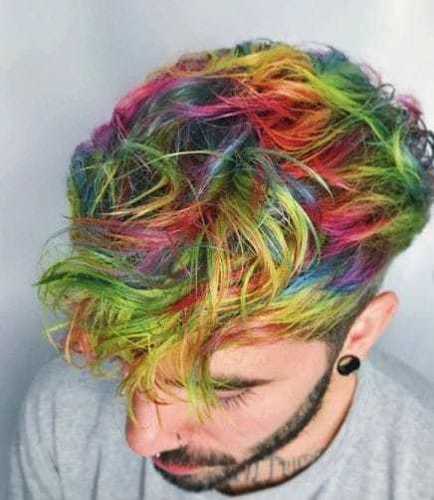 54. Rainbow Wolf
One of the craziest wolf cuts looks for the young and rocking hearts, this will suit every length. But this kind of haircut requires proper care and maintenance.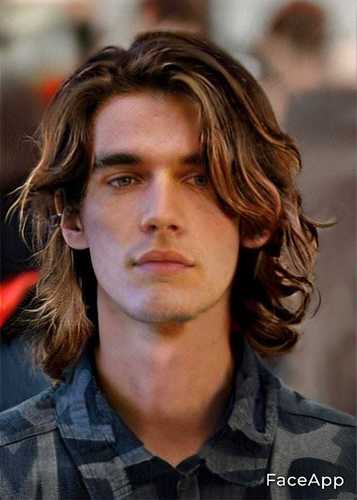 55. Long And Messy Shag
This is a wolf cut for layered hair which is stylish yet messy and extends a groovy look.