25 Popular Bangs For Round Face
Pooja Angurasu
Bangs! You either love or hate them. Finding the right bangs for various face shapes can be a daunting task, especially if your face is rounder. Bangs for round face shapes look good and can make the face look slimmer. Bangs for round faces create opportunities for various women's hairstyles that help to hide softer jawlines and chubby cheekbones.
25 Bangs For Round Face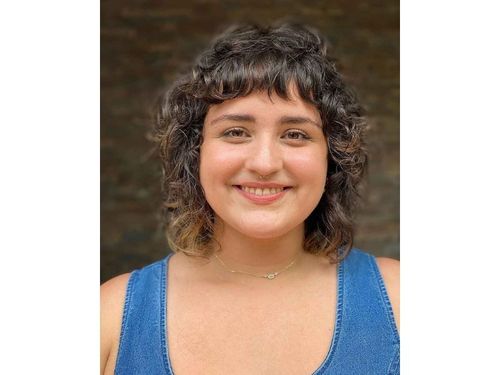 1. Curly Mullet With Short Bangs
A mullet style for curly hair with short bangs is all the rage. With very short layers in the crown area and baby bangs in the front, this cut will grow effortlessly. Texture galore will have the curly hair achieving the most volume while still maintaining the length in the back. Styling for this one is great for the get-it-and-go girls, just add some leave-in conditioner.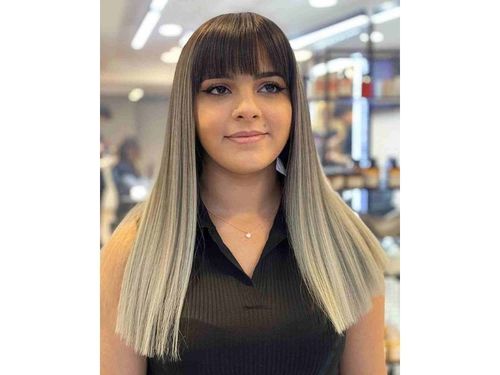 2. Round-Shaped Bangs
Round-shaped bangs for a round face on a longer shoulder-grazing cut flatter and softens round facial features. Full-bodies bangs like these work best on dense hair. Pull it off with a stunning silver blonde shade for extra glam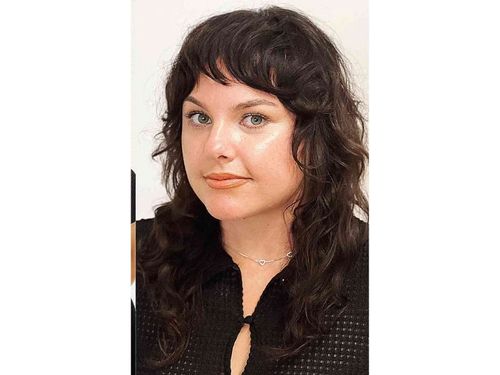 3. Razor Cut Shag With Choppy Fringe
A razor-cut shag with a choppy fringe is the perfect modern haircut for easy style. You'll want to find a stylist who is experienced in razor cutting to get the perfect shape for you. Razor shags typically grow out with ease and find many cute shapes along the way.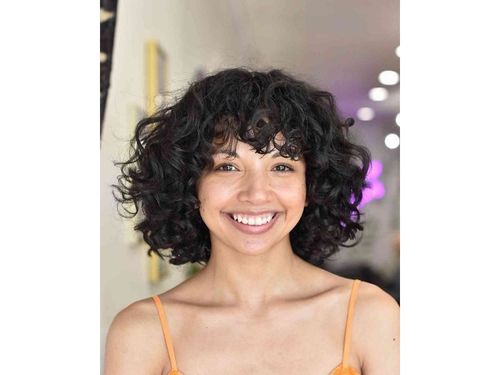 4. Voluminous Curls With Bangs
Voluminous curls with bangs for a round face is an easy day-to-day style, but overall a very high-maintenance style. This hairstyle is great for any curl type, as it helps to create a lighter fuller effect. Shorter curly hair with bangs will require regular trims. Very small grow outs are extremely noticeable in styles like these.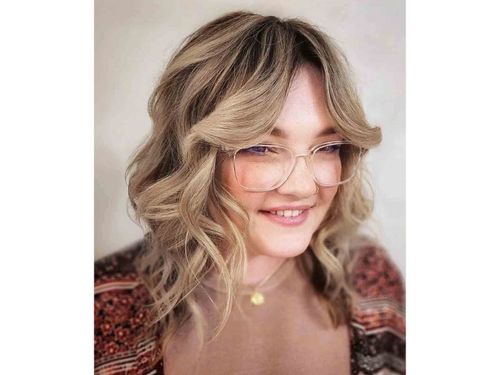 5. Bottleneck Bangs
Slim down the face instantly with bottleneck bangs. Bottleneck bangs are wispy and light and are great at giving the face softness. These bangs also can be customized to any face shape. This bang is best for people with round faces which makes their faces look thin.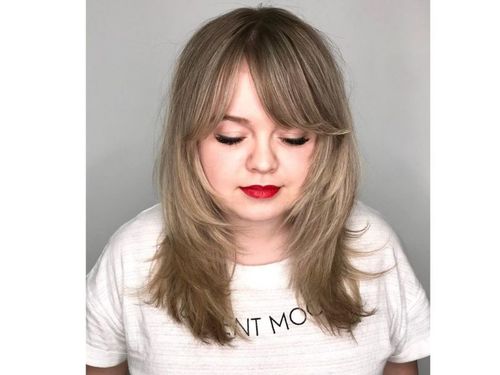 6. Long Side Bangs For A Round Face Shape
Make these long side bangs like wash-and-go shag style. It offers chic long side bangs for round face shapes, which go very well with the chop's layers. Ask for a mid-length cut with a dark-rooted beige blonde shade to suit both the face shape and fine locks.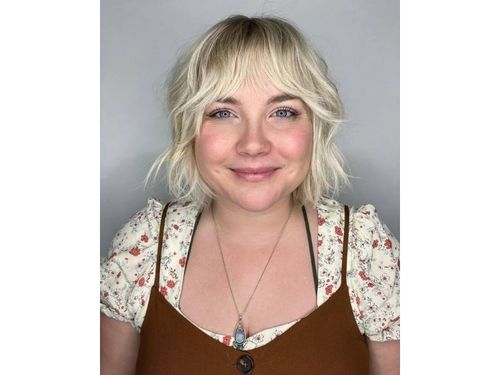 7. Textured Bangs For Round Faces
Try textured bangs for round faces to add structure to your upper face. Bangs for a round face can be uncertain territory but texturizing the fringe creates a lighter choppy feel. The uneven length helps balance out a rounder face shape, too.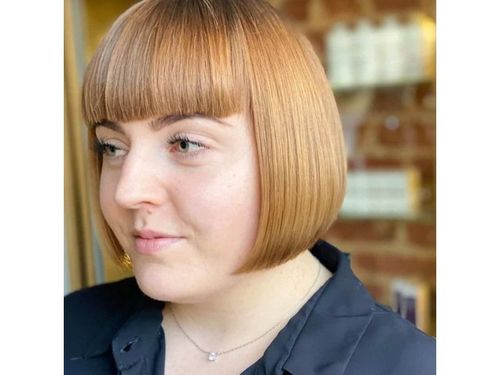 8. Short Hair With Straight Bangs For Round Faces
Choose short hair with straight bangs to achieve that classic, flattering look! The perimeter accentuates the jawline, perfect for rounded faces. It features straight-across bangs that work great on fine tresses, too. Short hair with bangs is so versatile and stylish when matched with a natural ginger colour.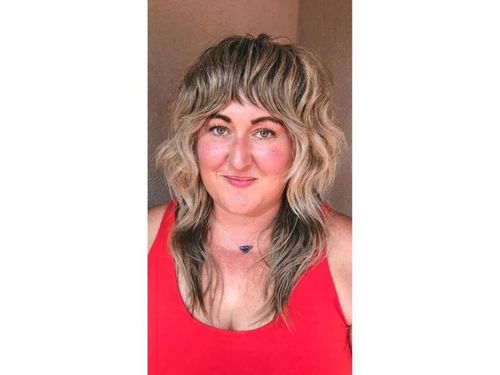 9. Long Hair With Full Bangs
Long hair with full bangs is a perfect choice to make a round face more oval and elongated. Round-faced women can bet on fringes to make the face more harmonious and delicate.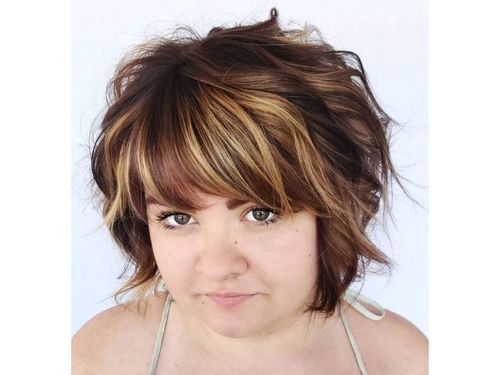 10. Thick Bangs On A Neck Length Bob
Opt for a one-length haircut with thick bangs and with a little bit of an undercut. A bangs hairstyle is great for women with round faces who want to wear their hair's natural waves and texture. The blunt bangs give an edgy vibe.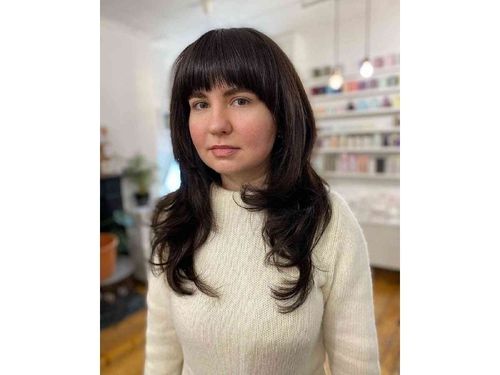 11. Best Bangs For Round Faces: Heavy Bangs
Heavy bangs are classic and versatile for any hairstyle. It's a long haircut with layers that elongate round facial shapes when worn down. The soft layers around the face will break up any roundness of the face that most women fear.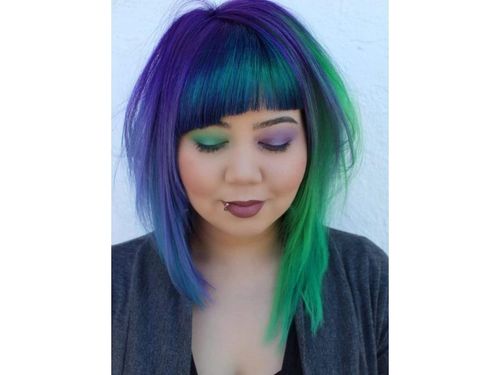 12. Asymmetrical Bangs For Women with Round Faces
"These asymmetrical bangs are edgy on an asymmetrical lob," says licensed stylist Anastasia Lankford of Wichita, KS."It has a lot of texture throughout, but blunt lines through the perimeter. It creates an ability to have multiple looks with one haircut," she adds.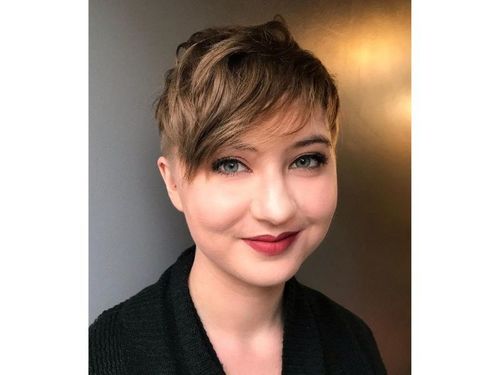 13. Experimental Bang Length For Round Faces.
Get uneven layered bangs for your cute face. Style them differently each morning with foam and a hairdryer.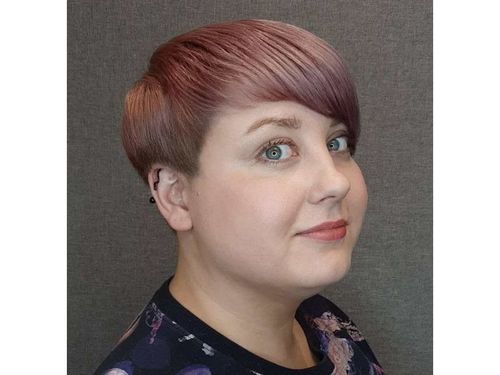 14. Angled Bangs.
It will become the most eye-catching element on the face, no one will pay attention to the slightly plumpy cheeks. Short haircuts for round faces work too!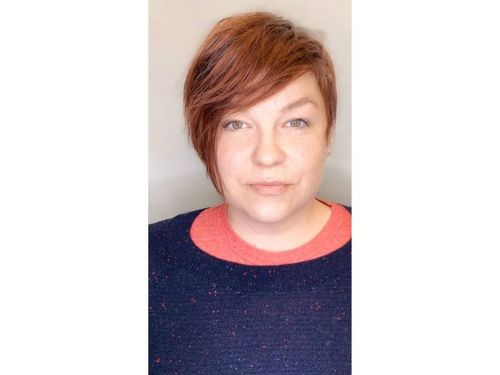 15. Bangs For Round Face And Big Forehead.
If the combination of plump cheeks and a big forehead make the eyes smaller, stylish bangs will fix it easily. With side bangs across the forehead, the face will look slimmer and the eyes bigger!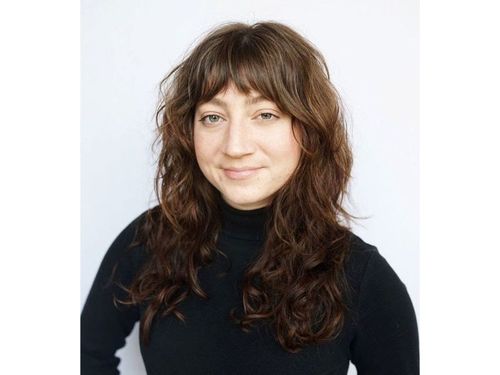 16. Rounded Bangs For A Round Face.
Such a style brings out tenderness, friendliness, and empathy. It's ideal for long hair with soft natural waves. Otherwise, one can use a hair dryer to create the desired volume.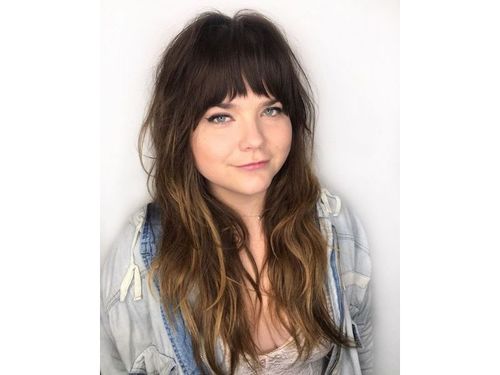 17. Round Face & Long Hair With Bangs.
Thick long hair looks stunning with bangs. These build up additional height and enhance the hair texture, bringing romantic flair to the look.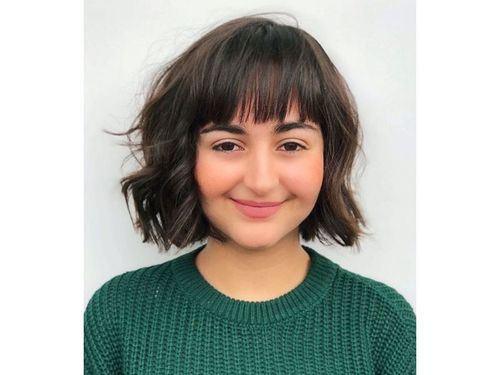 18. Front Bangs For Round Face.
This bob haircut puts a meaningful accent on the eyes and eyebrows. For a neat, clean, and accurate impression, it's important to fully cover the ears.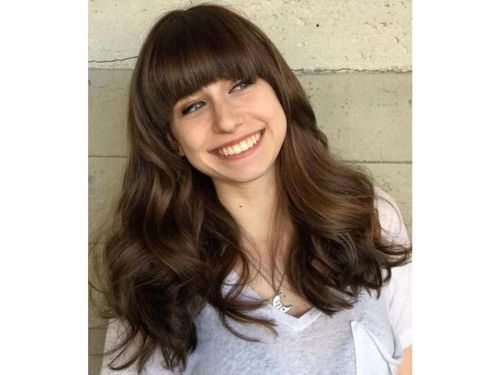 19. Arched Bangs For Round Face
This is a risky choice of bangs for a round face because they are fairly thick. However, ladies with thick hair need equally full bangs to match – otherwise, the hairstyle will seem unbalanced. This is perfect for a young collegiate who needs a quick but fashionable look to wear on campus. Create effortless waves by making a topknot bun overnight —just undo it in the morning and head to that am class.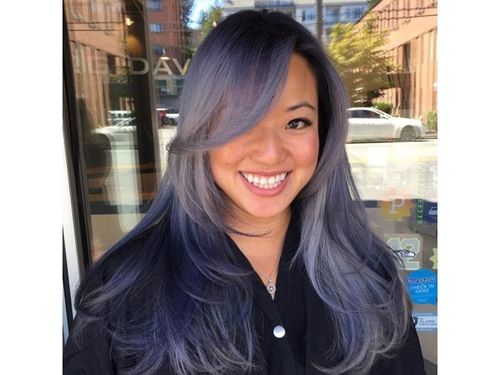 20. Smoky Long Bangs For Round Face
Going for a grey-blue tone with tons of visual interest? One can choose full-on drama by incorporating long layers and cheek-skimming bangs. The multiple hues of the colour play beautifully with the layers while the long side bangs add glamour and mystery.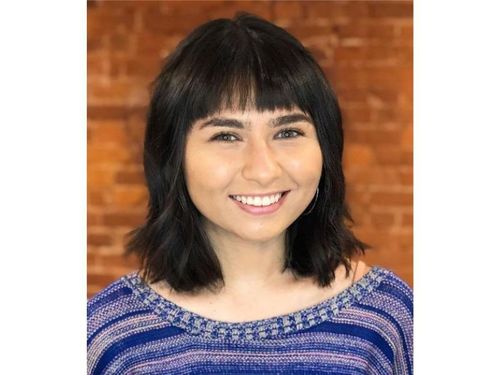 21. Textured Bob With Bangs
Keep it sleek and chic with this fashion-forward hairstyle punctuated by an expert cut with a razor finish.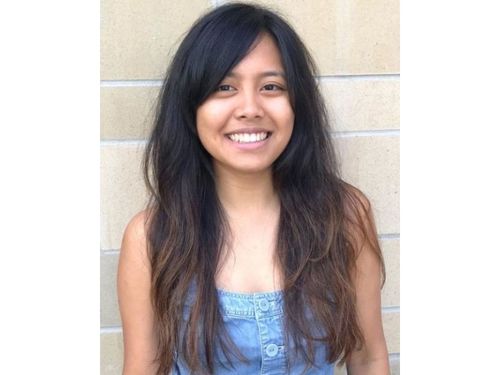 22. Long Side-Parted Bangs
This extra-long hairstyle uses length as a flattering way to frame a round face, while the long bangs parted on one side perfectly elongate it and make it look slimmer, even with a smile.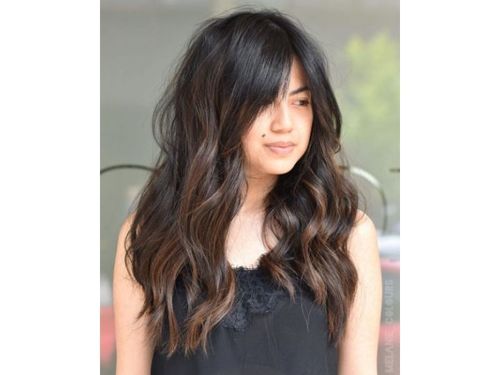 23. Parted Razored Bangs And Luscious Curls
A head full of thick, luscious curls topped off with a set of long, side-swept bangs is the perfect way to complement the round face.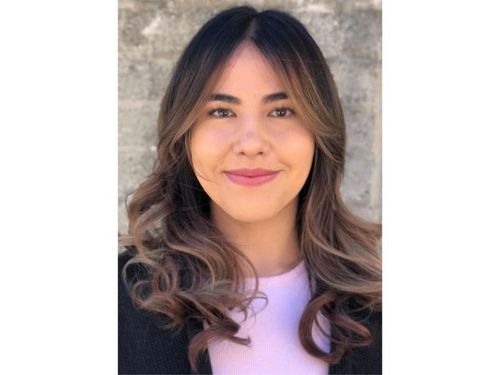 24. Long Light Split Bangs
If one has a timeless hairstyle for their long hair with bangs and round faces, then this is it. There is not a lot of fuss to this look, but that's why it works so well in practically every setting.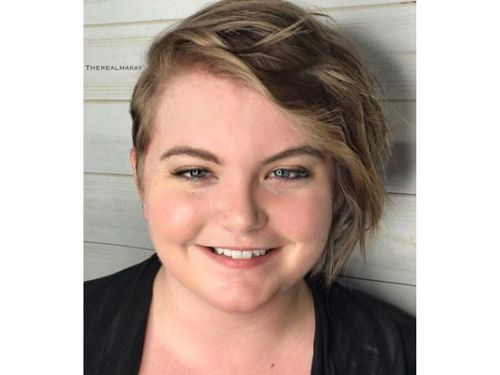 25. Asymmetric Pixie With Combover Bangs
Whether one has a round face, one may find it difficult to decide on a short hairstyle that will look best with the face shape. Luckily, there are a lot of options out there, like this one.