75 Best Tattoo Designs For Women - 2023
Bhagyada
Updated At 08 Nov 23
Looking out for the best tattoo designs for women? Looking for cute tattoo ideas which are of different sizes?
Tattoos are probably the best way to express and hold on to the great things in life. Tattoos are motivating and inspirational. Tattoos are very personal and should mean the world to the person themselves. These little drawings engraved on our skin are constant reminders to us about things we always want to tell ourselves. Tattoos are a great way of self expression and they relate to freedom.  Thus it is very important to choose a tattoo design that inspires you, that speaks to you, that describes you the best. 
Following is a list of best tattoo design for women that can inspire you to get one or help you choose a design. These tattoo ideas for women are suitable for all body parts like tattoo designs for women's hands, female tattoos designs for arms and legs etc.  These tattoo design are elaborate as well as subtle. Delicate female tattoo designs are very much in fashion right now. These best female tattoo ideas are combined with great images from the female tattoos gallery to help you see the design better.
75 Best Tattoo Designs For Women For 2023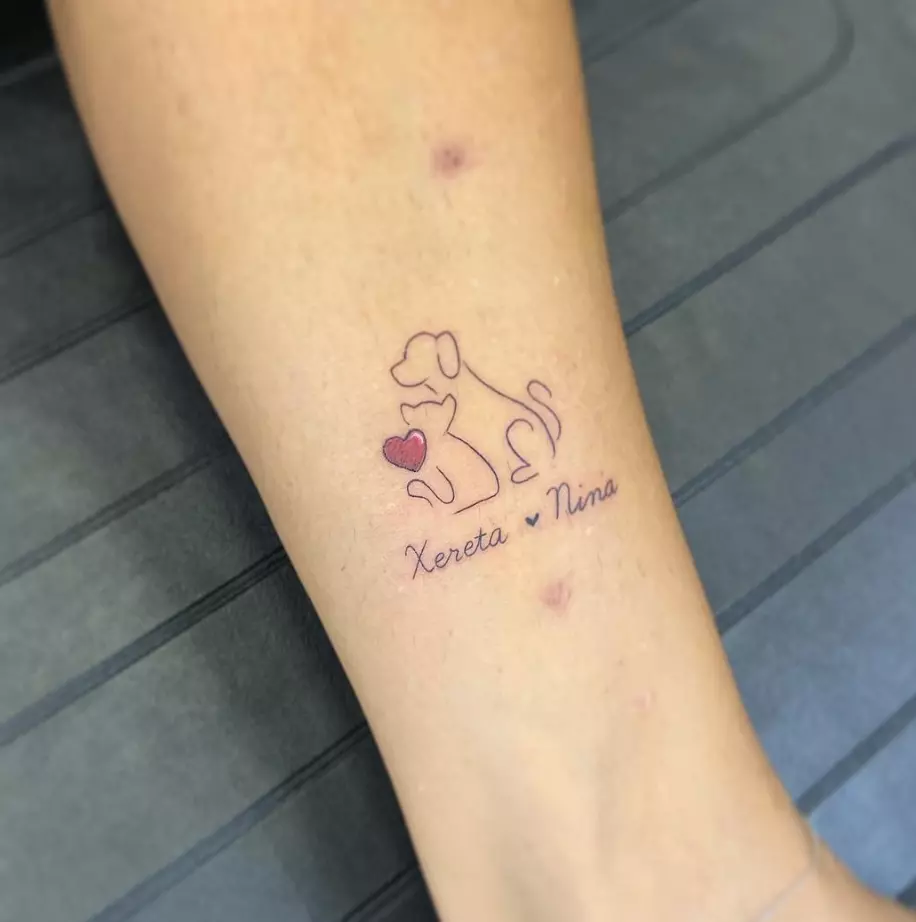 1. Pets Tattoo Design

One of the greatest tattoo designs and amongst the best female tattoos is to get your pets name inked on you. Pets are very close to you, and getting them inked adds to their significance in your life. It shows how important and loved they are. If you are looking for cute small tattoos, then this can be an amazing option.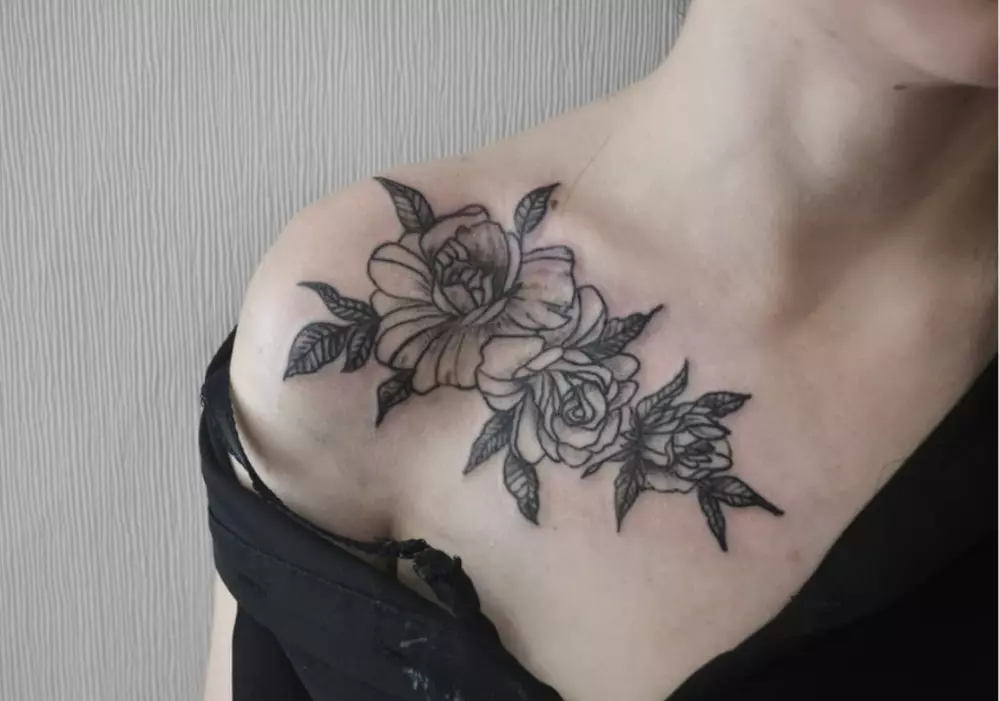 2. Flowers Tattoo Design For Women
Flowers are pretty, girly and beautiful. One of the best tattoo design for women , flower tattoos work wonderfully well. Add colour in the tattoo to make it look prettier. You can go with whatever flower you like. Roses, sunflowers, tulips even lotuses are great ideas for a tattoo. Flowers can be inked anywhere like your arm, your neck etc.
If you are looking for back tattoos then do refer to our guide as we list 50+ stunning tattoo ideas.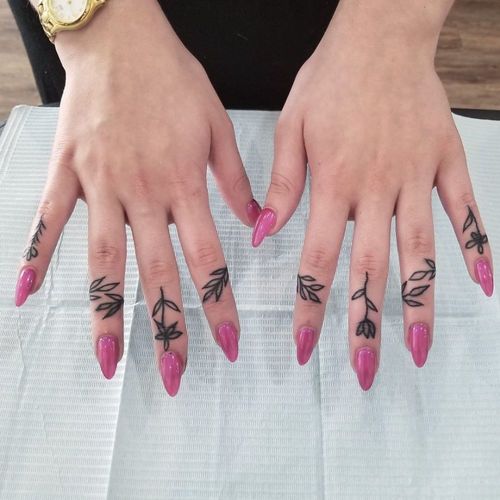 3. Finger Tattoos For Female
One of the best tattoo designs for women's hands, small tattoos on the fingers look very chic and fresh. They look almost like accessories. They are very in now-a-days. Small flowers, small birds etc can be great ideas to get inked on your fingers. These cute and small tattoos looks stunning.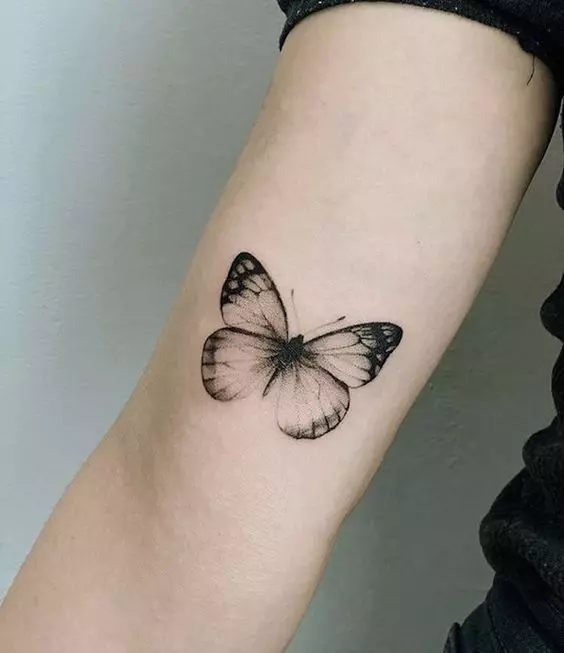 4. Butterfly Tattoo For Women
Butterflies are innately beautiful and delicate creatures. One of the best tattoo ideas for women, getting butterfly inked on the body looks very pretty. Butterflies give a great variety and scope for the use of colour. They can be drawn huge or small.
You can pair this with a thigh tattoo as well. Do check out our guide to find the best thigh tattoos for women as we cover all the trending ones this year.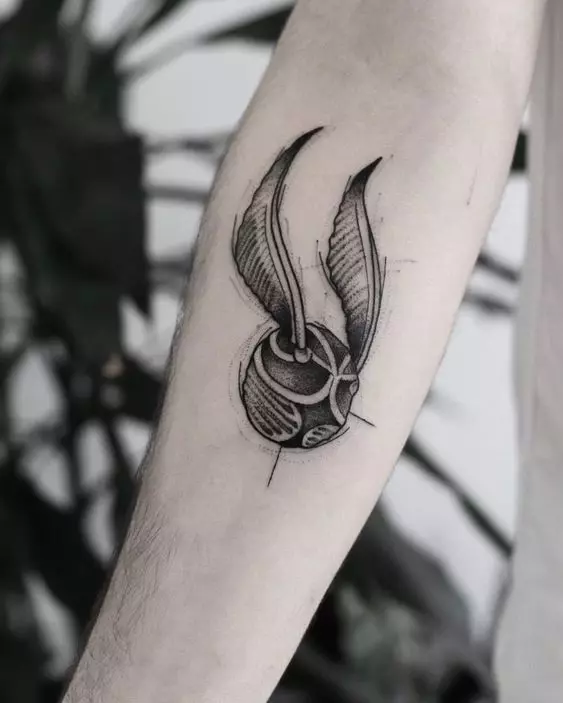 5. Cute Small Tattoos
There are some things in our life that influence us into being the best version of yourself. The books, movies TV shows we watch end up leaving an imprint on our hearts. Thus tattooing certain symbols or fan art of fandoms you follow is a great idea. Fanart indeed is also one of the best tattoo design for women if you want to try out something different. Harry Potter, Game Of thrones, Avengers, A football club and Friends are huge fandoms with specific symbols that signify so much.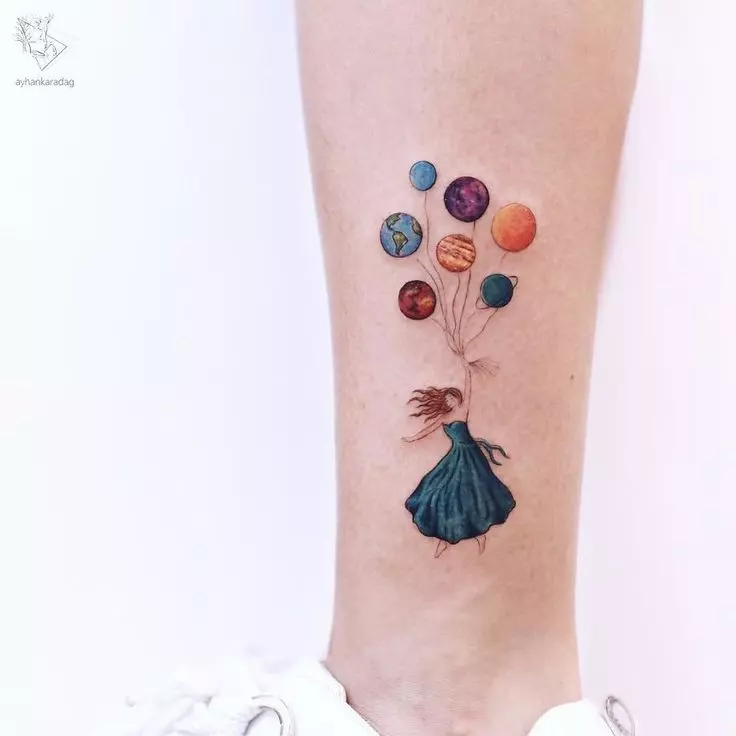 6. Whimsical And Cute Tattoos
These cute and whimsical tattoo designs are perfect for women because of their whimsical, endearing, and cheerful aesthetic. These cute tattoo designs are always going to be charming. Though the tattoos will have a deep significance, getting them inked in vibrant designs is enjoyable.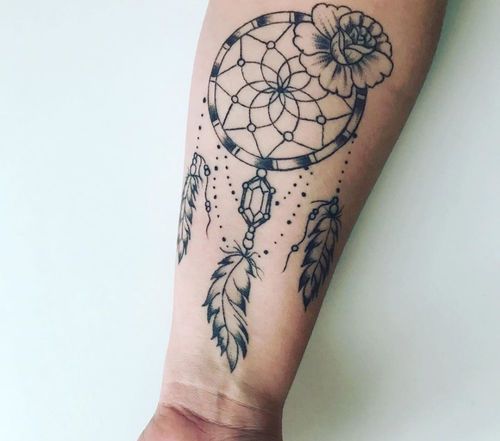 7. Dream Catcher
Dream-catchers are beautiful, colourful, fun and inspiring. They are super in style and customizable. Getting one tattooed looks so beautiful. You can add a lot of colour and even do a mandala within.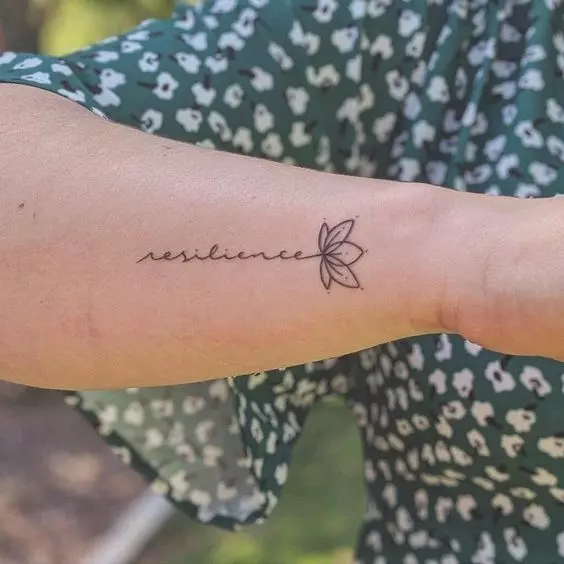 8. Words
Inspirational words, or words that define you are great ideas for tattoos. You can choose from different fonts to make the tattoo look whimsical and personalized. Words like Free, Unpredictable and Strong are a few examples of common words that people get inked on themselves. Motivational words can be a good luck tattoo for a few as well.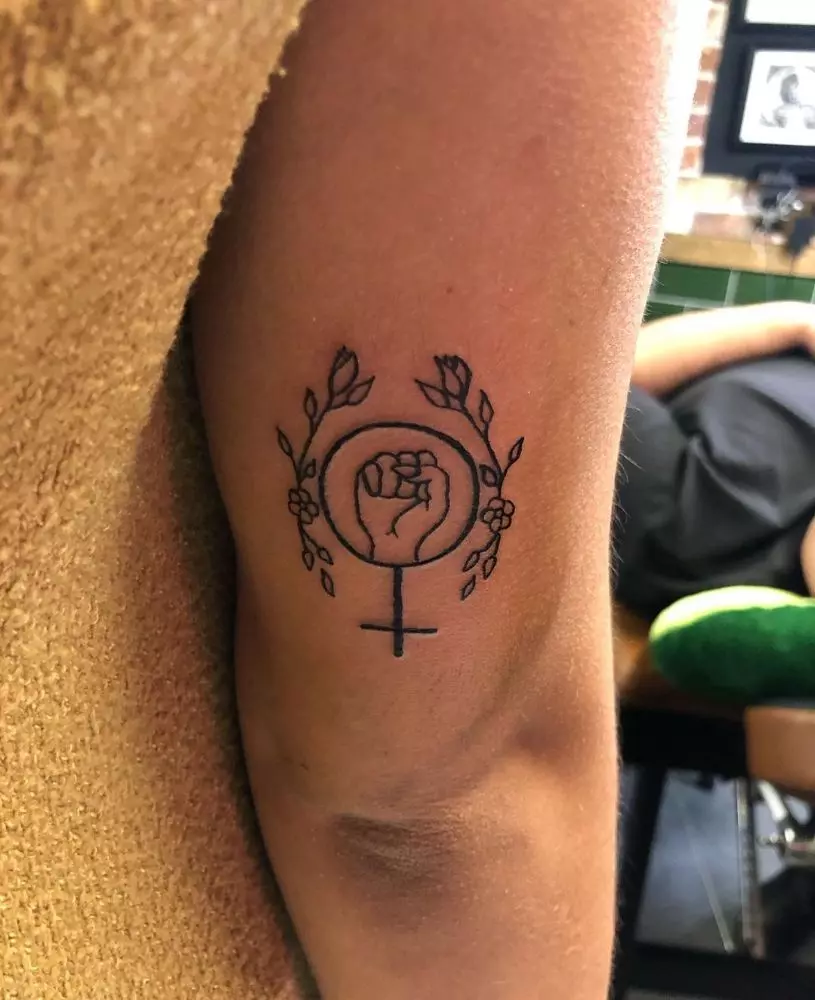 9. Feminine Symbols
Tattoos featuring feminine symbols frequently honor qualities of empowerment, strength, and femininity. This small tattoo for women can be an effective way for women to convey their values and sense of self. A tiny feminist tattoo for women makes a strong statement about women's rights and gender equality. It typically shows a raised fist inside a female gender symbol.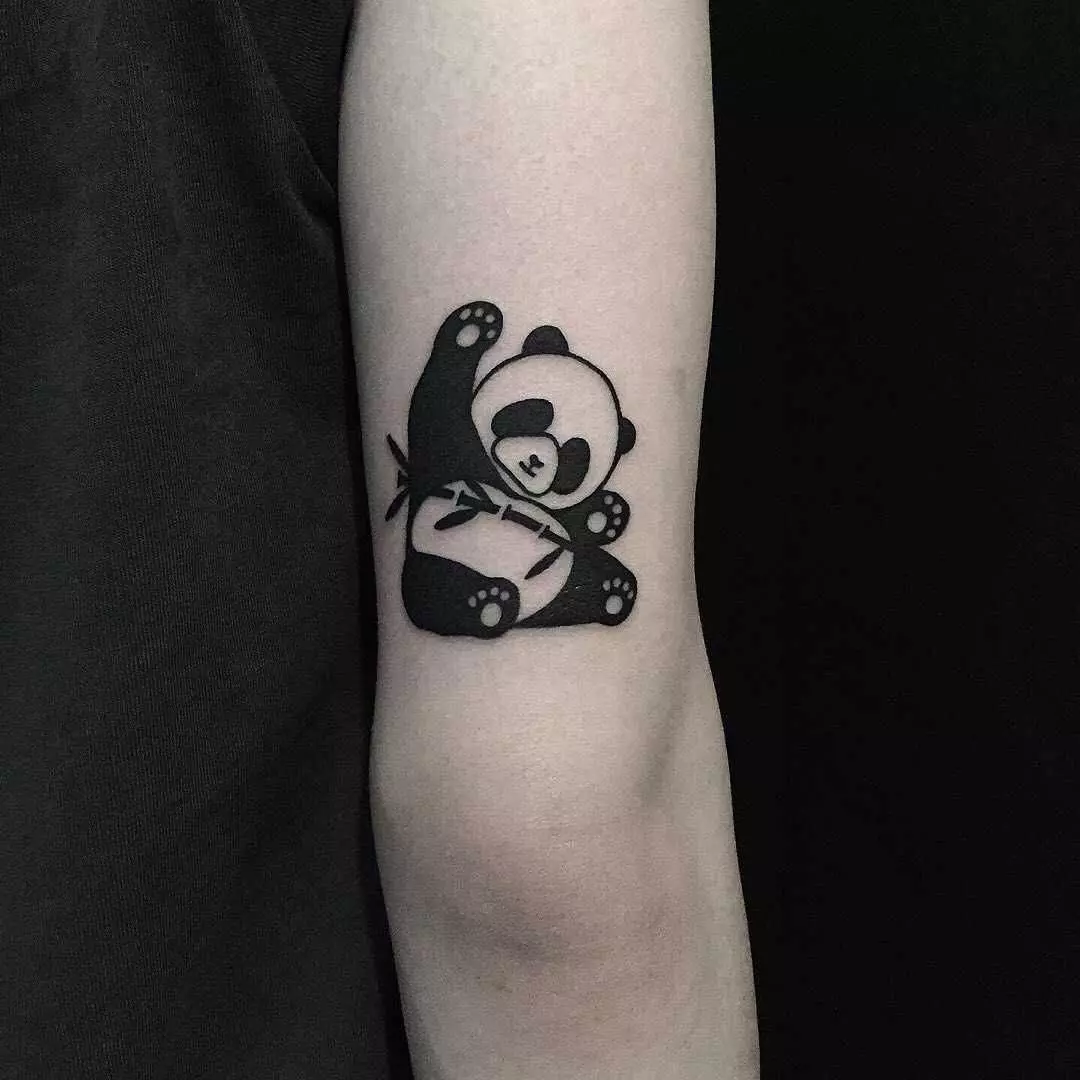 10. Animal Tattoo
Animals are a great idea. Wolves, lions, even cats and dogs can be tattooed on. Their faces or their entire bodies can go on. You can add colour to the tattoo, depending on your vibe. If you are looking for inspiration for cute small tattoos, then this can be a perfect match.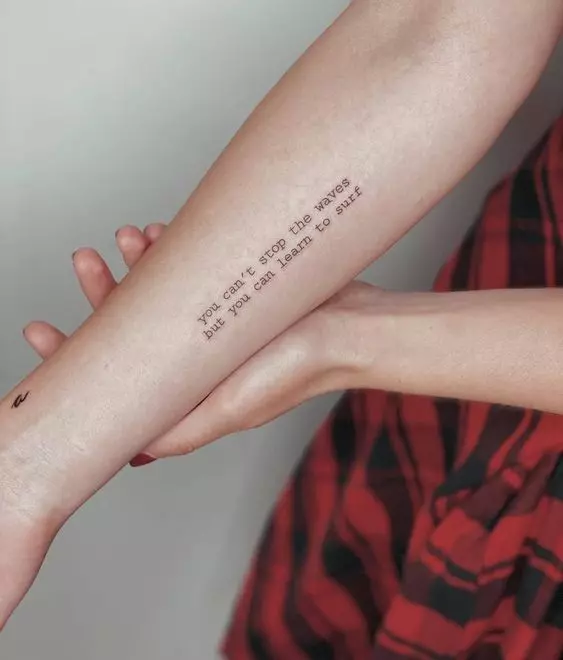 11. Quotes Cute Tattoo Ideas
There are so many quotes or Tumblr sayings that are very inspiring and motivating. Tattooing them is a great idea.  Having writing written on you can be tricky because you want it to be readable. The fonts are a great way of changing it up and making it more crazy or chic.
Do check out guide to find the best back tattoos for men as we list 50+ stunning and trending tattoos of this year.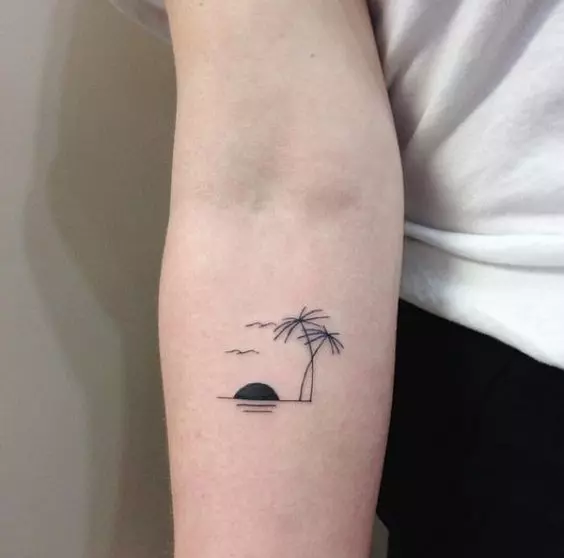 12. Art Tattoo
For every artist out there his art is important. Just like tattoos, art is also a great way of expression. Inking it on your body gives you a very customized and personal design. It's very personal and unique. Some great tattoo artist are also painters and it reflects in their work. One of the best female tattoos, this can transform your look.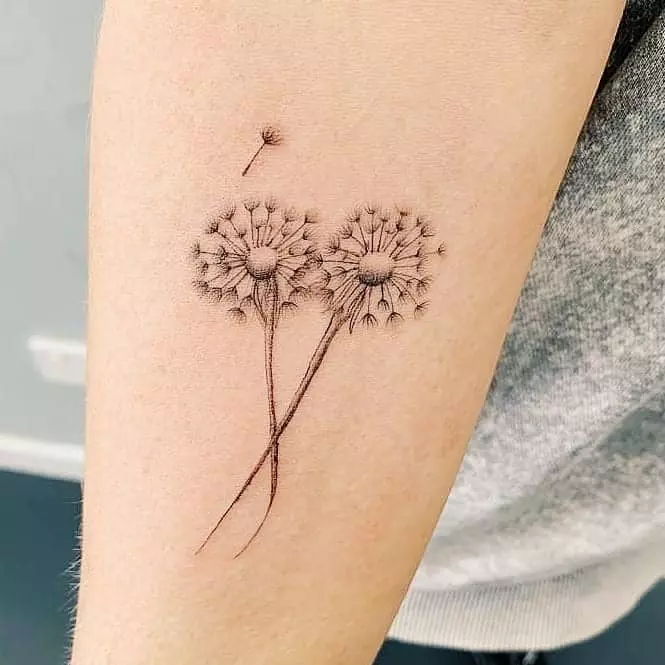 13. Dandelion Tattoos
Dandelions are a great choice for women tattoos with meaning and a popular due to its delicate and spiritual belief too. The dandelion tattoos for women often represent liberation, change, and the transient aspect of life.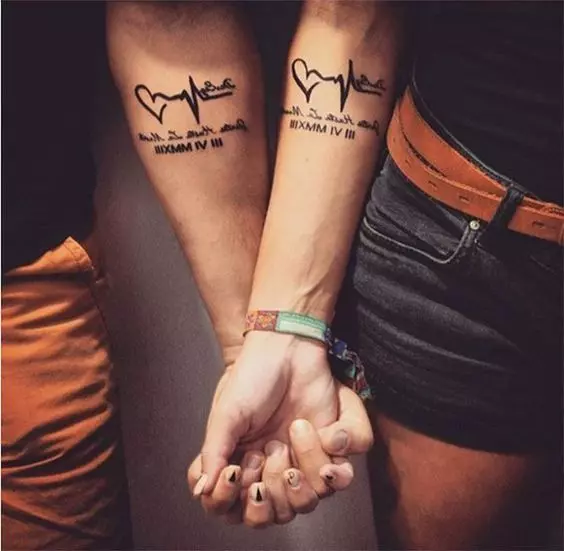 14. Couple Tattoos
There is no other way to celebrate a relationship better than matching couple tattoos. Hearts, dates, names etc are great ideas for a cute couple tattoo. It signifies the importance of the relationship in your life. And like your lifelong love, you will forever cherish your tattoos.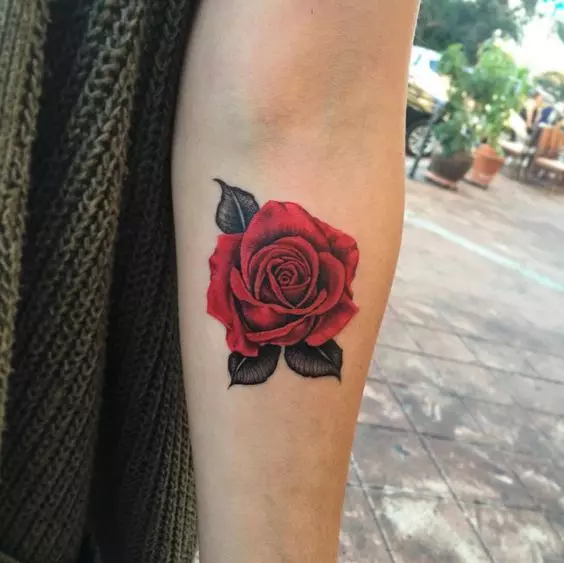 15. Rose Tattoo
This is a very interesting design and amongst the best female tattoos. It is a very popular design that a lot of girls love. This rose tattoo with vibrant colors of red and green leafs looks amazing. This design can be very tumblr-y as well as very gothic.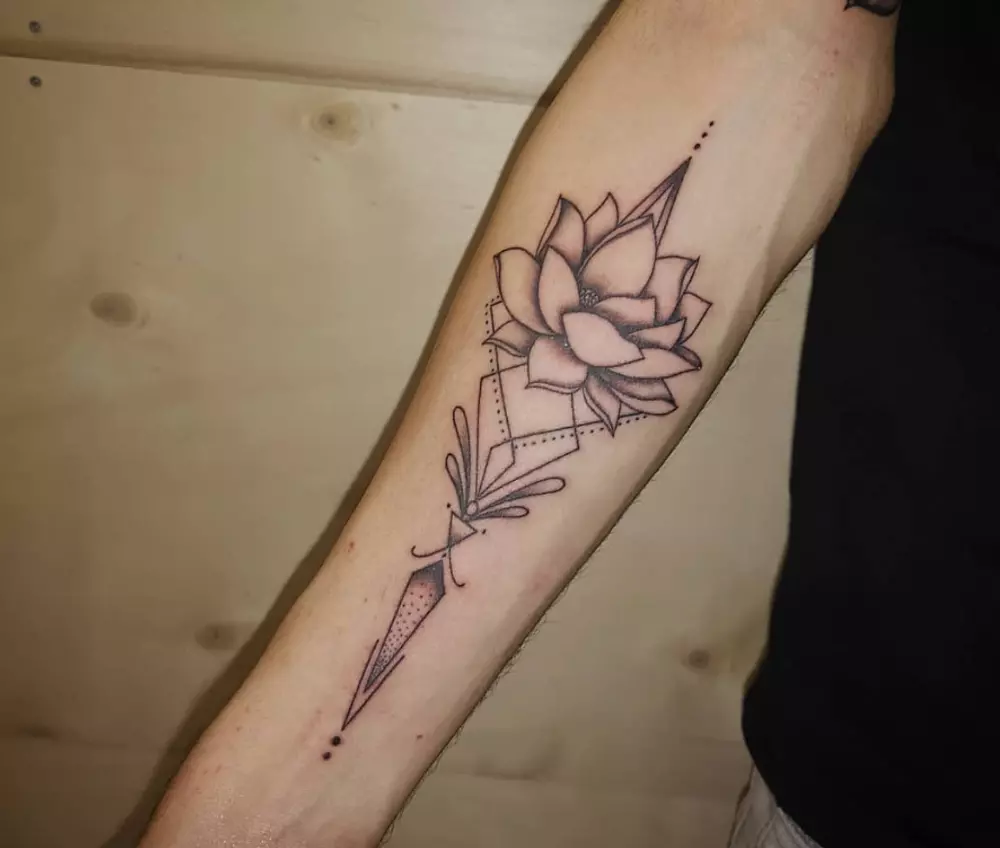 16.  Minimalistic
Small, clean lines are very sweet tattoo designs.  One of the top tattoo designs for women's hands, minimalistic tattoos look gorgeous. Small designs are very sweet. Subtle outlines of different things look very beautiful, elegant and pretty. These minimalistic tattoos are a great idea if you don't want your tattoos to scream out. A simple tattoo that suits your personality and doesn't overpower it, is a perfect idea.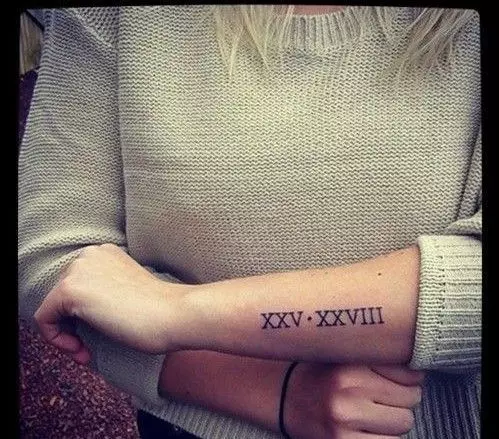 17.  Important Numbers And Dates
There are some days in life that you just can't forget. These days become some great memories that you cherish forever. Deepen the impact of these days by inking them on your skin. Dates are a huge part of our lives. Birthdates, anniversaries, graduation dates etc are very special and can all form cute tattoo ideas. Getting them inked with the roman font looks very pretty.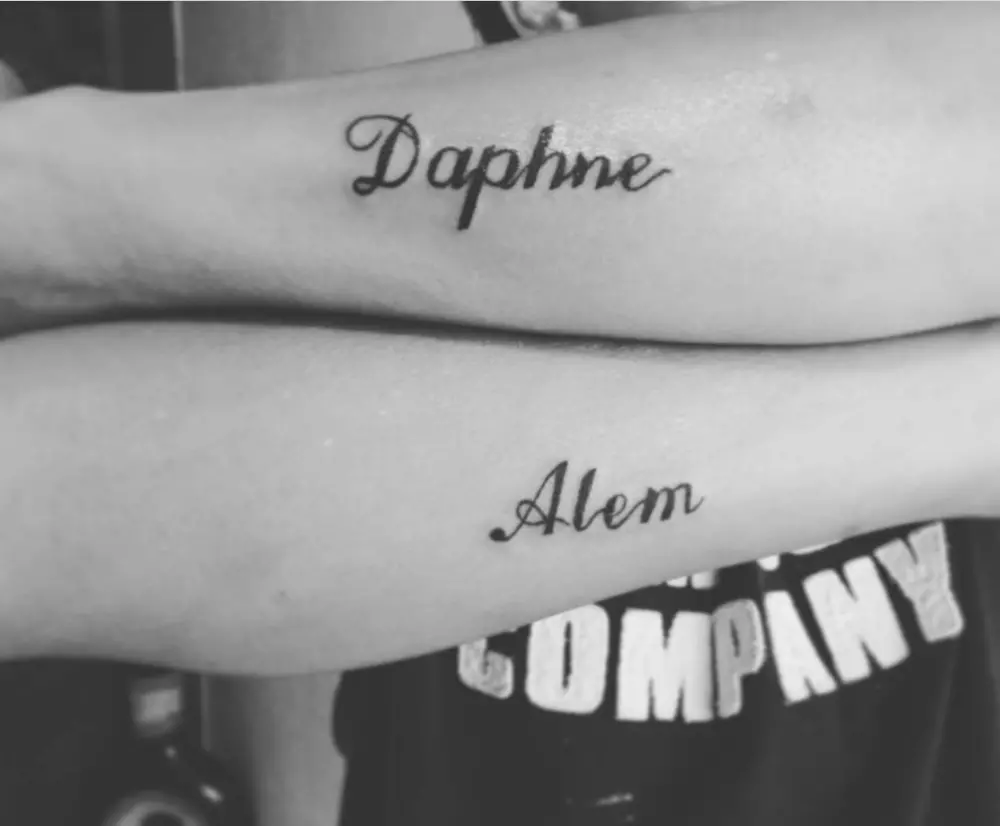 18.  Names - An Innovative Tattoo Design
One of the best tattoo ideas for women, going for name based tattoo's works out nicely. Names of people who mean a lot to you are a great and meaningful tattoo design. Your own name is also a good idea, except maybe a little narcissistic? I mean, you do you though! Your parents, significant others, pets, siblings, family members etc is a great idea. You can play with the fonts to make the tattoo more personalized.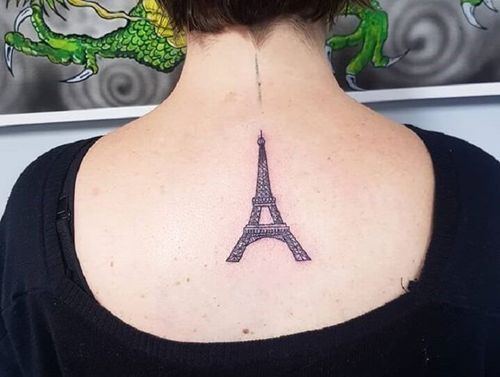 19.  Meaningful Memoirs – Eiffel Tower Tattoo
Some places, some people, some things will always reminds you of great experience in your life. A camera and a shopping bag can become parts of great memories. Eiffel tower tattoos are getting popular these days as well. Getting these things tattooed makes them that much more special. This unique tattoo design on the back looks stunning.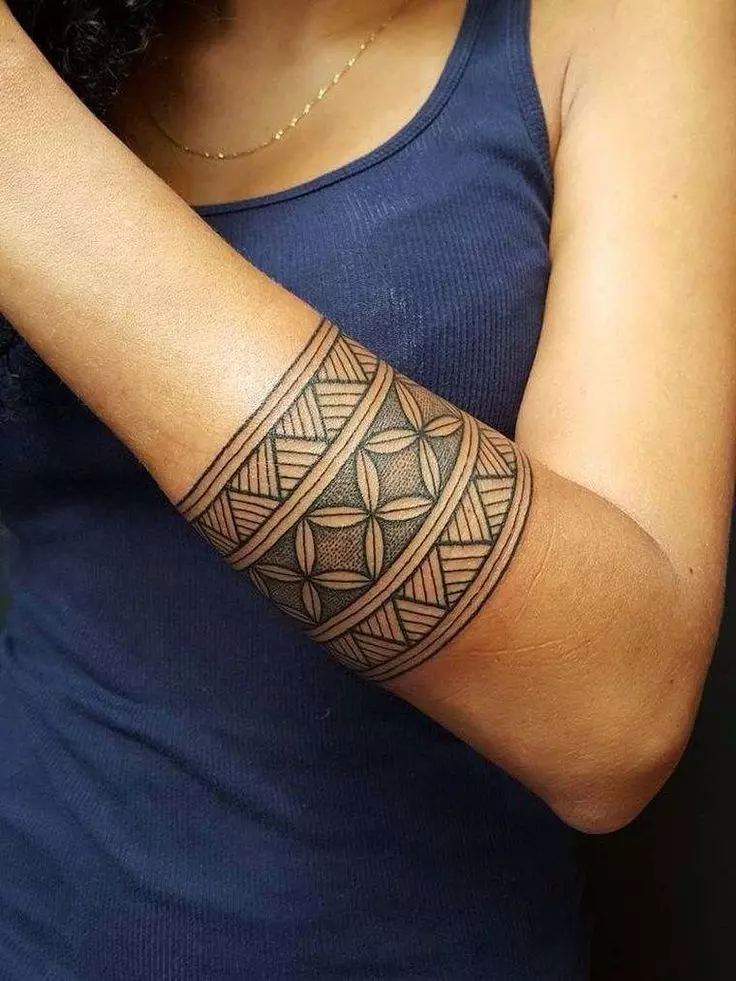 20. Tribal Tattoo Designs
The vibrant and unique designs of tribal tattoos are well-known, and they are frequently influenced by the traditional tattoo techniques of indigenous cultures across the globe. Although they differ in their unique appearances, tribal and Polynesian tattoos are quite similar.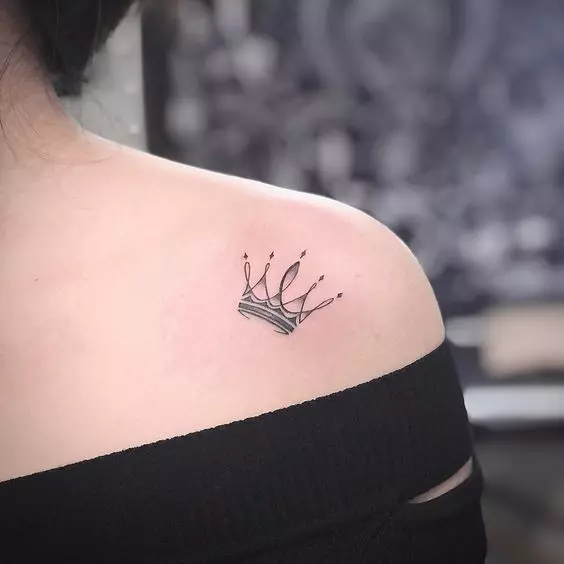 21.  Crowns
Crowns are a quintessential tattoo design. Every princess needs a crown and inking it solidifies the power that women own. A crown is a very popular design all across the world. It can be inked in different styles as well as colours. This unique and cute small tattoo looks amazing on the hand.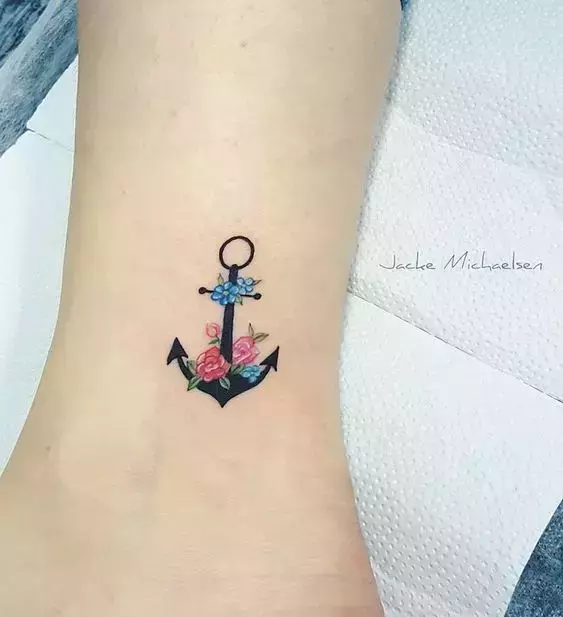 22.  Anchors Tattoo
Anchors are a very beautiful symbol of strength and peace. They symbolize a grounded and firm personality. Anchors also lucky. They are a very popular tattoo design. It can be drawn to look like a pendant. Adding colours and even waves gives it more personality and oomph.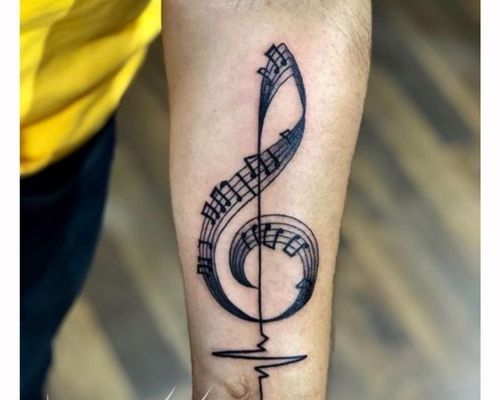 23.  Musical Notes
For all the music fanatics out there, getting the actual noted to one of your favourite songs tattooed on is an absolutely beautiful idea. The song will always be with you, reminding you of its essence. Music is a very important part of our lives, and tattooing it on yourself is a beautiful ode.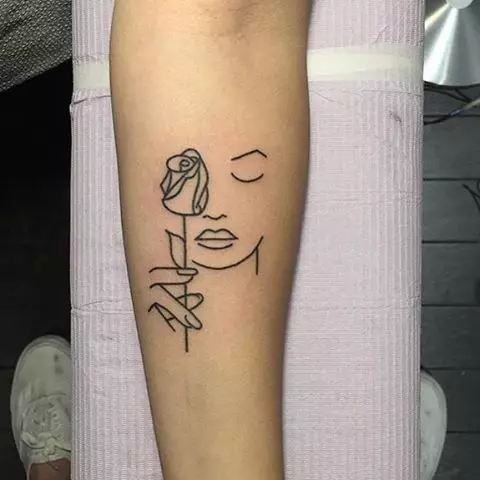 24. Abstract Arts Tattoos
An abstract art cute tattoo for women is so meaningful. This tattoo art is has a deep meaning. These little tattoos for women are excellent means of showcasing one's uniqueness, inventiveness, and passion for non-representational art. Abstract tattoos come in many different forms and frequently highlight original compositions, color's, and shapes.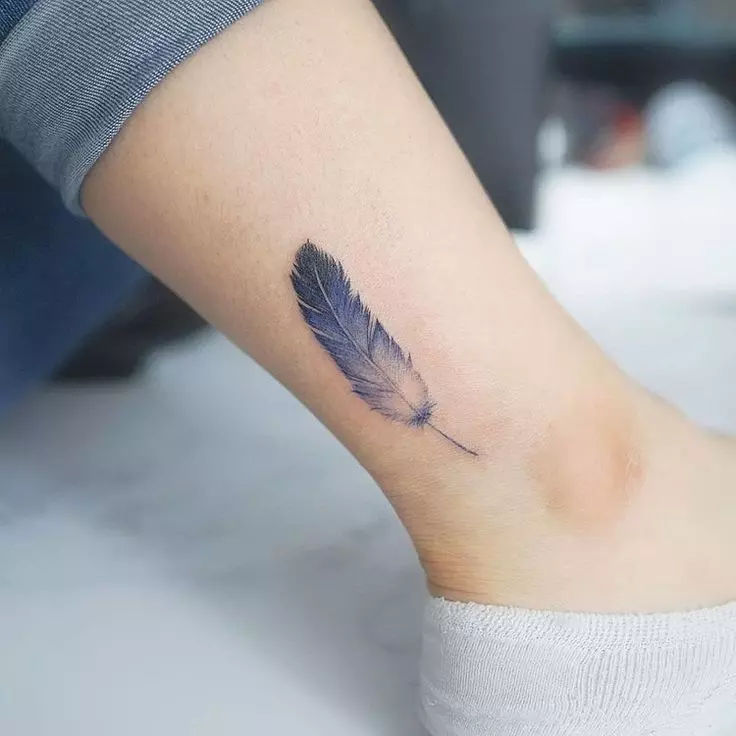 25. Feather Tattoo
A great way to create a sassy and attractive feather tattoo is for women to go for a minimalistic design with shaded feathers on the legs. You can say this is one of the best tattoo for women.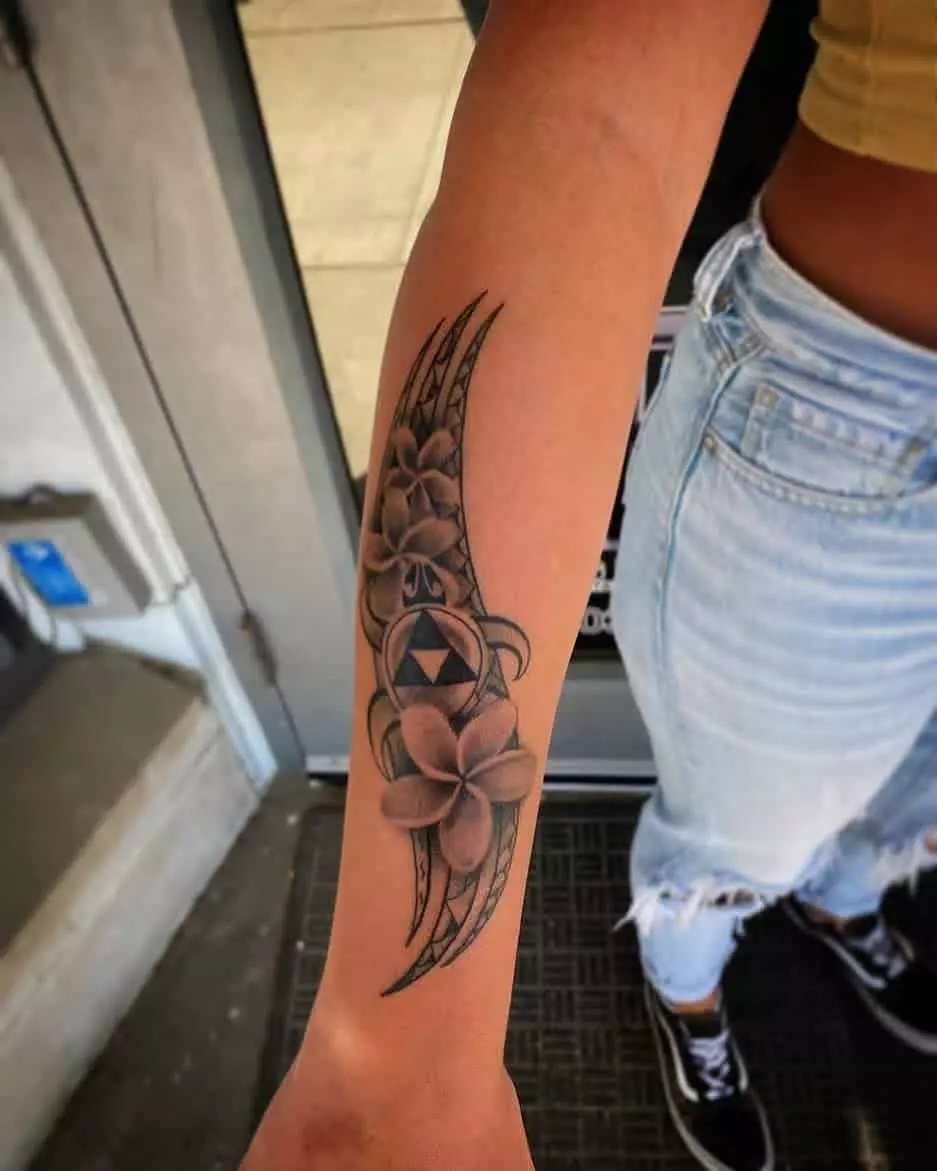 26. Polynesian Tattoo 
Rich in cultural significance and history, Polynesian tattoos for women are characterized by their intricate patterns and symbols. Although Polynesian tattoos have historically been more popular among men, women who are interested in this style can customize and alter them to suit their own preferences. One of the greatest tattoo designs for women is a Polynesian flower pattern.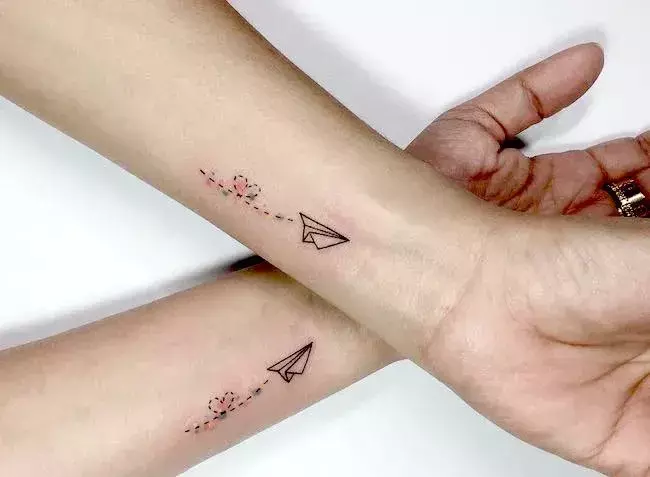 27. Friendship Tattoos For Women
Getting a friendship tattoo is a great way to honor and remember the unique connection you have with your friends. These tattoos may serve as a reminder of your friendship, a representation of your bond, or both. Women can ink these tattoos and can create Infinity symbols, matching symbols, or quotes with your friends.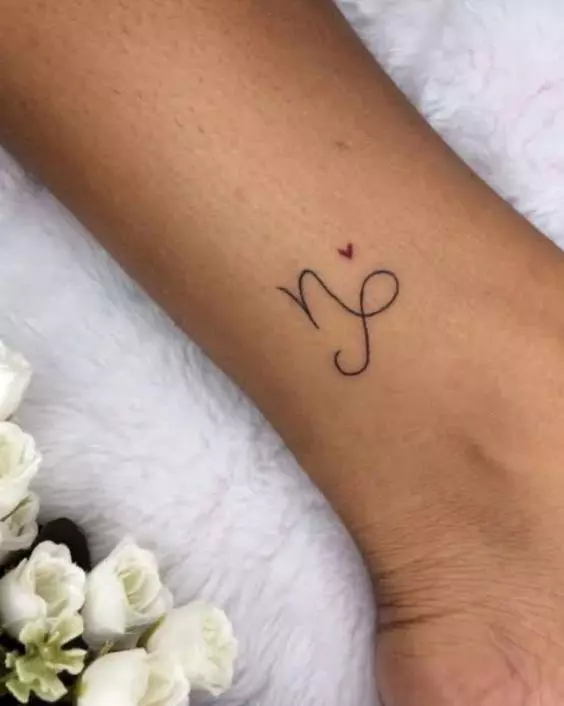 28. Zodiac Signs - Best Female Tattoos
Zodiac signs tattoos are a very interesting topic. Millions of people follow their daily horoscopes and a lot of people believe in relationships based on their zodiac signs. Having your zodiac tattooed on is a very stylish yet personalized design. These signs speak a lot about your personality traits thus it like tattooing a part of yourself.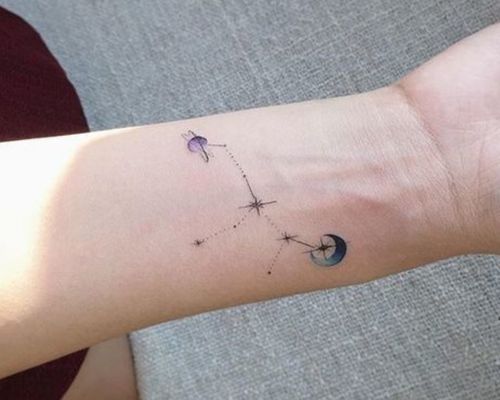 29. Astrology Tattoos For Women
Astrology, the celestial bodies, the outer-space etc are great beautiful parts of this universe that for a major part are yet to be discovered. They bring about a lot of awe and inspiration to us mortals. It is a beautiful idea to et the phases of the moon, or the sun or star constellations tattooed on. They are very beautiful and almost inspirational.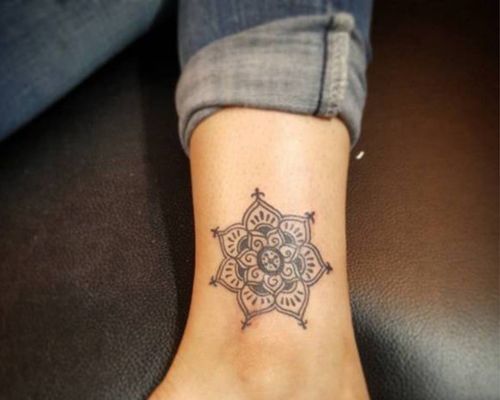 30. Mandalas - Unique Female Tattoo
Mandalas are a great stress buster. They are beautiful and intricate, getting them tattooed on is a very lengthy process that will take a lot of time, but the end result will be very beautiful, intrinsic and elaborate. Adding colour to the design looks very elegant and pretty. One of the delicate female tattoos, they look unique and very beautiful on almost all body parts.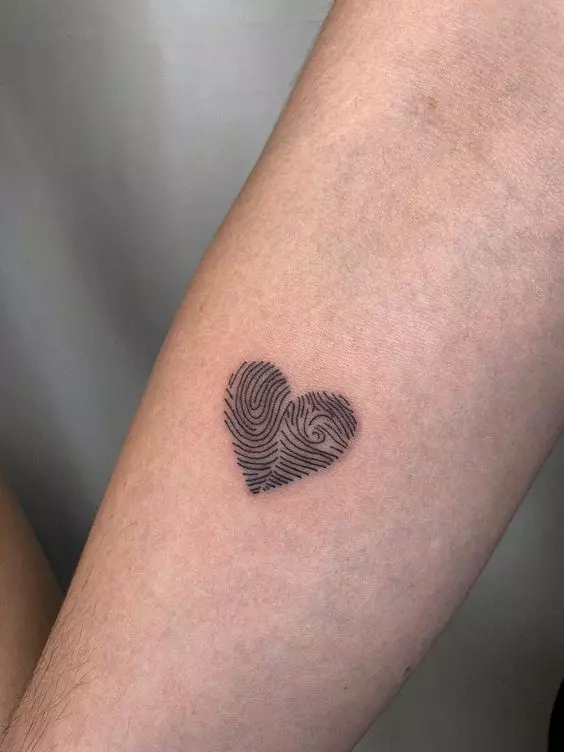 31. Fingerprints Tattoos
Probably one of the biggest trend right now. Fingerprint tattoos are so beautiful and personalized. You can use anybody who is close to you, and ink it on yourself. It is the best way to customize and personalize your tattoo. There are so many designs you can make with your fingerprints.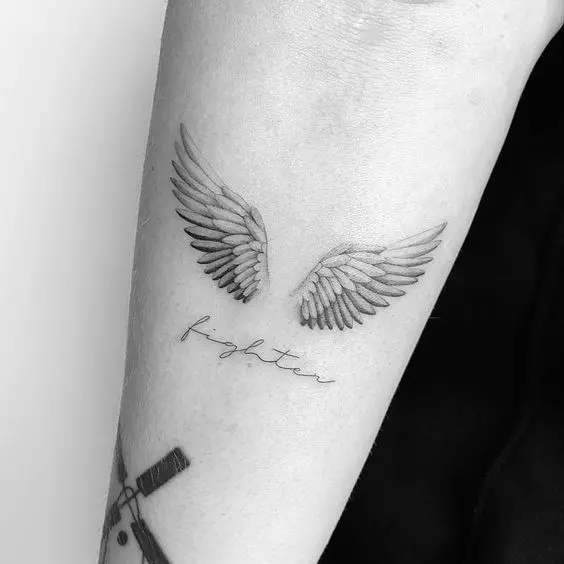 32. Cute Wings Tattoo
Wings show strength and beauty. Wings look very beautiful and almost ethereal when added on your skin. A lot of people get wings tattooed on themselves as a symbol for a lot of things like freedom, flight and beauty.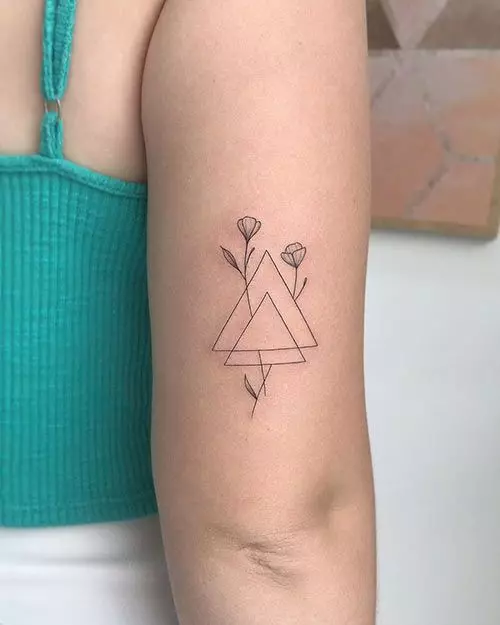 33. Symbolism
Getting symbols like a phoenix or a dove tattooed on you proves to be very aesthetic as well as inspirational. Add colours, play with the size. Make it look very pretty. Symbols that mean a lot to you make a lot of sense. They are like a reminder on your body made especially for you.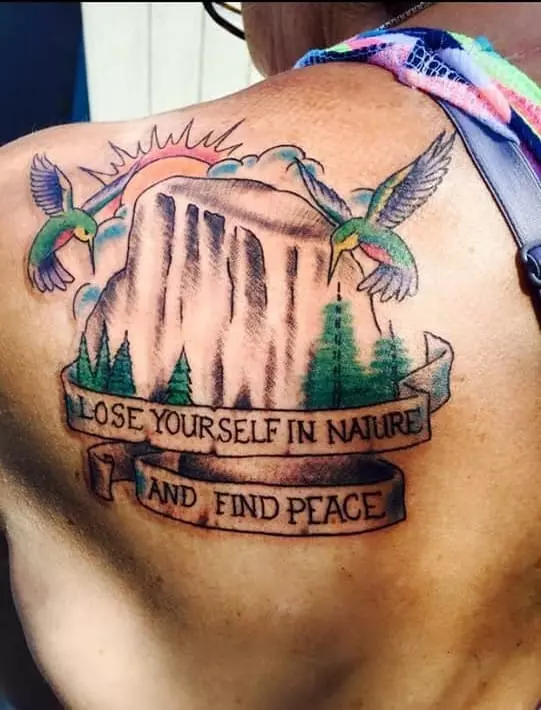 34. Nature Tattoo
A perfect tattoo for a nature lover is this colorful nature themed tattoo. A beautiful mountain range with the sun rising, representing a passion for the great outdoors and a desire for adventure. A tree with complex branches that symbolizes expansion and expansion, with birds calling for freedom. In nature, lose yourself, say those who love it.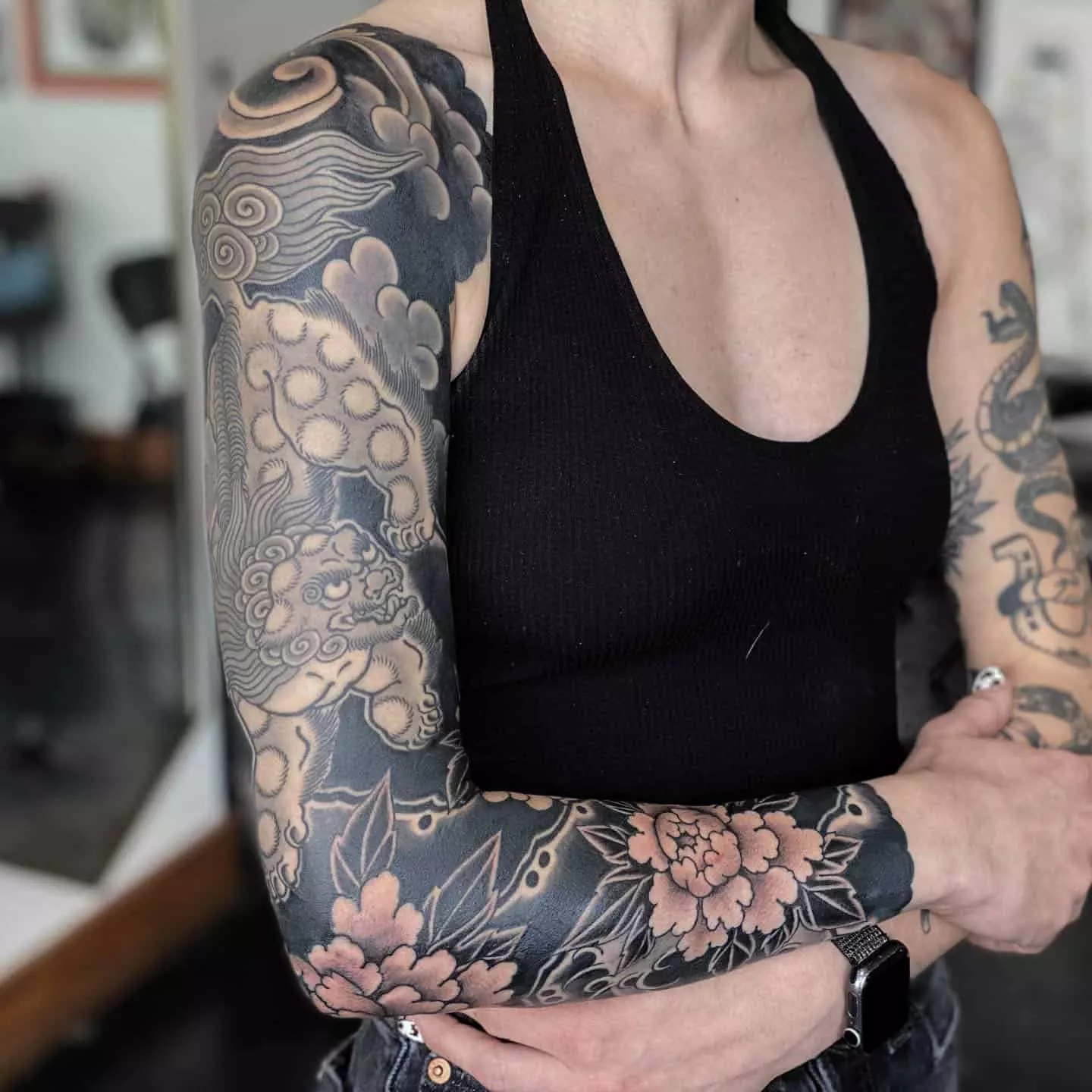 35. Cute Tattoo On Sleeves
Cool and intricate designs that cover a large area of the arm, usually from the shoulder to the wrist, is a sleeve tattoos which women can opt for. It is crucial to take into account there style, meaning, and personal preferences when creating a sleeve tattoo. You can embellish this custom tattoo with flowers, animals, geometric designs, or any other significant element.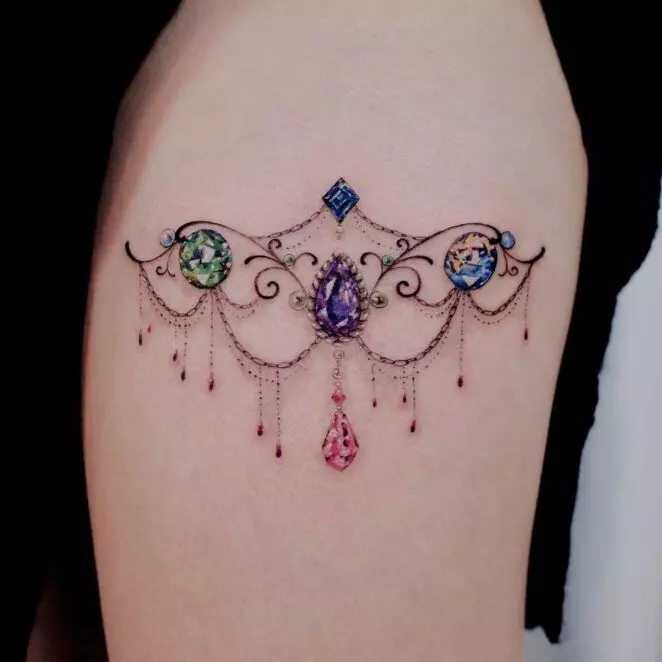 36. Gemstones Tattoos
Gemstone tattoos are a best female tattoos as it draws to the beauty and meaning of these priceless stones. Tattoos with gemstones can symbolize a variety of ideas, including spiritual beliefs and personal traits. You can embellish the tattoo with distinctive designs by adding different diamonds, amethyst, rubies, sapphires, or any other type of gem figure.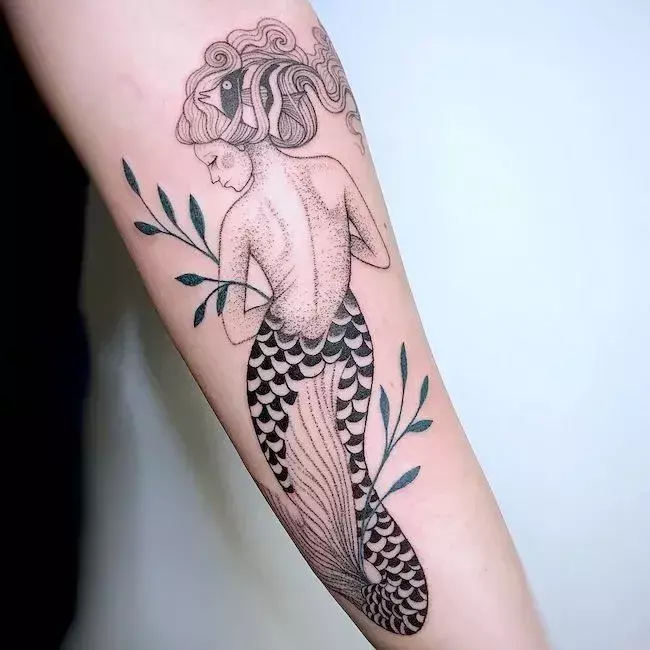 37. Mystical Tattoos
For people who enjoy delving into fantastical worlds and embracing their imagination, mystical tattoos are ideal. These cute tattoos for women, frequently include symbols from mythology and fantasy, enchanted landscapes, and legendary creatures. This lovely mermaid tattoo for women, completes with flowing hair and a shimmering tail, is adorable for ladies. Isn't it wonderful?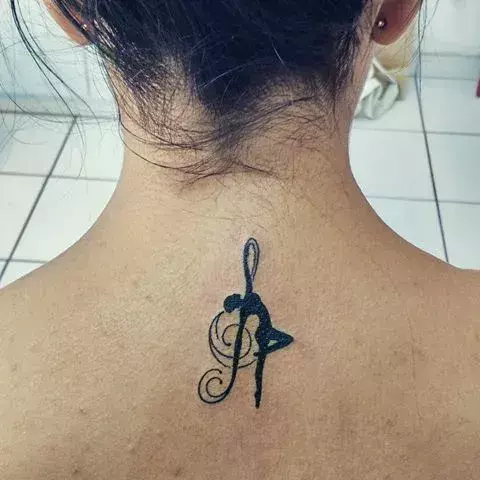 38. Music And Dance Unique Tattoo
Tattoos inspired by music and dance can be a lovely way to express your love of rhythm, movement, and music. These tattoos can be symbols, notes on a musical instrument, dance moves, or other things. These unique tattoos for women consist of a Ballerina dance and music symbol which is soothing.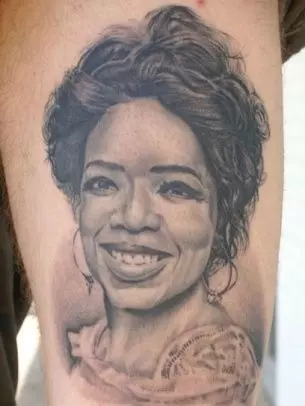 39. Motivational Tattoo
Inspiring figures are a poignant way to honor people who have made a big difference in your life or who personify traits and principles you find admirable. These individuals may be historical, cultural, or modern. These inspirational figure tattoos for women are unique. For example, creating an Oprah Winfrey tattoo as inspiration for education and empowerment.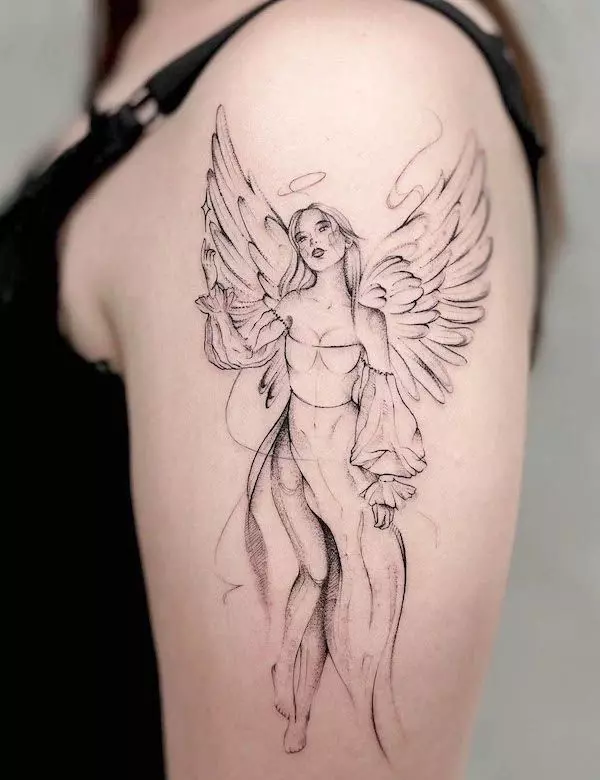 40. Angel Tattoos
Angel tattoos are frequently loved by women, which represents spirituality, protection, guidance and a way to divine. These tattoos can be traditional depictions of angels of protection or more modern or artistic interpretations.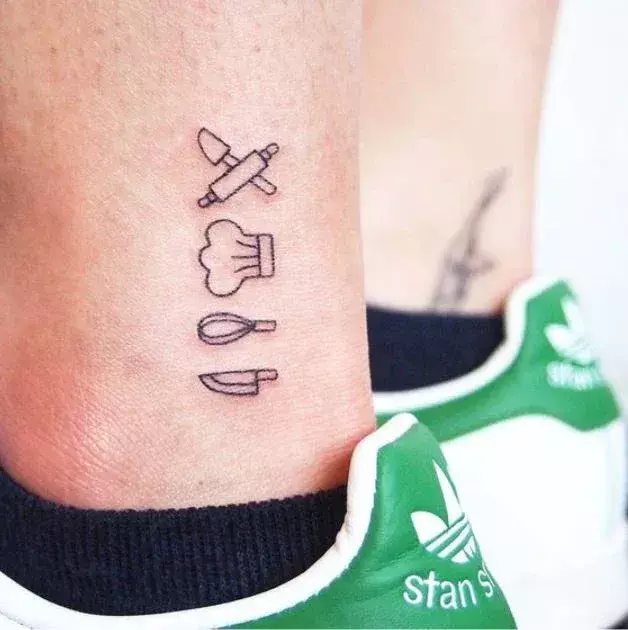 41. Hobby Tattoo
Have a hobby? Then ink it. With body art, cute hobby tattoos for women is a great way to express your interests and passions. A person's varied interests and meaningful activities can be reflected in these tattoos. If you have a passion for cooking, get this gorgeous hobby tattoo that features a kitchen set and cooking tools.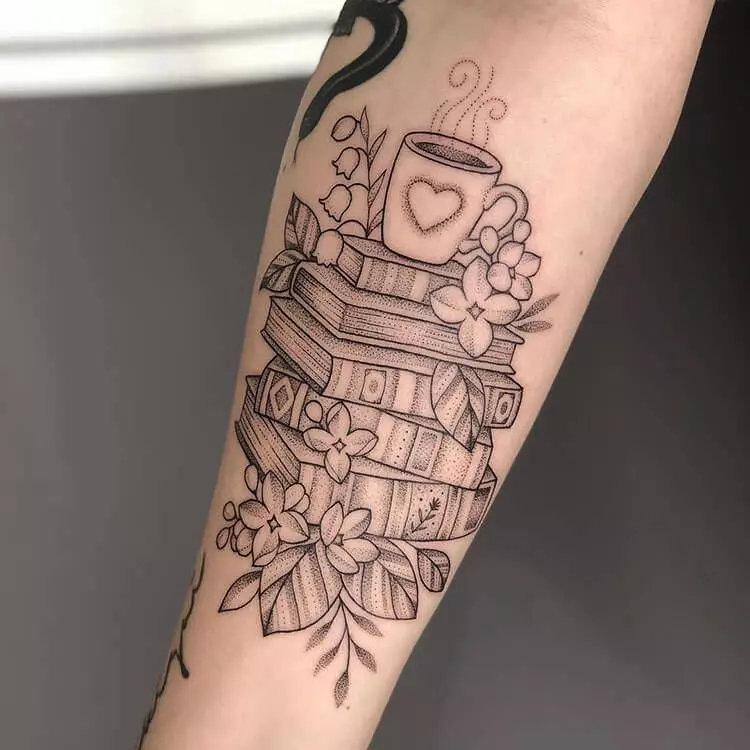 42. Book Tattoo
A dedicated book or the passion for reading can be inked in the form of tattoo and can be a wonderful choice for women. This is an great example of an unique tattoo for women.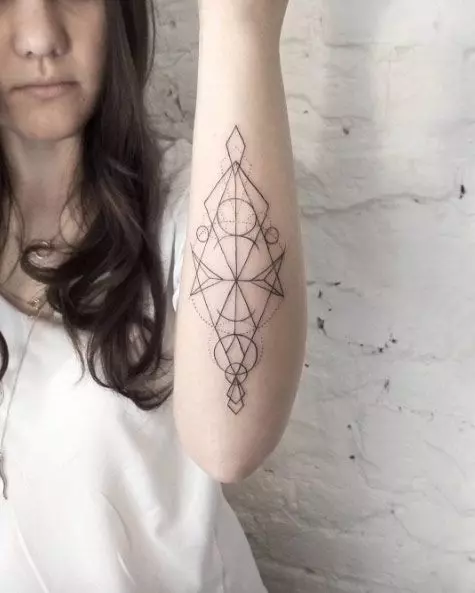 43. Geometric Tattoo
Geometric tattoo for women's on arms can be a great thing, because of their clean lines and contemporary style. Shapes, lines, and angles are a few examples of geometric tattoo designs that are especially suitable for ladies. You can also combine any kind of unique design with this tattoo, like flowers.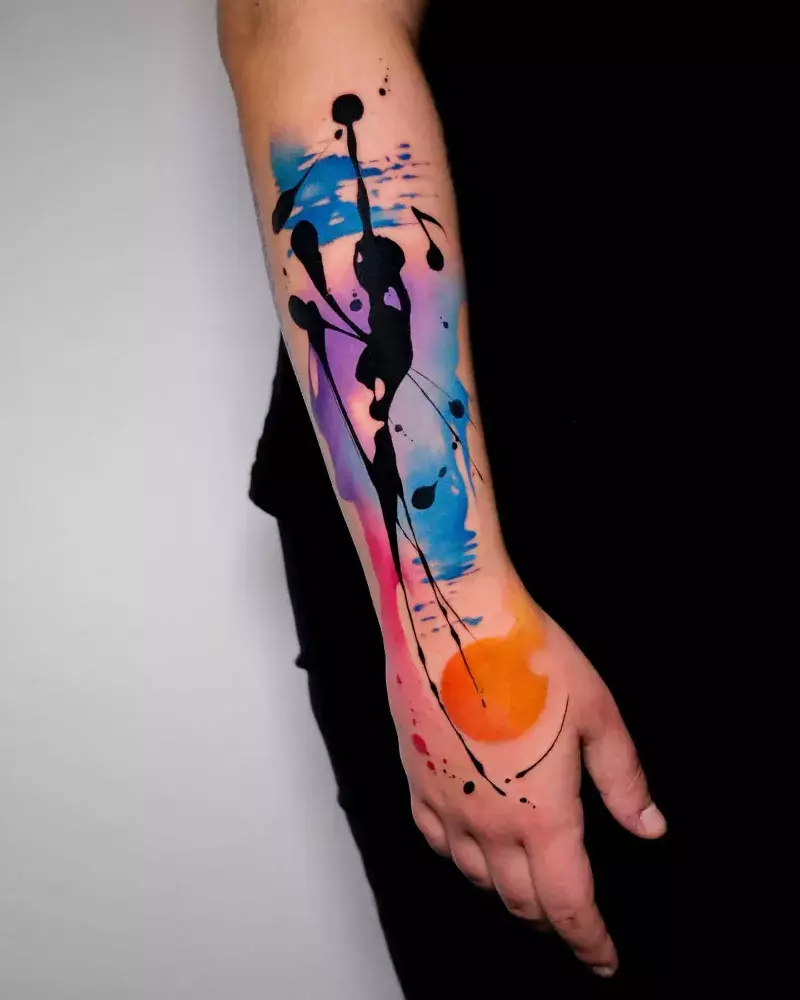 44. Abstract Watercolor Tattoo
Abstract watercolor tattoos are a lovely and distinctive option that are frequently distinguished by their vivid color's and flowing, painterly designs. This is an unique tattoo idea for women.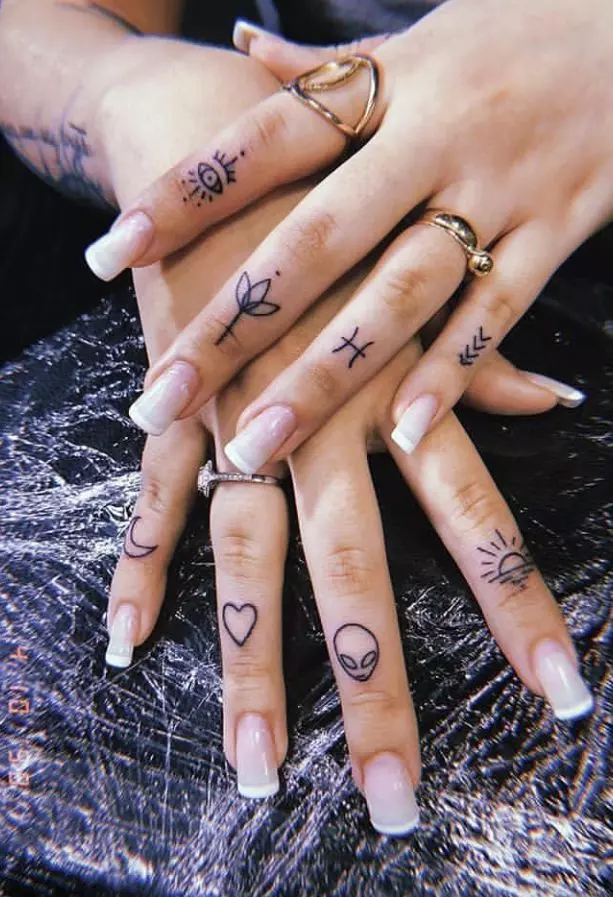 45. Finger Tattoos For Women
Finger tattoos on women would look great because they are small and sophisticated. These are delicate, minimalist tattoos that seem lovely on fingers. Small tattoo designs are definitely worth attempting.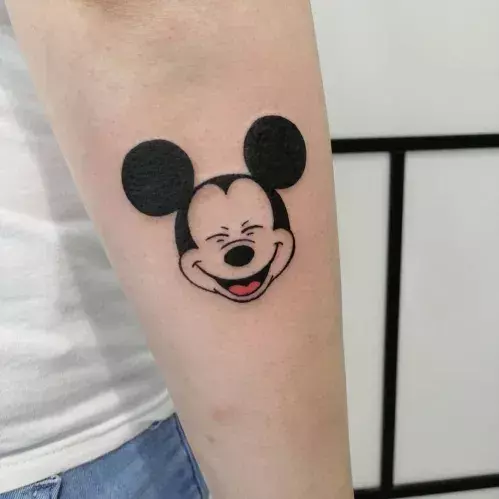 46. Cartoon Tattoos
Cartoon tattoos on women's hand can be fun. These hand tattoos are usually more noticeable and enjoyable. Your favorite cartoon can be inked on your hand with black and colorful tones.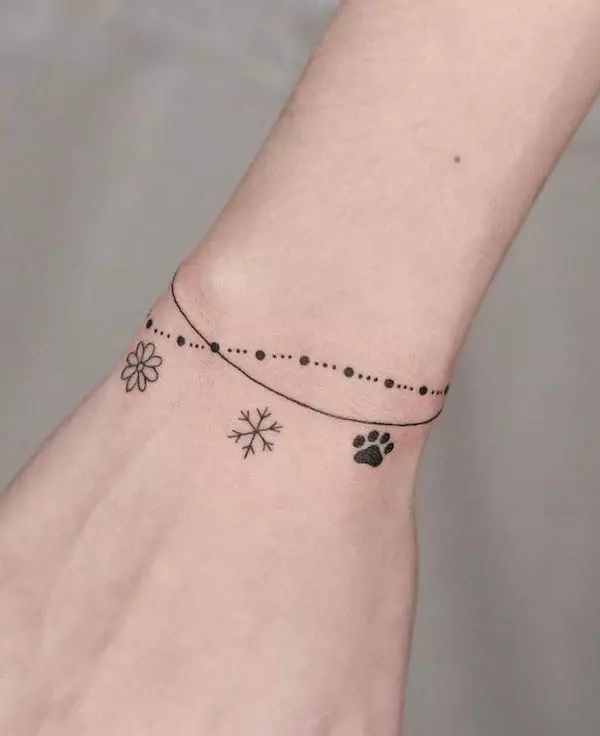 47. Bracelet Tattoos On Wrist 
Wrist tattoos are very popular because they can provide a permanent and customized design, while also emulating the appearance of a real bracelet or bangle.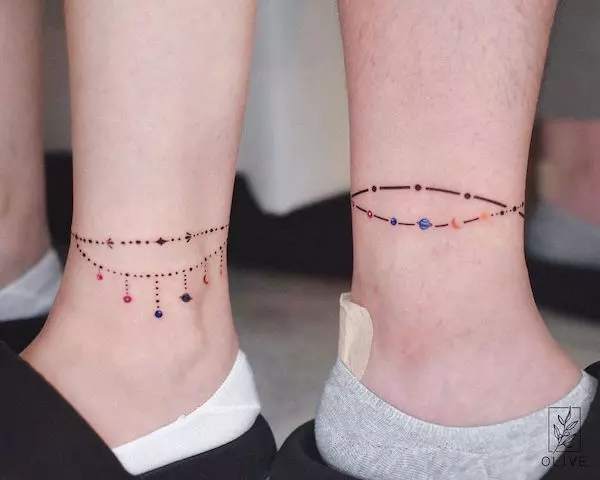 48. Anklet Tattoos
Women can look great and feel great about getting anklet tattoos, especially when it comes to styling and fashion. These cute tattoos for women can have different designs or resemble an actual anklet.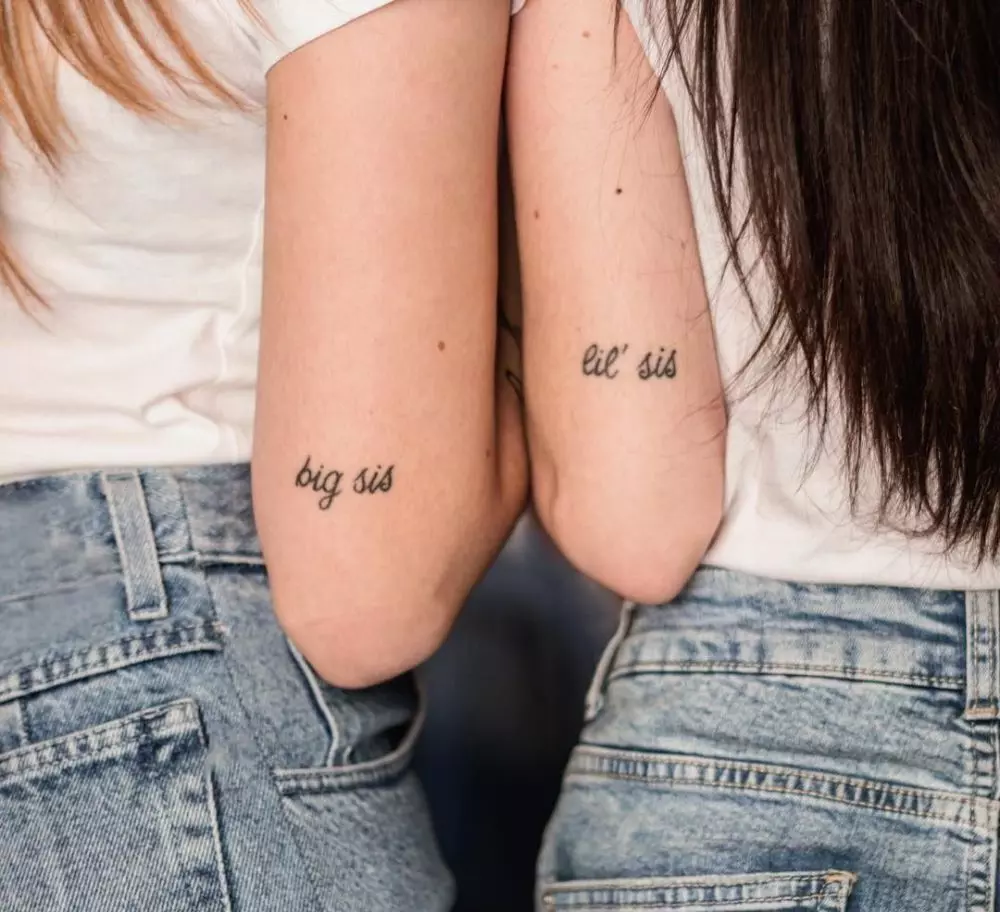 49. Sister Tattoo Designs
Sister tattoo ideas can be a sweet and endearing way to honor your sister relationship. Sisters have a strong bond and can have the same tattoo on their hands, which is symbolic. A great idea would be to get a little sister and big sister tattoo on one's hands, which would be an incredible tattoo. Women can have this unique tattoo ideas for a lifetime.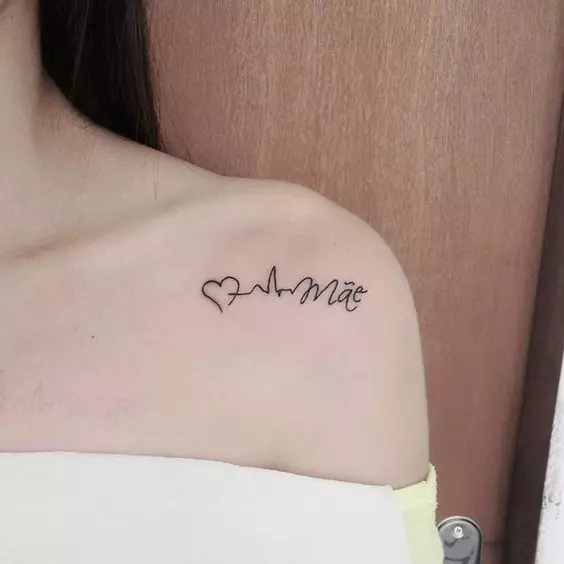 50. Shoulder Tattoo Designs
Women are choosing shoulder tattoos as a stylish option because they offer a variety of designs, from subtle and small to bold and detailed, along with your personal preferences and style, can all influence your choice of shoulder tattoo. These adorable cute tattoos for ladies can make a stylish statement while also appearing elegant.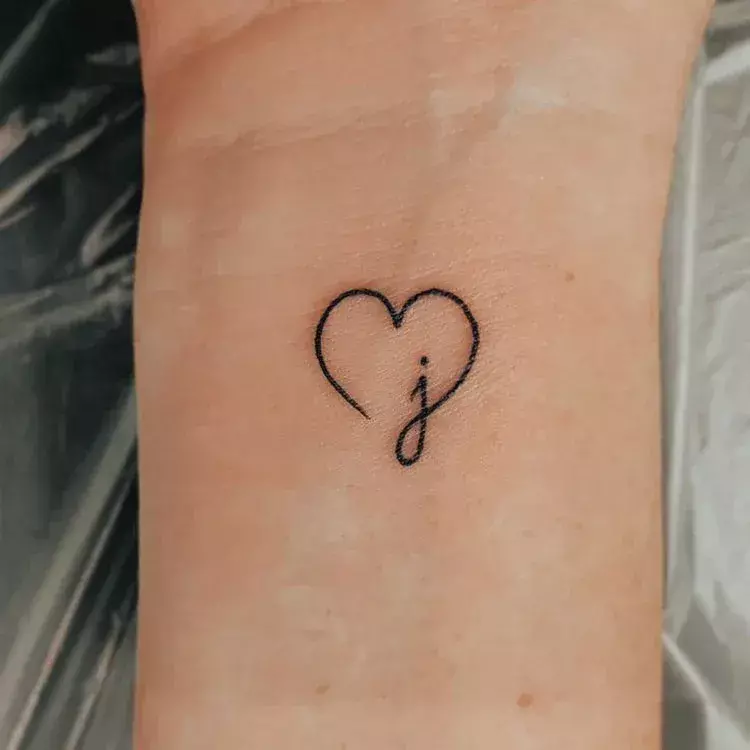 51. Letter Tattoo
Make a heart out of the first letter in your name and alternative would be to use a loved one's first letter.The initials, words that are significant to the person receiving the tattoo, and letter tattoos can be incredibly intimate and meaningful and unique tattoos for women.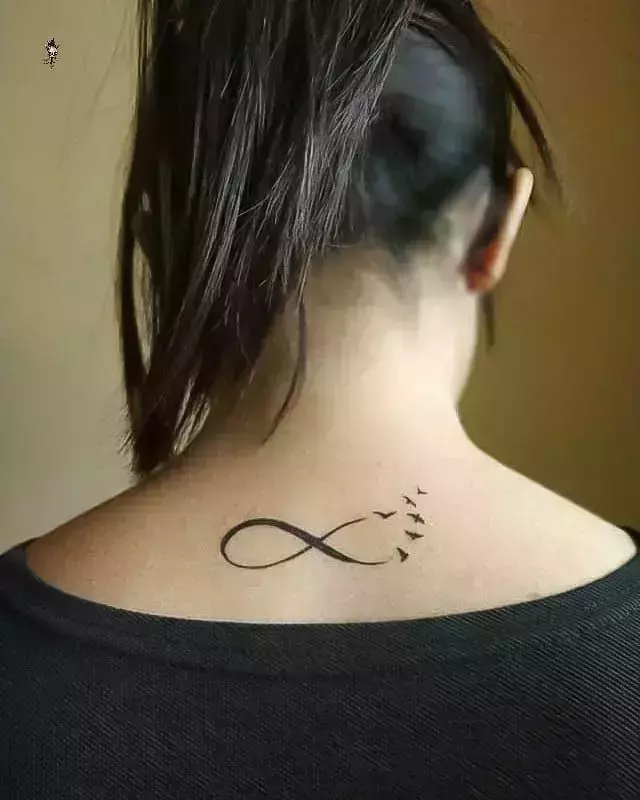 52. Infinity Bird Tattoo
Infinity bird tattoos for women on arm is a beautiful and meaningful design. It combines the timeless symbol of the infinity sign with the graceful imagery of a bird in flight. This tattoo implies endless possibilities, freedom, and a profound connection to nature, making it a popular choice for individuals wanting a symbol of empowerment.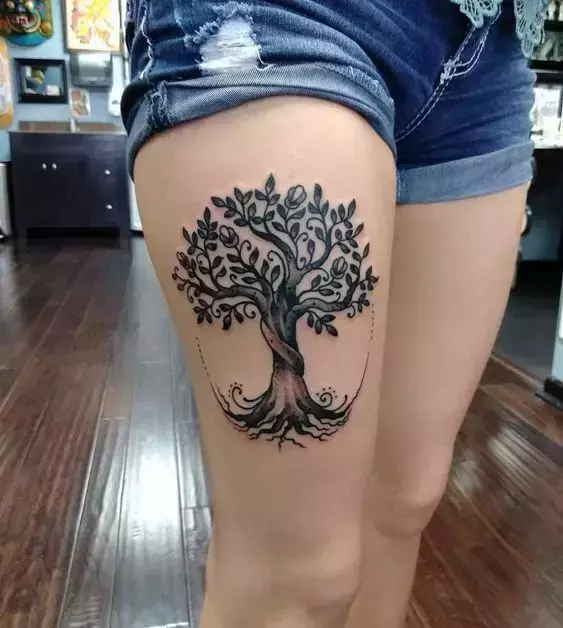 53. Tree Tattoo
Tree tattoos for women are especially for nature lover women. Each tree variety carries a unique meaning; an oak symbolises endurance, a cherry blossom stands for beauty and transience, and a willow embodies flexibility. These tattoos celebrate femininity and personal transformation.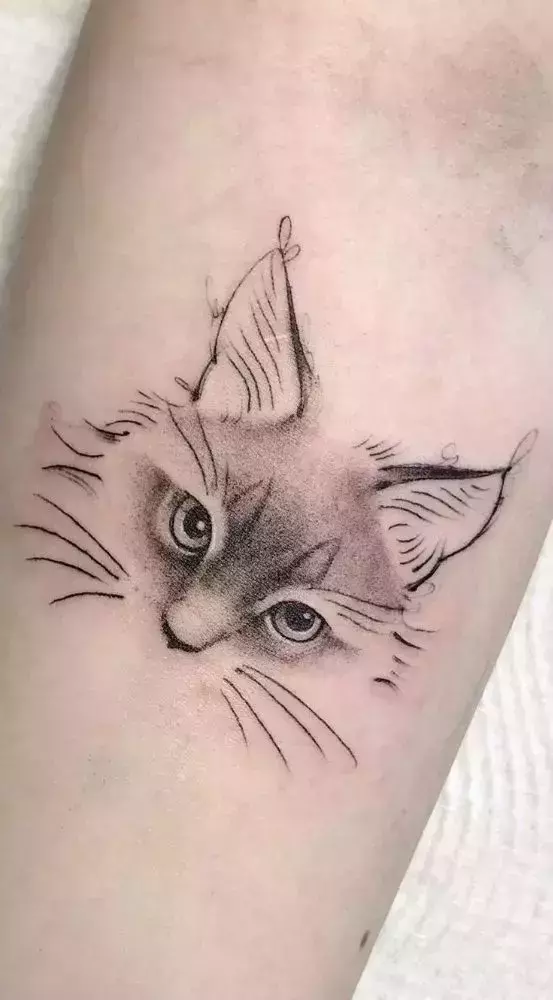 54. Cat Tattoo 
A cute cat face tattoo is the best choice for hand tattoos for girls who love cats. A lovely feline expression is displayed, frequently with large, expressive eyes and delicate features. This tattoo embodies qualities like playfulness, independence, and a love for these beloved pets.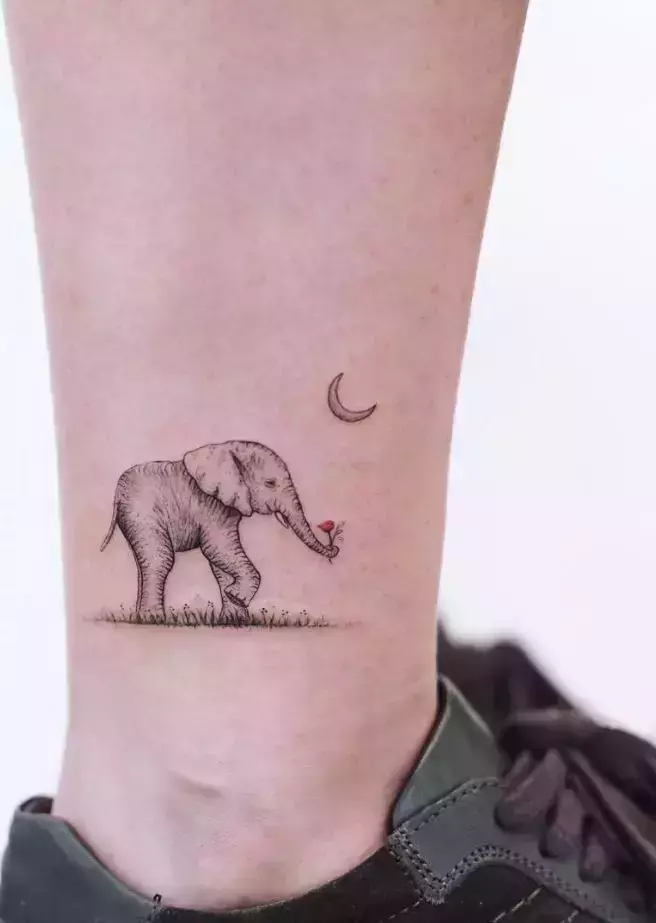 55. Cute Elephant Tattoo 
The tiny design embodies strength, wisdom, and a deep connection to nature. Elephants symbolize resilience and familial bonds. This tattoo serves as a reminder of these qualities and often carries a sense of charm and grace in its small, intricate form.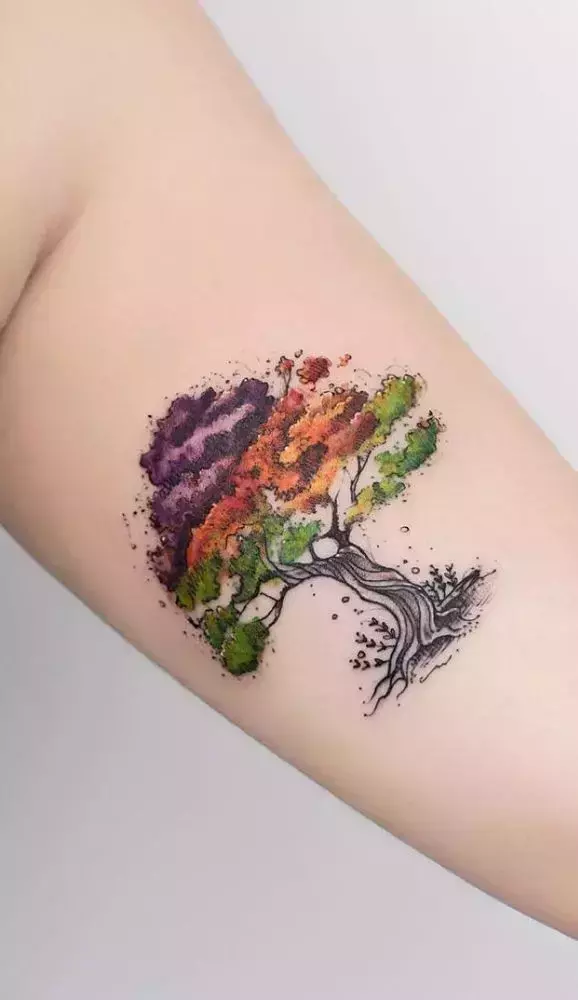 56. Watercolour Tattoo 
Watercolour tattoos for women mimic the vibrant hues of watercolour paintings, creating a visually stunning and unique design. These tattoos often blend soft pastels and vivid shades, allowing for beautiful, abstract, and personalized representations of meaningful symbols and images.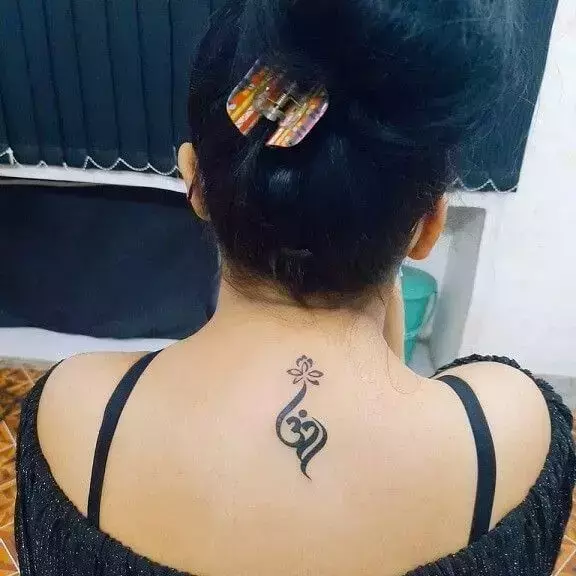 57. Traditional Om Tattoo
A traditional Om tattoo for women is a spiritual and culturally rich design. Om, a sacred symbol in Hinduism and Buddhism, represents the universe's essence and ultimate reality. These small tattoos for women embody tranquillity, inner peace, and a connection to one's spiritual self. It's a timeless and meaningful choice, symbolizing a deeper journey within.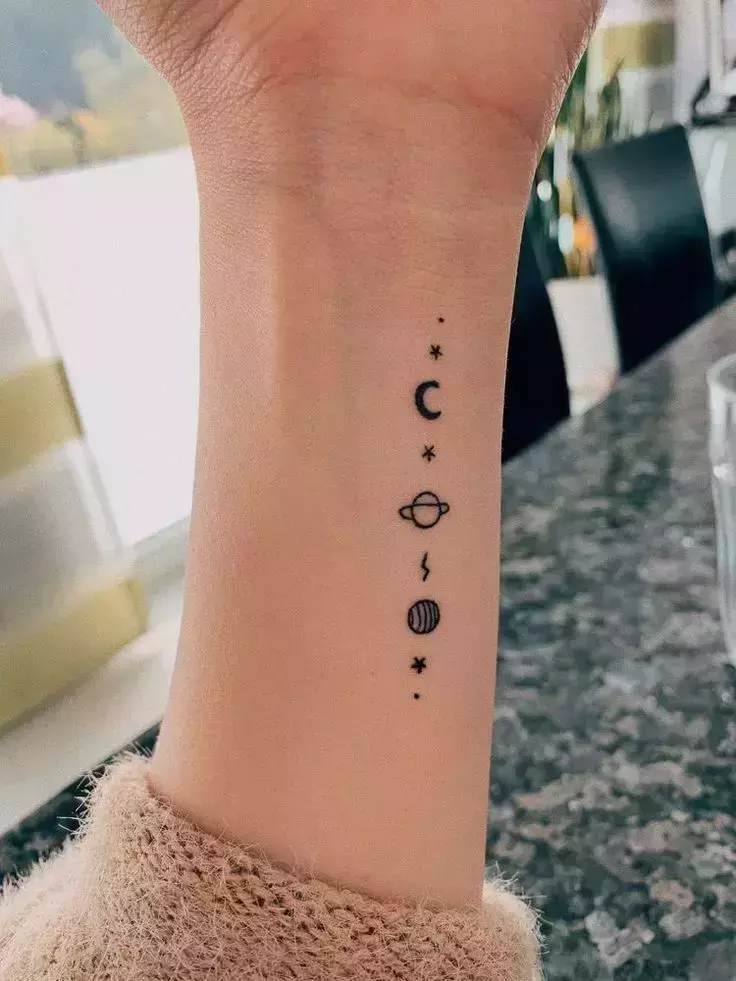 58. Minimalist Tattoo 
Minimalist tattoos for women prioritize simplicity, featuring clean lines, subtle designs, and monochromatic or muted colour palettes. These small tattoos for women often convey deep personal significance or carry a discreet message. Minimalist tattoos exemplify elegance and the idea that sometimes, less is more in self-expression.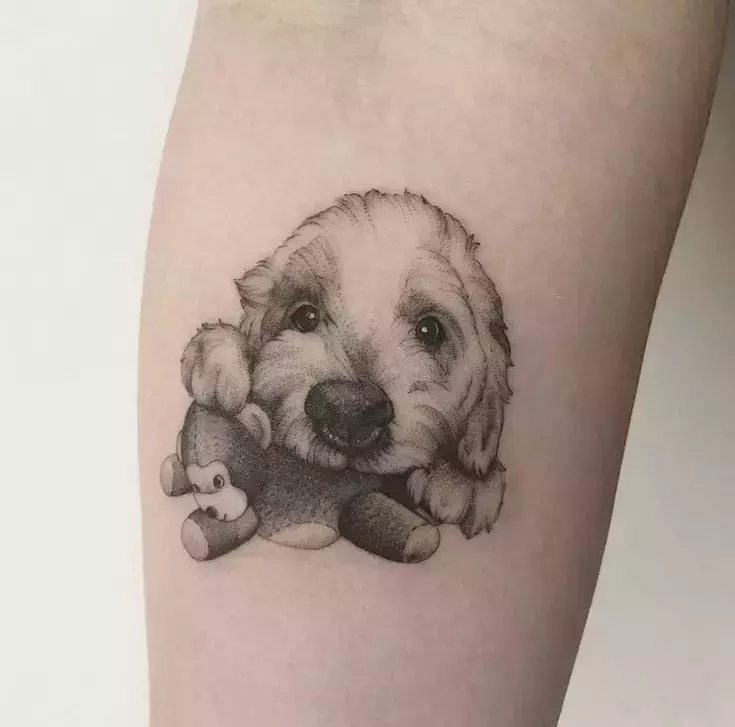 59. Dog Lover Tattoo 
Dog tattoos for women celebrate the bond between humans and their cute loyal friends. They can feature paw prints, portraits, or symbols of different dog breeds. Such tattoos represent loyalty, love, and the joy that dogs bring to our lives, making them a cherished and meaningful choice.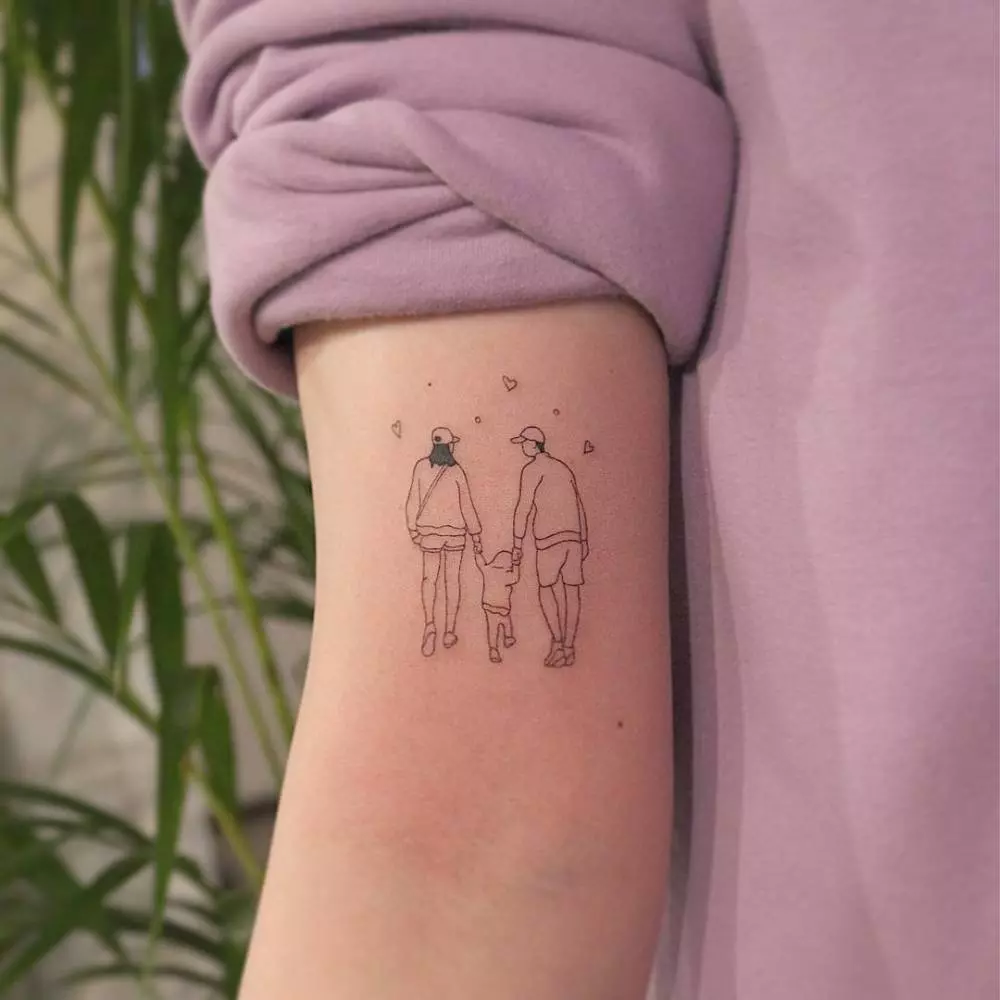 60. Family Tattoo
Family tattoos for women on the arm often depict family members' names, birthdates, or symbols that represent the bonds of love and unity. They serve as a constant reminder of the importance of family connections and the enduring support and affection that family provides.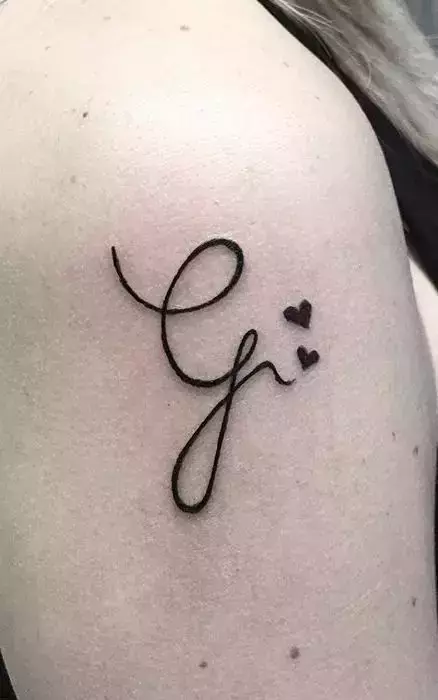 61. Letter Tattoo 
Alphabet Tattoos for women often feature a letter or combination of letters with special significance, such as initials, names, or meaningful words. These tattoos carry a deep, personal message, and they symbolize self-identity, while also making a stylish and customizable statement.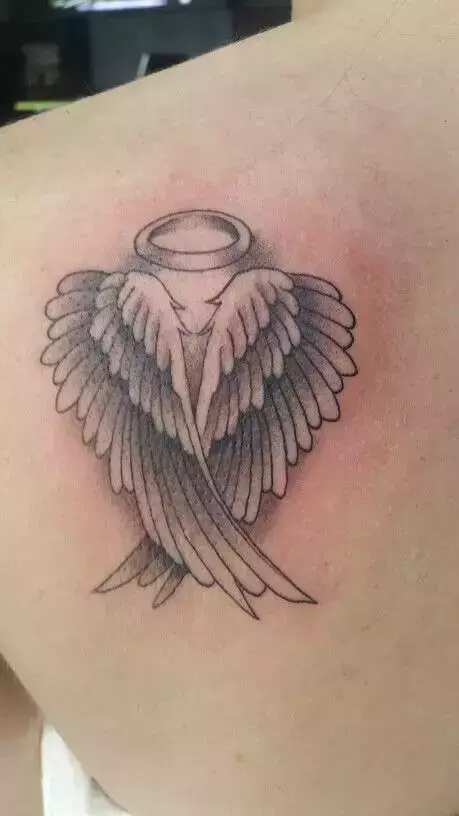 62. Angel Wings Tattoo For Women
An angel wings tattoo for women is a symbol of protection, spirituality, and grace. These intricate and often ethereal designs represent a connection to the divine or serve as a tribute to a loved one who has passed away. They embody a sense of freedom and guidance, offering solace and a reminder of heavenly presence in life's journey.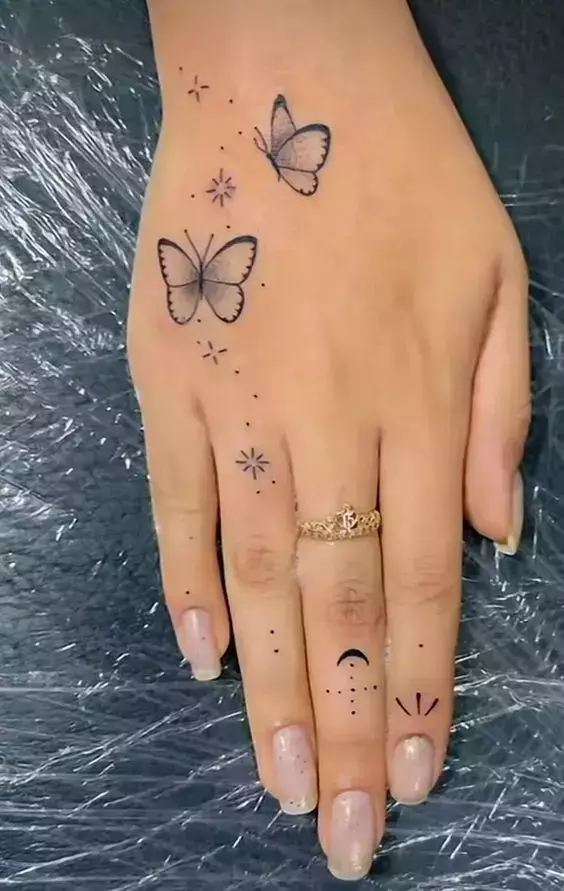 63. Back Hand Tattoo 
The fanciful beauty of butterflies and the dreamy allure of stars are combined in this adorable backhand butterfly and star tattoo for women. This charming pattern represents metamorphosis, direction, and fulfilled dreams. With its charming depiction of feminine charm, dreams, and the enchantment of possibilities, it gives the hand a sophisticated yet whimsical touch.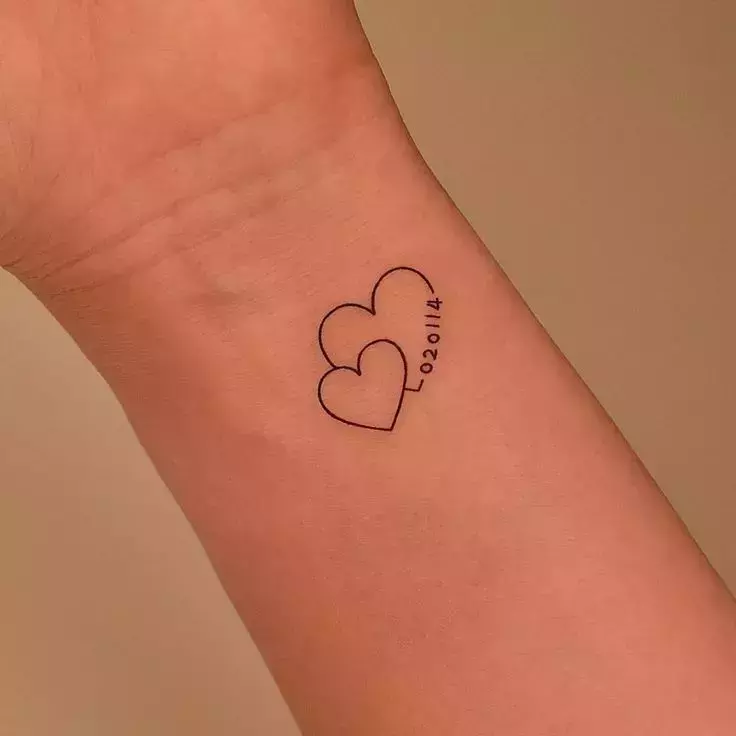 64. Memories 
Typically featuring meaningful dates, like anniversaries or births, and symbols of cherished memories, it serves as a constant reminder of life's significant moments. This tattoo celebrates love, experiences, and the enduring value of treasured memories, making it a deeply sentimental and enduring tribute.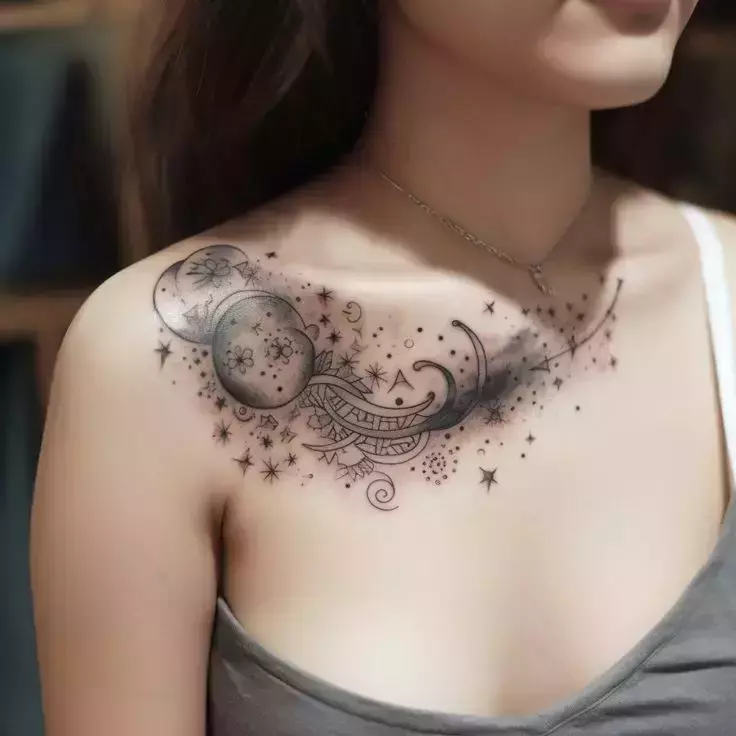 65. Universe Tattoo
Stars, planets, galaxies, and other celestial elements are frequently seen in universe tattoos for women, signifying the grandeur of existence and our place within it. It's an intriguing and significant design since they stand for a link to the secrets of the cosmos, awe, and an investigation of the infinite.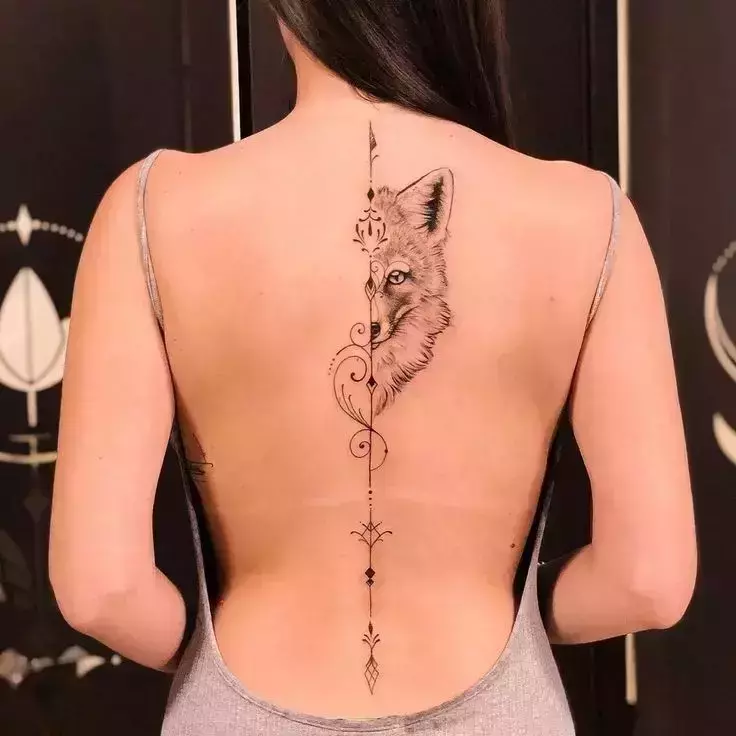 66. Wolf Tattoo
Women who have wolf tattoos are said to be strong, independent, and intuitive. It frequently represents a link to nature and the spirit of the wild. These tattoos honour characteristics like fortitude, self-assurance, and leadership. They may be aggressive and graceful at the same time, which makes them an impressive and potent option. This is one of the unique tattoos for females.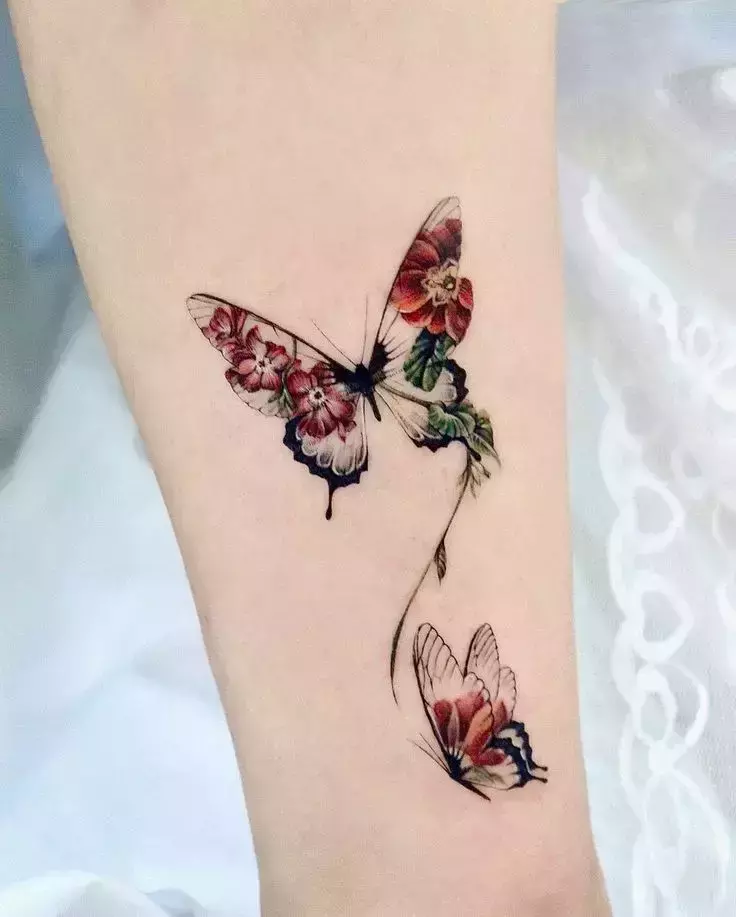 67. Red Butterfly 
Red butterfly tattoos for women is a striking and vibrant choice. These butterflies stand for passion, love, and metamorphosis. Red is linked to vigour and powerful emotions, which gives the symbology more depth and intensity. One of the greatest female tattoos, it makes a strong and significant statement while symbolising a journey of self-discovery and a celebration of the beauty that arises from life's transformations.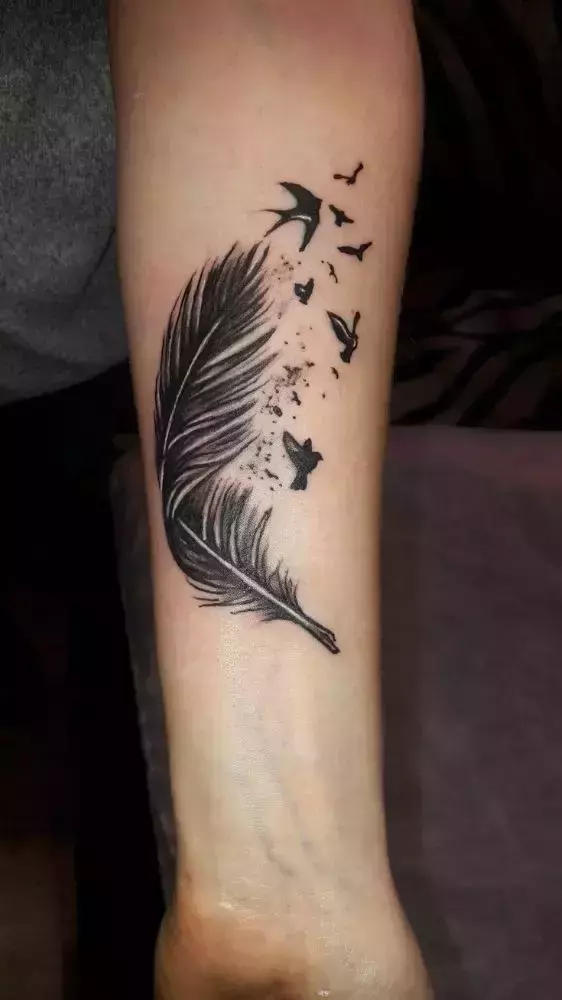 68. Birds and Feathers 
Birds and feathers are tattoos for women with meaning of freedom and aspiration that represent resilience and lightness. Combining them signifies a journey towards personal growth and a desire to overcome challenges while maintaining a sense of elegance and grace. It's a beautiful representation of inner strength and beauty.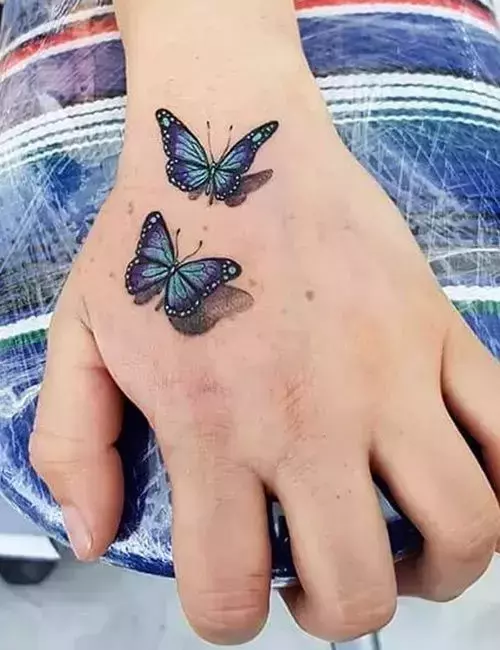 69. 3D Tattoo 
3D tattoos for women create the illusion of the butterfly coming to life on the skin, adding depth and vibrancy. They represent transformation and freedom with a tangible, almost magical, quality. It's a captivating and visually dynamic way to embrace change and celebrate one's journey.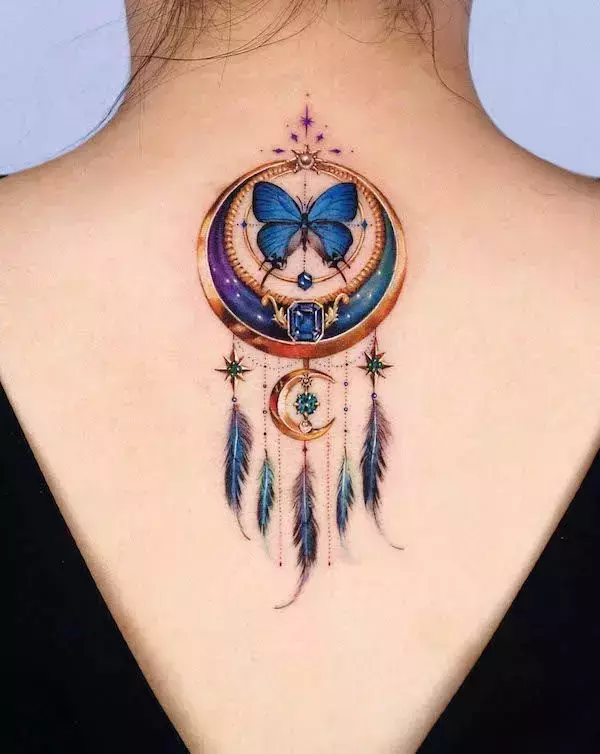 70. Beautiful Dreamcatcher Back Tattoo
Beautiful dream catcher tattoos for women with meaning of protection and positive energy are a great choice. This intricate design captures both Native American tradition and artistic elegance. Dream catchers, one of the best female tattoos filter out negativity and capture dreams and good thoughts, reflecting a desire for positivity.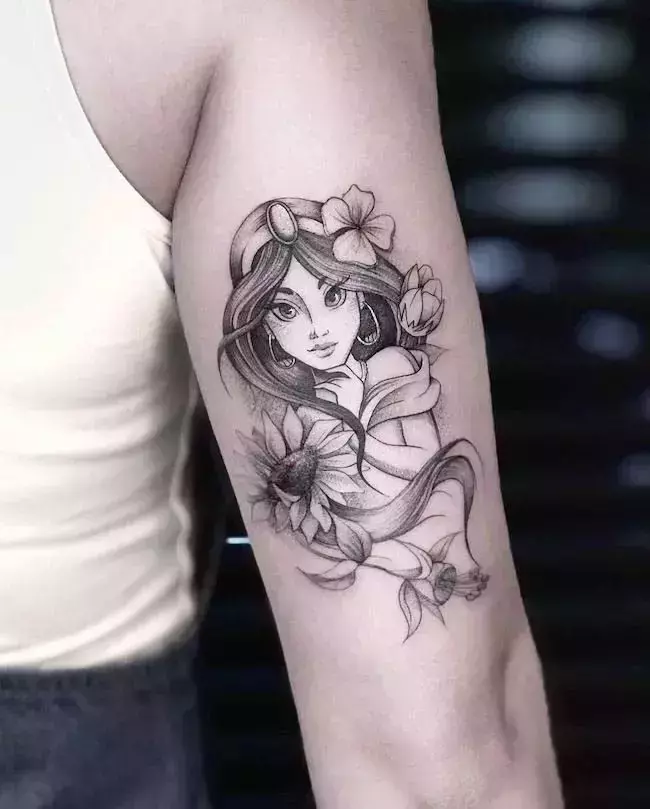 71. Disney Princess 
Disney princess hand tattoos for girls pay homage to beloved characters like Cinderella, Ariel, or Belle, reflecting qualities of grace, resilience, and the pursuit of dreams. These tattoos celebrate nostalgia and a connection to the magic of fairy tales, adding a touch of fantasy and charm to one's skin.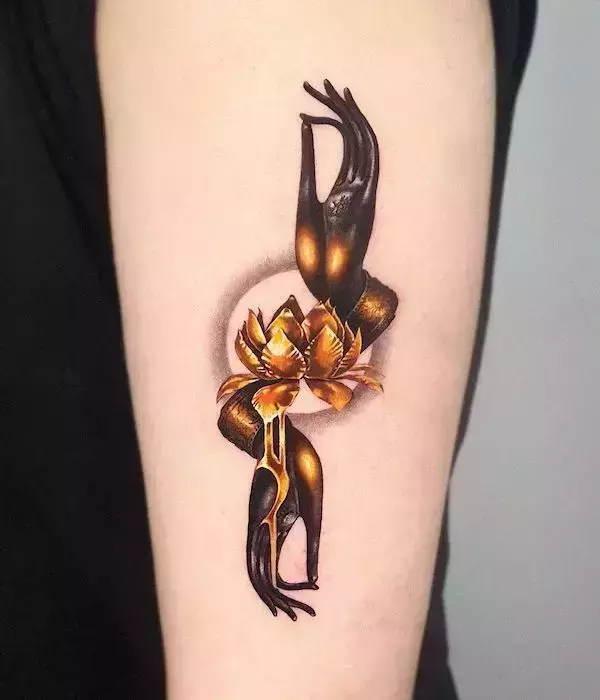 72. Soulful Lotus 
A soulful lotus tattoo for women is a deeply meaningful choice. Because it frequently emerges from the muck to blossom, the lotus represents purity, growth, and enlightenment. It is a reflection of the beauty that can arise from the trials of life and stands for inner strength and spiritual awakening. The path towards inner peace and self-discovery, as well as resilience, are embodied in this tattoo.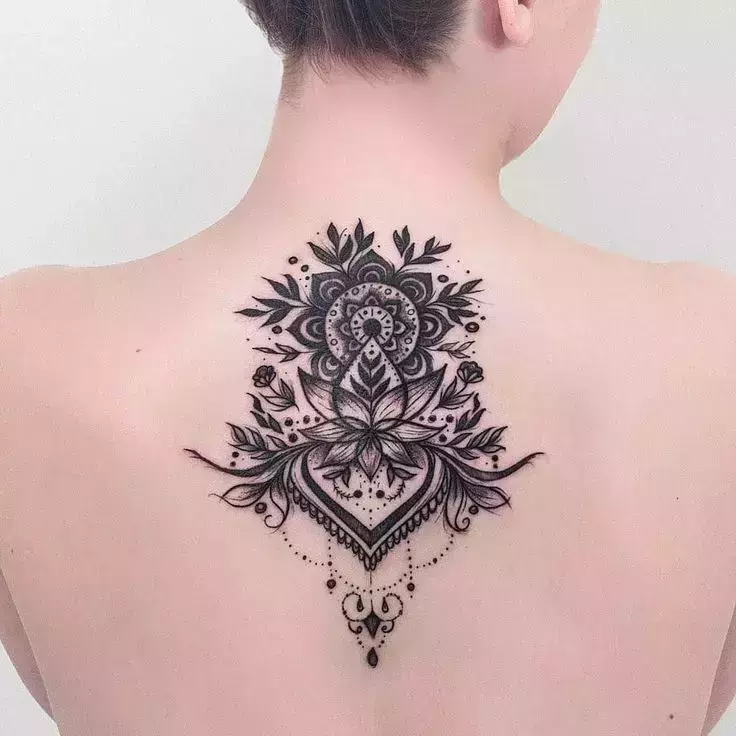 73. Mandala Tattoo 
Mandala tattoos for women are intricate geometric patterns that are a representation of harmony, inner serenity, and development. This tattoo is a timeless and artistic depiction of the interdependence of life and represents a path towards self-awareness.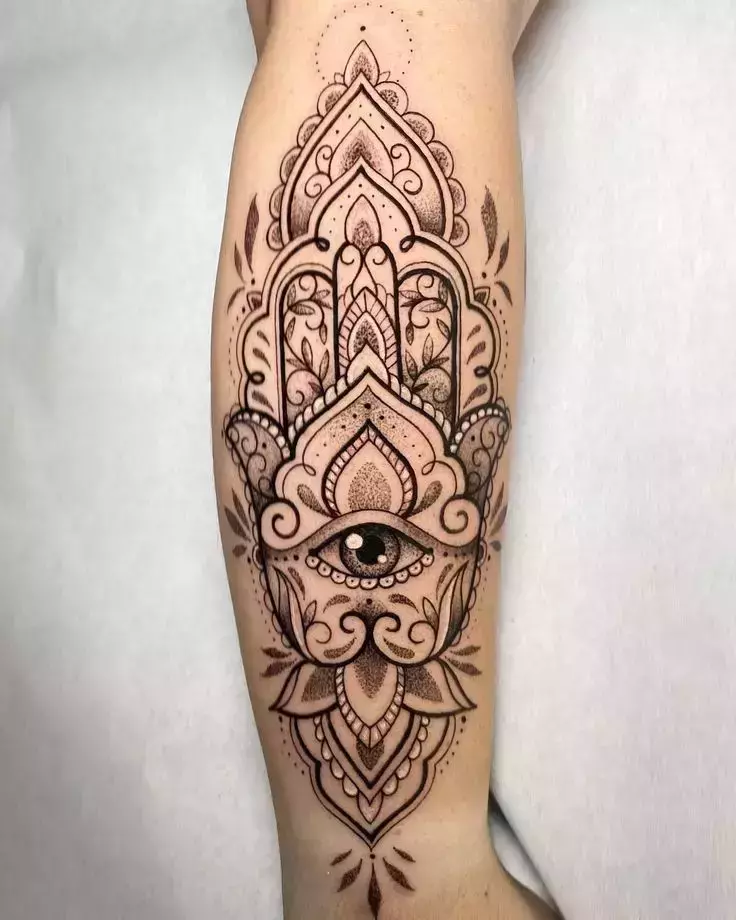 74. Hamsa Tattoo 
A Hamsa tattoo for women is a meaningful and protective choice. This traditional Middle Eastern emblem, which frequently depicts an eye in an open palm, wards off evil and negative energies. It stands for strength, blessings, and a spiritual connection. This tattoo represents inner serenity, empowerment, and a profound respect for one's spiritual and cultural history.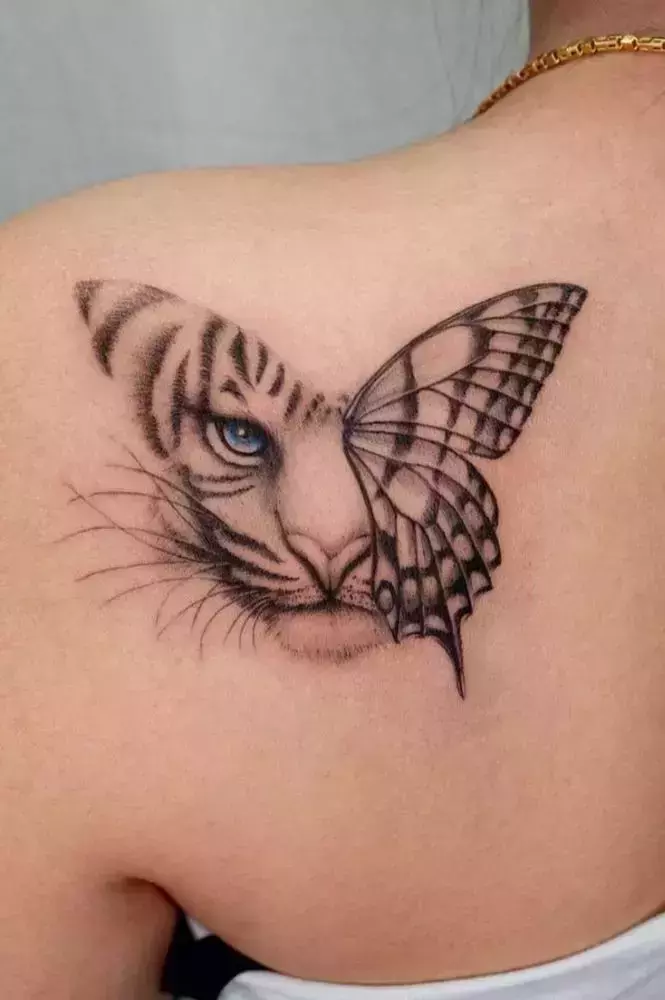 75. Cat Butterfly Tattoo 
A cat and butterfly tattoo for women is a delightful and whimsical choice. It blends the grace and inquisitiveness of the cat with the metamorphic symbolism of the butterfly. This design depicts an alluring picture of natural harmony and represents the harmony between playfulness and change. It's a lovely and creative depiction of the lovely changes that occur throughout life.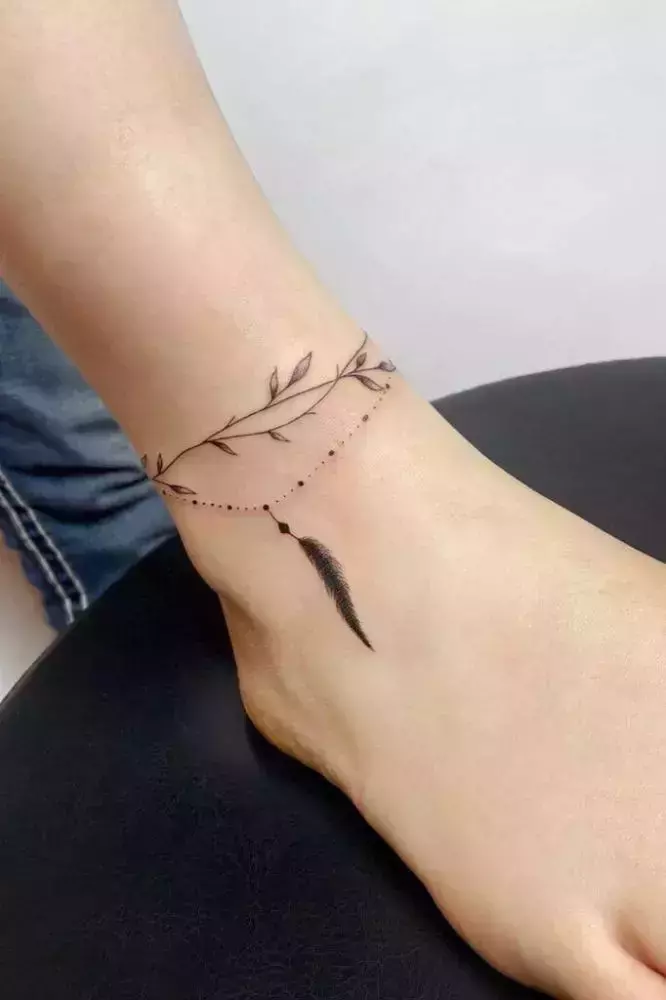 76. Anklet Tattoo 
A beautiful anklet tattoo for women is a stunning and elegant adornment for the ankle. It often features intricate patterns, delicate charms, or meaningful symbols. It's a unique and fashionable way to showcase personal aesthetics making it one of the best female tattoos.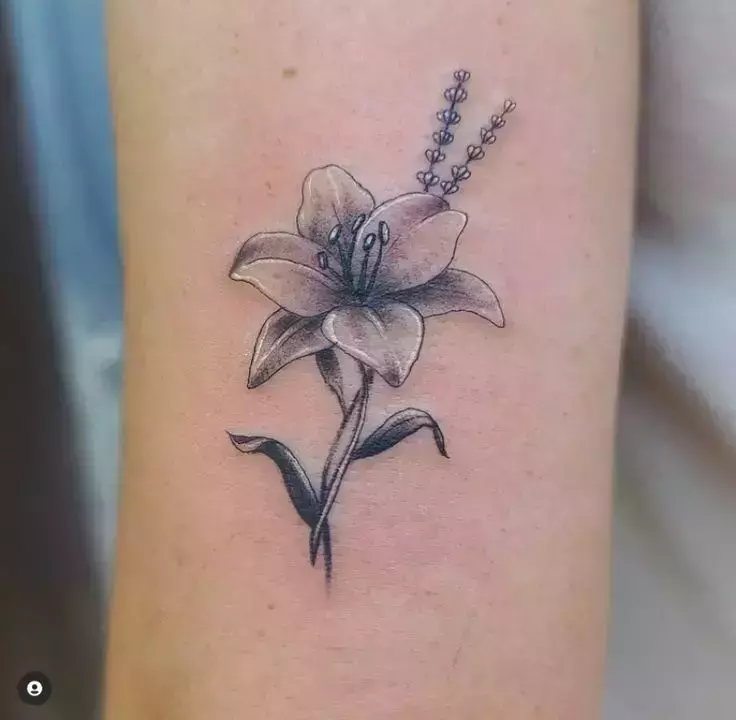 77. Lily Tattoo
A beautiful lily tattoo for women is a symbol of purity and elegance. The lily is a classic choice because of its beautiful form and delicate petals. This tattoo stands for natural connection, inner beauty, and rejuvenation. It provides a lovely and meaningful representation of one's own aesthetic sensibilities, embodying a sense of elegance and femininity. This white-bordered lily tattoo is one of the unique tattoos for females.
Related Articles