25 Celebritities Who Removed Their Tattoos
trisha sinha roy
Updated At 22 Sep 22
Tattoos are a beautiful form of self-expression via body art and most people dream of getting a tattoo at some point in their lives. A lot of the celebrities that we know have tattoos as well. Some of them are quite famous and have even inspired many fans to get similar tattoos or start a trend altogether!
Tattoos are permanent and last on the skin for many years before they eventually start to fade. Tattoos can also be removed via the laser tattoo removal procedure where professionals use a laser beam to remove the ink from your skin. Tattoo removals are quite popular among people and even celebrities who have tattoos are not willing to keep on themselves forever. This brings us to the topic of celebrity tattoo removal.
25 Top Celebrities Who Have Had Their Tattoos Removed
There have been quite a few times that celebrities got a tattoo that they didn't like and later got it removed. Tattoo removal is a painful process and involves burning off the parts of the skin that contains the ink to remove it. Needless to say, celebrity tattoo removal has inspired and encouraged a lot of people to deal with the pain and get rid of tattoos that are no longer welcome. So here, we bring to you 25 celebrity tattoo removal stories where these stars lasered off their tattoos for various reasons that you are about to find out.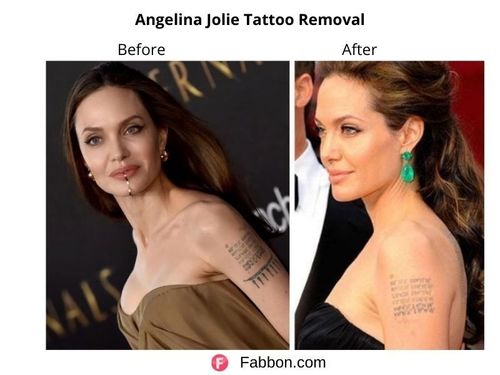 1. Angelina Jolie Tattoo Removal
Angelina Jolie's celebrity tattoo removal story is one of the most recent on this list. The Maleficent actress had the birth coordinates of her six children tattooed on her left arm. In 2011, she added Brad Pitt's birth coordinates to the tattoo as well. Angelina had been in a long-term relationship with Brad Pitt for 12 years before getting married in 2014. Their marriage lasted till 2016 and the couple's divorce was finalized in 2019. The duo is currently engaged in a custody battle for their children.
Angelina Jolie was recently photographed at a promotional event for her movie Eternals. The actress was wearing an off-shoulder outfit, leaving her arms bare and internet sleuths were quick to spot that the last set of coordinates in her arm tattoo seemed much more faded than the others. Angelina Jolie reportedly got Brad Pitt's set of coordinates removed from her tattoo now that it has been five years since their split.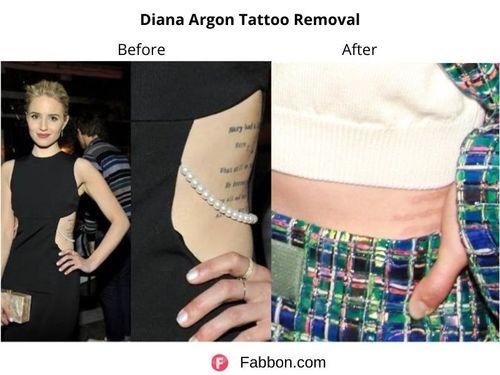 2. Diana Agron Tattoo Removal
This celebrity tattoo removal was a little bit of a messy mystery around the time it happened. Dianna Agron is best known for her performance as Quinn Fabray on Glee. Agron also takes an intense liking toward Alice in Wonderland, both the book and the movie. Her love for Alice in Wonderland was so much that she even got a tattoo related to it.
Story goes that between 2011 and 2013, rumors about Agron dating singer-songwriter Taylor Swift had swirled up all among fans. The details of their relationship are unknown and the Swiftie sleuths could only try to make out parts of their little love story when Taylor released her album 1989. Fans were quickly drawn to the song Wonderland from the album, which many believed was written about Dianna Agron. Many fans even posted several theories about the song on Twitter and Reddit, and within no time, most of the crowd was sure that the song was indeed about Diana.
However, shortly after the release of the song, Diana Agron went ahead and removed her Alice In Wonderland tattoo. Fans were convinced that Diana, who expressed her love for the fairytale in every way possible, got the tattoo removed because she did not want to have anything to do with Swift's song or let the tattoo become the pathway of talk into their alleged relationship.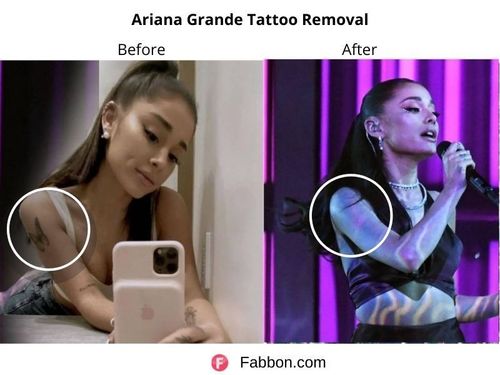 3. Ariana Grande Tattoo Removal
Ariana Grande is the apple of her fans' eyes and her iconic fashion statement has maintained its popularity throughout her career. Arianators keep a close eye on the Dangerous Woman singer as her aesthetic and fashion statements evolve through the ages. Ariana Grande has multiple small tattoos all over herself, especially on her arms. The singer has been adding to her body art little by little with time. In fact, Ari has 55 tattoos in all.
Ari surprised her fan crowd in 2021 after she got married to husband Dalton Gomez on May 15 in a private and elegant ceremony with close loved ones. However, fans noticed that her arm tattoos were missing from the pictures and have not been seen since. Fans first speculated that the pictures had been photoshopped but as it turned out, Ariana had gotten about six of her little arm tattoos removed sometime before her wedding.
Many fans still argue how Ariana managed to get all her arm tattoos removed so fast since tattoo removal takes about 1 to 2 years for the tattoo to be completely gone. Netizens agree that Ariana's celebrity tattoo removal before and after is one of the smoothest and fastest that the internet has so far witnessed.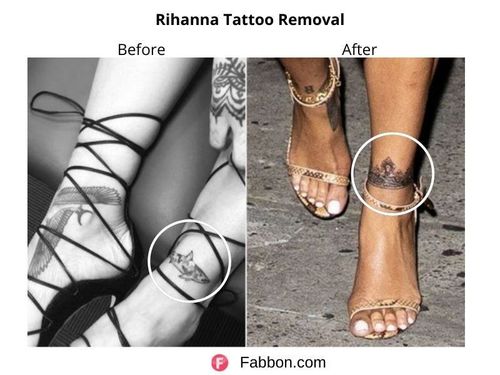 4. Rihanna Tattoo Removal
Rihanna's is not quite a celebrity tattoo removal story since Riri seems to have covered up the tattoo in question here. Rihanna had a lasting long-term relationship with rapper Drake until the couple called it quits in 2020. Back in 2016, Rihanna had gotten a matching tattoo of a camo-print shark with Drake on her ankle. Drake had gotten his camo-print shark on his forearm. This tattoo was said to have been inspired by a date that the two had gone on.
Fast forward to 2022, as Rihanna and A$AP Rocky's relationship continued to catch attention, netizens noticed that Rihanna's camo print shark on her ankle was gone. The tattoo seems to have been covered up by the illustration of a crown. Fans have gathered the fact that Rihanna has moved on from her relationship with Drake and the matching tattoos with Drake no longer serve a purpose for her.
Riri's tattoo artist Keith McCurdy told Vanity Fair that the significance of the camo shark tattoo to the couple was personal and does not need to be revealed to the public. He also mentioned that the couple had gotten the tattoo done in Drake's dressing room.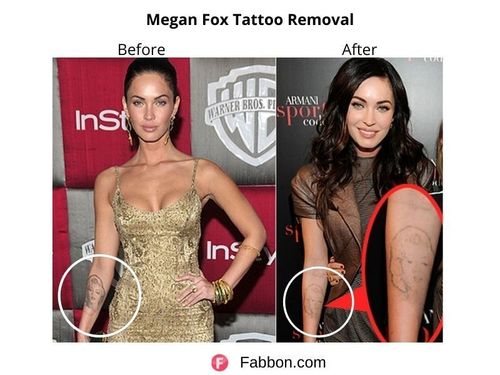 5. Megan Fox Tattoo Removal
Megan Fox has been in the news for her very happening and wild relationship with rapper and music artist Machine Gun Kelly. Both MGK and Megan Fox have multiple tattoos. Megan herself has 10 while MGK is tattooed on most of his skin. Megan Fox has talked about getting many of her tattoos removed in the past although we still get to see most of them even now.
Megan Fox has a portrait of Marilyn Monroe done on her arm that she got at a very young age. In 2011, the actress said in an interview that she wanted to get the tattoo removed because, at the time of getting it, she thought she will love it forever but that was not the case. "I was stubborn and I thought that I would love it forever, or that it would be like a book of my life, all the things that I loved when I was young. And it's not that at all," Fox stated. "I do not want to attract this kind of negative energy in my life," she also added. Furthermore, she also stated that the tattoo was quite large and needed to be covered up during work.
Soon after, photos of Megan Fox showed that the tattoo was slowly fading as she went through with her laser removal procedure.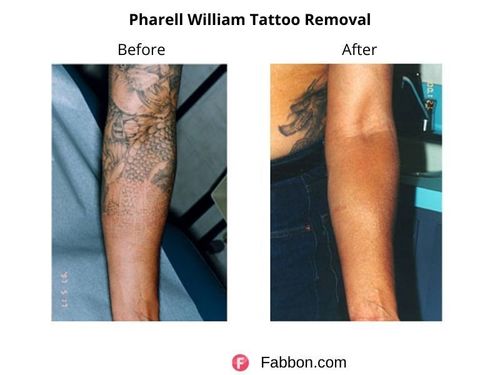 6. Pharrell Williams Tattoo Removal
In 2008, super-producer Pharrell Williams put himself in for a painful ride after he declared that he wanted to get rid of all his arm and neck tattoos. The 36-year-old said that his tattoos represented his adolescence and he no longer wants them because he feels like he has grown out of them.
Williams said in an interview,
I got fire on my arms. I don't need fire on my arms! I'm a grown man.
Pharrell William's tattoo removal was originally supposed to be done via skin grafting but he instead opted for laser removal. "Laser treatment b----es! Extra crispy," he wrote about the procedure in a blog.
Williams' transformation is a really clean celebrity tattoo removal before and after and it was quite a long time of blood-gripping pain that the producer went through to remove the tattoos that he had gotten when he was younger.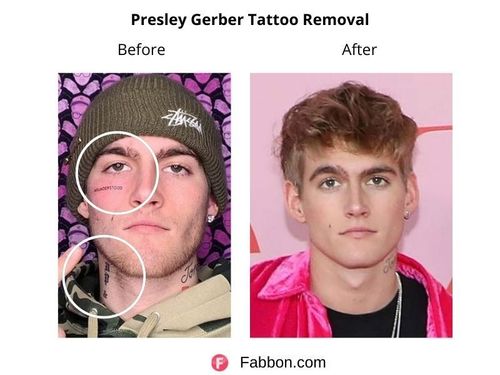 7. Presley Gerber Face Tattoo Removal
Presley Gerber got a face tattoo in February 2020 that said 'Misunderstood' under his eye. In recent news, the young man seems to have gotten the tattoo removed after he was spotted in Malibu with only slight traces of the tattoo being visible on his face. Presley later defended his decision in an Instagram Live video.
"It says misunderstood because that's how I felt my entire life. F—k you if you don't like it," he said in his video. The following month, he posted a story on his Instagram that read "Most and a lot of people can get a facelift, change genders, lip injections, etc and it's offensive to say anything in today's day in age but I get a little face tattoo and now people to love hate me.. Hmmmm?"
Presley's face tattoo was not the only one he had. The young man has several other tattoos on his hands and fingers which looked intact while people spotted that his face tattoo had faded suggesting he was in the process of getting it removed.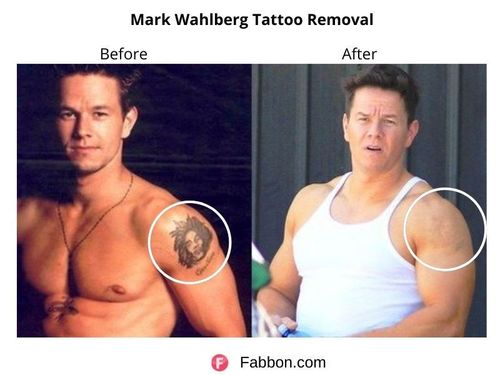 8. Mark Wahlberg Tattoo Removal
This celebrity tattoo removal story is pretty different from others and the reason Mark Wahlberg stated for his decision is what sets it apart. The actor said that all his tattoos hold meaning and a lot of value to him and if it was about himself, he would not want to get them removed. Despite that, Wahlberg decided that he does not want his children to get them, and hence he would remove all his own tattoos to set an example.
The actor even took the oldest of his four children with him to his laser sessions in order to give them an idea of what the process entails. Getting tattooed itself can be anywhere between moderately to extremely painful. The actor admitted that laser treatment, which involves burning the tattooed skin, is "1000x more painful" than getting tattooed himself. Just like any other parent, Wahlberg doesn't want his children to go through that sort of pain and conveyed the same to his children in his own way.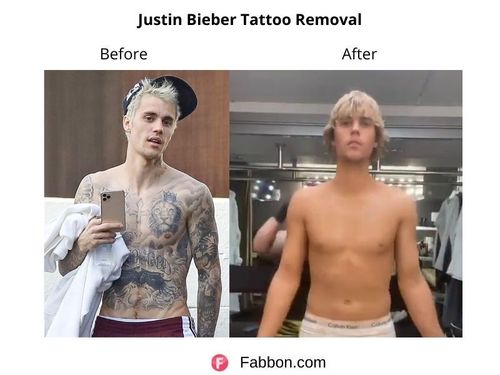 9. Justin Bieber Tattoo Removal
Justin Bieber's tattoos are a popular subject of talk and have been so ever since he started getting them. Of his 60+ tattoos, fans talked most about a portrait of Selena that he had gotten done on his arm sometime during their relationship. Justin, however, also had this tattoo covered up before his wedding to his wife Hailey Baldwin.
Justin did not get his tattoos removed permanently, but he did decide to ditch his heavily tattooed look for his 'Anyone' music video. The pop singer recorded himself as two make-up artists went to work in order to give him the clean, tattoo-devoid look that he wanted for his music video.
Bieber fans do speculate that the artist got one of his face tattoos removed since it is no longer visible and hasn't been seen in any of his recent pictures.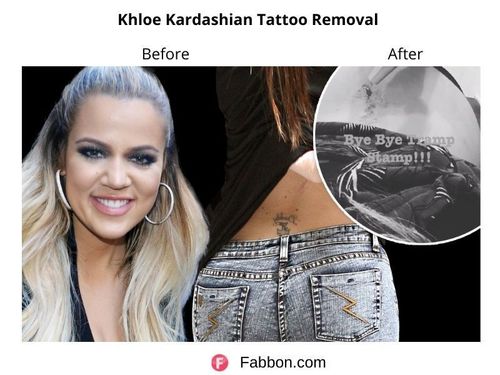 10. Khloe Kardashian Tattoo Removal
Khloe Kardashian has been trolled multiple times for a 'daddy tramp stamp' that she got when she was 16. In 2015, Khloe got the tattoo removed and posted about the decision on Instagram with a caption that read "The end of an era. Got this bad boy when I was 16…. Not so cute anymore🙊 I should've listened to Kim when she told me 'you don't put a bumper sticker on a Bentley.' Bye-bye bumper sticker!!! Thank you Dr. Ourian!!!! You are the best!"
Khloe also had the initials of ex-lover Llamar Odom tattooed on her hand. Khloe admits that she is a sentimental person but also said that she did what she should do and the tattoo needed to go. The Keeping Up With The Kardashians star also told media that she was happy for her ex and wishes him well in life. Her removing Odom's initials was the end of the relationship between the duo and a clear sign that Khloe has moved past it.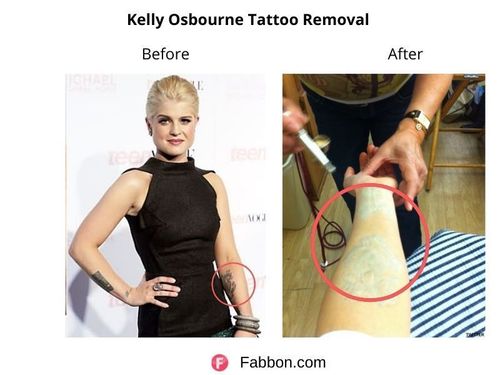 11. Kelly Osbourne Tattoo Removal
Kelly Osbourne, daughter of none other than the very famous Ozzie Osbourne decided to get several of her tattoos removed after she landed her first job as an actor. Kelly wrote on her blog that many of her 15 tattoos were just plain mistakes and needed to go as she embarks on a new journey in her career. The actress had been covering her tattoos up with make-up during her shoot and she wrote on her blog that she didn't quite feel like she had missed them.
Kelly also added that all her tattoos had meanings close to her heart when she got them and some of them still were very special to her. However, the others are what she now recognizes as mistakes and wants to get rid of immediately.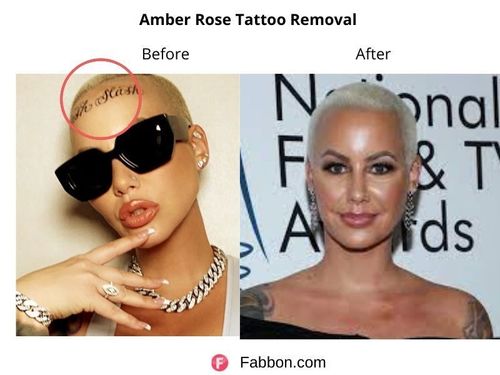 12. Amber Rose Forehead Tattoo Removal
Amber Rose took fans off guard when she first revealed her forehead tattoo. The piece of ink received mixed reactions from fans. A part of Amber's fan crowd thought that she was too pretty for a forehead tattoo while the others rooted for her and loved the fact that she was rocking something as bold as a forehead tattoo.
Roughly a month after Amber's big reveal, fans noticed that the tattoo had disappeared as well. It is unclear whether the model actually got inked and removed it soon after or used a fake tattoo for a month. The incident garnered a lot of negative reactions from fans. Amber later clapped back via her Instagram Stories saying that she would proceed to do whatever she wants despite all the nasty reactions. Meanwhile, Amber's boyfriend Alexander Edwards decided to get face tattoos on himself as well to support Amber.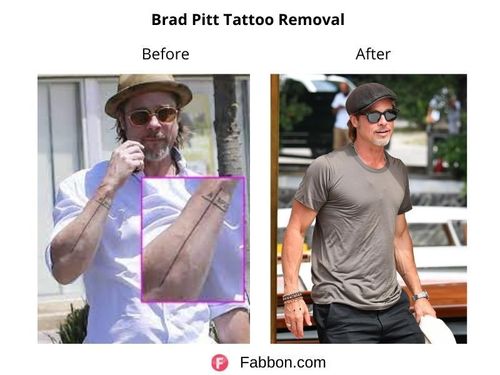 13. Brad Pitt Tattoo Removal
After their split in 2016, Brad Pitt decided to get rid of all the tattoos he had gotten for his ex-wife Angelina Jolie. Brad Pitt had multiple tattoos dedicated to Angelina Jolie which include drawings on his back that Angelina Jolie drew, her birthdate, and even matching tattoos drawn by a Thai monk which was intended to keep them together through the good and bad. Unfortunately, their marriage didn't last and after their finalised divorce in 2019, Brad made appointments for laser treatment to remove the tattoos that he had gotten for Jolie.
Brad Pitt was not very talkative about his tattoo updates but slowly got all the tattoos lasered off one by one. He also went on to get more tattoos later and even covered a couple of old ones up according to sources.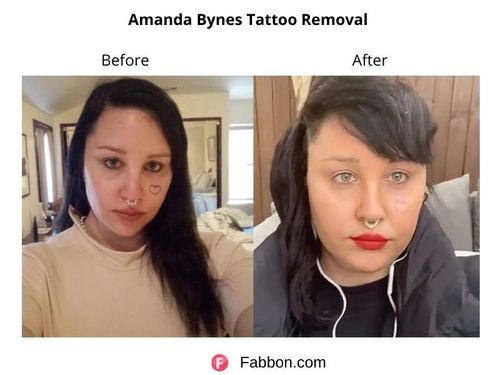 14. Amanda Bynes Tattoo Removal
Amanda Bynes got a heart tattooed on her face in 2019. Bynes had earlier had tattoos done and removed but the heart shaped face tattoo caught fans' attention the most. Amanda recently shared on her Instagram that she will be bidding farewell to the tattoo on her cheek.
Amanda has not revealed details of why she is getting the tattoo removed. Fans think that she has simply grown out of it. Amanda is also in the process of changing more parts of her appearance as she recently switched to black hair.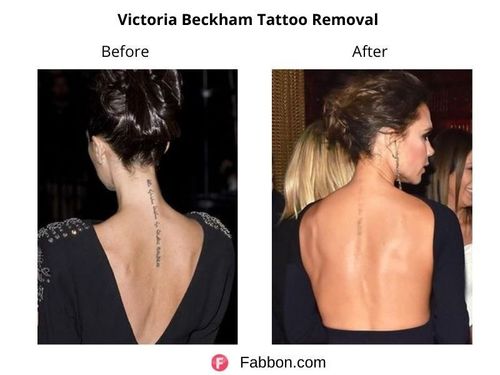 15. Victoria Beckham Tattoo Removal
Victoria Beckham had quite a unique linear tattoo done on her back. The tattoo was a Hebrew phrase that reads "Ani l'dodi li va'ani lo haro'eh bashoshanim," which translates to "I am my beloved's and my beloved is mine."
The ex-Spice Girl and surprised audience at the British Fashion Awards where her usually prominent back tattoo appeared much faded. Netizens quickly gathered that the model had undergone laser treatment to get the tattoo removed after a long line of laser sessions.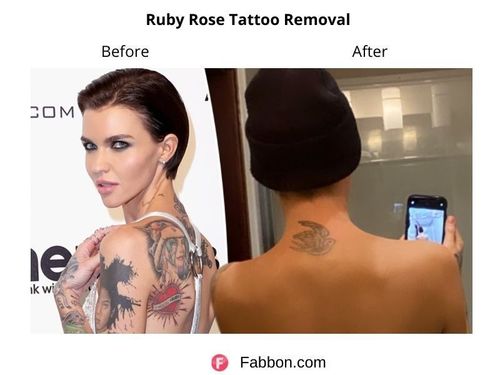 16. Ruby Rose Tattoo Removal
This celebrity tattoo removal broke fans' hearts a little bit since Ruby Rose is known for her iconic style and 100s of tattoos. Ruby Rose reportedly got two of her most famous tattoos removed shortly after she had to laser off her 'Just Love' tattoo because it became too difficult to hide during filming. The two removed tattoos were a Sia lyric done on her neck and a tattoo that was a tribute to Mabelline done on her collarbone.
The 33-year-old actress even documented one of her tattoo removal procedures to keep fans updated with her doings. Ruby Rose stated that she wholeheartedly loved all her tattoos shortly before lasering off some of her knuckle tattoos in 2017. The actress also said that she would be removing some of her tattoos in order to take her career in Hollywood forward.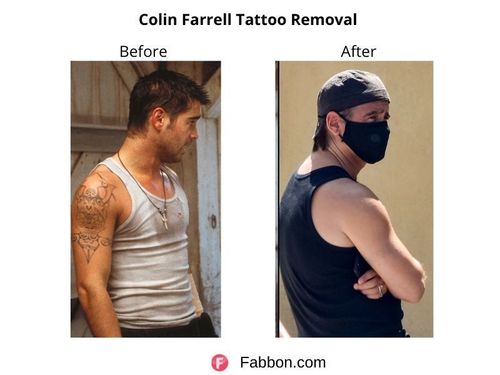 17. Colin Farrell Tattoo Removal
The 44-year-old Batman star Colin Farrell decided to get all his tattoos removed after getting tired of how long it takes to cover up his tattoos using makeup when he is on set. Farrell was a huge fan of tattoos during his younger years and got quite a number of pieces on himself.
However, he realized that he spends way too much time on set covering his tattoos up with makeup and would rather go ahead and have them lasered off even though the process would entail a lot of pain.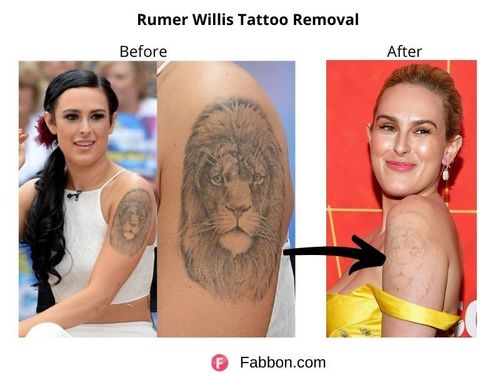 18. Rumer Willis Tattoo Removal
Dancing With The Stars champion Rumer Willis got a tattoo of her dancing with her show-partner Val Chmerkovsky after their big win. Three years after the victory, Rumer decided to get the tattoo removed when she started dating Jenna Johnson who was also a fellow contestant in Dancing With The Stars.
Rumer did not specifically go into details of why she was getting the tattoo removed but fans think that its a reasonable thing to do when given she is dating someone else now. Rumer does however hold the win and the tattoo close to herself and her victory in the show remains one of her big career achievements.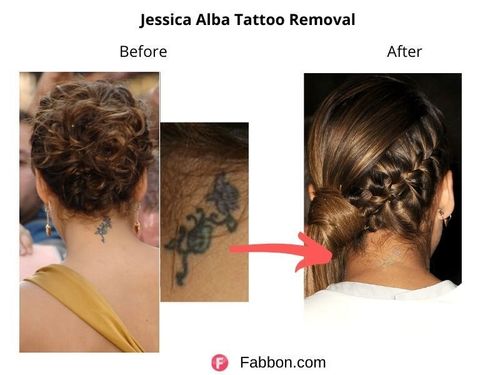 19. Jessica Alba Tattoo Removal
Jessica Alba had a little flower tattoo on the back of her neck that she got at 17 years old. The actress later told media that she regretted getting the tattoos she got in her teenage years and has much more meaningful and better done tattoos that she got recently. Alba got tattoos of each of her 3 kids' zodiac signs and constellations done on her left arm.
However, Jessica's neck tattoo from when she was 17 has refused to come off after several laser procedures and the actress is really annoyed and regretful about it.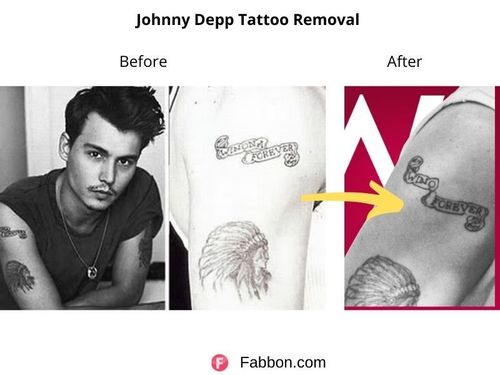 20. Johnny Depp Tattoo Removal
Johnny Depp and Winona Ryder were a famous couple in the 90s. The pair got engaged after dating for 5 months. So as a gesture and promise of his love for Winona, Johnny Depp got 'Winona Forever' tattooed on his arm. Unfortunately, the marriage didn't last and the couple split up later. Following their break up, Depp got the 'na' from his Winona Forever tattoo removed so that the tattoo now read Wino F0rever.
Johhny Depp's celebrity tattoo removal is a classic example of witty humour used in just the right way.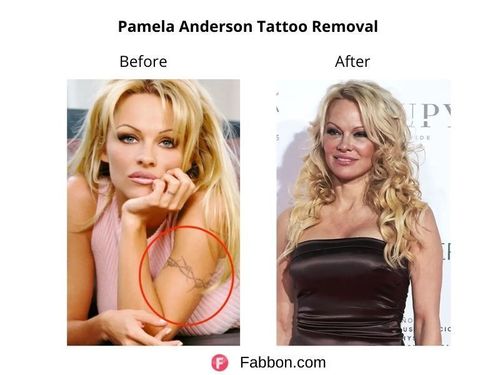 21. Pamela Anderson Tattoo Removal
Pamela Anderson got a band tattoo of a barbed wire tattooed around her upper left arm for her 1995 action movie Barb Wire. Anderson's character had the barbed wire tattoo on her arm. So instead of having an artist draw it on her every day, she decided to get the tattoo altogether.
In 2014, Pamela decided to get the tattoo removed because she saw that her skin is undergoing the effects of aging and hard living and felt like her tattoos would soon become eyesores on wrinkled skin as she grows older. The former Baywatch star started the process of laser removal the same year.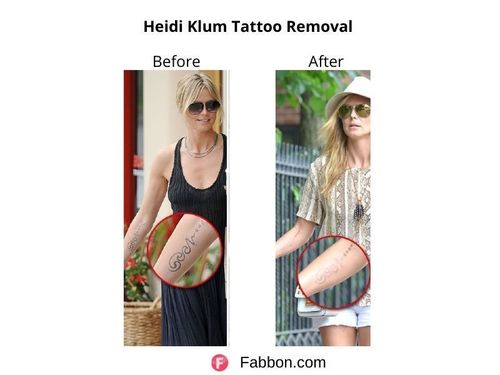 22. Heidi Klum Tattoo Removal
Globally well known supermodel Heidi Klum decided to get her then-husband Seal's name tattooed on her arm as a gesture of love. The tattoo was relatively big. Klum and Seal started dating in 2008 and the duo split up four years later in 2012.
Following their break-up, Heidi signed up for tattoo removal sessions to get rid of Seal's name written in huge letters on her arm. The supermodel now has tattoos of her husband Martin Kristen and their three childrens' name.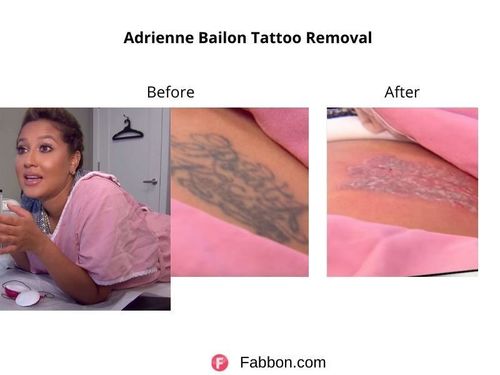 23. Adrienne Bailon Tattoo Removal
This celebrity tattoo removal story is slightly different from the others.
As Keeping Up With The Kardashians fans might already know, Adrienne Bailon was Rob Kardashian's girlfriend for a good two years. The couple dated from 2007 to 2009. At some point during these two years, Adrienne got Rob Kardashian's whole name tattooed on her butt.
Unfortunately, the relationship would not last. Following their break up, Adrienne went ahead and signed up for laser treatment to get the ink removed. She also shared updates of the procedure on social media and told fans that she was 'excited' to get the tattoo removed. Fans do not know whether the tattoo is completely gone now but Bailon did clench her teeth through a good number of sessions to get rid of the tattoo.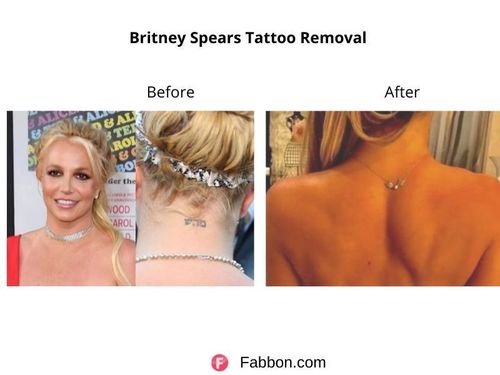 24. Britney Spears Tattoo Removal
Britney Spears has been in the limelight in light of the #freebritney movement and eventually, the end of Jamie Spears's conservatorship over Britney. Throughout the span of the 13 year long conservatorship, fans have often pointed out the oddities in Britney's social media posts. There are even theories that Britney was not in control of her social media handles and had been replaced by a lookalike. These speculations began after fans noticed changes in Britney's appearance, including a tattoo that seemed to have disappeared.
Britney has 9 tattoos on herself. One of these is a Kabbalah symbol on the back of her neck. In an Instagram picture of Britney, fans noticed that this tattoo could no longer be seen. However, Britney put an end to all the internet talk after she revealed that she hadn't removed the tattoo by laser treatment but instead edited it out of the photo she posted on Instagram because she wanted to see how she would look without it. Some fans continue to entertain their conspiracy theories while others think its a reasonable explanation.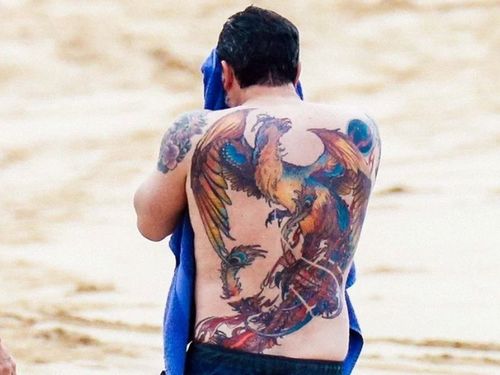 25. Ben Affleck Tattoo Removal
Ben Affleck made news with the celebrity tattoo removal department after he told the media that the huge colorful tattoo of a phoenix on his back was fake. Affleck later went on to reveal that he had messed up and lied about the tattoo being a fake. He also told interviewers that the tattoo, although not artistically the greatest piece of work, was something very special to him that he held very close to his heart. He also stated that he mostly likes to keep it private.
Ben Affleck's tattoo came into the limelight again after a tweet by Jennifer Lopez from 2016 resurfaced where she had slammed Ben Affleck over his 'awful' tattoo. it was rumored that beau Jennifer Lopez hated his phoenix tattoo and wanted him to get it removed. Several media outlets also reported that JLo was forcing Ben Affleck to go through the removal procedure and get rid of the tacky-looking tattoo. Ben Affleck reportedly took laser sessions soon after to wipe the phoenix tattoo out. He kept the process rather discreet from the public eye and didn't share updates about the removal on social media or elsewhere.