Kylie Jenner Plastic Surgery: Before And After Images - 2023
Shalu Bhati
Updated At 20 Jul 23
Do you wish to know about Kylie Jenner plastic surgery? Then, keep reading!
We have specifically covered the various types of Kylie Jenner plastic surgery procedures, Kylie Jenner plastic surgery timeline, Kylie Jenner before surgery and after surgery pictures along with some FAQs related to the same. We specifically cover the following:
Kylie Jenner Plastic Surgery & Transformation
Kylie Jenner Age And Net Worth
Kylie Jenner was born on 10 August 1997 and at present her age is 24 years. Her height is 1.68 meters.
Kylie Jenner net worth is more than $900 million. Her fortune comes mainly from Kylie Cosmetics and Kylie Skin - her own makeup and skincare brands which had revenue of around 200 million in 2020.
In 2022, she became the most followed woman on Instagram as she reached 300 million followers.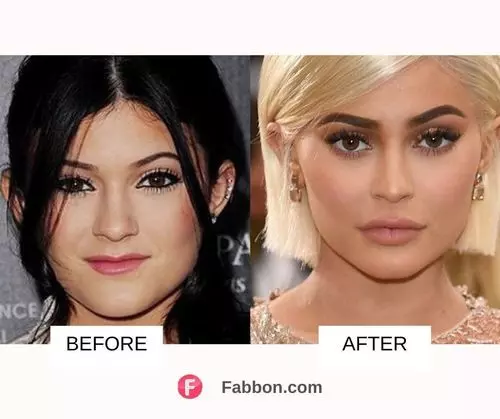 Kylie Jenner Plastic Surgery - All The Surgeries She Underwent
Kylie Jenner has been in the media and the public spotlight ever since she was a child. She was merely 10-years-old when she started appearing on her family's reality TV show, Keeping Up With The Kardashians. We have literally seen her grow up in front of our eyes. And it has been one dramatic journey. Kylie, now 24, looks completely different from what she used to.
What started as a means for financial independence at the age of 15 grew up to be a billion-dollar makeup empire. Kylie started with her famous lip kits which then developed into Kylie Cosmetics and now Kylie Skin. Her makeup line not only gave her an identity outside her family's reality show but also made her a self-made billionaire at the age of 21.
Kylie's life is nothing like that of a usual 24-year-old. Apart from being a reality TV star, internet sensation, makeup mogul, and a successful businesswoman, Kylie is also a mother of one. Kylie Jenner Travis Scott pamper their one-year-old daughter Stormi as much as they can. Kylie Jenner weight loss diet has been quire popular as she lost a whopping 25 pounds.
Kylie has gone through puberty and also pregnancy. She has credited her transformation to the natural growing up process and a few makeup tricks. Kylie Jenner No makeup photos showcase her natural beauty. Even though she has denied rumors of plastic surgery, speculations are still on a rise.
In an interview given to the Paper magazine she once again tried to clear the air around her unbelievable transformation. She reiterated how Kris Jenner, her mother, would not have let her go through cosmetic surgery of any kind. So she couldn't get her boobs or butt done even before she turned 18 as was being speculated by so many people across the world.
On her changing appearance, Kylie said
People think I fully went under the knife and completely reconstructed my face, which is completely false. I'm terrified! I would never." She also revealed that she has been using fillers on her face but nothing else. She said, "Well, I haven't done anything except my lips but nobody seems to believe that, so I don't really care."
Recently, Kylie responded to the rumours about plastic surgeries and quoted the following.
I think a big misconception about me is that I've had so much surgery on my face and that I was some insecure person, and I really wasn't!
Kylie has also shared her views on plastic surgery in an interview which was conducted by elder sister Kim. She said, "I feel like if it makes you feel better, and if that's what you want to do, I'm not against it. Right now I probably won't do anything, actually."
Whether there is any speck of truth behind all these Kylie Jenner surgery rumors or not, let's find out. With experts weighing in, let's see if Kylie's transformation came from puberty and makeup contouring or they are a direct result of Kylie Jenner plastic surgery procedures. Along with her face even kylie jenner skin has changed! Following are the procedures which are speculated to be the reason behind Kylie Jenner's changed appearance.
Do check out our guide on celebrity plastic surgery to find out all the details about the plastic surgeries of 30+ celebs.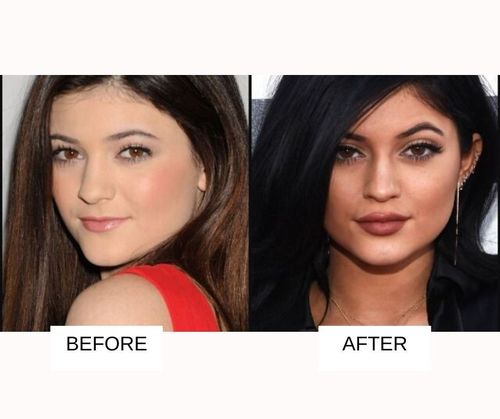 Kylie Jenner Plastic Surgery - Brow Lift
The Kylie Jenner before plastic surgery pictures show how her eyebrows too have changed over the years. As you can see they have become more arched and elevated than before. This is said to be caused due to Botox injections given into her forehead and around the eye area. This procedure is not invasive like plastic surgery but gives a similar effect.
Along with the surgeries that she has undergone, it is no doubt that kylie jenner makeup tips have also played a key role in her transformation.
Lower Eyelid Fillers
Lower eyelid fillers are generally used to get rid of hollow and bags under the eyes. They are used to give tired eyes a refreshed look. There have been speculations and rumors that Kylie has got Restylane fillers in lower eyelids to balance her under-eye as well as upper cheek area.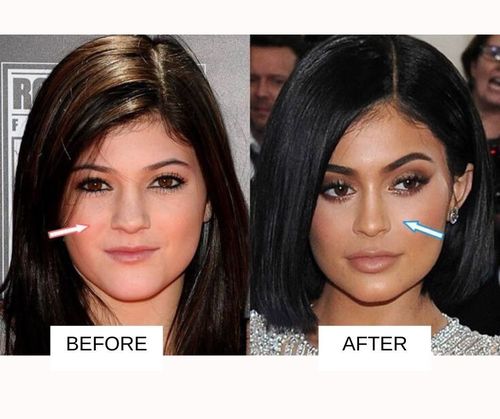 Kylie Jenner Plastic Surgery - Nose job
Looking at Kylie's before and after pictures, you will find that the bridge and tip of her nose have become thinner and more refined to give her a more feminine look. This kind of naturally slim appearance is a direct result of rhinoplasty and its very likely that Kylie Jenner cosmetic surgery has been the reason for her nose transformation. However, Kylie has constantly denied rumors of such a procedure and has called it clever makeup skills. But experts are of the view that no contour is capable of transforming a large nose roof as has been done in her case.
Many experts are also of the belief that Kylie's lip fillers have balanced her nose to some extent which brings us to our next point. Kylie jenner before and after images clearly showcase the transformation achieved through various plastic surgery procedures.
Do check out our guide to find out everything about Kim Kardashian plastic surgery. It is rumoured that she has undergone several procedures like botox, nose job, breast implants, butt injections and many more. We cover all of them in detail and also answer the popular FAQs.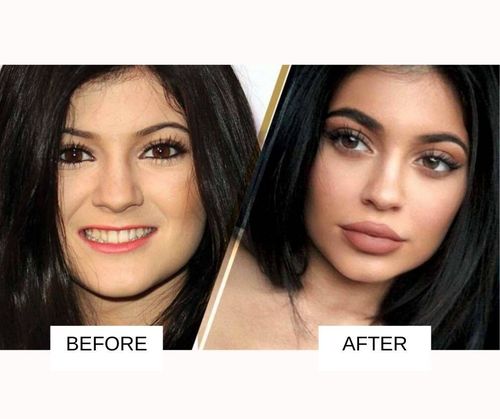 Kylie Jenner Plastic Surgery - Lip Fillers
This is the only procedure about which Kylie has been open about. But this was not always the case. When in 2014 she came out in front of the cameras with lips that were three times bigger than they used to be, she denied getting any procedure done and again credited this change to clever makeup techniques. It was only a year after when she accepted that she has temporary lip fillers because she felt insecure regarding her thin lips. If one analyzes images of kylie jenner before surgery then a marked difference can be seen in her features.
Her new lips created frenzy all over the world and started the infamous Kylie lip challenge in which people used a shot glass or a small jar to get lips as pouty as the reality TV star.
Kylie also accepts that she has gone for lip fillers to improve her appearance.
"I was the girl performing for everyone. I had my one lip insecurity thing, so I got lip filler, and it was the best thing I've ever done. I don't regret it. But I always thought I was cute."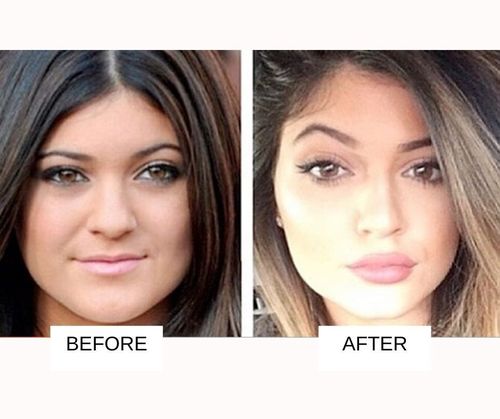 Nasolabial Fillers
Kylie is also rumored to have had nasolabial fillers. It becomes easier for us to believe ever since Kylie has revealed that she has been using fillers on her face. Where exactly and what kind of fillers, it Kylie is still keeping it under wraps. But considering how Dr. Simon Ourian, the cosmetic dermatologist behind Kylie's famous pout, is known for his way with injectables, it is safe to assume that the rumors of nasolabial fillers bear some truth. The before and after pictures of Kylie support this claim too.
If you check out the details of Kourtney Kardashian plastic surgery, she has also undergone similar procedures like Kylie. Similar to Kylie, she has also undergone nasolabial fillers, lip fillers, butt lift and breast augmentation.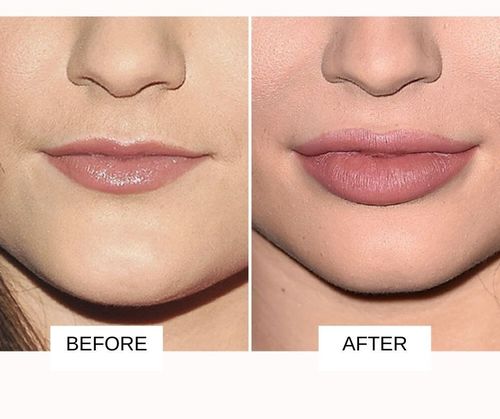 Kylie Jenner Plastic Surgery - Chin Enhancement
This is another one of the Kylie Jenner plastic surgery procedures that the youngest Jenner has denied. But taking a proper look at Kylie Jenner before surgery pictures put any doubt to rest. Her chin is more defined and she now has a more refined jawline which cannot be called a result of growing up. This kind of change in the shape of chin and jawline comes only as a result of a chin implant and jawline shaving. One can also add chin enhancement to the list of Kylie jenner surgeries. The marked difference in her features is clearly evident post all the procedures.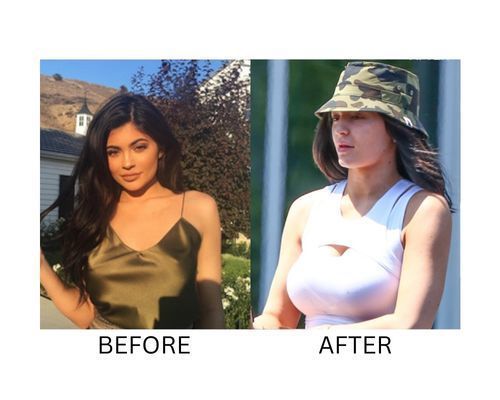 Kylie Jenner Breast Augmentation
It was in 2015 when rumors of the Kylie Jenner boob job first started. Again, Kylie constantly denied the rumors and credited this change to her body contouring skills and Victoria's Secret Bombshell push-up bra. But many of her bikini photos say otherwise and looks like Kylie Jenner breast augmentation is actually real. Experts believe that she had a breast enlargement procedure which gave her large boobs that matched the rest of her body proportions.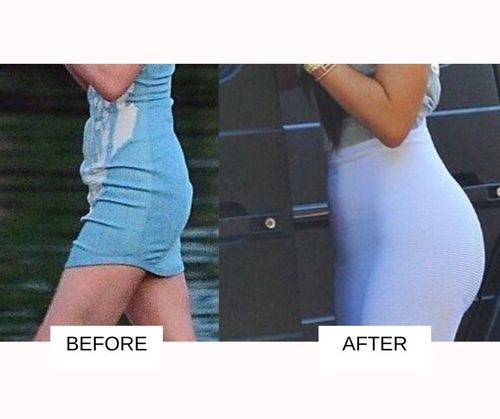 Butt Lift
Here is another one of the Kylie Jenner plastic surgery procedures that led the rumor mill to work overtime. From butt enhancing creams to weight gain and pregnancy, Kylie gave many plausible explanations for her hourglass figure but none were enough. Experts are of the view that Kylie went through a procedure popularly known as the Brazilian butt lift. In this procedure, fat from one part of the body, preferably from the stomach, is taken and injected into another part of the body, that is, the butt.
Kylie Jenner Transformation Over Last 10 Years
Let's take a look at her transformation to see Kylie Jenner then and now. Kylie Jenner Plastic Surgery and her complete transformation would seem visible with this timeline.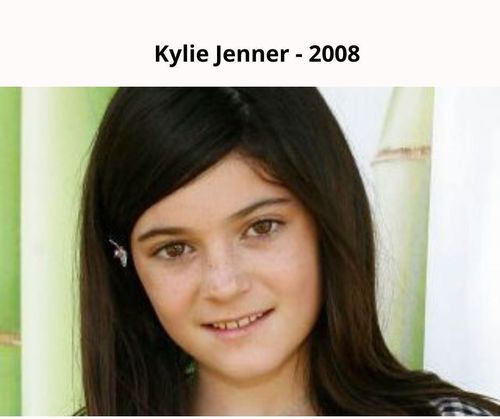 2008
This is a young fresh-faced Kylie Jenner at the very beginning. Take a look at her freckled skin, slightly broad nose, and thin lips because everything is soon going to change.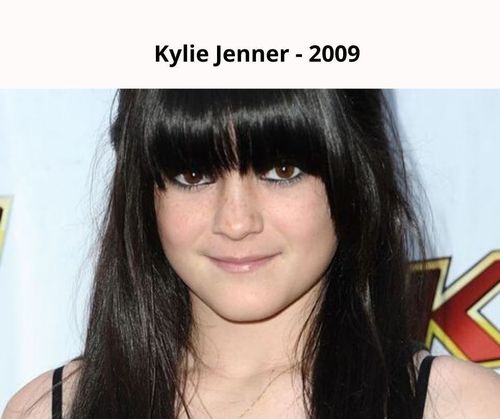 2009
Kylie went for full-frontal bangs in 2009. She still has her natural features here. Also, take a look at her skin tone. You will know why soon.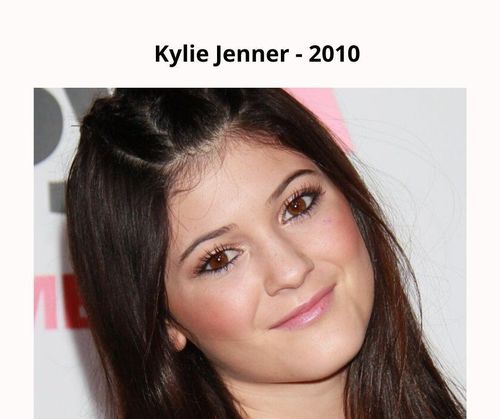 2010
This was the year when Kylie became obsessed with blush. The freckles are still visible under a thin layer of foundation.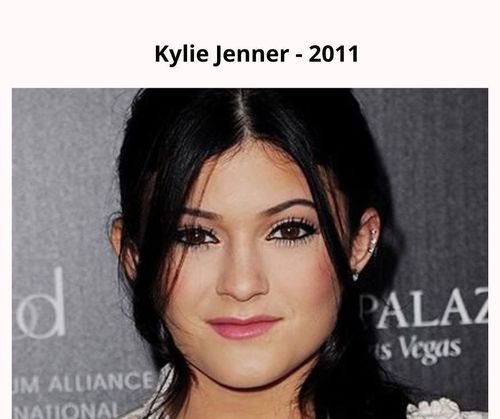 2011
Kylie was developing her sense of style and that too with quite an ease. Here she can be seen with a proper layer of foundation. The liner was her new best friend. This is Kylie Jenner before plastic surgery.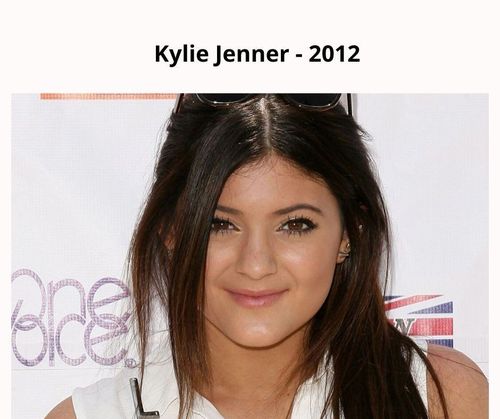 2012
This is still a natural-looking Kylie Jenner before surgery. Notice how her eyebrows sit well on her face with a normal arch. Keep an eye on this nose and pair of lips. It is about to change.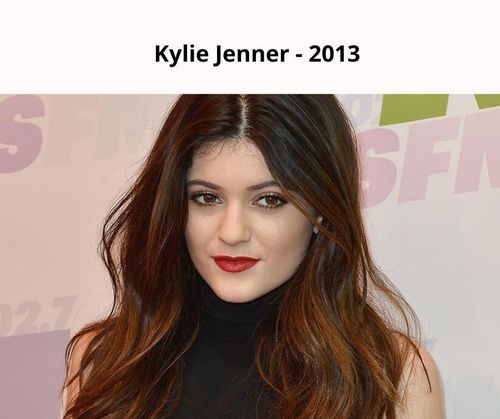 2013
Kylie has always been a rule breaker. Even though it is suggested that people with thin lips should avoid dark lipsticks as it can make their lips appear thinner. But you can see Kylie here, totally rocking a dark red shade. A subtle overlining is in play.
Kylie's love for skin tight dresses is not new as can be seen from this picture taken in 2013. But notice how her body is. She doesn't have the hourglass figure here. Not yet.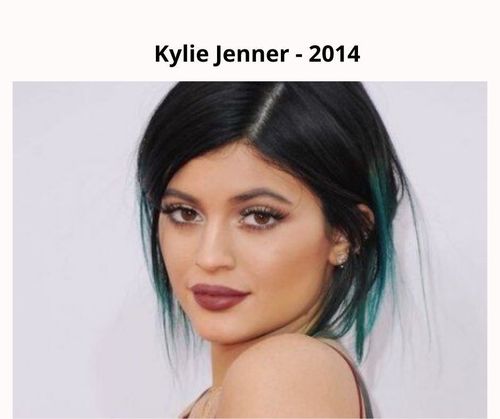 2014
This is the year when Kylie shocked everyone with her 3 times bigger and plumper lips. Even though she denied getting fillers, it is rather evident that the volume is not a result of over lining. Her skin tone has changed too.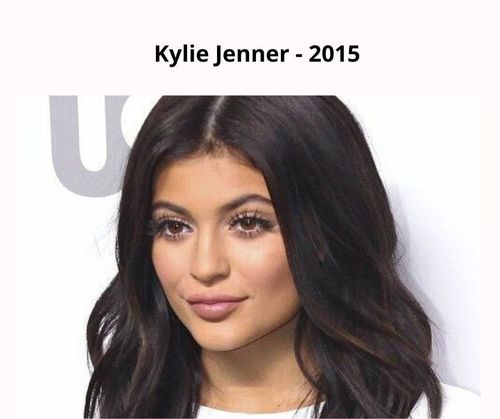 2015
Kylie's huge lips are here to stay and giving rise to never-ending speculations. With her fake tan, nude lipsticks and layered hair, Kylie here begins to look like elder sis Kim. Notice the change in her eyebrows.
After months of denial, Kylie finally accepted that she has had lip fillers. Her eyebrows became even more arched and elevated. This was an important year as Kylie Lip Kits made a debut.
This was also the year when Kylie started looking more and more like Kim Kardashian from her hair and makeup to an enhanced butt and boobs.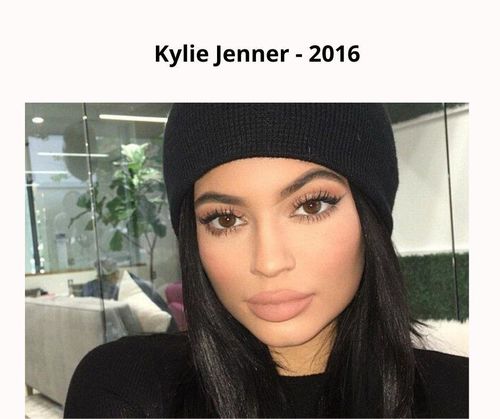 2016
Kylie's lips are here to stay. She was hugely trolled for her dramatic transformation. But the joke is on the haters as Kylie Lip Kits was renamed to be Kylie Cosmetics and production increased by multifold.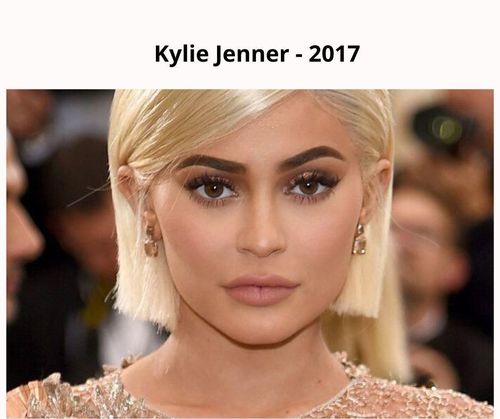 2017
Kylie's makeup game is strong and so is her business. She was doing it well by playing with different wigs and a nude palette.
She called it weight gain but fans called it Kylie Jenner fat transfer. After all, when did weight gain become so proportional? Her skin tone is completely changed now.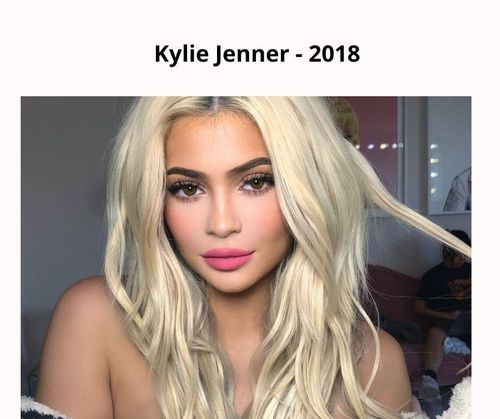 2018
This is the year Kylie got tired of all the ridicule around her lips. She was of the view that her lips looked unnatural and got all the filler removed. But that was a short stint because within weeks she was seen with plump lips. Her lip filler was back but it looked close to natural.
Kylie surprised the world with the news of her pregnancy. She gave birth to a beautiful baby girl and surprised everyone again with her fit and toned figure within a month of giving birth. Though she denied getting any surgery done, a friend of Kylie's snitched out her secret.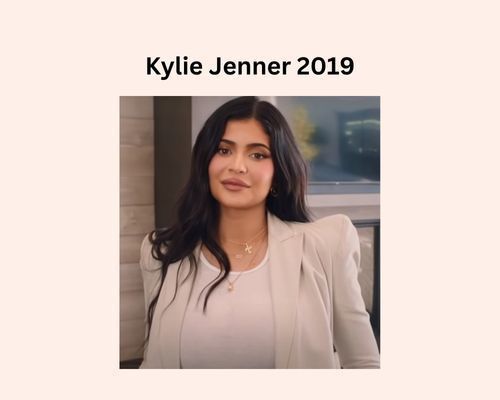 2019
Kylie Skin was launched and she was named a self-made billionaire by Forbes. Kylie became the youngest ever with her growing company. On the appearance front, she called it weight gain but look, how proportionate her body is. Too proportionate to be called natural.
Kylie had the time of her life in 2019. Name-calling and trolling continued to be rampant. But it didn't bother the successful businesswoman Kylie had now become.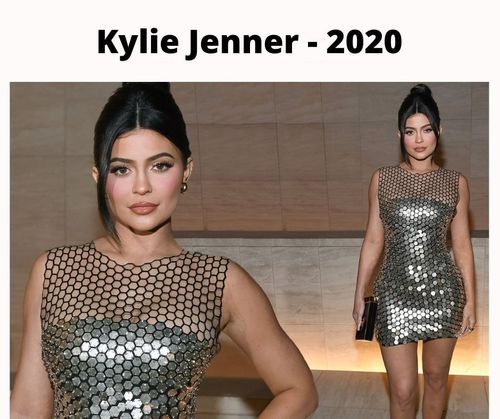 2020
Kylie's amazing business run continued in 2020 as well. She had trademarked Kylie Con, Kylie Kon, and Kylie Museum in Jan 2020. She also launched a collaboration with her sister Kendall Jenner and annoucned the same in 2020. Jenner topped the Forbes list of highest paid celebrities for 2020.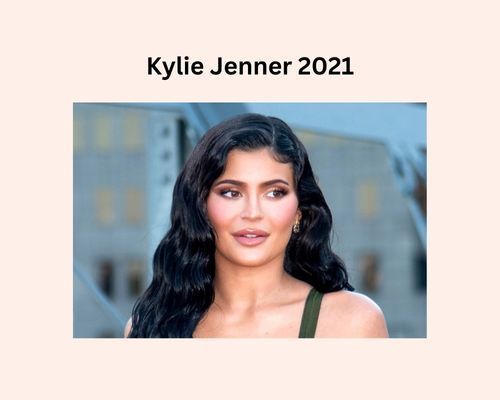 2021
Kylie's business has continued to grow in 2021. Kylie Jenner launched Kylie Swim which is a new swimwear line that included sizes for all women. In 2021, she also launched a new skincare and hair product line for babies, called Kylie Baby.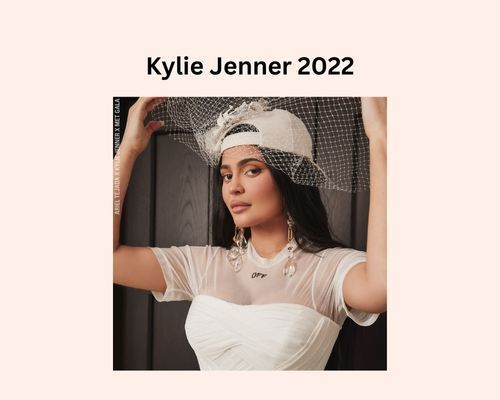 2022
Kylie Jenner has been growing and kept breaking multiple records in 2022. She became the most followed woman on Instagram as she reached 300 million followers on the application. Kylie Jenner also confirmed she is pregnant and would be expecting her second child in 2022.
The Verdict
A lot has changed in Kylie's appearance over the years from her skin tone to the size of her butt. She grew up in front of the camera which makes it easier for us to notice the changes in her, no matter how subtle or huge.
Kylie denies going under the knife to change her face and accepts that she has been using fillers. Face fillers go a long way in transforming the face and also come with plausible deniability of getting plastic surgery. Many dermatologists are of the view that along with fillers, she has also had a nose job and chin enhancement which was subtle yet effective.
Puberty and pregnancy can indeed change a person's appearance but Kylie's body has transformed so drastically that it cannot be called natural. The fat distribution on her body, which she terms the result of weight gain, is rather too proportional. Plastic surgeons across the world share the same view that it is neither body contouring nor squats but the good old butt lift and breast enhancement.
Getting plastic surgery was Kylie's personal choice. She also has the right to deny or accept it. If she wants to change her body and be content about it, then we should respect her choices and be happy for her.
FAQs On Kylie Jenner Plastic Surgery
Q. Which all surgeries have Kylie undergone?
It is speculated that Kylie has undergone rhinoplasty, breast augmentation, and Brazilian butt lift. Rumors are she has also gone under the knife for jaw enhancement.
Q. Is Kylie Jenner a billionaire?
Yes, kylie is a billionaire. With a booming makeup industry, her company Kylie Cosmetics is thriving. She was even named to be a self-made billionaire at the age of 21 by Forbes.
Q. Is Kylie Jenner vegan?
Kylie Jenner has been trying out the Vegan diet since 2017.
Q. How Kylie Jenner became famous?
Kylie Jenner became famous through her family's reality TV show, Keeping up with the Kardashians. She, later on, became famous with her business line of lip kits.
Q. What is Kylie Jenner face shape?
Kylie Jenner has a round face shape.
Q. Is Kylie Jenner cosmetic surgery successful?
Yes, Kylie Jenner cosmetic surgery has so far been successful.
Q. Is Kylie Jenner Snapchat famous?
Yes, Kylie is very popular on Snapchat. One single tweet from Kylie about a Snapchat update she disliked resulted in bad business for Snapchat once.
Q. Did Kylie Jenner use braces earlier?
Kylie Jenner braces were not a thing. She did not use braces but she is known to have used veneers. Veneers come in handy to change the shape and appearance of teeth. Usually made from porcelain, veneers are used to cover the natural teeth.
Related Articles