17 Best Anti Dandruff Shampoos Available In India - 2023
Sweta
Updated At 19 Feb 23
Finding the best shampoo for dandruff is crucial as dandruff is clearly one of the worst hair issues faced by everyone.
While hair oils for dandruff are also available now but an anti dandruff shampoo is still the preferred option for removing dandruff.
We list the best anti dandruff shampoos in India for both men and women which are found to be very effective.
17 Best Anti Dandruff Shampoos In India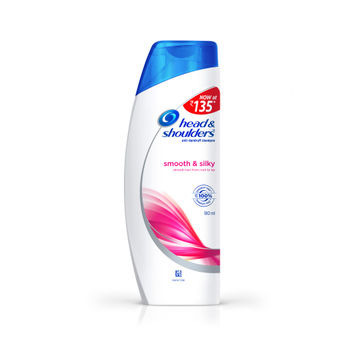 1. Head & Shoulders Smooth And Silky Shampoo
Head and shoulders have been the brand name for anti-dandruff shampoo since the former times of dandruff problems.
The professionals have delivered the trusted and tested formulas, transforming it into a full-fledged healthy shampoo.
Apart from hair fall control and smoothening oriented shampoos, head and shoulders created an exclusive smooth and silky shampoo which is a unique two in one formula which not only curbs the dandruff problem but also enhances the hair texture making it less frizzy and smoother.
Pros:
Frizz control up to 24 hours
Provides volume for dry hair
Smoothens the hair texture
Balanced pH formula
Removes dandruff
Cons: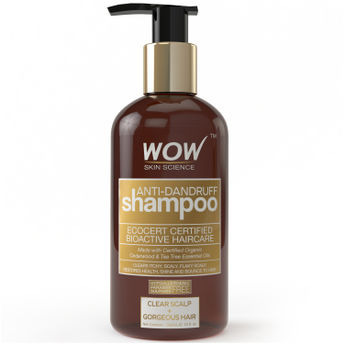 2. WOW Organics Anti Dandruff Shampoo Paraben Sulphate Free
This anti dandruff shampoo from Wow organics is formulated in the USA and contains certified organic cedar wood and tea tree essential oils.
Sulphate free and paraben free, this shampoo helps you to clean the scalp to provide healthy, shiny hair.
It provides complete dandruff solution as it roots out dandruff and is effective for all hair types.
It contains pure essential oils and is anti fungal in nature.
Additionally, it is mild and chemical free.
Pros:
Removes dandruff
Mild and chemical free
Sulphate free and paraben free shampoo
Sweet fragrance
Anti fungal
Contains pure essential oils
Cons:
Might be rough on the hair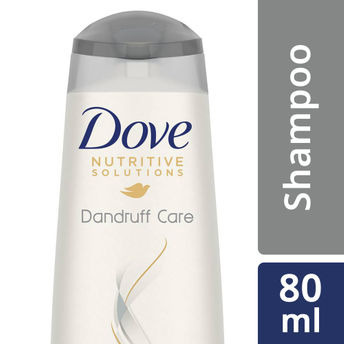 3. Dove Hair Therapy - Dandruff Care Shampoo
Dove's Dandruff Care Shampoo is one of the leading anti-dandruff shampoos which include ZPTO formula that has been scientifically proven to be tremendously efficient for fighting dandruff.
The shampoo helps get rid of dandruff without harming your hair and eradicates the friskiness and dryness of after shampoo effects and makes it smooth.
The contents of the shampoo do not include parabens at all and an effective and regular usage in the right amount will show you great results.
Pros:
Does not contain parabens
Bears pleasant fragrance
Small amount required
Efficiently cleans hair
Cons:
Does not strengthen the hair texture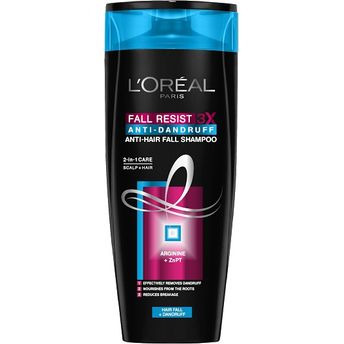 4. L'Oreal Paris Fall Resist Anti Dandruff Shampoo
This Anti dandruff and anti hairfall shampoo from L'Oreal Paris contains Arginine- root and zinc PT to prevent hairfall and treat dandruff.
It is very effective for dandruff removal. Additionally, it keeps the hair soft and does not make them dry.
Pros:
Removes dandruff
Stops hairfall
Doesn't make hair dry
Keeps hair soft and shiny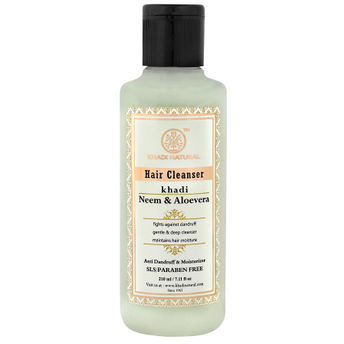 5. Khadi Natural Neem & Aloevera Anti Dandruff Shampoo (SLS & Paraben Free)
Khadi's Neem and Aloe vera shampoo is a herbal and ayurvedic cleanser with SLS and paraben free is an SLS and paraben free formula that plays a major role in assisting your battle against severe dandruff problems.
The shampoo helps removes dandruff slowly while recovering scalp health and flushing out your hair and scalp of dirt build-ups and dead cells.
Pros:
Organic herbal content
SLS and paraben free
Pleasant fragrance
Chemical free ingredients
Cons:
No difference in the hair texture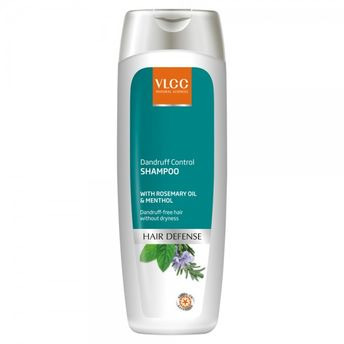 6. VLCC Dandruff Control Shampoo
VLCC's Dandruff Control Shampoo is another best shampoo for dandruff and hair fall due to its unique combination of mint and rosemary, which helps diminish dandruff without varying the moisture balance in your scalp and hair.
The shampoo is highly induced with the antibacterial properties of rosemary oil, which helps guard your scalp against infection.
The consistency of the shampoo is too thick and can be best used when diluted. After proper usage for a few weeks, noticeable differences can be witnessed on your hair as it becomes revitalized and shinier.
Pros:
Reduces itchiness
Pleasant aroma
Shiny and silky hair
Nourish the dry patches
Cons:
Does not showcase the contents/ingredients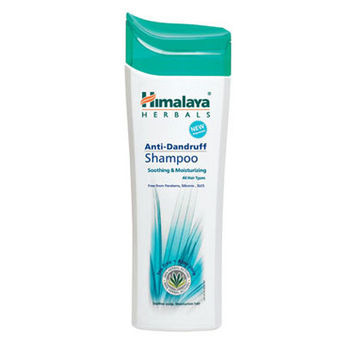 7. Himalaya Anti Dandruff Shampoo
Himalaya Herbals Anti Dandruff Shampoo is an Ayurvedic shampoo which claims to gently eliminate dandruff while nourishing and reinforcing your scalp and hair.
With regular and consistent usage, the shampoo removes itching, hair fall, and dandruff shredding.
The shampoo has the contents of tea tree oil and grape seed oil which prevents bacterial scalp infections which causes the recurrence of dandruff on your scalp.
The product has a very long shelf life and is ranged at a very affordable price.
Pros:
Cost effective
Long lasting shelf life
Reduces itching and dry scalp
Easily available
Cons:
Does not strengthen the hair texture
No lather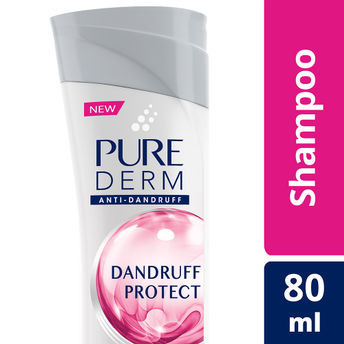 8. Pure Derm Dandruff Protect Anti Dandruff Shampoo
This Anti dandruff shampoo not only removes dandruff but also prevents it from coming back.
This uses oxy-fused micro bubble technology to clean the scalp from dirt and impurities.
It is clinically proven to be effective against dandruff and is also recommended by dermatologists.
Pros:
Paraben free shampoo
Uses dual-active technology which prevents dandruff from returning
Recommended by dermatologists
Makes hair smooth
Cons:
Might need to use conditioner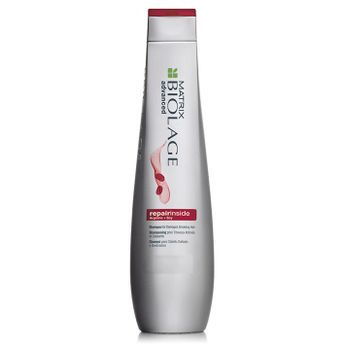 9. Matrix Biolage Advanced Repairing Shampoo
Matrix's Biolage Advance Scalppure Dandruff Shampoo is one of the best anti-dandruff shampoos for women, which claims to get rid of dandruff, controls the emergence of flakes, and lessen the scalp irritation.
The shampoo also involves anti-bacterial and cooling ingredients because of its mint leaf content.
It also includes Pyrithione Zinc, which is a major aspect that helps fight off dandruff to give you an apparent and hale and hearty scalp.
Pros:
Attractive label and packaging
Long lasting cooling effect
Good thick consistency
Extreme cleansing effect
Cons:
Does not eradicate severe dandruff problems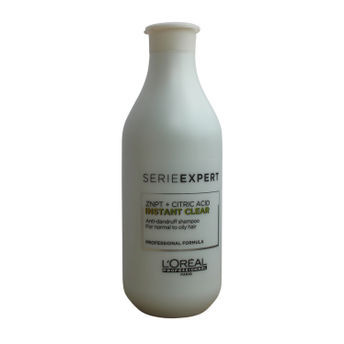 10. L'Oreal Paris Instant Clear Anti Dandruff Shampoo
L'Oreal Professionnel's product never fails to provide the desired results.
The latest launch Instant Clear Anti-Dandruff Shampoo aims to gently remove dandruff without leaving your scalp dry and it hydrates the hair while giving an after shine.
The product shows a slow processing results and gradually curbs itching as well.
Pros:
Does not cause damage to hair
Reduces itching
Eliminates hair-fall along with dandruff
Curbs itchiness
Cons:
Cannot eradicate dandruff absolutely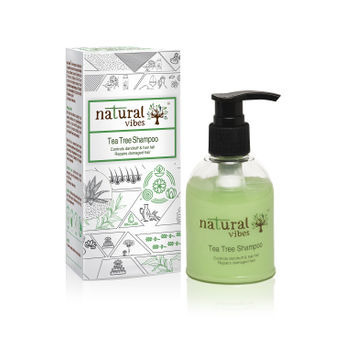 11. Natural Vibes Ayurvedic Tea Tree Shampoo
This amazing tea tree shampoo from Natural vibes controls dandruff and hair fall effectively.
This is SLS and paraben free and is completely natural in nature.
100% vegan, this ayurvedic shampoo works by keeping the scalp healthy. Its ingredients include Amla, Bhringraj, Aloe vera and tea tree oil which nourish the hair and remove dandruff.
Pros:
100% Natural, Paraben free annd SLS free shampoo
Removes dandruff and stops hairfall
Increases hair volume
Sweet fragrance
Good packaging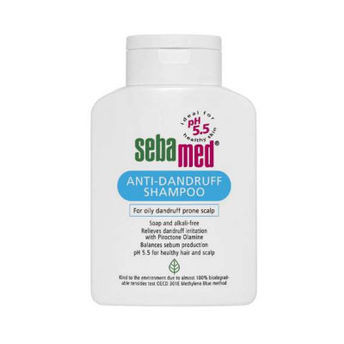 12. Sebamed Anti Dandruff Shampoo
Sebamed's Anti-Dandruff Shampoo is a very effective product that showcases faster and better results.
It claims to lessen dandruff and scalp irritation provided with the gentle pH-balanced cleansing formula and dynamic ingredients.
The shampoo is particularly formulated for people with extra oily hair.
Pros:
Mild on scalp
Faster relief
Mild formulation
Easy on pockets
Cons: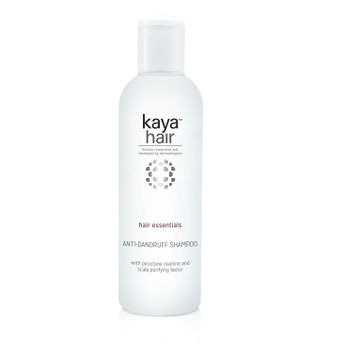 13. Kaya Anti Dandruff Shampoo
Kaya's Anti-Dandruff Shampoo is a very mild and gentle formula that helps get rid of dandruff.
Formulated with Piroctone olamine, the shampoo resourcefully curbs dandruff and its symptoms with its antimicrobial properties that highly nourish your hair.
The product also contains seaweed and algae extracts, which pacify the scalp and curb irritation.
Pros:
Improves the hair texture
Strengthens the hair quality
Reduces hairfall
Prevents dandruffs
Cons: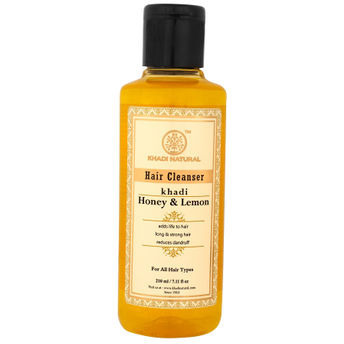 14. Khadi Natural Honey & Lemon Juice Hair Cleanser
This herbal hair cleanser from khadi natural is very effective in treating dandruff. It nourishes your hair and makes them thick and strong.
This is an amazing ayurvedic and herbal shampoo which contains honey, lemon juice, shikakai to remove dandruff and nurish hair simulteneously.
Pros:
Removes dandruff
Good fragrance
Mild shampoo
An ayurvedic and herbal shampoo with no chemicals
Paraben free and sulphate free shampoo
Makes hair smooth and silky
Cons:
Might need more washes to remove oil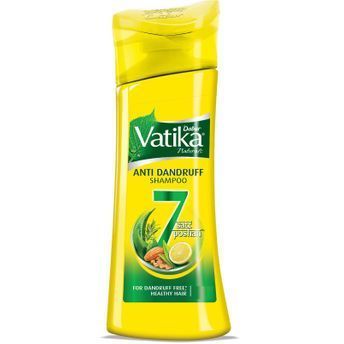 15. Vatika Anti Dandruff Shampoo
The brand Vatika goes back to find its roots in the naturals extracts of henna and lemon, that play a huge role in cleaning up your hair from all the dandruff.
It works by removing the dead skin and microbes that ultimately sheds off in the form of stubborn dandruff flakes.
Pros:
Sheds off the dandruff effectively
Clears the root and scalp
Lathers well
Removes dead skin
Cons: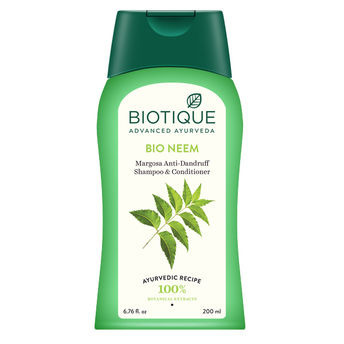 16. Biotique Bio Margosa Anti-Dandruff Shampoo and Conditioner
Biotique's products have a varied range of nourishing products and Bio Margosa Anti-Dandruff Shampoo and Conditioner is a 2-in-1 cleaning and conditioning clinical formula.
The shampoo is rich in minerals with a mix of bhringraj and the sap of the margosa and euphorbia trees. It also eliminates the dryness, flaking, and itching, and flaking that is allied with dandruff.
The product has a pH balanced formula that is particularly gentle and can be used every single day.
Pros:
No animal testing
Nourishes hair minerals
Reduces itching
Very easily available
Cons: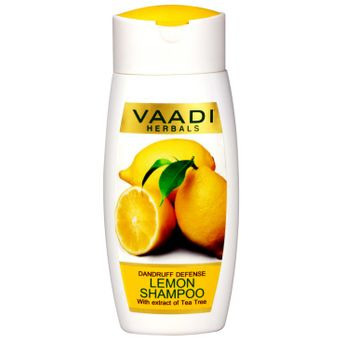 17. Vaadi Herbals Lemon Shampoo
Vaadi Herbals' Lemon Shampoo is one of the reasonable shampoos available in the market for great hair. It has extracts of tea tree and provides healthy and excellent scalp. The shampoo helps get rid of dandruff, excess oil, dirt and makes your hair bouncier and glowy. Being an herbal shampoo, the fragrance might be a tad bit stronger for a few people, but the results are worth every penny spent.
Pros:
Budget friendly
Mild ingredients
Healthy hair quality
Decreases dandruff
Cons:
Not suitable for oily hair
The key to having a healthy beautiful hair is to have a healthy body and clean scalp.
So always follow a good nutritious diet and keep your body hydrated to provide the required minerals for your hair.
Related Articles: