55 Most Popular Haircuts For Women – 2023
Shalu Bhati
Updated At 08 Feb 23
A good haircut is everything. It can make or break your look. It can even make or break your mood. We all know about the unmatched power of a good hair day. And a good hair day won't be possible without a good haircut. So, yes, a good haircut truly matters.
That said, we are here with some of the most popular haircuts for long hair, short hair and medium hair. Now, these are the hair trends that got popular in 2022 and have been ruling in 2023 as well. You can stick to the style you are most comfortable with. And as you scroll through this list of the most popular haircuts for women, we suggest that you should keep in mind your hair texture and the maintenance that each of these haircuts will require.
55 Best Haircuts For Women (For All Hair Lengths And Hair Types)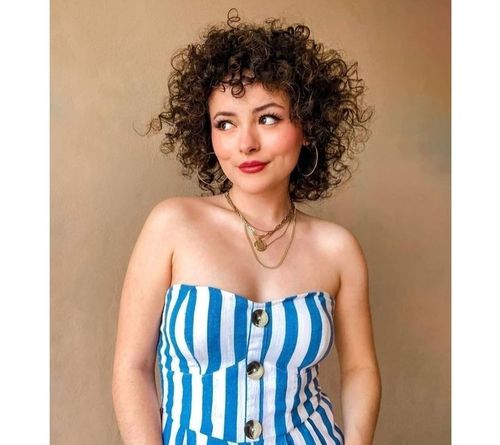 1. Choppy Shag For Curly Hair
A choppy shag is amongst the most popular haircuts for women. And it works especially well for curly hair. This haircut will give freedom from that awkward-looking triangle shape that often haunts curly-haired folks when they opt for a layered haircut. Instead, it softens the ends by rounding off the layers and makes everything look beautiful and chic.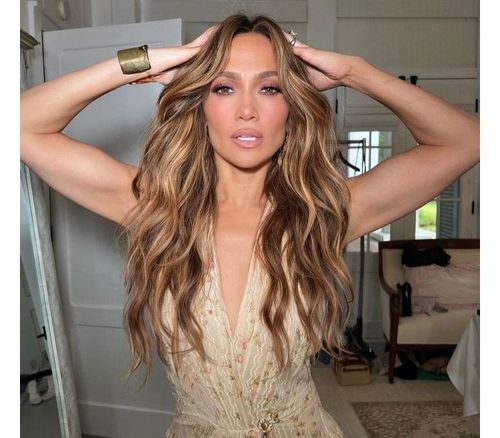 2. Glam Layers
There are some hairstyles for women that will never go out of style. And this is one of them. Jennifer Lopez was seen flaunting her signature middle-parted hair with long effortless waves at her rehearsal dinner. She looked incredibly glam as she sported honey blonde highlights which have emerged as a signature JLo look over the years.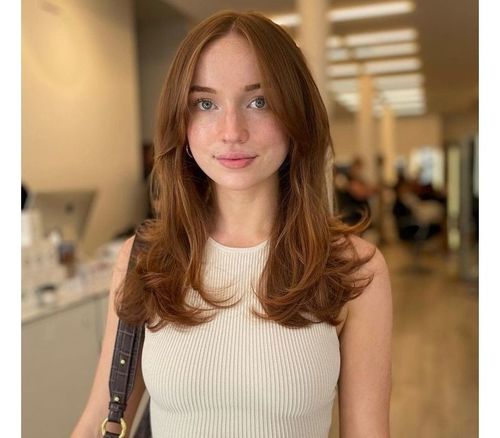 3. Bronzed Copper
Layered haircuts with curtain bangs are one of the most popular shoulder length haircuts for women this year. And when it comes to adding spice to this classic style, we say go red. And if red feels too daunting of a change, we suggest you go with the flow and opt for a beautiful bronzed copper shade.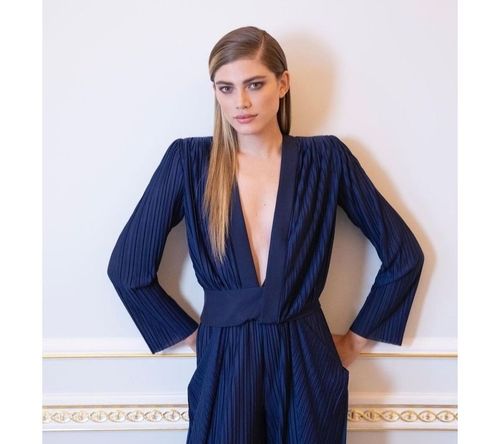 4. Sleek, Straight, And Side-Parted
You can never go wrong with layered haircuts. While layers look incredibly gorgeous when paired with a wavy or curly texture, it doesn't mean this has to be your only choice. Take a style lesson from Valentina Sampaio and her straight, side-parted hair. This sleek and polished hairstyle is giving sophisticated glam.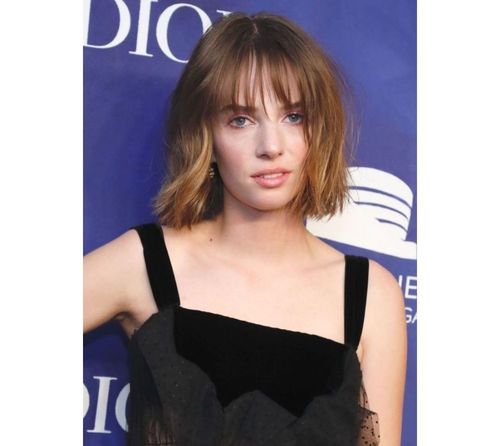 5. Shaggy Bob
It was Debbie Harry back in the 80s who put shaggy bob on the map. And it is still one of the many popular haircuts for women. This haircut finds many fans even today including celebrities. And what is there not to like? There are shaggy layers with a blunt fringe and it ends just above the shoulder. Our celeb hair inspo for this classic shag comes from Maya Hawke.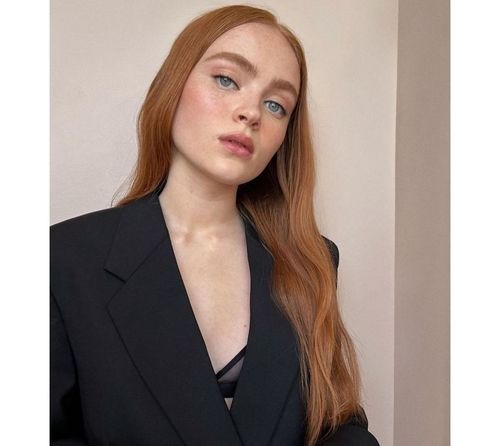 6. Long And Wavy
Sadie Sink and her gorgeous mane are giving major hair goals this year. The Stranger Things actress has beautiful long red hair with a naturally wavy texture. With some styling, she gets those impeccable envy-inducing waves. While Sadie herself is naturally a redhead, this shade of red has many takers.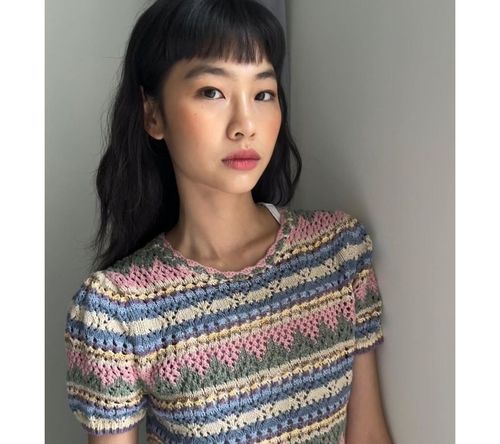 7. Banged Beauty
Hoyeon Jung keeps on impressing with her ever-changing hairstyles. The medium-length haircut with subtle layers and some natural texture is a good look. But, the show stopper here are her incredibly beautiful bangs. They are light and wispy with a soft curve to them.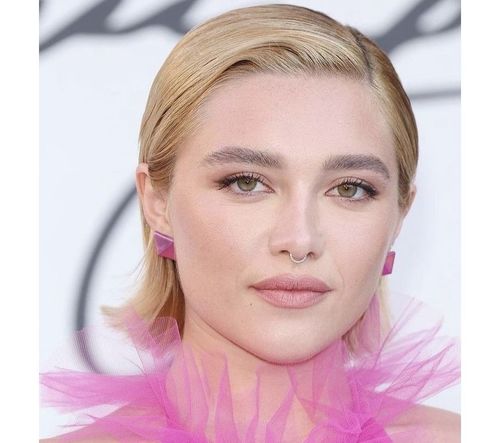 8. Chic And Short
Can short haircuts for women ever become outdated? Florence Pugh doesn't think so and we don't either. The Little Women actress stunned fans when she traded her long blonde locks for a chic and short brown pixie. But now it seems that she is growing it out and how beautifully she is doing it! The flipped ends add a retro vibe to the hairstyle.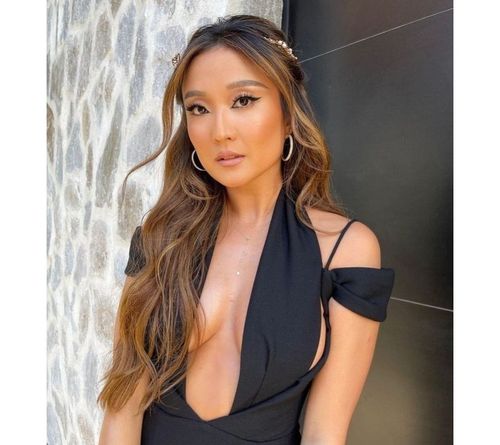 9. Brown And Wavy
Princess-esque hairstyles for women have successfully made their way into the top hair trends of this year. Tousled waves are a must for such hairstyles. You can make a half-up, half-down style by pinning the hair from the front to the back of your head while leaving some face-framing front pieces for that soft romantic look just like Ashley Park here. Her mocha brown tresses make the look even more interesting.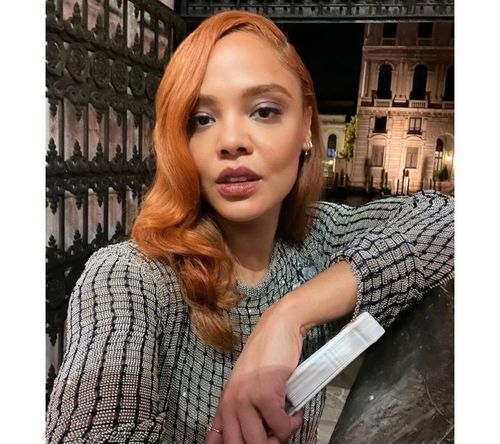 10. Going Red
While Taylor Swift has moved on from her Red era, hair trends have not. This is the year we saw Tessa Thompson go red as she stepped out for the premier of the fourth season of Westworld. And she is not yet done with her fiery mane.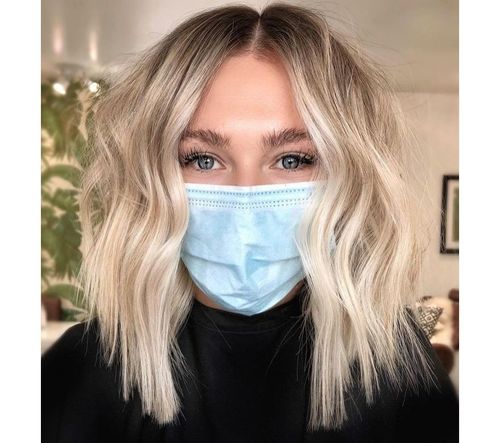 11. Wavy Blunt Bob
While long hairstyles for women have been winning accolades, short haircuts for women are not far behind. A blunt inverted bob in blonde is a simple but lovely cut. Use a straightener to give yourself some bend waves and add a bit of a tousled texture to style this haircut. It will get instant volume which makes this style a great option for thin hair.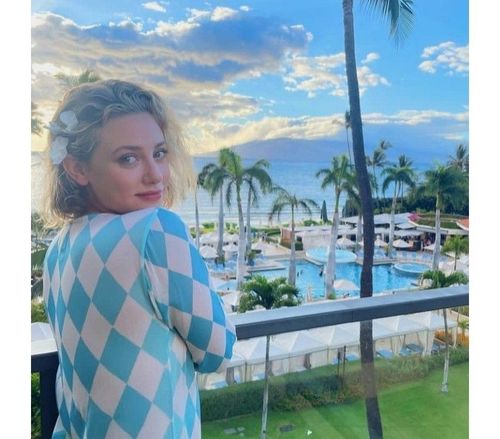 12. Curly Bob
Natural hair has been in trend for quite some time and if you have not jumped on this bandwagon, this is the sign for you. Take cues from Lili Reinhart who is all about embracing her curls now. she has gone short and looks beachy fresh with her short bob and blonde curls.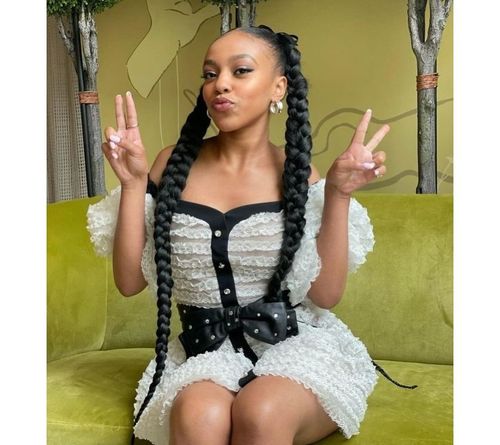 13. Braided Pigtails
Long hair and braids always go together. It is a fact. And super long and braided hairstyles for women are riding high on the trend wave. That is another fact. You can add extensions to create an even more dramatic look. Go for a braided high ponytail or braided pigtails, the options are many.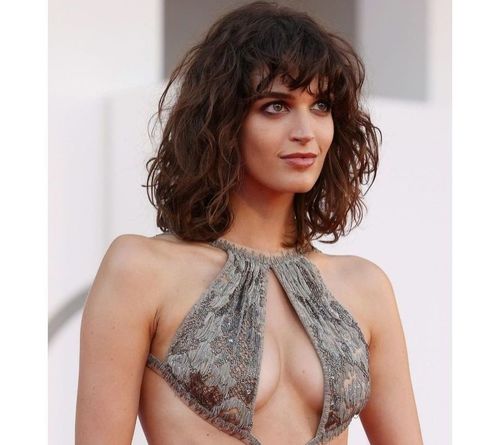 14. Curly Bob With Bangs
Curly bob haircuts for women are a vibe. You can make them look soft and romantic. You can also style them into an incredibly gorgeous and edgy look. Take some hair inspiration from the haircut pictured here. The curly bob is paired with curly bangs. The messy and tousled texture adds just the right amount of drama to create a sexy bedhead look.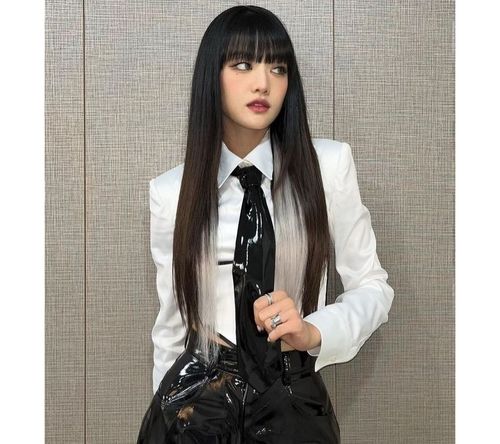 15. Under Color
Spice up your straight and sleek hair by adding a hint of color to them. And no, we are not talking about the usual hair color placements like highlights or balayage. While they too are trending, there is another trend that has been winning at being one of the prettiest hairstyles for women—the under color. This is when you color the bottom half hair. It creates a refined and quirky look at the same time. You can also try some colored extensions to test the waters.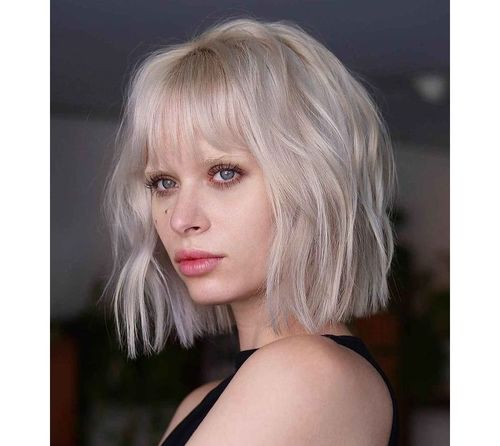 16. Wispy Bangs
Cute bob haircuts for women with cute bangs are the way to go this year. If you love to experiment and also love short haircuts, this could be the one for you. This is a blunt bob in platinum blonde. It has a chic and refined finish. The bluntness can be balanced by adding some wispy bangs and subtle waves. Since the haircut itself will do most of the job of staying in place, we say that this cut is pretty low maintenance.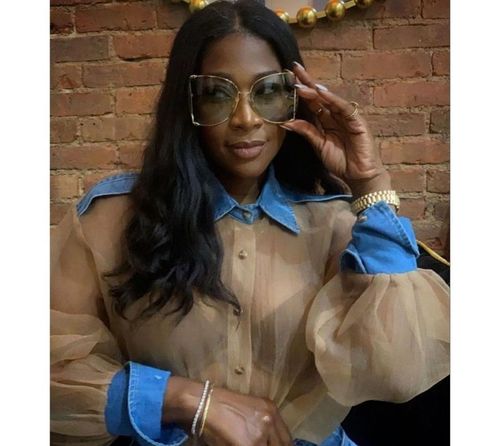 17. Medium Length Layered Cut
Medium length haircuts for women look chic. They make thin hair appear thicker especially when the cut is blunt. This one-length cut ending just above the bust line can also be your savior if you had long hair but went through a bad color job or the ends just turned scraggly.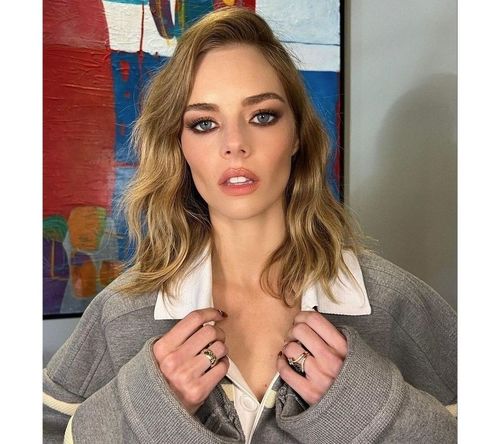 18. Side-Parted Waves
New and newer hairstyles for women may come and go but waves are forever. At shoulder length, they become one of the most stylish, comfortable, and easy-to-maintain hairstyles. You can either opt for a one-length cut or add in some subtle layers with face-framing pieces to give your hair more dimension.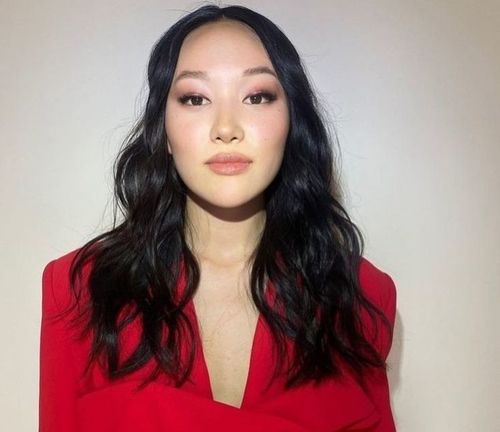 19. Subtle Layers
One-length medium haircuts for women are having their moment but there are still ways in which you can spice up this style. If a one-length cut feels too simple to you, get some layers. A dash of subtle layers will give an extra volume boost and thus, will work so well for thin hair.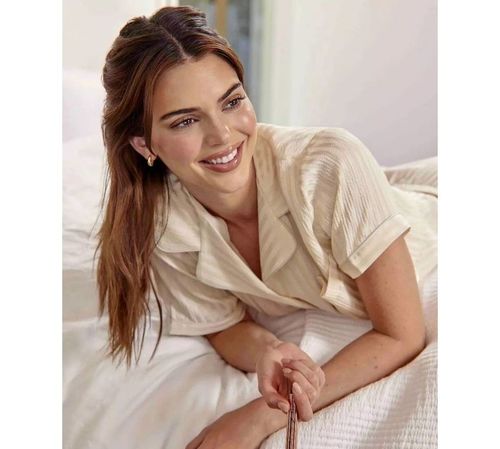 20. Pretty Haircuts For Women
This is the year of all shades of red—copper, auburn, bronze, burgundy. Red is everywhere and even the celebs have not been able to move past the red fever. Kendall Jenner bid goodbye to her traditional brunette hair and gave in to this year's hottest hair color trend. This fiery hair color is enough to make a splash. Go for a half-up, half-down hairstyle to give it a soft twist.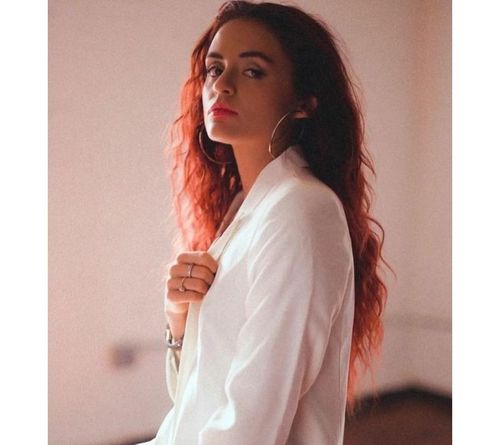 21. Long Layered Mahogany Curls
No, we cannot get over the red hair color trend of this year and neither should you. While copper and auburn are immensely popular, there are celebs and also those in the TikTok community who are rooting for mahogany red. It brings the essence of red and brown together and if you ask us, it is way underrated. It is a beautiful way of spicing up your long and layered curls.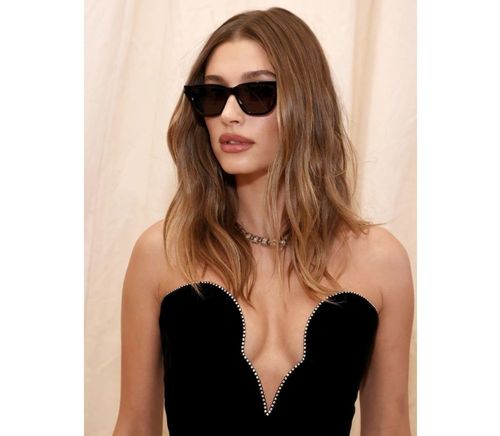 22. Graduated Long Bob With Waves
Popular haircuts for women this year are an extension of past trends but better and more stylish. A graduated bob has always been considered an easy glam look. It requires regular salon visits to maintain its shape. But, if you want to grow it out, you can take a cue from Hailey Bieber. A graduated long bob with layers makes for a perfectly chic hairstyle combo. The tousled texture and the soft honey blonde hair shade add more depth and dimension.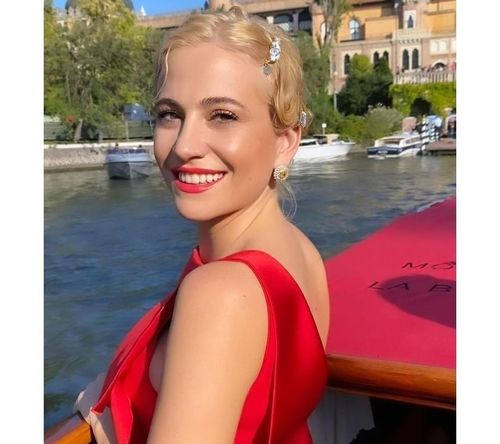 23. Curly Updo
Embracing your true self has been the constant theme for the last few years and it is the same with natural hair textures. Curly and wavy hair are finally getting the recognition they deserve. You can let your curls down for a formal event or perhaps tie them up in a cute curly updo as pictured here. Throw in some bejeweled hair accessories to match the vibes of your outfit and the event you are attending.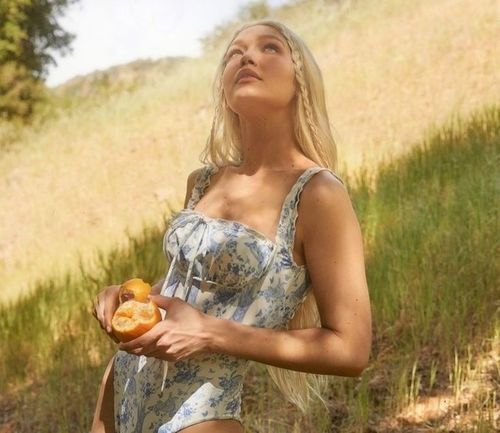 24. Long Tousled Waves
Wavy bob haircuts for women have been praised for their effortless glam. Now is the time for some long tousled waves and nobody does it better than Gigi Hadid. This year she was seen in an ad campaign for Frankies Bikinis Americana Collection and she was a vision. We were especially enamored with her 'Botticelli" haircut and bleach blond hair. They were styled in perfectly tousled but unstructured waves that are inspired by the paintings of Sandro Botticelli. This is one of the biggest hair trends of this year.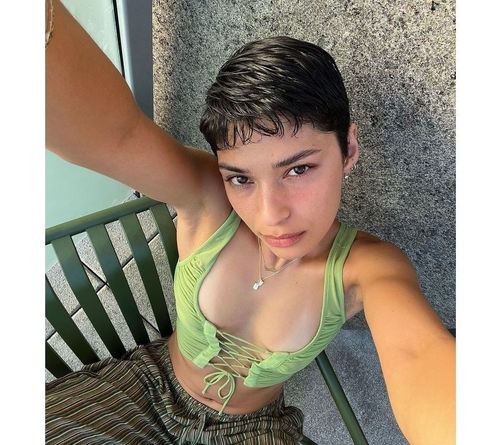 25. Modern Audrey
While many styles from the past are making a comeback, they sure are coming back with a modern twist. Let's remember Audrey Hepburn and how she chopped all her hair in that unforgettable scene in Roman Holiday and sparked a new hair trend that is still going strong. This is a modern take on Hepburn's iconic pixie haircut from the 1950s. It is cute, chic, and low maintenance.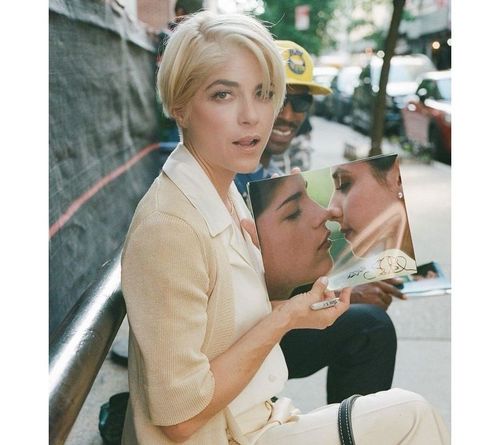 26. Bleached
Bleached blonde is a look and Selma Blair is its one true ambassador. She traded her naturally dark brown hair for the in-your-face platinum blonde last year. And this year she seems to be growing out her pixie cut and changed her hair again to a beautiful bleached blonde. It surely is a new look and can also help you out in masking any greys.
27. Curly Ponytail
When it comes to curly hairstyles for women, a high ponytail happens to be one of the most loved ones. From the red carpet to the TikTok community and from Instagram to Pinterest, you will find several versions of a curly ponytail but our favorite is the one sported by Eva Longoria.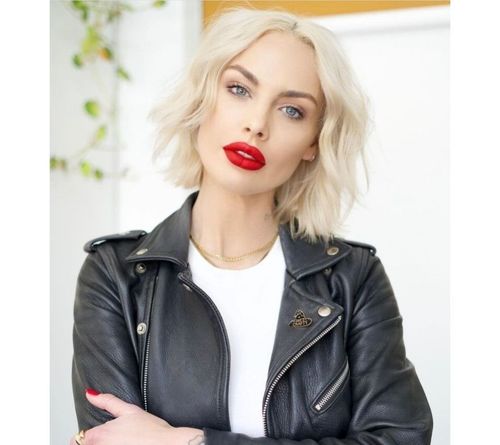 28. Ice Queen
A short bob with wavy layers is effortlessly chic. It is one of those haircuts for women that will never go out of style which makes it a safe choice. But it is time that you move out of your comfort zone and make things better and bolder. And a platinum blonde with icy cool tones will do that job.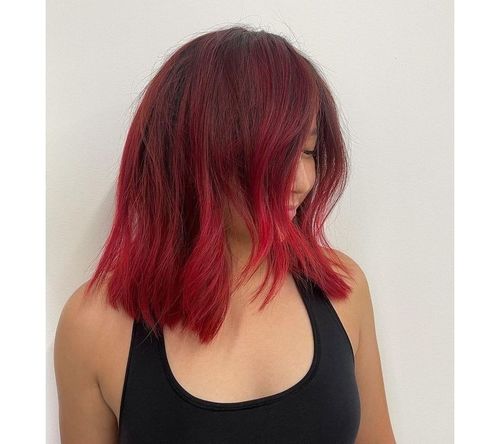 29. Burning Red
If loving him can be burning red, then so can your hair. While shades of copper and auburn have many takers, there are still many different vibrant reds waiting for you just like this beautiful cranberry red. It is deep, vibrant, and makes a statement. If changing haircuts is not doing anything for you, try changing things up by introducing a dash of cranberry red in your life.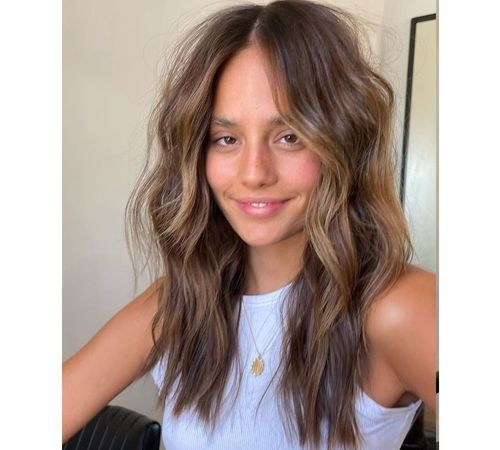 30. Balayage Brown Layers
Everything about this haircut is lovable—subtle layers, perfectly tousled waves, and those long curtain bangs. Everything looks beautiful but it is the brown balayage that adds a new depth and dimension to the whole haircut that takes it up a few notches. This is for sure one of the trendiest haircuts for women this year.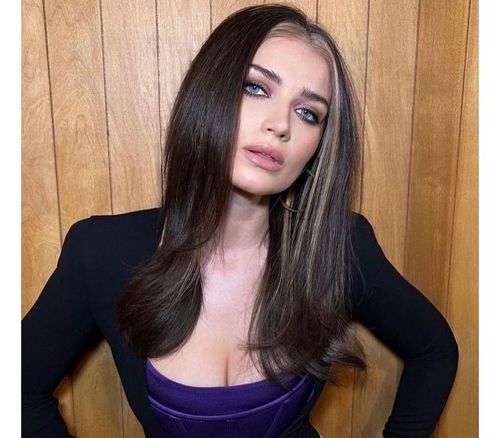 31. Chunky Highlights
In a surprising chain of events, chunky highlights are back but with a modern twist. This hair trend from the 2000s has made a strong comeback this year but not in its original form. Here, the chunky ribbons have been created along the money piece and go inwards. It has brightened the brunette hair and with the almost under color sort of an effect, it manages to look cool and edgy.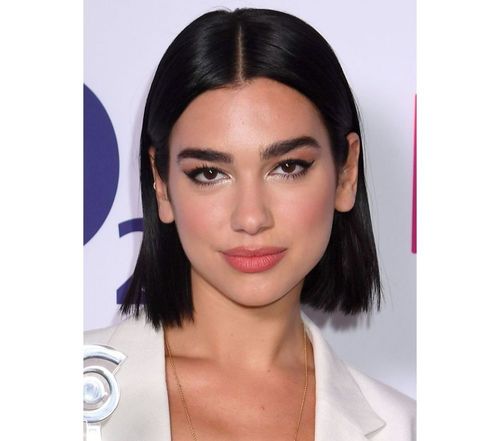 32. Polished Blunt Bob
There are hairstyles for women that never go out of style. One such hairstyle is a blunt bob. And we get it. It is symmetric, stylish, and rather nonchalant. It is the ultimate cool girl hairstyle and we are taking 'em style lessons from Dua Lipa. The center part with hair tucked behind the ears gives a very polished look that will send you levitating.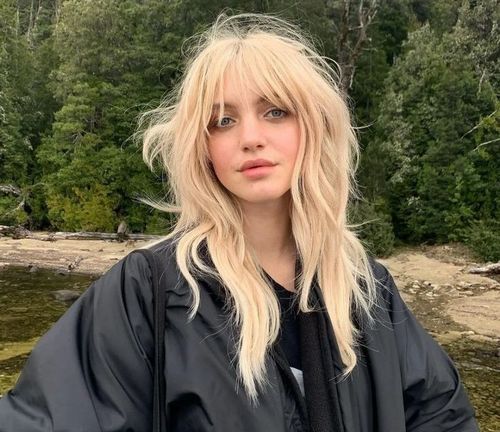 33. Wolf Cut
Wolf cut is one of the trendiest haircuts for women that has been ranking at the top of popularity charts. It is a mix of the shag and a mullet. It is a little bit wild, a little bit bold, and gives off a very relaxed cool girl vibe. This haircut is known for its shaggy wavy layers, shorter mullet-like layers in the front, and loads of volume at the top that tapers down as it reaches the ends. The wolf cut is often completed with heavy bangs that can be front, side, or curtain bangs.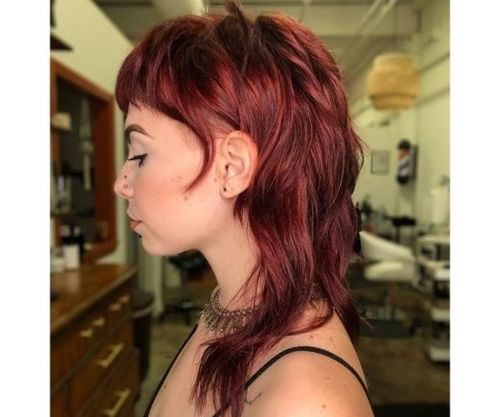 34. Mullet Shag With Undercut
Okay, we have the wolf cut now but it still cannot beat the OG that is the mullet. This is amongst the popular haircuts for women this year and it is all thanks to celebs like Zendaya and Miley Cyrus. They have brought back the mullet and showed everyone how glam it can be. With an undercut and shaggy layers, this mullet haircut pictured here is as modern and glam as it can get.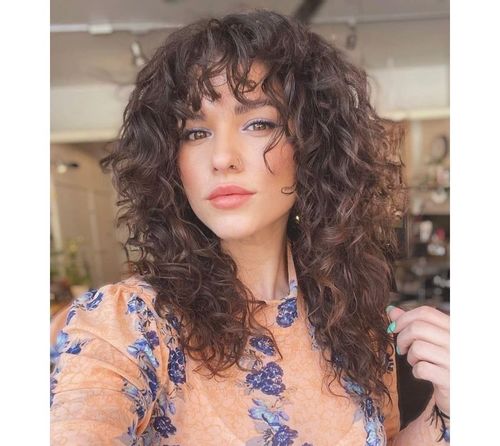 35. Medium Length Haircuts For Women With Bangs
Layered haircuts for women with curly hair can be tricky. Ask your hairstylist to give you rounded layers with point cutting all over. This will prevent that awkward triangular shape and give you gorgeous layers with maximum volume. You can get your curly bangs customized depending on the facial features you wish to highlight.
36. Soft Curve Bobs
Selena Gomez debuted a brand new soft-curve bob this year and has given us brand new bob goals. This A-line bob follows her facial features and highlights her bone structure. The soft curve that is the trademark of this haircut adds movement to the hair at the bottom and also creates volume. It is a great haircut overall that will do the heavy work of maintaining its shape on its own.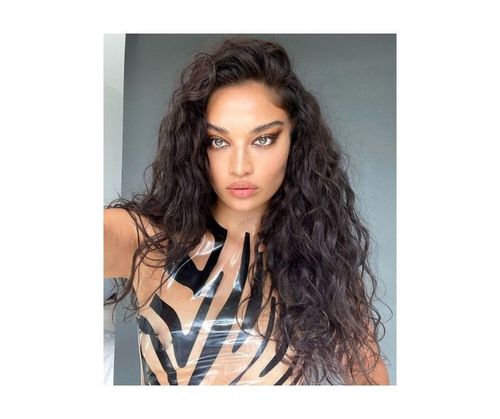 37. Long And Messy
Who has the time to style their hair every morning to perfection? In such times, living with a "messy hair, don't care" attitude might help. As much as it works for straight hair, it works even better for curly hair. Long curls styled into a messy texture will add a touch of volume and drama to your long and luscious curly mane.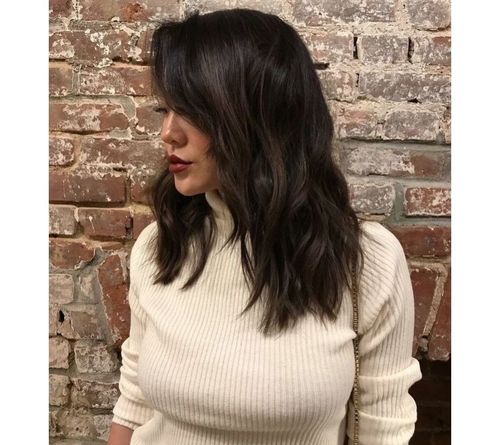 38. Subtle Brown Highlights
Not everyone is comfortable with vibrant reds and browns. Allow us to get you something subtle and stunning. Subtle brown highlights on brunette or dark brown hair are one of the best ways to test out the waters if you are a hair color newbie. You get to make subtle changes in your hair and make a big impact.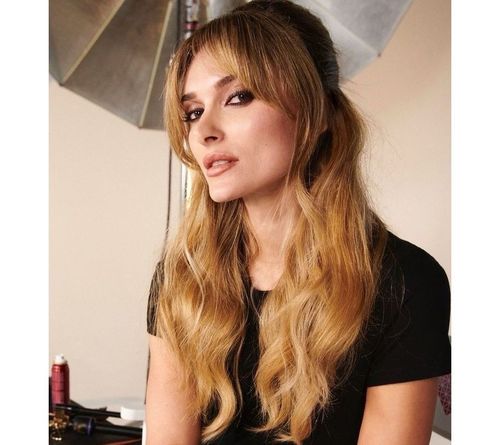 39. Modern Brigitte Bardot
One of the most iconic haircuts for women, the modern Brigitte is beautiful, soft, and subtle. It adds volume to thin hair without the need for adding too many layers. It works its magic whether it is tied or left open.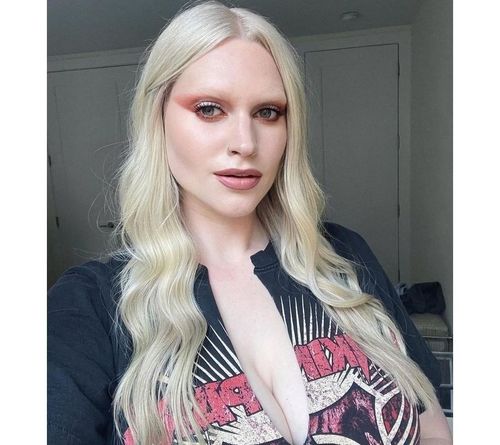 40. Blonde, Long, And Wavy
For a laidback look for your long hair, try some S-shaped waves with a middle part. Use a flatiron to create the S-shaped bends and set them with a hair spray. You can also add some beachy texture to make the look more fun.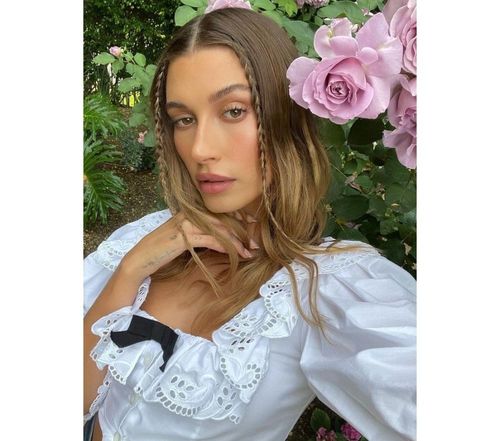 41. Baby Braids
Baby braids have taken the internet by storm. They were everywhere this summer and they will potentially rule the upcoming spring hair trends as well. Take lessons from Hailey Bieber, the ultimate queen of effortless summer glam. Paired with some tousled beachy waves, baby braids become the perfect fit for the warm weather.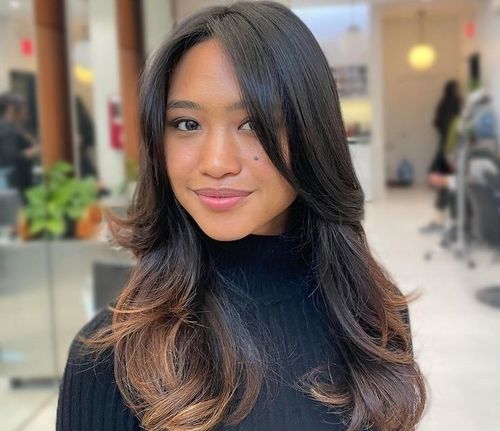 42. Brown Ombre On Layers
Nothing comes as much stronger as the 90s trends and we are not even surprised. Because some of these hair trends are super cool. The 90s haircuts for women that are especially loved this year are the long layers. Mix in a brown ombre to add more fun and definition.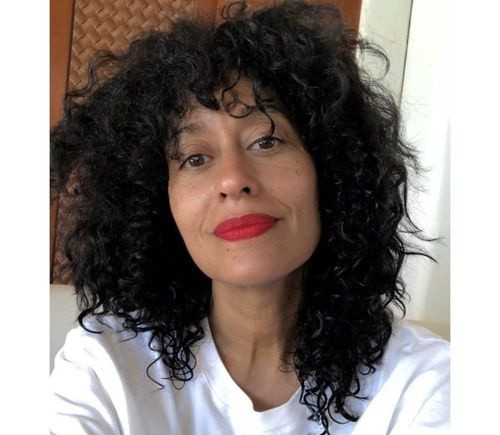 43. Curly And Layered
One of the most sought-after hairstyles for women with curls this year has been some stunning brunette curls with bangs. This is a head-turner and will also keep you comfortable by taking off the bulk. Layers will add more definition and movement to the curls while the bangs frame the face perfectly.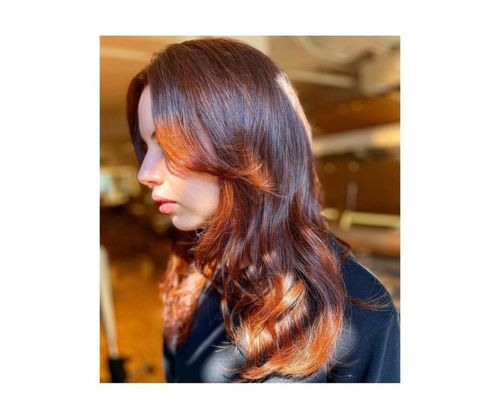 44. Auburn Highlights
Layered haircuts for women can be elevated by adding some bold and vibrant colors. Auburn highlights on light brown hair are one such look that you could try. The auburn will not only add more depth and dimension to your layers but will also give you the perfect fall style.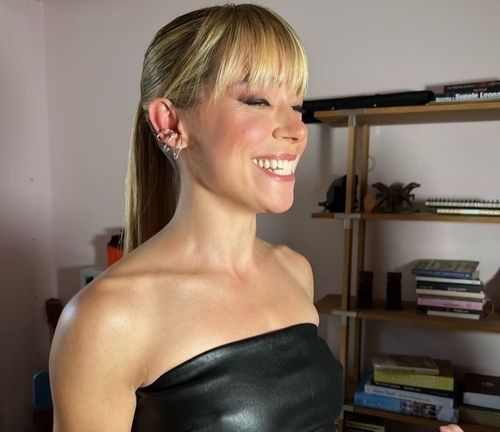 45. Sleek Ponytail With Bangs
Ponytail with bangs is a classic hairstyle and Tatiana Maslany shows us how to do it. The high ponytail is fun, vibrant, and sassy. It is an everyday casual look but Tatiana wears it super sleek and is giving new meanings to casual glam. The eyebrow skimming full front bangs deserve a fan club of their own.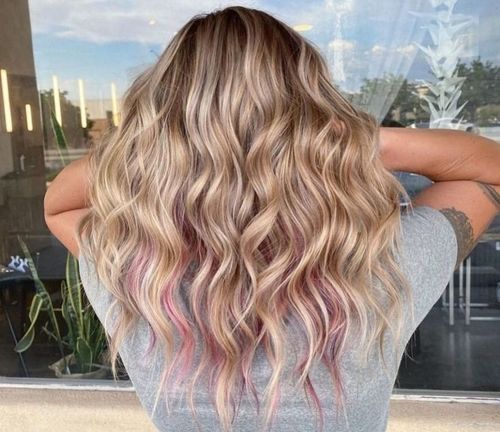 46. Golden Blonde Waves With Under Color
Make your skin and overall being glow with golden blonde hair color. It is a glossy and gleaming mix of honey and golden with luxe warm tones. This color looks especially good with waves and feels like wearing the sun in your hair. Take things up a notch by creating a beautiful sunset sky by adding some bubblegum pink underneath your hair for a peek-a-boo look. The under colored hairstyles have emerged as one of the trendiest hairstyles for women this year.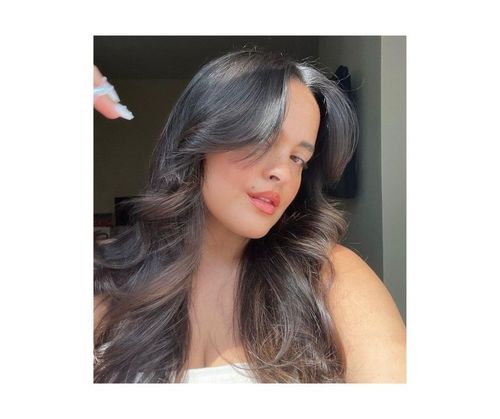 47. Fluffy Hair
A modern take on the 90s fluffy haircuts for women, this is the ultimate hot girl summer look. Think of Cindy Crawford or perhaps Cher in Clueless. That's the inspiration behind these bouncy blowout vibes. It is a classy style for the fancy woman who is not afraid to show off that she is indeed fancy.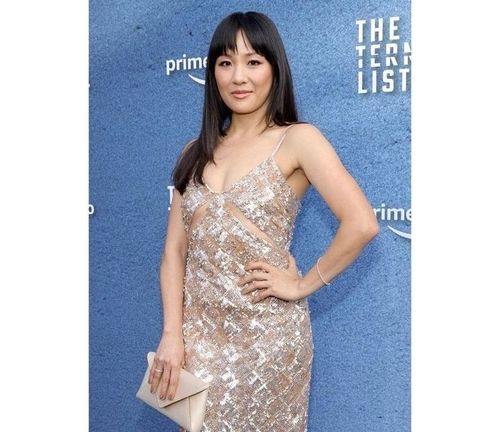 48. Straight Hair With Parted Bangs
There is something for everyone in the world of bangs. Curtain bangs are the new favorite this year but so are parted bangs. Both of them are quite similar in the fact that they are both parted down the middle but, in parted bangs, instead of feathery edges, the bangs are blunt. Paired with a straight layered haircut, they look polished and super chic.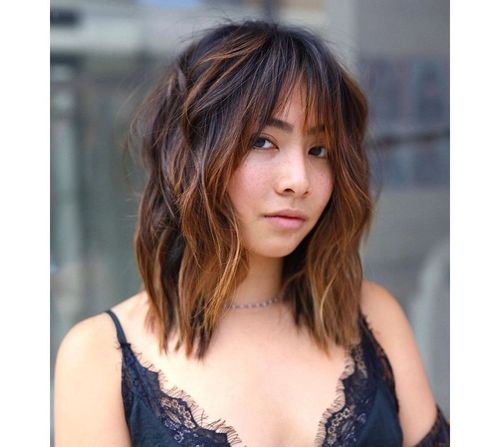 49. Messy Brown
Soft, light and wispy bangs will instantly transform and elevate your look from simple and chic to effortless glam. Pair a shoulder-length haircut with some wispy bangs. Use a texturizing spray to create a messy look that will add to the overall sultry glam. It will add more bounce and dimension. We also love the brown balayage here which has added more depth and definition to this layered haircut.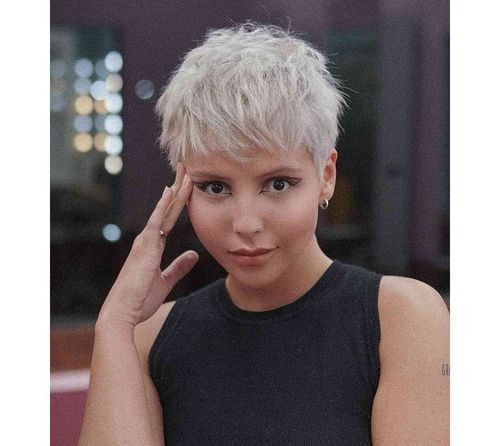 50. Tousled Pixie
A short and messy pixie haircut is perfect for those who wish for low maintenance haircuts. While you might have to visit the salon for regular trimming and shaping, you will save a lot of time on the daily styling. The pixie haircuts for women like this one pictured here, come with tons of layers and a messy texture which add to the volume and make things much more interesting.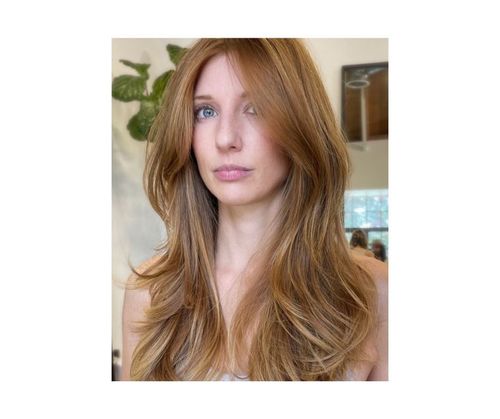 51. Layered Haircuts For Women
Layered haircuts are versatile and they come in all shapes and sizes. A simple yet stylish cut like this one can still go a long way. It looks incredibly gorgeous and is low maintenance. You can get feathered ends to refresh this look and team this style with bangs that suit your facial features.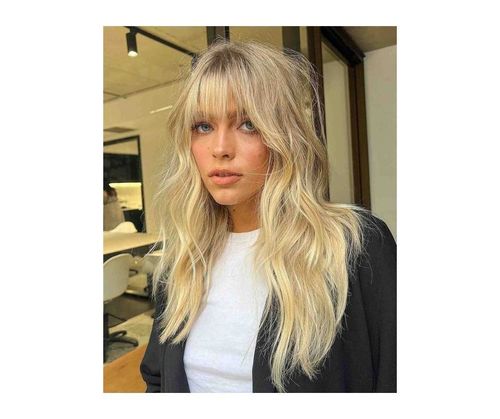 52. Choppy Layered Haircut With Bangs
Haircuts for women with choppy layers are a stylish way to update your usual hairstyle. These layers not only hold their shape but also add to the body and movement of the hair. The eye-grazing bangs add to this haircut's glam factor. Use a texturizing spray to get that textured lived-in look or wear this style as it is. Either way, this haircut will hit the right spots.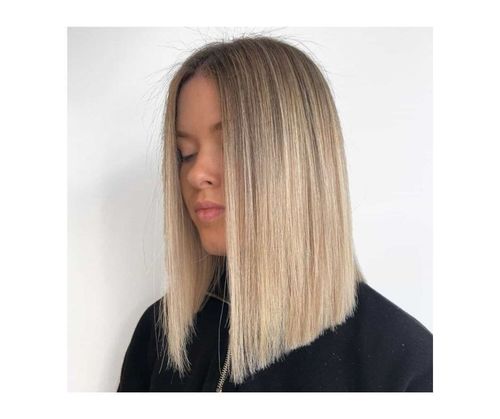 53. Sleek And Straight Graduated Lob
Layered haircuts for women are not the only haircuts that can be labeled as eye-catchy. And to prove our point, we have this super straight and super sleek graduated lob for you. It gives a polished and stylish look that you can flaunt easily from the am to the pm.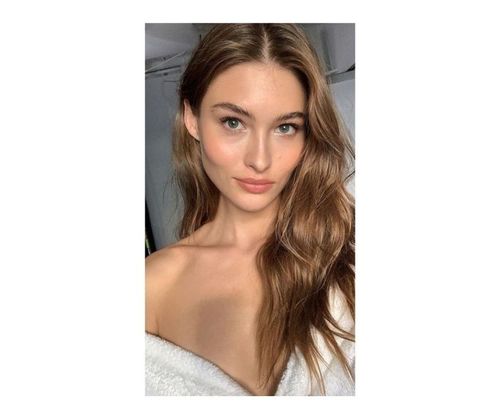 54. Hazelnut Brunette
This year has been a lot about red hair and if going red is not your cup of tea, you can always go with the good ol' brown. Move over the usual chestnut and caramel browns. Instead, choose something different and golden—hazelnut brown. A glossy and golden mix of light brown and ashy brown creates this beautiful tone-on-tone brown effect. Such a shade is a great fit for those who wish for low-maintenance hair but with a high impact.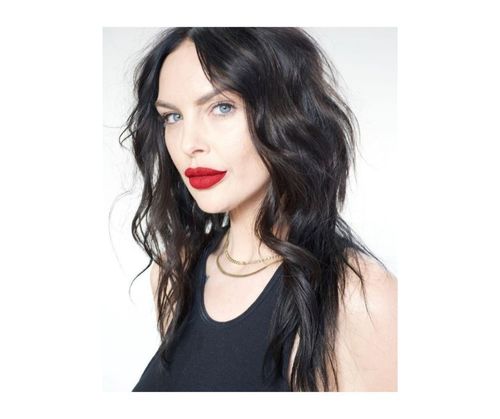 55. Layered Haircuts For Women With Thin Hair
Haircuts for women with thin hair work on one principle—they create an illusion of volume. And nothing adds bouncy volume to hair more than some well-placed layers. Razored ends will make spice up your hair and make it edgy. You can also go for the modern version of a razored shag.