65 Stunning Bob Haircuts And Hairstyles - 2023
Ashwini
Updated At 25 Aug 23
Looking for the best bob hairstyles and haircuts trending this year? If yes, we have got you covered.
Trying different looks for your short hair being effortless, is the new trick. Chop your hair and get the best sassy look with the trending Bob Hairstyles. Bringing you 65 Stunning Bob haircuts which are amongst the best haircuts for women.
65 Best Bob Haircuts And Hairstyles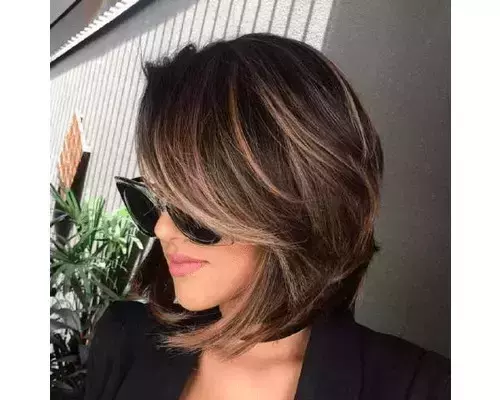 1. Chocolate Bayalage Bob
This style creates a chocolate brown hair colour that is perfect for people with darker hair. The highlights add brightness and contrast to the overall look, which would work particularly well with blue or green eyes.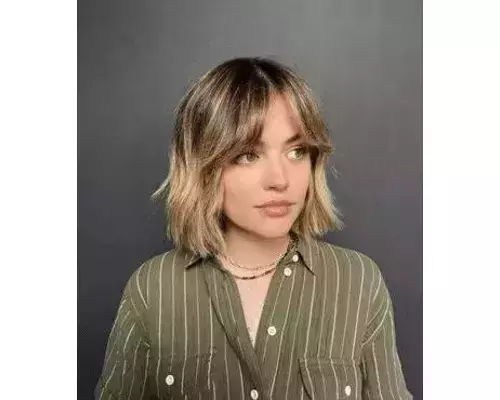 2. Faux Hawk Bob
A faux hawk is a bold hairstyle that is perfect for those who are ready to make a statement. This is a great option if you're looking for a short haircut that is stylish and trendy.
Also check out our guide as we cover 25+ short bob hairstyles which have been trending this year. From layered bob to A-line bob, we cover all of them.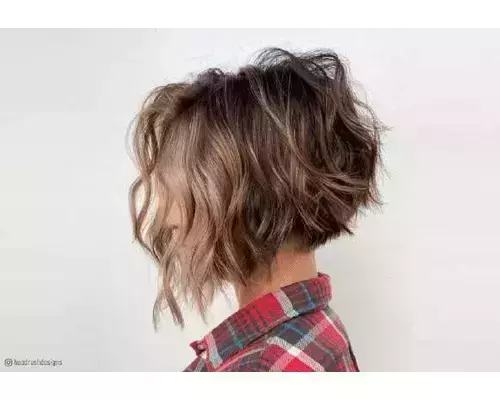 3. Messy Bob Haircut
Try a messy bob if you like the just-woke-up look. This hairstyle exudes a carefree spirit while still looking stylish and elegant. To increase volume and emphasise the messy appearance, comb your hair over.
Also check out our guide to find the top haircuts for long hair as we list 55+ trending long hairstyles which have been trending this year.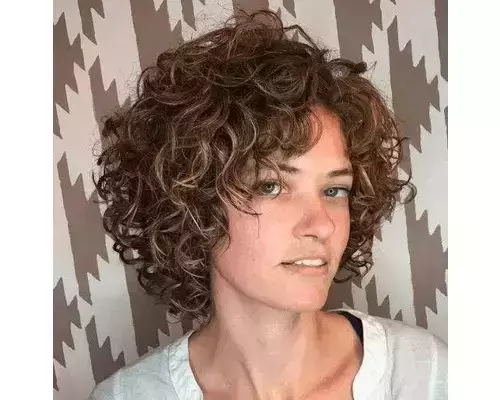 4. Natural Curly Bob Cut
Accept your hair's colour and texture as they are. By incorporating some lowlights and diffused curls, you may even improve them. We adore how stunning the many grey hues seem in the bob cut. Short curly hairstyles look amazing and these can transform your hair completely.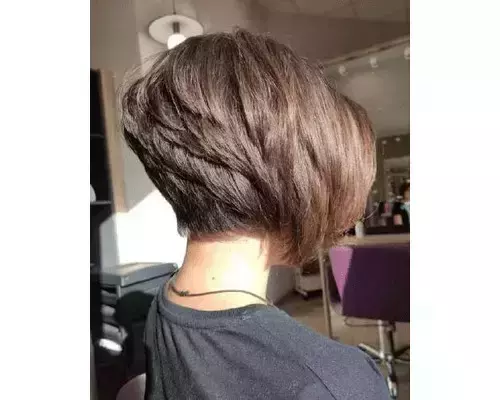 5. Stacked Bob Haircut
Many people aspire to have a bob cut that is beautifully unkempt! Since not everyone can pull it off, However, if you are one of the fortunate few with naturally curly hair, you can be sure that this cut will look fantastic on you. A feather cut can be an amazing option if you are looking for a stylish and unique hairstyle.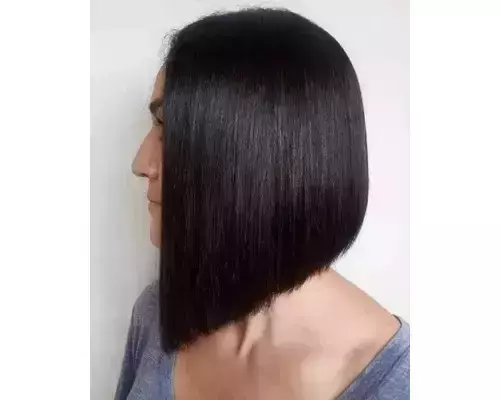 6. Dark A-Line Bob
This A-line bob is understated yet stylish. It's great for everyday wear and ideal for people who prefer simple, natural hair colours. Cut it every four to six weeks to keep it at this length.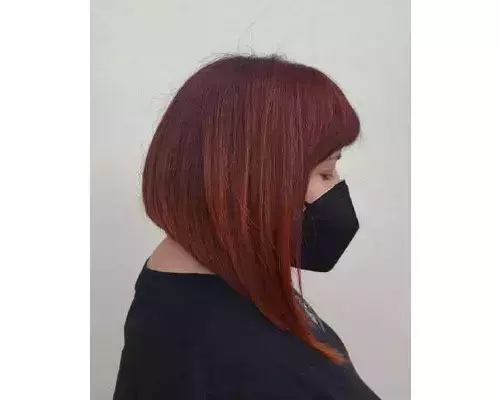 7. Red A-Line Bob
This pop of red/auburn colour will suit women who enjoy brighter looks. This A-line bob cut and colour combo are super popular and common for the Fall. It is a fiery and trendy solution.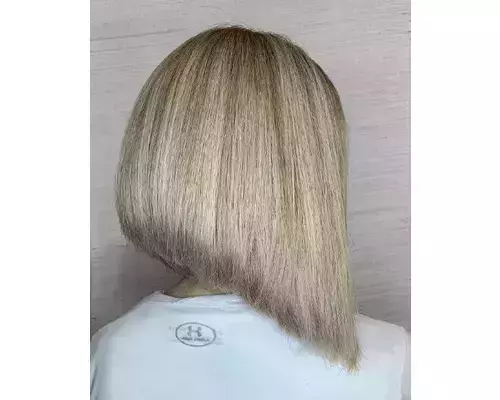 8. Blonde A-line Bob
This blonde A-line is a straightforward and fashionable hairstyle. To keep this colour combination, be sure to colour your hair every 5 to 6 weeks. This style of haircut is typically preferred and drawn to by women who value precision.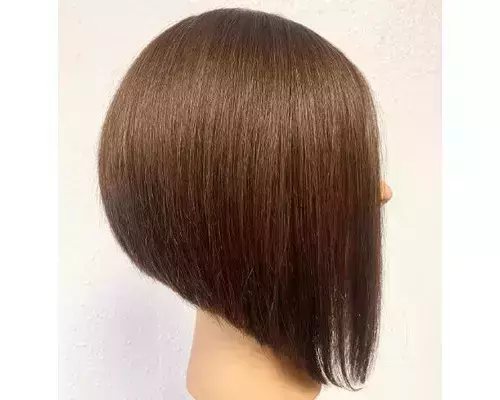 9. A-Line Bob Hairstyle
No matter your age, you'll adore the light brown colour. It is a dramatic and well-defined A-line bob that will catch everyone's attention. With the correct hairspray added for shine, this stylish modern bob will turn heads everywhere you go.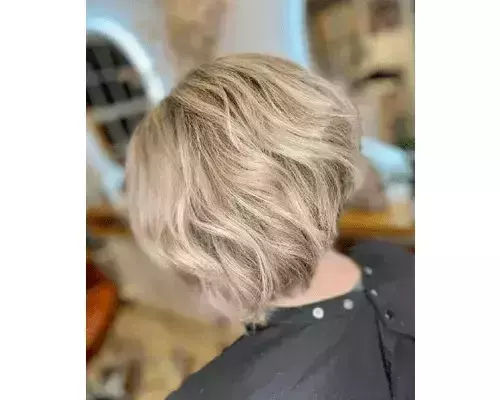 10. Wavy Blonde Bob
This graduated bob is stylish and unique. This result will appeal to women who often like imaginative and lighter blonde looks. This cut is ideal if you want something stylish, short, and sweet.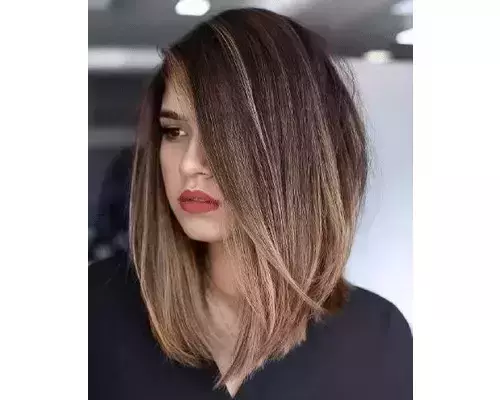 11. Bob With Highlights
A graduated bob with these highlights and a splash of colour is a stylish appearance. This hairstyle is appealing to and is more popular with women in their twenties or thirties. Try it, especially in the spring and summer.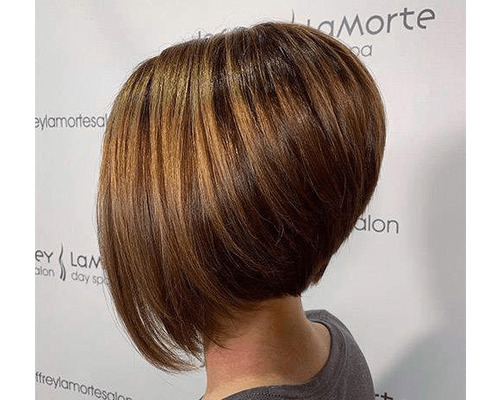 12. Brown Graduated Bob
This brown graduated bob is stylish and current. Shorter graduated bobs typically require more effort to style and get the desired look. For this style to last, get a haircut every four weeks.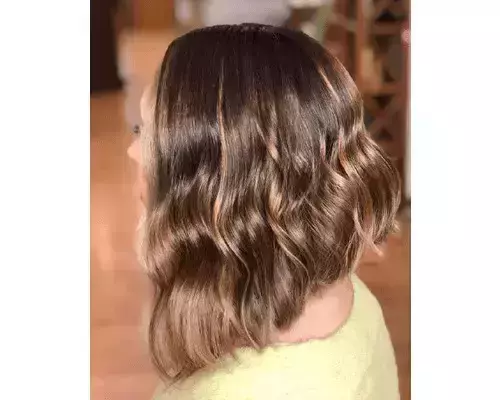 13. Brown Graduated Bob Cut With Highlights
Women who prefer shorter styles and colourful bobs will look fantastic in this stylish, colourful graduated bob. It will take some time to style this beauty. Make sure you have 5-8 minutes in the morning to properly style your hair.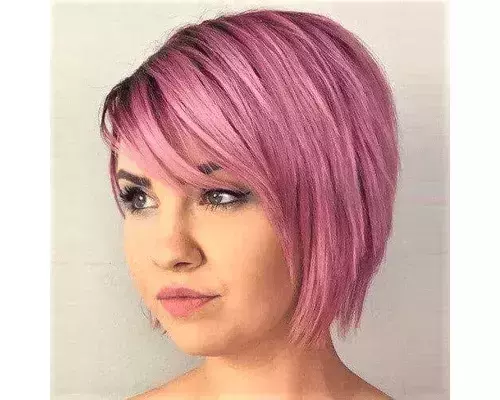 14. Pink Stacked Bob
Fewer women prefer or would dare to wear bright pink. Do you? This hairstyle is great if you want to stand out with something unique, enjoyable, and quirky. Teenagers must do it.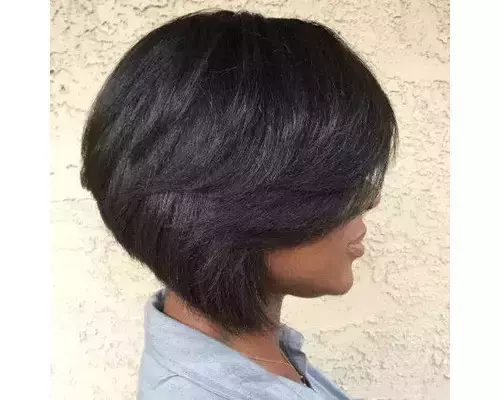 15. Black Stacked Bob Haircut
Such a modern hairdo is the stacked bob. Not many women can pull this style off. It can take time, precision, and numerous tries to achieve this look, so make sure you choose the greatest hairstylist you know.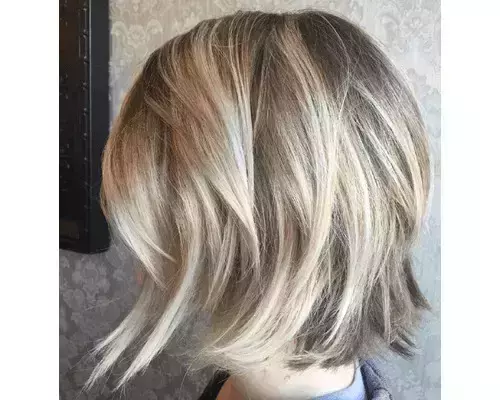 16. Light Blonde Stacked Bob
This kind of blonde stacked bob will look great on older women. This bob is quick and simple to make if you favour shorter styles and are seeking something low-maintenance. Ideal for women who have grey hair already.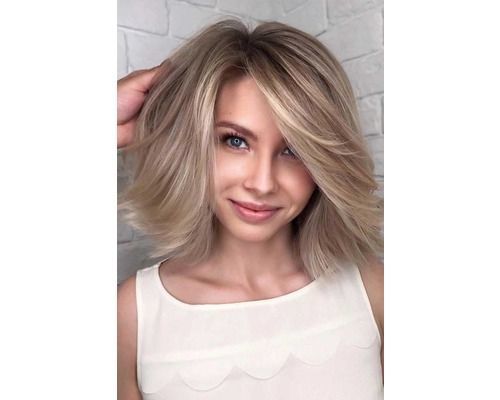 17. Blonde Layered Bob
To this stylish blonde bob, add layers. This hair will appear gorgeous and feminine when you style it and will be ideal for evenings out. This is the one if you enjoy formal hairstyles.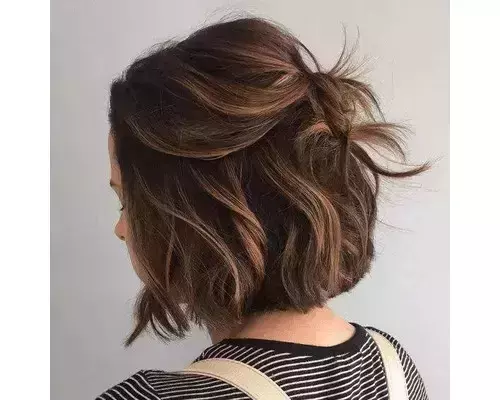 18. Brown Layered Bob
For those seeking simplicity, try a brown layered bob. Give this bob a try for everyday wear while maintaining your natural hair colour. Just stick to normal haircuts to showcase this layered style; there's no need to colour your hair. Consider this result if you wish to look casual.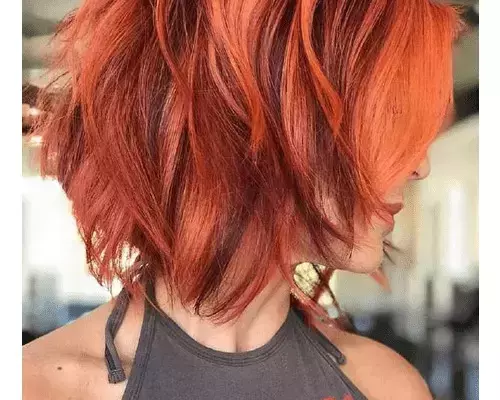 19. Orange Layered Bob
An unusual but courageous colour combination is orange hair. This will work for you if you prefer layered looks and bright hues. To achieve the best styling results, combine a soft cut with a bold colour! For those who desire to blend the best of both worlds, this is the cutest appearance.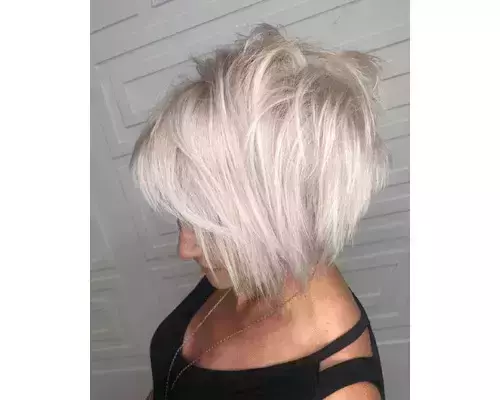 20. Platinum Blonde Layered Bob
The platinum blonde hairstyle is for people who can maintain it. This will work for you if you're not terrified of the cut itself and you enjoy trying new things.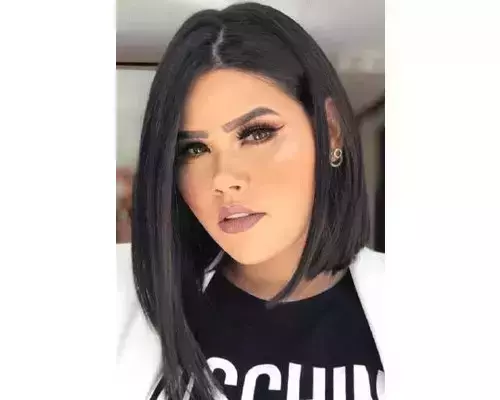 21. Black Asymmetrical Bob
Heads up: asymmetrical bobs require a lot of upkeep. Younger women that enjoy drawing attention to themselves frequently sport this hairdo. For slick and fashionable wear, complement the appearance with the proper makeup. Shoulder length haircuts which are asymmetrical can transform your hair completely.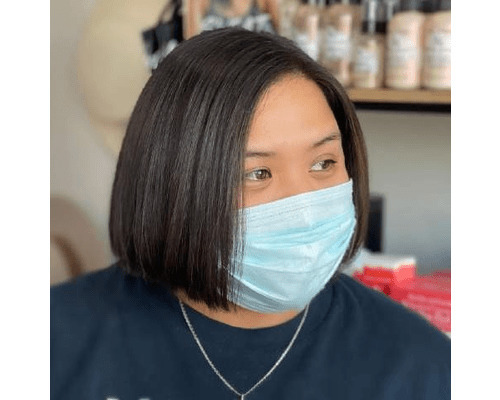 22. Natural Bob Cut For Women
It's typical, brief, and easy to understand, so why not try it? This quick and simple 2-minute hairstyle will appeal to women who don't have a lot of free time and who can't fix their hair in the morning.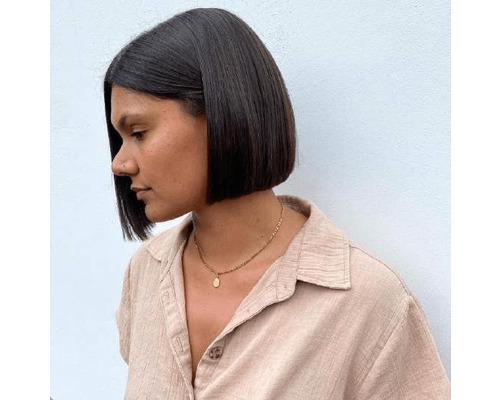 23. Defined Chic Bob
It will take two to three minutes to style this particular bob in the morning. Given that this shorter bob is quite precise and might be challenging to style or trim, be sure you get a haircut every four weeks.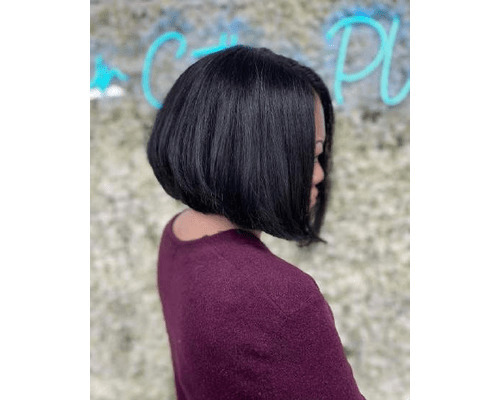 24. Black Inverted Bob
Inverted bobs require a lot of upkeep. Do you dare try it? Only if you don't mind frequent haircuts, frequent touch-ups, and lots of hair gel should you consider this style. Are you ready to design it yourself?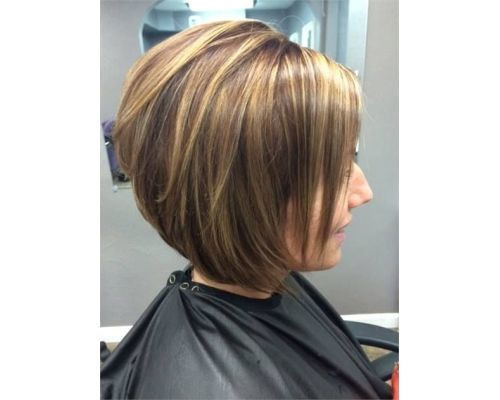 25. The Classic Bob
This classic bob haircut encapsulates every element that is usually associated with your standard bob. In this, the hair goes a little longer in your back than at the front.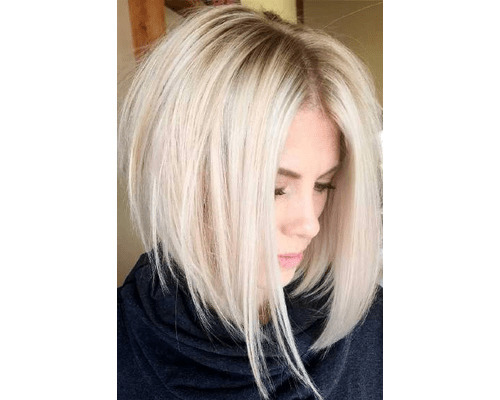 It will take some work to maintain and perfect the look of the icy blonde bob. You should colour your hair every five weeks because it can take some practice and effort to get it right. Be aware that blonde hair is also more prone to breakage and dryness.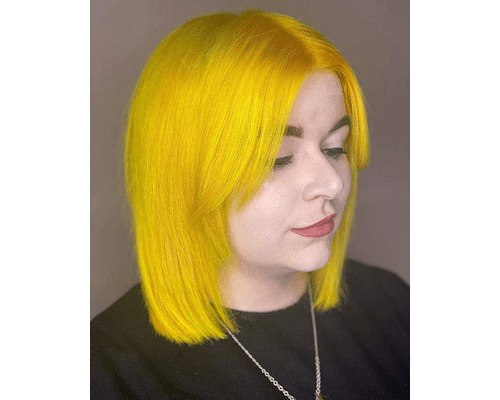 27. Yellow Blunt Bob
No matter your age, you can get a bright yellow blunt cut. It will take some practice and trials to completely grasp this hue. If you're looking for exact and adorable hairstyles, try them.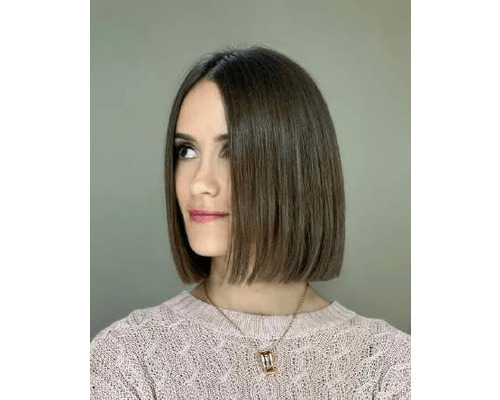 28. Straight Brown Blunt Bob
With this blunt cut, highlight your natural hair colour and blend it. Usually, girls in their teens or early twenties can pull off this look beautifully. Low-maintenance gals will love how simple it is to maintain.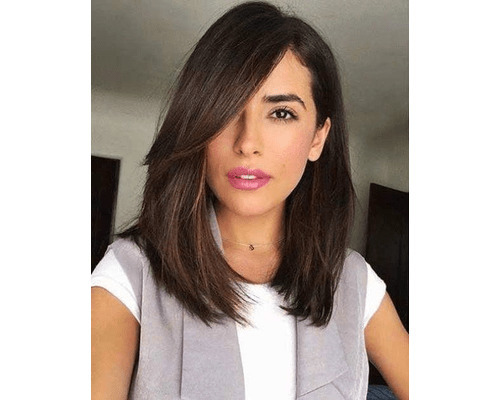 29. Dark Brown Long Bob
Women who desire a stunning, high-quality hairstyle can choose longer bobs. If you find it difficult to let go of your length and inches, try this shining, sleek long bob.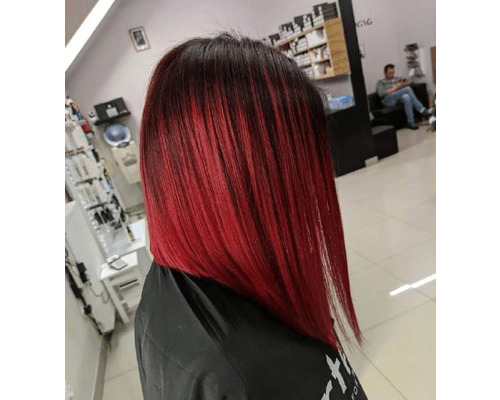 30. Long Red Bob
A long red bob will draw admiring glances and interest. Give this bob a try if you like longer hairstyles and want a splash of colour. Colour touch-ups must be done frequently.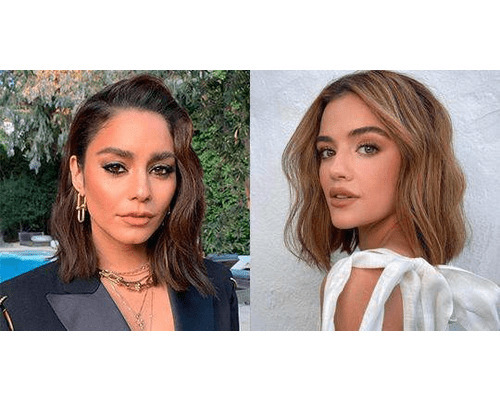 31. Outgrown Bob
The hair length that lies between a bob and a lob, or an outgrown bob, is ideal for the indecisive. You can still pull your hair back if you'd like, but it's still short enough to pass for a bob. It's also the ideal starting point for getting even shorter.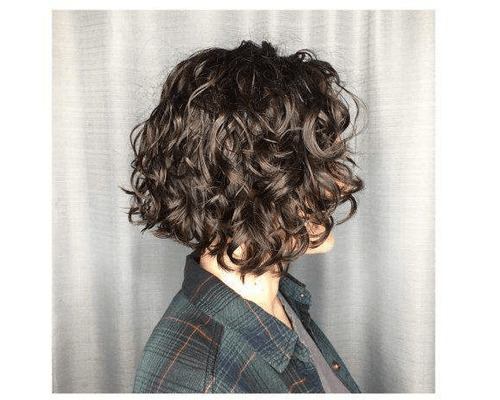 32. Sharp Curly Bob
Curls look fantastic in a bob as well. The key is to emphasise angles. Also, don't overlook the wispy bangs, which increase the visual appeal. That's true, despite the debate surrounding it, the side half won't disappear. Culy bob can be a gamechanger for you if you are looking for a stylish and elegant hairstyle.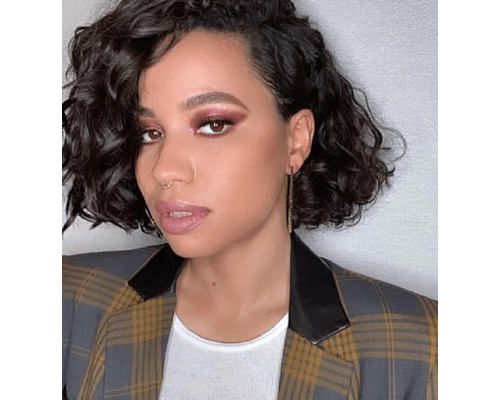 33. One Length Bob
Your best bet is a style similar to Margot Robbie's cut if you want a low-maintenance appearance. According to Brown, the easiest hairstyle to style depends on the texture of your hair and is a one-length bob that ends just above the shoulders.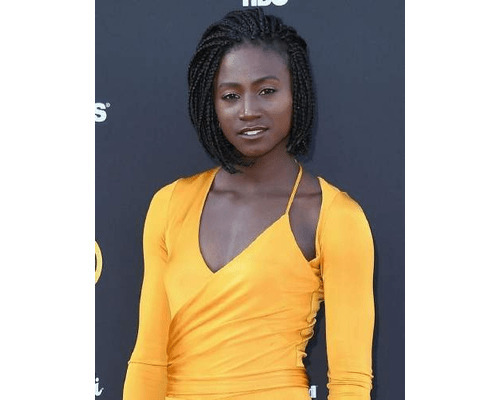 34. Pushed Back Bob Braids
Hair that is pulled back is effortlessly chic. If you're looking for something straightforward and low-maintenance, this airy style is ideal.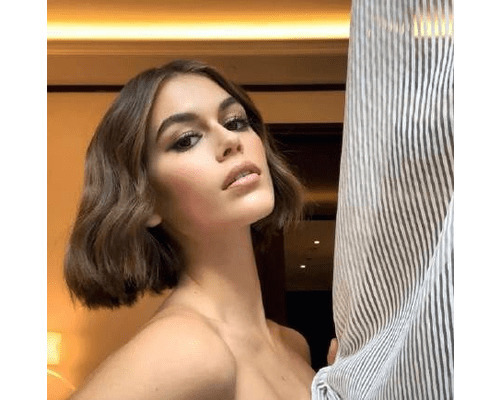 35. Drama Bob
Gives a vintage Hollywood look and adds much structure to the face. Drama cut is one of the most trending bob cuts of 2022.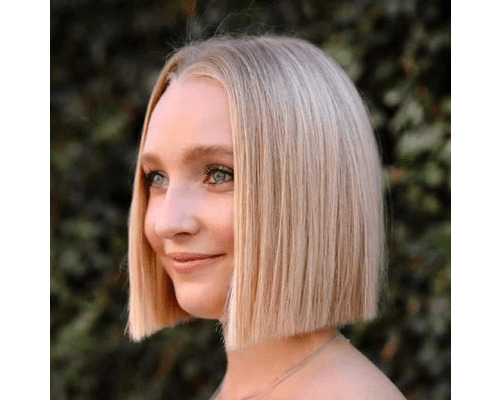 36. Box Bob
A box bob or a straight-across chop will significantly increase the fullness of your fine, straight hair.
37. Modern Diana Bob Cut
You're not the only one who is considering a Diana-inspired chop in response to Spencer. Celebrity hairstylist Ryan Trygstad, who is also the co-founder of New York's Mark Ryan Salon, claims he has been offering his clientele a contemporary twist on the princess's well-known cut. It has such a modern appearance and oozes flair and confidence, he says. The actual cut is a cross between a very short, layered bob and a pixie.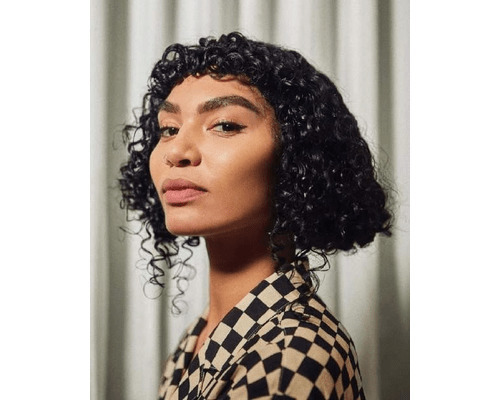 38. Bettie Page Bangs
This is a combination of micro and mini bangs which gives the hair a sharp look. if you are looking for bob hairstyle with bangs, thn this can be an amazing option.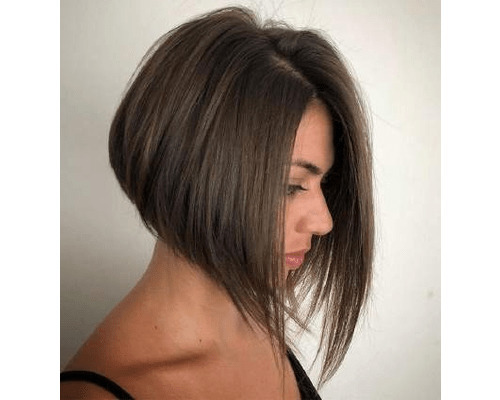 39. Sharp Bob Cut
According to Riawna Capri, co-owner of Nine Zero One in Los Angeles, "I think the best haircuts for women will be all about structure," she told us earlier this year. She predicts "more abrupt, thick lines in haircuts" and "more sleek designs of all lengths.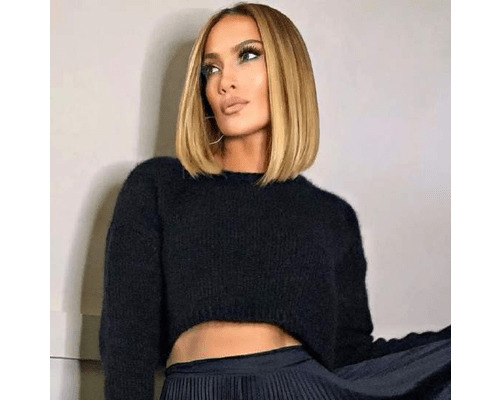 40. Curved Bob
JLo's rounded ends have a purpose in addition to looking amazing. According to Brown, bobs that fall directly on or just past the shoulder will require the greatest work because it might be difficult to keep your hair from flying out on your shoulders. You can prevent the flip by round-brushing or flat-ironing your hair beneath.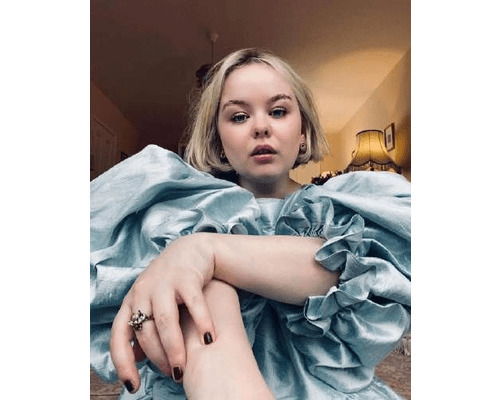 41. Flipped Bob
It feels very new and lovely with chin-skimming length and delicately flipped-under ends.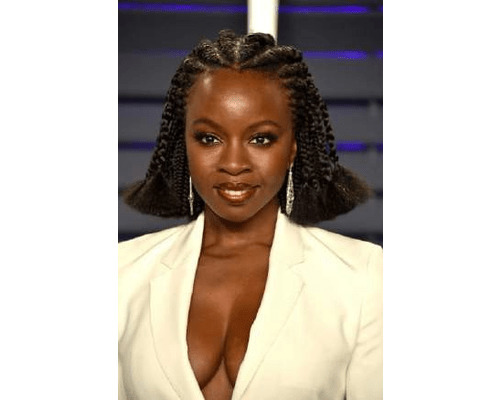 Not all Fulani braids need to be quite long. They look fantastic when they land just over your shoulders, as Danai Gurira has demonstrated. The look is much more stylish with flared ends.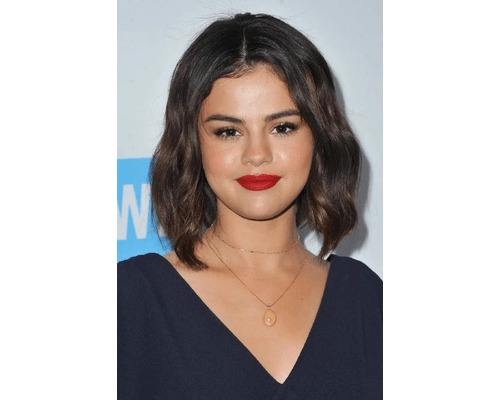 43. Boho Bob
Yes, short hair can still rock beach waves. In actuality, the ideal cut needs to bring out your natural texture.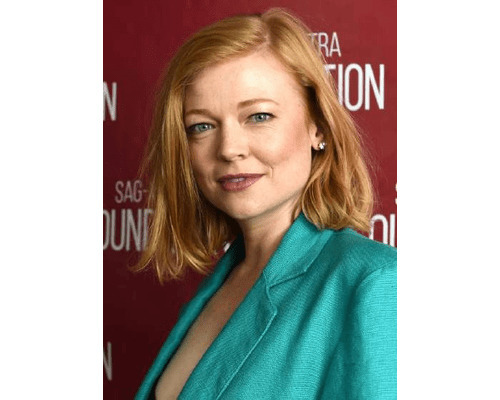 44. The Shiv Bob
Why not get "the Shiv"—the shoulder-grazing bob haircut—while you wait for Succession season four to premiere? Shiv Roy, a character played by Sarah Snook, was acquired to symbolise her newly acquired authority in her father's billion-dollar media empire. According to Snook's hairstylist Helen Reavey, what distinguishes it is its slightly uneven length (a little longer on one side than the other) and versatility, going from dishevelled (as seen below) to sharp and slick, like in the show.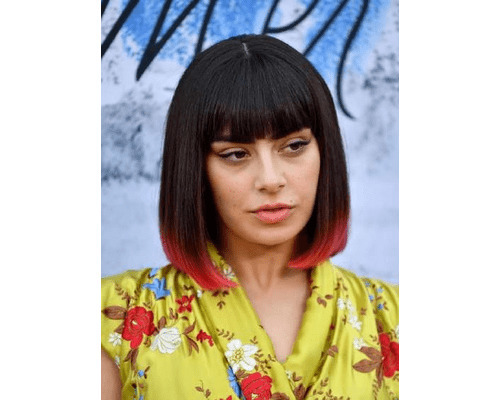 45. Pink Tips Bob Cut
Who doesn't want to follow trends? This cut gives bobs interesting dipped ends and heavy bangs to make them uniquely two-toned.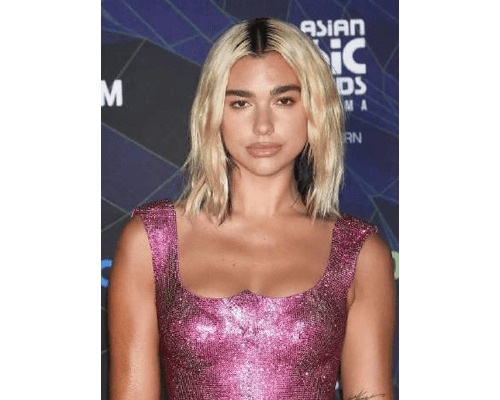 46. Two Toned Lob Cut
A blunt lob is made even cooler by a bleached front and broken waves.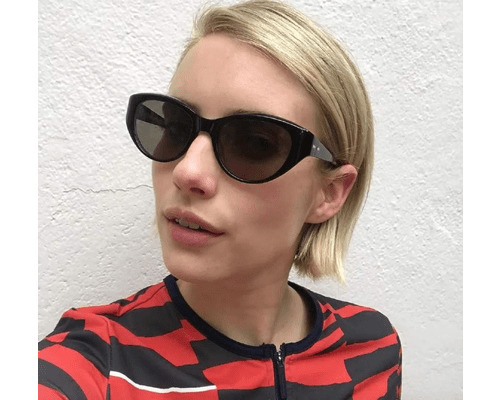 47. 90's Cropped Bob
This shortcut was given the name "hairline bob" by Emma Roberts' hairstylist Chris McMillan (also the person responsible for Jennifer Aniston's famous Rachel cut), perhaps because it looks great pulled back. We're getting major Winona Ryder in Reality Bites vibes from this outfit when worn.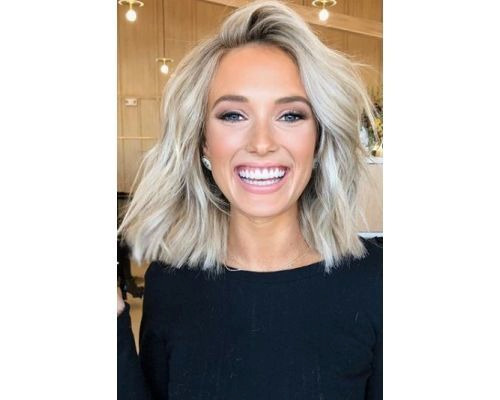 48. Chopped Layer Bob
Cutting the ends of your standard bob haircut using a razor will create choppy textures which would contrast beautifully against the smoothness of the remaining hair.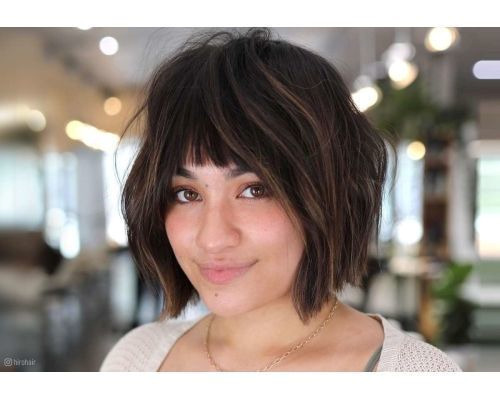 49. Thick Bob With Bangs
If you are looking for chic bob hairstyles on thick hair, go for this cute haircut that will complement your hair type beautifully without taking away its volume and texture.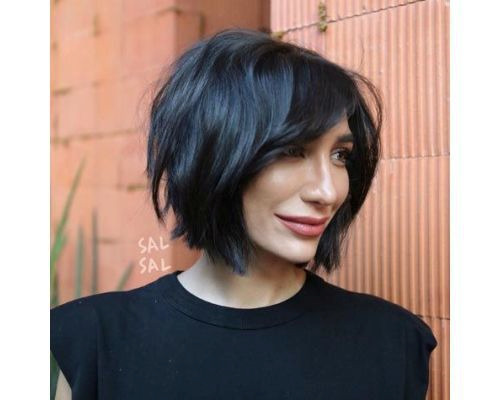 50. Asymmetrical Volume
This is one of the very experimental and interesting medium bob haircuts. Part and layer your hair to make one side more voluminous as compared to the other. This will create a subtle asymmetry that is a treat for the eyes.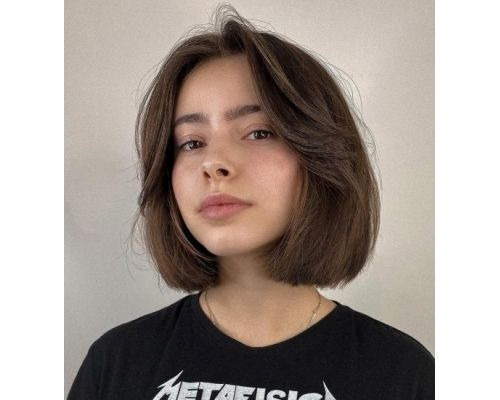 51. Blunt Bob
The blunter style of bob cuts is different from the rest as it is a little uneven but not choppy at the ends. It has straight sides which make it perfect for fine and thin hair that lacks volume.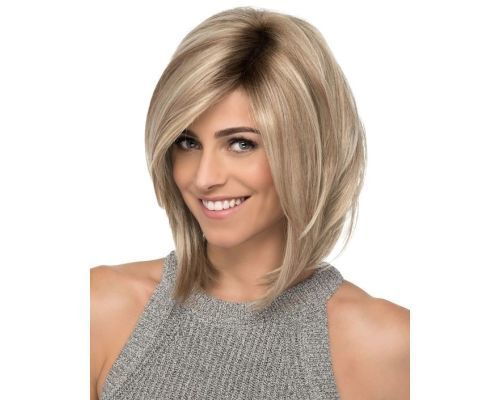 52. Flowing Bob
This bob cut emphasizes the flow of your hair. The cut has some flowing sides formed by the gentle waves of your tresses. It's not a wavy bob but the soft ripple makes it different from your classic bob haircut.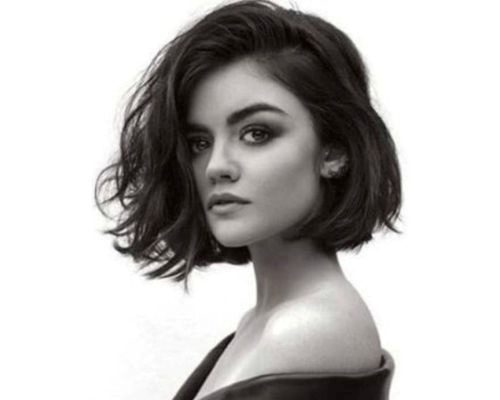 53. Tousled Bob
If you love messy bob hairstyles, this one is for you. This is among those interesting layered bob haircuts that will give a beautiful texture to your hair. As a finishing touch, your hair will be slightly teased out of place to create a trendy tousled look.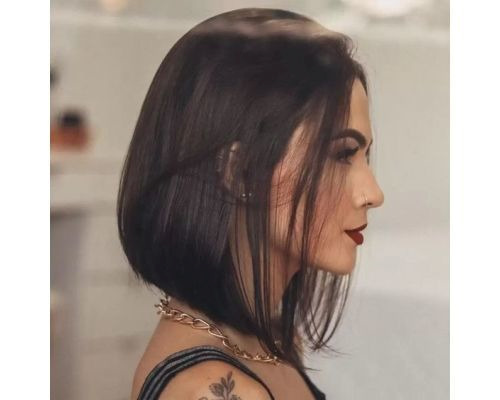 54. A-Line Sleek Style For Long Bob
As the name implies, the A-line bob creates an A-shaped angle which is longer at the front and goes shorter towards the back. It is a sensible and stylish haircut which is amazing for women looking for angular bob hairstyles.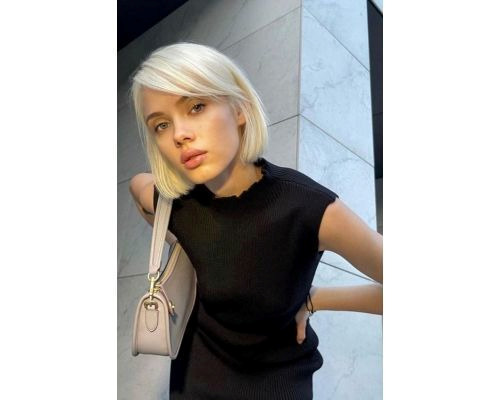 55. Blonde Bob
Bob hairstyles are a brilliant choice for people with dyed hair. A blonde bob beautifully brings out all the dyed shades and is a very stylish hairdo that you must try at least once.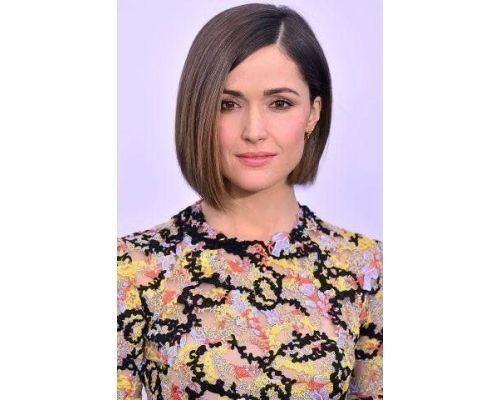 56. Asymmetrical Classic Bob
An asymmetrical bob will suit the needs of people looking for a classic bob haircut with a twist which comes with all the elements of your standard bob, and the asymmetry just makes it a lot edgier.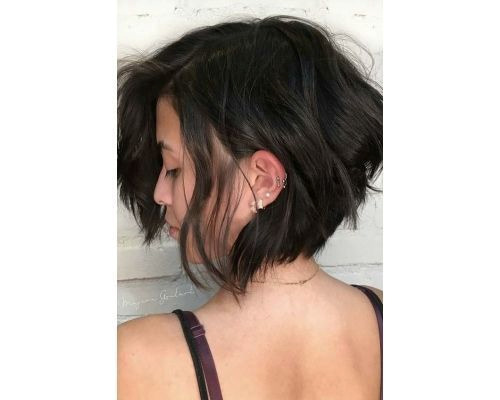 57. Short & Messy
Regarded as one of the best short-layered, this hairstyle is heavily tousled to acquire the rebellious aura that it is famous for. This is one of the short bob hairstyles that are unique and peppy at the same time.
58. Wavier Bob
If you are crazy about wavy tresses, you must try this bob cut-out. This chin-length hairstyle comprises slightly tousled and intensely wavy hair. It looks very different from the usual bob hairstyles and has become a hairstyle of its own.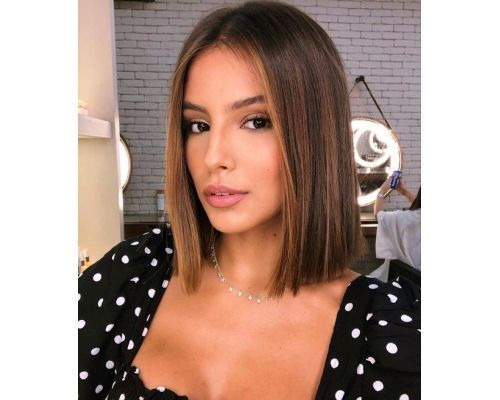 59. Wide Bob
If you have voluminous hair, this wide bob is perfect for you. For most of the part, it is a traditional bob but the sides have extant a thickness, giving it a unique style of its own.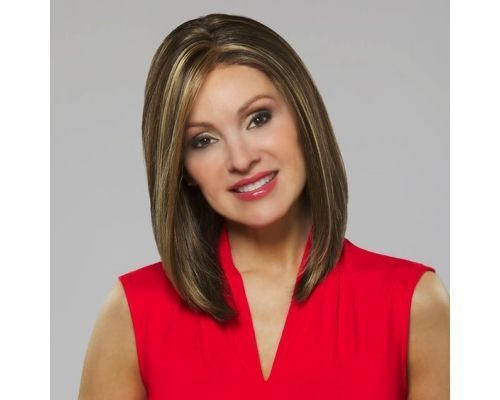 60. Subtly Dyed Bob
If you have coloured hair and you want to flaunt them ever so subtly, try short bob hairstyles like this to make the hues stand out as your tresses take an eye-catching shape.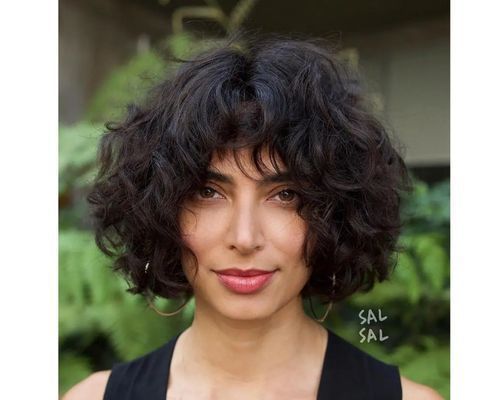 61. Curled Bob With Bangs
This new spin of A-line bobs brings together some textures and fringe. After sectioning the front hair into strands, the rest of the hair is made more uniform towards the back. The hairstyle add a lot of dimension to the overall appearance.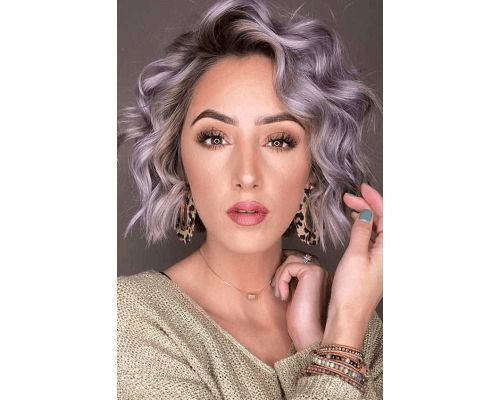 62. Multi Textured Bob
Layered bob haircuts are all about texture. This unique bob cut features a little tousled top, half fringe, choppy ends, and wavy sides. This is unlike most bob styles that you will find out there.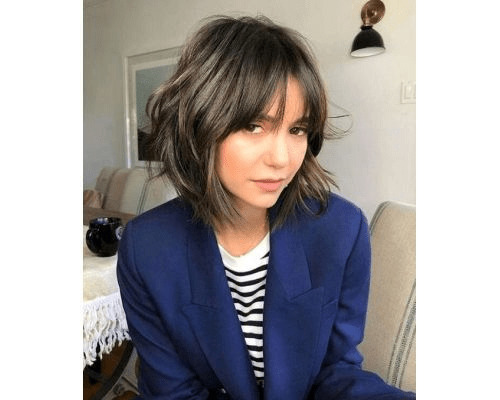 63. Bob With Strands
This unique bob cut sections your tresses into strands to create a different style of texture. Such bob hairstyles also benefit from being a little tousled as it adds more texture to the overall hairdo.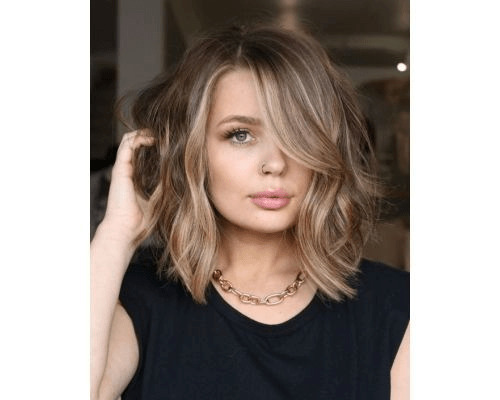 64. Wavy And Long Bob
If you are looking for professional, no-nonsense long bob hairstyles, try this long and wavy cut. It is a more formal and neater take on a conventional bob, making it perfect for workplaces.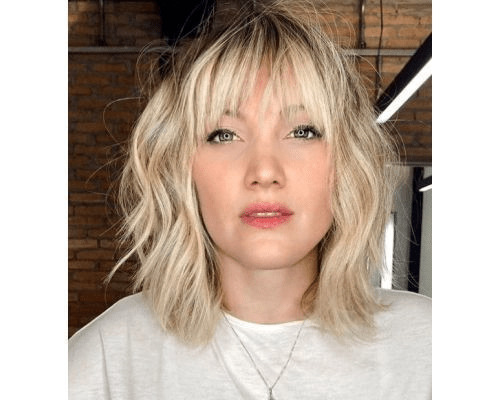 65. Frizzy Bob
The frizzy bob haircut brushes the hair to the front while closings the eyes to create a moodier appeal. It is the perfect combination of style, elegance and boho vibes.