Face Framing Balayage Guide : Cost, Pros, Cons, FAQs
Olivia
Updated At 01 Jun 23
Contouring took the world of makeup enthusiasts by storm – with its magical ability to accentuate your best features, create a defined nose bridge and cheekbones and a subtle highlight to make your face shine. But what if we told you contouring could go beyond your face– and that there's a hair treatment that can contour both your face and hair? Do not be surprised– we are referring to a face-framing balayage.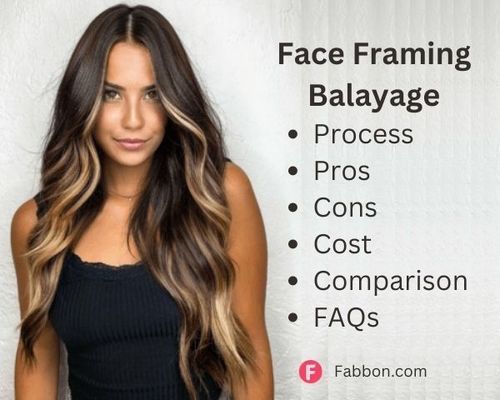 When it comes to hair colour, balayage is one of the most popular options. This tried and tested hair colouring technique has been adopted by prominent celebrities like Rihanna, Cara Delevigne and Jennifer Lopez. Balayage is not limited to celebrities and professional hairstylists, though, as it is one of the most popular hair colour treatments in salons among all women. Face framing balayage is a step beyond regular balayage.
Are you looking to learn more about the face framing balayage technique? Then keep reading!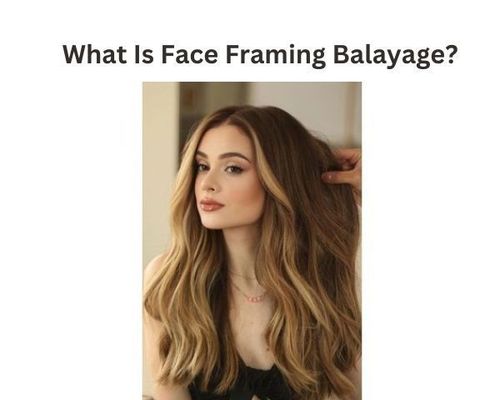 What is Face Framing Balayage?
Face-framing balayage is the hottest new trend in the hair and beauty industry. Famously known as the 'money piece' balayage because of how expensive it can make your hair look, this technique is an upgradation to your regular balayage.
Balayage refers to the French technique of applying a lighter dye by hand rather than the hair colour itself. This technique does not employ the use of foil, like in highlights.
A face-framing balayage focuses on highlighting the front pieces of your hair that drape around your face. Because of this French technique of sweeping hand movements to paint your hair a slightly lighter shade, the visual aesthetic of a balayage is much more subtle and natural looking compared to traditional foil highlights.
A session of face-framing balayage at your local salon can help you level up your appearance – it accentuates your features, slims down your face and makes your skin look glowy. Further, the realistic and vivid highlights make your hair look lively and voluminous.
Also check out our guide to find the best face framing highlights as we include 55+ stunning face framed hairstyles which have been trending this year! From layered haircuts to honey blonde face framed hair, we cover all.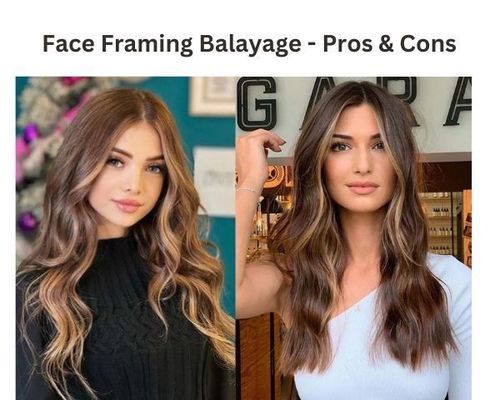 Pros and Cons of Face Framing Balayage
Now that you know what a face-framing balayage is, you may wonder if it is worth getting this hair colouring technique done to your hair. Well, let us help you get rid of your confusion. Here is a glance at the advantages and disadvantages of face-framing balayage.
Face Framing Balayage Pros
● Safe: A face-framing balayage is safe for pregnant women as the hair dye is not applied to your scalp.
● Less damage: Due to direct application by hand and lesser saturation compared to foil highlights, it causes less damage to the strands of your hair.
● Easy to maintain: Face framing balayage is low maintenance compared to other hair colouring techniques, as it has a very natural looking visual.
● Versatility: Face framing balayage is versatile– it works for all age groups, hair lengths and hair types.
Face Framing Balayage Cons

● Gray hair: A balayage cannot wholly hide greying hair at the roots, as it does not dye your entire hair but only some sections.
● Investments: Like any professional hair treatment, you need time and money to get this look.
● Color damage: Too frequent bleaching of hair can lead to split ends and brittle hair.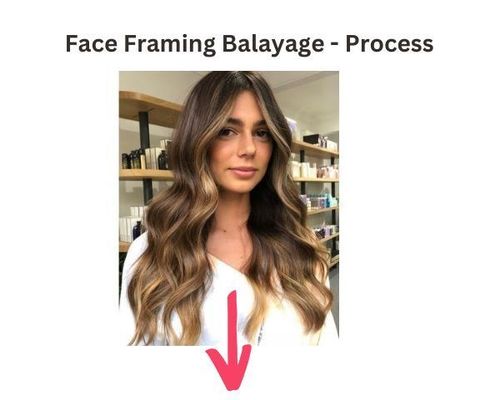 Face Framing Balayage Process
If you are impressed by the benefits of face-framing balayage, you may be dialling your nearest hair salon to book an appointment already. But before that, you might wonder what to expect during your salon session. Here we will discuss how to do face-framing balayage at a salon.
During your appointment, you start by discussing the placements of your highlights and the intensity and shade of colour you want. Depending on your hair colour, length, type and desired look, your hairstylist can help decide the right fit for you.
The actual process of a balayage is similar to highlights; however, the application technique dramatically differs. In highlights, foils are used for the colouring process. Meanwhile, balayage is a method of hand painting with sweeping motions.
Your stylist will begin painting a lightener or a dye from the midshaft and continue till the ends. Of course, the front sections of your hair can't be forgotten; these will be saturated more in colour than the rest of your hair to give your face that coveted 'frame.' Your hairstylist will likely paint the front sections near your hairline first, as in a face-framing balayage, these sections are saturated the most.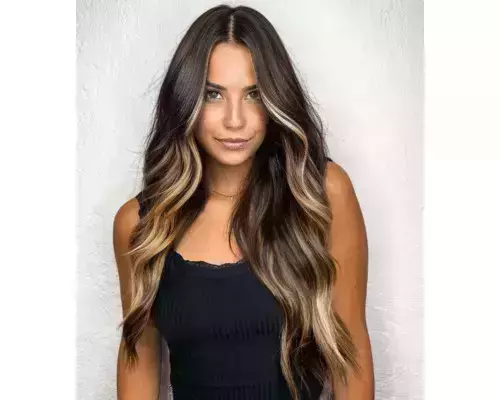 Here is the detailed process on how to do face-framing balayage:
Step 1. Decide the shade of colour of your balayage.
Step 2. Confirm the placements of the balayage on your hair.
Step 3. Shampoo, dry, and brush your hair to remove any tangles.
Step 4. If you want a dramatic change, you may need to bleach your hair first. Although, natural-looking balayage without bleach is entirely possible.
Step 5. Divide your hair into sections. Pick one section and clip up the rest.
Step 6. Mix your lightener. It should not be too thick, making it difficult to apply, or too thin, making it runny.
Step 7. Start hand painting the lightener on that section of your hair with a brush.
Step 8. Wait for at least 30 mins to an hour to get the results.
Step 9. Additional heating treatments may be required after the colouring process to seal the results.
Voila! You have a beautiful balayage now.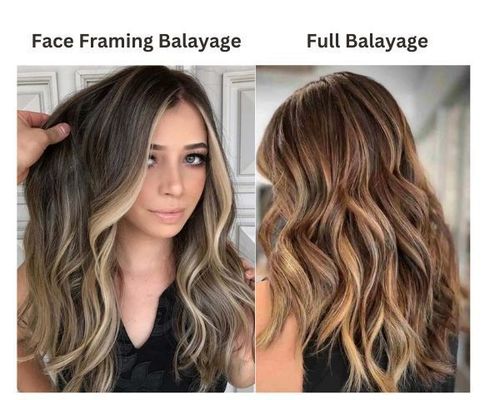 Face Frame Balayage Vs Full Balayage
A balayage is fun– it creates a sun-kissed look as if you had just returned from an exotic trip abroad. But not all types of balayage are the same. Even though the basic concept revolves around hand-painted highlights of a slightly lighter shade than your base hair colour, the placement of the highlights and saturation of the lightener can create a different impact. Many face confusion in choosing between face frame balayage and a full balayage.
While a face frame balayage focuses more on highlighting the strands of hair around your face, a full balayage features equal colour distribution throughout your hair. The highlights in a full balayage occur from midshaft to ends evenly throughout your hair rather than being concentrated on specific sections, such as the front sections, more.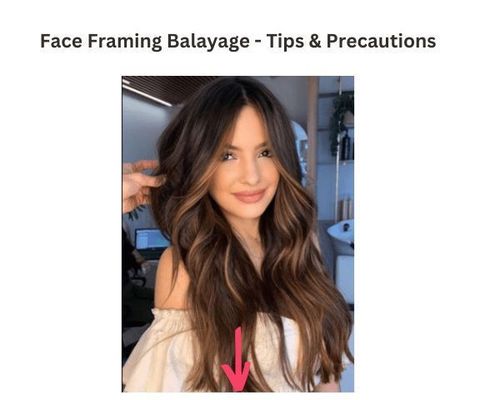 Face Framing Balayage Tips and Precautions
The prospect of contouring and highlighting your face with a straightforward hair colour appointment may seem exciting, but every great thing requires some effort. You must follow a particular post-treatment maintenance routine to keep your hair glossy and shining. Here are some tips for you to keep in mind so that you can get the perfect long-lasting balayage:
● Do not wash your hair right after your treatment or too frequently. Wash sparingly, around 2-3 times a week.
● Switch to sulfate-free hair products, which are safe for colour-treated hair.
● Use nourishing hair masks to avoid brittleness caused due to bleaching or hair dye.
● Wear a hat or scarf outside to protect your hair from sun damage, as UV rays can damage your hair cuticles.
● Minimize the use of heating tools, and if you must, then use a heat protectant.
● Regular maintenance sessions every 3-4 months are a must if you want to maintain the results, as hair growth and daily lifestyle can subdue the results eventually.
● Wear a swimming cap if you go swimming because chlorine can damage your hair.
● Use a hair gloss product once a week to make the highlighted sections of your hair shine even more.
Different shampoo and conditioner combinations are available for different colours of balayage. You can ask your hairstylist at the salon to recommend hair care products that will suit you and preserve the results of your face-framing balayage.
Face Framing Balayage Cost
A face-framing balayage starts from $75 for partial highlights and climbs to higher numbers at premium salons for a fuller balayage. If you want to opt for just face frames, the number will be similar to partial highlights.

Face Framing Balayage FAQs
1. What is face-framing balayage?
Face framing balayage is a type of balayage which focuses on highlighting the sections of your hair around your face to give you a 'halo' or lightened face frame. This french technique of hand painting highlights adds more dimension to your hair, enhances your facial features and makes your face appear thinner.
2. Should I get a face-framing balayage?
Face framing balayage goes well with any hair colour, texture and length. However, it is not recommended for hair that is already heavily highlighted. It can also be a tricky look for people seeking to hide greying hair unless they get their roots tinted and touched up first.
3. How long does a face-framing balayage stay?
With proper maintenance, face-framing balayage stays for 3-4 months, while traditional foil highlights require touch-ups more frequently.
4. How to maintain a face-framing balayage?
Avoid washing your hair for a couple of days after your treatment. Refrain from shampooing too often and switch to sulfate-free colour-protecting products. Use an enriching hydrating mask and nourishing conditioner to battle the dryness caused by bleach or hair dye. Wear a hat outside to combat UV rays, and use a hair gloss once a week to boost the shine.
5. What is the cost of a face-framing balayage?
A partial face-framing balayage costs $75 and can go north of $250 for a fuller balayage.
6. When should one redo their face-framing balayage?
One should go for hair touch-ups after every 12 to 14 weeks.