55 Stunning Hairstyles For Square Faces (For Women)
Ashwini
Updated At 19 Jan 23
Looking for the best hairstyles for square faces? We list few of the top square face haircuts for women to resolve your issue.
There are multiple short hairdos available for women with different face shapes. Its often tricky for women with square face shapes to pick the right hairstyles as there are so many options available. We list 55 stunning hairstyles for square faces which have been trending this year. May of them are also used by popular celebs like Gwyneth Paltrow and Keira Knightley.
55 Best Hairstyles For Square Faces For Women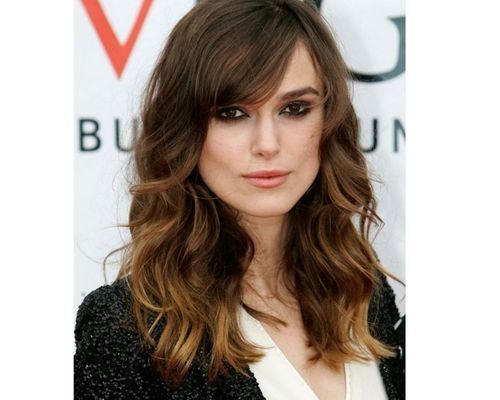 1. Tousled Waves For Square Face Shape
Lengthy hair is really attractive on a square face, but adding some long layers and a deep side part, as seen here, gives the front of the hair additional softness. This Keira Knightley haircut for square face has been a trendsetter for women with medium to long hair.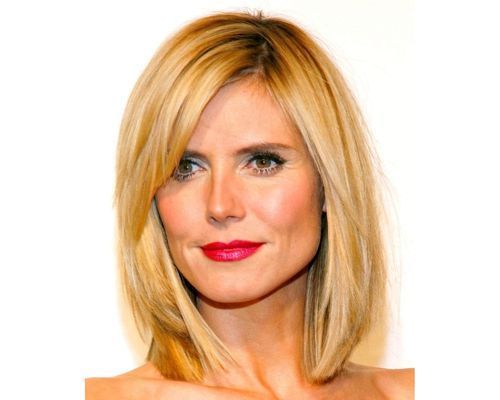 2. Waving Texture
The first hairstyle for a square face is a Waving Texture. This expression softens the angular jawline. Consider leaving any natural curls or waves in your hair if you have them; this will soften your angular features.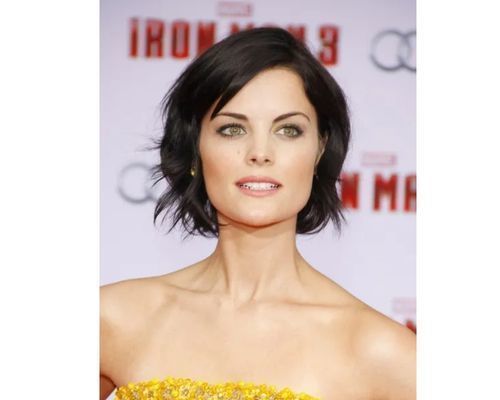 3. Bob Hairstyle For Square Face
It is fantastic for ladies with straight hair and requires almost no care; all you need to do is arrange the side-swept bangs to open up your forehead. This tidy and sleek bob will make even the owners of flawless oval faces envious.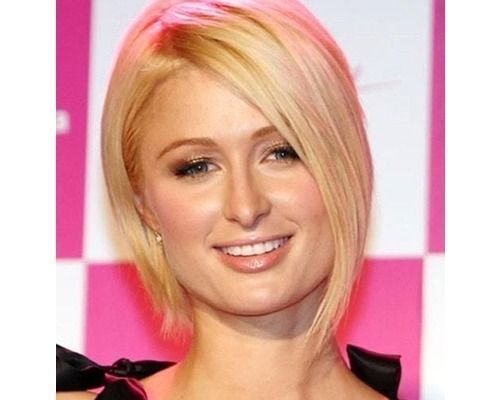 4. Short Asymmetrical Hair
Asymmetrical haircuts like a bob or pixie encourage the hair on one side of the face to complement square face features. One side of the sleek updo shown above has gentle waves, and the other side is pulled back.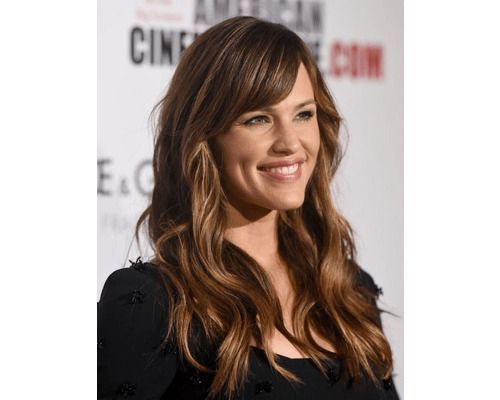 5. Long Waves With Side Swept Bangs
You have angular features if your face is square. If you were to construct a diagram of your face, it would look like a square because your jaw is almost as wide as your cheekbones. The greatest bangs for you are long, side-swept bangs that just skim the brows because your objective is to soften your sharp angles. They ought to fall just below the brow and be longer on the sides, like the actress Jennifer Garner's bangs, which complement her face shapely square face.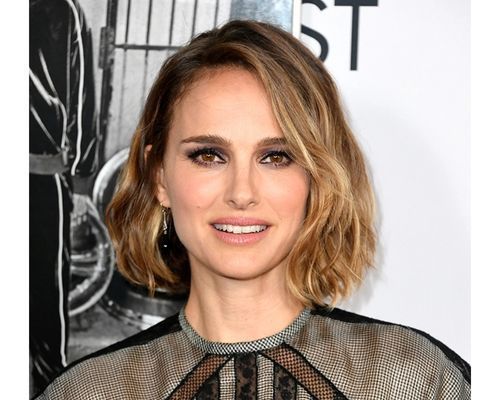 6. Neck Length Bob For Square Face
When looking for a short style, this haircut is among the easiest options you have. Even with wavy hair, this straightforward cut will look excellent and practically require no upkeep. It can be styled however you choose. Simply brushing your teeth will do.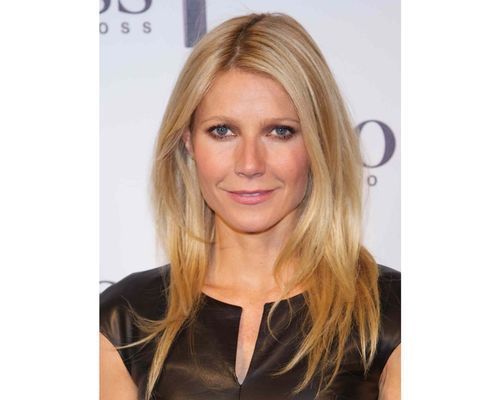 7. Straight Haircut For Square Face
If you want to try out a new hairstyle for square face shape, then this long straight hairstyle will work perfectly well. This Gwyneth Paltrow haircut is the perfect hair inspiration you would need to try out a new haircut for your square face. Go for it and you wont regret!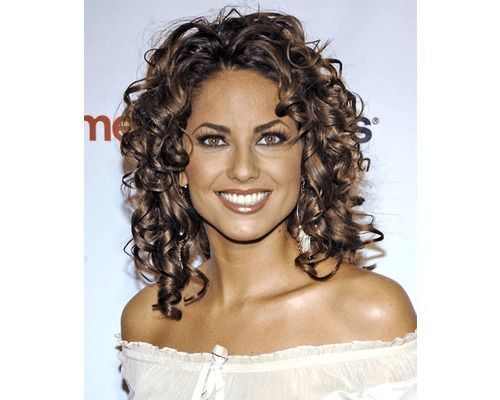 8. Voluminous Curls
A square face will always look better with long layers. They look particularly fantastic when worn with side-swept bangs. Wrap hair vertically around a curling iron while facing away from the face, working from the front hairline to the rear. Pigtails with Side Bangs. Finish by using a wide-tooth comb to break up the waves and use a texturizing spray for long-lasting style.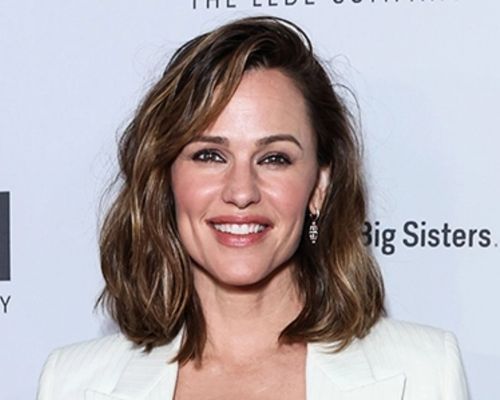 9. Shoulder Length Hairstyle For Square Face
If you are looking for a shoulder length hairstyle which will suit your square face shape, then this jennifer garner haircut is the perfect inspiration. The highlights and side parted hairstyle gives ample space for your accesories and makeup to gethighlighted as well. Most importantly, this looks stylish, elegant and can go well with any attire. One of the trending new hairstyles for square faces, this can be the trendsetter.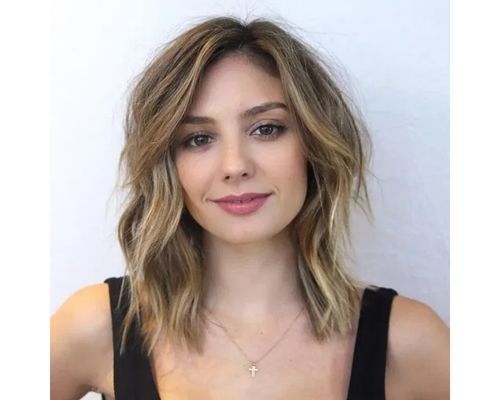 10. Messy Waves
Making a messy haircut is a great technique to have the right face-type appearance. A flat iron makes it simple to make these unruly waves. They can also be created by braiding your hair the night before and unravelling it the next morning.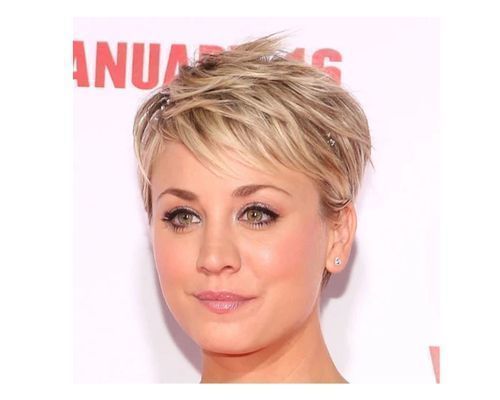 11. Layered Pixie For Square Face Shape
Have fine hair and a square face? You need this layered pixie with bangs. Low upkeep is this style's key benefit. You will easily achieve a stunning appearance each morning. You only need to maintain order.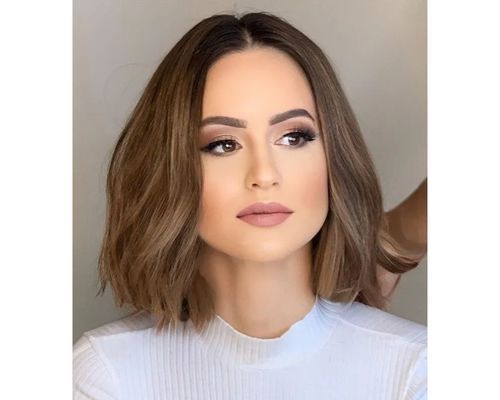 12. Parted Bob For Square Face
Short haircuts, like this parted bob, are great for drawing attention to your facial features. This implies that you can experiment with your facial hair to give it any shape you like. Your appearance will change right away if you arrange your frontal strands into an square shape.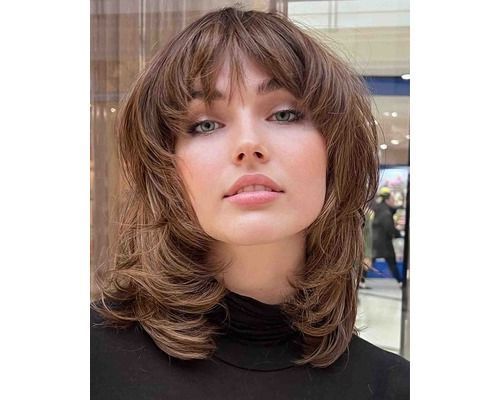 13. Cute Shag Cut With Bangs
A shag cut with bangs and face-framing layering is a good option because it looks good on almost any lady with a square facial shape. Anything with lovely, soft, face-framing layers that move to soften your jaw is one of the greatest haircuts for square faces. Your hair will appear stunning but require little work to style.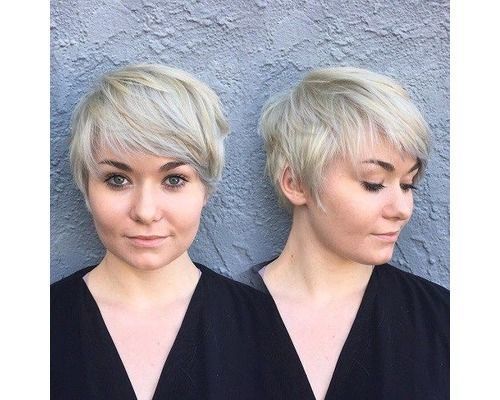 14. Short Platinum Pixie
Another hairstyle for square face which is gaining popularity is the short platinum pixie cut. Platinum pixies are always a good idea as they are low maintenance and work for all occasions! Women with square faces will love this beautiful hairstyle as it complements it perfectly. Additionally, thin or fine hair works best because it has less structure on top, making it easier to comb.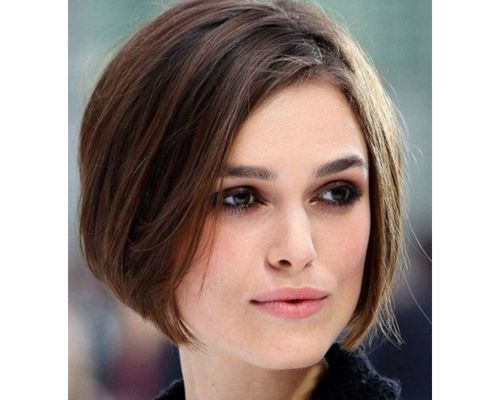 15. Short Bob For Square Face
Short bobs have a fantastic way of making you look quite round. This is the ideal option for people with square faces. Get that blow dryer instead of the layer. A few minutes of style will transform your trendy bob into something genuinely beautiful.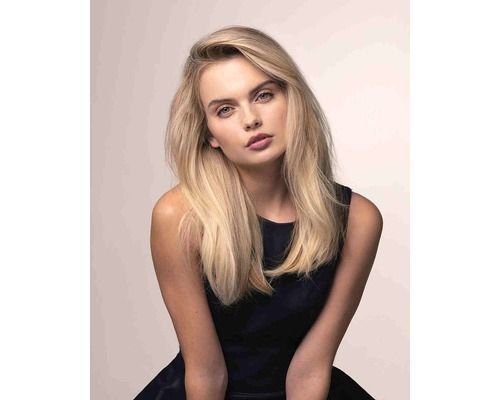 16. Side Parted Hairstyle For Square Face
Women with square faces appear stunning with this length of hair, in contrast to those with long faces who find it harder to pull it off. When it comes to a square face, volume is crucial.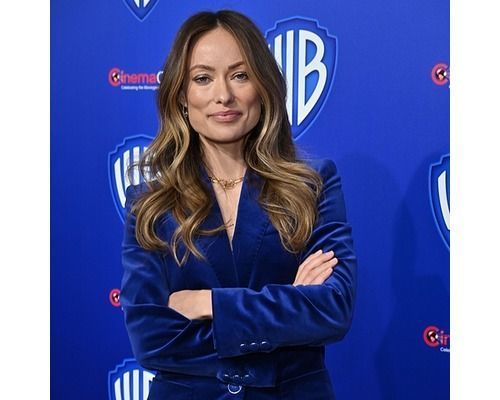 17. Chest Length Wavy Hair
Think about wearing a middle part with wavy hair that is chest length. Your jaw's sharp angles will be softened by gently flowing waves, giving you a gentler appearance. If you want your hair to be taller and more volumized, try a side part. To make waves that turn heads, use a curling iron.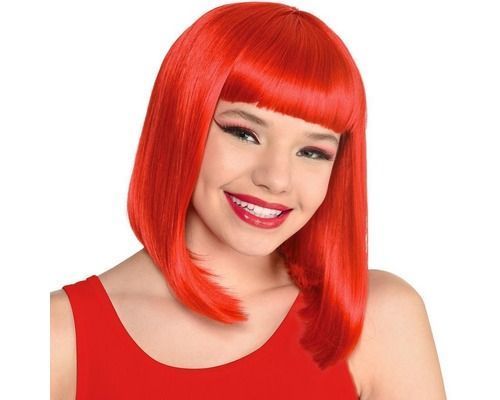 18. Long Red Bob
The new haircut for square face which has been trending this year is the long red bob. One method to breathe life into a long bob on a square-shaped face is bright red. Straighten your hair and create a simple centre part for a sleek, fashionable look.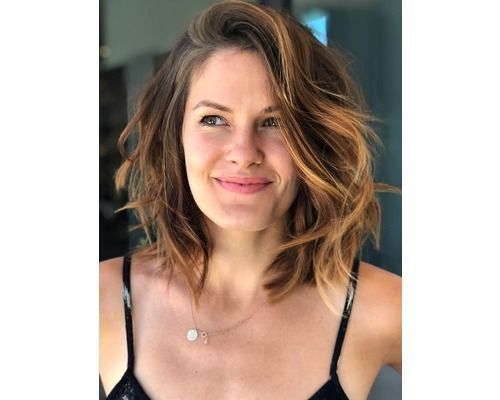 19. Tousled Bob
Another haircut perfect for a square face is the tousled bob cut. If your hair have layers, long bobs look excellent on a square face.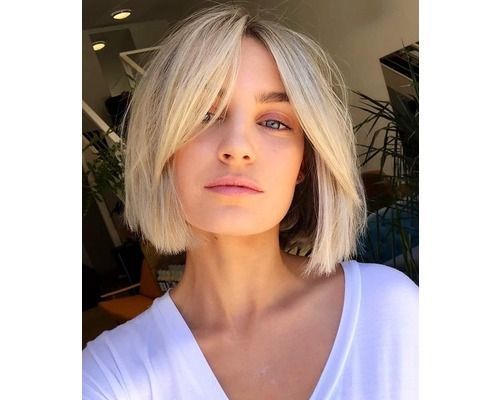 20. Short Straight Bob With Bangs
When you sport this gorgeous short bob, no one will ever consider referring to you as Karen! It's manageable and simple to style at chin length. A square-shaped face is also attractively framed by divided bangs!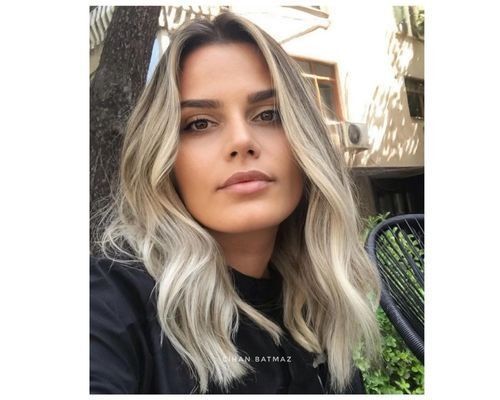 21. Textured Layers For Square Faces
Hair that is shoulder length looks good on all face shapes. The waves and highlights in this hairstyle assist to soften Moss's angular, pointed jawline, and the centre section, which is typical of many models and actors with square faces, looks great with this style.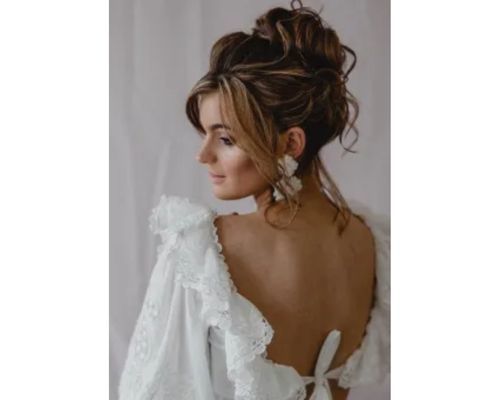 22. Flowered Wedding Updo
Your square face should always have a small fringe to complement it. Beautiful long wavy tendrils that delicately hang along the face above on a beautiful bridal updo with flowers are an added touch.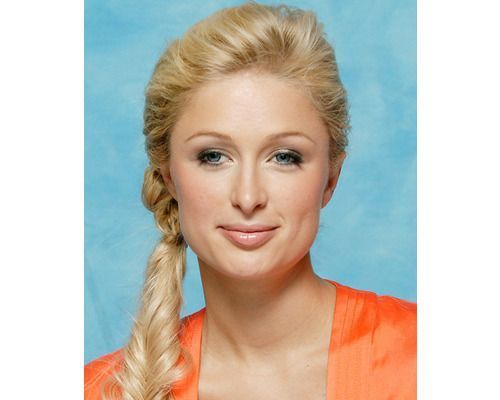 23. Long Curly Braid
A gentle framing element for a curly hairdo is the side-swept curly braid. Consider a blonde hair colour, for a perfect look to compliment the square shape face.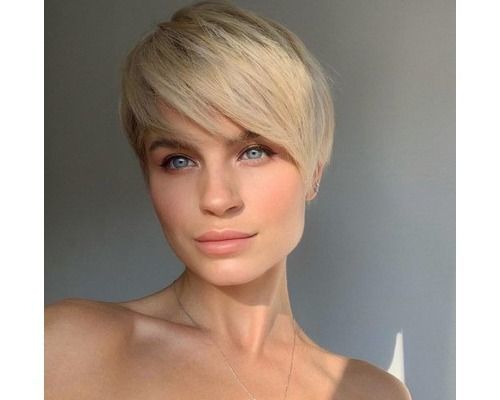 24. Textured Pixie
The short, choppy textured pixie cut hugs the head form and gives off a soft, young appearance. This haircut will provide height and movement while softening the jaw's corners and highlighting the eyes. The ideal length for this style is one inch at the neck which gradually increases to three to five inches from the crown to the bangs.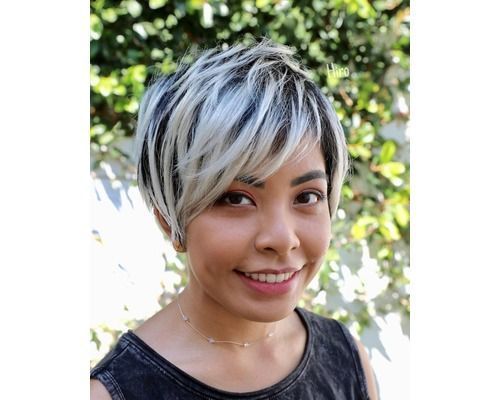 25. Long Layered Pixie
Are you looking for a short haircut to style your square face? The extra-long, straight side bangs of a pixie-style haircut eliminate that face shape. The layers are a terrific method to add movement and body to your hairstyle.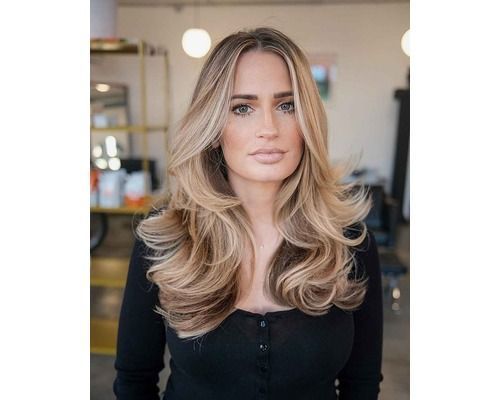 26. Long Textured Layers
The lengthy, layered cut with texture gives you all the benefits of length without making you feel heavy-handed. This style can be worn centrally placed, off-centred, or even with a deep side part. You may flip this look any way you choose with shorter face-framing layers starting around the bottom of the jaw.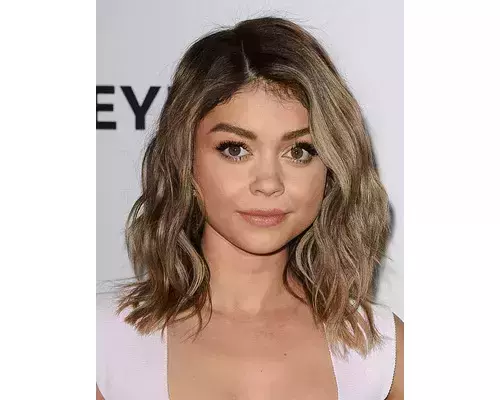 27. Shaggy Short With Waves
After you've trimmed your hair to shoulder length, you won't even remember that you have a square face. To thicken the body, request long layers from your hairstylist. Using a curling iron or adding product to already wavy hair will give you choppy waves.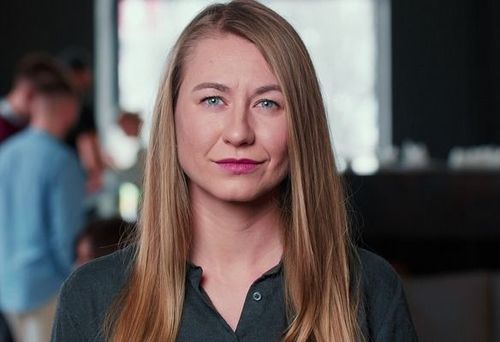 28. Long Straight Hairstyle For Square face
If hair is naturally straight, little styling is needed to achieve the long, sleek look. This cut doesn't need to be layered. By blunt-cutting the length and using a few face-framing elements, you can keep it looking contemporary and slick.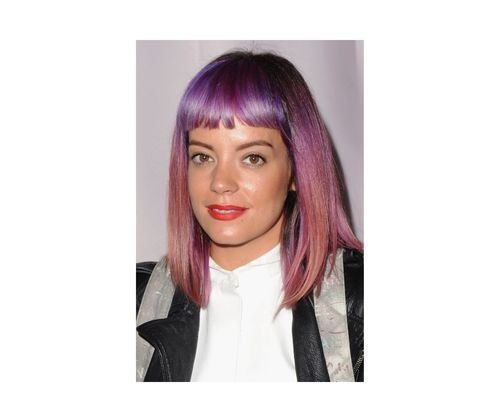 29. Purple Bangs
A cut with a lot of body on top is great if you prefer a more daring, vibrant haircut. Wear your long, jagged bangs straight to hide your forehead and minimise the size of your face.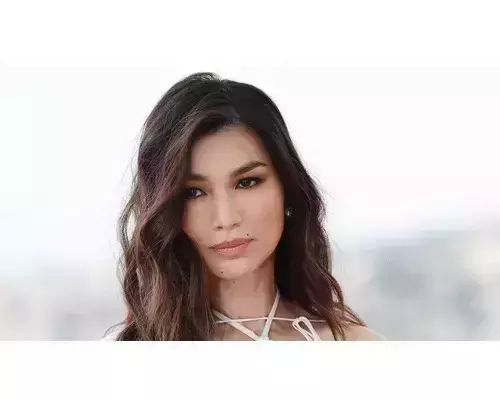 30. Sophisticated Waves
If you want waves while having extremely straight hair, consider spritzing it with a styling spray and wrapping two-inch portions of hair around a curling iron's barrel. Finger-comb after that, and then finish with holding spray. The outfit is polished without being excessively rigid, as seen in Lucy Liu.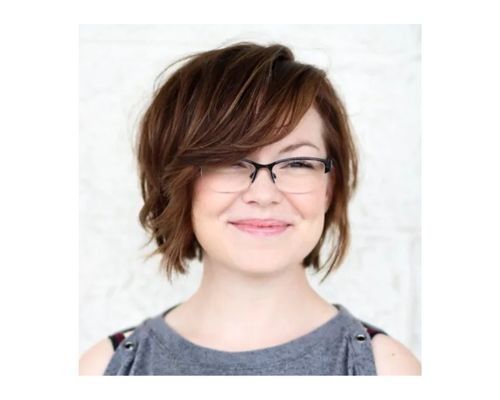 31. Thin Side Bangs
Do you have fine, lacklustre hair? Work with it instead of hating it! To soften a square face shape, ask your hairstylist to cut your bangs somewhat jagged and at an angle.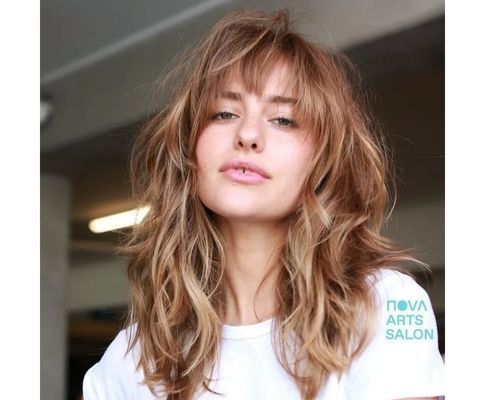 32. Modern Shag
A throwback to the '70s with a modern twist is the Modern Shag. The shortest sections of the bang should rest directly between the eyes and feather out to between the cheekbones and jaw. This style expands the face, rounds the jawline, and emphasises the cheekbones.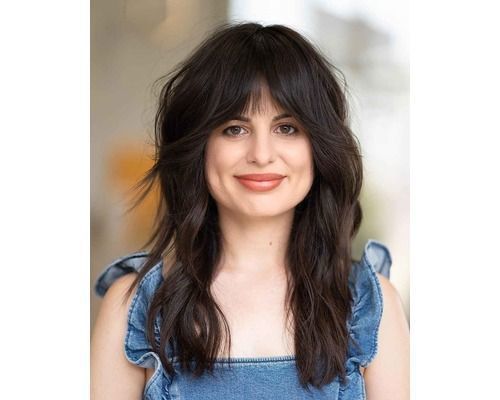 33. Long Wispy Bangs
Women with square faces look best with long, wispy bangs. They are incredibly effective at giving the shape an oval appearance, but only when worn with a short bob. This hairstyle's round form flatters nearly all ladies with square faces. Give it a shot, then!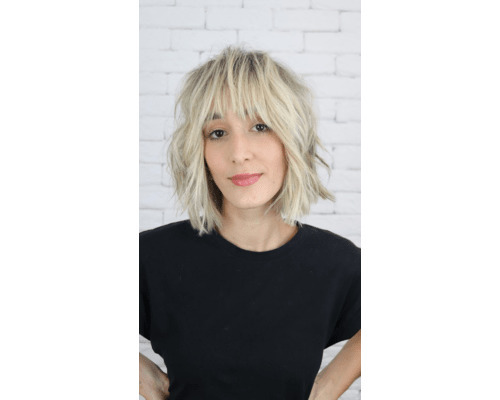 34. Shaggy Bob
Although it appears to be quite stylish, you must be cautious when styling this shaggy bob. The bottom is neat and narrow, while the top is stacked and fluffy. If you don't give this haircut a round shape, you might not like how square the top looks.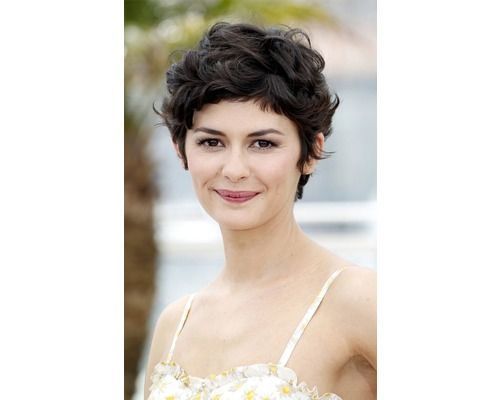 35. Curly Pixie
Are you sick of maintaining your frizzy, unruly hair? Get a fantastic pixie! Your hair will be simpler to maintain the shorter it is. Cut it short in the rear while leaving volume at the top to give it a round appearance, which is crucial for a square face.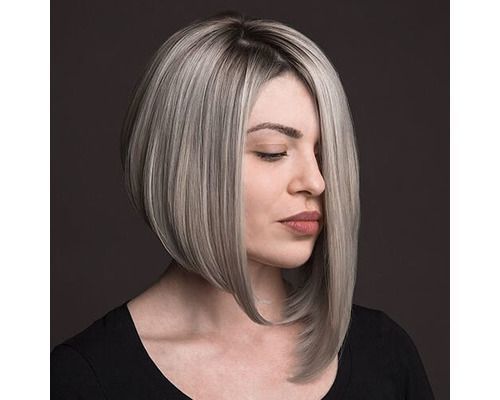 36. Long Asymmetrical Bob
These days, long asymmetrical bobs are thought to be the ideal short haircuts for ladies with square faces. Asymmetrical trimming results in pointed ends that give the face a more oval appearance. Additionally, add some lengthy, asymmetrical bangs.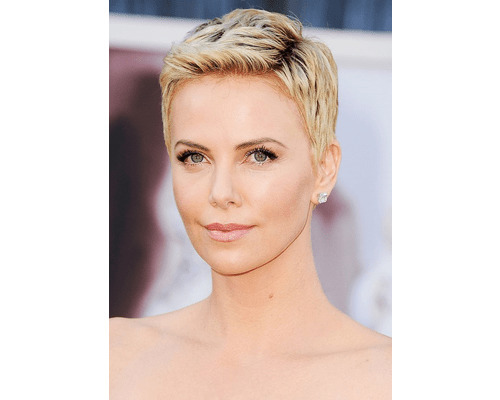 37. High Pixie
Get a pixie haircut to reduce hair maintenance. Make that pixie high to give your square face an oval appearance. Making short layers above the ear and leaving the top long enough for high styling creates this beautiful haircut. Start with around 5 inches.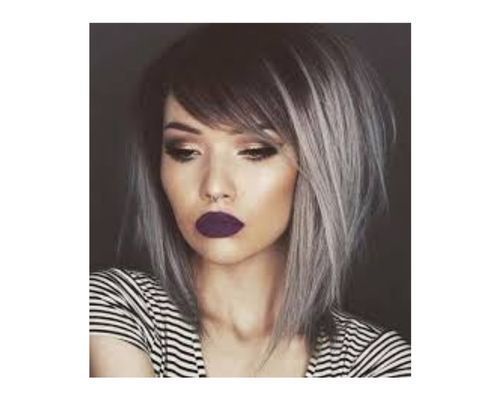 38. Graduated Bod
This straightforward graduated bob would appeal to girls with delicate hair. It may be made extremely quickly and requires little upkeep. It will only require that you keep it brushed. But an untidy appearance works just as well. The square features will be rounded off in either scenario.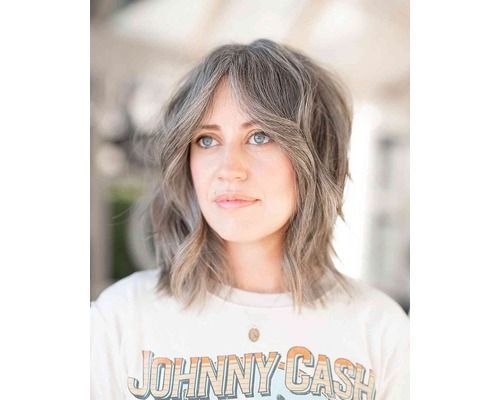 39. Elongated Layered Bob
Women with square face shapes look particularly good in long, layered hairstyles. Although it needs regular upkeep, this haircut is ideal for fine hair. If you're unsure that you can style it every day, go with another option. Otherwise, it might become a catastrophe.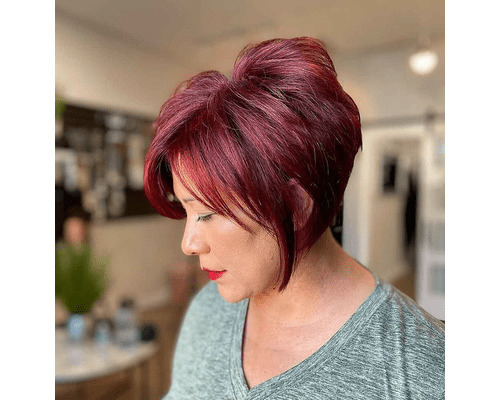 40. Red Elongated Pixie
One of the ideal short haircuts for ladies with square faces is this one. The pixie is thicker towards the top and drier at the bottom. The frontal strands make the face appear more oval, and the red colour gives the haircut a striking appearance.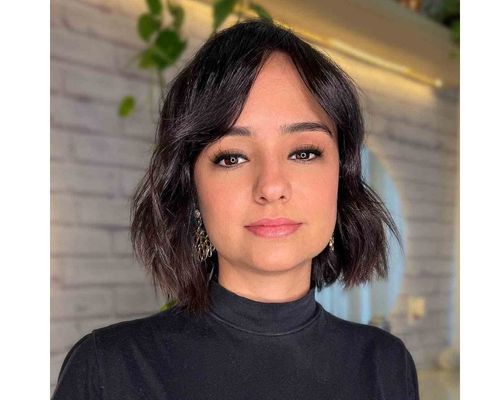 41. Short Bob For Square Face
One of the most popular haircuts is the short bob with side parted hair. Women with fine hair who like minimal styling would love this option. This is a low maintenance hairstyle and can transform your look cmpletely. Give this hairstyle a try!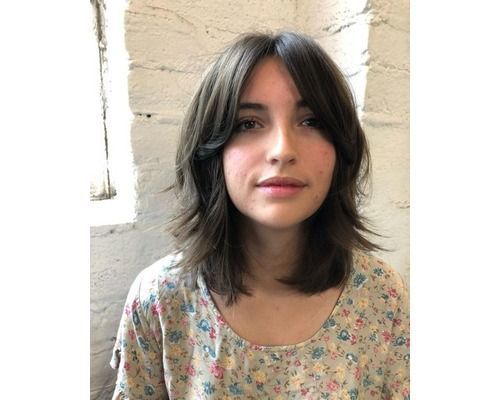 42. Textured Bob With Long Bangs
Want to look flawless without having to work hard? Pick this long, textured bob for your hairstyle. You won't need to worry about your hair every day, and you'll always look wonderful in the mirror. For busy women, this hairstyle works well.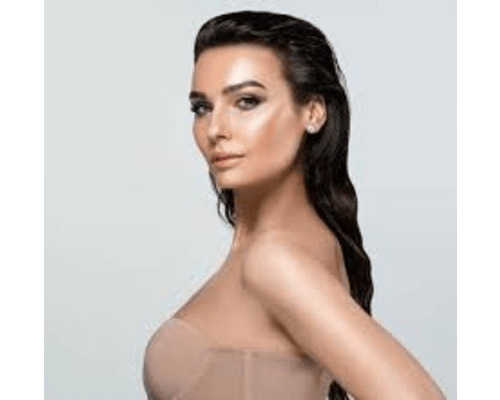 43. Wet Look
Consider the damp look if your hair is a touch unmanageable and you are having problems styling it to make your face appear more oval. Many hair products are used to create this effect. Avoid going overboard to avoid damaging your hair.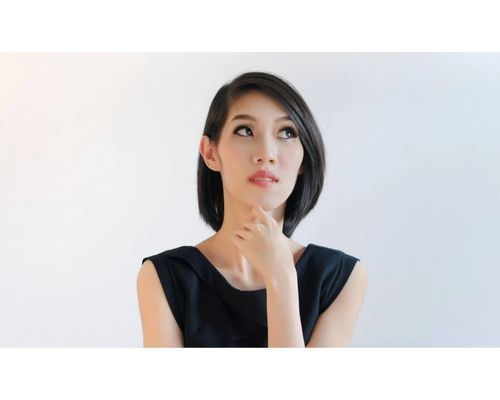 44. Ear Tucked Asymmetrical Bob
Today, this bob is regarded as classic. It meets a variety of needs that ladies may have for their haircuts. Its quality that elongates the face would appeal to girls with square faces as well. The impact will be strengthened by the blond colour.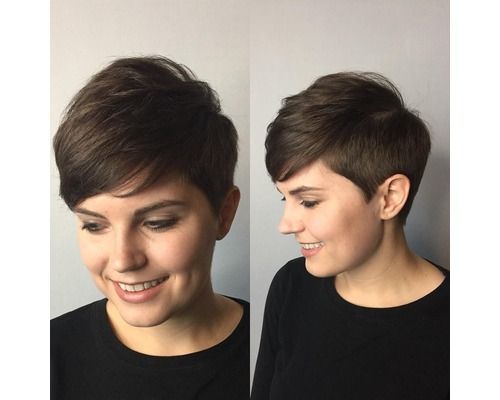 45. Tapered Pixie
You've always wanted to try a pixie but were afraid it wouldn't suit your features? This is evidence that a cropped cut can look well on you. To frame your face effectively, keep the total length shorter in the back and a few inches (think four to five) long in the front and around the sides.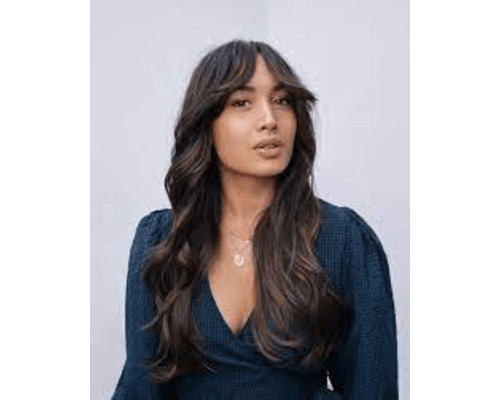 46. A Curtain Bang
When worn with long layers that extend below the collarbones, the ever-popular curtain bang looks especially attractive on faces with a square shape. Also on the longer side, the bangs themselves should separate to the side and integrate subtly into the rest of your hair.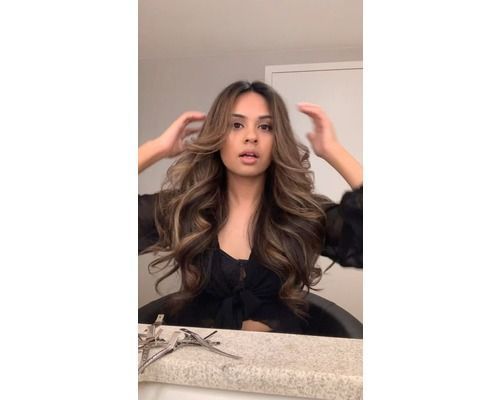 47. Bouncy Waves
More bouncy, thicker hair gives angular jawlines a touch of softness. To style, add a few bends to the lengths of your hair using a texturizing spray and a 1.5-inch curling iron. A final spray of water will help to set everything in place after you brush across them to separate the waves.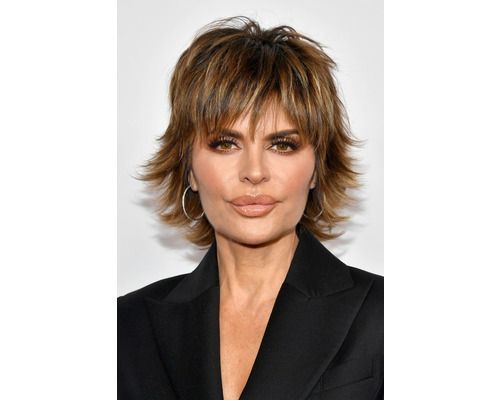 48. Flipped Out Ends
Take a cue from this Lisa Rinna haircut for square face and attempt a sleeker style with flipped-out ends if the entire bouncy blowout look isn't your thing. By keeping the ends close to your collarbones and slightly separated to one side, you may adjust this appearance to fit your face.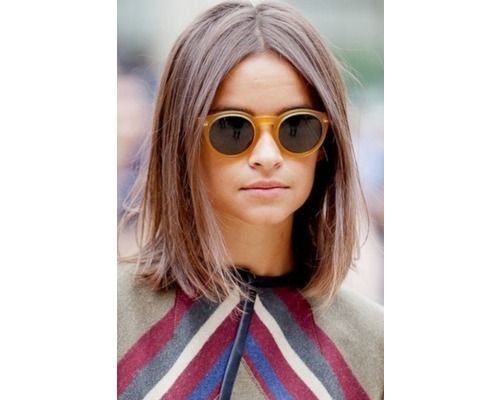 49. Stick Straight Bob For Square Face
To softly hug the sides of your face, you can also choose to have the ends cut in an A-line shape (shorter in the rear and increasingly longer towards the front).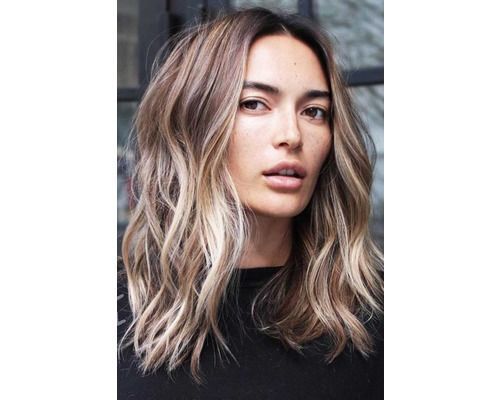 50. Beachy Waves
GP has worn variations of this look for a long time, and for good reason—it works. Her lower face's angles are softened by the lengthier, delicately layered locks, while the centre part keeps her high, angular cheekbones in full view.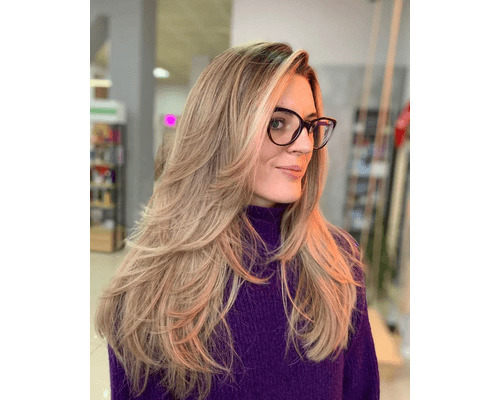 51. Rounded Layers
Longer, rounder layers perform incredibly well with thicker hair. You probably already know that longer, rounder layers complement square face shapes.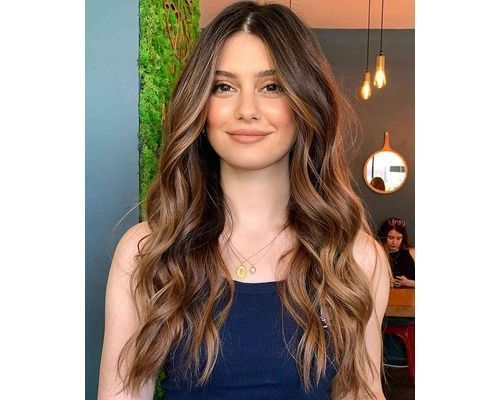 52. Graduated Layers
Graduated layers soften the jawline and add height and depth to the crown, making them ideal for square facial shapes. Additionally, they are adaptable because you can wear your hair swept to one side or parted in the middle.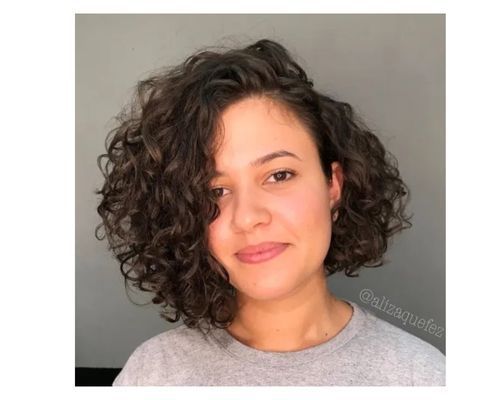 53. Asymmetrical Curls
Working with a square face requires volume, and Yara's buoyantly coiffed curls are the ideal solution. We adore the somewhat asymmetrical cut, which takes any bulk or weight off the ends.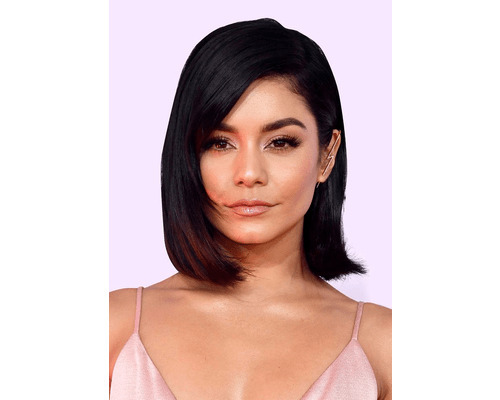 54. Side Parted Hairstyle
Unable to decide between the centre or the side part? Try once to increase the volume on top and lift your gaze. Her angular features are further mellowed by the combination of highlights and barely visible waves.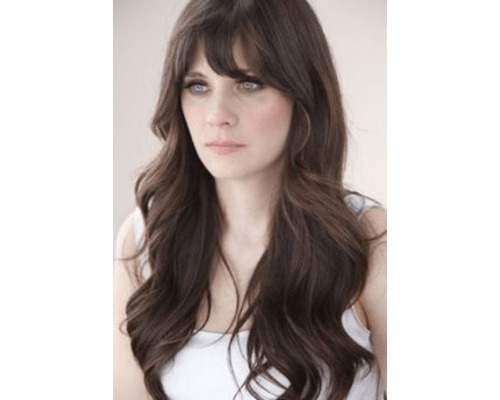 55. French Fringe
The French are certainly adept at the periphery. Exactly ask Jeanne Damas, whose feathered bangs have just the right amount of forehead showing through their flawlessly uneven length. And their slightly curved shape gives your angles a rounder appearance.