55 Simple And Easy Updo Hairstyles For All Hair Lengths
Shivangi Chatterjee
Updated At 01 Mar 23
There are thousands of hairstyles that exist today, fit for different occasions, hair lengths, hair patterns, etc. There are only a few out of them that suit every hair length and type. Updo hairstyles are one of them! They automatically make you look elegant! Be it a trendy updo or even a simple ponytail, they are known for their comfort and style.
Hair updos are not just favorites for girls with long hair, but also for girls with short hair. Their comfort makes you look effortlessly chic, stylish, and ready for any event. The right hairstyle has the power to make you feel confident and incredible, and we thereby we are here to help you pick your favorite!
Here is a list of 55 simple and easy updo hairstyles for all hair lengths!
55 Simple And Easy Updo Hairstyles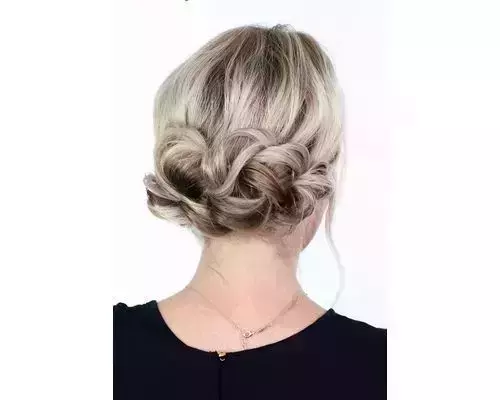 1. Twisted Simple Updo
The twisted updo is one of the simple updo hairstyles which is quite elegant and holds grace. Make twists and place them at the back in the shape of a bun. These easy updos are ideal for dates as well. You may even opt for a neat look and rock it at a formal office party too.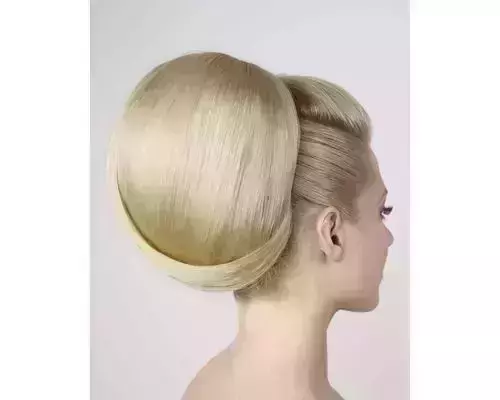 2. Bouffant Updo Hairstyles
The bouffant is again one of the easy updos, which can be modified by making it a back bun. There give a retro look, making you feel like you are straight out of the movies! Make sure to straighten your hair to achieve perfection.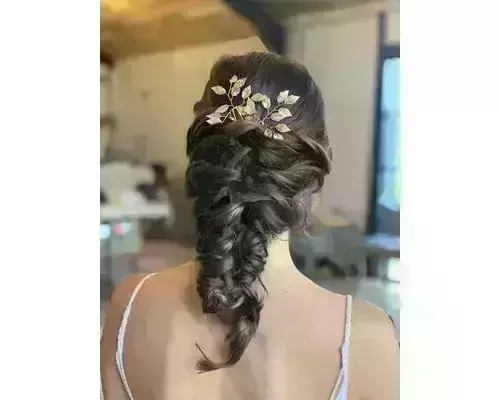 3. Fishtail Braid Hairstyles For Long Hair
The fishtail braid is a hit among celebrities these days! They are gorgeous updos for long hair. Opt for a slightly messy braid and let it fall on one side of your shoulder. These are one of the most romantic updos, loved by women and teenagers alike.
If you are looking for bridesmaid updo hairstyles, do check out our guide as we list the 25 most popular options for updos which have been trending this year.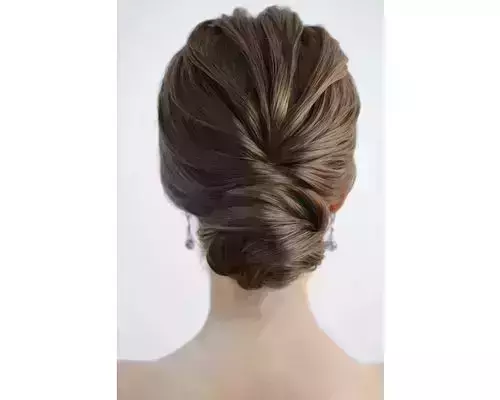 4. Chignon Updo For Long Hair
Chignon updos are the best updos for long hair due to the elegance and sophistication they hold. But it may require certain expertise. Do visit a good hairstylist and make sure the bun is held properly in place. Opt for a lower bun and you are ready to rock any event! One can also go for updos which are simple hairstyles for long hair as these would look stylish too!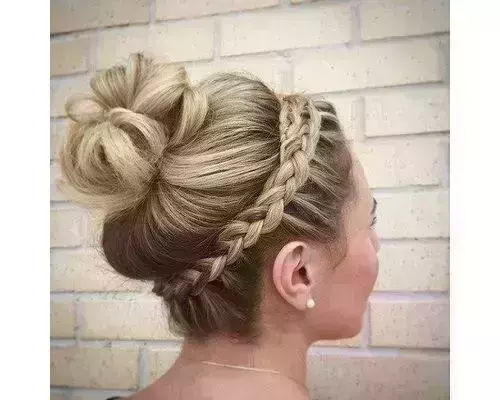 5. Headband Braid Updo
This is one of the braided updos, best suited for kids and teens for it gives a pretty outlook. These updo hairstyles are ideal for the summer. They suit the best round and oval-shaped faces. It adds youthfulness and a certain charm to your face. Tie the headband lose enough to not give you a headache.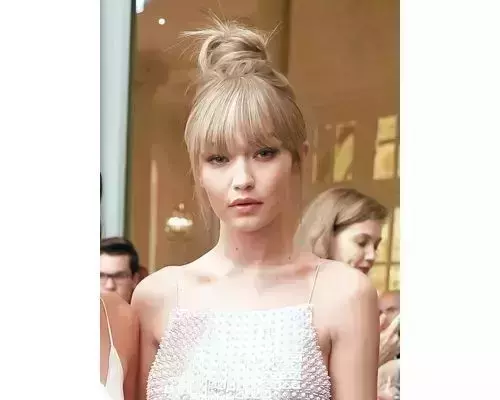 6. Blunt Bangs Updo
Blunt bangs updos look super adorable and are best suited for women in their early twenties or teens. These simple updos are best suited for long to medium hair for a casual summer outing. If you planning to go for a laidback and relaxed look, this might do wonders! Wispy bangs can be another excellent option if you are looking for hairstyle which can transform your look.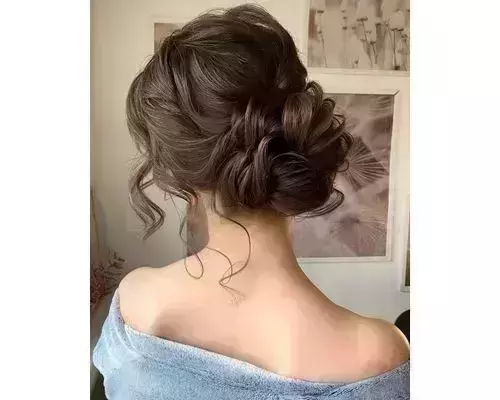 7. Relaxed Waves Updo Hairstyle
If you are looking for inspiration for wedding updos, these shoulder-length relaxed wave updos are a perfect choice. They are both messy and elegant, giving you a fit wedding look! These might even look good on bridesmaids. If you are looking for updo hairstyles inspiration from celebs, then do check out Kristin Cavallari hairstyles wherein she is highlighting her half up and half down hairstyle, curled hair updo and many more similar haircuts.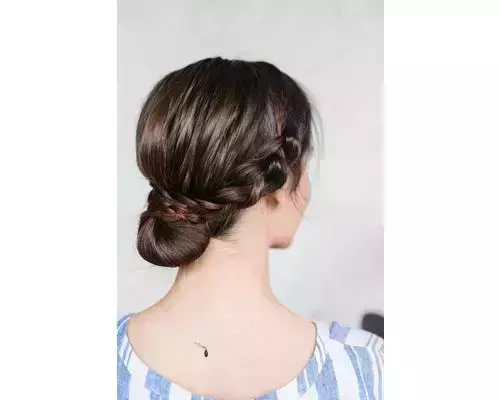 8. Low Updo With Braids
The low braided updos are one of the most romantic hairstyles. They transform your entire look for a date night. These updo hairstyles may even become your everyday hairstyle.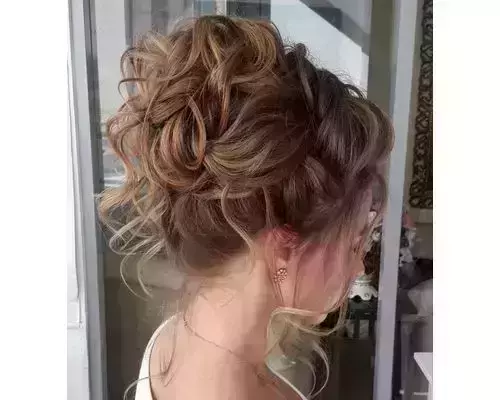 9. Curly Updos For Formal Events
If you are blessed with curly hair, these curly hair updos would make you look extremely enticing for a formal event. These updo hairstyles have delicate waves, sophisticated enough for an office party! If you're ready to invest time, you may make them your everyday hairdo as well.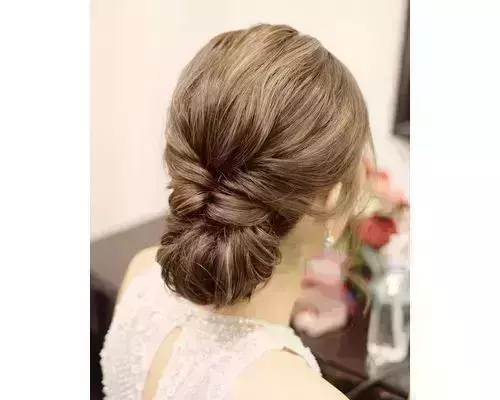 10. Inverted Low Bun
The inverted low bun updo is a favorite hairdo bridesmaid, for its chic look yet fewer demands on effort. These updo hairstyles give a professional outlook. Secure them with pins and you're good!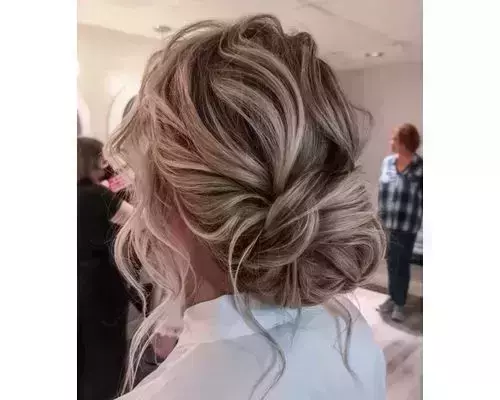 11. Deconstructed Curly Updo
If you want to feel like a Disney star, these deconstructed curly hair updos may serve you right! It has eye-catching volume and romantic loosened waves, giving that star look! To add certain drama, you may go for streaks or highlight your hair and then make this your everyday updo.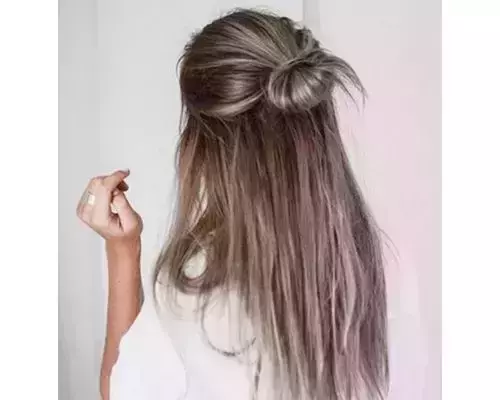 12. Long Hair Half-up Updo
This half up half down hairdo is ideal for those who have long curly hair. They give the much-wanted volume to the hair, and the definition to your face, no matter the occasion. It may however be ideal if you already have thick hair, for thin hair would not allow the ideal volume for the half-up bun.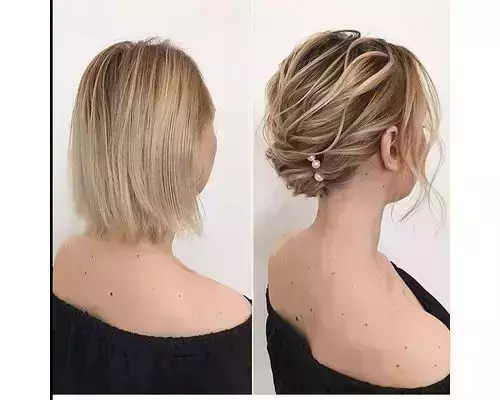 13. Blonde Short Hair Updos
It is a myth that one needs long hair for updos. These updos for short hair can be achieved by twisting your hair into chaotic waves and making the long-haired woman jealous!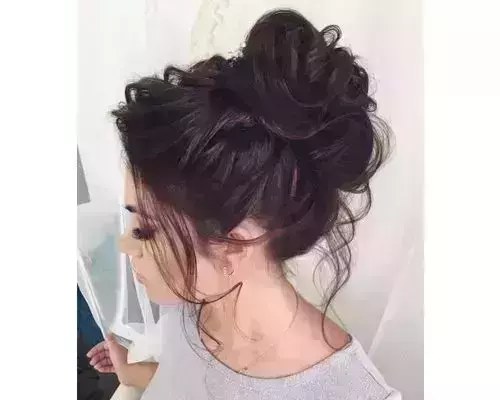 14. Messy Updo For Thick Hair
Thick hair can be difficult to tame, especially into an updo. However, these messy updo hairstyles can save your day and keep the weight off your shoulder during the scorching heat of summer. It gives you quite a casual look, making you look playful and fun!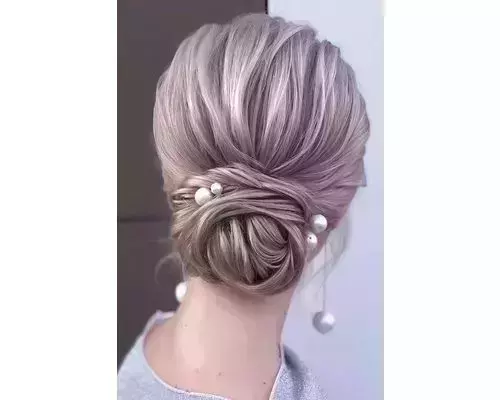 15. A Quick Chignon For Long Hair
An easy up do for long hair would be this quick chignon if you are in a time crunch. Long hair would enable you to twist the hair and hold it in place without any pins or clips.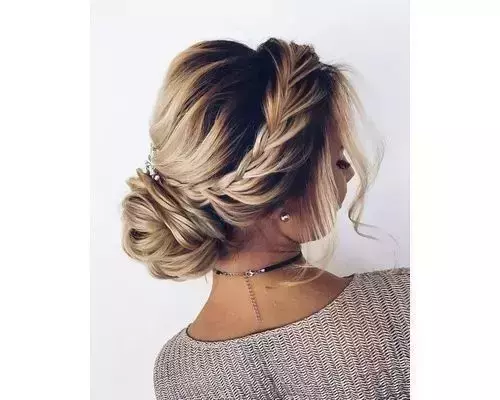 16. Dutch Braid Updo Hairstyle
The Dutch braid would add to your updo a touch of bohemian style which is quite flirty! These updo hairstyles are high on effort but the outcome is worth it! It is different than the usual updos you see, giving you the edge. People may even wonder how to get this, getting you more attention.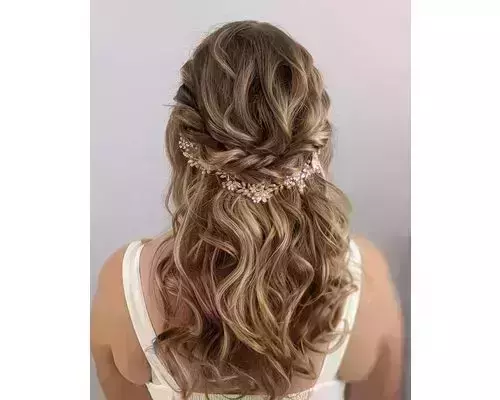 17. Crashing Waves Updo
This half up half down updo is ideal if you have naturally wavy or curly hair. It embraces the natural curls and helps with the volume. It is easy to create as well as carry.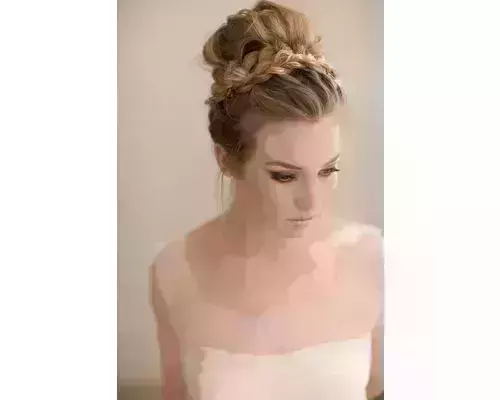 18. Ballerina Bun For Wedding
Weddings can put a lot of pressure to look dreamy. This ballerina bun can help ease your confusion. These updo hairstyles are ideal wedding updos if you want to look classy! The ballerina bun is one of the neatest updos and might be ideal for any formal setting.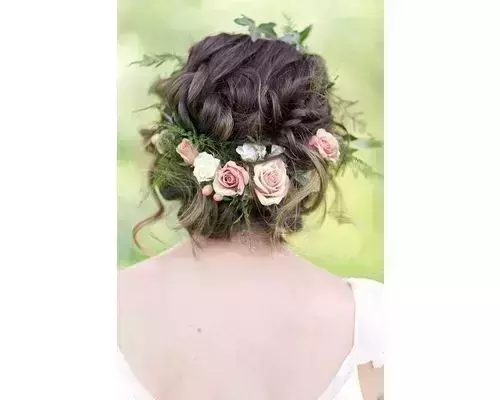 19. Flower-embedded Updos
These updo hairstyles with flowers look extremely pretty! They are to show your feminine side and are ideal for both short and long hair. The flower updos are most often opted for by brides now for a hint of softness to add to their outlook. rock your femininity in style with these updos!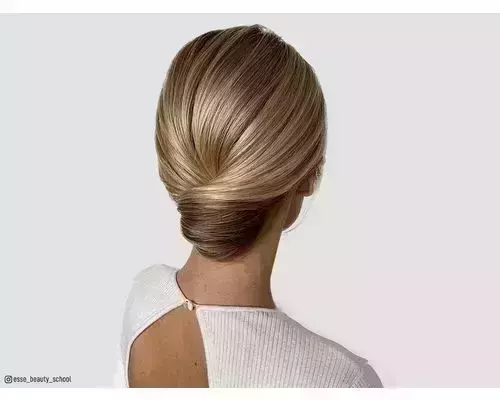 20. Long Straight Hair Updo
A good old classic bun is always in, especially if your hair is tameable. This is an easy up do for long hair and serves its purpose of giving a hint of elegance to your entire look.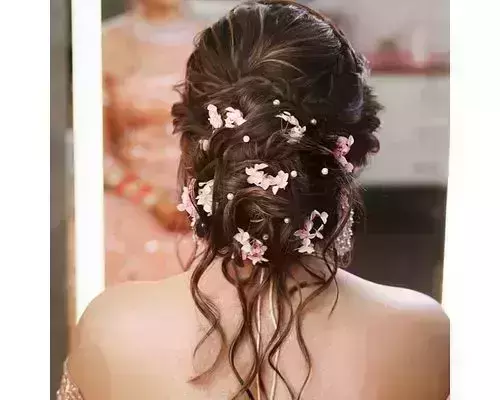 21. Messy Bridal Updo Buns
Out of all updo hairstyles, the messy hair buns are the best. They serve as the perfect wedding updo hairstyles, giving room for styling and embellishment. You would rock your big day with it!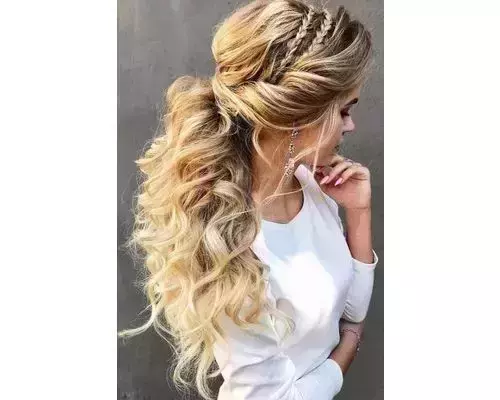 22. Long Ponytail Updo For Curly Hair
If you have the length and the curls, it is time to flaunt! These updos for long hair is to show how luscious your hair is, while even giving a formal look for any formal event. Tame it according to your liking but make sure to tie the hair properly so that you won't have to keep fidgeting with it.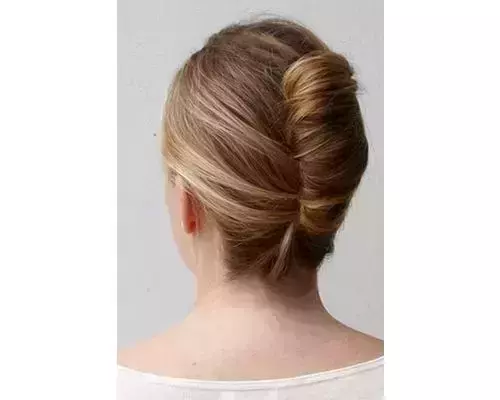 23. French Twist For Long Hair
This is one of the classic updo hairstyles that are always relevant. These updos for long hair are meant for formal setups or evening meetings where one needs to look sophisticated.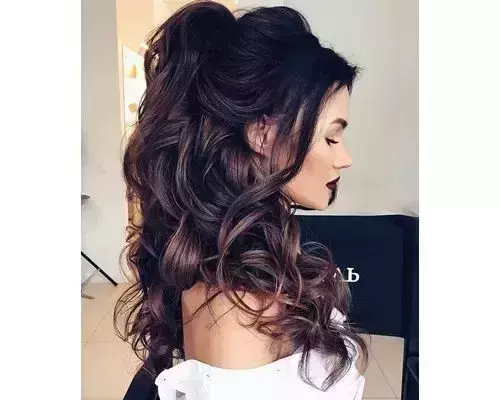 24. Updo To Show Off Your Curls
These updo hairstyles for long, healthy hair are ideal for a semi-formal event. The half up half down hairdo can be paired with loose waves, and secured with a textured spray. That's all you'll need.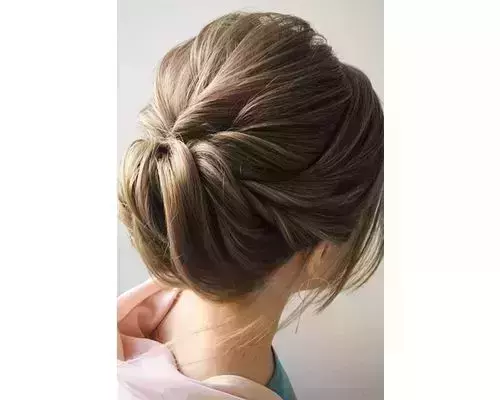 25. Voluminous Updos Short Hair
If you are looking for hairstyles that would add volume to your short hair, do not look any further. These updos for short hair can add volume and immense style. Just find a good stylist to keep your hair in place! They look adorable and elegant at the same time.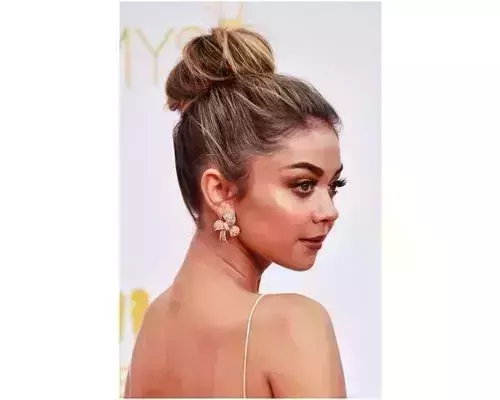 26. Top Knot Hairdo
The most common of all updos is the top knot which is a favorite everyday hairstyle. These easy updos look casual and chic and suit all face shapes. They are extremely easy and are suitable for any occasion.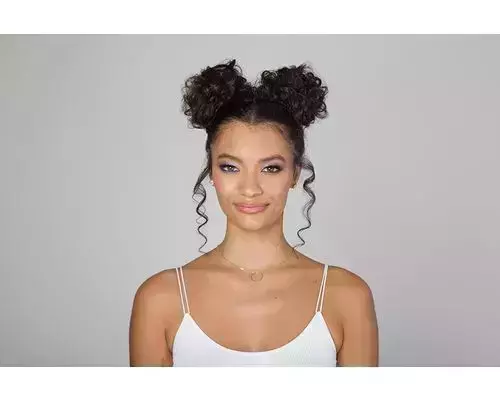 27. Space Buns
Another famous and easy-to-pull updo hairstyles are the space bun. These are easy updos that are a combo of innocence, drama, and style. Opt-in for a casual day outing!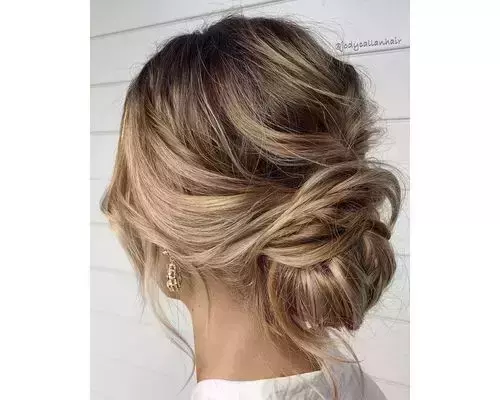 28. Undone Updo For The Win
These simple updos are a savior for anyone not wanting to invest time in a hairstyle. These are easy, and hotter when kept messy. Even celebs go for it, time and again.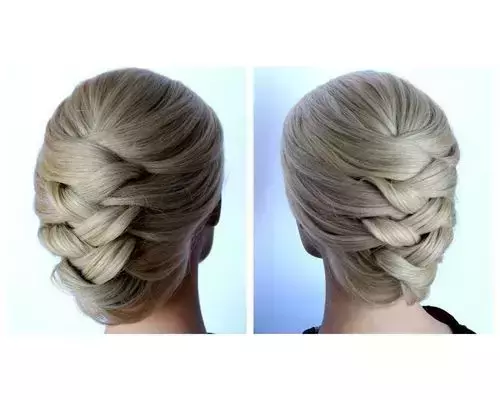 29. Zig Zag Updo
These updo hairstyles are dramatic and can add glamour to any boring outfit. The zig-zags are easy to create by parting your hair. If you think your outfit is simple, try adding the missing glitz by opting for a zig-zag updo.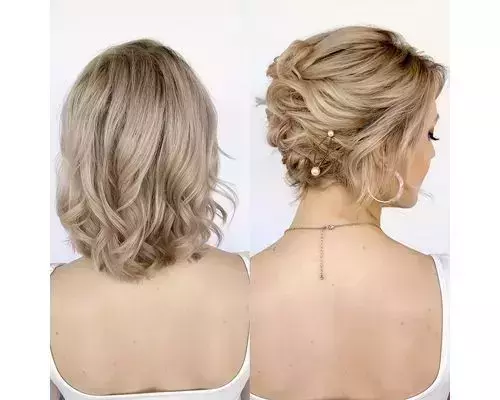 30. Wedding Bun For Short Hair
Your short hair wouldn't be a problem with these simple wedding updo hairstyles. Add some white flowers, petals, or jewelry to these updo hairstyles and you would look dreamy!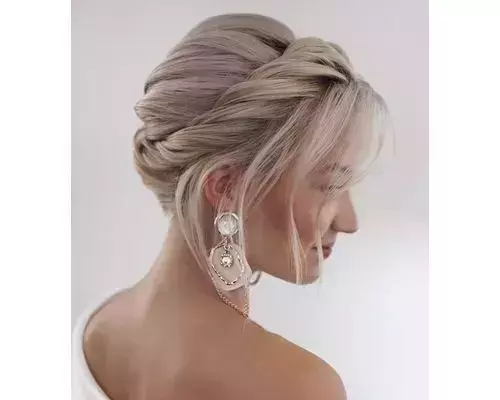 31. Twisted Grecian Short Updo
Grecian updos are amazingly gorgeous! They are eye-catching updos for short hair, fit for a big event to give you that elegant look you wish for. They look best when paired with bangs.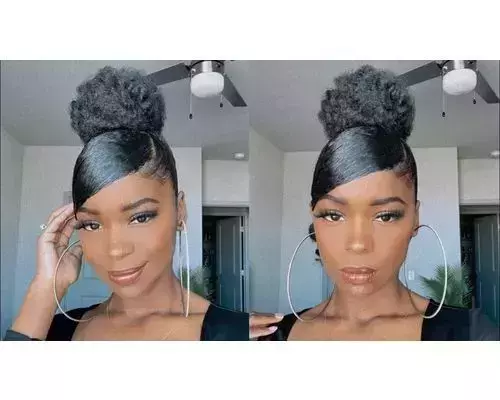 32. High Bun With Side Fringe
This is one of the easy up do for long hair which is suited to all face shapes. Whether your hair is thick or thin, let out some loose locks and it is the chicest updo hairstyle.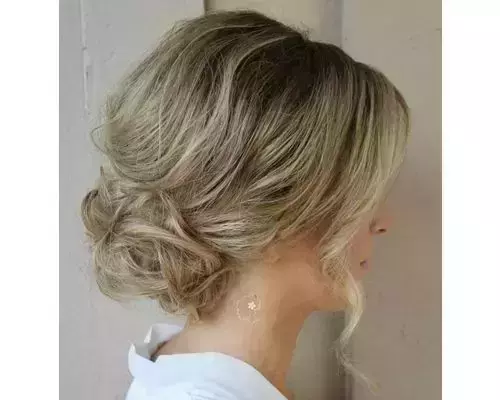 33. Low Bun For Short Hair
Short hair buns are quite easy to carry. Get hold of some pins and make sure they hold the bun in place. The low bun updo hairstyles add elegance to your face and hair. It is romantic, chic, and quite fun to style. It goes with dresses very well, getting attention to your feminine side.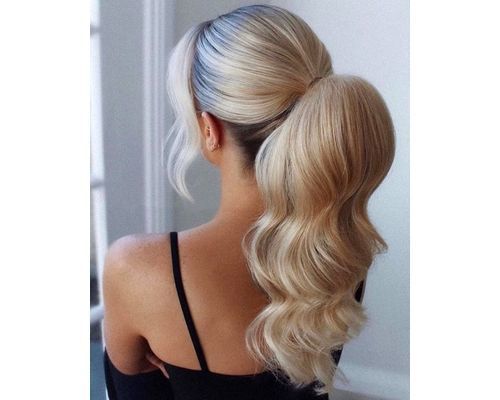 34. Ponytail Updo For Bridesmaids
The bridesmaids play an important role in a wedding and the hairdo bridesmaids opt for should be classy but not too overpowering. These updo hairstyles with their simplicity may serve them just right!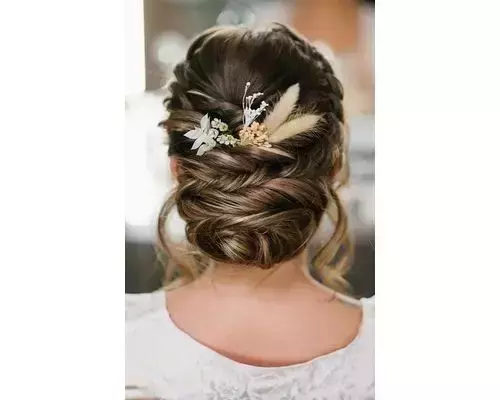 35. Braided Updos For The Bride
The crown braided hairstyles are perfect wedding updo hairstyles. They keep the hair busy and draw the much deserving attention to it. You may add some white flowers to it too.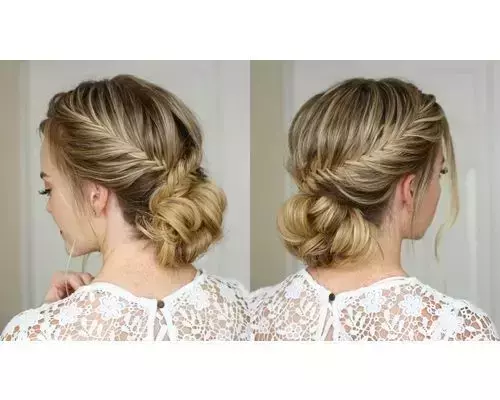 36. Fishtail Buns For Wedding
Fishtail buns are busy, creative, and artistic updo hairstyles that can be a bride's best friend. These wedding updos are classy and quite fun to pull off, especially when it's your big day!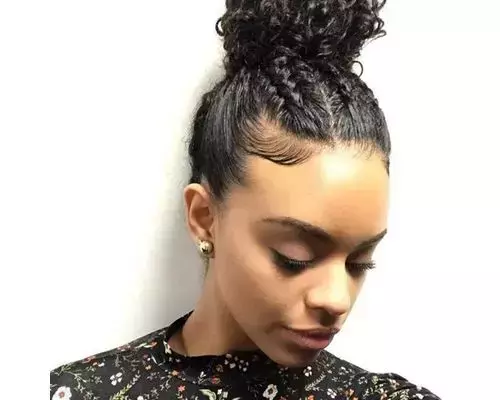 37. Curly Hair Braided Bun
If your curls demand good updo hairstyles, these braided updos can be your thing! These may require some effort on your end but they vouch for elegance and an event-ready look!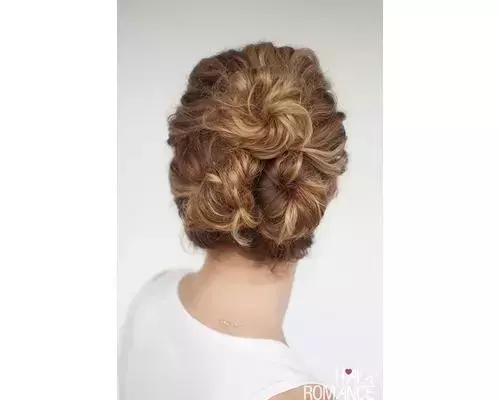 38. Three Twisted Buns
Curls can give you the illusion of voluminous hair. Take advantage of it by trying these curly hair updos. They are quite fun and can go with any outfit. It is also ideal for kids and teenagers. But if you are an adult, you may opt for it just for a relaxed, fun outlook!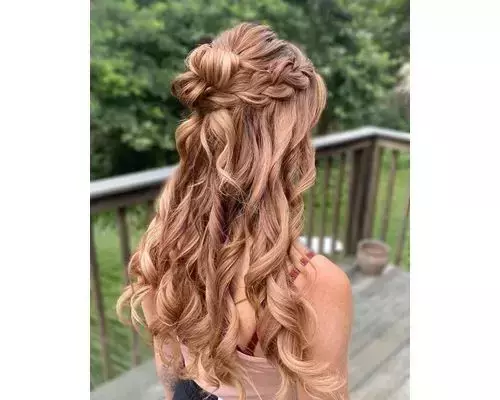 39. Fancy Half Up Half Down Hairdo
The half-down hairdo is fancy, and fit for any bride who isn't afraid to be extra on her wedding day! These are simple updos, suitable for any type of wedding, be it grand or a small family affair.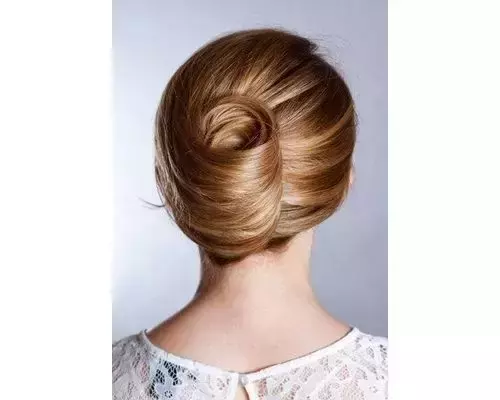 40. Banana Twist Updo Hair
Banana twists, just like the French twists, are the classic updo hairstyles. They are extremely elegant and can be opted for a formal event as well. Make sure to secure them with pins.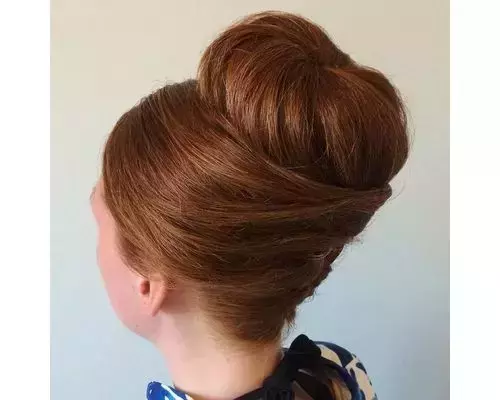 41. Sock Bun For Long Hair
The sock buns are the refined version of top knots, giving a fuller look to your updo hairstyles. These are easy up do for long hair, a shorter hair might pose difficulty while making the bun.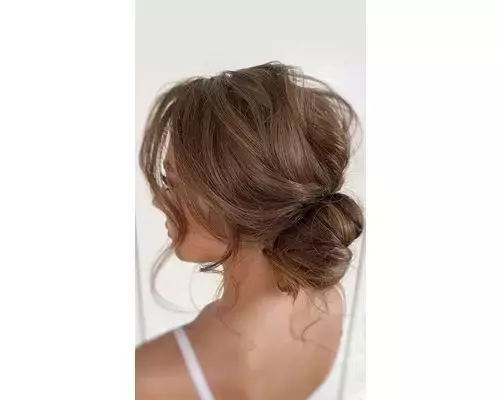 42. Soft Messy Twists
The hairdo bridesmaid goes for is simpler but elegant, much like these soft messy updos. The loosened locks at the sides give a flirty look while not being too dramatic.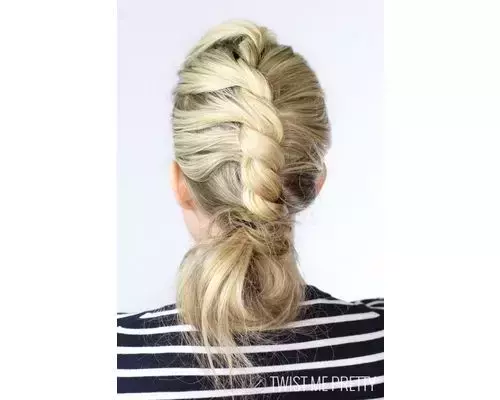 43. Centre Twist Updos
Have you ever seen a hairstyle being dramatic? Well, Centre twists with updos are just that, looking super chic and stylish. They are perfect hairstyles for when you have a busy day planned and do not want your hair to bother you.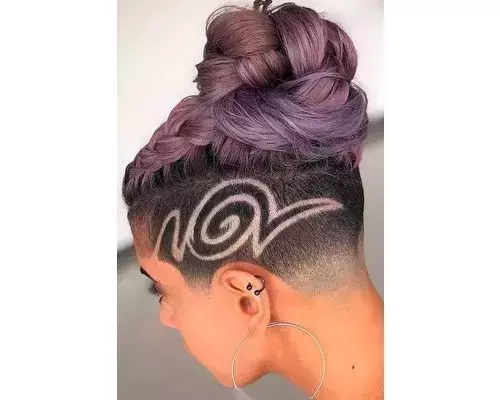 44. Braided Updo With An Undercut
If you are not into feminine hairdos or updos and want your flamboyant side to be prominent, undercuts are your thing. Undercuts in recent times have gotten all the attention for being bold and cool. Opt for an undercut updo hairstyle only if you have voluminous hair to make the hairstyle lovable.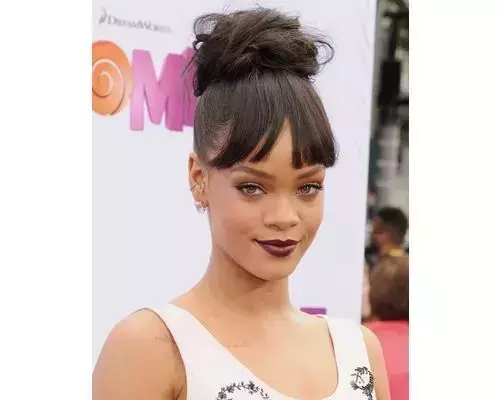 45. Bangs And Updo Hair
The updo hairstyles would require bangs for women who have broad foreheads. They are super adorable, stylish, and a favorite of celebrities these days! Bangs are best paired with updos for they keep the hair looking busy! If you already have bangs, straighten them to give definition.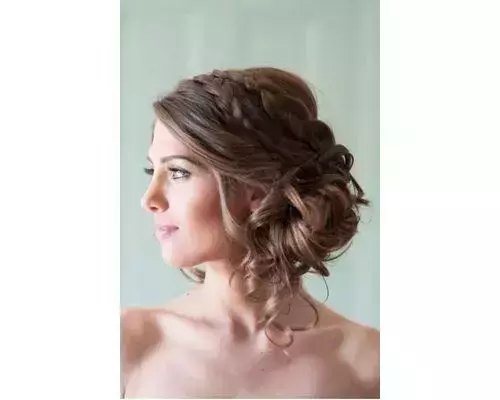 46. Messy Side Updo
Side updos have been quite famous since their arrival and for the right reasons! These appear quite chic and keep your head looking busy. These are chosen by modern brides quite often.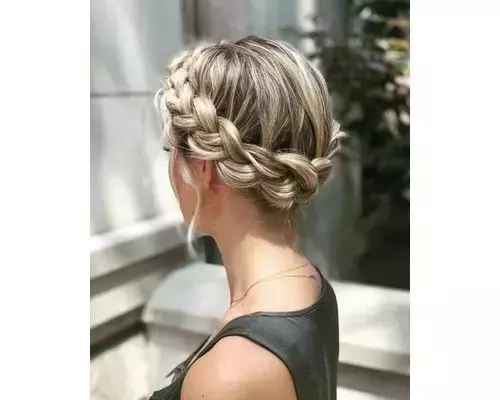 47. Braided Halo For An Updo
A braided halo is one of the best updos if you are not a minimalist. It is quite dramatic, as well as enticing for it requires real skills. Go for an expert stylist to keep them in place!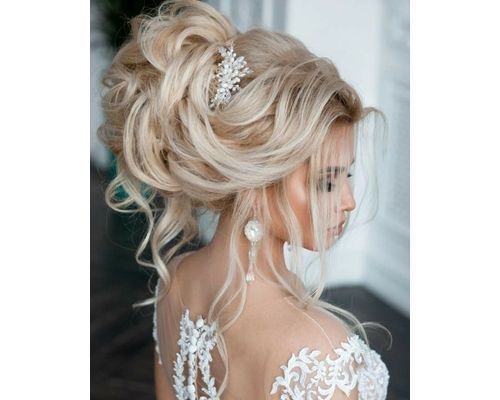 48. Massive Updos For Wedding
If you are all about extravagance and glamour, these massive updos can help you become the queen bee! They are attention-graspers, and why not so! It's your day last of all!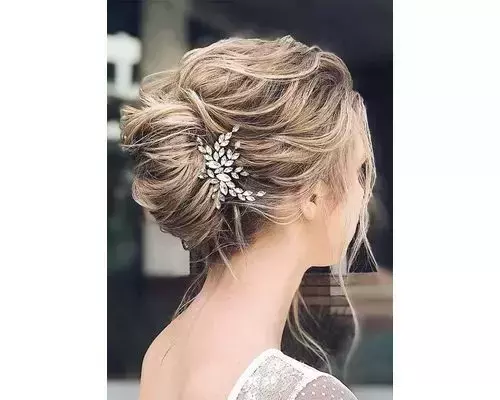 49. Wavy French Twist Updos
If you are looking for a suitable hairdo bridesmaid, this twisted French updo is ideal. It is quite simple, and the messy waves would make you look flirty, chic, and elegant.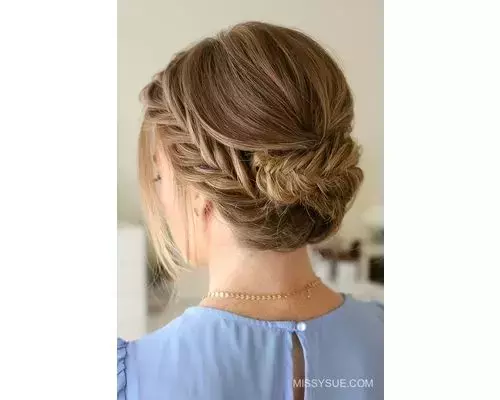 50. Tucked Fishtail Updo
Tucked fishtail updos are works of art for they need perfection to achieve desired results. However, once achieved, these updos could make anyone their fan because of their look.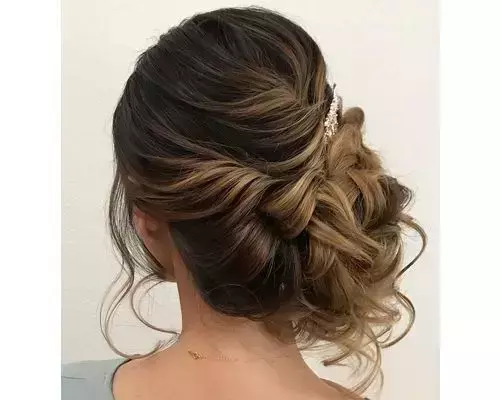 51. Side Updos For Thick Hair
If you are blessed to have thick hair, these side updos can make your hair look out of the world. Flaunt your volume by putting your hair into a messy updo on the side, and let lose some locks.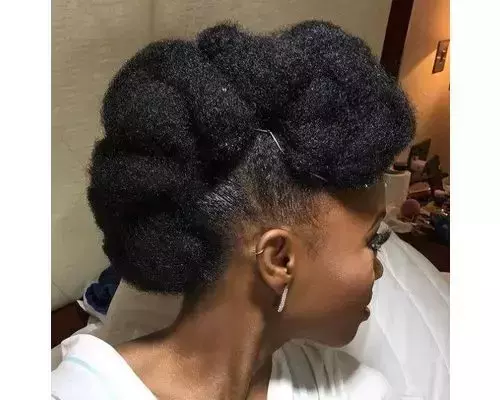 52. Mohawk Hairdo For Textured Hair
Having voluminous hair can be difficult to manage but easy to style! The Mohawk are traditional updo hairstyles, which needs quite the efforts of an expert to get it right.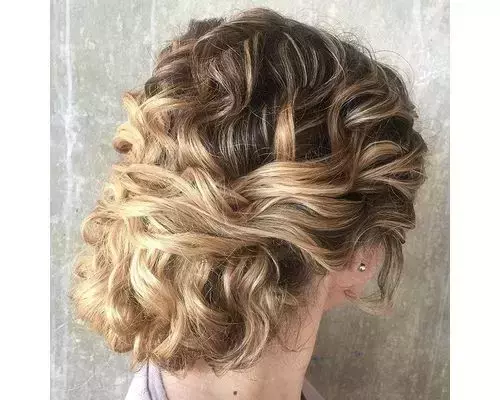 53. Low Flower Updo For Curly Hair
Curls already give you a flower-like effect when you try updos. This curly updo is to be kept low to emphasize your facial structures by putting the curls in an updo.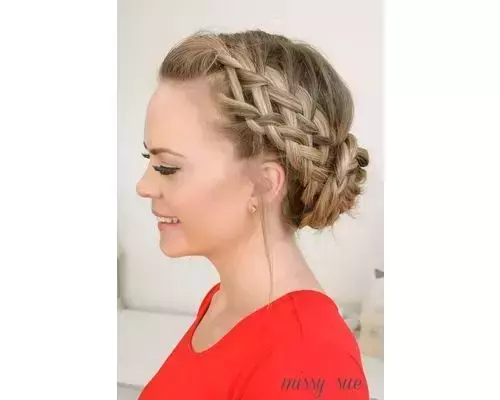 54. French Braids Updos
If you have medium to long hair, French braids can be your choice. They look extremely chic and stylish, not to mention the sophistication that comes with them. French braids are a good choice for any event that requires an elegant look from you!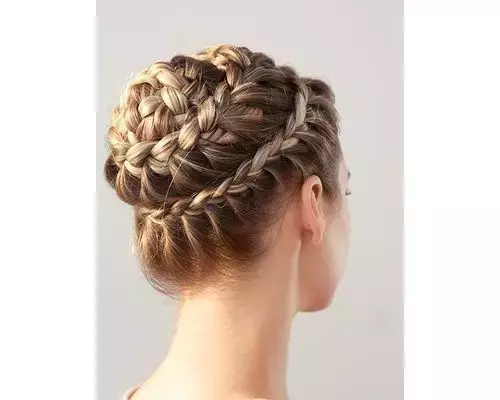 55. Waterfall Braid Updos For Straight Hair
Waterfall braids are the best on wavy hair. These updo hairstyles are mesmerizing to one's eye and the credit would belong to a master of hair artistry. Try these for wedding functions!