25 Short Curtain Bangs Hairstyles In Vogue For 2023
Alka Sharma
Updated At 10 Nov 23
Hairstyles are the ultimate form of self-expression, and nothing speaks modern elegance quite like the timeless charm of curtain bangs for short hair. This classic trend has made a resounding comeback, gracing the pages of fashion magazines and the red carpets alike. In this article, we'll explore 25 short curtain bangs hairstyles that are currently in vogue, offering a perfect blend of sophistication and contemporary flair.
25 Stunning Short Curtain Bangs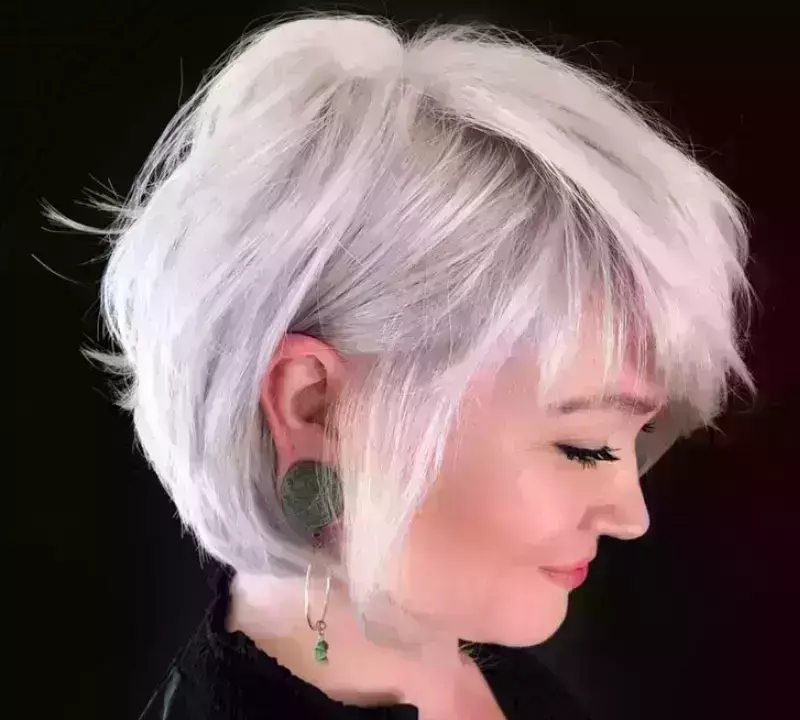 1. The Wispy Wonderland
The Wispy Wonderland hairstyle revolves around the charm of delicately feathered short curtain bangs. Unlike their blunt counterparts, wispy bangs are characterized by their light and airy texture, creating a soft frame that gracefully drapes over the forehead. This subtle movement adds an instant touch of femininity and refinement to the overall look. The wispy nature of the bangs ensures that they complement a variety of face shapes, making it a universally flattering choice. To style the Wispy Wonderland, a light touch is key. 
Looking for inspiration for long hairstyles? Do check out our guide on long curtain bangs as we list few of the trending and most stylish haircuts for this year.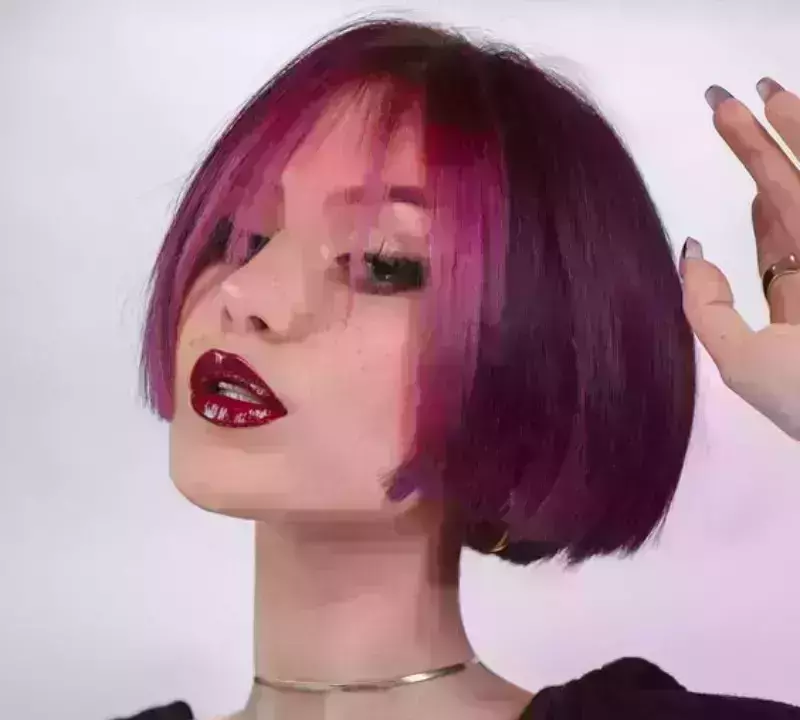 2. Edgy Chic
In the ever-evolving world of hairstyles, the Edgy Chic look stands as a bold proclamation of individuality and modern flair. This cutting-edge style marries the classic charm of short curtain bangs with an avant-garde edge, creating a look that resonates with those who dare to be different. While curtain bangs traditionally evoke a soft and romantic vibe, the Edgy Chic twist introduces sharp angles, asymmetry, and an unmistakable edge. The result is a short hairstyle that commands attention and exudes confidence.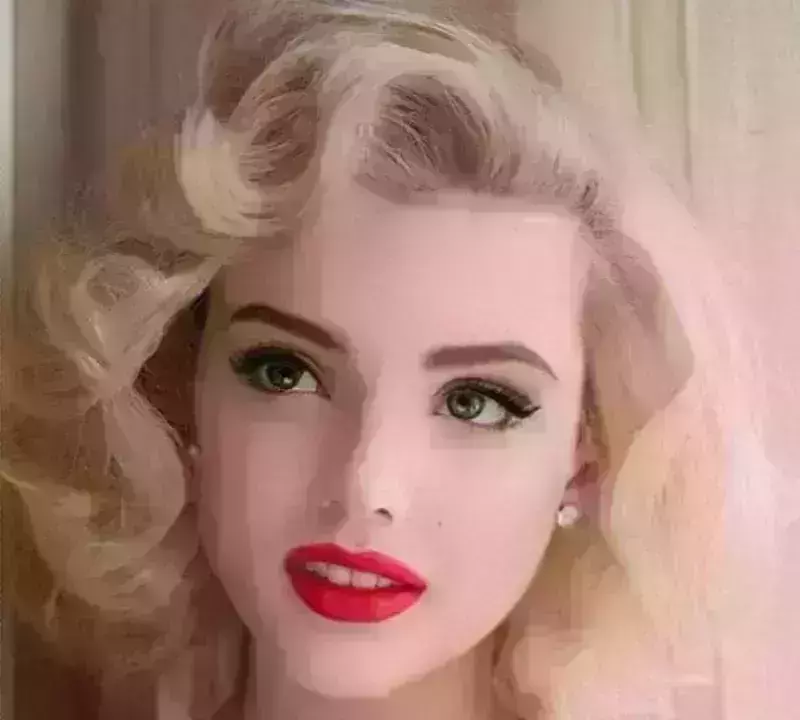 3. Retro Glam
This classic look, characterized by its refined waves, meticulously styled short locks, and carefully crafted curtain bangs with short hair, pays homage to the glamour of yesteryears. Retro Glam hairstyle is the artful incorporation of waves, reminiscent of the glamorous curls that adorned the heads of iconic starlets from the golden age of Hollywood. Whether styled in loose waves for a more casual feel or in structured curls for a red carpet-worthy appearance, the waves are the foundation upon which the Retro Glam look is built.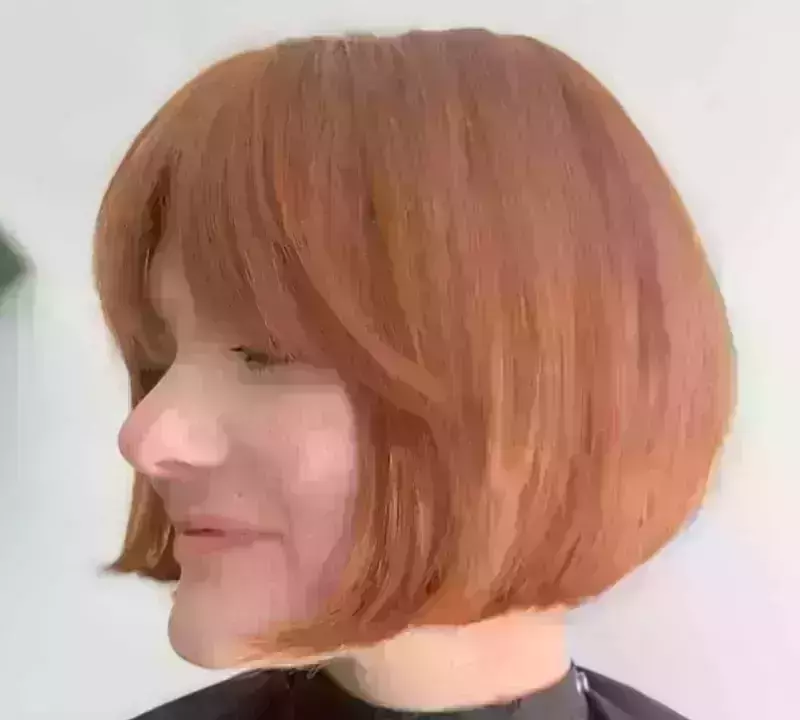 4. Blunt Elegance
Enter the world of "Blunt Elegance with Curtain Bangs" — a style that embraces clean lines, bold structure, and the soft framing allure of curtain bangs. Blunt cuts are characterized by their precise, straight-across finish, creating a clean and polished look. In the context of the Blunt Elegance with Curtain Bangs, this cut is applied to the overall length of the hair. Whether it's a sleek bob or a more extended shoulder-length style, the blunt cut sets the stage for the striking elegance that defines this trend.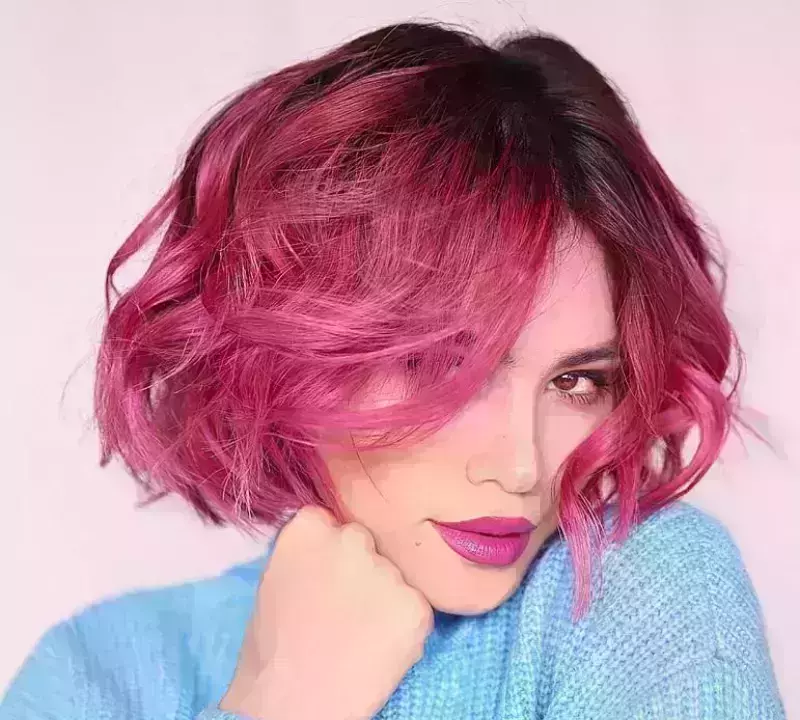 5. Peek-a-Boo Bangs
Peek-a-Boo Bangs, also known as hidden or curtain bangs, are characterized by their subtle, parted curtain-like appearance. These bangs frame the face in a way that allows a playful glimpse, creating an element of mystery and allure. When applied to short hair, Peek-a-Boo Bangs add a touch of flirtatious sophistication to the overall look. The short length of the hair allows the bangs to take center stage, becoming a focal point that enhances facial features and draws attention to the eyes.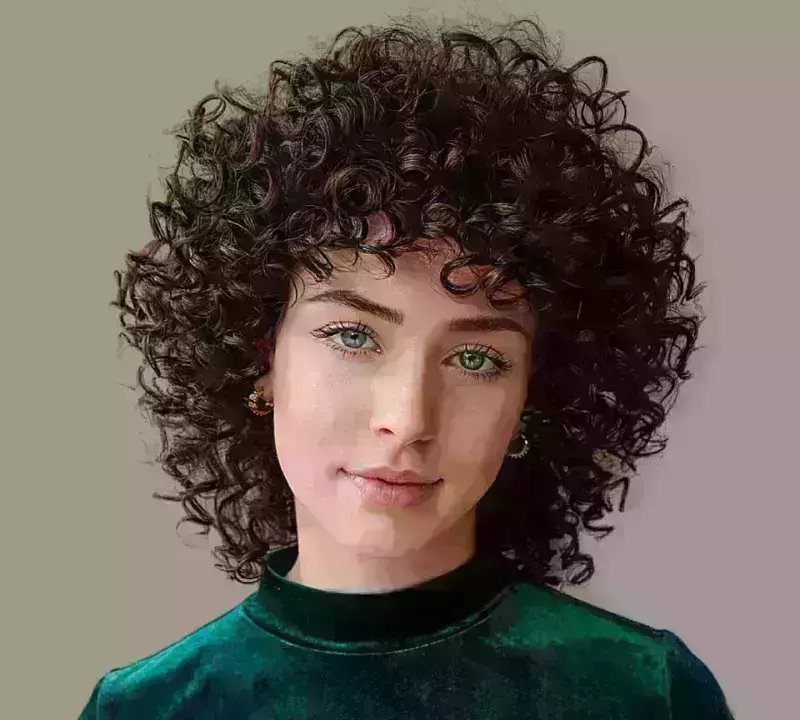 6. Curled Perfection with bangs
Every curl is a stroke of perfection and every bang frames the face with grace. Curls add a touch of romance and allure to any hairstyle, and when paired with bangs, they create a dynamic and visually stunning effect. The elegance of curled perfection lies in the soft, voluminous waves that cascade down, bringing a sense of movement and dimension to the overall look. Achieving short culy hair perfection involves precision in curling techniques. Whether using a curling iron, rollers, or embracing natural curls, the goal is to create well-defined curls that complement the length of the hair.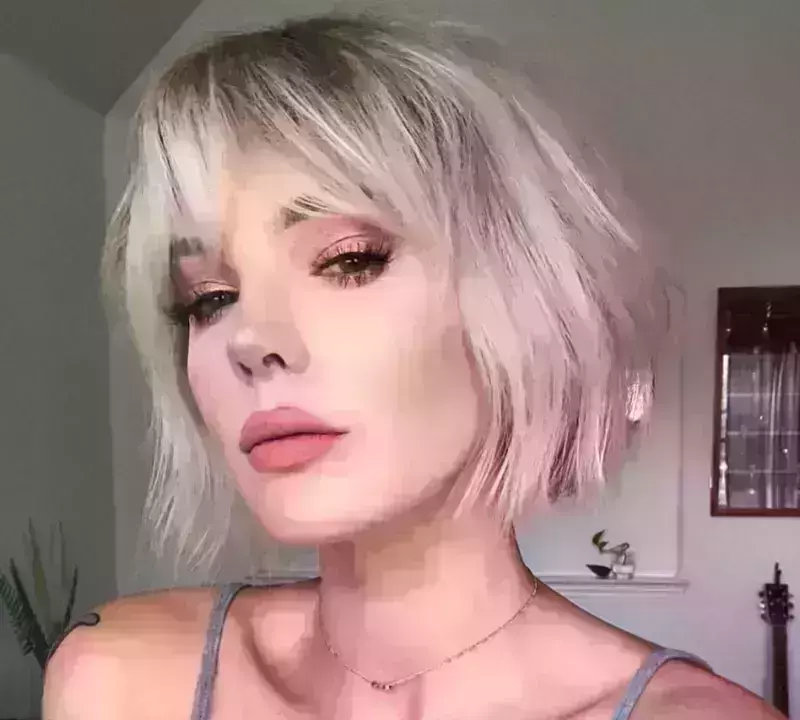 7. Bold and Beautiful
Go big and bold with voluminous curtain bangs. This hairstyle adds drama and flair, making it a favorite among those who want to make a statement. Curtain bangs, with their graceful cascade and gentle parting, bring an aura of elegance to any hairstyle. The clean lines and precise cut of short locks create a bold and modern foundation, allowing the curtain bangs to enhance facial features and become a distinctive feature of the overall look.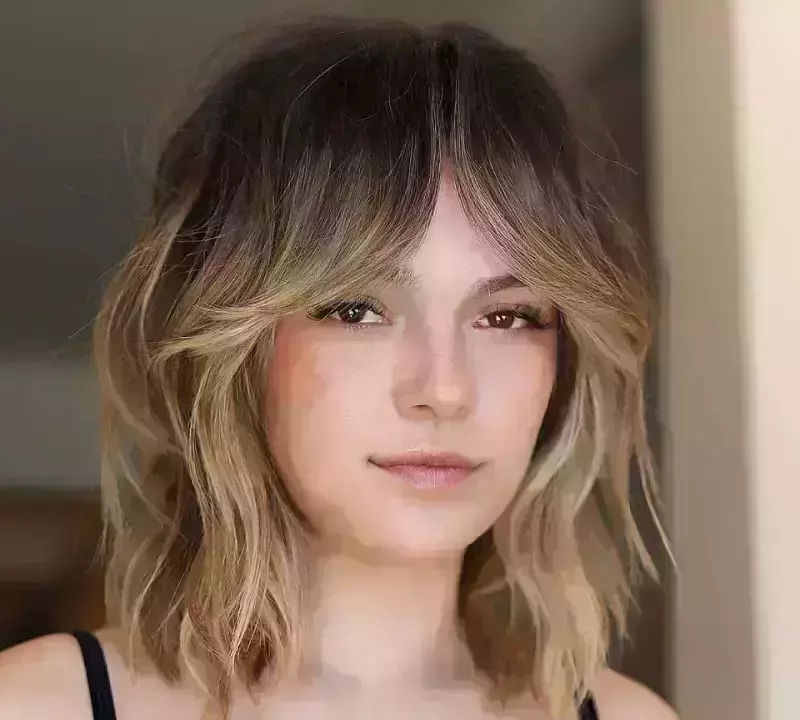 8. Short and Sweet
Wide range and types of curtain bangs but Short and Sweet with Curtain Bangs is a delightful hairstyle that brings a touch of charm and elegance to short locks. The short hair, carefully styled for clean lines and a polished finish, serves as the foundation of this chic look. If you're a fan of short hair, pair it with short curtain bangs. This dynamic duo is easy to manage and radiates an effortlessly cool vibe.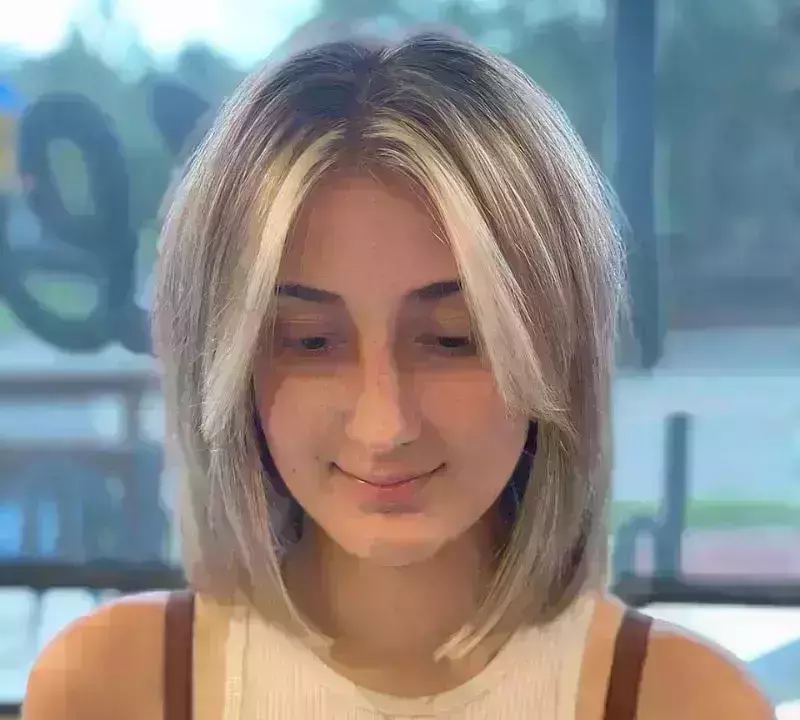 9. The Classic Bob with curtain bangs
Characterized by its clean lines, the bob is a symbol of timeless sophistication. The length typically falls around the jawline or slightly below, creating a polished and structured appearance that exudes confidence and style. Pair the timeless bob hairstyle with curtain bangs for a classic yet contemporary aesthetic. This soft framing enhances facial features and adds a subtle romantic charm to the classic short bob.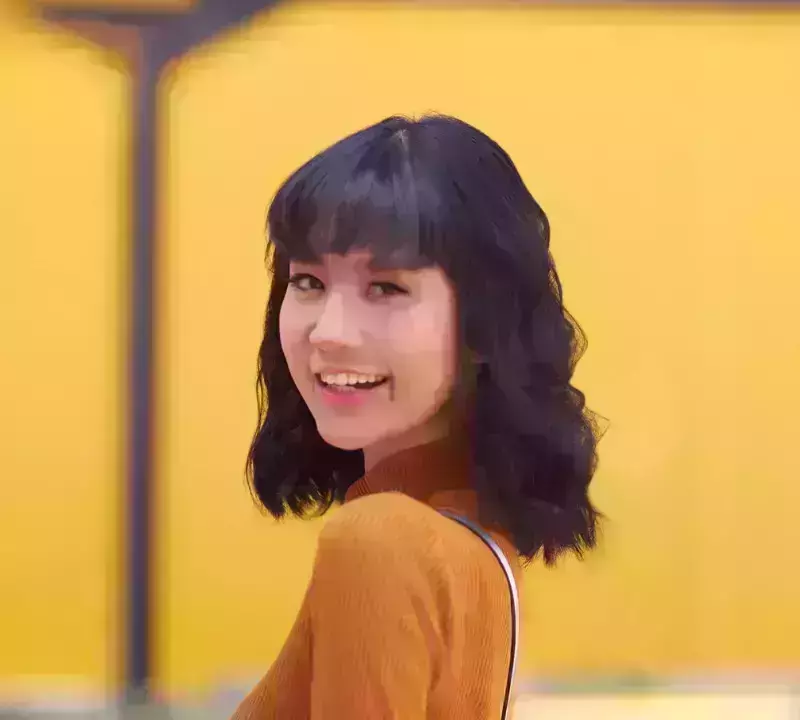 10. Effortless Waves
This look celebrates the beauty of short hair with relaxed waves and bangs that frame the face in a way that exudes laid-back elegance. Achieving these waves can be done through various methods, including using a curling wand, styling with braids, or embracing the natural texture of your hair. The goal is to create loose, tousled waves that add movement and texture to your short locks. Create a beachy vibe with curtain bangs and effortless waves. This laid-back style is perfect for those who want a low-maintenance yet stylish look.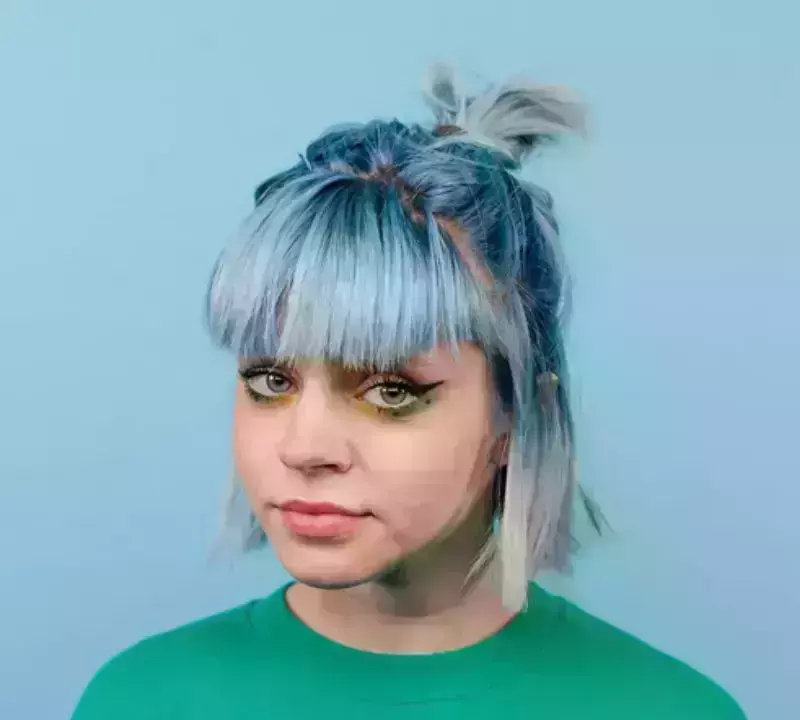 11. Punk Rock Princess
Punk Rock Princess short curtain bangs with layers hairstyle are choppy layers that exude the spirit of rebellion. These bangs for round face create an edgy and textured appearance, adding an element of dynamism to short hair. The intentional disarray and asymmetry define the rebellious essence of punk rock. Combine the rebellion of punk with the grace of curtain bangs for a unique and unforgettable hairstyle. Add a pop of color for an extra dose of boldness.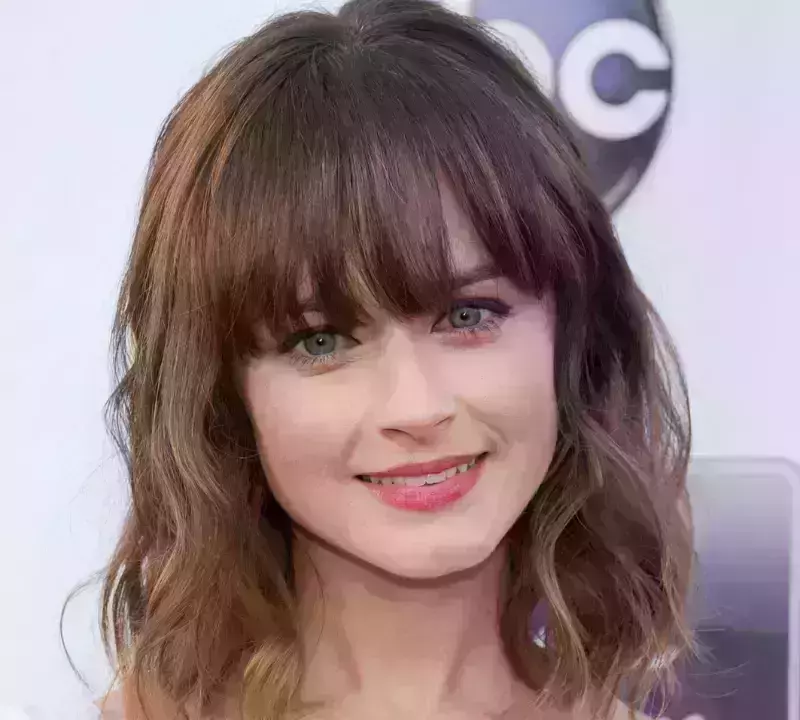 12. Textured Marvel
Textured Marvel is all about creating depth and movement within the curtain bangs with layers. Unlike traditional curtain bangs, which often feature a smoother, more uniform finish, the Textured Marvel variation introduces layers and a playful sense of randomness. The result is a dynamic and lively texture that adds an element of carefree charm to the overall hairstyle. The magic of Textured Marvel lies in the layers. These layers are strategically incorporated into the curtain bangs to break away from the uniformity and introduce a textured, multi-dimensional look.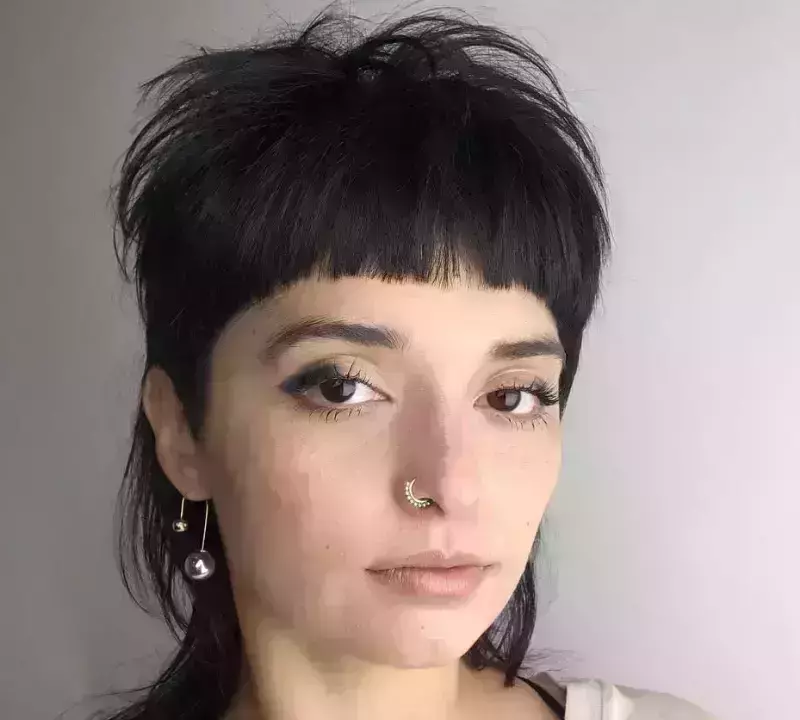 13. Baby Bangs Bliss
Baby Bangs Bliss stands out as a bold and chic choice for those who crave a look that is both daring and elegant.  This style brings the charm of baby bangs to short hair, creating a distinctive and fashionable appearance. Baby bangs, also known as micro bangs or mini bangs, are characterized by their short length that usually falls above the eyebrows. This style exudes confidence and a touch of rebellion, making it a perfect match for those who want to make a bold statement with their short hair.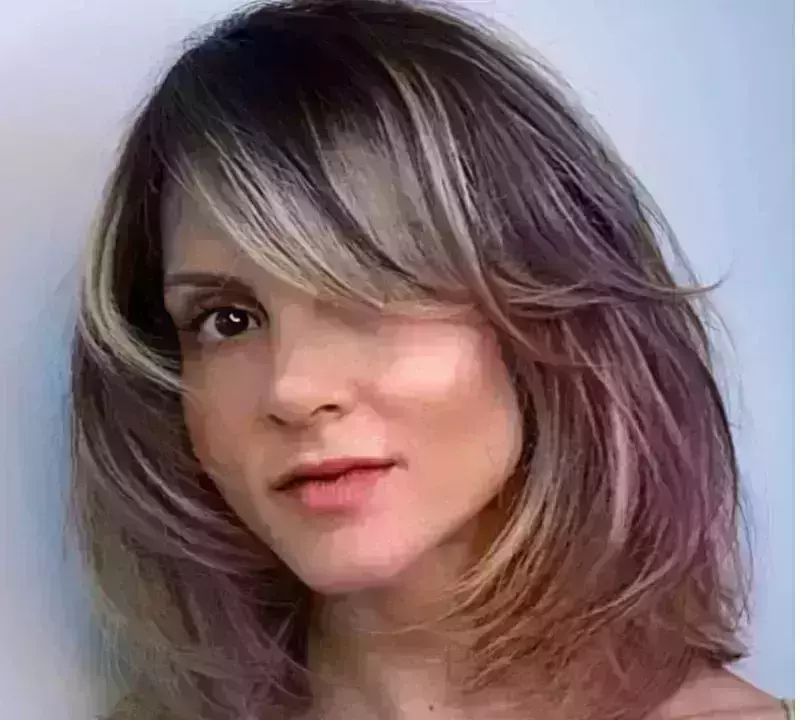 14. Side-Swept Sway bangs
Short hair gets a stunning upgrade with the addition of Side-Swept Sway Bangs. Every strand has a purpose, and the bangs gracefully sway to the rhythm of your every move. This style brings a sense of movement and dynamism to short hair, framing the face with grace and allowing for a versatile range of styling options.  The magic of Side-Swept Sway Bangs lies in their ability to enhance the elegance of short hair. It's a hairstyle that captures attention with its elegant framing and playful way, proving that short hair can be just as dynamic and glamorous as longer locks. Step into the world of Side-Swept Sway Bangs and let your hair be a dazzling expression of elegance and charm.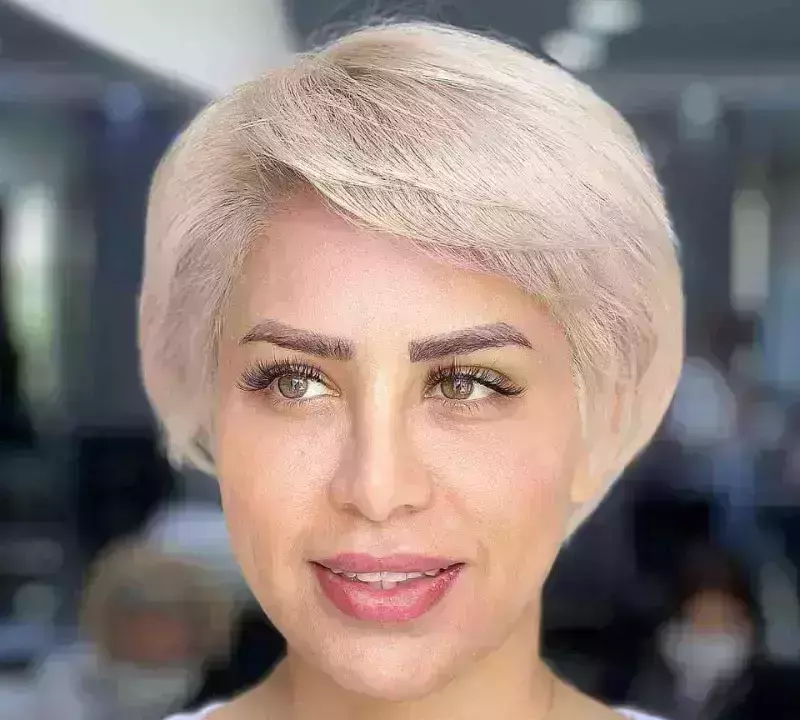 15. Feathered Finesse
Bring out your inner free spirit with the feather cut. In this hairstyle, short curtain bangs with layers delicately styled to create a sense of movement and texture, add an airy elegance to the overall hairstyle. The feathered effect allows each strand to gracefully fall and intertwine, creating a look that is both soft and sophisticated. Curtain bangs play a pivotal role in Feathered Finesse. They seamlessly blend into the feathered layers, enhancing the overall elegance and creating a harmonious balance between structure and softness.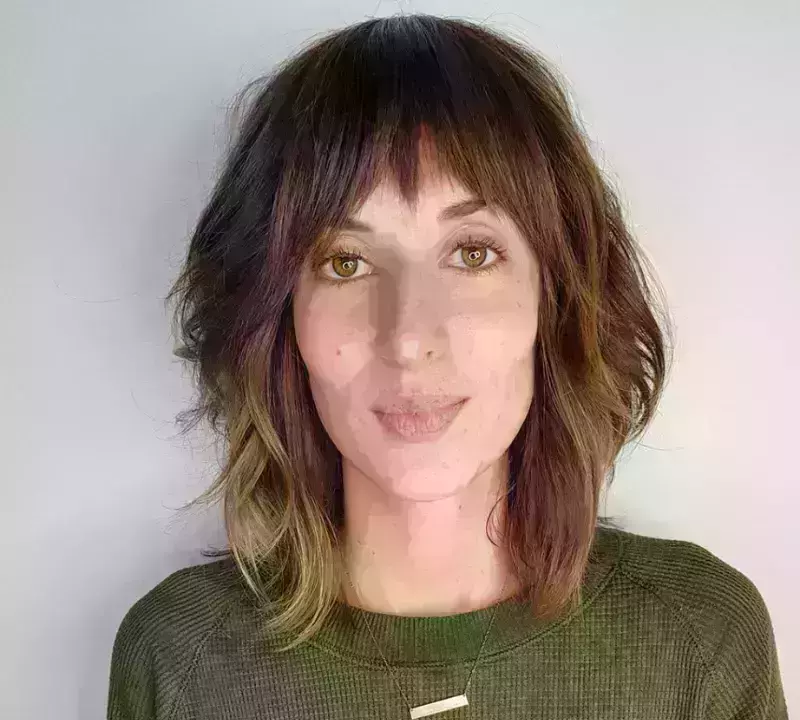 16. Sunkissed curtain bangs
Elevate your look with the sunlit beauty of Sunkissed Curtain Bangs. This delightful hairstyle combines the soft framing allure of curtain bangs with the warmth of sun-kissed highlights, creating a radiant and natural look that captures the essence of carefree summer days. Curtain bangs serve as the focal point of the Sunkissed look, offering a soft and romantic frame for your face. These strategically placed highlights mimic the natural lightening that occurs when your hair is kissed by the sun.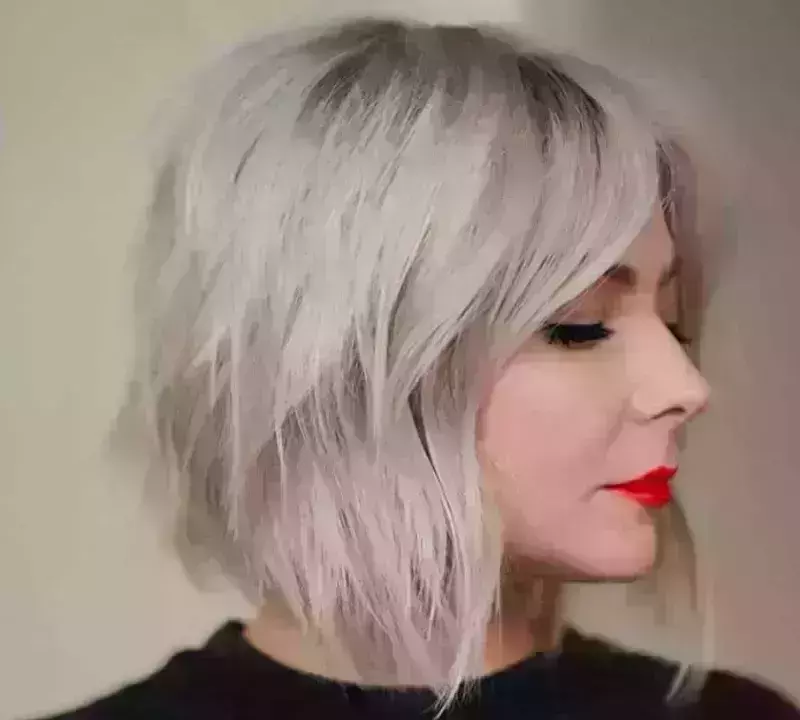 17. Choppy Chic
Choppy bob with layers can just transform your look. These layers bring an element of edge and modernity to the hairstyle. The intentional disarray and uneven lengths create a dynamic and textured appearance that adds depth and dimension to the overall look. The short curtain bangs can take various forms, from bold and straight across the forehead to slightly tousled and textured. The key is to maintain a sense of precision while embracing the rebellious spirit that defines the choppy chic aesthetic.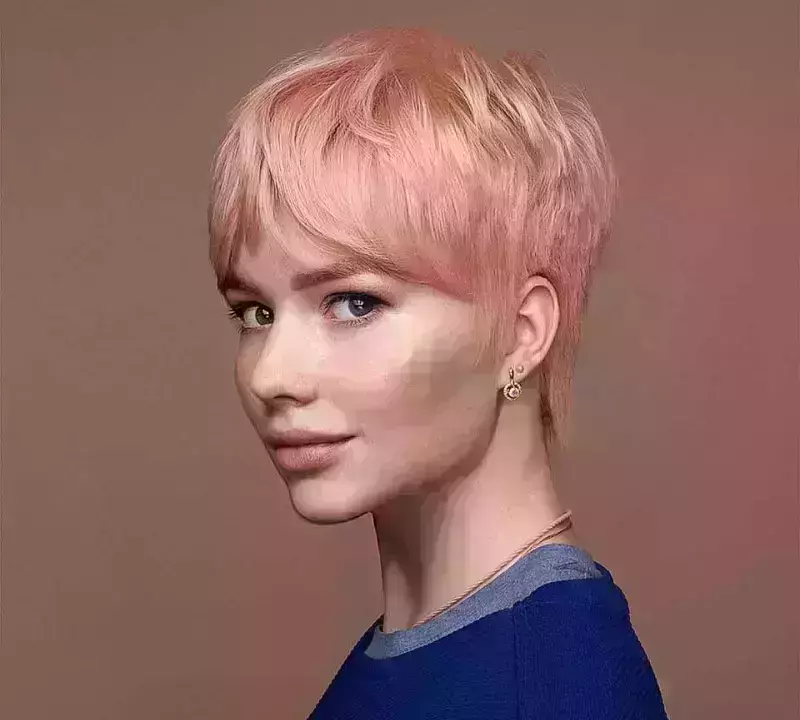 18. Pixie Perfection
The pixie cut is characterized by short and textured layers that create a clean and modern aesthetic. It's a style that showcases the beauty of simplicity and adds an element of edge to your overall look. Complementing the pixie cut are elegant bangs that add a touch of soft framing to the face. These bangs can vary in style, from side-swept to straight-across, depending on your preference. The key is to maintain a sense of elegance and grace that harmonizes with the boldness of the pixie cut. Short hair enthusiasts can embrace curtain bangs with a pixie cut. This combination is both daring and delightful, showcasing your confidence and style.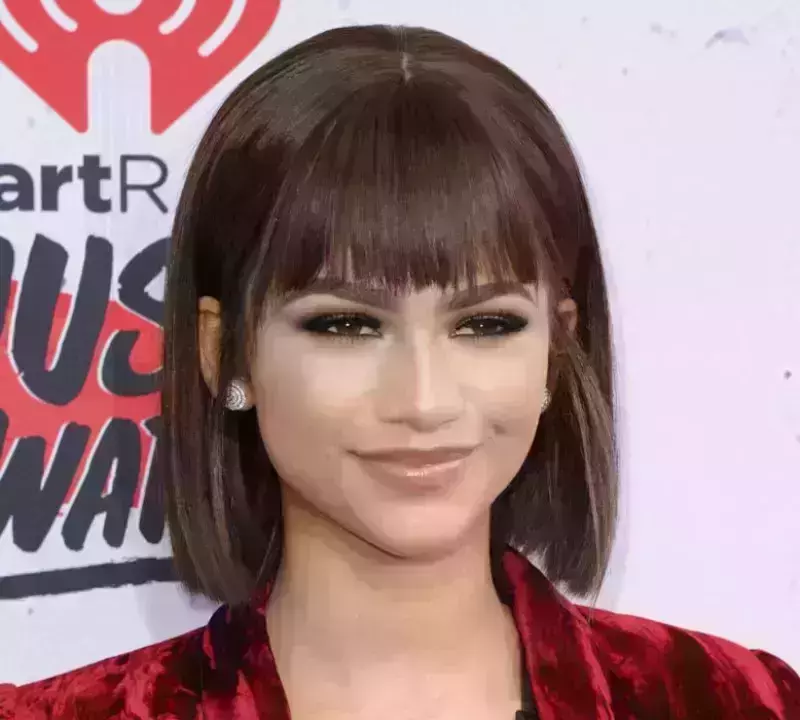 19. Red Carpet Ready
Red Carpet Ready style is the choice of luxurious, flowing locks that exude drama and glamour. Whether styled in voluminous waves, sleek straight strands, or soft curls, the length and texture of the hair create a foundation of elegance that is quintessential for red-carpet appearances. Complementing the flowing locks are bangs with flair. These bangs are crafted with precision, ranging from sleek and straight across to side-swept or soft and textured. Capture the glamour of the red carpet with curtain bangs that elegantly frame your face. This sophisticated look is perfect for special events and formal occasions.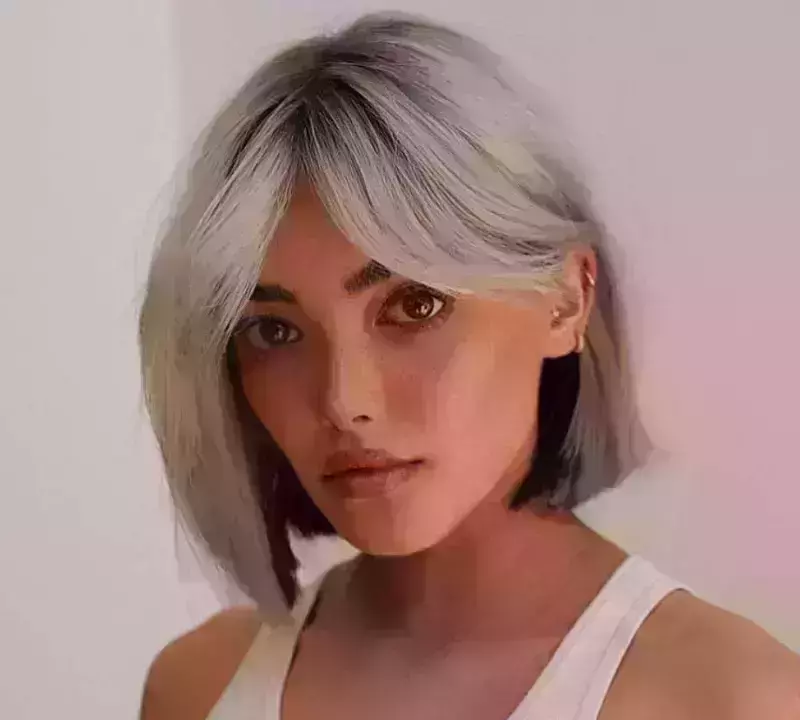 20. Sleek and Straight
This classic and timeless look is characterized by its polished, straightened locks and well-defined bangs, creating an air of sleek elegance. Complementing the straightened perfection are chic bangs that frame the face with precision. These bangs can take on various styles, from a straight-across blunt cut to side-swept or textured bangs, depending on the desired aesthetic. Achieve a sleek and polished appearance with straight curtain bangs. This minimalist style complements contemporary fashion trends and is effortlessly chic.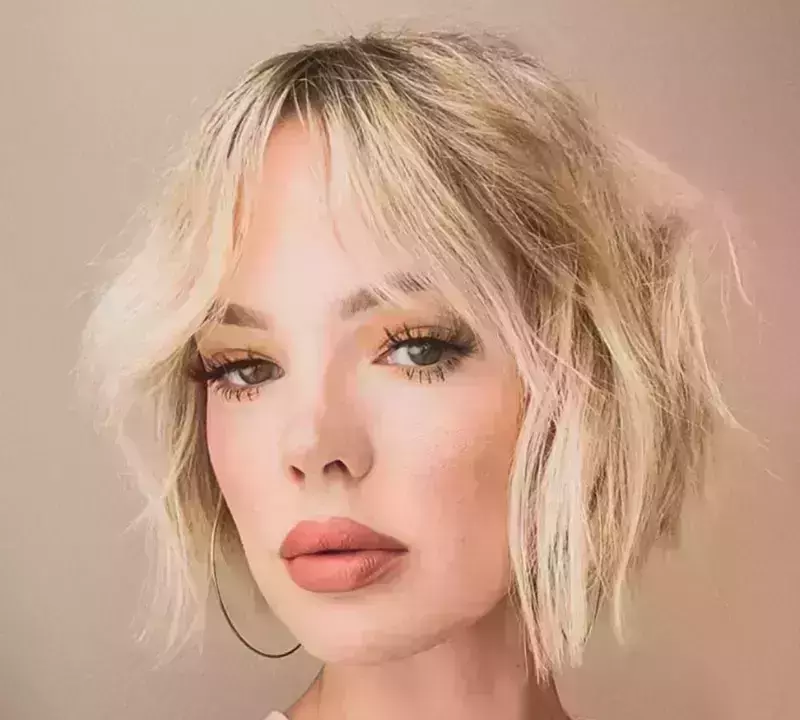 21. Shaggy Bob
Shaggy Bob" hairstyle featuring bangs—an ensemble that effortlessly combines the structured elegance of a bob with the playful and relaxed vibe of shaggy layers. Characterized by its clean lines and a length that typically grazes the jawline or collarbone, the bob provides the foundation for a structured and elegant appearance. This timeless base serves as a canvas for the playful shaggy layers and bangs to take center stage. Complementing the shaggy layers are bangs with personality.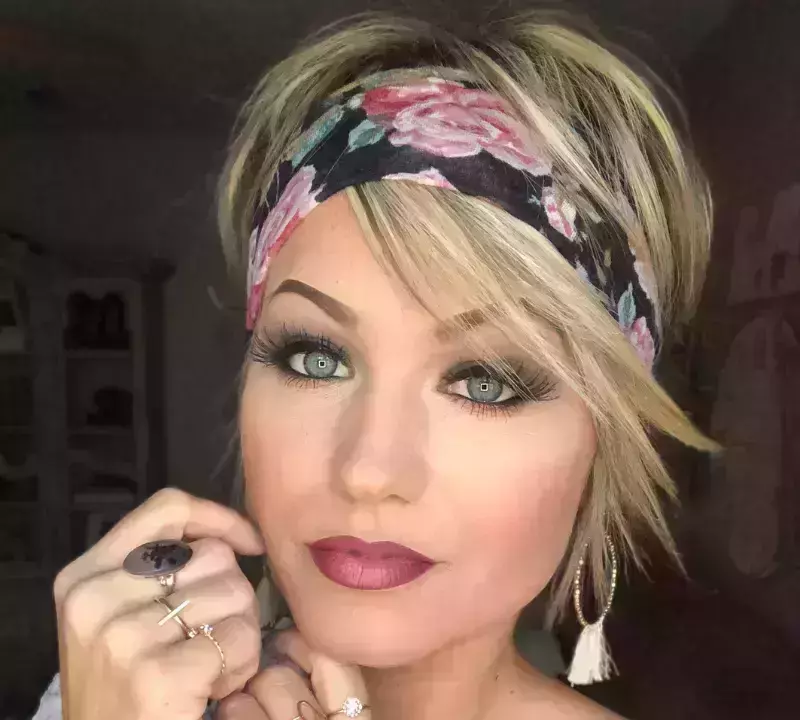 22. Boho Babe
Boho Babe is a relaxed look that seamlessly blends bohemian flair with timeless elegance. Boho Babe hairstyles are flowing locks that capture the essence of bohemian freedom. Whether your hair is naturally wavy or styled with loose waves or curls, the goal is to achieve a laid-back, carefree vibe that embodies the boho spirit. Enhancing the Boho Babe look often involves the strategic use of accessories. Choose delicate headbands adorned with beads or floral accents, woven hair wraps, or even a whimsical assortment of hairpins and clips. For a carefree and bohemian vibe, pair curtain bangs with loose waves. This whimsical style radiates warmth and is perfect for a relaxed, outdoor setting.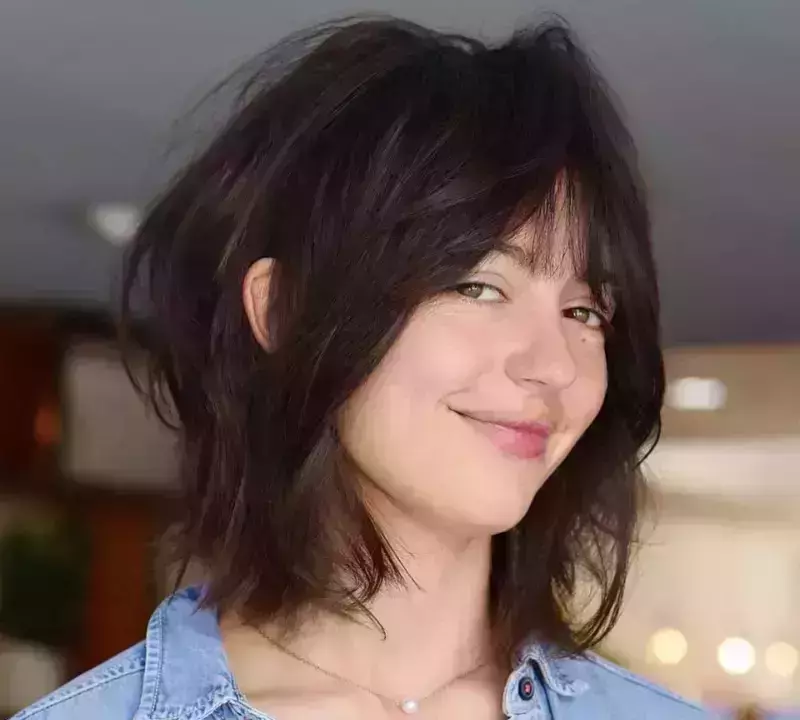 23. Modern Shag
Modern shag cut is the incorporation of shaggy layers. The shaggy layers form the foundation of the modern and relaxed vibe that defines this hairstyle. Complementing the shaggy layers are chic bangs that add a touch of modern flair. The versatility of this style allows for individual expression, making it a perfect choice for those who appreciate a bold and contemporary look. Revitalize the shag haircut with curtain bangs. This modern interpretation adds a touch of sophistication to the classic shag, creating a stylish and textured look.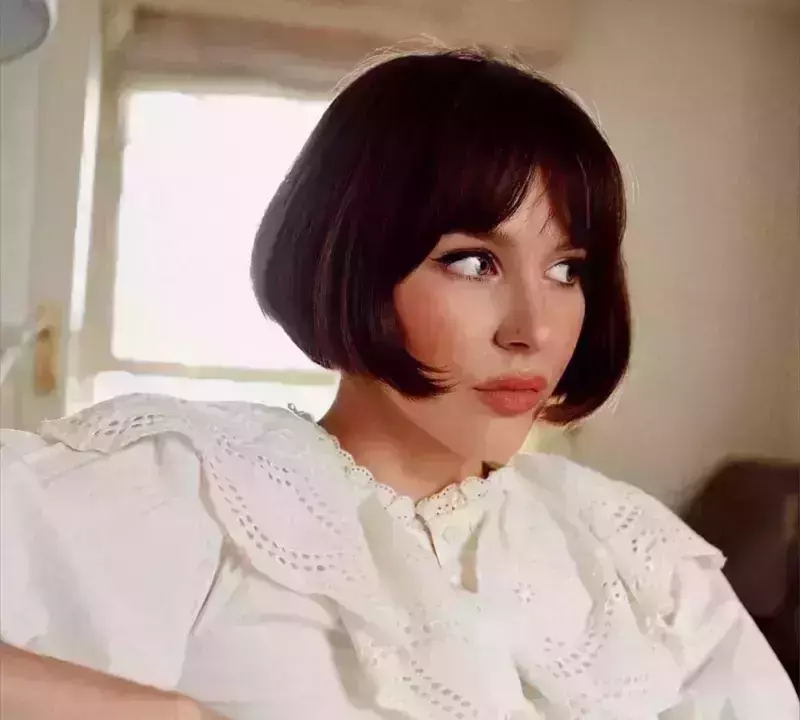 24. The French Flair
French Flair is the embodiment of natural elegance. The hair is styled with effortless waves, creating a soft and tousled appearance that mirrors the timeless chicness associated with French beauty. This laid-back wave pattern contributes to the overall sense of relaxed sophistication. French Flair with Bangs offers versatility in styling Embrace Parisian chic with French-inspired curtain bangs. Effortless and understated, this hairstyle exudes an air of timeless elegance.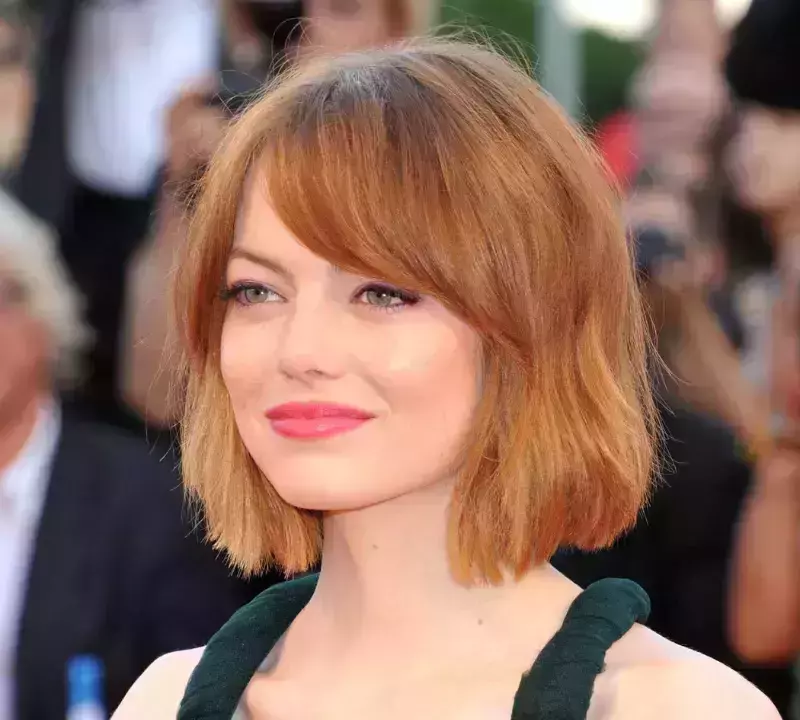 25. Face Framing Curtain Bangs
In this hairstyle, the soft waves create a natural and flattering frame, delicately enhancing your facial features. Achieving the perfect face-framing elegance requires precision in cutting. Skilled stylists will carefully craft the gentle waves to ensure they fall in a natural and flattering manner. The curtain bangs are cut with precision, creating a seamless integration with the soft framing waves for an elegant and cohesive look. This hairstyle offers versatility in styling. Despite its elegant appearance, face-framing elegance with curtain bangs is known for its effortless maintenance. The natural fall of the waves and the soft framing of the bangs contribute to a look that maintains its grace with minimal day-to-day styling.
CONCLUSION
Curtain bangs have proven their enduring appeal by seamlessly adapting to contemporary trends. Whether you prefer a classic, retro, or edgy look, there's a curtain bangs style that suits every personality and occasion. Embrace the elegance of curtain bangs and let your hair become a canvas for self-expression in the ever-evolving world of fashion.
Experiment with these 25 short curtain bangs hairstyles to find the perfect look that complements your style and personality. Whether you're aiming for a bold statement or a soft and romantic feel, the versatility of curtain bangs combined with short hair allows for endless possibilities in creating a look that's truly in vogue.