35 Ana De Armas Hot Pictures And Looks - 2023
KRITIKA GUPTA
Updated At 07 Sep 23
Actress Ana Celia de Armas Caso is of Spanish and Cuban descent. She was nurtured in the little town of Santa Cruz del Norte after being born in Havana, Cuba. 
For the past few years, the internet has been ablaze with Ana De Armas' sultry and recognizable looks. With her astounding charm and captivating appearance, she has amassed a sizable fan base in a short period of time.
In the field of fashion, she is an inspiration to her female devotees. Additionally, if you're searching for some inspiration, then check out some of Ana De Armas' hottest looks and pictures:
35 Ana De Armas Hottest Photos And Looks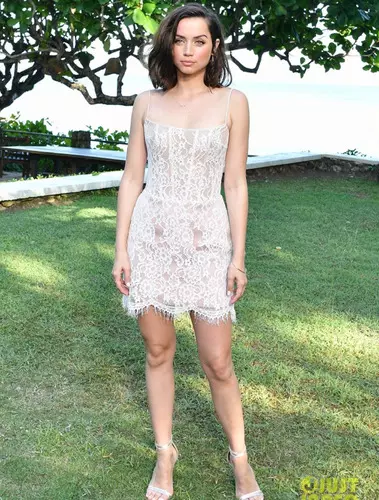 1) Mini Corset Dress
We adore Ana de Armas wearing this white, midi-length corset dress. Most celebrities don't particularly enjoy wearing corset dresses, but it's obvious that this diva is nailing the style. We adore how stunning she appears in this midi translucent dress style.
Read More: 25 Alexandra Daddario hot pictures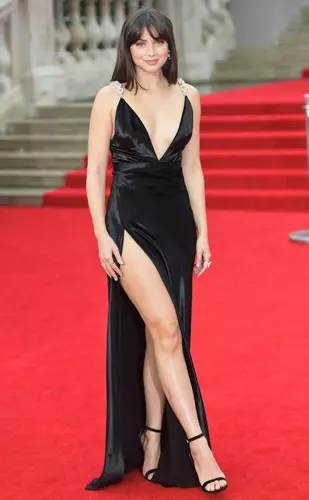 2) Ana De Armas Hot Black Dress
Ana de Armas exudes sheer sophistication in a black Louis Vuitton velvet gown. The dress showcases a deep neckline, thigh-high slits, and embellished diamond shoulder straps, adding a touch of luxury. One of the most beautiful women in the world, Ana De Armas looks stunning in all her looks.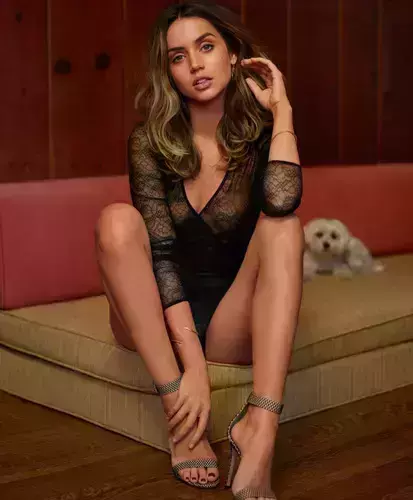 3) Perfect Black Bikini
If you are looking for Ana De Armas sexy and hot look, then this one in bikini will match the requirement perfectly. She looks absolutely stunning in this sleek black bikini, exuding sophistication and style. This accentuates her figure perfectly, and the accessories she pairs with it add a touch of luxury and elegance. 
Also check out our guide to find out the most beautiful hollywood actresses of all time. From Jennifer Aniston, Penelope Cruz, Megan Fox, Jennifer Lawrence to Angeline Jolie, we cover 50+ gorgeous actresses.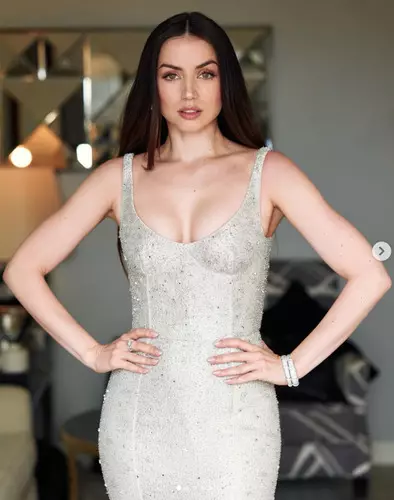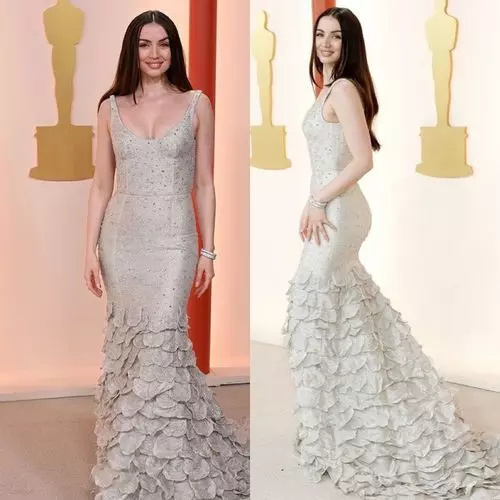 4) Hot Look At Oscars
The actress donned a pale silver, 1,000-hour-made scoop-neck dress to the 2023 Oscars, which included random rhinestone accents, stomach boning, and a fit-and-flare skirt made of shimmering petals. She had rosy cheeks, a pink lip, a sparkling, bouncy blowout, and a pink eye. If you are looking for Ana D Armas hot looks, then this is one of the best.
Read More: Prettiest Female KPop Idols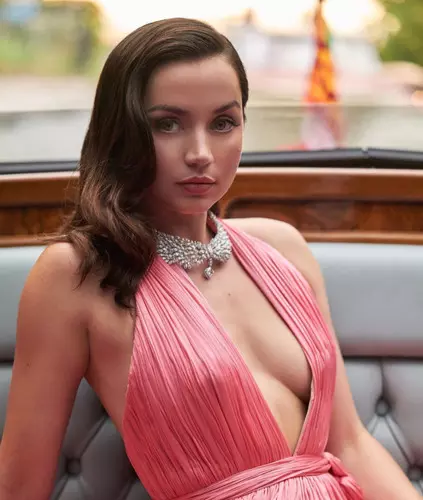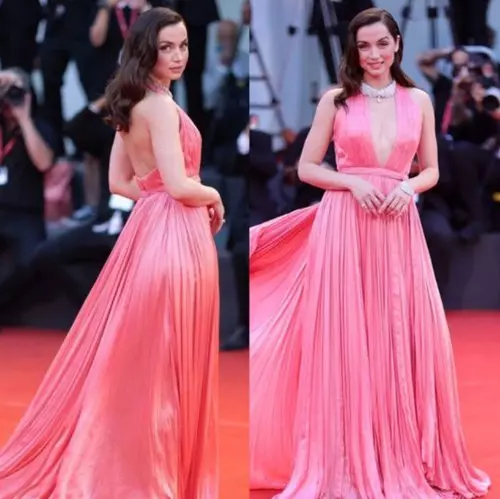 5) Gorgeous Peachy Dress
Looking for Ana De Armas sexy look, then make sure to check out this gorgeous dress. She radiates hotness and sizzles in practically every glance. She accessorized her deep-necked, pleated peach-colored gown with a stunning diamond necklace. In addition to this, her killer beauty has her fans in a frenzy.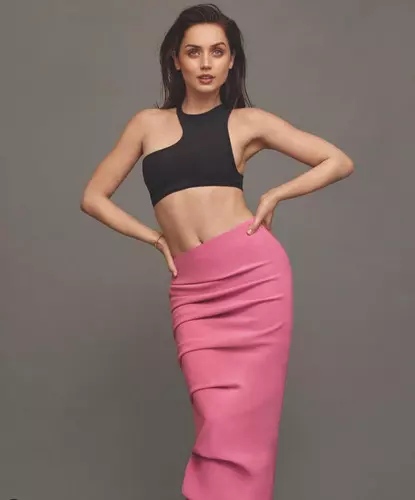 6) Vogue Cover
Being featured on the cover of Vogue in Spain, Ana De Armas looks abasolutely gorgeous and hot in this black and pink dress.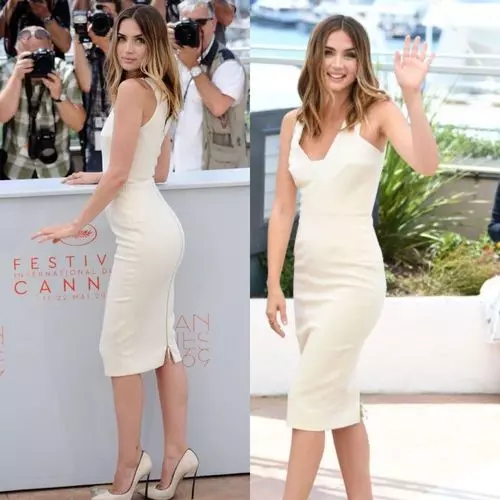 7) Bodycon Dress
She is dressed in a bodycon dress that is exquisite yet trendy and lovely in off-white and cream. She is nabbing the trend with her blonde hair and natural, neutral makeup and looks utterly beautiful.
Read More: Most Beautiful American Women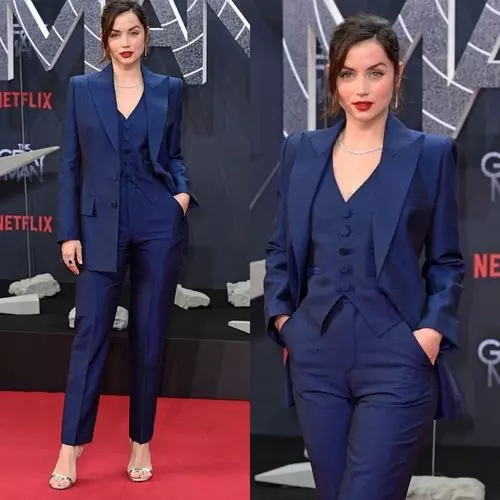 8) Casual Hot Look
According to WWD, de Armas dressed in a three-piece customized Louis Vuitton suit that included a matching waistcoat to put her own unique take on traditional masculinity. She decided against wearing an undershirt and accessorized the look with cherry-red lipstick, elegant silver heels, and a stylish ponytail.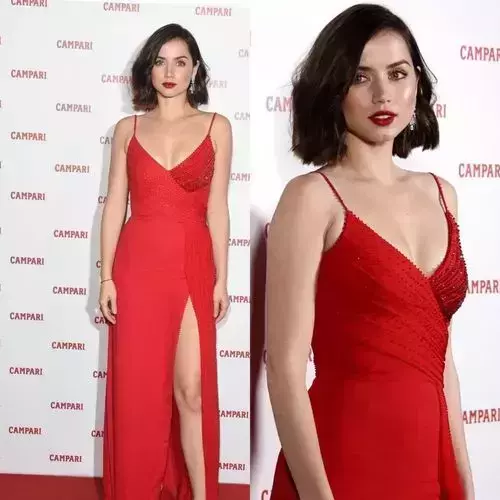 9) Gorgeous In Red
Everybody loves Ana De Armas' seductive appearances when it comes to fashion. The same goes for a beautiful view that is there in front of you; you cannot ignore it.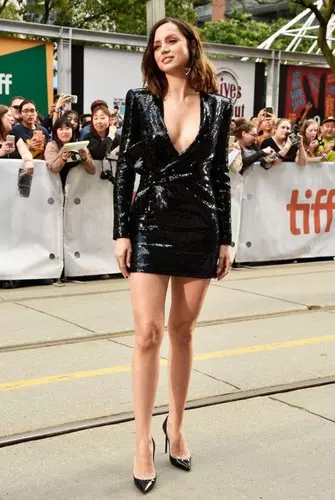 10) Ana De Armas Hot In Black Short Dress
Ana de Armas looks alluring and chic in the short black sequin dress with a tight V-cut neck. The dress perfectly accentuates her figure, exuding confidence and glamour. Her captivating presence and impeccable style make her the centre of attention, radiating an aura of sophistication and elegance.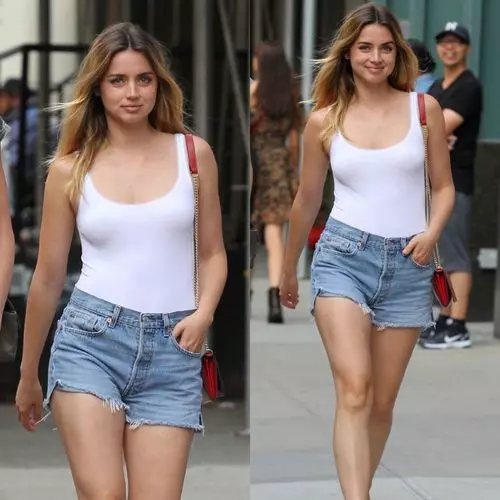 11) Casual Summers
The outstanding American actress Ana De Armas looks stunning and seductive in these summertime casuals. Sexy images of Ana De Armas are difficult to ignore. She is also sporting white sleeves and denim shorts in this photo, and she is accessorizing with a sling purse. In her gorgeous photos, Ana D Armas can be seen posing like a queen and waving to the photographers.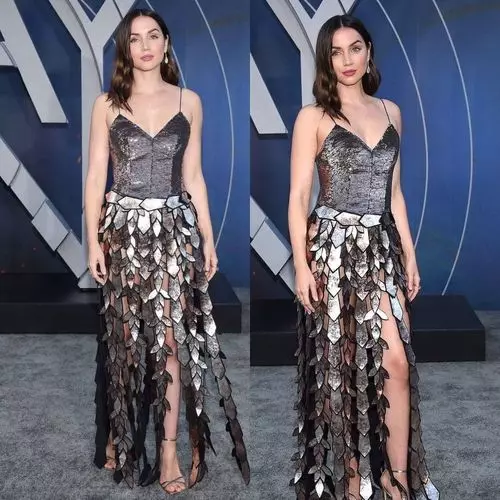 12) Deep Neck With Translucent Pattern
Another of the top picks has to be her appearance in the long, translucent black and metallic silver dress that she wore to one of the premiere events. Ana looks amazing and distinctive in this dress. Her dress has a deep V-neck with strap sleeves and a translucent pattern around the legs.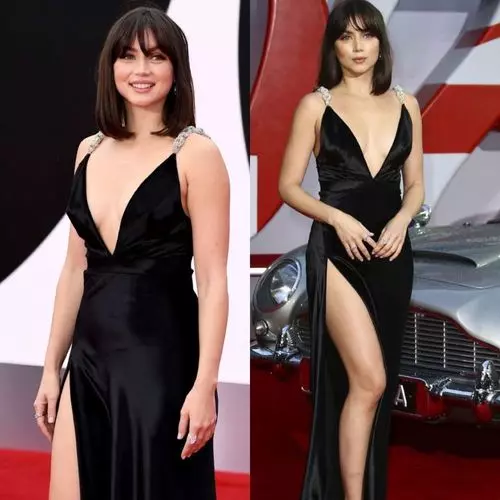 13) Ana De Armas Hot Look
One of the most recent members of the illustrious line of Bond Girls, Ana De Armas arrived at the "No Time to Die" premiere in London in a hot and sexy look. Ana donned a black Louis Vuitton dress with a thigh-high slit and a plunging neckline. She had a stylish hairstyle with bangs that she wore down. She showed off her incredibly toned legs while wearing the dress. James Bond fans are intrigued to learn more about Ana and her mystery femme fatale character as a result of her participation in the great event.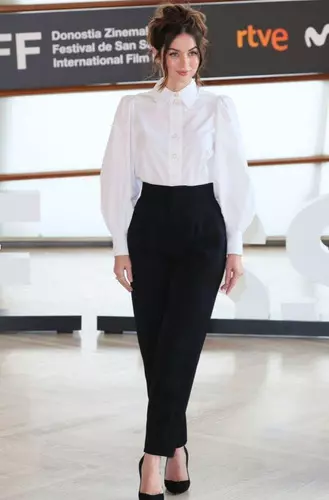 14) Hot In Louis Vuitton Dress
Ana De Armas looks stunning in a white Louis Vuitton formal shirt, boasting fluffy sleeves, elegantly paired with black trousers and heels. Her chic messy bun hairstyle complements the outfit, while her subtle nude makeup accentuates her natural beauty, exuding a timeless and sophisticated charm.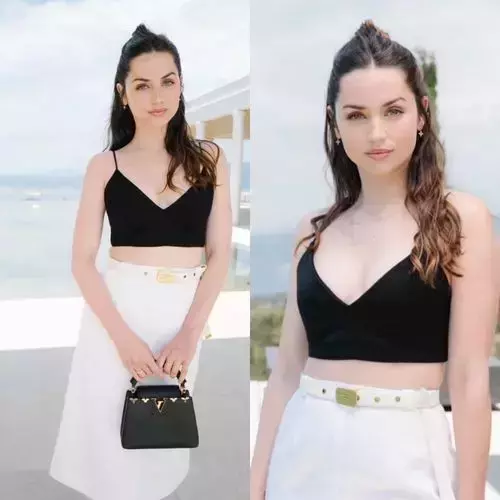 15) Minimalist Look
She visited Greece as a guest at Loius Vuitton at the event it organised in Odeon of Herodes Atticus to present its new jewellery collection. Ana de Armas made a beautiful look in her minimal look and looked fabulous.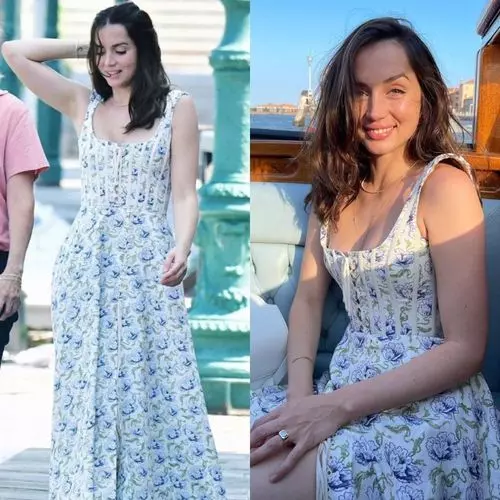 16) Dazzling Floral Dress
Ana wowed in yet another Louis Vuitton ensemble for the The Gray Man Los Angeles premiere. In a rose-gold gladiator-style skirt with a thigh-high slit, the actress looked magnificent. She accessorized it with dangling earrings and a center part.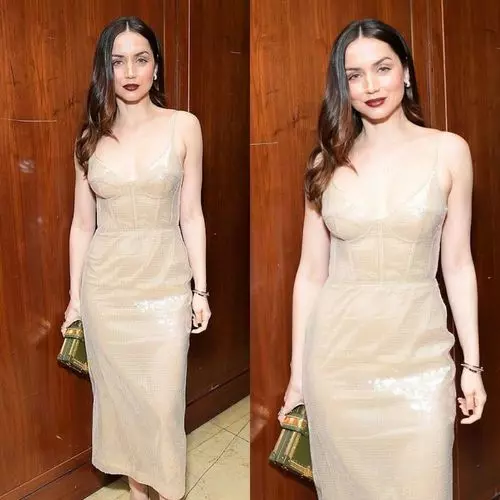 17) Ana De Armas As Marilyn Monroe
Marilyn Monroe, the former beauty queen, looks very similar to Ana De Armas in her stunning bikini. Additionally, She wears this ensemble with nude-colored stilettos and a handbag that coordinates flawlessly with the overall ensemble.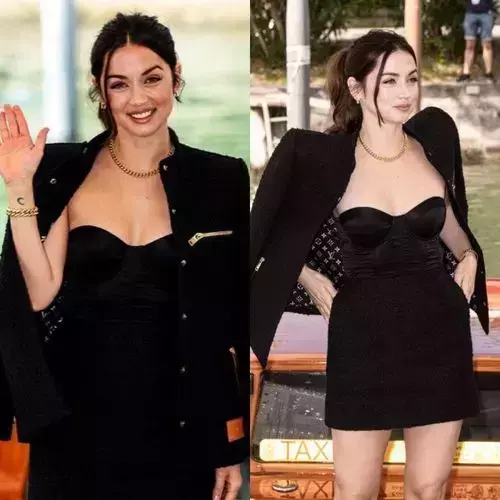 18) Bold Gothic Look
It's amazing how she's wearing an all-black jacket, a black tube top, and denim bottoms. Additionally, she added dark crimson lipstick and straight, long hair to the design. The black choker with the golden pendant is also completing the ensemble. Her killer smile is also impossible to miss because she is stunning on the inside and out.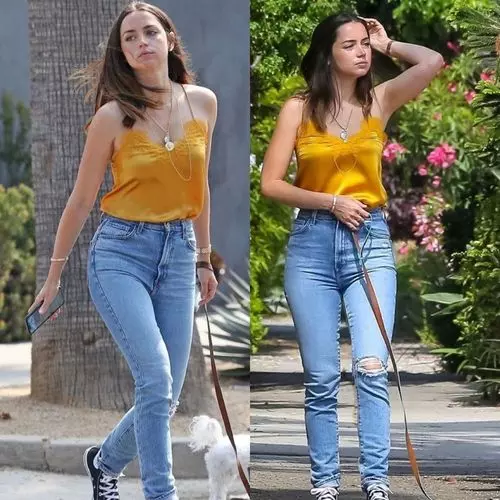 19) Casual Outfit
Even in casual clothing, Ana de Arms exudes beauty and radiance. She is seen walking around in skin-tight trousers and an alluring top made of yellow satin. If you haven't seen her in this kind of casual attire, you must check this out.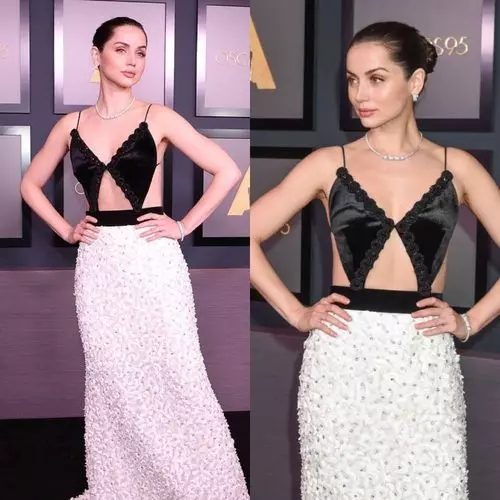 20) Tailored Crop Top
The actress Ana de Armas grabbed attention in this hot look with a tailored black velvet crop top and a white skirt that matched.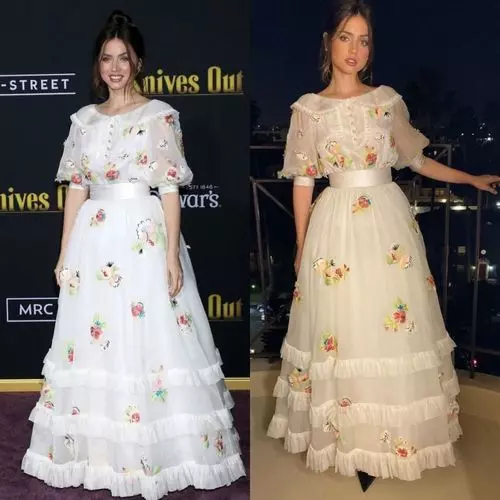 21) Knives Out Premier
At the California premiere of "Knives Out" in 2019, de Armas demonstrated her diversity in fashion despite her tendency to lean toward masculine looks.The lightweight bridal-style Chanel organza dress that the Cuban actress donned had floral embroidery, sheer sleeves, and feather embellishment.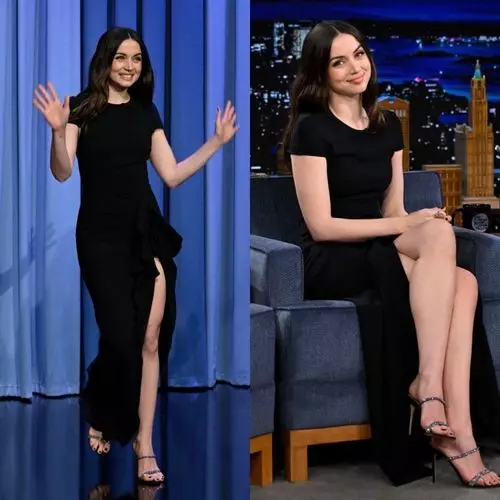 22) High Slit Black Dress
De Armas donned a black dress by Oscar de la Renta with a thigh-high slit and ruffle design falling from the waist for her television part. The actress accessorized with Gianvito Rossi strappy shoes with rhinestones. She added one bejeweled ring from Leighton Jewels as an accessory.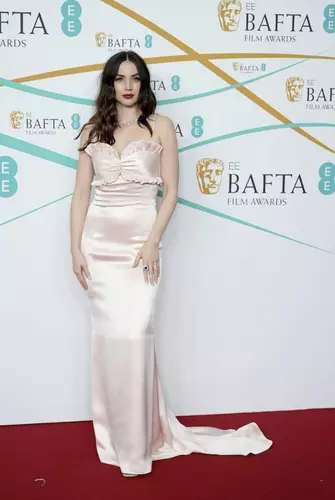 23) Stunning Light Pink Dress
Ana de Armas looks like a vision of grace and sophistication in the light pink Louis Vuitton satin gown with ruffled detailing on the neckline. The gown's elegance is further elevated by a sparkling diamond necklace, while her soft wavey hair adds a touch of romance to her overall appearance, making her an ethereal red carpet beauty.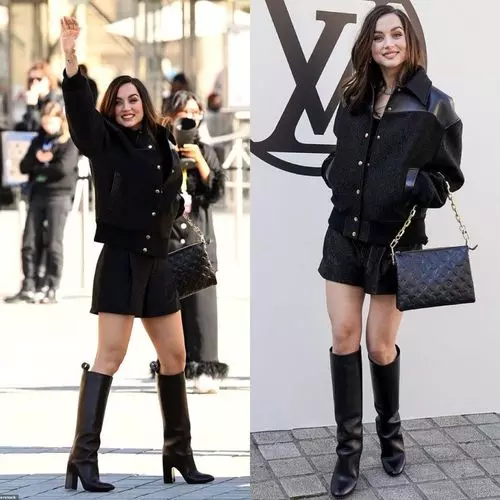 24) Louis Vuitton Collection
Since the release of her most recent film, "Blonde," in which she plays Marylin Monroe, Ana de Armas has traveled extensively. In such a short period of time, she traveled from Paris to LA and NYC, stopping in Paris to see the Louis Vuitton Womenswear Spring, Summer 2023 show. She matched her classic Louis Vuitton blazer and shorts with the very in-vogue slouchy knee-high boots.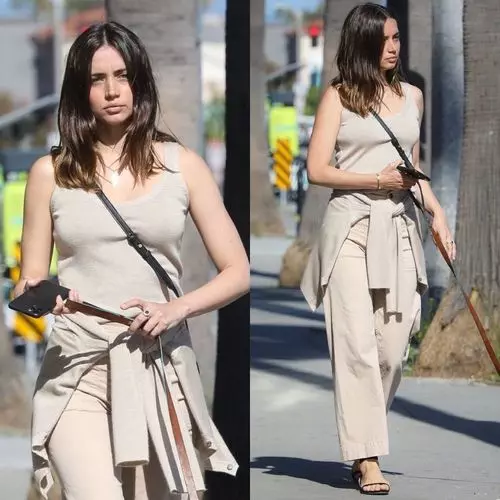 25) Casual Chic
When the celebrity was in Venice, California, she strolled with her dog and looked effortlessly stylish. Her unassuming appearance managed to convey her impeccable taste and graceful touch. This khaki and nude blended outfit matched perfectly with her minimalistic bag and strappy sandals.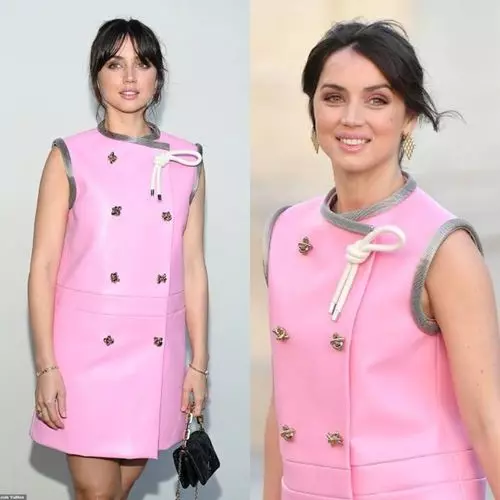 26) Hot In Pink
"Pretty in pink" is perhaps an understatement for the stunning appearance Ana De Armas served as she attended the Louis Vuitton Womenswear Spring/Summer 2022 presentation. She looked very stunning in a pink dress and chic studded ankle boots. The dress was straight-cut yet large; it had a futuristic look but was still elegant. The ultimate contemporary interpretation of 1960s style, this dress dominated the show.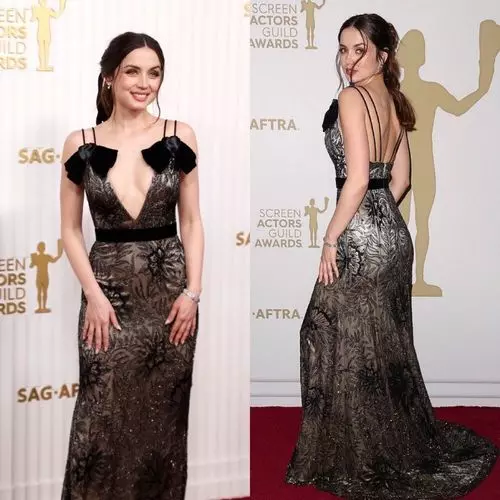 27) Screen Actors Guild Awards
This custom Louis Vuitton dress is all about the subtle texture created from the floral embroidered tulle, as well as the velvet bows decorating the top of the piece.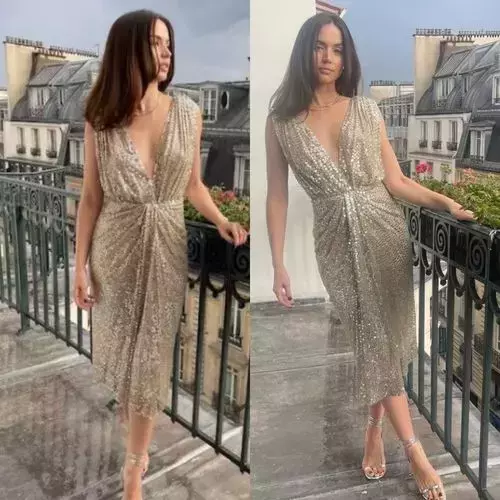 28) Paris premiere
For the Paris premiere of Marilyn Monroe biopic Blonde, Ana de Armas wore a flowing Fall Sequin Dress from Celine and Vegan Silver Mirror Leather Sandals from Piferi.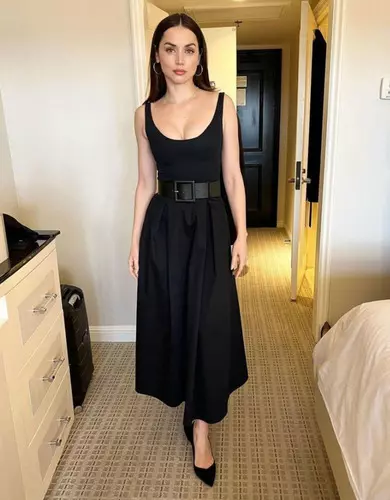 29) Sexy In Black
Ana de Armas sizzles in a sophisticated black skirt dress that accentuates her look with elegance. The dress features a tasteful design, highlighting her allure and confidence. With her magnetic charm and polished style, she exudes a captivating aura of sensuality and timeless glamour.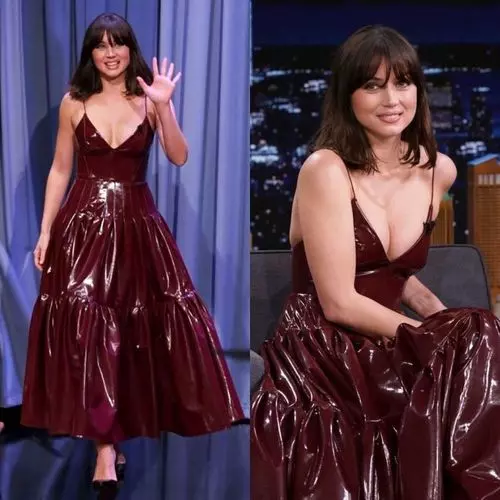 30) Latex Maxi Dress
Stars always bring their A-game to the red carpet. De Armas demonstrated her ability to don just as daring outfits off the red carpet, though, when she made an appearance on Jimmy Fallon's talk show in 2021.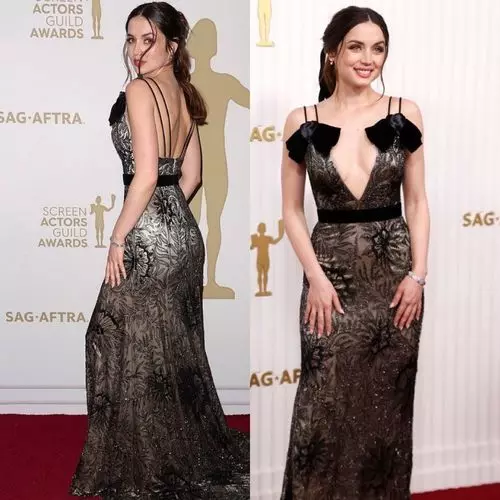 31) Reminiscent Of Silhouette
She chose to work once again with Louis Vuitton for her eye-catching ensemble.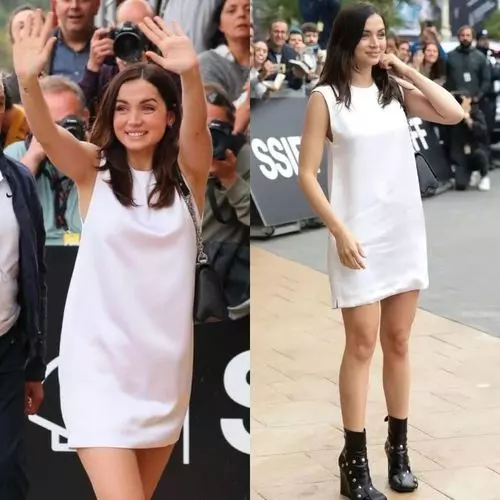 32) Ana De Armas Hot Look In Short Dress
At the 70th San Sebastain International Film Festival, she captured the attention of the audience in her white sleeveless short dress.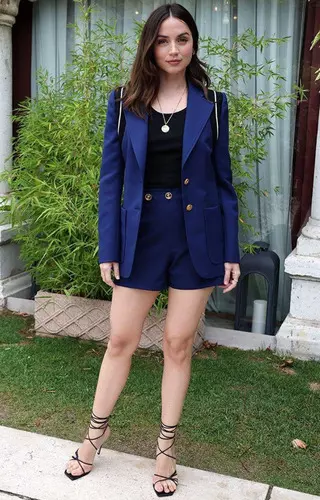 33) Hot In Blue
Ana De Armas appears incredibly elegant and stylish, wearing a royal blue Louis Vuitton short blazer suit featuring gold buttons and black and white stripe accents on the shoulders. The ensemble is perfectly enhanced with coordinating lace-up strappy stilettos and a gold pendant necklace. Her dark, gently tousled hair, parted in the middle, exudes a natural and captivating charm, completing her overall stunning look.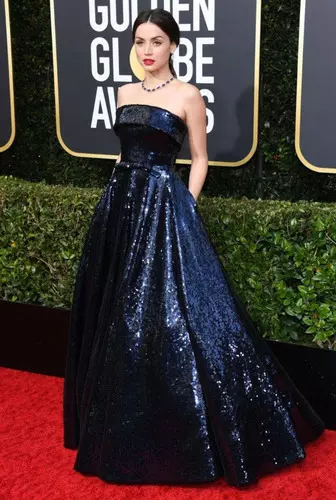 34) Ana De Armas Hot Look At Golden Globes
Ana De Armas looks mesmerising in a navy blue custom dress by Ralph & Russo, adorned with thousands of sparkling sequins. Her radiance on the Golden Globes red carpet is undeniable, capturing all attention as she exudes elegance and grace befitting her nomination for Knives Out.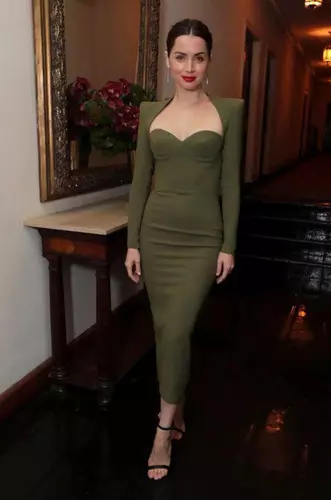 35) Ana De Armas Sexy Look
Ana de Armas looks effortlessly sophisticated and polished in the formal olive green midi cocktail dress. The dress complements her figure with its timeless silhouette, while the rich olive hue highlights her natural beauty. With an air of refined elegance, she exudes confidence and refinement, making a captivating statement.