25 Stunning Photos Of Beyonce Without Makeup
Shalu Bhati
Updated At 07 Dec 23
Want to see some Beyonce with no makeup? You have come to the right place. Stay here and scroll further as we have brought for you the 25 most stunning Beyonce natural photos that will blow your mind!
She doesn't need an introduction and that's just how successful, famous, and loved Beyonce is. But on the off chance if you still don't know who she is, allow us to be the one to introduce you to the Queen of the music industry.
Beyonce is an American singer, songwriter, actress, director, and producer who became famous as the lead singer of Destiny's Child, an R&B group that made headlines in the late 1990s and early 2000s. Beyonce then launched a solo career that took her to new heights of fame and success. This talented Texas-born singer has given hits like Single Ladies, Bills, Bills, Bills, Halo, Crazy in Love, Run the World, and Formation among others. Apart from her singing prowess, her beauty has equally mesmerized the world. So, here we are with Beyonce without makeup pictures to show you how Queen Bey looks without makeup. Also check out the stunning Jennifer Aniston natural photos.
Let's begin!
25 Best Beyonce No Makeup Photos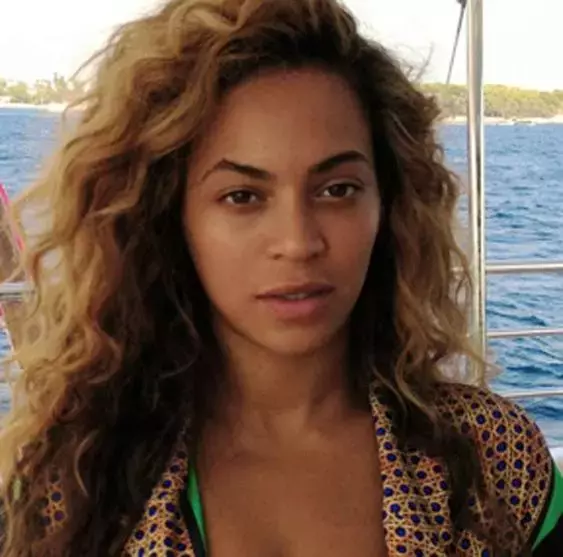 1. Beyonce Without Makeup On Vacation
We get to see some of the most amazing Beyonce without makeup pictures when Queen Bey goes on a vacation. She serves looks both with and without makeup and we live to see those posts!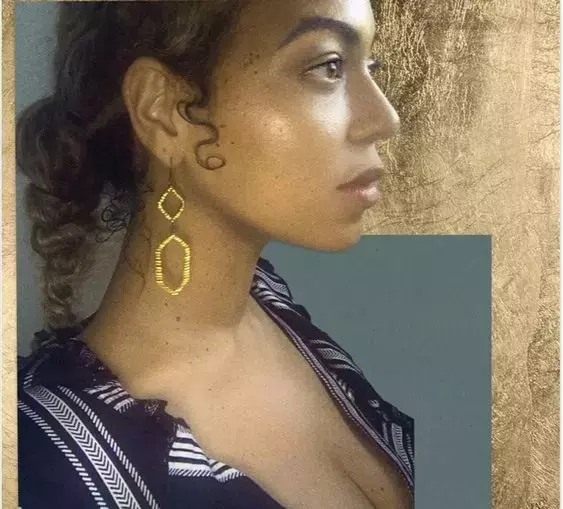 2. Beyonce No Makeup Post
The internet loses its mind every time there comes a Beyonce without makeup picture. Queen Bey is immensely famous and has a massive social media following. She is also known to be one of the most private celebrities. Crazy, right? But, every part is true! So, whenever she chooses to share with her fans a part of her life, can they really be blamed for getting over-excited?
Also check out Nicki Minaj natural face as we cover photos. From no makeup selfies to casual photos, our guide covers her best without makeup photos.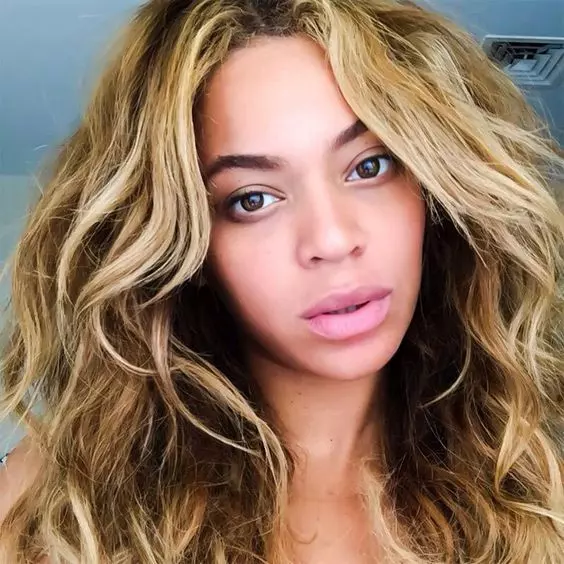 3. Self-Love
Beyonce no makeup selfies are a genre of their own. The beauty and confidence she exudes are an inspiration for many. But, she too has her own struggles. Beyonce had gotten rid of all her pregnancy weight within three months after giving birth to Blue Ivy Accepted due to societal expectations. She, later on, accepted that it was a crazy thing to do. She learned from her mistakes and took her time to recover after giving birth a second time to twins, Rumi and Sir. In her own words: "During my recovery, I gave myself self-love and self-care, and I embraced being curvier. I accepted what my body wanted to be."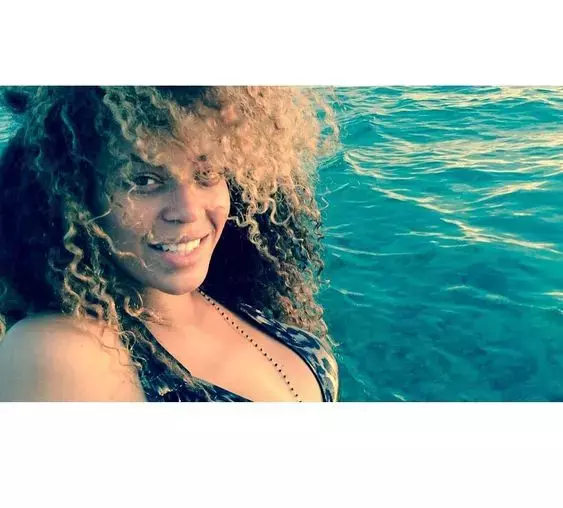 4. In A  Bikini
This natural picture had her fans excited but it was also exciting for the singer herself. She had lost her baby weight after having given birth to her first child, Blue Ivy Carter, and was happy to flaunt a body she had worked on.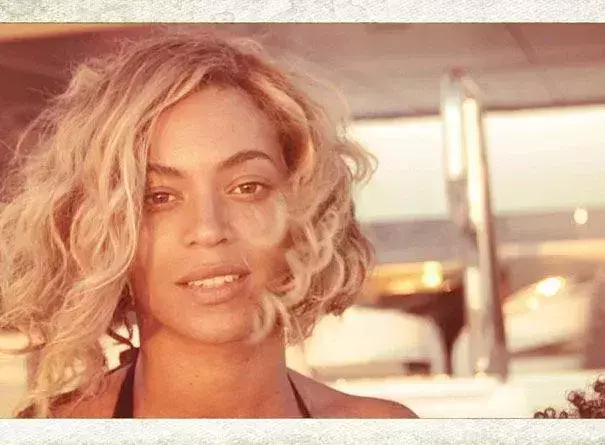 5. Beautiful Beyonce
Here is yet another Beyonce sizzling photo that broke the internet. She looks stunning in the pink cut-out bikini with a high pony braid. And here's a Beyonce fact for you. Did you know that she was named after her mother Tina Knowles who was actually born Celestine Beyonce? Her mother wanted to keep the family name going and thus named Beyonce after her family's last name.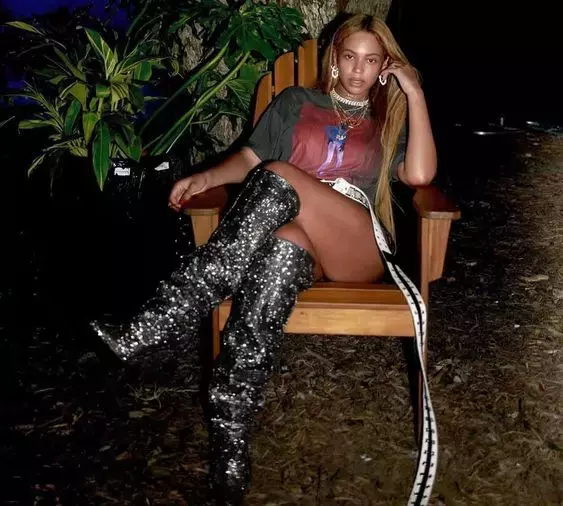 6. Stunning Beyonce No Makeup Post
Beyonce has been in the limelight for over three decades now and does not shy away from posting a bare-faced picture on social media. She started her journey as a musician at the young age of nine. She took part in many talent shows and went on to win 35 such competitions one after the other.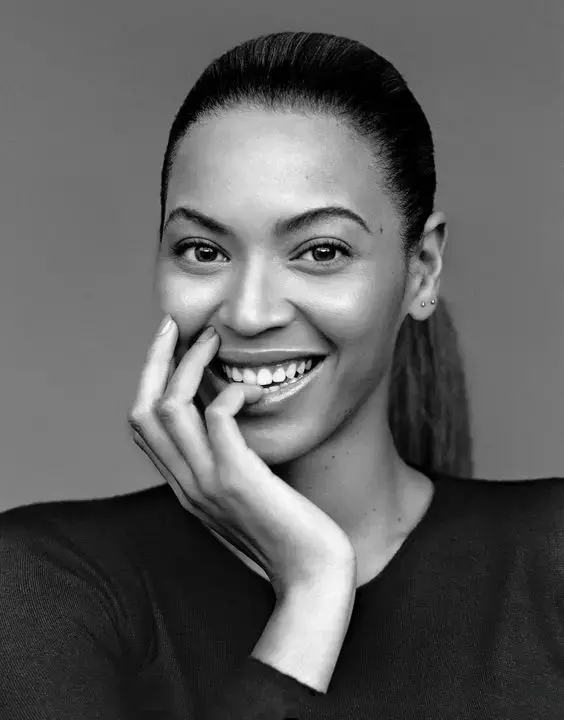 7. Young Prodigy to Sasha Fierce
This Beyonce without makeup picture reminds us of her Sasha Fierce days. Beyonce is immensely talented and has been performing ever since she was a child. She won several competitions and is known as one of the world's most powerful and fierce performers. But even Beyonce had to face stage fright and thus adopted her alter ego, Sasha Fierce, to overcome the same. Sasha Fierce became such a huge part of Beyonce that she even named an album after her alter ego.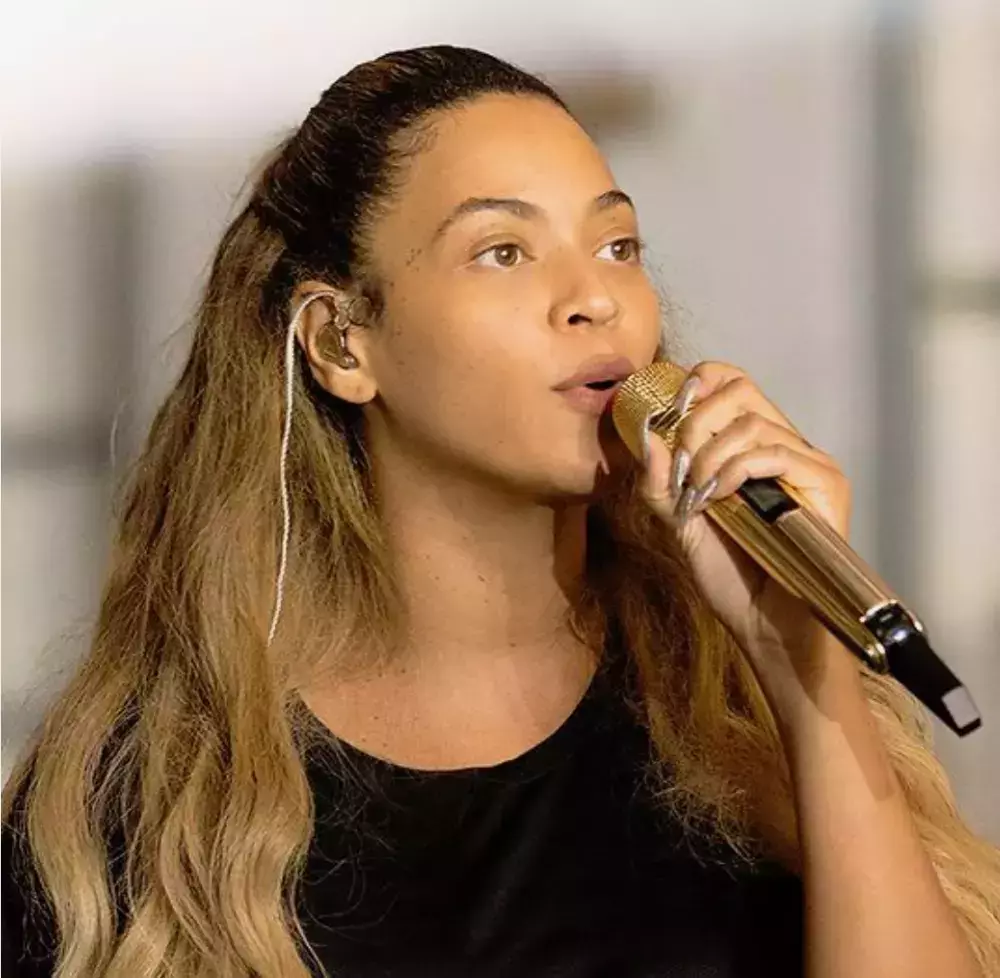 8. Mother Of Three
Can you look at this Beyonce no makeup post and believe that this woman is a mother of three children? Apart from working on her music career, dabbling into acting, donning the hats of a director and producer, having her own activewear line, Beyonce is also a mother to three children with husband Jay-Z. Superwoman, much?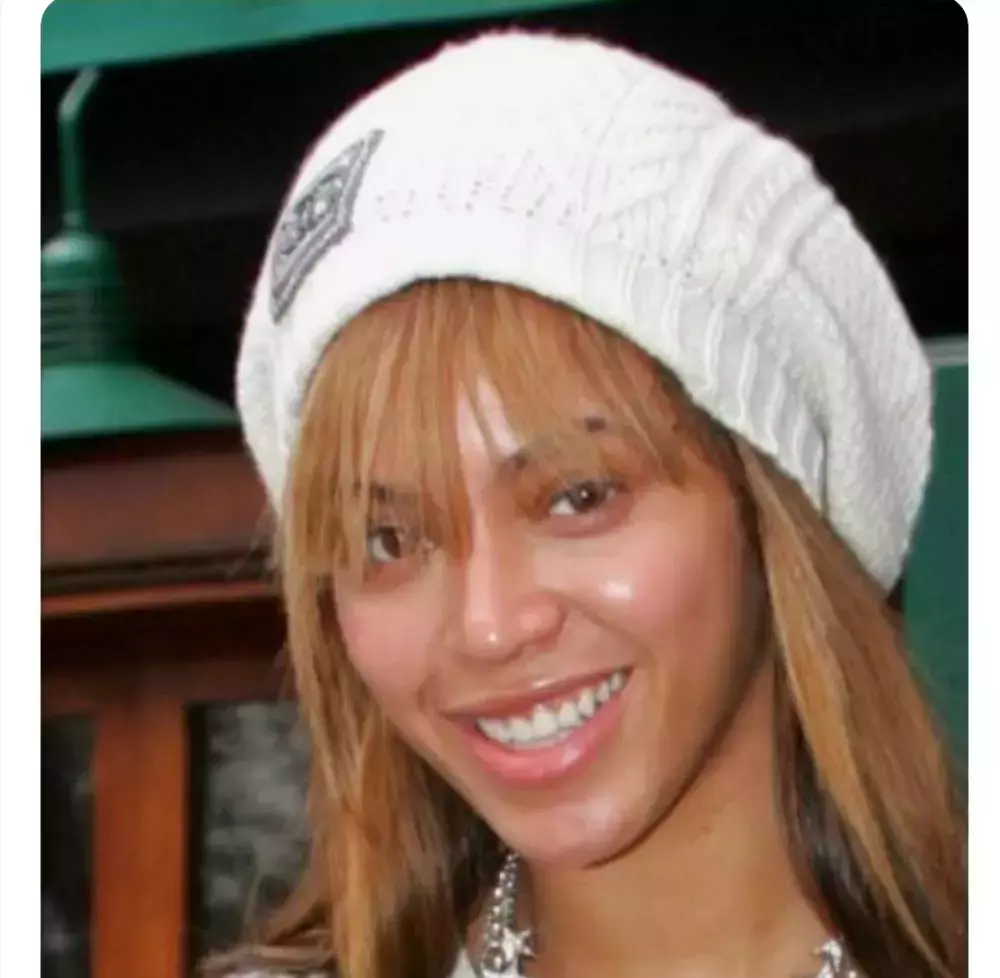 9. Timeless Talent
Look at this Beyonce no makeup picture. Look how radiant her skin looks. Yes, this picture is a few years old but that doesn't change the fact that Beyonce is a timeless beauty. Her talent knows no bounds either. It was just at the age of 12 that she participated in a series called Star Search in 1993 with her troupe Girls Tyme which later on went on to become Destiny's Child. And look at her now, breaking records and making history with every album she releases.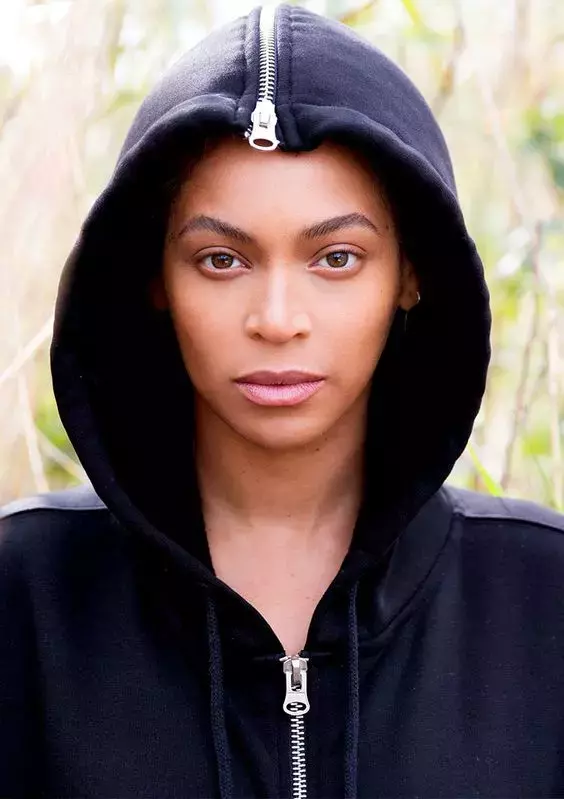 10. Not Just A Pretty Face
If you look at any Beyonce without makeup picture, you will know that the Single Ladies singer is beautiful. And considering it's her, it goes without saying that she is so much more than just another pretty face. She's Beyonce! Did you know that she wrote an essay, "Eat, Play, Love" in 2011 for Essence magazine and has won an award from the New York Association of Black Journalists for the same?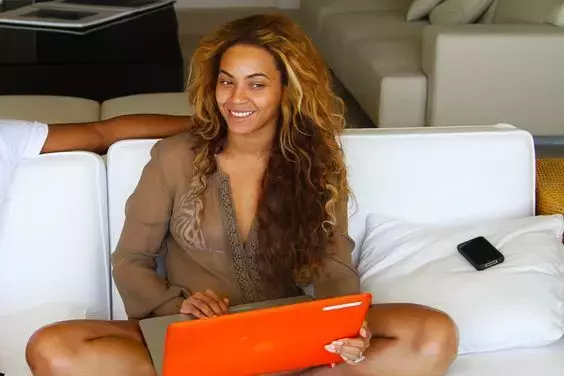 11. Eye For Details
Beyonce is sort of a perfectionist. She is very involved in the entire process of how her music is perceived. She has a vision and she does everything to ensure that every last detail of her work is according to that vision. She even learned editing for this purpose and took a year finalizing Life is but a Dream, a 2013 autobiographical film directed and executive produced by the singer. It was her love of mixing media that inspired her to pursue projects like Lemonade and Homecoming. You can even see this Beyonce no makeup picture where she can be found working while on vacation.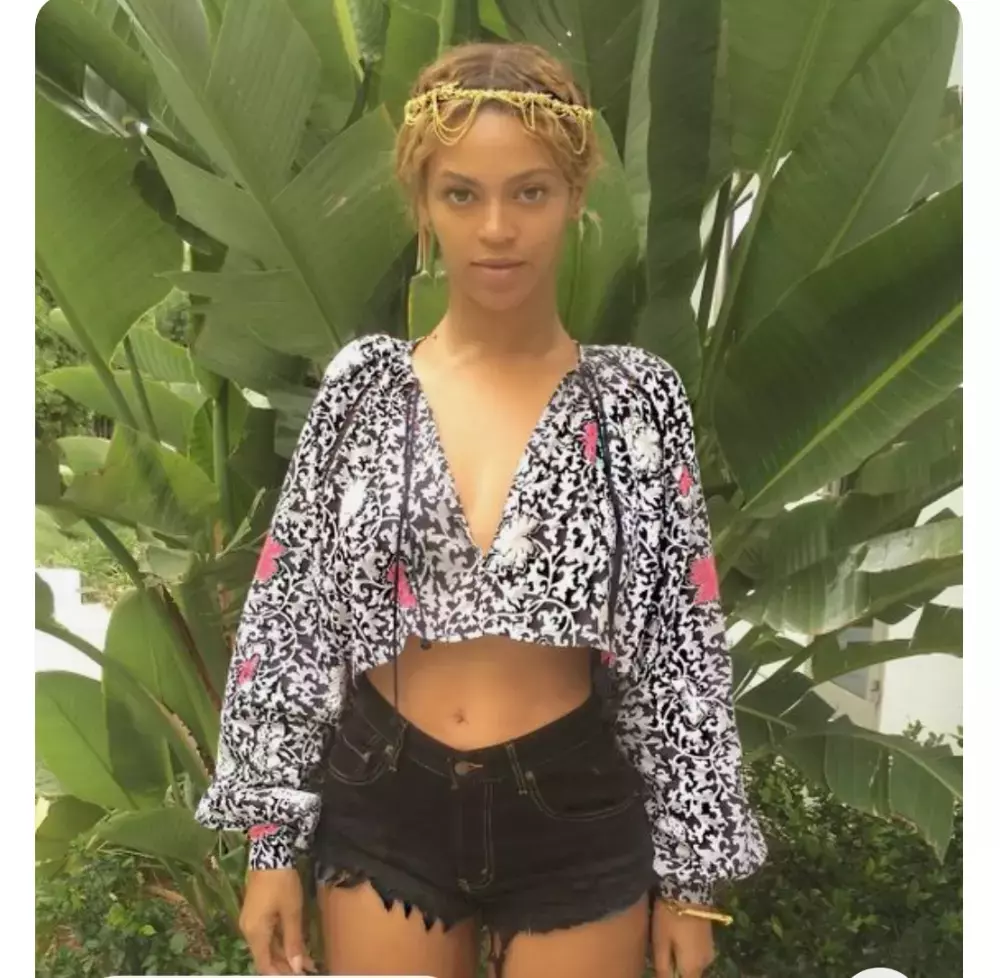 12. Coachella or Beychella?
This is a Beyonce no makeup post that gives us Coachella vibes. The floral crown, crop top, and distressed denim shorts? Definitely Coachella vibes. It was in 2018 that Beyonce became the first black woman to headline Coachella, an annual music and arts festival held in the Coachella Valley in the Colorado Desert. Such was her influence that fans renamed Coachella as #Beychella that year and trended all over social media.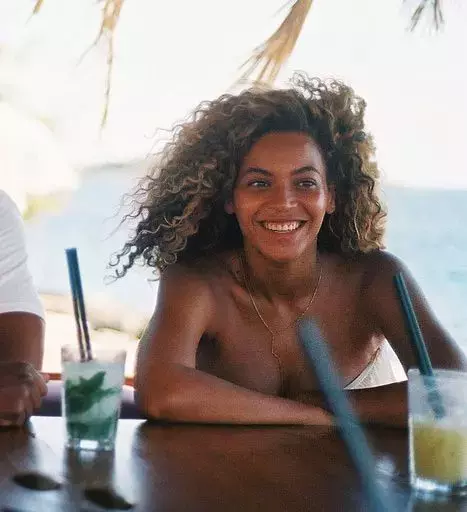 13. Beachy Days
We really get some of the most beautiful Beyonce no makeup photos when she goes out for a vacation. Here is one such picture where the Crazy in Love singer can be seen enjoying a sunny day at the beach with drinks and all her natural glory.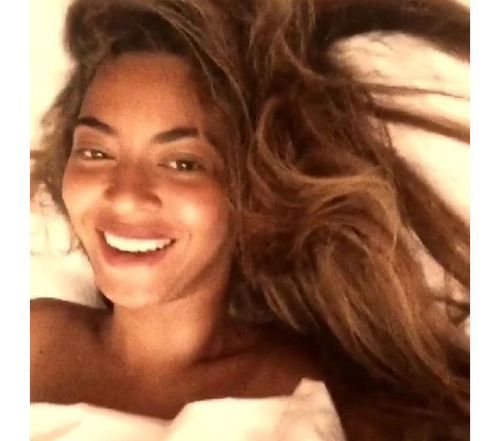 14. She Woke Up Like This
The internet has been blessed several times with Beyonce without makeup selfies and here we have one such selfie which screams #Iwokeuplikethis.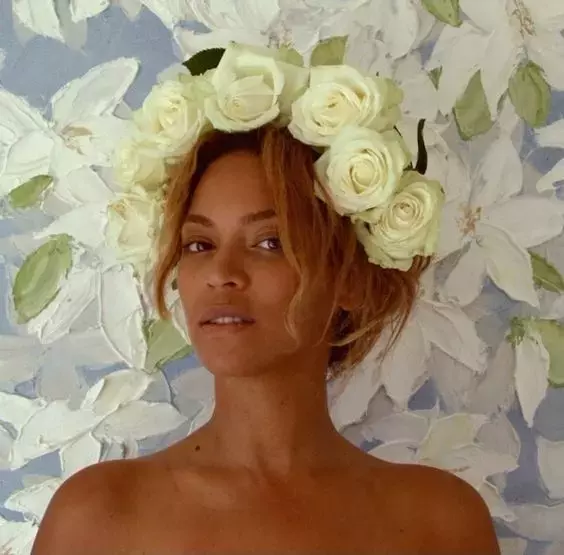 15. Art Lover Beyonce
This Beyonce no makeup photo looks nothing but like a work of art. The floral background, the bare-faced beauty that she is, and the magnificent floral crown just present such a pretty picture. It is enough to remind us of Beyonce's love for art. The Halo singer is very passionate about art and has been to the Louvre museum in Paris not once, not twice, but four times in the past ten years. So much is her love for that museum, that she rented the whole building with her husband Jay-Z to film the music video for their song, Apeshit.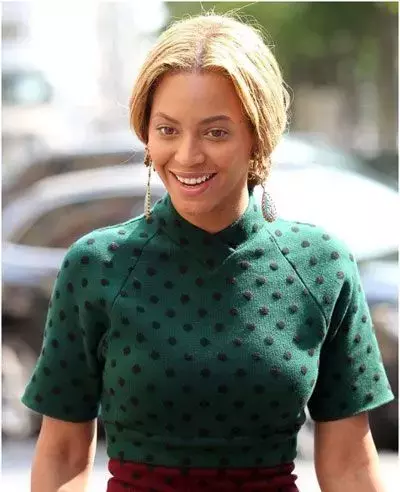 16. She's An Actress!
Look at this gorgeous Beyonce no makeup picture. No wonder she has also dabbled with acting and been a part of many successful projects including The Lion King, Epic, Dreamgirls, and Obsessed. She has also famously portrayed Etta James in the 2008 movie, Cadillac Records. No wonder, she was asked to play the role of the aspiring singer, Ally in the Oscar-winning movie, A Star is Born. But due to some scheduling conflicts, Beyonce had to let go of this project and the part was ultimately played by the talented Lady Gaga.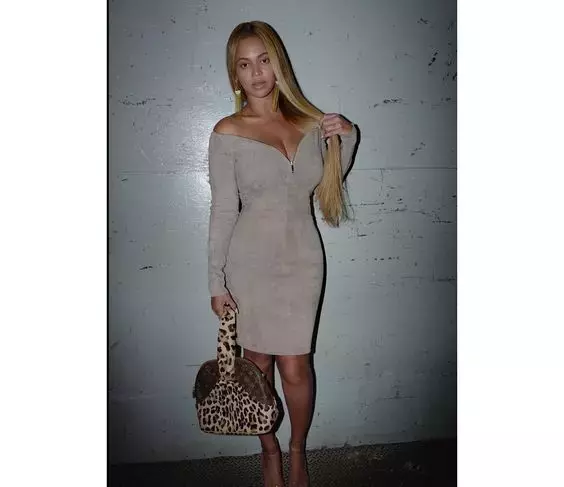 17. Everyone's Favorite
Beyonce is everyone's favorite. From a 10-year-old girl in India to the President of the United States, no one is untouched by the Beyonce magic. She even performed at both inauguration events for President Barack Obama. Her performance had brought the audience to tears. Even Beyonce remembers it to be "one of the best moments of her life". Here you can see just another Beyonce without makeup picture that the singer posted on Instagram.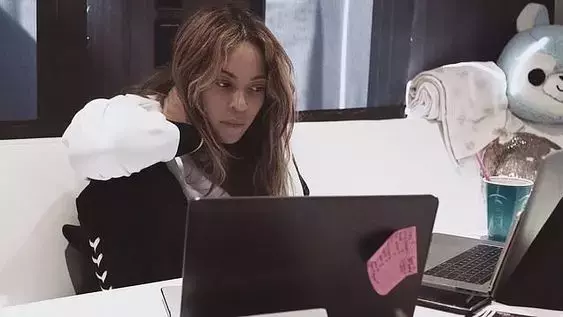 18. Busy As A Bee
Beyonce puts a lot of hard work into her music and aims to put her best foot forward every time. When she is on tour, she ensures that she watches all her performances. She then evaluates and critiques them. She does all this to push herself to be her best self and works on improving herself. Even here you can see a Beyonce no makeup post where she is most probably working on something.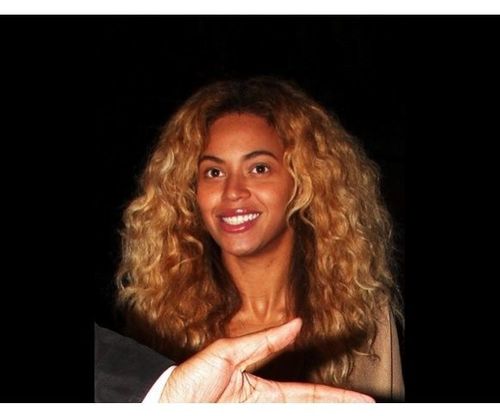 19. Breaking Records, Making History
Look at this Beyonce no makeup picture carefully. This is the face of a woman who has broken multiple records and made history multiple times throughout her career. She is the most nominated and the most awarded woman in the history of Grammys. She was the first Black woman to headline Coachella. She was the first solo artist whose six consecutive albums debuted at No. 1 on the Billboard Hit 200 chart. She made history once again when twelve songs from her album, Lemonade charted at the Billboard Hot 100 all at once!
Beyonce is truly marvelous!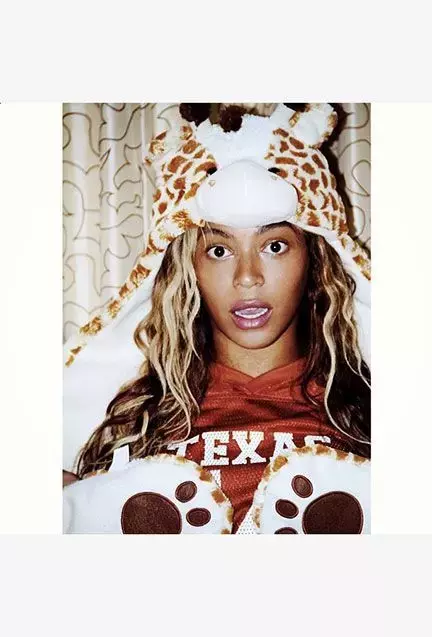 20. Goofing Around
Here is a Beyonce without makeup picture where Beyonce can be seen goofing around in a giraffe headgear. She looks so adorable! She deserves every bit of goofiness and off days especially after all the hard work she puts into her music. Did you know that Beyonce used to run a mile while singing as part of her vocal training? It is a technique she still uses sometimes to build her stamina. This is the work she puts in to become a better performer.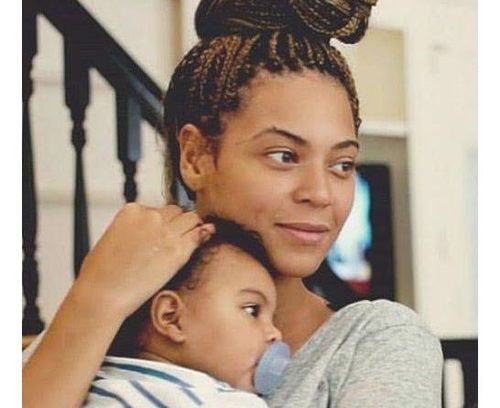 21. Beyonce No Makeup Photo With Baby Blue Ivy
Here you can see a Beyonce without makeup picture as she holds baby Blue Ivy. This picture takes us back to the time when she first announced her pregnancy and it broke the internet yet again. It was a surprise pregnancy announcement that Beyonce made after her 2011 VMA ceremony performance. It was a beautiful and iconic moment when she opened her jacket to reveal to her fans a very pregnant belly.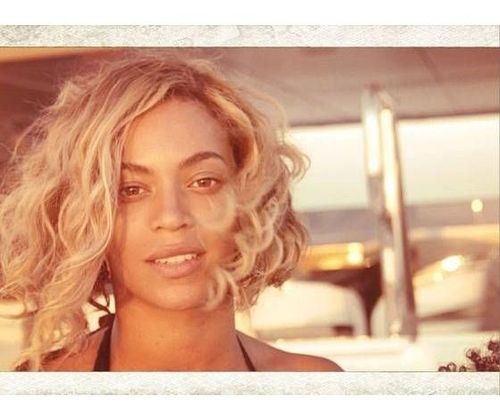 22. Beyonce No Makeup Vacations
Most of the Beyonce no makeup pictures come from her vacation days. And where does the Run the World singer goes for a holiday? To the sea! In her past interviews, Beyonce has opened up about how she finds herself at peace when she is at the sea thus, making it the perfect holiday destination for the Carter family. She has said: "The only time I can really relax is on a boat because then I have no excuse. I am stuck and I have to take care of myself."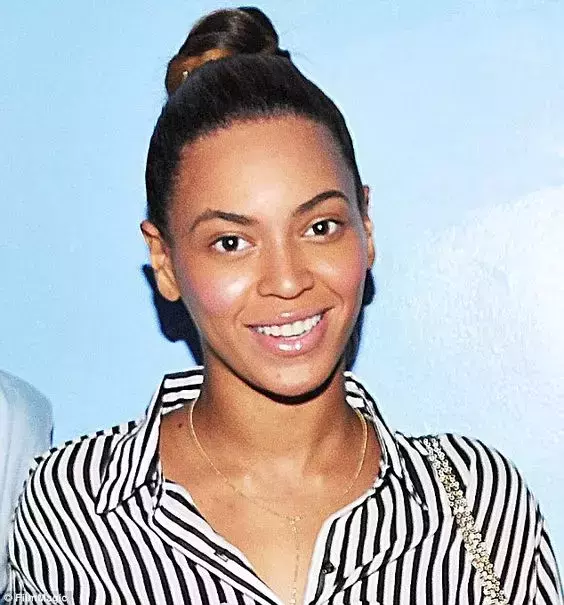 23. The Beautiful Winner
This is a Beyonce no makeup picture. This is Beyonce with a bare face. This is the face of a woman who has not only been nominated for the most number of times but has also been the most awarded woman in the history of Grammys. With a career spanning over three decades, Beyonce has had 79 nominations and won 28 Grammy awards.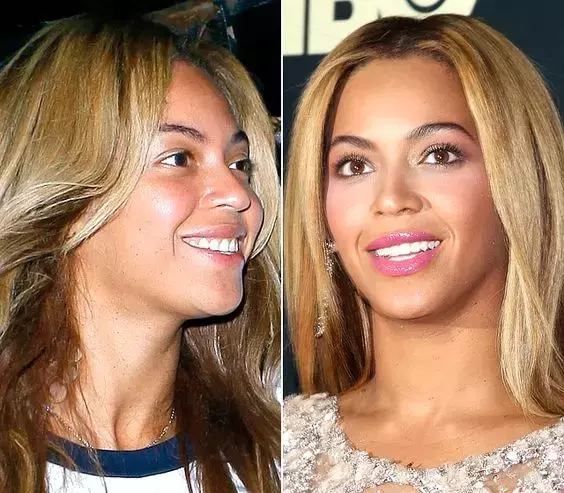 24. Beyonce No Makeup Pictures
Here is a Beyonce without makeup picture on the left and a with-makeup picture on the right. And truth be told, there is not much difference because that's just how naturally beautiful Beyonce is. Whatever she does is always iconic. Just like the time she decided to release her album, Beyonce without any prior warning on all digital platforms. It was considered a bold move and now all other artists are following in her footsteps. She is legit the Queen!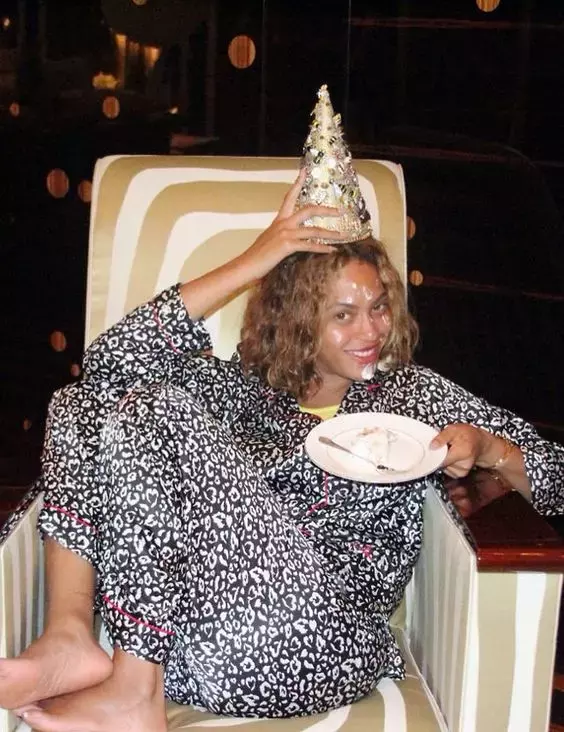 25. Queen Bey Without Makeup
This brings an end to our collection of Beyonce no makeup pictures but we will leave with some words of wisdom from the singer herself about the journey of life:
"There are many shades on every journey. Nothing is black or white. I've been through hell and back, and I'm grateful for every scar. I have experienced betrayals and heartbreaks in many forms. I have had disappointments in business partnerships as well as personal ones, and they all left me feeling neglected, lost, and vulnerable. Through it all, I have learned to laugh and cry and grow. I look at the woman I was in my 20s and I see a young lady growing into confidence but intent on pleasing everyone around her. I now feel so much more beautiful, so much sexier, so much more interesting. And so much more powerful."
Beyonce has always inspired hundreds of thousands of women as well as little girls across the world. She has single-handedly revolutionized the music industry and has been the only pillar of representation of Black culture. Nobody does it as she does. From her music to her hair and attire, everything speaks volumes about accepting who you are and where you come from. We hope her words inspire you just the way they inspired us.