Celebrity Plastic Surgery: 51 Before And After Images
Shalu Bhati
Updated At 08 Nov 23
How many times have you wished to look like your favorite celebrity? Perhaps it was their shapely nose, angular cheekbones, pretty smile or their shapely derriere that caught your eye and made you look more than twice. But do you know chances are that the features of your favorite celeb you are crushing over are courtesy of a place like Xiluet plastic surgery in Miami?
Yes, that's correct. Celebrities and plastic surgery go hand in hand now. Maybe a nip here and a tuck there or sometimes something on the lines of extreme plastic surgery, but famous people are changing the way they look more comfortable now than before. Some are even talking openly about it while some leave us to speculate.
No matter how subtle the changes are but celebrities before and after plastic surgery look different. And based on this very difference we have compiled a list of 51 celebrities before and after surgery images irrespective of their denial or acceptance of getting some work done. Let's find out who went to the surgeon!
Celebrity Plastic Surgery: 51 Before And After Images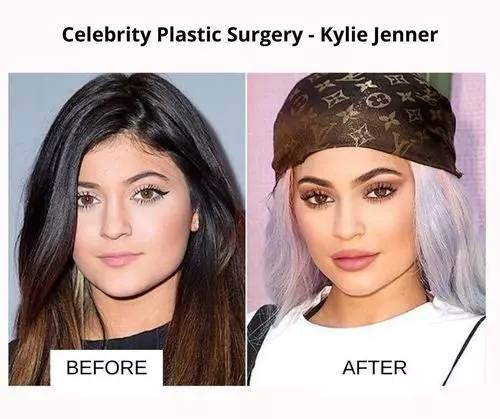 1. Kylie Jenner Plastic Surgery
The Kardashian-Jenner clan is known for treating its plastic surgeon as a family physician. That's how regular they are with staying up to date with their cosmetic procedures. So it was not a surprise when we saw the drastic transformation of Kylie Jenner. Kylie Jenner Plastic Surgery has been always in the news. From her face to her body, everything looks completely different. She has only admitted to getting fillers in her face and has denied going under the knife for other rumored procedures. However, if you look at the celebrities before and after plastic surgery pictures, you will see her very proportional hourglass figure which just cannot be attributed to a simple weight gain. It is speculated that apart from fillers she has undergone rhinoplasty, chin enhancement, breast augmentation, and Brazilian butt lift. 
Also Read: 15 Stunning Kylie Jenner No Makeup Photos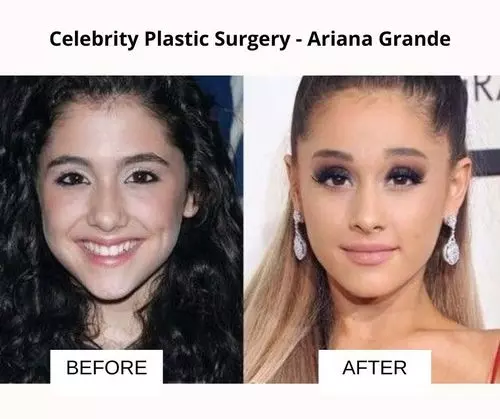 2. Ariana Grande Plastic Surgery
This is yet another one of the celebrities before and after surgery results which can be labeled as drastic. Now a 25-years-old Ariana Grande looks completely different from her 15-years-old self and no, we are not just talking about her tanned complexion. She has not admitted to having plastic surgery but the changes in her appearance have been so drastic that they cannot be called natural. Her nose looks more refined and her lips plump and fuller. There are also speculations that the singer got breast implants. Check out our article to see the 15 most popular Ariana Grande No Makeup looks. Though Ariana Grande doesn't fall in the list of celebs who has admitted to plastic surgeries, but looking at her transformation, its difficult to believe that everything can be natural.
Check out our guide to find out all the details about Ariana Grande plastic surgery. She is rumored to have undergone nose job, brow lift, breast augmentation, facelift surgery and has taken lip filler injections to have fuller lips. Her drastic change in face also reflects the same.
   
Also Read: Ariana Grande Makeup And Beauty Routine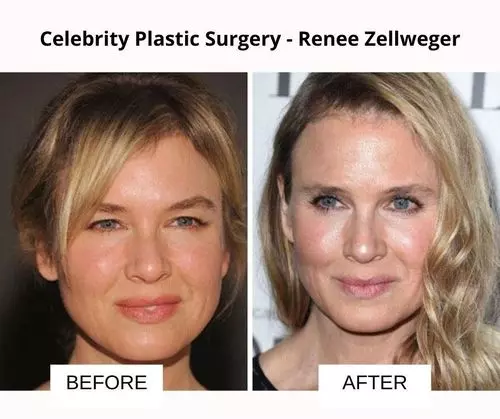 3. Renee Zellweger Plastic Surgery
Renee Zellweger stepped out on the red carpet in 2014 with a changed appearance and it set the rumor mill abuzz. She faced immense backlash for having Botox injections and a possible facelift. What started as name-calling took a mean turn and hurtful things were said. However, it ended up being the perfect example of how the media and certain groups of poetry to bring down aging women for their looks. One picture is all it takes them to pass judgment on other people. Renee has recently opened up about her coming to terms with the mean reactions she had to face. She denies going under the knife and mentions aging is the main reason behind her change in appearance. The experts however feel otherwise.
Do check out our guide on Renee Zellweger Plastic Surgery as we capture all the plastic surgeries she may have undergone which would have led to the transformation.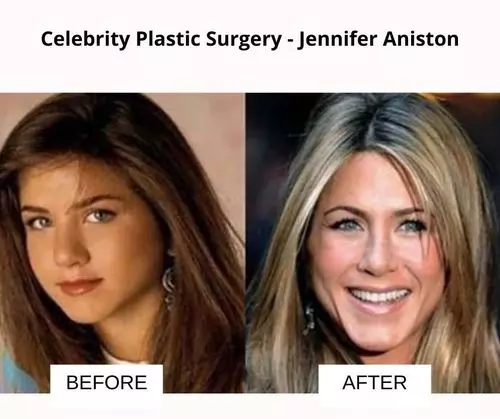 4. Jennifer Aniston Plastic Surgery
Jennifer Aniston is amongst those celebrities who have been very open about their plastic surgery procedures. Jennifer has admitted to having undergone rhinoplasty very early in her career. She has disclosed that it was to treat a deviated septum. The results yielded by her nose job are very subtle and natural. She now has a slightly thinner nose which sits perfectly well with the rest of her face. Jennifer Aniston is one of the top celebrities who has admitted to having undergone plastic surgery and injectables.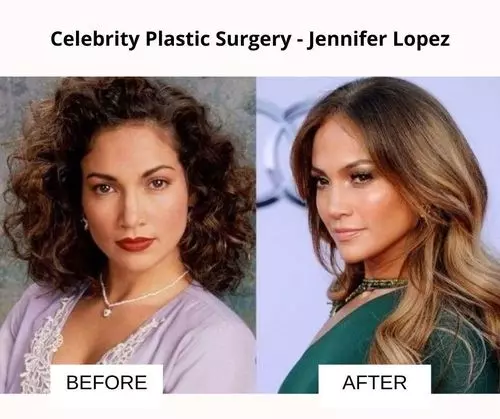 5. JLo Plastic Surgery
Jennifer Lopez is another celebrity who has evolved over the years. It is true that she looks different from her older pictures and has been the one to constantly deny getting plastic surgery. Some cosmetic surgeons, however, are of the view that Jenny from the block has at least had a rhinoplasty. Her nose looks different than before. It is slimmer and more refined. There have been speculations about other facial procedures too. In our opinion, her face that refuses to age can also be a result of a good lifestyle and some non-surgical treatments.
Looking for full details on Jennifer Lopez plastic surgery? Do check out our guide as we list all the details. From rhinoplasty, cheek implants to Blepharoplasty, we cover all the details about the procedures JLo has likely undergone.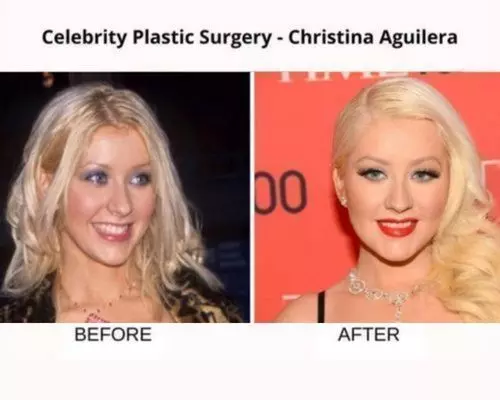 6. Christina Aguilera Plastic Surgery
Take a look at Christina Aguilera now and you will not believe if she is the same 90s pop star who rose to fame with her midriff-baring dance in her music videos. It seems that the singer has not aged for the past 20 years. This reluctance to aging can be credited to face fillers that have helped her alter her lips, cheeks, and chin. It is also speculated that the iconic singer has had a nose job as well. It was her recent appearance on the Jimmy Kimmel show that sparked the rumors of extreme face fillers.
Check out our detailed guide on Christina Aguilera plastic surgery to find out all the surgeries she has undergone over the years.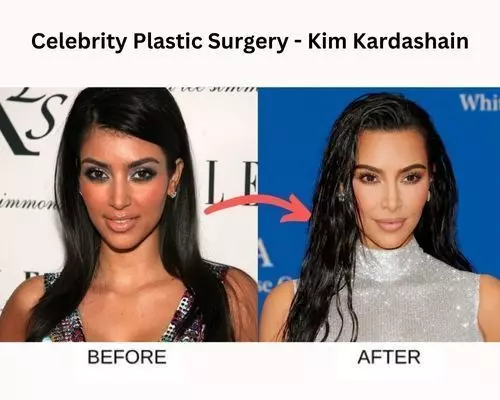 7. Kim Kardashian Plastic Surgery
If you analyze the pictures of Kim Kardashian before surgery and after, you will clearly see how her face and physique have changed over the years. Some of the plastic surgeries and treatments that she is rumoured to have got undergone are breast jobs, nose job, laser treatment, bum upliftment, Botox and many more. We have covered Kim Kardashian plastic surgery along with all the popular FAQs to answer all the types of cosmetic procedures she has likely to have undergone to transform her body. Celebrity plastic surgery topic has been quite popular and though many celebs deny having undergone procedures, the transformations reveal the reality.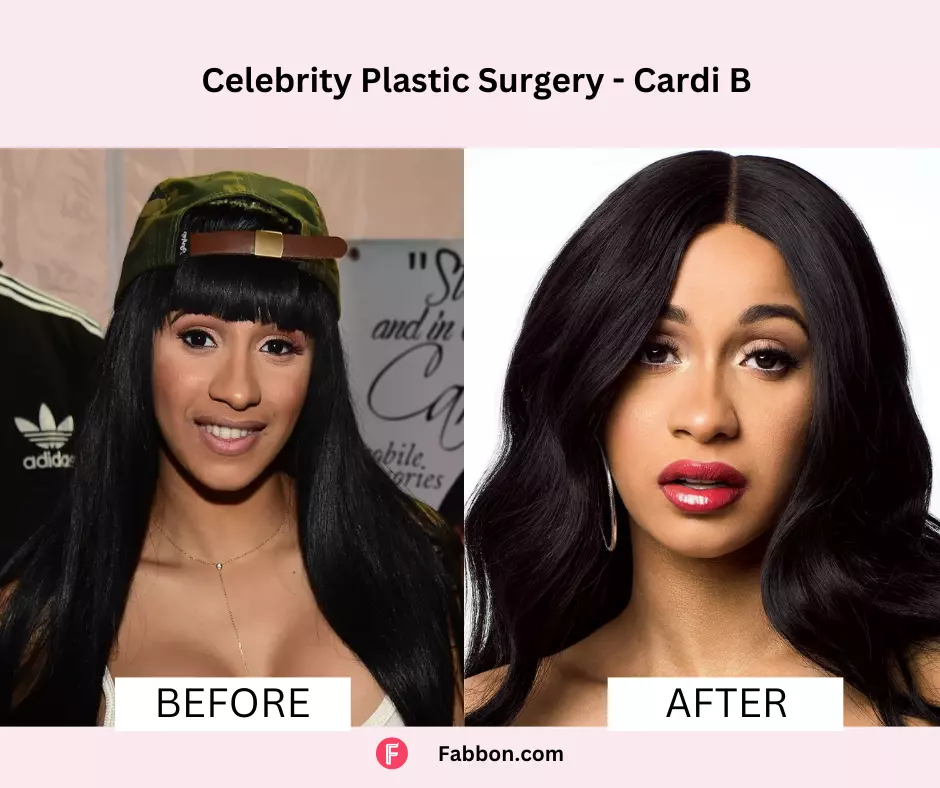 8. Cardi B Plastic Surgery
American rapper, songwriter, and actress Cardi B, whose real name is Belcalis Marlenis Almánzar, has been candid about her various cosmetic procedures, including breast augmentation, butt augmentation, liposuction, and dental work, all undertaken to achieve her desired curvaceous figure.
Check out our detailed guide on Cardi B plastic surgery to find out all the surgeries she has undergone over the years. From BBL, breast augmentation, nose job to fillers, we cover all procedures she has undergone.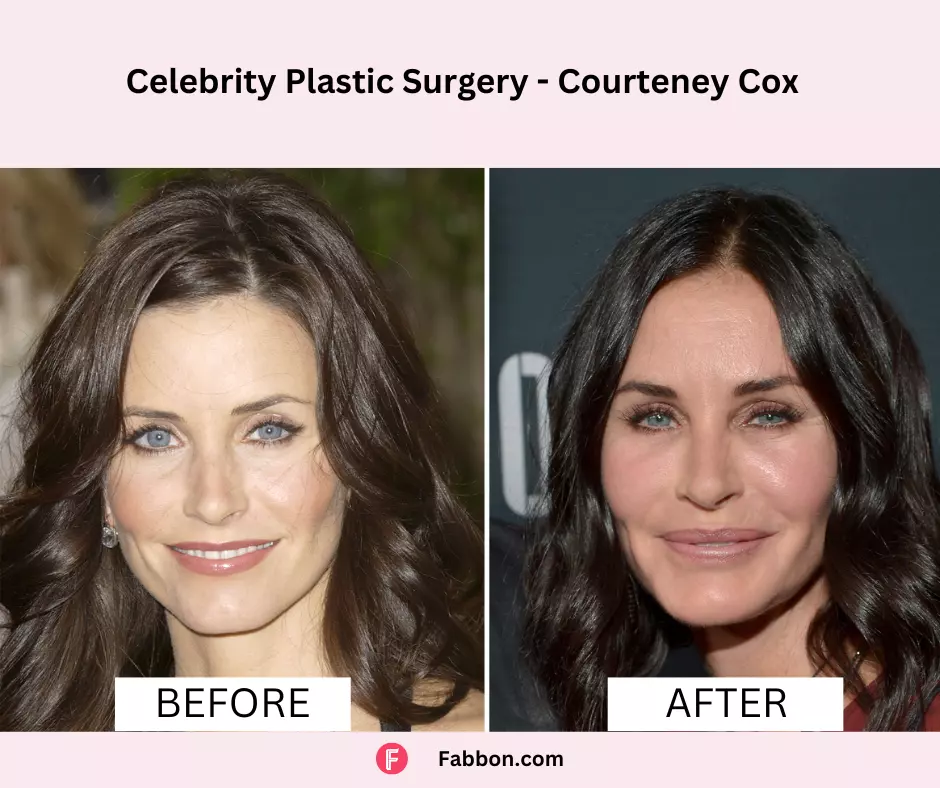 9. Courteney Cox Plastic Surgery
American actress Courteney Cox has been upfront about her experiences with cosmetic procedures, specifically her use of Botox to reduce the appearance of fine lines and wrinkles on her face. She has also discussed enhancing her facial features, especially her cheeks, with dermal fillers.
Looking to find out all the details about Courteney Cox plastic surgery? Do check out our guide as we cover all the details whcih includes her lip procedures, botox and all other surgeries she has undergone.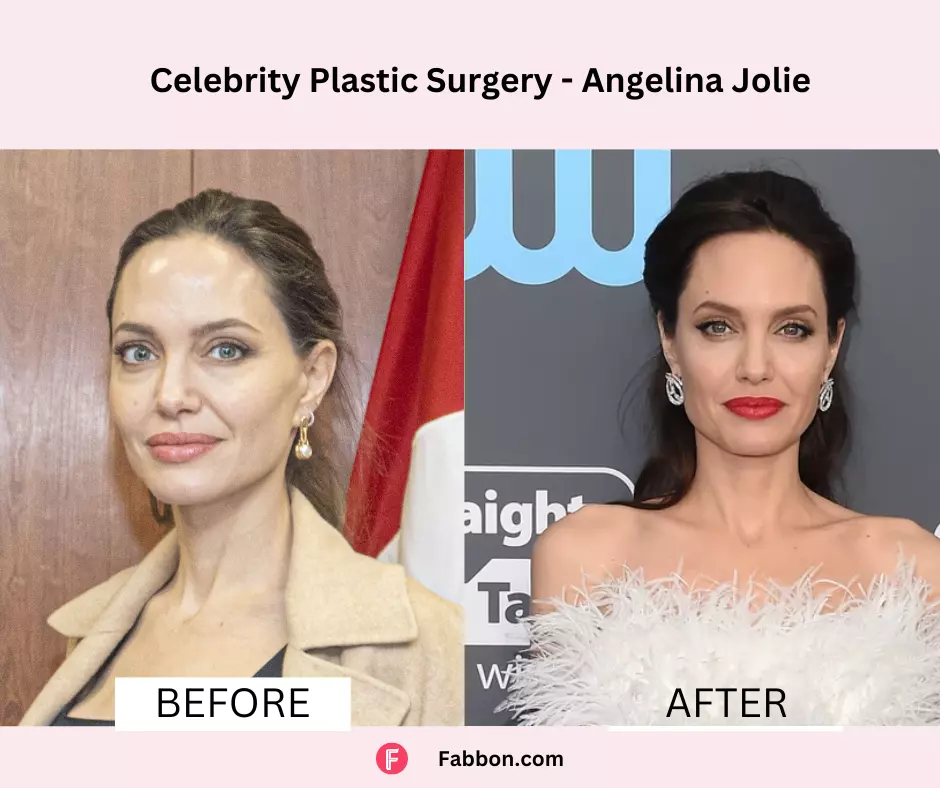 10. Angelina Jolie Plastic Surgery
Angelina Jolie underwent breast augmentation surgery. The American actress, filmmaker, and humanitarian hasn't extensively discussed plastic surgery, as she is known for her natural beauty and successful acting and directing careers. However, it is rumored that she has undergone multiple plastic surgery procedures including nose job and buccal fat removal.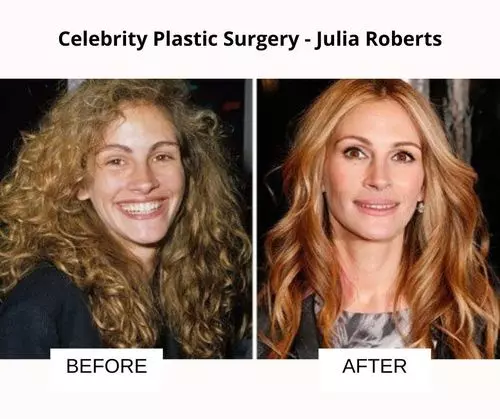 11. Julia Roberts Plastic Surgery
Who doesn't love Julia Roberts? This red-haired forever smiling Pretty Woman is one of those celebrities who just refuse to succumb to industry and societal pressures. She has never gone under the knife and believes in aging the natural way. When asked about her views on plastic surgery, Julia mentioned how she has never had a facelift and in doing so she has risked her career per Hollywood standards. She reveals that she found peace when she was in her 40s with the help of Yoga and now believes in letting go of things that bring her down physically, mentally or emotionally.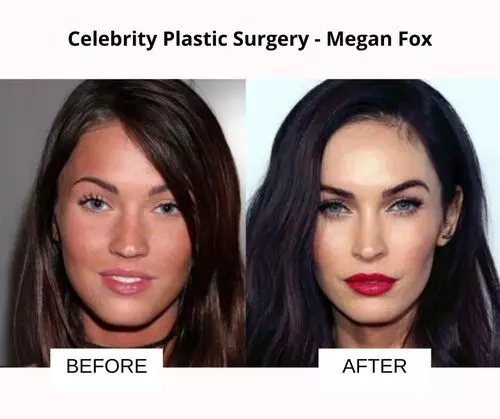 12. Megan Fox Plastic Surgery
Any list of celebrities before and after plastic surgery is incomplete without the mention of Megan Fox. The Transformers actress has had an impeccable beauty evolution over the years. She has always been a beautiful looking woman. However, people started seeing changes in her appearance that could not be credited to good makeup and hair only. Her lips and cheeks seem to be altered which can be due to the use of fillers. Facial fillers provide a similar altering effect that a surgical facelift does and are better as there are no incisions or cuts made on the face.
One of the top buccal fat removal celebrities, it is rumored that Megan Fox has undergone multiple procedures like rhinoplasty, botox, fillers to maintain her beauty.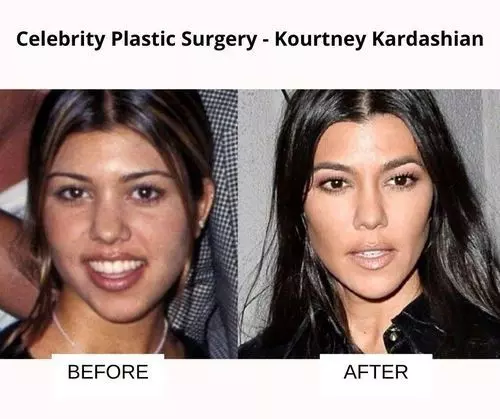 13. Kourtney Kardashian Plastic Surgery
Kourtney Kardashian hasn't changed at all when compared to her sisters. She has maintained her natural looks through a good lifestyle, clean eating, and regular workouts. She has previously admitted that she had her boobs done while she was still in college. She is not proud of it but now it is what it is. However, there are also rumors about a nose job that she hasn't admitted or denied.  
Check out our detailed guide on Kourtney Kardashian plastic surgery to find out all the surgeries she has undergone over the years. From botox, lip fillers, eyelid surgery, nose job, breast implants to nasolabial filelrs, she is rumored to have undergone multiple procedures. Celebrity plastic surgery before and after photos clearly showcase the transformation which is difficult to get naturally!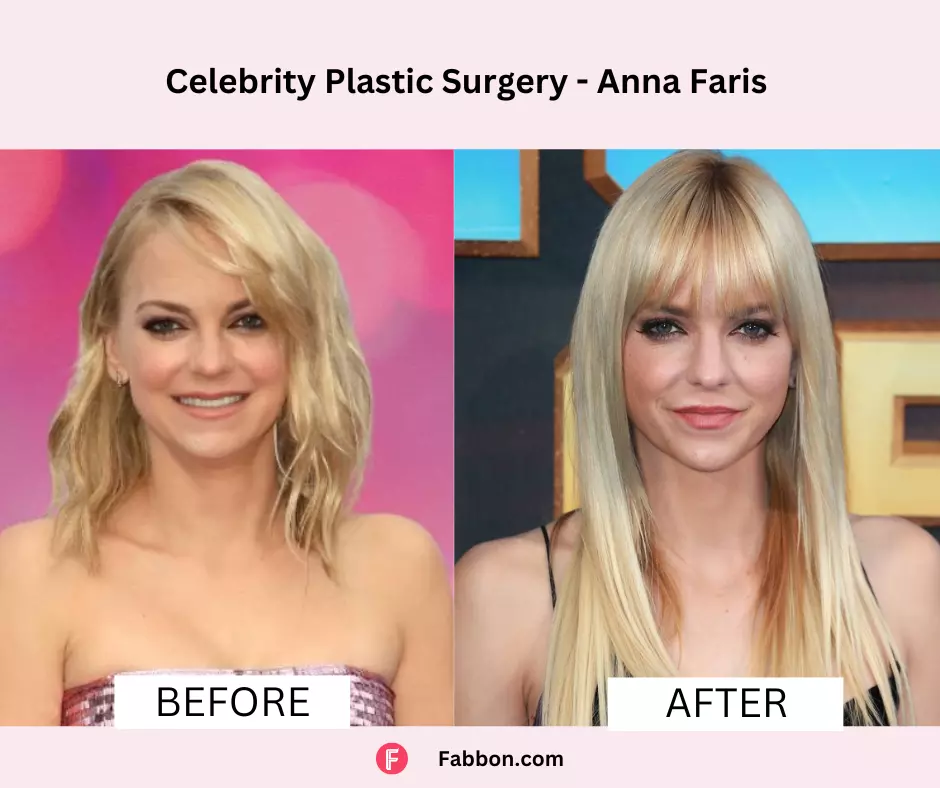 14. Anna Faris Plastic Surgery
Anna Faris, known for her acting career and comedic talent, has received lip filler injections for her upper lips and undergone breast implantation surgery, although she hasn't extensively discussed her cosmetic surgery experiences. One of the top celebs with botox, Anna Faris is rumored to have undergone multiple procedures.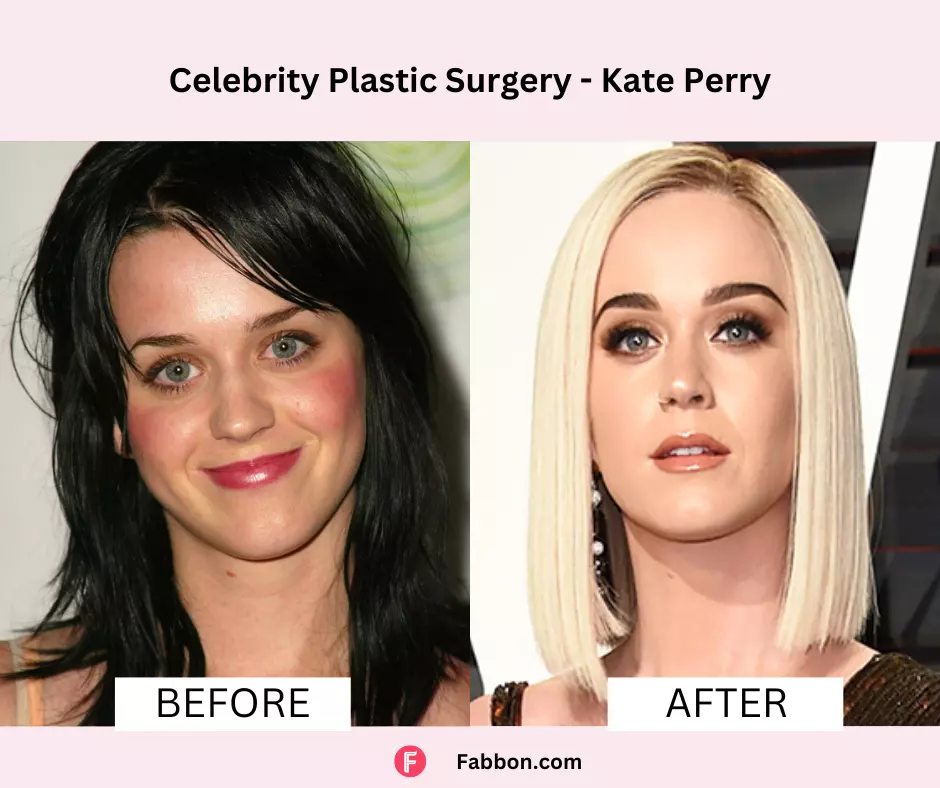 15. Katy Perry Plastic Surgery
American singer-songwriter Katy Perry has not publicly acknowledged undergoing significant plastic surgery procedures, but she has shared her experiences with laser and filler treatments to address dark circles under her eyes. According to Katy Perry, the only artificial elements are the filler and laser treatments for her dark circles; the rest of her assets are natural, which she cherishes.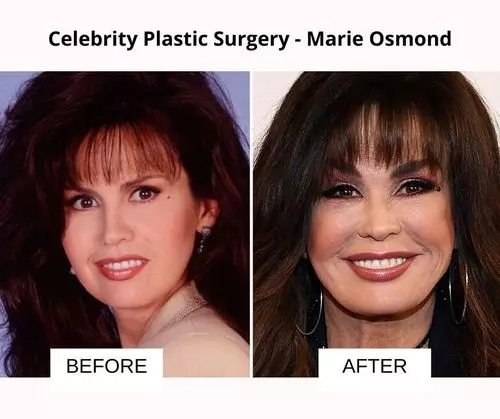 16. Marie Osmond Plastic Surgery
Marie Osmond is another celebrity who has been open about her plastic surgery procedures and her experiences. She credits her good looks to her genes. She also mentions that she lost quite a lot amount of weight during her time on Dancing with the Stars which further changed how she looks. She has also become an advocate of drinking water and we all know how good this habit can be for skin. But that's not all. Osmond has also admitted to having a tightening laser treatment which gave her wonderful results that had a permanent effect and had nothing to do with knives.
Looking at the celebrities before and after plastic surgery, it is evident that many of them have undergone procedures to maintain their beauty.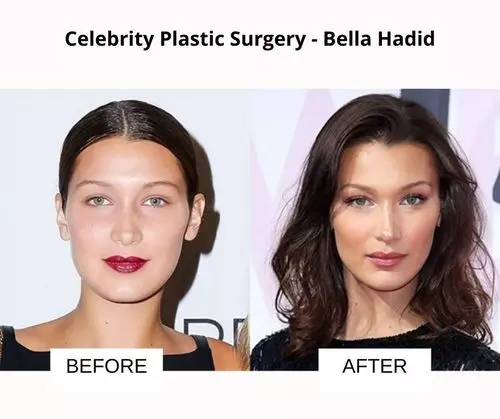 17. Bella Hadid Plastic Surgery
Bella Hadid is one of the most successful and one of the highest-paid models of today. She has appeared in many campaigns associated with famous brands and walked the ramp for well-known designers. There have been speculations revolving around her different looks but Bella remains adamant that she is completely natural. She has been constantly denying rumors of having had surgery or even fillers. But the pictures of Bella Hadid before plastic surgery tell a different story. Some cosmetic surgeons hold a different view as well. It is largely believed that the famous model has had rhinoplasty and dermal fillers to alter her nose and jawline respectively.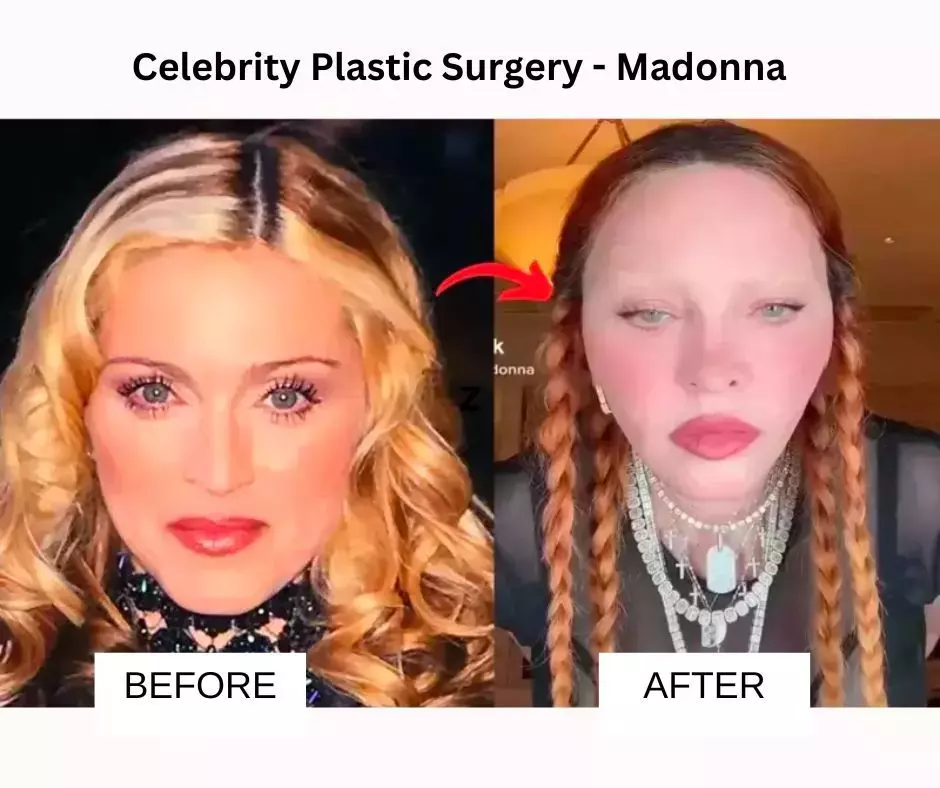 18. Madonna Plastic Surgery
Madonna's history of undergoing plastic surgery over time is evident, but the results have not been remarkably favourable. Her face seems to be completely transformed. Many plastic surgeons believe that Madonna has undergone many procedures like cheek implants, lip fillers, eyebrow lifts, face lift, breast implants and many more.
Interested to find out all the procedures she has undergone? Check out Madonna Plastic surgery secrets as we discuss views of various surgeons about all the procedures Madonna has undergone. We also discuss the procedires she has accepted publicly.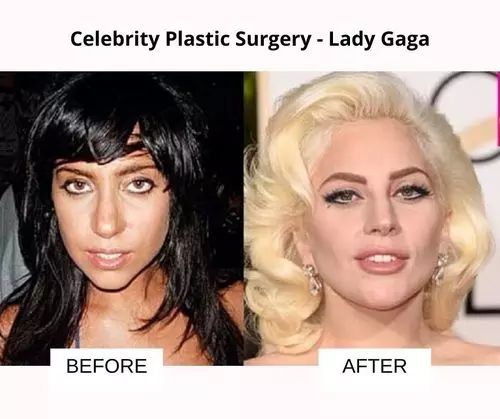 19. Lady Gaga Plastic Surgery
Lady Gaga is known for her extensive makeup looks. She is like a chameleon capable of pulling off different and extreme looks quite powerfully. But behind all her clever and unique makeup looks is her changed appearance. It is believed that the Poker face hitmaker had her nose and lips altered. She is said to have gone for lip augmentation and a nose job. It is also suggested that she might have also gone for a non-surgical facelift to maintain her youthful looks.   
Also Read: 15 Best Products From Lady Gaga's Makeup Line Haus Labs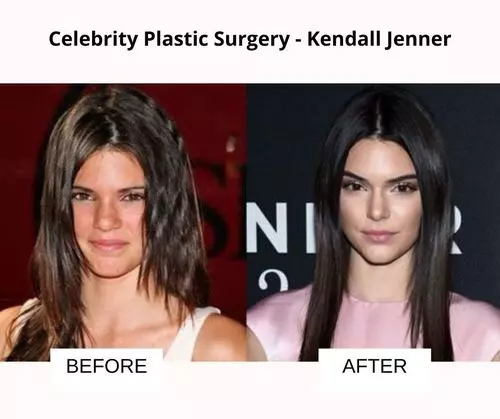 20. Kendall Jenner Plastic Surgery
It is quite normal for so many of the Kardashian-Jenner siblings to be on the celebrities before and after surgery lists. After sisters Kim, Khloe and Kylie, Kendall has not been immune to plastic surgery rumors even though she has denied going under the knife and calls herself completely natural. However, her denial has not stopped fans from all over from speculating. No doubt she has grown up in the past 10 years, but certain aspects of Kendall's face have changed in such a manner which the fans refuse to believe as natural. She is believed to have undergone rhinoplasty as her nose has slimmed down from before. One of the popular plastic surgery celebrities, her transformation itself reveals a lot of details.
Check out our guide to find out all the details of Kendall jenner plastic surgery as we cover her complete transformation along with all the FAQs on her plastic surgeries.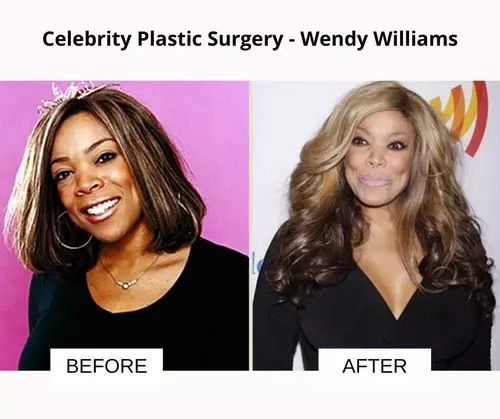 21. Wendy Williams Plastic Surgery
Wendy Williams has been an open book. She likes to play it real with the world be it her addiction struggles or plastic surgery procedures. She has admitted to having breast implants in 1994 which are still intact. She even goes on to share her secret. She revealed that she got her implants under the breast muscle which allows them to stay for a longer period. She has on previous occasions expressed her love for plastic surgery and has accepted having liposuction and a tummy tuck apart from her implants. Wendy Williams before surgery was beautiful and she is beautiful even after the procedures.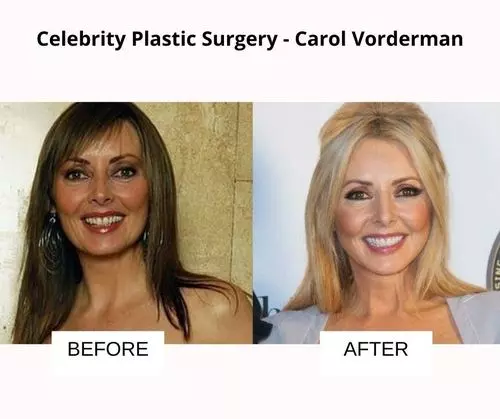 22. Carol Vorderman Plastic Surgery
The 58-years-old TV host seems to be aging in reverse. She keeps on surprising her fans with her youthful appearance. Her hair, makeup, and attire, all go together in contributing towards maintaining her youth. But that's not all. Carol has had some help form cosmetic procedures. She gave certain hints in 2012 when she admitted to getting a bit of rejuvenation to fix things that she thought needed to be fixed. Though she has never been clear about what all she got fixed. It is speculated that she might have gone for a nose job, fillers and a boob job. However, she has recently admitted on Twitter to getting Botox and facials while crediting her shapely figure to hiking.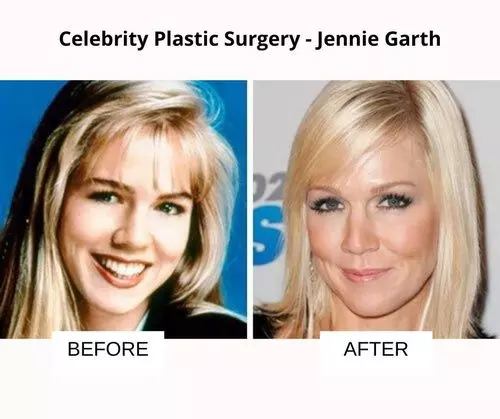 23. Jennie Garth Plastic Surgery
The Beverly Hills, 90210 star's appearance has been a hot topic of debate with fans and non-fans both discussing whether Jennie has undergone plastic surgery or not. She has been a victim of multiple rumors. Her recent pictures led to comments that called her fake and plastic. Some even went ahead and dissed her for ruining her face unnecessarily. Jennie slammed back hard at her haters and trolls and responded that she is a human and still the same woman she used to be. Whether she has had rhinoplasty, facelift or Botox is left to speculate as she has not clarified the air about plastic surgery.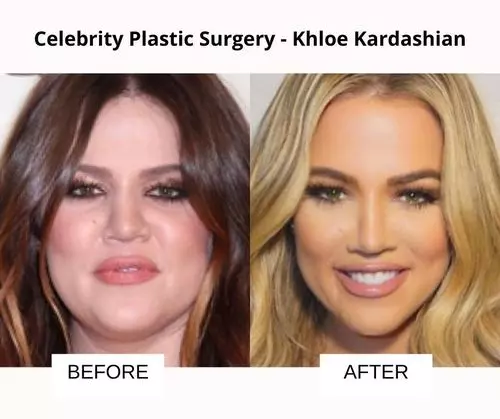 24. Khloe Kardashian Plastic Surgery
Another favorite name on the celebrities before and after plastic surgery list is that of Khloe Kardashian. Though Khloe has denied all rumors related to plastic surgery, she has admitted to getting lip fillers. She credits her transformed looks to healthy eating and intense workout. Her face tells a different story altogether. She looks completely unrecognizable now which has further fueled the rumors of plastic surgery.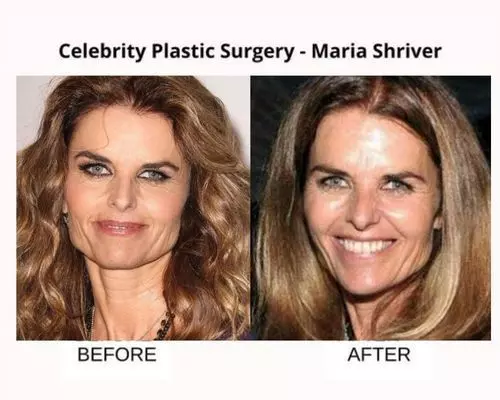 25. Maria Shriver Plastic Surgery
Maria Shriver, the former first lady of California, author and journalist has been aging quite gracefully. There have been speculations that Maria has had a facelift and the usual Botox injections.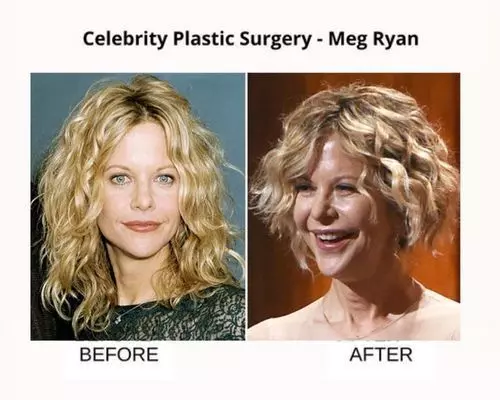 26. Meg Ryan Plastic Surgery
Meg Ryan has completely transformed from her You Have Got Mail days. She has aged but there is something about her that makes her look dramatically different. It is believed that she succumbed to the industry pressure and has had too much work done. And it was a botched job. The filler in her cheeks has not been injected properly which has led to an uneven volume and harsh appearance. It is also speculated that Meg has had a nose job.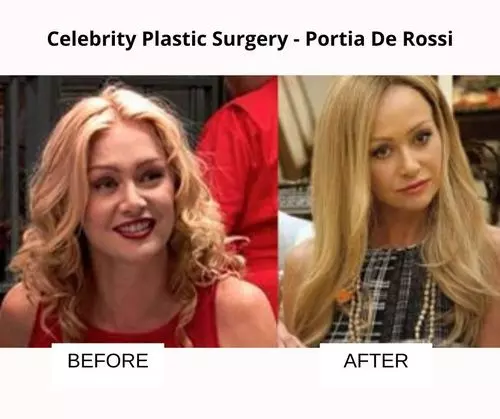 27. Portia De Rossi Plastic Surgery
Portia De Rossi is a beautiful woman and a successful actress but it was after seeing season 4 of Arrested Development that fans started questioning if Portia got some procedure done to her face. The rumor mill worked overtime and came up with a list of possible procedures that Portia might have had done. She surely looked different on the show which can also be the result of her tight wig and different makeup.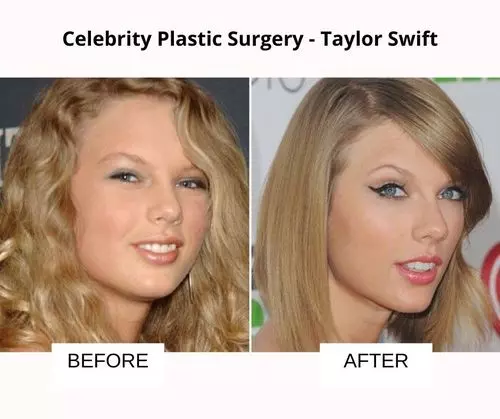 28. Taylor Swift Plastic Surgery
Taylor Swift came into the limelight while she was still a teenager. She has grown into a strong woman in front of our eyes. Though most of the change in her face can be credited to aging, a slimmer and more refined nose has sparked the rumors of rhinoplasty. Her recent appearance at the Golden Globes 2019 has led to rumors of a boob job. The Lover singer has not admitted or denied these rumors.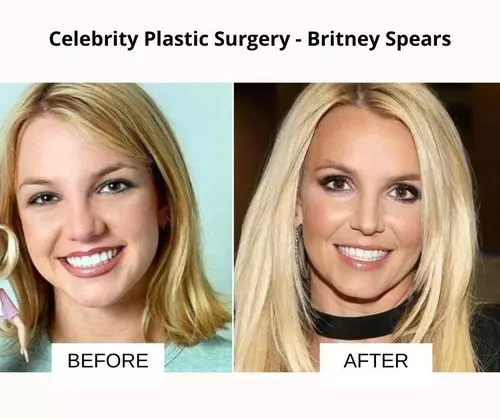 29. Britney Spears Plastic Surgery
The Toxic hitmaker has been very open about her cosmetic procedures. She doesn't like to keep it a secret and she hasn't. Britney has admitted to having only lip fillers. While calling fillers as fun stuff, she also denied getting any other procedure done to her face. However, her before and after pictures hint at a nose job.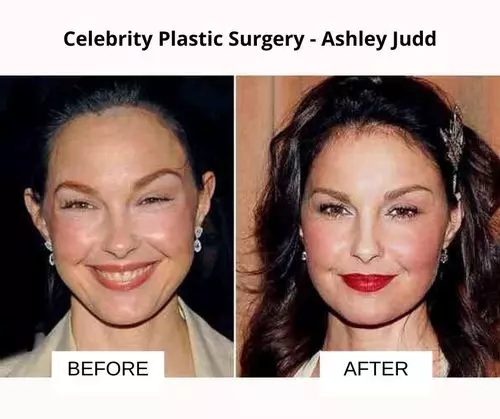 30. Ashley Judd Plastic Surgery
Here is another example of a face that does not belong to the celebrities before and after surgery lists. And yet, Ashley Judd finds herself to be at the center of a debate about whether she had plastic surgery or not. She made an appearance when her face was puffy and it made many people speculate that she had a facelift. Her people tried to clear the air but Ashley has had enough. She got back at the trolls with a lengthy post and slammed them down for being gendered and misogynistic. She gave everybody a lesson about women and their appearances. You go, girl!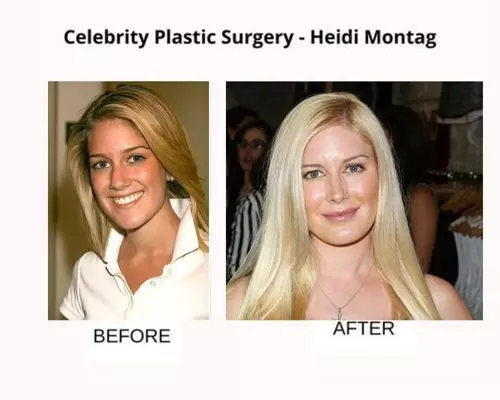 31. Heidi Montag Plastic Surgery
Heidi Montag was 23-years-old when she made a life-altering decision of going under the knife. She wanted to look perfect and was ready to go for multiple plastic surgeries to achieve that perfect look. She has admitted to having undergone 10 body-altering procedures that include brow lift, chin reduction, and Botox among others. She was happy about her decision then. But now looking back she thinks she was too young to have taken such a decision. She had a tough recovery period and thought she won't make it out alive.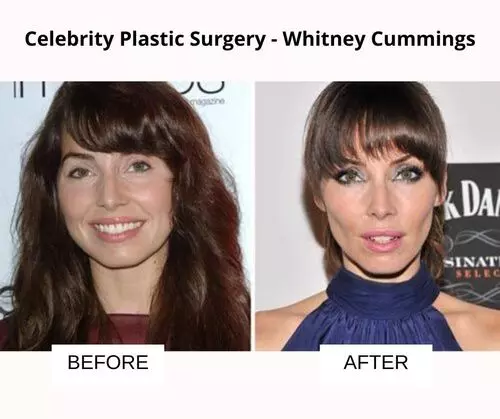 32. Whitney Cummings Plastic Surgery
After a certain age, celebrities have to face rumors of plastic surgery, especially women. Whitney Cummings appearance too has become a point of gossip for many. Though, cosmetic surgeons believe that Whitney has not undergone the knife. They are of the view that the change in her appearance can simply be a result of weight gain or fillers. Even if she did have plastic surgery, it was very subtle.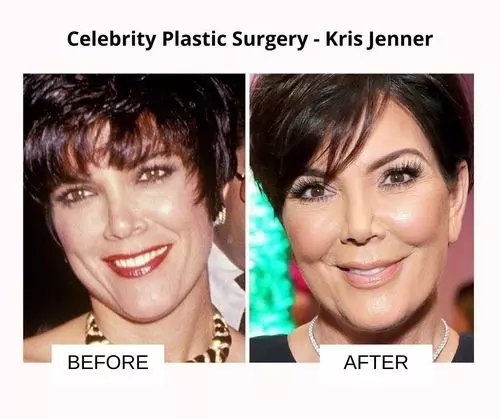 33. Kris Jenner Plastic Surgery
Kris Jenner is the matriarch of the Kardashian-Jenner family and has singlehandedly helped her children become some of the most recognizable faces of today's times. She, however, doesn't seem to age at all.  And it has not come easy. She has admitted to getting a neck lift, fillers, Botox, laser treatments and breast implants. Though, she is not ready to accept the rumors of a nose job.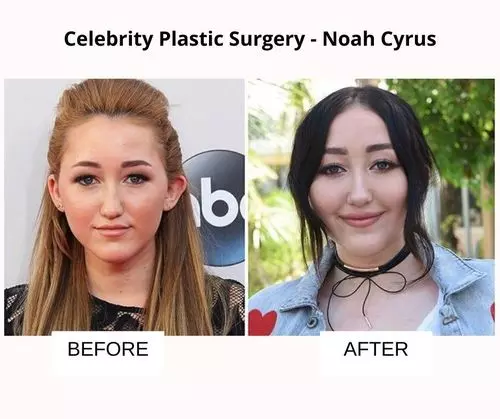 34. Noah Cyrus Plastic Surgery
Another addition to our celebrities before and after plastic surgery list is Noah Cyrus. Miley Cyrus is not the only one in the family who has changed over the years. Younger sister Noah has transformed too though with the aid from cosmetic procedures. She is believed to have received fillers in her lips and to her cheekbones to enhance their volume and structure.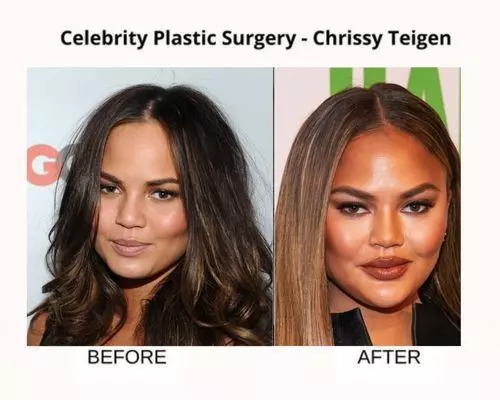 35. Chrissy Teigen Plastic Surgery
Chrissy Teigen has been more than open about her plastic surgery procedures. She jokes about it. She has been heard saying that nothing you see on her face is real except her cheeks. She has admitted to having her forehead, nose, and lips altered. She has also talked about liposuction on armpits to get rid of excess fat. 
Check out our detailed guide on Chrissy Teigen plastic surgery secrets to find out all the procedures she has undergone over the years. From buccal fat removal, breast implants to eyebrow procedures, she is rumored to have undergone multiple surgeries.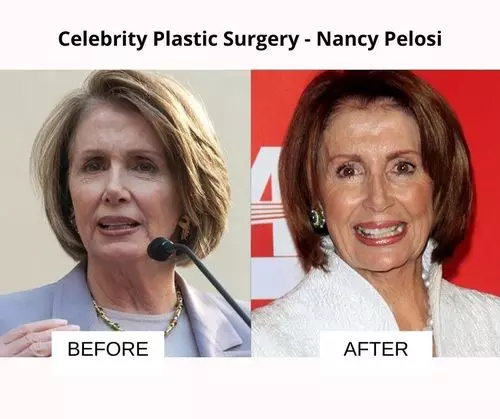 36. Nancy Pelosi Plastic Surgery
If you thought the pressure of maintaining appearances was limited to Hollywood stars, then think again. Because politicians don't have it easy either. The public has always been obsessed with youthful politicians. This puts pressure on old leaders and they are forced to take refuge in cosmetic procedures. Nancy Pelosi is the speaker of the US House of Representative and her position has not kept her immune from the pressures that come with aging. It is more difficult for her than anyone else for that matter because she is not just a politician but also a woman. She has had a facelift to keep her skin from sagging and to maintain her appearance.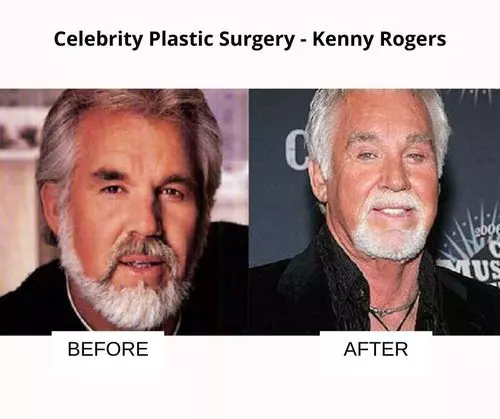 37. Kenny Rogers Plastic Surgery
The Kenny Rogers plastic surgery is an example of the worst plastic surgery. Even the singer and actor is not happy about it. He saw some lines cropping up around his eyes and decided to get an eyelid surgery which ended up being botched. Now he looks nothing like the scruffy man from the 70s that we know him to be. He has revealed that the area around his eyes is now very hard and he hates it.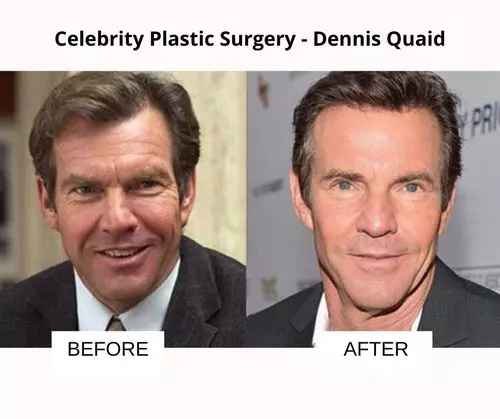 38. Dennis Quaid Plastic Surgery
Meg Ryan might have been at the wrong end of plastic surgery but her ex-husband surely had a better experience. Dennis Quaid is believed to get Botox injections which have resulted in the removal of his facial wrinkles. It is also speculated that the actor has undergone eyelid surgery to get his droopy lids modified. There seems to be no other natural explanation for the disappearance of wrinkles.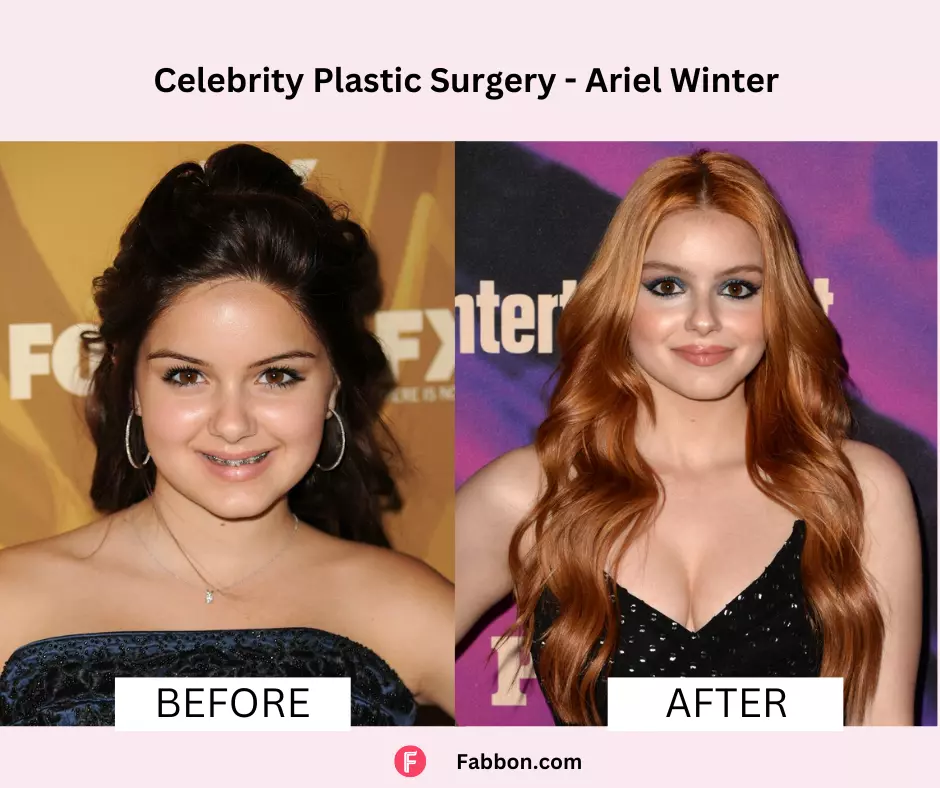 39. Ariel Winter Plastic Surgery
American actress Ariel Winter, best known for her role as Alex Dunphy on the hit television show "Modern Family," has been open about her plastic surgery journey, including breast reduction surgery. At the age of seventeen in 2015, she made the decision to undergo breast reduction surgery primarily to alleviate back and neck pain and feel more comfortable in her own skin.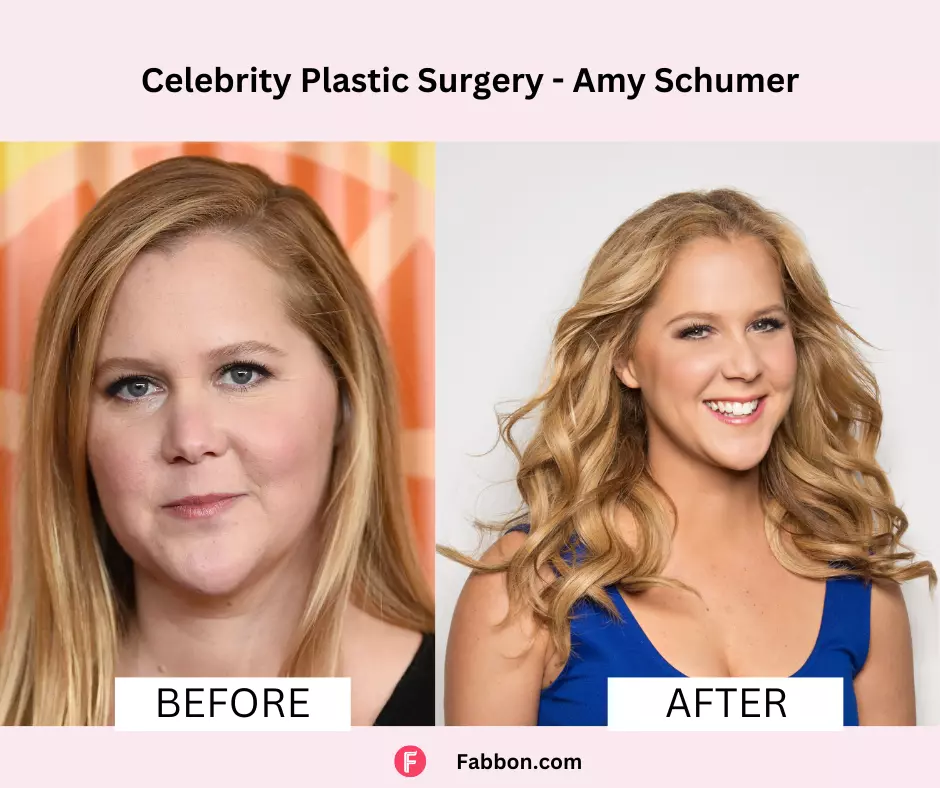 40. Amy Schumer Plastic Surgery
American stand-up comedian, actress, and writer Amy Schumer revealed that she had undergone liposuction following the birth of her son. This actress proudly embraced motherhood and discussed the health and cosmetic procedures she experienced.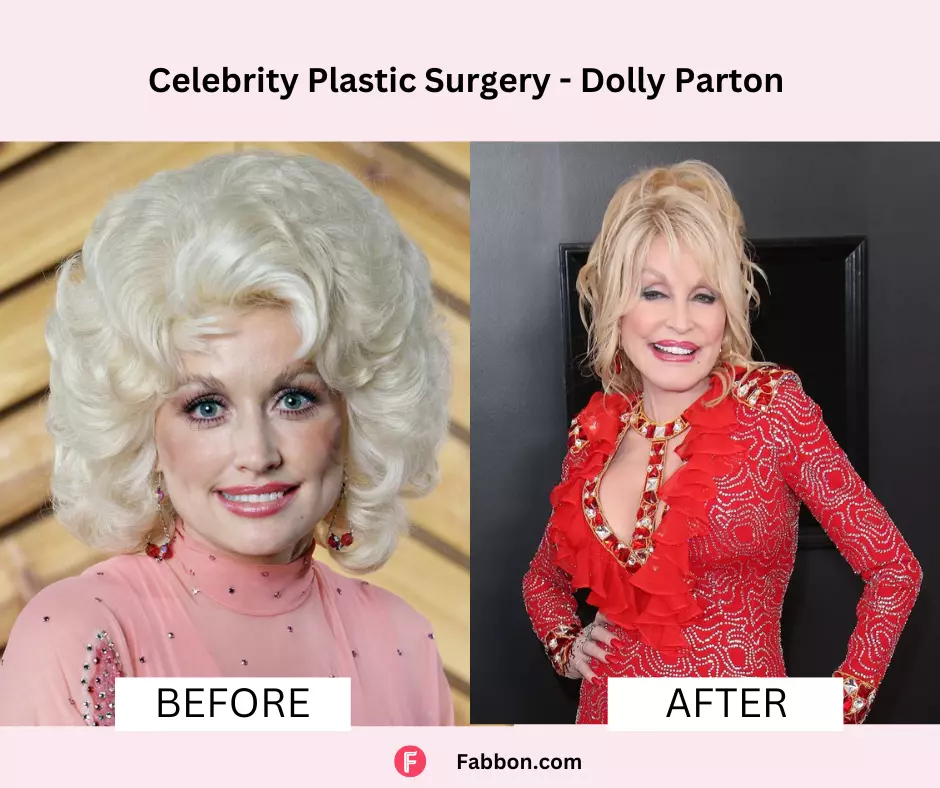 41. Dolly Parton Plastic Surgery
Dolly Parton had confessed to CBS,
"It's true that I may look artificial, but I believe that I'm entirely genuine." The legendary country music performer admitted to eyelid surgery, brow lifts, and breast implants. She has consistently exuded confidence and openly discussed her various plastic surgeries.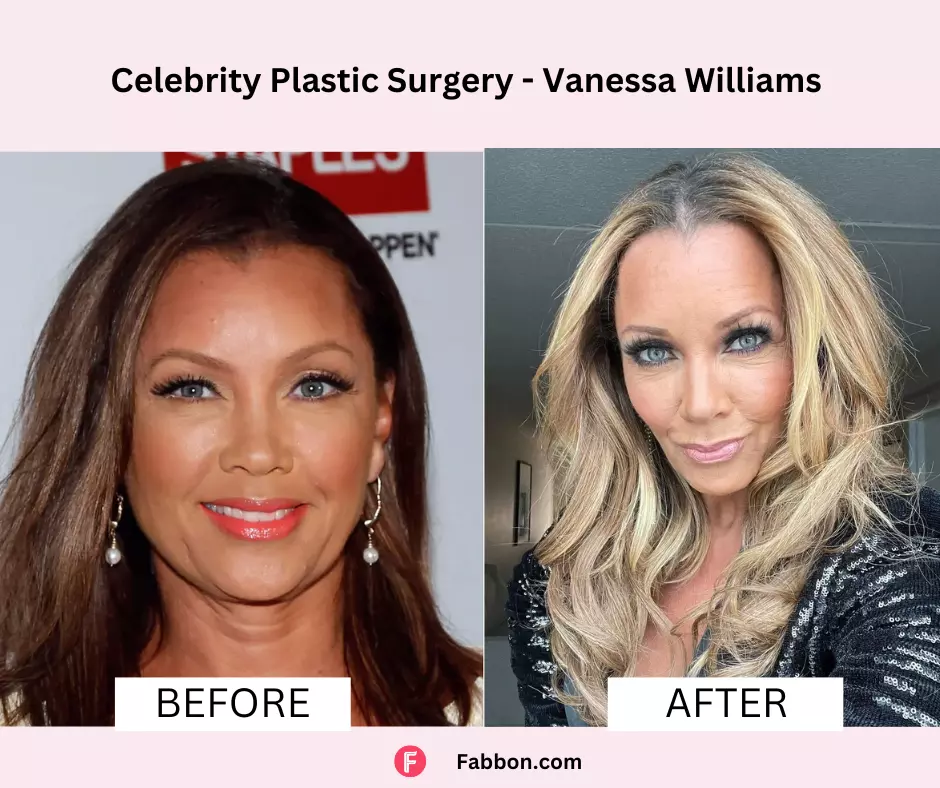 42. Vanessa Williams Plastic Surgery
The American singer, actress, and former Miss America, Vanessa Williams, has been candid about her experiences with cosmetic surgery. While not delving into the specifics of her procedures, she has acknowledged some cosmetic enhancements, including rhinoplasty, breast augmentation, Botox, and fillers.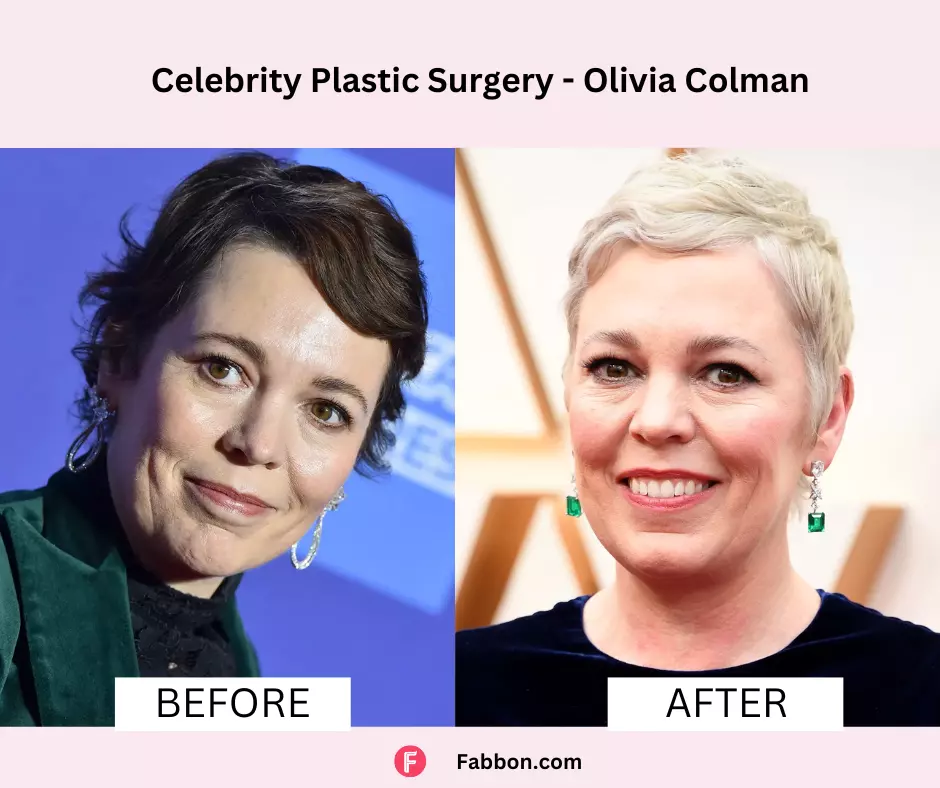 43. Olivia Colman Plastic Surgery
The talented and Oscar-winning British actress Olivia Colman, known for her diverse roles in theater, television, and film, opted for Botox during a significant career gap.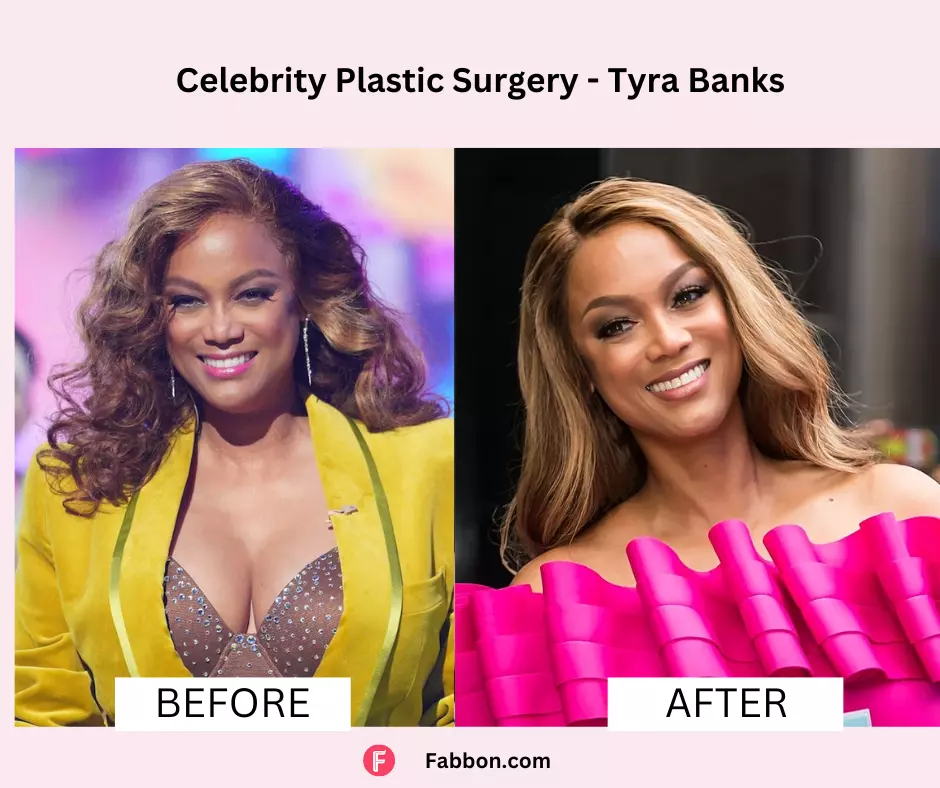 44.Tyra Banks Plastic Surgery
American model, businesswoman, and television personality Tyra Banks has been forthright about her views on plastic surgery. She disclosed having undergone cosmetic enhancements, specifically discussing her rhinoplasty procedure, which she chose to address a particular insecurity about her nose.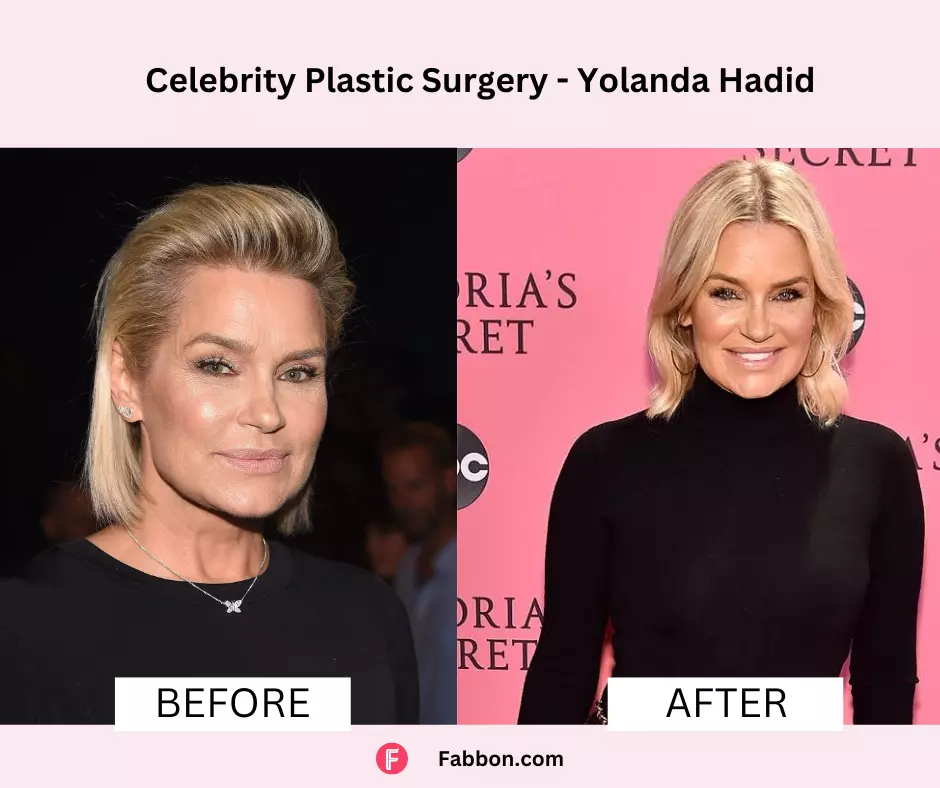 45. Yolanda Hadid Plastic Surgery
Model, interior designer, and television personality Yolanda Hadid gained prominence through her modeling career and reality TV appearances. She initially received dermal fillers and Botox injections early in her career but discontinued these procedures after being diagnosed with Lyme disease.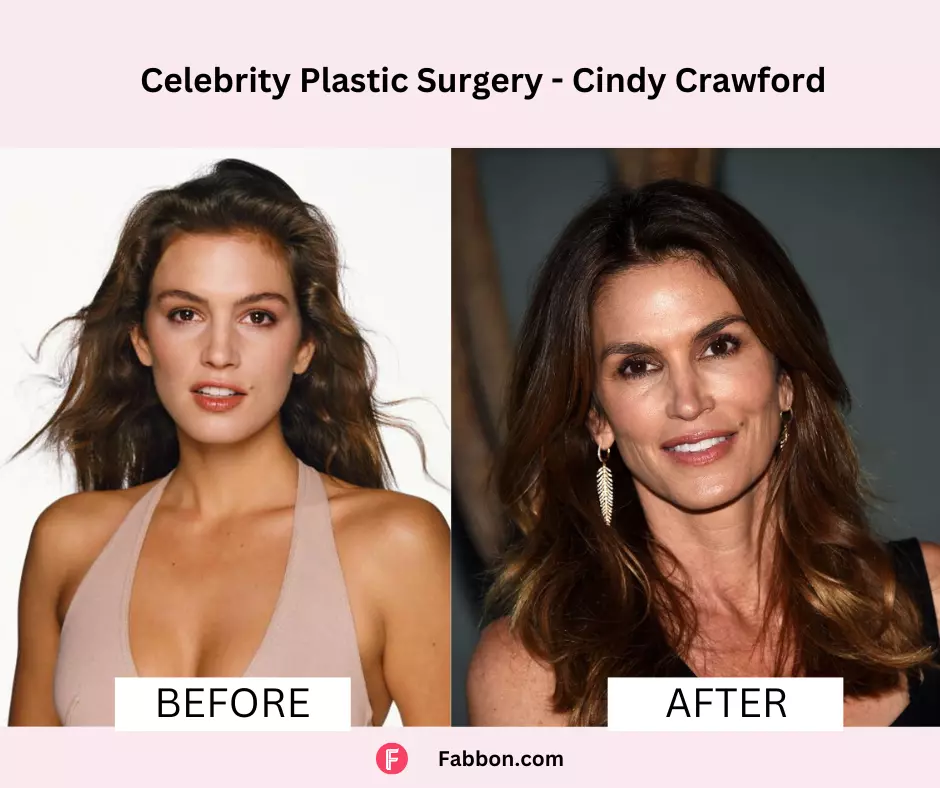 46. Cindy Crawford Plastic Surgery
In the modeling and fashion industries, renowned American supermodel Cindy Crawford is celebrated for her timeless beauty and natural appearance. She has admitted to receiving Botox injections in the past and emphasized her commitment to maintaining her skin's quality through various procedures, including collagen, vitamins, and Botox.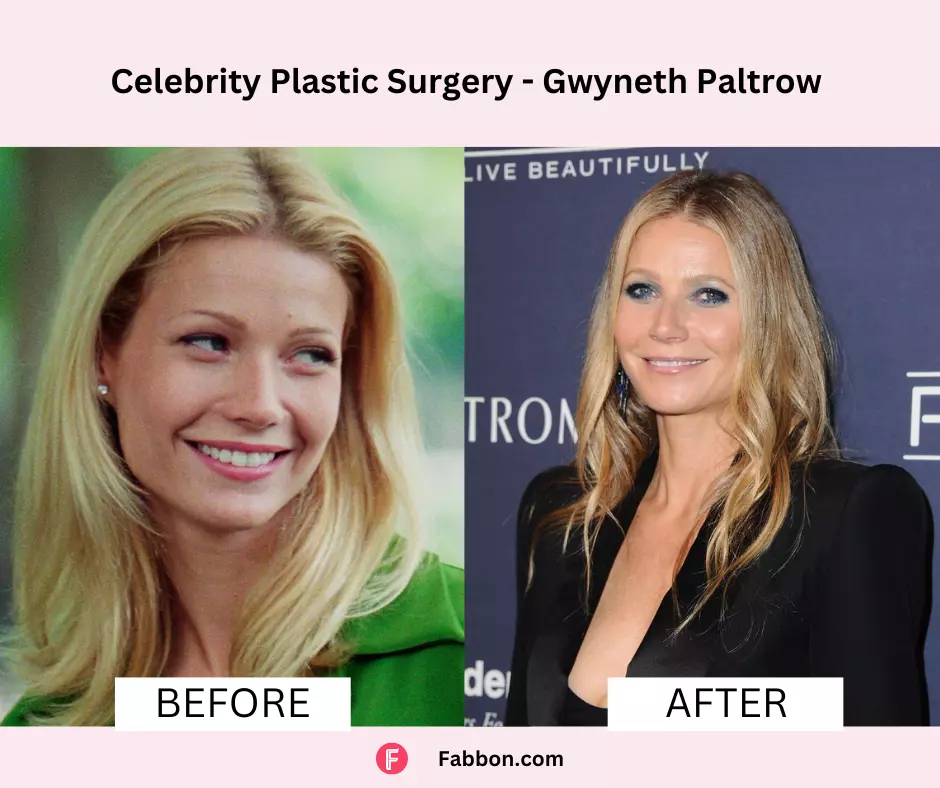 47. Gwyneth Paltrow Plastic Surgery
Gwyneth Paltrow, recognized for her diverse acting career and appearances in numerous films and TV series, has admitted to having undergone Botox procedures and using various injections for corrections in the past.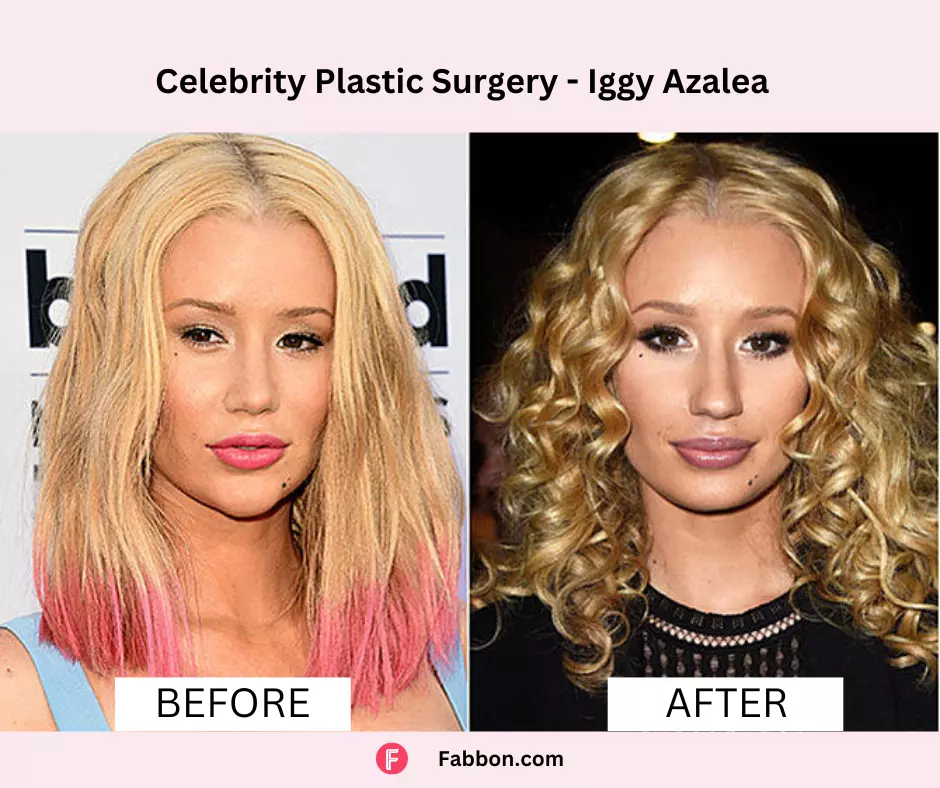 48. Iggy Azalea Plastic Surgery
Iggy Azalea's openness about her plastic surgery procedures has sparked discussions about beauty standards and body image. She had both breast augmentation and rhinoplasty surgeries to increase breast size and alter her nose's shape.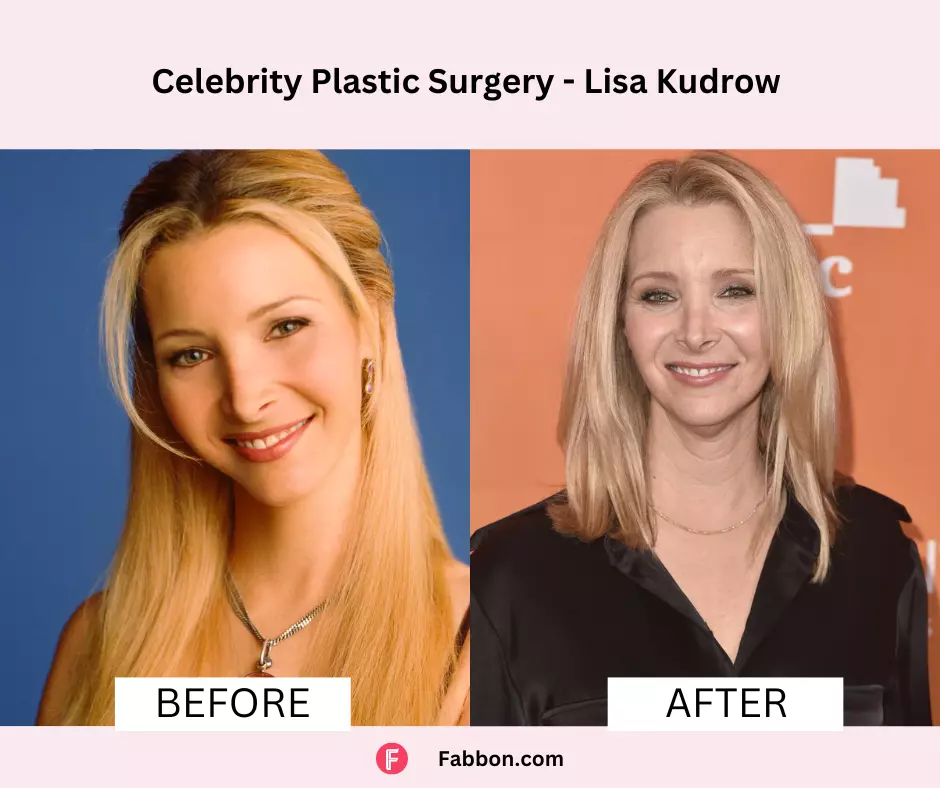 49. Lisa Kudrow Plastic Surgery
Lisa Kudrow, a star of the television series "Friends," underwent rhinoplasty surgery to correct her nose. She revealed that she had the nose job when she was just 16.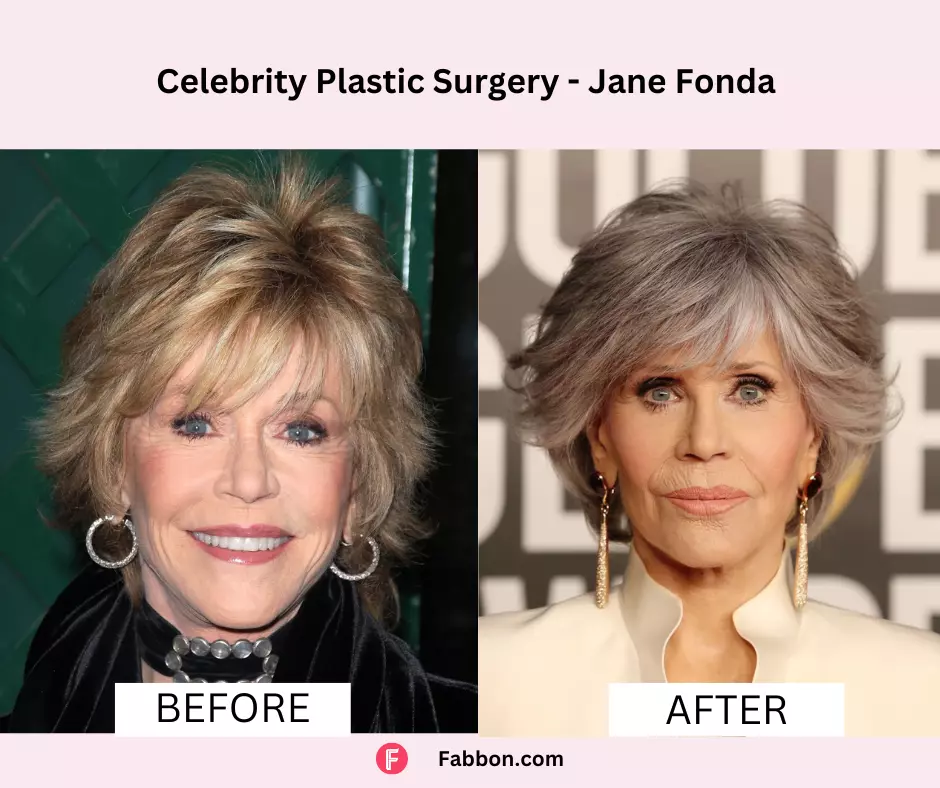 50. Jane Fonda Plastic Surgery
Jane Fonda has been vocal about her cosmetic surgery and shared her experiences. She mentioned work on her chin and neck, as well as removing bags under her eyes, on her social media.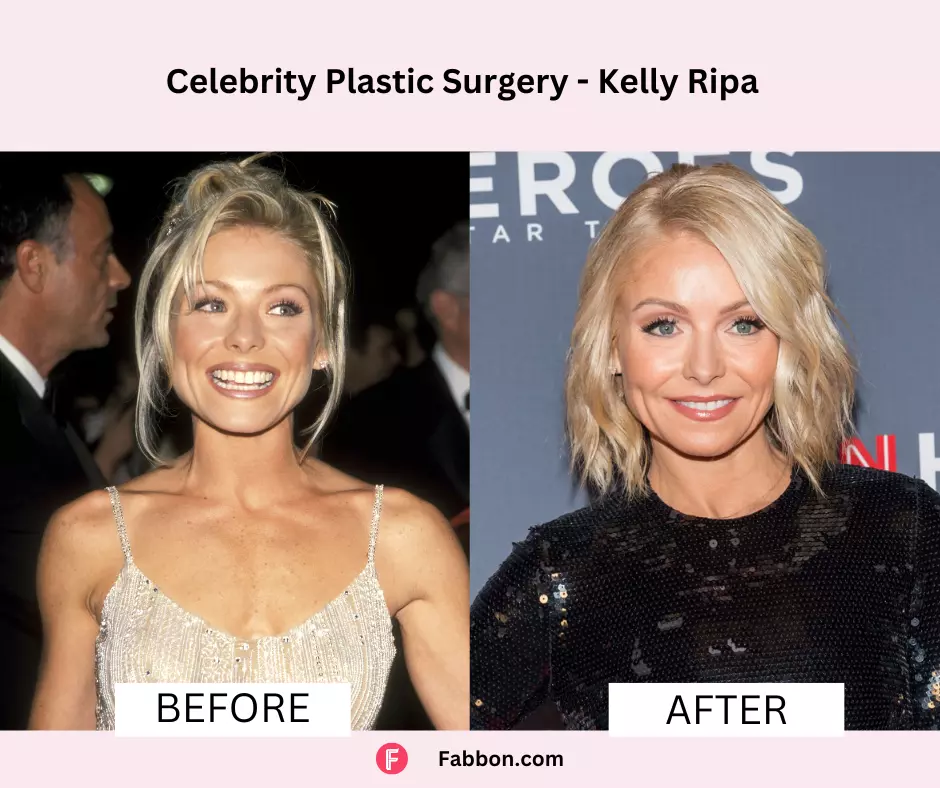 51. Kelly Ripa Plastic Surgery
The American actress, producer, and television host Kelly Ripa has openly discussed her use of Botox injections and other cosmetic enhancements to reduce fine lines and wrinkles on her face.
Related Articles